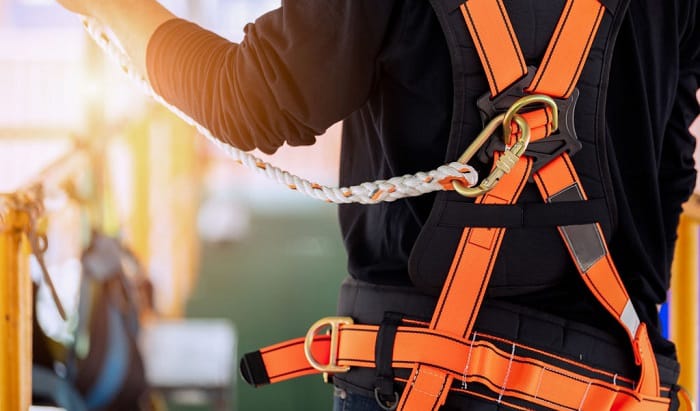 The construction industry is one of the most dangerous jobs. You have to go to elevated areas to get the job done. That is the main reason why there are numerous reported falls in this field.
To avoid this, one must have the best roof safety harness to stay safe on dangerous jobs, especially when dealing with roof installments. How would we know that a specific harness is reliable? Check out these three crucial features to consider:
Weight: The wearer should know what they go through and what type of climbing to face. The harness' weight is an essential factor, especially if it will be worn for prolonged periods.
A lightweight harness allows the user to stay comfortable. That's why Aluminum hardware usually replaces steel as it effectively reduces the overall weight.
Webbing: A harness with good webbing technology can significantly improve convenience in the working environment. There are various webbings available, like liquid-proof, heat-proof, and paint-proof webbing.
These webbings are extremely helpful for welders and electricians and can even promote comfort and mobility.
Padding: Good padding adds comfort to the wearer. That's why it is also one of the essential features to consider when searching for full-body frames. Aside from providing comfort, it also adds protection during the post-fall suspension. There are washable and non-washable paddings available.
These are only some of the features that you should consider to get the best product. This article comes with hand-picked products that guarantee reliable qualities and a complete "Buying Guide" at the end to quickly determine what item works best for you.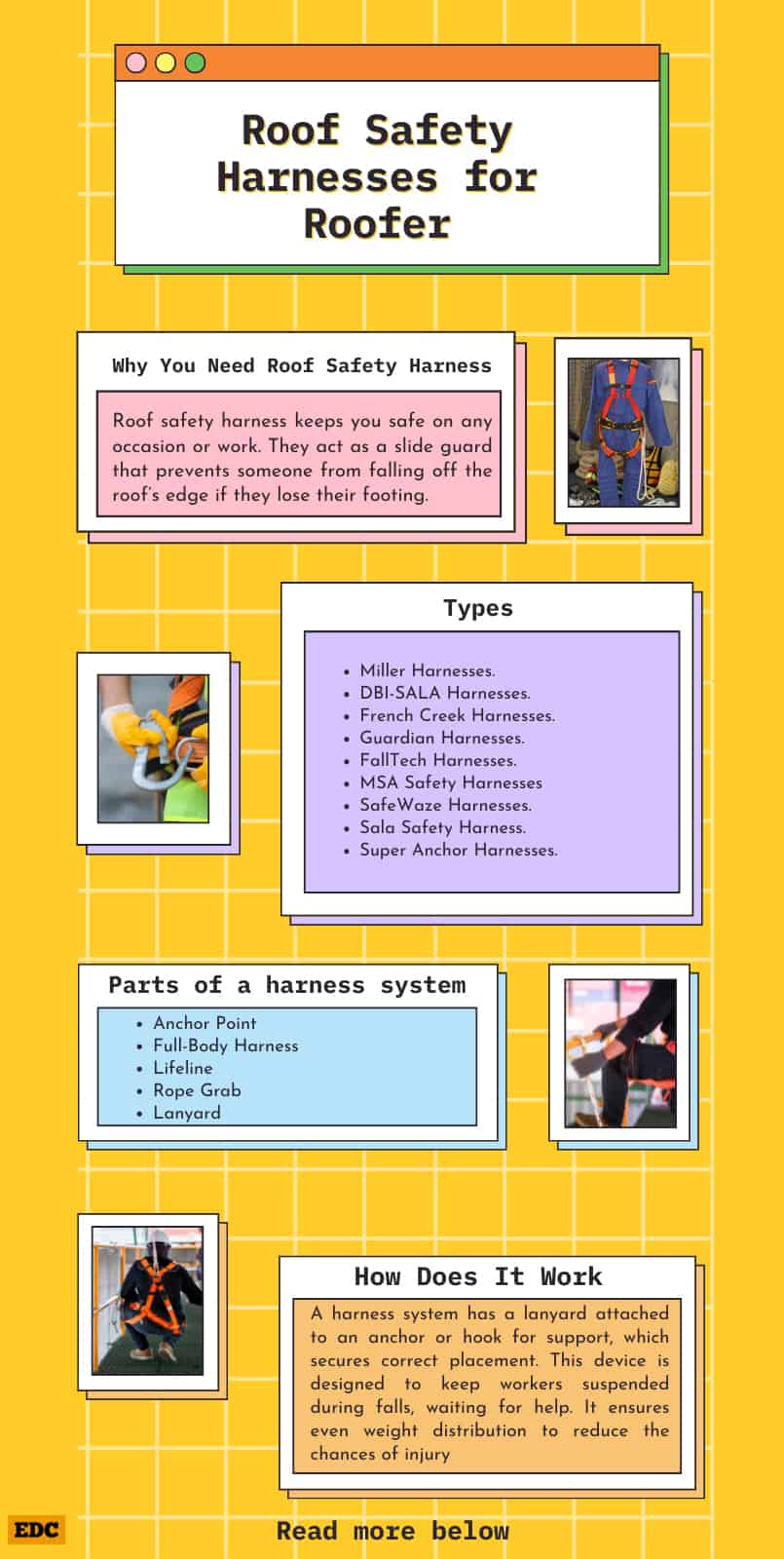 Top 10 Roof Safety Harness Reviews
1. Weanas Climbing Half Body Harness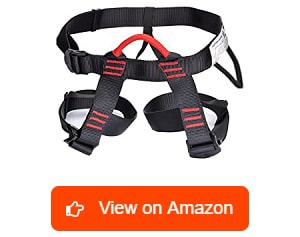 Weanas has my approval as one of the cost-effective safety harnesses on the list due to its half-body design. It comes in handy for roofers who find the system of full-body harness bulky for their tasks.
Workers in hazardous sites can appreciate this Polyester half-body harness with a buckle closure to keep their midpoints safe and secure. This harness was among the most recommended gear when I started my job due to its excellent security without compromising movements.
What makes me trust this harness so much? It passed the CE standards and received reliable certification that not all tackle can achieve.
The Weanas half-body harness is built from premium Manganese steel buckles that firmly lock me in position. It also comes with a breathable and thickened waist structure that guarantees to distribute my weight excellently.
Besides that, I love how it does not pinch my thighs and waist; its lightweight and compact structure is precisely what I need for various tasks. Specifically, this harness is a perfect tool for indoor climbing, fire rescues, outer band, and tree climbing.
It is also ideal for men and women alike, thanks to the simple yet functional design. However, for long-term work in complicated duties, you will have to replace this half-body set with a complete set.
What We Like
Affordable body harness from Weanas.
Pure Polyester half body harness with buckle closure
Offers mobility and security in one product.
CE certified and did not pinch my waist and thighs
Premium Manganese buckles lock in position and distribute weight equally
Usable for various purposes and ideal for both men and women
What We Don't Like
Not ideal for complicated and harsh tasks
This is an ideal pick for beginners looking for a simple and compact system that supports their work without breaking the bank. The design is actually among roofers' favorites, and with that, it garnered high fall protection harness ratings.
2. KwikSafety Full Body Safety Harness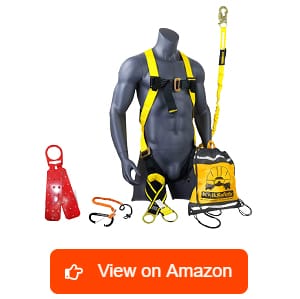 The first on the list is this safety harness from KwikSafety that offers good protection for roofers. Many workers attest to this kit's reliable fall arrest protection, allowing them to handle tasks safely on a high platform.
The KwikSafety Scorpion Protection Kit packs necessary PPEs like the full-body harness, a 6-inch safety lanyard that absorbs shock instantly, and the arm strap anchor for extra security. All these items comply with safety standards of the American National Standards Institute or ANSI.
Due to the harness's durability, I never have to worry about instant falls that cause shock to me and the harness. This item is usable even in harsh weather conditions like heavy rainfall or strong winds.
The dual-locking hook has a tensile strength of 5000 pounds. Top that with 3,600 pounds of gate strength, the set makes me feel more secure during work. This harness can effectively handle a total weight of 130 to 310 pounds.
Besides, the safety harness comes with well-aligned and easy-to-use shoulder snaps and chest straps. Thus, we can comfortably put the harness on without dealing with complicated or off-centered locks.
This lightweight safety harness keeps me comfortable all day, no matter how tough my work gets. However, it would be better if the lanyard clip was slightly bigger for clipping onto the ladders.
What We Like
Comes with necessary PPEs: shock-absorbing lanyard and arm strap
All safety harness parts meet the ANSI safety standards
Extremely durable and can withstand various conditions
Dual-locking hook with excellent tensile strength
Features well-aligned and easy-to-use shoulder snaps & chest straps
Lightweight harness for optimum comfort
What We Don't Like
Remembering the weight range limit must be done to avoid accidents
As a roofer, this safety harness kit kept me safe during my work. I know I can count on it.
3. Guardian Fall Protection 00815 Roof Safety Harness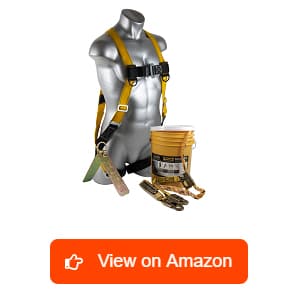 This highly durable and comfortable construction safety harness never fails to keep roofers safe during work.
Roofers do not have to worry about dangers with this universal harness that comes with a five-point adjustment. This feature guarantees extreme comfort for my body, so I can wear this harness to work for hours. It has an excellent body wear velocity, an entry-level harness that adds comfort.
I even have the chance to choose my preferred size as it comes in small, medium, large. Besides that, this safety harness fall protection has a vertical lifeline assembly partnered with a shock pack that effectively absorbs vibrations and reduces my fatigue.
The item comes with a non-removable positioning device and an 18-inch cord extension to reach areas quickly.
What I like most about it is the Polydac material used to make this rope. With this feature, the item does not absorb water, so I can keep working even on rainy days.
Temper anchors with nails and bolts guarantee to keep the roof trusses intact. The only challenge I encountered in using this harness was the poor instructions for donning, making the installation a bit challenging.
What We Like
Universal harness with five-point adjustment for compatibility.
Has body wear velocity for comfort and is available in small, medium, and large.
Vertical lifeline assembly with shock pack to reduce fatigue.
Positioning device and 18-inch cord for easy access.
Polydor material doesn't absorb water and has bolts to keep trusses intact.
What We Don't Like
Not clear donning instructions make installation take some time
All in all, this fall protection kit is a must-have gear collection for people working at a great height. I can attest that it offers a flawless system for me once I master the installation.
4. 3M 1113127 Full Body Style Harness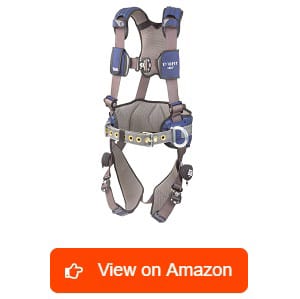 This full-body harness for work is guaranteed to keep me safe and comfortable while handling roofing tasks. Know here why:
It is jam-packed with features that guarantee optimum comfort. It features a hybrid padding that covers all essential points of my body, keeping me pain-free from my shoulder to the back and down to the legs.
Roofers can experience no tangle donning with this item as it comes with side D-rings that give proper positioning. Besides that, it offers outstanding back support, revolving vertical buckles, and integrated trauma straps that never give me body aches.
The dual locking feature promotes optimum security, and with it, I can connect all parts quickly and easily. These features ensure that the harness locks in with no slipping issues. I also enjoy the rip-stitch indicators that prevent future damaging loads.
There are also reflective materials installed on crucial points that greatly help when dealing with dark areas and other low light conditions. It's also a great tool to attach my devices.
I usually apply more strength when wearing this harness because it is a bit heavier than other models. But the added soft padding that allows great breathability and support is more than making up for it.
What We Like
Hybrid padding that covers shoulder, back, and legs for safe wear.
No tangle donning with the D-rings that give the correct position.
Offers excellent back support and a dual locking feature
Easy to lock and has no slipping issues.
Comes with reflective materials
Ensures comfort and breathability with added paddings
What We Don't Like
A bit heavier than other safety harnesses
It's a great safety harness belt that gives me safety assurance even when working in elevated and dangerous areas. Just make sure you know it's among the higher-priced options for roofing safety kits.
5. PALMER SAFETY Ateret Full Body Safety Harness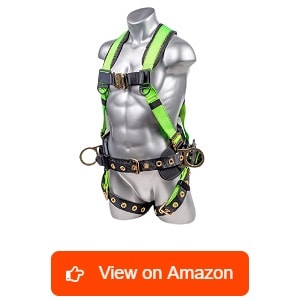 For roofers with a limited budget, the top-rate safety harness for roofing kit they can obtain is this ATERET Full Body support from Palmer Safety.
At a reasonable price, workers have, in exchange, a protective harness that is built to last for ages. All parts of this protective gear ooze with the quality and functions required for roofing tasks. In truth, this OSHA approved safety harness can keep up with industrial use.
The harness comes with just the proper Polyester webbing and width to guarantee comfort. This five-point full-body harness also features padded areas that keep me comfy all day long. Plus, all key parts are highly adjustable, thanks to these points.
Roofers can worry less about fall arrest because it comes with an Aluminum dorsal D-ring that keeps them safe from fall arrests. All parts are designed to interlock quickly, so I do not spend much time during assembly.
More importantly, the harness is incorporated with extremely durable tongue clip leg straps that give roofers the proper placement for everlasting comfort. The whole system can handle around 400 lbs, more than the standard sets, thus, allowing workers to carry more tools for their tasks.
My only concern about this item is that my order came with one missing piece. However, I was pleased with its customer service because they immediately sent a replacement and politely addressed my concern.
What We Like
Comes at a reasonable price and is of good quality
OSHA-approved and has the proper Polyester webbing and width
Five-point body harness with padded areas that are adjustable
Aluminum dorsal D-ring protects roofers from fall arrests
Interlocks quickly and has durable tongue clip straps
Carries around 400 lbs, allowing more tools
What We Don't Like
May come with a missing piece sometimes.
With the proper anchor ropes and extreme durability, I never have to worry about working on roofs again. Besides, this set is an affordable pick for roofers with a low budget.
6. MALTA B2204 Dynamics Warthog Safety Harness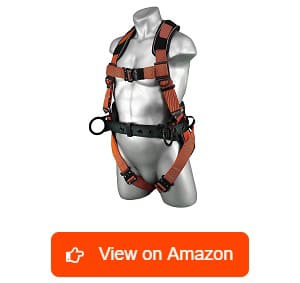 Professional roofers can experience high-quality fall protection with this safety harness from MALTA, a renowned protective gear manufacturer.
I am glad to experience the best comfort with this full harness that comes with paddings. All critical parts, like the shoulder, waist, back, and leg, are fully padded to keep my body from aching.
Also, the waist belt is removable. It is a rare feature to find because most straps are sewn in, unlike this one. This design allows optimum versatility, so roofers can use it for different purposes where a waist belt is unnecessary. There are also side D-rings that guarantee firm placement between your body and the harness.
Another thing that I like is the impact indicator and label protector that guide me during work. Top that with a quick connect chest and leg buckles that never takes up too much of my time just for the assembly. The Polyester webbing material makes this item extremely sturdy, having a high melting point and abrasion resistance.
This harness is soft to the touch, and it comes in four different size ranges. However, the sizes are not that accurate and may even be greater than their stated size. I ordered a large size, and there is plenty of room for adjustment.
What We Like
Full body harness that provides the best comfort
Comes with paddings on all critical points like shoulder, waist, back, and legs
Removable waist belt for ultimate versatility
D-rings that give proper placement and impact indicators
Label protector and quick-connect chest takes little assembly time
Durable Polyester webbing is soft and available in four sizes.
What We Don't Like
Sizing is inaccurate and a bit larger than what it's supposed to be.
With its flexible and versatile design, this set is one of the most comfortable fall protection harnesses that I tried.
7. KwikSafety Tornado Assembly Full Body Harness
I added another KwikSafety product to the list because this brand never fails to amaze me with its quality equipment for construction workers, electricians, roofers, and more.
For starters, it's necessary to wear only the most trusted roofing harness that would protect them from all potential falls. Luckily, this one does the job. The set comes with one harness, a 50 ft lifeline rope, a reusable roof anchor that does not need screws and nails, and a lanyard with a 10-pound capacity.
Plus, all parts of this protective gear are ANSI-compliant. I know I can relax when I wear this harness. The snap hooks guarantee quick assembly and can even withstand weights of up to 500 pounds.
The adjustable D-ring gives me an accessible range of motion, which I need during my shift. This feature makes this harness easy to attach to any surface and has excellent compatibility. There is also a fast-acting energy absorber pack that's made of purely durable Polyester. It comes with a maximum breaking strength of 1,800 pounds.
Another thing that makes me secure when wearing this item is the tool lanyard with a 2:1 safety factor. However, some roofers might feel the harness size is not ideal for larger or taller ones.
What We Like
Complete set with harness, rope, anchor, and lanyard
All protective parts are ANSI-compliant
Snap hooks guarantee quick assembly to withstand weights up to 500 lbs
D-rings give an accessible range of motion
Has a highly durable Polyester absorber pack
Tool lanyard with 2:1 safety factor
What We Don't Like
Not ideal for roofers with a larger or taller bodybuild
From many roofers' experience, this one is highly unique among all types of fall protection harnesses and is really built to last.
8. WELKFORDER 1D-Ring Industrial Safety Harness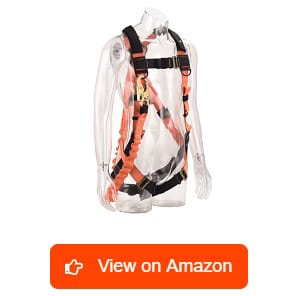 When my Grainger safety harness broke down, I immediately looked for a replacement. Luckily, I found this well-made one from WEKFORDER.
Workers can climb on roofs and other elevated areas while being protected well with this industrial safety harness. The kit complies with ANSI standards, so I know I got the highly durable and reliable protective gear. I also received this set neatly and adequately packed in a non-woven bag that vows for more accessible storage.
It is ideal for various purposes aside from roofing works. I noticed people using this during their camping, window cleaning, and surveying jobs. It also comes with a D-ring that has a minimum breaking strength of 5000 pounds or 22 KN.
The WELKFORDER safety harness features five adjustable mating buckles with a stamping steel material having a minimum breaking strength of 4000 pounds. If a person is looking for a saddle with optimum durability, this is an excellent option. All parts are even inspected for any signs of potential tears, fraying, abrasions, or cuts.
Snap hooks are also attached to the shock-absorbing and highly flexible lanyard. This gives optimum security to the wearer. One thing I like about this feature is that it locks by itself for easy assembly. But this harness is not as heavily padded as other harnesses.
What We Like
All parts comply with ANSI standards to guarantee durability
Comes in a non-woven bag for more accessible storage
D-ring with min. breaking strength of 5000 lbs
Five adjustable mating buckles with stamping material
Thoroughly inspected parts for any signs of damage
Snap hooks attached to shock-absorbing and self-locking lanyard
What We Don't Like
Not heavily padded compared to other harnesses
Considering its incredible functions, I am sure that this item is an excellent addition to my gear collection of highly durable and reliable harnesses.
9. 3M Construction Style Positioning Harness
3M offers a well-made safety harness at the right price; I am still amazed by the exquisite quality even though I know 3M is already well-known for qualifying gear collections.
Like most roofing harnesses or the whole body, it comes with a fixed D-ring that does not need constant readjustment during my work. With this feature, I can focus more on tasks without distraction.
The design provides optimum comfort as it comes with thick padding that wicks moisture and is highly breathable. Such a feature combines with soft edges to ensure not to sore out my thighs and shoulders. I am very particular about the comfort of my wide hips, and thankfully this harness comes with a foam hip pad with a mesh cover to provide overall comfort.
Also, the belts and locks are incredibly sturdy that we would not have to worry about carrying anything with them. I use it not just for work, because the fresh and modern design perfectly fits other activities and purposes, too. It does not give off a bulky feeling thanks to its sleek look and design.
However, the waist belt is a bit bigger for me. I have to dedicate more time just to get the proper fight. In fact, I made some minor modifications to the product to fit my waist perfectly. After that, it became all good.
What We Like
Fixed D-ring minimizes constant readjustment for more focus at work
Thick padding that wicks moisture and is highly breathable
Soft edges and foam hip pad with mesh provide optimum comfort
Highly durable belts and locks for easy carriage.
Fresh and modern design makes this harness ideal for all events
Sleek design avoids any bulky feeling
What We Don't Like
Waist belt area is a bit bigger for me
All in all, it is a great harness that can keep up with my long day at work. The affordable yet stylish and functional design keeps me secure and comfortable.
10. FRONTLINE FALL PROTECTION Full Body Harness
The last on my thoroughly hand-picked list is this full-body harness from FRONTLINE FALL PROTECTION that is highly reliable.
It comes with a reflective webbing available in the color orange to promote safety at work. This feature also allows us to be noticed in low-light conditions. After all, visibility is an essential factor to consider if you want optimum protection on site.
The harness' parts that affect my body's crucial points are padded with moisture-wicking material, allowing me to stay fresh and comfortable as it maintains optimum breathability. I also love how it reduces my fatigue. Heat exhaustion is never an issue too.
Among all harnesses made out of Polyester, this one is my favorite. The material is made with exquisite detail and quality that promotes high tenacity. Plus, it comes with a convenient belt and rigid pad supports that prevent the harness from sagging. Top that with aluminum buckles that easily connect to other parts for easy assembly.
The breaking strength of 5000 pounds guarantees supreme durability. In fact, it even passed the ISO/IEC, ANSI, CSA, and OSHA standards. However, I noticed that the padding is thick. It is understandable given that the harness assures optimum comfort to help the wearer focus more on the task at hand.
What We Like
Reflective webbing with the color orange for work safety
All key points are padded with a moisture-wicking material
Breathable and reduces fatigue and heat exhaustion
Polyester harness with great detail and high tenacity
Belt and rigid pad prevent sagging, and aluminum buckles make assembly easier
5000 pounds breaking strength and harness passed various standards
What We Don't Like
Harness is heavily padded with thick foam.
I am glad to have this harness that comes at a great price and is highly comfortable. For roofers who want to invest in a rugged set for long-term use, this is a good pick.
What Are Roof Safety Harnesses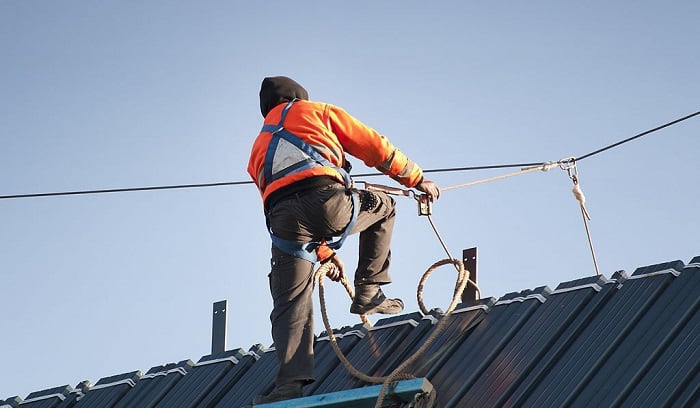 A roof safety harness is an essential tool that will help every worker. In fact, it is even treated as a roofer's best friend. Selecting the ideal fall protective gear, including the harness, and adequately knowing how to use it helps prevent serious injuries and falls.
They are only a part of several protection systems, but they are the most used by workers and residential roofers.
How Does It Work
People wonder how harnesses save us from potential falls, but the process is easy. Having this tool is a rewarding experience as it offers convenience like never before. It is ideal if the worker spends a lot of time on steep roofs.
A harness system comprises bands that are secure in place. Then, it has a lanyard attached to an anchor or hook for support, which secures correct placement. This device is designed to keep workers suspended during falls, waiting for help. It ensures even weight distribution to reduces chances of injury.
It is also meant to be worn comfortably for prolonged periods. This way, the worker can focus on his work more and would not necessarily reach a point where an accident could occur.
Types of Roof Safety Harness
There are many types of roof safety harnesses, including full-body and half-body models. You can find a full kit that includes a belt, harness, lanyards, and D-rings available. At the same time, for simple tasks, a safety harness that protects our back will suffice.
Each one comes with unique features that would suit anyone's preference. One can take a look at the following and assess which one works for them:
Miller Harnesses.
DBI-SALA Harnesses.
French Creek Harnesses.
Guardian Harnesses.
FallTech Harnesses.
MSA Safety Harnesses
SafeWaze Harnesses.
Sala Safety Harness.
Super Anchor Harnesses.
Why You Need Roof Safety Harness
The Best Roof safety harness keeps you safe on any occasion or work. This tool gives a safe place to step on and put their tools and materials at rest. They act as a slide guard that prevents someone from falling off the roof's edge if they lose their footing.
Buying Guide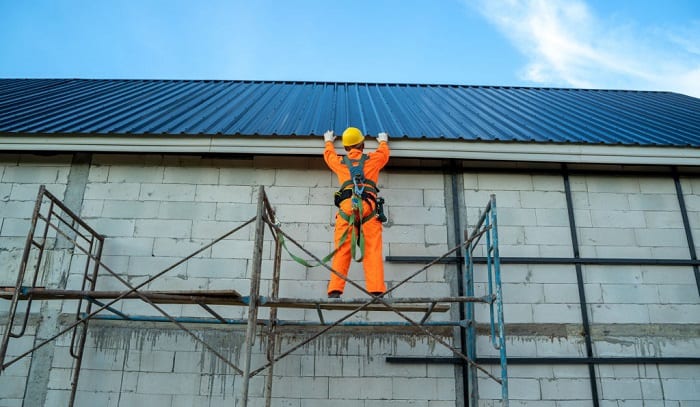 Besides the three things mentioned in the intro, these features are also crucial to consider if you want to get the best out of your harness.
First, comfort and ease of use must be prioritized. A wrongly-worn harness can be as hopeless as having no harness at all. If a harness is easy to use, the wearer can quickly wear it correctly without spending much time on its assembly.
Harnesses come in various padding thicknesses. There are also those with unique buckle types. Other features may not seem necessary, but they can still improve the user's experience. Thoroughly look at the padding style because some cover the harness, making the straps prone to wear.
Padded straps also hide certain defects, making the harness system challenging to inspect. Always remember never to confuse luxury and necessity. There are instances that cold weather harnesses come with added paddings that compromise comfort and performance. However, it provides excellent protection to the worker.
Next to consider is the size. Although most harnesses are highly adjustable, they cannot go through big or tiny enough to fit all body types. That's why every harness size comes with a specific range to help the wearer get the right fit for them.
It's important to remember that harnesses should be snug to the wearer's body and not tight. Chest straps should lay across the torso and not on the stomach. It only sits on the stomach if the wearer wishes to shoot out of the harness head-first during an unfortunate fall.
The same goes for D-rings. It should sit securely between the body's shoulder blades, and it should put a level hand between the wearer's leg and the leg strap. If the harness is not adjustable, it's more likely the wearer has the wrong size.
Care and Maintenance
If a wearer got the suitable harness for him, learning how to take good care of it is the next thing he should know. Now, let us teach you how to maintain the harness so it would not lead to potential accidents that may eventually cause death. Harnesses that are not well taken care of may malfunction when you want them to work.
To preserve the harness effectively, the owner should consider the storage. If the method involves leaving it round on a freezing night and thawing it in the morning, the tackle may get exposed to the sun's harsh UV rays that heavily damage the product.
If the owner allows it to lay in a gang box and several sharp tools that may slice the harness, it could break during use. So, it is not really recommended. The best option is to keep the harness in a cool and dry place when it's not in use.
Remember that heat, constant exposure to the sun and could cause damage to the harness. Most cracks are not even visible. Harnesses should be hung up because this avoids physical damage caused by weight placement.
Cleaning safety harnesses are also easy but should be done regularly. To clean the harness, prepare a damp sponge to wipe the dirt off the surface. Then, a mix of dishwashing soap and water is recommended. Work into a lather and rub on the straps. Never use any product with bleach, chlorine, abrasives, or any harsh chemicals.
It is also vital to never soak the straps. Finish by wiping the harness and hanging it to air dry.
Frequently Asked Questions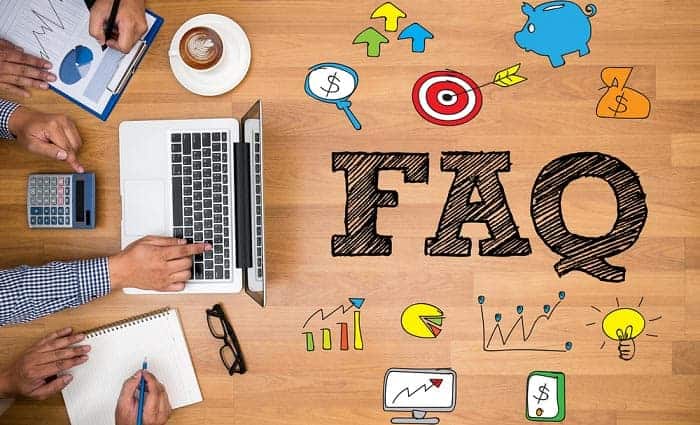 What Do Roofers Use for Safety?
Roofers usually use two things to keep them safe when working with challenging works. A bracket and a harness. However, the latter is more ideal when the worker spends a long time at an elevated area.
A harness provides exceptional comfort while the roofer deals with the work. Plus, it is secure and does not limit the movement by having proper placement.
How Do You Anchor a Safety Harness to a Roof?
Anchoring a safety harness is an easy task. It is essential to know the parts of a harness system to understand how to assemble it correctly.
Anchor Point: An anchor point is a metal object attached to the roof. It comes with bolts or screws to help put it in place. It is also essential to take good care of the anchor and follow the manufacturer's guide when clipping.
Full-Body Harness: This is the primary strapping system that will keep any worker safe throughout the shift. Harnesses should fit securely and comfortably around the wearer's legs and his center torso. This will help distribute impact during a fall.
Lifeline: This rope links the lanyard and the rope grab to the safety harness and the anchor point.
Rope Grab: A rope grab is a metal clamp that joins the lanyard and the lifeline.
Lanyard: A lanyard is a must-have safety tool in all safety harness kits. It efficiently absorbs shocks to reduce fall severity.
Install all parts properly to ensure that it works together. Attach the ropes to the harness and anchor snugly to guarantee security during roofing work.
How often do roofers fall off of roofs?
Research shows that an average of 50 roofers die each year, 37 of which were due to falls. The US government also determines that the lack of fall protection is often the cause of these fatalities.
Among all construction workers, roofers are the ones who face the highest risk of death. The most recent report from the US Department of Labor Bureau of Labor Statistics (BLS) reveals that the roofer's work fatality rate is 54%. This number is 15.5 times greater than the average worker fatality in other industries across the US and that's a lot!
In the UK's annual statistics for 2018 to 2019, falls from a height accounts for 49% of the fatal injuries experienced by construction workers.
Roofing, by nature, is dangerous as workers often perform tasks while standing on structures that are several feet off the ground. If losing your footing on a flat surface can hurt you, imagine what it can do to you when you are on the roof, ladder, or scaffolding.
But it is just not wrong turns and missteps that lead to fatal accidents for roof workers. Based on the findings, faulty roof safety equipment is also the culprit in many cases.
How do you make a roof safety harness?
Given the dangers that roofers and DIYers are exposed to, I don't recommend using a DIY roof harness.
These days, we can buy spare parts like buckles, webbings, and carabiners online. But just because these are widely available does not mean that you can make a roof safety harness.
The safety kits available on e-commerce websites or construction shops have undergone various testing and certification from OSHA and ANSI. Without these regulating bodies, it will be impossible to know whether your makeshift roof climbing harness actually works.
Furthermore, it is not enough to simply use a harness. It would help if you had adequate training and other pieces of equipment to minimize accidents. As mentioned in the previous question, faulty gears are among the causes of fatal roofing accidents.
What kind of fall protection is required on a sloped roof?
It is worth noting that your harness for roof work should only be your last line of defense. By definition, a roof with a pitch greater than 10 degrees is considered a "pitched" or sloping roof.
Per OSHA 29 CFR 1926.501(b) (10) and (11), roofers must work on sloped roofs only if they meet the following requirements:
The worker should be protected from falling by an appropriate roof fall protection kit and prevention. Furthermore, they should be competent and aware of the risks that come with working on a pitched or sloping roof.
Besides the roof anchor and roof climbing safety gear, guardrails must be in place at the roof's prereferral edge.
There should be a safety net and a personal fall arrester system, such as a safety harness kit for roofing.
The worker must be provided with a warning line system and safety monitoring.
Does a Roof Safety Harness Expire?
No, there is no mandated or predetermined expiration date for all roof safety harnesses. This protective gear can help with any roofing problems as it aids the worker, no matter how years it has been used. As long as the harness isn't cut or damaged by irresponsible handling, this tool is built to last.
Neither ANSI nor OSHA standards come with present codes that state precisely when the harness becomes out of service. There is also no suggestion from most manufacturers regarding how long a particular harness lasts.
Conclusion
Now that I laid out all things you need to know in getting a safety harness, I highly suggest remembering all crucial factors. Choose a harness that qualifies for specific standards and has complied with all codes at present.
Also, assess how much padding you want for your harness. If you want more mobility, then choose something with light padding. However, if you prefer comfort over performance, then a heavily padded harness is a good option. The best roof safety harness usually got the best of both worlds. You just have to pick the right one in the list above.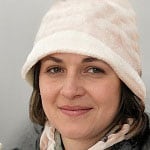 Veronica is our content editor. She is a talent in delivery. Her main work is editing and writing articles that are both informative and simple to follow. She is in charge of synthesizing our understanding of what personal protection equipment (PPE) is needed in each job, how to best apply it, and how to visualize that equipment.