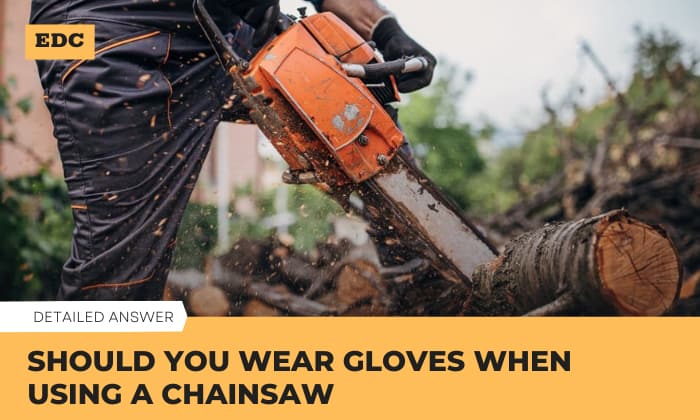 A power tool with toothed chains, chainsaws have long been used for tree-cutting and trimming. Safety is a priority when using such a dangerous tool. So, should you wear gloves when using a chainsaw?
It may sound surprising, but gloves are actually not required when using a chainsaw, but highly recommended. Indeed, there are people who purposely leave out gloves for comfort's sake.
Although a pair of gloves is not a must, wearing it will provide protection against vibration and other potential hazards. After all, it is considered a chainsaw safety gear.
Should You Wear Gloves When Using a Chainsaw?
Chainsaws are commonly used in America's most hazardous job— logging. Statistics show that tens of thousands suffer from chainsaw-related injuries. Some people get their hands cut by the machine's chain or blade.
Additionally, these bodily harms are not only caused by the chainsaw itself. They can also come from the trees and shrubs that one is working on. These hazards include thorns and sharp branches.
Most of these injuries are hand injuries that could have been prevented with right hand protection, particularly, chainsaw gloves.
What are chainsaw gloves?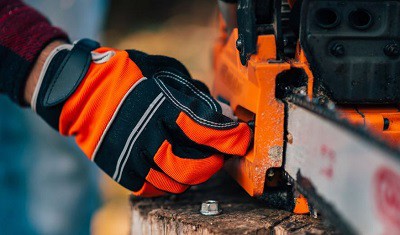 Chainsaw proof gloves are specifically designed to make your wood-cutting or trimming experience safe. They have two layers— outer and inner.
The outer part of the gloves is usually made of leather. Leather is naturally puncture-resistant and this quality makes it an excellent material as an initial barrier to protect the hands from sharps, and other environmental hazards. For additional grip, the outer layer has also an added rubber padding.
The gloves' inner layer is usually made with polyethylene, nylon, or Kevlar fibers. These fibers are what makes a cut-resistant glove.
The chainsaw's top handle is designed to be held by the left hand, placing it near the chain. Therefore, the left hand is more prone to injuries compared to the right.
This is why the left glove is designed to have a chainsaw lining. This feature is meant to stop or slow down the chain once it accidentally touches your hand.
However, there are brands, such as Husqvarna, that only have cut-resistant features on the left and not on both gloves.
To ensure quality performance, chainsaw gloves should have a minimum rating of EN 388. This means that they can withstand mechanical risks including cuts, tears, and abrasions.
Why Do You Need to Wear Gloves When Using a Chainsaw?
Chainsaw gloves are mainly worn to shield the hands from accidental cuts and punctures.
Nevertheless, there's more to them than just being protective gloves. Chainsaw gloves are made with materials that give users a better grip of the power tool. With improved grip, it's less likely that the chainsaw will slide or slip out of someone's grasp and cause injuries.
They are also worn to lessen the vibration from the saw.
What Should You Wear When Using a Chainsaw?
Gloves are just one of the chainsaw PPE or chainsaw safety clothing that should be worn when handling a chainsaw. The Occupational Safety and Health Administration (OSHA) mandates that the following PPE requirements be met to prevent or lessen injuries when using chainsaws.
Head Protection– to avoid head injury from falling trees, branches and other objects.
Hearing Protection– to lessen noise exposure from 90 decibels and lower. It is important to note that hearing protections shall have a noise reduction rating (NRR) of 25, and shall not block noise from other people, warning signals, and cracking trees.
Eye and Face Protection– to prevent debris from getting into the face and eyes.
Leg Protection, this includes chaps– to protect the legs from accidental cuts. Chaps or chainsaw pants are made up of plastic fibers that are unbreakable even after direct contact with chainsaws.
Safety gloves– to protect the hands and minimize vibration.
When a situation requires working during hunting season or near moving traffic, high-visibility safety vests are worn.
Additionally, OSHA also requires employers to check safety equipment before commencing any logging or trimming tasks using the chainsaw.
Frequently Asked Questions
What are the best chainsaw gloves?
Like most things in the world, the "best chainsaw gloves" can be subjective. After all, not everyone has the same preference and working conditions.
However, there are several brands that already made their mark when it comes to cut-resistant gloves. These brands are: VGO, Husqvarna, Echo, Ironclad, and Stihl chainsaw gloves.
Should you decide to wear any gloves not made by the aforementioned brands, it is advised to find ones that possess the following qualities:
Tear resistant
Has chainsaw lining
Lined with Kevlar
Hydrophobic or water-resistant
What are chainsaw gloves for women?
The logging industry has long been dominated by males. With only a few women getting into arboriculture or horticulture, women's chainsaw gloves may be tricky to find.
Nevertheless, this is not a reason for women not to wear protective gloves when using the chainsaw. It is recommended to use men's small chainsaw gloves with Velcro on the wrist. This allows you to adjust the tightness of the gloves.
Conclusion
Operating the chainsaw is already scary by itself. On top of that, there are also risks of having debris in your eyes, getting crushed by a tree, and other unforeseen incidents.
Truly, arborists, tree surgeons, and chainsaw operators in general have a very risky means of living. Therefore, wearing proper protective gear such as chainsaw gloves is important not only to save one's limbs, but to save one's life.
So next time someone asks, "should you wear gloves when using a chainsaw?", the answer should be a resounding yes.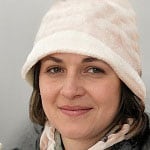 Veronica is our content editor. She is a talent in delivery. Her main work is editing and writing articles that are both informative and simple to follow. She is in charge of synthesizing our understanding of what personal protection equipment (PPE) is needed in each job, how to best apply it, and how to visualize that equipment.