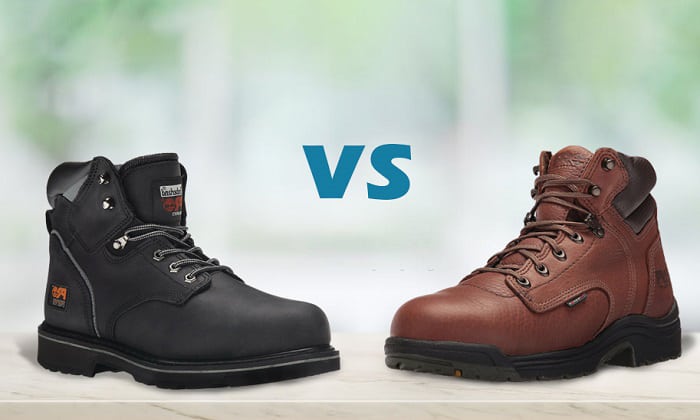 Throughout history, manufacturers have created a huge number of work boot designs. It is easy to get lost in the big world of safety gear. When confused about work boots options, the best approach is to search by brand. If there is a brand you have used and trust, sticking with it is a good idea to ensure that you always get high-quality boots.
One of the big leaders in the market nowadays is Timberland. Besides high-quality shoes, the brand strives to give a positive impact on nature. Some of its campaigns include making leather from regenerative ranches, natural rubber, or 100% recycled materials.
Today we are weighing Timberland Pit Boss vs Titan work boots. Sold at similar prices, the two boot styles provide different options: soft toe, alloy toe, or steel toe boots. While Titan features a nylon shank, Pit Boss doesn't. They are made from different materials, which bring different levels of comfort and flexibility. Let's break it down!
Titan Vs Timberland Pit Boss Work Boots: An Overview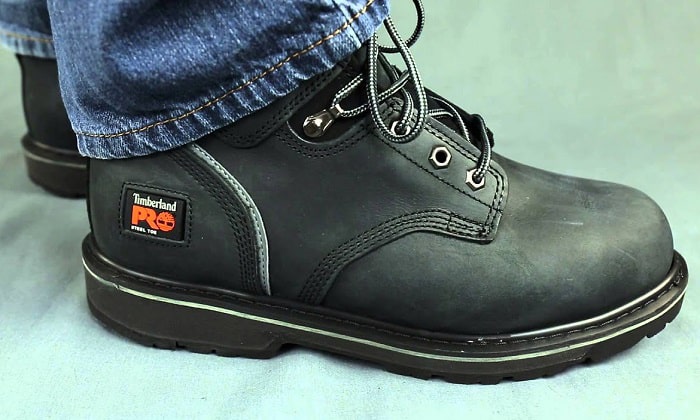 Pit Boss boots come with two options: soft toe or steel toe while Titan is only available in alloy toe cap. Sometimes, you will find the safety toe Pit Boss as Timberland pro work boots. In this article, we will compare both the original Pit Boss and Timberland Pro Pit Boss vs Titan. Before getting into all the technical information and differences, let's just put them on and see how we feel.
1. Outlook
The Pit Boss styles feel sleek to the touch. Meanwhile, the Timberland Titan looks more sturdy. The Titan leather work boots have a more shiny and professional outlook.
At first glance, the boots' soles look identical with slightly raised heels. The soles are not too thick or bulky like other work boots. They are like any regular hiking boots that you can wear to the office or on a night out. Both styles will go well with most of the clothes in your closet.
2. Fitting
In terms of fitting, Timberland boots are well-known for staying true to their sizes. We buy them in our regular size and they fit snugly. Most of the online reviews agree with this. The shoe sides don't put pressure on our feet when we carry heavy loads. The protective toe caps make it a bit weighty in the front. Still, there is enough room for the toes to wiggle freely. The raised heels are firm, enhancing balanced steps.
Plus, Pit Boss and Titan are both lace-ups. You won't have to worry much about their fitting as lace-ups are easy to adjust. All you need to do is to loosen or tighten the laces. That doesn't mean you can assume you know your size. Always measure your feet carefully and follow the Timberland size charts for properly-fitted shoes.
Once you get the right size, you need to decide if a medium or wide width is for you as Timberland offers both. In general, the medium size is about ⅛ inch smaller than the wide one, widthwise. That is a relatively small amount, but don't underestimate the difference it can make. If you have wide feet, trying to fit them into medium-width boots will hurt the toes and sides badly. Eventually, it can lead to ingrown toenails, blisters, corns, and calluses.
Features Comparison
1. Boot height and weight
Both are 6-inch tall boots, covering the ankles. 6-inch boots are more flexible as the low neck allows you to put the shoes on and off more easily. They are a great all-around choice. However, 6-inch boots are for lighter manual labor; some heavy-duty jobs might require 8 or 10 inch boots.
A Timberland Pit Boss boot with safety toe weighs around 2 pounds. Titan weighs even less with only 1.5 pounds. These are comparatively lightweight. Regularly, a steel toe boot can weigh up to 4 pounds.
2. Upper materials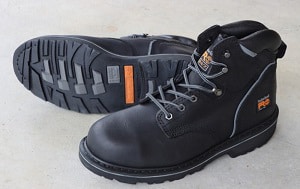 Pit Boss work boots: These are made from rugged nubuck leather. Don't mistake nubuck for suede. Though both are split-leather, they are two different materials. To make nubuck leather, the top layer of calfskin or cowhide is used. On the other hand, the inner layer is used to make suede. The outer layer is tougher and more resilient but may have markings and defects. For a consistent appearance, manufacturers will sand and buff it. That is why the upper materials of Pit Boss have a velvet-like finish.
Titan boots: These are made of premium full-grain leather. In general, full-grain is more sturdy and durable than nubuck or suede. To make full-grain leather, right after hair removal, the leather goes into the tanning procedure. Manufacturers won't apply sanding or buffing techniques to take the advantage of the entire leather thickness.
In our experience, the upper materials of Titan are softer and take less time to break in. It is weird considering full-grain leather is thicker. But within one day, Titan already feels more comfortable and pleasant to the feet. Meanwhile, Pit Boss takes a few days for the leather to begin to loosen.
Also, both types of leather are not waterproof. Their eyelet designs will allow water and moisture to get into the shoes. Therefore, they are not for working under wet conditions. If necessary, you can use mink oil to make leather water-resistant.
3. Safety toe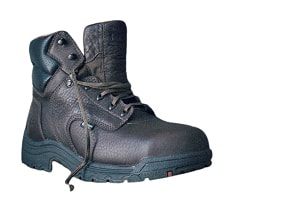 The safety toe cap is the most distinctive function among the three.
Timberland Pit Boss: The original Pit Boss offers soft and flexible toe boxes. The absence of the safety toe can be a deal breaker for many people as steel-capped boots are mandatory at certain worksites. But if your job doesn't require the toe reinforcement, this style will bring maximal comfort to the feet.
Timberland Pit Boss Pro: The pro version of Pit Boss comes with a steel toe. Timberland uses asymmetrical-shaped safety toe caps that meet the ASTM standards. The standards include ASTM F2412-18a and ASTM F2413-18 I and C. Though the toe cap can add a little weight to the boots, it will ensure your safety at hazardous workplaces. For a more thorough review, watch this video on Timberland Pro Pit Boss.
Timberland Titan: Titan boots feature alloy toe caps. Don't mistake alloy for steel. Even though they are both metallic, they are not the same materials. The alloy safety toe is an upgraded version of steel. It is thinner, lighter, and more The same testing procedure of the ASTM (F2412-18a, F2413-18 I and C) is applied to alloy toe caps. Hence, they can provide you a standard level of protection. But in terms of sturdiness, no material can bypass steel.
4. Shank
A shank is a thin and small piece of material that is inserted into the boot's sole. It helps prevent and minimize injuries in the event of sharp object penetration. At construction sites where pointy stuff might lie here and there, this function is imperative. Timberland Titan features a nylon diffusion shank while Pit Boss doesn't come with a shank.
5. Electrical hazard protection
Both boot styles provide electrical hazard protection. That doesn't mean you can rely on the boots as the source of electric insulation. They only act as a secondary underfoot protection against live electricity wires.
6. Boot soles
The two boot designs feature Timberland Pro® Rubber technology. The soles are resistant to heat, slip, abrasion, and oil. Timberland does such a good job in making non-slip outsoles. As we test the boots against slippery surfaces like ones in the supermarkets, restaurants, and wet sidewalks, they never cause slippage.
Besides choosing reliable slip-resistant outsoles, to avoid slips and trips you should always tie the boots' laces properly. Many people don't pay much attention when tightening the laces. In fact, most trips and slips happen because the laces are loose, not because of the boot outsoles.
Also, before tightening shoe laces, push your heel backwards until it touches the heel counter. Then, lace tightly in a way that feels comfortable. Pushing the heels all the way back will ensure the shoes fit snugly.
Conclusion
There you have it, all the similarities and differences of Timberland Pit Boss vs Titan. Neither one of the shoes are better than the other, it's more about which ones suit you better. Titan is well-known for its incredible comfort while offering toe caps and shanks. However, the soft leather makes the shoes quite vulnerable under harsh weather conditions. They won't be as durable as Pit Boss.
There's not much difference in their prices. So, take your time to learn about their properties carefully. At the end of the day, it is your safety that should always come first.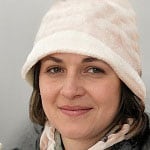 Veronica is our content editor. She is a talent in delivery. Her main work is editing and writing articles that are both informative and simple to follow. She is in charge of synthesizing our understanding of what personal protection equipment (PPE) is needed in each job, how to best apply it, and how to visualize that equipment.