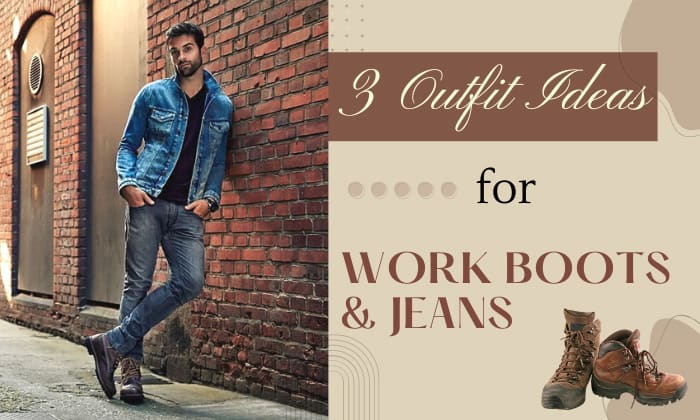 You've seen people wear mens dress boots with jeans, but have you seen anyone wearing jeans with work boots?
Designed as protective shoes, people are now starting to wear their work boots outside the worksite and transform them into fashion footwear. You can create several great outfits with work boots, but if you want to achieve a casual and cool look, it's best to pair them with jeans.
So, if you want to try such a combination for your next outfit, you might want to know some tips and rules on how to wear work boots with jeans.
Ways to Wear Work Boots With Jeans
The first pair of jeans, particularly the blue jeans, was invented in 1873 by Jacob W. Davis for Levi Strauss & Co. It was originally made for miners who needed a pair of durable work pants.
Nowadays, almost everyone owns jeans. There are jeans designed for guys, even for ladies. Its versatility allows it to match well with other pieces of clothing, as well as footwears– including work boots.
Whether they plan to wear brown or black boots with jeans men's and women's fashion styles can look refined as long as they master the following methods and rules in wearing boots with jeans:
Method #1: Stacking Your Pants Above Your Boots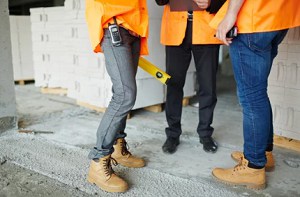 Stacking is considered an easy method that works with almost all kinds of boots. Unlike having your jeans over boots, you can effortlessly flaunt your footwear with this style, and have a fashion-forward look.
For best results, you have to ensure that your pants are not wide-legged. This is mostly recommended for tapered jeans. Moreover, skinny jeans can also be stacked if they have extra length.
Just like the pants, the boot length and cut also have to be considered for stacking. Ankle and mid-calf boots are suitable for this.
To stack your jeans, all you have to do is to pull the bottom hem and rest it above the boots.
Method #2: Rolled Jeans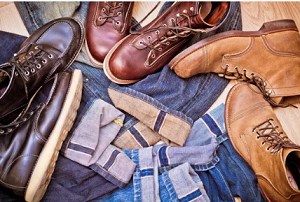 Rolling the hemline, also known as cuffing, is usually done to instantly shorten the pants' length and balance your body proportions. More so, this method can also be used to emphasize your boots.
Although this style can go well with any height work boots and logger boots, it does not work with all kinds of jean cuts. This works on slim-fit or straight cut jeans, and trying it on wide-leg and skinny jeans may make your pants look tacky.
Just prepare a pair of slim-fit or straight-cut jeans, your socks, and a pair of work boots of any height.
You can create your first fold by flipping less than an inch of your jeans' hemline. Then, fold one more time.
Folding the hemline twice creates one (1) roll.
The height of the role should be 1.5 inches.
The recommended number of rolls is two (2).
Method # 3: Tucked-in Jeans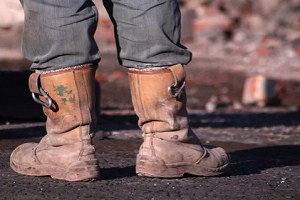 This works with tall work boots, or work boots that rise up to your ankles. However, jeans tucked into work boots is an outfit men should do away from when attending formal events.
Unlike the first two methods, this style is more inclined on practicality and not much on aesthetics.
Wearing them over jeans can protect your jeans from dirt, debris, or tears– making it a suitable style for outdoor activities. Interestingly, people also started using this to hide imperfect or ill-fitting pants.
The best jeans for this are the narrow-legged ones such as slim-fit and skinny jeans. Straight or wide-legged pants won't stay tucked, and will make you look awkward.
Bring your slim-fit or skinny jeans, some mid-calf socks, and your favorite tall work boots. Then, do the following steps:
Step 1: Fold the hem of your jeans up until the mid-ankle.
Step 2: Tighten the cuff by vertically folding it once, then folding the cuff. Steps 1 and 2 may not be necessary for skinny jeans.
Step 3: Wear your socks to secure your pants and prevent them from popping off.
Step 4: Put on your boots.
FAQs
Do work boots go over or under jeans?
Work boots CAN go over or under jeans.
Although wearing boots under jeans is more popular and deemed more acceptable, it does not mean that you shouldn't try wearing it the other way. This method can actually work if you know when you should tuck your pants in.
Wearing boots over jeans used to be considered a taboo or not fashionable, but people slowly realized the beauty of tucking their jeans into their boots. Matter of fact, it has recently become a fashion trend.
What work boot color is best to wear with jeans?
It is important that you match the color of the boots with the jeans.
Dark brown is a versatile boot color, but it will complement blue jeans best. Black will also match with any color, but the black boots black jeans combo is a popular choice for people aiming to look more fashionable, or have a slimmer silhouette.
In this regard, it is safe to say that you can never go wrong with dark brown and black work boots.
Can you wear work boots with skinny jeans?
Skinny, also known as skin-tight jeans, are jeans that have small leg openings that cause them to hug and take the shape of the thighs and legs.
This is the kind of jeans ladies usually go for, especially if they want to shape or accentuate certain body parts. On the other hand, wearing skinny jeans with boots men look taller.
Its skin-tight fit makes it suitable for stacking, as the fabric will not look crumpled in a bunch at the ankle.
Can women wear work boots with jeans?
Definitely.
There are work boots ladies can wear– in fact, there are work boots that are specifically made just for them. This being said, they can definitely sport their jeans and boots by applying any of the methods mentioned: stacking, rolling, and tucking.
Conclusion
Work boots are not the first thing that come to mind when thinking of footwear to wear with jeans. After all, some people think that a pair of work boots are "just for work". However, despite their name, they have proved themselves to be more than just safety shoes.
And yes, you can look sharp and dapper wearing work boots with pants– particularly jeans. All it takes is knowing how to wear work boots with jeans properly, and knowing the correct styling for your outfit.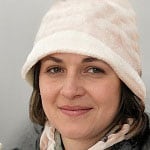 Veronica is our content editor. She is a talent in delivery. Her main work is editing and writing articles that are both informative and simple to follow. She is in charge of synthesizing our understanding of what personal protection equipment (PPE) is needed in each job, how to best apply it, and how to visualize that equipment.