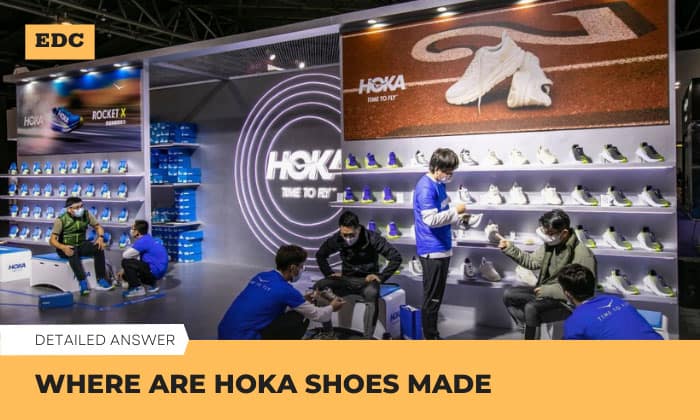 It seemed as though Hoka came out of nowhere, stealing the spotlight away from 59-year-old Nike and 73-year-old Adidas when Esquire named the Mach 5 as one of the 2023 best men's running shoes.
This popularity got its fanbase asking, Where are Hoka shoes made? To be specific, from which country? And who owns Hoka shoes?
Though its name came from a Maori word, we are not starting our journey in New Zealand to trace the Hoka shoes origin. We're heading to France!
About Hoka and Its Manufacturers
1. History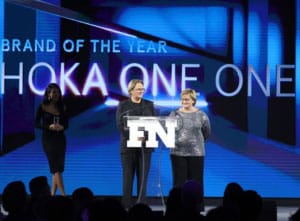 Founded in France in 2009, Hoka One One (pronounced ho-ka o-ney o-ney) is the brainchild of Nicolas Mermoud and a former Salomon CEO, Jean-Luc Diard, whose goal was to develop a shoe design that enables wearers to run downhill quicker.
This idea spawned a pair of lightweight running shoes with marshmallow-like outsoles to optimize cushioning and stability. Mermoud and Diard aptly named the brand "Hoka," or "fly over the earth" in the Maori language.
Originally worn by ultramarathoners, Hoka sneakers became an instant hit among many users, whether they are zooming through rough trails or flat concrete. In 2013, Deckers Outdoor Corporation acquired the shoe company with a female president named Wendy Yang, who was an athlete herself.
Headquartered in USA, Hoka Shoe Company now supports professional athletes by providing them with sponsorship deals and training groups. Apart from the creme de la creme of the sports that name brands normally tap for ambassadorships, Hoka also sponsors emerging athletes.
In a 2021 Running Magazine article, the brand is said to have officially truncated its name to "Hoka" and nixed "One One."
2. Locations of Hoka shoe factories
Of course, who owns the company is different from who makes Hoka shoes. Thankfully, Decker Brands are transparent, as they provide details about their supply chain on their website.
Using the "Deckers T1 Supply Chain Partners" report as our source, we parsed through the October 2022 data and learned that Hoka shoes are currently made in Cambodia, China, and Vietnam.
Where are Hoka shoes manufactured specifically in these countries? Take a look at this table:
| | | |
| --- | --- | --- |
| Name of Shoe Facility | Country | Province |
| Shoe Premier II (Cambodia) Co., Ltd. | Cambodia | Phnom Penh |
| Lin Wen Chih Sunbow Enterprises Co., Ltd.* | Cambodia | Kandal |
| Qingyuan Sun Shin China, Ltd. | China | Guangdong |
| Amara Vietnam Footwear Company, Ltd.* | Vietnam | Nam Dinh |
| Golden Star Co., Ltd – Simona Footwear Co., Ltd. | Vietnam | Quang Ninh |
| Venus Vietnam Footwear, Ltd. | Vietnam | Thanh Hoa |
| Ty Thac Co., Ltd. | Vietnam | Dong Thap |
| Zhi Xing Viet Nam Co., Ltd. | Vietnam | Hai Duong |
| Branch of International B2B Solution* Company | Vietnam | Dong Nai |
| Exported Footwear Manufacturer* | Vietnam | Hung Yen |
| Vietnam Victory Sporting Goods Co., Ltd.* | Vietnam | Ha Nam |
Out of the facilities on the list of supply chain partners, 6 factories are reportedly manufacturing Hoka while sharing spaces with other shoe brands under Deckers like UGG, Teva, and KB.
Five of those are dedicated to manufacturing Hoka athletic shoes only—we marked them with asterisks (*), so you can easily identify them on the table.
Why Hoka Chooses China, Vietnam, and Cambodia Factories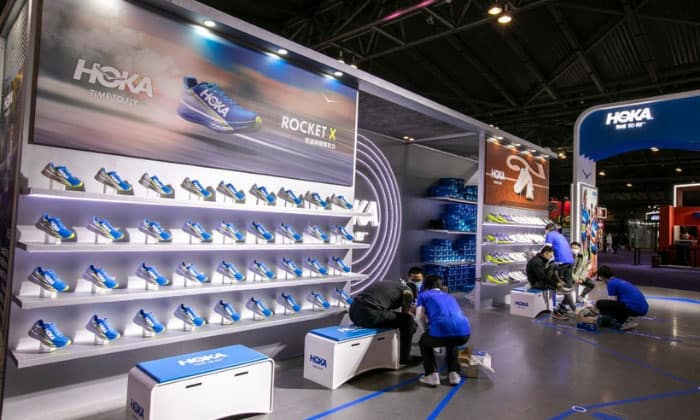 Like its competitors, you will find Hoka footwear with "Made in China" on its tags. That's because it remains the largest exporter of shoes in the world.
Although Hoka has the majority of its shoe-making operations in Vietnam, the brand maintains its clothing and accessories production in several facilities in China.
Moreover, a huge chunk of the packaging and shoe components like foam, mesh, synthetic leather, tanned leather, suede, and shoelaces are sourced from Chinese companies.
But if you love Hoka Bondi shoes, you'd probably be interested to know that these best-sellers are made in Vietnam, the second largest footwear exporter.
Though other sources mentioned the Philippines and Dominican Republic, we did not find factories from these countries manufacturing Hoka shoes. However, their facilities make UGG shoes, another brand under Deckers Outdoor Corporation.
The Manufacturing Process of Hoka Shoes
1. Sourcing
Hoka acquires its shoe components from tanneries as well as manufacturers of foam, textiles, plastic, or metal components. Scroll down to the FAQ section for a complete list of materials.
2. Manufacturing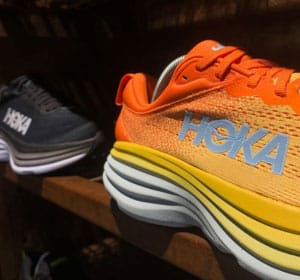 Skilled workers in facilities in China, Vietnam, and Cambodia would use the materials to assemble the shoes.
3. Distribution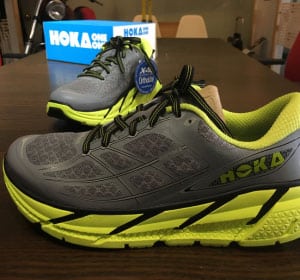 As an American brand, its largest distribution center is found in Southern California. From here, the products would then be distributed to other parts of the US. The world over, there are several flagship stores and independent retailers that carry Hoka products.
4. Recycling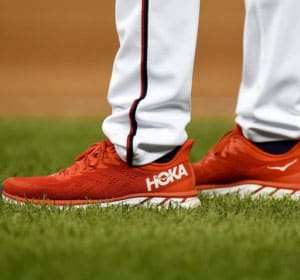 Hoka is taking several initiatives to ensure that its business does not hurt the environment. One of which is collaborating with the Australian Sporting Goods Association to repurpose worn-out footwear into other athletic products. That's on top of using recycled and ethically-sourced materials to make its shoes!
The Impact of Globalization on Shoe Manufacturing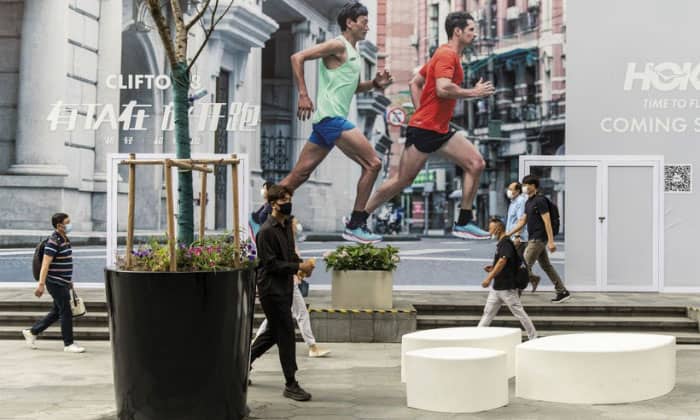 By 1992, about 63.2 percent of the shoes sold across the globe were made in Asian and Middle Eastern countries, where labor is said to be cheaper. One unsavory truth that consumers must face, however, is that globalization also led to many contractors hiring informal workers and child laborers.
According to the International Labor Organization, there are roughly 23.6 million formal workers in the TCF industries. The number of informal workers, on the other hand, is harder to estimate as they are not registered nor taxed. Because of that, these people are also most vulnerable to exploitation.
To address this issue, Deckers created a "Code of Ethics" to provide a healthy work environment for its employees.
Comparison to Other Shoe Brands and Their Manufacturing Locations
1. Hoka vs. Nike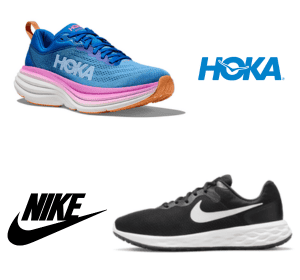 The first thing we noticed when comparing the two is that Hoka running shoes are true to size, whereas Nike's sneakers have a narrow width.
While both brands score high in cushioning, we find Hoka to offer better stability thanks to their "Active Foot Frame," which gives the wearer the feeling as though the shoe and foot are one.
Manufacturing
Per Nike's "Manufacturing Map," the brand has over a million workers clocking in 495 factories scattered in 37 countries across different continents. Out of these numbers, 11 factories manufacture its shoes, and they are located mostly in Asia and Latin America, as well as Italy.
2. Hoka vs. Adidas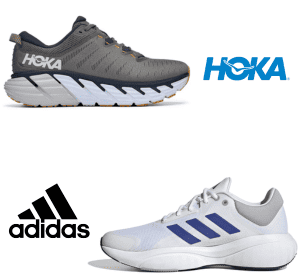 Sneakerheads often compare Adidas UltraBoost 0.1 against Hoka Cliffton, so let's go with that pairing. For starters, the former runs a bit larger whilst Hoka, as always, is true to size. Moreover, we are giving Cliffton extra points for offering wider width sizes!
Although both Adidas and Hoka are lightweight, the UltraBoost lacks the supportive and shock-absorbing abilities needed for running. The Clifton is a lot bouncier, which relieves the stress on the joints.
But in terms of eco-friendliness, Adidas UltraBoost is the clear winner as most of its components are made of recycled materials.
Manufacturing
The 2021 Adidas Annual Report reports 21 independent footwear manufacturers, each one owning multiple factories. Needless to say, the brand takes pride in maintaining decades-long relationships with most of its collaborators.
In that year, about 340 million pairs of shoes were produced, 96% of which came from Asia. Of this volume, Indonesia takes up 36%. Vietnam and China represent 30% and 15% respectively while other countries account for the remaining.
Frequently Asked Questions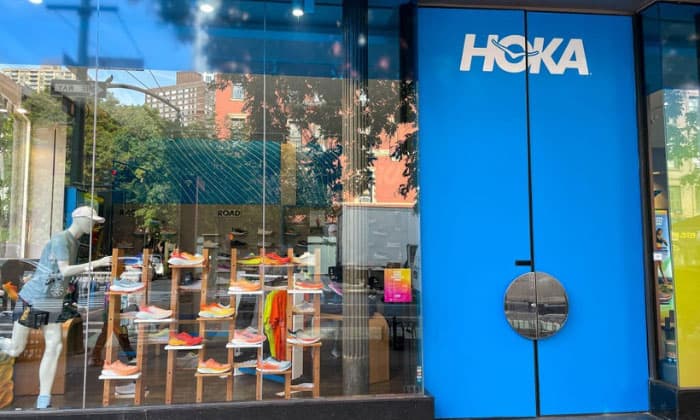 What materials are used to make Hoka shoes?
Hoka utilizes both synthetic and natural materials to create its innovative running shoes, specifically leather, faux leather, mesh, wool, and foam.
But what users love about this shoe company—and all Deckers brands for that matter—is that it also utilizes "preferred materials." This term collectively refers to:
Recycled synthetics like nylon, polyester, and polyethylene
Man-made or regenerated fibers
Repurposed wool
Down feathers that are extracted from animals without harm
Are Hoka shoes high quality?
Esquire Magazine will not include Hoka on its list of "the best running shoes" if the quality is not up to snuff. The brand pays special attention to the design, construction, and materials to ensure that the sneakers can survive hundreds of miles of running.
Where can I buy Hoka shoes?
Besides its official website and flagship stores, you can buy authentic Hoka shoes from brick-and-mortar shops like Nordstrom and Walmart. Likewise, you can check out online retailers like Amazon, Zappos, and Net-a-Porter.
Conclusion
Nowadays, consumers no longer just buy products—they also patronize brands that align with their politics and beliefs and make sure that no community or animal is exploited or harmed.
That's why Deckers published all the information related to its brands. Its execs are aware that making good-quality shoes is only half the battle. Its customers want to know, "Where are Hoka shoes made?" As our research shows, they are not made in sweatshops.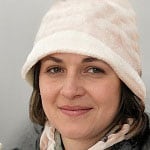 Veronica is our content editor. She is a talent in delivery. Her main work is editing and writing articles that are both informative and simple to follow. She is in charge of synthesizing our understanding of what personal protection equipment (PPE) is needed in each job, how to best apply it, and how to visualize that equipment.