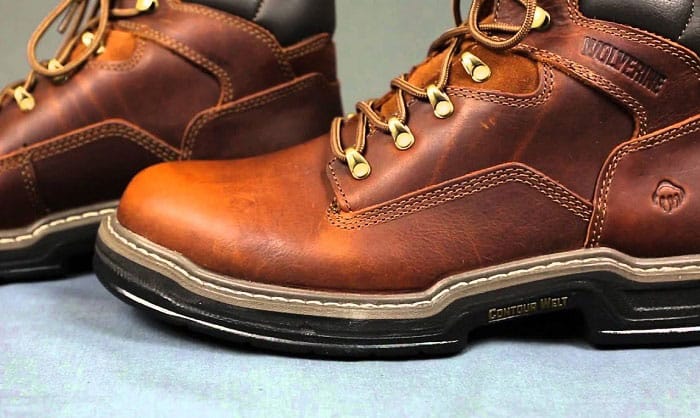 Wolverine is an iconic brand that has been trusted by generations in America. Established in Michigan, the brand has constantly developed and upgraded its products for over 135 years. Wolverine stands for its commitment to affordable, comfortable, durable, and purpose-built work boots. Nowadays, they lead the industry with practical and innovative footwear technologies.
If you have been eyeing on the brand, you might find their best-sellers include Wolverine Buccaneer and Raider. Simultaneously, they can be the ones that stagger people most as the pricing and functions look quite similar at first glance. However, they are different in terms of slip-resistant technology, waterproof, and safety toe functions.
For detailed comparisons and review of Wolverine Buccaneer vs Raider, dive in!
Raider vs Wolverine Buccaneer: An Overview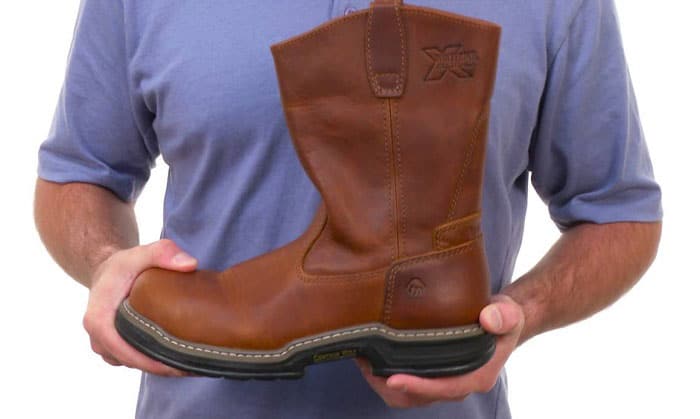 Outlook
If you are new to the world of safety gear, the two might look indistinguishable outwardly. Aside from Buccaneer's color being darker, there's not much difference in their designs. People might mistake them for one model with two color options. Both are lace-ups featuring copper eyelets, slightly raised heels, leather-colored stitches, and white welts (the stitching around the shoe's edge).
These are Raider work boots.
This is Wolverine Buccaneer boot style.
When taking a closer look, you will find many distinctive properties, like their production technologies and safety features. Raider comes with an option between the soft toe and steel toe, while Buccaneer is only available in soft toe style. Before getting into all the technical information and differences, let's just put them on and see how we feel.
Break-in period
Breaking in work boots means walking around in them for about an hour a day before wearing them to work. This helps the shoes to soften, flex into your foot shape, and make them less slippery. There are other techniques you can use, like shoe stretchers or leather conditioners, to further the process. After a few days, your feet will start to feel much more comfortable in the boots. That is when you can work all day, stand for hours, and even carry heavy loads comfortably.
In our experience, both Wolverine Buccaneer and Raider can be broken in quite easily and quickly. Within two days, the leather already feels soft and flexible. Some heavy-duty footwear might require extra products to support the break-in process. But with these, you won't need to break a sweat.
Raider vs Wolverine Buccaneer: Comparison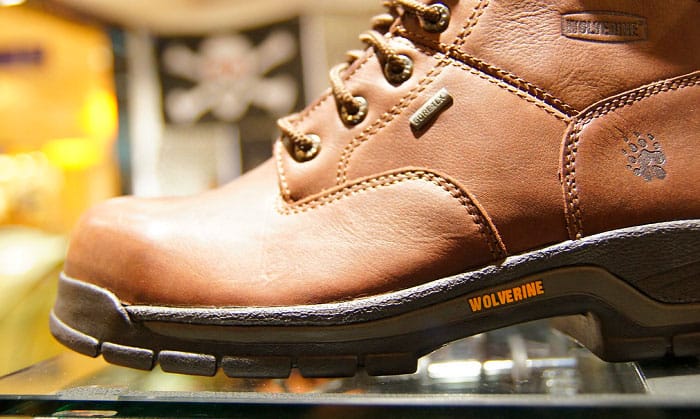 1. Boot height and weight
Both are 6-inch tall. They cover the ankles. Thus, rest assured your ankles are protected and supported. People who suffer from ankle pain can really benefit from these boots. Moreover, you might notice the eyelets are designed differently from regular shoes. It is to ensure no debris or water can get into the boots. The tightened laces will prevent tiny particles from coming through the neck too.
Each boot weighs five pounds. That is the same weight as most work boots on the market.
2. Upper materials
Both are made of full-grain leather, which means right after hair removal, the leather goes into the tanning procedure without being sanded or buffed. It is to use the entire thickness of the leather. Full-grain is one of the most sturdy upper materials and will provide maximal protection. The two designs do differ slightly:
Wolverine Buccaneer work boots have waterproof full-grain leather. It means the leather goes under a further process to be made water-resistant. The common technique is to cover the leather with a thin waterproof layer.
Wolverine Raider work boots uppers are not waterproof. They feature moisture managing mesh lining though. The lining makes Raider more breathable than Buccaneer. But obviously, under harsh weather conditions, they can't resist moisture.
3. The boot soles
You can easily see the two boots' soles are identical. They are both made with Flexible Wolverine ContourWelt® construction technology. This advanced technology does such a good job in enhancing comfortable and balancing steps. Many people opt for Wolverine for this reason.
Other similarities include the Wolverine MultiShox® removable full-cushion insoles and PU midsoles. The full-cushion property makes them extra comfy and pleasant. More so, the removable insoles enable easy and quick cleaning. According to Wolverine, the PU midsoles are to provide durability. Though we haven't worn these boots long enough to see how durable they actually are; they do feel decent, thick, and sturdy.
The only difference is the slip-resistant technology. While Raider features Wolverine MultiShox® outsoles, Buccaneer doesn't come with this sole technology. Instead, the brand claims Buccaneer to be slip-resistant with rubber lug outsoles. Nonetheless, when wearing these on slippery surfaces like on wet sidewalks and supermarket floors, we find them both resist slips and trips extremely well.
4. Protective steel toe
As mentioned above, Wolverine Raider comes with two options: soft toe or steel toe. Meanwhile, Buccaneer is available only in the soft toe design. The absence of the steel toe can be a deal breaker for many people. If your job requires steel toe work boots, you have only one choice, Raider. The steel toe in Wolverine Raider is ASTM rated.
5. Fitting
In terms of fitting, we find both stay true to their sizes. We buy them in our regular size and they fit snugly. The lack of protective toe caps leaves extra room for the toes. The sides of the boots fit well, they won't put pressure on your feet when carrying heavy loads. The heels are firm and sturdy, causing no slippage.
That doesn't mean you can assume you know the size as work boot sizes can differ from regular shoes. The best is to measure your feet carefully following the guide and size chart on the Wolverine website. No pressure though. The brand offers a 30-day comfort guarantee. If the boots don't fit well, you can always return them. But they have to be unworn, unwashed, and unaltered.
Once you get the right size, ensure fitting by:
Tightening the laces properly: Before tightening shoe laces, push your heel backwards until it touches the shoe. Then, lace tightly in a way that feels comfortable. The shoes should fit snugly, not tight. If you don't push the heels all the way back when tightening shoe laces, they won't fit snugly.
Wearing the right socks: For safety footwear to feel comfy, good socks are crucial. Always pair them with well-fitted, soft, and moisture-wicking socks.
When put on correctly, the fitting is amazing.
6. Comfort and flexibility
Both shoes allow high mobility and flexibility. They are ideal to use at busy worksites. Despite being lace-ups, they are effortless to put on and off. With the Wolverine MultiShox® system, the boots are promised to provide energy boost in every step.
We do find Wolverine Raider and Buccaneer way more comfortable than other work boots on the market. They never cause blisters, chafing, or any foot pain symptoms.
7. Pricing
Last but not least, both Buccaneer and Raider steel toe are sold at the original price of $140. The Raider soft toe version has a slightly lower price of $135.
Which Design is for Your Job?
At this point, you might have noticed the two boot styles both lean to the comfort side, not the safety side. They're only 6-inch tall, lack safety functions like shanks, metatarsal guards, cut resistance, etc. Hence, they are not for heavy-duty jobs like loggers or offshore oil rig workers. But they are amazing for all-around jobs, such as construction workers, tradesmen, and security guards.
They don't come with shanks. Hence, avoid wearing them at hazardous workplaces where pointy stuff might lie around.
The Raider steel toe version is for jobs that require steel-capped boots.
Buccaneer is best for workers in humid conditions like frozen food warehouse staff, snow shoveling workers, or simply employees who live in a country that rains a lot.
The Raider soft toe version is recommended for security guards who have to walk and run on shiny, slippery floors at malls, airports, or supermarkets.
If you want to check other models and see more Wolverine work boots review, watch this video on Wolverine 2421. The brand offers a variety of safety footwear styles.
Conclusion
We hope you've enjoyed our wolverine buccaneer vs raider review and comparison. The two boot styles have moderately different functions and usage. Take time to learn carefully about their properties. Remember that brands always have their intention when creating a certain design. At the end of the day, it is your safety that should always come first.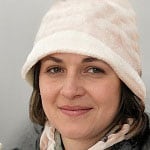 Veronica is our content editor. She is a talent in delivery. Her main work is editing and writing articles that are both informative and simple to follow. She is in charge of synthesizing our understanding of what personal protection equipment (PPE) is needed in each job, how to best apply it, and how to visualize that equipment.