If your job requires you to use and carry several tools at once then finding the best tool backpack in the market can provide you a lot of rewarding benefits – among which are better productivity and efficiency. Whether you are in need of the best tool backpack for an electrician or for any other kind of work, you will find this item of great value as it allows your stuff to be sorted out properly.
With a good tool-carrying backpack, you will have something to hold all your stuff, including nails, hammers, saws, and any other tools. You can put these things in just one place, promoting ease in case you need to crawl or move around tight spaces or climb up ladders.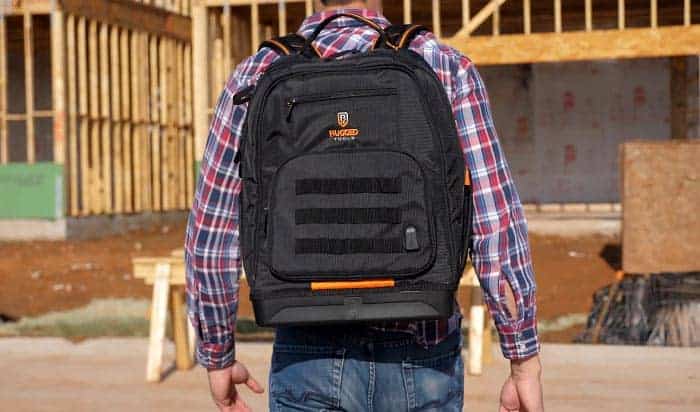 If you need to bring a gadget or laptop at work then you will be pleased to know that you can now easily find a tool backpack with a laptop compartment. This makes it possible to bring your device around without hassle. However, you have abundant choices in this field.
With that, we tried to sort out some reliable products and included them in this article. The following are short reviews of twelve of the most reliable tool backpacks that you can invest in to ensure that you can fulfill your daily job in a smoother and more productive and efficient manner.
Best Tool Backpack Reviews 2020
1. Klein Tools 55421BP-14 Electrician Tool Backpack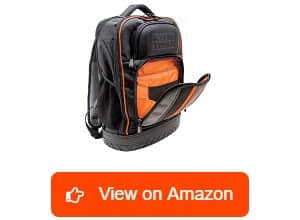 Are you in search of a high-quality, durable, and spacious electrician tool backpack? Then the 55421BP-14 Electrician Tool Backpack might be the most appropriate product for you. It is a budget-friendly choice so I highly recommend it in case you are on a budget but still intend to get a backpack with several rewarding benefits.
I love how sturdy Klein made this backpack to be. I think the 1680D ballistic weave used in structuring it contributes to its sturdiness. This specific construction is also one reason why it has a lower risk of sustaining tears nor fraying.
This choice for the best backpack tool bag also takes pride in its orange interior, which I find beneficial as it promotes visibility even when you are working in the dark. You do not also need to strain just to find your tools because of the amazing visibility in the interiors.
The bag is slim and compact yet rugged and spacious. In fact, at an affordable price, it can provide you with a max of 39 pockets that you can use to organize your tools in a neat and secure manner. It also boasts of a distinctive hardened compartment, which you can use in storing your safety goggles or glasses.
I am in favor of the fully hard-molded bottom of this backpack because it makes it possible for you to put it on a floor with moisture without causing damage to the things inside it.
The double stitching applied into the stress-prone points of the bag also lowers its risk of bursting open even with it gets a bit overloaded.
One issue I would like to emphasize, though, is its somewhat heavy weight.
What We Like
Slim and compact while still having more than enough pockets to store your tools
Features a distinctive hardened compartment for your safety goggles or glasses
Double stitching applied into stress-prone areas to prevent it from bursting open even when it is overloaded
Promotes visibility with its orange interiors
Equipped with a fully hard-molded bottom
Considering its affordable price, this Klein tool backpack will certainly give you satisfaction with its sturdiness, sleek design, orange accents for visibility, and 39 spacious pockets designed to help transport the tools you need with ease.
2. DEWALT DGL523 Lighted Tool Backpack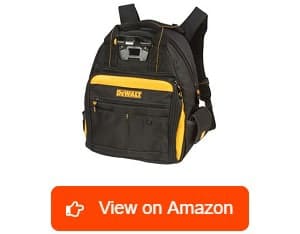 The DEWALT DGL523 also has a lot of promising features and potential as it works as an effective electrician, technician, and construction worker backpack. Actually, it satisfies the demands and requirements of different kinds of professionals and workers, which just shows its versatility.
It is one of the most spacious tool backpacks today as it contains up to 57 pockets designed to keep your tools safe and secure. A total of 48 pockets are built into the product's interiors while the remaining 9 pockets can be found on the exteriors. It has a nice look with a mix of yellow and black fabric.
On top, you can see a bright LED light integrated into it, which contributes a lot in allowing you to work even in areas that are dim or with poor lighting. With the LED light built into the backpack, it is also possible for you to see clearly when you are trying to complete intricate projects.
What is good about the LED light is that it has three levels of brightness. You can also rotate it around as a means of adjusting its beams so suit your specific needs and demands. I am also glad to say that the stitching of this backpack is rigidly constructed. It has an ergonomic design, which makes it easy and comfortable to wear and use.
This is also a waterproof tool backpack as the material used in its body is known to be water-resistant. Furthermore, it has a back padding, a tough fastening and a padded bottom, which lessens abrasion. It is also made in a way that its load or weight is evenly distributed.
However, one weakness I discovered is the shoulder strap, which I find less durable in comparison to the ones used by the others.
What We Like
Versatile as it satisfies the requirements and demands of many users
Waterproof/water-resistant body
Equipped with a padded bottom, which lessens abrasion
Can distribute load or weight evenly
Comes with several spacious pockets
What We Don't Like
The shoulder straps are not as sturdy as expected
With the many good things and positive features built into this backpack, no one can ever deny its contributions in making the jobs of different kinds of workers easier to accomplish.
3. CLC Custom Leathercraft 1134 Tool Backpack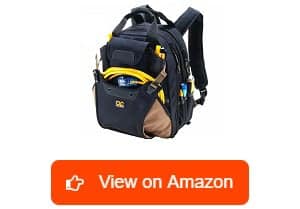 If you are in the lookout for a reliable carpenter's or construction backpack then the CLC Custom Leathercraft 1134 Tool Backpack will definitely not disappoint you. Aside from benefiting carpenters and construction workers, it also acts as a high-quality technician and electrician backpack tool bag.
In fact, it has a flexible or versatile construction in the sense that different kinds of workers can enjoy several significant and rewarding benefits from it. I like the fact that this backpack tool bag has two primary compartments. The first one is intended for basic tools while the other one is designed to hold power tools.
Another awesome feature of this tool backpack is the zipper enclosure, which tends to adorn the primary components. With the aid of these zippers, you get the chance to keep your electrical gears and other tools fully protected like the cordless drill and batteries. I am also delighted to announce that this CLC tool backpack is built for comfort.
You will notice that right away with the additional padding built into the back and shoulders of the bag. Your level of comfort will improve even more with the aid of the adjustable chest strap. You can also find a pair of handles integrated on top so you can lift even a heavy kit with ease.
Furthermore, there is an exterior pocket, which will serve as a storage area for the items that you need the most every day. I would also like to highlight that this is a waterproof tool backpack since it utilizes a water-resistant material for its construction. It also comes with rubber feet at the bottom to ensure that it does not stay in puddles.
As for the number of pockets, you will be pleased to know that you will be enjoying up to 48 of them in total. The backpack also has the ability to carry tools and equipment that are up to forty to fifty pounds without hassle.
However, I noticed that the included zippers are quite fragile, which might be the reason why they are not that long-lasting.
What We Like
Water-resistant and sturdy construction
Equipped with up to 48 valuable and roomy pockets
Promises a huge weight capacity (a max of 40 to 50 pounds, to be specific)
Equipped with padded back and shoulders and adjustable strap for comfort
Features dual handles to promote ease in lifting it up
Despite such a flaw, this backpack still commits to delivering a decent performance for those who are in need of this item to encourage them to be more productive and efficient.
4. Veto Pro Pac TECH PAC Technician Backpack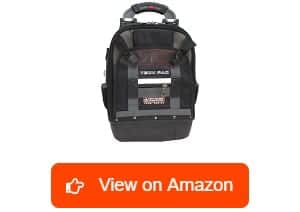 If you are serious about owning a technician backpack then the Veto Pro Pac TECH PAC will certainly impress you with all the favorable benefits and features it carries. One of the many things I find pleasing in this backpack is its utilitarian look as this makes it possible for the wearer to feel and look like a professional once he wears the bag.
It works not just for general contractors and workers but also for those who are involved with HVAC systems, thanks to its specifically-sized compartments as well as its pockets that are easy and quick to access. The pockets have a vertical pattern and there are around 56 of them of various sizes found on the bag's exteriors and interiors.
With this specific number of pockets, the bag is sure to supply users with the right amount of room and space their tools specifically need. I am in favor of the patented center panel of this backpack as it accommodates a couple of storage bays. It also promotes a stable and non-tipping environment with the aid of its four storage platforms.
This Veto backpack is also built tough with its 3-mm thick base made of polypropylene material. With this thick base, I am quite sure that even sharp tools stored inside will not rip the bag's material. I also enjoy the presence of the quick-release metal hasp as I noticed that it makes it possible for you to access the back storage bay with ease.
The comfort provided by this tool backpack is also amazing, thanks to its ergonomic back padding. Equipped with adjustable straps, you can also adjust it based on what is comfortable for you and prevent it from slipping.
This is also a waterproof tool backpack, which is another of its strengths.
I am not a fan of how this backpack is priced, though, as it is more expensive than other options.
What We Like
Waterproof, allowing it to withstand the weather and excessive moisture
Guarantees ease of access of the back storage base, thanks to its quick-release metal hasp
Features adjustable straps and ergonomic back padding for comfort
Plenty of pockets provided, 56 in total
Comes with a thick base to ensure that it does not rip fast even when it stores sharp tools
The price is manageable, though, especially if you really want to use a spacious, high-quality, comfortable, and functional tool backpack in your work environment.
5. Milwaukee 48-22-8200 1680 Denier Jobsite Backpack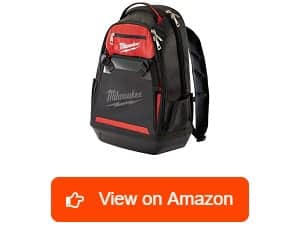 I am also pleased to recommend the 48-22-8200 1680 Denier Jobsite Backpack from Milwaukee. It is a reasonably priced choice, which, I think, makes it genuinely perfect for shoppers on a budget. I like the red and black combination used in the fabric of this backpack. What is good about the fabric is that it ensures that tears do not form easily.
This Milwaukee backpack features more than 22 spacious pockets that are useful when you are aiming to keep your tools secure and well-organized while ensuring that they are of easy reach. I can also consider this as a laptop tool backpack as it is equipped with a laptop compartment, which is capable of keeping your devices, preventing them from incurring damages.
I am in favor of the built-in quick-access pocket found in front of the bag as this ensures that you will not experience difficulty accessing your tools immediately. Milwaukee also put the comfort of its users a priority by ensuring that the straps are built to be adjustable while showcasing soft padding inside.
I find the sewn chest strap impressive, too, as it provides an assurance that your backpack will stay evenly balanced once you start wearing it. As for its overall structure, I am happy to announce that it is genuinely tough. It has an extremely rugged construction, thanks to the 1680 ballistic fabric used in manufacturing it.
The manufacturing material is capable of withstanding impact whether you are at work or in transit. This assures you of the safety of your tool collection. There is also a plastic-coated bottom/base, which is known to be water-resistant, eliminating your worries when you need to set your backpack in a damp condition as this will not cause damage.
However, I find some of the included pockets too stretchy for my liking.
What We Like
Genuinely tough structure with the aid of the 1680 ballistic fiber
Features a water-resistant and plastic-coated bottom
Equipped with a sewn chest strap to balance the bag properly
Comes with an easy to access pocket
Can hold a laptop safely, thanks to its dedicated compartment
What We Don't Like
Slightly stretchy pockets
All in all, I find this Milwaukee backpack deserving of potential buyers' attention because it has adequate room and provides a tough, well-organized, and well-balanced solution for tool storage.
6. Rugged Tools Pro Tool Backpack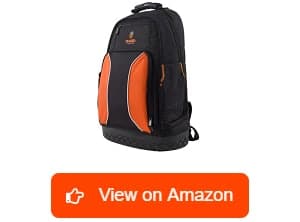 I am also sure that the Rugged Tools Pro Tool Backpack will be on its way towards giving you the kind of satisfaction you are aiming to enjoy. What I genuinely like about this backpack is that it can carry a number of items, accessories, and tools, even the extremely heavy ones because of its strength, toughness, and reliability.
It is constructed to be both strong and tough with the aid of the 1680D polyester, which is the primary material used in its construction. What I am so pleased about in this material is that it is capable of enduring even the toughest work environment. You will also immediately notice how this backpack is optimized for additional strength.
You will notice this with its reinforced zippers and pockets that further enhance the ability of the backpack to survive even the harshest abuse. It comes with around forty pockets with each one having adequate room to organize your tools and accessories in a more convenient manner.
The pockets are also created with versatility in mind, so it is no longer surprising to see them having the ability to carry different kinds of tools, including but not limited to, drill, measuring tape, screwdrivers, level, wrenches, electronics, and electrical fish tape. I am also happy with its molded hard bottom.
This bottom can supply a flat surface, making it possible for this backpack to stand upright in all kinds of environment while also keeping your tools elevated to prevent them from potential damage. This means that even if you are surrounded by snow, mud, or water, all your stored tools will still stay dry and safe.
Furthermore, there is a sternum strap designed to distribute and balance the load/weight as well as padded shoulder straps and back lumbar support for comfort.
One issue I have, though, is that it is quite difficult to zip it back up when it gets fully loaded.
What We Like
Strong, tough, and durable structure, thanks to the 1680D polyester material
Versatile pockets, allowing them to hold and carry various kinds of tools
Features a molded hard bottom to prevent damages to your tools
Can distribute and balance load or weight with the help of a sternum strap
Comfortable to wear with the built-in padded shoulder straps and back lumbar support
What We Don't Like
A bit challenging to zip when fully loaded
You can tolerate this minor flaw, though, especially once you get to experience first-hand how good this tool backpack is and how it contributes to your productivity.
7. Carhartt Legacy Standard Tool Backpack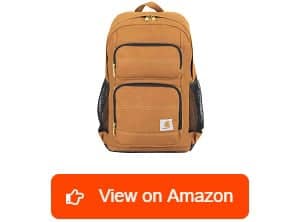 It is also a smart decision to check out Carhartt Legacy Standard Tool Backpack as it is a comfortable yet tough bag that you can carry around so all your tools will be close to you. I consider this as a laptop backpack with tool storage as it has a space for your tablet or laptop, allowing you to bring such a gadget at work if needed.
It is a versatile backpack, which has a tablet space and a laptop sleeve, which is around 15 inches in size. Constructed out of 100 percent polyester, I can also assure users of its sturdiness and ruggedness. This material also helps create a structure for the backpack, which has a water-repellant rain defender and an abrasion-resistant base.
I love that Carhartt did something to make this tool backpack as comfortable as possible. The brand did so by ensuring that it has a padded back panel and well-contoured shoulder straps so you will really feel utmost comfort each time you wear the bag.
I am also impressed with the inclusion of a rubber bottom as I discovered its contribution in allowing the backpack to stand upright. It also takes pride in its zippered organization compartment in the exteriors, which is helpful in storing and organizing some stuff, like your pens, keys, and tiny items.
There is also enough ventilation and breathability inside as this bag also has an air-mesh back panel with sufficient padding.
However, in comparison to other tool backpacks, this one from Carhartt is not as spacious.
What We Like
Provides a space for a laptop or tablet
Can make your backpack stand upright, thanks to its rubber bottom
Features a zippered organization compartment in the exteriors
Breathable and well-ventilated, thanks to its air-mesh back panel
Tough and rugged polyester construction
What We Don't Like
Not as spacious as other high-end brands
Overall, this Carhartt tool backpack functions in a way that it acts as more than just a storage solution for your tools by offering a convenient interior panel as well as a tough construction designed to withstand tears and abrasions and repel rain.
8. CLC Custom LeatherCraft 1132 Tool Backpack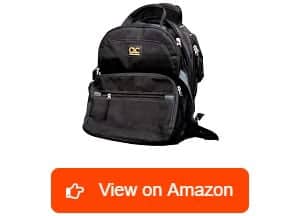 The next compact and small tool backpack in this list, which boasts of a lot of space is the CLC Custom LeatherCraft 1132 Tool Backpack. Yes, it is compactly built but you will be amazed by the fact that it carries a whopping number of pockets, 75 in total actually.
The built-in pockets are created to hold ratchets, wrenches, deep-well and regular sockets, and other tools and accessories that mechanics and other workers often carry in their work environment. One unique feature present in this CLC tool backpack is the plastic parts tray. This tends to hold small parts and snaps shut easily.
The multiple compartments and pockets created for this backpack also work in safeguarding a wide range of tools and equipment. It also prevents your risk of mixing your tools and equipment, keeping them as well-organized as possible for easy, quick, and convenient access.
I can also confirm how effective this tool backpack is in keeping your tools and accessories safe and secure with the aid of its hook & loop flap closures. The tough construction of this backpack, which can be attributed to the sturdy and strong ballistic polyester fabric, is also instantly noticeable.
This material can prevent tears and frays because of its guaranteed resilience. I also like the plated back of the bag as it helps in minimizing drag. Furthermore, the back is padded, similar to the bag's adjustable straps, which contributes to providing extreme comfort and better balance.
However, due to its compact size, some say that this backpack, despite having numerous pockets, does not work that well when holding large tools.
What We Like
Numerous pockets built in, 75 in total
Can safely and securely store your stuff through its hook & loop flap closures
Sturdy and strong ballistic polyester fabric construction
Equipped with a plated back, which can minimize or lessen drag
Provides comfort and good balance through its padded and plated back and adjustable straps
What We Don't Like
Not that suitable for large tools because of its compact size
Despite that, it is one of the most portable and compact bag that you can bring at work, promoting convenience when carrying your small work tools on your back or by hand.
9. Revco GB100 BSX Extreme Gear Backpack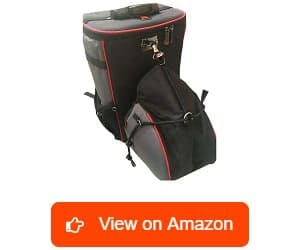 Another amazing power tool backpack that deserves a spot in this review and buying guide is the GB100 BSX Extreme Gear Backpack from Revco. It perfectly suits the needs of a construction worker who seeks the most appropriate backpack to store his tools but it also caters to the needs of other possible users, like electricians and mechanics.
I like its striking red and black design, which is actually appealing to the eyes. I also find the special helmet catch integrated into the front part of the backpack unique and useful. With this helmet catch, you can prevent your helmet from incurring damages and getting scratches.
I also find this backpack easy to use and manage because of its lightweight nature. Even with its portable and lightweight design, it still provides a lot of room inside with its several pockets. It even features an exterior side pocket where you can store your gloves. Among the things that the pockets in this back can carry are a grinder, jacket, and gloves.
Your comfort is also a priority by Revco, which is perhaps the reason why the brand made sure that sufficient amount of padding covers important areas, like all the straps of the backpack and its top handle and back panel. Considering the fact that it has sufficient padding, you will certainly have a comfortable experience carrying it around.
It is primarily built using a strong material plus its side pockets are well-reinforced, further improving its rugged structure.
One issue, though, is that it is not that water-resistant, making it necessary to exercise extreme care and caution if you bring it in wet environments or areas.
What We Like
Nice red and black design
Portable and lightweight, preventing issues when carrying it around
Strong and rugged structure and well-reinforced side pockets
Comfortable as it has well-padded straps, top handle, and back panel
Equipped with the unique and special helmet catch
Despite that, the Revco GB100 BSX is still worth the investment as it has a unique design while serving as a unique and functional storage solution for different kinds of workers.
10. AmazonBasics Tool Backpack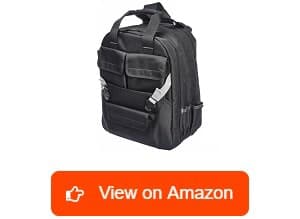 I am also delighted to introduce the AmazonBasics Tool Backpack to anyone who is in need of a unique, reliable, and functional storage solution for all their work tools. With this backpack, I am sure that you will no longer experience problems neatly organizing and carrying your tools in the workplace.
What I love about this well-constructed bag is that it is actually flexible. In fact, its flexibility improves its ability to meet the demands and requirements of contractors, handymen, electricians, and DIY enthusiasts. It is a convenient and rugged backpack, which supports the hands-free and convenient transport of all the gears you need.
This is true whether you need to travel from one work environment to another or just complete some projects at the comforts of your own home. It has a total of 51 pockets, proving the huge amount of space it carries. There are 42 interior pockets while the remaining 9 are on the exteriors.
With these multi-use pockets, you will surely get rewarded with adequate space for all your tools, like wrench sets, drill bits, screwdrivers, pliers, extension cords, and testers. It boasts of its two primary zippered compartments – one of which is designed to hold a battery and cordless drill while the other is for some parts and tools.
One large pocket can also be found on top, which you can use to store your most vital tools so you can access them with the least effort. It has an orange interior, too, which results in good visibility, allowing you to locate your tools easily and quickly.
For comfort, this tool backpack does not disappoint as it has padded back support, adjustable chest strap, and shoulder straps.
However, I find it quite challenging to use and maneuver when I am working in narrow spaces.
What We Like
Boasts of up to 51 spacious pockets
Guarantees the hands-free and convenient transport of all your gears
Contains a few comfort features, including the padded back support, adjustable chest strap, and shoulder straps
Assures you of ease in finding your stuff, thanks to its orange interiors
Affordable
What We Don't Like
A bit challenging to maneuver when working in narrow spaces
Overall, I can conclude that this AmazonBasics backpack is a sound investment because its quality is just right and it has more than adequate space for the careful and secure storage of tools.
11. IRONLAND Electrician Tool Backpack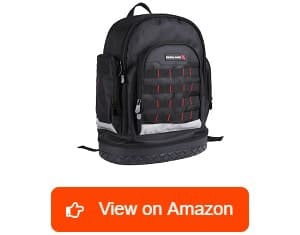 As its name suggests, the IRONLAND Electrician Tool Backpack is designed to adhere to the needs and demands of electricians. This backpack carries nineteen interior pockets and four big pockets in the exteriors. It has just the right number of pockets to hold tools of different lengths and sizes, including wrenches, drills, screwdrivers, and spirits.
I find this tool backpack a pleasant addition to the things I use every day because it is built to promote ease of tool organization and transport. It is a lightweight backpack, which, I think, is a good thing because it means that carrying it will not negatively affect your movements in any way.
The lightness of the bag can be attributed to the blend of 600D and 1680D polyester material as this combination significantly reduced its total weight. This polyester blend is also dependable and tough, boosting its effectiveness in handling even the toughest and roughest uses.
The backpack is even made stronger with its reinforced and strong stitches. I also love how this IRONLAND tool backpack delivers superior comfort to its users. It is because of its form-fitting nature, which assures you of a nice feel when wearing the bag.
It is also equipped with well-padded shoulder straps that work in balancing weight and reducing pressure. This backpack is also equipped with adequate back support, thereby removing a lot of weight from your shoulders. I love its molded and reinforced waterproof bottom/base, too.
One minor flaw I experienced, though, is that its pockets are not that effective in holding bigger tools tightly.
What We Like
Provides just the right amount of space for your stuff
Can balance weight and reduce pressure, thanks to its well-padded shoulder straps
Adequate back support provided that helps relieve excessive weight from the shoulders
Strong construction, thanks to the combined 600D and 1680D polyester material
Lightweight and easy to carry
What We Don't Like
Does not hold bigger tools that tightly
To conclude, the IRONLAND tool backpack is an awesome and spacious tool storage solution that will promote convenience and durability no matter what your work environment is.
12. Rugged Tools Worksite Tool Backpack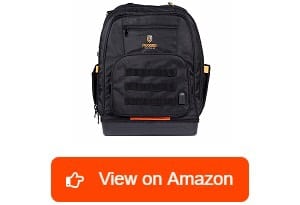 Lastly, I would like to highly recommend this Worksite Tool Backpack from Rugged Tools. With the 1680D polyester material primarily used in constructing it, I am quite sure that this backpack is created to last for quite a long time. This material is famous for working in tough and rough environments.
The toughness of this backpack is also further improved with its reinforced zippers and pockets. I think buying this backpack is a wise move because it increases your possibility of organizing your most frequently used tools in just one convenient spot. It has several pockets designed to hold your stuff in the most secure manner possible.
It even comes with utility organizers, safe and secure zippered pockets, utility strap, laptop sleeve, and tape measure clip. With that, you can rest assured that it carries several storage places for your wrenches, screwdrivers, electrical fish tape, drill, electronics, drill, level, and measuring tape.
I find the molded hard bottom of this backpack a huge advantage, too, because it gives a flat surface for your backpack to stand upright regardless of the environment without the risk of getting damaged. This makes the bag resistant to a number of harsh elements, including but not limited to, snow, mud, and water.
If you need to bring a laptop with you then you will be delighted to use the padded laptop sleeve and the primary compartment at the back capable of accommodating the majority of laptop models.
One downside, though, is that the stitching is not as sturdy as what I initially expected.
What We Like
Can handle tough and rough environments, thanks to its 1680D polyester material
Equipped with reinforced zippers and pockets
Plenty of pockets with each one having the right amount of space
Comes with a laptop sleeve
Features a molded hard bottom
What We Don't Like
Not that sturdy stitching
Overall, this amazing backpack from Rugged Tools continues to appeal to users because of its good and tough construction and spacious pockets.
What is a Tool Backpack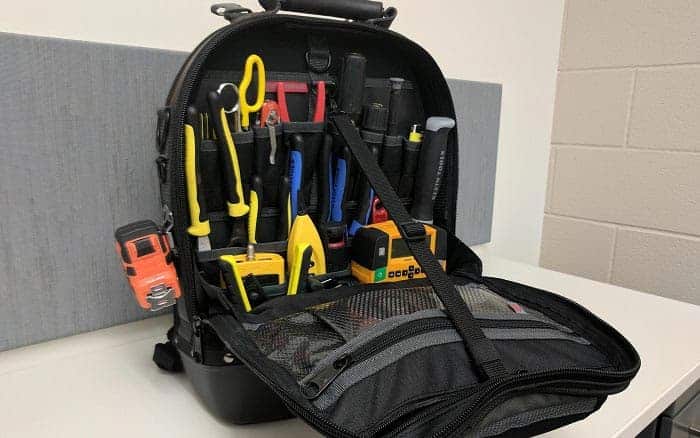 A tool backpack is a tool bag that is meant to be worn over the shoulders, which makes them much easier to carry compared to the traditionally designed tool bags that are slung over one shoulder. If you have lower back pain problems, using a backpack instead of a shoulder tool bag will help with the pain.
Tool backpacks can carry the same quantity of tools as traditional tool bags, albeit in a manner that spreads the weight evenly across the shoulders so you can carry more tools without tiring yourself out too much.
How Does It Work
Tool backpacks look like the tactical backpacks used by the military. The bags are made of tough materials, usually thick canvas or a durable polyester blend. The shoulder straps are also made of rugged materials and constructed to withstand heavy loads. In most cases, they are at least double-stitched, double wide, and thickly-padded.
The larger models of backpacks also come with hip belts and lumbar straps to secure the backpack to your back, preventing them from swaying while you walk. They also have lumbar pads to spread the weight of the bottom along your lower back. Furthermore, they have multiple pouches for different tools and large central storage for power tools and the like.
Types of Tool Backpacks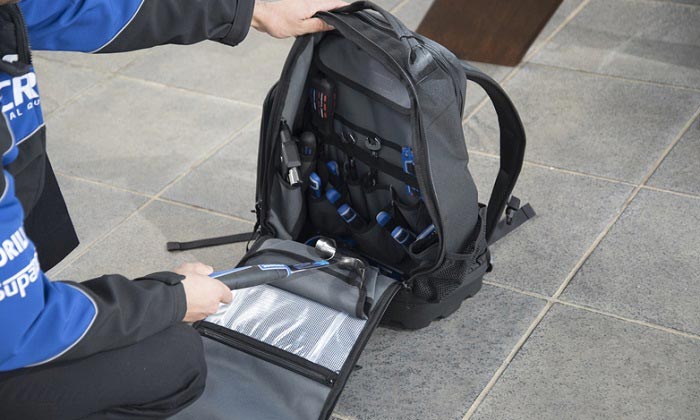 Before shelling out cash for tool backpacks, you need to know which kind you need. Note that these items are not that cheap, so you need to educate yourself so that you will not be wasting your money on something that you do not need. Here are the two main types of tool backpacks:
Heavy-duty Backpacks – As you can probably tell by the name, heavy-duty tool backpacks are made to last for years. They are made using strong fabrics and constructed with the utmost quality in mind. Because of their construction, heavy-duty tool backpacks are ideal for carrying heavy and sharp tools.
You need not worry about the tools puncturing through the fabric and causing the other tools to spill out. Aside from the heavy-duty construction, these backpacks usually also come with extra options, like a reinforced bottom and additional hooks and loops for tools, among many others.
Regular Tool Backpacks – If you will be carrying other stuff in your backpack other than tools, you will need to get the regular tool backpacks, also called utility backpacks. These bags are mainly for carrying other kinds of gear, like for hiking or camping.
The only difference is that they also have compartments for basic tool sets, like screwdrivers, a couple of wrenches, and other small tools. This is perfect for those who love to spend time outdoors and like to do survival simulations in the wild.
Why Do You Need to Wear a Tool Backpack
Regardless of what profession you are in, whether you are a carpenter, electrician, or plumber, having a good tool backpack will be beneficial. It provides a solution to keep your tools organized while also carrying them easily. If you are still undecided on whether you really need one, here are some of the reasons why you should go for it.
Ensures that your tools stay organized – The best tool backpacks are the ones that have the greatest number of compartments, allowing you to arrange your tools the way you like so you will always know where everything is.
You can choose to keep the same kinds of tools together, or you can place the tools that you usually use in your work in pockets that are the easiest to access. Most traditional bags often have just one large storage compartment in the main body and then a couple of pockets outside.
Although you can theoretically keep your tools inside the bag, keeping them organized is next to impossible. You will be wasting a lot of time rummaging inside your bag just to look for a tool. When you have a tool backpack, this will never be a problem because you know where each tool is located.
Easier to transport your tools – As the name implies, tool backpacks are meant to be worn across the shoulders and on your back. This makes it easier for you to carry a lot of tools without straining your body. Using a backpack is infinitely better than carrying the bag around with one hand.
Also, it is better than just slinging the bag over one shoulder. With a backpack, the weight is distributed evenly over your shoulders and across your back. If you have a chronic back pain problem, using one can help because it keeps your back straight while you are walking, unlike a shoulder-slung tool bag where your spine is bent awkwardly.
Your tools will be protected against damage – The problem with putting all your tools inside one pouch is that there is nothing that will keep them from knocking against each other.
When you are transporting your tools from one job site to another, the shaking motion will cause your tools to bang and hit each other, thus potentially causing damage. In addition, the annoying clanging sounds when you walk with your tools will be gone.
A good tool backpack provides you with separate compartments for every piece of hardware that you have, thus preventing them from moving about and knocking against each other when you are moving between job sites.
They are waterproof – A good tool backpack should also be waterproof, or at the very least water-resistant. The caveat here is that these bags will be quite expensive but don't worry. They will surely be worth the initial investment because they can protect your tools against rust and corrosion.
With a waterproof tool backpack, you do not have to worry about your tools getting wet when you need to work in an environment where it is wet, like during heavy rain or if you need to work in a flooded room. You will have the peace of mind to put down your bag anywhere you want and not have to deal with wet tools later.
Your spine will thank you later – When you are carrying a heavy tool bag, you may not notice it but your spine is bent in an awkward pose. This is because all the weight you are carrying is on just one side.
Backpacks are specifically designed so that all of the weight is equally distributed on your shoulders and back, thereby helping you maintain a natural standing position. Other bags cause you to slouch or bend to one side, which, in the process, can put a lot of unnecessary pressure on your lower spine, leading to lower back pain.
However, not all tool backpacks are designed the same. Some provide additional lower back support compared to the others. Always choose the former instead of the latter.
It helps keep your balance – When you are working in an active construction site, you need to make sure that you are on your toes, literally and figuratively, because there are dozens of accidents that are just waiting to happen. One of the most common is tripping and falling because you lost your balance while carrying a heavy tool bag.
When you are using a tool backpack, your center of gravity is still in the center of your mass. This means it will be easier to keep your balance when walking.
You can bring your tools into cramped spaces – Let's say you are a plumber and your current job requires you to go into a manhole to gain access to the busted pipes. It will be much easier for you to get inside when you are using a tool backpack instead of a traditional shoulder slung tool bag or toolbox.
Most tool backpacks are designed to be compact, which means you can squeeze into tight places easily. In addition, you can attach a hiking flashlight on the shoulder straps so you can work with both of your hands.
Buying Guide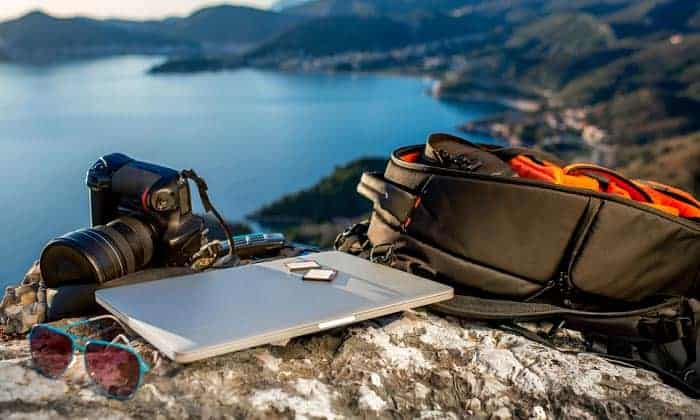 So, you are in the market for a new tool backpack, are you? One of the biggest mistakes that you will regret later is buying the first tool backpack that you see. Not only might you miss out on other, much better backpacks, you might also get a backpack that you cannot really use.
To guide you in making the right purchase, here are some considerations that you need to keep in mind:
The Size of the Bag – The size of the bag you need to get will depend on how many tools you usually carry with you at work. The bigger backpacks typically measure 15 inches long, sometimes longer, and they are around 12 inches thick. The thicker backpacks will have extra space for power tools aside from your usual hand tools.
If you do not really carry that many tools on site and you usually do most of your heavy work in your shop or garage, a small tool backpack will suffice. There are some backpacks that look large but the main reason why they look that way is that they are heavily reinforced.
These bags are heavily padded and have reinforcing plates along the sides and bottom to allow them to carry large loads without any of the seams popping or ripping. Your particular profession will also play a great role in choosing the size of your tool backpack.
Some professions require the use of larger tools as compared to others, which is why a mason will need a bigger tool bag compared to an electrician.
The Number of Compartments – A good tool backpack is one that has more pockets and compartments than you have use for. The more pockets and loops the bag has, the easier it is to organize your tools. As mentioned earlier, depending on your particular profession, you might not need that many compartments at all.
However, if your work requires you to carry a lot of tools, like for instance, if you are a general contractor, then you will need a large bag with plenty of compartments to spare. Regarding loops, they need to be elastic and tight.
If you will be placing tools inside the loops, like wrenches, then the loops need to restrain the tools from moving around too much and hitting each other. Again, depending on your particular job, you may or may not need pouches that have covers on them.
Some professions that need this feature include carpenters (pouches for different sizes of nails and screws), mechanics (different sizes of nuts and bolts) and others.
Materials Used – The materials that were used in creating the backpack will have an effect on its overall durability. It is because some materials are more durable than others.
Regardless of the nature of your work, getting a sturdy tool backpack should always be a priority to prevent it from ripping apart all of a sudden while you are in the middle of a job. Aside from using tough materials (canvas, polyester, and even denim), the bag that you get should be built tough as well. Check the seams if they are double stitched.
Also, check the shoulder straps if they are wide enough and generously padded for extra comfort. Most of the best tool backpacks also have hard-molded bases. This will allow you to place the bag on any surface without tipping. Most tool bags have rubberized bases so you can even place it on any surface that you want to clean.
Ease of Use and Comfort – If your line of work requires that you take your tools everywhere, and it is always full of heavy tools, then you want your backpack to be as comfortable as it can be. If it is easy to carry and comfortable, you will forget about all the weight that you are carrying.
You can tell if a backpack is comfortable to carry just by the amount of visible padding it has. The straps should be wide and heavily padded so that they will not dig into your shoulders. The back of the backpack needs to have, aside from padding, reinforcement so that the weight of the tools are evenly distributed.
There should not be a tool digging into your back while you are wearing and using the backpack. Lastly, there should be lumbar support to prevent lower back strain. It should also be capable of distributing the total weight of the tools. There will not be a side that is heavier than the other.
You will notice this when both shoulder straps have equal amounts of weight bearing down on them. If possible, get a backpack with a sternum strap and hip strap. Both will help keep the bag securely fastened on your body.
Budget – If you are like most people then you already have a budget set aside for your new tool backpack. However, if you want to get the best backpack, your budget needs to be a bit flexible. A good one will almost always be more expensive than regular ones but the price is not the only barometer of its quality.
It is not necessarily the most expensive backpack that has the highest quality. There are also some options with the same quality that are reasonably priced. When shopping around for a tool backpack, do not just focus on the price tag. It is also crucial to check if it is worth the price.
Care and Maintenance
To make sure that your tool backpack lasts for many years as the manufacturer intended, you need to take absolute care of it. First of all, do not go over the prescribed weight limit of the bag. Yes, the manufacturer must have put a bit of leeway regarding the weight limit, but you should avoid going over the limit as it will affect its longevity.
Also, before you attempt to lift the tool backpack to wear it over your shoulder, make sure that all your tools are secured. This will prevent loose tools from damaging the bag and its contents. This is also a safe practice as any loose tools can fall out of the bag and potentially injure someone.
Occasionally check the zippers to make sure that they are not "catching". If they are, lubricate them using a light spraying of silicone spray or rub some paraffin wax over them. Also, take some time to clean the Velcro fasteners. Brush both sides using a toothbrush to remove any dirt and dust that might have been captured.
When cleaning the bag, do not use strong detergents. Only use a bit of warm soapy water. You just need to soak the bag in some warm soapy water then using a soft bristled brush, scrub at the visible dirt that accumulated on the surface of the bag.
Afterward, rinse the bag thoroughly under the tap and hang it outside to dry but be careful not to expose the bag too long to the sun as this will weaken the fibers. Move the bag to a shady part of your yard when the sun gets too intense. Also, keep in mind that waterproof tool backpacks are not waterproof forever.
They need additional proofing every year or so. You can do this yourself by melting equal parts paraffin and beeswax over a double boiler then brushing the resulting mixture onto your bag using a wide brush.
Once the paraffin and wax dried, put the bag into an old pillowcase and throw it in the clothes dryer set on high for about half an hour or so. This will make your bag look and feel like it is brand new.
Frequently Asked Questions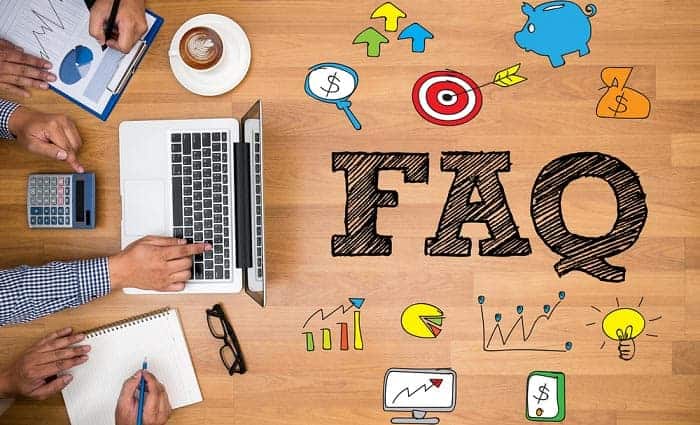 What are the most popular tool backpack brands?
With the recognized benefits of owning a tool backpack, it is no longer surprising to see several companies and brands offering and marketing their items in this field to the public. A lot of popular brands design and sell tool backpacks today – some of which are Custom LeatherCraft, Carhart, Milwaukee, Klein Tools, DEWALT, and Rugged Tools.
Some items offered by the mentioned brands have similar features. Others, however, have unique and more useful features, so it would be best to compare them to determine which one is truly appropriate for you.
Are tool backpacks waterproof?
There are some that are marketed as waterproof but most of the ones that you will see that are for sale are water-resistant at best. So it is advisable that you do not submerge your tool backpack in water.
Can a tool backpack hold a laptop/ tablet?
Yes, but it is advisable not to store any fragile electronic devices along with your heavy tools. Just the pressure of the weight of the tools will be enough to crack most LCD screens.
Does a tool backpack stand straight up?
Most tool backpacks are designed to stand straight when placed on the floor. Some backpacks even have reinforced and stiff bases so they will be easy to stand. Others even have a kind of rubber base so water and any other liquids cannot seep into the bag.
How long is the warranty period?
This depends on the manufacturer, but most of them have so much pride in their product that they are willing to provide almost lifetime guarantees on their bags. However, this guarantee only covers normal wear and tear, not damages caused by user error.
How to choose the right size?
The first criteria when choosing the size of your tool backpack is the number of tools that you are thinking of putting in there. It is also crucial to study the sizes of the tools. Your body size also matters. Choose one that is just the right fit for you. This will ensure that you will still feel comfortable even when the tool backpack is loaded to its max weight limit.
How to use?
First, you need to arrange your tools in their respective pouches and make sure that they are snug and secure. You need to do this before you even lift and carry the bag so there is no chance of any loose tools falling out and injuring someone.
Second, make sure that the straps are tight enough that the bag is held securely on your body, but not so tight that they start to dig into your shoulders. Lastly, even though these bags are heavy-duty, they need a bit of TLC occasionally.
How to clean?
Never put your tool backpack into the washing machine. Harsh detergents will weaken the fabrics in your bag. Instead, submerge the bag in a basin containing warm, soapy water then scrub the entire surface using a soft-bristled brush to get rid of any caked on dirt. Hang the backpack outside in the shady part of your yard until it is completely dry.
Where to buy?
You can usually find tool bags in any local hardware stores but finding tool backpacks might require a bit more searching. The best place to buy them is online over the internet. Not only will you be treated to a wide array of choices but you can also easily compare prices so you know you are getting the best deals.
Conclusion
The best tool backpack is a welcome addition to any tradesperson's arsenal. Aside from keeping your tools safe and organized, the tool backpack will also make it easier for you to transport heavy tools without straining your back.
Choosing the right tool backpack need not be difficult, especially when you know what to look for. Do not rush during the selection process. Enjoy the journey and see as many of them as you can before you settle on your final choice.