Do you work in an environment where there are lots of loud noises? If you are then you need to get the best radio headphones to help keep your hearing healthy. Regular exposure to loud noises can cause serious irreparable harm on your ears, leading to loss of hearing before you even reach retirement age.
If you want to prevent this from happening then use top-quality radio headphones at work from now on. Many different jobs can subject one to unhealthy levels of loud noises. Among these workers are carpenters, mechanics, factory workers, landscapers, traffic police, lumberjacks, blacksmiths, woodworkers, and many others.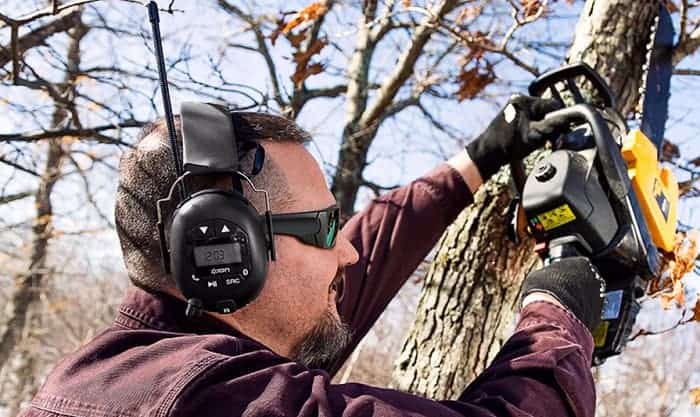 All these people are at risk of serious hearing damage but fortunately, they are all required to wear proper hearing protection like the top-quality radio earmuffs. If you are in one of these professions and you don't have proper ear protection yet, there is no better time than now to get one.
If you have a hobby that also exposes your ears to harmful noises, like woodturning, basic carpentry, or just like using your ride-on mower to keep your lawn nice and even, then get a pair of noise-reducing headphones for your personal use, too.
If this is your first time buying hearing protection headphones and you don't know where to start, then continue reading this article so you can learn everything about it.
Top 7 Radio Headphone Reviews of 2023
1. 3M WorkTunes Connect Hearing Protector
The first thing that I noticed about this AM/FM radio headset is that it has an NRR (Noise Reduction Rating) of 24 decibels, which is a respectable amount. This is more than enough for most worksites and even more so when used for tasks around the home.
I also like the beefy knobs and buttons that control the AM/FM headphones. They are big enough that they are easy to manipulate even when wearing thick work gloves. This is a huge plus for me because there are many times when I want to change radio stations while in the middle of a task.
These buttons allow me to do just that without having to take a break. There are also times when there is not anything good to listen to on the radio, so I am thankful that these headphones come with an auxiliary input jack. This allows me to plug them to my smartphone so I can listen to my saved songs and audiobooks.
Another thing I truly loved about these headphones is that they have a working Bass Boost. The other safety headphones that I have tried out before all had passable sound quality but they are all lacking in bass.
The one thing that I wish was included on these phones is digital radio. Digital AM/FM would have made good use of the Bass Boost feature and made the sound quality go through the roof. Sadly, these headphones are stuck with old school analog radio.
What We Like
Has a decent NRR of 24 decibels
Fits comfortably over the ears
Foam earpieces conform to the shape of the ears
Boasts of a superb bass boost feature
Has a lot of preset station slots
Although this would have been infinitely better with digital radio, it is not that big of a deal, especially when taking into account the other benefits these headphones provide.
2. Honeywell Howard Leight Sync Hi-Visibility Digital Earmuff
One thing I noticed immediately about the Honewell headphones is its color and it is a good thing. These headphones are colored in hi-visibility to make it visible in the workplace, making the wearer easier to spot by heavy machinery operators. This product also has a reflective strip on the headband for extra visibility.
It also comes with a built-in digital radio with a large and clear LCD screen. The radio allows for rapid scanning for available stations and the screen tells you the exact frequency it is tuned into, so you can save the stations you want. Because this is a digital radio, the sound quality is vastly superior compared to analog radio.
The most important feature of this pair of headphones is how well it blocks out noises. This product has an NRR of 25 decibels. This is more than enough for most noisy workplaces, like construction sites, garages, and others.
The ear cups are also comfortably padded using light foam. This gives more than enough padding for comfort. Also, because the foam is so soft, it takes on the shape of the ears to make a complete seal for sound isolation.
There is a slight problem that might affect bigger people. Even when the headband is fully extended, the ear cups will still not be able to cover the ears completely. You will need to lower the headband towards the back of your head a bit to make the ear cups reach.
What We Like
Has high-visibility colors for enhanced safety in worksites
Boasts of an NRR of 25 decibels, making it suitable for construction sites, mechanic's garages, and others
Lightweight and comfortable to use
Creates a good seal around the ears for efficient noise isolation
Comes with an aux cord and 2 AA batteries
What We Don't Like
Might be a bit small for larger people
The size issue might only be a problem for just a handful of people. However, for those who find these headphones are the right fit, they will get to experience all of the neat features and benefits.
3. ZOHAN EM042 AM/FM Radio Headphone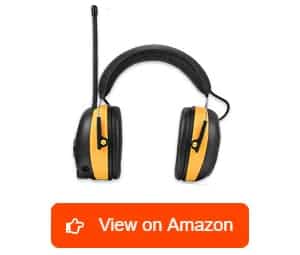 The thing that impressed me the most about these safety headphones is the speakers. Unlike most of the other headphones on this list, the ZOHAN EMO42 has excellent sound quality with deep bass tones, something that you would usually get from premium headphones, not ones designed for work environments.
These headphones are also NIOSH (National Institute for Occupational Safety and Health) certified and have an NRR rating of 24 decibels. This means these AM/FM radio headphones target are suitable for most workplaces. Also, because of the effective noise-blocking features, these work great when you just want to listen to your favorite music at home.
Another impressive feature of these noise-canceling headphones with radio is that they are constructed using premium materials for maximum durability. Just looking at them, you will instantly know that these are made for the workplace.
I have accidentally dropped mine on concrete from around hip height. Aside from a couple of scratches, the headphones are completely unharmed. I also like that ZOHAN is willing to provide a one-year warranty for its product. This is great considering that you are supposed to use and abuse these headphones as they are made for the worksite.
I have yet to avail of this warranty as my headphones are still working perfectly. Now, these would have been my absolute favorite but the problem is that the ZOHAN EM042 uses analog radio technology instead of the newer, and exponentially better, digital radio.
What We Like
Excellent quality speakers deliver big sounds and deep bass
Designed with durability in mind
Has an NRR of 24 decibels
Comes with a one-year warranty
Has an aux input jack
What We Don't Like
Does not use modern digital radio
Although it is a shame that these headphones do not use digital radio, they have many other benefits that make this issue rather trivial. This is still an excellent pair of hearing protection radio earphones that you should add to your equipment.
4. 3M WorkTunes Connect Pro
The 3M WorkTunes Pro wireless radio headphones are not just great at protecting your hearing. You can also consider them as a nice pair of audio headphones in general. These come with thick foam padding on the ear cups that conform to the shape of my ears and forms a good seal that prevents most outside noises from reaching my ears.
Thanks to the noise isolating capability of these headphones, I can appreciate the sound quality produced by the hi-fi speakers. Although it could have used a little more bass, the audio quality is more than just above-average.
Speaking of the audio, the 3M WorkTunes Pro Bluetooth headphones with FM radio comes with a digital radio tuner, which provides much higher sound quality than traditional radio. Furthermore, the headphones can also be connected to smartphones, tablets, or MP3 players via an auxiliary jack.
The thing that I liked the most about these headphones is that they have Bluetooth connectivity. I never use the aux cord and just use Bluetooth to connect the earmuffs to my smartphone. I like that there are no more wires to get tangled and this also turns the headphones into a wireless headset that I can use to make and answer phone calls with even when I am in the middle of a job.
The only complaint about this product is that Bluetooth's range is not that far. If you walk too far away from your smartphone and the Bluetooth disconnects, you have to manually reconnect the noise-canceling headphones with radio and Bluetooth.
What We Like
Has soft padding on the ear cups that are comfortable to use
Comes with a built-in digital radio
Has an auxiliary input jack
Features full Bluetooth connectivity
Can be used as a wireless phone headset
What We Don't Like
The Bluetooth's range is not that far and will not automatically reconnect
Although the issue with the Bluetooth is a bit disappointing, you should still not let this issue make you not want to at least check this product out. The 3M WorkTunes is still a solid choice if you are searching for one of the top-rated noise-canceling headphones out there.
5. Retekess TR101 Walkman Headphone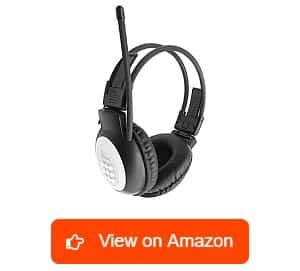 The thing that I like the most about these headphones is that they fold up for easy portability. When folded up, these headphones can fit any bag. This is also a handy feature when you need to stow them away.
Although the radio can only receive analog signals and get FM radio, it does have excellent reception. Even when using headphones indoors, I can still get a good signal from my favorite radio stations.
There is also a clear LCD screen that tells you the current preset slot and the frequency that the radio is tuned into. This makes it easier to browse the airwaves and save the actual stations you want, unlike the others where you have to wait until the station announces its name.
Another great feature that I have yet to see in other headphones is that this allows the user to select the audio output, whether stereo or mono. Why would anyone want to listen in mono? Well, I like it because I don't want to change batteries that often and mono outputs use less power as compared to stereo.
Just like the previous headphones, these are also not certified as hearing protection gear but they still muffle quite a bit of noise. It would be great if you will just be using them at home, like mowing the grass. This is also great when you will be attending noisy events like car races, monster truck rallies, or fireworks competitions.
What We Like
Lightweight and compact design
Clear FM signals even when indoors
Can select between stereo and mono outputs
Long battery life
Has an LCD screen for accurate station tuning
What We Don't Like
Not true hearing protection headphones
Even though this is not certified hearing protection equipment, the Retekess TR101 Walkman Headphone can still block a significant amount of noise – the exact amount is unknown, though. You can still use it in the workplace but it might not be as effective as other brands.
6. Walker's AM/FM Radio Muff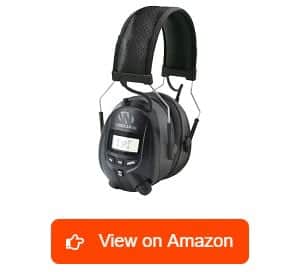 The most striking feature of this headphone is its extra-wide and padded headband. The nice thing about having a headband this size is that the pressure brought about by the weight of the headphones is distributed over a wider area, thus making it more comfortable to wear.
Speaking of weight, these wireless headphones with FM radio do not weigh too much at all. This is thanks to the radio only needing 2 AAA batteries to operate. These batteries are almost half the size and weight of regular AA batteries that are used by most of the other headphone brands.
I also like how the buttons and the volume knobs are a bit oversized. This makes it easier to operate even when I am wearing thick work gloves. I no longer have to remove my gloves if I want to change the station or lower the volume.
Of course, these headphones are also useful in noisy workplaces as they have an NRR of 25 decibels. This is the recommended amount of noise reduction for most work environments where noise levels are considered dangerous.
I only have a minor complaint and that is the headband is a bit too tight. It is not so much that it causes a headache but enough that it can get a bit annoying after an hour or so of use.
What We Like
Has a nice wide headband
Lightweight and comfortably padded
Very battery-efficient
Has an NRR of 25 decibels, making it suitable for noisy workplaces
Boasts of decent sound quality, great for just listening to music, news, and podcasts
What We Don't Like
The headband is a bit tight.
The issue about the headband is only a minor inconvenience. This pair of headphones is still a pretty good piece of kit, especially if you require hearing protection.
7. Honeywell Sync Digital AM/FM/MP3 Earmuff
Unlike the first item on this list, the Honeywell Sync has a digital radio built-in. This provides exponentially clearer audio quality compared to analog radio. Another reason why I like having digital radio so much is that I do not have to deal with annoying static noises when the station's signal is starting to fade away.
Aside from the digital radio, I also liked that this pair of headphones with FM radio built-in has an impressive NRR of 25 decibels. Again, when compared to true noise-canceling earmuffs, this number might be a bit low but then again, these headphones are not meant for extremely loud environments, like the tarmac of a busy airport.
Sync is also very comfortable to wear. This is one of the lightest headphones for work that I have tried so far. Combined with the thick foam padding on the ear cups and the headband, it will almost feel like wearing nothing at all.
This also has an auxiliary input jack and a free aux cord. This is a neat thing because I do not need to buy an aftermarket cable. The one that came with the package is more than enough.
The only problem I had with these work headphones with radio is that the band was too tight. Even when properly adjusted to fit my head, the band is still too tight that it gives me a headache when worn for more than a couple of hours.
What We Like
Comes equipped with a digital radio receiver
Features an aux input jack and also packaged with an aux cord
Lightweight and not as bulky as other similar products
Boasts of an NRR of 25 decibels
Comes with a volume management feature that lets you set volume profiles
What We Don't Like
The headband is a bit too tight.
The issue with the headband is not that serious as it will loosen up after a week or two of use. It is beneficial to give these headphones with AM/FM radio built-in a try as these are truly among the top-tier currently available.
PIXNOR Foldable Wireless Headphone (Outdated)
The first thing that I discovered in these AM/FM wireless headphones is that they are extremely cheap, almost half of the price of other noise-canceling safety headphones mentioned here before. However, do not let the price fool you as these provide amazing features and benefits.
First, it has a digital radio built-into the headphones. This means I can listen to crystal clear music and favorite radio programs in hi-fi audio. The speakers are also quite large and produce high sound quality. I sometimes just use these even when I am not working. It could be when I am sitting on my porch and just listening to good music.
Another feature that I liked is the extremely flexible headband and how even though it isn't padded, it is still very comfortable to wear. Properly adjusted, the headphones provide just the right amount of pressure to keep the ear cups in place without causing a painful migraine.
Speaking of the ear cups, they have just the right amount of padding to provide a comfortable fit while isolating the ears from outside noises. This makes listening to music much better since the wearer does not get distracted by other sounds.
However, one thing that you need to know before purchasing these headphones is that they are not actual work headphones. Sure, they can block a significant amount of noise but these are not NIOSH-certified so there is no way to know how much noise it can block.
What We Like
Has a flexible and comfortable headband
Produces above-average music quality
Comes equipped with a digital AM/FM radio
Ear cups have the right amount of padding
Has an excellent battery life
What We Don't Like
Not certified as hearing protection.
Even though these headphones are not certified as true hearing protection equipment, you can still use these items around the house for certain tasks. Also, for its price, it does not hurt to give this product a try.
Stanley Sync AM/FM/MP3 Radio Digital Earmuff (Outdated)
To give you an idea of just how much these wireless headphones with radio built in can protect your ears, take into consideration that a ride-on lawnmower can produce up to 90 decibels of noise, and 85 decibels is enough to cause long-term damage. With these headphones on, the amount drastically lowers to just 65 decibels.
This is way below the dangerous limits. Aside from providing protection, I also like digital radio that came built-in. Unlike some of the other radio headphones out there, these have excellent reception. I usually spend my weekend mornings tending to my garden.
Even though there are a couple of trees around, I do not get any dead spots on my radio. The Stanley Sync uses Air Flow technology to help block most of the harmful sound frequencies while still allowing the voice to come through clearly. This helps keep the design of the ear cups relatively thinner and more lightweight compared to other brands.
Speaking of weight, the Stanley Sync is very lightweight. It also has more than enough padding on the ear cups and headband. This makes them quite comfortable to wear even for an entire afternoon.
The only problem that I have about the Stanley Sync is that the foam ear cups are only held in place by small tabs. After a while, these tabs will slide off causing the foam padding to pop off.
What We Like
Has an NRR of 25 decibels
Comes with a digital radio with 10 preset stations
Uses patented Air Flow technology to keep ear cups thin but still able to block noises
Has plenty of foam padding
Can fold up for easy storage
What We Don't Like
The ear pads tend to fall off after a couple of months' worth of use.
The issue with the ear pads is not that serious and it only happened a couple of times. This does not take away the fact that the Stanley Sync is very good at protecting your ears against harmful noise levels.
SAS Safety 6108 Digital Earmuff (Outdated)
This comfy set of headphones has an NRR of 25 decibels. Compared to actual noise-canceling headphones, this might not seem that much but keep in mind that these don't have active noise-cancelers. These are headphones that have such effective padding in the ear cups that they can block out most of the harmful amounts of noise.
Speaking of entertainment, this digital radio headphones come with a built-in digital radio receiver. The difference between digital and traditional radio can be best seen in the sound quality. To put it simply, when you are listening to music on the FM band, it would sound almost like you are listening to a good quality recording on an audio CD.
When you are listening to the news in the AM band, it would sound like you're on FM radio – that is how good digital radio is. Whenever I do not feel like listening to the radio, I just pull out the aux cord, plug one end to the input jack in the headphones, and the other end goes into my smartphone.
This way, I can listen to my playlist on my phone or stream music and podcasts. I am also in love with the padded headband of this lightweight sport AM/FM stereo headset radio. The others that I have tested in the past were too narrow and not padded quite enough because I can still feel the metal band against my head.
The biggest complaint I have is that the wires used are so thin. I accidentally pulled one out and it proved hard to reattach. It is a good thing that the damage was covered by the warranty and I got a replacement unit.
What We Like
Has an impressive NRR for noise-blocking radio headphones for mowing
Comfortable to wear because it has plenty of foam padding
Comes equipped with a digital radio that has good reception
Has wide padded headbands that wrap around the head nice
Comes with an aux input jack and a free aux cord
As long as you do not snag the exposed wires onto anything while you are working, you will have a perfectly fine piece of
hearing protection equipment
– one that is also very affordable.
What is a Radio Headphone
To put it simply, these are work earmuffs but instead of just having empty or insulated ear cans, space is used by a built-in radio receiver. One of the cans is used for the radio components while the other is to house the battery pack. These are different from the ones exclusively used for listening to music.
For one thing, they do not have Noise Reduction Ratings, meaning they are not certified to use for active worksites while these do. Also, radio headphones meant for worksites do not have the same sound quality like the ones used purely for audio consumption. These usually just have decent to average sound quality.
Protective radio headphones are usually meant for light to moderate noise levels. These do not have enough noise-reduction abilities for extreme conditions. These headphones can be used for tasks like mowing the lawn using a ride-on mower, watching live auto races, and shooting small caliber rounds in the gun range.
You can't expect them to lower noise levels in environments like the engine room of a ship, a busy blacksmith shop, or the noises on the tarmac of a busy airport.
How Does a Radio Headphone Work
Technically speaking, protective radio headphones are not noise-canceling headphones. They are noise-isolating headphones. Although the two look similar, they work in very different ways. Sound-isolating headphones rely mainly on physical barriers to limit the amount of background noise that reaches the wearer's ears.
The physical barriers mentioned are usually the thick foam padding and the snug fit of the ear cups that create an airtight seal between the ears and the environment. On the other hand, noise-canceling headphones, although they also use foam padding and snug-fitting cans, utilize sophisticated miniature electronics to completely drown out the ambient noises. This is like turning down the volume of the outside world completely.
Types of Radio Headphones
Almost all radio headphones are the same. They look similar and function the same way. However, if one has to classify them, the most accurate maybe is to segregate them in terms of whether they are certified by the NIOSH or any equivalent reviewing body.
There are many radio headphones out there that can effectively block outside noise by using physical barriers, like the thick foam padding and the tight-fitting headband. However, they have not been submitted to the proper government agencies to get an NRR (noise reduction rating).
This is why they are not being sold as protective gear but mostly as personal audio listening devices. On the other hand, true protective headphones have undergone lots of testing to ascertain if the products can effectively block a decent amount of background noise.
These headphones are accepted for use in professional workplaces because they are proven to provide enough hearing protection. The problem with using uncertified products is that you are not sure just how much noise they can block.
This is the kind of uncertainty that professional companies do not like to bet on as they can be sued for not providing proper protective gear to their employees. There is a chance that uncertified headphones might work as well, if not better than those that are certified, but because they have not been properly tested, you will have to take that risk if you want to use them as protective gear.
However, it is recommended to use them only in environments where the noise levels do not go beyond the 90-decibel range.
Why Do You Need Radio Headphones
If you are still on the fence whether or not you need to buy protective radio headphones, continue reading so that you understand just how important it is.
How Does Sound Cause Hearing Damage?
How loud do sounds have to be so that they can cause hearing damage? According to the OSHA, when a person is exposed to noises as low as 85 decibels over an average time of 8 hours daily, it is enough to cause irreversible hearing damage.
To give you an idea of how loud 85 decibels is, 60 decibels is the average volume of normal conversations. Now, if you like to use headphones to listen to music and often turn the volume almost to the maximum, then you are most likely blasting more than 100 decibels straight into your ears.
Here's the problem, for every three decibels that go past the 85-decibel limit, hearing damage can occur at half the time. For instance, if you are exposed to 88 decibels, it will only take 4 hours to do considerable damage. If you are exposed to 100 decibels, hearing damage can occur in as fast as fifteen minutes.
How Loud is your Workplace?
Now, you need to learn just how noisy your workplace is. An air compressor operating from three feet away can produce up to 92 decibels of noise and this means it needs less than two hours of exposure for hearing damage to occur. Electric drills can make up to 98 decibels, causing hearing damage in just 30 minutes.
A typical factory floor during production hours can register at least 100 decibels, so just standing for fifteen minutes in a busy factory can cause hearing loss. Table saws and band saws can go up to 110 decibels, which means they just need two minutes to cause significant damage.
If you work in similar environments that have these kinds of noises, then it is very likely that you have already done considerable damage to your hearing. One of the signs that your workplace is too noisy and that the employees need hearing protection is when the workers are already complaining about the noise.
Another sign is when people have to shout over each other to have a conversation. Of course, the best way to find out the noise level in your workplace is to have the proper government agency conduct noise monitoring. Even if you are at home, if your hobbies involve the use of noisy machinery then you need to use hearing protection.
Buying Guide
When you finally decide to get a proper set of protective headphones, here are some of the key factors you have to consider:
Price – Of course, you need to take your budget into account when shopping for radio headphones. These products come at various prices, so find the one with the top-quality but still fits your budget. Fortunately, most protective headphones are quite affordable, with some not even breaching the $20 mark.
Now, to figure out how much you would be willing to spend on protective headphones, you need to take a couple of things into consideration. These include how often you will be using them, how noisy your workplace can get, and what kind of sound quality are you expecting to get from them.
Input Sound Quality – This will factor in if you are a stickler for audio quality. However, if you are a casual listener or just something to distract you from the monotony of your work, then not having high-quality sound might not be an issue.
This does not mean settling for mediocre-sounding headphones. These are the ones that sound so bad that they make you very frustrated with what you are hearing.
Speaker driver/Speaker – The driver that is built into the earpieces is the one that produces the sound that reaches your ears. The bigger the driver, in combination with their quality, the better the sound quality. Furthermore, the speakers should also be big to keep up with the sound produced by the drivers.
If you want better sound quality with clear tones coming from all ranges, you need to get headphones with large earpieces.
Portability – If you need to travel or commute to work, then choose a portable pair of protective headphones. This means that you should not be getting anything that is big and bulky that it causes problems when you are commuting to work.
Almost all protective radio headphones can be folded to half their size but still, some of them can be a bit too big. Test out the headphones as much as you can to figure out if they will fit in your work bag.
Weight/Comfort – These two characteristics are listed as one because they correlate to each other when the headphones are used. In most cases, the lighter the headphones are, the more comfortable they will be to wear. This is important because you will be using them for hours on end, so you might as well be comfortable when wearing them.
However, keep in mind that reducing the weight will also result in a significant loss of sound quality and also some background noise stopping capabilities. With that said, consider getting a pair of headphones that might be a bit heavier than what you would have wanted (but still comfortable to use) for improved hearing protection.
Connectivity – Sometimes, there is nothing good to listen to on the radio, so the headphones that you get should at least have an auxiliary input jack and cord so that you can connect it to your smartphone or MP3 player.
Better yet, get radio headphones with Bluetooth connectivity so that you do not have to deal with pesky wires while working. Also, headphones with Bluetooth can be used as a wireless headset for your phone.
This means you can answer phone calls without having to pull out your phone and remove your headphones. You just need to push a button to answer calls and resume working.
Durability – You will be using the headphones in the workplace so expect to move around constantly. During those times, you will accidentally drop your headphones on the ground, it is certain. This is why you need to get headphones that can handle a respectable amount of abuse and still work.
Check if the headband is made of sturdy metal so that it will not break into two pieces when you drop it onto a hard surface. Also, check the ear cups if they are made of thick plastic and nothing so flimsy that they will crack easily when dropped on the floor.
Warranty – Even though protective radio headphones are not that expensive, you do not want to waste money on something that will break after just a week of regular use. If you are lucky enough to get a pair of quality headphones that lasted six months or more of continuous use then good for you.
However, some of them tend to break after just two weeks. Ideally, get headphones that have more than a 30-day warranty. If you can get one with a true satisfaction guarantee, the better. Some manufacturers will be more than happy to provide refunds or replacements due to accidental breakage, also known as user error.
Care and Maintenance
It does not take much to care for protective radio headphones. They are meant for the workplace anyway so they are tough. However, if you want to ensure that they last for as long as they can, you need to take proper care of them.
First, at the end of the workday, give the entire headphones a good wiping down using a clean, soft rag. You should get as much of the sweat and dirt as you can. Also, to prevent them from stinking up, lightly spray a bit of disinfectant on the surface.
Be careful not to get any liquid into the speakers. Just hold the spray a foot or so away so that the phones only get a light misting. If the foam padding on the earpieces starts to dry up and crack, do not try to repair them using clear tape – that will not do much. Even a small crack in the padding will greatly decrease its sound-blocking capability.
Instead of trying to repair the ear pads, just replace them with brand new ones. They are not that expensive at all and they snap in place easily.
Frequently Asked Questions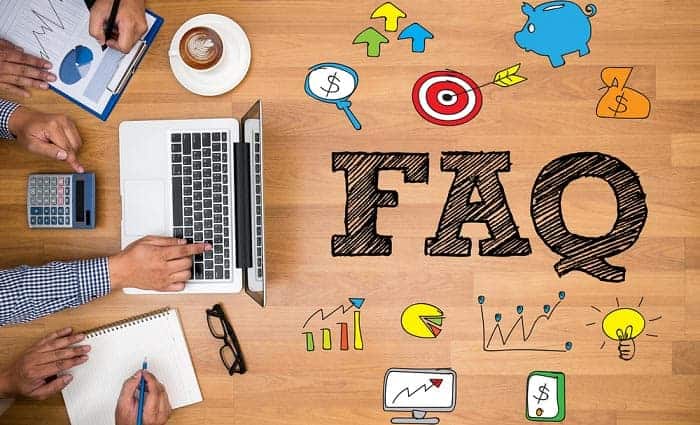 Why do truckers use headsets instead of earbuds?
Truckers use headsets instead of earbuds because they need to pay attention to traffic noises to avoid accidents. As earbuds fit tightly into the ear canals, they can block out important sounds. In contrast, headsets rest over the ears like earmuffs, allowing truckers to communicate with their supervisors while still being attentive to the road.
Usually, truckers use monaural headsets that feature one earcup on one side. This way, the driver can use the other ear to maintain situational awareness. Bluetooth headphones with radio allow the wearer to communicate with dispatchers without using a smartphone, which violates the law.
To be fair, earbuds are a good idea if you plan to use them for running or working out in the gym since they are not bulky.
How do I get the highest sound quality?
Normally, the sound quality depends on the pairing capabilities between two devices, e.g., your smartphone and wireless headphones FM radio.
When pairing a portable device with Bluetooth connectivity, try bringing the volume down to 70%. You can even experiment with turning the volume to 50% or 75% to see which configuration works best.
Also, make sure that you are within range of your Bluetooth-enabled device, which varies depending on the specific brand and model. With the 3M WorkTunes we reviewed above, for instance, the user needs to stay within 25 feet of the device.
If you want to listen to the radio with headphones, the good news is that you can find models with antennas, superb reception, and sound quality. The ZOHAN EM042 is one example – it can produce crisp and clear sounds with impressive bass tones.
How long do radio headphones last?
Wired FM headphone radio generally have shorter lifespans – around 2 years, as many people tend to ruin the wire. However, with good care, this type of headphones can last up to nearly a decade.
Meanwhile, wireless earphone radios can last 2-4 years on average. That said, top-of-the-line models can remain in good condition for 5-10 years, although their battery capacity may decline over time.
What are the most popular radio headphone brands?
Many different brands of protective radio headphones are currently available but not all of them can even be considered as "good". If you want the best radio headphones, among the brands you can trust include 3M, Honeywell, ZOHAN, SAS, Stanley, PIXNOR, Retekess, and Walker's.
I have tried a lot of different brands of radio headphones and honestly speaking, the ones mentioned y stood above the rest in terms of hearing protection and sound quality.
What are the top-tier headphones for radio broadcasting?
If you are looking for protective headphones that have a good quality AM/FM radio, look for the ones that say they have digital AM/FM radios built-in. Analog radios are fine if you just want something to listen to in case you want to break the boring pace of your work.
However, if you want something that sounds good enough that you want to listen to it while you are just relaxing at home then digital radio is the way to go. What makes digital radio superior? For one thing, the sound quality is exponentially better.
If your earphones have excellent speakers or at least above-average ones, listening to digital FM radio will sound like you are listening to audio CDs. Also, if you like listening to AM radio, it will sound like you are listening to FM talk shows when you go digital.
With that said, make sure that your protective headphones have good sounding speakers, so you can fully appreciate the features and benefits of digital radio.
Are radio frequency headphones safe?
As long as the noise in the environment does not exceed 110 decibels, then yes, protective radio headphones can provide enough hearing protection. Most radio headphones are NIOSH-approved and come with NRR of 25 decibels.
The headphones are great as long as the headphones can lower the amount of noise that reaches your ears to significantly below 85 decibels (80 decibels ideally). For instance, if you work in a busy factory, which produces around 100 decibels of noise on average, wearing a radio headphone can lower the amount of noise you hear to just 75 decibels.
With that said, you should only use NIOSH-approved products. If the packaging of the headphones does not state its NRR then you should not use it for work.
Can wireless headphones connect to a radio?
Yes. Almost all protective radio headsets even have radio receivers built-in so they do not need to connect to an external radio. There are even many headphones that use digital radios that are much better than analog radios.
If you do not want to listen to the radio, they also have aux input jacks so you can connect your smartphone or MP3 player. Some even have Bluetooth so you can connect wirelessly.
How to set up and use radio headphones?
The only set up that you will need to do for wireless radio headphones is to search for and save your favorite radio stations. The directions to do this will depend on the brand of the headphones. Some have separate buttons for preset stations while others will require you to cycle through the saved presets.
Now, if you want to connect your headphones to your smartphone, the usual method is via the aux cable. Just plug one end into the auxiliary input jack in the headphones and the other end into the 3.5mm audio jack in your smartphone. This will automatically make all of the audio in your device play in the headphones.
What is the warranty?
Most headphone brands come with 30-day warranties against factory defects. You need to read the fine print regarding the warranty coverage. Some might provide coverage for user error while others will not. You also need to take note of if the user is responsible for the shipping and handling costs of the return.
Some brands provide satisfaction guarantees as a show of good faith to the customers. This means that, if for whatever reason, you are not fully satisfied with the product, you can return it for a complete refund, no questions asked. The products that offer this kind of warranty are often of superior quality, so keep an eye out for them.
Where to buy?
If you want to get a lot of choices and the chance to compare the prices of popular brands so you can find the best deals, go online shopping for your protective headphones. However, you may need to wait up to a couple of weeks before the product gets delivered to your home.
If you need to use the headphones immediately, you can go to the nearest big box store or any large hardware outlet store and browse their aisles. There is usually a limited number of brands to choose from, often just three to six kinds. However, the upside is that you can test the products first before you pay for them.
Conclusion
Hearing protection should never be taken lightly, especially if you work in an environment where the noise levels can get dangerously high. Remember, it only takes eight hours of exposure to noise that is as low as 85 decibels to cause irreparable hearing damage, so it is important to use ear protection all the time while working.
Apart from protecting your ears, radio headphones also provide entertainment while you are working. This can be very handy especially if your work is repetitive (for instance, a factory worker in an assembly line). Keeping yourself entertained while you work will make you more efficient.
Do not delay getting the best radio headphones to protect your hearing. You will thank yourself later when you're older and can still hear clearly.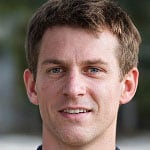 Having worked in the field of personal protective equipment for over two decades, Andrew Carnegie is a specialist in the field.
At EDC, he strives to improve performance efficiency and promote workplace safety for EDC's readers and customers. He also researches the most up-to-date equipment that has earned relevant accreditation for use in a wide range of industries and specialties.