If your line of work involves getting exposed to a lot of heat then you will need to wear the best heat-resistant gloves that you can find. This is especially true if you rely on your hands to make a living. If this is your first time buying a pair of heat-proof gloves and you do not know what to look for, then this article might just help you out.
When you think about the people who need gloves for heat, the first ones who will most likely come into mind are firefighters. However, there are quite a lot of other professions that require the use of fire-resistant gloves. For instance, blacksmiths are always working with red hot metals.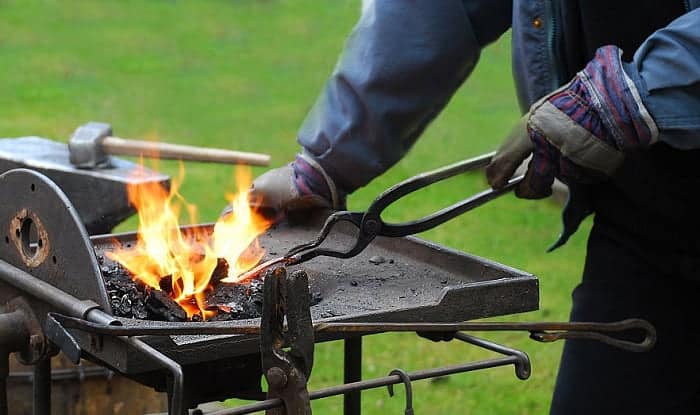 With that, they need gloves that can provide ample protection for their hands. Other professionals who also need fire-resistant gloves include glassblowers, grill pit bosses, potters, chefs and cooks, and many others.
Not all working gloves are heat resistant. While some do provide heat-resistance, others are useless and might even burst into flames if they get hot enough. Certain materials are highly flame-resistant. This means they do not even get warm when exposed to flames for a certain amount of time.
These are the fire-proof gloves that you should keep an eye out for and this article will teach you how to do find them.

9 Best Heat-Resistant Cooking Gloves Reviews of 2023
1. Kiloline Professional Heat-resistant Glove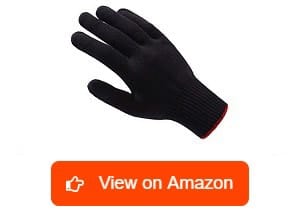 These are the best heat-resistant gloves for hairstyling that are made primarily for hairdressers, so they can protect their hands from instantaneous burns. It could happen when they accidentally touch hot hair styling tools like curling irons. You will still feel a bit of heat but you can prevent your hands from getting burned.
Even though the hands are protected against burns, the gloves are not that thick at all. These are still thin enough that you will not lose that much finger dexterity. This is important for hairdressers as they need full use of their hands while styling the hair of their clients.
Unlike the free gloves that usually come with curling wands and other heated hair styling appliances, these women's heat-resistant gloves are made of a thick and tightly-knitted heat-resistant fabric. This means that when you put the gloves on, they will not stretch around the fingertips and create holes where heat can pass through.
The materials used for making the gloves are very stretchable, providing you with a snug yet still comfortable fit. The only way that these gloves will not fit you is if you have extremely long and thin fingers. This could mean that the gloves will be a bit loose but I am sure you can still use your hands without any sort of restriction whatsoever.
My problem with these gloves is that they can only protect your hands from getting burned. They do not do a good job of protecting your hands against radiant heat. These gloves are only meant to protect against brief touches on a hot surface.
What We Like
Made primarily for hairstyling pros
Thin and flexible to allow full use of the hands and fingers
Can easily protect the skin from burns on a hot surface for a few seconds
Made from stretchable materials so that the gloves fit snug
Does not form holes on the fingertips even when stretched tightly
What We Don't Like
Protect against direct heat only; radiant heat will still pass through the gloves.
Unlike most of the other gloves in this list, these are meant for a specific profession, and that is hairdressing, which is why they are top-rated heat-resistant gloves for curling irons and not for grilling or cooking.
2. Comsmart A-590 BBQ Gloves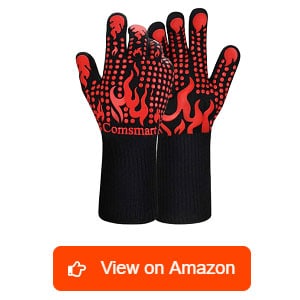 Available in various color options, these thermal cooking gloves come with eye-catching patterns around the hand and fingers, but these aren't merely for aesthetic purposes. The colorful dots and flames you see are made of silicone, which functions to prevent slippage.
I love using these gloves because they allow me to hold slick yet hot pots and trays securely. For the outer layer, the manufacturer used high-quality aramid to prevent heat and cut injuries. Inside, the lining is a blend of cotton and polyester, which I find comfy. With this combination of materials, I can use them for cooking, baking, and outdoor grilling.
Another brilliant feature of these gloves is the wrist guards, which serve as a shield against sparks and hot steam. Since the material is stretchy, I can still move my hands well. Of course, these aren't nitrile but they allow for a decent level of dexterity. I think it's good to include a loop on each glove so I can hang them without destroying the fabric.
The only thing I don't like about these heat protection gloves is that they are only available in long and short but they are generally big. I don't mind the bulk since these gloves are not intended for tasks requiring very fine motor skills. However, people with small to medium-sized hands may find it difficult to work with too much excess material around their hands.
What We Like
Cool-looking heat-resistant gloves
Can be used for kitchen or outdoor cooking
Protects arms, fingers, and wrists
Resistant to high heat and cuts
Lets your hands move freely
If you're looking for multipurpose kitchen gloves, look no further than this pair of Comsmart! In addition to heat-resistant properties, they can also keep your hands safe against cuts.
3. WZQH 16-inch 932℉ Leather Forge Welding Gloves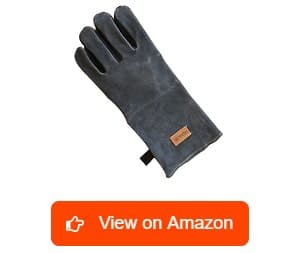 These gloves are designed specifically for forge welding, a line of work that deals with extreme amounts of radiant heat, so these had no problem protecting my hands from the amount of heat that comes from barbecue pits, backyard grillers, or barrel smokers. This product is made to handle all of those with ease.
What I genuinely liked about these campfire gloves is that they are made to last. The outer layer is made of 1.2mm thick split cowhide, which is not just heat-resistant but also cut-resistant, puncture-resistant, and wear-resistant. Aside from that, the seams are double-stitched using flame retardant Kevlar thread.
This means the seams are not the weakest point of these gloves. It also features long cuffs made of tough denim to protect your forearms. The outer cowhide layer of the glove already provides significant heat resistance but it is reinforced by adding more inner heat resistant layers.
Under the cowhide is a layer of air-isolated aluminum foil and underneath that is a thin layer of flame retardant cotton. With these layers combined, it will take nothing less than the heat of a blacksmith's forge running at full bore to generate enough heat to penetrate them.
Aside from protecting the hands against extreme heat, the manufacturer's also kept the comfort of the wearers in mind while making these gloves. The innermost layer is made of soft, insulated cloth lining, which, I noticed provides enough padding. It also wicks away the sweat on top of your skin to keep the inside of the gloves fairly dry and cool.
The obvious thing that you will be missing when wearing these gloves is the dexterity of your fingers. These gloves, are so thick that you will not have any tactile feeling in your fingers. Even picking up a coin off the floor will prove difficult.
What We Like
Can be used in high-temperature metalworking tasks, so grilling and barbecuing will not be a problem
Can be exposed to extremely high heat for a couple of seconds but will not have any noticeable damage
Resistant against wear, cut, and puncture
Can last for years with very minimal care and maintenance
Comfortable to wear, thanks to the soft inner lining
What We Don't Like
Makes you prone to losing all tactile sense in your fingers
The loss of tactile sense in the fingers is a small price to pay, especially when you take into consideration that these gloves can withstand forge-level heat. If you are looking for something heavy-duty, these are the gloves for you.
4. Grill Armor Extreme Heat-resistant Oven Gloves
These are not your regular oven mitts because these gloves can do a whole lot more. Thanks to the silicone strips covering almost the entire surface of the gloves, I can hold onto hot pans and pots more securely than oven mitts can. Even the annoying handles on some Pyrex baking dishes are not a problem anymore, thanks to these gloves.
If you are like me, and you have burned the top of your hands or at least singed the hair off your forearms when reaching into an extremely hot oven, then these items will be your favorite immediately. These are lined with M-ARAMID & P-ARAMID fabrics that refer to synthetic materials that were previously only used by the aerospace industry and the military.
These fabrics have exceptional heat resistance. They will not melt or burn even when exposed to an open flame, so I can confidently reach into my oven without worrying about getting burned. I do not even feel any heat inside the gloves at all.
The M-ARAMID & P-ARAMID fabrics are not just resistant to heat but can also protect you from puncturing, cutting, and wear. These fabrics are used to make ballistic vests and body armor for law enforcement officers and the military, proving their toughness. This means you can use your hands to turn over the meat on the grill then switching over to the carving station and start slicing up the cooked meat without missing a beat.
Although these gloves are thick, they are very lightweight. This is yet another property of the aramid fabrics used in making these gloves. These fabrics have very high tensile strength, much stronger than steel, but are just a small fraction of the weight.
You will hardly feel these gloves on your hands. Because they are also very breathable, you might even forget that you are wearing them. The only complaint I have about these gloves is that the fingers are too long. Even though I have large hands, the fingertips are still a bit too loose.
What We Like
Made of aramid fabrics, so they are resistant to extreme heat
Can also withstand cutting, puncturing, and abrasion pretty well
Comes equipped with silicone pads to provide a good grip
Very lightweight and breathable
Machine-washable and easy to maintain
What We Don't Like
A bit loose around the fingertips, causing a decrease in dexterity
Although the fit does not allow for fine movements, these gloves are not meant for precision work after all. These are made to protect the hands from any heat that can cause third-degree burns.
5. Cuisinart CGM-520 Heat-resistant Silicone Gloves
These are a nice upgrade to the usual silicone mitts and pot holders considering how these gloves are completely made up of high heat-resistant silicone. I appreciate that these gloves offer more control and better grip as compared to regular mitts. These let me wrap my fingers over the handles of pots and pans, providing a more secure hold.
Speaking of grip, the surface of these silicone heat-resistant gloves is textured on both sides. These little raised bumps helped me grip onto my grilling utensils better. Moreover, you do not have to think about which glove is for your right hand and which is for the left. They look the same whichever side you look at.
These heat-resistant gloves 500 degrees are also waterproof and oil-resistant. This means that if you accidentally pour scalding hot water on your hands, you would not get a painful burn. Even hot oil will not do anything.
Another feature of these gloves that I truly loved is their dishwasher-safe nature. As far as I know, these are the only cooking gloves that you can wash along with your dishes, which is a very welcome convenience.
The only thing I did not like about these gloves is the quite challenging task of taking them off. When the gloves are covered in grease and because they are rather snug-fitting, I often need someone to help me get them off.
What We Like
Provides a good grip on pots, pans, and baking dishes
Offers more control compared to oven mitts and pot holders
Completely waterproof and oil-resistant
Can withstand high temperatures without showing any signs of damage
Can be tossed inside the dishwasher along with your dishes
What We Don't Like
A bit too tight and thick, causing it to provide very little to no tactile feel
Although these gloves are a bit unwieldy, they do provide more than enough protection from high heat. This is the reason why you want these kinds of protective cooking gloves in the first place.
6. BOGO Brands Heat-resistant Oven Gloves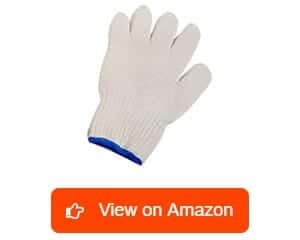 Despite how they might look, these gloves are quite good at insulating my hands from intense heat. I was quite hesitant about using them the first time because they look just like ordinary cloth work gloves but they are more than that. They can protect my hands from any heat that exceeds 400 degrees F.
These protective items are great for grabbing things in the oven, pots, and pans from the stove. You can also use them when grilling at the backyard. These are made using high-heat resistant fabrics, which is quite thick. However, the gloves are very light.
Compared to similar-sized leather work gloves, these are almost half the weight but still similar in strength and durability. These gloves are reusable and might last a couple of years with proper care and maintenance. They are not just for the kitchen but also barbecue grill and smokers if you have one. You can use them not just for picking up pots and pans but also when preparing the grill for cooking.
It is useful when arranging the wood in the smoker and doing other things that involve intense radiant heat. The best thing about these extreme high heat-resistant gloves, in my opinion, is that they are machine-washable. You just need to throw them in the washer and dryer along with your other laundry and it will be just fine.
Also, because these gloves are oil-resistant, you do not need to worry about stains. The only thing I did not like is that these gloves are quite too thick for making even slightly precise movements. If you are wearing them, making precise, thin slices of meat can be a challenge.
What We Like
Can resist any heat that exceeds 400 degrees F
Provides more control and dexterity compared to regular oven mitts
Made of heat-resistant material that will not melt even when exposed to a naked flame
Can be used for a multitude of tasks, including baking, cooking, and grilling
Machine-washable and requires very little maintenance
What We Don't Like
A bit too thick, causing it to decrease finger dexterity quite a lot
Sure, you cannot do intricate cuts using a carving knife with these gloves on nor can you pick up grilling utensils that have fallen on the floor. However, they can still protect your hands from getting severely burned while you are cooking, which is the important part.
7. MVZAWINO Premium BBQ Gloves
These are premium-quality cooking gloves and you can most likely tell just by looking at it. The top layer of these gloves is dotted with strips of silicone rubber, which is highly heat-resistant. This provides the glove with grip even on surfaces that are a bit coated in grease.
The good thing about these gloves is that these promote ease in holding onto pots and pans because you can wrap your fingers around the handles properly. In my opinion, the second layer is the most important of all because this is the one that provides the most heat protection.
This layer is made entirely out of high-quality aramid fabric, the same kind that is used by the military for making ballistic body armor. This layer can withstand over 1,400 degrees F without burning. This is the equivalent of a blast furnace. This means that your backyard barbecue grill will not even make a mark on these gloves.
Aside from being highly-heat resistant, they are also cut, puncture, and wear-resistant. Aramid is used for making bulletproof vests so your regular kitchen knives will not be a problem. This means that you can switch from grilling to slicing up the previously cooked slabs of meat without missing a beat.
I also find these gloves useful for flaking barbecued meat. You will not even feel any heat coming from the cooked meats through the gloves, so you can proceed to pull the meat while it is still hot. One of the best things about these gloves is the warranty that the manufacturers provide with every pair.
You will get a lifetime 100% satisfaction guarantee. This means you can get a full refund or a pair of brand new replacement gloves if you ever feel dissatisfied with the product. The only problem that I have with these gloves is that they are a tad too big.
I have fairly large hands and I usually wear size L gloves but these items are still a bit loose around the fingers. However, they are not so loose that it gets difficult to use them properly. I did get used to the gloves after a while, so this was more of an inconvenience.
What We Like
Can withstand extreme temperatures of up to 1,400 degrees F for a couple of seconds
Has a grippy silicone padded outer surface
Mainly made of military-grade aramid fabric for utmost durability
Cut-resistant and puncture-proof
Comes with a lifetime satisfaction guarantee
What We Don't Like
A bit loose even for people with large hands
Although there is an issue with the size of these burn-resistant gloves, they can be considered as just a minor inconvenience as these are still usable even if they are a bit too big. Considering that these have so many benefits, it will be a bigger shame if you do not give them a try.
8. Semboh 932℉ Extreme Heat-resistant BBQ Gloves
The thing that impressed me the most with these heat-resistant gloves for cooking is that they are made of three different material layers. The outermost layer is made of heat-resistant silicone.
This material does not only provide heat protection but also offers extra grip even on wet and slick surfaces, making them one of the best fireproof gloves you can buy. The second layer of the gloves is made of deyan aramid fibers. This material is highly resistant to heat and like Kevlar, it is cut and puncture-resistant.
I love this part because it lets me use the gloves when I am grilling. I can use these gloves for cooking and slicing up the cooked meats and veggies for serving. The third and innermost layer is made of polyester fabric. This provides yet another layer of protection against heat.
Aside from that, this layer makes the gloves very comfortable to wear. The gloves can also wick up the sweat from above the skin to further keep inside cool and comfy. As mentioned earlier, this product is cut-resistant. It is even four times more cut-resistant compared to leather work gloves.
This means you can slice up hunks of barbecued meats but the same will not happen to your hands. The only thing I did not like about these gloves is that they are a bit snug when you first use them. However, it does get looser the more I use them so this is not that huge of an issue.
What We Like
Form-fitting, so hardly any finger dexterity is lost
Can hold onto extremely hot items without melting or burning
Highly cut-resistant, making it stronger than leather gloves
Made of deyan aramid fabric, which is very breathable
Has a silicone outer layer to provide grip
What We Don't Like
A bit tight when brand new
These are among the best heat-resistant kitchen gloves that you can find in the market these days. Aside from being heat-resistant, the gloves can also resist cutting and punctures, so you should get a pair of these as soon as you can.
9. Artisan Griller BBQ Heat-resistant Insulated Gloves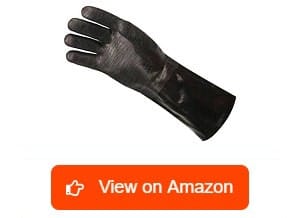 These are not your regular fire-resistant gloves. Made specifically for barbecues and grills, these gloves are based on thick materials that can protect you from radiant heat from the coals and propane burners. These can also protect the hands from accidentally touching hot surfaces.
Another thing that I like about these extreme heat-resistant gloves is that they do not only protect me from heat but also come with a textured surface that provides enhanced grip. This provides a better grip on tools even if they are covered in grease and oil. Because these are heat-resistant, you can also use them in place of oven mitts when grabbing pans and pots off the fire.
These heat-resistant gloves for grilling are also waterproof and oil-proof. This means that they will still be able to grip stuff normally even when they are wet or greasy from barbecuing all day. This is important especially if you are working for a barbecue restaurant. You never want to drop your utensils on the floor and taint your products.
The thing that made me like these waterproof heat-resistant gloves is that they are a full fourteen inches long and are completely coated with neoprene. This means your entire hand and forearm are protected against the heat, steam, and hot grease depending on what you are using them for.
When it comes to the total protection of your hands, this length is the ideal choice. The only thing that is wrong about these high heat-resistant gloves, at least according to other people who used them, is that they are sized a bit too big. This will be most apparent if the person wearing it is a petite woman with somewhat small hands.
What We Like
Made of thick flame-proof materials, which can protect against the heat of coals
Allows you to hold glowing hot coals for a couple of seconds without burning
Completely waterproof and oil-resistant
Can hold onto utensils firmly even when covered in grease
Has enough length to protect the forearms as well
What We Don't Like
Comes in large sizes, might not have the right sizes for people with smaller hands
These gloves are the ultimate choice when it comes to fire and heat protection. They are among those gloves that let you hold glowing hot coals in the palm and not leave a mark, which is why you should strongly consider getting a pair for yourself.
Homemaxs BBQ Gloves (Outdated)
Let's get one thing straight, these are not your grandma's oven mitts unless, of course, your granny likes to cook using extremely high heat or if she is a blacksmith that regularly faces a roaring forge. These gloves are made for the serious griller or pit boss.
They can withstand temperatures that exceed 1000 degrees F for a couple of seconds and will still look and feel brand new. I liked the silicone pattern that is on the very top layer. They are thick enough that I can hold onto hot pots and pans without feeling any heat whatsoever.
Furthermore, the silicone provides improved grip even on greasy surfaces. The layer underneath the silicone strips is made entirely of deyan aramid fibers. This material is used in the aerospace industry, military as a form of body armor, for reinforcing the hulls of ships, and many more.
This material is highly heat-resistant, so much so that you can hold a smoldering piece of charcoal in your hand without feeling it for a couple of seconds. I am also happy that these gloves are very thin and follow the form of my hands closely. This allows me to move my hands the way I want them to.
The cuffs also fit snug to my forearms so it is unlikely that they will snag onto things. I have rather large hands so I have no complaints about how they fit me but I also noticed their slight looseness when worn by women.
On the other hand, even though they don't fit properly on women, these still provide more control and better protection compared to regular oven mitts.
What We Like
Can withstand extreme temperatures for a limited time
Fire-retardant silicone pads on the surface, which provides excellent grip and heat production
Made with deyan aramid fabric, which is extremely heat-resistant, cut-resistant, and puncture-resistant
Lined with a polyester-cotton blend that provides enough padding and ventilation
Form-fitting for enhanced hand dexterity
What We Don't Like
Only (currently) comes in a large size
Although there is an issue with the sizing, these are still very capable gloves for grilling, smoking, deep fat frying, and other cooking methods that involve extreme heat.
ZOKER BBQ Gloves (Outdated)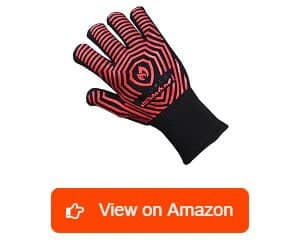 These gloves are simply among the best heat-resistant cooking gloves that you can buy right now. The manufacturer says that these can resist the heat of more than 1000 degrees, which is quite impressive, although it can only do so for a couple of seconds.
Nevertheless, getting exposed to such high temperatures and not showing any signs of damage afterward is a real impressive feat. Unlike other heatproof cooking gloves, these already come as a pair. This is not the same as others where you need to buy each glove separately.
Buying a complete pair is more economical as well. Also, having a pair will allow you to carry large hot containers with no problem at all. The outer silicone covering is in the form of stripes that run across the palms, fingers, and back of the hands. This allows you to hold onto hot objects while letting your hand breathe.
With that, you can prevent your hands from sweating too much, making it possible for you to wear your gloves for hours on end without you even noticing them. The fit of these gloves is unlike that of a typical oven mitt, which is very thick that you will not feel anything through it.
These long heat-resistant gloves are quite thin. You will not lose too much dexterity when you use them. This is thanks to the deyan aramid fabric middle layer, which is known for being very heat-resistant. Even a thin layer of it will be enough to provide ample protection from high heat.
The only complaint I have about these chef gloves heat-resistant is that they only come in a size large. This means those who have petite hands will have to work with slightly loose gloves. However, this is not much of an issue since even if the gloves are a bit loose, they are still easy to work with.
What We Like
Comes with silicone outer strips for extra grip and added fire protection
Has an inner lining made of deyan aramid, which is heat-resistant
Already comes as a pair so you can do many cooking tasks right away
Form-fitting for improved dexterity
Made of porous materials that allow the skin underneath to breathe and remain cool
What We Don't Like
Only comes in a large size at the moment; if you're someone with little hands then these might be too loose
These gloves can provide your hands with all the protection that it needs when it is grilling meat, grabbing a hot skillet off the stove, or anything that requires working with high heat.
What is a Pair of Heat-Resistant Gloves
Heat resistant gloves, as the name implies, are gloves that can protect your hands from extremely high temperatures. Some high heat-resistant work gloves are used by people whose professions revolve around working with extremely high temperatures. These include potters, blacksmiths, and glass blowers.
However, these kinds of gloves are also used in cooking. This should be quite obvious since you will also be dealing with hot temperatures in the kitchen. You can find a lot of bakers and pitmasters using heat-resistant gloves. For one thing, these gloves provide a whole lot more dexterity compared to bulky oven mitts.
It would be like you're reaching into a hot oven to get a roasting pan with your bare hands and yet they do not feel remotely warm at all. With these gloves, you can grab onto the handles of pots and pans tighter.
You can securely hold onto baking trays and even turn over meat and vegetables on a hot grill without using tongs, just your hands in your gloves. It does not matter if you do not bake or grill that often. There will surely come a time when you need to use heat-resistant gloves when cooking, so you should get the best ones as soon as you can.
How Do Heat-Resistant Gloves Work
You can expect heat-resistant gloves to work by preventing heat from penetrating inside them because they are made of special heat-resistant materials or a combination of different types of them. One of the most common materials used for heat-resistant gloves is silicone.
This rubber-like compound can resist temperatures reaching 500 degrees F and it will not melt, burn or scorch. This is the reason why there are different cookware made of silicone, like spatulas, baking tray liners, cupcake molds, etc. Aside from protecting against extreme heat, silicone also provides a good grip.
This is why this is usually used as an outer lining for many different cooking gloves. However, in recent years, new material has taken over the heat-resistant glove department. No longer is silicone nor rawhide leather the go-to materials. It is now aramid fabric that is the most popular.
Aramid is a synthetic fabric that was first developed for the aerospace industry as a way to shield shuttles and satellites from the heat of re-entry in the earth's atmosphere. Later, this fabric was used by the US military as the base for their ballistic armor.
Now, aramid is used in making high-quality, heat-resistant gloves. Gloves made using this fabric can withstand over a thousand degrees F, which is almost the same amount of heat that blacksmith forges can produce. They can also withstand extreme temperatures for a couple of seconds without showing any signs of damage.
If you will be cooking using methods that use high heat, like baking, grilling, and smoking, then you will need heat-resistant gloves to keep your hands from getting seriously burned.
Types of Heat-Resistant Gloves
There are many different brands of heat-resistant gloves that are available these days. However, these can be categorized into several categories depending on the type of materials used for making them.
Silicone Gloves – These are gloves made of rather thick silicone rubber. These can protect the hands from temperatures that can reach up to 500 degrees F, which is the hottest that most domestic ovens can reach. Although silicone is often used as an outer liner for other types of gloves due to its versatility, it can be shaped into gloves as well.
Cowhide Gloves – These heat-resistant gloves are usually used by professionals like blacksmiths, glass blowers, and others whose craft revolves around the use of intense heat. However, there are food-grade cowhide gloves that can be used for cooking as well.
The cowhide has a distinct advantage over silicone, even though it does not have as much heat resistance. It is mainly because this material is lighter, thinner, and more durable. These gloves usually come with long cuffs to protect the wearer's forearms.
Aramid Gloves – These gloves have become quite popular in recent years mainly because of their high heat resistance. Purportedly, gloves made using this synthetic fabric can resist temperatures exceeding 1,400 degrees F.
However, do take note that it can only resist the said amount of heat for a couple of seconds (around 10 seconds or so). Aramid gloves are lightweight and easier to use compared to the silicone and cowhide gloves but they are not quite as durable.
Why Do You Need Heat-Resistant Gloves
You might be thinking to yourself that you do not need heat-resistant gloves because you already have oven mitts and potholders. The reason why you should get these gloves is that they are a whole lot better than plain old cloth mitts and potholders. First of all, you have nearly zero finger dexterity when you are using oven mitts.
It is mainly because they do not allow for the use of individual digits. With heat-resistant gloves, you can tightly grasp around the handles of pots and pans, around the edges of baking trays and dishes.
Another reason why you should get heat-resistant gloves is that cloth oven mitts can only protect your hands from heat up to a certain point. This is the ignition point of regular cloth, which is not that high at all. Even before the oven mitt starts to burn, more than enough heat would have gone through it and cause severe burns on your hands.
Third-degree burns are nothing to scoff at. You will have the skin burned off your hands and you would be lucky if your burns heal without causing any permanent damage to your hands.
Buying Guide
Although there are many different heat-resistant gloves available in the market right now, not all of them should be held in great regard. You need to be very discerning when you are shopping for one because you will be putting the safety of your hands on the line if you were to choose the wrong kind.
To help you out with this dilemma, here are some of the qualities you need to take into careful consideration.
Materials Used – Heat-resistant gloves are typically made using three different materials – silicone, cowhide leather, and aramid. Gloves made mostly out of silicone provide great heat resistance up to 450 to 500 degrees F. At those temperatures, you will not even feel a bit of warmth inside.
However, silicone gloves have a serious issue and that is they are quite thick. The reason why thick glove materials are bad is that you will lose all tactile sense on your fingertips. This means that you will have a hard time handling smaller items and lose most if not all finger dexterity.
Cowhide can be made into thinner gloves compared to silicone, which means they fit much more comfortably around the hands. Also, they allow for more finger dexterity. However, depending on the manufacturer, silicone gloves have the upper hand when it comes to heat resistance.
There are also gloves made of aramid, which is a synthetic fabric that was once only available to the aerospace industry and the military. This fabric has almost the same properties as Kevlar, which is why it is also used in the construction of ballistic vests.
Aramid can withstand extremely high temperatures and it is also cut and puncture-resistant. However, gloves made mostly out of aramid do not typically last that long. You will be lucky to get a couple of months' use out of them.
Then there are gloves made of a combination of these three materials. These gloves use cowhide as the main outer material, with tough denim cuffs for added protection. This outer layer is further reinforced by adding silicone pads or texturing for added heat resistance and grip.
Aramid is used as a middle liner just underneath the cowhide to add more strength and another layer of heat protection. Finally, a heat-resistant polyester-cotton blend inner lining is added to provide comfort and proper ventilation. This results in an almost invincible pair of heat-resistant gloves.
However, the only problem with gloves like these is that they are still a bit too thick and eliminate almost all finger dexterity. On the other hand, if you want full protection against heat, this type of glove is what you are looking for. These are thick but that does not mean they are barely usable.
Fit and Comfort – You will be wearing these gloves for over an hour, especially if you will be cooking for a lot of people. For instance, if you will be posted at the grill on your next backyard barbecue, expect that you will be wearing mitts all afternoon, with the occasional beer break of course, so you will need a comfortable glove.
One detail that you need to look into is the inner lining of the gloves. The lining should be soft and cotton-like. This will allow the lining to wick away the sweat off your skin, thereby keeping you cool and dry.
This means silicone gloves would be out of the question for long-term use and the best, in this case, is aramid or cowhide glove.
Heat Resistance – If you are looking for the absolute best in terms of heat resistance, you can go for the combination of cowhide and aramid. It is because this provides a dual layer of heat protection. However, if you are just looking for something that you can use around the kitchen, this will be overkill, not to mention expensive.
In cases like this wherein heat resistance is the most important quality, go for silicone gloves. These will provide you with more than enough protection against the heat from the oven and stove.
Price – If you do not have much in terms of budget and will only be using the gloves occasionally, get the aramid type. These gloves are not that expensive while still providing excellent heat protection.
However, if you will be using the gloves daily, get the best aramid-lined cowhide you can find. Aside from protecting your hands from serious burns and injuries, they will also last for many years.
Care and Maintenance
It does not take much to take care of heat-resistant gloves. They are very tough and durable. You only need to give them a good cleaning when they get too dirty. For instance, silicone gloves can be thrown into the dishwasher along with the dirty dishes and it will be fine.
Aramid gloves, on the other hand, can be machine-washed along with your laundry. Rawhide leather gloves need a bit more care. If they are not that dirty, you can just wipe the entire outer layer with a damp cloth and hang it out to dry but not under the sun. If the gloves are dirty, turn them inside out and hand wash the liner first.
Turn the glove back over and then clean the exterior. Again, let this air dry for a couple of hours in a shaded area to prevent it from shrinking and cracking. Once dried, apply a thin layer of mineral oil over the leather parts to hydrate the leather and keep it soft and supple.
Frequently Asked Questions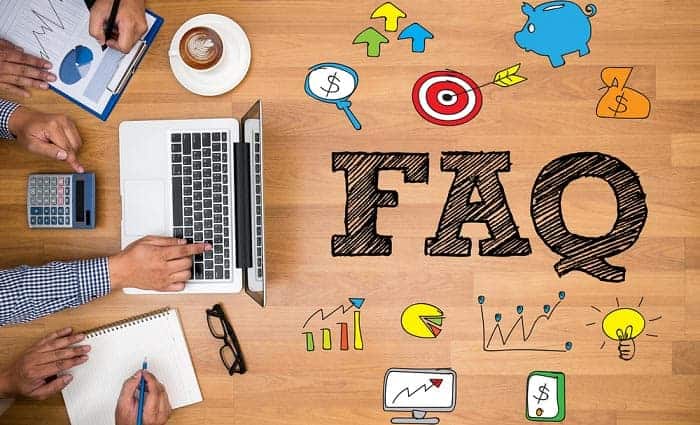 What are heat-resistant gloves made of?
The most common heat-resistant gloves nowadays are those made of aramid fiber. These are extremely popular because they are lightweight, provide excellent heat insulation, and very affordable.
Leather gloves are also available but these are a bit more expensive. However, they do last much longer. You can also find those made completely of heat-resistant silicone rubber. These options are not that common, though.
How to use heat-resistant gloves?
There is nothing especially unique about heat-resistant gloves that make them different from other work gloves other than their resistance to heat. You just need to keep in mind the maximum temperature that your gloves can resist. Do your best not to push them to their limits.
For instance, even though most silicone gloves are rated for 500 degrees F, it is not wise to use them in such temperatures as they might still fail catastrophically, thereby causing serious burns on your hands.
Are all leather gloves heat-resistant?
No, not all leather gloves can be flame or heat-resistant. Leather fashion gloves aren't tested for heat resistance. Therefore, using them for kitchen or industrial applications is not advisable, even though they probably save your hands from scalding when you spill coffee.
If your job involves welding, grilling, baking, or using a furnace, you will need gloves that can give you appropriate heat protection. These gloves undergo testing and certification to assure workers and employers that they are compliant with safety standards.
Besides, leather isn't the only option in the market. While we tend to look at the material when buying gloves, I think it is equally important to consider the rating given by the ASTM or ANSI.
There are instances wherein wearing latex-coated cotton gloves makes more sense. Some workers use them for sublimation, especially when they don't need fire-retardant properties.
Among culinary professionals, heat-resistant rubber cooking gloves are considered a popular choice. Though it is not made of leather, the material is suitable for food handling.
That said, leather doesn't get easily burned. However, they need to be processed in the tannery to meet certain standards for you to actually use them at work.
Are cowhide gloves heat-resistant?
Yes, cowhide is a popular material for heat-resistant gloves.
That said, keep in mind that "heat resistant" is different from "fire-retardant." Furthermore, if the gloves are intended for work, they must meet the criteria that are set by the authorities in the industry.
After all, animal skin has to undergo processing and treatments to make them more fire-retardant. Meanwhile, some leather gloves are lined with extra layers of fabric to increase protection.
What fabric is heat-resistant?
A heat-resistant fabric is a term used to refer to various materials with thermal insulation properties. Leather and Kevlar are excellent examples of heat-resistant fabrics used to make gloves.
If you search "heat-resistant gloves 3,000 degrees" on Google, you will likely learn about Newtex. This brand released Zetex® fiberglass fabrics, aluminized fabrics, welding fabrics, and many other types. All of which can resist high temperatures.
In some cases, manufacturers also coat cotton with silicone to create a heat-resistant textile.
Of course, these are just a few examples since manufacturers continuously invent new products to meet the high demand for protection.
Are nitrile gloves heat-resistant?
Yes, nitrile is a popular glove material in various industries due to its ability to withstand heat.
To avoid confusion, let's be clear: I'm not talking about thin disposable nitrile gloves. Of course, one must factor in the construction and the thickness of the material, as well as the ANSI or ASTM rating.
What is the warranty?
Most heat-resistant gloves come with a one-week warranty against factory defects. However, some manufacturers go above and beyond customer service. They provide actual lifetime warranties on their gloves. This just goes to show how much confidence they have on their products.
If you will be buying leather heat-resistant gloves, look for the ones that have at least one year warranty. These are the only gloves expected to last for more than a year of regular use.
Where to buy heat-resistant gloves?
If you want to try out your gloves before you buy them, you should go to your local brick and mortar stores, like Lowe's. Shopping at these stores will not only allow you to test their products but also use them immediately.
On the other hand, if you want more choices, you can go online shopping at websites like Amazon. There, you will find more than a thousand different choices from different sellers.
You will also often find heat-resistant gloves that sell for much cheaper online than in brick and mortar stores. The only drawback is that you have to wait for the item to get delivered to your door.
Conclusion
Heat-resistant gloves are the only barrier of protection your hands have when you are working with high heat. Without such protective equipment, your hands will be covered in serious third-degree burns that are not pleasant.
There are different kinds of heat-resistant gloves that you can choose from and they all work in slightly different ways. Find the best heat-resistant gloves suited for your particular needs and see just how much of an improvement they make in your life.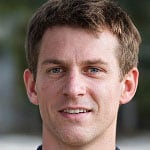 Having worked in the field of personal protective equipment for over two decades, Andrew Carnegie is a specialist in the field.
At EDC, he strives to improve performance efficiency and promote workplace safety for EDC's readers and customers. He also researches the most up-to-date equipment that has earned relevant accreditation for use in a wide range of industries and specialties.