A hard hat refers to a kind of personal protective equipment, which comes in the form of a helmet that you can wear in a workplace as a means of protecting your head from collision impact, shock, debris, and flying objects, among many other hazards. It is a resilient kind of PPE that can save the lives of people in the workplace.
If you wear a hard hat most of the time then take note that there is one way to make it more personalized – and that is by putting on the best hard hat stickers. These stickers are among the best hard hat accessories because you can use them in personalizing your hat in such a way that they reflect whatever message you wish to convey.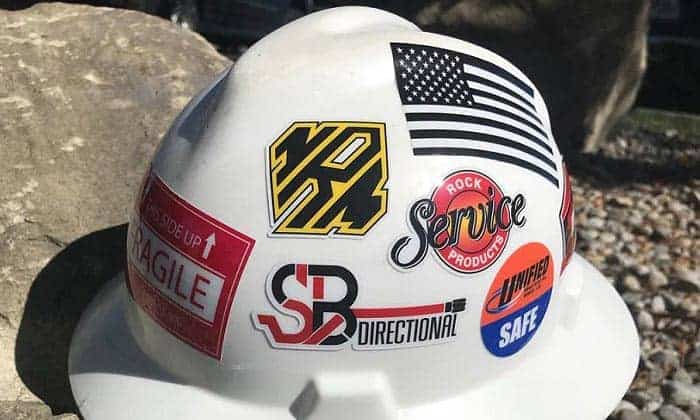 These stickers combined with the color of the hard hat are also effective in serving as great visual aids used in figuring out the types of workers during an emergency. Keep in mind that not all people in the worksite are qualified to do each task.
To determine right away which ones are qualified to do something in case some things go wrong, you can use hard hat decals or stickers for identification purposes. Some workplace or construction hard hat stickers are even made in such a way that you can easily be seen even in dark environments.
These items are, therefore, helpful in boosting your visibility, keeping you as safe and protected as possible. If you are planning to shop for construction helmet accessories in the form of hard hat stickers then you might want to start with the products reviewed here.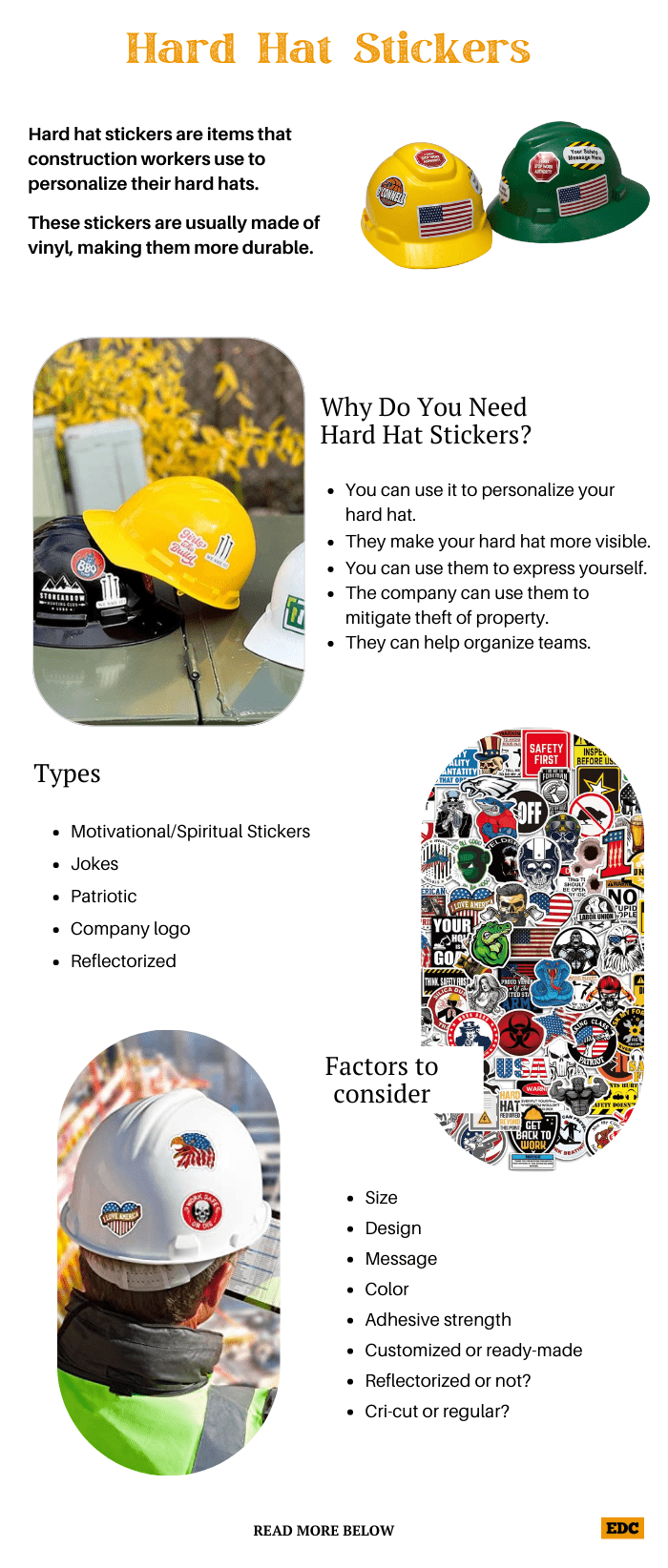 Here are our top ten picks for high-quality and dependable stickers for hard hats:
Top-Rated Hard Hat Stickers Reviews of 2023
1. Jay Graphics Hard Hat Sticker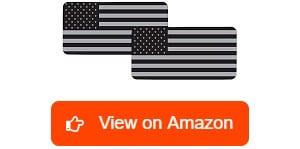 I am one hundred percent sure that the Stealthy Reflective American Flag Hard Hat Sticker offered by Jay Graphics will not also fail you. This specific sticker, which comes in a pair, is a nice addition to your hard hat as such helps in making it look as personalized and customized as possible.
Each sticker is worthwhile to invest in because of its durability. I think that the self-adhesive vinyl material used in creating the stickers helped a lot in strengthening the item. The vinyl material is also beneficial as it is made to be reflective, which makes it visible even in dark places or work settings.
The fact that this hard hat sticker is 100 percent chemical-resistant and weatherproof also contributes to making it as long-lasting as possible. It also comes with a thermal printing, which also plays a major role in making it last longer compared to solvents.
Aside from being a big help for those who require hard hat stickers, it is also possible for these items to satisfy those who intend to use survival labels for their tactical gears and black ops decals. It is also less prone to peeling or wearing off considering how strong and durable its overall makeup is.
This hard hat sticker is remarkable because of its ability to stick well. The stickers are also built in a way that they will stick into your hard hat or any other item for quite a long time.
One drawback, though, is that it is smaller than what the majority of users initially expected.
What We Like
Highly durable because of its vinyl construction
Designed to be reflective, promoting good visibility
Chemical-resistant and weatherproof, further increasing the time it will last
Less prone to wearing off or peeling too soon
Sticks well on various items
What We Don't Like
Smaller size than what many users expected
Overall, I am greatly satisfied with this pair of hard hat stickers considering its durability and long-lasting nature as well as its quality and reflectivity.
2. America First Funny Hard Hat Stickers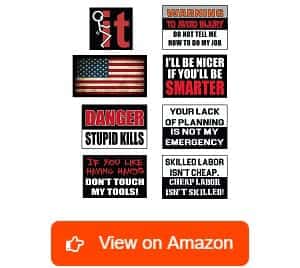 The next set of cool-looking and funny stickers that I would like to suggest is the Funny Hard Hat & Helmet Sticker offered by America First. This is a value pack containing 10 stickers or decals – two of which are American Flags while the remaining eight contain funny and cool statements.
The versatility of the stickers' design is also instantly noticeable. I think it showcases its versatility as it is compatible with not only hard hats and helmets but also with construction toolbox and mechanic's chest, among many others. It also boasts of their unisex graphics and designs, allowing them to work appropriately for both working men and women.
The stickers are also tough enough, thereby ensuring that they work appropriately for tough workers who require hard hat insert. The high-quality vinyl material used in creating these decals/stickers is also one reason why it has a rugged and durable structure.
This unique set or value pack composed of several stickers is also useful for anyone who wishes to personalize their belongings and their worksite. You can use the stickers in personalizing or customizing your gears. Some also say that the stickers are made at just the right size.
They are large enough that you can expect their statements to be read easily even from a distance while also being small enough that they can easily fit and attach themselves securely not only on hard hats but also lunchboxes, toolboxes, coolers, and lunch bags, among many others.
The stickers can also be expected to stick to your gears securely.
However, for just a pack containing 10 pieces of stickers, some find its price more expensive than other sets/packs containing a greater number of stickers.
What We Like
Comes at the right size, small enough that fitting them in your gears is easy and large enough that they are readable and visible
Useful in customizing your gears
Tough stickers, thanks to the tough vinyl material used in creating them
Compatible with not only hard hats but other items, like toolboxes and helmets
Cool graphics and statements
What We Don't Like
More expensive than other packs containing more stickers
Still, I can safely conclude that this set is worth the higher price because of how nice-looking and durable the stickers and their graphics and designs are.
3. Maye Market Funny Hard Hat Stickers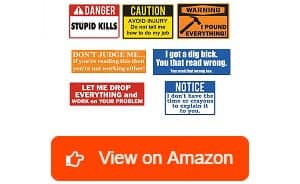 Another interesting set of hard hat stickers with cool and funny graphics and statements is this pack of 10 offered by Maye Market. There are several things that I genuinely love about these hard hat stickers – one of which is their ability to meet the requirements of both men and women looking for cool and humorous stickers for their gears.
The adhesive used in the sticker is also notable for its strength. It is strong enough that it assures users of its ability to stick well to all gears and items where they decide to put it, too, including toolboxes and hard hats. The price is also reasonable enough because it will let you get a hold of 10 nicely designed stickers.
I am also pleased that each sticker is cut individually, giving you the opportunity of sharing it with others. Another reason why I find this product beneficial is that you can easily peel it from its backing, making it effortless to put on. The quality of the stickers is also top-notch.
In fact, it does not feel cheap nor flimsy, like those made of paper products. It is mainly because these hard hat stickers are created using the sturdy vinyl material. I also noticed that the stickers are both oil-resistant and water-resistant. Each sticker is also easy to peel and tends to stick well for quite a long time.
The stickers are also attractively designed and the colors used in each one are good to look at.
One issue I have with this set, though, is its packaging, which I noticed is quite subpar.
What We Like
Individually cut, making it possible to share the stickers with others
Created with the aid of strong and sturdy vinyl
Oil-resistant and water-resistant
The strong adhesive used, thereby ensuring that it will stick well
Nice colors, attractive graphics, and humorous statements used
To conclude, this set of stickers is amazing because it possesses the many qualities and features that a lot of prospective users are hoping to see.
4. America First Hard Hat Stickers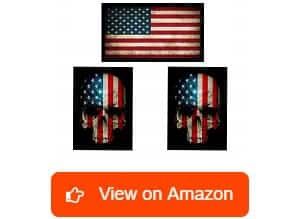 I also think that this next product, the America First American Flag and Skull Flag Hard Hat & Helmet Stickers deserve to be highlighted in this review because of how good they are. The stickers are built to be tough and long-lasting, thanks to the high-quality vinyl material used in their individual structure.
I think that using these stickers can help in customizing your gears, especially the ones you use at work, like your hard hat and helmet. Each sticker also boasts of its appropriate size, which is known to be large enough for visibility even if the ones looking are from a long distance.
It is also small enough that you will not experience any difficulty fitting it on whatever gear you intend to put it to, like a toolbox, hard hat, or helmet. The set contains a total of four stickers – two of which are designed as skull flags while the other two have the American flag designs.
Each sticker is also built in a way that it can serve its purpose for quite a long time. It is mainly because aside from being weather-resistant, the vinyl material also works in protecting the stickers and their designs from the harsh effects of being exposed to the UV rays.
The designs of the stickers are cool and great, too. The adhesive used in creating the stickers promotes ease in sticking it to your hard hat or any other gear. You do not also have to worry about it getting air bubbles. It is also possible for its strong adhesive to stick to the material for quite a long time.
However, some of its users say that the stickers are slightly on the thin side so they are hoping that they are a bit thicker.
What We Like
Cool and great graphics added to the stickers
Sticks well to hard hats and other items, thanks to the strong adhesive
Weather-resistant and UV-resistant
Tough and long-lasting structure since it is constructed from vinyl
Easy to apply on your gears
Overall, I am satisfied with these hard hat stickers because they look cool and are known for their long-lasting nature.
5. H&E Deals Funny Hard Hat Stickers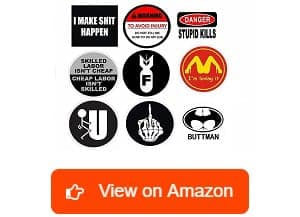 The first on our list is the H&E Deals Funny Hard Hat Sticker, which a lot of people consider as a great buy for its price because it comes in a value pack containing fourteen quality decals. Made of high-quality vinyl, these cool hard hat stickers are sure to impress with their reliability and ability to last long.
The vinyl material is also known for being weather-resistant, proving the sticker's durability. The size of each sticker is just enough at two inches. I noticed that it is just the right size to make your working area or gear, specifically your hard hat, more personalized.
I am also glad that this sticker is designed to be versatile. In fact, both men and women can use it. It is also compatible with different applications and gears, not just your hard hat. It is because you can also put it on your lunchbox, construction toolbox, and helmet, among many others.
I am also pleased with the shapes as they are a mix of round and square vinyl-printed and full-color decals. Another great advantage of the stickers is that they are safe to use whether indoors and outdoors. Putting it on your hard hat or any other gear is also easy as it just revolves around peeling and sticking the item.
The prints in the stickers are also enough to make you stand out. The size is also just perfect, allowing it to fit your gears while still maintaining visibility even from a distance.
However, some users still complained about the stickers being a tad too small for their preference.
What We Like
Cool designs added to the round and square decals
Safe to use indoors and outdoors
Easy to put on hard hats and other gears
Made of the weather-resistant vinyl material
Versatile as both men and women can use it for a wide range of applications
What We Don't Like
Some find its size too small for their requirements
I am happy with the overall quality and design of this hard hat sticker as I noticed that it is indeed perfect for use on a hard hat while showcasing its ability to stick well and securely and firmly stay on.
6. SpeedSquare Tools Hard Hat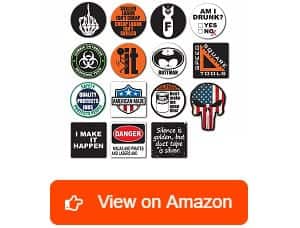 Another set of stickers from SpeedSquare Tools that I am sure will satisfy the majority of its potential users is this 19-pack Hard Hat and Toolbox Stickers. One of the many things that captured my interest regarding these stickers is the uniqueness of each of their designs.
In fact, you can use these unique and cool stickers to make your hard hat, toolbox, and lunch pail even more alive. As the name suggests, this product is in the form of a package containing 19 stickers in total. The good thing about them is that each one is made to be unique and attractive to its potential users.
It also boasts of a great combination of stickers, 11 of which are round-shaped and six are square-shaped. To complete the set, expect to find one sticker each with a punisher skull and American flag. The stickers also boast of their tough build.
In fact, there is a guarantee that they are capable of retaining their natural shape even when undergoing physical stress. The stickers also boast of their 15-mil thickness, which is similar to regular playing cards. Another thing that I am so fond of about this set of stickers is that each one of them can prevent premature wear and tear.
I think it is because of their UV-resistant and waterproof structure as well as their ability to withstand anything that might cause them to lose their appeal, like shrinking, stretching, and wrinkling. The stickers are also known for promoting visibility. Each one is based on 100% vinyl material, which is tough and sturdy enough.
Putting it on flat or curved surfaces is also effortless. Furthermore, I like how effective its acrylic adhesive is in ensuring that the item sticks on for quite a long time.
However, some users find the thickness not enough for their needs.
What We Like
Can prevent immediate wear and tear, thanks to its anti-wrinkling, anti-stretching, and anti-shrinking capability
Built to be waterproof while being protected against UV rays
Tough and sturdy vinyl used in the individual structure of stickers
Effortless to put on flat and curved surfaces
Nicely designed and available in a couple of shapes – round and square included
What We Don't Like
Not that thick for the needs of some users
Overall, this product comes as a great collection of colorful, well-made, durable, and cool-looking stickers, making them good when used on your hard hat.
7. Haley Hard Hat Sticker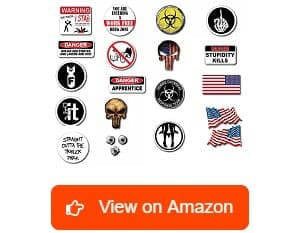 Another incredible sticker that you have to check out is the 28-pack Crude Humor Hilarious Hard Hat Sticker, which Decals by Haley offers. This hard hat sticker leaves a good impression because of its versatility as well as the humorous graphics and statements that it holds.
In my opinion, this hard hat sticker from Decals by Haley is highly flexible as it is appropriate for use on a wide range of items, including but not limited to hard hats, coffee cups, bumpers, windshields, laptops, and helmets. In fact, you can stick the stickers in almost all smooth and clean surfaces.
The designs used in each sticker are all humorous and hilarious, too, allowing them to look cool and unique when worn at work. I am fond of the sleek matte finish used in each decal included in this set. This item is also designed in a way that you will not have problems removing it.
You can easily do so whenever you need it. I like the sturdy 3M vinyl material used in creating the stickers, too. Another thing that I genuinely love about each sticker is that the prints are vividly detailed with the help of exterior-grade eco-solvent ink.
Furthermore, this sticker utilizes a bubble-free adhesive, which is a big advantage as this results in a smooth and flat output right after the application. I am also satisfied with its size because it fits my hard hat well. It is not excessively big for it at all. The variety of all the combined stickers also offers a favorable advantage.
One drawback, though, is its price as some complained about it being more expensive than other stickers with the same quality.
What We Like
Versatile as you can stick it to a wide range of items
Comes with humorous graphics and statements
Sticks well in almost all surfaces, provided they are smooth and clean
Boasts of its sleek matte finish, which is attractive enough
Features a bubble-free adhesive for a smooth and flat output
What We Don't Like
Slightly more expensive than others
While some users find this item pricey, I can still conclude that it is worth paying for as the qualities and features that form part of it are probably among the things that anyone searching for a good hard hat sticker hopes to see in their chosen product.
8. Classic Biker Gear Hard Hat Sticker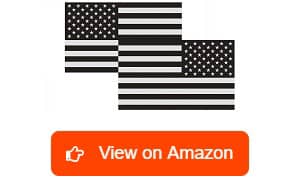 The last but certainly not the least hard hat sticker you should consider choosing is the Classic Biker Gear Ghosted Subdued Car Decal/Hard Hat Sticker. One of the numerous things that I find impressive about this hard hat sticker is its entire quality as it is known for being well-structured.
It boasts of its reflective nature, thanks to the reflective vinyl material that you think is the top-tier material to use for a robot. The premium vinyl material used making the sticker also boasts of its reflective stars and white lines. With such features, I am one hundred percent certain that the stickers will look awesome whether used during the day or night.
The durability of this sticker is also unquestionable, which just somewhat proves that it is capable of standing abuse and the test of time. I think that its strengths can also be attributed to the fact that it is printed using high-quality reflective material. Another incredible benefit of this sticker is that it can resist fading.
It delivers such benefit because it makes use of a UV-protective ink for its print and lamination, thereby ensuring that the vibrant colors used in the stickers will last long. This sticker is also known for being weather-resistant so you can rest assured that it will serve its purpose for a long period.
However, it is not suitable for use in all kinds of surfaces as many do not recommend it for seriously curved surfaces (ex: the front part of a helmet). I think it is only meant for flat surfaces.
What We Like
Well-structured and durable, thanks to the premium vinyl material primarily used in making it
Equipped with reflective stars and white lines
Built to stand abuse and the test of time
Can resist fading and harsh weather
Boasts of its nice and humorous graphics
What We Don't Like
Not that suitable for use on curved surfaces
To conclude, this hard hat sticker from Classic Biker will be your ultimate friend in almost all situations that require you to use a hard hat because it can help you add more uniqueness to your PPE while keeping it highly secure.
9. America First Pro-Trump and American Flag Stickers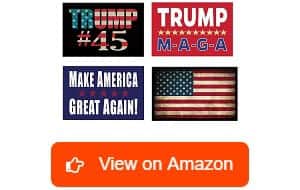 I would also like to highlight the America First Pro-Trump and American Flag Hard Hat and Helmet Stickers because they are among the most satisfying stickers designed for hard hats and helmets that are accessible in the market today. This set containing four decals or stickers are also famous for being versatile.
Their versatility can be expected to shine as you notice their ability to work appropriately for hard hats, construction toolboxes, motorcycle or biker helmets, and mechanic shops, among many others. Made in the US, I can assure you of its excellent quality and fantastic designs.
The stickers have nice and cool graphics and designs that they serve as nice gifts for patriots. Using this set of stickers is an effective way to customize not only your hard hat but also your vehicle and worksite. The size allows you to fit it on any item or gear you decided to put it on.
The graphics are also visible and readable even if the person viewing it is a bit far. The stickers are also notable for their long-lasting nature as each one is constructed from vinyl material, which can resist harsh elements, like UV rays and any harmful condition and weather.
The colors are brilliant, too, adding to the attractiveness of all the stickers. However, some users are unsatisfied with the somewhat small size of each sticker.
Some of them complained about each one being too tiny for their demands.
What We Like
Cool graphics and designs for each sticker, making your belongings more attractive
Vinyl construction, which helps make it sturdier and capable of resisting harsh elements
Can fit on whatever item or belonging you intend to put it to
The graphics are made to be easily readable and visible
Versatile as you can put the stickers on various items
What We Don't Like
Too small for some users' requirements
To conclude, this set of stickers from America First is probably what most hard hat users need as well as those who wish to put on stickers on their belongings should consider investing in.
10. SpeedSquare Tools Union Hard Hat Stickers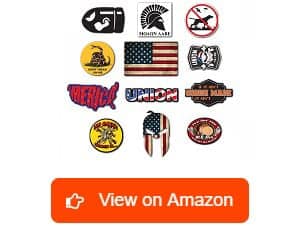 Another set of great and functional hard hat attachments comes in the form of the SpeedSquare Tools 19-Pack Union Hard Hat Stickers. This set containing up to 19 stickers are high-quality and versatile enough that you can put it not only on your hard hat but also other items, like your toolbox, lunchbox, and tool chest.
I figured that it is one of the most interesting hard hat sticker packs as it has a combination of stickers with nice designs and shapes. You can choose from the square and round stickers that form part of the set. All the stickers in the pack are also die-cut, further boosting their quality.
Another admirable thing about this hard hat sticker is that it is created using the sturdy and weatherproof vinyl material. I think this plays a huge role in the incredible durability of the sticker. It is even known for being UV-resistant, waterproof, and anti-stretching, anti-shrinking, and anti-wrinkling.
This set of stickers also provides convenience to users because you can easily apply or put it on any gear, curved surface, or any other place you wish to display its design. I can also confirm the toughness of the stickers. In fact, I discovered that they are capable of retaining their shape even when exposed to physical stress.
The permanent acrylic adhesive integrated into the hard hat stickers also ensures that they will stick for several years. The stickers are also very visible.
However, some are not satisfied with the sizes of the stickers as they thought that the items are too small for their liking.
What We Like
Strong and durable stickers that stick well
Known to be UV-resistant and waterproof
Can prevent shrinking, wrinkling, and stretching
Easy to apply on gears and curved surfaces
Capable of retaining their shape even when there is exposure to physical stress
What We Don't Like
Too small for the preference of some users
If you are looking for cool and great-looking stickers designed for your hard hat then this 19-piece set from SpeedSquare Tools will not fail you because of how good their designs are and how durable they are.
What is a Hard Hat Sticker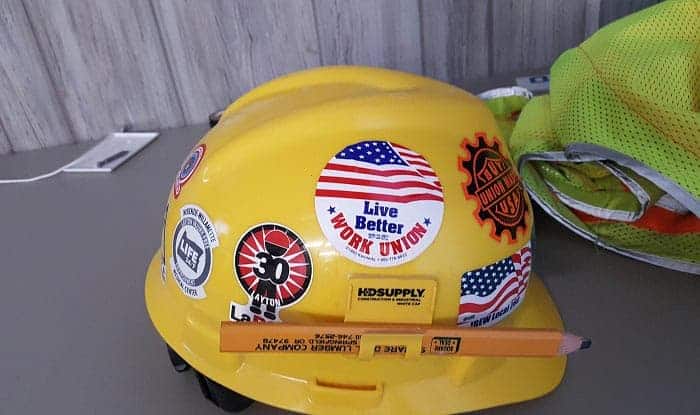 Hard hat stickers are items that construction workers use to personalize their hard hats. These are quite unlike the regular paper stickers that kids play with. These stickers are usually made of vinyl, making them more durable. This means that they will not peel off that easily when wet.
Also, these stickers usually have edgy, sometimes even offensive jokes that the wearer finds funny. Most of the time, these are not the most politically- things in the world, but then again, jokes are subjective and honestly, most people do not care so much for being overly PC.
Hard hat stickers do not add to the structural integrity of the hard hat. However, it does make the wearer chuckle even after a long day at the construction site and for most, this is enough reason to get them.
How Does It Work
Hard hat stickers are very much unlike the paper stickers that children play with. It is because these items are more durable and have more vibrant colors than paper stickers. In fact, vinyl stickers work differently than regular paper stickers.
First of all, you can use any old inkjet printer to print out paper stickers. This is not the case for vinyl stickers. If you are creating vinyl stickers the old fashioned way, you will need to cut out every single color layer and then lay them on top of each other to create your design.
These days, there are vinyl sticker cutters that will do the cutting job for you but you will still be layering the colors by hand. You can also find printable vinyl stickers that you can also run through an inkjet printer.
However, if you want to make them last longer and look a whole lot better, you need to apply vinyl laminate on top of the printed design before you cut out the designs. Speaking of durability, paper stickers rarely last a couple of months before the image fade out and the paper starts to deteriorate.
Vinyl stickers, on the other hand, can last several years before they start to fade. Another thing to take note of is that most vinyl stickers can be peeled cleanly off the surface. It is because most of the adhesive will be taken away with the sticker. Paper stickers rarely come off without tearing and leaving a sticky residue behind.
Another reason why vinyl stickers are superior to paper stickers is the fact that they are easier to remove. Paper stickers tend to get ripped and leave adhesive residue on the surface and they are a bit of a pain to get rid of.
This is not an issue with vinyl hard hat stickers. To get them off, you only need to apply a bit of heat on them by using a heat gun or a hairdryer set on high. This can help loosen up the adhesive, allowing the whole thing to peel right off. It does not matter how old the vinyl sticker is. With this method, you can expect it to come off easily.
Types of Hard Hat Stickers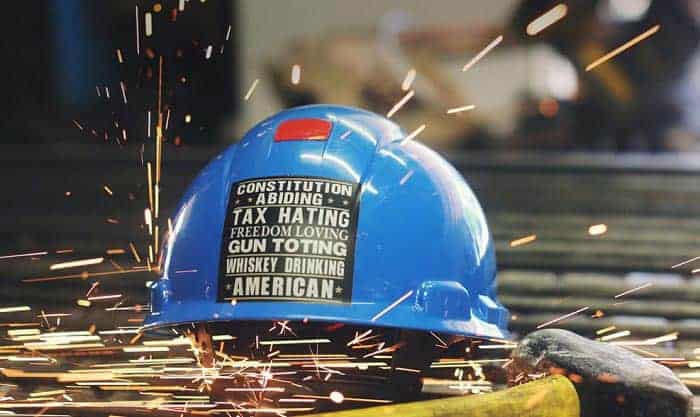 Although most, if not all, hard hat stickers are made of vinyl, you can separate them into different categories depending on how you intend to use them. These categories include:
Motivational/Spiritual Stickers – These are stickers that are mostly composed of text. The messages are usually uplifting and motivational, something that will lift the spirits of those who see it. Some of these stickers also proclaim the wearer's religious faith or spirituality.
The great thing about working in a construction site is that they are rarely overly PC. Almost everyone who has worked in construction, both men and women, will not care what your beliefs are. They are just there to work. However, you should not knowingly push your luck by deliberately using highly offensive themes.
Jokes – If you have ever been in a construction site, then you probably heard some of the crassest, somewhat offensive, and very non-PC jokes in your life. Some workers love these kinds of jokes so much that they turn them into stickers and plaster them on their hard hats so they can tell them without even talking.
However, just like with the previous category, you should not push people's nerves by getting offensive stickers just to incite arguments.
Patriotic – Some people are just so full of patriotism that they want everything that they own to have all kinds of symbolism of the nation on everything they own. Many hard hat stickers bear the imagery of the flag of the USA, bald eagles, and many others.
If you want to show your love for your country, get hard hat stickers and slap them onto your hard hat.
Company logo – Most construction companies provide their workers with all the safety equipment that they will need and that includes hard hats. The company-provided hard hats are usually emblazoned with the company logo, which is usually in the form of vinyl stickers.
Some companies also usually have stickers bearing their logos made in bulk. They make their stickers that way not only to customize company property but also for giveaways.
Reflectorized – Hard hat stickers that are reflectorized are meant to make the wearer more visible, even in low-light conditions. Some reflectorized stickers are just placed along the brim of the hard hat.
However, it is possible to find many reflectorized hard hat stickers that have different designs as well. This kind of hard hat sticker is not only for show. It is functional as well.
Why Do You Need Hard Hat Stickers
You might think that you do not necessarily need hard hat stickers. However, take note that these items have their individual uses. If you are one of those who think that hard hat stickers are unnecessary then perhaps these reasons might help change your mind:
You can use it to personalize your hard hat – If you do not want your hard hat to be picked up and used by other people, which is not only unethical but also unhygienic, then you can use stickers that depict your favorite things.
That way, the other workers will know that it is not theirs. Also, if someone still takes your hard hat without you knowing, you can easily find the culprit because of the sticker.
They make your hard hat more visible – Bright stickers make it easier for your co-workers to know where you are. This is especially important if there are heavy equipment used in the worksite. You can even choose to put on reflectorized or neon-colored stickers that can make your hard hat visible even from afar.
You can use them to express yourself – Oil rig workers in the past have used their hard hats as a medium to express themselves. They carved out different designs and statements on their hard hats. Back then, the hard hats were made of a tin material so embossing designs were quite easy.
Nowadays, since these hats are made of plastic and because of safety regulations, the only way to personalize the modern versions is by putting vinyl stickers on them.
The company can use them to mitigate theft of property – Companies put their logos on their property so that they can keep track of them. If the workers are required to turn in their safety equipment at the end of the workday and they see them outside of the workplace, then they know that is stolen merchandise.
Also, companies can put numbered stickers onto their hard hats so that inventory-keeping is made easier.
They can help organize teams – Another way for companies to take full advantage of hard hat stickers is to use them to organize the teams of workers better. For instance, one team can start working on plumbing while the other can start laying out the electrical circuit.
If the workers know which team they belong to then you can expect the workflow to become even more organized and efficient.
Buying Guide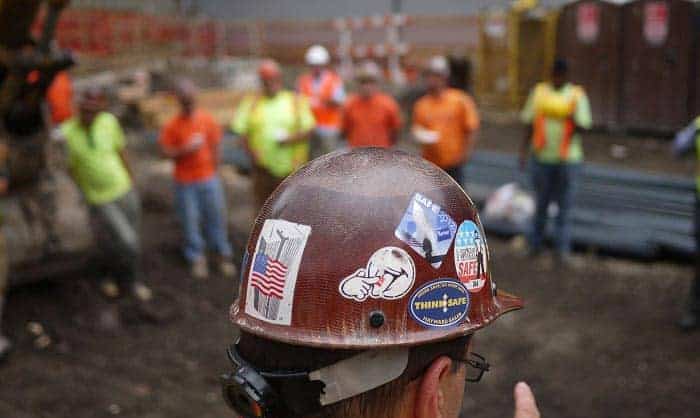 Although hard hat stickers are not that expensive, no one can still deny the fact that some of them are better when compared to the others. To make sure that the ones that you are getting are on the "better" side, here are some things that you need to keep an eye out for:
Size – Before you go out buying hard hat stickers, you need to know the specific size that you want. Some people do not like applying large and obnoxious stickers on their hard hats. You also have to make sure that your chosen size does not cover the entirety of your hard.
There should still be enough space for other important details about the hat to show, like the color. Note that there are OSHA regulations that require hard hats to be visible in the worksite.
If you are planning to place a couple of stickers, like say two or three pieces then a good size will be 2-inch by 2-inch up to 2-inch by 3-inch. Any sticker that is bigger than that will be too large for a hard hat. On the other hand, if you only plan to place one sticker, then you can go for bigger sizes.
Design – Since the usable real estate on your hard hat is limited, you need to pick out carefully the designs of the stickers that you intend to place on it. There are many different designs that you can choose from.
You can find statement stickers that have motivational or humorous phrases on them. Some even have pop culture iconography while others come with religious or spiritual symbols on them.
Although you have the right to place any kind of sticker into your hard hat, you still have to take note that some people may not find your brand of humor appealing. But then again, if there ever was a place where the people are all thick-skinned and not easily offended by every little thing, it would be a construction site.
However, there are limits as to how much offense certain people can take, so you should not push them too far by deliberately choosing controversial designs.
Message – You can either be crass or motivational with your choice of hard hat sticker. However, do not be so crass that your choice may end up with you getting called out by Human Resources. Some stickers have motivational messages on them and these are quite popular since.
Whenever you feel down or in need of a little pick-me-up, you just need to take off your hard hat (when and where it is safe of course) and take a look at the stickers and instantly feel a bit happier.
Also, remember that some people take drawings that their young kids made, had them transferred onto a vinyl sticker, and placed them on their hard hats or toolboxes. This can instantly remind them why they need to work hard and motivate them.
Color – Some people like to keep a certain theme when it comes to placing stickers on their hard hats. You can find those who prefer sticking with monochrome stickers while others prefer different vibrant color schemes. You can also choose to get stickers that have neon green or pink colors. These are great because they add visibility to your helmet.
Adhesive strength – If the sticker's adhesive is not that strong, just a single day of working under the heat of the sun might cause it to peel off on its own. If you want your sticker to last for many years, choose one that uses high-quality adhesive.
High-quality adhesives guarantee that the sticker will last for quite a long time. They will also guarantee that the corners of the sticker will lift after just a couple of months.
Customized or ready-made – There are plenty of stickers with ready-made designs that you can choose from. However, if you want to make your hard hat unique, you can have custom ones made. You can take advantage of many online services out there that provide customized vinyl stickers.
The only thing you need to do is to send them your design and the dimensions. Once they receive your design and they figure out how to use it, you just need to wait a couple of days before you can receive your new customized hard hat stickers.
Reflectorized or not? – There are also hard hat stickers that are made of reflectorized vinyl. These stickers shine when they are hit by light, making them effective at making you visible even in dark workplaces.
The usual way to apply reflectorized stickers on hard hats is by cutting them into long strips then applying them on the brim. However, you can also find some that are cut into different shapes and designs. The great thing about these kinds of hard hat stickers is that they are not just decorative but also utilitarian.
Cri-cut or regular? – Cri-cut stickers are those that have intricate designs that are cut into the vinyl. These stickers are usually a single color. Regular stickers are those that have their designs printed on the vinyl and are cut along the outside border only.
There is nothing that puts one over the other. It is purely subjective and depends on the taste of the individual.
Care and Maintenance
The thing about hard hat stickers is that they are pretty low maintenance. When applied properly, these stickers can last for many years. There are even times when they can outlast the hard hat itself.
As mentioned earlier, to make sure that your hard hat sticker lasts, you need to install it properly. First, you need to clean the surface of the hard hat where you will apply the decal. It is important to do a thorough cleaning on the hat because if there is any debris stuck underneath the sticker, it might cause unsightly air bubbles.
It is best to apply the sticker after you give your hard hat its regular washing. To make sure that there is no grease on the surface, get a clean rag and moisten it up with a bit of rubbing alcohol. You can then wipe the surface thoroughly and let it dry.
Peel a corner of the paper backing of the vinyl sticker then carefully place the sticker over the area where you want to put the sticker. Once you are sure of the placement, stick the corner of the sticker in place then carefully peel back the rest of its backing.
Carefully lay the rest of the sticker over the hard hat and using something like a credit card or any flexible yet rigid plastic sheet, flatten it over the surface. Make sure that there are no air bubbles underneath the sticker.
If any bubbles do appear, do not worry. You do not have to remove the sticker. Get a sharp X-acto knife and poke the air bubble to release the air. With the help of a piece of plastic, push out all of the air underneath the vinyl.
If there are any creases (which might happen because of the round surface of the hard hat), use the X-acto knife to cut along the crease then flatten the loose vinyl. Once the hard hat sticker is applied properly, you can forget about it.
Hard hat stickers do not need special treatment. You can clean them when you give your hard hat its regular cleaning. Also, the only thing that you have to do is to wipe the entire surface of the hard hat as dry as you can so that no water can get underneath it that might only loosen up the adhesive.
Frequently Asked Questions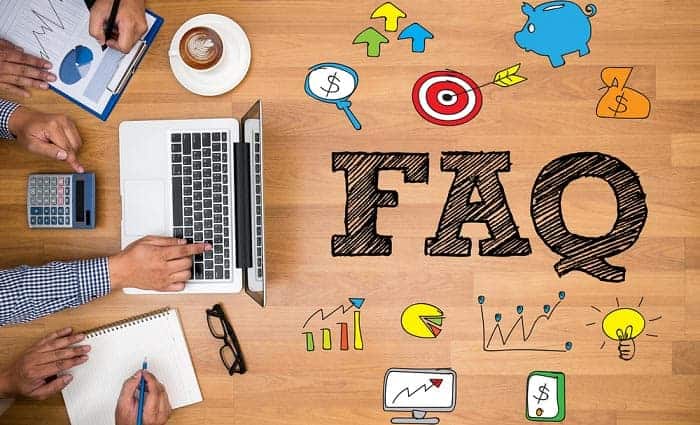 What are the most popular hard hat sticker brands?
With the recognized importance and benefits of hard hat stickers, it no longer comes as a surprise to find several brands offering high-quality and durable stickers designed for use on hard hats. Among those that promise amazing quality for their hard hat stickers are H&E, SpeedSquare Tools, America First, Maye Market, Jay Graphics, Decals by Haley, and Classic Biker.
How long do stickers last?
Hard hat stickers are pretty resilient and durable. These are completely waterproof and weatherproof. Many vinyl stickers last at least three years before their colors start to fade. Hard hat stickers can remain attached to the hard hat for the remainder of the hat's usable lifespan and beyond.
You can also see some vinyl stickers being placed on cars that have lasted more than five years and they are still holding on strong. Even if you work long hours under the burning sun, that is still not enough heat to loosen the adhesive of the sticker.
However, when working under the rain, make sure that you dry off the surface of the hard hat as thoroughly as you can so that rainwater will not get underneath the vinyl.
How to use a hard hat sticker?
It is easy enough to apply the best hard hat stickers that it would almost impossible for anyone to mess the process up. First, you need to clean the part of the hard hat where you will place the sticker. You might need to use a bit of rubbing alcohol to get rid of most of the dirt and grease that might have stuck onto the surface.
Once the surface is prepared, carefully apply the vinyl hard hat sticker. Peel off one corner of the sticker. Stick it onto the surface and carefully peel off the rest of the backing. Make sure that no air pockets get in between the sticker and the surface.
You can use a sheet of hard plastic to squeeze out the bubbles. If there are small bubbles left, use a pin to poke holes into the bubble then smooth it out. If you want to remove the stickers easily, you just need to apply heat on the sticker to loosen the adhesive, and the sticker will peel off easily without leaving any adhesive residue on the surface.
Should you put stickers on hard hats?
Most of the time, stickers do not negatively affect the performance of hard hats.
To be clear, OSHA emphasizes that it is only acceptable to place custom hard hat stickers or any other kind if the hard hat manufacturer allows this or if the employer can prove that this does not compromise the quality of the protective helmet.
Furthermore, the placement of the stickers should not affect your or your safety officer's ability to identify signs of defects or damage.
It's a common practice among employers to place construction stickers on protective helmets as they are the most visible part of the workers' uniforms. Since this can function as an advertisement, employers even provide free hard hat stickers with the companies' logos.
In some cases, the use of reflective hard hat stickers is encouraged so that workers can see each other in low-light conditions or from a distance.
Note that some companies do not allow workers to put any stickers at all.
What do stickers on a hard hat mean?
Workers who receive training in certain types of equipment or skill set often receive stickers. Hence, you'll find heavy equipment hard hat stickers or stickers that certify job training, safety training, or leadership.
Besides the employers, some workers also show off their affiliation with a group or two using union hard hat stickers.
These days, you'll also find themed decals and stickers that are designed to imitate the stickers issued by organizations. Just search "funny hard hat stickers," " crude hard hat stickers," or "American flag stickers," and you'll find a plethora of designs to choose from.
While these are cool decorating ideas, they are most trusted placed on hard hats you no longer use at work. As discussed in my answer to the previous question, there are company-specific rules for the placement of stickers. After all, it can be unprofessional to show up at work with offensive hard hat stickers.
How do you get stickers to stay on hard hats?
Just follow these steps to ensure that you apply the sticker correctly:
Step 1: Clean the area where you intend to place the sticker using rubbing alcohol or soapy water. This will prevent any dirt from remaining inside the sticker and potentially damaging the hard hat's material by reacting with the adhesive.
Step 2: Take out half of the sticker and position it on the spot where you intend to paste it.
Step 3: Paste the sticker on the hard hat and remove the rest of the liner.
Step 4: Keep rubbing the sticker to prevent creasing as you place its entire surface on the hat.
What size should a hard hat sticker be?
Considering OSHA's recommendations, hard hat stickers should be kept small to ensure that you can still spot cracks or other signs of damage. With this in mind, sticker-makers suggest applying stickers that do not go over 2 inches. This applies to electrician hard hat stickers, too.
How to care and clean a hard hat sticker?
The thing about vinyl hard hat stickers is that they are pretty low maintenance. In fact, they do not require any special care. Whenever you clean your hard hat, they will receive more than enough care.
Keep in mind that hard hat stickers are meant to be durable. They will not deteriorate when exposed to the elements for the entire day. They might even outlast the hard hat they are stuck onto.
Where to buy a good hard hat sticker?
If you have a very particular design in mind, one that you could not find in any website, then you can create it on your own using a regular inkjet vinyl sticker paper, vinyl laminate, and Xacto knife. You just need to print out the design onto the vinyl sheet, place the vinyl laminate sheet over the printed sheet then cut it out using the Xacto.
On the other hand, if you do not have the skills or patience to make your own sticker, you can send your designs to people who create vinyl stickers for a living and let them take care of it. Many people provide this service online. Just search for the one that provides reliable quality at a reasonable price.
Conclusion
Hard hat stickers may look unnecessary but the truth is, they play an important role in the workplace. Although the main reason why workers put stickers on their hard hats is for personalization purposes, there are some practical applications of vinyl stickers.
For instance, some workers use vinyl stickers to make their hard hats their own. Others, on the other hand, use the best hard hat stickers to boost their visibility in the worksite. Regardless of what you will be using the stickers for, you can be sure that some of them can fulfill your needs and wants.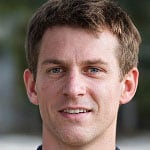 Having worked in the field of personal protective equipment for over two decades, Andrew Carnegie is a specialist in the field.
At EDC, he strives to improve performance efficiency and promote workplace safety for EDC's readers and customers. He also researches the most up-to-date equipment that has earned relevant accreditation for use in a wide range of industries and specialties.