Everyone who works in the construction industry is fully aware of how important it is to protect their eyes and head from possible injuries and vision damage. However, not all know the importance of keeping their ears protected. If you are a construction worker then it is time to start shopping for the best hearing protection for construction.
Note that just like your eyes, your ears are also delicate, which is the main reason why you also need to provide these parts adequate protection. You need the most trusted ear protection for construction designed to prevent possible damages caused by constant-high-pitched, and loud noises produced by your workplace environment.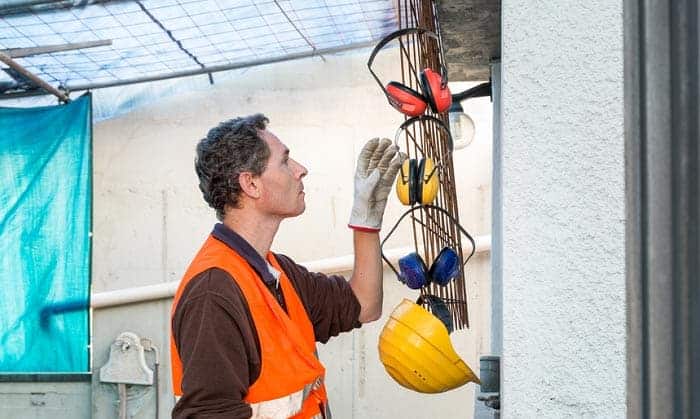 Keep in mind that without proper protection, you will most likely end up being part of the millions of Americans in the construction industry who suffered from hearing loss and damage. If you want to avoid such damage as much as possible, start looking into the different types of construction ear protection.
It also helps to study the hearing risk that you are constantly exposed to so you can figure out the specific type of construction hearing protection that will work for you. Research about the different products currently available in the market designed to protect your ears even from harsh construction environments.
In that case, begin your search with the aid of the top-tier construction earmuffs, earplugs, and other forms of hearing protection reviewed in this article. With the information you can gather here, you will have a higher chance of finding the most comfortable, best-fitting, and valuable hearing protection that suits your requirements.
Top-Rated Hearing Protection for Construction Reviews 2023
1. ProCase Noise Reduction Safety Ear Muffs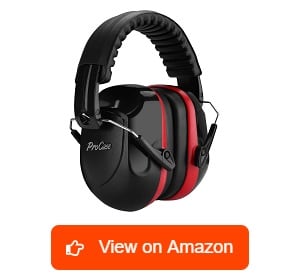 With an ANSI S3.19-certified noise reduction rating of 28dB, these ProCase safety earmuffs are designed with ABS-shell and thickened noise-dampening sponges. They seal well on my ears!
In my experience, they can significantly minimize the noise on the job site, though I can still listen to my coworkers without removing the earmuffs.
I also keep another pair at home, which I normally use as ear protection for leaf blower. The earmuffs are also useful when I work on DIY woodworking projects at home or when I visit the shooting range. Since they're so light – weighing only 9 ounces – I can wear them for extended periods.
As I can fold the ear cups inward, the product doesn't take up too much space in my bag. When I need to use it, I just pull out the retractable steel wire to expand it. For added comfort, the ear protection is made with skin-friendly faux leather that feels smooth. The swivel ear cups and the flexible headband conform to the shape of my head.
All in all, I like everything about these earmuffs, and I'd say that the size is also suitable for children. Note that this model is available in different colors, such as red, black, blue, gray, and orange. However, they may feel somewhat tight for those with larger head sizes.
What We Like
ANSI S3.19-certified noise reduction rating of 28dB
Allows the user to communicate without having to remove the earmuffs
Comfy to wear for extended periods
Does not take up too much storage space
Made with smooth and pleasant skin-friendly faux leather
Suitable for all age ranges
What We Don't Like
Can be a bit tight for people with larger head sizes
Without a doubt, these ear muffs for hearing protection are excellent for workers, homeowners, and even children who are sensitive to noise. Rest assured, they are super comfy thanks to the padded headband.
2. 3M WorkTunes Connect Hearing Protector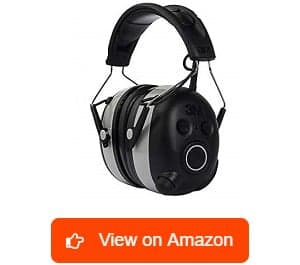 If you want a fun and exciting way to protect your ears from hazardous sounds then you might want to check out 3M WorkTunes Connect Hearing Protector. What I am so pleased about in this hearing protector is that it does not only work in protecting your hearing but also lets you listen to your favorite radio station, audiobook, music, or podcast.
It blocks outside noises that might hamper your hearing if left unprotected. This protective headphone also makes use of Bluetooth technology. I am happy that it is built in a way that it lets you stream your preferred form of entertainment directly from any mobile device or gadget, like your tablet or smartphone.
This product from the trusted 3M brand also makes sure to continue protecting its users by integrating the safe volume control technology, which is useful in making self-adjustments on the volume. This means that you will have full control over the volume, thereby allowing you to listen at a level that is safe for you.
Just like me, you will also fall in love with this item's audio assist function, which gives you an alert regarding your chosen radio station. This function also gives you the freedom to set channels beforehand without the need to remove your headphone. It is also conveniently designed since you can find all required controls within the headset.
This means that you no longer need a cord to tether it. I like the softness of the ear cushions as such can give you the kind of comfort you are hoping for. It is well-ventilated, too, thereby ensuring that you will stay comfortable and sweat-free during the whole time you are wearing the headphone.
However, take note that while you can easily tune it to a radio station, there are pauses from time to time when the earmuffs broadcast the specific station or AM/FM frequency you are in. This is not a huge issue, though, as saving preset stations is possible in this item.
What We Like
Offers incredible amount of protection from hazardous sounds
Gives you full control over the volume, thanks to its safe volume control feature
Soft and comfortable cushions included in the headphone
Well-ventilated, allowing you to remain sweat-free throughout your work hours
Can stream your preferred form of entertainment through a mobile device
What We Don't Like
Takes time to broadcast the specific AM/FM station or frequency you are on
This hearing protector from 3M is surely one of the brand's most amazing creations as it does not only give you as much ear protection as you want but also provide a fantastic form of entertainment through sounds.
3. ClearArmor 141001 Hearing Protection Earmuffs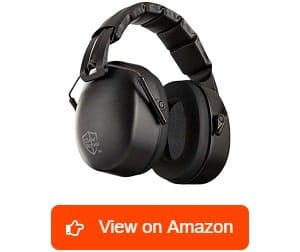 The next earmuff I would like to suggest is the 141001 Hearing Protection Safety Earmuff from ClearArmor. One positive thing about this pair of earmuffs is its high level of comfort. This is one of those construction noise-canceling headphones that are comfortable enough t0 wear even for long work hours.
It has an adjustable design, which makes it comfortable. You just need to adjust the headband of this earmuff from its two sides without the risk of breaking. It can fit a wide range of head sizes. This means that even if you have a small, big, or medium-sized head, it can give you a comfortable fit.
The headband of this product also comes with extra padding, which further enhances comfort. I think this feature is also one of the reasons why it is easy to clean after using it for long hours in busy construction sites as well as other places, like the wild or garage.
I am also happy with its SnugFit design, which promotes a firm and comfortable fit regardless of how intense or tiring your work is. The fact that it fits firmly and securely also means that it has a lower chance of coming off in case you need to bend. It is also breathable in the sense that it will not cause you to sweat out too much.
Storing this earmuff is also not a problem because it only involves folding it up. The durability and stability of this earmuff are also unquestionable. It is because of its industrial-grade construction as well as its assembly that makes use of screws instead of glue.
The noise-dampening foam cushions that this earmuff uses to block noise are also capable of providing a tight yet comfortable soundproof seal.
However, this 3M earmuff is also slightly bulky.
What We Like
Provides a high level of comfort even when used for extended periods
Promotes a tight soundproof seal
Sturdy and durable, thanks to its industrial-grade construction and screw-based assembly
Breathable, preventing you from sweating too much even when used for long hours
Firm, secure and adjustable fit
The added bulk does not come to the point where it becomes too uncomfortable, though, so it is still a worthwhile investment if your goal is to achieve adequate hearing or sound protection.
4. 3M Peltor X-Series Over-the-Head Earmuff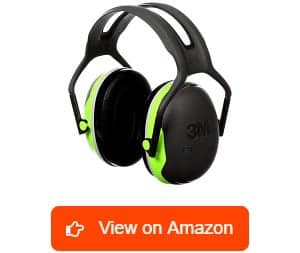 You will not also regret getting your hands on the Peltor X-Series Over-the-Head Earmuff offered by the 3M brand. I am genuinely satisfied with how this 3M earmuff is constructed because it aims to enhance the comfort level of workers, especially those in the somewhat harsh construction industry.
It is lightweight plus boasts of its amazing adjustability and soft and comfortable contact points. With such a combination, I can show proof of how amazing it is when it comes to prioritizing the convenience and comfort of its users. I am also glad of its twin headband style because this lessens the buildup of heat.
Such style is also one of the reasons behind the excellent fit and amazing balance of the headband. It assures you of a more secure yet comfortable fit. It is even possible for you to make adjustments on the fit through its adjustable ear cups that you can just tilt based on what is comfortable for you.
It also boasts of its wide and soft cushions designed to provide a comfortable seal around your ears, further increasing its level of hearing protection. Another thing that impresses me about this earmuff is that it has inserts and cushions that you can easily replace and clean up.
I also discovered that it is one of the most flexible hearing protection gears that you can use in the workplace. It is because it can withstand damaging noise exposures from different worksites and applications, including but not limited to construction, automotive, metal processing, pharmaceuticals, cement manufacturing, and woodworking.
One thing that is not so good about this 3M earmuff, though, is its somewhat bulky structure.
What We Like
Highly flexible as it is appropriate in various worksites, applications, and industries that require hearing protection
Features wide and soft cushions to ensure a comfortable seal
Easy to replace and clean up inserts and cushions
Secure and comfortable fit guaranteed
Prevents the excessive buildup of heat
The bulk will not lead to extreme discomfort, though, as this 3M earmuff is made in a way that it can give users as much comfort and convenience as possible while remaining extremely protected against exposure to damaging sounds.
5. Decibel Defense Professional Safety Earmuffs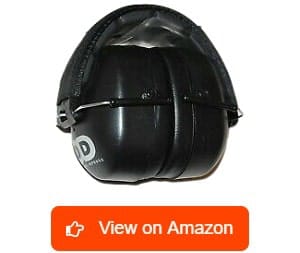 Your search for reliable noise-canceling headphones for construction workers also has a higher chance of ending immediately once you come across the Decibel Defense Professional Safety Earmuffs. Mainly built for industrial and shooting purposes, this pair of earmuffs also work well when used in other industries, like construction.
I like how sturdy its structure is and how it perfectly fits tool cases and gun bags, making it convenient to bring for recreational and work purposes. It is compact and foldable, which makes it all the more convenient to bring even in workplaces with harsh environments.
I like the kind of comfort that its headband provides. Expect it to deliver extreme comfort because of its well-padded and smooth cell design. This plays a major role in preventing discomfort no matter how many hours you are wearing this earmuff. It is also safe to wear not only for adults but also for toddlers and kids.
This earmuff also tends to last longer than expected because of its strong fabric stitching. It can fold up nicely, allowing it to fit in a compact and portable manner in your toolkit without consuming too much space. It has an adjustable sound reception, too.
Expect it to be a big help in giving you electronic hearing protection, making it possible for you to protect your ears while allowing easy discussion in job sites. It can effectively shut down construction-related noises, especially those that come from power equipment and tools.
One issue, though, is that its ear cushions are quite hard at first, causing discomfort but rest assured that you will get used to wearing it with time.
What We Like
Compact and foldable, promoting ease of storage and transport
Well-padded cell design, which contributes to its high comfort level
Durable and long-lasting, thanks to its sturdy construction paired up with strong fabric stitching
Easy to adjust fit, allowing it to work for small and large heads
Can be used together with safety glasses and hard hats
What We Don't Like
The ear cushions might be quite hard at first
For its price, this earmuff is not a disappointment because it has decent quality plus most of its features are meant to give comfort and a high level of noise protection to its users.
6. 3M Peltor Optime 105 Over-the-Head Earmuff
I am also certain that you will be satisfied with how well the Peltor Optime 105 Over-the-Head Earmuff from 3M performs in blocking out noise, especially if you belong to the construction industry. I am in favor of how it is built to protect your ears from the most damaging sources of noise.
It can protect your ears from noise exposures that can go up to 105 decibels. I am also glad of how its headband is durably designed using stainless steel. Such headband is capable of providing a low-pressure and good fit by efficiently distributing weight. I can also assure you that it can prevent warping and bending as much as possible.
It makes use of a double-shell technology, too, designed to make its hearing protection capability even more effective. I am also happy with the additional volume and mass provided by this earmuff. It has a distinctive double-shell ear-cup style characterized by a couple of cups attached using a foam inner layer.
With this design, it is possible to increase the noise reduction capability of this earmuff for both high and low frequencies. The 3M brand also makes it a point to put your comfort on top of its priorities by ensuring that the headband for this specific earmuff is lightweight enough.
Combine that with its ear-cup pivot points that you can tilt for maximum comfort. I am also very happy with how it fits on the head comfortably with the help of its soft cushions filled with foam and liquid. This can effectively create a seal for blocking noise.
However, I do not like the quite bulky nature of this earmuff.
What We Like
Effective in offering protection against noise up to 105 decibels
Utilizes double-shell technology for a more effective hearing protection
Can handle both high and low frequencies of noise
Lightweight to maximize comfort
Features soft cushions
If you do not mind the added bulk too much then this 3M earmuff will be a sure hit in the construction site as it does a great performance as far as canceling unwanted noise is concerned while being offered at a low price.
7. Honeywell Howard Leight Laser Earplugs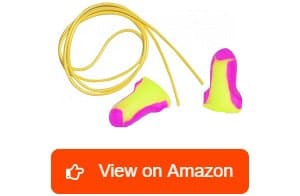 Another item designed to protect your hearing in several industries, not just construction, is the pair of Howard Leight Laser Lite Corded High Visibility Earplugs provided by Honeywell. There are several industries where this earplug can cater to, including construction, manufacturing, military, law enforcement, transportation, and mining.
I am one hundred percent satisfied with its corded design as I discovered how useful it is in helping you carry the earplug conveniently and easily. With the cord around, there is a low chance for it to get misplaced. It takes pride in its highly visible color scheme composed of magenta and bright yellow.
This color combination is great because it makes you visible and identifiable even from a distance, thereby promoting employee compliance and a high level of hearing protection. It also takes pride in its high noise reduction rating, which is 32. This guarantees incredible ear protection even if you are working in the loudest work settings.
I am so pleased about the small profile showcased by this pair of disposable earplugs. It is because this plays a major role in making it perfect for those who have small ear canals. I am glad of its contoured T-shape, too, as it assures users of extreme convenience when inserting it and removing it from the ear.
Moreover, it takes pride in its soil-resistant, closed-cell foam skin as it helps in preventing the buildup of dirt. With that, expect it to be a big help in promoting proper hygiene. I am also happy to say that it fits both small and large ears. It can provide optimal ear protection and a nice fit for those with small ear sizes.
It also has a low-pressure foam known to be expandable so it can fit almost all sizes of ears and ear canals.
However, they are not designed for numerous uses because they are built to be disposable.
What We Like
Boasts of a contoured T-shape, promoting ease in inserting and removing it
Features a soil-resistant closed-cell foam skin
Prevents users from misplacing the item because it is corded
Nice and customizable fit
Works in several industries and applications
What We Don't Like
Disposable, making it unusable for numerous times
If you are looking for the top-rated earplug appropriate for the construction industry, which is effective in blocking noise, then the Honeywell Howard Leight Laser Lite Corded High Visibility Earplugs will certainly not leave you feeling disappointed as it has several remarkable features that can truly improve its performance in the field.
8. 3M 90716-80025T Corded Reusable Earplug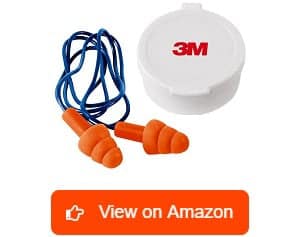 I also encourage you to check out the 90716-80025T Corded Reusable Earplug from 3M as it carries plenty of nice features and benefits designed to keep your ears fully protected from damaged due to unwanted sounds and noises in the construction industry.
It is a good choice for construction workers as it minimizes distractions. With this earplug, I am certain that you can focus on completing your job as it helps lessen your exposure to noises that can be hazardous and damaging to your ears. The earplug's tri-flange design also left a good impression as it guarantees a secure fit.
I like how effective it is in giving you a comfortable fit, even when you are wearing other safety gears, like hard hats or safety glasses. It promotes a flexible and soft feel, which makes it convenient to wear for extended periods. I am also very happy with the overall design of this earplug as it promotes ease of insertion and removal.
The material used in creating this earplug is also soft, reusable, and washable, which ensures that you lessen waste once you wear it. It does not also require you to roll it down, thereby ensuring that you can maintain the cleanliness of its tips since you no longer have to touch them when your hands are dirty.
It works in protecting your ears from noises that are up to 85 decibels. The fact that it is corded is also a big advantage as the presence of the cord makes the earplug less prone to getting misplaced or lost.
However, I find this earplug quite difficult to clean, which is one of its flaws.
What We Like
Offers full protection from ear damage caused by hazardous noises
Soft, reusable, and washable material used in constructing it
Less prone to getting lost, thanks to its corded design
Can be worn comfortably for extended periods because of its soft and flexible feel
Fits securely, thanks to its tri-flange design
To conclude, I can safely announce that this 3M earplug is what I need to keep my ears fully protected because I noticed how effective it is in that area while being available at such a low price.
9. Vebe QB2HYG® Hearing Bands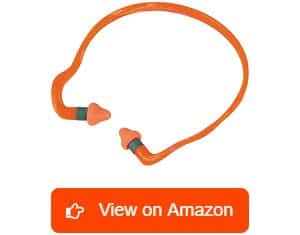 You will not also feel disappointed if you decide to invest in the budget-friendly Vebe QB2HYG® Hearing Bands. One thing that most people notice about this pair of hearing bands right away is its color. It appears in orange, which makes it visible in whatever environment you are in, making you feel even more protected.
The hearing bands are also among the most comfortable hearing protection that you can find in the market. I think that its ergonomic and wide-shaped design plays a major role in its ability to provide extreme comfort because this allows it to fit the majority of face and head sizes.
It has a noise reduction rating of 25 decibels, which is good enough for the construction industry. I am also in favor of the soft foam pads used in this hearing band as these tend to fit perfectly and easily within the opening of your ear canal. The way it is shaped is also helpful in offering supra-aural protection.
The unique aural pod design of this earmuff also ensures that its pods will stay away from contaminated spots. This headband also works well when it comes to quieting the noise significantly while remaining comfortable. The banded feature of this product also lets you put it on and take it off within just a few seconds.
This is because you can just let it rest around your neck once you are no longer using it.
There is a minor flaw in this hearing protection solution, though, and that is the audible scratching noise that tends to be produced when it comes in contact with anything.
What We Like
Nice and visible color scheme
Fits perfectly and easily within the opening of your ear canal
Offers excellent noise protection
Comfortable enough since it has an ergonomic design
Easy to put on and take off, thanks to its banded feature
What We Don't Like
Audible scratching noise produced when it comes in contact with an object
Overall, I can give this a high satisfaction rating because of its safety, usability, color scheme, durability, and efficiency.
10. 3M Peltor Optime 98 Over-the-Head Earmuff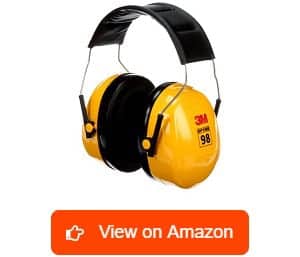 The first out of the many reliable earmuffs for construction workers I would like to suggest using is the Peltor Optime 98 Over-the-Head Earmuff offered by 3M. I highly recommend this earmuff if you work in environments with extremely high levels of noise.
The versatility of this over-the-head 3M earmuff is one of its most prominent and positive traits. I like the stainless steel headband integrated into this earmuff because it is capable of protecting your hearing from up to 98 decibels of the noise level. I am also glad that this is safe and comfortable to wear the entire day.
Aside from being a useful protective gear for the construction industry, it is also appropriate for other industries, including pharmaceuticals, automotive, agriculture, healthcare, chemicals, and general manufacturing. It is also ideal for offering protection in various applications, including heavy equipment operations, grinding, drilling, chiseling, chipping, welding, sanding, and sawing.
Since it is built using stainless steel, I am also pretty sure that of the strength and durability of this item. It is even capable of resisting warping and bending. This is also one of the earmuffs and earplugs for the construction industry that is comfortable to wear because of its ultra-light nature.
It even comes with foam/liquid cushions designed to maximize its ability to provide comfort. Furthermore, it features ear-cup pivot points that tend to tilt to make this type of hearing protection even more efficient.
This earmuff can also fit both large and small heads while offering adequate space for your ears.
However, one complaint I have with this earmuff is that it lacks breathability, causing you to sweat a bit after several hours of use.
What We Like
Stainless steel construction, making it durable and long-lasting
Capable of resisting warping and bending
Comfortable enough, thanks to its lightweight structure and foam/liquid cushions
Provides the perfect fit for both large and small heads
Versatile, allowing you to use it in several industries and applications
If you are looking for good hearing protection designed for the construction industry then you will never go wrong from choosing this earmuff from 3M as it is truly protective while being versatile, light and easy to carry around.
11. 3M Peltor Optime 95 Noise Reduction Earmuff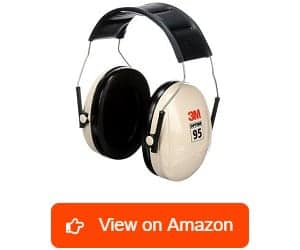 Lastly, I intend to recommend the Peltor H6A\V Optime 95 Noise Reduction Earmuff, which is another over-the-head hearing protector from the trusted 3M brand. This boasts of an amazing 21-decibel noise reduction rating. It can also withstand noise levels up to a maximum of 95 decibels.
I am glad of the stainless steel headband featured by this over-the-head 3M earmuff as I noticed how this material contributes to the durability of this item and its ability to last for quite a long time. The stainless steel material also makes it more effective in providing consistent and stable hearing protection.
I am also pleased with this earmuff's twin cup design as I discovered how effective it is in minimizing resonance while attaining the highest low-frequency and high-frequency attenuation. The way this hearing protection for construction works is also incredible so it is no longer surprising why many recommend this for environments with a high level of noise.
It is safe to use whether the one who will be using it is an adult or a child. It also prioritizes one's comfort by ensuring that it has the right cushion and padding at the correct places. With its high comfort level, you will have no problems wearing it the entire day for full protection.
The fact that this 3M earmuff has a slim design also makes it suitable even for tight spaces. The price of this product is also low while still having the quality preferred by most workers.
One thing I dislike about this item, though, is that it is not completely foldable.
What We Like
Low-priced without sacrificing quality and performance
Slim design, allowing it to suit various environments comfortably, even tight spaces
Comfortable because it is well-cushioned and appropriately padded
Stainless steel headband, making it rugged and stable
Can withstand a high noise level (max of 95 decibels)
Even with that minor flaw, every user seems to be completely amazed by all the things that this construction headphone can do, especially as far as giving the
ultimate hearing protection
is concerned.
What is a Hearing Protection for Construction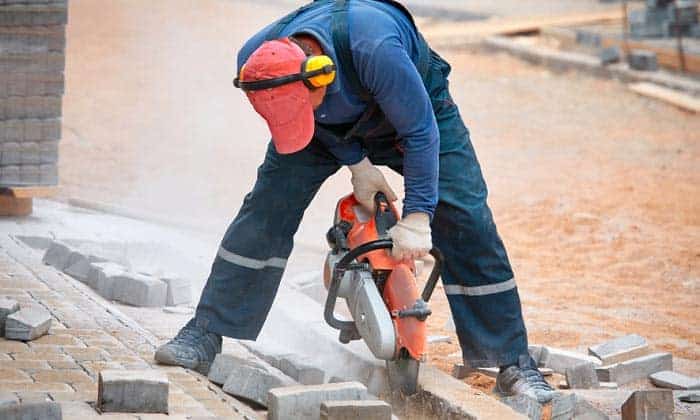 Construction workers are constantly exposed to loud noises, like jackhammers, heavy equipment, and the like. If you cannot avoid working near these sources of loud noises then you need to equip yourself with proper hearing protection so that you will not end up suffering from hearing loss.
Some people think that it is alright to just bring out a pair of regular headphones or earphones and just crank up their music to drown out the loud noises in the background. However, this can do more harm than good. It does not matter where the noise came from. If it is too loud then it will damage your hearing.
To avoid such damage, you need to use proper hearing protection in the job site. Instead of regular earphones, you can use noise-canceling headphones or earphones that block out all noises from the background, so you play your choice of music at a comfortable volume. You can also wear a good pair of earplugs if you want to work in total silence.
How Does It Work
Hearing protection works by blocking out most if not all outside noises, thus protecting your hearing from excessive damage that if left unchecked, will result in partial or permanent hearing loss. The way hearing suppression equipment works is quite straightforward.
What it does is it seals off the ears so noise will not reach the delicate parts. The tiny shockwaves coming from the loud noises are the ones that cause damage to your ears. If you block them out then you protect your hearing.
The problem with these types of equipment is that they block not only the noise but also all sound, including the voices of the people around you. On the other hand, noise-canceling technology is much better as it will only match the sound waves made by the outside noises then flip them over so the soundwaves cancel each other out.
The great thing about most noise-canceling tech devices is that they also come with microphones so the wearer can still hear when other people are talking to you.
Types of Hearing Protection for Construction Workers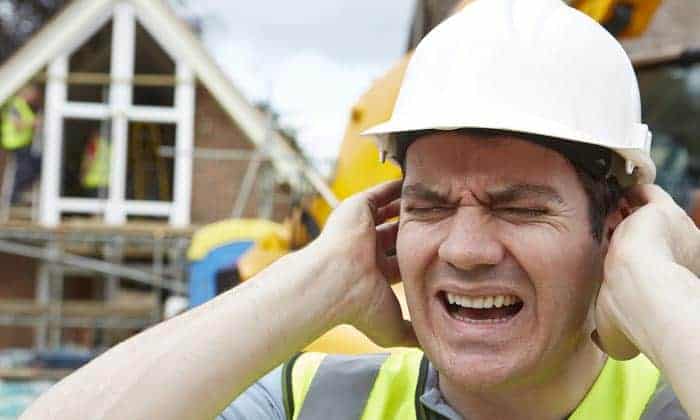 There are many kinds of the best hearing protection for construction workers. However, you need to choose wisely. You need to take into consideration the conditions in your job site and the current condition of your hearing health.
To give you an idea of what kinds of hearing protection you can get, here are some of the more popular options:
Earplugs – Earplugs are designed to be inserted deep into the ear canal, but not so deep that they might cause damage. They are usually made of soft yet dense foam material. You can pinch them to get them small enough that you can insert them deep into the ear canal.
You can also expect them to expand to seal up the ear canal and prevent any outside noise. The problem with earplugs is that they are intended for one-time use only. You have to buy bags of these items if you will be working at a noisy job site for an extended period.
Earmuffs – Unlike earplugs, earmuffs are positioned over the ears. These look like studio headphones, but they do not have any speakers or drivers. They are just composed of paddings and ear cups.
The cups need to make a complete seal over the ears, so you need to find the right-sized earmuffs. The great thing about earmuffs is that you can wear earphones under them so you can still listen to music if you wanted to.
Earmuffs with communication radio – These earmuffs are needed when constant communication is necessary for the job site. This type is a bit bigger than the normal ones to make room for the inner workings of a miniature two-way radio.
Noise-canceling headphones/earphones – Basically, these are the same as the ones that you use to listen to music but these are a bit more complicated. Regular headphones and earphones do not have any noise-canceling capabilities. This means that if you are not listening to music, you will still hear the noises in the background.
Noise-canceling headphones and earphones, on the other hand, have sensors that scan the background noises. There is also a processor inside the headphones that creates an inverse soundwave to cancel out the noises.
This is different from earmuffs that just absorb and block outside sounds. Noise-canceling cancels out the background sounds to produce absolute silence.
These are just some of the different kinds of hearing production that construction workers can use. Choose the one that fits your needs and feels comfortable.
Why Do You Need a Hearing Protection for Construction
The construction site has no shortage of sources of loud noises and unfortunately, most of them can produce noise levels that can cause permanent hearing damage. Here are some of the said sources of noise. If you are subjected to any of these for any length of time regularly, then you need to use ample hearing protection.
Air compressor – 85 Decibels
Welding machine – 85 Decibels
Any kind of power tool – 94 Decibels
Operating a belt sander – 95 Decibels
Jigsaw – 95 Decibels
Impact drill for concrete – 96 Decibels
A rip saw – 96 Decibels
Angle grinder – 97 Decibels
Circular saw cutting through metal bars – 99 Decibels
Operating a Bench Grinder – 99 Decibels
Crane operation – 102 Decibels
Continuous exposure to noises 85 decibels and above is enough to cause permanent hearing damage. If you are subjected to any of the sources of noise mentioned above, you will need to use ample hearing protection. To know if your choice of hearing protection is enough, look at how much noise it is rated for then subtract that amount from the total.
For instance, if you will be operating a crane (102 decibels) for most of the day and you use earplugs that are rated for 35 decibels, the resulting amount of noise that reaches your ears will only be 67 decibels, which is well within the healthy noise levels.
However, even if the noise levels are within the acceptable range, it is still important to take a break every hour or so. It is because continuously subjecting your ears to loud noise will still do a considerable amount of damage.
Buying Guide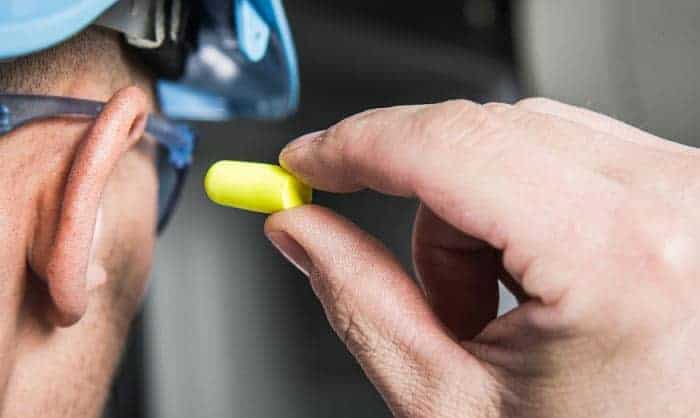 Are you thinking of buying a new pair of hearing protection for construction workers? Then be aware that there are different brands and models in this category that are currently available. You can't also expect all these models to work the same way.
To help you select from your extensive range of choices, here are some of the factors that you need to take into consideration when you are out shopping for a pair of hearing protection for construction workers:
The decibel level – This is one of the most important qualities that you need to keep an eye out for when shopping for hearing protection. These kinds of products will always have the amount of noise measured in decibels that they can muffle indicated on their packaging.
The maximum amount of noise that the human ears can safely be subjected to is around 85 decibels. If you are exposed to that amount of noise for hours on end then the delicate hairs and tiny bones in your inner ear will suffer from serious damage. This might lead to permanent hearing loss.
For instance, if you will be working with power tools, you will be bombarded by 97 decibels of noise. Now, if you happen to get a pair of noise-suppressing earmuffs rated for 45 decibels, you will only be subjected to only 52 decibels of noise. This means that you are well within the safe zone.
Fit and comfort – The hearing protection gear that you get should fit snugly without any slack at all. If the hearing protection gear feels loose, then it would not be doing its job of shutting out loud noises. However, it should also be not so tight that you get a headache after a while of wearing it.
The hearing protection should not also be so heavy that it will strain your neck after a couple of hours. However, the gear should not also be so light that it could not provide enough pressure to create a good seal around your ears. You need to find a happy medium between the two.
If you are going with earmuffs, you need to get one with pads that are soft but still firm enough that it provides enough padding so you will not feel the hard parts of the earmuffs.
Communication – If you need to have constant communication with your team, then find earmuffs that are big enough that you can insert a radio earpiece. This will allow you to communicate with the other people on the job site via radio even with the earmuffs around.
It is also important that your hearing protection should not completely muffle all the sounds in the environment. It is quite dangerous for you to not be able to hear anything at all. For instance, you might be in big danger if you could not even hear the emergency alarm go off, like if a huge fire started inside the site.
Type of hearing protection – There are several different kinds of protection that you can choose from and what you choose will depend on the environment you will be working in.
For instance, if you just want to block out noises that are not that loud, you can get simple earplugs to cancel most of the noise. In loud and noisy environments, like when you are operating heavy machinery, you should get a pair of heavy-duty earmuffs. The choice you make should depend mostly on what task you are doing.
Noise-canceling vs. noise-suppressing – Noise-canceling headphones are great because they can eliminate the background noises in the environment. However, they run on batteries and when they run out, they do not work quite as well as real earmuffs.
On the other hand, real sound muffling earmuffs can work well even without relying on batteries. However, they are not as comfortable to use as noise-canceling headphones. The problem is that noise-canceling headphones are usually not as weatherproof as regular headphones.
If you need to wear hearing protection for most of the workday, you can just use a regular earmuff and wear earphones underneath them in case you want to listen to music while you work.
Ease of use – The best type of hearing protection is one that is easy to wear and take off, so you do not need to feel like it is a chore. If you do not mind wearing your hearing protection at all then it is doing a great job.
Cost – If you can afford to, get the top-rated hearing protection gear that you can find. This does not necessarily mean that you should get the most expensive one but the fact is that most of the better-quality hearing protection gears are on the expensive side.
On the other hand, if you do not have much of a budget, just get the top-tier one that you can afford and use it always. As long as you have any kind of hearing protection then you are already good to go.
Care and Maintenance
You need to take good care of your hearing protection equipment if you want them to last for as long as possible. Here are some tips on how to care for and maintain your hearing protectors:
For your disposable earplugs – As the name suggests, you should never reuse this kind of hearing protection. These earplugs are not washable. Trying to wash them and use them again might only cause them to disintegrate. You should only use them more than once if there are no other options available. If you do, do not use it more than three times.
Reusable earplugs – Unlike disposables, you can wash these earplugs after every use. Use warm water, mild detergent, and a soft brush to clean these earplugs gently. Let them air-dry overnight so you can use them the next day in case the flanges get ripped, or if the plugs lose their pliability.
Earmuffs – You can use your earmuffs for as many times as you want but you need to clean them daily to keep them feeling fresh every time you use them. However, the only thing that you can do is wipe down the entire thing using a damp microfiber towel, with a bit of rubbing alcohol and water. You can use a cotton swab to get to the hard-to-reach places.
Noise-canceling headphones – You can clean them in the same way that you would regular earmuffs. However, you need to make sure that you do not get any water inside the cups. Just use enough water and alcohol to dampen the microfiber towel and carefully rub the outside of the headphones.
If the foam pads of the earmuffs have dried and got cracked, you need to replace them because they will not make a complete seal around your ears to block out outside noises. If one pad needs replacing, you should replace both to ensure that they both wear out evenly.
Frequently Asked Questions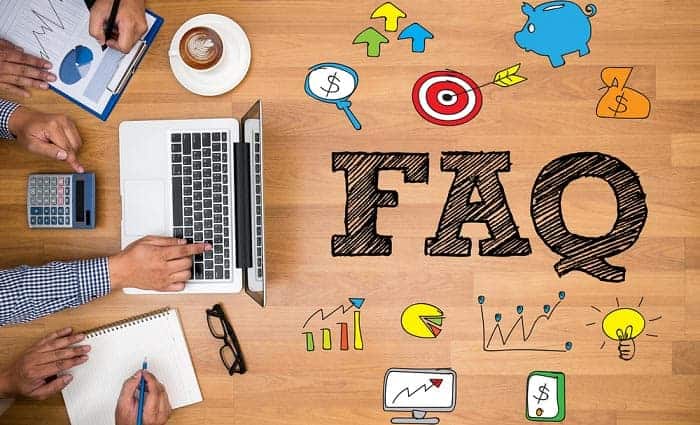 What is a good decibel for ear protection?
CDC and NIOSH recommend going for ample noise reduction that can minimize your exposure to between 75 to 85 dBA.
Since most of the noise in industrial settings is below 95dBA, most construction, landscape, or factory workers often need no more than 10 dB for ear protection. But treat this on a case-to-case basis.
For loud machinery or power tools like the chainsaw, the noise is usually about 110dB. Meanwhile, jet engines range from 120 to 140dB. This means you'll need 25dB ear protection for operating power tools and 55dB earmuffs when around jet engines.
In addition, occupational health and safety authorities say that combining earmuffs and earplugs for work is okay, especially when the noise level is extremely high. Just make sure to account for the tasks you need to do, such as listening for warning signals or communicating with your coworkers.
Tip: You can install the NIOSH Sound Level Meter app on your phone and use it to determine the noise in your work area.
How much does it cost to buy hearing protection for construction?
The overall cost depends on the type of hearing protection and its quality. However, the general price range is $10 to $250, with the cheapest ones being disposable ear plugs for construction. For instance, a 5o-pack box of NRR 32 ear plugs will set you back roughly $12.
Reusable ear noise protectors like the noise reduction ear muffs featured above cost at least $15. Noise-canceling ear muffs with features like wireless technology, AM/FM radio, and an integrated microphone cost at least $60.
What are the most popular hearing protection for construction brands?
Several brands offering personal protective equipment (PPE) are completely aware of how useful hearing protection products are. This is why you can see these brands continue increasing in number. Among the ones are worthy of your full trust and respect are 3M, Decibel Defense, ClearArmor, and Honeywell.
Does hearing protection gear need to be weatherproof?
This will depend on the environment you are working in and the type of hearing protection that you will be using. For instance, if you are often working outdoors and you need to continue working even when it starts to rain, then your hearing protection needs to be weatherproof as well.
Also, weatherproofing is only relevant when it comes to the noise-canceling headphones, communication earmuffs, and the like, as these are the ones that have electrical components.
Are regular earphones and headphones not enough?
When you use regular headphones to drown out the outside noises with loud music then you are not doing your ears any favors at all. If you need to blast loud music into your ears then it is still the same as not wearing ear protection at all. You are just distracting yourself so you will not mind the environmental noises so much.
The problem is in terms of protecting your hearing, you are doing more harm than good. If you want to listen to music while you work, wear earphones underneath your work earmuffs. Because the earmuffs already muffle the sounds coming from the outside, you can turn down the volume of your music down to a more comfortable level.
Does hearing protection need to eliminate all noises?
No, the hearing protection gear that you should use must not eliminate all the sounds in the environment, especially if you are working on a construction site. There are times when you need to hear other things, like the roar of the engines of the heavy equipment. Most importantly, you need to hear when the site alarm goes off or when your co-workers call you.
What are the top-tier hearing protection devices?
Determining the top-quality of the different kinds of hearing protection gear can be difficult. The reason is that each one of them has its own sets of advantages and disadvantages. The top-tier gear is the one that provides you with all the functionality that you need. For instance, some people say that earmuffs are the best.
This is true when it comes to blocking out the noise from the environment but when you are working in a hot environment, wearing earmuffs will only make you sweat uncontrollably.
Earplugs, especially the flanged ones, on the other hand, can block out a respectable amount of noise and is comfortable to wear. However, after some time, the earplugs can get a bit uncomfortable too.
How to use?
If you will be using earplugs, it is advisable to consult with the instructions on the packaging. However, since most of them work similarly, you just need to grab the foam part in between your thumb and forefinger, press it until it shrinks a bit in size then insert it into your ear canal.
Hold the plug in place until the foam expands to fill the space in your ear canal. It is most suitable to use earplugs that have a string between the two foam plugs so that it is easier to remove them whenever you need to. Also, get earplugs that have a long handle so that you can reinsert them into your ears even when your hands are dirty.
If you will be using earmuffs, you first need to adjust the band so that it fits comfortably around your head. The band should not be so loose that the muffs do not make a complete seal around your ears and you still hear a lot of the noises outside nor should it be so tight that it squeezes your head so tightly, causing you to suffer from a headache.
The cups should be centered over your ears and should be tight enough that the foam pads create a complete seal over them. This is to prevent unwanted and unnecessary sounds from getting into them.
If you will be using sound-canceling earmuffs, you wear them just as you would regular earmuffs but they have electronics that allow them to scan for background noise then play an inverse sound wave to cancel out the noise. You just need to turn on the noise-canceling feature and after a few seconds, you will be hearing a slight humming noise then complete silence.
How to care and clean hearing protection for construction?
Disposable earplugs can only be used once then should be immediately replaced. Even reusable earplugs are only useful for a finite number of times before you need to replace them. This is usually when the plugs themselves have gotten too dry and lost a lot of its pliability.
Earmuffs, especially the ones that do not have noise-canceling capabilities, are quite easy to clean and maintain. You only need a clean microfiber towel, a splash of water and rubbing alcohol. You just need to rub the entire surface of the earmuffs, wipe away all the dirt that you can from the band and the outside cups.
Be very delicate when it comes to the foam pads, wipe them lightly with the microfiber towel and let them air-dry. You need to be careful when doing the same with noise-canceling headphones. Make sure that the microfiber towel is not so damp that water can get inside the headphones and short out the circuitry inside.
Where to buy hearing protection for construction?
You can find hearing protection wherever safety gears and construction supplies are sold. Ask around if they have hearing protection that is specifically made for use in loud construction sites and if possible, something that is meant for the tasks that you will be doing.
However, there are not many stores that provide safety equipment exclusively. You can find a couple of pieces of kit in hardware stores but the choices are quite limited. The absolute most trusted place to look for hearing protection for construction workers is online.
You can find dozens if not hundreds of brands and models in many different websites online. The great thing about online shopping is not just the number of choices but also the lower prices and the ability to compare prices.
Conclusion
It is quite unfortunate that there are a lot of construction workers who do not believe in protecting themselves against workplace noises. They would wear hard hats, safety boots, gloves, and other required safety gear but they neglect to protect their hearing. If you will be operating heavy machinery or using power tools all day long then you will need to use the best hearing protection for construction to make your tasks more bearable.
There are many kinds of hearing protection for construction workers and they have different sets of benefits. Consider your specific needs when buying a set of earplugs, earmuffs, or noise-canceling headphones so that you will be getting something that you can use.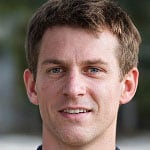 Having worked in the field of personal protective equipment for over two decades, Andrew Carnegie is a specialist in the field.
At EDC, he strives to improve performance efficiency and promote workplace safety for EDC's readers and customers. He also researches the most up-to-date equipment that has earned relevant accreditation for use in a wide range of industries and specialties.