The birth of the newly improved face of lens visibility called photochromic, which means "photo" – light and "chromic" – color, will forever change the way we see the outside world. This type of lens is also known as "transition lenses" that tone down the tremendous amount of harmful UV rays.
They filter light through the color-changing gradient reflection of the glass and defend against the optical disruption of the sun.
Many of us have been straining our eyes under the overwhelming heat of the sun, and it is time to level up our optical protection with the best photochromic safety glasses.

12 Top-rated Photochromic Safety Glasses Reviews of 2023
1. TJUTR Photochromic Sunglasses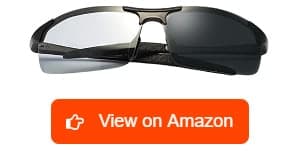 Oozing with a charismatic physical appearance, these photochromic sunglasses blew my mind. They are not the typical glasses I see in the optical stores as they embody unbelievable cool energy. The polarized effect attached to the lenses adds a sense of clear visual direction.
The rectangular frame is made of sturdy aluminum-magnesium that has an anti-scratch ability. Plus, its solidified structure sits well under the extreme heat of the sun. The low weight of the frame sits comfortably on your face without irritation. This characteristic maximizes convenience if you are wearing a hat and a face mask.
Furthermore, I am quite impressed with the multi-layered coating of the lenses that merged the power of polarization, light sensitivity reduction, and anti-UV light defense. Whenever you wander around from one place to another, this triple safeguard will keep your eyes from imminent danger.
The lenses contain a UV400 agent that best shields your eyes from UVA and UVB rays. TJUTR's auto darkening safety glasses set the bar high for photochromic glasses since this variant has excellent features at a low price rate.
Additionally, the construction is fashionable without compromising the functions of the eyepiece. The switching of shades from cloudy, sunny to rainy days is on point. It is because the lenses have a fast discoloration feature, resulting in a smooth transition.
You will never run out of style and security with these superb transitional safety glasses. You can use these spectacles for driving, but please take note that some windshields and window glasses can block the entry of UV light rays, so these glasses might not darken in a car.
What We Like
Charismatic, fashionable, lightweight rectangular frame construction
Robust aluminum-magnesium frame with anti-scratch ability
Sits well under the heat of the sun
Multi-layered protective lenses: polarization, light sensitivity and UV400 defense
Smooth transition of shades in drastically-changing weather conditions
Has a low price
These photochromic sunglasses are dope! The overall integration of functions is well-established and provides ultimate eye protection against UV rays and high-beam glare.
2. Bullhead Safety Eyewear BH10613 Safety Glasses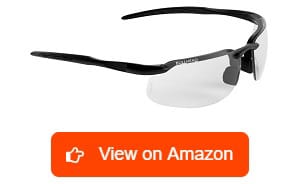 Whether you are an active worker with a lot of adrenaline or a casual passerby ambling along with the bustling city, I think you would love this cool pair of photochromic glasses from Bullhead Safety Eyewear. The previous safety glasses with transition lenses have a lightweight structure, and this pair is no different in that aspect.
They offer a 3-point comfort fit starting from the end tips to the nose bridge area. Plus, you have an outlet of fashion with the four iconic colors: crystal black, crystal brown, crystal clear, and matte black, which all look sexy to the eyes. The photochromic lenses' shape complements the thin ergonomic wraparound frame.
This eyewear product is among the best-selling photochromic safety glasses with readers. I remember chatting with a friend about this type not so long ago. She once told me that these glasses fulfilled her demands to insert bifocals, and they seem to work perfectly without a hitch.
They meet the ANSI z87.1 2010 high impact standard. Plus, the entire frame encompasses eight base curve lenses for sharp vision and utmost protection.
These glasses are among the most decent photochromic sunglasses in the marketplace. Boasting hard-coated lenses with UVA, UVB, and UVC protective layers, this pair is a superior modern-built eyepiece.
I think it is amazing that this photochromic variant surpasses my expectation. It has a well-engineered design that mostly centers on immense comfort and protection. On the downside, these glasses will not darken to their highest level if you wear a hard hat. This is not a huge problem for me because the shade change is still sufficient to protect my eyes.
What We Like
Lightweight ergonomic-designed glasses with 3-point comfort fit
Enticing four-color style, boosting eye fashion
Ideal for bifocals/readers, enhancing visual comfort
ANSI z87.1 2010 high impact standard
8 base curve lenses, maximizing visual acuity and protection
Anti-UVA, UVB, UVC hard-coated lenses
What We Don't Like
Does not darken maximally under hard hats
This product offers comfort and protection, all things buyers will appreciate. In short, this transition eyewear rocks!
3. Spits Eyewear Photochromic Safety Glasses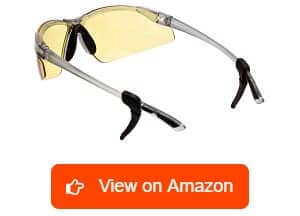 First off, I would like to emphasize the design of these photochromic glasses. The half-framed lens' shape has visually pleasing polygonal edges that make the whole photochromic eyeglasses a bomb.
These auto tint safety glasses incorporate a seamless transition of colored lenses whether you start your day at dusk or dawn. They have a red titanium oxide light mirror-coating that adapts to sporadic weather conditions.
The lenses are made of polycarbonate that offers a wide range of protection and durability. They are shatterproof and can resist the common impact pressure caused by aerial particulates and the physical collision of objects, conforming to ANSI z87.1 2010 standards for industrial application.
If your job requires you to move from dark to bright places and vice versa, these glasses are a must-have! As I examined the features, I have grown fond of the shade transition from bright yellow to medium green.
It takes 15-30 seconds to go full-dark green when exposed to broad daylight, and the same interval applies when changing from green to yellow in fading light.
I think this pair of safety glasses could be one of the best gifts for loved ones who stay on their feet outdoors the whole day. The soft-textured gray frame goes easy on the ears and will surely grant immense comfort.
Nearly everything on these self tinting safety glasses is magic. The switching of shades is terrific and well-planned. The only minor fault I notice is the price. It is slightly expensive compared to some options.
What We Like
Visually-pleasing half-framed design
Seamless transition of the red titanium oxide light mirrored-lens coating
Shatterproof polycarbonate-made photochromic safety glasses
Meets ANSI z87.1 2010 standard for industrial application
Bright yellow to a medium green in 15-30 seconds and vice versa
Soft-textured gray frame rests on the back of your ears without issues
What We Don't Like
Slightly expensive compared to some options
Spits Eyewear proves that breaking the norm of the traditional looking sunglasses can result in a more effective eyewear against the destructive sunlight. This photochromic eyeglasses variant is ideal for spring and summer for both indoor and outdoor use.
4. YESWELDER Auto Darkening Welding Goggles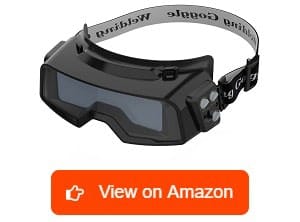 These goggles boast true color lens technology, preserve 1-1-1-2 optical clarity, and the filter shade helps reduce eye strain. The auto-darkening lenses are compact and allow a better viewing experience.
Everyone loves free stuff, right? I mean, who doesn't? I applaud this product for including a free mask. Not all safety goggles are inclusive of freebies. The said mask can help you in intensive welding routines. It provides full-face coverage that acts as a safeguard against combustible materials.
Furthermore, the optical viewing of these goggles is extensive, allowing a smooth panoramic display. These auto-darkening goggles maintain a wide shade range of 4, 5-9, and 9-13.
They are ideal for MMA, MIG, MAG, CO2, TIG, Plasma Cutting, Arc, Automotive, Construction, Metal fabrication, and more. This eyewear is versatile and is one of the leading choices for photochromic safety goggles for laborers. It contains dual sensors that closely inspect the welding pieces in a dark environment.
Weighing 7.1 oz, these photochromic welding goggles are ultra-lightweight and easy-to-carry. I suggest investing in this kind of eye protection if you want to avoid neck strain.
I love how heedful YESWELDER is to the needs of customers. They provided a lithium-ion battery in the package. Plus, the goggles conform to the technical standard of ANSI z87.1, EN379 CE, and CSA Z94.3.
What's unlikable about this product? The plastic near the nose bridge rubs against my skin, so adjustment is needed to avoid discomfort. Once that's done, though, this safety eyewear is labor-friendly.
What We Like
True color lens technology supporting 1-1-1-2 optical clarity
Helps reduce eye and neck strain
Compact auto-darkening lenses that are suitable for MMA, MIG, and more
Includes free welding mask, battery and extensive panoramic view display
Wide shade range: 4,5-9 and 9-13 with dual sensors
ANSI z87.1, EN379 CE, and CSA Z94.3 technical standards
What We Don't Like
Plastic near nose bridge rubs against skin
Do not just invest in UV protection photochromic lenses. Invest in multipurpose glasses with multiple protection certification like this heavy-duty eyewear as it will keep your eyes safe and healthy in the long run.
5. Global Vision Eyewear Safety Sunglasses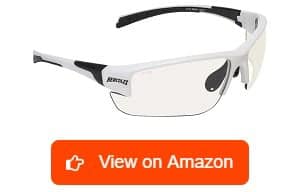 I have been interested in biking lately, and safety glasses photochromic lenses have become a must. I wanted something useful, stylish, and sturdy. I asked around for a recommendation and stumbled upon this. After reading a few photochromic safety glasses reviews, I decided to give it a try.
I am mindful of what I wear on my face since I take a lot of selfies whenever I go out for a ride. The eyewear's matte white finish gives off a stylish vibe, so it helps with that. Another thing I love about the eyewear is the wide peripheral vision!
The transition of shades from clear to smoke is commendable. The eyewear is so lightweight you will even forget you are wearing one. Plus, it meets ANSI z87.1+ standards, which is praiseworthy!
Moreover, the scratch-resistant and shatterproof polycarbonate lenses help so much when biking. If you are a cycling enthusiast like me, you can jam this eyewear inside your bag without scratching it. Other eyewear would be pretty scratched up, but this one is sturdy despite it being lightweight.
My favorite thing about this is that it self-adjusts to light since I wear it at different times of the day. I have astigmatism, and my head tends to hurt when there are abrupt light changes, and this pair helps so much with that.
Lastly, the double injected rubber temples provide comfort while wearing. I just wish the lenses would get a bit darker when exposed to full direct light, but it is pretty much okay as it is. I would recommend this and will buy another for my boyfriend!
What We Like
White matte finish frame, giving off premium style
A wide peripheral vision
Transitions from clear to smoke shade well
Conforms to ANSI z87.1+ safety standards
Scratch-resistant and shatterproof polycarbonate lenses
Lightweight, made with double injected rubber temples
What We Don't Like
It would be better if the glasses could get darker
These light adjusting safety glasses are functional without sacrificing the overall appearance. Their multiple features and performance are notable, and the overall fit of the eyewear suits buyers.
6. EPOCH 3 Photochromic Motorcycle Sunglasses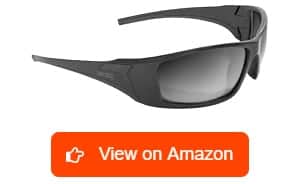 Since I bike for pleasure during the day, I need to protect my eyes from sunlight and dust. These glasses from EPOCH are perfect for this purpose. The slim structure gives a snug fit on the face and shields your eyes from air-borne particulates.
If you are anything like me, this eyewear may also be the perfect eyewear for you as it does a good job protecting the eyes from irritants, thanks to the seamless wraparound design.
Aside from that, the rubberized finish makes it comfortable to the ears and temples. For that reason, the polycarbonate glasses do not slide right off when you get sweaty. They are decent enough not to get flashed by the car headlights and the harsh sunlight these days because they possess UVA and UVB protection.
In addition to that, the lenses are shatterproof, so whenever they fall, they will remain intact. However, they scratch easily, but it is okay since I always place mine inside an eyewear case or pouch when I don't wear them. They meet the ANSI z87.1 safety glasses standard, making them suitable for industrial use.
All in all, the eyewear addresses the issues faced by cyclists, such as harsh light exposure, eye irritants, ear sore due to uncomfortable eyewear, and more. This eyepiece is a must-have gear for fellow bikers out there.
They are worth the buy since you get a lot out of them — they're useful for hiking in addition to biking. I have tried out a lot of products of this kind, and this is by far the best one.
What We Like
Rubberized comfortable frame finish with slim design
Protects the eyes from irritants
Shatterproof polycarbonate lenses
Anti UVA and UVB sun rays, providing decent protection
Meets ANSI z87.1 standard
Useful for hiking and biking
They are terrific safety glasses suitable for both indoor and outdoor activities. They do not slide off your face. Hence, they protect your eyes from both the sun and irritants.
7. ROCKBROS Photochromic Sunglasses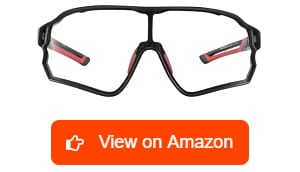 My best friend is very athletic. Our weekends are always filled with physical outdoor activities, come rain or shine. A common problem for us is that we need eyewear we can both use through sunny or rainy weather.
These ROCKBROS safety glasses basically solved this problem. They are waterproof, so moisture, dew, or rain do not stand a chance. What left us in awe is how fast the photochromic lenses respond. They are fast enough to be noticed right away, unlike other self-adjusting photochromic lenses that take a long time to adjust.
If you are into a lot of outdoor activities like us, the eyewear being dirt resistant helps a lot. You can wear it and not worry about smudges and splatters. These glasses are also very sturdy despite their lightweight appearance.
Moreover, they hug the face without leaving your temples or nose bridge uncomfortable. Plus, the thermoplastic rubberized black and red frame suits a ragged fashion style. The UV400 filter lenses automatically adjust to dark, light, or transparent, depending on the existing lightwaves.
Along with this are the ultra-comfortable anti-skid nose pad and the silicon air hole on the temple, the latter of which reduces wind resistance for better cycling.
All in all, these glasses are top-tier for everyday use. Although they do not get as dark as we want them to be in direct sunlight, they still offer sufficient protection against UV rays. My only regret is that I did not find this product sooner.
What We Like
Waterproof, lightweight lenses that can endure any kinds of weather
The photochromic lenses' response is quick
Dirt-resistant glasses, fitting for any outdoor activities
Suits a ragged fashion style
Offers UV400 filter with anti-UVA and UVB protection
Optimal comfort with anti-skid nose pad and silicone air-ventilated temple
What We Don't Like
It does not get as dark as we wanted in full direct sunlight
I thought it wouldn't be useful when it rains, but to my surprise, it was beyond helpful. I love the strength of the waterproof agent, and I was wowed by how quickly the photochromic lenses responded. You should have one of these.
8. Spits Adventure Photochromic UV400 Eyewear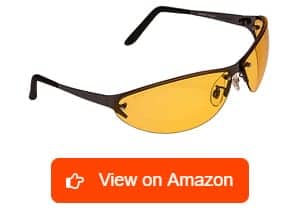 These yellow safety glasses from Spits Adventure Wear give a refreshing look of confidence and fashion. The polished gunmetal frame creates a deluxe-looking appearance.
They have UV400 filter protection, which shields your eyes from the harmful sun rays. They also have anti-fog and anti-scratch resistant coating. You can pretty much rely on these glasses while working in foggy or sunny environments.
The semi-rimless frame design complements the quality of the lens. This pair is great to wear in hot weather. They are superior and unbothered to the point that you'll never feel you're under the sun while wearing them.
These glasses smoothly transition when ultraviolet radiation transmission happens. The lenses change from light brown to dark brown and light gray to dark gray depending on the external environment.
The frame is made of metal, but the glasses are not heavy. They are apparently lightweight. The rubberized end tips and nose pad tightly hang on your face without feeling unwieldy. They radiate comfortability at its finest.
The manufacturer includes a microfiber pouch for these appealing glasses. I appreciate the little details in the construction and packaging. During off-duty days, your eyewear is fully protected from breakage with this premium case.
The structure has a modern-built physicality and is made to fit most face types. However, due to the tightly enclosed metal frame, this eyewear may not fit small faces. Also, the hinges only bend inward; it would be better if they were spring-loaded.
What We Like
Contemporary and voguish yellow tint with gunmetal frame
UV400, scratch and fog resistant hard coating
Lightweight glasses with semi-rimless metal frame design
Lenses transition from light brown to dark brown and light gray to dark gray
Long-lasting comfort through rubberized nose pads and end tips
Includes microfiber pouch for storage when not in use
What We Don't Like
Doesn't fit smaller faces
Hinges only bend inward
This is one of my favorites on the list. The glasses give a "watch me beat the sun and chill" kind of vibe. The swapping process of shade colors is smooth.
9. MAGNIFYING AIDS Transition Safety Glasses
This photochromic eyewear gives a snug fit. The lenses are made of polycarbonate with a hardwearing anti-UV coating. For their price, they seem to be working with sheer greatness.
This sleek and sporty pair reminds me of the looks of some Oakley photochromic safety glasses. They do differ from one another, but they both have stylish accents. In any case, I still prefer these safety glasses for their versatility.
Furthermore, this product is ANSI z87.1 and OSHA-approved. I could tell that this eyewear is made critically for the laborer's welfare. There are tons of hidden safety hazards in every workplace, and the eyes are one of the most sensitive parts of our body that can be affected. That is why I find it reassuring when safety glasses include certification.
During my college years, my friends and I were inclined to doing school activities outdoors and we got used to intensive all-day walking. If I had known about this product during those times, I would have given it a try. The clear lenses transition into gray under the sun, and I love how seamlessly they do this!
Furthermore, the durable wraparound black frame is impact-resistant, and the finish is scratch-resistant. The structure has a cutting-edge design and easy-to-wear body. It is flexible and can be an everyday work support indoors and outdoors.
While resting on your face, the rubberized nose bridge bar and nose pads are soft on your skin, thus preventing muscle tension and skin cuts. They fit prescription glasses, which is another plus. On the downside, there's no casing – which I think is a minor concern. Nevertheless, this eyewear is on fleek!
What We Like
Modern, sleek, sporty eyewear that gives a snug, cut-free fit
Polycarbonate lenses with UVA and UVB protection
ANSI z87.1 and OSHA approved photochromic glasses
Transition lens with clear and gray shades, usable indoors and outdoors
Wraparound frame with impact resistance, scratch-resistant finish
Fit prescription glasses
What We Don't Like
No protective case available
Straightforward, modern, and superb — these three words best describe this photochromic eyepiece. Any outfit or on-duty get-up will be enhanced once paired with this.
10. Pyramex SB8624D Photochromatic Lens
Like the previous models, this pair has a neat-looking and non-intimidating construction. Its modern design integrates useful functions that are not limited to the wearer's profession. Anyone looking for protective eyewear can enjoy the benefits of this product.
From my observation, the semi-rimless design has become a hit these days, and I am glad to see how perfectly it blends with the scratch-resistant polycarbonate lenses.
Not only is the design wonderful, but it is also full of function. This Pyramex model safeguards against 99.9% of UV rays, whether they're UVA, UVB, or UVC.
As the photophobic person that I am, I am quite picky with the shades. I want something marvelous when it comes to smart lenses. Digging into the details, I admire how portable this model is. It is lightweight, and the lenses provide a smooth transition based on the existing lighting conditions.
The lens changes from a clear to dark color when bathed in full daylight. It is only a matter of time until the intelligent lens saves you from the glaring beams of light indoors and outdoors. I highly recommend this eyewear to people who are working on handcrafted workpieces outdoors, because it will grant them a clear viewing experience amid highly concentrated strong lights.
On top of that, these photochromic glasses have the power of comfortability. They come with nose-friendly rubber pads that do not add any pressure to the nose bridge.
All in all, Pyramex created a product that offers great value for money. I just hope that the brand would design a fog-free version of this variant next time. In the meantime, I'll use anti-fog paste on these glasses.
What We Like
Neat-looking, semi-rimless, lightweight modern eyewear
Scratch-resistant polycarbonate lenses
Protects against 99.9% of all types of UV rays
A smooth transitioning phase of clear to dark lenses
Comfortable glasses with rubber nose pads
Summer is fast-approaching before you could even realize it. I think these tinting glasses from Pyramex can provide comfort for wearers who work under the scorching heat of the sun.
11. 3M Safety Glasses with Smart Lens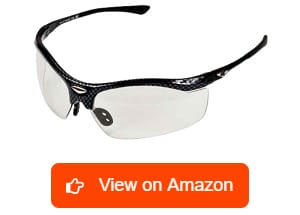 Some safety glasses can make you look unfashionable. These transition safety glasses, unlike those, have a stylish design that offers protection and complements different face types.
If I were to describe these glasses, I could tell you that they not only look comfortable but also perform well. The frame is composed of sturdy and elastic thermoplastic polyurethane that serves as your optimum eye contour protection.
If you're here to find the appropriate safety glasses transition lenses for yourself, you just hit the right spot. These glasses incorporate attractive polycarbonate photochromic lenses where 99.99 % of UVA and UVB rays are absorbed.
Indeed, these specs can guarantee you optimal protection throughout the day. They are hard-wearing and reactive to strong-low light conditions. The lenses are clear, and they dim according to the light-emitting environment.
I am glad to reveal the goodness of these safety eyeglasses. Who would not want a nylon brow guard and magnesium alloy temples that gently touch your back ears? They are so tender. Plus, these materials are capable of superior impact resistance.
You will never go out of style since this adorable pair of eyeglasses is contemporary-looking. They have spring-hinged temples and adjustable nose pads that provide a customized fit. I think this trait is practical for people who frequently move and participate in physical activities.
Safety products aren't immaculate from firsthand use. 3M photochromic safety glasses are no exception. They are functional, but to some users, the lenses are not heavily tinted enough.
What We Like
Fine-looking appearance, fitting many face types
Thermoplastic polyurethane frame for wraparound eye protection
Polycarbonate lenses, filtering 99.99% of UVA and UVB radiation
Reactive lenses in low-high light intensity
Nylon brow guard and magnesium alloy temples with impact resistance
Guaranteed comfortability: spring-hinged temples with adjustable nose pads
What We Don't Like
Not heavily tinted lenses
Most of us prepare all our essentials before starting the day. This pair of photochromic glasses bridge the gap between our safety and productivity; I would recommend this to you if you are into cycling amid the morning sunrise.
12. Uvex by Honeywell Hypershock Safety Glasses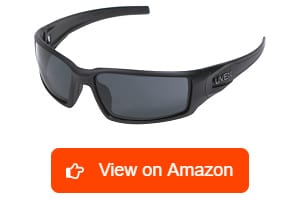 Slim and sexy, this photochromic protective eyewear variant instantly gives off a lightweight feeling. This model feels stylish yet performance-driven from the very first moment of use.
My vision is in-born sensitive. I am photophobic, and any harsh streak of light gives me a terrible headache. These have a Spectrum Control that provides maximum UVA and UVB rays protection. Thanks to them, I can stay outdoors in the sun without experiencing discomfort.
The lenses are made of hyper shock polycarbonate material with anti-fog and anti-scratch coating. These glasses are highly suitable for unpredictable misty weather and electrical hazard.
The UVextreme lens filters out nearly all radiation that can seriously hurt the eyes. It also includes utmost protection through the advanced peripheral space for maximum side shields. Besides, the dual cam hinges firmly secure the wearing position that can fit any head size.
This pair of photochromic glasses are handy and lightweight. It is not bulky, and its structure fits comfortably on the face because of the soft molded nosepiece. Hence, it provides comfort all day long.
These cute auto tinting safety glasses come with a black frame — a classic, stylish color loved by many. In addition to that, the overall design conforms to ANSI z87.1 – 2015 impact standards.
What We Like
Stylish, lightweight photochromic glasses, boasting hyper shock lenses
Includes fog and scratch-resistant coating with UVA and UVB defense
Peripheral vision and electrical hazard protection, water repellency
Dual cam hinges that allow personalized fitting
Superior comfortability through a molded nosepiece
Meets ANSI z87.1 2015 impact standards
What We Don't Like
Prescription glasses are not applicable
Does not lighten as much as needed
If you partake in everyday outdoor activities under the sun, you can count on these superb portable smart photochromic safety glasses. Whether you are fishing, farming, transporting, and the like, this variant will keep your eyes safe from radiation and airborne dust.
Buying Guide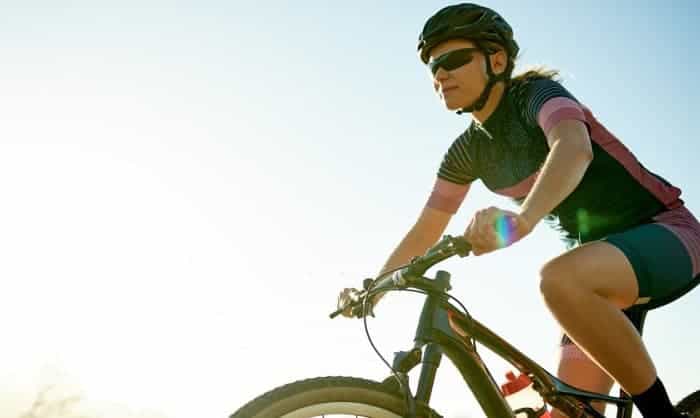 Thanks to the new millennium of technology, we can see automatic tinting lenses that adapt to the ever-evolving weather. Not to mention that they can now protect your eyes from blue light and gadget radiation.
When looking for the best photochromic safety glasses, it is necessary to determine what kind of light defense you need. Do you want a pair that protects your eyes from the harmful effects of UVA-UVB, or do you want to use it against electrical hazards, mechanical sparks? Ask yourself about the varying factors of your personal need.
For instance, the strike of the lingering light flashes through your car window can be somewhat irritating. Some photochromic lenses don't darken inside the car since the window tint can sometimes block the passage of UV light, so it won't reflect on the glasses at some point.
Hence, it is significant to identify your needs, conduct research online, and ask an optometrist which photochromic glasses are the best for your eyes. Additionally, it could help you in the long run if you examine what shade of transition lens is for what kind of light protection.
Care and Maintenance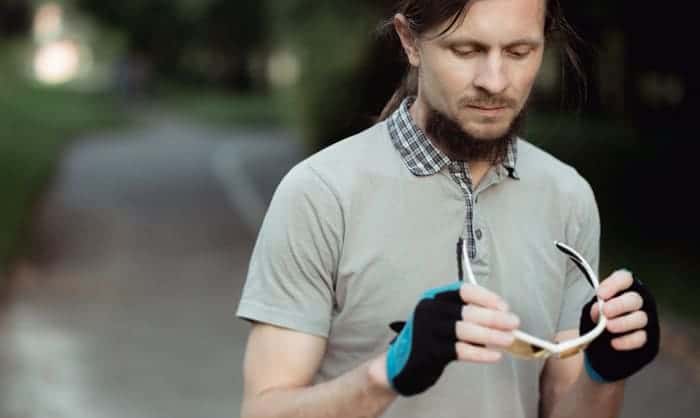 Don't be intimidated by the jargon of eyecare reminders when purchasing photochromic glasses. All you have to do is clean them the right way. Use a soft microfiber cloth and damp it with lukewarm water. Gently pat the lenses and don't wipe them as it may produce micro stains/scratches on your glasses.
You can also use liquid soap. Apply a generous amount on your fingertips and circulate the substance throughout the lenses and rinse them thoroughly. Blot the excess water and air-dry them, then they are good to go for another exciting day. For more details, you can visit this article.
Frequently Asked Questions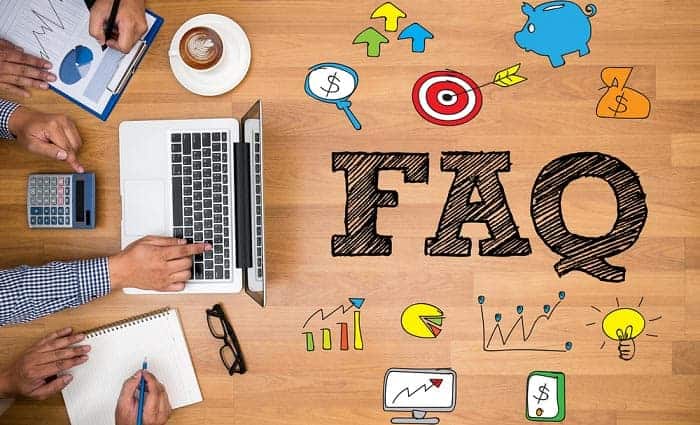 What are the most trusted photochromic safety glasses brands?
For me, I like Uvex glasses by Honeywell because of their ergonomic structure. Plus, they are portable, and the lenses equip you with competitive UV-rays filtration. If you're a tradesman, then YESWELDER's eyewear could be an ideal companion for you.
What are the different types of photochromic safety glasses?
Each brand or optical dealer categorizes photochromic safety glasses differently. For this article, I will share what is already available in the market.
The first item on the list is the photochromic sunglasses. These are great for people who spend long hours working outdoors without needing any strong protection like impact resistance. If you have to ship goods and drive long distances, this would be perfect for you!
You can also find basic ANSI-tested safety glasses with polycarbonate photochromic lenses that come with numerous frames and wraparounds. On the other hand, photochromic bifocal safety glasses are great for those who may have presbyopia or require correction for far and short-distance vision.
Meanwhile, ballistic-rated photochromic shooting glasses are suitable for those who need formidable protection against impact resistance. This means that both the polycarbonate lenses and the frames are tested for ANSI Z87+.
That said, manufacturers come up with innovations each year so this list will continue to grow!
Can prescription lenses be made with photochromic lenses?
Yes, but you will have to request this. You can consult your optometrist to make photochromic prescription safety glasses or check which local optical supplier offers this kind of service.
Note that including photochromic technology into your prescription glasses can cost you an additional $100 to $400.
Which is better: photochromic or polarized lenses?
For many of us, the terms "photochromic" and "polarized" can be very confusing. To be clear, both polarized and photochromic lenses can reduce glare. However, photochromic technology allows the lenses to adjust the level of light depending on your environment.
Polarized lenses counteract glare to protect your eyes from the brightness on surfaces like water or snow. However, there is no in-between because these lenses are only available as sunglasses.
In contrast, photochromic or "transition" technology automatically responds to the level of brightness of your environment. It lightens when you're indoors, and darkens when you're outdoors. Likewise, you will notice the transition of the lens' color when the weather changes.
With photochromic lenses, you don't need to switch between sunglasses and regular prescription eyeglasses. Hence, they are great for those who have to deal with different lighting and weather conditions. If you are driving to different locations all day long and you don't want to keep switching eyewear, go for transition glasses.
Polarized lenses are suitable for people who spend most of their time outdoors in broad daylight. They are also excellent for sports like sailing, kayaking, or snowboarding.
Can lenses be photochromic and polarized?
Yes. While there are key differences between the two, they can both exist on the same lens. These are known as "photochromic polarized lenses." Transition Vantage by Transitions Optical is probably the most popular.
Dubbed as the best lens for reducing glare, these are well-loved by cyclists, gardeners, and hikers who are often out and about during the brightest time of the day. Combined with top-notch photochromic technology, they provide a vision that is crisper and more vivid.
Are photochromic glasses good?
Of course, they are. If you want maximum eye protection against the violent sunlight, they'll undoubtedly get your back. On the downside, like other glasses in the market, photochromic glasses are not perfect. Some may take a long while to transition, and some are slow to adjust to low temperatures. Thus, they can be a bit "laggy" sometimes.
Which is better photochromic or transition?
They are the same. Transition is the other term for photochromic lenses because the shades gradually shift from light to dark and vice versa. Photochromic or transition safety glasses are the best protective eyewear out there.
What are the best photochromic lenses?
The characteristics of the best photochromic lenses include anti-UV radiation coat with abrasion, fog, and scratch resistance. They should have polychromatic shades that function as one integrated anti-radiation agent for different weather and temperature conditions.
How to spot fake photochromic glasses?
Always check the label, watch a comparison video review, and from there, you can detect the visual concentration of the so-called "UV-coating" promises of the product. Familiarize yourself with the lens material.
I advise purchasing in a physical store like Home Depot to ensure first-rate quality products. Its Canada website store has a cluster of products with real-time testimonies from regular buyers – which you can use as a basis for your decision.
Conclusion
Photochromic lenses are one of the genius inventions of humanity. Imagine the amount of hassle each of us would feel if they weren't developed. Love your eyes and protect them from straining as they are the cell of mankind's million possibilities.
Let the auto-darkening technology of the best photochromic safety glasses soothe your eyes and shield you from the day-to-day glaring contact with the sun and other artificial lights. Always remember to choose the type of photochromic lenses that provide all-day comfortable vision as they automatically adapt to the light-changing environment.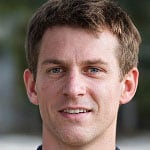 Having worked in the field of personal protective equipment for over two decades, Andrew Carnegie is a specialist in the field.
At EDC, he strives to improve performance efficiency and promote workplace safety for EDC's readers and customers. He also researches the most up-to-date equipment that has earned relevant accreditation for use in a wide range of industries and specialties.