The best earplugs for work are simple and often inexpensive items designed to help block noises that might disrupt or distract you while at work. They are also designed in a way that they can prevent your hearing from getting completely damaged due to loud, damaging noises.
Earplugs for hearing protection area created in such a way that they compress into tinier shapes then expand once again once you fit them into your ear canal. This is essential in maximizing its ability to reduce noise.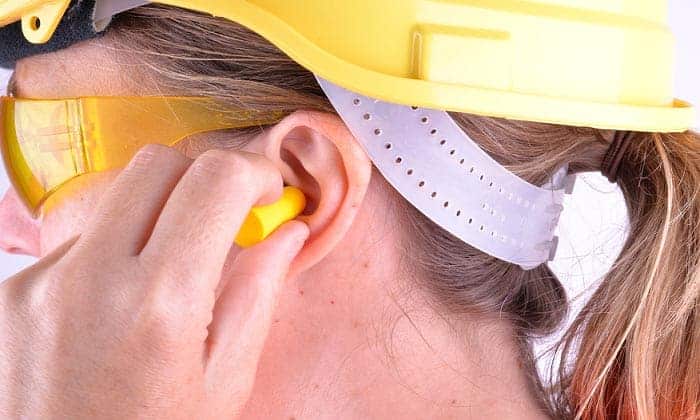 You can also find these work earplugs being available in several shapes and sizes, thereby accommodating various users who have different body preferences and dimensions. The good thing about this form of hearing protection is that it is often versatile.
This means that whether you are looking for earplugs for industrial use, construction noise, or any other work environment with sounds that are loud enough to cause harm to your ability to hear, the item can cater to your demands.
Despite the versatility of most protective earplugs, a buyer might still be confused when checking out all his/her options. If you want to avoid the confusion then you might want to check out our top picks here.
These are earplugs that utilize the most recent innovative parts and components to meet user's demands and increase their protective rating. Take a look at our reviews and the informative sections and a buying guide that follow so you will become an even more informed buyer.

Top 12 Earplugs for Work Reviews of 2023
1. Mack's Ultra-soft Foam Earplug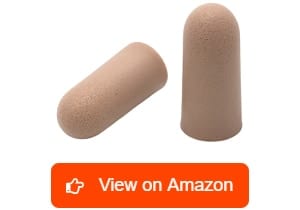 If you wish to own a soft, comfortable and protective pair of earplugs then this product offered by Mack's can surely give you your desired solution. This is the ultimate choice if you wish to get the highest noise reduction rating as it has a 32-decibel NRR. This rating improves its ability to protect your ears from dangerous noise that lead to loss of hearing permanently.
The kind of comfort delivered by this Mack's earplug is also superior. It is because of the Cush comfort foam material used in creating it, which is not only comfortable but also known for being slow-release and low in pressure. This material can comfortably rest on your ears, preventing possible pain and discomfort.
I can also confirm the versatility of this earplugs as it can block noise not only when you are working but also on other applications and uses, like studying, sleeping, relaxation, traveling, concerts, loud events, shooting, and motorcycling. I am so impressed with the ergonomic shape of this earplug, too, as it leads to superior comfort.
This item also comes in a plastic jar, which is sealed safely and securely. The jar also comes with a user-friendly flip-open top, so you can easily dispense the item each time you need it.
One problem I have with this Mack's earplug is that it does not seem to last as long as other famous work earplugs.
What We Like
Comfortable Cush comfort foam material used in its construction
Highly versatile as it is appropriate for different applications and uses
Sealed safely and securely in a plastic jar
High 32dB noise reduction rating
Ergonomically shaped
Despite that flaw, I am still satisfied with this earplug's overall performance as it seems to have the top-quality balance of comfort and protection.
2. ANBOW Noise-Cancelling Ear Plugs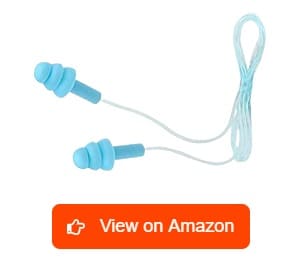 As advertised, this pack of 3 pairs of noise-cancelling ear plugs is meant for sleeping.
Since it is not designed for industrial use, don't expect it to provide me with the highest NRR or ANSI certification. However, it is necessary for a good night's sleep. And this one blocks the loud noise while allowing me to communicate with others well.
Believe it or not, I use these earplugs for concerts, desk work, traveling, and some DIY projects at home. For side sleepers like myself, I don't feel them getting pushed further into my ears or falling off. Made with soft BPA-free silicone material, they're among my most comfortable ear plugs.
Since these are reusable earplugs, they are more environmentally friendly than disposable foam ear plugs and more cost-effective.
Putting them on is pretty easy. All I need to do is pull the top part of my outer ear upwards, then twist the earplug until it forms a vacuum. To remove it, I simply twist it gently to release the vacuum seal.
Honestly, I don't have any issues with the noise reduction ear plugs. However, the cord is a little fragile and I might break it when I toss and turn in bed.
Anyway, the plugs are available in small, medium, and large. I picked the correct size to prevent them from slipping out of my ears. This way, I would not need to use the cord.
What We Like
Offers 3 pairs of ear plugs for sleeping
Appropriate for desk work, traveling, concerts, and DIY projects
Soft BPA-free silicone material for comfort
Does not fall off the ears
More environmentally friendly and cost-effective
Available in small, medium, and large
What We Don't Like
The cord is a little fragile
Living in a busy city makes sleep difficult for me but wearing these earplugs for noise reduction helps a lot. Apart from that, they are constructed with skin-friendly materials suitable for sensitive ears.
3. Decibullz Custom-molded Earplug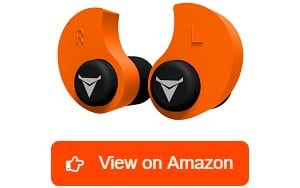 Lastly, there is the Decibullz Custom-molded Earplug that does not seem to cause disappointments to its users because of its sufficient noise reduction capability, superior comfort, and amazing versatility. It has a noticeable versatility as it seems to suit different environments and applications, including work, concerts, swimming, sleeping, traveling and shooting.
The 31-decibel noise reduction rating of this custom-molded earplug is also high enough in the sense that blocking all forms of noise that have a higher chance of damaging your ears is extremely possible. Due to the custom-molded nature of this earplug, expect it to show its superiority in terms of comfort.
It is comfortable enough because you can quickly and conveniently fit it based on the exact and actual shape and size of your ear. With such a perfect fit, you do not have to worry about the earplug hurting you or causing you to experience discomfort. It also has a lower risk of falling out or slipping because the fit is secure.
Because it fits perfectly, its ability to isolate and block noise is also superior. Another amazing thing about this earplug is that you can re-mold it. You can do that in case the first fit is not perfect for you yet. In such a case, you can mold it again so it will be appropriate enough for your ears.
However, the included instructions on how to mold the earplug are not that easy to follow, though. Fortunately, once you get more familiar with it, molding it will be a breeze.
What We Like
Superior noise-blocking and isolation ability
Can be custom-molded to fit you well
Secure fit, thereby preventing it from slipping or falling out
More than adequate noise reduction rating
Versatile as different kinds of worker can benefit from it
What We Don't Like
The included molding instructions are not that clear
The Decibullz Custom-molded Earplug is one of the most unique hearing protection solution that you can find in the market today because you can customize it based on what fits you the most, so giving it a try is surely worth it.
4. Honeywell Howard Foam Earplug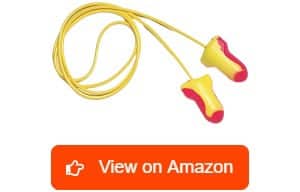 Another amazing pair of disposable earplugs that you should consider checking out is the Howard Leight Laser Lite Disposable Foam hearing protection offered by Honeywell. I think this makes for a reasonable choice if you have a hard time inserting or removing your earplugs.
It is because the design of this disposable pair of earplugs is made in a way that you will have no problems and difficulties wearing and taking it off. I like the incredible noise reduction rating of this item as it is rated as NRR 32. It also uses a self-adjusting foam material, which tends to expand in your ear every time you insert it.
With this, expect it to be a big help in producing a more secure seal, promoting excellence if your goal is to receive hearing protection in noisy and loud job sites and workplaces. I find this pair of earplugs incredible because it is perfect for both small and large ears.
Expect it to deliver an optimal fit and a high level of protection for those who have smaller ears. The low-pressure foam material of this earplug also tends to fit almost all ear and ear canal sizes. This amazing disposable foam earplug also works for several industries.
It is a good pair of earplugs for construction noise as well as for other industries and applications, including but not limited to, law enforcement, chemical, farming, mining, transportation, military, manufacturing, and pharmaceutical. The fact that this earplug comes with a contoured T-shape also contributes to its high comfort level.
It is soft and smooth enough while being soil-resistant. It can also avoid the possibility of building up dirt with the aid of its closed-cell foam skin.
However, one downside of this Honeywell earplug is that it tends to re-compress and move out of the ear canal from time to time.
What We Like
Offers hearing protection for a wide range of industries
Provides an optimal fit for small and large ears
High comfort level assured by its contoured T-shape
Hygienic as it is soil-resistant and capable of preventing dirt accumulation
Boasts of a self-adjusting foam material that guarantees a secure seal
What We Don't Like
Tends to move from the ear canal from time to time
Even with that issue, several users still consider this disposable earplug from Honeywell a sound investment in terms of protecting themselves in the workplace as it truly fulfills its function of blocking noise for your safety.
5. Plugfones Original Line Yellow Earplug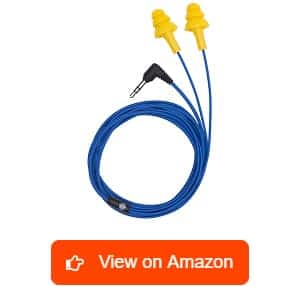 If you are not interested to buy the most expensive earplugs in the market today because you feel like there are cheaper versions that deliver excellent quality then you can go for the Plugfones Original Line Yellow Earplug. What I find interesting about this product is that it works like an earplug and an earbud, giving you two functions in just a single purchase.
The manufacturers of this earplug also made it a point to give users a comfortable experience no matter how long they intend to use and wear it. I think that the soft tip of this product contributes a lot to this level of long comfort.
It also tends to receive good and positive feedback from various industries, including the industrial, manufacturing and fabricating fields. This somewhat shows the flexible nature of this choice for an earplug. It is also rigidly yet comfortably designed, allowing it to handle daily use and abuse, including exercising, mowing, and chain-sawing.
With the way this earplug is uniquely constructed, expect it to lower your risk of harming your ear due to the hazardous noises of high volume surrounding you. It performs such function while still giving you the chance to listen to your preferred audio comfortably.
Available in yellow, this is also one of those earplugs that meet high-visibility and safety requirements. I like the flexible blue cable included in purchasing this item as its length is just enough that you can easily put it beneath your clothing without worrying about it moving or getting snagged once you start moving or working.
However, the durability of this item is not up to par with other well-known earplugs for work brands.
What We Like
Boasts of its rigid yet comfortable design
Can prevent damaging your ears due to hazardous sounds and noises
Allows you to listen to your chosen audio while gaining adequate hearing protection
Comes with a flexible blue cable with just the right length
Features a soft tip for your comfort
This earplug delivers a decent performance for as long as it lasts, though, so I can safely conclude that investing in it is a wise and sound decision for anyone needing sufficient hearing protection.
6. 3M 90716-80025T Reusable Earplug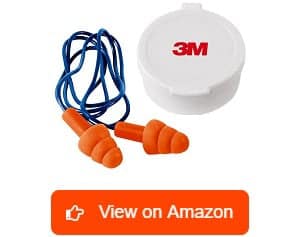 If you are searching for a dependable reusable earplug then 3M 90716-80025T might work for you. It is one of the best reusable earplugs for work today as it is created in a way that it can lessen your distractions while you are at work. It does so while also keeping your hearing as fully protected as possible.
I noticed how this reusable earplug does a decent job in maintaining a worker's focus by keeping his/her exposure to damaging and hazardous noises at a much lower level. I love how comfortable this earplug fits, too, even if you are wearing it together with safety gears, like hard hats.
It takes pride in its ability to give your ears complete protection from noises that are at or over 85 decibels. I also observed its unmatched versatility or flexibility. It is versatile that it works as the top-rated earplug for construction, landscaping, building, woodworking, and other activities, like shooting and sleeping.
Expect it to give a secure and safe fit, too, because it has a tri-flange and pliable design. With such a fit, it further improves its ability to block dangerous noises. The material used in creating it boasts of its flexible and soft feel, which is beneficial if you intend to wear it for an extended period.
It is because this material ensures you will remain comfortable even after several hours of wearing it. The fact that it does not require being rolled down is also a strong advantage, in my opinion, as such ensures that the tips will remain clean in case you get your hands dirty.
Since it is has a reusable and washable structure, you can lessen waste. I also like how easy it is to put this 3M earplug on and remove it once I no longer need to use it.
However, it is slightly more difficult to clean this earplug compared to other models and brands.
What We Like
Good for woodworking, landscaping, building, construction, and other activities, confirming its versatile nature
Blocks dangerous noises effectively, especially those that go beyond 85 decibels
Can be used even along with other safety gears and hard hats
Soft and flexible material used in its construction, promoting extreme comfort
Reusable and washable
What We Don't Like
Slightly difficult to clean
I am pleasantly surprised with how good this 3M reusable earplug is, especially in protecting my ears regardless of the work condition and environment I am exposed to.
7. Vebe QB2HYG® Hearing Band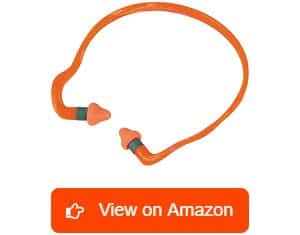 Another incredible choice in the hearing protection industry is the Vebe QB2HYG® Hearing Band. A lot of things caught my attention from the time I started researching about this product until I began using it. One of these is its decent 25-decibel noise reduction rating.
This rating is often adequate in blocking dangerous sounds and noises in several industries and work environments. I am also impressed with how ergonomic its wide-shaped band is created. With such an ergonomic structure, I discovered how it comfortably fits any size of head and ears.
It is completely lightweight, too, which makes it very convenient to bring in any workplace without being bothered by its bulk and weight. It is compact, too, adding to the convenience factor of carrying it around. Available in orange, I think that this is one of those work and construction earplugs built for ultimate visibility.
The color makes any employee visible in the workplace, which also contributes to their overall safety. The foam pads used in the earplugs are softly designed, playing a huge role in its incredible supra-aural protection. I also noticed how the pads easily fit within the opening of my ear canal, promoting extreme comfort.
Furthermore, the unique suspended aural pod style of this hearing band prevents its pods from being in contaminated areas and surfaces.
This is a good thing in terms of hygiene. As for the issues, the only fault I discovered is the somewhat rough edge of the plastic band, which is easy to fix with the aid of a penknife.
What We Like
Available in orange, which promotes visibility and safety
Compact and lightweight
Assures users of incredible supra-aural protection, thanks to the soft design of its foam pads
The easy and comfortable fit of the pads into the opening of the ear canal
Ergonomic while giving the ultimate protection against harmful noises and sounds
What We Don't Like
Slightly rough edges in the plastic band
Despite that, most users of Vebe QB2HYG® Hearing Band agree that it is indeed a cost-effective investment, which puts comfort and safety at the top of its priorities.
8. Honeywell Howard Leight Earplug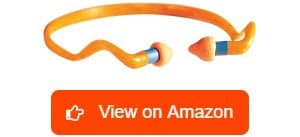 I am sure that you will not also feel disappointed if you decide to pick the Howard Leight Quiet Band Shooting Earplug offered by the trusted Honeywell brand. With its 25dB noise reduction rating, I can confirm the effectiveness of this Honeywell earplug to give you as much hearing protection as possible, especially when you are shooting or working.
I also find its lightweight structure and portability favorable. It is because I noticed how such structure plays a huge role in conveniently bringing it into various working and hunting or shooting environments. This earplug from Honeywell is also noticeable for working compatibly with environments that have several intermittent noise hazards.
Expect your level of comfort to be heightened by this pair of earplug, too. In my opinion, the ergonomically designed and soft foam pads contribute a lot to such a high level of comfort as it tends to conveniently rest in your ear partially. This results in the proper balance of protection and comfort.
I like the well-designed and sturdy headband used in creating this earplug, too. It is because it tends to rest around your neck comfortably each time you want to keep yourself away from dangerous shooting noise. Such design also helps a lot in keeping your Honeywell earplug away from excessive dirt.
I also noticed how quick and easy it is to put this famous earplug from Honeywell on my ear. This means that inserting it and taking it off in the field or range will not be that bothersome.
It is also one of the most affordable protective earplugs that you can easily access in the market at present.
However, one downside of this earplug from Honeywell is that it does not seem to work just as efficiently in indoor shooting ranges than when you are using it outdoors.
What We Like
Appropriate for use in work environments with intermittent noise hazards
Ergonomically designed and soft foam pads included, making it comfortable
Well-designed and sturdy headband
Quick and easy to insert
Lightweight and portable
What We Don't Like
Does not work that well when used in indoor shooting ranges
Despite that, it tends to bring out a fantastic and reliable performance if you use it as a means to protect your hearing in the workplace so buying this pair of earplugs is surely a win for anyone who needs it.
9. Luiswell Noise-canceling Earplug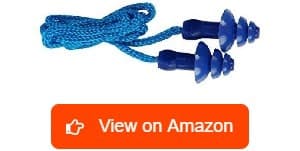 If you are searching for a budget-friendly pair of noise-canceling earplugs for work or any other use or application, like sleeping, shooting, or woodworking then the Luiswell Noise-canceling Earplug will not let you down. It is built to serve as a multi-purpose earplug, allowing it to be of help when sleeping, shooting, swimming, or doing other tasks.
Constructed out of super-soft silicone material, I am sure of this earplug's ability to give the ultimate solution for those in search of a comfortable hearing protector. You can even expect it to remain comfortable no matter how long you are wearing it. I like how it is built to be non-toxic and pliable, too, proving its ability to provide comfort and safety.
The soft silicone material used in creating this earplug also tends to perfectly fit your ear canal, giving you as much comfort as you want. It is also intended for workers, particularly those searching for earplugs for construction workers, as it is effective in reducing loud noises in the background without having to filter speech.
I also like how this earplug helps in saving money as it is reusable and washable while being waterproof. With its 3-layer design, I am quite sure that you will not have problems completely attaching it to your ear canal, too. It is also hassle-free to remove its strings.
This earplug is also built in such a way that it can withstand or resist sweat and humidity. This contributes a lot in preventing moisture from building up in your ear canal.
You can also get a dozen pairs from a single purchase as well as a storage case that you can use to maintain their cleanliness.
One downside I observed from this earplug, though, is that it seems to cause slight discomfort when used for sleeping.
What We Like
Effective in reducing loud background noises, especially in various work environments, without the need to filter or block speech
Can withstand or resist sweat or humidity
The soft silicone material used in creating it, promoting a nice and comfortable fit
Reusable and washable, thereby allowing you to save money
Easy to attach to the ear canal with its 3-layer design
What We Don't Like
A bit uncomfortable when used for sleeping
Overall, this pair of multi-purpose noise-canceling earplug seems to do a decent job in keeping both your ears fully protected from the possible hazards and dangers of certain noises to your hearing.
10. Howard Leight RTSFUS30HP Earplug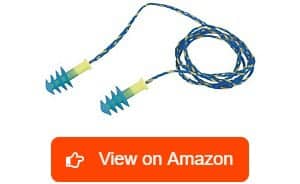 Your intention to get a hold of the best earplugs for work can also be achieved with the Howard Leight RTSFUS30HP Fusion Multiple-Use Earplug. There are plenty of rewarding benefits and incredible features that you will surely enjoy from this pair of earplugs – one of which is the use of advanced technology to give a wonderful combination of 24-hour comfort and convenient handling.
You can also set it based on two sizes – the small and regular sizes. This helps attain an optimal fit that will surely provide you with the safety and comfort that you are hoping for. I am also glad of the detachable and soft fabric cord system implemented by this earplug as it allows it to adapt to any environment and application.
I am also in favor of the use of FlexiFirm core in this earplug as it promotes ease in inserting this hearing protector into your ear canal. This FlexiFirm core is also easy to hold. It results in a comfortable and secure insertion, which also guarantees a superior fit the entire day.
Another positive benefit of this item is that you can easily adjust it based on what is comfortable for your ear canal. This further improves your comfort level while also leading to superior and better attenuation. It also boasts of its nice and beautiful design, further motivating you to wear it all the time.
The sound reduction of this earplug is also incredible, giving you the protection that you are hoping for. Your purchase of this item also allows you to get a sturdy case that makes it perfect in case you need to travel.
One issue, though, is that the built-in string tends to move out from the plugs when you quickly pull them.
What We Like
Blocks damaging and annoying sound frequencies, giving you adequate protection
Can adapt to various environments and applications, thanks to its cord system
Easy to insert into your ear canal
Superior and optimal fit guaranteed
Nicely and beautifully designed
What We Don't Like
The built-in string tends to move out from the plugs at times
Overall, this earplug makes for an amazing purchase as it is easy and comfortable to wear while also having the ability to block the most damaging and annoying sound frequencies.
11. 3M 1100 Foam Earplug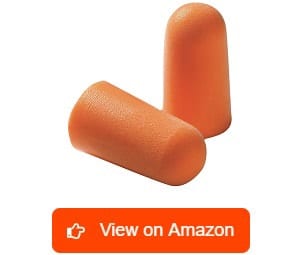 The next product I wish to recommend to those who are in desperate need of hearing protection is the 3M 1100 Foam Earplug. I like how this earplug is manufactured and built overall. It is because its structure is soft and un-corded while also conforming and adapting well to the distinctive shape of your ears.
With that, I can assure its users of its ability to provide incredible hearing protection as well as excellent comfort. Constructed from hypoallergenic and soft foam material, there is also an assurance that it will be safe and comfortable enough to your ears each time you are wearing it.
It has a good noise reduction rating of around 29 decibels. This is more than enough to block most loud sounds and noises that can put a lot of damage to unprotected ears. The comfortable and tapered design of this earplug also makes it possible for it to comfortably and securely fit in your ear canal.
It is also versatile that it comfortably fits various sizes of ear canals. Another reason why I believe that this earplug is a reasonable investment is that it promotes proper hygiene through its smooth surface that can resist dirt. It is easy and quick to fit, too, thanks to its overall design that promotes utmost convenience when it comes to rolling it down.
The price is also very reasonable as it can give you 200 pairs of high-quality earplugs. It is perfect for workers as well as those who are interested in shooting and often get exposed to loud work environments.
However, it is not that good when you intend to wear it to block noise for sleeping.
What We Like
Made of hypoallergenic and soft foam material
Good noise reduction rating of 29 decibels
Can comfortably and securely fit various sizes of ear canals
Promotes good hygiene, thanks to its smooth surface that resists dirt
Easy and quick to fit
What We Don't Like
Not that appropriate for sleeping
If you are looking for work earplugs, though, this specific item offered by 3M has a higher chance of giving you the level of satisfaction you are wishing for.
12. Honeywell Howard Leight USA Earplug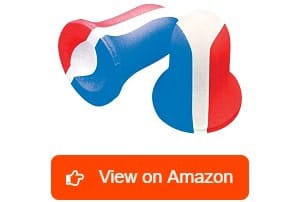 You also have a higher chance of receiving the ultimate hearing protection with the Honeywell Howard Leight MAX USA Disposable Foam Earplug. I discovered how effective this foam-based earplug is when it comes to protecting your hearing within the workplace as it has a noise reduction rating of 33 decibels.
I am so glad that it is constructed from contoured and pre-shaped foam material because this results in a high comfort level. The use of such material also contributes to the earplug fitting the majority of ear canals, thereby giving you 24-hour hearing protection irrespective of your job and work environment.
It is a versatile piece of ear protector as it seems to work appropriately in all work industries and applications. The color scheme is patriotic as it uses blue, white, and red colors that are in light with the shooting team in the US. It takes pride in its bell shape, too, which is effective in perfectly matching your inner ear's contours.
This shape also contributes to its ability to resist the earplug from backing out of your ear canal. I am also giving this work earplug from Honeywell a big thumbs up because it is completely hygienic. It is because of the closed-cell foam skin, which is not only smooth but also soil-resistant.
This can prevent dirt from accumulating. Also, expect to enjoy comfort for extended wear by having this earplug around.
I am not so fond of the lack of breathability that I discovered from this Honeywell earplug, though.
What We Like
The versatile structure as it seems to fit all industries and applications
Boasts of a patriotic color scheme, making you feel proud each time you wear it
Decent noise reduction rating
Features a closed-cell foam skin, which can resist soil and dirt
Fits ear canals well, contributing to its decent comfort level
To conclude, this Honeywell earplug makes for an incredible choice of hearing protection for different types of workers because of its high NRR as well as its ability to give you comfort even for long hours of work.
Mpow Foam 34dB SNR Earplug (Outdated)
Another fantastic choice for those looking for the ultimate solution to protect their hearing is the Mpow Foam 34dB SNR Earplug. This earplug carries several positive qualities that make buying it truly rewarding. One of these is its versatility in the sense that it can reduce noise for whatever purpose or activity you have in mind.
It can minimize the volume of dangerous noises to a safe level for proper hearing protection and when you are shooting, hunting, working, sleeping, or traveling. I like the high 32dB noise reduction rating of this earplug. With such capability, I am sure that your hearing will be completely protected when you are in noisy environments and events.
It also helps create a quiet and peaceful environment each time you sleep. Constructed from premium PU material, I think that this pair of earplugs from Mpow can also serve its intended purpose for as long as possible. I am fond of how portable this earplug is as it is compact plus it comes with an attractive aluminum case so you can easily carry it.
Such case retains the cleanliness of the earplug and prevents it from incurring damages. It is also hygienic, too, as it allows you to store it in a safe and clean area. This earplug is also famous for being gentle and soft. It is because it also utilizes premium and soft foam material in its construction.
With the softness of the foam, setting up the earplug is easy and convenient. You can fill up your ear canal gently and conveniently, too, without adding pressure or causing pain in the area. It is also cost-effective and economical as your purchase will allow you to take a hold of sixty pairs of this item that you can use for quite a long time.
One possible downside, though, is that it is disposable, which means that you might have to deal with the hassle of having to change it and use it again regularly.
What We Like
Provides up to sixty pairs, making it a cost-effective and economical purchase
Easy and convenient to set up in your ear canal, thanks to its soft foam
Can effectively block dangerous and bothersome noises at work
Comes with an attractive aluminum case for ease of storage and carrying
Versatile since it can block noise in numerous places
What We Don't Like
Disposable, requiring users to change it often
This is not that bothersome, though, especially if what you are interested in buying is a disposable pair of earplugs, which is truly effective as far as blocking and reducing noise is concerned.
What is an Earplug for Work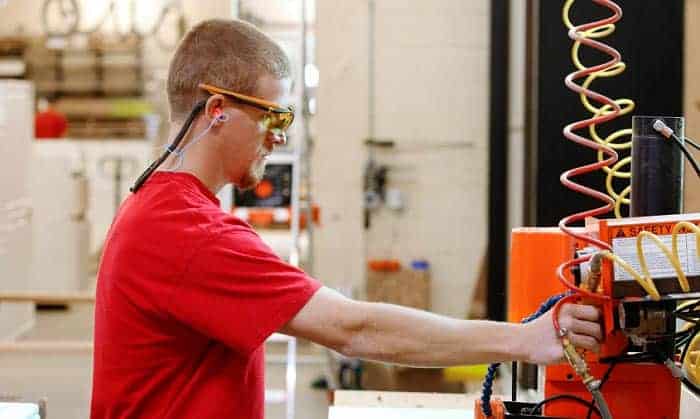 If your workplace is so noisy that you have to raise your voices when you want to talk with your co-workers then you need to seriously consider getting hearing protection. This is also necessary if you are exposed to hours upon hours of noise that exceeds 85 decibels.
It is because this is already doing a considerable amount of damage on your ears. To prevent your hearing from deteriorating any further, you should get ample hearing protection. If the noise levels in your workplace do not exceed 85 decibels anyway, then a good pair of earplugs will be enough to prevent excessive hearing damage.
Good earplugs for work can muffle up to 35 decibels of noise. This means that for 90 decibels of noise in your workplace, wearing earplugs will result in your ears only receiving just 55 decibels, which is well under the dangerous noise limit. There are different kinds of earplugs with each one having different capabilities.
Some are disposable and only good for one day of use. Others, on the other hand, are washable and reusable. Choose whatever kind of earplugs that suits your needs and whichever is comfortable to use for an entire workday.
How Does It Work
Earplugs work by plugging up the entrance of the ear canal with a small piece of foam or soft rubber. There are two different kinds of earplugs – the disposable and the reusable. Disposable earplugs are usually made of soft and dense memory foam.
Memory foam works great for earplugs because even when you squish it down, it will still spring back to its original size and shape in just seconds. The way you use disposable earplugs involves squeezing them until they are small enough to fit in the opening of your ear canal and then let them pop back to their original shape.
This will fill up space at the opening, thus sealing out most of the noise. Reusable plugs are usually made of soft rubber. Unlike foam earplugs, reusable earplugs look like your regular earbuds but made of several layers.
Because rubber cannot follow the shape of the ear canal as efficiently as memory foam does, you need to use earplugs that have several flanges to make them work as well as foam plugs.
Types of Earplugs for Work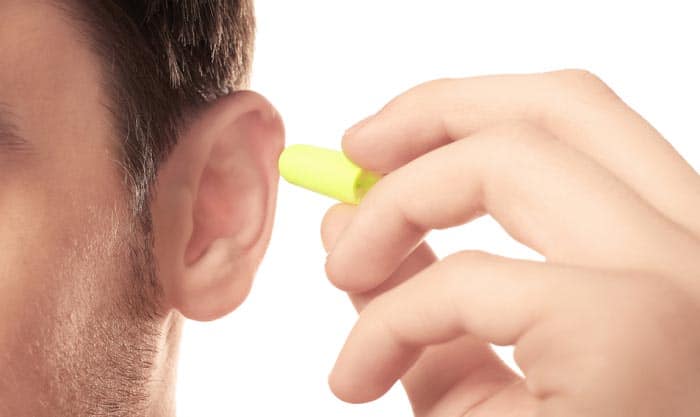 There are several kinds of earplugs that you can use in the workplace. Each one of these types has its own sets of merits and disadvantages. It is up to you to figure out which one is the most suitable for your particular purpose.
Foam earplugs – These are the most commonly used kind of earplug not just for work but also for other noise-reduction uses, like for getting a good night's sleep. These foam plugs are usually made of dense memory foam that fills up space in the opening of the ear canal to better reduce the amount of noise that your ears are subjected to.
Foam earplugs are also usually just for single-use only, which means you need to buy these in bulk. You need to dispose of them after using them for one day because they are not washable. If you try to wash memory foam, then it will quickly deteriorate.
Reusable earplugs – Unlike foam earplugs, you can reuse this type for a certain number of times. In most cases, you just need to replace them every month or when they get damaged, whichever comes first.
Also, reusable earplugs are washable because they are made of soft rubber. This is great for hygienic purposes since you will be using a fresh pair of earplugs every day.
Moldable earplugs – If you want something a bit more comfortable and noise-canceling than regular foam earplugs then you can get the moldable earplugs. These earplugs are usually made of silicone putty or wax mixed with cotton fibers.
You can reuse these items over and over until the oils that come from your hands make the earplug deteriorate and lose its pliability. The neat thing about this kind of earplug is that it is comfortable because it tends to conform to the shape of your ears.
Push-in earplugs – Not all people like to use the conventional foam earplugs, the ones that you have to squish to get into the opening of your ear canal. These have a central plastic stem that allows you to just push the earplugs into your ears.
This makes a better seal in your ear canal and because of the plastic stem, it is much easier to remove. It also works in removing the risk of the earplugs getting stuck inside the ear canal.
Custom-molded earplugs – If you want earplugs that are extremely comfy to wear then you need to check out the custom-molded earplugs. These kinds of earplugs are classified further into two groups. The first group consists of laboratory-made custom-molded earplugs.
These are the absolute best when it comes to earplugs because each pair is specially made to fit your ears and no one else's. Because they are custom-fit to your specifications, they have a perfect fit, supreme comfort, and reliable noise protection.
The problem about these kinds of earplugs is that you have to visit a custom ear protection laboratory so that they can take mold impressions for your ears. The second group consists of the DIY custom-molded earplugs.
These are great choices when you are curious about custom made earplugs but you do not have the time to go have them made nor do you have the budget for them. These sets allow you to create custom-fit earplugs in your own home.
However, note that the quality of the earplugs that you end up making will be far from the ones that professionals make. The good news is that if you are skilled enough then you can make something more than just passable.
Banded earplugs – These are earplugs that are held in place by a plastic headband. This is ideal in case you need intermittent ear protection, like when you are shooting guns in a firing range. The headband helps keep the earplugs in place while also making it easier to wear and remove the earplugs quickly.
Electronic earplugs – These are the top-tier when it comes to minimalist ear protection. These are noise-canceling wireless earbuds. You can expect these earplugs to have miniature microphones that listen for noise in your background.
Furthermore, it creates an inverse soundwave to that of the noise so that it cancels whatever amount of noise that manages to get through the earplugs.
Why Do You Need Earplugs for Work
If you think that you can handle the noises in your workplace and that you do not need hearing protection then the following reasons will hopefully convince you to think otherwise:
Your ears are extremely delicate – There are hundreds of thousands of microscopic hairs that line the inner ear and their purpose is to carry the soundwaves throughout the hearing system. These tiny hairs are extremely delicate, so delicate that extremely loud noises can permanently damage them.
The unfortunate part is that once damaged, these tiny hairs can no longer be repaired again. This means that if you are continuously exposed to loud noises, you are gradually causing permanent damage to your ears.
Hearing damage happens over years – You might think that just because you have been working at a noisy workplace for a year or two while still hearing fine, you no longer need any ear protection at all.
However, what you do not know is that you have already caused considerable damage to your hearing. You may not be able to feel its effects now but you surely will after a few more years.
It can be hard to work when it is too noisy – Other than causing hearing damage, excessive noise can also affect your work efficiency. If you want to work in peace without needing to bear all of the loud noises around you then you need to consider using hearing protection like earplugs.
Earplugs are better since they do not block out all sounds. The good news is that they block out just enough to give you enough background sounds to help you work better.
Buying Guide
Although earplugs are relatively inexpensive as compared to other hearing protection gear, it is still not a good idea to waste your money on something that you will not be using. To find the right kind of earplugs for work, here are some things that you need to take into consideration:
Ease of use – If an earplug is hard to use then you will only feel like they are too much of a hassle and that you would rather not work with them on. With that in mind, the earplugs that you choose should be relatively easy to use.
For instance, foam roll-up earplugs should not revert to their original size so fast that you do not have enough time to position them properly in your ear. They should not also be so slow that you have to hold the earplug for a couple of minutes before they expand.
Comfort – Earplugs for work should be comfortable. You will be wearing them for hours on end so they need to fit properly and feel as if you are not even wearing them. Earplugs should not be so big that you always feel like getting a headache after an hour or so of wearing them.
They should not also feel so hot that you constantly feel like your ears are drenched in sweat. Furthermore, they should not be so hard that you already feel pain when wearing them.
Noise reduction – The reason why you are getting earplugs is that you want to decrease the amount of noise that you subject your ears to. For instance, if you are constantly exposed to loud noises exceeding 85 decibels, you should get earplugs that are rated just enough to lower the noise level to an acceptable level.
If the noise in your workplace is around 90 decibels, like the amount of noise in the engine room of a ship, and you wear earplugs rated for 25 decibels of noise reduction then that means that you are only subjected to 65 decibels. This is still noisy but it will not damage your hearing anymore.
If you can afford to get earplugs that can reduce noises even further then the better. What is even better is that you should test them first before you buy them in bulk. There are some brands of earplugs that offer variety packs. These are small bags of assorted kinds of earplugs. You can try out different kinds before you settle on just one.
Proper fit – Earplugs should fit in your ear perfectly that they would not fall out even when you are constantly moving about. They should fit snugly in your ear. However, ensure that it is not so tight that it already results in pain and discomfort.
They should also not be so loose that you still hear quite a bit of noise even with the earplugs on. Earplugs usually come in different sizes. If you find a brand that uses materials that you feel comfortable using but the fit is not right then you can just go up or down the sizes.
These are just some of the important details about earplugs that you should know before you even go online or visit your local hardware. Do not just look for the cheapest pair of earplugs. However, it does not also mean that you should get the most expensive ones. Look for the ones that have the right set of qualities that you need.
Care and Maintenance
The great thing about earplugs is that they are low maintenance, especially the foam-based ones as they are disposable. Foam earplugs are not supposed to be used more than once for hygiene and performance reasons. You cannot also wash them since they will deteriorate quickly when submerged in water.
Reusable earplugs, on the other hand, can be washed and reused after a certain number of times. After using them, you just need to wash them normally using a soft brush and some warm and soapy water.
However, even if you can reuse them, they will still deteriorate after about a month of continuous use. This is why you need to replace them every couple of weeks or once they get damaged, whichever comes first.
Frequently Asked Questions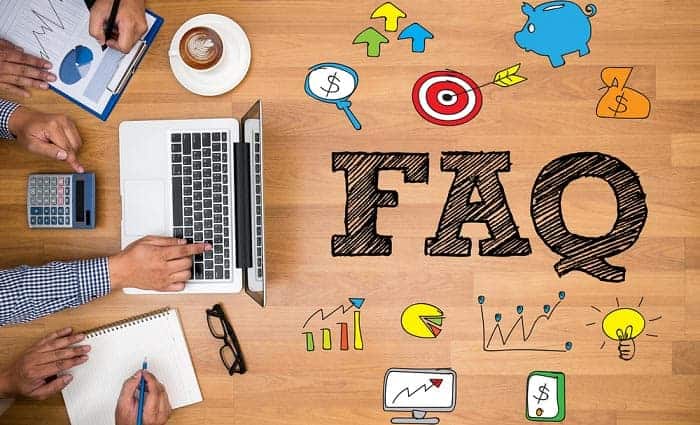 Is it safe to wear earplugs while sleeping?
Yes, one might even have a good rest when wearing earplugs with the highest noise-reduction rating risk-free.
Just remember, the earplugs' highest dB is 33, which means that they cannot completely block noise. However, they are good enough to help you doze off.
Can earplugs damage the ears?
Unfortunately, there are some minor risks when your ears build up wax:
Itching in the ear
Hearing difficulties
Tinnitus
Coughing and dizziness
Ear infection
You've probably seen some horror stories on Reddit about users whose ears got infected because they had to wear ear protection. While these are all true, the good news is that these problems can be treated with ear drops or antibiotics. Plus, there are ways to prevent them!
Whether you put on reusable earplugs for studying, sleep, or work, be sure to clean them thoroughly after each use. Also, take the time to check the packaging to see how often they need to be replaced.
Lastly, give your ears some break time and allow any wax buildup to drain. You can do so with eardrops or get a doctor to remove the wax.
How often should earplugs be changed?
It depends on the brand and the type of earplugs you use. Generally, disposable foam or wax plugs should be discarded immediately after every use.
However, there are many different alternative earplugs besides the classic foam these days and manufacturers provide varying information on when they should be thrown away and tips on prolonging the lifespan of the product.
For instance, Honeywell's reusable earplugs should be replaced every 2 to 4 weeks. Those who use banded earplugs made by the same brand can follow the same timeframe for replacing the pods. Meanwhile, some custom over-ear earplugs can last many years.
At any rate, your safety officer will likely have you replace them once the plugs no longer seal properly or when they break.
What are the most popular brands of earplug for work?
Confused over the numerous brands of protective work earplugs introduced to you? Then it would be best to conduct extensive research about all trusted brands in this industry before shopping for one. Among the most recommended brands are 3M, Honeywell, Vebe, Mpow, Plugfones, and Luiswell.
What are earplugs made of?
Earplugs are made from different kinds of materials. The most common material used is dense polyurethane plastic foam. This is the material used for making most of the disposable foam earplugs. Many disposable earplugs brands are constructed out of memory foam.
Such refers to the ones that are branded as "roll down" earplugs because you have to roll them between your fingers so that they will be small enough to fit in the opening of your ear canal. Reusable earplugs are made primarily of pre-molded silicone rubber but sometimes, they are made of vinyl or other hypoallergenic substances.
You can also find some brands of reusable earplugs that are made of memory foam. The reason why these are reusable is that they have an outer membrane protecting the inner foam core material. Although these reusable earplugs are washable, they still do not last as long as silicone rubber earplugs.
Molded earplugs are made of highly pliable wax mixed with some cotton fibers for added strength. This allows the earplug to be molded to the shape of your ear. Once they are molded properly, they will stay that way.
Can I use work earplugs for shooting, studying, concerts and sleeping, among many others?
Some earplugs are specifically made for the work environment, like the foam earplugs, corded earplugs, and the like. These particular kinds of earplugs are not the most comfortable but they do block out a lot of noise, which is the most important thing.
The earplugs intended for sleeping purposes are much softer and more comfortable to use. However, they do not have the same amount of noise reduction as earplugs for work have. Although these earplugs do not have the same performance as the industrial ones, they are more than enough for blocking out the common night noises.
If you need total silence, like when you are studying or when you need to concentrate on doing a particular project, noise-canceling earplugs are preferable. These earplugs fit snugly in your ear, thus reducing a considerable amount of noise. However, when you turn on the power, they will immerse you into a world of silence.
Are earplugs for work washable?
It depends on what kind of earplugs you normally use. If you use disposable foam earplugs, you do not have to wash them as they are supposed to be one-time use only. These earplugs are made of polyurethane foam that will start to deteriorate rapidly the moment you immerse them in water.
Foam earplugs get dry and brittle after you wash them, so you cannot use them again. If you need to use them again, which should only be done as a last resort, wipe them down using a damp paper towel to remove as much dirt as you can before you put them on. Do keep in mind that you should not use those more than two or three times.
Reusable earplugs are different. These are made of non-porous materials, so they do not absorb water. This means that you can wash and reuse them for as long as they are still pliable.
However, even if an earplug is deemed as reusable, it still has a limited useable lifespan, which is usually a couple of weeks to a month. Moldable earplugs are washable too. Just make sure to use cold water so that they will not lose their shape later.
How to use earplugs for work?
If you will be using the common, disposable foam, roll-down earplugs, you first hold the plug-in between your thumb and forefinger then squeeze and roll it down to a size small enough to fit inside the opening of your ear canal.
After a couple of seconds, the memory foam will pop back to its original size and shape, thus filling up space and creating a good seal. Flanged rubber earplugs have several flanges that conform to the shape of the ear canal.
Each flange is made up of very soft sheets of rubber. The more flanges an earplug has, the more effective it is at blocking out noises. If you want to create a customized earplug, go get a DIY molded earplug kit. Follow the instructions on the packaging on how to prepare the molding material.
Once the material is ready, proceed to the molding stage. Get half of the wax material and gently press it against your ear and into the opening of your ear canal. Do the same with your other ear. Wait for a couple of minutes for the wax to harden a bit then remove them from your ears and let them completely dry.
How to care for and clean earplugs for work?
Disposable foam earplugs must be thrown into the trash after just one use. However, if you are left with no other choice, you can reuse the old earplug just once or twice more before it becomes unhygienic to do so.
Only reuse disposable foam earplugs if you have no other choice than to do so, like when you just ran out of earplugs and you can no longer find any other pairs to use. If you are using rubber reusable earplugs, you just need to dunk them into some warm soapy water.
Scrub them gently then rinse them under the tap. These kinds of earplugs can be used for a couple of weeks straight unless the flanges get seriously damaged or if the rubber has lost its pliability.
Where to buy earplugs for work?
The most trusted place to buy earplugs and hearing protection, in general, is online. There are dozens of online retail stores that you can choose from, with hundreds of different kinds of earplugs in their inventories, so you will be spoiled for choices.
The great thing about shopping online is that you can easily compare different brands and kinds of earplugs. You can compare features, benefits, and disadvantages and most importantly, their prices.
However, if you want to get your earplugs right away, and you are not particular about what kinds you get, you can go to your local hardware store and choose from the several kinds that are in there.
If you are lucky, you might find the perfect earplugs for your work in there but do not get your hopes up. On the one hand, using ear protection that is not your first choice but works as anticipated is better than not wearing any hearing protection at all.
Conclusion
Not that many people take hearing protection seriously. It is mainly because they do not feel the effects of hearing damage immediately. Hearing damage compounds gradually. You may not notice that there is anything wrong in the first couple of years but when you notice that there might be something wrong, then it will be too late already.
If your work environment exposes you to loud noises every day, you should consider getting the best earplugs for work. You do not necessarily have to get the highest level of noise reduction that you can.
If you can get hearing protection that can at least lower the amount of noise that you hear down to an acceptable level then that is enough. However, if you can afford them, get the top-tier hearing protection currently available.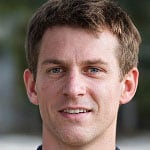 Having worked in the field of personal protective equipment for over two decades, Andrew Carnegie is a specialist in the field.
At EDC, he strives to improve performance efficiency and promote workplace safety for EDC's readers and customers. He also researches the most up-to-date equipment that has earned relevant accreditation for use in a wide range of industries and specialties.