A tool belt set is an indispensable item for every worker whose job involves carrying or bringing a lot of stuff in the workplace. The best tool belt even serves as your extended hand considering the fact that it carries your most essential tools anywhere with ease.
Note that you might have a difficult time concentrating on your jobs while looking for a tool but to no avail. As someone who values efficiency and productivity, you would not want to waste your time searching for a tool and carrying it back and forth each time you need it.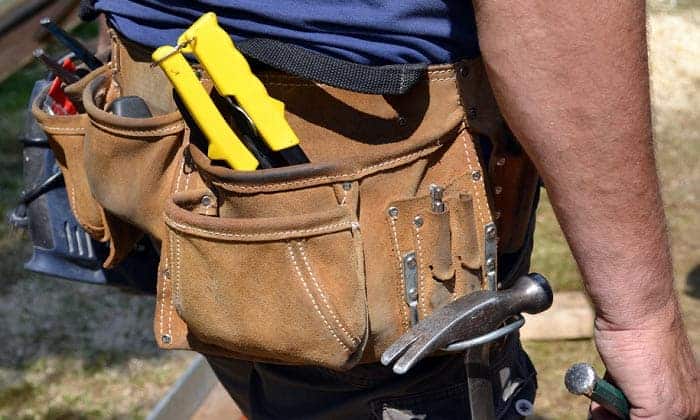 In this case, you need to invest in a good tool belt, one that perfectly fits what you are exactly and precisely looking for. The problem is searching for a tool belt for electricians, carpenters, or any other worker might be difficult with the large variety of choices presented in the market.
While the whole selection process is challenging, you have to remember that a good one is that, which comes with adequate space to fit all vital tools. If possible, try various options and find out which one matches all your preferences and requirements. The majority of tool belts come with adequate space for fitting basic tools.
These include small hammer loops, screwdrivers, tape measures, nails and pliers. However, you can go for one with much bigger storage space or capacity if you think that you will need more to fit a higher number of tools.
If you are still confused then don't worry because we are here to help. Continue reading this article and you will surely gain additional information and belt buying guide that will significantly lessen the challenges involved in searching for a good and high quality tool belt.
12 Top-Rated Tool Belt Reviews 2023
1. DEWALT DG5617 Pro Framer's Apron Tool Belt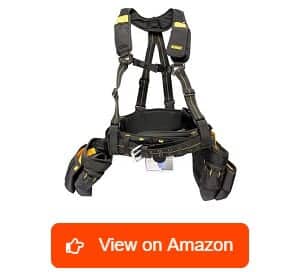 The first product that you might be interested in is the DG5617 Pro Framer's Apron style tool belt offered by brand DEWALT. Some consider it as the most comfortable tool belt set in a work apron style because it is well-padded and well-fitted for comfort. I am happy that this padded belt also features one double-tongue roller buckle.
It is because the presence of this buckle does not only offer additional comfort but also works in making these tool belts more stable when worn. The overall storage capacity of this apron-style tool belt is also impressive. I am thrilled with its 20-pockets capacity available in small sizes but still with a good amount of storage space.
Aside from that, there are total of 9 primary pockets that you can take advantage of. Also, there is 1 utility knife pouch integrated into the tool belt, which adds to the safety and security it offers. I also noticed its versatility straight away as it acts as one of the best tool bags for carpenters, electricians, woodworkers, construction workers, or any other working people who need a tool belt.
I am also pleasantly surprised by how rugged and sturdy the padded belt is. The carpenters tool belt takes pride in its sturdy build quality, which is capable of resisting holes and tears. The straps have Dri-Lex padding, which contributes a lot in making the belt more comfortable to wear for a prolonged period without the risk of chafing.
I am glad that this belt also features fully adjustable suspenders with the right amount of padding. With the suspenders around, the even distribution of weight is possible. In addition, there is one tool pouch handle, which promotes ease in carrying it with just one hand and making an adjustment on the belt.
Even this tool belt features as
fully adjustable, just o
ne drawback, though, is that its built-in cell phone holder is not that long to hold other mobile phone models.
What We Like
Highly stable and secure, thanks to the double-tongue roller buckle
Impressive storage capacity with its numerous pockets and pouches
A utility knife pouch
Comfortable, making it possible to wear the carpenters tool belt for an extended period
Fully adjustable suspenders included
Can be conveniently carried with just one hand
What We Don't Like
The built-in cell phone holder is not compatible with all mobile phone models
With its plenty of rewarding benefits and features, the DG5617 Pro Framer's Apron Tool Belt is indeed a shining testament of how great DEWALT is.
2. Gatorback B145 Carpenters Triple Combo Belt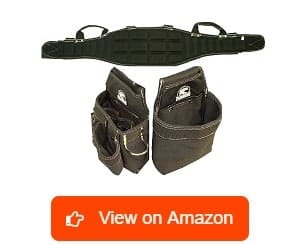 Another tool belt that piqued my interest is the Gatorback B145. It instantly left a good impression on me because it carries perks and features that every handyman and carpenter will most likely found appealing. Using heavy-duty 1250 Duratek nylon for its construction makes this belt tough, firm, and durable.
I am also pleased to say that its interiors feature a plastic lining that prevents the belt from sagging while also ensuring that it can hold your tools with ease. The nylon material is sturdy enough without causing fatigue as the belt from brand Gatorback weight is super lightweight. Another benefit of this belt is that the stress points in both the belt and pockets / pouches are bar-tacked and riveted.
This significantly strengthens the belt and makes the pockets / pouches capable of holding up no matter what heavy duty or harsh conditions are thrown into them. Beside great quality reviews, I love the box design applied into these tool belts, too, because I noticed that it helps make each pouch open and easily accessible while also ensuring that your tools do not poke holes at the bottom.
Maximum comfort is also another thing that this tool belt from Gatorback promises. Fortunately, this carpenters tool belt is capable of fulfilling such promise with the help of its patented and unique air channel design, which contributes a lot in ensuring that you will have a sweat-free, comfortable, and breathable experience when wearing and using it.
These nylon bags even uses a genuinely breathable material for its support foam backing. With that, expect the carpenters tool belt to remain comfortable and cool all throughout the duration of your job. Besides, tool belts are purchased from brand Gatorback will have 1 year defect warranty specification.
However, some say that the material used in the pockets / pouches is a bit coarse, causing the need to add a softening material at the back.
What We Like
Tough, firm, and durable, thanks to its heavy-duty nylon construction
Features a box design, which promotes ease of access with numerous pockets / pouches
Highly breathable and comfortable
Comes with a comfortable foam backing support & distribute weight
Unique airflow technology
Lightweight, thereby preventing fatigue
1 year defect warranty specification
What We Don't Like
The material used is a bit coarse for some
With the incredible features and perks promised by this Gatorback tool belt, I think this is a perfect choice, especially for heavy duty jobs, huge jobs that require additional space, accessibility, and customizability.
3. DEWALT DG5103 Maintenance and Electrician's Pouch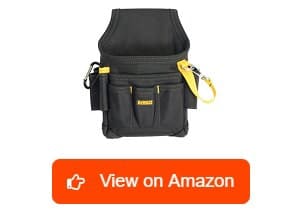 You can't also go wrong if you decide to pick the DG5103 Maintenance and Electrician's Pouch offered by DEWALT. It is the ideal choice if you prefer to have an product with a more traditional feel and look. It boasts of a large and central body divided into various pockets, promoting ease in positioning the bag around your belt.
I am impressed with the main pocket as I noticed that it is big enough that it is capable of holding big hand tools, including an electrical tape measure or a flashlight. I also admire the several sleeve pockets and loops conveniently positioned and placed around the primary bag.
With the loops around, having a place for your large hand tools, like your screwdrivers, nails and hammer loops is possible. The small pockets, on the other hand, can hold bolts and nuts, preventing them from getting lost when bringing them at work. The presence of the sleeve pockets and web loops also offer a few storage choices for you.
The ability of this pouch to promote extended use and wear through its ballistic poly fabric construction and reinforced edges is also one of its strengths. I think it is because it shows proof of how sturdy the pouch is. I am also pleased that this pouch provides two choices for connection – by using the rear clip or by attaching it to a belt.
Another good reason why I truly love this pouch is the built-in strap, which ensures that you can easily access the electrical tape measure. The carabiner key holder integrated here is also getting good reviews with a big advantage, especially for maintenance people.
I think the only problem here is the belt clip, which is thin and flimsy, making it vulnerable to breaking.
What We Like
Boasts of a traditional feel and look
Allows you to position the bag with ease, thanks to its large body divided into several pockets
Guarantees extended use and wear, thanks to the ballistic poly fabric construction
Offers two options for connection
Features a strap that promotes ease in accessing the electrical tape
What We Don't Like
Somewhat thin and flimsy belt clip
Overall, this tool belt functions the way most of its prospective users and wearers expected and preferred, which somewhat assures anyone that it is indeed a reasonable investment for a more convenient working experience.
4. CLC Custom Leathercraft 527X Tool Belt
If you wish to invest in a CLC tool belt, which speaks of quality right from the moment you take a hold of it then the CLC from brand Custom Leathercraft 527X Heavy-duty Top-grain Suede Work Apron is one of your ideal choices. The first thing that made me want to get a hold of this item is its inexpensiveness without putting its quality into question.
Constructed out of heavy-duty and rigid suede leather material, which also features double gussets, I can confirm its ability to withstand the test of time. It is also very convenient considering the fact that the pockets built in front are easily accessible. This means less effort on your part when it comes to reaching your tools and items.
I am also satisfied with the amount of space the belt provides because I think it is just enough to store small to medium-sized tools. These tool belts come with a total of twelve pockets – all of which are roomy enough that you do not have to worry about how it will carry your stuff. Despite its numerous pockets, this tool bag belt will still remain lightweight even when items are already stored.
With its lightness, I am sure that you will not have to worry about experiencing extreme fatigue the entire day. I am also excited to say that its waistline range and sizes is wide, fitting almost all sizes. The belt is thick enough, which showcases and reviews its overall quality. In addition, you will love the space provided for a hammer loop and cordless drill.
This CLC Custom Leathercraft is also equipped with additional pencil holders. I also super like the built-in poly web belt, which also features a roller buckle for added security.
One issue, though, is that its seams are prone to wearing out sooner than expected.
What We Like
Lightweight even when filled with your tools, nails and items
Boasts of its ability to fit a wide range of waistlines and sizes
Comes with a total of twelve pockets that are roomy enough to hold your stuff
Inexpensive
Made of heavy-duty and solid suede leather
What We Don't Like
The inner seams tend to wear out sooner than usual
Even with such an issue, a lot of users still consider it as the best carpenters tool belt as it is capable of making their jobs easier to fulfill.
5. Occidental Leather 9855 Adjust-to-Fit Fat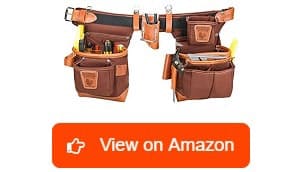 Whether you are looking for the best framing tool belt or for any other type of job like carpentry, construction, woodworking, and electrical, the Occidental Leather 9855 Tool Belt will definitely not let you down. I am very impressed with this carpenters tool belt the first time I saw it because it sports the classic leather look and the perfect craftsmanship.
This well-crafted and sturdy tool belt boasts of bags made of canvas material but reinforced with belt to further improve its durability. What I find remarkable about the built-in bags is that they are not only large, allowing them to have more than enough room for your stuff, but they are also positioned at the right places.
With the correct positioning of the two sides front pockets and bags, accessing your tools will be effortless. This Occidental Leather tool belt is even possible for you to feel natural quickly once you start working with this belt. It also boasts of its fat-lip bag design, which makes the belt all the more convenient to use.
Another thing that impressed me about this Occidental Leather tool belt is that its bags boast of a depth of up to ten inches, making it truly possible for you to store all the tools you need without the hassle and make them more easily accessible.
The pouches' lips are also constructed out of thick and sturdy leather, further showcasing the quality and durability of the belt that receive good reviews. I also love the way the pockets and pouches are constructed as you can expect them to remain open naturally due to the leather material. This means that getting your tools will be very easy.
It is also possible for this carpenters tool bag from Occidental to fit you well because both the bags and the belt itself are completely adjustable.
One issue, though, is that you might find the price range of this worker or carpenter belt too high, although you will immediately realize that the item is worth it once you begin using it.
What We Like
Makes your tools easy to access, thanks to the naturally open design of the pockets / pouches
Completely adjustable bags and belt
The bags are deep enough to store a number of tools, nails.
Well-crafted and sturdy while boasting of the classic leather look
Highly durable built-in bags, thanks to the belt reinforcement
Still, this is one of those workers' or carpenters tool belt and bags that have a higher chance of winning the interest and attention of many users because of its overall quality and durability.
6. Style n Craft 98434 Pro-Framers Combo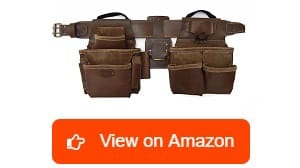 I am also highly recommending the Style n Craft 98434 Pro-Framers Combo because it carries a lot of awesome features that turn it into an extremely useful tool belt for a number of potential users, particularly professional framers. One thing that is satisfying about this belt is that it is offered by Style n Craft, which is known for being a home high quality and durable product constructed from leather.
I am so satisfied with its heavy-duty and top-grain oiled belts construction because it somewhat proves its strength. Combine that with its heavy-duty nylon thread and contrast stitching and I am quite sure that its durability and strength will not let you down.
I like the dark tan color applied to this leather tool belt because it makes it look elegant yet rugged. It also boasts of its versatile double pouch design composed of a total seventeen pockets. I also love the easy to carry handle integrated into the pouches as this assures users of real-time convenience when used.
This belt is also spacious and roomy. It features six interior pockets at the main pouch on the right side, just beneath the tape holder. You will find such two sides pockets useful if you need to hold small tools, such as a knife, pencils, nails and nail sets. More than a nail holder, I am also sure that you will love its metal hammer loop holder found at the center as well as its two small pockets to hold pencils in the exteriors.
In addition, it is equipped with rivets featuring caps that further improve the security of your items. The sturdiness of this product is also further improved with its contrast stitching, which makes use of heavy-duty and sturdy nylon thread.
However, you may have to spend about a week to break in the tool belts.
What We Like
High quality and durable construction
Spacious and roomy, thanks to its numerous pockets, holders, and pouches
Highly versatile double pouch design
Comes with a user-friendly carry handle
Features a metal hammer holder
What We Don't Like
Takes at least one week to break in
Overall, this is a beautiful and well-constructed tool belt, which provides plenty of room for most of your stuff.
7. Bucket Boss Mullet Buster Tool Belt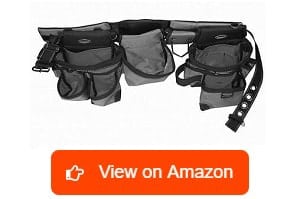 If you are in the lookout for a carpenter tool belt with suspenders that you can rely upon then the Bucket Boss Mullet Buster 55135 Tool Belt is a fantastic choice for you. It is actually a versatile tool belt, which increases its ability to satisfy not only carpenters but also other workers, including electricians, framers, and contractors.
It is a high quality tool belt, which is noticeable from its 1680 denier and 2-ply denier heavy-duty poly fabric construction. I noticed that this specific material plays a huge role in making this tool belt as sturdy and durable as possible. This carpenters tool belt is also unique in the sense that it lets you customize the process of organizing your tools through its adjustable and removable pouches and suspenders.
I am also glad that this tool belt from brand Bucket Boss utilizes the LoadBear stretch suspension technology because it contributes a lot in ensuring that the tool belt's weight has even distribution. The carpenters tool belt also helps ensure that the weight moves comfortably and naturally together with your body when you are working.
I like the additional carrying capacity provided by the Bucket Boss work belt, too, which is actually made possible by its barrel-bottom and reinforced pouches. You can easily make adjustments on the infinity belt so it can fit waistlines up to 52 inches. You can do so with the aid of its thick steel grommets.
The comfort level of the suspenders is also high if you consider its moisture-wicking padding. In addition, this carpenters tool belt comes with 1 chest retaining strap for security and stability. A cellphone pocket is also around, which is compatible with the majority of smartphones today.
However, some of its wearers complained about this Bucket Boss being too large for their liking.
What We Like
Boasts of huge carrying capacity, allowing you to carry handle all the items you need
Equipped with barrel-bottom and well-reinforced pockets / pouches
Fits a wide range of waist sizes and body shape, thanks to the adjustable infinity belt
Comfortable and breathable suspenders included
Customizable tool organization because of its adjustable and removable suspenders and pouches
What We Don't Like
The waist size is larger than what some users prefer
Many are still greatly satisfied with the overall performance of this product from Bucket Boss, so it truly deserves to be recognized and considered when shopping for a good tool belt.
8. Dickies Work Gear 57023 Tool Belt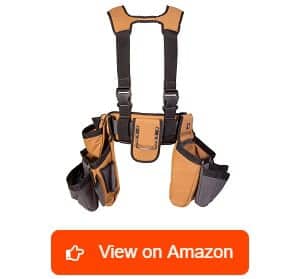 The next product I wish to recommend is the popular Dickies Work Gear 57023 Leather Tool Belt. I noticed right away that the tool belt is built with ultimate convenience and performance in mind. Built using heavy-duty and sturdy canvas material, this tool belt is surely designed to give you satisfaction through its long-lasting nature.
This carpenters tool belt has adequate toughness and durability that makes it last for as long as possible. The carpenters tool belt also takes pride in its well-reinforced pockets and tool loops and sturdy webbed straps, allowing all components and parts of this tool belt to improve their sturdiness and make them capable of handling the heavy duty jobs as well as harshest environment.
Another highlight of this leather work belt is the inclusion of its gel-core suspenders equipped with comfortable padding. With this feature, I noticed a dramatic improvement in the tool belt's ability to handle heavy loads and distribute the weight it carries evenly. Through even and proper weight distribution, you will experience less strain affecting your hips and lower back.
I like the presence of completely adjustable back and front straps in this Dickies Work Gear tool belt, too, as this means that the fit is customizable based on your comfort. You are also assured of the security of the 5-inch well-padded weight belt as it features a steel double roller buckle. I am also happy with the belt's overall capacity as it contains numerous large and small pockets spread across two pouches.
Apart from that, these belts feature a device or cellphone pocket with an elastic side in front as well as a steel hammer loop. With all these compartments, you will find it completely effortless to organize your supplies and tools.
However, I am not so fond of the included Velcro as I noticed that it is prone to eroding and losing its catch when used heavily.
What We Like
Tough, durable, and long-lasting
Plenty of space and room provided for your tools, nails, and screws
Numerous large and small pockets and pouches
Equipped with a device or cell phone pocket
Features suspenders with a gel-core construction and comfortable padding
Can distribute weight well, which prevents strain and pressure on your back and hips via shoulder strap
What We Don't Like
The built-in Velcro is prone to eroding
To conclude, I noticed how Dickies put a lot of thought on how to make this tool belt become of great value to workers, especially to carpenters, which is why buying it is a great decision.
9. Occidental Leather 5590 LG Tool Belt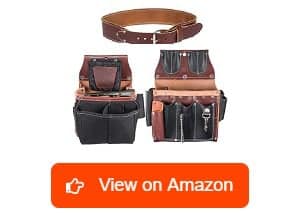 Made by Occidental, which is popular for creating the most dependable tool belts you can access in the market today, the Occidental Leather 5590 LG Tool Belt Set is surely one of those items that have a higher likelihood of giving you ultimate satisfaction. One thing to remember is that this tool belt set is specifically made for electricians, although other workers can also take advantage of it.
The belt is also built using high quality leather, which serves as proof of how long-lasting, rigid, and sturdy it is. It is sturdy enough that it does not show signs of wear and tear and weakness, even if you put a lot of items in its compartments constantly. I also discovered that this Occidental Leather has ample storage pocket, so you do not have to seriously worry about where to store your stuff.
This tool belt from Occidental brand also boasts of its configuration options or settings, making it user-friendly no matter heavy duty jobs and what your working condition/situation is. The tool holders included in the belt are all hand-specific, maximizing working rhythm while you are on the job. I like how super comfortable it is to wear the unit, too.
This Occidental Leather belt fits anyone perfectly and also around the work site, maximizing your work efficiency and productivity. Available in various sizes that fit a wide range of waistlines and sizes, finding one that truly gives you the correct fit is possible. The fact that the pouches are adjustable also means that you can reduce fatigue through even weight distribution.
It also ensures that your most required tools are handy, letting you reach them anytime. Furthermore, the brand Occidental utilizes the no-spill tool holder technology, making it suitable for those tools used by electricians.
The only flaw I discovered here is its price because it is a bit high.
What We Like
Ideal for electricians people
Can fit various waistlines and different waist size
Fights fatigue with its adjustability and ability to distribute weight
Utilizes the no-spill tool holder technology
Provides ample storage space for a lot of tools, nails, and screwdrivers
Based on what this Occidental Leather belt can provide, I can safely assume that it is a must-have item for all serious workers and electricians people who are in search of a product, which can help them carry and hold their tools while they are on their job.
10. Gatorback B240 Electrician's Tool Belt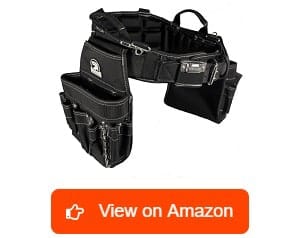 Another product that deserves a lot of positive recognition is the B240 Electrician's Combo Tool Belt offered by Gatorback. I would like to commend how heavy-duty the overall construction of this work belt is. Aside from being heavy-duty, it is also well-ventilated and breathable.
I noticed that it even makes use of the brand's patented and unique air channel design, which helps increase the level of your comfort and make the product more breathable. I am glad that this tool belt offers maximum durability as it is bar-tacked and riveted along each stress point.
The sturdiness of this tool belt can also be attributed to the heavy-duty and sturdy 1250 DuraTek nylon material used in it, which works in protecting your belt and making it resistant from tears and scratches. All the pockets and pouches integrated here are also strengthened with the box design applied to the product.
The interior plastic lining that you can see in each pouch also further boosts its durability and ensures that it can withstand heavy use. The lining also plays a crucial role in the safe holding of your hand tools and in ensuring that each pouch retains its natural shape. In addition, it prevents the development of holes at the bottom of each pouch.
I like the back support added into this Gatorback tool belt, too, as it further makes it comfortable and safe to wear. The tool belt comes in several sizes, so selecting one with the correct fit is easier.
One weakness in this product, though, is the tape measure chain, which is prone to breakage after moderate to heavy uses.
What We Like
Heavy-duty nylon construction with maximum durability
Can resist tears and scratches
Back support for comfort and safe
Boasts of its box design, which further strengthens every pockets and pouches
Capable of retaining the shape of each pouch and preventing holes, thanks to the interior lining
Available in several waist size
What We Don't Like
The built-in tape chain is prone to breakage
If what you are looking for is a tool belt, which is sturdy, functional, and makes your job easier by boosting your efficiency and productivity, then this product from Gatorback is certainly one of the ideal solutions.
11. CLC Custom Leathercraft 1524 Zip-top Tool Pouch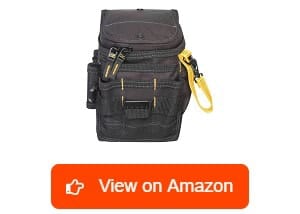 You can also take advantage of the CLC Custom Leathercraft 1524 Tool Pouch. I like how this pouch is nicely and well-organized, making it possible for you to carry almost everything you literally need at work. It acts as a sturdy home improvement for your work tools, like side cutters, nails, screwdrivers, drivers, pliers, crescent wrench, and vise grip.
I also consider this tool pouch as one of the most secure tool organizers you can find today because it provides two options for security – the belt clip or the belt loop. You can just choose one based on which one you think provides more convenience for you. I am so pleased with the double-pull zipper cover, too.
It is because such a feature works in securing parts and tools while boosting the pouch's ability to accommodate long and huge items. I also commend the inclusion of a snap-back feature because I find this belt useful in ensuring that the cover does not get in the way once you begin doing your job.
The storage capacity of this zip-top tool pouch is also huge. This CLC leather belt from brand Custom Leathercraft even provides a few options for storage, including the pockets, sleeves, straps, and slots known for accommodating a wide range of hand tools. It even comes with a quick clip, which I find valuable in case you want something to use for hanging additional tools.
I like the roomy interiors of the pouch, which ensures that there is more than enough space for all your tools while making them visible and easy and convenient to access.
However, some of its users noticed that it is quite bulky although the bulk is still tolerable and manageable.
What We Like
Nicely and well-organized tool pouch designed to store all your tools
Offers two choices for security, namely the belt clip and the belt loop
Comes with roomy interiors
Allows you to hang additional tools, thanks to its quick clip
Can secure parts and tools with the aid of its double-pull zipper cover
To conclude, this is an amazing and appealing tool pouch from CLC because it functions based on its promises, winning the trust and interest of most of its users.
12. OX Tools 4-piece Construction Rig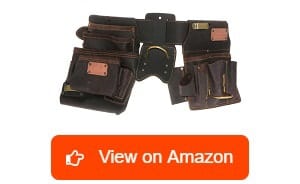 Another worthwhile piece is the OX Tools Construction Rig. I discovered this rig because its overall sturdy and stable construction, which is designed to provide long life and 24-hour comfort even when used on demanding job sites, is noticeable. The belt is built in a way that it can effortlessly store all your required tools for daily use.
The rig actually comes in four pieces constructed out of oil-tanned leather of top-notch quality. I found out that it is composed of a tool bag, 3 pouch hammer loops holder, 3 pouch fastener bag, and a 3 inch tool belt composed of a total of 22 pockets. With all these pockets and holders, I can vouch for space the belt provides, offering plenty of room for your tools and nail holder.
The built-in tool bag also comes with inner pockets designed to hold your hand tools. There is also a marker or pencil pouch as well as a tape measure clip designed in a way that you can easily and quickly access what is inside. It is also flexible, thanks to the built-in dedicated hammer loops holder.
I am also glad to say that each pouch in this leather rig is fully secured using the heavy-duty and low-profile rivet reinforcement. This kind of security reduces your risk of scratching surfaces. The belt also has a higher resistance to tears considering the fact that it comes with dual stitches as well as a reinforced belt tunnel.
With this construction, anyone can instantly say that these tool holders is indeed built to handle the heavy duty, harsh and vigorous job site conditions. I am also satisfied with the soft feel and look of the rig without compromising its stability or rigidity.
One notable issue, though, is its quite heavy weight.
What We Like
Heavy-duty and low-profile rivet reinforcement provides full security to each pouch
Flexible, meeting the demands of most workers and tradesmen
Boasts of its soft, comfort feel and look without losing its stability
A belt that can resist tears, thanks to its dual stitches and reinforcements
Comes with all the pockets and holders that you may need
The OX Tools 4-pc. Construction Rig is definitely a steal as it has most of the things that a tradesman or worker needs.
What is a Tool Belt
Best tool belt serves as a good solution to carry around the tools that you usually use safely and comfortably. This is an essential tool for you if you are the type of person who likes to work with your hands, like people doing carpentry, working on your car, or making simple repairs or renovations in your home.
It is because such tasks require you to use quite a number of tools every time. Also, you need to have all your tools within your reach. However, there are many times when you cannot bring your toolbox along with you, like when you are up a ladder, on the roof, or anywhere that makes it dangerous to carry a heavy metal box full of sharp and blunt tools.
For those kinds of situations, a tool belt is a huge help. If you are still keeping your tools in your pockets, you need to stop. Your pants' pockets do not offer enough support and security for your tools, which means that they can fall out anytime when you are not careful.
In addition, they will shred the lining of your pockets and might even cause injuries. Your needs to protect yourself while still making your tools accessible and this is where a nice tool belt can help.
How Does It Work
Tool belts come as handy yet small implements that allow you to carry your tools around with you. At first, you might think that you do not have any use for it as you can just use the pockets in your pants, but again, doing so is dangerous. Besides, it is likely that once you experienced using a tool belt, you will ask yourself why you did not use it before.
If you are a budding carpenter people or someone who needs to carry a lot of work tools around then the belt will work great for you. These products function by carrying all of your most frequently used tools anywhere, even during those instances when you need to go up a ladder, climb a tree, or crawl under your car.
It also works by ensuring that you will enjoy good mobility at work. This means moving with ease. Note that your movement will be quite limited if either one of your hands is clutching a handful of tools. It is even harder to move around when your pockets are full of heavy tools.
With a tool belt, you can secure all your tools nails at the right place and prevent them from falling out. You can also position them in such a way that they will not interfere with your movement. The belt also distributes the weight of the tools equally so they will be easier to carry around.
Types of Tool Belts
If you are interested in getting your first tool belt, you might get overwhelmed with all the different types that are available these days. To give you an idea of what tool belt you need to get, consider the kinds of belts that professional tradespeople use.
If you think that what you will be using it for is in line with a certain trade, then you should get a similar one for yourself. Here are common choices:
Electrician's tool belt – A tool belt specifically made for electricians need to have multiple pockets and pouches as they often use a dozen or so different tools per project. In addition, because electricians tend to bring along a dozen or so tools of different weights, it is crucial for the material used in constructing the tool belts to be durable.
Plumber's tool belt – Because they tend to work in wet and damp areas, plumbers need waterproof tool belts. These also need to drain quickly and keep all your tools secure and snug.
Since plumbers only need to bring a couple of handy tools while working including some wrenches, those with just a couple of different compartments will work. Just make sure that the pockets and pouches have covers to protect the contents from water.
Roofer's tool belt – Roofers work from a height so they need to bring all the tools they need up there with them. This means they need tool belts made of lightweight materials like nylon and polyester.
It also helps if these come with deep pockets and pouches that have zippers so they can carry small fasteners like nail sets, nuts and bolts, screws, and the like. In addition, a good roofer's tool belt comes with shoulder straps designed to secure the tools as well to distribute weight and reduce stress points. This will prevent them from accidentally falling out and hitting someone in the head.
Glass cleaner's tool belt – People who are tasked to clean skyscraper have to use a tool belt that has enough room for a couple of spray bottles and some window squeegees. These products should also offer options for safety lanyards so that the contents will not fall accidentally dozens of floors downward.
In addition, the tool belts should be made of synthetic material so that it will not have any adverse reactions from the chemicals contained in the glass cleaners.
Contractor's tool belt – Contractors need tool belts come with lots of compartments because they need to carry several tools. In addition, since construction sites are always full of dust and debris, the belt should be made of a material that is easy to clean. In this case, a waterproof belt is a wise choice.
Why Do You Need to Wear Tool Belts
Tool belts have been around almost as long as the modern tradespeople have been working. Here are some reasons why these items are necessary and why they have a lower chance of going out of style anytime soon.
Provide added mobility – When you are in the workplace, you need to be quick on your feet so you can react to anything. For instance, in case of an emergency, you need to spring into action to prevent disasters from happening. However, it can be hard to move if your tools are in your pockets.
It is because this makes them unsecured and could even poke a hole in your thigh if you are not careful. When you are using a tool belt, you can run, jump (if you can), and do all sorts of movement while having an assurance that all your tools nails are still in their rightful places.
Promote quick work – How much time do you think you waste by walking to your toolbox, rummaging through it looking for the right tool then walking back to your workstation? You might think that you only spend a couple of minutes doing that, but all that time adds up.
You could have used that time working on your project so you can finish sooner. This is no longer a problem if you have a tool belt. Every tool that you will ever need is right at your fingertips, saving you quite a lot of time and energy.
Protect your tools – When you keep your tools in your pockets, they tend to shake around and hit each other, causing scratches and even dents on them. There is also a big chance for them to fall out of your pockets and hit the concrete, which does quite a considerable amount of damage.
Tool belts have specialized carrying pockets, pouches and straps that help secure every tool in its own space. This can prevent them from hitting each other and most importantly, ensure that they will not fall out.
Buying Guide
Buying the tool belts is not as simple visiting a store, taking one off the shelf and just paying for it. This is a purchase wherein you need to put in some thought on what you are buying. To help you get started on your shopping, here are a few of the key qualities and belt buying guide that you need to know when buying a tool belt:
Fit – Buying a tool belt should be approached in the same way as buying new clothes. In other words, you have to find out first whether it fits you perfectly. The tool belts should not be too loose that it just hangs limply to one side. The tool belt should not also be too tight that you cannot even breathe properly when using it.
Comfort – Depending on how long your project will take to complete, you might be wearing your tool belts for several hours to an entire day, making it necessary to buy a comfortable one. Note that the perfect fit does not completely guarantee that you will feel comfortable using it.
It is also advisable to check if you like the feel of the materials. Ensure that the tool belt does not dig into your skin. The material also needs to breathe properly. You might need to pay a bit more for the belts made of nicer material but you will be sure that you will actually like using them.
Durability – The tool belts that you buy should be tough as nail sets, literally and figuratively. You will be stashing nails, screws, and other sharp objects in the pockets, it needs to be made of materials that are not easily ripped, slashed, or punctured. Some of the materials that are deemed worthy by many professionals are leather and nylon.
Weight – Ask yourself how much the tool belt weighs when empty. Ensure that the belt is not too heavy so you can actually put more tools in it. If the pockets already feel heavy for you from the get-go, then you can't put as many tools as you like in it without feeling encumbered.
The number of pockets/pouches – Bigger is not always better, in this sense, as the ideal number of storage pockets is completely subjective. If your profession or hobby requires the use of over a dozen pieces of tools then go for a tool belt with as many pockets as your needs.
Getting one with too many pockets will only make it feel awkward and unbalanced to use. On the one hand, if you purchased a tool belt with a lesser number of pockets than what you need, then you can always get extension pockets.
Care and Maintenance
Even though the tool belts are made to be tough, that does not mean you should not take good care of them. If it is constructed out of leather, taking care of it involves cleaning it on a regular basis. To do so, empty all the pockets/pouches completely. Aside from taking out all tools and materials, turn the pouches inside-out, too.
Shake off all dirt and debris that are stuck in the lining. Next, take a dry rag then wipe the entire surface, including the pockets and pouches interiors. Do not go soft on your tool belt. It is meant to take on abuse, so really scrub every part that you can to remove any caked-on dirt and grime.
Take a microfiber rag, dip the tool belt in some tap water, and wring out the excess water. Use this damp rag to wipe over the entire surface of the tool pockets, including all the nooks and crannies. When the rug starts to dry up, soak it again in some water and wring out the excess water and the dirt that it already picked up.
Continue until you are satisfied with how clean the tool belt is. Avoid using soap and water when cleaning the leather material. It is because leather is naturally water-resistant, so water will just run off without really cleaning it thoroughly. Just plain water and a lot of scrubbing with a face cloth will do the trick.
After cleaning, hang the tool belt in a cool, dry place to dry completely, which will take a couple of hours to overnight. This waiting time will not get shorter even if you wrap the belt in paper towels. While waiting for it to dry, take time to properly clean all your tools. It would be a shame to place dirty tools in 1 clean toolbox.
Once the tool belt is completely dry, apply some leather conditioner and leather sealant to prevent the leather from drying out and cracking. Hope this cleaning guide can contribute to keep those tool belts longevity.
Frequently Asked Questions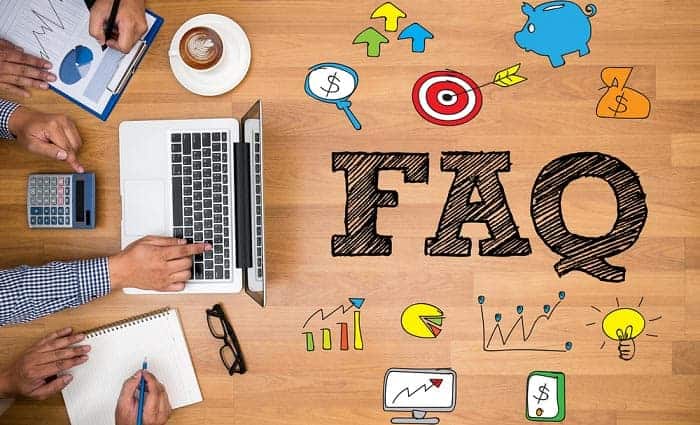 What are the most popular tool belt brands?
There are so many companies out there that manufacturer that makes their own tool belts, so many that you might find it overwhelming if we were to enumerate every one of them. However, there are certain brands that are heads and shoulders apart from the rest.
Some of them are ToughBuilt, Dickies, and DEWALT. These three brands are known for the quality of their products, their appealing designs and styles, and their ability to keep the tools you store in their tool bags secure without causing fatigue to the wearer with good customer reviews. It is because of their ability to evenly distribute the weight of the tool belts.
Other famous brands known for the quality of their tool belts are Occidental Leather, CLC and Gatorback.
What are tool belts made of?
Tool belts are often constructed from different types of materials. Among the most popular materials made in constructing the tool belts are different kinds of leather, synthetic fabric, nylon, and suede. The most preferred one, though, is leather because of its guaranteed durability and good customer reviews.
When was the first tool belt invented?
Workwear companies like Carhartt and Dickies came into the scene around 1889. During the world war, the government ordered them to create army uniforms. But when it ended, the companies went back to manufacturing heavy-duty garments for miners and construction workers.
These workwear brands first came up with "carpenter's aprons," which were similar to what we now call the "overalls." That said, the carpenter's overalls were improved. In the first half of the 20th century, designers included loops and fastener pockets.
Apart from that, the overalls protected the wearer from the elements, as well as abrasive surfaces that cause scrapes. The catch is that these garments are hefty. Besides weighing the workers down, the overalls were very hot to wear and restricted movement. As a result, the carpenters switched to jeans and cloth aprons during the 1940s.
However, the cloth aprons are too flimsy to handle multiple tools. Still, this problem gave birth to an innovation: the leather work belt. If you assume that the big brands were the first ones to see the problem, you'd be surprised that the shoe repairman and saddle shops custom-made the early versions in the 50s.
Are tool belts bad for your back?
Even if you buy a lightweight tool belt, OSHA reports that fully-loaded tool pouches can weigh over 50 pounds. Naturally, this will strain your hips and lower back.
Fortunately, there are ways to avoid pain and discomfort. According to OSHA, you can opt for mobile tool boxes or bucket-style carpenter tool bags.
Alternatively, you can wear a padded, heavy-duty tool belt or suspenders to ease the burden. For electricians who frequently wear tool belts while climbing the ladder, you can arrange the tools to ensure that the weight is more evenly distributed.
While you can always get a well-designed tool belt for back pain, there is only so much it can do. Before you start walking or climbing the ladder, make sure to check if you can remove some of the unnecessary tools.
How do you size a tool belt?
It depends on the brand. Buckaroo advises the user to go one size bigger than his or her pants size.
Brands like TF Tools suggest adding 4 inches to the measurement of your pant waist. If you're wearing hip pads, belt liners, or winter clothes, you may need to add another 1 or 2 inches to the length of the construction tool belt.
On the other hand, Badger Tool Belts instructs buyers to use a string or tape measure to determine where they plan to wear their tool belt. That said, their carpenters' and framers' tool belt models generally have 4 to 5 inches of flexibility.
How do you make a tool belt out of jeans?
If you're thinking of buying a cheap tool belt, I suggest that you try DIYing first. One of the benefits of making something on your own is that you can customize the measurement to fit your body or the specific tools you want to carry! Here's how:
Step 1: Get a pair of jeans that you no longer want to wear, then cut off the legs. After this, the pants will look like a pair of shorts. Make sure the pockets are intact.
Step 2: Snip the leg seams and take off the front half of the "shorts." Now, your "shorts" will look like an apron. After that, remove the belt loops but keep them for later.
Step 3: Start hemming the edges of the apron and patch the holes if there are any.
Step 4: Lastly, sew some belt loops together at the edges and connect them to one or both sides of the apron. This will serve as a hammer loop, while the remaining pockets can be the tool bags.
Of course, the pants' size will dictate the belt loops' size. So if you use small pants, you can produce small tool belts.
Tool belt vs. tool pouch: What is the difference?
Tool pouches and tool belts are famous for their similar function, which is to help carry your most valuable tools, especially the ones you frequently use in your workplace. The only difference is the way they are constructed. Tool pouches are actually larger than tool belts and are created in a way that you can carry them by hand.
If you are working on ladders, roofs, or any other place where you will not be able to bring a full toolbox or tool kit then you need to use 1 tool belt instead of a tool pouch because it is much safer in such instances.
Tool pouches, on the other hand, are incredible choices if you need to work in tight spaces and you feel like a tool belt is quite bulky. Your choice between the two, therefore, should be dependent on the kind of jobs you are working on and your work environment.
Who needs to wear tool belts?
Almost all workers can take full advantage of a tool belt. Aside from being a great option for electricians and for construction purposes, it also helps other people, including gardeners people who need to have a space for all their digging implements and pruning and maintenance tools.
It is also helpful for woodworkers as the tool belts allow them to have all the tools that they need right around their waist. These include their carving tools. With the tools within easy access, completing their woodworking projects will also be a lot easier. A fit waist belt is also a big help for contractors and those doing general home repairs.
How to wear a tool belt?
Waist tool belts should not hang to one side of your body. Allowing this to happen will result in you having a sore back later in the evening. You need to tighten the belt just make sure it enough to give you a comfortable fit but not so tight that you are cutting off circulation from the waist down.
Place the tools that you usually use at the right-side pockets of your tool belt. With this kind of setup, you only need to drop your hand to your side and you can grab the tool that you need.
One of the most important thing about using the tool belts is that you should avoid overstuffing the pockets and pouches. Avoid bringing the contents of your entire toolbox with you every time. Just put the tools that you use most of the time in your tool belts and leave the insignificant ones in your tool belt
Are suspenders necessary for you?
In most cases, yes. It comes in handy especially if you decide to put on a lot of tools in your tool belt. It is because without a good suspension system, it is possible for the areas surrounding your waist to be pressured and strained due to the weight. It might also lead to body fatigue and pain.
If you want to handle the additional weight then investing in good and tool belt suspenders can be a big help for you. It is extremely beneficial in ensuring the even distribution of the extra weight that comes from your tool belt all throughout your body. With this, pulling up your pants occasionally because of the extra weight will be unnecessary.
How to wear a tool belt with suspenders?
Wearing a tool belt with suspenders specification actually involves simple and straightforward steps. It just involves attaching it to the back part of your pants or trousers. Fasten the belt properly then let the shoulder straps pass through your trousers' waistband. It is also crucial to locate the braces, cross the back, and come back to the chest.
Once all those steps are completed, you should fasten the braces found in front of your pants or trousers. You also need to make adjustments on the pockets of your tool belt if these are adjustable.
How to soften leather tool belts?
There are simple ways to soften tool belts made of leather. One way is to rub a natural oil into it (ex. coconut oil). Just rub it over the entire surface of the belt for a few times. Apply more oil if you want the tool belt to become softer. Once rubbed and applied, you should let the belt dry naturally.
Alternatively, you can use rubbing alcohol. Just put some rubbing alcohol into a towel, tissue, or cotton ball. Rub it into the leather surface. Once rubbed, let the rubbing alcohol soak deeply into the leather material. It can contribute a lot in making your leather tool belt softer.
How to clean?
Most tool belts best are made of waterproof materials, so washing them in soap and water will not just work. It is because this combination will only damage the waterproofing of the material. To clean your tool belt, just shake off all of the loose dirt and debris then proceed to clean the entire surface with a damp but clean rag or towel.
Where to buy?
Tool belts can be found in any hardware store, but if you want to have a lot of choices, then you need to shop for tool belts online. There are plenty of online shopping websites where you can buy tool belts and tool belt accessories.
You can visit Amazon, eBay, WalMart, and many other huge retail websites to access thousands of choices. An advantage of online shopping is that you can check out the customer reviews to figure out whether you are getting a good deal on a specific tool belt.
Conclusion
As long as there are modern tradespeople, there will always be a need for best tool belts that can help make their jobs/tasks easier. The tool belt around will allow you to work faster because all the tools you need are already within your reach. In addition, they let you work safely because your tools are nestled securely.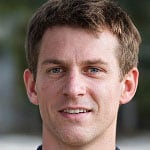 Having worked in the field of personal protective equipment for over two decades, Andrew Carnegie is a specialist in the field.
At EDC, he strives to improve performance efficiency and promote workplace safety for EDC's readers and customers. He also researches the most up-to-date equipment that has earned relevant accreditation for use in a wide range of industries and specialties.