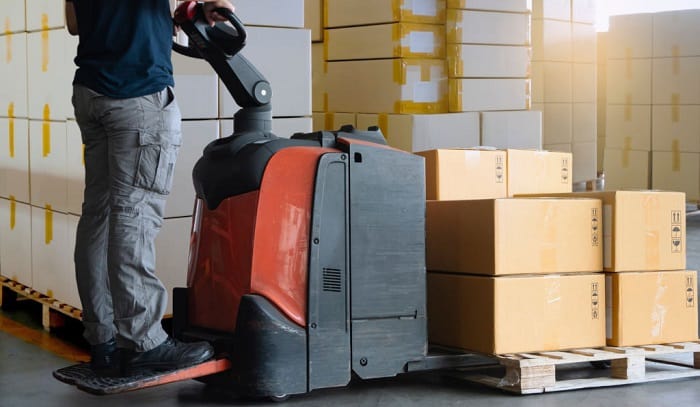 Before cargo pants entered the fashion scene, they were designed for military purposes. Later on, hikers and laborers found the trouser's large pockets and durable construction. Eventually, enhancements were made to address the needs of plumbers, carpenters, construction workers, and other professionals.
At first glance, the best cargo work pants look more or less the same as casual cargo pants. But when you look closely, the construction, fabrics, and pockets are different. Let me show you how to spot them:
Storage: Characterized by their roomy multi-pockets and loops, wearing cargo pants helps workers carry hand tools, small notebooks, pens, nails, nuts, and bolts. Moreover, they are more durable than your typical fashion jeans. That's because they need to hoist the weight of metals of the hammers or screwdrivers, which are heavier than a smartphone.
Fabric: Typically, manufacturers design heavy-duty cargo pants with canvas, cotton twill, ripstop, polyester, denim, or a combination of these materials. Generally speaking, these fabrics are durable but each has unique strengths that you can use to your advantage. Cotton is known for breathability, making them suitable for hot environments. Restaurant workers like to wear polyester pants because they are resistant to stains and wrinkling.
Construction: Any piece of clothing can fail when the construction is substandard. Fortunately, there are ways for you to spot whether the cargo pants are durable or not. First, check if there are rivets, which aim to reinforce the parts that get strained the most when you wear them. Next is to inspect the seams. Heavy-duty pants are usually double or triple-stitched but you also have to scrutinize them further for any signs of weakness, such as loose threads.
As you read the article, you will learn more about the work trousers' important functionalities. If you want to go window-shopping, check my review of the ten top-rated cargo pants for work. In the "Buying Guide" section, I will share my advice on how to spot a good pair of utility pants.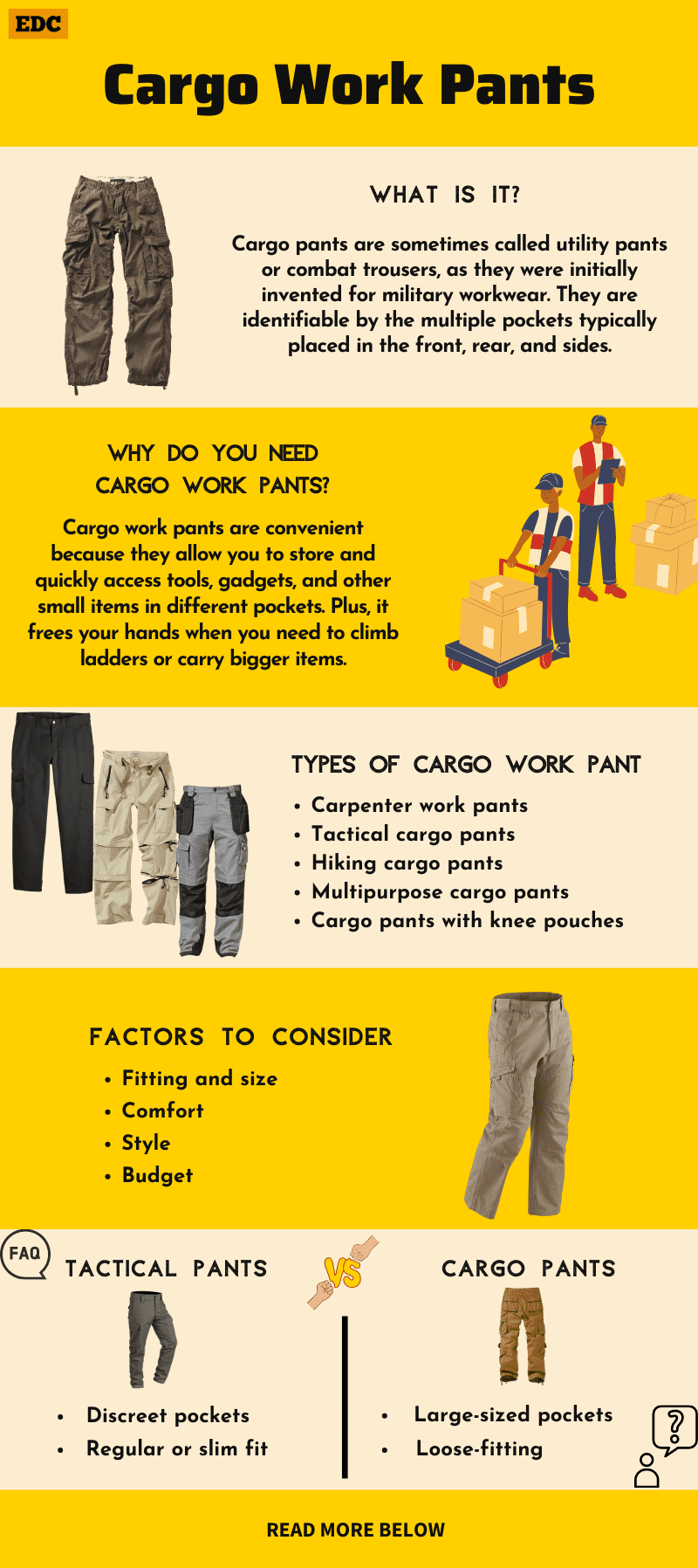 List of the 10 Top-tier Cargo Work Pants Reviews
1. Wrangler Authentics ZM6LGBL Cargo Pants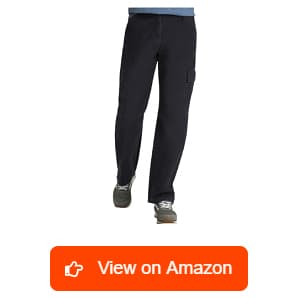 First on our list of the most favorite men's cargo work pants is a pair of Wrangler utility trousers. Note that this particular model comes in cotton twill and ripstop variations. At any rate, both materials are known for their long-lasting durability, and withstanding rough movements that come with physically demanding jobs. Plus, they feel soft and gentle on my skin. Owing to their breathability and comfort, they easily became my top choice for summer workwear.
On top of the usual slash and rear pockets, they laid out the cargo pockets on easy-to-access parts of the trousers. As such, I don't have to stoop too low to reach the items inside. More importantly, the space can contain small notebooks, tools, and gadgets.
Let me add that the relaxed fit adds to the comfort and breathability while giving my thighs and legs room to move. Judging by the quality and functionality of these features, I think these cargo pants suit all sorts of activities. If I'm not working, I will wear this whenever I need to go out and run errands, meet some friends, or out on town trips.
For online buyers, let me caution you that the khakis that you see on screen look slightly different in person. As someone who puts functionality a high priority, this small discrepancy in color is not an issue for me. That said, I know some folks who need specific colors to adhere to company dress codes. In that case, it's better to check the garments online.
What We Like
Straight fit promotes good mobility
Great all-around pants
Feels comfortable on the skin
Holds up well to various activities
Has ample pockets for gadgets
What We Don't Like
The khakis are inconsistent with the photos
2. Match 6053_Dark gray_S/29 Wild Cargo Pants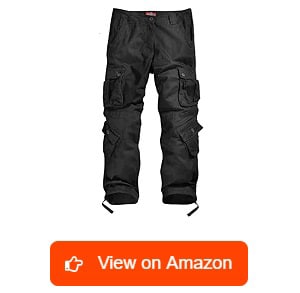 Most manufacturers make cargo pants in beige, black, or olive green. I'm sure some of you are tired of the same old look, which is why I'm featuring these trousers by Match. Apart from the usual shades, you will find fun colors like red, bluish-gray, and some camo prints.
Since we're on the subject of style, let me highlight the fact that the pants also feature drawstrings at the leg opening so you can customize the length. Apart from making it look more fashionable, it comes in handy when I need to walk on muddy, wet surfaces. Likewise, the waist drawstrings ensure that the fitting is snug and secure. Their roomy thighs, seat, and legs allow me to move naturally.
You will also notice that these are pants with a lot of pockets. While conventional designs are equipped with six, this particular model offers eight. Four more cargo pockets supplement the storage provided by two rear and two front pockets. With button closures, the contents will not fall out when I kneel, climb ladders, or crouch.
Looking at their features, I think these best cargo work pants for men are suitable for outdoor activities. My only gripe is that they lack loop belts. Unfortunately, the pockets cannot substitute for the belt tools if you need to carry hammers and hand tools.
What We Like
Good for outdoor work or recreational activities
Has eight pockets that can hold many items
Lets you modify the pants' length
Has waist drawstrings to adjust the fit
Available in dozens of colors and camo prints
Supports ease of movement
What We Don't Like
Lacks loops for tool belt bags
Style-wise, these well-designed cargo pants with lots of pockets let you pick your favorite color to match your shirt and shoes. You can also adjust the length if you don't want the edges of your pants to get dirty when you're walking on muddy terrains.
3. Dickies 23214RBK 30 30 Loose-Fit Cargo Work Pant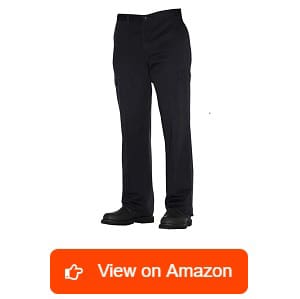 A well-thought-out design is the mark of true high-quality workwear, and that's what these Dickies cargo pants are all about. Boasting incredibly durable construction, they can last years despite the roughness they endured. I would squat and move up and down the ladder without fear of busting the seams. Of course, I'm speaking from experience but I know some folks who give similar feedback in industrial environments.
Even the pockets are sturdy and generally deep. What I find most useful are the cargo pockets, where I like to keep most personal items. Their flaps can close flat without curling around the corners, which makes the pants look sharper and neater. In this way, they also don't get caught by the edges of the table or protruding parts of a machine. The belt loops are equally impressive since they can hold the weight of my tool belt.
Although the fabric is breathable, I noticed that it felt stiff the first time I wore them. It took me a couple of wears and washes before these cargo pants began to soften up. Then again, I think it's not uncommon for this type of pants to have some break-in period. Rest assured, they are pre-washed for shrink control, so you don't have to worry about the size.
What We Like
Promotes good breathability
Promises long-lasting durable
Allows for a wide range of motion
Has sturdy pockets and loops
Looks neat and sharp
Has been washed for shrink control
What We Don't Like
Feels stiff at first wear
Suitable for various industrial jobs, these cargo pants for men are mighty tough, allowing you to carry your tools in the pockets or with your tool belts. Yet, their style will make you look sophisticated and clean.
4. LA Police Gear Men's Core Cargo Work Pant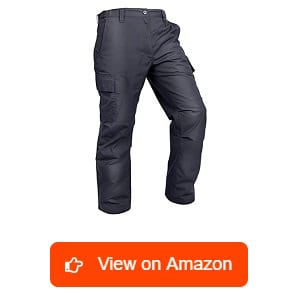 Designed especially for the emergency services sector, these tactical cargo pants offer functionalities that will make your job easier. Even then, they became the staple work wardrobe among maintenance, construction, landscaping, and healthcare due to their versatility and comfort. As for me, I also wear them on camping trips. With several colors to choose from, I'm sure you will find one that matches your uniform or company dress code.
Combining cotton and polyester ripstop gives the fabric a heavy-duty quality without compromising comfort. Coupled with the athletic fit, they don't feel like any traditional work pants and I mean this as a compliment. Despite the roomy seat, thigh, and legs, they don't look baggy. On the other hand, the elastic waistband keeps up with my fluctuating weight.
More than just a pair of trousers, they provide me with enough storage space for my wallet, tools, and electronics. In particular, I love how the angled pockets are sturdy enough for the small radio or flashlight to clip on securely. Although the cargo pockets are deep and spacious, the only downside is that they don't have any gartered slots or mini pockets inside to organize things. Ergo, it can be difficult to retrieve small items when they are filled with stuff.
What We Like
Has elastic waistband for a comfortable fit
Lets you clip small items on the angled pockets
Durable for intense physical activities
Offers many color options
Comfortable for work or camping
Designed with a roomy fit without looking baggy
What We Don't Like
Hard to retrieve items in spacious cargo pockets
Whether you're working or camping, you can trust tough cargo pants to withstand the roughest environments. Featuring spacious pockets, you will have plenty of room for personal items and devices.
5. Red Kap PT88 Men's Industrial Cargo Pants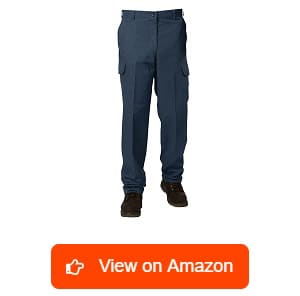 Considering the construction and fabric, it's easy to see why many people think this is one of the most durable cargo pants. What I like most about it is that the style hits the sweet spot between office wardrobe and job site attire. Besides industrial jobs, they suit shop managers and engineers who meet with clients and bosses regularly. More notably, the fabric can stay stain and wrinkle-free, requiring little to no ironing to smooth out.
Even with all that, I'm fascinated by the fact that the fabric remains lightweight. Yet, I don't see the pants sagging when I fill the pockets with an assortment of items. With snap closures for the cargo pockets, the flaps can prevent my tools from falling out when I climb my truck or squat. That said, let me assure you that the semi-slim fit of the pants allows the wearer to move with great ease and comfort.
Indeed, the quality of these pants is praise-worthy. They are available in neutral colors that can go well with most uniforms. I just hate that the buttonhole is a tad too tight for the button to pass through. Anyway, I managed to fix this by snipping it with my scissors and redoing the stitching. It's a little inconvenient knowing that it's not a deal-breaker for me.
What We Like
Smoothes out with minimal ironing
Stays stain and wrinkle-free all day long
Has secure pockets to organize tools
Lightweight yet highly durable construction
The fitting lets you move easily
Suitable for industrial jobs and office wear
What We Don't Like
The buttonhole is too tight
Aside from their superior durability, these are the most comfortable cargo pants whether you're working outside or in the office. Flaunting a simple yet handsome style, they can maintain a clean, crease-free appearance so you can look sharp when meeting a client.
6. CQR Men's Tactical Pants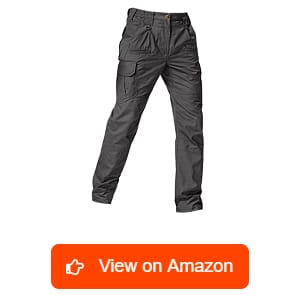 Another great option for military, law enforcement, and outdoorsy folks is these CQR tactical pants. With the ability to repel liquids and contaminants, the fabric keeps me dry and free of mess throughout my shift. I'm sure this will be helpful if your job requires you to look neat most of the time. Furthermore, they are available in dozens of colors and camouflage. The camo is my favorite because of its ability to hide dirt and its usefulness for hunting.
In any case, these lightweight pants are quite low maintenance, which makes them ideal for long trips in the wild. Besides being shrink and fade-resistant, the fabric does not crease even if I pack them in the bag. This is a huge plus because there is no way I can iron my clothes when I'm camping. As for storage, the sturdy pockets can hold small items like a radio, pocket knife, phone, and other devices. For some police officers, they can store mags.
Generally speaking, these pants are durable enough to withstand harsh conditions. However, I don't wear them during summer because they feel a little warm. I suppose this is a tradeoff that comes with water-resistant fabrics. To me, they seem more appropriate for rainy days, as well as spring or fall weather.
What We Like
Comes in several colors and camo prints
Suitable for various jobs
Sturdy pockets can carry small items
Fabric can repel liquids and contaminants
Allows you to move freely
Shrink, fade, and wrinkle-proof
While they may look like heavy-weight cargo pants, I guarantee you that they are not. Thanks to their ability to be crease-proof and dirt-free, you will not have a hard time maintaining a well-kept, professional look despite working all day.
7. Wrangler Riggs Workwear Men's Ranger Pant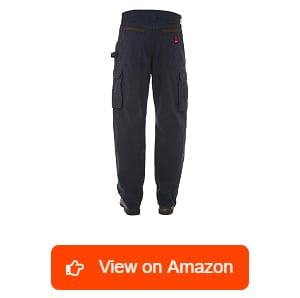 Since kneeling, squatting, and climbing ladders put a lot of strain on the seams and fabric, work trousers are prone to tearing. With this issue in mind, these Wrangler cargo work pants are developed with reinforced knees and a gusseted crotch. Plus, the ripstop fabric is highly durable but I can move freely due to the relaxed fit. Despite the physical labor and exposure to sharp metal objects, I'm amazed that they don't get snagged or ripped.
Just the same, the pockets and belt loops are well-made. The front pockets are made of thick fabric, while the right one is fashioned with a leather lining. This small detail is a nice touch as it lets me clip a tape measure, preventing the fabric from twisting and ripping. Meanwhile, the back pockets are lined with Cordura fabric for maximum strength.
My favorite part is the cargo pockets. Apart from the ample space, the right side has a slot meant for the hammer's handle. A few inches above it, of course, is the loop. Together, they keep the hammer easily accessible and securely in place when I walk. If I want to use a belt tool, I have the option to do so since the belt loops are very sturdy.
Highly recommended for construction workers, technicians, and
carpenters
, the quality of these pants is indeed exceptional. The only thing you need to watch out for is the color. Each time I wash them, they fade a little.
What We Like
Built with a relaxed fit
Designed with reinforced knees
Provides pockets and loops for tools
The action gusset allows for easy movement
Has Cordura lining on back pockets
Leather lining lets you clip on a tape measure
What We Don't Like
The color tends to fade a little
8. Carhartt B342-DES Ripstop Cargo Work Pant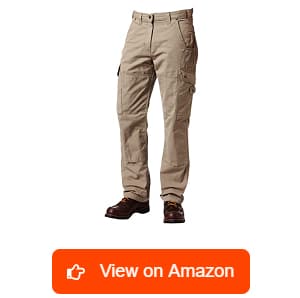 Made by a well-known workwear brand, these rugged cargo pants are loaded with functionalities that help me perform efficiently. On top of the hammer loop, the pockets are deep enough for me to stash things like rulers, pencils, and phones. This leaves my hands free to carry bigger items. On the other hand, the belt loops can hold the weight of the tool belt without twisting the waistband.
Because I'm always moving around the job site, I take advantage of these cargo pants' hard-wearing design. By nature, the cotton ripstop fabric is strong but feels gentle on my skin.
Thanks to the gusseted crotch and double-front construction, these trousers can withstand intense physical labor and rough environments. It should not come as a surprise that they last quite a long time without ripping.
Moreover, the loose fit gives my legs and thighs ample room to move. At the same time, they do not appear too baggy. However, these pants can feel a little warmer whenever I wear them while outdoors during the summer. I blame this on the two-layered fabric at the front. If you work inside well-ventilated areas or air-conditioned rooms, it will not be an issue. Otherwise, they are perfectly comfy for spring and autumn weather.
What We Like
Well-made spacious multi-use pockets
Features sturdy belt loops
Made with heavy-duty ripstop fabric
Sports a double-front construction
Reinforced with gusseted crotch
Extremely comfortable to move in
What We Don't Like
Feels warm when worn during the summer
For those who have been eyeing these construction cargo pants for a while, I assure you that you will not regret buying them! Considering their long-lasting durability, I'm sure you will be able to make the most out of the money you spent.
9. Dickies WP592 Relaxed Straight-Fit Cargo Work Pant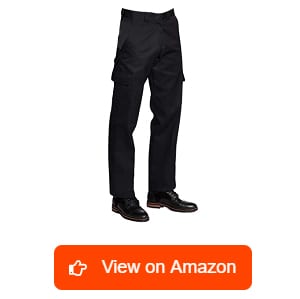 So, your line of work is the kind that leaves stains on your clothing. Still, you need to look neat each time you clock in. Well, these Dickies cargo pants can potentially be the solution. The magic behind them lies in the fabric. Because it's resistant to stain, you don't need to spend too much time removing the splatters whether you choose the beige or black cargo work pants.
Even better, you can skip the ironing altogether, giving you more time to rest at home. Anyway, the design itself looks classy, making me instantly look sharp. Their simplicity would go well with most company dress codes.
Since these are utility pants, they can withstand harsh working conditions. The same can be said for the pockets. Besides providing ample storage, I also like that the cargo pockets feature hook and loop closure. This ensures that no item will slip out when I bend over or kneel to inspect things at work. That said, the relaxed straight fit creates a nice silhouette while giving my thighs and legs enough room to move comfortably.
In my observation, these men's heavy-duty cargo pants need some time to break in so that the fabric can soften up. Of course, this is not a deal-breaker knowing that they offer so much at an affordable price. After a couple of washes, they will begin to feel gentler.
What We Like
Fashioned with wrinkle-resistant fabric
Allows you to clean stains effortlessly
Highly durable construction
Flaunts a classy design
Cargo pockets use hook and loop closure
Allows for good mobility
What We Don't Like
Needs a couple of washes to soften
Functional yet classy, these cargo pants are an excellent workwear staple for men. Due to its stain and wrinkle-resistant qualities, you will look effortlessly neat and spiffy at work.
10. Wrangler ZM6SYDO Men's Regular Tapered Cargo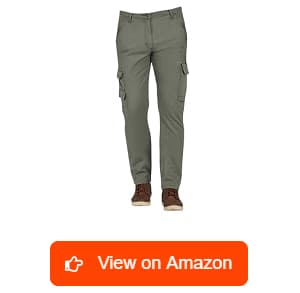 In a nutshell, these cargo pants feel like pajamas. If you prioritize comfort over everything else, then they meet the standards. Despite their slim cut, there is no tightness around the seat, thigh, and leg. Since they are fashioned with a combination of cotton and spandex, I find them easier to move in. At the same time, the durable construction prevents the seams from tearing. Moreover, the lightweight fabric makes them perfect for hot weather.
Commonly worn as indoor and outdoor work pants, they are ideal for anyone who is always walking and standing for extended periods. Aside from that, the design of these utility trousers goes well with my casual outfits. To add to the laid-back vibe, they come in unique colors like olive, pewter, and brushed almond, as well as camouflage. For messy jobs, the camo print hides the dirt well.
Honestly, I'm not a fan of the stacked pockets on the left leg because they are too small to fit in anything. Consequently, I'm only able to use the back, front, and right leg pockets. Furthermore, I don't think that the thin fabric meets the requirement for construction work unless you intend to alternate these trousers with other work pants. That's just my two cents!
What We Like
Made of stretchable fabric for better movement
Has a slim cut that without being too tight
Weighs lighter than most work pants
Great for outdoor work during summer
Velcro lets you open and close flaps quickly
Available in unique colors and camo
What We Don't Like
The fabric is a little thin for rough jobs
Left leg pockets are too small to carry tools
If you spend long hours standing under the extreme heat of the sun, then you will like these lightweight trousers for their breathability. With cool color options, you can also wear them when you're off-duty.
What Is a Pair of Cargo Work Pants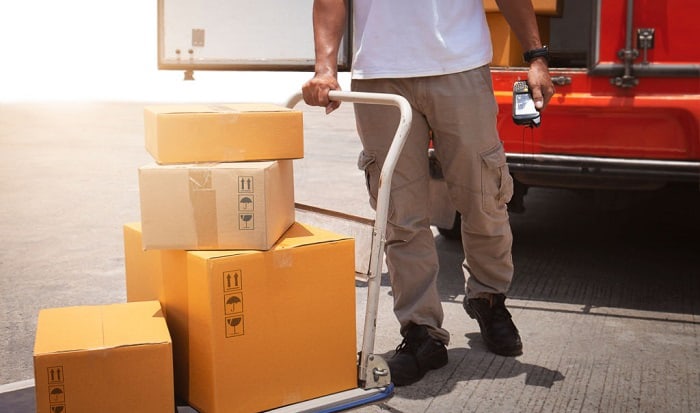 Cargo pants are sometimes called utility pants or combat trousers, as they were initially invented for military workwear. They are identifiable by the multiple pockets typically placed in the front, rear, and sides.
Types of Cargo Work Pant
Modern cargo pants have been remodeled to meet the needs of various professions. If you look at first responders and plumbers, they both wear pants with lots of pockets, but the style is different. Of course, there are names for all these designs:
Carpenter work pants
Tactical cargo pants
Hiking cargo pants
Multipurpose cargo pants
Cargo pants with knee pouches
Why Do You Need Cargo Work Pants
Cargo work pants are convenient because they allow you to store and quickly access tools, gadgets, and other small items in different pockets. Plus, it frees your hands when you need to climb ladders or carry bigger items.
Good quality cargo pockets have flaps to cover the opening, which Velcro, button secure, or snap closures. This way, the contents will not slip out when you squat, crouch, or climb ladders. Apart from work, you can also wear them for hiking, camping, and other activities.
Buying Guide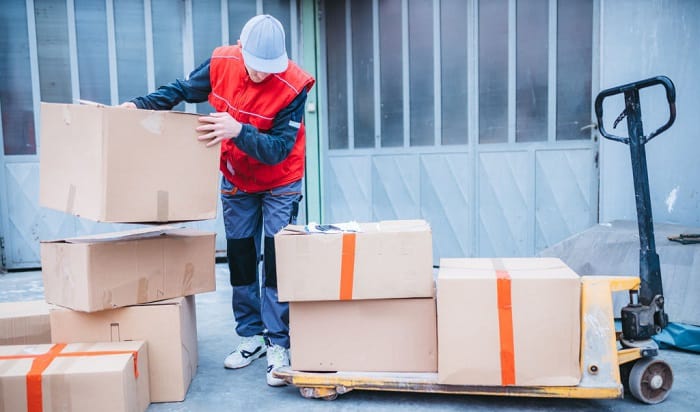 Cargo pants are among the most versatile pieces of clothing. Anyone can wear them on and off duty. But as I've said, brands are now developing innovative ways to create specialized garments. Read my tips below on how to buy professional cargo pants.
Fitting and size
While there are different types of cargo pants, the fitting falls into three categories. First is the classic fit that features a straight leg while the thigh and seat are neither tight nor loose. The second one is the slim fit, which is distinguished by a slender leg. The third one is the relaxed fit, which is known for its roomier around the thigh and seat to the leg.
Apart from the size, you need also to consider the type of fit that allows you to move better. Note that skinny pants are not ideal for work as they hug your thighs and legs too tightly. In turn, this will restrict your movement as you climb ladders and put more strain on the seams. By contrast, wearing baggy trousers might cause the fabric to get caught in machines.
Comfort
As explained above, ill-fitting cargo pants can feel unpleasant so you need to find the right cut for your body type. Also, the fabric choice must be appropriate to the work environment and weather. If you're working under extremely hot conditions, then you need more breathable pants.
Another consideration is the job description itself. Plumbers, for instance, wear pants with knee pads so their knees will not hurt when they kneel for hours. Security and first responders would need pants with an athletic fit so they can rush to the scene in case of an emergency.
Style
Industrial jobs can be rough and messy, such as landscaping and auto repairs. Conversely speaking, some professions require you to look clean and presentable, like restaurant or security personnel. In any case, it won't hurt to have some sense of style. After all, you will be wearing these pants for the next couple of years. Because cargo pants can be when you're at home or on a night out with friends, you might as well make the most of them. Just make sure that you factor in the functionalities that you need for work.
Budget
Ultimately, the price that we are willing to spend will also dictate our decision. Duluth cargo pants are more on the high-end, expensive side. While they are indeed the gold standard for quality, many workers will think about buying one. Among the bunch I featured, you will find a couple of cheap cargo work pants that you can check out. Of course, they all have strong points and trade-offs but they are generally reliable for various types of jobs.
One way to approach this is to consider your habits, daily tasks, the amount of physical labor involved, and how frequently you think you would need to wear cargo pants in a month. If you kneel, squat, or climb ladders daily, then investing in heavy-duty cargo work pants is a must. For errands or woodworking hobbies that you do a few times a month or year, then you can buy light-duty ones.
Care and Maintenance
One of the coolest things about owning and wearing cargo pants is that they are low maintenance. However, dirt and stain are much more visible on light-colored khakis. Hence, several brands and experts recommend washing cargo pants after two to four times of wearing. Because each model or brand uses different combinations of fabrics, it is best to read and follow the cleaning instructions provided by the manufacturer.
For stains, spot cleaning is the best approach. Whether it's sauce or muck, do not rub it as it will only spread the dirt further into the fibers and across the area. Instead, scrape it off with a card or a pocket knife. Then, get a paper towel to blot out the moisture. After that, work on the opposite side of the stain using another fresh sheet of paper towel.
With a cotton swab, apply a cleaning solvent to clean the opposite side of the stain. The logic behind this is to prevent the residue from penetrating deeper into the fibers. Start with the edges of the stain and work towards the center to curb the stain from spreading wider. Repeat the process until it lightens.
Frequently Asked Questions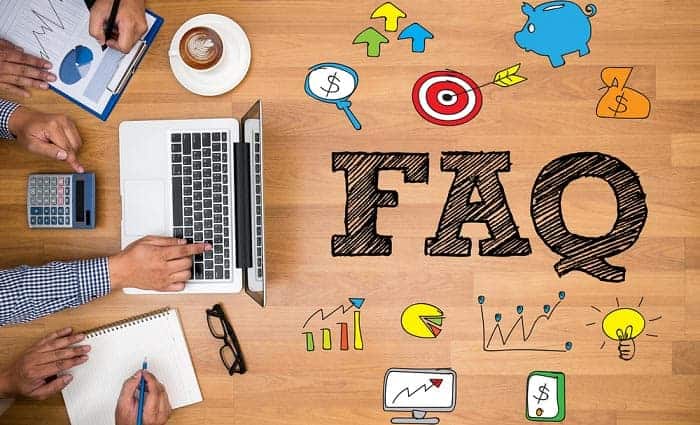 Tactical pants and cargo pants: what is the difference?
Cargo pants are recognizable by their large-sized pockets. When they were first made for the British Armed Forces, the pockets enabled the soldiers to carry maps, tools, and other items during combat.
Whether intended as men's cargo khaki work pants or cargo work jeans, these trousers are generally loose-fitting to allow the wearer to move freely and work in rough conditions.
Meanwhile, tactical pants are tailored for law enforcers, firefighters, and emergency responders. Therefore, their designs vary depending on the kind of mission that the wearer needs to carry out.
For instance, undercover law enforcers wear pants with discreet pockets, so they don't attract attention. Plus, the silhouette of the pants is usually either regular or slim fit. Conversely, tactical pants for EMS professionals ideally should have more cargo pockets, knee pad pockets, tape straps, and other necessities to help them during emergencies.
Note that tactical and cargo pants have similarities, too. Both can be worn outdoors or in harsh climates. Particularly thick cargo pants can be considered tactical, on the condition that they can be durable and practical enough for swift action. However, this is not always the case, as common cargo pants are not that sturdy.
Are work pants the same as baggy?
No. People across different platforms like Reddit or even fashion magazines use the term "baggy pants" exclusively when talking about oversized streetwear trousers.
It is no secret that the designers have drawn inspiration from loose-fitting work jeans and the like. However, these nice cargo pants are more appropriate for informal events or desk jobs if it's acceptable in the company dress code.
By contrast, work cargo pants for women and men are purposefully roomy to enable the user to kneel, squat, or climb ladders with ease. But in industrial settings, workers are discouraged from wearing trousers that are too baggy to prevent the excess fabric from getting entangled in the machines.
In short, work pants can be slightly baggy to facilitate freedom of movement. However, most baggy pants are not suitable to use as work pants.
Should cargo pants be loose or tight?
Cargo pants workwear, by design, have a roomy fit so that workers can squat, crouch, or climb the ladders with ease.
In addition, loose trousers help safeguard the legs against lacerations, splinters, and other injuries that one might get from working in a construction site or workshop. This type of fitting applies to both women's and men's cargo pants.
What are the most trusted brands of cargo work pants?
Back in the day, there weren't many brands to choose from. Fast forward to the 21st century, more businesses are manufacturing workwear, which can be hard for us to weed out the "bad ones." This is why I recommend trusted brands like Wrangler, Match, Dickies, Carhartt, LA Police Gear, CQR, and Red Kap. They make some of the finest men's and women's cargo work pants in the market.
Can you wear cargo pants to work?
In short, yes! As I've said time and time again, cargo pants are multi-purpose in nature. Many people wear these trousers in construction, manufacturing, carpentry, repairs, emergency services, military, delivery, and even offices with casual dress codes.
On that note, cargo pants do not fit in the formal wear or casual business category. If you need to wear a suit, you would need something more dressy, like slacks, khakis, or dark jeans with tapered or straight legs.
Are cargo pants out of style?
Yes, cargo pants were once the craze in the '90s and they are making a comeback this year. That said, fashion trends should not be your sole basis for wearing a piece of clothing. If wearing cargo pants will make your work more comfortable and convenient, then go for it.
Where can I buy cargo work pants?
Many brands that sell casual wear are selling cargo pants these days, but the quality may not be up to snuff if you intend to carry tools with them. My suggestion is to check the physical or online shops of the workwear brands I mentioned earlier. Otherwise, you can also browse through e-commerce websites and apps.
Conclusion
As a recap, let me highlight the main takeaway of this article. While many people wear cargo pants to school, at home, or as a fashion statement, heavy-duty garments are generally constructed differently. You have to scrutinize every button, pocket, rivet, and stitching carefully to ensure that the quality is fail-proof.
Each of us has different standards when choosing the best cargo work pants. Job requirements, daily routines, budgets, and other factors dictate our preferences. Regardless of the fashion trend, your decision should be based on your needs so you can perform your work comfortably and more efficiently.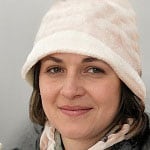 Veronica is our content editor. She is a talent in delivery. Her main work is editing and writing articles that are both informative and simple to follow. She is in charge of synthesizing our understanding of what personal protection equipment (PPE) is needed in each job, how to best apply it, and how to visualize that equipment.