Working as an electrician requires you to deal with plenty of safety hazards. The whole job requires you to comply strictly with specific safety rules. For instance, you need to make sure that all equipment is grounded and de-energized.
You also need to wear the best work gloves for electricians. The gloves for electrical work are often those that are dielectric and well-insulated as both these traits can prevent electric shocks.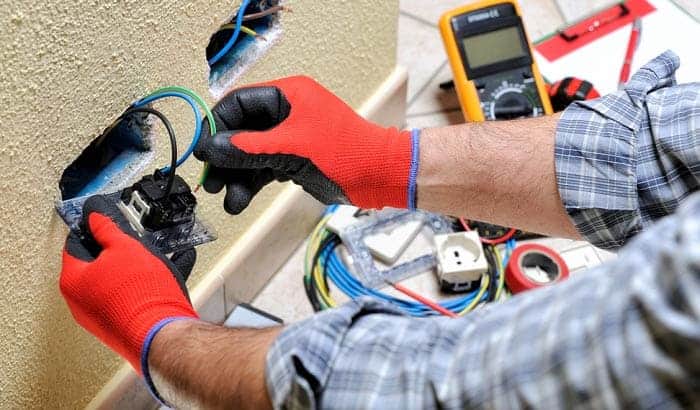 If you want to choose the most reliable electrical work gloves, take note that your choice also requires you to get to know more about the specific temperature that you should work in as well as the type of work you intend to do.
While you should avoid compromising flexibility for warmth, you also have to remember that exposing your hands to extreme freezing temperatures if your job requires you to work outdoors can put you in danger.
If you are interested in buying the right gloves for electricians then let us help narrow down your options with our short product reviews here. You can use the information in this article to guide you in making a wise choice.
Each review will inform you of the key benefits of each glove followed by information that will turn you a wise buyer. Let us start!
10 Best Gloves for Electricians Reviews of 2023
1. Klein Tools 40082 Lineman Work Gloves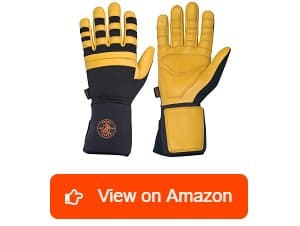 The first electrician work gloves that I would like to introduce is the Klein Tools 40082 Lineman Work Glove. This is one of those Klein gloves designed in such a way that they suit both tough and delicate work. You can even use these gloves when you are exposed to low temperatures.
One prominent benefit in this work glove is that it has 4-inch sleeves constructed out of leather and neoprene materials that showcase the glove's strength and toughness. What I am so glad about is that this also features side vents that allow your hands to breathe. I discovered that this glove works well during the winter, which is the specific time when the buildup of sweat may pose the risk of freezing your hands.
In case you are a lineman or an electrician whose job requires you to be in freezing conditions all the time then I highly suggest wearing these work gloves from Klein Tools. I also love how durable and sturdy its overall construction is. I think it is because it uses soft-grain leather, reinforced leather finger and palm patches, and double-row padded knuckles.
This durability allows the gloves to deal with daily use and abuse. The gloves are also warm and comfortable while having the ability to fit snugly on your hands. This pair of gloves also boasts of just the right amount of flexibility and thickness. It also boasts of its high level of protection.
In fact, it also protects your wrist, which is actually good when you need to climb poles. The bright color used in this glove is also a big advantage as it promotes ease in seeing it in the dark.
However, remember that it takes a little breaking in for it to deliver its intended function and performance.
What We Like
Ideal for tough and delicate work
Durable and sturdy construction
Can withstand daily use and abuse
Bright-colored gloves, allowing you to see them easily at night
Comfortable and warm
Once you break it in, this professional-grade and premium-quality work gloves for electricians will start to let you enjoy the precision and performance it promises, allowing you to accomplish your job correctly.
2. Magid Safety M011B10 Electrical Gloves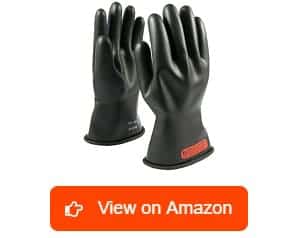 I also highly recommend choosing the Magid Safety M011B10 Electrical Glove. Constructed out of dielectric natural rubber latex material, this electric glove is capable of supplying Class O low-voltage protection. This means that it can withstand a max of 1,000V AC/1,500V DC.
I find it compatible with jobs related to electrical, so expect it to work well for linemen, field service workers, electrical contractors, high-voltage machine operators, and anyone who is involved in industrial applications. I also think that the use of natural rubber latex in this glove is a big advantage.
It is because it is more elastic compared to other materials, like vinyl, chloroprene, and nitrile. It is also known for being more puncture-resistant compared to vinyl. Another big advantage of the glove is that it works in minimizing the risk of hand chafing and fatigue. I think it is due to its well-contoured shape.
With its smooth finish, I am pretty sure that you will find it comfortable once you wear it. This also contributes to its ability to resist wear and tear. What I like the most about the glove is that it boasts of a rolled edge for its cuff. It offers the right amount of protection. You can even expect it to protect your forearm, wrist, and hands.
Another strength of this pair is that it is constructed while complying with the standard requirements and specifications targeted for rubber insulating gloves. With that, I can truly vouch for its effectiveness in delivering what it promises.
It is thick enough to protect you while still allowing you to move and do your job effortlessly.
However, I figured out that its sizing is slightly larger than usual.
What We Like
Ideal for various applications and work environments
Comfortable, thanks to its contoured shape and smooth finish
Offers the right amount of protection
Can lessen hand chafing and fatigue
Promotes mobility
What We Don't Like
Slightly larger size than usual
Magid Safety M011B10 is one of the best pairs of work gloves ideal for electricians as it delivers well in terms of providing you the kind of protection you desperately need.
3. Maxiflex 34-874 Nitrile Grip Work Gloves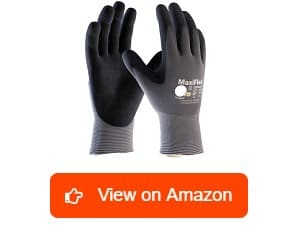 Another great product that I want to include in this article is the Maxiflex 34-874 Nitrile Grip Work Glove. I am fond of this one because aside from being of premium quality, I also noticed how breathable and lightweight it is. This can make you feel comfortable the entire working day.
It is comfortable and convenient enough to wear considering the fact that it is capable of keeping your hands dry and cool. I like the excellent grip provided by the nitrile coating integrated into this work glove. What is even better about it is that even with the coating, it does not compromise your movements and dexterity.
You can still move with ease even with the gloves on. I am also impressed with the fact that this work glove promotes precision handling. I think this is the reason why it is suitable for applications needing excellent grip and high dexterity. Some of these applications are electrical work, automotive, machining, and assembly.
I am also one hundred percent satisfied with the superior sensitivity and fit delivered by this work glove. The fact that it is palm-coated allows it to offer an incredible grip while its superior finger sensitivity makes it truly perfect for jobs that need fine motor skills, like engineering, auto repair, product assembly, and agriculture.
I also noticed that it is a great product to invest in because aside from being cool and comfortable, it also boasts of its ability to resist abrasion. It is form-fitting, which makes it even more comfortable while minimizing the risk of hand fatigue. It is breathable, thanks to its micro-foam coating.
Furthermore, it has a knit wrist designed to prevent dirt and debris from getting inside the work glove.
One flaw, though, is that the back of the glove's hand is not waterproof.
What We Like
Breathable and lightweight
Provides an excellent grip and good fit
Boasts of a superior finger sensitivity
Can lessen the risk of hand fatigue
Abrasion-resistant
What We Don't Like
No waterproofing feature for the back of the glove's hand
With this work glove from Maxiflex, you will feel more secure and at ease doing your job as an electrician since you know you are out of harm's way.
4. Klein Tools 40074 Electricians Gloves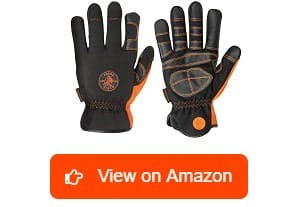 I am also happy to include Klein Tools 40074 in this list of great options for electrician's work glove. I super love its sturdy and durable construction as this boosts its ability to withstand the daily abuse in the hands of electricians. While it is mainly designed for electricians, it is still versatile that you will find it useful for other applications.
Another impressive fact about this glove is that it is easy to slip on and remove because of its extended cuffs. I am also in love with the unique material used in the palm and finger of this glove as it is slip-resistant. This specific feature allows it to be stable when you pull a cable or wire.
This glove is also very strong and durable. These positive traits are made possible because of the glove's wrapped index finger and the reinforced spot found at the thumb base. Both features enhance the strength and robustness of this pair. Another strength of this product is that it is constructed to be comfortable enough to wear the entire day.
It is because it is not too stiff. You can even move your hands inside without pain or discomfort. Since it uses the Spandex material, you will also find the glove breathable. This means that you will not deal with the discomfort associated with sweaty palms and hands while wearing the gloves.
It tends to fit incredibly well on your hands, too. It is a well-made pair of electrician gloves that will also deliver for a wide variety of applications.
One of the flaws I discovered, though, is that it seems to be quite stiff at first uses. Still, you can fix this after you have broken the gloves in.
What We Like
Strong and durable construction
Comfortable to wear the whole day
Breathable
Allows you to move with ease even when you wear the gloves
Ideal for various applications
What We Don't Like
Quite stiff when used at first
After that, you will start to enjoy this versatile pair of electricians work gloves and begin using it not only for electrical work but also for other jobs and applications.
5. Mechanix Wear – Leather M-Pact Framer Work Gloves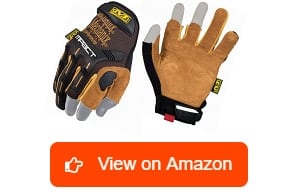 If what you are in search for is a pair of low voltage leather gloves combined with rubber material then the Leather M-Pact Framer Work Glove from Mechanix Wear is worth the try. One of the strengths I discovered in this glove is that it can resist abrasion because of its DuraHide leather palm.
I also think that its functional fingerless style is a big advantage as it promotes a great level of dexterity, especially if you are involved in tasks that require you to measure, cut and frame structures. This fingerless style also contributes to freeing your middle and index fingers as well as your thumb.
With that, it is possible for you to enjoy full control and precision when handling tools. It is mainly constructed from the highly versatile and flexible TPR or thermoplastic rubber as well as DuraHide materials designed to keep the back of your hands fully protected from possible injuries caused by impact and occasional hammer strikes.
I also find this work glove completely beneficial because of its effectiveness in absorbing impact. It is made possible with the aid of the glove's D30 palm padding. This padding is also a big help in dissipating energy once you begin doing your job. I also find the gloves comfortable and warm enough especially when used in cold environments.
It has a great precision grip and works well when used for outdoor work. Furthermore, it has a truly comfortable fit.
One flaw, though, is that its seams tend to experience wear and tear fast.
What We Like
Can resist abrasion
Offers superior dexterity
Highly flexible and versatile
Can absorb impact well
Gives you full control and precision when handling tools
What We Don't Like
The seams tend to undergo wear and tear quickly
With the help of this electrician's glove, you can definitely do your job without fear about the safety of your hands.
6. Superior Glove Dexterity Arc Flash Gloves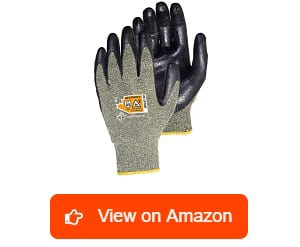 I am also very happy to introduce the highly protective Superior Glove Dexterity Arc Flash Glove. I find it completely capable of offering complete protection coverage because of the cut protection and flame-resistance that it offers.
It is capable of maintaining the integrity of its properties by combining naturally flame-resistant materials. It is also one of those work gloves designed to protect a lot of electricians and workers from flash fire and arc flash hazards.
It has a good design, which makes it suitable for use in the gas and oil industries that require a high level of protection from flash fires. Aside from its superior protection, I also instantly noticed its neoprene palm coating, which is soft enough to make users feel extreme comfort when they are wearing the glove.
I am also very impressed with its superior grip properties, allowing it to function as desired without causing any issues in terms of dexterity. I also like the carbon filament integrated into this glove because it works in imparting anti-static properties. Another strength that I discovered that it is compatible with touch screen devices.
It also works effectively if you need to work around hot running equipment and environments.
However, it has a flaw, which revolves around it being stiff when used for the first few times.
What We Like
Offers good coverage in terms of protection
Protects users from cuts and flash fire and arc flash hazards
Flame-resistant materials
Soft and comfortable neoprene palm coating used
Provides superior grip
You can expect this problem to diminish after using the glove for a while, allowing it to function and deliver a great performance based on what it initially promised.
7. National Safety Apparel Rubber Voltage Insulating Glove Kit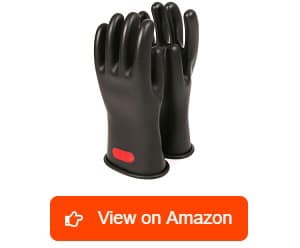 Lastly, I would like to suggest using this rubber voltage insulating glove kit offered by National Safety Apparel. One thing that grabbed my attention right away is that this product is offered in a kit. This means that aside from the gloves, it also contains other things you might need, including the storage bag and the 10-inch leather protectors.
The kind of protection that this glove offers is improved. In fact, I find it suitable for general and arc flash applications. It also boasts of its great versatility considering the number of workers it can cater, including utility workers, electricians, contractors, electrical cooperatives, construction workers, and linemen.
Available in several sizes, I am quite sure that you will be able to find the right fit. This glove for electricians is also constructed out of an insulating rubber material capable of offering protection at a max of 1,000V AC/1,500V DC.
It is actually a well-made set complete with most of the things you need to protect your hands from a hazardous job, like being an electrician. In addition, it is known for fitting appropriately based on the size of your hands. The leather protector included in the kit is also a huge help if you wear it together with the gloves.
It is because it is made in such a way that it can protect the rubber-based gloves from tears and punctures.
However, this glove also has some issues on sizing so you really have to be careful when choosing the perfect size for you.
What We Like
Comes in a kit containing most of the things you need
Improved protection guaranteed
Available in several sizes
Can prevent tears and punctures, thanks to its leather protector
Versatile as it can be worn by different workers
Overall, this work glove for electricians is made in such a way that it can give you the satisfaction you need based on how it performs in the workplace.
8. 3M Nitrile Foam Coated Comfort Gloves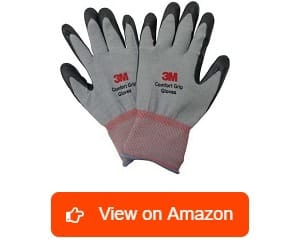 The next work glove that deserves a good spot in this article is the 3M Nitrile Foam Coated Comfort Glove. This product comes in 2 pairs, which is already a steal considering how affordable it is. What I am so pleased about it is that it is primarily designed for electrical and maintenance work.
This glove offers utmost comfort when worn. It has a good grip, which offers adequate protection in the majority of cases. I noticed that it is really compatible with the kind of job electricians do. It is also thin enough in the sense that you still have the chance to feel the wires while being electronically isolated for your safety.
As far as protection is concerned, this glove for electricians offers a great amount of coverage. In fact, it protects your hands from electric shocks and other potential issues, like burns and flames. It gives you the protection you need while still letting you handle things confidently.
Another thing that pleases me is its price as I find it affordable for all the positive things that it can do. It also has strong and solid stitching. I also noticed how easy it is to put on, remove, and clean.
However, the sizing is smaller compared to the sizes of other gloves.
What We Like
Ideal for electrical and maintenance work
Comfortable
Provides a good grip
Offers enough protection for electricians
Strong and solid stitching
What We Don't Like
Some issues regarding the size
Once you find the right size, you will start to notice how efficient this work glove is especially when used in environments that require you to work around electrical equipment and wiring systems.
9. ESA SUPPLIES Insulated Rubber Electrical Protective Glovess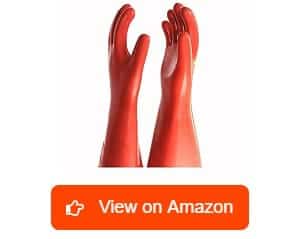 I am also happy to introduce this insulated rubber electrical protective glove from EAS SUPPLIES. I am so glad that this glove is constructed from a highly durable rubber material. I also noticed its versatility as it fits the majority of people regardless of their job and work environments.
It is a great pair of gloves if you need to work on conditions under 1,000V. This serves as your basic means of security. It also allows you to touch electrical equipment in that case. It fits snugly while molding your right and left hands perfectly. I find it really effective when used in commercial or industrial settings with high-voltage lines.
Another positive thing about it is that its price is lower compared to the other gloves of the same quality and strengths. I am also satisfied with its overall design because it allows me to make movements with ease, so accomplishing the things I need to do in my work environment is easier.
I also find it thick enough, giving it the chance to stand and withstand electric shocks. With that, I discovered that it is protective enough when used by electricians whose jobs expose them to various electricity-related hazards.
However, it seems to have a stinky and foul smell at first few uses.
What We Like
Highly durable rubber used for its construction
Versatile, allowing it to fit the needs of most users
Offers a basic means of security on conditions under 1,000V
Suitable for use in high-voltage commercial or industrial settings
Can handle electric shocks
What We Don't Like
A foul smell when used at first
You can expect this smell to go away after using it for a while, though. After that, you will start enjoying the majority of the benefits and strengths offered by this insulated rubber electrical protective glove.
10. SAS Safety 6468 Leather Gloves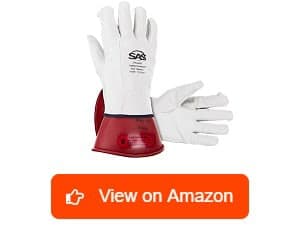 The next product I would like to talk about is the SAS Safety 6468 Leather Gloves. One strength that caught my attention regarding this leather glove from SAS Safety is its high level of durability. I find it truly durable, making it the ultimate choice if you are concerned about the length of time you are going to take advantage of your glove.
I think that the goatskin leather construction contributes a lot in making this pair of gloves superiorly durable. I also find it strong enough in the sense that it has the ability to withstand and hold up to daily use and abuse. It fits nicely over your hands. It also provides enough protection.
It promotes dexterity, giving you the chance to do your job efficiently or make movements without any effort. The leather used is also both nice and soft while still remaining durable. It is not too thick but is already enough to give you the protection you need.
It offers such protection while giving you the ability to feel what you need to feel when working. You will also find it effective in protecting your service gloves. In fact, it is made in a way that it can extend your service gloves' life. You will also enjoy superior comfort when you are wearing it.
It is also one of the most flexible leather gloves for electricians available in the market at present.
As for the drawbacks, the only thing I can seem to think of is that its size seems to be smaller than usual.
What We Like
Superior durability and long-lasting
The leather used is soft and nice to touch.
Can deal with daily use and abuse
Fits nicely
Offers the kind of protection most users need
I can say that this is just a very minor weakness especially once you discover how amazing it performs when used in various workplaces, including the work environments of electricians.
What is a Pair of Work Gloves for Electricians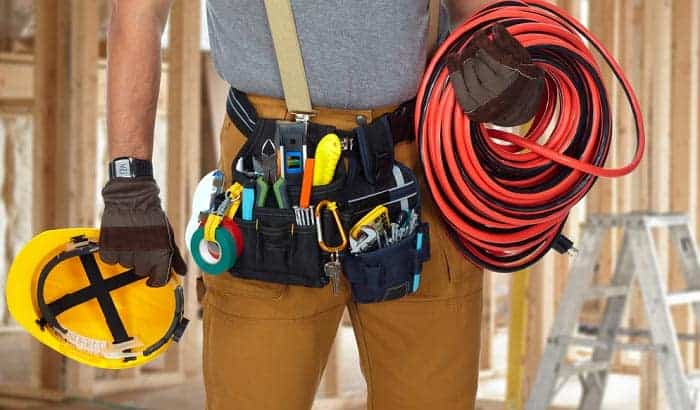 A pair of work gloves for electricians, as the name suggests, is a protective gear designed to offer protection to the hands of electricians or anyone who is involved in electrical work. Note that as an electrician, your job will expose you to various risks and dangers, including shocks, burns, and injuries.
Among the most affected parts of your body will be your hands. It is because you will be using them in accomplishing your job and they will be in close proximity to sharp edges, tools, and wires. It, therefore, serves as an effective line of defense from imminent risks, which makes it essential to recommend it to electricians.
Electricians' safety gloves also come with features designed to help you handle your job well. Some of these gloves are close-fitting and need to have an excellent grip, allowing you to deal with tasks that require fine motor skills.
These include junction, conduit, and wiring electrical boxes. Flexibility and dexterity are also vital if you want to handle small cables and wires. With that, it is no longer surprising to find electrician gloves with puncture-resistance.
One more thing that electricians need in their gloves is electrostatic or anti-static dissipation. These provide protection for low or high voltages associated with specific activities.
How Does it Work
Work gloves designed for electricians work by ensuring that you will not be putting your hands in danger when you are doing your electrical work. Note that as electricians, you can't really predict the extent of harm you are exposing yourself to.
It is mainly because you will need to interact with live electrical equipment and wires on a constant basis. Your daily work exposes your fingers and hands to electric shocks, burns, and any other possible injuries. With that, it is vital to look for a way to protect your hands from being directly exposed to electrical tools, wires, and sharp edges.
This is where the safety gloves for electricians come into the picture. They offer protection to your hands against the dangers that you are constantly dealing with. The gloves do so while still allowing you to perform your daily duties and responsibilities in the electrical field without any interference.
What it does is that it just covers your hands while still providing you with excellent dexterity. One thing that the wide-ranging electrical gloves can do is to let you use these items for most electrical applications and purposes.
The gloves can also be expected to work in low-voltage and high-voltage applications, protecting workers from fires, explosions, burns, and shock. The fact that the gloves have a special composition also make them more comfortable to wear, especially if you work in hazardous conditions that expose you to various electrical hazards.
Types of Electrician Gloves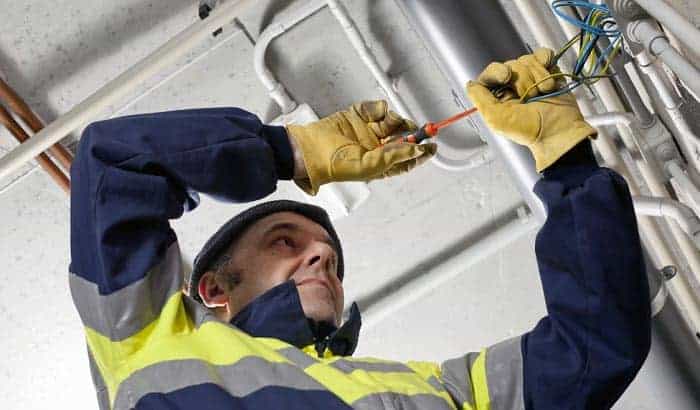 Different types of electrician gloves are now available in the market. These gloves are helpful if your job requires you to handle general electrical equipment, swimming pools, moving walkways, elevators, branch switches and circuits, solar systems, emergency power systems, carnival rides, and other electrical work among many others.
When searching for a good type of electrical gloves, take note that the best choice is often dependent on the specific amount of voltage you are exposed to in case of a shock from an electrical current. Also, keep in mind that electrical gloves are classified based on the voltage protection level they offer.
You can also classify them based on whether they are ozone-resistant. In this case, you have to be aware of the voltage breakdown, which can also be defined as voltage protection levels categorized as follows:
Class 0 – Offers a max of 1,000 volts AC. It is also proof-tested for up to 5,000 volts AC.
Class 1 – Offers a max of 7,500 volts AC. It is also proof-tested for up to 10,000 volts AC.
Class 2 – Offers a max of 17,000 volts AC while being proof-tested for up to 20,000 volts AC.
Class 3 – Offers a max of 26,500 volts AC while being proof-tested up to 30,000 volts AC.
Class 4 – Offers a max of 36,000 volts AC while being proof-tested up to 40,000 volts AV.
Also, take note that aside from the mentioned classes, gloves with rubber insulation are among the most vital pieces of personal protection designed for electrical works. For effectiveness, this type and material of glove should incorporate physical strength and dielectric properties, among many other factors, such as durability and flexibility.
Ensure that these gloves also underwent electrical testing to ensure that they are safe to use. One more thing that you should know about the electrical glove system is that they should consist of not only the rubber insulating glove, which is classified based on its offered level of protection and voltage but also liner gloves.
The liner gloves are necessary because of their ability to lessen the discomfort usually linked to wearing gloves with rubber insulation. The liners also offer warmth during the cold weather while also absorbing sweat during warm months. In most cases, you can expect them to have either a knit wrist or a straight cuff.
The glove system for electricians also needs leather protector gloves that you have to wear over rubber gloves in order to give the mechanical protection required from punctures, abrasions, and cuts. You should also know that all electrical gloves are classified based on whether they are ozone-resistant.
Why Do You Need to Wear Electrician Gloves
A pair of electrician gloves is definitely a must-have for jobs as hazardous as being exposed to electricity and tools and equipment based on it on a daily basis. Several electricians wrongly assume that electric gloves only serve as luxuries. However, you should remember that they are not.
The truth is that they are among your basic necessities. Note that over 50,000 electricians suffer from injuries because of different job-related incidents. The majority of injuries affect their hands. The good news is that you can prevent that from happening to you with a pair of gloves specifically designed for electricians.
Your goal should be to protect yourself from future dangers while you are doing your job involving electricity. This is a benefit that the best work gloves for electricians can prevent. With the help of electrical gloves, you can lessen your risk of dealing with various forms of dangers, such as punctures, nerve harm, dermatitis, scrapes, and cuts.
The electrical gloves are also beneficial because they allow you to work in low-voltage and high-voltage applications while feeling at ease and having peace of mind. It is mainly because the gloves can assure you that they can protect you from fires, explosions, shocks, and burns.
Another remarkable benefit about most work gloves for electricians is that they have a special composition, which helps in making the process of working in dangerous and hazardous conditions more comfortable. Remember that as an electrician, your workplace is a naturally dangerous place.
It is a common place for electricians to incur injuries without proper protection, like shocks, puncture wounds, and burns. That said, whether you are a professional electrician or just someone who wishes to try doing home improvement projects involving electricity, you need a pair of gloves as your first line of defense from hazards.
Apart from being constructed to be shock-protective, the gloves can also provide ultimate protection from burns in case of an arc flash. If you follow the requirement of wearing leather protectors on top of the insulating electrical gloves, then you can also protect yourself from cuts and nicks triggered by being in contact with electrical parts.
Buying Guide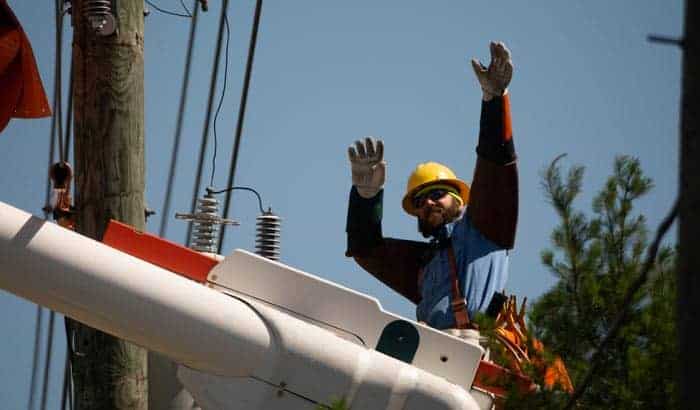 Do you wish to find a reliable pair of work gloves for electricians? Then make it a point to formulate a good and wise buying decision based on several important factors that will further improve a glove's performance. Some of them are mentioned in this section:
Material – One primary factor to check and assess is the material used in making the electrician glove. Make sure to pick to a certified glove if you are working live. It also helps to invest in a glove constructed out of non-flammable or non-conductive material.
One tip is to choose a pair of gloves, which is constructed out of something like a rubber material. Rubber is a good material for electrician gloves because it guarantees a hundred percent safety. The problem is that this material might also compromise the flexibility of the gloves.
One advice is to go for that with a rubberized outer shell, which also features a fleece or nylon lining. The material should be light enough to ensure that your hands continue working even when the temperature drops.
Fleece lining is actually beneficial because it is warmer compared to cotton lining while also having the ability to hold a minimal amount of moisture. This is a vital feature especially if you are working since being in the workplace might cause your hands to be warm within the gloves, causing them to sweat.
The problem is that excessive sweat might increase the risk of freezing hands. The extra moisture is also harmful in case your work exposes you to live wires.
Insulation – Well-insulated electrical gloves are also the best choices if your job requires you to work around live currents (for instance, if you are a line worker or an electrician). In most cases, the gloves used in this are constructed out of rubber.
To determine the insulation, note that the gloves will be measured based on certain standards while being labeled accordingly. Expect the labels to be color-coded with indications on the actual class of the glove. For example, there is the Class 00, which is considered as the lowest and holds the beige label.
This class also has the highest use voltage, which is around 500 AC/750 DC. It would be ideal to plan to make use of these kinds of electrician gloves in case you need to work in areas surrounding live current that exceeds 50 volts.
Size and fit – To get the highest level of protection if you are an electrician, you need electrician work gloves that have to be firm on your skin. It should still be comfortable, though. It should not be too tight in the sense that it does not compromise your movements.
You need to look for the right size of gloves, one that fits you well to prevent ensure that your choice does not snag on anything. It should also be able to help you enjoy a wide range of motion. If you want to get the perfect fit, measuring your hands with an aim of comparing it with the sizes and measurements provided by a specific manufacturer.
While having to measure your size with a measuring tape can be bothersome, this is still essential in getting the right size. It is because you may have a hard time gauging sizes, such as large and extra-large. You have to get the actual numbers of your measurement to ensure that you really get the right size.
Generally, gloves designed for electrical work and circuit repairmen should be snug. It is necessary for them to have a great hold. Keep in mind that your goal is to handle jobs that require intricate fixings, like connecting joints and wiring electrical boxes. With that, you have to find the one that properly fits and is comfortable enough.
Work condition – It is also advisable to take into full consideration your present work conditions. For instance, if you are working outdoors, especially during the winter, then wearing thin cotton gloves beneath dielectric ones might be necessary for preventing frostbite.
With that in mind, you might need to buy a pair of gloves, which is one size bigger. It might also be a good idea to buy warm and well-insulated gloves. If your job requires you to work indoors, then go for gloves that perfectly fit your hands.
One more thing to remember is that some experienced electricians highly suggest buying gloves that reach the elbows. Also, make sure that the sleeves are placed in the cuffs of your gloves for safety purposes. Aside from that, avoid turning the cuffs' edges over.
Apart from the already mentioned factors, other fundamental properties that you have to look for are adaptability and nimbleness. Both these properties are helpful in letting electricians handle links and tiny wires. The level of protection supplied by the work gloves is also necessary.
You need to check to determine if the gloves can protect you from impact and resist cuts aside from keeping you safe against possible injuries caused by electricity. With that, you will be able to perform your job well and feel the utmost security.
Care and Maintenance
Giving your low voltage electrical gloves and high voltage electrical gloves the proper care and maintenance they need is essential in making them last longer than what is promised. What you have to do after finding the right, high-quality pair is to do things that will allow it to stay in good working condition.
For insulated electrician gloves, checking and inspecting their condition every 6 months of regular use should be on top of your priority. Do the inspection every 12 months of storing the gloves in the shelf, too. You need to do some visual inspection before every use.
Doing this is helpful in finding cuts and tears immediately that might lower the dielectric properties of the gloves. Certain kinds of work gloves for electricians, such as those constructed out of leather, also need a visual inspection prior to using. If there are signs of heavy wear and tear, replace the gloves right away.
When doing the visual inspection, it would be best to hold the two gloves and feel them. Make sure that each one does not feel tacky. Inspect the gloves for swelling since this is a sign that it was in contact with petroleum products. You should also check it for nicks.
Spend time inspecting in between fingers as this can help you determine if there is ozone damage. Another thing that you have to do is to check the leather protectors you are using so you will know if the material does not have cuts. The leather material should not have any sharp objects attached to it.
It is also necessary to do some air testing regularly. This test involves inflating the electrician work gloves then holding them to your cheek. This is necessary for checking whether the gloves have air leaks. Clean the gloves regularly, too. When it comes to cleaning a mild soap detergent and lukewarm water may be used.
Avoid using grease, oil, or solvents during the cleaning process. Proper storage is also essential when it comes to taking good care of your work gloves. The best way to do is to put their cuff down in a storage bag. Doing such is necessary if you want to prevent dirt and debris from penetrating the work gloves.
When storing your work gloves in the storage bag, make sure to separate leather protectors and the rubber gloves. Doing this increases your likelihood of being able to examine your work gloves before using them. One more thing that you have to do is to store them in a dry and cool area in order to keep the rubber material protected.
In case you feel like dust is necessary for minimizing the sweat within your rubber gloves then stay away from products that contain talc. It is because this ingredient tends to degrade the insulation of the rubber material.
What you need to use is a glove powder that gained the approval of the manufacturer. Alternatively, you may use a liner designed to absorb sweat or perspiration.
Frequently Asked Questions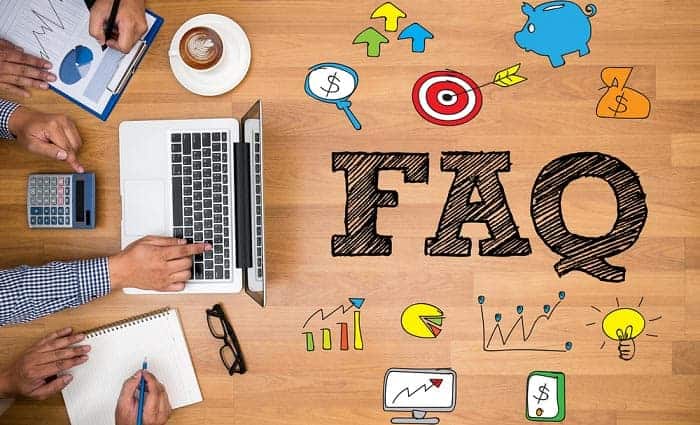 Can rubber work gloves prevent electric shock?
Yes, most rubber work gloves, especially those made specifically for electricians are designed in such a way that they are shock-absorbent. That said, expect them to be capable of preventing electric shock. Just make sure that you make your choice properly.
Well-insulated rubber gloves actually work effectively in protecting you from electric shocks. However, make sure that you also have leather protectors because they are vital components if you want to wear and use insulated rubber electrical gloves the correct way.
Why electricians wear rubber gloves?
It is because rubber gloves serve as the ultimate defense against electric-related injuries and incidents affecting the hand. One reason why the gloves are constructed out of rubber is that the material is an insulator. It is known for being a poor conductor of electricity, which means that it prevents current from flowing through it.
This is the main reason why tool handles, like pliers and screwdrivers that are utilized by electricians when doing repair work often come with rubber or plastic covers. This serves as their ultimate protection from electric shocks.
Can you get shocked through nitrile gloves?
Electricity-proof gloves are, of course, made of materials that do not conduct electricity. Fortunately, nitrile is one such example.
Nitrile is considered a "poor" conductor and a good insulator because it allows little to no electricity to pass. Hence, it can be used to make electrical-resistant gloves for various applications, including automotive, power, manufacturing, and so on.
Can you touch the hot wire with gloves?
It depends on the type of gloves you are wearing.
Generally, you can touch live wire when wearing 100% rubber gloves for electrical work with no punctures or tears. But things aren't that black and white.
Remember, the gloves must be tested and rated according to the ASTM standards to be considered insulated gloves for electrical work. If the gloves are designed to protect against 500V (AC) and 750V (DC), you cannot use them for applications that will expose you to a higher voltag.
Secondly, understand that many of us use the term "rubber gloves" loosely. For instance, we refer to cleaning gloves as "rubber gloves" due to their rubbery texture. However, these are not the same as the anti-electricity gloves that lineman or electricians use.
Most store-bought cleaning gloves are mixed with cheap materials. They cannot protect you from electric shock.
Why do electricians wear 7 gloves?
Among all professions, electricians are the ones who need to have a wide range of hand protection.
An electrician should don three safety shockproof gloves when working with high-voltage electricity. It feels like a hassle to put on all these pieces of equipment but they play an important role in keeping you safe.
As explained earlier, each electrician would likely have rubber insulating electrician gloves to prevent shock, as well as liners and electrical leather gloves. This whole system already calls for three pairs. But note that in some cases, rubber gloves are not necessary, as many safety experts and Reddit users suggest.
Alternatively, some would wear nitrile or low-voltage electric-resistant synthetic gloves for electrical protection. Having a wide variety of gloves will provide workers with options for different types of tasks.
When are electrical safety gloves required?
Electrical safety gloves are required each time an electrician needs to do some electrical work. You need to wear the gloves as part of your overall personal protective equipment (PPE). It is necessary if your job requires you to deal with low-voltage and high-voltage situations regularly.
Keep in mind that your safety is a top priority if you are in a dangerous workplace, such as the workplaces of electricians. With the safety gloves, you can prevent incidents revolving around working around electricity, like electric shocks and burns. It can also protect your hands from getting injured due to explosions and fires.
Additionally, electrical safety gloves are considered as necessities for workers who regularly participate in electrical work. These protective and safety gears are required in case you are constantly dealing with low-voltage and high-voltage applications.
You need these because these serve as your way to protect yourself from common safety hazards in the electrical industry, including fires, explosions, shocks, and burns. Keep in mind that dealing with electricity as a part of your job is dangerous, which is the main reason why wearing this safety gear is necessary.
Take note that the electrical safety gloves serve as the ultimate protective gear needed by an electrician as a defense from various safety hazards that might affect their hands, like electric shocks. However, you can't just buy any pair.
You have to ensure that your choice meets or even exceed the present requirements of ASTM (American Society for Testing & Materials). Also, keep in mind that the specific electrical gloves you need are rated based on their offered level of voltage protection offered. This means you have to check carefully the many classifications to determine which pair suits your requirements.
What are the work gloves for electricians made of?
In most cases, the work gloves specifically constructed for electricians are made using a rubber. Aside from the rubber insulating work gloves that are classified based on the amount of protection and voltage they offer, the gloves also need to be made of a leather protector and a liner.
One reason why a leather protector is needed is that it can offer the mechanical protection that all electricians need against abrasions, punctures, and cuts. You have to wear this protector on top of your rubber insulating work gloves.
As for the liner, it is necessary for ensuring that you will not feel uncomfortable when you wear rubber gloves. Apart from making your hands feel warm during the cold weather, it also absorbs sweat during the warm months.
How to choose the right size?
Just like any other piece of protective equipment, you need to find work gloves that fit correctly for them to offer the right protection. You know that it is the right size and fit if you find it easy to wear it and remove. It also needs to be comfortable enough while giving you the dexterity needed while letting you do your job efficiently.
While sizing methods differ from one manufacturer to another, you will still find the whole process easier with the sizing chart often included in the packaging. Just make sure that you do some key measurements using your dominant hand.
Among the things you have to measure in your dominant hand are your palm's width at your knuckles' base and your hand's circumference at your knuckles' base. It is also advisable to measure your middle finger's length, starting from your knuckle to its tip.
How to clean and wash your work gloves?
When it comes to cleaning and washing your work gloves, be aware that you can do it either by hand or by putting it in your washing machine. Make sure that you are using a mild non-bleaching detergent or a mild soap and tap water during washing.
Once you have completed the washing process, use clear water to rinse your gloves. Allow them to dry thoroughly but do so at an air temperature, which does not go over 150 degrees Fahrenheit. Avoid using a machine, like a heater, for drying.
Where to buy work gloves for electricians?
You can actually shop for electrician work gloves in various places. The most convenient way to do so is to buy them online. Among the online marketplaces you can visit when planning to shop for high-quality pairs of work gloves designed for electricians are Amazon, Walmart, Homedepot, and the official websites of glove manufacturers.
Conclusion
As an electrician, you need to put your safety on top of your priorities. You have to keep your hands protected from all the risks and dangers revolving around electrical work. With the help of the best work gloves for electricians, you can receive that kind of protection.
You no longer have to worry about your hands getting accidentally injured because you know that you are well-protected from the moment you step in your workplace and start doing your job.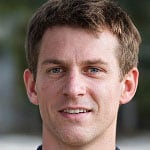 Having worked in the field of personal protective equipment for over two decades, Andrew Carnegie is a specialist in the field.
At EDC, he strives to improve performance efficiency and promote workplace safety for EDC's readers and customers. He also researches the most up-to-date equipment that has earned relevant accreditation for use in a wide range of industries and specialties.