Also called reflective vests, the best safety vests are commonly found in the police force and fire departments. You can also see them being used and worn by construction workers. However, take note that no matter what type of job you do, a high-quality safety vest contributes a lot to keep you safe in the work environment.
If you are part of the construction industry, for instance, then a reliable construction safety vest can help protect you from harm regardless of how active your job is at times. Note that pressing deadlines in this industry might cause you to become too active, making you more prone or vulnerable to accidents.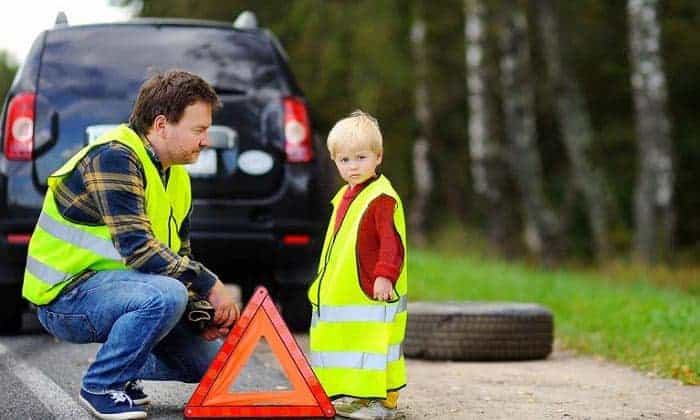 With the aid of a good safety or reflective vest with pockets, you can alert those around you about your presence. While wearing the safety vest alone can't completely prevent accidents, your use of its reflective materials helps ensure that those around you will not be too careless when maneuvering or working with you around.
To ensure that you will be able to take full advantage of a high-quality and heavy-duty safety vest, make sure to choose on that adheres to the regulations and standards set by the ANSI and OSHA. The color should also be distinct or unique from other items that you can find within the workplace.
Make sure to choose a safety vest after considering your specific working environment. To find out more about safety vests, here are twelve choices that are known for their appropriateness and suitability to various work conditions that require much-enhanced safety.

Top 10 Safety Vest Reviews 2023
1. JKSafety Class 2 High Visibility Safety Vest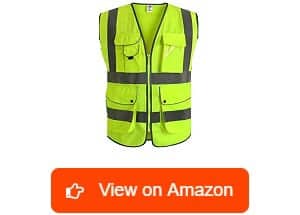 The first high-visibility vest with pockets that I am going to introduce to prospective users is the JKSafety 9-pocket Class 2 Safety Vest. In my opinion, it is a wise choice whether you are searching for a top-tier surveyor's vest or a safety vest for any other type of worker. It is the flexible and versatile design that makes it appropriate for different users and applications.
Aside from surveyors and construction workers, this safety vest can also benefit engineers, municipal workers, parking attendants, warehouse personnel, renovation professionals, public safety officers, and security workers. It is also a safety vest designed to keep you safe and secure when cycling, hiking, jogging, volunteering, motor riding, or walking in the park.
This safety vest has a unisex design, allowing it to fit both men and women. Constructed using 100 percent polyester reflective material, I am also assured of its incredible durability. The material is strong and durable that it can last for quite a long time. Another advantage of the material is that it is both breathable and lightweight.
I can even say that it is one great choice for a lightweight safety vest. In terms of visibility and reflectivity, this safety work vest with pockets will not disappoint. It has wide reflective strips covering your back, shoulders, waist, and chest, offering 360-degree reflectivity, giving you protection even if you work in low-light conditions or under daylight.
It is also a neon yellow safety vest with pockets. Such a color makes it highly visible for ultimate protection. I like the nine multipurpose pockets integrated into the vest, too. Integrated in front, the pockets have zipper Velcro clamshell closure that promotes ease of access.
This number of pockets provides more than enough space for some important items, like a laser pointer, flashlight, and cellphone.
One minor downside, though, is the somewhat poorly stitched zipper.
What We Like
Highly visible and reflective
Comes with plenty of pockets, providing a lot of capacity for your items
The durable and breathable polyester material used in its structure
Features wide reflective strips
Suitable for different users and work applications
What We Don't Like
The zipper is not that well-stitched
For its low price, this high-visibility worker or construction vest with pockets carries a lot of nice features in one nice and stylish design, making the process of investing in it worthwhile.
2. KwikSafety BIG KAHUNA Class 2 Reflective Safety Vest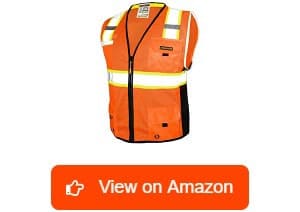 Whether you are looking for a men or a women's safety vest with pockets, the BIG KAHUNA Class 2 High Visibility and Reflective Safety Vest is sure to give you contentment. I sensed its versatility right away as I discovered how it adheres to the needs and requirements of a wide range of users.
These include contractors, construction workers, engineers, firefighters, parking and traffic attendants, police, surveyors, emergency responders, and survey crews. It is also applicable in several activities that require you to be visible to guarantee your safety, including running, hunting, cycling, riding a motorcycle, and jogging.
I like how functional this safety vest is, too, which is made possible by its numerous pockets. It even has a 2-tier chest pocket with enough space for some of your items. It also has a compartment that you can expand at the opposite side, two interior pockets, and two pouches with built-in grommets, maximizing the vest's carrying capacity.
The color, which is neon fluorescent orange, is also great as far as visibility is concerned. Combine that with its 2-tone contrast stripe, which also features a 1-inch retro-reflective tape and 1-inch yellow trim and I am one hundred percent sure that it will never disappoint in maximizing your visibility in all conditions and situations.
It also boasts of its 360-degree reflectivity, providing you with a unique identity in the dark. The polyester-quality woven stitching of the fabric used in this vest also further enhances the structure's sturdiness without losing breathability, thanks to its black side panels.
It also has a sturdy zipper front closure for ease of putting on and taking off.
However, one downside is that it is slightly hard to clean and not machine-washable.
What We Like
Useful for different users and activities
Comes with several spacious pockets
Neon fluorescent orange color for maximum visibility
Takes pride in its 360-degree reflectivity
Highly breathable and sturdy
What We Don't Like
Not machine-washable and quite difficult to clean
3. G & F 41113 Industrial Safety Vest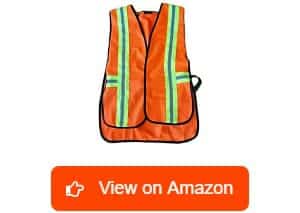 If you are in search of a budget-friendly protective vest that you can use in the workplace then you will never go wrong by choosing the G & F 41113 Industrial Safety Vest. It contains plenty of nice qualities and features that make it deserving to be included in any review talking about the best safety vests today.
I am pleased with its price because it is truly affordable without losing its high level of quality and durability. Constructed from polyester and mesh fabric, I am certain that you will immediately feel extreme comfort even during the first time you wear it. Both materials are also highly breathable, so you can rest assured that your comfort will not be compromised even if you wear it for a long period.
It is also light enough that you no longer have to worry about feeling uncomfortable if you wear it during the summer. It is also comfortable enough that you can conveniently wear it on top of winter clothes. The quality of this vest is also great as it adheres to the strict safety standards laid out by the ANSI.
I am also impressed with the silver reflective stripes added to this neon-orange vest because those help if further enhancing the level of visibility that it delivers. I also find the expandable elastic sides of this vest remarkable because these help make it fit you well and comfortably by providing adequate room for your body to breathe.
Furthermore, there are Velcro closures in this vest that promote extreme convenience as you put it on or remove it.
However, the size is not that great for those with larger physique or body frame.
What We Like
Affordable without losing its quality
Performs well in terms of visibility and reflectivity
Comes with expandable elastic sides for proper fit and comfort
Highly breathable and comfortable
Lightweight, promoting comfort when worn for long periods
What We Don't Like
Does not fit that well for those who have a larger physique
For its low price, the quality of this safety or protective vest is incredible and impressive, so it helps to make it a vital part of your PPE collection.
4. Neiko 53941A High Visibility Safety Vest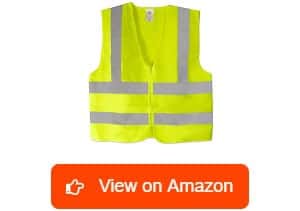 The next high visibility safety vest that I would like to wish to recommend is the Neiko 53941A. I am so happy that it sports a flexible design as this makes it appropriate for various applications, including construction, bicycling, roadside emergency, and surveying. It showcases a fluorescent yellow color, which I find truly effective as it makes it as visible as possible.
With such magnificent visibility, I discovered how helpful it is in lowering one's risk of suffering from an accident. Aside from the color, the safety vest also further improves its visible through the two reflective strips each vertically and horizontally. Each strip is around 2 inches wide, further maximizing visibility regardless of the lighting and the weather.
I am also delighted with how breathable this safety vest is. It offers extreme comfort and lightness through its 100 percent polyester fabric material, which does not disappoint in terms of breathability. This vest also promotes ease of layering on top of your outerwear or sweater. It does so without making the entire clothing bulky.
This stylish safety vest also has a front zipper closure design, which is easy and effortless to zip and unzip. The zipper also seems to be tough and durable. As for the fit, expect it to give you comfort. Most of its users agree how the vest fits them well without being too tight.
One issue, though, is that the material surrounding the chest and neck area is prone to fraying.
What We Like
Wearable and appropriate for various applications, including construction and bicycling
Highly visible fluorescent yellow color, promoting safety
Maximum visibility guaranteed in all lighting situations and weather, thanks to its reflective strips
Lightweight and breathable polyester fabric structure
Easy to zip and unzip
What We Don't Like
The material in the chest and neck areas is prone to fraying
For its price, the overall quality and functionality of this Neiko high visibility safety vest exceeded the expectations of many users, which is why buying and wearing it makes for a smart and wise decision.
5. PeerBasics Reflective High Visibility Safety Vest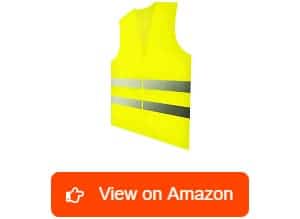 The PeerBasics Reflective High Visibility Safety Vest is also one of my highly recommended items for personal protective equipment. I like this specific vest because it serves multiple purposes or uses. This multi-use vest can keep you safe whether you are in the construction industry, outdoor utility, highway, railway, or any other place where your safety might be questioned.
It also caters to the demands of many prospective users – among which are emergency workers, firemen, parking attendants, security guards, event staff, and toll work workers. It has a flexible structure that it also works well for security purposes whether it is day or night or whether you use it indoors or outdoors.
With the highly visible and reflective strips of this safety vest, your visibility will surely be guaranteed. The vest can guarantee your safety with its fluorescent yellow color and the reflective silver strips wrapping the whole vest.
I also find the hand-picked materials used for this high visibility safety vest from PeerBasics impressive because they play a vital role in making the vest as comfortable and breathable as possible. Combine that with the fact that it is lightweight and I am sure you will love the hassle-free experience brought on by the vest.
Another viable reason why I fall in love with this safety vest is that it has a simple structure that promotes convenience and ease when it comes to putting it on and taking it off. It comes with a Velcro, so you can quickly put it on and off. It does not also complicate things by ensuring that it does not have hooks and loops.
This vest is also made in a way that it can perfectly fit over clothes, like jackets and shirts.
However, some users complained about the somewhat large mesh holes, causing a shirt or any other clothing with a dark color inside to be visible with a hint of yellow.
What We Like
Does a good job in terms of visibility, thanks to its fluorescent yellow color and reflective strips
Comfortable and breathable materials used in its construction
Can perfectly fit over clothes
Lightweight, promoting a high level of comfort
Easy to wear and take off
What We Don't Like
Somewhat large mesh holes
The overall quality of this PeerBasics safety vest is remarkable, so buying and using it in any situation where you need a highly visible safety vest can surely satisfy you.
6. SHORFUNE High Visibility Safety Vest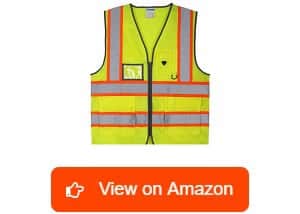 The SHORFUNE High Visibility Safety Vest is also another safety vest that deserves positive feedback because of the numerous rewarding and remarkable benefits it can offer its users. One rewarding thing that I am sure you will love about this SHORFUNE safety vest is the 100 percent polyester knitted fabric material used in the structure.
This material is famous for the superior comfort and lightness that it offers. I also discovered that this vest is large enough that it perfectly fits the sizes of both men and women. It has an easy and simple structure as well as a zipper closure, which you can conveniently use to put on and off the safety vest quickly.
Your safety will never be compromised by wearing this vest, too. It has a neon yellow color, which is a great color for visibility as well as a 360-degree reflectivity, further maximizing its ability to stay visible. I am so impressed with the horizontal and vertical reflective strips that are around 2 inches wide integrated into the vest.
This offers an assurance that your visibility will constantly be maximized regardless of the condition and environment you are in. Another rewarding benefit of this SHORFUNE safety vest is that it is appropriate for a wide range of applications – among which include indoor and outdoor use, daytime and nighttime use, and construction work, roadside emergency, surveying, security, and bicycling applications.
It has several multifunctional pockets to maximize the storage capacity of this vest. It even has pockets to organize your ID cards, pens, and cell phone. Furthermore, this safety vest features a radio loop, which you can use for hanging tools conveniently.
One problem I have with this vest, though, is that its Velcro tends to wear sooner than expected.
What We Like
Visible and reflective, making it perform well in terms of keeping you safe
Large enough to fit all prospective users
Comfortable, lightweight, and breathable structure
Can be used in different environments, whether indoors or outdoors and daytime or nighttime
Equipped with plenty of multifunctional pockets
What We Don't Like
The built-in Velcro is not that sturdy
If you are searching for a safety vest with great visibility and has a lightweight, comfortable, and reflective structure then this budget-friendly vest from SHORFUNE is sure to give you what you want.
7. GripGlo Reflective Safety Vest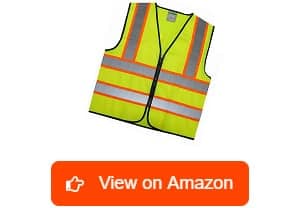 The next highly recommended safety vest for workers is this specific product offered by GripGlo. I am pleased with the high level of visibility promised by this vest, which is a major contributor in keeping you safe and secure when doing certain jobs and activities, like jogging, running, motorcycling, biking, and doing construction and surveying jobs.
It is also a nice safety vest for security personnel, the police, and traffic crossing guards. With the high level of safety and protection delivered by this vest, I think it is one item that your RV roadside and car rescue kit should have. To maximize its level of visibility, you can see double horizontal reflective strips at the back and front portions of the vest.
I am also in favor of the orange trim edging added to the reflective strip or material because this feature significantly boosts the vest's visibility both day and night. It complies with the safety standards set by authorized agencies, like ANSI, when it comes to protective vests and rain gears. This serves as proof that it can indeed help you remain safe.
I am also satisfied with how the zipper closure is added. It is because it is easy to zip up, promoting convenience when wearing and removing it. This can also help the vest stay secure once worn.
It is also built to be strong and sturdy, allowing it to hold up well regardless of the harshness in your work environment.
However, make sure that you are getting a size that truly fits you because the sizing of this item seems to be a bit off.
What We Like
Highly reflective, maximizing your visibility
Meets safety standards, proving its ability to keep you safe and secure
Comes with a zipper closure that is easy to use
Strong and sturdy construction
Appropriate for different workers and activities
Overall, this safety vest from GripGlo is reflective enough, making it ideal in all those situations that require maximum visibility.
8. KwikSafety FIRST LADY Safety Vest for Women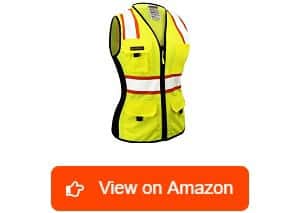 The next safety vest I would like to introduce and recommend is the FIRST LADY Safety Vest designed for women by the KwikSafety brand. With this protective item, safety will no longer be a concern. I like the fact that it is structured in a way that it can handle almost all sorts of environments, applications, and potential users.
It even gains the approval of the OSHA when used for construction and surveying as well as other workers, including tool gate and parking attendants, airport staff, and school crossing guard. The way it is structured also makes it capable of promoting healthful and safe working situations and conditions.
I am satisfied with the slim fit nature of this vest, too. It is because I find it convenient when wearing it over a shirt even during warm weather. Another advantage is that it is designed to offer adequate wiggle room so you can layer your clothing in case you need to work in cold environments. This is made possible with its elastic hem and waist.
It has a great mix of feminine and masculine appeal, allowing it to be compatible with various industries and activities, including horseback riding, engineering, electrical work, walking, cycling, and running. The color is bright enough so visibility will never be a major issue. It also has a silver reflective tape as well as a black trimming, which does not only make the vest extremely visible but also provides it with a more professional, finished, and cleaner look.
The mesh material used in its construction is also highly breathable, making it more convenient, comfortable, and lighter to wear. Add to that its four pen pockets and five outer pockets and I am sure you will never worry about where you will be storing all your items.
You will also feel even more secure because of its heavy-duty zipper.
However, one drawback is that the sizing seems to run small.
What We Like
Highly protective regardless of your work environment
Light, convenient, and comfortable to wear because of the breathable mesh material used in constructing it
Comes with several pockets, maximizing storage capacity
Boasts of a professional, finished, and clean look
Features elastic hem and waist, providing more than sufficient wiggle room for layering
What We Don't Like
The size runs quite small
Overall, this women's safety vest from KwikSafety looks great and professional without compromising its visibility and high level of protection.
9. Radians SV55-2ZGD-L SV55 Heavy Hi-Vis Safety Vest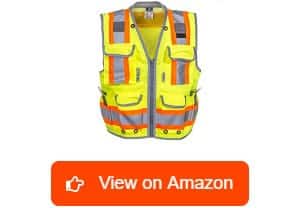 The next safety vest I suggest wearing and using is the Radians SV55-2ZGD-L SV55 Heavy Woven Two-tone Hi-Vis. Primarily made for engineers, this safety vest is also suitable for construction superintendents, field engineers, and any other workers in various industries who need to wear safety vests in the workplace most of the time.
It is a small safety vest with pockets that can accommodate the needs and requirements of many prospective users as well as different kinds of environments. It even uses a tough and sturdy Oxford material at the front, offering extreme resistance when you are dealing with harsh working situations.
The strength of the material also makes it capable of supporting the additional weight carried by the contents of the cargo pockets. I am also one hundred percent satisfied with the reflective material used in the vest's reinforcement edge binding. It is because I noticed how it contributes a lot in boosting nighttime visibility.
Another reason to love this vest is that you can put some items in its several multi-functional pockets. These pockets are designed and configured in a way that they can hold water bottles, paint, and tablets, among many others.
The use of woven polyester and polyester mesh materials in the vest's structure also make it comfortable and light enough to wear for long periods. Furthermore, it has a heavy-duty zipper closure to secure it.
However, some users say that it is slightly loose without layering it.
What We Like
Can accommodate the safety requirements of most prospective users
Tough and sturdy Oxford material present in the structure, allowing it to handle harsh working situations
Can support additional weight because of its guaranteed strength
Comes with a highly reflective material designed to enhance nighttime visibility
Features several multi-functional pockets
What We Don't Like
Slightly loose if you do not layer it
Overall, I can say that I am satisfied with my purchase of this safety vest as it truly performs its job of keeping you safe through maximum visibility and reflectivity.
10. Salzmann 3M Multi-pocket Safety Vest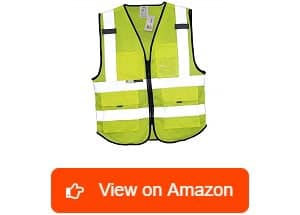 If you are interested in a 3M safety vest with pockets then I highly suggest checking out and researching about the Salzmann 3M Multi-pocket Safety Vest. Honestly, I think it is the ultimate choice for different types of prospective users requiring a good reflective safety vest, like cyclists, commuters, and construction workers.
It even works as a highly effective engineer safety vest as it offers not only safety but also excellent visibility and comfort. One thing that I find genuinely interesting from this vest is the breathability of the mesh fabric material used in constructing it. Due to its breathability, I am sure that all users will stay cool whether they are working or exercising under the scorching heat.
I also discovered that the strength of this Salzmann safety vest seems to be unbeatable. It is because the fabric used in it is hard-wearing, proving its ability to last long. I am also happy to say that it has multiple pockets (four to be exact). What is good about each pocket is that it is large enough to hold various items, like wallets, phones, cards, and keys.
Each shoulder also features radio clips for your convenience. This safety vest is also guaranteed to be reflective, which is a big help in keeping you safe, especially if you are in an environment with low lighting. I am also pleased to announce that you can now personalize or customize this safety vest with logo.
All you have to do is to send the text and logo you prefer to be integrated into the vest and the company will personalize it for you.
However, take note that such customized feature requires you to pay an additional cost.
What We Like
Ideal for different workers and users, including cyclists, commuters and construction workers
Features radio clips on each shoulder
Highly reflective and visible, ensuring your safety even in low-light work environments
Can be customized or personalized with your chosen logo or text
Highly breathable, promoting comfort even when worn under the scorching heat
What We Don't Like
Personalizing it with your preferred logo or text requires additional payment
It is worth the additional cost, though, as this will allow you to add your personal touch to the Salzmann 3M Multi-pocket Safety Vest without compromising its highly visible and reflective nature.
DEWALT DSV521-XL Industrial Safety Vest (Outdated)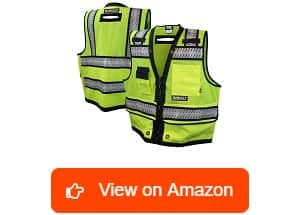 Lastly, I intend to suggest the DSV521-XL Industrial Safety Vest for those who are serious about finding a dependable protective vest. One thing I like about this DEWALT safety vest is its attractive and stylish design. This means that while its main priority is to keep you safe by helping you stay visible all the time, it is still created with style.
It is also offered by the DEWALT brand, which is already trusted for the quality of its products, including this industrial protective vest. It can protect workers through its highly visible polyester mesh material that is also detailed with a 3-inch black trim. I am also happy with the inclusion of a couple of mic tabs at the shoulder portion of the vest.
Another prominent reason why this vest is a good choice is that it features a segmented reflective tape, around two inches that promotes additional visibility when applied in low-light situations. It also offers good storage capacity for some of your most frequently used items because of its multiple pockets made of sturdy woven twill fabric.
You can even find one huge back plan pocket in this vest. I like how strong and durable this DEWALT vest is, too. This durability can be immediately sensed once you realize that its major stress points are reinforced with sturdy and durable stitching. It even features heavy webbing, further promoting strong and sturdy protection.
The zipper closure is also a big help in securing the vest once you wear it.
One issue, though, is that this zipper is also somewhat difficult to zip up and use, especially during your first few tries.
What We Like
Sturdy construction, thanks to its heavy webbing and reinforced stress points
Visible and reflective design, promoting all-time safety
Comes with multiple pockets, allowing you to store some important items
Boasts of an attractive and stylish design
Features sturdy stitching
Even with that minor problem, this DEWALT safety vest still seems to wow its users because of how protective, reflective, visible, and comfortable it is.
ML Kishigo 1513 Ultra-Cool Polyester Heavy-duty Safety Vest (Outdated)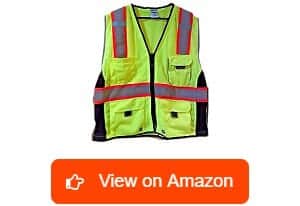 I am also pleased that I came across the ML Kishigo 1513 Ultra-cool Polyester Heavy-duty Safety Vest because I feel like it carries almost everything that a protective and highly visible vest should have. I am happy with its heavy-duty structure based on the polyester mesh material. I like this specific material because of its amazing breathability.
I also notice the sporty and stylish look of this safety vest. It is because of its black sides designed to offer a contrast to the overall look of the vest, making it look as sporty and stylish as possible. It is reflective, which makes it genuinely visible. This is made possible through its silver reflective materials that are around 2 inches wide.
Such reflective materials also feature a contrasting color. The reflective trim surrounding the arms as well as the piping down the sides also further improve the vest's ability to become even more visible even during low-lighting situations. I can also vouch for this vest's breathability, allowing you to retain the coolness and comfort you wish it to showcase.
Another reason to love this safety vest is the built-in zipper front closure. This is a convenient addition to the vest and combined with a sturdy webbing reinforcement, it contributes a lot in ensuring that the item lasts long. Created for serious users and workers, I can assure you that it will not give up that easily because of its strength.
I like the fact that it has a couple of cargo pockets on the outside that also feature grommets and adjustable flaps. The many pockets integrated into this safety vest extends its storage capacity while its lime color makes it even more visible.
However, the part designed to hold pens is prone to discoloration due to excessive heat and sweat.
What We Like
Boasts of a sporty and stylish look
Strong and durable construction
Features a zipper front closure made even stronger by its webbing reinforcement
Equipped with plenty of pockets
Can be used even in the dark or in low-lighting situations
In totality, this safety vest is created for its excellent functionality, maximum visibility, and unique style, proving its quality so it is indeed worth paying for and using in various environments.
What is a Safety Vest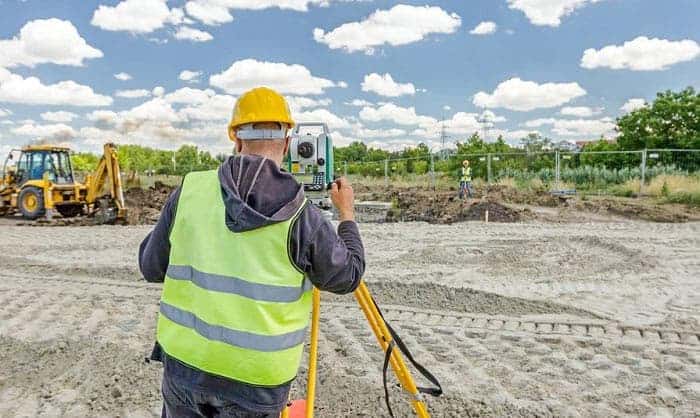 If you are working in hazardous areas, like a construction site or beside a busy roadway, then visibility is a must. If, for instance, a heavy equipment operator fails to see that you are in the path of a hundred-ton machine then you are done for. Even if you shout, your voice will most likely be drowned out by the noise of the engine.
If only you were wearing something that is not just brightly colored but also very reflective then the machine operator could have seen you. This is exactly the reason why you need to wear a safety vest. A safety vest is a piece of safety gear that is usually made of tough, waterproof material, like vinyl or polyester.
These vests usually come in several bright colors, like neon orange, yellow, and sometimes neon green. Any bright color that has a bright contrast against the background is recommended.
Safety vests are not just brightly colored. They also have parts that are highly reflective to increase the wearer's visibility. This makes it possible to see the wearer even in low-light conditions and whenever there is inclement weather in the worksite.
How Does It Work
Safety vests work by making the wearer increasingly visible, even in low-visibility conditions. The colors of the vests are usually unnaturally bright, something that you would not often see in nature. This helps the vests become easily distinguished from their surroundings.
Safety vests also come with several strips of highly reflective materials. This increases the wearer's visibility in low-light conditions. Even a small amount of light hitting these reflective areas will cause them to light up and show against a dark backdrop.
Some people increase the visibility of their safety vests by adding more reflective tape and sometimes, they attach miniature strobe lights on their backs and fronts. They do everything that they can to further improve their vests' effectiveness.
Types of Safety Vests
The American National Standards Institute provides three classifications of safety vests: Class 1, Class 2, and Class 3. These ANSI ratings are meant to help workers decide what kind of safety vest is most useful for their work environments.
Class 1 – These vests are meant for workers who are at the lowest risk levels but are still in danger of serious physical injuries and even death. Class 1 vests are usually used for job sites where the traffic does not exceed speeds of 25 miles per hour and the work is usually done pretty far away from the roadway and heavy equipment.
Examples of people who would use this type of vest include contractors doing sidewalk repair in a suburban neighborhood. According to the regulations stated by the ANSI, Class 1 safety vests should have either a safety yellow or orange color and they must have at least 155 square inches of reflective material.
The reflective tape should wrap around the middle and over the shoulders of the vest. These vests do not require sleeves.
Class 2 – This classification of safety vest is for higher-risk environments including roadwork where the traffic is moving no faster than 50mph. Class 2 vests need to be larger than the Class 1 because they need to be more visible.
They need to have at least 775 square inches of safety yellow or orange background space, and at least 201 square meters of reflective material. These vests are commonly worn by road survey crews, airport baggage workers, construction workers near or operating heavy equipment, and crossing guards at schools.
Class 3 – These vests are worn by people who work in high-risk environments because these places are where visibility is a top priority. The people who need to wear these vests are usually road workers who are doing repairs in the freeways, law enforcement and rescue personnel, and tow truck workers.
These also include emergency assistance crews who need to work in less than optimal weather conditions. The Class 3 vests are the largest of the bunch because the ANSI requires that they have at least 1,240 square inches of safety yellow or orange backgrounds and 310 square inches of reflective material.
These vests often have short sleeves, making them resemble a shirt rather than a traditional vest. For workers who might need to respond to emergencies, the vests need to be easy to take off in case they get snagged on debris.
Why Do You Need a Safety Vest
The main reason why safety vests are needed is for high visibility. These vests need to have bright colors that are easily distinguishable from the background and can be easily seen in the dark. This is why they always come in fluorescent colors and have reflective materials on them.
Here are some more reasons why high-visibility vests are needed:
Safety – High-visibility safety vests are often the only way that workers can be seen and identified in workplaces where visibility is not that good or where the lighting is not enough. For instance, in construction sites, the operators and drivers of heavy machinery might not have enough time or opportunities to check their surroundings for other workers on the ground.
To prevent horrendous accidents from happening, the workers need to be as visible as possible so that these operators will have enough time to react and prevent the unthinkable from happening. Another instance wherein high-visibility vests are highly recommended is when people are hunting big game in groups.
Deer and other large animals do not see color the same way that humans do. They see neon orange as a dull shade of yellow so they can easily ignore them. Hunting safety vests prevent the members of the hunting party from shooting at each other while stalking their prey.
Identification – Safety vests help distinguish unauthorized individuals within a particular workplace. For instance, people who want to take a shortcut through a hazardous construction area rather than going around it can be quickly identified by security personnel and then escorted outside for their safety.
Also, in case of emergencies, the high-visibility safety vests make it easier to find the workers and provide them with assistance. For example, if a construction worker gets trapped inside a collapsed section of a building they are working on, rescuers will be able to locate him faster when he is wearing a high-vis safety vest.
Directional Guidance – For instance, if rescue workers are sent out to find a missing hiker, their brightly colored safety vests will make them easier to spot by the hiker, thus enabling him to reach out for help. The safety vests also help police officers direct traffic away from an accident site so that emergency medical teams will have a clear path to help the victims.
Branding – Construction companies are required by law to provide their workers with complete safety gear, which includes safety vests. These vests have plenty of space where the company can place their company logos. To comply with ANSI rules, they can use reflective materials for their brands.
This will allow co-workers to identify each other and for the security personnel to find if any unauthorized persons are loitering in the construction site. The branding will also serve as good marketing material for the company.
High visibility vests are the first line of defense against workplace hazards. These also allow the workers to do their tasks in relative safety. The ANSI standards were set in place to ensure that safety gears are designed in the most optimum manner to keep the wearer safe.
With the help of high-visibility safety vests, serious incidents are drastically reduced, which is also helpful in maintaining workplace safety.
Buying Guide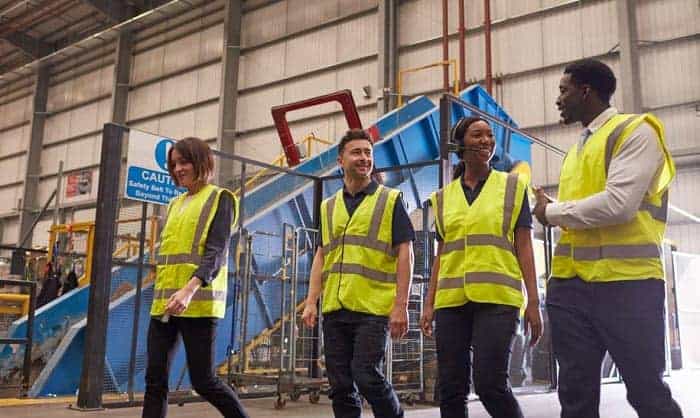 If you are on the market for a new safety vest, here are some tips on how you can find the one vest that gives you more bang for your buck:
Color – This will depend on the requirements set by your employer. If you have the freedom to choose, three common colors are available for you. They are fluorescent lime green, bright yellow, and fluorescent orange. You need to check with your company first what color safety vests the employees should use.
Reflectivity – Aside from the bright colors, safety vests should have the right amount of reflective material so that the wearer can be easily seen and identified regardless of the amount of light available in the area.
The reflector stripes should also work during the daytime when the sun is so bright that its rays drown out the fluorescent colors. It is required by the ANSI that safety vests, regardless of the classification, should be visible from at least a thousand feet away.
Pockets – Some of the Class 1 vests usually do not have pockets as they would take away the real estate that the reflectors need. However, there are plenty of brands that make safety vests composed of pockets.
For instance, if you are a police officer, you will need pockets on your safety vest for things like pens, your ticket booklet, and other miscellaneous things. The good news is that there are safety vests that come with large and small pockets, and pockets at the exterior and/or interior of the vest.
Durability – If you need to use a safety vest every day at work, it needs to be durable enough to last at least 6 months without the fabric fraying, tearing, and their colors and reflectors fading. OSHA standards regarding the use of safety vests are strict, so if you got a cheaply made vest, expect your safety officer to require you to replace it after just a couple of months.
You should get a safety vest that is made from high-quality materials and is constructed with long-term use in mind. This means that the seams should be double-stitched and the fabric is not so thin that it frays easily.
ANSI Compliance – You should never buy cheap safety vests that are not ANSI-compliant. The regulations set up by the ANSI are there to keep you safe. Those regulations are the absolute minimum to ensure that you, the wearer, are highly visible to vehicle drivers, heavy equipment operators, and your other co-workers.
You might have found a safety vest that is half the price they usually sell for but you need to be skeptical. Ask if the vest follows the ANSI requirements, especially the part about the amount of reflector material present on the vest. It is very dangerous for you to go to a hazardous worksite without being sure that you can be seen by other people.
Fit and Comfort – Regarding the fit of safety vests, they usually come in just one size. If it seems too loose, you just need to adjust the straps at the side to make it fit just right. However, if you are a plus-sized person, certain manufacturers make larger safety vests that will fit your frame comfortably.
If you will be working in a place with a hot and humid climate, it is top-rated to choose a safety vest that is made mostly out of polyester mesh. This is not only more lightweight but also allows your skin to breathe so you can wear the vest comfortably the entire day.
Machine-washable – Safety vests are heavy-duty pieces of safety clothing so you do not have to worry about them getting all ripped up and frayed by your washing machine. Most of them are machine-washable so you can just throw them in along with your laundry.
However, you do need to remember not to use strong detergents. Avoid using bleach, too. It is because both the detergents and bleach will make the colors of safety vests fade and minimize the effectiveness of the reflector stripes.
Your safety vest must get a good washing occasionally. When your safety vest gets covered in dirt and dust, it will lessen the vest's visibility, thus putting you in a lot of danger.
Care and Maintenance
Properly maintained, a safety vest used daily has a service lifespan of around six months. A vest that is worn only occasionally can also last up to three years. Here are a couple of things you have to prioritize in terms of the vest's care and maintenance:
Washing – You must wash your vest regularly. Accumulated dirt on the surface will greatly diminish the intensity and visibility of the bright colors. Your safety vest must maintain its bright colors and visibility for as long as possible.
Some safety vest manufacturers recommend machine washing safety vests with like-colored garments, turned inside-out, using cold water and a mild detergent. You must not use bleach or fabric conditioners as they will weaken the vest's fabric and dull the colors.
It is important to turn the vest inside out to protect the reflective tape from getting damaged. Make sure to let the vest air dry but if you have no choice, you can use a machine dryer. However, you need to take it out immediately so it will not get damaged by the excess heat.
Replacement – You need to have your safety vest replaced when the colors have faded or if it gets torn, stained, or defaced. Anything that causes the vest to not be visible by the naked eye from 1,000 feet, in both day and night might warrant a replacement.
Aside from frequency of use, other factors can also cause your safety vest to get worn out. These include working at higher elevations because of the increased ultraviolet rays of the sun, working under the sun, and the type of work that you do. Note that strenuous activity will make the vest dirty faster and will also most likely cause the fabric to tear.
When the time comes that you need to have your safety vest replaced, you should notify your company's safety officer or your immediate supervisor and put in a request for a replacement.
When you take care of and properly maintain your safety vest, it will repay you by making sure that you are always highly visible and far from most, if not all workplace hazards. Take care of your vest and it will do the same for you.
Frequently Asked Questions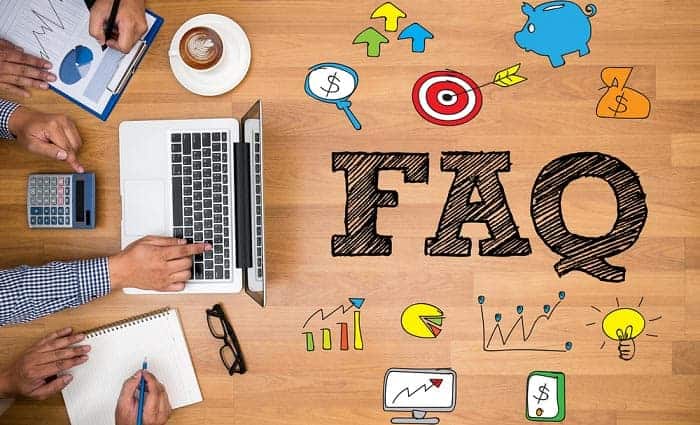 What are the most popular safety vest brands?
With the high level of protection promised by safety vests, you can see a lot of brands offering reliable products in this category. If you are confused about which product to choose then you may want to begin checking out the safety and protective vests offered by these trusted brands: JKSafety, Salzmann, Neiko, Radians, PeerBasics, KwikSafety, SHORFUNE, GripGlo, G & F, and DEWALT.
What are safety vests made of?
Almost all safety vests nowadays are made of light and breathable polyester mesh fabric. Polyester is great because it can be colored in all sorts of hues, especially fluorescent ones like bright lime green, orange and yellow. Not only can they hold all kinds of colors, but they can also retain them much longer than other fabrics.
Cotton and other natural fibers tend to dull after just a couple days of use. Polyester is also very durable, making it highly resistant to tearing. It is so tough that most safety vests need to be easily taken off in case the wearer gets tangled in some debris, which is why they are fastened using hook and loop straps.
Safety vests also have reflector strips to make the vests even more visible. These strips of reflective fabric will bounce back most of the light that hits the wearer back to the source.
Which is better: A Class 2 or Class 3 safety vest?
The answer depends on the minimum work zone requirements. The purpose of safety vest classification is to help companies determine the PPE and amount of reflective materials that are most suitable for specific jobs.
So, although a Class 3 vest offers the most visibility in a hazardous environment, it's not necessary for places with traffic flow slower than 50mph. School crossing guards or airport ground crews, for example, will do just fine with a Class 2 vest.
Which color safety vest is most suitable?
In the product review and types of safety vest sections, each class is available in yellow and orange versions. These colors are not merely safety vest brands' marketing strategies or an indication that one security vest is better than another. Rather, these choices are in accordance with the ANSI Safety Colors.
The color codes are as below:
Yellow: used for construction and other jobs in the outdoor setting. It indicates physical hazards, including but not limited to falling or tripping.
Orange: these reflective vests with pockets mean there are dangerous machines working nearby.
Red: often seen in emergency services and is used to indicate dangers in general, such as fire hazards.
You will also notice that some PPE supply shops sell black safety vests, jackets, and overalls. These models also have bright yellow reflective strips around the chest and arms so that the workers remain visible. They are mostly used for instances when workers need to hide grease and dirt.
When should a Class 3 vest be worn?
Class 3 safety vests are intended for workers near traffic zones that are close to or exceed 50 mph. Examples include site inspectors, railway workers, emergency responders, and utility workers who normally stand near the road or in high-risk areas. This gives them a full silhouette outline visibility, including their arms and legs.
During summer, however, construction workers may ditch the shirt-like Class 3 construction vests that can feel very hot, which may lead to heat stroke. Hence, they opt for more breathable and cool safety vests with no sleeves. Definitely, this is not a case of non-compliance.
How long does a safety vest last?
On average, a safety vest can last six months when worn daily. Exposing the reflective material or fabric to dirt, abrasion, or grease can contribute to the wear and tear of the vest. However, you can expect a safety vest for engineers or other workers who visit job sites occasionally to last at least three years.
Regardless of whether you got an expensive branded safety vest with pockets and zipper or were supplied with a generic one by your employer, taking care of your PPE allows it to last longer.
Are safety vests waterproof/ washable?
Yes, all safety vests are waterproof and can also be machine-washed. Whenever your safety vest gets too dirty, you can throw it along with your other colored clothes and wash it using cold water and mild detergent. You should not use any bleach or fabric conditioner as they will cause the reflective material to fade and lose its sheen.
Do safety vests have pockets?
Some safety vest brands do not have any pockets whatsoever. The good news is that certain brands do have a couple of pockets for small items likes pens or pencils, a pad of paper, and others.
Are safety vests required by OSHA?
OSHA requires the use of high visibility safety vests in worksites where there are vehicles and heavy equipment being used regularly. In these kinds of workplaces, OSHA requires the use of Class 2 safety vests. These are much larger and have more reflective material compared to the Class 1 vest, making the wearer highly visible be it day or night.
How to wear a safety vest properly?
You do not have to do anything special when wearing safety vests. You just wear them over your clothes and then fasten them on the front. Safety vests often come in one size. You just need to make a couple of adjustments if you feel like it has a loose fit.
If you are a plus-size person, you might need to have one custom-made for you. Wearing an ill-fitting safety vest is not just uncomfortable but might also lessen its visibility.
How to care & wash a safety vest?
Safety vests require regular and frequent washing as their visibility lessens when they are covered in dirt. It is simple to wash it. You just throw it into your washing machine along with your other colored laundry and wash it normally. Just remember to use a mild detergent and do not use any bleach or fabric softener as they will damage the reflective material.
What is the warranty?
Safety vests have an expected working lifespan of six months when worn daily. However, if only worn rarely, like when you are a site engineer and only uses a safety vest when doing inspections, then it can last up to three years with proper care.
Most brands offer one-year warranties against factory defects. However, this does not include normal wear and tear that comes with daily use. OSHA recommends that safety vests should be replaced whenever they are no longer visible to the naked eye at a distance of 1000 feet.
Where to buy a safety vest?
If your company does not provide its workers with safety vests, or if you will just get reimbursed for purchasing one, then you should at least try to look for the most suitable one that your money can buy. Do not think about the price that much. You will be investing in your safety, so you should get the top-tier that you can afford.
Since most safety vests come in just one size, you do not have to make trial fittings, so you can just buy them online. Plenty of online retail stores sell many different brands of safety vests, and if you have a particular brand already in mind, odds are that you can directly purchase safety vests from their website.
Conclusion
If you are working in a high-risk environment, you need to be as visible as possible. Protective gears like hard hats can only do so much to protect you. However, if you are highly visible, you will drastically lessen the chances that you will figure in a serious workplace accident.
The best safety vest will serve as your first line of defense against terrible workplace accidents, especially if you work in an area that has extremely low visibility, like along the freeway at night, or in a construction site where there are multiple large heavy pieces of machinery always coming and going.
If you are highly visible, you will give the heavy machinery operators and drivers more than enough time to avoid hitting you and causing fatal injuries or maybe even death. Invest in a good high-visibility safety vest. It might save your life one day.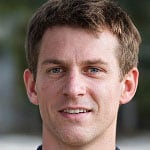 Having worked in the field of personal protective equipment for over two decades, Andrew Carnegie is a specialist in the field.
At EDC, he strives to improve performance efficiency and promote workplace safety for EDC's readers and customers. He also researches the most up-to-date equipment that has earned relevant accreditation for use in a wide range of industries and specialties.