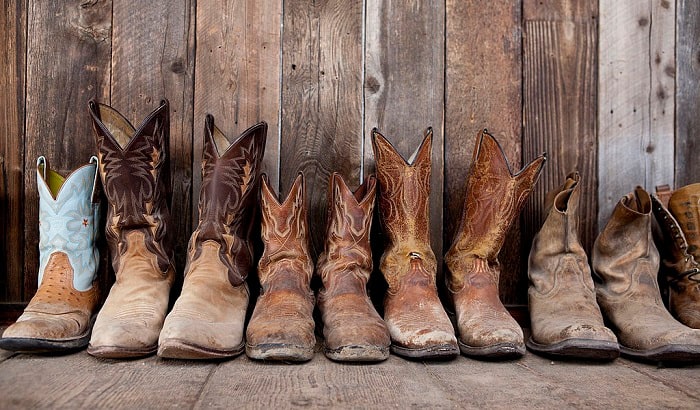 Tying shoelaces can slow you down, especially if you need to switch footwear at work from time to time. Firefighters, farmers, ranchers, and oil rig workers know this all too well, which is why many of them opt for pull-on work boots.
With so many designs available in the market, it can be hard for us to figure out the best pull-on work boots that suit our jobs and our feet. For that, let me share the key features to check:
Proper fit: When choosing the correct shoe size, we often only consider the length but it's a different case with pull-on boots. Unlike lace-up boots, you cannot tighten the shafts. Make it a point to measure the width of your feet and calf circumference. Be sure that the boot's opening is wide enough to put it on without struggling.
Safety: Before browsing a shop's catalog, consult your employer and assess all the work-related risks you might encounter at work. In this way, you can determine the kind of protective features you need and look for options that are more attuned to your job requirements. Many pull-on work boots are equipped with electrical hazard protection, steel toes, and high traction outsoles that meet the safety standards.
Material: Besides leather uppers, it is not uncommon to find pull-on work boots that are made of rubber. Either way, the designs can be quite appealing. Select something that is suitable for your work. For instance, workers who are frequently exposed to harsh chemicals would benefit from chemical-resistant rubber materials. Leather uppers are great for those who walk, kneel, or squat often at work since the fabric flexes better.
Warning: This article is loaded with information. But I promise that you will learn a lot by reading the review to know the pros and cons of each pull-on work boot. Feel free to read my advice in the "Buying Guide" if you need help in finding the right pair.
List of Top 12 Pull-on Work Boots Reviews
1. Ariat 10006961 WorkHog Steel Toe Work Boot
The first thing that caught my eye when I discovered these pull-on boots is the elegant western-style full-grain leather, but I digress. My whole point of featuring the WorkHog is to highlight their performance under rough work environments. After all, they are made to keep the feet dry in floods and storms.
In terms of safety, the hard-wearing steel toe caps can effectively protect my feet against falling objects. Moreover, the square toe can accommodate wide or irregular foot shapes. On marshy terrains, I can walk safely thanks to the Duratread outsoles. Besides their terrific oil and slip resistance, they flex well when I need to crouch.
As expected, these slip-on work boots require some break-in period. Fortunately, I managed to go through it in a short time and without getting blisters. Not to mention, the U-turn entry system enables me to wear them faster. This technology, however, is intended to aid those with wide feet and high arch to put on the footwear with ease.
The only issue that I've had is that my heel slips and lifts when I walk but this problem was fixed when I exchanged the footwear for a slightly smaller one. Although these are among the best steel-toe pull-on work boots that I have tried, people may shy away from buying them since they are on the pricier side.
What We Like
Handsome yet waterproof full-grain leather
Fits wide and irregular foot shapes
Oil and slip-resistant outsole
Lets you wear the boots quickly
What We Don't Like
Price is a little steep
Prone to heel slippage
In summary, these are truly the perfect pull-on work boots for wide feet. Besides the beautiful stitchings, their steel toes can keep your feet protected.
2. BOGS Classic Ultra Mid-M Work Boot
Designed to thrive in the outdoors, this pair of pull-on waterproof work boots do a great job of shielding my feet from the elements. Part of the shaft is made of 7mm neoprene, which serves as a barrier against water and keeps my feet warm during winter. Since the material is stretchable, I can tuck my pants in. This way, no bugs, debris, or twigs can enter the footwear.
The traction is also praise-worthy as they give me a strong foothold while walking on marshy, uneven terrains. At the same time, the outsole bends nicely when I need to squat. No matter how long I've worked, the midsoles absorb the shock and alleviate fatigue. In addition, the interiors are made with technologies like DuraFresh to fight odor and Max-Wick that removes the sweat from my feet.
When I get home, I just hose off all the mud and the boots are ready to use the next day! Also, the pull handles give me something to hold on to for easy donning and doffing. Though this model does not come in wide options, wide feet can fit it comfortably. However, it does seem too broad and heavy, which is why I don't recommend this footwear for driving. With one boot, I can hit two pedals at once.
What We Like
Suitable for outdoor work
Waterproof and insulated
Superb shock absorption
Easy-to-clean pull-on boots
Has high-traction outsoles
What We Don't Like
Not recommended for driving
On the heavier side
Unlike traditional work boots, this modern iteration is highly specialized for landscaping, farming, and garnering, offering plenty of innovative features to make your job easier. You can put them on quickly, walk safely, and clean up effortlessly. What more to ask, right?
3. Carhartt CMP1200 Wellington Work Boot
Do you often walk on rugged terrains or slippery floors? I assure you that these wellington boots can help you maintain your balance thanks to the chemical, oil, and slip-resistant outsoles. Do you work in an area where you might risk getting your toes blown by heavy objects? The steel toe will shield your feet! On top of that, the footwear can serve as secondary protection against open circuits of up to 18,000 volts under dry conditions.
Well, we're just getting started since these pull-on steel toe work boots take safety seriously. Aside from keeping the ankle stable, the TPU heel guard with Achilles flex joint can also protect you from side impact. Perfect for ranchers and similar professions, the upper material is made of oil-tanned leather and abrasion-resistant fabric. In my experience, the break-in period is short.
For me, this is the perfect all-around footwear for any weather. Constructed with tearStorm Defender waterproof membrane, my feet never get wet from the rain and puddles. Yet, breathability is not sacrificed. Apart from that, the FastDry lining keeps my feet free from perspiration and odor. Because I routinely walk long distances, I rely on the polyurethane insole to absorb the shock in each step. Too bad, the boots sometimes rub my ankles the wrong way.
What We Like
High-quality waterproof boot
Complete with safety features
Has a strong traction
Has cushy, shock-absorbing insoles
Keeps the feet dry and odor-free
Suitable for ranchers
What We Don't Like
Can feel uncomfy around the ankle
If you need maximum protection from your feet to your calves, then look no further than this pair of Carhartt boots. With grippy soles and waterproof uppers, no weather can stop you from working!
4. Ariat Workhog Pull-on Work Boot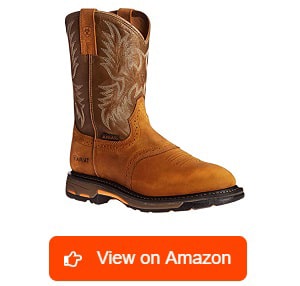 Pull-on square toe work boots may not be for everyone but if you like the Workhog's features, let me introduce you to this roper toe variant. In short, this one has a narrow toe box and low-rise heel. This pair is decorated with gorgeous cowboy-inspired stitching on the shaft, complimenting the details on the vamp.
One major difference, however, is that this pair does not have a steel toe, reducing the weight significantly. At the bottom of the pull-on work boot, the ATS Max platform, Everlon midsoles, and Duratread sole work together to keep my body aligned and stable as I walk. Moreover, the midsoles serve as cushioning, which minimizes the impact on my feet and reduces fatigue.
In my observation, the traction is strong enough for any kind of terrain. Plus, the outsole is self-cleaning, saving me from the trouble of taking out the pebbles between the treads. The Goodyear welt construction is icing on the cake as it allows me to re-sole the boot.
Note that the design is non-waterproof but I don't count it as a weakness as it makes the material more breathable. Hence, these are the most suitable pull-on work boots for summer. What I don't like is that it causes heel slippage. To be fair, not everyone seems to experience this issue.
What We Like
Apt for farmers and ranchers
Convenient for chores and long walks
Lets you walk on various terrains
Attractive yet durable design
Breathable for summer
Great for the summer, these men's pull-on work boots can pamper your feet at work as it breathes well. Not only do they look stunning, they are also extra cozy for everyday use!
5. WOLVERINE W10682 Wellington Work Boot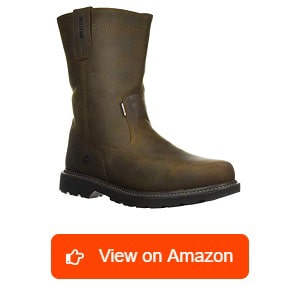 One of the finest in the market, this pair of pull-on work boots for men may look plain yet its simplicity is what makes it looks so stylish. Known for its long-lasting durability and flexibility, the waterproof full-grain leather upper can withstand the roughest and the wettest conditions. Built with moisture-wicking mesh lining, it also keeps my feet cool and sweat-free at the hottest time of the day.
Featuring grippy rubber outsoles, I can maintain my balance while trudging uneven terrains and slippery floors. Together with the midsoles, the removable insoles cradle my feet as I spend long hours standing and walking. Those who have flat feet, plantar fasciitis, or other foot conditions can always replace the factory insoles with their orthotics. Furthermore, this particular model comes with a nylon shank that gives formidable structural support for the boot.
Aside from the outdoors, I think these are the most favorite pull-on work boots for everyday use. With this type of footwear, manufacturers give some allowances to allow you to slip your feet easily. However, this one feels a tad too loose. I strongly suggest that you try them in person first to get the correct size! On the bright side, the design is favorable for those with burly body types and wide feet.
What We Like
Simple yet stylish design
Superb waterproof work boot
Keeps the feet cool in hot conditions
Allows you to change the insoles
Has good traction
Ideal for work or everyday use
What We Don't Like
The size runs big and wide
Under the intense summer heat, these waterproof breathable pull-on work boots can ensure that your feet stay dry and fresh. Thanks to their lightweight and stylish design, you can even wear them when you're off-duty!
6. Irish Setter 83912 Marshall-M Pull-On Work Boot
Coming from the makers of the best pull-on work boots, this pair of Irish Setter has a lot of strong points to speak of! I'm impressed by the craftsmanship that went into making the full-grain leather upper. Not only does it flaunt charming details but it also has a reliable waterproofing system. Whether you get caught in the rain on the way back home or perhaps are often exposed to water at work, I guarantee you that your feet will stay dry.
At the barn, animals would step on my feet but these ASTM-rated steel toe pull-on boots have prevented injuries. Apart from that, they have electrical hazard protection and heat-resistant rubber soles that will not melt under 475 degrees Fahrenheit. While they look bulky, the outsoles are made of RPM technology, which is both durable and light. Meanwhile, the steel shank keeps me surefooted.
Now, here's the catch: The leather's brown shade is not consistent with the product photos. Although this minor cosmetic issue, I know some of you are particular with colors so it's better if you check it out in a physical store. If you kneel often, the leather around the toe area will wear down and expose the toe cap after several months. Of course, this won't happen if you only stand or walk throughout your shift.
What We Like
Outstanding waterproof design
ASTM-rated safety features
Keeps you stable and supported
Has fine-looking stitching
Has heat-resistant outsoles
What We Don't Like
Color is inconsistent with product photo
Kneeling often damages the toe area
Striking the balance of beauty and functionality, these Irish Setter pull-on steel-toed work boots will not let you down! In addition to their top-notch waterproofing system, they can protect your feet as you work on the farm.
7. KEEN 1017789 Pull-On Waterproof Boot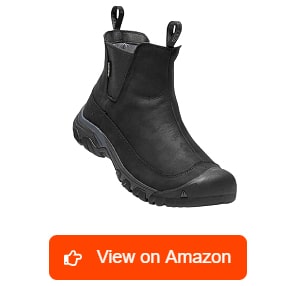 Characterized by their ankle-high shafts, this pair of Chelsea boots are pretty versatile. Technically, they are not "work boots" but I find them appropriate for jobs that involve a lot of walking, especially those that do not require full-blown protection.
For me, this pair has been a go-to insulated pull-on work boots. Plus, I also wear them to walk my dog, shovel the snow, or run errands. With an insulation weight of 200 grams, it is perfect for -25°F weather. Meanwhile, the rubber sole called "KEEN.Freeze" is grippy enough on icy surfaces.
To keep my feet dry, the waterproof breathable membrane lets the vapor out while simultaneously preventing the moisture from penetrating inside the footwear. But what makes these pull-on boots extra special is that they are treated with PFC-free water repellant. It's a waterproof coating sans the harmful chemicals, which makes it a lot healthier for the wearers, like you and me, as well as the environment.
Slipping my feet into the boots is super easy due to the elasticated gusset and pull tabs. However, I would advise against wearing them for hiking. Considering the format, its ankle support is not quite as good as lace-up boots.
What We Like
Excellent all-around pull-on boots
Suitable for wet and cold weather
Does not slip on icy surfaces
Treated with PFC-free water repellant
Very easy to wear and remove
What We Don't Like
Not recommended for hiking because of the ankle suport
One of the things that I love about this pair of KEEN Chelseas is that it can pass off as a work shoe or a casual boot. Since it is waterproof and insulated, it will keep your feet warm as you tackle the tasks for the day.
8. ARIAT Groundbreaker Pull-On Work Boot
As one of the most recommended pull-on work boots for walking on concrete, this pair truly lives up to its name. The 4LR (Four Layer Rebound) found at the insole is truly groundbreaking technology. At least in my experience, the footbeds cushion my feet well, reducing the impact in each step. In effect, it also eases the soreness on my legs, knees, and back.
Slip resistance is also another highlight of this pull-on work boot. When I'm working, the Duratread sole helps me in maintaining balance as I cross uneven terrains and wet floors. For good measure, it also offers electrical hazard protection. Since this is a soft-toe variant, the footwear makes it so much lighter than those with steel toes.
Judging by its looks, the style scores high in my book. The patterns on the shaft and the detailing on the vamp exude sophistication. Thus, I don't mind wearing them outside of work and pairing them with my casual outfits. Keep in mind that these are non-waterproof slip-on work boots. Yet, this makes them more breathable, and therefore, suitable for the summer weather.
Just like the other ARIAT boots, my heels slip whenever I walk. Fortunately, there are a couple of ways to resolve this, which include the use of heel grips or non-slip insoles. Let me reiterate that not everyone has this problem.
What We Like
Stellar cushion insoles
Perfect for walking on concrete
Keeps you stable on slippery surfaces
Has electrical hazard protection
Stylish detailing and patterns
The Groundbreaker is indeed a masterpiece as it infuses innovative features to create the most comfortable pull-on boots for the summer. Decked with beautiful stitching, the shafts can make your outfit a fashion statement.
9. WOLVERINE W10680 Floorhand Work Boot
If you love the Floorhand model but need ASTM-rated toe protection, then this is the perfect boot for you. I, for one, can attest to its strength since the steel toe cap has shielded my feet way too many times. Besides the terrific waterproofing system, it has electrical hazard protection and a slip-resistant rubber outsole. In particular, I love the upper material as it can repel water and it looks good, too!
For those who want to customize these pull-on work boots for flat feet or other foot conditions, I have some good news for you. Thanks to the removable insole, you can insert your orthotic without altering the fit. At any rate, the factory footbeds are delightfully comfy for me as they take the unique shape of my feet.
Coupled with the shock-absorbing midsole, walking becomes less of a burden to my lower extremities. Considering its functionality, I think the design is apt for people who work in a construction site, farm, ranch, and similar environments.
That said, this is anything but a pair of lightweight pull-on work boots. Initially, they felt quite hefty but it's something to be expected because of the steel toe. Plus, I notice that the size runs big so my heels tend to slip at times. Make sure that you get one with a secure fit or use heel grips to prevent this from happening.
What We Like
Offers ASTM-certified protection
Suitable for industrial and outdoor jobs
Has comfy removable insole
Superior waterproofing system
Minimizes the burden on the legs and back
Without a doubt, these pull-on steel toe boots can keep your feet protected against various occupational hazards. Plus, they can keep your feet comfy and dry when it rains!
10. Irish Setter 83907-M Wellington Work Boot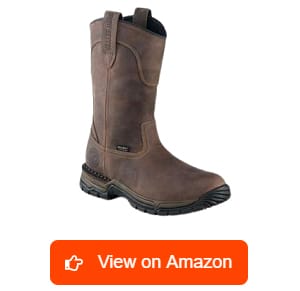 Well, these wellies exceed my expectations in many ways. For starters, the design suits various types of industrial jobs, be it on a construction site or a farm. In my opinion, it is most useful in wet environments. Based on experience, the brand's innovative UltraDry waterproofing system ensures that my feet are dry when I cross puddles and floods. Besides their excellent grip, the Vibram outsoles are heat-resistant and capable of safeguarding me against electrical hazards.
Compared to the stiff and clunky traditional work boot, this one can flex as I kneel or squat without having to be broken in. They are comfortable straight out of the box, which is quite rare among its kind. On top of that, the leather uppers feel soft and supple yet they can protect my calves just fine. At the same time, they sport a nice vintage look that goes well with both my work and casual outfits.
Free of steel toe caps, I find them light enough for long walks. More importantly, their durable construction allows them to last longer. I had no trouble wearing these pull-on boots but I know some folks with high arches who seem to struggle a little. Other than that, I cannot think of any other issues.
What We Like
Highly versatile design
Dependable waterproofing system
Little to no break-in needed
Has supple and soft leather
Great for walking on any terrain
What We Don't Like
Hard to wear for those with high arches
In addition to the electrical hazard protection, these pull-on work boots have high-traction and heat-resistant Vibram outsoles so you can work safely under any condition. With soft and flexible leather uppers, you can walk long distances without getting blisters.
11. Golden Fox 12″ Wellington Wedge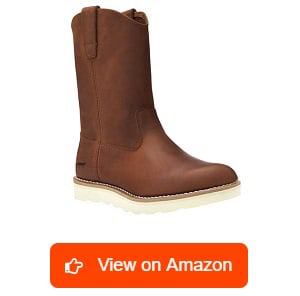 Built with Goodyear welt construction, these pull-on work boots for concrete are truly for keeps. Durability aside, I can get them re-soled when the treads start to wear down. But, this won't happen until they have taken a beating for a long while.
Furthermore, the wedge sole is ideal for long hours of standing and walking on concrete surfaces. It complements the work boot's flexible midsole and dual-density insole to provide shock absorption.
Every day, I log over ten thousand steps on my smartwatch but these boots are so comforting. Besides, the brand prides itself on its signature lightest outsole. For added support, it is also equipped with a steel shank. In this way, the pressure is mitigated when I climb ladders.
Honestly, I like how each detail of the pull-on work boots has a function. For instance, the lug patterns are designed for easy cleaning to relieve the farmers and ranchers from having to take out small rocks and dirt after work. Meanwhile, the minimal stitching is not just for the looks but also to prevent the sparks from burning the footwear.
Traction seems the only thing that's missing in these slip-on work boots, especially on gravel. They seem to work better on flat slippery surfaces. Otherwise, I would give them a perfect score.
What We Like
Allows you to re-sole the work boot
Comfy and lightweight soles
The steel shank offers additional support
Easy-to-clean lug patterns
Ideal for walking on hard surfaces
Suitable for welders and farmers
What We Don't Like
Lacks traction for walking on gravel
It's no exaggeration to say that this is one of the most comfortable pull-on work boots that you can find in the market. For extended periods of walking, its sole is heavenly but its steel shank also ensures that you are well-supported.
12. Justin Boots Stampede Pull-On Work Boot
At number twelve is this pair made by Justin Boot Company, a western footwear manufacturer that has been in the industry for one hundred and forty years. From the stitching on the shaft down to details on the vamp, the quality of these iconic pull-on boots reflects the artistry of highly-skilled designers. Beyond their aesthetic appeal, they are tough as nails. Though I wore them often, my boots have lasted several years.
Because they are super comfy, I certainly don't mind using these work boots for work, home projects, and running errands. One of my favorite features is the combination of a cushioned insole and triple density insole board known as the J-Flex. This technology is super useful for me since I'm on my feet every single day. If you need to wear doctor-recommended orthotics, you're not stuck with them since the footbeds are removable.
With the square toes, irregular or wide feet can fit in well. To top it off, the steel shanks not only provide stability but also support my feet and calves. Apart from that, I like that the work boots do not make my feet sweat during the summer. Despite
wearing long socks
, however, the collars rub on my legs during the first few weeks. That's part of breaking in, I guess.
What We Like
Long-lasting durability
Eye-catching stitching and details
Comfy for everyday use
Accommodates diverse foot shapes
Provides support and stability
What We Don't Like
The collar tends to rub the legs raw
All the other work boots reviews I read agree: This is one of the toughest yet also comfiest pull-on work boots. Not to mention, the design on the shafts makes them look fashionable. These will surely not disappoint.
What Is a Pair of Pull-on Work Boots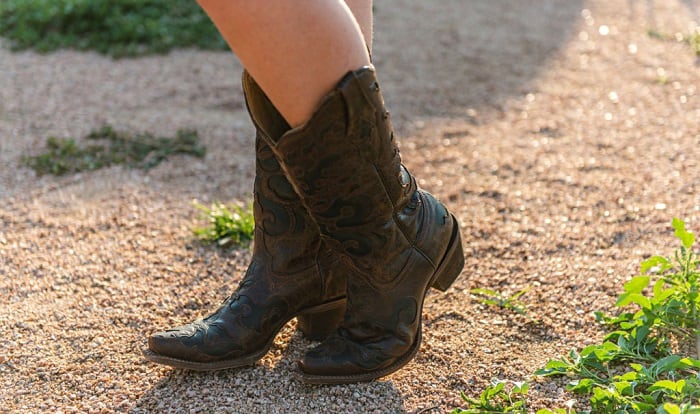 Pull-on or slip-on boots are characterized by their tall shaft and lace-free design like wellingtons, fashion boots, Chelsea boots, and cowboy boots. For work, most of the iterations include safety features, such as steel toes, electrical hazard protection, and slip-resistant soles.
Compared to casual footwear, a pull-on work boot has a mid-ankle shaft or taller, which serves as protection for the calves. They are popular among professionals who need to change footwear now and then, such as farmers, firefighters, and oil rig workers. However, if you need ankle support, lace-up boots will make a better option.
Type of Pull-on Work Boots
Most people think that pull-on is just one type of work boots. In reality, it will not be impossible to find several variations that suit specific professions. Here are some examples:
Cowboy or buckaroo boots
Insulated pull-on work boots
Gardening boots
Chelsea boots
Safety boots
Why Do You Need Pull-on Work Boots
One advantage that pull-on work boots have over lace-up boots is convenience. Just slip your feet in, perhaps tuck your pants in the footwear, and you're ready to go! If you're working in an industrial setting or farm, you don't have to worry about the laces getting caught by a piece of equipment or stepped on by an animal. Consequently, this reduces the risk of tripping over.
Buying Guide
Before the internet became a thing, it took us years of wearing boots and spending lots of money to figure out our preferences. Now, you'll find lots of work boots reviews and forums on Reddit discussing the pros and cons. If this information overload is confusing, read my guide below:
Durability
Whether it's an ankle boot or a tall pull-on boot, the upper material is often made of superior leather due to its durability and flexibility. That said, the advancement of technology has paved the way for manufacturers to create work boot designs using robust materials like rubber and mesh fabrics.
Even construction has improved. Invented by Charles Goodyear Jr. in 1869, the Goodyear welt construction is a method that enhances waterproofing and makes the boot more resilient. It lasts longer than vulcanized, moccasin, cement, and other types of construction. Plus, you can even re-sole them when the treads wear down. Footwear construction matters, especially in hazardous environments. Besides, a broken boot will not be able to protect you.
Comfort
Traditional boots are notorious for causing blisters, soreness, and other foot conditions. Lucky for us, we live in a time where footwear is generally comfier. Most of the pull-on work boots on the review are padded with mesh lining and other materials to keep our feet and ankles from rubbing against the coarse parts of the leather. Furthermore, it is no longer difficult to find a pair with removable insoles. In this way, you can customize the comfort level and use your choice of footbeds or orthotics.
Function
Each work boot that in this review offers a combination of features to target specific demographics of workers. Indeed, there is no single design that can address all of our needs. The pull-on work boots will vary depending on the job's safety protocols, weather, gender, foot conditions, or activity. If you need full protection, you can opt for the one with a steel toe. In a relatively safer environment, a soft-toe version will be enough.
Weatherproof
Working outdoors exposes you to the sun, rain, and snow. While there are several all-weather footwear in the market, they may not always be the best option if you are dealing with extreme temperatures.
Insulated boots, for instance, come in different insulation weights appropriate to specific temperatures. Under wet conditions, seam-sealed waterproof construction may be the right pull-on work boots for the job but they feel toasty during summer.
Taking the weather into account not only makes work more comfortable but also prevents your feet from frostbite or overheating. Regardless of the weather, I also recommend looking for footwear that has a nylon mesh lining to help wick away your sweat.
Outsole
Soles do not only prevent slipping accidents or getting your feet punctured by sharp debris. They can also relieve you from the soreness that comes from long hours of work. Whether you are wearing lace-up or pull-on boots, the most common types of soles you will find are heeled and wedge.
Heeled soles give you more traction on muddy or uneven surfaces. Conversely speaking, the pull-on work boots for concrete are the ones with wedge soles. That's because they are better at absorbing and distributing the impact or weight across your feet when you are standing or walking on concrete surfaces.
Toe shape
So, you've been eyeing a handful of cowboy boots and wonder which one to get: A square toe or a round toe? Let's settle this internal debate once and for all. Although it's tempting to buy based on aesthetics, it is wiser to choose based on job-related factors.
Pull-on square toe work boots are generally more comfortable for irregular foot shapes, wide feet, or those who are prone to toe and foot swelling. There is also a broad square toe design that gives more room for those who need to insert custom insoles. On the other hand, many cowboys prefer round toes because the shape lets them go on and off of the saddle.
Care and Maintenance
Many workers prefer pull-on work boots made in the USA, which is believed to be better. I cannot tell you with certainty how true this is as I have tried several boots made in other countries and they all perform well. That said, one thing is for sure: Proper maintenance will make the footwear more resilient.
If you own one of those rubber wellingtons, then you can simply scrape off the mud from the treads or flush them with water. Leather upper, however, is a different story. The choice of cleaning agent and method will vary depending on the type of leather, color, and how dirty your boots are.
Some saddle soaps and leather conditioners are meant for full-grain leather while others are crafted for nubuck. Most mild soaps are safe to use for regular maintenance, whereas powerful cleaners are intended for deep cleaning. Make sure to check the colorfastness in a hidden spot before applying it on the entire boot.
Normally, footwear, saddle soap, and leather conditioners manufacturers indicate the instructions on the proper way to clean and maintain leather boots. Be sure to read and understand them thoroughly.
Don't forget to clean the boot's interiors and footbeds as this will prevent odor-causing bacteria from breeding inside. Using a damp cloth, apply the mild shampoo to the fabric lining and massage it gently. To rinse it off, get another damp cloth and remove the residue. Allow the boots to air-dry and store them away from any heat source or moist areas.
Frequently Asked Questions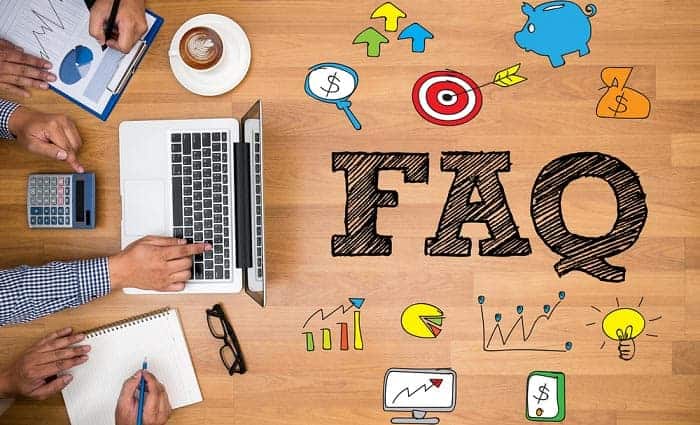 How should new pull-on work boots fit?
The key difference between pull-on and lace-up work boots is the fit. While the latter allows you to tighten the uppers, the former should have ample space for you to slip your feet in. Otherwise, you will have a hard time putting them on.
Let me also clarify that you should have to wear something very loose. By design, the top-tier pull-on work boots give some clearance for your feet and calves. You don't have to order one size larger assuming that the model is true to size.
How do you wear pull-on work boots?
Wearing pull-on boots is easy. Hold the pull-on loops and slip your feet into the boots. You can also use long stainless steel shoehorn to make things easier. Just insert the shoehorn into the footwear vertically and hold it against the rear side of the opening. Slip your foot into the boot and let the heel slide down the shoehorn. Once your heel is closer to the insoles, remove the shoehorn.
Are Justin or Ariat boots better?
People always compare Justin Original work boots and Ariat pull-on work boots. The truth is, they are both durable, comfortable, and highly capable of protecting.
Based on my observation, the difference lies in the fit. Justin Original Work Boots seem to be more suited for narrow and normal feet. On the other hand, Ariat has more room for wide feet. I must say that the brand's U-Turn technology is a true game-changer as it helps wide feet and high arches to slip inside the boots with so much ease.
Keep in mind that there are also other brands and models worth checking out. To keep this review from getting too long, I was not able to include some crowd-favorites like the other Irish Setter and Caterpillar boots. The Skechers Ruffneck work boot is just as popular. Aside from that, these brands also make the best women's pull-on work boots.
Should my toes touch the end of my boots?
Whether you're wearing safety toe or soft toe boots, you need to have about 3/8″ or 1/2″ space between the end of the footwear and your longest toe.
Conclusion
Convenience is not the only thing that you can get out of the best pull-on work boots. They can provide protection, comfort, and support to keep your feet from getting sore. Beyond these basic functions, you can also find a wide variety of stylish designs that suits your job and your taste.
As I said, this article may give you an information overload. Well, I just had to make sure that you get everything you need to find the perfect boots!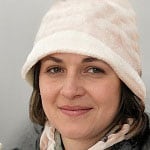 Veronica is our content editor. She is a talent in delivery. Her main work is editing and writing articles that are both informative and simple to follow. She is in charge of synthesizing our understanding of what personal protection equipment (PPE) is needed in each job, how to best apply it, and how to visualize that equipment.