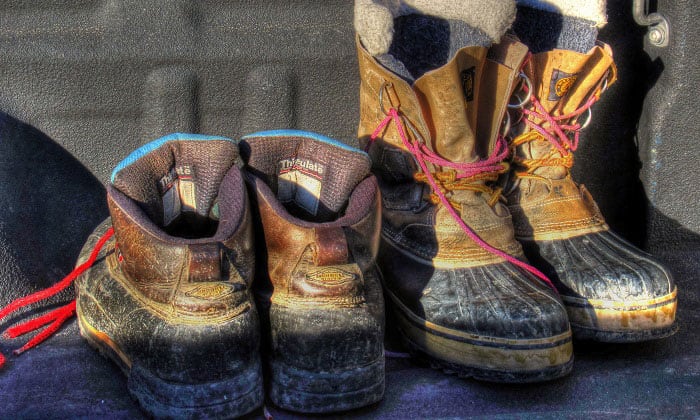 Choosing the best insulated work boots can be tricky as it requires a good understanding of the technical features. Besides your job's safety requirements, you need to consider different types of insulation for specific temperatures and levels of physical activity.
Don't worry, we'll cover everything you need to know to find the perfect pair for the winter. But before we dive deeper into the topic, let's start with the basic features that you need to check:
Insulation: Brands invent materials to keep the feet warm and use jargon when referring to them in the product description. Without proper context, words like "Gore-Tex" membrane or Thermaplush can be confused as insulation. To be clear, there is such a thing as "Gore-Tex insulation." Unless it is explicitly stated, do not assume that the footwear is insulated. When in doubt, look for the keywords like 3M Thinsulate, Thermolite, Zylet, Primaloft, HeatSeeker, and Optiwarm.
Waterproofing: Even in cold months, insulation can cause perspiration and this will make your feet cold. Having insulated work boots with a good waterproofing system will not only block out moisture from outside but also prevent trapping sweat from within. This, in turn, will create a dry environment for your feet to stay warm and comfy.
Height of the boot: So you've been checking out warm work boots online and you've noticed that some are taller than others. That's because the shaft aids in regulating temperature. Those who need to cross deep snow can benefit from a higher shaft. On the flip side, you can go for an ankle-high snow work boot, which offers more mobility.
Of course, there are other factors to consider, such as safety, comfort, and budget. If you want to know my recommendations, read my take on the twelve insulated work boots below. Otherwise, head over to the "Buying Guide" where I compiled useful tips to help you make a more informed decision.

List of Top 12 Insulated Work Boots Reviews
1. Timberland PRO TB065030713 Waterproof Work Boot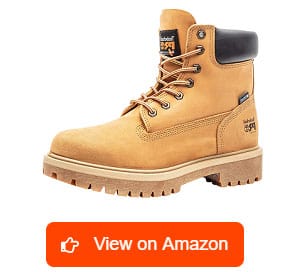 As we kick off our review, allow me to present you with these men's insulated work boots from the Timberland PRO collection. Built with Thermolite insulation, they feel amazingly comfortable during winter but I don't mind wearing them even in spring or autumn. Even if the temperature fluctuates, they do not make my feet overheat.
Looking at the features, I think this is a nice all-around pair for hiking or working. The boots can provide underfoot protection against electrical hazards. Meanwhile, the rubber outsoles are resistant to heat, slippage, abrasion, and oil. When things get wet in the field, the seam-sealed construction and waterproof leather keep my feet dry.
Long walks feel less tiring thanks to the shock-absorbing PU footbed and midsole. On top of that, the contoured shock-diffusion plate provides structural support. Both the insulation and intense physical labor can cause perspiration. Despite that, the boots hardly smell due to the antimicrobial treatment.
Overall, I would say the construction is durable yet surprisingly light. However, the toe gets scuffed easily. This would not be an issue for dark-colored boots. If you get the lighter shade, the marks are a bit more visible. Also, speaking of colors, the wheat nubuck appears different in person.
What We Like
Appropriate for winter, spring, or autumn
Useful for work or hiking
Has excellent waterproofing system
Prevents the footwear from getting smelly
Has slip, heat, oil, and abrasion-resistant outsoles
What We Don't Like
The toe area gets scuffed easily
The wheat nubuck color appears to be orange
Probably one of the most versatile work boots on the list, this pair can be worn even if it's not snowing. If you're always on your feet, you will surely benefit from the lightweight construction and shock-absorbing soles.
2. Chippewa 9″ Waterproof Logger Boot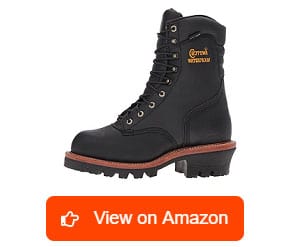 Proudly made in America, the quality of these ASTM-rated insulated steel-toe work boots proves that the brand knows their customers' needs well. Steel can turn cold in bone-chilling weather but the 400 grams of insulating material and the tall shaft warms the ankles and feet. As such, they are perfect for those who work outdoors in rough conditions.
Unlike other logger-style boots, I find this pair is much more breathable thanks to the waterproof membrane system. With the Chip-a-tex, it blocks the moisture from entering while simultaneously allowing air to pass. Together with the moisture management lining known as the Dri-Lex, my feet stay sweat-free throughout my shift.
One feature that stands out at first glance is the rubber outsoles with heels that are slightly raised. Besides making me look taller, it somehow alleviates the discomfort around my back when I stand for long periods. As a whole, the design of the lugs makes them grippier and more stable on wet surfaces.
Just a caution: Those with wide feet might struggle with finding the correct size. Even though they are available in wider sizes, it seems to me that the toe box's design is narrow. If you're ordering online, read the return policies so you can try out the boots hassle-free.
What We Like
Provides ASTM-rated protection
Suitable for cold weather and rough conditions
Superb waterproof design
Eases pain due to long hours of standing
Has high traction outsoles
If you need to keep your feet warm and protected in high-risk areas, then these steel toe insulated work boots might just be what you're looking for. Besides the safety features, they can provide comfort when you need to stand or walk all day long.
3. BOGS 60142obsolete-M Men's Classic High Boot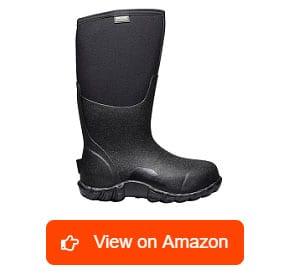 Among farmers and hunters, this is one of the best insulated waterproof work boots. Made of durable neoprene fabric and rubber, I can brave swampy areas or cold water. Unlike the traditional wellies with wide openings, the stretchable shafts hug my calves so no pebbles, twigs, or insects can get in. Plus, I can tuck my pants in so they don't get covered in mud when I work. Furthermore, this design allows for quick donning and doffing.
I like that these boots can keep my feet warm without turning toasty if the temperature changes. So far, sweat and odor have not been an issue due to the moisture-wicking lining and odor control. At the end of the day, I just spray off all the mud and dirt with water to clean the footwear.
Among the boots I've tried, I find this to be so much lighter, which makes walking a lot less arduous. To keep my balance, the outsoles feature aggressive tread patterns that can resist slipping when I'm trudging snowy slopes. Given these features, you can wear them even when you're camping or fishing. However, I know some folks with muscular calves find the shafts a little too tight.
What We Like
Suitable for farming, hunting, or camping
Excellent for rainy or snowy conditions
Easy to wear and remove
Wicks away sweat and prevents odor
Has grippy rubber outsoles
Weighs light compared to ordinary boots
What We Don't Like
The shafts can be tight for muscular calves
All in all, these are among the most dependable boots for working in snow, swamps, and mud. Apart from keeping your feet warm and dry, they require minimal care. This way, you can have more time to rest after a long day at work!
4. EVER BOOTS EB611TAN Work Boots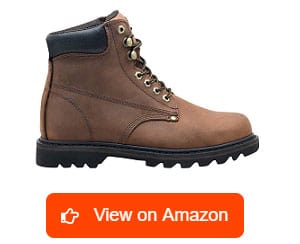 At an affordable price, these boots perform unbelievably spectacular. Designed with Goodyear welt construction, durability is pretty much guaranteed. Even better, they are comfortable straight out of the box. Without the break-in period, I don't have to endure the discomfort that usually comes with a new pair of stiff, clunky leather boots. Hence, they are preferred by many workers who are always on their feet.
For me, these boots feel warm during mild to moderately cool weather, where thick insulation is deemed overkill. In my experience, the insoles are comfortable and I like that the manufacturer did not glue them to the footwear. If you need supportive footbeds, you don't need to stack two insoles as it usually makes the fitting tighter. Since the collars are padded, I never get blisters.
Despite having steel shanks, however, I can feel the rung of the ladder or the rocks underfoot. I'm not sure if this is because the outsoles are thin or simply too bendy. Nevertheless, they give me a good grip whenever I walk on slippery surfaces. I'm also impressed that the shoelaces are strong and capable of holding a knot throughout the shift. This is rare even among work boots made by named brands.
What We Like
Built to last long
No break-in period required
Ideal for standing and walking for long periods
Has reliable shoelaces
Appropriate for mildly cold weather
Provides removable footbeds
What We Don't Like
The outsoles bend when climbing the ladder
Considering the price, these warm winter work boots perform amazingly well. Boasting delightful comfort, you can walk and stand all day without feeling pain. Furthermore, you can replace the footbeds without altering the fit if you need something more supportive.
5. Carhartt CMF8389 Safety Toe Work Boot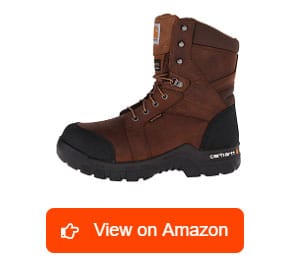 If you're searching for electrical insulated work boots, I highly recommend this pair. Known for its safety component, the footwear can act as secondary underfoot protection against electrical circuits of up to 18,000 volts under dry conditions. Featuring non-metallic safety toe caps, you can pass through metal detectors without setting them off. Thus, they are suitable for electricians, plumbers, airport workers, or similar professions.
With 400 grams of insulation, I can wear these boots whenever I work outdoors during wintertime. Based on experience, my feet are warm and dry throughout the day. I think this is partly because of the FastDry Technology, which serves as the footwear's moisture-wicking lining. On top of that, the waterproofing system creates a barrier that prevents the liquids from penetrating while promoting good air circulation inside.
Even better, the outsoles are grippy on wet surfaces and uneven terrains yet they are flexible enough to let me move with ease. Coupled with the cushy insoles and midsoles, the boots do not hurt my feet as I work for long hours. Built for physically demanding jobs, the construction is highly durable and can last for a couple of years. Unfortunately, the same cannot be said with the brittle shoelaces. Moreover, it took me some time to break the footwear in.
What We Like
Has electrical hazard protection
The safety toe is airport-friendly
Apt for cold conditions with moderate activity
Keeps the feet warm and dry
Has high traction for uneven or wet surfaces
What We Don't Like
Needs more time to break-in
Weak factory shoelaces
As one of the top-rated protective winter work boots for men, these are designed with safety features to cater to moderately risky jobs. Thanks to the non-metallic safety toe, you no longer have to remove your shoes to pass through metal detectors.
6. XPETI Men's Thermator Waterproof Hiking Boots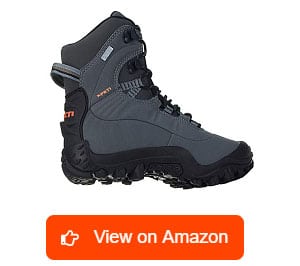 Hikers love these XPETI boots but let me tell you why workers can benefit from them too. For starters, their 200 grams of insulation is appropriate for mildly cold conditions or cooler weather with high levels of physical activity. Likewise, the waterproof construction maintains a dry environment for my feet.
Both the outsoles and toe caps are made of tough rubber for maximum grip and added protection. In particular, the tread patterns on the soles are known to be aggressive. As such, the combination of these features allows me to walk safely on different terrains. On the other hand, the EVA midsoles ensure my long journey on foot is bearable.
What sets these boots apart from the rest is that the uppers are made of durable fabric, which explains why they are lighter. In turn, this helps me save energy and work more efficiently. Plus, the fitting is spacious enough for my forefeet and toes to spread evenly. I did not even have to break them in!
Conversely, the fabric uppers present some disadvantages. First, the waterproofing agent needs to be reapplied more often. Second, if something drops on your foot, you will feel it. To be fair, they are not advertised as safety boots but it's not a stretch to think that rocks can fall on your feet when hiking.
What We Like
Has good insulation and waterproof system
Ideal for hiking and outdoor work
Made of durable yet lightweight materials
The rubber outsoles have a strong grip
No need to break in the footwear
What We Don't Like
Needs more waterproofing
Lacks protection against falling object
For those who need lightweight insulated work boots, this pair is one of the best options. Aside from their durability, you can wear them to trek various terrains due to the high traction rubber outsoles.
7. WOLVERINE W10717 Composite Toe Work Boot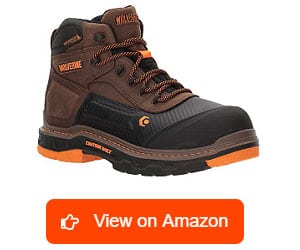 Tall safety boots can sometimes restrict movement. Yet, in many instances, you still need ankle support. Well, let me introduce you to these high-quality mid-cut composite toe insulated waterproof work boots. I have submerged them in puddles and ankle-high floods but my feet have stayed dry. Plus, the 400 grams of insulation proves to be helpful when I work during winter.
In terms of safety, the ASTM-rated composite toes are strong enough to withstand falling objects. Besides weighing lighter than steel, they do not turn colder as the temperature drops. Ergo, I get the protection that I need without sacrificing comfort. Those who work with electricity can also take advantage of the boot's electrical hazard protection.
What makes these boots tough and flexible is the athletic contour welt construction, which makes me feel like I'm wearing my tennis shoes. The rugged outsoles bend as I walk or squat. Perhaps the only difference is that they have far more traction than ordinary sneakers and are chemical-resistant.
Furthermore, these boots provide Ortholite footbeds that offer support and cushion. Since they are removable, you can always replace them when they thin out or if you have a preferred brand. Like most safety footwear, however, it takes about a week or two to break them in.
What We Like
Has good ankle support
Superior waterproof and insulation
Equipped with ASTM-rated safety toe caps
Includes electrical hazard protection
Extremely durable work boots
Has slip and chemical-resistant outsoles
What We Don't Like
Requires longer break-in period
Discounting the break-in period, I still think that this is one of the most comfortable insulated work boots I have ever tried. It's like wearing a pair of athletic shoes but with better traction, as well as electrical hazard and toe protection.
8. Carhartt CMC1259 Insulated Composite Toe Pac Boot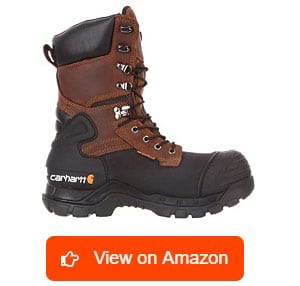 Next on our list is this pair of Carhartt Waterproof Pac insulated work boots for winter. In conjunction with the 1000 grams of insulation, the breathable waterproof membrane keeps my feet warm and sweat-free. Besides dealing with subzero temperatures, I would wade ankle-high floods in this footwear.
Both the composite toe caps and electric hazard protection meet the ASTM standards. As such, these boots are safe in various types of workplaces, whether it's indoors or outdoors. On freshly mopped floors and rough terrains, the heel guard and rubber outsoles help me maintain my balance.
If you walk several miles a day, I'm sure you will be pleased with the foam-cushioned insoles. The good news is that they are removable; you can replace them in case you need to address specific foot conditions. As for me, I like them as they are since they can absorb the shock and minimize fatigue.
By the looks of it, I know that these extreme cold weather safety toe boots are hefty. Also, donning and doffing the footwear can be quite a handful mainly because they are taller. Even with speed hooks, I struggle to put them on and adjust the laces. Thankfully, the toe caps are non-metallic so I don't have to remove them when I need to pass through metal detectors.
What We Like
Provides ample insulation
The protection meets the ASTM standards
Features removable footbeds
Safe to walk on slippery or rough terrains
Impressive waterproof construction
What We Don't Like
Donning and doffing takes time
More on the heavier side
In wet and chilly conditions, this is the warmest winter work boot among the featured footwear and its quality exceeds expectations. Moreover, they provide solid protection against falling objects and electrical hazards.
9. WOLVERINE W01195 Waterproof Insulated Boot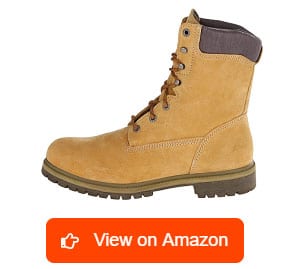 Working outdoors and exposing yourself to the elements will put your shoes to a tough test but these Wolverine men's winter work boots pass with flying colors. Despite putting them through rain and snow, I'm amazed that they lasted a couple of years. Of course, I did my part in preserving them but they remained waterproof because of the high-quality leather and permanent direct-attach molding.
Although these boots look clunky, you'd be surprised to know that they are lightweight and comfy. While the insulation warms my feet, the breathable mesh lining simultaneously manages the sweat to maintain a dry environment. Furthermore, the midsoles and outsoles bend nicely as I stroll and hike and the nylon shanks retain the footwear's structure. Apart from supporting my ankles, the shafts boost warmth.
Since they score high on my list, I have no complaints. Still, I know some people prefer to use supportive footbeds. Luckily, the original ones are removable. If you think about it, buying and replacing insoles is not a complete hassle because we've all done this before. Besides, you will be able to maximize these boots as they are suitable for work, hiking, and touring cold places. Plus, you don't have to make an effort to break them in.
What We Like
High-quality waterproof design
Helps your feet stay sweat-free
Suitable for work, hiking, or traveling
Has sturdy yet bendy soles
Feels light and cushy
What We Don't Like
Lacks support for some foot conditions
Whether you're at work or on vacation, these lightweight insulated work boots feature a superior waterproof system to keep your feet from freezing. Since they don't need to be broken in, you don't have to endure walking with blisters.
10. Rocky Ranger RKS0438 Insulated Outdoor Boot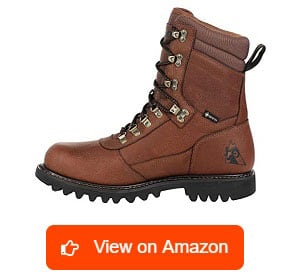 Featuring 800 grams of insulation, these warm winter work boots are among the best options for frosty conditions with low physical activity. Aside from providing a thermal barrier, their waterproof construction includes breathable GORE-TEX to ensure dryness. When trudging snowy surfaces or rugged terrains, I rely on the oil and slip-resistant outsoles so I don't slide, fall, and hurt myself.
Thanks to the Goodyear welt construction, the footwear is more resilient to rough environments and movements. However, it also allows me to replace the soles so I don't have to buy another pair of boots when the tread inevitably wears down. On the other hand, the fiberglass shanks retain the soles' form even as they bend. Just the same, the full-grain leather uppers are tough yet flexible, which promotes good mobility.
My favorite part is the soft memory foam insoles as they take the shape of my feet. But what makes it extra comfy is that the toe box is spacious enough for my toes to spread naturally. These boots are heavy but I don't think this will be an issue if you will spend most of the time sitting or standing. After all, the weight comes from the combination of materials that makes the footwear extra warm.
What We Like
Good for ice-cold weather with low activity
Provides oil and slip-resistant
Made with Goodyear welt construction
Allows for a wide range of motion
Has ample room at the toe box
Includes memory foam footbeds
What We Don't Like
Weighs heavy than most boots
For many workers, hikers, and hunters, these are the best winter work boots to wear in harsh cold conditions. If you think long term, they are a great investment since you can re-sole the footwear when the treads corrode.
11. Timberland PRO TB0A11SB214 Waterproof Work Boot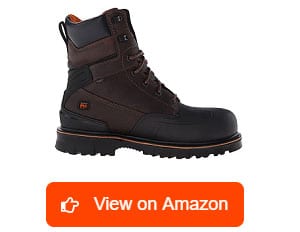 Yet another Timberland insulated work boots make this list! Indeed, this brand continues to excite many workers with its highly specialized protective footwear. Well, this particular model caters to the laborers in the gas and oil industries. In addition to the steel toes and electrical hazard protection, the outsoles provide a stronger grip on slippery surfaces. All of these comply with the ASTM standards.
While they are not exactly winter boots, the uppers are sufficiently thick for mildly cold weather with intense physical labor. More importantly, the waterproofing system effectively repels moisture. With these two features working together, my feet can stay heated and dry throughout the shift. Not to mention, the shafts' collars are padded, which adds to the warmth. When trekking, they also support my ankles while preventing them from getting blisters.
Since they are made with Goodyear welt cast-bond construction, these work boots are extremely heavy-duty. For good structural support, they also have fiberglass shanks. Plus, they are available in wide options. Hence, you can find a size that lets you wear your winter socks without making the boots feel tight.
Their heaviness is probably the only thing that I did not like. It should not come as a surprise since
these winter construction boots have steel toes in them
. After a while, I grew accustomed to it so I'm confident that you will too. What matters is that your feet are safe!
What We Like
Has ASTM-rated safety features
Provides excellent traction
Ideal for mildly cold weather
High-quality waterproof design
Available in wide sizes
Heavy-duty construction
Packed with protective features, these steel-toe work boots are your best bet if you are working in hazardous places. When it rains, you can count on the footwear's cutting-edge waterproofing construction.
12. Thorogood 804-4304 Waterproof Safety Toe Boot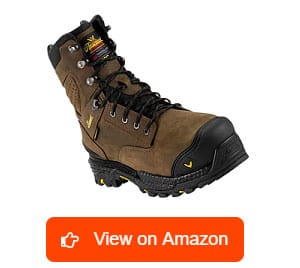 Search the keywords "insulated work boots composite toe" on your browser and this pair will appear. Well, it goes to show that it is a crowd favorite. But don't be deceived by its chunky and tough looks! Believe it or not, they are light and flexible. For better comfort, the anti-friction footbed makes me feel like I'm walking on soft cushy pillows. On top of that, they ease the soreness around my feet and legs.
Apart from electrical hazard protection, the boots are fitted with ASTM-rated composite toes that can withstand the impact of falling or rolling objects. Best of all, they do not turn cold under freezing temperatures. Like most work shoes, slip-resistant outsoles are a standard but what makes these unique is that they are self-cleaning. That's why they are commonly worn by truck drivers, plumbers, and electricians.
For wintery days, the footwear's 400 grams of insulation is usually sufficient since I'm always moving. Besides, the shafts cover the lower portion of my calves, which adds to the warmth. The moisture-wicking lining, on the other hand, deals with my sweat. However, I think the waterproofing tends to wear down but I managed to resolve this by applying a waterproofing agent once in a while. Anyway, I do the same thing with my other boots as part of maintenance.
What We Like
Has super comfy footbeds
Feels light and flexible
Safety features comply with ASTM
Has slip-resistant and self-cleaning outsoles
Provides 400 grams of insulation
Excellent moisture-wicking lining
What We Don't Like
Needs reapplication of waterproofing agent
Hands down, these insulated work boots have the cushiest insoles! Perfect for long walks in cold weather, the flexible and lightweight construction aid in alleviating foot fatigue. Since the outsoles are self-cleaning, you don't have to remove pebbles that get stuck in the treads.
What Is a Pair of Insulated Work Boots
Insulated work boots utilize insulating material to block cold air outside while trapping the heat inside. How much insulation you need depends on the temperature of the location, your activity, and the type of socks you wear.
Like most work boots, many of them feature toe protection, waterproof materials, and high traction rubber outsoles.
Types of Insulated Work Boots
It's hard to find the exact boots you are looking for if you don't know how to describe them when talking to a salesperson or searching on Google. In any case, here are some of the insulated work boots that you can find in the market:
Insulated field boots
Insulated hiker boots
Insulated work boots with toe protection
Insulated farming boots
Insulated firefighter boots
Insulated tactical boots
Why Do You Need Insulated Work Boots
Freezing temperatures can cause people to lose body heat through the extremities. Without enough protection, this can lead to frostbite or hypothermia. But alas! We cannot skip work during the winter. Moreover, some people are employed in cold storage industries. Under such circumstances, it is important to bundle up from the head down to the toes. Wearing gloves, insulated boots, and thermal socks can keep you warm as you work.
Buying Guide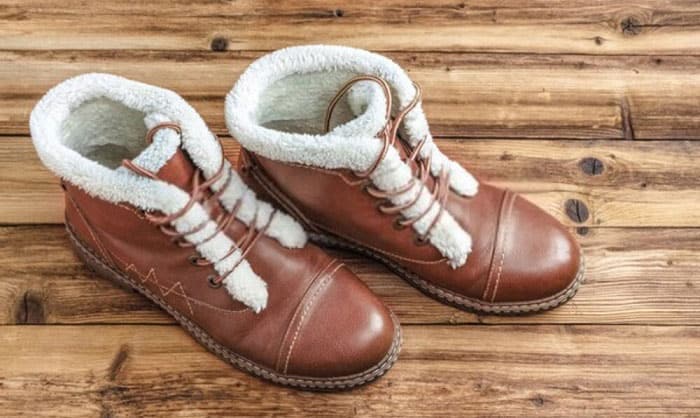 In the introduction, I've walked you through the features that help keep your feet warm but as I said, they are not enough. Protection and comfort are necessary. However, these things are subjective since every person and every job will have different needs. Here are some of the things that you have to consider before buying insulated work boots:
Toe protection
These days, you can find insulated work boots with soft toe, steel, or composite toe caps. The level of protection hinges on the type of work that you do. When the job is deemed risky, your employer may require you to wear insulated steel toe boots.
Keep in mind that steel can make your feet cold so be sure to check if the toe caps are well-padded. Under subzero temperatures, you can opt for extreme cold weather composite toe work boots. Still, you need to make an accurate risk assessment before buying anything.
High traction outsoles
Another safety feature that you must not overlook is the work boot's outsole. Water, oil, and snow make surfaces very slippery and prone to accidents. Without grippy treads and lugs, you will have a much harder time controlling your movement. Depending on the nature of your work environment, you may also want to consider outsoles with oil, chemical, and abrasion resistance for good measure.
Size
Remember, you will be wearing your boots with winter socks as they work hand in hand to keep your feet warm. Be sure to choose a size that leaves some wiggle room for your toes even with hosiery. Besides providing you with comfort, this will allow the heat that your feet emit to circulate back to your body. Tight-fitting toe shoes can limit blood circulation and make your feet even colder.
Durability
Weak construction and materials will render any type of insulation useless. A hole on your work boot may not be a big deal if the weather is warm and bearable. In cool climates, this opening can let the snow or cool wind penetrate the footwear and make your feet ice-cold. When buying work boots for winter, know the brand well and read the reviews written from reliable sources to make sure that they are indeed durable.
Comfort
Regardless of whether your job is physically demanding, you need to feel comfortable with your footwear. My advice is to choose work boots with padding so that no hard material will rub against your skin and produce blisters. If you're always on your feet, check if the insole and midsole are shock-absorbing and capable of providing cushion and support. You can also consult your doctor if you have specific foot conditions that need to be addressed.
Care and Maintenance
The cleaning methods you need to employ will vary depending on the material of the boots and how dirty they are. For instance, insulated farming boots are made of materials that can self-clean because they are made of neoprene and rubber. However, synthetic fabric or leather will require a different strategy, which you can read below.
Before you wash your boots, strip off the laces and insoles. If the footwear is caked with mud, remove the chunks and pebbles using a shoe brush or an old toothbrush when you get home. Avoid using the same brush for shoe-shining as this may contaminate the bristles and transfer the dirt to your dress shoes.
Clean your insulated leather boots with a bar of saddle soap and water. On the other hand, use mild shampoo for synthetic fabrics. Gently work the soap or shampoo on the uppers with a cloth. Dampen a clean rag with water to remove the soap, then dry them with a towel. For leather uppers, apply some leather conditioner to keep them shining and well-hydrated. Leave it on for 15 minutes then brush the uppers until they look polished.
To clean the interiors, dip a clean cloth into a mixture of soap and water, then rub it gently on the boot's lining. Allow the boots to dry in an open space and keep them away from any heat source or damp areas.
If the odor does not go away, you can dampen a clean cloth with a mixture of water and vinegar. Gently rub it on the lining. Another way is to put baking soda in a pair of old socks and place it inside the boots overnight.
Note that these are just general instructions. The shoe manufacturer may have specific cleaning instructions on their website or label. You can also consult the salesperson who helped you select your footwear.
Frequently Asked Questions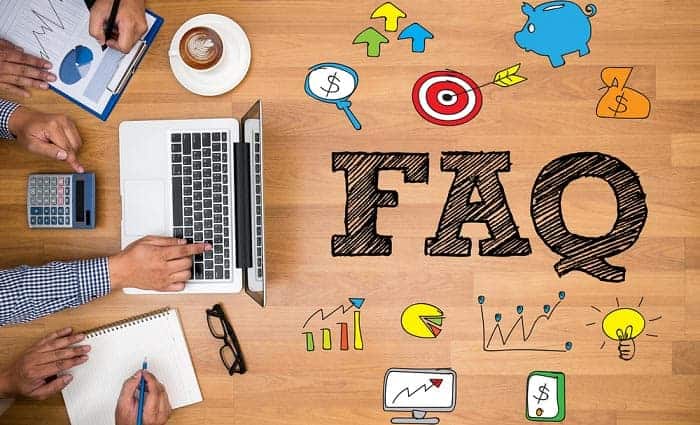 What are the most trusted insulated work boots brands?
Based on the quality and performance, I found that Timberland, Chippewa, BOGS, EVER BOOTS, Carhartt, XPETI, WOLVERINE, Rocky, and Thorogood fare better than most brands. That said, I know some of my friends swear by Red Wing insulated work boots. The reason that I did not include them is that I have not tried the boots myself.
What makes insulated work boots better than regular boots?
Wearing winter socks and regular work boots cannot avert the loss of body heat in extremely cold places. Insulated work boots, on the other hand, are naturally warmer so you don't have to wear double socks. Furthermore, the insulating material is highly durable. They will not tear even when you walk a lot.
How many grams of insulation do I need for insulated winter boots?
Before we get into the insulation weight, you need to determine how long you will be exposed to the elements. Second, you need to figure out the intensity of the physical activity.
For instance, 200 grams of insulation is ideal for a chilly day with low physical activity. You can also use these cold-weather work boots in cooler temperatures for short periods or if you will be moving a lot. Meanwhile, 400 grams is most commonly used for outdoor work with moderate physical activity. In fluctuating temperatures, it can warm the feet without overheating.
Next is the 600 and 800 grams, which is considered to be more appropriate for longer periods outdoors with little physical activity. This type of insulation is preferred by road workers who sit or stand throughout their shifts in colder weather. In frigid zones or if you have to walk in deep snow, you can wear 1000 to 2,000-gram insulated work boots.
Does wearing 2 pairs of socks keep your feet warmer?
Most insulated work boots are designed to fit one pair of socks. Adding another pair of socks can make the footwear feel tighter, which restricts the blood flow around your feet and make them colder.
If you have to wear double socks, experts suggest doing away with cotton socks. Instead, choose a sock liner made of silk, nylon, wool, or polyester that can wick away moisture. For the second layer, go for lightweight wool. You can buy double-layered socks or toe warmers as an alternative. Whatever method you choose, be sure that your work boots have enough room to fit two layers of socks.
Where can I buy insulated work boots?
Insulated work boots are sold in various physical retail stores, as well as e-commerce sites and apps. You can also head over to the manufacturers' websites.
Conclusion
At this point, I'm sure you already know that it is not enough to simply go to a shop and look for snow working boots without knowing how much insulation you need. Plenty of brands manufacture insulated boots but the market is also riddled with poorly designed footwear. In extreme climates, you cannot afford to wear the wrong shoes.
To find the best insulated work boots, you must factor in the temperature of the location, your activities, and other work requirements. In this way, you can better prepare yourself for the job and prevent frostbite, hypothermia, or overheating.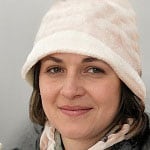 Veronica is our content editor. She is a talent in delivery. Her main work is editing and writing articles that are both informative and simple to follow. She is in charge of synthesizing our understanding of what personal protection equipment (PPE) is needed in each job, how to best apply it, and how to visualize that equipment.