Whether you are working in noisy environments or do activities and have hobbies that cause you to be bombarded with loud noises regularly, the best safety ear muffs will serve as your ultimate hearing protector. Note that proper safety ear protection, like the ones in the form of earmuffs, can save your hearing from getting ruined permanently.
The right ear muffs for noise reduction are flexible enough that you can expect them to work appropriately for shooting and other professional jobs, like airport field men, factory workers, carpenters, and woodworkers. Anyone whose jobs require them to have incredible focus, noise cancelation, and early protection can benefit them.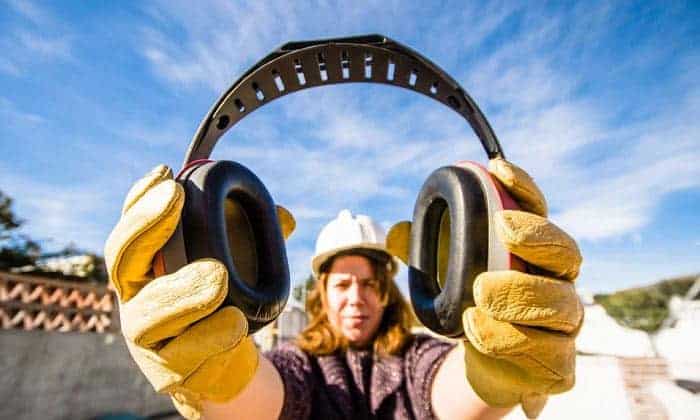 It serves as a vital gear against harmful and loud noises causing hearing impairment in the long run and some distractions causing your keen concentration to be disrupted. Remember that extreme sounds are always unpleasant for the ears, especially when you are exposed to them for prolonged periods.
These scenarios require you to invest in something that can protect you from the noise to prevent developing hearing impairments. The good thing about most earmuffs for noise today is that they are available in various price ranges. This means that finding one for every budget is not that hard.
The perfect choice for you will perform a wide range of functions – one of which is blocking all harmful decibels while still allowing you to hold normal conversations. Just make sure that you carefully select protective earmuffs. If you are not careful, you might end up buying an uncomfortable pair, which can do its job correctly.
To help you select the right ear muffs for work or recreation, here are twelve highly dependable choices that continue to grab the interest of many people.
Top 10 Safety Ear Muff Reviews of 2023
1. 3M WorkTunes Connect Hearing Protector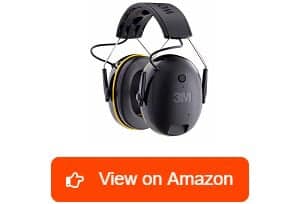 The next incredible choice for effective hearing protection is the WorkTunes Connect Hearing Protector from 3M. This could be the only thing you need to keep your ears fully protected from harm. What is even more incredible about this hearing protector is that it is also affordable, perfectly meeting the budget of many prospective users.
It has a good noise reduction rating as it can protect you from around 24 decibels of noise. I love the Bluetooth wireless technology built into this hearing protector. It is because it contributes a lot in giving you the chance to stream musing seamlessly and conveniently from any device enabled by Bluetooth like your mobile phone.
I am fond of its built-in microphone, too, because I was able to use it to make and receive phone calls even if it still functions as a hearing protector. The fact that it is designed without the need for an antenna and cord to operate also means that you will have a hassle-free experience at work since it will not hamper your movements.
I am also delighted to announce that using it is very easy as it only has a single button interface with a simple design. You can also easily set it up. It also has an audio/voice assist feature.
This earmuff also promises to give users comfort – thanks to its low-profile and lightweight design as well as its conformable and soft ear cushions.
One drawback, though, is that its volume knob is prone to hitting your shoulders accidentally because of its poor positioning.
What We Like
Solves your hearing protection concerns, thanks to its 24dB NRR
Easy to use as it has a simple and single-button interface
Low-profile and lightweight, promoting comfort
Comes integrated with Bluetooth wireless technology
Offers protection while still letting you receive and make calls
What We Don't Like
The poorly positioned volume knob
Overall, the WorkTunes Connect Hearing Protector from 3M can be considered as one of the leading products in the hearing protection industry as it has all the features required to fulfill its promise of protecting the ears of its users.
2. Pro For Sho Safety Ear Protection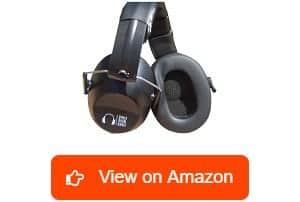 This Pro For Sho Safety Ear Protection might also be the piece of hearing protection device that can supply you with a hundred percent assurance of your security in whatever environment you are in. It has a 34-decibel noise reduction rating, which many consider as a truly high ratio of hearing protection.
With such a rating, I can assure most users of the reliability of this safety ear protection as far as silencing the world in just a few seconds is concerned. I am glad how this safety ear protection is made to be industrial-grade, as this results in it giving your hearing protection in a wide range of scenarios, like hunting, shooting, studying, woodworking, and doing construction projects.
I am sure that you do not also need to worry about this item causing trouble once you bring it in your workplace because of how compact it is. You will not even struggle to carry and store it in your bag because it does not pack too much weight while not being too bulky.
It has a solid structure while remaining lightweight, too. I think the fact that this item is foldable is also a big advantage as it means storing it will not be that complicated and hard. It also has a snug and good fit, which adds up to the kind of comfort you will most likely experience once you wear it.
It also takes pride in its small profile once you put it on your head, making it a lot easier to wear for extended periods.
One issue, though, is that the fit adjustments may not be enough for those who have large heads.
What We Like
Boasts of its high 34-decibel hearing protection ratio
Industrial-grade and versatile structure
Lightweight without losing its stability
Easy to store because it is foldable
Snug and good fit guaranteed
What We Don't Like
Might not fit those with large heads
Still, it is undeniably one great Pro For Sho earmuff especially if you prefer a lightweight and comfortable structure while fulfilling its promise of delivering maximum hearing protection.
3. ProCase Noise Reduction Safety Ear Muffs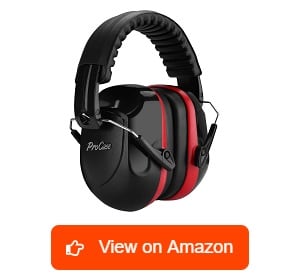 ProCase's noise reduction ear muffs are the most versatile in size among the choices I presented in this review.
Its swiveling earcups can be retracted while the headband can open up wider. Indeed, the earmuff takes the shape of my head. Hence, I have another one for my child as he can be sensitive to noise, and it does not slip off his head.
In addition to the lightweight construction, the earmuff utilizes the so-called Pressure Diffuser Technology to prevent pinching. What makes it comfy to wear for long hours is that it's stuffed with sponges around the earcups.
Secondly, this soft material ensures the muffs are sealed to my ears well, leaving no opening for sounds to enter.
Speaking of sounds, the ANSI-certified earmuff offers a noise reduction rating of 28dB. Whether for shooting, landscaping, or construction work, this is sufficient. I don't need to add earplugs. Also, I can easily communicate with my coworkers and hear alarms going off.
Going back to the swivels I mentioned earlier, let me add that these things allow me to fold the earmuff inward. This way, it's more compact, and I can slip it into most work bags with no problems. For bigger-sized heads, however, this can feel a little too snug.
What We Like
Takes the shape of adult and children's heads
Equipped with Pressure Diffuser Technology to prevent pinching
Sponge in the ear cups for comfort
Has a noise reduction rating of 28dB
Enables the user to communicate and hear alarms going off
Fits most work bags
What We Don't Like
Feels a little too snug for big-sized heads
I'm giving these ANSI-approved protective earmuffs two thumbs up. Designed with anti-pinching Pressure Diffuser Technology, I don't get headaches whenever I wear this for long hours!
4. ClearArmor 141001 Safety Earmuff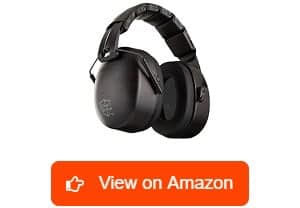 It is also worthwhile to check out the ClearArmor 141001 Safety Earmuff, which continues to have a strong presence in the industry because of its quality and the way it functions. Many even consider it as a powerhouse in terms of noise reduction because of its higher NRR (34 decibels, to be exact) compared to the others.
The simple yet functional construction of this ClearArmor Safety Earmuff is also one of its most praiseworthy benefits. I noticed how user-friendly and simple its construction is because it does not have extra and unnecessary components that I need to fiddle with. It only contains the essentials.
Making it work or operating it is also easy. All it takes is to slip its cups over the ears then make adjustments on its padded headband as well as its swivel cup. This aids in obtaining the perfect fit. Another thing I admire the most in this safety earmuff is that it has a lower chance of breaking sooner than expected because of its strong build.
I am happy with its comfy over-the-head style, too, as I discovered that it is adjustable to fit a wide range of head sizes and shapes. The industrial-grade plastic body of the earmuff also further increases its strength. Furthermore, storing it is easy because of the foldable swivel cups.
It also guarantees maximum long-wear comfort with the aid of its super soft foam-based ear-ring and lightweight structure. The reliable and snug fit promised by this earmuff also means that it will not slip on your head that easily.
However, you also have to know that it is quite bulky, although this flaw does not seem to affect the comfort that much.
What We Like
Adjustable fit, allowing it to suit various head sizes and shapes
Durable and long-lasting industrial-grade plastic body
Easy to store with its foldable swivel cups
Provides the ultimate solution for hearing protection with its noise-canceling technology
Easy and quick to operate
To conclude, the ClearArmor 141001 Safety Earmuff is a sure hit as it is sturdy and comfortable while delivering maximum hearing protection regardless of your work environment through its novel noise-canceling technology.
5. Decibel Defense Professional Safety Earmuff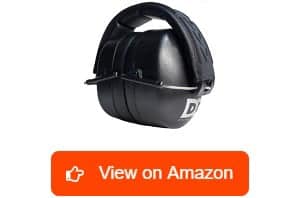 One professional and premium quality hearing protection earmuffs that are easy to access in the market today is the Decibel Defense Professional Safety Earmuff. It is highly rated, providing proof of just how good it is. I find it comfortable for use on both industrial uses and shooting while keeping your hearing protected.
I am so fond of its fun design, which also features nice and vibrant colors. You can get it in white, green, black, orange, blue, and pink. The reliability of its overall design also increases its likelihood of delivering excellent performance all the time.
This is also versatile as it meets the demands of many users, including kids, toddlers, adults, workers, and shooters or hunters. The headband of this incredible choice for the most trusted noise-blocking earmuffs is also super comfortable with the aid of its padded and smooth cell design, giving you such kind of convenience even when worn for hours.
It is sturdy even though it is primarily built for the comfort of users. It is even both compact and foldable, increasing your convenience. The noise reduction feature of this safety earmuff from Decibel Defense is also more than adequate for the majority of situations and scenarios.
It even serves as an incredible companion in case you are a big fan of shooting or hunting. It can muffle the sounds of any indoor or outdoor shooting or hunting field you are in. I like the cool, edgy, and stunning design of this earmuff, too.
Furthermore, it has a powerful and durable built while guaranteeing a snug and comfortable fit through its headband.
One issue, though, is that it seems to be too small for those who have bigger heads.
What We Like
Versatile and works for all ages as well as all environments
Study and powerful built
Snug and comfortable fit guaranteed by its well-padded headband
The cool and edgy design
Noise reduction feature is more than enough to block and muffle harmful and unwanted noise
What We Don't Like
Quite small for those with big heads
Overall, this Decibel Defense safety earmuff is a decent choice for those searching for budget-friendly yet effective and high-quality hearing protection.
6. Amazon Basics Noise-Reduction Safety Earmuffs
In my search for the perfect ear protection for construction, I stumbled upon these affordable sound-blocking earmuffs from AmazonBasics.
Amazingly, they can dampen the noise at the rate of 23dB. Because they are ANSI-certified, these are safe to use at job sites.
More importantly, the noise-canceling ear muffs significantly reduced the sounds of the power tools I normally use, yet they do not interfere with communication. Apart from that, their design allows me to wear my safety glasses without discomfort.
Made with a 4-point suspension and an adjustable headband, these muffs stretch open to accommodate most head sizes. The earcups are padded with a spongy material that cushions my ears comfortably and filters out the noise. Plus, I can slide the earcups up and down to ensure they are positioned correctly around my ears.
That said, these earmuffs are made of plastic, which, by nature, is not a heavy-duty material. Although they feel sturdy, I'm not sure they can last long, knowing that I need to wear them daily to work.
However, I think they will be good enough for the weekends spent at the shooting range or on home improvement projects.
What We Like
Can dampen the noise at the rate of 23dB
ANSI-certified earplugs for work
Allows to wear safety glasses without discomfort
4-point suspension and an adjustable headband to accommodate most head sizes
Affordable sound-blocking earmuffs
Features spongy material that cushions the ears comfortably
What We Don't Like
Made of plastic, which is not heavy-duty
Considering the price and features, I think these protector ear muffs offer great value! Designed to fit most head sizes, these are surprisingly comfy even if I put my glasses on.
7. DEWALT DPG15 Safety Electronic Hearing Muff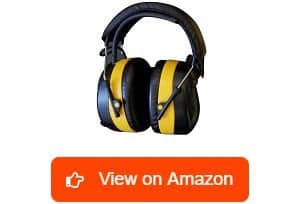 Are you interested to invest in industrial earmuffs? Then the DPG15 Safety Electronic Hearing Muff will surely be on its way towards giving you ultimate satisfaction. It is one of top rated safety ear muffs that can also supply you with a sort of entertainment. It is because of the digital AM/FM radio, which the product features.
I am glad to announce that you can use this hearing muff and its radio together with your preferred audio device. This pair of safety headphones with radio even feature an LCD containing eight presets for a radio station.
With its 25-decibel NRR (noise reduction rating), users are also guaranteed of its effectiveness in muffling and blocking noise, especially the most damaging ones to your ears. It is created to last and serve its purpose for a long time, thanks to its sturdy and lightweight built.
I am in love with the high comfort level promised by this earmuff from DEWALT, too. I think the kind of comfort offered by this earmuff is brought by its well-padded and easily adjustable headband. This means you can adjust it for a more customized and better fit.
It even boasts of its foam-filled and soft ear cups, making it all the more convenient and comfortable to use. I also noticed its unmatched versatility as it seems to work appropriately to almost all work settings and environments.
The fact that it is compatible with all audio playing devices even further proves its flexibility. The only thing that you need for this is the included 3.5-mm auxiliary plug.
However, note that despite being one of the top-rated noise-canceling earmuffs available in the market today, it also has the flaw of being quite expensive.
What We Like
Muffles and blocks even the most damaging sounds
Highly comfortable and promises a good fit with its adjustable and sufficiently padded headband
Comes with soft ear cups filled with comfortable foam material
Offers not only protection but also entertainment through its built-in digital radio
Appropriate to use in all work settings and environments
Even with its higher price compared to other earmuffs, this DEWALT hearing protector still proves to be a remarkable investment with all the things it can provide its users – among which are a high level of protection and a good source of entertainment.
8. Neiko 53925A Safety Earmuff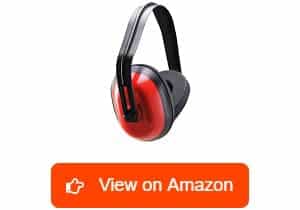 Another highly recommended item for maximum hearing protection that works in any place is the Neiko 53925A Safety Earmuff. One impressive thing about this safety earmuff is its sturdy structure, which is compatible with mowing, chainsawing, woodworking, construction work, and concerts or any other social events with loud sounds.
Constructed out of snap-resistant and sturdy yet lightweight plastic material, I am sure of its ability to give value for many years to come. Considering its top-notch quality, its price is affordable plus it has a truly good sound reduction rating of 26 decibels.
Gaining the certification of the European and US unions hearing protection standards, the level of its security is surely top-notch. I also take pleasure in the flexibility of the earmuff's headband, which makes this earmuff as convenient and comfortable to wear as possible.
It also has soft ear cups designed to firmly yet gently attach the earmuff to your head to mask all dangerous sounds comfortably. Another incredible advantage of this pair of earmuff is its universal, secure, and nice fit brought on by the effortless sliding upward and downward motion of the ear cups.
The headband even features an outward bend so you can wear safety goggles or glasses, ball cap, or any other protective headgears. Expect the lightweight and soft yet durable materials used in creating this earmuff to be a huge help in making it easy to wear 24 hours a day.
One flaw, though, is its inadequate breathability, making it prone to getting slightly warm around the ears during the hot season.
What We Like
Appropriate for several applications, including woodworking, construction work, and mowing
Universal, secure, and nice fit guaranteed
Features soft and comfortable ear cups
Lightweight and soft yet sturdy materials used in its construction
Good noise reduction capability
What We Don't Like
Insufficient breathability
If you are searching for a budget-friendly yet high-quality, protective, comfortable, and multi-use hearing protection then the Neiko 53925A Safety Earmuff is surely one product you should not miss checking out as it fits all the mentioned traits.
9. 3M Peltor X-Series CapMount Earmuff
You will not also go wrong by selecting the Peltor XSeries CapMount Earmuff from the trusted and reputable brand, 3M. One thing that caught my interest regarding this 3M earmuff is its stainless steel headband construction, which is solid and strong enough. This material is strong in the sense that it can withstand warping and bending.
This results in it being capable of lasting for years while also providing constant yet comfortable pressure for an extended period of wearing it. It is highly protective of your ears, assuring users of a high noise reduction rating (25 decibels). Aside from being protective, I am also in favor of its modern look that features a bit of gloss.
It also made use of non-conductive materials in its overall structure, further increasing its level of protection and allowing it to go beyond your hearing. The headband is also nicely designed as it has a split-bridge style, which is a big help in distributing its weight evenly. This results in giving you sufficient comfort each time you wear it.
The headband also has an electrically-insulated wire, making it all the more protective. Aside from that, I am quite sure you will find pleasure in its dual-molded cups as these cups do a pretty good job in offering excellent noise protection. These ear cups are also beneficial because of their pivot points that tilt to promote more efficiency and comfort.
Another advantage is that it can fit the majority of hard hats today properly because of its universal mounting attachment. Furthermore, it has replaceable foam liners and ear cushions that make it more hygienic to use.
However, I am not that fond of its somewhat bulky construction, which tends to consume space.
What We Like
Strong and solid stainless steel headband construction
Split-bridge style applied to the headband, assuring users of even weight distribution
Highly protective of your hearing
Comes with dual-molded cups, further enhancing hearing protection
Boasts of its universal mounting attachment
What We Don't Like
Somewhat bulky construction
Even with that problem, the 3M Peltor XSeries CapMount Earmuff still receives a high satisfaction rating from its users with the way it is constructed and offers hearing protection.
10. Honeywell RWS-53016 Sync Wireless Earmuff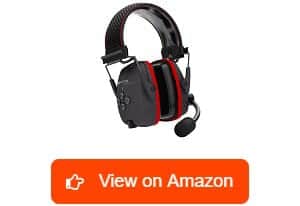 The RWS-53016 Sync Wireless Earmuff from Honeywell is also one of the top-selling products in the hearing protection industry because of how effective, functional, and feature-filled it is. One thing I find admirable in this Honeywell earmuff is that it truly fulfills its promise of protecting your ears from loud environments, especially the workplace.
It offers such an incredible amount of protection while ensuring that both your hands are free to do other stuff. This wireless earmuff is also designed in a way that your communication remains clear even if it still operates for your protection. This means that you can still talk on the phone and to others even when you wear it.
This means that you no longer have to experience difficulty hearing calls or the messages of your other workers with this wireless earmuff around. I also like the convenience it offers when it comes to entertaining users at work. It is because it allows music streaming wirelessly, preventing the need for dangerous and bothersome cords.
It utilizes the patented and unique air-flow control technology, which is known for providing a noise reduction rating of up to 25 decibels. This safety earmuff also takes pride in its use of the volume control technology, which works by limiting the output of audio devices to safe levels, specifically 82 decibels.
Another reason to love this safety earmuff is that it uses a rechargeable battery, which you can expect to last for at least sixteen hours on a full charge. This earmuff also promises long-wearing comfort through its well-cushioned headband and ear cups.
Furthermore, it allows for Bluetooth 4.1 connectivity.
However, the price of this earmuff is somewhat a disadvantage as it is costlier in comparison to other hearing protection devices.
What We Like
Boasts of a noise reduction rating of 25 decibels
Operates for at least sixteen hours on a full charge
Allows Bluetooth 4.1 connectivity
Offers long-term comfort with its well-cushioned headband
Promotes clear communication while still providing maximum protection
Despite being quite expensive, I am sure that the Honeywell RWS-53016 Sync Wireless Earmuff can instantly give valuable returns on investment because of how functional, sturdy, entertaining, protective, and high-quality it is.
awesafe Electronic Shooting Earmuff (Outdated)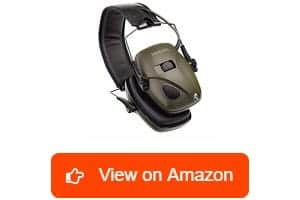 Another top-seller in the industry is the awesafe Electronic Shooting Earmuff, which, I think, is noticeably remarkable because of its impressive ability to block or mask hazardous and dangerous sounds. It even utilizes the patented and unique airflow control technology, which is effective in reducing noise across all forms of frequencies.
It is appropriate for those who are searching for a safety earmuff, which they can use for shooting in the field or range. I am even delighted with its low-profile ear cups that do not cause any interference each time you aim. Aside from being a fantastic companion for shooting, it is also an incredible piece of hearing protection for different workers.
I am also satisfied with the secure fit it promises brought on by its easy-to-adjust headband. It also has omnidirectional microphones designed in such a way that they can help increase the voice in the environment whenever the sounds around go beyond 82 decibels.
With such capability, expect better communication when shooting, hunting, or doing your daily tasks in a noisy work environment. As for its noise reduction rating, it can go as much as 22 decibels. I am also in favor of this earmuff because of the convenience involved in using it every day.
It is even foldable, making it a lot easier to carry and store it in your backpack, suitcase, and ammo box, among many others. I like how easy it is to maintain this earmuff, too, further extending its performance by just replacing its snap-in ear cushions anytime it is necessary.
One issue, though, is that the mic of this awesafe earmuff does not produce crispier sounds as other safety earmuffs.
What We Like
Reduces noise significantly across all frequencies
More than decent noise reduction rating
Foldable, so storing it in your bag or any other storage space is easy
Comfortable and good fit, thanks to its easy-to-adjust and simple headband
Easy to maintain
If you are looking for a not so expensive yet fully functional and highly protective safety earmuff that work in various environments then this product from awesafe will certainly meet your unique demands.
TACKLIFE Noise Reduction Safety Earmuff (Outdated)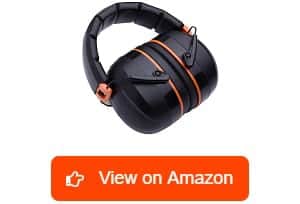 The TACKLIFE Noise Reduction Safety Earmuff is also deserving of a spot in this informative review and buying guide. It is because it consistently wows its users with the way it performs in terms of giving the ultimate hearing protection capability. With its 28-decibel NRR, you can finally save and protect your ears from possible harm.
What I like about this TACKLIFE safety earmuff is that it is not picky as for the specific users it plans to help. It is appropriate not only for shooters and workers but also for other kid and adult users. The overall structure is soft and comfortable, which means you will have a hassle-free experience when using it for long periods.
It features two thick foam padding and soft imitation leather material – both of which do not only offer comfort but also guarantee a tight and soundproof seal. The adjustable headband, which assures you of a customizable and secure fit, also has sufficient padding, thereby effectively lowering the risk of experiencing pain and pressure in the head.
The headband even boasts of a retractable stainless steel material located at the end. Furthermore, I discovered that the ear cups' 360-degree rotatable style contributes a lot in making the earmuff fit securely and properly various sizes of heads. You can also conveniently carry it because of its foldable design as well as the collapsible ear cups.
It even boasts of its incredible wear-resistant properties, proving the ability of the safety earmuff to last for many years.
However, it tends to get hot fast, which somewhat shows that it is slightly lacking in the breathability department.
What We Like
High level of hazardous sound protection guaranteed
Customizable and secure fit, thanks to its adjustable headband
Soft imitation leather material used, which helps improve its comfort level and assure users of a tight and soundproof seal
The foldable design and collapsible ear cups, ensuring convenience when carrying it
Boasts of its wear-resistant properties
To conclude, this TACKLIFE safety earmuff is one of the most dependable noise-reducing and noise-canceling equipment that you can use especially if you are after durability and comfort even when used heavily and too frequently.
AmazonBasics Noise Reduction Safety Earmuff (Outdated)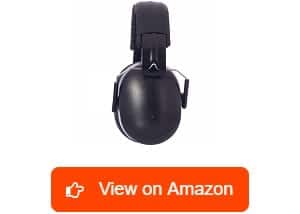 The next ear protector that I wish to suggest is this Noise Reduction Safety Earmuff offered by AmazonBasics. One of the major functions of this hearing protector is to give your ears the ultimate protection they need from extremely loud noises that might put a lot of damage on your ears.
It is a versatile pair of safety earmuffs as it seems to work incredibly for everything, including tuning out or blocking noise when you are working in an office or any other work environment, getting rid of noisy distractions when you are studying, and keeping your hearing fully protected when you are in loud rock concerts, gun ranges, and construction sites.
Constructed from a sponge material with excellent noise-dampening capability, the earmuff can assure you of a 23-decibel noise reduction rating, which results in quieter and safer surroundings. It has an over-the-head style, which you can easily slip or put on. It just requires simple headband adjustments to get the right fit.
I am also pleased that this safety earmuff is available in different colors – among which are black and blue, solid black, black and purple, black and pink, black and yellow, and black and red. These choices in color somewhat give me a chance to find one that I genuinely love.
Another fantastic benefit I noticed in this earmuff is its compact and sleek size. This makes it portable, promoting ease and convenience when it comes to taking it anywhere because this means that it is easy to slip into your bag or briefcase.
However, some users say that it is not that good when used in indoor shooting ranges.
What We Like
Sleek and compact size, proving its portability
Guarantees amazing noise reduction capabilities
Easy to slip or put on
Adjustable headband, which gives users the chance to wear it comfortably
Available in different colors
What We Don't Like
Not that suitable for indoor shooting ranges
Despite that, this popular and durable noise reduction safety earmuff from AmazonBasics is still a wise purchase as it is the ultimate choice in case you need a dependable earmuff that will protect you during hunting and shooting sessions and any other place requiring hearing protection such as when in a loud and noisy workplace.
Mpow Noise Reduction Safety Earmuff (Outdated)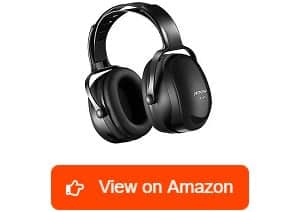 This upgraded version of the Mpow Noise Reduction Safety Earmuff can do a lot of rewarding things and functions for you – one of which is to act as the ultimate hearing protection solution. Constructed with dual-layers of professionally made foam for noise-dampening, this earmuff will not fail when it comes to protecting your ears.
Combine that with the earmuff's unique double-shell and high-sealing solid cup and it will surely deliver a standout performance when it comes to implementing its 29-decibel noise reduction rating to protect your ears. A comfortable yet firm and secure fit is also one thing that its adjustable headband promises.
I can assure most users that it will fit comfortably around the head while allowing flexible adjustments for it to fit a wide range of sizes. I also noticed how it fits shooting, hunting, and various work scenarios that make one prone to loud and harmful noise exposure.
The ergonomic design of the double-deck headband also offers an additional advantage in terms of comfort as it allows the earmuff to remain close to the head without leading to pressure. It is lightweight, too, so you will never have a bothersome experience wearing it.
It also boasts of a twin-cup design, which also uses foam to separate its inner and outer shell, giving you as much comfort as possible. Storing this safety earmuff is also easy and convenient as it simply needs to be folded up then stored in a backpack, suitcase, drawer, or any other storage container.
I am worried about the durability of this earmuff, though, as its headband is constructed out of plastic material.
What We Like
Ergonomic design, promoting comfort
Delivers an incredible performance in terms of offering hearing protection
Boasts of a twin-cup design while having the comfortable foam material to separate the inner and outer shell
Easy to store because it is foldable
Adjustable and secure fit
What We Don't Like
May not be as durable as other high-quality earmuffs
Still, this Mpow noise reduction safety earmuff is one of the leading products in the hearing protection industry because most of its users agree about how good and functional it truly is.
What is a Safety Ear Muff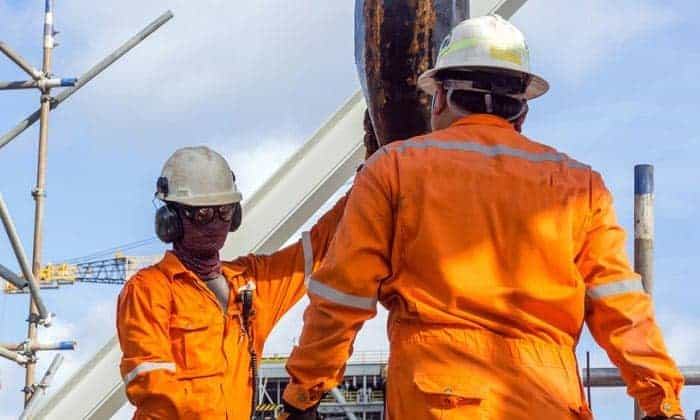 An earmuff, in terms of hearing protection, is a piece of equipment that resembles over-the-ear studio earphones. The only difference is that it is much bigger and usually does not have any capabilities to play audio. It is just a sophisticated ear cover that greatly reduces the amount of noise that your ears are subjected to.
In terms of noise reduction, earmuffs provide ample hearing protection. They are great but not better than earplugs. Unlike earplugs that cover the opening of the ear canal, earmuffs go over the ears. This means that if any sound manages to get through the outer shells and the foam lining then they will also reach the ears.
However, if you want to increase the effectiveness of the earmuffs even further then you can wear earplugs underneath them. Doing this will almost completely eliminate all the sounds in your environment. This is the most suitable in case you are working in a high-noise environment.
For example, if you are working in a construction site where there are pieces of heavy equipment working around the clock. On the other hand, earmuffs are easier to use. In some cases, they are also more comfortable than earplugs. You just need to place the earmuffs over your ears, and that's it.
You do not have to plug anything into your ears. There is also no need to do any adjustments whatsoever aside from the initial adjusting of the band to make them fit perfectly. It is also more hygienic to use. You can even share your earmuffs with another person, provided, of course, that you have not been using yours for an entire work shift.
If you want to preserve the health of your hearing so that you can still hear subtle sounds even when you are at a ripe old age, then you need to consider getting the top-tier hearing protection earmuffs right now.
How Does it Work
Did you know that continuous exposure to noises that are at least 85 decibels high can significantly heighten your risk of suffering from permanent hearing loss? Note that hundreds of thousands of tiny, little hairs can be found in your inner ear. The primary role of these little hairs is to carry over the sounds coming from the outer ear deeper into the inner ear.
Exposure to loud sounds, like when you are working at an automobile factory or in an engine room, will damage these little hairs. The problem is that these hairs do not grow back or repair themselves. This means that continuous exposure to loud noises is gradually making you deaf.
If you have no say on how noisy your work environment should be then you need to be the one to adjust to your situation and get proper hearing protection and the best kind of ear protection that you can get is a good pair of earmuffs.
Acoustic earmuffs are composed of two dome-shaped shells that go over the ear. A flexible metal band is around to join them together so you can wear it over your head. The shells are composed of a hard, plastic outer layer and inside, it is lined with soft sound-absorbing materials.
These materials work in a way that when you place them over your ears, they will block out almost all of the sounds in your environment. Some earmuffs even combine their construction with acoustic headphones. These are the ones that usually have noise-canceling technology.
This technology further blocks all remaining sounds from getting inside the earmuffs. Some people even wear earplugs underneath their regular acoustic earmuffs to make their noise reduction even more effective.
Types of Ear Muffs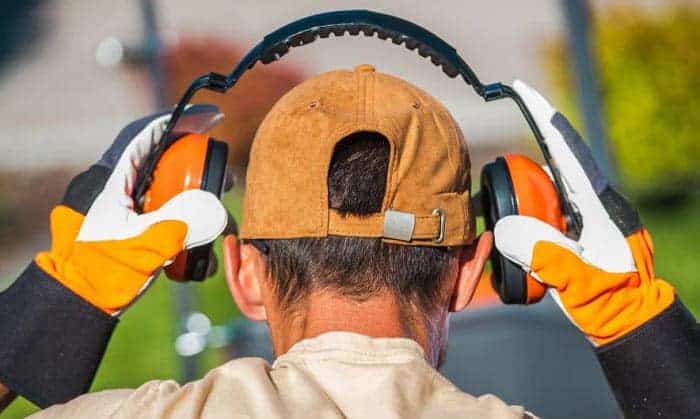 When you go searching for acoustic earmuffs, you will be bombarded with thousands of suggestions. Now the question is, which one of them is the one that you are a looking for? There are different types of hearing protection earmuffs and they have different categories. First, they are classified depending on their noise reduction capabilities:
Sound-concealing muffs – These are your traditional acoustic earmuffs, meaning that you put them over your ears and the ear cups will block out almost all of the ambient sounds in your environment.
Depending on how they are constructed and the materials used to make them, you can expect them to block out around 20 to 35 decibels of sound.
Noise-canceling muffs – These earmuffs have audio drivers similar to those found in headphones. They also have microphones that detect noises in the surroundings. These earmuffs create an inverse sound wave to cancel out the noises from outside the earphones. This is necessary to immerse the wearer into a completely silent world.
Earmuffs with amplifiers – These earmuffs have even more sophisticated components than your normal sound-canceling muffs. These have complicated computer processors that listen closely to sounds around the wearer.
They also amplify important noises, like people's voices and alarms. Furthermore, they cancel ambient noises, like engine noises and others.
Why Do You Need a Safety Ear Muff
Working in loud environments might seem like a minor inconvenience. You just have to focus beyond the noise and continue with your work but that is not the case. By continuing to work in such an environment, you are unknowingly causing permanent damage to your hearing.
According to the Occupational Safety and Health Association (OSHA), eight hours of continuous exposure to noises that are 85 decibels or higher is enough to cause permanent hearing damage.
To give context on how loud 85 decibels is, imagine the sound of a blender. Even that amount of noise, when listened to continuously, is enough to damage your hearing. There are hundreds of thousands of microscopic hairs lining the inner ear. It is their job to carry over sounds from the outer ear deeper into the inner ear.
Loud noises can damage these sensitive hairs and the unfortunate thing is that they do not grow back. This means that you are essentially gradually making yourself deaf just by working in a noisy environment.
You need to wear hearing protection like acoustic earmuffs so you can somehow protect your ears from further damage. For instance, if you are working in a factory where the noise can reach up to 85 decibels or more, you need to wear earmuffs or any other kind of hearing protection.
An example is the one that is rated for 35 decibels. This will lower the amount of noise that reaches your ears down to just 50 decibels or so, which is well within the acceptable limits.
Buying Guide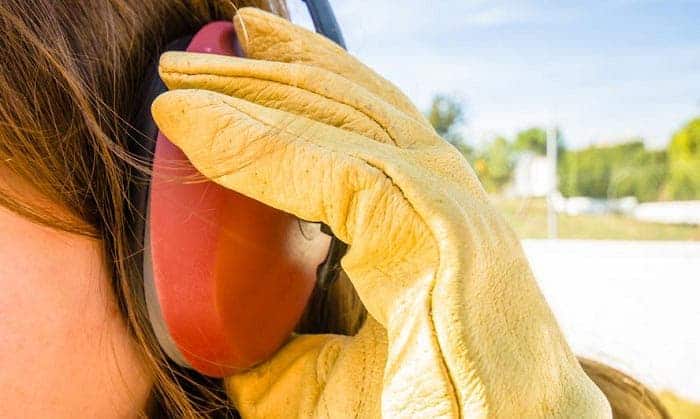 It is nice to know that acoustic earmuffs are not that expensive. You can get a good quality pair of regular noise-reducing earmuffs for under $50. However, it is not a good idea to buy the first pair of earmuffs that you see. Even if you just spent around $20 on a pair that you did not find useful, note that such is still money wasted.
To help you find the top-quality pair of noise-reducing earmuffs for work, here are some of the things that you need to take into consideration:
Do they fit properly? – Earmuffs should have a perfect fit over your ears. Make sure that they are not that large that they feel bulky on your head. Avoid going for extremely small ones that a part of your ears peek out of the cups, too.
The cups should perfectly cover your ears. There should be no gaps that will let sound pass through. However, it should also not be so tight that you always feel like you are getting a headache every time you wear them.
Do they feel comfortable? – If the earmuffs you have are comfortable then you will not have any problem wearing them all the time. If the earmuffs do not feel right when you use them then there will come a time when you would just forego wearing them altogether.
Get a pair of truly comfortable earmuffs. The foam padding should be soft. Also, the band should not be so stiff that it squeezes your head. Make sure that they are not so heavy, too.
Does it have an ample noise reduction rating? – The most important detail about acoustic earmuffs is its NRR (noise reduction rating). If your workplace subjects you to noises that are around 90 to 95 decibels, you need to get earmuffs that are rated for at least 25 decibels, preferably higher.
You need to lower the amount of noise that your ears are exposed to. Anything below 85 decibels is fine but more is preferable. If you can, get the maximum NRR earmuffs that you can find, which is usually 35 decibels, then this will result in your ears only being exposed to 55 decibels of noise. This is perfectly within the acceptable noise levels.
Does it fit your budget? – If you can fit them into your budget, you should get the best safety ear muffs for noise reduction that you can find. However, this does not mean that the most expensive earmuff is automatically the top-tier. There are plenty of affordable earmuffs and similar kinds of ear protection that retail for less than $50, but performs rather well.
Do not actively search for cheap earmuffs, as you will most likely get what you pay for. Search for ones that are reasonably priced, have all the features that you are looking for (or most of them at least), and have a lot of positive user reviews.
You do not have to spend too much on ear protection. However, you do not have to be so cheap either. Find a happy medium and stick to it.
Care and Maintenance
The nice thing about acoustic earmuffs, especially those that are used in the workplace, is that they are very much low maintenance. Whenever they get dirty, which could happen every day if you work in construction, then you just need to wipe the entire surface of the earmuffs (including the foam pads) with a clean rag.
Dip them in some water and rubbing alcohol until you remove all of the visible dirt and grime. This is pretty much all you need to do to clean your traditional acoustic earmuffs. To maintain the condition of your earmuffs, place them in the carrying case that came with the package.
When you are not using them, fold and stuff them inside their protective carrying case. If your earmuffs did not come with a carrying case, you should at least put them in a small cloth bag before you put them in your actual bag.
If you own noise-canceling earmuffs and you need to stow them away for some time, remember to remove the batteries from their compartment beforehand. This will prevent the batteries from eroding and causing battery acid to leak out and damage the electric components severely.
Even though industrial acoustic earmuffs are supposed to be tough as nails, they will serve you well for many years with proper care and maintenance.
Frequently Asked Questions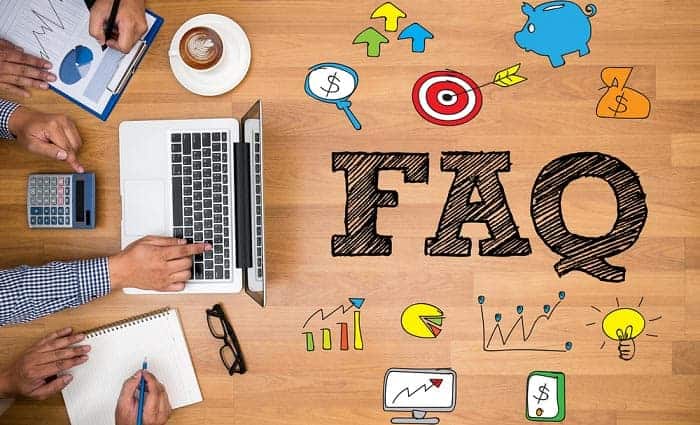 What is a dangerous decibel level?
Noise that goes beyond 85dB is detrimental to your ears. Below are some of the factors that also determine how these loud sounds can affect your hearing:
The length of time you are exposed
The rate of occurrence
Whether you are wearing hearing protection or not
What does NRR 30 dB mean?
Most sound-proof ear muffs and plugs come with labels and user manuals that show the abbreviation "NRR" with numbers next to it.
"NRR" stands for Noise Reduction Rating. The numbers next to it, in this case, "30," indicates how much noise exposure it can reduce. Meanwhile, dB is the unit for measuring the intensity of a sound. Note that most industrial noise-dampening use noise in dB measured "A" weighted, which is the frequency humans can hear.
Therefore, if a device provides an NRR of 30dB, it subtracts 30dB from a chainsaw with 110dB noise. As a rule of thumb, when choosing muffs and plugs, bigger numbers provide greater protection.
Generally, the highest decibel ear muffs can only provide 40dB NRR, while the lowest is around 20 dB for ear protection.
Even with active noise-cancelling ear muffs, it is not possible to achieve 100% cancelation. Anyway, the goal is not to find the highest NRR ear muffs. Rather, one must reduce a quarter to one-sixteenth of the machine or environmental noise.
What ear muffs does the military use?
Soldiers are often exposed to loud one-time noises or continuous high-intensity sounds from explosions, alarms, gunfire, machinery, and many more. Experts recommend using high-decibel ear muffs and plugs that can reduce 30dB of noise. Here are the most common hearing protection worn by the military:
Foam earplugs
Triple- or Quad-flange earplugs
Tactical earplugs
Noise muffs
Still, many soldiers wouldn't wear earplugs when in combat as they tend to miss softer noises needed to maintain situational awareness. Even with two-way radios, it can be nearly impossible to hear communications due to the overpowering sounds of weapons.
Companies like 3M are still developing designs to solve this issue. To date, one can have the TCAPS, or Tactical Communications and Protective Systems, among the most advanced hearing protection.
TCAPS devices have hi-tech features addressing the problems above. They can detect high-decibel sounds and minimize their intensity. Plus, they pick up soft background noises to aid in situational awareness. Some models even have radio capabilities.
The challenge is getting more soldiers to wear them. Besides the steep price range of $280 to $2,000, TCAPS can be an additional burden for combatants already carrying several pieces of equipment.
What are the most popular safety ear muff brands?
With plenty of hearing protection brands vying for the attention of those who need such items, you might find all your choices overwhelming. To lessen your confusion, some proven reliable hearing protection brands include 3M, Pro For Sho, Decibel Defense, ClearArmor, DEWALT, Honeywell, Neiko, and Mpow so it would be best to shop from these brands if you are after quality.
What are ear muffs made of?
Almost all acoustic earmuffs are constructed the same way. There are two cups with the outer layer either made up of plastic or metal. It also features an inner lining of soft acoustic foam. The cups are held together by a band that is either made of plastic or sheet metal. Metal is the material preferred by most manufacturers.
The outer shell is the one that blocks out most of the sounds. It does this function by covering your entire ear, leaving no space for sound to go through. The inner lining of the ear cups of the muffs is made of sound-absorbing foam, like the ones used for soundproofing a room.
This foam further absorbs any sound that has gone through the outer shell. The cups are also lined with comfortable, dense foam so that they fit comfortably over your ears. These days, memory foam pads are preferred because they are not just comfortable but also create a good seal around your ears.
Noise-canceling earmuffs are constructed pretty much the same way as traditional acoustic earmuffs but they have electronic components inside them. Some even have auxiliary inputs if you want to play music through them.
How long does the battery of earmuffs last?
The battery life of electronic sound-canceling earmuffs depends on how often the feature is used and the amount of noise it has to cancel out. If used normally, fresh batteries will last for two days of continuous use.
However, if you will be using it for less than 8 hours a day, you will need to replace the batteries after two weeks or so. Some noise-canceling earmuffs even have battery-saving features, like auto-shutoff after a set number of hours, and auto-off when the earmuffs are taken off by the user.
You can also further improve the battery life by only using the noise-canceling feature sparingly, turning it on only when the background noise becomes too loud for just the normal earmuffs alone.
How to make earmuffs soundproof?
Earmuffs cannot be fully soundproof but they can lessen the amount of noise that your ears receive. Most earmuffs can reduce the amount of noise that the wearer is exposed to by around 20 to 35 decibels, which is more than enough for most purposes.
However, if you want to make your earmuffs even more effective at reducing noise, you can buy noise-canceling ones. Alternatively, you can wear foam or rubber earplugs in your ears first before you place the earmuffs over them.
The question, though, is do you want completely sound-proof earmuffs? It is better if you can still hear a bit of the noise in the background. For instance, if you are working with other people, you should still be able to hear what your co-workers are telling you. Most importantly, you need to hear whenever there are alarms that go off around you.
Are earmuffs better than earplugs?
So, which is better among the two – earplugs or earmuffs? It depends mostly on the preference of the user. In terms of noise reduction, many earplugs can outperform even the right earmuffs. This is because earplugs are placed directly in the opening of the ear canal, thus shielding your ears from more noises.
However, there are certain aspects of earplugs that do not appeal to a lot of users. For instance, you cannot share earplugs with your co-workers mainly due to hygienic reasons. Also, you do not have to clean your earmuffs every day like you would reusable earplugs.
Earmuffs are also much more comfortable to use than your conventional earplugs because you will not be sticking anything inside your ears. Furthermore, if you have an ear infection, you will not be able to use earplugs at all.
Earmuffs are also more durable and tend to last for years if you take care of them properly. Earplugs, on the other hand, can only last for a couple of months even when you give them proper care and maintenance.
There is nothing wrong about preferring to use earmuffs over earplugs even if they do not have the same amount of noise reduction. The important thing that you have to remember is that any kind of ear protection is better than not using ear protection at all.
How to use earmuffs?
The great thing about earmuffs is that you do not even need to read the included instructions in their packaging to know how to use them, except maybe perhaps the noise-canceling ones.
To use earmuffs, you just need to place the band over your head and position the cups over your ears. You might need to adjust the band a bit to make sure that the cups completely cover your ears and the foam lining forms a complete seal to prevent too much noise from getting inside the cup.
Since earmuffs cannot block more than 35 decibels of noise, if you are working in a particularly noisy environment where the noise exceeds 100 decibels most of the time, then they might not be enough to protect your ears. If this is the case, you should wear earplugs in your ears then wear earmuffs over them.
This dual-layer ear protection can effectively reduce noise by fifty decibels, maybe even more. If you will be using noise-canceling earmuffs or earmuffs with amplifiers then you just need to flip a switch, usually located at the edge of the cups to toggle these features.
Some brands of noise-canceling earmuffs will only toggle this feature when the noise levels have reached a certain point, which is usually 80 or 85 decibels. This means you do not have to worry if you do not notice the earmuffs working. There might just not be enough noise in your surroundings for the noise-canceling feature to kick in.
How to care & clean for your earmuffs?
Earmuffs, especially those intended for work purposes, are super low-maintenance, so much so that you do not even have to clean them every day. You just need to give it a good wipe down every day to get rid of most of the sweat and dirt that have stuck onto the surface during the day.
If you want to give your earmuffs for work a good cleaning, you just need to grab a clean piece of cloth, a microfiber towel preferably, and dampen it with some water and a bit of rubbing alcohol. Use the damp cloth to wipe down the entire surface of the earmuffs. Continue until you are confident that you got almost all of the dirt out.
For the hard-to-reach spaces, use a cotton swab dipped in some rubbing alcohol. If the foam pads start to dry up and crack, you need to replace them as soon as you can. Deteriorated foam pads will not create a good enough seal to prevent noises from reaching your ears.
This results in lessening the noise reduction rating of the earmuffs by a significant amount. You can most likely buy replacement foam pads from the manufacturer's website.
What is the warranty?
A good pair of noise-reducing earmuffs will usually have a one-year warranty period. This kind of warranty usually covers manufacturing defects. It will not cover damage brought about by user error.
If you can find and afford them, find noise-reducing earmuffs that come with a limited lifetime warranty. This means that as long as the company that produced the earmuffs is still in operation, they will replace them with a brand new one if they get damaged within the TOS (terms of service).
Where to buy earmuffs?
If there are construction supply stores nearby, you should check out if they have any earmuffs in their inventories. Most construction and carpentry supply stores usually have several brands of earmuffs and other kinds of ear protection available.
The great thing about buying these kinds of products in brick-and-mortar stores is that you can try on the earmuffs before you settle on buying one. However, most physical stores do not stock that many kinds of hearing protection. If you want more choices, you need to go online.
Plenty of online retail stores specialize in hearing protection, which means you have hundreds of choices for earmuffs. Another advantage of online shopping is that you can usually find products at cheaper prices.
Conclusion
Unfortunately, not that many people take hearing protection that seriously. The reason why this is so is that hearing damage happens very gradually. You might not even notice that there is anything wrong until after a couple of years has passed and you discover that your hearing is not as keen as it used to be.
It is good to know that there are quite a lot of hearing protection options out there. If you cannot avoid loud noises in your workplace, do not let another day pass by without using a good quality pair of earmuffs.
The best safety ear muffs can help preserve your hearing health by muffling a good amount of the noises coming from your surroundings so that only a fraction reaches your ears. With the right pair of earmuffs, you can be sure that you will still be able to hear a pin drop as you get older.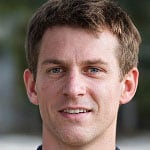 Having worked in the field of personal protective equipment for over two decades, Andrew Carnegie is a specialist in the field.
At EDC, he strives to improve performance efficiency and promote workplace safety for EDC's readers and customers. He also researches the most up-to-date equipment that has earned relevant accreditation for use in a wide range of industries and specialties.