No matter what kind of professional you are in the HVAC industry, using the best HVAC tool bag and bringing it in the workplace will certainly make you fulfill your job even more efficiently. Your job as an HVAC technician, plumber, or electrician is actually complex if you are not fully prepared.
Your efficiency and productivity might even be drastically affected if your tools and equipment are stored in a place that is too far from you, causing you to spend time going back and forth to get and return an item. A good HVAC technician tool bag will ensure that all the different tools that you need for every specific job will be on hand all the time.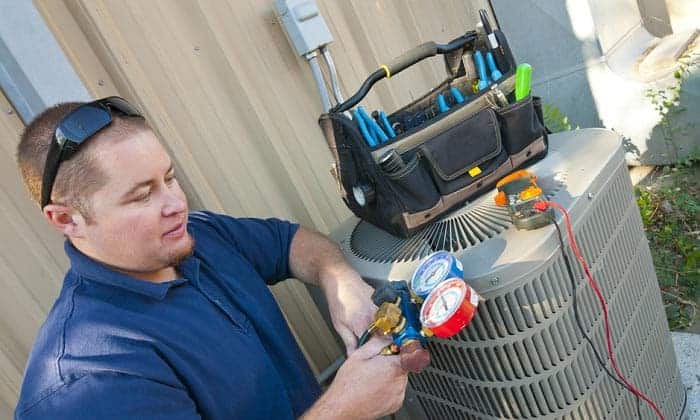 This type of bag is specifically designed in a way that it can store your gears and tools, making them one hundred percent necessary in your job site. The problem is that it is not always that easy to look for the best tool bags for HVAC workers. It is because beginning your search will cause you to be greeted with a wide array of options.
To increase your chance of locating a really good tool bag for a technician in the HVAC industry, this article will provide information about a dozen realizable choices currently accessible in the market. Each product mentioned here will have a short review, allowing you to get to know more about each one.
After reading the article, you will feel refreshed knowing that you will no longer experience a lot of difficulties finding a high-quality tool bag for your unique requirements.
12 Best Tool Bag for HVAC Reviews of 2023
1. DEWALT DGL573 Lighted Tool Bag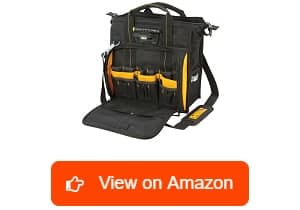 Do you prefer to own an HVAC tool pouch or bag with a lot of available space? Then the DGL573 Lighted Tool Bag offered by the DEWALT brand might be a perfect fit. I think one thing that makes this DEWALT tool bag distinct from other products is its lighted nature.
It is because it actually has a LED light, which you can easily direct into the bag as a means of identifying and finding tools and parts or into a dim or dark work area. I am glad that the LED light has three light output levels because it promotes ease when it comes to adjusting its illumination.
You can adjust it to provide just the right amount of illumination to a wide area or to a close-up work. I am also very satisfied with the amount of space it has. It features up to 41 pockets with each one having the right amount of space for the safe organization and storage of certain tools.
The fact that the built-in pockets have variable sizes also has a strong advantage as it promotes ease of access to your large and small tools. I am even glad of its large central compartment as I find it suitable for storing bulky tools.
Expect the versatility of this bag to shine through as it is capable of acting as a good storage space for all your accessories and tools, including but not limited to, screwdrivers, drill bits, pliers, wrench sets, testers, drills, and extension cords. It has unquestionable durability, too, which can be attributed to its base pad feet.
Such a feature makes it possible for the bag to significantly lessen the possibility of wear and tear while resisting abrasion. With the padded web carrying handles of the bag combined with its large back padding and adjustable shoulder straps, I am certain that you will be assured of its comfort.
However, the presence of the LED light might cause the batteries to get exhausted faster than usual.
What We Like
Comes with a LED light for your convenience
Can provide more than enough storage space for your small and large tools
Can resist abrasion, wear, and tear
Comfortable to carry around with its padded carrying handles
Several pockets with variable sizes built in
What We Don't Like
The batteries tend to drain faster than expected due to the LED light
Still, this DEWALT tool bag is one of the strongest contenders in the market especially for those who intend to shop for a good bag for their HVAC tools and equipment.
2. CLC Custom Leathercraft 1134 Tool Backpack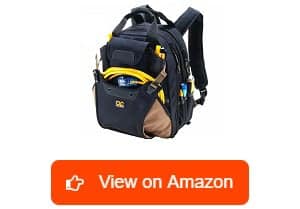 If you prefer to own the best HVAC tool backpack then the CLC Custom Leathercraft 1134 is a product you should check out. This HVAC backpack works well for any active HVAC technician or worker who values the significance of working while being hands-free through a high-quality and weatherproof bag.
With its anatomical design, maximum comfort is certainly one thing that you can anticipate from it. Another thing that excites me about this backpack is that it consists of several pockets that are efficiently compartmentalized.
Since they are properly compartmentalized, you will never experience problems organizing your tools and accessories both in sight and place. This backpack boasts of a total of forty-eight pockets – forty-one of which can be found on the bag's interiors while the other seven are in the outer part.
Apart from the huge storage space, I also find its ability to deal with all sorts of weather, no matter how harsh it is, remarkable. This means that whatever situation your work environment is facing, no matter how harsh it is, I am quite sure that the bag will be able to withstand it.
It boasts of its two main zipped compartments two – with one of them consisting of an organizational setting, making it perfect for handy and small tools that you need to access quickly. The next zipped compartment can provide ample space for batteries and a cordless drill.
I also in favor of the adjustable shoulder straps and the padded back built into the backpack as such makes the product become the ultimate solution as far as comfort and support are concerned. Combine this with the built-in tractable chest straps and I am sure you can comfortably carry the bag.
It also has dual-carrying handles positioned on top, offering a comfortable choice in terms of your carrying style.
I dislike the somewhat heavy weight of the backpack, though.
What We Like
Weatherproof and durable
Provides a huge amount of storage space
Compartmentalized pockets, ensuring the proper organization of all your stuff
Padded back and adjustable shoulder straps included, maximizing comfort and support
Easy and comfortable to carry around, thanks to the tractable chest straps
Even with the presence of such an issue, this backpack is still satisfying since it has most of the valuable features that an HVAC tool bag should have.
3. Pnochoo Waterproof Tool Bags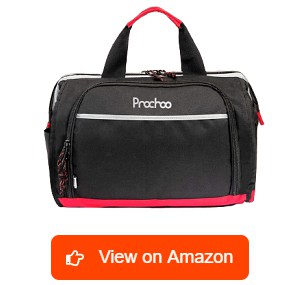 After spending years trying to find the top-rated HVAC tool bag setup, I discovered that the Pnochoo duffel is apt for those days when I need to carry large items. The pockets located on the outside are strong enough to hold my hammer, wrenches, and other tools that I need to access frequently while working.
I'm surprised that the internal space is huge. Once I complete the job, I can put my hand tools back inside alongside the drill. Even better, the internal metal frame and sturdy base work together to prevent the bag from drooping if I want to keep it wide open. When organizing or looking for my tools, I get an unobstructed view of the compartment.
Made of 600D polyester waterproof fabric, this duffel safeguards all pieces of equipment against the elements. Trust me, removing rust from my hand tools is not a good way to spend my day off! Apart from that, I'm impressed with the bag's high-quality craftsmanship. Besides the robust stitchings, it is equipped with zippers that open and close smoothly.
So far, I don't have any major complaints besides the lack of pockets. For my work, 25 pockets are not enough, but perhaps other people may find this sufficient. An ideal duffel or tool backpack for HVAC, in my opinion, should have about 40. I ended up using small pouches to make up for my storage needs.
What We Like
Has large capacity for big tools
Can stay wide open without drooping thanks to the metal frame and sturdy base
Excellent 600D polyester waterproof fabric with robust stitchings
Strong enough to hold heavy items
The zippers move smoothly
What We Don't Like
Does not have enough pockets
What Pnochoo's tool bag for HVAC offers can be summarized in one word: Convenience. Its internal frame lets it stay open so we can access our tools, and when it's closed, the waterproof fabric ensures that the contents are protected from the elements!
4. Veto Pro Pac TECH PAC Bag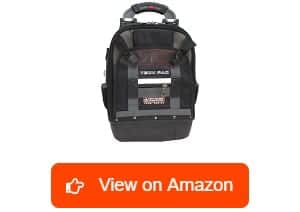 Another ultimate choice for those who wish to own an HVAC tool bag is the Veto Pro Pac TECH PAC Bag. This is a favorable choice, especially if you are a fan of the Veto brand and would like to own a high-quality Veto tool bag.
I discovered that it is suitable for HVAC workers and technicians, particularly those who need to travel by foot on long distances as well as those who need to do repairs by climbing ladders. In my opinion, one of the most distinctive and top-notch features of this tool bag is its heavy-duty design.
It also takes pride in its injected and molded waterproof base as well as its distinctive central panel. The presence of such features plays a huge role in making the bag deliver its expected performance.
It also has ample space since it has up to 56 pockets of varying sizes, increasing their capability of storing and organizing not only small hand tools but also bigger and bulkier ones. I am also pleased to announce that it has the unique handle boasting of a quick-release design.
With this feature, you can eliminate the difficulties involved in accessing the large compartment while lessening the risk of experiencing extreme strain and pressure on your shoulders. Another important advantage is the extreme comfort provided by the bag brought on by the back region, which has an EVA-padded panel.
With this type of structure, you can rest assured knowing that the bag has a component designed to cushion the load efficiently. I also discovered that this tool bag functions well as far as offering structural stability is concerned. I like the lightness of this bag, too.
In addition, it has a stiff back plate, which plays a huge role in minimizing drag when you are climbing or walking.
However, one noticeable downside is that some of its pockets are too small that they can't hold standard tools.
What We Like
Quick-release design guaranteed
Features an EVA-padded panel for comfort and proper load distribution
Guarantees excellent structural stability
Lightweight and spacious
Comes with a stiff back plate to minimize drag
What We Don't Like
Some pockets are sized too small
To conclude, this Veto tool bag has everything necessary in ensuring that you will not be taken down no matter how rough your job is while ensuring that your efficiency and productivity will not suffer along the process.
5. CLC Custom LeatherCraft 1528 Tool Carrier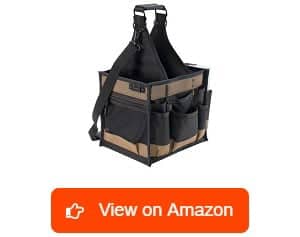 If you want a bag, which speaks of versatility and flexibility, then the CLC Custom LeatherCraft 1528 Tool Carrier will surely pique your interest. The versatility of this tool carrier is immediately noticeable as it truly works effectively in safely and conveniently storing your HVAC instruments, tools, and accessories.
Possessing twenty-two multi-purpose pockets, I do not see any problem using it to store your stuff regardless of their individual purposes and sizes. It also has a unique feature, which comes in the form of a multi-compartmentalized tray made of plastic, boosting the bag's tool conveyance ability.
I discovered that this tray contributes a lot in placing small tools and accessories neatly, preventing them from vanishing all of a sudden because they will no longer slide firmly at the bottom. I also find the sturdy box-shaped style of this tool's bag for technician a big advantage because it can help ensure that it will not tip over when you put it down.
I also give this a thumb's up because of its adjustable strap, which I can easily adjust for comfort by ensuring that it meets my preferred length. If you are worried about back pain then the extra padding in the bag's handle's will get you covered as this promotes extreme comfort and removes pressure from your back by properly cushioning the load.
The elastic loops built into the bag also promote ease in accommodating large tools and keeping them safe. The high-quality and heavy-duty structure of this tool bag also proves its ability to last for as long as possible.
One drawback I discovered, though, is that the steel reinforcements integrated into the handle are prone to puncturing.
What We Like
Equipped with an adjustable strap to achieve your desired length
Cushions the load properly, thanks to the padding in the handle
Features a multi-compartmentalized tray
Does not tip over with the aid of its durable box-shaped style
High-quality and heavy-duty structure
What We Don't Like
The steel reinforcements found in the handle are prone to punctures
Taking into account the capabilities and features of this product, I can safely conclude that it is one of those flexible CLC tool bags that promote a safe and convenient solution when it comes to storing your stuff.
6. Klein Tools 55421BP-14 Backpack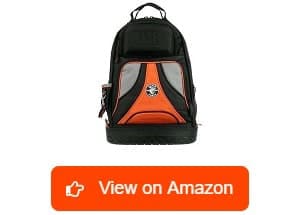 If you are interested in a Klein tool bag then the brand's 55421BP-14 Backpack might be the right fit. I always recommend this backpack from Klein especially for HVAC professionals who are in need of massive storage space for their tools.
Equipped with thirty-nine spacious pockets, it is certainly the answer to your tool organization and storage requirements. I am also in awe of the hard molded front pocket, which is specifically designed for a pair of safety glasses. I also like the front zipper pocket because I find it useful in storing loose parts.
It has a sturdy molded base designed to protect the bag from even the harshest elements. The base is also water-resistant, further strengthening its ability to protect the bag and its contents. It contributes to making improving the structural support provided by the bag.
I also find its bright orange interior awesome because it contributes to locating and finding your tools in a quicker manner. It is because the color makes your tools more visible. The bag's 1680D ballistic weave construction also left a positive impression not only on me but also on other users since it further improves the structure's durability and its water-resistance nature.
I find the handles favorable, too, as they contribute to the ease in carrying the bag. In terms of comfort, you will not be left wanting due to the additional padding featured in the adjustable shoulder straps.
One issue I would like to point out, though, is that the zippers do not seem to last for as long as some users expected.
What We Like
Equipped with a bright orange interior, which makes your tools quick to find
Water-resistant and durable structure, thanks to the 1680D ballistic weave material
Easy to carry with the help of its handles
Comes with adjustable shoulder straps built, which has additional padding for comfort
Ample storage space provided by its 39 pockets
What We Don't Like
Not that long-lasting zippers
Some users do not that that flaw so seriously, though, since the overall quality, durability, and functionality of this Klein tool bag significantly outweigh it.
7. Rugged Tools Tradesman Tool Backpack
I also encourage you to check out the Rugged Tools Tradesman Backpack if you intend to own a bag with superior durability. This backpack is famous for its rugged and sturdy structure, boosting its likelihood of withstanding the roughest and toughest environments.
The main construction of the backpack is also sturdy enough since it makes use of the strong 1680D polyester material. Add to that the well-reinforced zippers and pockets of the bag and it is guaranteed to resist and handle tough abuse and harsh environments. I find the molded hard bottom awesome because it contributes to the security of your tools.
It is mainly because this feature gives the bag a flat surface, allowing it to remain standing upright regardless of the environment while keeping your tools elevated, thereby preventing them from damage. With this, I can vouch for the bag's ability to help your tools stay dry and safe even if you are exposed to snow, mud, or water.
You will not also feel disappointed in terms of the space provided by this backpack. With its 28 pockets, you will certainly enjoy the huge amount of space designed to help in conveniently and securely organizing your tools.
The pockets are also created in a way that they can hold a wide range of tools, including electronics, screwdrivers, drill, level, measuring tape, electrical fish tape, and wrenches. I can also vouch for the bag's versatility as it covers the needs of not only HVAC technician or repairmen but also other workers, including carpenters, electricians, contractors, audiovisual and cable installers, plumbers, and framers.
Your comfort is also prioritized in this backpack. You can confirm that with the presence of the padded shoulder straps and back lumbar support, the sternum strap designed for proper weight balance and distribution, and the top handle for ease in carrying and lifting the bag even when it already contains your tools.
One thing I dislike about this tool bag, though, is the zipper as it seems to be weakly constructed, so it is possible for it to wear out sooner than expected.
What We Like
Provides sufficient storage space
Promotes proper weight balance and distribution, thanks to its sternum strap
Easy and comfortable to carry and lift with the aid of its shoulder straps and top handle
Versatile as it meets the requirements of many workers
Water-resistant and rigid construction
To conclude, this backpack is a wonderful choice for workers, especially HVAC professionals because aside from its sturdiness, it also prioritizes the comfort of users and ensures that they will find it extremely hard to organize their work tools.
8. Veto Pro Pac MB2 Meter Bag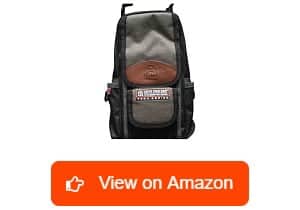 Another amazing product that deserves positive recognition from those who are seriously in search of a high-quality tool bag is the Veto Pro Pac MB2 Meter Bag. One thing that I am sure you will notice right away in this tool carrier is its sturdy and rugged structure.
The sturdiness of the bag's structure is amazing, so you will have peace of mind knowing that it will serve as your companion for quite a long time. It is comfortable and secure because of the interior cushioning added to it. I am satisfied with the ten vertical pockets present in this bag as the space of each one is adequate for regular purposes.
It also boasts of its two meter pockets and four small D-rings, providing additional space and room for the stuff you need in the workplace. I like the zippers added into this bag because unlike the others, the ones used here are heavy-duty, making them less prone to wear and damage.
The 1200 PVC-impregnated denier nylon material used in creating the bag's pockets is also strong and rigid. Combine that with the bag's sturdy leather trim panels and it will surely showcase a great amount of durability. I am satisfied with the included detachable handle made of rubber because it is comfortable to use.
Another benefit of the bag is that it is capable of holding electrical gloves with the aid of the sturdy plastic belt clip found at the back.
One problem, though, is that you may need to buy the shoulder strap separately in case you need it.
What We Like
Equipped with a comfortable interior cushioning
Adequate space provided by its ten vertical pockets
Heavy-duty zippers, making them long-lasting
Strong and rigid structure
Comfortable to carry around with the help of its detachable handle
What We Don't Like
The shoulder strap requires a separate purchase
With the way this meter bag from Veto is structured, I am certain that it can contribute a lot in making your tools more organized and secure while ensuring that you can effortlessly and easily reach them.
9. CLC Custom Leathercraft L255 Lighted Backpack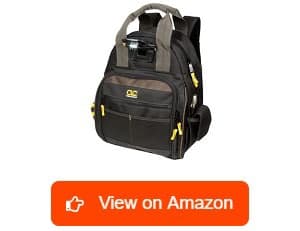 Another lighted backpack that deserves to be recognized is the CLC Custom Leathercraft L255. One thing I discovered about it is that it is completely strong, proving its effectiveness in withstanding wear and abrasion. I think one reason behind the durable and heavy-duty structure of this backpack is the built-in base pad feet.
I am also completely pleased with the amount of space that it provides courtesy to its up to fifty-three pockets. With this amount of space, organizing your tools will be much easier and more efficient. I can also confirm the backpack's effectiveness in providing a better solution in terms of storing your tools.
I think it is due to the dual-compartment design applied in the bag. I like the kind of comfort it gives off with the aid of the extra padding in the back and shoulder straps combined with the sternum strap, which is built to be adjustable for your convenience. The bag is also built to be lighted.
This means that it features a LED light, which you can use if you wish to brighten up dark work environments. You can make an adjustment on the illumination with its 3-level brightness or light output. The built-in carrying handles also make the bag even more comfortable and easier to transport.
I am also in favor of the two straps that this backpack features because these allow it to accommodate bigger tools, like cordless drill or driver and a charger for the battery. The padded shoulder straps are also helpful in ensuring that your hands stay free to carry all the things you need in your job.
One downside I wish to point out, though, is that this bag tends to get bulky, especially when filled to its maximum capacity.
What We Like
Features a LED light with three levels of brightness
Easy to carry and transport with the aid of its carrying handles
Can accommodate both small and large tools
Adjustable strap for your convenience
Spacious enough
What We Don't Like
Can get bulky when filled with a lot of stuff
The bulk is still manageable, though, so it does not affect the overall quality and functionality of this bag that much.
10. Milwaukee 48-22-8200 Jobsite Backpack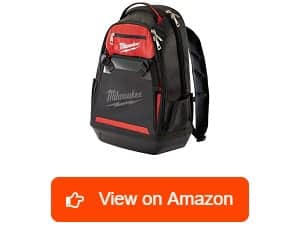 It would also do you a lot of good to check out the Milwaukee 48-22-8200 Jobsite Backpack because it carries several useful features that you can use to simplify your job and make you more productive and efficient. The primary structure of the backpack is made to be durable and sturdy.
I am specifically pleased with the 1680 ballistic fabric used in structuring the backpack because of its strength and stability. It is strong enough that it can withstand all forms of impact each time you are in transit or in a work environment, thereby protecting the tools stored inside from harm.
The bottom part of the backpack or its base, which is coated in plastic, also further strengthens the item's durability because it is built to be water-resistant. With its water-resistant property, it is possible for you to let the bag stay upright even if you are in a damp setting because it prevents potential damage.
I am also very pleased with the 35 pockets of different sizes that line up the exteriors and interiors of the bag. Since the pockets have different sizes, storing anything to it will never become an issue. You can store things like water bottles, screwdrivers, and pliers in there. It even has a pouch fasted by a hook-and-loop where you can store manuals.
The zippered pouches found in the bag's exteriors and interiors are also helpful in keeping electrical and fish tapes within your reach and ensuring they are protected from harsh elements. In addition, the item is built in a way that it can evenly distribute the content's weight, relieving pain and pressure from your back.
You can also safely bring your laptop because there is a specified compartment for it.
However, this backpack is slightly heavy if you fill it up to its max capacity but you can rest assured that the weight is still manageable.
What We Like
Comes with several differently-sized pockets for more effective tool storage
Distributes the content's weight evenly
Comes with a compartment specifically designed for your laptop
Equipped with a sturdy and water-resistant plastic bottom
Can withstand tough work settings
All in all, I find this Milwaukee backpack amazing with its great construction, ample storage space, and comfortable design.
11. VETO PRO PAC TECH-MCT Bag
The VETO PRO PAC TECH-MCT Bag is also a worthwhile addition into your list of choices. It is because it is an incredibly designed backpack composed of great features that make it completely functional and useful. In fact, I noticed that it acts as a great place to store the power tools frequently used by an HVAC service professional.
I like how it is built to be solid and stable. With its solid construction, I find it effective in handling the weight of all the power tools you decided to store inside. It is compact while still having a lot of space for your stuff. It even has additional space for your other tools and accessories.
I am impressed with the wide mouth added into this tool bag from VETO as such simplifies the process of getting some items inside and returning them. I am also pleased with the stabilizing injection-molded base with a waterproofing property because it contributes to keeping tools dry no matter how nasty the setting is.
As far as comfort is concerned, you can expect this tool bag to excel. I think it is because of its extra-wide shoulder strap with just the right amount of padding. The over-molded ergonomic grip also makes the bag even more comfortable to use and wear in all situations.
The ruggedness of its construction is also noticeable with how reinforced its seams. The zippers added into the bag are also heavy-duty.
The only complaint I have is its price because it is slightly higher than the cost of other bags.
What We Like
Rugged, stable, and waterproof construction
Comes with heavy-duty zippers
Compact while still providing more than enough space for storing your stuff
Comfortable, thanks to its ergonomic grip and well-padded shoulder strap
Features well-reinforced seams
What We Don't Like
More expensive than other tool bags
To conclude, this bag will continue the hearts of its users with its great quality and comfort as well as the huge amount of tools it can hold despite its compactness.
12. DEWALT DGL523 Lighted Tool Backpack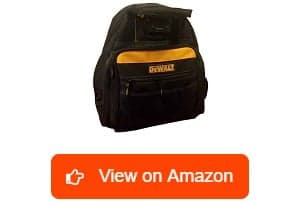 The DGL523 Lighted Tool Backpack offered by DEWALT will not also put you down, especially if you wish to prioritize comfort and a huge amount of storage. It boasts of its unique setup composed of a LED light, which you will find useful in lighting up or illuminating the bag's interiors or a dark work area, boosting visibility.
I find it effective in accommodating all your tools and accessories considering the fact that it contains up to 57 pockets. At 5 lbs., this bag is lightweight enough so you can rest assured that you will not be bothered by its load-free weight. You can, therefore, use it in carrying several tools since its weight will not have a huge impact on the final load.
I love the ergonomic design applied into this backpack as it makes it possible to use both your hands comfortably even if you are carrying your service tools. Your comfort will be further enhanced by the well-padded back section as well as the padded carry handles and shoulder straps.
I am also in favor of the firm back padding and straps combination because it makes it more effective in distributing weight. Combine it with the stiff back plate and you will surely experience a significantly less drag each time you are climbing or walking. You will also like the uniquely designed closures paired with a couple of top-placed handles.
It is because the presence of such features promotes ease in accessing the storage bays. I am also happy to say that its base pad feet are created in a way that they can lessen wear that might be triggered by abrasion.
I am not so impressed with the zippers, though, because I noticed that they are not as long-lasting as I initially expected.
What We Like
Comes with a LED light to illuminate a certain area
Ergonomically designed for your comfort
Can distribute weight well with the help of its firm back padding and straps
Minimal wear triggered by abrasion, thanks to its base pad feet
Provides space that can accommodate various tools and accessories
What We Don't Like
Not that long-lasting zippers
For its budget-friendly price, this DEWALT tool bag is surely a viable investment with its ample storage space, comfortable and ergonomic design, and sturdy construction.
Jackson Palmer Tool Carrier (Outdated)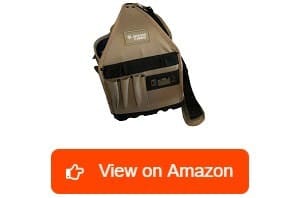 You can also go for the Jackson Palmer Tool Carrier, especially if you wish to use a bag, which delivers a high level of functionality and performance. Mainly structured using solid leather, this tool carrier continues to earn positive feedback because of how sturdy it is.
The bag is pretty large with its primary compartment measuring 11 inches in length. It, therefore, has plenty of space to hold several tools conveniently. Even with its large size, I still like how this tool carrier is built to be lightweight, thereby guaranteeing your convenience when it comes to carrying it around.
It also has additional large pockets that you can use to store more stuff. When it comes to durability, I think that this bag will not let you down. Aside from its leather construction, which makes it strong and stable, it also has strong mesh material in its structure and a solid and reinforced webbing.
The pockets and their zippers are solidly created, too. With the elastic loops and the hook loops integrated into this tool carrier, I can vouch for its ability to give you a more comfortable experience wearing and using the bag. Another reason why I truly like this tool bag from Jackson Palmer is that it is water-resistant, boosting its lasting power.
It also boasts of its elastic feet and sturdy stitching.
However, its pockets do not have reinforced bottom, causing the fabric to be prone to getting punctures sooner than what you have initially anticipated.
What We Like
Sturdy leather construction
Comfortable to wear with its elastic loops
Water-resistant, making it last long
Large and spacious enough
Lightweight, thereby promoting ease and comfort when carrying it
What We Don't Like
The pockets do not have reinforced bottom
Overall, this tool bag from Jackson Palmer is well-designed using high-quality materials, making it sturdy and comfortable to use while also providing you with adequate space for your frequently used tools.
What is an HVAC Tool Bag or Backpack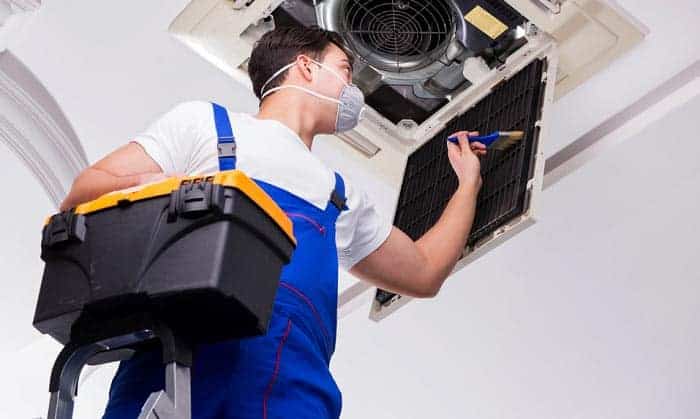 As the name suggests, an HVAC tool bag or backpack is intended for HVAC professionals and technicians. It is a vital embellishment for new and expert technicians and workers in the field as it makes accessing the tools needed for their daily tasks much easier.
Note that HVAC workers and technicians require several tools to be able to function every day. The problem is it is a bit daunting for them to access their tools without a bag that they can trust. It is specifically true if the tools will be stored in a place that requires them to walk back and forth.
A good tool bag or backpack often comes with two straps that you can carry around your shoulders. This makes the process of bringing your stuff at the exact spot where you are working less demanding. Most tool bags for HVAC technicians today also have a few exciting functionalities and features.
With their exterior and interior pockets, you will also immediately be amazed by their ability to carry your tools. Just ensure that the bag you are picking is truly the one that can satisfy your demands.
How Does It Work
Your chosen tool bag can be expected to function by making your job as an HVAC worker a lot easier as it serves as an immediate solution in case you need of an easy-to-access carrier of your tools. It works in making your daily tasks in the HVAC industry become substantially easier.
You have the chance to use it as a means of storing the items that you frequently use at work and organizing them in a safe and proper manner. Note that all the things related to HVAC, including AC and refrigeration services, require the use of special equipment to execute your job.
With the tool bag around, you will exert less effort when it comes to storing and transporting all the things you need. It basically works in letting you stay organized while keeping the items you need to use every day well-protected.
Tools, like tape measures, wrench sets, screwdrivers, and pliers, as well as basic equipment, like thermometers, electrical instruments, and flashlights will also be easily accessible, which is a good thing especially if you are a busy HVAC technician.
Types of HVAC Tool Bags
HVAC tool bags come in various types with each one showcasing a certain layout style, which has a say on how you will be able to put the tools in your bag. It is crucial for HVAC technicians and workers like you to get the correct type of bag, which holds your most commonly used tools in an easily accessible manner.
Among the most commonly used tool bags by HVAC professionals are:
Backpack – You can find HVAC tool bags that showcase a backpack design. This is the kind of bag designed in a way that you can carry it on your back. It is a good choice because it offers flexibility in terms of motion because it allows your hands to be free to do other tasks.
With this, you can easily move around your work environment. The problem with the backpack style is that it does not offer the quickest solution as far as tool access is concerned.
Pouch – It is also possible to opt for tool bags designed in the form of a pouch. One unique thing about the pouch-styled tool bag is that it is equipped with an open top, which is beneficial for quick tool access.
Most pouches also offer a greater number of tool compartments. The problem with this type is that it is usually too rigid plus you need to use your hands all the time to convey it.
Backpack and pouch combination – This is a fantastic choice especially if you want to enjoy the benefits of both the backpack and the pouch in just one product. With this design, you can choose to carry the bag using its handles or by putting it around your shoulders.
Why Do You Need to Wear an HVAC Tool Bag
An HVAC tool bag is vital for all those who work in this industry. In most cases, it is built to be sturdy so it can support heavy tools and equipment, particularly those you specifically need in completing your job. The bag is, therefore, helpful in improving your productivity and efficiency.
One reason why you should use an HVAC tool bag is that it allows the tools you need every day to be within easy and comfortable reach. Most of these bags are also capable of carrying small and large equipment, so you will no longer be bothered about where you should specifically house the things you need.
Another reason why the tool bag is important is that it often provides a lot of room for your stuff. It can even be extended, which you can't expect to achieve if you are using a tool belt or toolbox. It contains multiple pockets, sleeves, and compartments to house different tools of different sizes.
You can even use your tool bag in storing documents and other vital stuff, keeping them handy and easy to access. The tool bags for HVAC workers are also often built for comfort. This is the main reason why you can find those with perfectly padded shoulder straps that will not only make you feel comfortable but also keep you protected.
Some of these items are even built to carry sharp and bulky tools, such as saws, hammers, and drillers. With that, you will no longer experience problems accessing them since you will be putting and organizing them in just a single place.
Most of these bags are also built to be water and weather-resistant, allowing them to deal with harsh weather conditions and elements. They can protect the contents of the bag from moisture and any other things that might harm them.
Aside from all that, the most prominent benefit that you can expect to receive from the bag is that you will stay well-organized and productive. A high-quality tool bag is also a legitimate way to help you earn money. It is mainly because it significantly reduces your trips back and forth each time you need a tool.
With the bag in close proximity, you can also work safely while boosting your efficiency. It is because you will have peace of mind knowing that the right tools are always within your reach. If you own a backpack then you can even easily climb ladders easily and safely.
Buying Guide
If you are seriously thinking about owning an HVAC tool bag so you will have much better work experience then take into account the following important points. By doing that, it is highly likely for you to get the most compatible bag for your unique requirements and demands:
Quality – One of the things that you should spend time assessing during your search for the best HVAC tool bag is its overall quality. Note that you need a high-quality bag, one that is efficient in helping you carry heavy work tools. It should be of top-notch quality in the sense that it straps do not easily snap off or its parts do not get damaged too soon.
Also, remember that most HVAC bags are suspended over your shoulders. With that in mind, it is essential to look for one with tough and durable straps, those that can support the load carried by the bag once you fill it up with tools. A high-quality tool bag is also usually ergonomic, which makes it less strenuous and exhausting to carry around.
Keep in mind that you can also judge the quality of the tool bag based on three primary criteria – the design, durability, and load-free weight. As for the design, note that it has a say on the manner through which you can carry the bag around. The most appropriate way of carrying the tool bag is by suspending it over your shoulders.
If you pick that kind of bag then ensure that its shoulder straps are strong and durable. They should be wear-resistant while having the ability to handle the weight of a bag with a full load. Aside from the design of the shoulder straps, it is also crucial to find out whether it is ergonomically designed as it has a say on how comfortable you will be.
In terms of durability, note that you can assess that based on the material used in creating the bag. Ensure that you look for one built using high-quality and durable materials – those that do not wear out too quickly. The materials should also be capable of retaining the bag's unique look for a long time.
Lastly, you should check the bag's load-free weight during the time when you are still judging its quality. This is a vital criterion because it has a say on how portable the bag will be. Also, keep in mind that the majority of tool bags known for their top-notch quality are also lightweight.
Layout/design – You should also spend time examining the layout or design of the bag prior to buying. Pick a layout or style depending on your specific preference. It should be laid out in a way that its looks, design, color, styles, and other important elements coordinate with your unique sense of style.
The layout is crucial because it plays a huge role in figuring out the specific number of tools that the bag can carry. It is because it has a direct impact on the bag's carrying capacity. A high-grade HVAC tool bag's layout can often be determined on the size, arrangement, and number of pouches in both the exteriors and interiors.
The presence of the pouches provides a higher number of tool compartments while also promote ease of tool access. With that in mind, it is vital to find a bag with several pockets and those that are effectively compartmentalized. The layout of the individual pouches can also have a say on how you can position the tools inside the bag.
Construction material – Finding the most trusted HVAC tool bag is also possible if you spend time scrutinizing the specific materials used in making it. Make sure to look for a bag constructed out of the sturdiest and highest quality materials. It is because its overall structure has a direct impact on its longevity.
Find out whether the main material used in constructing the bag is heavy-duty. Also, note that a lot of tool bag models feature plastic bottoms known for their effectiveness in preventing wear and tear. Some bags are also famous for withstanding all sorts of weather conditions.
This toughness is achievable based on the quality of the materials used. By ensuring that the construction material is of great quality, you have an assurance that your tools are secure. The bag will also let you enjoy a dependable and long service life.
Storage space/capacity – Prior to buying, determine the specific amount of space needed to hold all your stuff. In this case, you have to consider the number of tools that you frequently use and need to carry at work. By considering that, you can decide on the amount of storage space that your tool bag should have.
The storage capacity or space provided by the bag usually comes in the form of its dimension, compartments, and pockets. Find out which among your choices gives you the chance to carry your tools effortlessly while also helping you organize your tools so you will not have a difficult time finding them.
It should have ample space to store your tools in just one place, thereby helping you save time. Some of the items it should store and organize are screwdrivers, pliers, tape measures, and wrenches.
Care and Maintenance
Learning a thing or two about the proper ways to take care of your HVAC tool bag can have a substantial impact on how long it will serve its purpose. Aside from regular cleaning, it is also vital to check each part and find out whether there is something that requires your attention.
Among the specific parts of the bag that you should regularly check are the zippers. Note that eventually, grit and dirt will accumulate, clogging the coils of the zipper that might cause problems in keeping them close. To avoid this, make it a point to include in the bag's care and maintenance procedure the act of cleaning and lubricating the zippers.
Do this two times annually. It would be best to clean and lubricate the zippers more than twice every year if your work environment has plenty of airborne debris. Cleaning the zippers involve the use of soapy water and a toothbrush to scrub their coils. After that, use an air hose to blow them out.
This is helpful in dislodging other tiny and fine grit that you were not able to dislodge using the brush. As for lubrication, you can apply beeswax, lubricant specifically designed for zippers, and silicone spray. Ensure that the zippers are fully protected from excessive heat and sharp objects, too.
Another way to care for the bag properly is to avoid overstuffing it. Note that putting more than what the bag can handle can only put undue stress and pressure on it. If you do not want it to get damaged too soon then be sure to stuff it based on its maximum load limit.
Frequently Asked Questions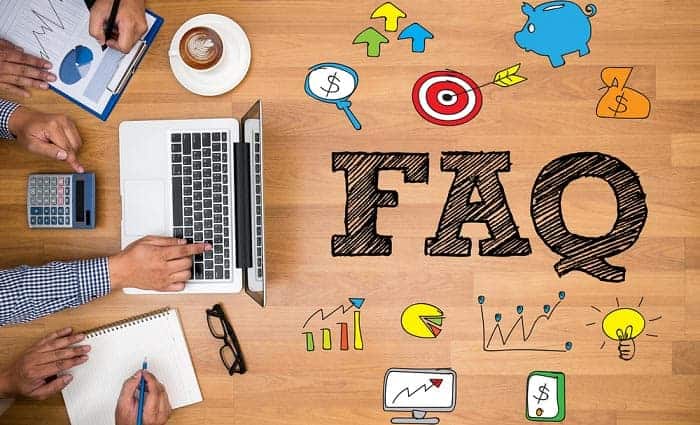 What are the most popular HVAC tool bag brands?
Several brands of HVAC tool bags continue to emerge in the market, promising prospective users that they are capable of offering the best features and benefits. If you are confused as to which brand to choose, then consider reading reviews and finding out what other users can say about the products.
You may also want to check out those brands that are continuously gaining positive reviews from the public. Among them are DEWALT, CLC, Milwaukee, and VETO – all of which are famous for their high-quality and well-designed tool bags.
What are HVAC tool bags made of?
An HVAC tool bag is usually made up of high-quality materials – specifically the sturdy and strong ones as the item is meant to hold heavy tools and equipment. Among the materials that often comprise a good HVAC tool bag are leather, nylon, and canvas.
Other essential parts of the bag are its straps that are usually padded and adjustable for the user's comfort. The bag is also composed of its pockets, zippers, and base.
Are HVAC tool bags worth it?
HVAC technicians work indoors and outdoors regardless of the weather. Yet, most of the tools they use are prone to rust if not cared for properly.
By investing in a good quality waterproof HVAC tech tool bag or backpack tool bag, you don't only get to organize your tools but also protect them from the elements.
How long does an HVAC tool bag last?
Since the lifespan of HVAC bags and HVAC tool pouches hinges on the material, construction, and how you use them, there is no definitive answer to this question.
That said, a well-maintained top-of-the-line HVAC service bag can last at least a decade or more.
Are HVAC tool bags waterproof?
If you prefer to invest in a waterproof HVAC tool bag then you will be pleasantly surprised with the numerous choices in the market that are equipped with a waterproofing feature. In most cases, the bags become waterproof because of its rigid and water-resistant plastic base.
Because it is waterproof, you have an assurance that the hand tools and equipment that you decided to store and organize inside will be protected from moisture. Some models are also created using materials with a weatherproof capability, allowing it to withstand not only excessive moisture but also all sorts of extreme weather conditions.
Can an HVAC tool bag/backpack hold a laptop?
Yes, in most cases, the tool bag or backpack designed for HVAC technicians is equipped with a compartment that can safely store laptops and other similar gadgets. This provides a favorable advantage especially if you intend to bring your laptop at work and make sure that it is also within your easy reach just like your other work tools.
How to clean an HVAC tool bag?
Cleaning your HVAC tool bag should form a vital part of your regular routine because keeping this item clean contributes a lot to its longevity. Fortunately, cleaning the bag is a simple, quick, and straightforward process.
It involves easy and simple steps – the first one is to mix soap and cold water, which is the solution that you should use for washing the bag. Wash it often and regularly as this is the key in enjoying its functions and benefits for quite a long time.
To help remove any excess dirt and grime without scratching and damaging the surface of the bag, consider scrubbing it with a brush that has soft bristles. If your tool bag is constructed out of leather, applying a leather conditioner is also helpful in softening and moisturizing the material.
The conditioner aids in preventing the bag from becoming dry and brittle and from forming cracks on the surface. Just make sure that the bag is completely dry prior to starting the conditioning process. Also, avoid putting excessive amounts of the conditioner. It should just be enough that it can be absorbed by the material.
Make sure to use a clean cloth in wiping off any excess conditioner. It is because leaving the excess in the area will only attract more dirt and grime.
Where can you buy an HVAC tool bag?
There are several legitimate and reliable places where you can shop for a high-quality tool bag. You can visit physical stores selling personal protective equipment or other items dedicated to workers. If you want more convenience when shopping for a tool bag, consider visiting online sites, such as the official sites of reputable brands.
You can also visit and check out the tool bags offered by Amazon, which seems to give you a wide range of choices. This will bring you closer towards the tool bag that perfectly matches what you truly prefer.
What is the warranty of an HVAC tool bag?
The warranty of your HVAC tool bag is actually dependent on the brand and model you decided to buy. In most cases, though, the warranty is around five years. The 5-year warranty often obliges the manufacturer to repair or replace defective merchandise provided it meets the guidelines and the warranty period.
Damages caused by wear and tear, however, will be repaired at your request and approval by paying a reasonable charge.
Conclusion
The best HVAC tool bag is a compulsory investment if you are part of the HVAC industry. This is even more helpful if you are working on a job that requires the use of several tools. Just ensure that what you are getting is a durable, user-friendly, convenient, and comfortable bag with the specific amount of space you need.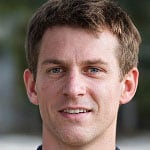 Having worked in the field of personal protective equipment for over two decades, Andrew Carnegie is a specialist in the field.
At EDC, he strives to improve performance efficiency and promote workplace safety for EDC's readers and customers. He also researches the most up-to-date equipment that has earned relevant accreditation for use in a wide range of industries and specialties.