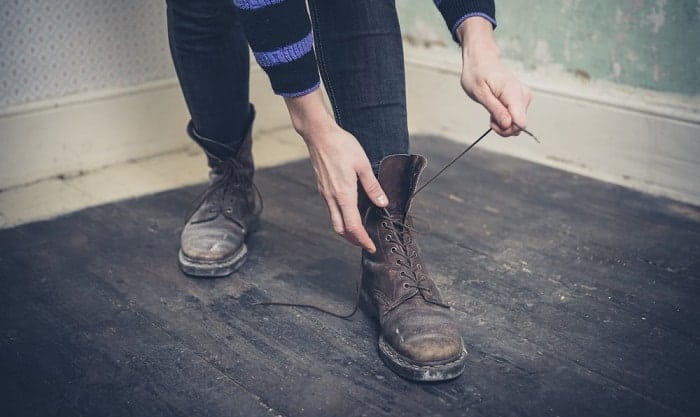 There is nothing that women cannot do! Falling objects, wet floors, chemical spillage, and open circuits are just some of the potential hazards at the job site. As you brave the day, be sure you are armored from the top down with personal protective equipment and the best work boots for women.
Deciding the best work boots for your specific needs can be challenging. Luckily, while the shape of our feet and our job requirements are different, the criteria for choosing the right pair are more or less the same.
Protection: Jobs in industrial settings have different requirements. Some employers may ask you to wear ASTM-compliant work boots. In other places, however, soft-toe or hiking boots are more appropriate! If you work in wet environments, I recommend boots with slip-resistant outsoles. In any case, make sure to check with your employer regarding the work policies relating to safety that you need to follow.
Comfort: Never sacrifice comfort! It is hard to focus on your task when your feet, legs, and knees are hurting because of the shoe's lack of shock absorption or poor fitting. Likewise, walking with your feet and socks wet inside the shoes does not feel good at all. As technology advances, manufacturers have developed work boots that can keep your feet dry and pain-free.
Durability: The last thing you want to deal with while working in a risky environment or outdoors is a broken pair of boots. Replacing your work boots every so often can be very expensive! However, the good news is that not all durable work boots are pricey. In this review, I have compiled various options to accommodate different budgets.
Ladies, this is just surface-level information. In this article, I will share with you some of the best women's work boots and walk you through all the features. Also, I will be answering some of the frequently asked questions and sharing a "Buying Guide" so you can make a more informed decision.
Best Work Boots for Women Reviews of 2023
1. Skechers 76561 Steel Toe Boot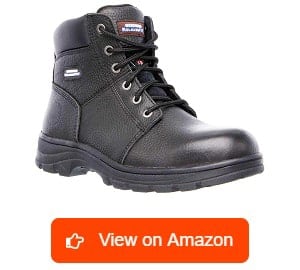 Sturdy yet flexible, these women's steel toe work boots are a great companion in conquering risky work environments. Besides providing electrical hazard protection, the steel toe cap serves as a strong barrier against falling objects as it meets the ASTM standards. Thanks to the oil-resistant rubber outsole, you can keep your balance even on wet and greasy floors.
In my experience, I did not have to break these work boots in, which is a welcoming surprise! Most work boots feel stiff but this leather upper bends even as I kneel or squat. My toes spread naturally due to the spacious steel toes. Even for women with wide feet, I can see that this pair will fit just fine.
More importantly, my ankles are cushioned and supported by the padded collar. As such, I don't get blisters nor feel any discomfort when I move. Meanwhile, the lace-up design allows me to open the work boots wide whenever I need to wear them and adjust the fitting to my liking.
As I walk on hard surfaces, the shock-absorbing midsole reduces the strain on my legs and knees. Even though I'm exhausted after a long day at work, there is no soreness around my feet. That's also partly because of the memory foam footbed but it wears out after months of daily use. Nonetheless, it's not a big deal for me since I can buy new insoles.
What We Like
Has tough and roomy steel-toe caps
Ideal for long walks on hard surfaces
Provides oil-resistant rubber outsoles
The lace-up design adjusts easily
Has padded collars to prevent blisters
What We Don't Like
The footbed wears out after months of regular use
Whether you are in construction sites, warehouses, or similar environments, this pair of work boots will keep your feet safe! Featuring a padded collar, shock-absorbing midsole, and an easy-to-adjust lace-up system, you can perform your job without straining your feet.
2. SafetyGirl GS002 Steel Toe Work Boots
Are you tired of the usual womens black work boots? Here's a pink pair of stylish work boots coming your way at number two! Beyond the cute aesthetic, safety is the top priority in designing these boots. Aside from the ASTM-compliant steel toe, the two-layered leather enhances protection against the impact of falling or moving objects and other potential workplace hazards.
Furthermore, the treaded rubber outsole is resistant to oil. With optimal traction, I can walk on slippery surfaces without running the risk of sliding and falling. Considering all these protective features, this pair of female working boots are appropriate for those who work outdoors or in the construction industry.
Padded around the collars, the steel toe work boot provides me the support needed to trek on uneven terrains. Just the same, I can squat without feeling anything sharp digging in my ankles. On the other hand, the waterproof membrane liner ensures no liquid will get inside. Thus, this pair has become my go-to footwear for wet environments and rainy days.
Everything about this pair of work boots is fantastic, except for the size charts. It seems to me that they are slightly smaller so I chose a half-size bigger. Also, you may need softer insoles if you walk more than ten thousand steps per day.
What We Like
Fashioned with a nice pink leather
The steel toe complies with ASTM standards
Has oil-resistant treaded rubber outsole
Perfect for rainy days and wet workplaces
Provides ample support for the ankles
What We Don't Like
Not true to size
Needs softer insoles for long walks
By all means, these female steel toe boots are pretty in pink! But don't underestimate its performance when it comes to protection. They are tough like any other protective footwear.
3. Timberland TB0A224H214 Soft Toe Industrial Boot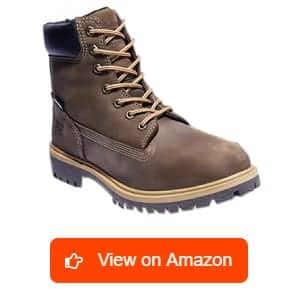 For those working in environments where steel toes are deemed unnecessary, I recommend these Timberland Work Boots Women's Direct Attach. Their additional safety features include the soft toes, as well as the rubber soles that are oil and chemical resistant. Apart from maintaining balance as I wade the slippery surfaces, the shaft supports my ankles and prevents them from twisting.
Moreover, the work boot's insulation coupled with the waterproof design keeps my feet warm and dry during winter and rainy days. That said, the mesh linings prevent odors induced by sweat. Not to mention, the footbed, midsole, and outsoles work together to absorb shock every step of the way.
For me, the women's work boot is comfortable for long shifts that involve a lot of standing and walking. When it comes to longevity, the quality of the craftsmanship ensures that the footwear will last long. Plus, it comes in three different colors that go well with both casual outfits and uniforms.
My only complaint is that the work boot does not appear to have sizes for wide women's feet. You might need a boot stretcher to fix this issue. Otherwise, I think this pair of work boots is highly versatile given its capabilities in different work environments.
What We Like
Great for various types of work
Comfortable for walking and standing all-day
Equipped with insulation for cold weather
Has waterproof construction to keep the feet dry
Built to last long
What We Don't Like
Does not have sizes for wide feet
If you need to keep your feet warm as you work during winter, look no further than these insulated soft-toe boots. With excellent shock absorption, they are perfect for those who are always on their feet.
4. KEEN Utility 1024569 Alloy Toe Work Boots
Usually, people with asymmetrical feet do not need two different sizes of shoes. When buying safety toe boots, however, you will need Keen's asymmetrical toe caps to accommodate both feet' distinct features. This way, you can stand and walk without feeling any pinch around the toes because they are spread nicely inside the work boots.
Designed with women's feet in mind, I love that the work boot's spacious fitting is wider than many other shoes. Meanwhile, the combination of the nylon shank and shellback heel provides support and stability to keep my feet from sliding inside the boots. On top of that, the removable PU footbed and air-cushioned midsole make long walks on concrete floors so much more bearable.
These comfortable women's boots for work are fortified with ASTM-rated electrical hazard protection, alloy toes, as well as oil and slip-resistant soles. That said, let me emphasize that the toe caps are much lighter compared to steel. Given all these capabilities, I know they will hold up to the needs of those working in carpentry, warehouses, light manufacturing, and farming industries.
If you have a high arch, you might not like the original insoles. Rest assured, you can replace them with your preferred insoles for better arch support!
What We Like
Suitable for wide or asymmetrical feet
Gives optimal stability and support for the feet
Weighs lighter compared to steel toe
Provides ASTM-rated safety features
Great for long walks on concrete floors
What We Don't Like
The original insoles lack support for high arch
These women's work boots feature lightweight protection, so they will surely not weigh you down as you perform your tasks! More than that, the asymmetrical and spacious fit can accommodate any feet of different shapes and sizes.
5. Caterpillar P90899 Steel Toe Work Boot
On the construction site, these Caterpillar women's work boots definitely rule. For starters, this best-seller has steel toes that meet the ASTM standard for impact and compression. As for electrical hazard protection, this footwear is capable of shielding you against open circuits. On slippery surfaces, the non-skid soles provide superior traction to help you maintain balance.
Despite their tough protection, these work boots are gentle towards my feet. Since I walk and stand on hard surfaces most of the time, the PU foam footbed absorbs shock and minimizes fatigue. Thanks to the moisture-wicking sock liner and nylon mesh lining, sweaty feet are the least of my worries after a long day.
With the steel shank, I get support and stability for my arch, as well as protection against sharp objects. Even better, this tall work boot has padded collars to prevent friction-induced blisters. Another noteworthy feature is the waterproof membrane that helps keep liquids out whenever I work in wet environments.
Available in different colors, I could not choose a favorite because they are all beautiful. Beyond looks, the durable construction ensures that the work boots will stand the test of time. However, the steel toes feel rather cold during the winter.
What We Like
Ideal for construction sites
Effectively absorbs shock to reduce fatigue
Keeps the feet dry and sweat-free
Excellent waterproof design
Highly durable construction
What We Don't Like
The steel toes feel cold during winter
Beyond protection, these steel toe boots for women provide comfort, stability, and support. Ideal for construction environments, their top-tier durability will keep you company as you put your best foot forward at work!
6. Timberland TB012668242 Mid Ankle Boot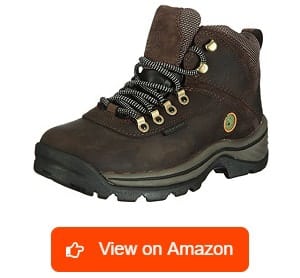 While this pair of Timberland may not be exactly "work boots," they are appropriate for women who work outdoors. After all, this pair's rubber lug outsoles provide traction on rugged terrains. Regardless of rain or shine, I feel like I'm most sure-footed when trudging into the muddiest soils with these hiking boots. Due to the thickness of the soles, I can step on loose and sharp rocks without feeling them.
Built for long treks, the midsoles and footbeds are responsible for reducing fatigue as they cushion my feet in every step I take. As a result, even my legs and knees do not feel any soreness. When the rain starts to pour, the waterproof leather upper keeps the liquid from seeping through. Plus, even the seams are sealed!
In terms of fitting, I love that these hiking boots have sizes that come in wide versions. I find this offering important since it can be painful to walk with clumped toes. I don't even need to break this pair in.
However, despite having a padded tongue and collar to support my ankles, they feel oddly stiff. So far, I have not gotten any blisters, but I do constantly feel a burning sensation as it rubs on my ankles. Luckily, I managed to resolve this issue by wearing slightly thicker and longer socks to cover the area.
What We Like
Can be used for outdoor work settings
Supports the feet on rugged terrains
The midsoles and footbeds help reduce fatigue
Keeps the feet dry while it rains
Offers sizes with wide versions
What We Don't Like
The collar and tongue feels stiff
If you consider the outdoors as your main office, then gear up with these women's hiking boots! Equipped with high traction outsoles and waterproof leather uppers, you can traverse the toughest terrains without soreness around the feet.
7. Caterpillar P91012 Steel Toe Work Boot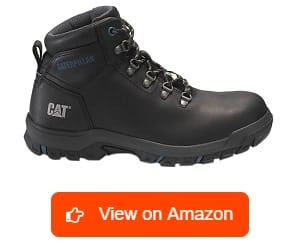 Drawing inspiration from hikers, these construction boots for women have what it takes to keep you safe at work. Case in point: The ASTM-compliant steel toe can shield your feet from impact and compression. In a dry environment, the electrical hazard protection serves as a barrier against open circuits of up to 600 volts.
Aside from its abrasion-resistant capabilities, I rely on the rubber sole's traction as I walk on greasy concrete floors and muddy soils. When things get wet at work, my feet stay dry because of the waterproof full-grain leather. At the same time, the nylon mesh lining and sock liner ensure optimal breathability. It does not feel too hot whenever I wear these boots even on a humid day.
Walking is an integral part of my work so it helps a lot that the midsoles and footbeds are capable of absorbing shock. I can accomplish more because I do not strain my legs and feet. With the right size, there is no need to break in the work boot before going to the job site. The even better news is that this model has a wide variant.
Although I appreciate the lace-up system, I find the original shoelaces too springy to tighten. That said, I think this is just a minor flaw. After replacing the laces, I was able to adjust the laces so the boots feel snugger.
What We Like
Offers protection against electrical hazards
Shields the feet against falling or rolling objects
Has abrasion, oil, and slip-resistant rubber outsole
Comfortable for walking floors and muddy terrains
Keeps the feet dry in wet conditions
What We Don't Like
The shoelaces are too springy
Setting aside my issue with the shoelaces, I think these women's non-slip work boots exceed expectations. Made of high-quality materials, all parts perform harmoniously to provide optimal comfort and safety.
8. Mishansha HotbootsF40BR36 Hiking Boots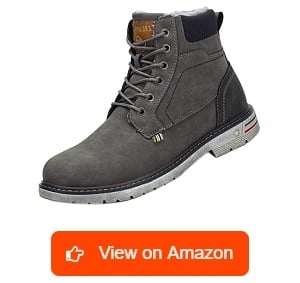 With this pair of hiking boots, the cold weather and snow will not stop you from going out. In my opinion, I find them quite versatile. For one, the unisex design fits a woman's foot just fine. For another, the boots feature durable construction, which makes them appropriate for various occupational and leisurely activities.
Thick yet soft, the faux fur interior warms my feet when temperatures drop below zero. Plus, it makes the boots comfier so my skin does not rub against the leather. As for the exteriors, the waterproof leather effectively keeps liquids out, making these boots suitable for trekking in muddy areas.
Speaking of trekking, the slip-resistant outsole is made of treaded rubber that grips slick surfaces and muddy terrains. Apart from maintaining my balance, I feel extra confident when wearing these stylish women's work boots due to their aesthetically appealing design and color choices. Even though they are intended for hiking, I think they can match many winter outfits!
When buying this pair online, I have to caution you that the fitting is not consistent with the standard sizes. They run slightly bigger so keep that in mind. Furthermore, I recommend getting separate insoles. In my experience, I enjoy long walks more after replacing the original insoles with softer ones.
What We Like
Suitable for work and leisure activities
Has faux fur to keep the feet warm during winter
Has superior waterproof leather
Offers traction for slick surfaces
Available in attractive colors
What We Don't Like
Not consistent with standard sizes
The insoles need improvement
Who says you can't go camping, trek, or work in style during winter? Offering a variety of color options, these unisex hiking boots will take your regular day job to new heights!
9. Geddard Waterproof Ankle Boots for Women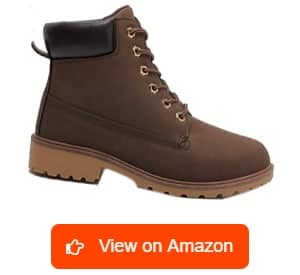 Another great option for all-around footwear, these women fashion work boots come in a wide variety of interesting color choices that I don't see in other brands. Besides the usual black and brown, I see red and pink! Regardless of the color, the boots can go well with casual outfits and uniforms.
Even though they are not classified as women's work boots, they are suitable for occupations that do not require steel toes. Made of synthetic leather, these waterproof boots are perfect for rainy and snowy days. Wearing them keeps my feet warm in cold conditions. Yet, they're not too hot to wear during spring or summer.
Despite their bulky appearance, I find the boots quite roomy. This fitting allows me to wear thicker socks without feeling any tightness. For low-cost footwear, I find them surprisingly light and comfortable, especially for extended periods of walking and standing. In addition, the padded collar gives my ankle good support and stability.
However, I don't think the rubber outsole is slip-resistant. If you walk mostly on dry floors, this will not be an issue. In my observation, the synthetic leather also gets scuffed when I accidentally bumped it on an abrasive surface. Other than that, these fashion work boots for women serve their purpose!
What We Like
Comes in unique color options
Suitable for jobs that do not require steel toe
Low-cost versatile boots
Warms the feet during winter
Light and comfy for walking and standing
What We Don't Like
Lacks slip resistance
The synthetic leather tends to get scraped
These female working boots make a fashion statement without sacrificing comfort and budget. Aside from keeping your feet warm during winter, this comfy and lightweight footwear is perfect for long walks!
10. Caterpillar P91007 Women's Tess Steel Toe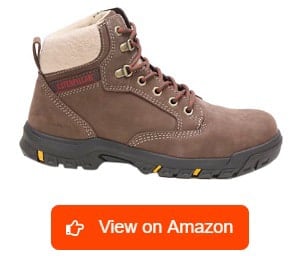 Even with steel toes, these women's lightweight work boots will make long walks less tiring. Yet, they do not fall short on safety features. Besides shielding your feet against falling or rolling objects, this footwear has electrical hazard protection. Meanwhile, the rubber outsoles boast top-notch slip resistance capabilities.
Whether you're doing your rounds at the construction site or tending your farm, these safety boots guarantee comfort to help you endure the long walks. Based on experience, I don't strain my legs and knees. Along with shock absorption, the flexible midsoles follow the movement of my feet. As a result, I can walk more naturally.
During winter, the fleece around the collars serve as warmers, and their softness prevents my skin from getting blisters. At the same time, wearing these work boots does not feel too hot due to the breathable mesh lining. Judging by the tough construction, it will take some time before I will buy a new pair.
While I appreciate that the work boot offers a wide version, it seems like they are not true to size. To be fair, it's not a huge problem but it's something that I want you to keep in mind when you buy online. Overall, I think this pair of work boots is impressive!
What We Like
Protects you against electrical hazards
Has lightweight steel toes
The rubber soles are suitable for construction or farming
Has shock-absorbing and flexible midsoles
Can keep the feet warm
What We Don't Like
Inconsistent with the standard sizes
Although this pair is commonly used on a construction site, its qualities can pass off as women's boots for farm work. Best of all, its superb lightweight protection will not slow you down as you take on the tough challenges ahead!
11. Tiger Women's Steel Toe Boots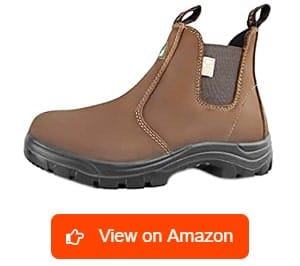 If you use heavy equipment, it might be safer to wear these lightweight women's pull-on work boots to avoid your shoelaces getting tangled in the machines. Equipped with an elasticated gusset and pull-on tabs, putting the work boot on can be done so much faster! But what I like about this pair the most is that the shaft hugs my ankles, which provides ample support and stability as I move.
Looking at these boots, I'm sure you noticed symbols on the uppers. Well, the green triangle means that the soles act as barriers against puncture. On the other hand, the orange Greek letter "Omega" indicates that the soles protect against electrical hazards. Not to mention, it offers ample slip resistance to help me walk carefully on wet, slick surfaces.
Another important safety feature is the robust steel toe that shields my feet from falling objects. Despite its tough and bulky appearance, I'm amazed that these safety boots are comfy as they follow the contours of a woman's foot besides being true to the size.
Ideal for walking, the air mesh lining ensures maximum breathability. On that note, I also want to mention that the composite LENZI plate makes the footwear flexible so it's almost as if I'm wearing tactical work boots. However, I have to point out that a new pair takes at least a day or two to break in the work boot.
What We Like
Has puncture and slip-resistant rubber outsole
Offers protection against electrical hazard
Light and comfy steel toe work boot
Fits a woman's foot nicely
Easy to slip on and off
What We Don't Like
May need a day or two to break-in
When it comes to occupational hazards, you can trust this pair of women's slip-on work boots to keep your feet protected! Even with a steel toe, they are breathable, light, and cushy for long shifts.
12. ANJOUFEMME Women Hiking Snow Winter Boots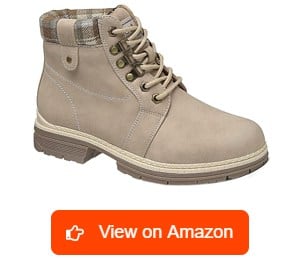 Perfect for workers on a tight budget, these cheap women work boots feature slip-resistant outsoles that grip the slippery surfaces. Considering the design, it seems to me that they are made for winter and hikes in the great outdoors. In the context of work, I think they are more suitable for employees who are always on their feet.
For instance, these stylish work boots' cloth lining around the collars are soft and gentle on my skin. Unlike similar hiking footwear, I don't get bruises or blisters when I squat or kneel. Apart from that, they function as a barrier to keep the water from getting inside the boots. Thanks to the water-resistant synthetic upper, my feet and socks remain dry throughout the day.
Built with breathable materials, I'm amazed by how this woman's work boot is capable of warming the foot while simultaneously keeping it sweat-free. What impresses me the most is that the insole is so cushy, which helps relieve the strain from trekking.
While it's true to the size, I could not say the same for the color. For those purchasing online, expect the color you see in person to be slightly different from the one you saw in the pictures. Discounting this minor flaw, I find the muted earth tones really cute!
What We Like
Ideal for work and hiking
Stylish yet budget-friendly boots for women
Has slip-resistant rubber outsoles
Keeps the feet getting cold during winter
Has extra-cushy insoles
What We Don't Like
The colors in the photos are slightly different
There is no denying that this pair is by far one of the most comfortable work boots for women. Without blowing your savings, the gorgeous design lets you show off your style on and off duty!
What is a Pair of Work Boots for Women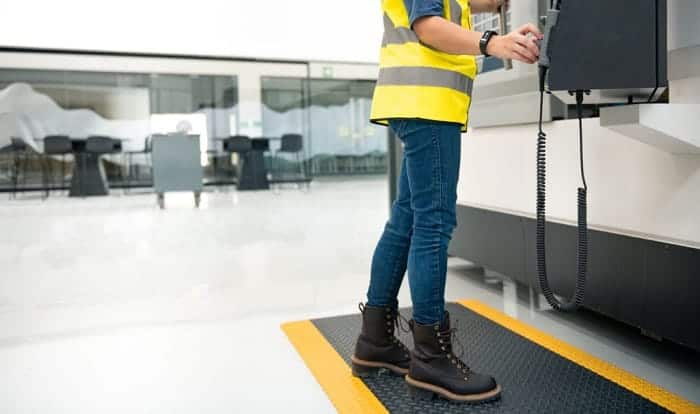 Generally speaking, the catch-all term "work boots" refers to footwear that is designed to address the needs of workers in the construction site, warehouse, repair shops, and similar environments. More often than not, these workplaces are deemed hazardous. As such, these work boots are equipped with steel, alloy, or composite toes.
Just to be clear, not all work boots have safety toes because some jobs are less risky than others. However, they may have essentials like abrasion and slip-resistant outsoles and electrical hazard protection.
A high-quality work boot for women has some, if not all, of the features that I mentioned above but manufacturers also factor in the distinct shape and the size of a woman's foot.
How Does It Work
Let's start first with the safety toes. Whether your work boots have steel, alloy, or composite toes, what you need to look at is if they meet the ASTM standards required in your workplace. Basically, these toe caps protect your forefoot from getting pounded by a falling object. The only difference between the three is that the women's composite toe boots are much lighter than alloy and steel.
Any good work boots for women should also have a slip and abrasion-resistant rubber soles so you can maintain a good balance as you walk on slippery surfaces. At the same time, the outsoles should not chip away. Electrical hazard protection is also crucial if you are working in areas where there are open circuits.
If you work on the streets, farm, or outdoors, you probably don't have to deal with any electrical hazard or falling object but the long walks will surely strain your lower extremities. A pair of women's work boots with arch support, flexible midsole, and soft insole will help alleviate the pain and prevent foot problems like arthritis and plantar fasciitis.
Types of Work Boots for Women
Work boots for women are generally worn in industrial settings as well as outdoors. I know terminologies can be confusing so I did some research. Based on what I've found, here are the best work boots for women that you can find in the market:
Steel toe work boot
Composite toe work boot
Alloy toe work boot
Soft toe work boot
Hiking boot
Tactical and combat boot
Why Do You Need Work Boots for Women
Many medical experts recommend wearing shoes that are appropriate for specific activities and environments. Granted, we can all get away with any pair of sneakers or flats in a carpeted office. On a construction site, however, even regular boots will not be enough to protect you from potential hazards.
Furthermore, physically demanding jobs can strain your knees, feet, and legs if the work boots lack flexibility and shock-absorption. Eventually, this will affect your overall well-being. Any person with foot problems will tell you that standing can feel unbearable.
The good news is that these foot conditions can be preventable if you wear the correct pair of work boots.
Buying Guide
As you can see, choosing the best work boots for women is not as easy as it seems. For first-time buyers, I encourage you to take note of the work environment, activities, and of course, your needs! Besides your shoe size, you should factor in any foot-related medical condition, if there's any. Allow me to expound on these things further.
Size
Some shoes can conform to the shape of your feet but that's not always the case with safety toes! Even if you got the length right, the dimensions of steel, alloy, or composite toe will remain fixed. Fortunately, many manufacturers are designing work boots with wide toe caps, just like the Caterpillar women's work boots.
Regardless of the type of work boot that you plan to buy, you also need to be aware that some models are not true to the size charts. Of course, this will cause some inconvenience for online buyers but you can avoid the hassle if you read the shop's return and exchange policies.
Lightness
Lightweight is subjective. Many of us get used to the weight of our work boots. These days, however, many shoe companies have developed women composite toe work boots. Although significantly lighter than an alloy and steel toe work boot, the protection is at par with high-quality safety toes.
Note that even without the safety toes, some work boots can feel clunky. If you are buying a new pair, take note of the weight of each work boot as you check the information on the manufacturer's website and compare it to your old ones.
Weather-proof
The weather can get crazy these days. Be sure to get a pair of work boots that feature a leather upper with a lining that is made of breathable materials. This way, your feet will not perspire even on a hot day. In wet conditions, waterproof leather can keep the liquids from penetrating the shoes.
Some women's safety toe boots have steel inside them that can feel cold during winter. Before buying, I recommend checking the footwear's insulation to see if it is suitable for your geographical location. You can also try wearing thermal socks to warm your feet.
Style
Cute womens steel toe boots do exist! As I've shown in this review, manufacturers go beyond basic functionalities. With a plethora of designs and colors to choose from, you can mix and match your outfits to spice things up. Besides, you can also use them for other occasions like camping, gardening, running errands, or meeting with your friends. Just make sure to choose womens fashion work boots that meet your job's safety requirements!
Budget
Our budget naturally affects the choices we make. We could not help but wonder if we are sacrificing quality in favor of savings. Let me reassure you that the price tag does not always reflect the qualities of the top-rated work boots for women. In this article, you can find a handful of affordable work boots complete with slip and abrasion-resistant outsoles, safety toe, and other forms of protection that meet the ASTM standards.
Foot conditions
Each part of the work boot provides support as you walk on concrete or trek the rugged terrains. The shaft can keep your ankles stable as you walk. Meanwhile, the midsoles and footbeds absorb the shock in every step you take.
If you feel constant pain in your feet or legs, it is best to consult a doctor. Health professionals can recommend certain footwear or footbeds to address the issue.
Care and Maintenance
Even the top-rated work boots for women can deteriorate if they are not stored or cared for properly. Once you get home and take off your shoes, make it a habit to brush superficial dirt after every shift. Using a damp cloth, wipe the leather upper clean. Be sure to place them away from any heat source.
Before you get your shoe brush and other supplies, check the manufacturer's instructions. Many of them formulate shoe creams and lotions that are compatible with the work boots that they offer. Remember, even though most work boots are made of leather and rubber, the type of material may vary from one brand to another.
Frequently Asked Questions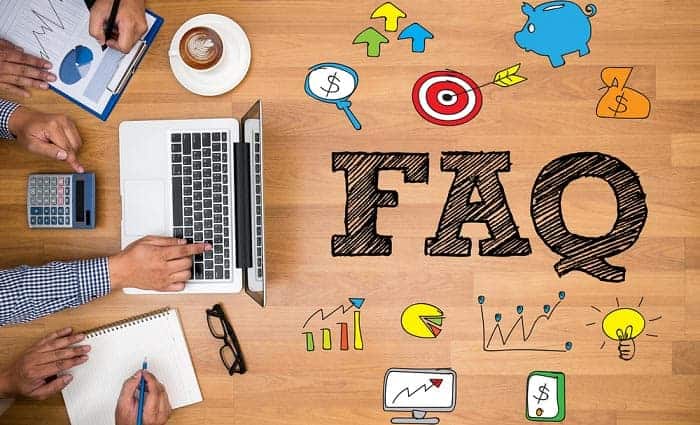 What are the most trusted work boots for women brands?
For me, the best women's work boots come from brands like Skechers, SafetyGirl, Timberland, KEEN, Caterpillar, Mishansha, Geddard, Tiger, and ANJOUFEMME. As full disclosure, I only reviewed the safety toe and hiking boots that I have actually tried. I know a lot of women who also approve of Carhartt women's work boots. Feel free to try out other brands and models as well!
How fashionable or clunky are women's work boots?
We all have different opinions when it comes to what is fashionable or clunky. One thing is for sure: Many women can walk with so much confidence even if the work boots look plain or bulky.
Trends come and go but we will keep working. At the end of the day, we have to pick the work boots that match the demands of our jobs, as well as our preference in terms of comfort and style. Don't let other people's opinions dictate your choices!
How to care for and clean work boots for women?
For muddied work boots, start by removing the shoelaces and insoles then clean off the dirt with water. With a damp cloth, work the saddle soap through the surface. Then, let the work boots dry.
Every two or three months, clean the insoles by putting them in the washing machine. Alternatively, you can hand wash them with a mild shampoo. You can also use a mild shampoo and damp cloth to wash the interiors of your boots.
If you follow the methods above, your work boots will surely last longer!
Where can I buy work boots for women?
You can order work boots for women via various e-commerce sites or apps. Even the manufacturer's websites are selling them. If you have the time to spare, you can also check out the women's section of your local shoe retail stores.
Conclusion
In terms of anatomy, women's feet are different from men's but jobs are genderless. Whether you're in the construction, manufacturing, or farming industry, wearing the right work boots for the job is important. Besides protecting you from occupational hazards, the footwear will absorb the shock as you walk and minimize fatigue.
I know that finding the best work boots for women is quite a challenge! Ironically, it seems a lot harder to make a decision when we are presented with tons of choices. Hence, I carefully curated the work boots to include in this listicle but don't hesitate to check out other brands. In the end, you will have to decide based on what you think is right for you!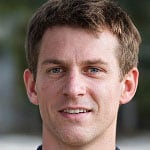 Having worked in the field of personal protective equipment for over two decades, Andrew Carnegie is a specialist in the field.
At EDC, he strives to improve performance efficiency and promote workplace safety for EDC's readers and customers. He also researches the most up-to-date equipment that has earned relevant accreditation for use in a wide range of industries and specialties.