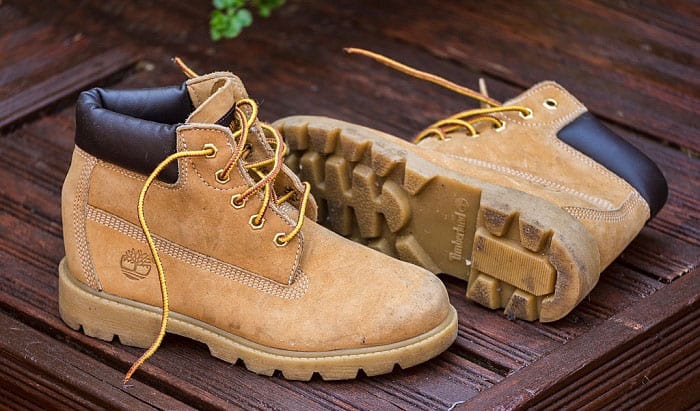 Taking care of leather boots can be rather pricey and demanding. A complete care kit contains many products, including soap, liquid cleaner, foaming cleaner, stain remover, leather cream, and you name it. Although such products can do a huge favor in preserving the boots' quality, sometimes you might only need a quick solution to make your grimy boots squeaky clean. So, here's briefly how to clean Timberland boots with baking soda.
Firstly, mix baking soda and water to form a leather cleaning agent. Then, use it to scrub the boots. When the boots dry, employ baking soda as a shoe deodorizer. You can use vinegar to treat the white salt stains if there are any. Finally, shake off the remaining powder, and your Timberlands are good to go. Let's get to the details.
What You Will Need
The process should take you less than ten minutes. Also, you don't need to soak the boots in water with this cleaning method, so they dry much faster. Proceed to clean Timberlands with the household items below.
1. Baking soda
You'll never spend on costly agents again once you find out the incredible cleaning power of baking soda. It can effectively dissolve dirt, deodorize, and remove bacteria. It works well on multiple Timberland boot surfaces (suede, nubuck, canvas, etc.). The only precaution is that baking soda is an abrasive cleaner, so don't use it on shabby leather.
Anyway, a spot test before applying is a must.
Dampen a small area inside the boot neck, dip a cloth in baking soda, and dab it on.
Let it sit for five to ten minutes.
Wipe off the powder and check for defects.
Any signs of cracks or over dryness indicate that you should not use baking soda to clean your Timberlands. In that case, you can replace it with white vinegar.
2. White vinegar
Baking soda and water often leave white salt streaks, which vinegar can remove. Be sure to use colorless vinegar to avoid staining light-colored leather. Other than that, prepare a soft bristle brush and a clean white cloth. If your Timberland boots are soiled, you will need an emery board. Last but not least, make sure you have clean water handy. Water residues can stain suede, which only makes the process more tedious.
Steps to Clean Timberland Boots With Baking Soda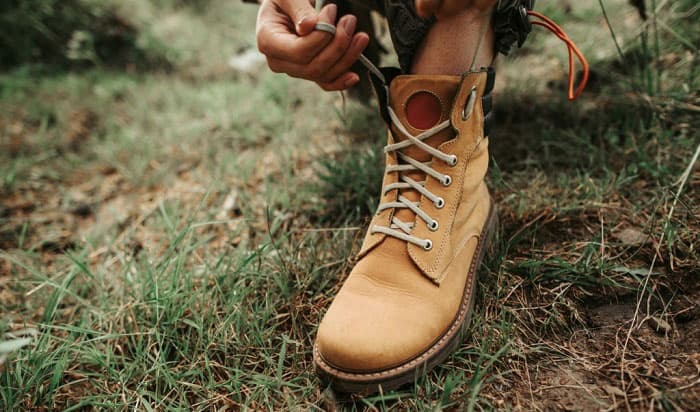 Step 1: Dry clean the boots
Before all else, remove the shoelaces, hold the boots steadily, and scrub off the dirt with a brush or emery board. Gently rub back and forth until most of the soil comes off. A filing board is surprisingly effective in scraping the grime away, especially on suede, but it might abrade the surface. So again, don't apply this method to worn-out boots. Refer to this video for how to clean Timberlands at home:
After that, rub the soles with the brush, you can use a firm bristle one if needed. For oily spots, don't try to brush them off. Instead, sprinkle a decent amount of baking soda on, wait a couple of minutes for the powder to absorb the oil, and wipe off the residue.
Step 2: Make a baking soda paste
Now, make a mixture of three parts baking soda and one part water. There is no need to be super precise though, you can put baking soda in a container and slowly pour clean water into it. Keep adding water until it becomes a thick paste. This paste is going to be your leather cleaner.
Step 3: Clean the boots
Dip a cloth or brush into the soda paste and rub the boots using circular motions. If it's a deeper stain, let the paste sit for a while before rubbing. Afterward, wipe it off with a damp cloth. Don't soak your shoes in water to clean them. Doing so might shrink or crease leather and result in an extensive drying process. Don't worry about the odor, we will guide you through a deodorizing step with baking soda later in this article.
Make sure your boots are totally dry before moving into the next step. Read the label to know whether you can apply external heat sources to the boots. If allowed, blow dry them on a low setting. Otherwise, use the help of an electric fan, leather boots shouldn't be left dampened for too long.
Step 4: Wipe the residues with vinegar
At this point, you might see white lines near the sole or on the toe box because of baking soda and water residues. Wet a cloth with white vinegar and gently blot the salt stains. Do not press the boots too hard.
Step 5: Deodorize
Lastly, you should always deodorize leather boots after cleaning. Baking soda is an incredible alternative to chemical deodorizers. It lowers the possibility of sensitive skin reactions and doesn't add a fragrance smell to your shoes. In addition, baking soda can diminish any moisture left, leaving no room for bacteria and mold growth. Follow these steps to treat smelly boots:
Make two baking soda sachets (one per boot) by adding the powder to your socks or a piece of cloth and tighten the mouth.
Place the sachets in your Timberlands and leave for at least 24 hours.
Remove the sachets and shake off any remaining powder.
Don't sprinkle baking soda into your boots directly as it can absorb the leather's natural oil and cause it to be brittle. Plus, the powder can cling onto suede and is difficult to shake off.
Tips for Keeping Timberland Boots Clean and Fresh
Wear moisture-wicking socks with your Timberlands so perspiration and moisture won't stick to the shoes.
Remove the laces and place your Timberlands out in the open air once or twice a month. Sunlight helps kill mold and bacteria. But don't leave them out too long as excessive heat will damage the leather.
If your Timberlands get wet, immediately remove the soaked parts if possible and hang them to dry.
Alternate between different pairs of shoes so they have enough time to air out.
Do not wash your boots too often. You should only clean them once every two to three months if you wear them regularly.
Conclusion
That is how you clean Timberland boots without a cleaner! Baking soda is such an affordable, accessible, and versatile household item, and it offers endless benefits when being used properly. But don't forget our tips on preventing shoe odor as it will save you cleaning time and effort.
I don't see why not keep this article on how to clean timberland boots with baking soda for further use. Don't hesitate to reach out to us if you have any questions. We are more than glad to assist. Thank you for your time!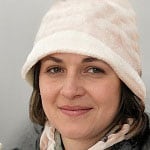 Veronica is our content editor. She is a talent in delivery. Her main work is editing and writing articles that are both informative and simple to follow. She is in charge of synthesizing our understanding of what personal protection equipment (PPE) is needed in each job, how to best apply it, and how to visualize that equipment.