Working as a plumber is actually interesting and fun considering the diverse challenges and tasks you need to deal with every day. You could be dealing with just blocked drainages or a damaged faucet in high-end and clean conference rooms.
Due to the diverse tasks and challenges, you will most likely deal with every day, it is crucial to carry the best tool bag for plumbers – one that can store the different tools needed for different practices and tasks.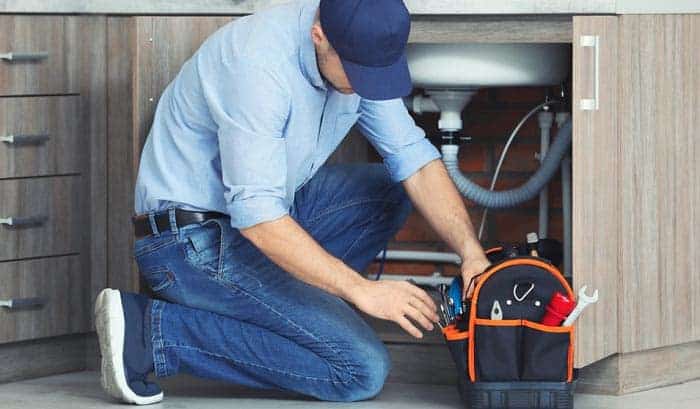 Keep in mind that each plumbing concern is different from the others, so you have to be fully prepared by gathering all the things you need in just one easily accessible spot. Another thing that you have to remember is that as a plumber, you do not have a specific job location.
With a good plumber's bag that already stores all required plumbing tools, you can have everything prepared when a client contacts you to repair something in a specific location.
Aside from properly segregating your tools, keeping them ready and visible all the time, a good plumbing tool bag also allows you to carry everything because of its comfortable and ergonomic features. However, starting your search for a high-quality plumbing bag will most likely cause you to encounter numerous choices.
This makes it necessary to study each one of them, particularly their main design and their construction material. Read reviews and study the features of the product, too. To help you during your research, here are short and informative reviews of 10 high-quality tool bags that you can rely on.
10 Best Plumbers Tool Bag Reviews of 2023
1. McGuire-Nicholas 22015 Collapsible Tote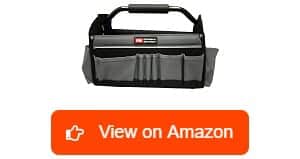 If you prefer to own a plumber's tool tote then the McGuire-Nicholas 22015 is most likely what you need. This collapsible tool tote bag, which is around 15 inches in size is versatile considering how it promises multi-use functionality if you are looking for a good storage solution.
It has several pockets, so I am sure you will have enough space to hold your tools regardless of their sizes. There are around 14 pockets of variable sizes on the exteriors, holding your stuff conveniently. You can also take advantage of the 14 webbed loops in the interiors that are capable of accommodating a number of tools.
I agree that this bag is a versatile product as it truly works great for a wide range of uses. I am so satisfied with the tapered pocket design applied to this tool bag because it makes this item roomier. The sturdiness of this item is also noticeable. It is constructed out of thick fabric and is capable of holding its shape through a strong metal frame.
I am also pleasantly surprised with its ability to stand firmly upright even if it does not contain anything. Carrying it around is a breeze because of the durable foam-padded handle made of tubular steel. The interior walls are also impressive because they are equipped with loops capable of storing tools vertically or using them to snap your items.
Furthermore, it takes pride in its removable bottom, which further improves the bag's flexibility and durability.
It does not showcase a very stylish look, though, which is one of its drawbacks.
What We Like
Promises multi-use functionality, proving its versatility
Simple design, making it easy to use
The sturdy and thick fabric used in its construction
Features a foam-padded handle for comfort
Allows storing of tools vertically with the help of interior loops
With the huge capacity, sturdy material, and ability to stand up on its own, I am one hundred percent certain that you will not end up regretting your decision to invest in this tote bag.
2. DEWALT DWST17814 TSTAK Deep Toolbox
If you prefer to own a toolbox as a means of carrying the tools you need then the DWST17814 TSTAK Deep Toolbox is appropriate for you. One thing that it can do for you is to help you bring your tools and important accessories and equipment anywhere your professional services are needed.
I am impressed with the toolbox's versatile and long design as it makes it an appropriate storage area for things, like hammers, pliers, screwdrivers, and other similar tools. I also like its long handle, which showcases an extra-large volume designed to help you in storing your large tools.
The long handle in this toolbox also features side tabs that let you have an easier time stacking it with other boxes. This further promotes stability and efficiency in terms of space. I like the heavy-duty plastic, which is used in constructing it because I noticed its strength, allowing it to hold up with heavy use and abuse.
I even noticed its ability to resist rust, which is a good thing if you prefer to use a long-lasting toolbox. The built-in ergonomic handle is also a favorable addition because it promotes the effortless carrying of the toolbox. It is even possible for you to climb a ladder while bringing it.
I like the fixed divider built into the toolbox's top section, too, because it is a big help if you plan to organize drill bits. Another advantage is the strong metal latches that can withstand rust designed to lengthen the life of this toolbox.
One flaw, though, is the locking mechanism on the top section, which is actually secure but still substandard compared to the others, in my opinion.
What We Like
Versatile and long design, allowing it to store a lot of things
Features a long handle, which you can use to stack it with other boxes
Heavy-duty plastic construction
Rust-resistant
Comfortable to carry and lift, thanks to its ergonomic handle
What We Don't Like
Substandard locking mechanism for the top section
To conclude, this item is a handy tool carrier, which can surely contribute to strengthening your productivity.
3. Klein Tools 5541610-14 Tool Bag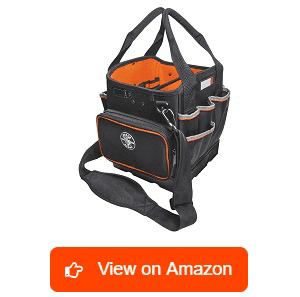 Nothing is worse than finding out a hand tool is missing right in the middle of the job. This is why I have a bias for bags with dozens of pockets like this one from Klein!
The layout of the bag's pockets allows me to see all the contents at a glance and organize them neatly. Besides that, I can quickly grab what I need and work more efficiently.
Combining 1680d ballistic weave and molded bottom, this bag can stand upright. Impressively, it bears the weight of my plumbing tools, many of which are heavy. I know many workers who praise this bag for its long-lasting durability. Even its zippers appear to be heavy-duty!
Let me also add that the molded bottom safeguards my tools from the elements. As many already know, it is not uncommon for plumbers to work in areas with leaks.
Another strong point is that this bag can be transported easily. The padded shoulder strap keeps the material from shifting and rubbing against my shoulder.
Considering its features, I think this bag is also suitable for workers in the HVAC business or electricians.
My only problem is that the plumbers tote's handlers are not padded, which hurts my hand. Also, the pockets are way too deep for my tools. I had to dig deeper or remove some items just to retrieve the smaller tools that got buried under.
What We Like
1680d ballistic weave and molded bottom allow the bag to stand
Can support a heavy load with rugged zippers
The molded bottom protects tools from water leaks
Comes with a padded shoulder strap
What We Don't Like
Very deep pockets
The handlers need padding
The two issues I mentioned only caused minor inconvenience, so I'm giving this technician tool bag a thumbs up. With multiple pockets and robust design, we can keep our tools organized as we travel to different job sites.
4. CLC Custom LeatherCraft 1539 Multi-Compartment Tool Bag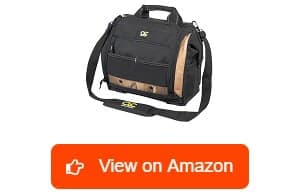 One of the top-rated plumbers' tool bag that you can make use of is the CLC Custom LeatherCraft 1539. As a plumber, you need a trustworthy and dependable tool bag capable of supporting both large and small hand tools, and this is what this CLC tool bag can promise.
It contributes a lot in making you stay organized at work. It has a big center compartment capable of carrying several power tools and equipment. You can also use the separate exterior compartments to store other stuff that you need at work. With the many compartments integrated into this bag, carrying tools of various sizes will be easy.
I like the simple design applied into this bag, too, because it promises ease when it comes to getting your hands on the items you urgently need. It allows the vertical position of your stuff, keeping them in sight and within your easy reach. It does so while remaining slim and compact, eliminating the bulk present in other bags.
I also discovered that this bag is constructed in a way that it can prevent your tools from falling or slipping and incurring damage while on transit. It is mainly due to the high-quality zippered side panels into the bag that help in isolating and grasping your tools tightly.
It is proven to be durable with the help of its heavy-duty and poly fabric body. When it comes to comfort, this bag will not be a disappointment as it comes with padded carrying handles as well as adjustable, padded, and textured shoulder straps.
One flaw I noticed, though, is the somewhat weak stitching used in its large pockets.
What We Like
Slim and compact, making you use it conveniently without the usual bulk
Can isolate and grasp your tools tightly, preventing them from slipping or falling
Large and spacious compartments for tools of different sizes
Heavy-duty poly fabric construction
Comfortable, thanks to its padded carrying handles and straps
What We Don't Like
Not that sturdy stitching
Even with the presence of such a flaw, this tool bag from CLC can certainly make the daily tasks of plumbers easier to accomplish.
5. Custom Leathercraft Center Tray Tool Bag
Constructed out of the sturdy polyester material, this Center Tray Tool Bag from Custom Leathercraft can provide a decent tool storage and organization solution for plumbers and other workers. I think the fact that it used polyester makes its structure capable of withstanding even the most rugged use and abuse.
One thing that pleases me about this tool bag is its ideal size. It is not too big and bulky. I noticed that the size of the bag is just enough in the sense that it will not cause discomfort when brought on the job site. This tool bag offers easy access, promising users that they will have no problems quickly reaching for their tools at the exact moment they need the items.
It also lets you store your tools close to you, thereby preventing you from spending time and effort running back and forth to your toolbox or truck in case you forgot to bring something. The bag is equipped with a total of sixteen pockets – eight of which are on the inside while the remaining eight are on the outside.
Each pocket has a good amount of room to organize different types and sizes of plumbing tools and accessories. I am happy that there is a plastic parts tray with multiple compartments as I noticed its usefulness in case you have some small parts and components that you wish to organize.
It can safely hold large tools with the help of the web loops integrated into the main pocket as it can effectively accommodate their sizes. You will also experience comfort when it comes to carrying the bag because it has an adjustable shoulder strap and well-padded carrying handles.
I am not so fond of the material used to cover the bag's metal wiring, though, because it tends to wear out sooner than expected, causing some sharp edges to be revealed.
What We Like
Can withstand rugged use and abuse
Offers convenience in organizing your stuff
Accommodates work tools of different sizes
Features an adjustable shoulder strap that offers comfort
Equipped with spacious pockets without causing the bag to become too big and bulky
What We Don't Like
The covering used for the metal wiring is prone to wearing out sooner than expected
Still, this Custom Leathercraft tool bag delivers a decent performance, especially in eliminating the hassles involved in carrying and organizing important stuff at work.
6. Internet's Best Open Top Tool Bag
Another tool bag for plumbers that will surely not let you down is the Open Top Tool Bag from Internet's Best. One thing that I immediately find remarkable in this Internet's Best tool bag is its open top caddy design. This is an innovative design featuring an open top, so users can conveniently, quickly, and easily access their stored stuff.
This brand is also committed to providing a highly durable and long-lasting tool bag. I think such commitment is the primary reason why it utilized the sturdy 600d fabric material for its construction. This material is also combined with a semi-stiff and heavy-duty frame and handle, further strengthening its built.
I like the included handle, too, because it is made using heavy-duty and durable metal. Despite its strength and durability, the handle is still comfortable to hold on to because of its padded grip. I also find the multiple pockets and loops built into this tool bag beneficial.
It specifically has sixteen pockets and loops, making it possible to store and organize different kinds of tools, including handheld ones. It can accommodate tools of different sizes, too, which shows how flexible its structure is. Some of the pockets are for drill bits, Allen wrench, pencils, and plies.
This also features an electrical tape chain holder so you can bring always bring one if you need it. As for your convenience and comfort, you can rest assured knowing that this bag will not disappoint you because it has a padded and adjustable shoulder strap and a handle.
However, some complained that the outer pouches are not that big and deep.
What We Like
Makes your tools quickly accessible, thanks to its open top caddy
Highly durable and long-lasting structure
Allows the proper organization and storage of your tools through its pockets and loops
Comfortable with the presence of the bag's adjustable shoulder strap
Flexible structure, holding various sizes of tools
What We Don't Like
Not that big and deep exterior pouches
For its budget-friendly price, you can certainly get a lot of positive and rewarding benefits from this Internet's Best tool bag, proving how wise of a decision it is to buy this to use at work.
7. VETO PRO PAC OT-XL Tool Bag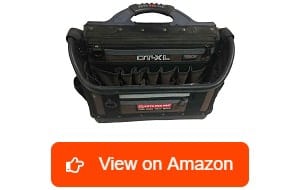 If you are looking for a great substitute for even the best plumber's toolbox, then the VETO PRO PAC OT-XL Tool Bag is what you need. Unlike the toolbox, which you can't carry around all the time, this item comes in the form of a tool bag that you can just strap around you so you would not waste time carrying your tools back and forth.
I am completely satisfied with this tool bag because it is sturdily constructed. It has a decently strong body and overall structure, thanks to the weatherproof fabric used in creating it. I also discovered its effectiveness in resisting all sorts of weather.
It even features a waterproof base, making it fully protected against the negative effects of excessive exposure to water and moisture. The zippers and fastenings are also built to be heavy-duty, further strengthening this VETO tool bag. I am also fascinated by how huge its storage space or capacity is.
In fact, it has several vertical pockets, zippered pockets, and storage bays that provide sufficient room for the proper setup and organization of your tools. It is even capable of securely holding more than eight hand tools and assorted accessories and gears.
The shoulder strap is comfortable because aside from being sufficiently padded, it is also non-slip and heavy-duty. The ergonomically designed structure of this tool bag paired up by its comfy over-molded grip also makes it convenient to wear at work. It can store bulky and large items without losing its durability.
The industrial-strength and reinforced leather edging contributes a lot to its durable built.
However, it is quite costly.
What We Like
Waterproof and weatherproof structure
Can hold even bulky and large items, thanks to its huge storage space
Ergonomically designed for comfort
Comes with heavy-duty zippers and fastenings
Provides sufficient padding for its heavy-duty and non-slip shoulder strap
To conclude, this VETO tool bag delivers excellent performance with its ample open storage space and durability as well as its ability to fit multi-purpose jobs, including those in the plumbing industry.
8. DEWALT DG5597 Open Top Tool Bag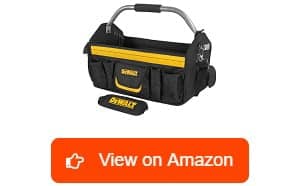 The DG5597 Open Top Tool Bag offered by the DEWALT brand is also another remarkable and nice choice if you wish to own a tool bag, which makes for a great companion at work. Constructed using poly fabric material, I can prove the bag's strength and durability.
I find the open-top design implemented in this tool bag fascinating and beneficial because it fulfills its promise of providing quick and easy access and amazing visibility to all the supplies and tools that you put inside. I am sure you will not complain about discomfort when wearing this bag as it features a padded shoulder strap, which is not only adjustable but also non-slip.
I am in favor of the reinforced plastic pad built at the bag's bottom because this helps provide long-lasting and maximum protection. With the pads around, your bag can prevent lower its risk of wearing out too soon. The pads can also elevate the bag, thereby ensuring that water and dirt do not penetrate it, thereby preventing damage.
Aside from the padded carrying strap, you can also comfortably carry this bag with the aid of its padded carrying handle. Because of its strength, it has substantial longevity. It also has a higher chance of working well even when used every day in tough work conditions and environments.
This bag has a total of thirty-three pockets, making it a truly effective carrier for your frequently used stuff. You can even find a pocket designed for a utility knife. You can also conveniently store a measuring tape and electrical tape here.
I find it a bit bulky, though.
What We Like
Strong and durable poly fabric construction
Promotes quick and easy access to tools through its open-top design
Comfortable with its padded and non-slip adjustable shoulder strap
Features reinforced plastic bottom pads, making the bag even sturdier
Equipped with 33 roomy pockets
To conclude, buying this amazing tool carrier from DEWALT will surely work favorably for you as it lets you embrace most of the things and features that a high-quality tool bag should have.
9. ToughBuilt Massive Mouth Tool Bag
Another amazing tool bag that deserves the spotlight is the ToughBuilt Massive Mouth Tool Bag. Built using rugged, strong, and high-quality materials and parts, I am sure that this tool bag is as hardworking as you, making it possible for it to keep up with your rigorous demands and requirements in the workplace.
I am pleasantly surprised with its versatility, which makes it appropriate for the needs of not only plumbers but also carpenters, contractors, construction workers, electricians, and framers. It is also one of the sturdiest tool bags you can find in the market. Apart from its heavy-duty built, it also has steel-reinforced handles.
This allows a strong and solid 2-handed grip. It also features additional side handles, allowing the bag to carry extremely heavy loads. I am in love with the distinctive octagonal shape of this bag, which is also equipped with sturdy plastic. There is also a hard body lining, which contributes to retaining the shape of the bag and protecting all the things inside.
Another favorable thing about this tool bag is the lockable zipper that plays an incredible part in keeping the contents safe and secure. In terms of storage space, I am sure you will not feel disappointed with this tool bag. It is because it consists of up to 62 pockets and loops, including the external pockets lined with plastic and the notebook pocket.,
Furthermore, it has sturdy zippered mesh pockets that promote incredible visibility. The massive or wide mouth opening of this tool bag is also its strength as it assures users of superior accessibility.
I am satisfied with the ruggedness of the bag's rubber feet, too, because it prevents wear and tear.
The bottom part is not that heavy-duty, though.
What We Like
Works for different workers apart from plumbers
Boasts of a heavy-duty built with handles reinforced by steel
Unique octagonal shape showcased
Can avoid wear and tear, thanks to its rugged rubber feet
Features a lockable zipper for the safe storage of your tools
What We Don't Like
Not that heavy-duty bottom
With the superb craftsmanship, fantastic features, and rewarding benefits you can expect to receive from this tool bag, you will surely feel proud of yourself for making a wise investment by buying it.
10. CLC Custom Leathercraft 1530 Tool Carrier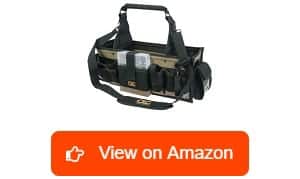 Another fantastic choice is the CLC Custom Leathercraft 1530 Tool Carrier. This high-quality carrier is filled with features that you will surely love. It serves as a handy plumber's tool pouch that can hold your most frequently used work tools, including screwdrivers, nut drivers, and cutting pliers.
I like the small parts box included in this carrier because it can accommodate certain items, including ground tails and wire nuts. I also honestly appreciate the huge amount of room and space provided by this carrier, which is capable of holding a lot of tools. In fact, it has 43 spacious pockets that are all enough for your plumbing tool storage needs.
I am also glad that this tool carrier from CLC comes with a couple of window pockets – one of which is removable while the other is stationary. These window pockets are valuable if you want to have an easier time viewing the contents of your bag. I also find the box-shaped design of this tool carrier beneficial because it prevents it from tipping.
The polyester fabric used in its construction is also famous for its ruggedness so there is some assurance that it will last long. The overall structure is solid and stable. In fact, you can expect it to work without the risk of buckling due to the weight it carries.
The adjustable shoulder straps with adequate padding also contribute to the extreme comfort you will experience when carrying it around despite the weight of the items stored in there.
However, I find its screw or parts organizer tray a bit too small for my preference.
What We Like
Versatile design as it can accommodate a wide range and sizes of tools
Equipped with 43 spacious and roomy pockets
Allows the easy viewing of contents with the aid of its window pockets
Sturdy polyester fabric used in construction
Offers comfort, thanks to its padded and adjustable shoulder straps
What We Don't Like
Smaller than expected organizer tray for screws and parts
Overall, this tool carrier from Custom Leathercraft deserves positive feedback because it is well-constructed, which shows in its overall design and quality.
LENOX Tools Plumber's Tote (Outdated)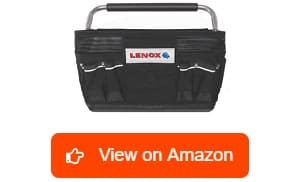 Lastly, you can take full advantage of the capabilities of the LENOX Tools Plumber's Tote. Built specifically for plumbers, I am one hundred percent certain that it will satisfy your unique demands. It is available at just the right size, allowing you to carry it without hassle.
In fact, it is compact enough that you will not complain about discomfort once you bring it at work. Despite its compactness, I am still pleased to announce that its interior and exterior pockets provide adequate room and space for a number of tools. There are fourteen pockets in the interiors and ten pockets in the exteriors.
Add to that the ten elastic loops of this plumber's tote and I am sure you will never run out of space for the tools you commonly bring in your work environment. It also boasts of its waterproof tape holder. One more thing that this tote takes pride in is its waterproof bottom made of hard plastic.
The presence of this feature significantly enhances the tote's strength and sturdiness. The padded adjustable strap also gives you the freedom to adjust the tote based on your comfort level. I also like the padded carrying handle built into this bag as it allows you to carry it with ease and fold it neatly away when you are no longer using it.
Furthermore, there is a reflective material design to boost visibility.
However, some complained that its pockets are not as deep as the other tool bags designed for plumbers.
What We Like
Compact yet spacious and roomy
Comes with a waterproof bottom constructed using sturdy hard plastic
Comfortable with the aid of its padded adjustable strap
Can handle tough work environments
Features a padded carrying handle and reflective material
What We Don't Like
Some pockets are not as deep as the ones integrated into other tool bags
For its affordable price, this LENOX tool bag can give you a lot of positive benefits in return so it surely deserves to earn a spot in this review.
What is a Plumber's Tool Bag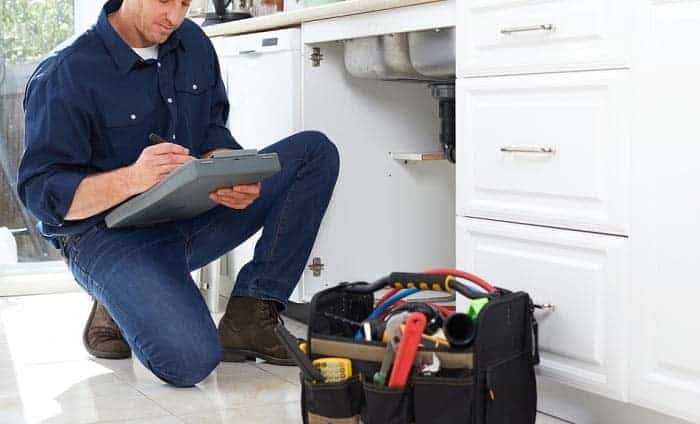 As the name suggests, a plumber's tool bag is an accessory where a tradesperson in the plumbing industry keeps and organizes his/her tools. Of course, a toolbox can carry more tools and materials. The same is true for a plumber's tool belt, which can also carry your stuff particularly those that you need at work.
However, having a tool bag means you can take your tools anywhere, which is especially true if your nature of work deals with house calls, like being a plumber. A plumber's tool bag, a good one at least, should be able to carry all of the usual tools that any plumbing professional needs on their routine jobs.
That said, it is crucial to look for a bag, which is strong enough to carry heavy loads as it will most likely be filled with wrenches, hammers, and all sorts of heavy tools. The thing that makes plumber's tool bags different from those of other trades is that there are special storage compartments for the tools that only plumbers use.
For instance, inside the bag, there is a flap that has loops on it. These loops are useful for the different sizes of wrenches that plumbers use on their jobs. If you are looking for a plumber's tool bag for yourself but you have no idea what you need to look for, then you need to continue reading this article for some more relevant info about it.
How Does It Work
A good tool bag should be able to carry the combined total weight of the tools that the plumber needs to carry. This load might not sound like much but when you think about it, the sheer number of tools that plumbers need to carry all the time is actually plenty.
This means that most of them need to carry tools that weigh more than twenty pounds every time someone calls for their services. First of all, for the bag to function well, it must be made out of very durable materials. There are plenty of materials that are usually used for making tool bags.
The most popular among all them, though, are the canvas bags. Canvas bags are tough and waterproof. However, the problem with them is that they are somewhat heavy. This problem is solved by using lighter but still somewhat durable materials, like polyester, nylon and other synthetic materials.
Tool bags are not just for storing and transporting tools. They also work by offering protection to their contents. If you care about the longevity of your expensive tools, make sure that you do not just throw all of them inside your bag. You also need to place them in their rightful compartments so that they do not bang against each other.
Types of Tool Bags for Plumbers
There are several different styles of tool bags for plumbers with each one of them having their individual set of benefits. Get to know more about each type so you can pick one, which is genuinely appropriate for your specific needs.
Tool Backpack – This is the best choice for a plumber's tool bag if you will be carrying a lot of tools and you will mostly be using public transportation to get around. For instance, if most of your clientele live in the downtown area, it is much more economical and efficient to just commute to your clients rather than take your own service vehicle.
A tool backpack allows you to carry a lot of tools without putting too much strain on your arms and back. All of the weight will be distributed equally on your shoulders and upper back, making it easier to carry lots of tools over long distances.
Tote Bags – These bags look similar to the open wooden toolboxes that old-timey contractors used to use. These bags consist of a large compartment in the middle with lots of small pouches lining the outside of the bag. This is ideal for plumbers who have their own service vehicle.
It is because it will be pretty awkward to carry this on the bus or train, mainly because it might expose your tools. Tote bags are ideal for plumbers because all of the tools are easily accessible. Your tools will already be lined outside the bag so you do not have to rummage through it to find the tools that you need.
Dual-compartment Bags – Do not let the name fool you as there are actually more than two compartments in these bags. The reason these are called dual compartments is that each of the side flaps opens completely.
This exposes a myriad of different pockets and compartments. It is often equipped with more than enough pockets in the sense that you can actually put every individual tool you own in its own compartment.
Roll-up Bags – These bags are ideal for storing a couple of tools, like say, a complete set of wrenches. When you completely open it up, it looks like a mat with lots of individual pouches. You put your tools in the deep pouches then roll up the bag. There is usually a bit of twine sewn at the edge of the bag.
This will let you tie up the bag just in case you need to store your tools away or if you need to transport them. This specific type of plumber's tool bags is also ideal for you if you only have a couple of basic tools that are not enough to fill any of the other tool bags mentioned.
Why Do You Need to Use a Plumber's Bag
There are actually many reasons why you need to use a plumber's bag, especially when you relate it to your productivity and efficiency. However, to save time, let us just discuss the most important ones for now and focus on them:
They can keep your tools safe – This is especially true when you are sharing a project site with other contractors. Although most of the time, some workers would accidentally pick up the tools of others by mistake, this usually happens when you let your tools lying around a shared space.
When you finally have your own plumber's tool bag, you will have a place to store your own tools. Every time you finish using a particular tool, you just put it back in its rightful place. You do not have to worry about lost tools ever again.
They prevent your tools from getting damaged – You might not notice it but your tools do get damaged when you place all of them in just one compartment. Throwing your heavy tools like wrenches and ratchets along with your screwdrivers, files, and other tools will cause damage to all of them.
With a plumber's tool bag, every tool has its own place. This will prevent them from banging into each other when you carry them around, thereby preventing their possible damage.
They are waterproof – The biggest enemy of your tools is moisture because it leads to rust and deterioration. A good plumber's tool bag is not just waterproof. It also saps any moisture away from the tools so they can dry completely. The pouches are lined with an absorbent material that actually dries the tools.
When closed, even when you splash water on the bag, the contents will remain perfectly dry. This will ensure that your expensive tools will last for many years.
They keep your tools organized – Think of how much time you waste on the job just rummaging through your bag looking for that one particular tool that you need. You could have saved a lot of time and energy when you use a tool bag to keep your stuff organized and easy to access. You can expect work to be a whole lot easier when you know exactly where your tools are.
These are but some of the many reasons why plumbers tool bags are actual necessities rather than just a nicety that you can do without. You really need to give these bags a try in order for you to understand further what you are missing out on. You will wonder why you have been going through these years without using this essential item.
Buying Guide
The thing about a good plumber's tool bag is that it will not be cheap. You will be spending quite a bit of money if you want to get a high-quality one that you are sure to use for many years to come. However, just because a bag is expensive, that does not automatically mean that it is high in quality.
You still need to inspect the bags thoroughly so that you will not get shortchanged. Here are some of the things that you need to take into consideration when you are out there shopping for a new tool bag that plumbers like you can take advantage of:
Convenience – The main reason why you want to start using a plumber's tool bag is that you want your tools to be organized and easy to find. If you have a lot of tools then you will need a large tool bag with lots of compartments.
As much as possible, each of your tools should have its own pouch so that they do not bang against each other when you carry your bag around on your rounds. The pouches should also be easily accessible so that you will not be tempted to just throw your tools inside the bag. They should be grouped according to their sizes so it will be easier for you to organize your stuff.
Portability – A plumber's tool bag should be easy to carry around, mainly because your work is almost always on the field. It should have wide, padded shoulder straps so that the weight of the tools will not cause the belt to dig into your skin.
The bag should also be designed in a way that the weight of the tools will be evenly distributed so that it will be easy to carry around between jobs.
Durability – You will be putting a lot of heavy and sharp tools inside the bag, so you should not buy anything that is cheap and flimsy – that is if you want to pick up all of your tools from the ground when your weak bag tears apart from the weight of the contents.
The most popular material for tool bags of any kind is still the trusty old canvas. This thick fabric is not just tough. It is also waterproof, which makes it the perfect choice if you are a plumber. However, the canvas material is heavy, so an entire bag made of the stuff is not really feasible.
On the other hand, a bag made of a combination of canvas and a light yet strong material, like polyester, is the best bet for you right now. Aside from the main material that the bag is made from, you should also inspect the pouches to determine if they are as sturdy as the rest of the bag.
The pouches should have strong seams, so they can carry heavy tools if needed. They also need to have a tough inner lining so they will not get punctured by any sharp or pointy tools that you have.
Waterproofing ability – Since you will be working around water, your tool bag needs to provide protection for your tools against the damaging effects of water and rust. The only way that you can tell if a bag is waterproof or not without actually testing it yourself (most shop owners frown upon customers who spill water on the merchandise) is to trust the manufacturer's rating.
You can somewhat tell if a tool bag is waterproof to a certain degree if its surface is shiny and somewhat slick.
Size and weight limit – The size of the bag you purchase should depend on how you plan on using it. Do you always carry around as much of your tools as you can on every job? If so then you will need to get the biggest yet easiest to carry around tool bag that you can find.
Now, if you are the type who almost always knows what tools you usually use on the job then you can afford to use a smaller, more portable tool bag. If you will be getting a large bag, do not be so hasty as to put all of your tools inside it at once. Make sure that you are familiar with the maximum weight limit of the bag.
However, it is true that most of the time, even if you do not follow the weight limit of the bag, you can still use it. The problem is it will also cause you to drastically reduce the lifespan of your bag.
Bottom padding/feet – The bottom is usually the first part of the tool bag to wear out, mainly because that is the part that gets the most abuse. You need to choose a bag that has a reinforced bottom so that the weight of your tools will be evenly spread out.
This will allow you to carry heavy tools without worrying about the bottom seams ripping apart. Look for a bag that has sturdy rubberized footing, or something that has a reinforced bottom part. With such features, you have an assurance that your bag will last for many years without the bottom falling apart and causing your tools to spill out.
Fasteners and zippers – The tool bag you get should have beefy zippers to make sure that when you close the bag, it will stay closed. Some of the outer pockets should also have their own zippers so that you have a place where you can store your miscellaneous small items and parts.
The compartments for tools like wrenches should also have tabs to keep their contents secure so they will not wiggle about and fall when you are carrying the bag to your job site.
Care and Maintenance
You need to follow the washing and caring instructions noted on the tags of the bag. Before you chuck your dirty tool bag into the washing machine, you should check first if it is actually machine-washable. If you go about it without taking the necessary precautions then you might end up with a tool bag that is ripped to shreds.
In addition, some waterproof bags will actually lose their waterproofing capabilities when their surfaces are cleaned using a harsh detergent. The right way to clean a dirty plumber's tool bag is to empty all of the pockets first then use a vacuum cleaner with a handheld brush attachment to suck up all of the loose dirt and dust from the pouches and all over.
After vacuuming, take a damp, clean rag, and give the outside of the bag a good scrubbing. Try to get as much of the dirt out as much as you can. Also, you need to check the zippers from time to time. Make sure that they glide smoothly and not catch on the tracks.
If the zippers start to catch, lubricate them using some wax from a candle. You just need to rub the end of a candle along the zipper then open and close the zipper to distribute the wax.
Frequently Asked Questions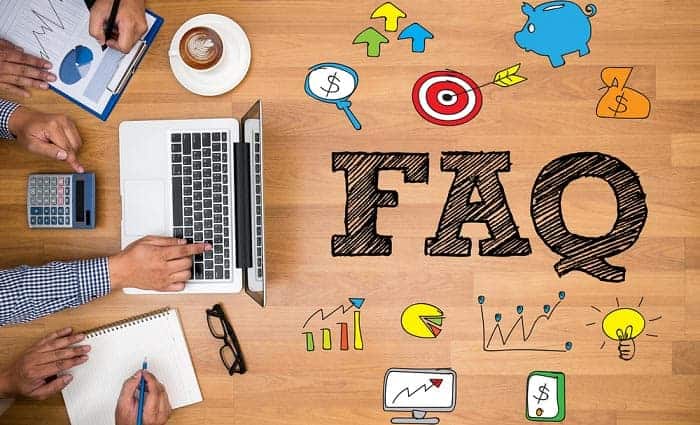 What are the most popular plumber's tool bag brands?
If you are starting to shop for the best tool bag for plumbers then you will be pleased to know that your choices are somewhat limitless. You can find several brands promising to deliver high-quality of their products. Among the most trustworthy brands are CLC, McGuire-Nicholas, VETO, DEWALT, and ToughBuilt.
Are plumbers tool bags waterproof?
Yes, they have to be waterproof because they will be working near water. Although they do not have to be fully waterproof, it should still be capable of resisting the occasional spills and splashes. Plumbers need to have waterproof tool bags because their work environment is rarely dry.
In most cases, plumbers will face some slight flooding. In worse scenarios, like burst pipes, the water will be continuously flowing, which is the reason why a waterproof tool bag is the one you need.
What is the most common tool used by plumbers?
Plumbers carry different types of wrenches, press fitting systems, and tools for pipework such as a hacksaw, tubing cutters, plastic pipe cutters, plumber's torch, thread sealing tape, and pliers.
Apart from that, they bring an inspection camera, plungers, snake machines, and hand auger to clear clogged pipes.
Plus, they also need tools like crimpers, screwdriver, flow rate calculator, pipe volume calculator, PEX pipe expander, and fittings. Not to mention, the safety equipment like gloves, goggles, and heating pads.
Dispatching tools, phones, tablets, and laptops are considered essential to run the plumbing business.
How long does a plumbers tool bag last?
You can expect a polypropylene resin plastic tool box for plumbers to last decades. As for bags, weatherproof fabrics like impregnated denier nylons or ballistic weaves like the ones from Veto and Klein can last over three years to a decade.
How to organize tool bags for plumbers
If you are using a traditional plumbers tool bag or a large plastic bucket, you can organize your tools by their function and size into pouches.
For instance, you can group your pipe wrench, basin wrench, adjustable wrench, and faucet key and place them in one pouch. Do the same thing with the tools that you use for pipework, clearing clogs, press fitting systems, and others.
You can even label each pouch so that you know where you put them. Simply grab the pouch you need for the specific project.
If your storage has dividers, you can start by identifying the tools that you grab frequently and place them where they can be accessed quickly.
For smaller items like copper wires, you can place them in small plastic containers to prevent losing them in deep pockets.
Regardless of the type of plumbing organizer you use, the rule of thumb is to put the heaviest items at the bottom.
Meanwhile, your laptop, tablet, and other gadgets should be placed in a dedicated pocket in the bag. Alternatively, use another bag to store them. Either way, it is best not to mix them up with all your tools to prevent damage.
What is the warranty?
Warranties are brand-specific. In some cases, the company provides different guidelines for its plumbers tool bag which may not apply to the plumbers tool box.
Furthermore, each company offers varying time limitations in terms of validity. Some offer a lifetime warranty while others only provide a 1-year or 5-year warranty.
Note brands often only offer replacements for defective products, but not when the customer misuses them.
Other companies offer a lifetime repair service. Although this jacks up the product's cost, it will save you from the headache of having to find a service that specializes in tool bags. In effect, you also save money!
Now, the next question is whether the warranty is valid in your country. For instance, if you live overseas and ordered a US-manufactured item online, you will need to check whether the warranty applies to where you live.
Another consideration is where you bought the item. Generally, companies do not provide warranties to items that are sold outside of their online and physical shops and authorized dealers.
How to use a plumber's tool bag?
Using a plumber's tool bag is not as simple as putting in all of your tools inside and then going on your merry way. You have to be methodical in the way you place items inside your tool bag. In an average tool bag, you can find pouches of different sizes. There are large ones for power tools like hand drills.
You can also find smaller loops that are the perfect size for screwdrivers and others. You need to find the pouches that are suitable in size to your tools. Also, if your tools come in sets, like wrenches, you need to make sure that they are grouped together and arranged according to their size. This will help you find the right tool much faster.
You need to keep your tools organized so you do not waste precious time and energy looking for that one particular tool needed at a certain time. You can just reach in and grab it effortlessly.
How to clean?
Waterproof plumbers tool bags should not be machine-washed or even hand washed using regular laundry detergent because it will strip away the waterproofing of the bag. These kinds of tool bags should only be vacuumed and wiped clean. You can also learn more about how to clean the tool bag in the care and maintenance section.
Where to buy?
Tool bags of all kinds can be bought at almost all hardware stores big or small. However, the choices you will get may vary. Some stores may carry up to a dozen or so brands and models of tool bags but none of them might be up to your standards.
The best place to buy plumbers tool bags is through online retail stores. If you browse even just one big name online retailer, you can get dozens of tool bags from different brands that come in different designs.
Another perk of buying tool bags online is that you can compare prices of different bags. It is possible to get the same tool bag at a different website at a much lower price. You just need to look hard enough.
Conclusion
A plumber worth his/her salt will need a good tool bag. The lifeblood of a plumber is his/her equipment, which is why you will need to take really good care of it if you want to last in your field. This is why you do not just throw them inside any old bag that you might have lying around, you need to have a professional tool bag.
The best tool bag for plumbers is essential for keeping your tools safe, protected from unnecessary damage, and organized. Now you will not waste time looking through a dirty, jumbled up pile of tools deep inside a dirty bag because every tool is in its rightful place.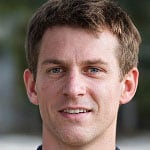 Having worked in the field of personal protective equipment for over two decades, Andrew Carnegie is a specialist in the field.
At EDC, he strives to improve performance efficiency and promote workplace safety for EDC's readers and customers. He also researches the most up-to-date equipment that has earned relevant accreditation for use in a wide range of industries and specialties.