Each time you hear the word respirator, or respirator mask, you can quickly associate it with protection and safety. It is not surprising as the best respirator influences your level of safety when you are doing certain tasks or activities.
Having the right respirator mask and wearing it primarily protects you from inhaling poisonous chemicals and gases, particularly when you are working. This specific capability is one reason why the governing agencies, namely the NIOSH and OSHA, require employees to wear it for their ultimate safety and protection.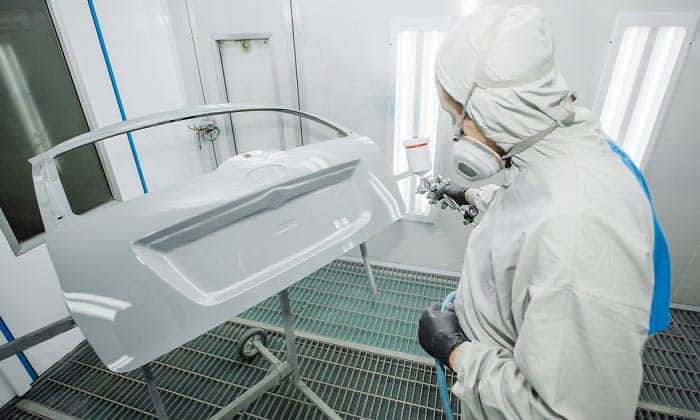 Also, take note that your workplace is not the only area where you get exposed to harmful and dangerous toxins and chemicals. Trying to complete certain garden and home projects might also expose you to them, including paint fumes, adhesives, dust, caustic cleaning products, pesticides, and solvents.
You will also be attacked by pollens and allergens regularly. With that in mind, investing in a high-quality respirator is really a must, whether you are working or doing some tasks in your home or garden. Together with good ventilation, the most trusted respirator for chemicals can really influence your overall health and that of your lungs.
However, you have to remind yourself all the time that not all the respirators you see in the market are the same. You have numerous choices with each one having different levels of efficiency and ratings. If you have no knowledge about respirators then the plenty of options laid out to you might be baffling.
One important thing you have to take note of is that various respirators also suit various kinds of jobs. While some utilize respirators equipped with chemical cartridges, other users wear those equipped with a particulate filter.
So how can you pick the most suitable respirator for your specific requirements? By gathering as much valuable information about respirators in general and your numerous choices as possible through this article. Let us begin with our top 12 respirator mask reviews.
10 Top-Rated Respirator Mask Reviews of 2023
1. 3M Rugged Comfort Half Facepiece Respirator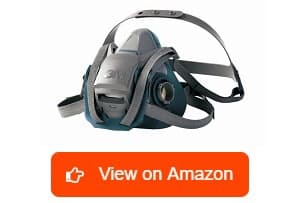 Another bestselling personal protective equipment from the famous 3M brand is the Rugged Comfort Half Facepiece Respirator. One of the numerous things that immediately grabbed my interest is the quick-latch mechanism integrated into this reusable respirator from 3M.
I like the inclusion of this mechanism as it promotes ease in dropping it from your face without having to take off the straps on the head. This is very convenient each time you need to remove the mask for whatever reason. I am also delighted that I can easily breathe when I am wearing this respirator.
I think the reason behind this is the proprietary cool flow valve unique to the 3M brand. This valve is designed in a way that it can help in the significant reduction of moisture and heat, thereby supporting smooth and easy breathing. It boasts of its low-profile construction, too.
Being low-profile is a strength for this respirator because this promotes a wider field of view for users. In addition, this design makes the reusable respirator compatible with grinding and welding shields. The complete resilient face seal made of silicone is also a nice addition because it is stable, comfortable, and durable.
It promotes a soft and comfortable yet firm and secure seal. It is lightweight but still showcases adequate ruggedness and strength to endure extreme conditions and long hours of use.
However, one issue I encountered is related to the straps that are hassle-free to tighten but are somewhat challenging to loosen up.
What We Like
Assures users of a soft yet firm and secure seal
Lightweight without losing its strength and ruggedness
Compatible when used with grinding and welding shields
Boasts of its quick-latch mechanism
Easy and smooth breathing supported, thanks to the cool flow valve
What We Don't Like
Loosening up the straps is a bit challenging
If you are looking for a way to upgrade your level of safety when you are working or doing some household tasks, then the 3M Rugged Comfort Half Facepiece Respirator is definitely an excellent fit for your requirements.
2. Ruiqier Reusable Half-Face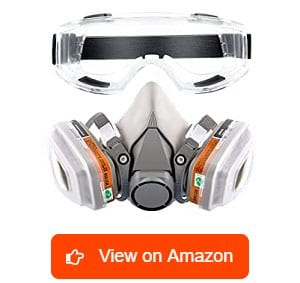 Highly recommended for painting, woodworking, and welding, this respirator for dust and smoke can prevent various occupational diseases. Considering the affordable price, I'm amazed that I'm getting quite a lot from the package. There is a half-face mask, a pair of safety goggles, filters, filter boxes, and plastic covers.
Of course, one advantage of having a complete set is that I don't have to worry about whether the mask will fit with the goggles on my face. This eliminates the problem of having to constantly look for eye protection that doesn't get pushed up by the respirator. Because the sealing edge is composed of soft silicone, it doesn't suffocate me.
The filter is quite remarkable as it protects the wearer against gasoline, acetone, ether, carbon, and dust. Moreover, I can still breathe properly even with the barrier. I also had an easy time setting up the whole filtering system and adjusting the straps to wear the mask.
After using it for some time, I notice that the respirator for smoke loosens when I move my head a lot. From time to time, I would hold my breath for a few seconds to readjust the straps. Aside from that, it starts to feel heavy around the nose after long hours of wearing it. Still, I think these issues are manageable!
What We Like
Includes a respirator, goggles, and accessories
Good-quality at an affordable price
Apt for industrial applications
Offers protection against contaminants
Promotes easy breathin
What We Don't Like
Straps tend to loosen after a while
Weighs slightly heavy on the nose
This set is a good deal as it offers a respirator, goggles, and accessories. Rest assured that the features will meet the needs of workers who are often exposed to particulates.
3. 3M Half Facepiece Reusable Respirator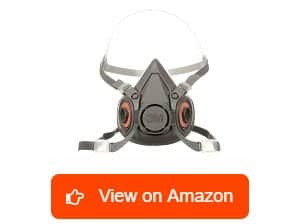 Another bestselling product from 3M is its Half Facepiece Reusable Respirator. It actually left a good impression on me as I instantly took advantage of its dependable and comfortable respiratory protection. The versatility of this reusable respirator is also immediately noticeable as it suits many situations.
It has properties and features designed to provide complete protection from particulates and various vapors and gases. This facepiece is soft and lightweight enough, thereby promoting extreme comfort once you decide to wear it. Add to that the adjustable head straps and I am sure you can set it in a way that it fits you well.
The presence of such straps promotes a more customized fit. It takes pride in the swept-back design used for the cartridges, which contributes a lot in boosting visibility and balance. I am glad of the replaceable cartridges used in this product, too, because such lessens cost and waste eventually.
Another reason to love this product is that its replaceable filters tend to lock firmly in place and stay in position for quite a long time. The mask seals to the face decently, too. It is also comfortable enough that wearing it even for long hours daily will never become a problem.
However, the clips included to help adjust the strap are slightly challenging to use.
What We Like
Offers a dependable respiratory protection
Lightweight and soft enough for comfort
Features adjustable straps for a more customized fit
Better visibility and balance guaranteed by the swept-back design
Can be worn for hours daily without facing discomfort
What We Don't Like
Some issues when using the clips included for strap adjustment
Whether you are a professional or someone who just needs protection from inhaling toxic chemicals due to your daily tasks at home, investing in the affordable Half Facepiece Reusable Respirator from 3M will surely keep you safe from harm.
4. GVS Elipse P100 SPR457 Half Mask Respirator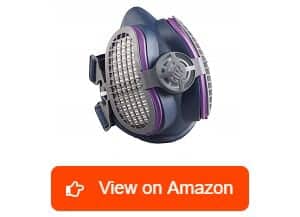 Another amazing half-mask respirator that deserves to be highlighted in any review is the GVS SPR457 Elipse P100 Respirator. It is a reusable respirator mask, which caught my interest at first because of its patented design that is distinct and unique from the others.
This respirator is built in a way that it can fit your face's natural shape and contours. I am thrilled to say that this limited-edition respirator, which really works well for spray paints, is lightweight and flexible. It is also available in various sizes based on the user's facial features.
It is flexible enough that it is capable of adapting to the shape of your face. One more thing that I can say is fascinating about this respirator is its low breathing resistance. It is also effective in significantly reducing the risk of moisture buildup. I love the wild field of view brought on by this respirator's low-profile design.
It is because this ensures that wearing the respirator will not negatively affect or interfere with the functions of your other PPE, like safety glasses. It is lightweight and compact so using it will surely be hassle-free.
The respirator also delivers a good performance in terms of protecting wearers from dust and other particles that trigger lung and respiratory diseases. One more thing that is impressive is that it features an adjustable and non-slip strap. You can easily adjust it in up to four positions to improve comfort while keeping you safe even when using it in environments that are wet or have high humidity.
However, it seems to have an extremely strong rubber smell during the first time you open and use it so it would be best to make the smell subside first by letting it sit for several days before letting it serve its intended function.
What We Like
Comes with a unique, patented design
Flexible and comfortable as it adapts to your face's natural shape
Does not interfere with your other personal protective equipment
Hassle-free to use because of its lightweight and compact nature
Effective in protecting you from dust and other elements that can harm your lungs and respiratory system
What We Don't Like
Comes with an extremely strong rubber smell at first
In general, this cool respirator mask receives praises from users due to its unique low-profile design, comfort, maximum protection, and breathability.
5. 3M(TM) Half Facepiece Respirator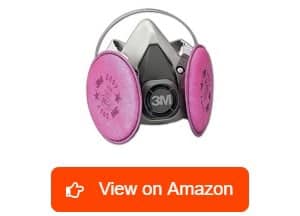 The 3M(TM) Half Facepiece Respirator is also another fully functional respirator with the ability to help keep your lungs and respiratory system safe from the dangers that the dust and toxic airborne particulates and allergens surround you. I am impressed with it mainly because it received the approval of the NIOSH.
It is approved for use on environments that have plenty of non-oil and oil-based particles. I greatly appreciate how 3M made this respirator very lightweight. Because of its lightness, it is easy to use and wear. Keeping yourself safe without causing discomfort is, therefore, a great possibility if you wear this half facepiece respirator.
I also instantly sensed that it is a fantastic choice for those who are looking for the most comfortable respirator. It is because of how it perfectly fits the shape and contour of one's face. Wearing it also supports healthy, comfortable, and smooth breathing. It will never complicate your breathing in any way.
Another thing that makes me so happy about this respirator is that its uses are so extensive. It is built in a way that it can handle a number of applications and situations, including metal and torch cutting, welding, brazing, and soldering.
It is also a good respirator for asbestos as it keeps you protected from too much exposure to asbestos, as well as lead, cadmium, and arsenic. This affordable respirator also has a lower risk of leaking, so it also prevents your safety eyewear from fogging up in case you are wearing one along with the respirator.
Except for some sizing issues that some users complain about, I am so delighted with the overall look, quality, and features of this respirator.
What We Like
Extensive uses as it handles numerous applications and situations
Protects excessive exposure to asbestos and other harmful stuff
Does not fog up your safety eyewear
Lightweight and comfortable
Supports healthy, uncomplicated, and smooth breathing
With the high level of protection that this respirator from 3M can provide, this product is a great companion that can give you full protection irrespective of where you use it.
6. Breath Buddy Respirator Mask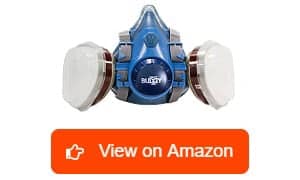 If what you are trying to find is a respirator that works perfectly when used in woodworking, DIY, and welding projects then the Breath Buddy Respirator Mask is a sure hit for you. I am pleased that aside from the quality reusable mask, it also comes with powerful filters and a pair of safety glasses, giving you a value pack.
It is a sound investment as it offers maximum protection and safety for your respiratory system and lungs. It has filters with at least 99 percent efficiency, ensuring that all the harmful elements and substances that you might breathe in will be filtered. This can prevent them from penetrating the mask and getting into your system.
I am satisfied with the overall versatility of this respirator mask, too. It is versatile enough that using it in your workshop or home for certain types of dust, like painting, cleaning your old attic, and dealing with wood dust is possible. It boasts of a perfect and comfortable fit so expect to feel utmost convenience when you are trying to do your job.
It has well-designed straps, too. Furthermore, you can lower your risk of sweating excessively when you wear it because of the cool air valve that is present in this mask. It also works in filtering some awful and nuisance odor around you. It is worth the money since you will be getting multiple items at just one price.
However, it might take a bit of time for you to get used to wearing it because of the presence of the filters.
What We Like
Affordable without losing its actual value
Built to be reusable, which means that you can use it more than once
Versatile, allowing you to use it at home and in the workplace
Perfect and comfortable fit guaranteed
Comes with well-designed straps for comfort
What We Don't Like
Slightly challenging to get used to at first
Once you get more familiar with how it fits and works, you will be more motivated to wear it especially after noticing how comfortable and protective it truly is.
7. 3M Paint Project Respirator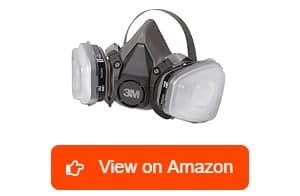 I also encourage potential respirator users to get the 3M Paint Project Respirator as it is one of those products guaranteed to offer maximum satisfaction. I can confirm how effective it is when used for respiratory protection, especially for professionals. It is useful for specific paint sprays, pesticides, and solvents.
Among the things that make the 3M Paint Project Respirator a joy to invest in are their swept-back cartridges that are positioned in a way that they can help maximize and boost visibility. With this position, you can easily and clearly see the projects or tasks that you are presently working on.
The respirator is also built with a great balance between comfort and performance. It boasts of its balanced design known to promote a comfortable and secure fit. It is NIOSH approved, which means that it passed the stringent and strict standards of the government, especially in terms of filtration efficiency.
In fact, it is effective in filtering at least 95 percent of liquid and solid particles without oil. In terms of protection, nothing beats this respirator from 3M as it keeps dust and particles at bay. It ensures that these particles do not penetrate your lungs, mouth, and nose.
Some filters that are compatible with this respirator are also effective in getting rid of annoying and unwanted odors.
However, one downside in this respirator is that it tends to cost higher than other products of almost similar quality and capability.
What We Like
Useful for professionals who need respiratory protection
Equipped with swept-back cartridges in the right position
Guarantees a comfortable and secure fit
Highly efficient filtration capability
Maximum visibility guaranteed
With the ability of this 3M respirator to address the requirements of DIY, non-regulated, regulated, and workplace applications, it is a sound decision to include this in your PPE collection.
8. 3M Full Facepiece Reusable Respirator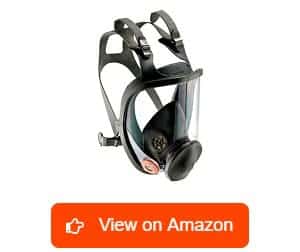 If the top-rated full face respirator is what you decided to invest in, then this Full Facepiece Reusable Respirator still offered by the prominent and reputable 3M is surely going to catch your interest. Used together with the right filters also offered by the 3M brand, it works in dealing with various gases, particulate hazards, and vapors.
What I find so impressive about this 3M reusable respirator is that it functions based on the standards set by NIOSH, which somewhat proves that it is indeed approved by the government because of its maximum safety and protection. It is a reliable and convenient product that is appropriate for all your respiratory protection requirements.
It is versatile, so it no longer comes as a surprise if it fits numerous applications and environments. Some of the applications where you can safely use this respirator are chemical handling, splash, and cleanup, furnace operations, chiseling, machining, painting, sawing, welding, sanding, and assembly.
It is also good general manufacturing, agriculture, pharmaceuticals, and construction respirator. Another strength that I noticed in this 3M reusable respirator is its well-balanced and lightweight design, promoting ease in terms of using it while working.
It also boasts of its silicone face seal, which makes it more durable while promoting comfort and hassle-free cleaning. I can also vouch for its ease of visibility considering the fact that it features a large lens to widen your field of view.
In terms of drawback, there is only one thing I wish to complain, and that is its somewhat high price.
What We Like
Can deal with numerous gases, particulate hazards, and vapors
NIOSH-approved, proving its maximum safety and protection
Versatile, meeting the demands of numerous applications and work environments
Boasts of a well-balanced and lightweight design
Comfortable and hassle-free to clean
Even with its somewhat high price, I can still say that the 3M Full Facepiece Reusable Respirator will continuously showcase its best performance regardless of the work environment or industry you decided to use it to.
9. PD-100 Organic Vapor Full Face Respirator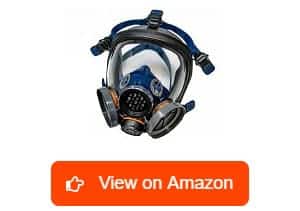 Another impressive full face respirator that I want potential users to check out is the PD-100 Organic Vapor Full Face Respirator. There are actually several reasons why this full-face respirator stands out from the rest. One of these is its high level of impact-resistance.
In fact, it adheres to the strict standards as far as impact-resistance is concerned. I also discovered how useful it is in a number of industries, such as construction, pesticide protection, environmental technology, agriculture, pharmaceuticals, general manufacturing, paint application, and industrial production.
I am also glad that the brand integrated a solution designed to cushion areas with heavy contact with harsh elements and safety hazards. This solution comes in the form of the soft silicone nose cup as well as the face seal. I am pleased with the built-in bonded silicone gaskets, too, as they are effective in lowering the risk of losing loose gaskets.
The facepiece also guarantees a more secure fit, thanks to the 5 straps included in the respirator that work in wrapping snugly around your head. With that, you can get rid of shifting, which might be a distraction when you are doing your job. It also eliminates the hassle of having to readjust it frequently.
I am also happy that this brand used air circulation technology because it retains the coolness in your face and prevents the lens from fogging.
However, its high price is a flaw but many still consider it worth the huge investment.
What We Like
Impact-resistant, adding more protection when you are wearing it
Suits numerous industries, showcasing its versatility
Can cushion areas that might heavily come in contact with safety hazards
Secure fit guaranteed by its 5 straps
Takes advantage of the air circulation technology
Still, PD-100 Organic Vapor Full Face Respirator is a unique piece of PPE that can give you superior protection from airborne hazards, so buying it is certainly rewarding.
10. 3M Ultimate FX Full Facepiece Respirator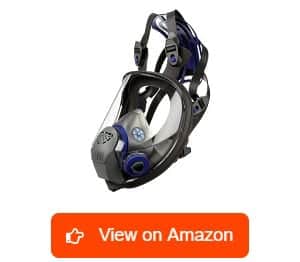 Another personal protective equipment from 3M, which is famous for offering the ultimate respiratory protection is the Ultimate FX Full Facepiece Respirator from the FF-400 Series. I instantly find it remarkable as it protects you from specific airborne contaminants.
It does such function while ensuring that you have clarity of vision through the built-in Scotchgard protected lens. This type of lens also ensures that aside from the protection, you can also easily wipe stains, liquids, and paints that accumulated in the huge lens. Yes, the lens is also large enough to guarantee a superior peripheral vision.
I also honestly like the soft yet strong and sturdy silicone material used in this full facepiece respirator from 3M. It boasts of a wide field of view, which significantly improves the clarity of your vision, making you more and more aware of your surroundings.
With its highly versatile design, I am sure that it is compatible with a wide range of particulate filters, supplied air systems and vapor or gas cartridges from 3M. I also find the respirator's cool flow valve useful when it comes to promoting ease when it comes to breathing. It is because it works in preventing the annoying heat buildup.
With this capability, the respirator is perfect when used in hot working environments, especially during the summer. Several features designed to offer comfort can also be found in this respirator. There is the head cradle, which lessens pressure points as well as the bonded silicone gaskets to ensure that you will not lose any loose gaskets.
The only complaint I have is that information about sizing is a bit lacking so I had a hard time choosing the right size for me.
What We Like
Offers protection from specific airborne contaminants
Promotes clarity of vision through its lens
Guarantees a wide field of view
Boasts of versatile design, making it appropriate for all cartridges and filters from 3M
Prevents the unwanted buildup of heat
What We Don't Like
Lack of information regarding sizing
Even with that minor flaw, I will still willingly recommend this specific respirator from 3M as I am one hundred percent sure that it can supply your required level of protection.
Israeli Rubber Respirator Mask (Outdated)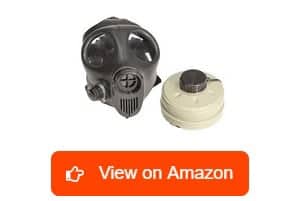 Lastly, I am suggesting the use of the Israeli Rubber Respirator Mask. One thing that I intend to highlight about in this respirator mask is that it works well for both commercial and industrial uses. I find it useful for sand, painting, smoke, cleaning, dust, grinding fume, and tear gas protection, among many other harmful substances.
I am positively overwhelmed with the quality and durability of its overall construction. Constructed from a rubber mixture, I noticed how effective it is in resisting chemical agents from penetrating the mask. The material is high-quality and professional-grade, proving its effectiveness in all situations.
As for the built-in goggles, I am happy to say that its lens is made of polycarbonate material known for being scratch-resistant. I like the inclusion of adjustable straps in this respirator. The straps are easy to adjust, making the entire respirator capable of fitting all sizes.
It is lightweight, too, which contributes a lot in maximizing its comfort level. It promotes easy and effective communication even when it is worn. The respirator takes pride in its wide and large field of view, as well. It even makes it possible for you to drink without having to remove it entirely.
Another reason why I truly like this respirator mask is its long shelf life. It can even reach up to 25 years.
As for drawbacks, I can't think of anything except for the foul smell it tends to release during first use.
What We Like
Ideal for both commercial and industrial uses
Offers maximum protection from a wide range of substances
High-quality and professional-grade construction
Scratch-resistant polycarbonate used in the lens
Lightweight and offers maximum comfort
Overall, this respirator adheres to strict safety standards so it is indeed one of the full face respirator masks that any worker exposed to harsh airborne contaminants every day should consider investing in.
3M Dual Cartridge Respirator (Outdated)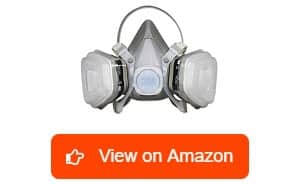 With the NIOSH approval earned by the 3M Dual Cartridge Respirator, I can honestly vouch for its reliability and overall functionality. It received such kind of approval especially when it comes to supplying the highest level of protection from harmful particulates and organic vapors.
The versatility of this specific 3M respirator certainly shines through as anyone can easily detect its usefulness and suitability to a wide range of applications, including agriculture, transportation, spray painting, agriculture, and the use of pesticides. It is a disposable product, which truly delivers good respiratory protection.
Provided it has the proper fit, this 3M paint respirator can also protect your lungs and respiratory system from particulates and vapors with concentrations that go as high as ten times your allowed exposure limit. It is one excellent option for the most trusted half-face respirator that works perfectly for intermittent use.
It is equipped with filters that are amazing enough as they can work for up to 40 hours when dealing with mild solvents. I also find the operation time of its filters decent when handling concentrated and heavy solvents as they need to be changed only after 8 long hours.
It makes use of a carbon filter in its interiors while the particulate filter is utilized in its exteriors. I am happy with its low-profile design, too, as it ensures you will feel comfortable when using it with goggles. It is lightweight and adheres to a 2-stage filtration process, truly beating all allergens and particulates you come in contact with.
One drawback, though, is that I discovered it has an unwanted plastic-like smell at first.
What We Like
NIOSH-approved, proving its excellence in offering protection
Uses a 2-stage filtration process, further maximizing its effectiveness
Works up to 40 hours for mild solvents and 8 hours for concentrated and heavy solvents
Suits a wide range of applications and uses
Promotes a comfortable fit even when you are wearing goggles
What We Don't Like
Comes with a plastic-like smell
Combining a particulate and a solvent respirator in just one product, I am sure that it can live up to its promises of giving workers the ultimate protection that they need.
Safety Works SWX00320 Multipurpose Respirator (Outdated)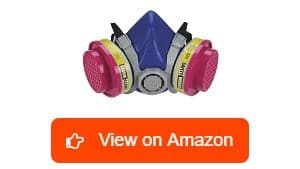 I am also delighted to make the SWX00320 Multipurpose Respirator a part of this review. It is because it operates incredibly well, especially for those who are involved in spray painting. It is highly flexible plus boasts of its patented and unique seal, making an easy and incredibly efficient sealing.
Aside from working well in spray painting applications, this multipurpose respirator can also be used in other work environments where workers require an effective means of filtering dust and other harsh airborne particles that they constantly come in contact with.
I can confirm its effectiveness in that area as I have a first-hand experience using the respirator. I super like it because the face piece is highly flexible. Combined with easily adjustable headbands, making adjustments to it to adhere to the actual shape and size of your head is possible.
I find it capable of accommodating all sizes and shapes of head. The lightweight nature of this multipurpose respirator, as well as its softness, promotes comfortable, even when wearing it for an extended period (maybe up to several hours). It even comes with an optically accurate lens, which further makes it comfortable.
With this feature, you have a guarantee of an almost unobstructed vision all the time. The fact that it gained the full approval of NIOSH also confirms its effectiveness in serving the ultimate protection each time you work in areas that have heavily concentrated contaminants.
As for the flaws, one thing that I discovered is that the straps and their attachments are low in quality, making them vulnerable to breaking sooner than expected.
What We Like
A highly flexible facepiece
Equipped with easy to adjust headbands to accommodate all sizes and shapes of head
Comfortable and lightweight
Promotes unobstructed vision
Can be used even in those areas with heavily concentrated contaminants
What We Don't Like
Low-quality straps and their attachments
Equipped with a great-fitting, convenient, soft, and durable facepiece, this multipurpose respirator from Safety works is surely going to give you satisfaction by delivering superior performance as far as comfort and respiratory protection are concerned.
What is a Respirator Mask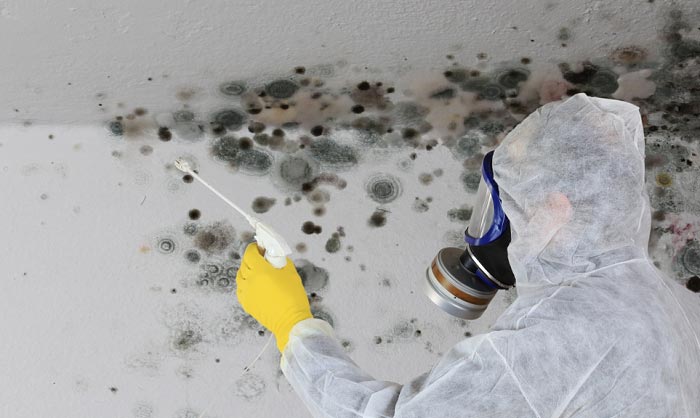 A respirator mask refers to a device mainly designed as a means of protecting the user from breathing in or inhaling particulate matter. These include gases, vapors, fumes, and airborne microorganisms. Also referred sometimes as a gas or dust mask, many consider the use of a respirator a huge help in guaranteeing their safety at work.
It is a protective device capable of covering your mouth and nose or your whole head or face as a means of guarding you against hazardous environments. It is also designed to prevent you from inhaling harmful particles in the air when you are doing or completing tasks at home.
A high-quality respirator also aims to give you protection from harsh and poisonous chemicals and gases that you might inhale, especially in your workplace. Among your options are the full and half respirator masks that can help employees in terms of keeping them safe in their work premises.
Due to the good performance and functionality of a respiratory mask, you can see it being used in different industries and fields, like in mining. You can also see it being used in the police department, particularly the police officers who are involved in the anti-riot department.
Most high-quality respirators are also designed in a way that they can filter the chemicals that penetrate your lungs, especially those that might cause health problems, such as asthma.
The filters integrated into the respirator designed to prevent harmful chemicals from entering your body, so preventing rashes and allergies affecting your airways that might eventually result in serious breathing issues is possible.
How Does It Work
You can expect the respirator to work by filtering air particles, cleaning or purifying the air in a chemical manner, or providing clean air from an outdoor source. It also works based on the specific category where your chosen respirator belong.
If you choose the air purifying type, for instance, then you can expect it to work by forcing the contaminated air using a filtering element. In case you own a respirator under the air supplied category then it works by delivering fresh air from an alternative source.
Each category actually employees a different technique when it comes to reducing or fully eliminating the noxious and toxic contaminants in the air. It also works depending on the cartridges and the filters it uses.
Types of Respirators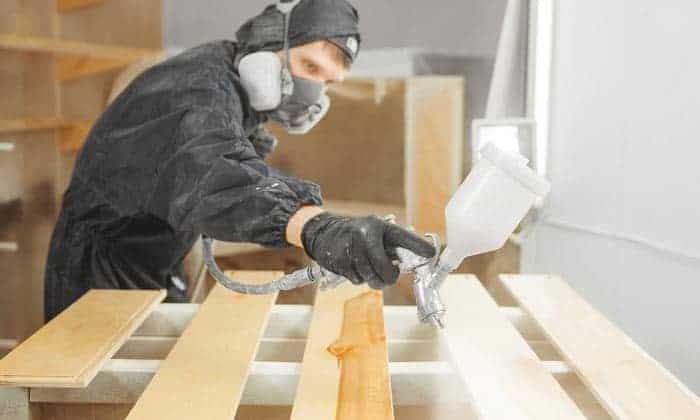 When trying to pick the most suitable respirator for your needs, understanding its different types is necessary. You have to know each type of respirator so you can better decide which one can support your specific needs the most. Among the types of respirators are the following:
Particulate respirator – This is the least expensive and protective and the simplest type of respirator that you can access at present. It protects you from the basic particles in the air, like dust. Since it has the least level of protection among the different kinds of respirator, you can't expect it to give you protection from vapors, gases, and chemicals.
It is only effective for low levels of safety hazards. One example of particulate respirator is the N-95 filtering facepiece or N95 mask. You can often see this in hospitals as a means of protecting the staff from infectious agents and particles.
A particulate respirator can also be categorized as air purifying because it cleans particles from the air each time you breathe. In most cases, this type is disposable, which is also equipped with a disposable filter. You need to replace it once it gets clogged, damaged, or discolored.
Gas Mask Respirator – Also called as a chemical cartridge respirator, the gas mask respirator, which is categorized as air purifying too, can clean or filter chemical gases present in the air while you are breathing. This gas mask respirator consists of a mask or facepiece and canister or cartridge.
It features straps that work in securing the built-in facepiece into your head. This respirator's cartridge is also equipped with a filter, which helps in removing particles. If you pick the gas mask respirator, you have to remember that it will only be effective if you use it with the right filter or cartridge for a specific chemical biological substance.
Also, take note that it utilizes a replaceable chemical canister or cartridge as a means of removing the contaminant. If you want the respirator to protect you from more than one safety hazard, then you might need to use or invest in more than one cartridge.
In addition, keep in mind that this respirator mask is available in two major types – the first one is that which covers your mouth and nose as a means of protecting you from breathing in harmful gases. The other one covers your whole face as a means of preventing you from breathing in dangerous particles and developing facial skin irritation.
Powered Air Purifying Respirator – This type of respirator utilizes a fan as a means of drawing air using the filter. One advantage of this type is that it guarantees ease when it comes to breathing. However, it also requires the use of a fully charged battery for it to function correctly and properly.
It uses a similar kind of cartridge or filter compared to other air purifying respirator. Just make sure that you are completely aware of the specific hazard you are facing and the specific amount of it present in the air so you can choose the right cartridge or filter.
Self-contained Breathing Apparatus – This type of respirator is the one often used by firefighters. It utilizes its own air tank as a means of supplying clean air. With that in mind, you do not have to think too much about investing in filters.
It is also a good choice because of its ability to protect you from highly concentrated dangerous chemicals. One drawback, though, is that it is quite heavy. Also, you might need to undergo special training on properly using and maintaining it before you can finally use it.
Why Do You Need to Wear Respirator Masks
Wearing a respirator mask is a must for workers considering the fact that it plays a huge role in the overall protection of workers. The following are just some of the rewarding things you can get from investing in and using a respirator mask:
Promotes respiratory protection – One amazing thing about a high-quality respirator mask is that it works in protecting workers like you from a wide array of particulates, gases, and vapors. It is particularly helpful in grinding and welding jobs, utility industry, pharmaceutical industry, industrial paint shops, and maintenance.
Each respirator can actually offer a specific level of protection from airborne safety hazards. It has an assigned protection factor, which indicates the amount of protection it offers from air contaminants. For instance, the standard half facepiece respirator boasts of a 10 assigned protection factor.
This means that its level of protection actually works for concentrations that are up to ten times your permissible exposure limit. With that, it is truly effective in preventing issues that might affect your lungs and respiratory system.
Protects your head, face, and eyes – Wearing a respirator can also keep your head, face, and eyes protected. It is especially true if you decide to get respirator systems that are already equipped with loose-fitting facepieces hoods, and helmets. This type of complete protection can give you peace of mind while you are at work.
Aside from a couple of benefits mentioned, workers whose job requires them to stay in environments with an inadequate supply of oxygen or where there are harmful fogs, mists, dust vapors, sprays, gases, fumes, and smoke need to wear a respirator.
It is because these are health hazards that can trigger lung impairment, cancer, and any other life-threatening disease. Wearing a respirator is also essential in workplaces that have toxic substances and insufficient engineering controls to eliminate and reduce them.
Buying Guide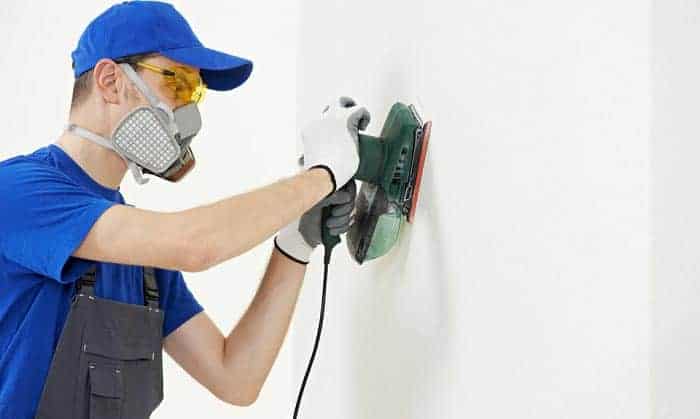 When shopping for the best one, you have a better chance of getting a genuinely high-quality one if you consider these key and crucial factors:
Fit – One thing that you should not forget to consider when shopping for a high-quality and suitable respirator for your specific requirements is the fit. Note that your comfort and the overall performance of the respirator will depend on how good it fits on your face.
The fit should be secure without any sign of a gap in between the seal and your face. If you are investing in a half-face respirator, then keep in mind that one strap often holds it in place. The full-face respirator, on the other hand, features 4 to 5-point straps.
Also, keep in mind that while all these respirators underwent testing before reaching the market, the whole process does not take into full account the individual and unique facial shapes of different users.
If your job requires you to deal with substances, like asbestos or lead, in a professional amount then you can expect your employer to provide a quantitative or qualitative fit test before looking for a respirator for you. Ensure to take this test and find a respirator, which fits well and does not have any leakage.
Material – To maximize your comfort and the durability of the respirator, it should be constructed out of high-quality material. That said, it is a must to spend time examining all the materials that go into manufacturing the respirator you are planning to buy.
This is crucial as there are still low-quality respirators currently in the market. The most famous materials used in creating the respirator are rubber, neoprene, and silicone. Many respirator users actually prefer the silicone material because this is easy to clean plus it is flexible and offers superior comfort.
You can also find respirators constructed from a butyl rubber material. Some of them are equipped with lenses made of polycarbonate material. What you have to assess when choosing the right material is how sturdy it is and how comfortable it feels once you begin wearing it in the workplace.
Adjustability – You also have to check whether the high quality P100 respirator is adjustable. Check the straps and find out if they are fully adjustable as the adjustability of the respirator will contribute a lot in getting not only a proper fit but also a good seal in the areas surrounding its exteriors.
Make sure that the built-in straps are easy to reach, too. This makes it possible to make the necessary adjustments even if the respirator is still on your face. This means that there is no need for you to remove it.
Respiratory Hazard – It is also advisable to assess the level of safety respiratory hazards you are dealing with regularly. Find out what hazards are around you so you can decide which among the different kinds of respirator suit you well.
Among the things that you have to check out are the types of contaminants you need protection from and their form and level of toxicity. It is also important to determine the contaminant's concentration, as well as how long you will be exposed to it and how sensitive you are to it.
By gathering information about these things, you can figure out what kind of respirator can perfectly suit the kind of protection you desperately need.
Comfort and Weight – Make sure that you are comfortable wearing the respirator, too. Note that if you are not comfortable, you will most likely be tempted to remove it or not wear it at all. One way to guarantee a comfortable experience with the respirator is to pick a lightweight one.
Note that a heavy respirator might also cause you to experience fatigue quickly. You need a lightweight one, especially if you are planning to wear the respirator for a longer time. Another thing to assess is your individual and unique requirements.
For instance, you need to look for a respirator, which is convenient enough for you to wear if you are also wearing other items apart from it, like glasses or other protective equipment.
When planning to buy a good respirator mask, you have to remember that not all brands and models are built equal. Make sure that you find one with cartridge connections found on its two sides, instead of just in front or on one of its sides.
It is because this can boost its flexibility while allowing you to attach a replacement cartridge prior to the actual expiration of the first one. Also, remember that most cartridges have their own shelf lives. This is the main reason why you need to have a good supply of cartridges so you can have their replacements ready.
Care and Maintenance
Taking good care of your respirator is crucial in extending its life. One thing that you have to do is to clean it right after you use it. Also, make sure to take good care of the filters to extend their life. To do that, ensure that you store it away from moisture. Note that if it gets wet, you can no longer use the filter as changing it is a must right away.
The respirator should also be inspected and examined regularly for things like cracks, tears, missing parts, dirt, distortion, and any other signs of damage. Inspect important parts, like the straps, exhalation and inhalation valves, as well as the plastic portions of your respirator.
Store the respirator in a place that is far from any contaminated spot. As for the filters and cartridges, ensure that these are stored in a place, which is clean and far from the storage areas of pesticides.
In case the one you are currently using is an organic vapor cartridge, it would be best to store it in a plastic bag, which is sealed. This will prevent it from continuously absorbing contaminants found in the air.
Frequently Asked Questions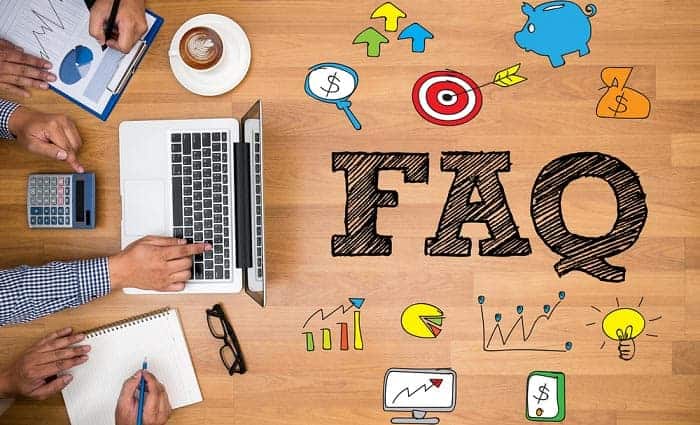 What are good respirator mask brands?
With the proven importance of respirator masks at presence, it no longer comes as a surprise why you can see a huge increase in the number of brands promising to deliver high-quality and professional-grade products in this category. If you are looking for one, then you may want to spend time checking out the products of trusted and reputable brands, like 3M, GVS, Breath Buddy, and Safety Works.
What are respirator masks used for?
Respirator masks have several uses – one of which is to give you maximum protection for your respiratory system and your lungs. It is commonly used in various industries and work applications and environments.
As a particulate respirator, you can also see it in hospitals being used by the staff to give them protection from infectious agents. These respirator masks also work in purifying the air as these are designed in a way that these can clean particles from the air while you are breathing.
Full face vs. half face respirator: What is the difference?
Full face and half face respirator refer to the non-disposable type of respirators. Both of them come with two sets of straps, two filter pieces or cartridges, and a mouthpiece. One difference between the two is that the half face respirator only has limited coverage, specifically your mouth and nose.
On the other hand, the full face respirator has complete coverage, covering your whole face. The two respirators, however, can be expected to work similarly as far as creating a facial seal and filtering the air that enters and exits your airways are concerned.
Full face and half face respirators are two of the most common respiratory protective devices you can find today. While the two offers respiratory protection, keep in mind that they are still different.
The half face respirator is made in a way that it covers your nose and mouth only while the full face respirator works by covering your entire face, including your eyes. Due to its complete or full coverage, you can expect the full face respirator to offer better protection compared to the half face type
It also features better sealing qualities because of its ability to seal around your entire face instead of just around your mouth and nose. Aside from your face, it also covers your eyes, protecting you from irritating and harmful vapors and liquid splashes. Both, however, need to be attached with pre-filters, cartridges, and filters based on the specific hazards you wish them to deal with.
Is a respirator good for Covid?
Yes. According to the Centers for Disease Control and Prevention (CDC), both masks and respirators such as N95 and KN95 can reduce COVID-19 transmission.
Keep in mind that masks and respirators provide varying levels of protection. However, studies show that wearing respirators can reduce the risk of testing positive for COVID by 83%. A surgical mask can only decrease the chances by 66%. This means that respirators offer better protection than surgical masks.
Either way, masks and respirators can only work if they are worn properly and consistently. That's because an ill-fitting mask may not sufficiently cover the nose and mouth and leave an opening for the virus to enter.
What is an OSHA respirator?
As stipulated on OSHA's website, the whole objective of wearing respiratory protection is to prevent occupational diseases caused by breathing in contaminated air. Examples of contaminants include dust, fogs, fumes, gases, mists, sprays, smokes, and vapors.
Employers are expected to provide each employee with a respirator for industry settings. They are also required to develop and implement a written worksite-specific respiratory protection program.
That said, I'm sure many of you know there is no single type of mask that would be considered an "OSHA respirator."
Respirators that carpenters for woodworking have different features compared to the masks that farmers wear for pesticides. Likewise, builders will wear respirators specifically for construction, which feature filters that are different from those for mold protection.
To be clear, the Occupational Safety and Health Administration (OSHA) sets regulations and enforces them. Meanwhile, the National Institute of Occupational Safety and Health (NIOSH) is a branch of the CDC that researches and regulates workplace conditions to prevent accidents and diseases.
Hence, you will find product descriptions saying "NIOSH-approved" when buying a particulate respirator.
What is the difference between a mask and a respirator?
A disposable surgical mask provides a barrier against large droplets, sprays, and splashes of bodily fluids. Furthermore, it protects the wearer against respiratory emissions.
Outside of clinics and hospitals, a medical mask can protect you and the people around you from droplets that come from your mouth and nose when talking, sneezing, or coughing. It is more loose-fitting, thereby allowing some emissions to leak inside through the mask's edges.
By contrast, a protector respirator, or fume respirator, is used mainly by workers who need protection against 95% of airborne particles, big and small. It is tight-fitting, ensuring minimal leakage if you wear them properly.
Apart from healthcare workers, respirators are worn by people who are exposed to particulate hazards like dust, fibers, or gas and vapor hazards.
What are respirator masks made of?
Best Respirators are usually composed of materials used in dust masks or filtering facepieces. In general, they are directly constructed from a filter material, which resembles that of a cloth. As for the gas mask or the chemical cartridge respirators, different materials, like rubber, neoprene, and silicone often composes them.
How long do respirator masks last?
In most cases, the respirator masks can be expected to last based on the length of time the filters are usable. In that case, you can expect the respirator filter to last for a max of five years if it is not opened yet and it is still on its original packaging. Once opened, the filter's life will be reduced to six months.
How long can you expect the respirator filters to last?
The filters in your respirator can't be expected to last for a lifetime. In fact, there is a tendency for the filters and cartridges integrated into the respirator to degrade or deteriorate over time. Generally, you will need to have the filters replaced in case it gets soiled or damaged or when it is already difficult for you to breathe.
However, even if the mentioned signs did not happen, it is still advisable to dispose of or replace the filter after around forty hours of being used or thirty days, whichever one of the two comes first.
Do respirator masks come with the filter?
Yes, the respirator normally comes with the filter because it is a vital component for this respiratory protection equipment to work. It has the filter necessary in preventing dust, chemicals, or any other harmful particles found in the air from reaching into and harming your lungs.
Note that the main goal of the respirator is to protect you. Provided it fits well, the built-in filter can help in filtering the chemicals and substances around your workplace. It cleans and filters chemical gases and particles from the air while you are inhaling or breathing.
How to choose the right size?
Picking an accurate size is crucial if you want to be able to enjoy using the respirator for protection. It is because this has a major contribution to how comfortable you will feel once you begin wearing it at work. In most cases, you can just consult the sizing chart provided by your chosen manufacturer or brand.
It would be best to try it personally. What you have to do is to wear the respirator first then tighten the straps. Gently put your hands over the mount holes of the filter but avoid pressing in. The next thing to do is to breathe in. You have to pick another respirator if it tends to leak around your face.
If it does not then it might be the right size and adequate fit for you. When buying online, you can check the sizes offered by the manufacturer. Some offer multiple sizes so pick one which most likely gives you a nice and secure fit.
How to wear a respirator mask?
Wearing a respirator mask correctly contributes a lot to its overall effectiveness and its ability to give you comfort and superior protection. The first thing that you should do when wearing the respirator mask is to cup it in your hand. Make sure that its nose piece can be found at your fingertips.
This will let its headbands hang freely beneath your hand. Put your respirator mask beneath your chin. The nosepiece should be facing up. After that, look for the top strap then pull it over your head. Do this until the time when it rests on your crown just over your ears.
Look for the bottom strap then pull it over your head. Put it at the back part of your neck. It should be done in a way that it rests lower than your ears. Aside from these steps, make it a point to consult the instructions that are always included in the packaging. Follow the instructions strictly to guarantee a proper fit.
How to clean a respirator mask?
Cleaning your respirator mask involves a simple process. What you should do is to remove the respirator's cartridges and filters right after using it. Use warm water and a simple detergent solution to clean the respirator. Make sure to choose a detergent without oils or lanolin.
Get a soft brush then use it in getting rid of all residues, especially the really visible ones. Once you are done with washing, use a disinfectant to soak the respirator. One simple disinfectant that you can use is a 30-ml bleach that you have to dilute in around 7.5 liters of water.
After disinfecting the respirator mask, you have to rinse it in warm water. Let it air dry before storing it.
Will full face respirators fit over glasses?
If you are one of those who wear glasses then you may be wondering if you can wear a full face respirator. Well, if what you are using is a pair of corrective contact lens then note that you can conveniently wear either a half-face or full-face mask. You can also fit chemical goggles over it.
If you are wearing the traditional glasses, though, then consider getting a full face respirator, which is equipped with the right corrective glasses insert. It is because the eyewear's arms might interfere on how the mask properly fits.
Should I shave to wear respirator masks?
Beards and facial hair are not actually banned completely when you are planning to wear a respirator mask. However, it is crucial for most employers to make sure that any employee with a beard who needs to wear a facepiece with a tight fit should trim their beards.
This is crucial in ensuring that the facial hair or beard does not interfere with the respirator's sealing surface. It should not also be so large that it already starts to affect the function of the valve negatively.
Is it okay for anyone to wear a respirator mask?
One thing to remember about respirators is that while most of them are built for comfort, it is still undeniable that breathing with it worn is more difficult than when you are breathing in the open air. With that in mind, there are specific people who might not be appropriate to wear it.
Among them are those with lung diseases, like emphysema or asthma, the elderly, as well as those who have breathing problems. Those who are claustrophobic might not also be suitable to wear a hooded respirator or mask.
Furthermore, those who have vision issues might not benefit from the respirator as this might cause them to have problems seeing. Still, if you are one of them, you can access special masks or respirators specifically designed for those who also need to wear glasses.
Conclusion
Investing in the best respirator is really necessary if you are constantly exposed to safety hazards due to the air you are breathing in. However, with the numerous styles, designs, and types of respirators currently in the market, you might find it overwhelming to pick a great choice.
Fortunately, this buying guide is now at your fingertips. Hopefully, this can help you find a respirator, which is compatible enough with your requirements and capable of showcasing its excellent performance and functionality.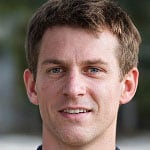 Having worked in the field of personal protective equipment for over two decades, Andrew Carnegie is a specialist in the field.
At EDC, he strives to improve performance efficiency and promote workplace safety for EDC's readers and customers. He also researches the most up-to-date equipment that has earned relevant accreditation for use in a wide range of industries and specialties.