Do you want the tools and accessories you use at work to be within easy reach and organized in just one spot? Then investing in the best portable tool box is the solution. As a busy worker, you most likely want your tools and accessories to be within your easy reach and in an organized manner.
Organizing such items in the best mobile tool box promotes utmost convenience and gives you an easier time while you are at the worksite. It is even possible for you to find the best portable rolling tool box, which comes with wheels and handles, thereby promoting ease in transporting it from one spot to another.
Several cool tool boxes even feature a number of drawers and compartments, so all your tools and accessories will be accommodated. With all the things it can do to simplify your daily tasks, having a tool box around is a big help whether you are an electrician, contractor, technician, DIY enthusiast, or any other kind of worker.
However, before deciding to buy a portable tool cart or tool box, it is advisable to scrutinize and analyze all your options. Find the most appropriate one for you through our short reviews of the top tool boxes of today.
Best Portable Tool Box Reviews of 2022
1. Keter 241008 Masterloader Portable Tool Box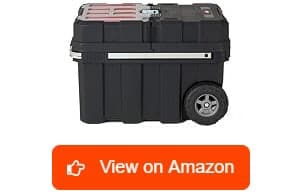 The Keter 241008 is a fantastic choice if you plan to own the best tool box on wheels. Constructed out of sturdy plastic material, this tool box from Keter acts like a reliable and portable shop. It comes with an interior, which is built in a way that it can maximize the available space in there.
It even features a tool divider, which I really like, because it promotes ease in compartmentalizing your tools. I like the top compartments because they provide segmented storage solutions for your most commonly used tools, including small items. There is even a transparent lid, which is beneficial because it lets you see clearly where to find a specific item.
You can slide the top boxes or compartments apart to see the tool box's lower compartment, which boasts of open space. I think this space perfectly suits large tools. Aside from that, this Keter tool box features removable dividers, providing more potential in terms of organization.
I am also in awe of the polypropylene resin used in creating the tool box as this is sturdy plus capable of resisting fading and chemical damage. If you have heavier tools then rest assured that the tool box can handle that with the help of its heavy-duty frame. It has 7-inch wheels made of rubber designed for ease of mobility.
You will also experience ease rolling the tool box around with the aid of its extendable handle. The fact that this portable tool box from Keter also features a central auto-locking device means that your tools will be stored securely.
One issue I encountered, though, is that it is not that easy to use in work settings that require you to climb stairs.
What We Like
Compartmentalizes your tools for further ease in storage and organization
Equipped with removable dividers
Sturdy and chemical-resistant polypropylene resin used as one of its materials
Features a heavy-duty frame, making the tool box capable of handling heavy items
Promotes ease of mobility, thanks to its 7-inch wheels
What We Don't Like
Not that suitable for work involving the use of stairs
With this Keter portable tool box, you will experience ease and efficiency when it comes to storing and organizing your hand tools, power tools, and any other items you need to use frequently at work.
2. Stanley 037025H Mobile Chest
The second product I would like to recommend is the Stanley 037025H Mobile Chest. With all the features it has, I noticed that it caters specifically to the needs and demands of all technicians, carpenters, and construction workers, among many others. It has a built that makes it a perfect fit for carpenter tools, like power drills, circular and reciprocating saws, nail guns, and other accessories, like sanders and grinders.
I love the enormous storage capacity of this famous Stanley tool box. It is designed to be big and spacious enough so it can accommodate and store many tools regardless of their sizes. It has a 50-gallon capacity.
The suggested max weight limit for this mobile chest is actually a hundred pounds but several users say that it does not have problems carrying items up to 500 pounds. I like the built-in steel handle, which is around 15 inches in length, as it also boasts of its soft grip for easier and more comfortable maneuverability.
The soft grip on the handle even makes it possible for you to pull it even for a long period with a lower risk of experiencing fatigue. It also has wheels coated in rubber material, thereby promoting ease in maneuvering the mobile chest. I like the lockable design of this tool chest.
It features locks and keys, thereby ensuring that your stored tools are safe and secure from potential theft. It takes pride in its portable and mobile design, which prevents you from experiencing problems moving it around.
The handles are even collapsible, making this tool chest travel-friendly. Furthermore, it boasts of its wide work surface, which makes it possible for you to do some tasks on top of it.
However, because of its large and bulky size, it may not work conveniently in some work environments.
What We Like
Features a lockable design, promoting the security of your items
Portable and mobile, which means that you can easily bring it on travel
Features a wide work surface
Boasts of its enormous storage capacity
Easy to maneuver, thanks to its wheels
Still, this portable tool chest from Stanley is a sound investment as it is well-designed, easy to maneuver, heavy-duty, and secure.
3. Husky Great Design Cantilever Mobile Tool Storage
For several decades, Husky has been known for creating and supplying high-quality products and storage solutions to the public, and the brand's 25-inch Great Design Cantilever Mobile Tool Storage is not an exception. This is a heavy-duty mobile tool storage solution, which organizes tools and parts in a unique manner.
I think among the major components of this tool storage solution that make it truly awesome are the customizable compartments (18 of them to be specific) that can securely hold small parts and fasteners. I am in favor of how the base unit is designed, too, as it allows it to have a higher capacity to hold power tools.
It is mobile on all forms of surfaces, thanks to its all-terrain wheels that are around 8 inches in size. I think that the extendable metal tubular handle combined with the wheels also contribute to its mobility on all terrains. This product also has a top lid area featuring a unique cantilever lid, which offers integrated organizers.
The cantilever lid also features flip-out trays that promote ease of access to your tools. This portable tool box with drawers and compartments is also famous for its robust design. It is even built to withstand abrasion and heat.
The versatility of this tool box is also noticeable since you can use it in all platforms plus it is capable of fitting all kinds and sizes of tools and accessories. You can also keep the contents of this tool box secure with the help of the provided padlock. There are also dual latches designed to provide additional security and safety to the contents of the box.
However, one flaw you have to remind yourself about this mobile tool storage is that it is not waterproof.
What We Like
Heavy-duty and robust design, capable of withstanding abrasion and heat
Versatile as it is compatible with all platforms while fitting different tools and accessories
Plenty of storage capacity guaranteed
Can be padlocked for security purposes
Highly mobile, thanks to its wheels that can handle all terrains
Despite that, this mobile tool storage solution from Husky is famous for containing all the features that are essential securely organizing the tools and accessories that you usually use at work.
4. DEWALT DWST17806 TSTAK VI Deep Box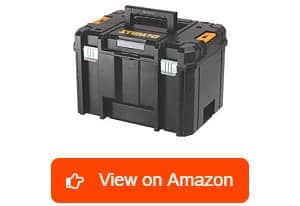 If you are looking for stackable tool boxes then the DWST17806 TSTAK VI Deep Box will surely fit your unique requirements. This specific DEWALT tool box is famous for its flexible platform that supports various combinations. You can stack all its units over each other and connect them using the sturdy side latches.
What is great about the built-in latches is that they promote ease of carrying the box and secure stacking. I also noticed that the hinges and latches used in the deep box are constructed from heavy-duty metal, which further enhances the box's durability. I like how versatile this DEWALT tool box is made to be.
It showcases enough versatility and flexibility in the sense that you can store a wide range of tools inside it – among which are cordless and corded tools. I am also delighted with the removable tray built into the box as it helps ensure that accessing certain tools will be easier.
In terms of its overall construction, I could not find a fault in this portable tool box from DEWALT as I noticed that it is indeed built to last. Compared to other lightweight toolboxes, this one has latches and hinges that are truly dependable and reliable. It takes pride in its compact and portable design, too, making it easier to manage.
The fixed dividers in this unit also ensure that you can organize bits and drills well with minimal effort. Furthermore, I find the additional bi-material handle beneficial as it ensures that you can comfortably and easily lift the unit.
However, one issue I have with this DEWALT tool box is that its drawers can't be locked.
What We Like
Highly versatile and flexible design
Compact and portable, promoting ease of maneuverability
Promotes ease and comfort when lifting the unit, thanks to its bi-material handle
Robust and sturdy, thanks to its reliable latches and hinges
Stackable design
Still, investing in this portable tool box from DEWALT is a decision you will not regret because it can store a lot of your stuff while taking pride in its versatile and stackable design.
5. Waterloo Portable Series Tool Box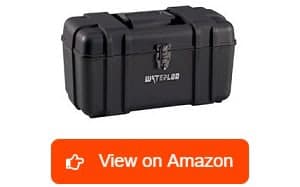 The next tool box that deserves positive reviews is the Portable Series Tool Box offered by Waterloo. Constructed out of tough, sturdy, and hard plastic, it is possible for this Waterloo tool box to deal with various elements thrown at it no matter how rough or harsh they are.
The toughness of the construction is also one reason why it tends to last for several years. Another reason why this tool box gained my attention is that it tends to offer a high level of protection while remaining affordable. It is lightweight since it does not use metal in many of its parts, except for the hinges and latch.
I like the built-in tote tray, which you will see within the tool box since it is built in a way that you can organize small parts and tools. Another advantage of the tray is that it is removable.
I am pleased to announce that the tool box features a handle boasting of a comfortable grip. This offers extreme convenience if you intend to bring the item into another place. Because of the comfortable grip, you will have an easier time carrying the tool box with just one of your hands.
The trays in this small tool box with drawers also come with molded handle. This makes it possible for you to carry the trays separately or remove them entirely with the aim of creating a deeper tool box. With that, it will have the ability to hold large power tools.
It is versatile because aside from being a tool box that you can bring at work, it also works great if you stack and store it in your shop, garage, or home. Since this tool box features a small and compact design, you will have no problem stacking it on other boxes so you can store it conveniently when you are no longer using it.
However, some users, especially those who are really in need of numerous tools at work, say that the storage space is inadequate considering the box's small size.
What We Like
Tough and sturdy construction, resisting all sorts of elements
Comes with removal trays that can hold small tools
Portable, compact, and lightweight, promoting ease in carrying and storing it
Features a handle that has a comfortable grip
Lockable, making the tool box more secure
What We Don't Like
Not as spacious as other tool boxes
Despite that, the Waterloo Portable Series Tool Box already delivers a decent performance for the majority of its users, making it deserving of a spot in this comprehensive review.
6. Craftsman 3-Drawer Metal Chest Tool Box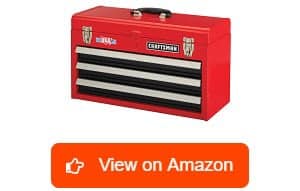 The next product I wish to talk about is the 3-drawer Metal Chest Tool Box offered by Craftsman. With its red paint, you are assured of its visibility. What it means is that finding it in your garage or any other place is easier. I am so delighted to say that it has three drawers, promoting ease in tool organization since you can categorize them.
The fact that the organization is categorized means that you will not have problems accessing your stored tools. I like how durably constructed this Craftsman tool box is. The entirety of the tool box is constructed out of metal, which confirms its long-lasting ability as well as its effectiveness in carrying out heavy-duty uses.
This tool box also leaves an impression through its sturdy draw bolt fastening system, which guarantees users that the contents inside will stay well-protected and secure. It has a sturdy cover hinge, which leads to easy and convenient tool access because it helps keep the drawers and lid open.
When you fasten the lid shut, the compartments can be expected to close and lock automatically, protecting everything inside. I like the compound-action drawer included in this tool box, too, because it tends to slide close and open with ease when handling heavy loads.
I am also happy to see that there are hasp and staple designed for padlocks as this makes the contents of the tool box even more secure.
One noticeable flaw, though, is the lack of wheels that are supposedly helpful in maneuvering the tool box.
What We Like
Comes with compartments with automatic closing and locking function
Highly protective and secure because of its draw bolt fastening system
Sturdy metal construction
Capable of protecting the contents inside
Provides a huge tool organization and storage capacity
Despite that, no one can deny how valuable and useful the Craftsman 3-Drawer Metal Chest Tool Box especially for professional tradesmen and workers who want to make their most used tools handy and easily accessible.
7. Milwaukee 48-22-8426 22-inch Rolling Tool Box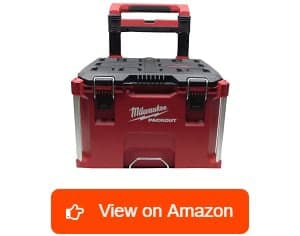 If you are interested in owning a Milwaukee tool box because you realized how sturdy and high-quality the brand's products are, then you should never go far and check out its 48-22-8426 22-inch Rolling Tool Box. The overall built of this rolling tool box is solid and tough while still being easy to maneuver.
One thing I love about it is its high weight limit that can reach up to 250 lbs. This indicates how strong and sturdy this tool box is as it is capable of handling really heavy loads. Despite its high weight limit, this professional rolling tool box still boasts of its modular design.
In other words, it is possible for you to break down this item in order to create a lighter version of it. Do not be fooled, though, as this tool box is already relatively lightweight on its own without having to break it down.
Also, note that even if it is built to be robust, I still noticed that this stackable tool box can smoothly roll over different terrains and surfaces. In my opinion, this capability can be attributed to the tool box's all-terrain wheels. I am glad that there is an industrial-grade and heavy-duty extension handle built into this tool box as it also prevents difficulties carrying the item.
Another thing that makes me amazed about this tool box is that it supports single-handed operation as it slides and locks grip with ease. This capability also promotes a hassle-free experience when you attach and remove certain components. I am also in favor of the solid and stable drawers because of their customizable slots.
You will notice that it is built to be even sturdier with the aid of its locking points reinforced by metal material and its strengthened corners. It also supports an increase in its carrying capacity by allowing you to add another box on top of its three built-in boxes.
However, I am not that fond of its price as it seems to be slightly higher than the others that hold similar features and quality.
What We Like
Solid and tough metal built
High weight limit
Good storage capacity while also giving you the chance to further increase it
Well-reinforced and strengthened, making it even more solid and stable
Easy to maneuver even on tough surfaces, thanks to its all-terrain wheels
While offered at a slightly higher price, you will still be delighted by purchasing this tool box from Milwaukee because it holds the majority of features and qualities you wish to see and enjoy from a tool box.
8. Stalwart Heavy-duty Rolling Tool Box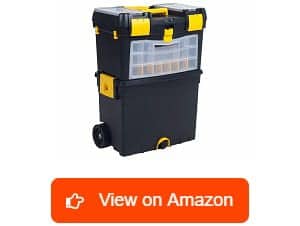 I also would like to highlight this heavy-duty rolling tool box from Stalwart in this fair and legitimate review article. One thing that makes this rolling tool box remarkable is its heavy-duty nature while remaining portable and easy to handle. I find its rugged and robust design amazing.
I instantly sensed its robustness and durability because of the strong polypropylene and metal combination used in constructing the tool box. I like how this solid and stable construction work in ensuring that your hand and power tools stay safe and secure while in transit.
The same protection can also be received if you bring it at a site, which requires you to move around frequently. This tool box also guarantees ease of mobility, thereby ensuring that you can work while on the go. It is due to the built-in nylon wheels that can be used smoothly to roll the tool box around.
Furthermore, it features a fold-down handle taking pride in its comfortable grip, giving you the opportunity of bringing all your required tools each time you get an off-site job. The storage capacity of this rolling tool box is also impressive.
It has a total of 24 compartments for small parts, a bottom compartment with enough depth for all essential supplies and tools, and a couple of tool trays with a removable design. I like the included cable hooks, too, because it prevents you from worrying too much about tangled or lost extension cords.
You can also use these hooks to hold small supplies and accessories, including tape rolls.
However, this Stalwart rolling tool box may be incapable of handling too much load, particularly one beyond its threshold or limit.
What We Like
Solid and stable polypropylene and metal construction
Impressive storage capacity, thanks to its spacious compartments and tool trays
Features cable hooks to prevent tangled or lost cords
Highly mobile, thanks to its strong and sturdy wheels
Easy to carry and move around with its comfortable handle
What We Don't Like
Not ideal for extremely heavy uses
Overall, I find this tool box from Stalwart truly economical and practical and is a sound investment for workers who intend to keep their tools in a safe, organized, and structured manner.
9. DEWALT DWST20800 Mobile Work Center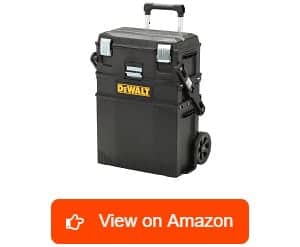 The next product that deserves positive recognition is the DEWALT DWST20800 Mobile Work Center. I noticed that it is a big help not only for professional workers but also for anyone who just needs to carry several gears with them to do some stuff. With this product from DEWALT, you can have a portable workshop to make you fully prepared and improve your efficiency at work.
What I find beneficial about this mobile work center is that it features four separate tool boxes – all of them are useful all the time. The four work levels or boxes can be used to store multiple items in an organized and secure manner. I am in favor of the top tool compartment because you can open it up to put important parts and accessories.
I am also satisfied with the tray built on top of it, which you can use to keep and store the items you frequently use, particularly small-sized ones. It also boasts of a large bottom bin for larger tools. Another recognizable benefit of this mobile work center is that you can easily transport it, thanks to its heavy-duty wheels that suit all terrains.
Storing it when you are no longer using it is also easy considering its portability. This product's telescopic design is also a big advantage since it allows you to fold it out from one rectangle and create a 4-tier workstation. You can do that effortlessly since it just involves a single push of one latch.
It also boasts of its telescopic handle, which allows you to hold it ergonomically, thereby promoting ease in maneuvering it. It is even possible to lower the handle for proper storage.
The included ball-bearing slides are also beneficial as these allow the smooth opening of the tool box even if it carries heavy loads.
The only downside I recognized in this tool box is that it is slightly heavier in comparison to other tool boxes currently available in the market.
What We Like
Highly portable, making it easy to bring to various job sites
Offers more than adequate space for your stuff
Features an ergonomic telescopic, further making the tool box easily maneuverable
Can be opened smoothly even when fully loaded, thanks to its ball-bearing slides
Easy to transport with the help of its heavy-duty and all-terrain wheels
What We Don't Like
A bit heavier compared to other tool boxes
The added weight is still manageable, though, so you can rest assured that it will not significantly hamper nor negatively affect your work performance and efficiency when you decide to use it for better productivity.
10. Milwaukee 22-inch Pack-out Rolling Modular Tool Box
The next tool carrier that I wish to talk about is this 22-inch Pack-out Rolling Modular Tool Box, which is another amazing offer from the trusted brand, Milwaukee. I can prove that this modular tool box is one of the sturdiest tool boxes you can find in the market today because of its high 250-lb. capacity.
This high weight limit/capacity strongly indicates that it indeed boasts of a solid, tough, and durable construction. I am very pleased with the modular design of this famous and professional tool carrier as this makes it possible for you to break it down, making it lighter in weight.
Note, however, that is already lightweight, portable, and easy to manage. The extreme robustness of this tool box is also amazing because it does not hamper its ability to be stacked. This means that you can easily stack it and roll it over a number of surfaces, even rough ones.
What I like even more about this portable tool box from Milwaukee is that it allows you to expand its carrying capacity by adding another box over the three boxes already included. This tool box also boasts of its weather-sealed construction, making it even tougher to deal with harsh job site situations.
It even takes pride in its strengthened corners and locking points that are all reinforced with metal to make them stronger.
However, the price of this Milwaukee tool box is noticeably high.
What We Like
Weather-sealed, allowing it to withstand even harsh work environments
Highly durable and tough
Lightweight, portable, and easy to manage
Stackable and boasts of a high weight capacity
Equipped with strengthened corners and reinforced locking points
To conclude, this amazing tool box has enough storage capacity and high weight limit, so even if it is expensive, it is still one of the soundest and wisest investments anyone can make.
11. Stalwart Stackable Rolling Mobile Tool Box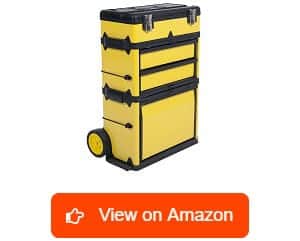 I am also sure that you will not run out of reasons to love this amazing Stackable Rolling Mobile Tool Box offered by the renowned and trustworthy Stalwart. One incredible quality of this tool box is the ruggedness of its design. I can prove this quality because of the combined metal, PVC, and polypropylene materials used in creating it.
This combination makes the tool box strong and durable and more capable of safely and securely holding your hand and power tools. I also find this tool box easy to move when you need to travel from one site to another. It is even appropriate for use in rough construction environments.
The storage space that this mobile tool box provides is quite enormous. Among the storage options that you can use in this tool box are the two slide-out drawers, storage tray, cable hooks, four removable bungee cords, and tilt drawer – all of which can provide sufficient room and space for your stuff.
It is equipped with a couple of wheels, the reason behind it being suitable for various surfaces and terrains. The fold-down handle also boasts of its comfortable grip, which makes it possible for you to bring it at work in complete comfort. The cable hooks are also amazing additions in this tool box as such prevents dealing with tangled and lost extension cords.
The attached cable hooks also work great if you have small supplies and tape rolls that you want to be held in the tool box. Furthermore, it promotes optional padlock security with the aid of the metal hook built into every compartment.
However, I find its axle slightly flimsy, making it incapable of rolling smoothly when heavily loaded.
What We Like
Rugged design, thanks to the combined metal, PVC, and polypropylene materials
Can safely and securely hold your hand and power tools
Plenty of storage space guaranteed
Can smoothly roll and move over various surfaces and terrains
Features a metal hook in each compartment, allowing padlock security
Despite that flaw, this stackable mobile tool box from Stalwart carries several functional features, making it deserving of the positive reviews it seems to earn consistently.
12. Erie Tools Portable and Heavy-duty Tool Box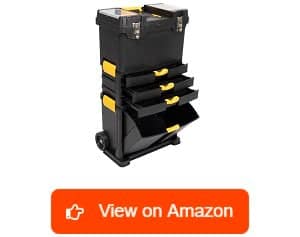 Lastly, I would like to introduce the Erie Tools Portable and Heavy-duty Tool Box, which also gains positive reviews mainly because of its secure and rugged polypropylene build or construction. With its tough and solid built, I can offer an assurance that its contents will receive protection against harsh elements and environments.
It has a sufficient amount of space considering the fact that it has three roomy compartments built to be detachable. Whether you combine or separate the compartments, they are still capable of producing enough storage space for your valuable tools and items.
Transporting this tool box even with its contents is also easy, thanks to a couple of 4-inch wheels integrated into it. Combine that with its foldable auto-lock handle, and I am quite sure that you will not experience any problem lifting it or moving it around. This tool box also takes pride in its comfortable grip, which prevents issues in moving it around.
I find the plastic latching lids amazing, too, because I noticed that they work well in separating nuts and bolts with ease. The price is also very reasonable considering the numerous features you can get from it. I like the fold-out storage bin at the bottom, too, because it is versatile and provides just enough depth for storing your supplies.
I am also glad that this tool box is lightweight plus it showcases water-resistant properties.
However, it is not suitable for extremely heavy tools.
What We Like
Solid and tough built, protecting contents even from harsh conditions
Three roomy and detachable compartments, providing a lot of storage space
Equipped with foldable auto-lock handle
Comfortable to use and move around
Lightweight and water-resistant
What We Don't Like
Not that appropriate for tools that are extremely heavy
For the majority of users, though, this tool box already works amazingly and helps make your job easier to accomplish since you can quickly access all the tools you require.
What is a Portable Tool Box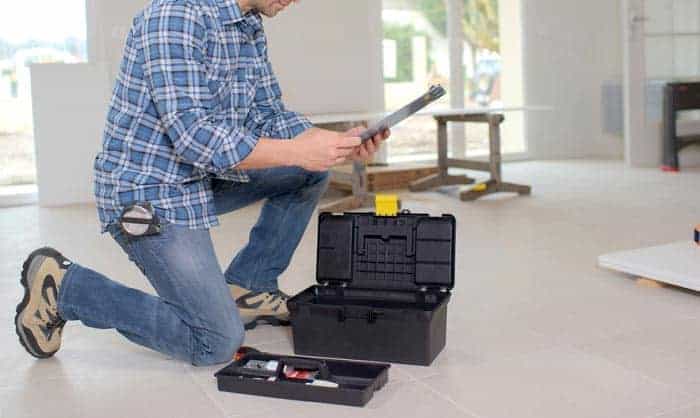 As the name suggests, a portable tool box is a storage system for your tools that you can easily take along with you when you need to work remotely. For the sake of portability, these tool boxes need to be smaller but still have enough space for the most commonly used tools.
If you are a general contractor, and most of your clients only have minor problems that they want to be fixed, you can just bring your portable tool box with you instead of the huge metal cabinet in your workshop because you know you will not be using most of the specialized tools anyway.
Plumbers will also benefit from portable tool boxes, not just because they can hold almost all of the wrench sizes that they use regularly but also because you can find many brands that also make waterproof models.
How Does It Work
Portable tool boxes nowadays are usually made of hard plastic, giving them strength yet still making them lightweight. Although their designs differ, all of these items have larger open storage spaces for large tools. They also have a couple of smaller compartments (like a tray with dividers) to keep the smaller implements organized and easy to access.
Most portable tool boxes also have their own built-in locking mechanism to prevent the theft of tools while the others have reinforced loops for padlocks. These locking systems essentially make the tool boxes into secure lockboxes, mainly because you really have to put a lot of effort into breaking into them.
Types of Portable Tool Boxes
There are many different makes and models of portable tool boxes but most of them follow two basic designs:
Hand-carry Tool Boxes – If you are a tradesperson worth your salt then you need to have at least one hand-carry tool box to hold your usual tools. This is aside from the main tool chest that you have in your garage or workshop.
These tool boxes are either made of hard plastic or sheet metal. The metal tool boxes have the advantage of being more durable but the plastic ones are lightweight and most of them are waterproof. Deciding whether to get a metal or plastic tool box mostly depends on your personal preferences and how you will be using it.
These tool boxes also often have just enough space for the basic hand tools like a hammer, screwdrivers, wrenches that are up to 27mm, and other small hand tools. Some of the bigger models might have some additional space for small power tools, like a hand drill or an angle grinder.
Rolling Tool Box – These tool boxes work on the same principle as rolling tool bag or luggage. You can find several large tool boxes stacked on top of each other placed on a rolling trolley with two wheels. What is good about them is that they can hold even more tools than a regular tool box.
These are basically a couple of hand-carry tool boxes stacked on top of the other. In fact, most rolling tool boxes allow the removal of the top box and use it as a hand-carry compartment instead. If you need to carry all your tools to a remote worksite, a rolling tool box will suit your needs.
You can even find those with large, solid rubber wheels that can go over any kind of terrains. Others come with casters that can coast over smooth, hard surfaces.
You need to carefully consider which of these tool boxes you actually need so that you will not be wasting your money on one that you have no use for. If you will be carrying a lot of tools with you, then get the larger, rolling tool boxes. On the other hand, if you will only be taking a handful of your regular tools then get the hand-carry tool box instead.
Why Do You Need a Portable Tool Box
Portable tool boxes might cost quite a bit of money but do not worry. They are actually pretty good investments. If you are still undecided about getting a tool box of your own, then possibly the following benefits might convince you to get one now.
Keeps your tools safe – Portable tool boxes have multiple compartments meant for storing different kinds and sizes of tools. This prevents the tools from hitting each other too much, thus decreasing the chances of them getting damaged.
When you just toss your tools in any old bag that you have, they will tend to hit against each other. This might not seem like they are doing too much damage but over time. The accumulated damage will be apparent when you can no longer use your tools properly.
Also, when your tools are locked up inside a tool box, thieves will not be able to see them, and most of them would not want to steal an entire tool box since it will be bulky and harder to conceal.
Allows you to take a lot of tools with you – Portable tool boxes have multiple compartments that allow you to take along a lot of tools. For instance, you can take along a complete set of wrenches, a ratchet, and other tools that you might need on your project.
Although you can technically do the same thing when you use any regular bag, it will be quite uncomfortable and unwieldy. This is especially true if you will be using a rolling portable tool box. It is because you will not be actually lifting the tools.
What you will do, instead, is dragging them behind you like you would a trolley or a traveling case. This prevents you from overstraining yourself and tiring yourself out even before you start working.
Waterproof and drop-resistant up to a certain height – If you usually work outdoors, you need a tool box that will keep your precious tools safe from the environment and its destructive powers.
For instance, if it suddenly rains on your job site, you can just close the lid of your tool box and head for cover. This will be enough to keep your tools dry. It will be quite dangerous for you to run around an active worksite in the rain with a heavy bag of tools.
In addition, a good tool box should be able to withstand falling from a couple of feet without suffering so much as a dent. This means that even if it accidentally falls from the bed of your truck while you are moving, your tools will not be scattered all over the road, posing a significant risk to other motorists.
Organizes your tools – When you arrange your tools in a portable tool box, you will know exactly where to look when you need a particular piece for your tasks. You will no longer spend a lot of time rummaging through the bottom of your tool bag, only to find out half an hour later that you do not have the right tool with you.
When your tools are organized, you only need so much as to reach into your tool box and your hand will automatically go to the compartment that has the exact thing you need.
Buying Guide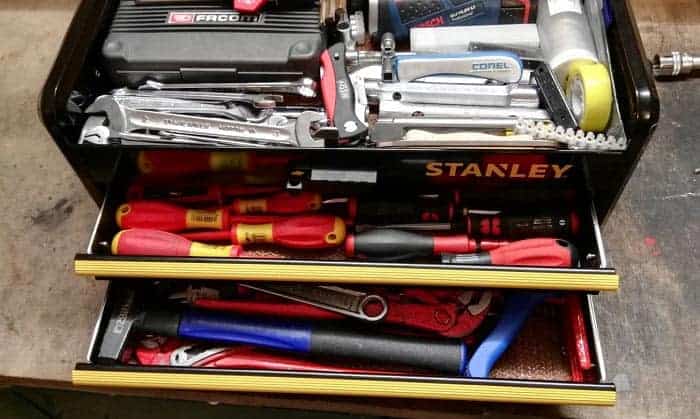 A good portable tool box will be worth quite a bit of money. If you find something that is cheap, then it is possible that it will not last a couple of months of regular use. This is why you need to be wise when you are shopping for a new portable tool box. You have to get the best deal and obtain more than your money's worth.
To help you out with your choice, here are some of the main points that you need to consider. These will help ensure that you will be getting a fairly priced tool box that is durable and long-lasting.
Materials Used – When it comes to portable tool boxes, there are actually two materials that are standard when manufacturing them. First, there is steel. Steel has plenty of strength and it is somewhat lightweight. In addition, you can cut and shape steel into virtually any kind of shape and size.
However, the problem with steel is that it is quite heavy and prone to corrosion if it is not prepared properly. On the other hand, plastic tool boxes are much lighter. You can also mold it into shapes that are impossible, or just highly inefficient for steel.
In addition, plastics are much more affordable. They can resist corrosion and are practically waterproof. However, plastics are not as durable as steel. If you drop a steel tool box, it might get a couple of dents that you can hammer out later. If you do the same with a plastic tool box, it will most likely crack.
When choosing tool boxes, you need to first consider your usual work environment. Will you be mostly working near water? For instance, if you are a plumber, then you should go get a plastic portable tool box. This will provide your tools a waterproof storage space, thus protecting them from the dangers of rust and corrosion.
If you will be constantly exposed to hazardous chemicals, plastics are also the best choice. If you are working on a regular worksite, the best choice is a metal-made one as it can handle minor drops and other kinds of physical damage better.
Size and number of compartments – You need to take into consideration how many tools you usually take with you on the field. If you are taking just the basics with you, then a simple handheld portable tool box will suffice.
Wheels – If you are thinking of getting a rolling portable tool box, check the wheels. Tool boxes with small wheels are best used for indoor use only. Those with large, at least 4" diameter, wheels with treads are meant for all kinds of terrain.
The bigger the wheels, the more rugged terrains it can handle. This is great in case you are working in an active construction site where you will mainly be walking on dirt and loose gravel.
Security features – Most portable tool boxes at least have implements for hooking up a padlock or two. Others, on the other hand, have built-in locking mechanisms. Even if you are not working with other people in your job site, it is still a good idea to keep your tools locked up and safe.
If anyone would break into your garage or workshop, they would not be able to break into your tool box to access your precious tools. Burglars would rather pilfer the expensive pieces of tools rather than an entire heavy and bulky tool box, so if they were to see that yours is securely locked, then they will most likely leave it alone.
Product warranty – A good portable tool box would usually have a limited lifetime warranty. This is especially true if the company has a lot of confidence in the quality of their products. Although there might be a few things that could break in your tool box, there is still a chance that they would do so.
For instance, the built-in locking system suddenly failed and would not lock. This is an unfortunate situation that greatly diminishes the tool box's value. Ideally, the company's customer service will provide you with a new one, or they will try their best to fix the problem.
Care and Maintenance
Although tool boxes are built to be tough, that does not mean that they are indestructible. As rugged as they might be, they still need a bit of TLC from time to time. Here are some of the ways that you can maintain your tool box and extend their lifespan:
Store your tool box somewhere dry. Even if your tool box is made of plastic and is waterproof, you should not willingly expose it to moisture. Over time, some moisture will seep into it and corrode the tools inside. To prevent this from happening, stow it somewhere dry, and preferably off the floor.
Give it a good cleaning every other week or so. You just need to empty the tool box and vacuum any and all loose dust and dirt as much as you can. You can then finish it up by wiping up all the surfaces using a damp rag then letting it dry fully before putting your tools back inside.
Use soapy water every couple of months or so. To keep your plastic portable tool box always looking like new, you need to give it a good washing every month or two. Nothing fancy.
You just need a bit of soapy water and a soft brush or sponge to get rid of all the dirt and oil residue inside the tool box. After scrubbing with soapy water, rinse it thoroughly using clean tap water and allow it to dry completely.
Oil the hinges, clasps, and wheels regularly. If you hear the hinges squeaking, the clasps starting to seize, or the wheels suddenly not rolling as freely, just put a couple dabs of oil on them. Make sure that you clean the joints a bit by wiping them down using a paper towel before you put a couple of drops on them.
Clean your tools, too. Cleaning your tool box will be futile if you will just be filling it with dirty tools. While you are waiting for the tool box to dry, gather all of your hand tools and wipe as much oil and dirt as you can from all of them using a soft rag.
Then fill a bucket with warm water and put in the recommended amount of general cleanser, like Pine-Sol or Lestoil. Throw your tools into the bucket with cleaner and allow them to soak for at least half an hour.
After soaking the tools, put on some rubber gloves, grab a wire brush and scrub away anything that he/she can find. After scrubbing and cleaning, dry the tools properly before putting them back inside the tool box.
Now that you know how to give your trusty old tool box a bit of TLC, you can be sure that it will continue serving you properly.
Frequently Asked Questions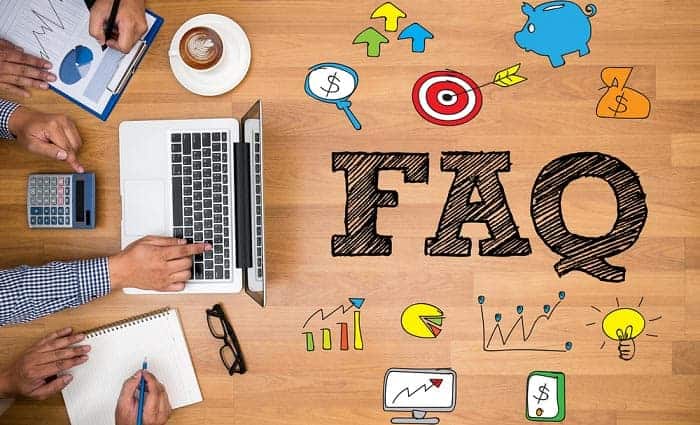 What are the most popular portable tool box brands?
Various tool box brands continue to emerge at present as this tool carrier is really known for making one's job easier to handle, especially if it involves the use of several tools. If you are also in search of a good and reliable brand of tool box then among the choices that are available for you are Milwaukee, DEWALT, Keter, Stanley, Stalwart, and Husky.
Are tool boxes waterproof?
Not all of them, but most of the plastic ones have certain degrees of waterproofing. Some can survive getting splashed by a bit of water and still function.
Can I sit or stand on a mobile tool box?
If you weigh just a couple of pounds over a hundred, then you might be able to use mobile tool boxes as a step stool to reach something from a high shelf. However, you should not make a habit out of it.
If you stand or sit on top of your tool box, you are deforming the lid, if even just a bit. You are also placing a lot of stress on the hinges that are not actually meant to carry any amount of load. So, if you can avoid it, do not stand or sit on top of your tool box.
How long is the warranty period?
This is subjective and will depend on the manufacturer. However, there are some big-name companies that put a lot of pride in their products that they are willing to provide limited lifetime warranties on all kinds of portable tool boxes.
Limited warranties mean that as long as the damage is not caused by human error, meaning the materials in the product are the ones that have deteriorated, you can get a replacement unit for absolutely free. Or at least, you can send your tool box over and the company will refurbish it and send it back to you good as new.
How to choose the right size?
The main criteria for choosing a portable tool box is the size of the tools that you usually carry with you to your worksites. If you will only be carrying the basic hand tools, like wrenches, hammers, screwdrivers, and the like, then a hand-carry tool box is the best choice.
However, if you always carry a couple of power tools, like an electric drill and/or an angle grinder, then consider getting one of those rolling types that come with a large storage bin at the bottom. This will provide you with more than enough space for all your tools and other stuff.
How to use/ lock?
If your tool box is made of steel, odds are that you close it using stainless steel clasps at the front. Usually, these clasps come with built-in locking systems, so you just close them up then use the key that came with the tool box to lock the clasps in place.
If you use a plastic tool box, you just need to close it up properly then look for a hook or a hole that goes through the lip of the lid and the lip of the base. That is where you need to place the padlock.
How to organize a portable tool box?
Portable tool boxes come with trays that have different-sized compartments. These are great for storing small tools and other materials that you might need for your other projects.
The rule of thumb when it comes to organizing any kind of tool box is to put the tools that you usually use at a place that is easy to access, somewhere where you can reach in with just your hands and pull out the exact tool that you need.
How to clean?
Steel portable tool boxes only need to be vacuumed and wiped down every couple of weeks or so. Washing them will only lead to corrosion. On the other hand, plastic tool boxes could benefit from a good scrubbing down with some soapy water every couple of months, and given a coat of plastic conditioner to keep the plastic from getting brittle.
Where to buy?
You can find all kinds of tool boxes in any kind of hardware store or big-box supply chain. However, if you want more choices, and the ability to compare prices from different sellers, you can shop for the best one online.
Conclusion
There is no such thing as the absolute best portable tool box but there are ones that are the best for the individual's needs. You need to be sure of what your needs are before you go out shopping for one. If you do not have a clear idea of what you need, there is a good chance that you will waste your money on something that you do not really need.