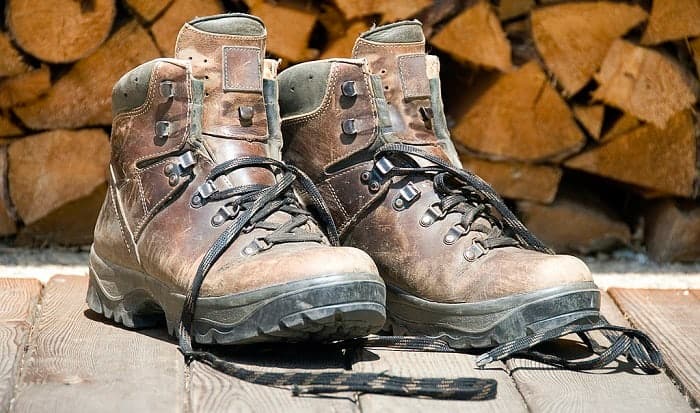 If you're working in construction, manufacturing, and warehouses, your employer will not let you enter the vicinity without personal protective equipment. Whether you are replacing your protective footwear or buying it for the first time, I'm sure you have come here to do your research. After all, finding the best steel toe work boots can sometimes be just as challenging as your job.
For starters, let me share three important safety features that you need to check in the footwear:
Steel toe: Steel toe caps shield your feet from puncturing, cutting, and getting smashed by objects. Most jobs require toe protection that meets the ASTM standards, which means the footwear undergoes rigorous testing in impact and compression. ASTM rates each pair differently so you can choose the protection appropriate for your job. Unlike composite toes, they can conduct colds. Be sure to get work boots with steel toes that are well-padded or insulated if you are going to wear them in cold environments.
Electrical hazard protection: Some jobs expose employees to open circuits and have a pair of boots to prevent electrocution and save your life. Like metal and water, our bodies are also conductors of electricity. Keep in mind that not all steel toe boots have this feature. Most safety toe boots are tested and rated based on ASTM standards.
Slip-resistant outsoles: Slippage is one of the most common causes of workplace injuries. Besides wearing a hard hat, putting on a pair of boots with high-traction outsoles can obviate accidents. With treaded rubber outsoles, the safety toe boots provide a good grip on slick concrete floors or wet and oily surfaces. This will help you maintain your balance as you walk.
Safety is not the only criterion for choosing the correct pair of steel-toe boots. You also need to decide based on factors like the work environment and daily activities, which I will cover in the "Buying Guide." In the mean, check out my top picks for the right steel toe boots.
Top 12 Steel Toe Work Boots Reviews of 2023
1. Caterpillar P89586 Steel Toe Work Boot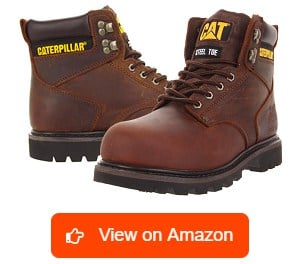 First on our list of the top-rated steel toe boots is from Caterpillar. Deemed as one of the best-sellers of a brand known for heavy equipment and safety footwear, there is no reason for you to doubt the quality. Initially designed for construction jobs, this pair became popular among workers across the various airport, shipping, and carpentry occupations.
Besides the steel toes that meet the ASTM standards for impact compression, the work boots have high traction rubber outsoles that provide a nice grip on slippery surfaces. Even more impressive is the fact that these safety features are tough. Despite having these boots for years and wearing them daily as I visit job sites, they offer the same reliable protection.
Indeed, these boots are highly durable but what sets them apart is that they are also flexible and comfortable. The way this footwear is constructed enables me to walk more naturally, so I never have to deal with foot fatigue after a long shift. To top it off, my feet stay fresh thanks to the breathable insoles and nylon mesh lining.
Since this shoe model comes in different colors, I can choose a pair that suits my everyday outfit. Based on experience, I noticed two minor drawbacks. Admittedly, I find these boots rather heavy and the shoelaces get scraped whenever I tighten the fitting.
What We Like
Appropriate for industrial jobs
Comes in different colors
Footwear construction lasts long
Comfortable for long hours of work
Provides reliable protection
What We Don't Like
Feels hefty compared to other steel toes
The laces get easily scuffed while adjusting
Many workers think that this pair is one of the most favorite steel-toe work boots for men and rightly so. Ideal for long shifts, you can depend on its durable protection and all-day comfort!
2. Timberland TB033034214 PRO Steel Toe Boots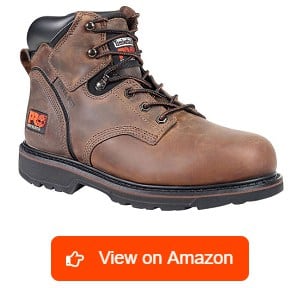 When it comes to slipping accidents, wet floors and slick concrete surfaces are the usual suspects. If you work in such environments, then say hello to steel-toed boots Timberland has masterfully designed. Aside from the steel toes and electrical hazard protection, the footwear's rubber soles are slip, oil, and abrasion-resistant, which helps me walk safely in risky conditions.
Besides their superb performance under wet conditions, these are the perfect steel-toe work boots for standing on concrete all day. To minimize fatigue, the polyurethane midsole and footbed cushion my feet while simultaneously supported by the nylon shock-diffusion plate. Treated with antimicrobial odor control, stinky feet have become the least of my problems.
For the uppers, the rugged nubuck leather protects my feet against abrasive surfaces, but it also makes the footwear look stylish. In fact, this model comes in three different colors. Because they are true to size, it eliminates the hassle of returning the footwear. The fitting is snug, but it still has some room for my toes to wiggle. Furthermore, the padding keeps my skin from rubbing against the collars.
That said, let me give you a heads-up: these boots take some time to break in. Once this period is over, I assure you that the comfort they provide exceeds expectations.
What We Like
Ideal for wet floors and slick surfaces
Safe for risky environments
Reduces fatigue when standing for extended periods
Has a rugged yet stylish appearance
Has a roomy toe box
What We Don't Like
Takes time to break the boots in
With a top-notch grip, you can trust the footwear's rubber outsoles to help you maintain your balance as you walk on slippery surfaces. Snug and comfy, these boots can also support the feet and reduce fatigue.
3. KEEN 1007024 Waterproof Steel Toe Boot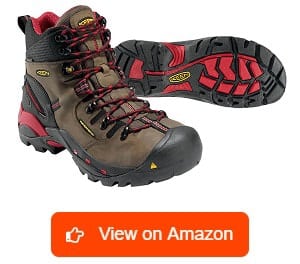 KEEN is known for making boots with ASTM-compliant asymmetrical steel toe caps that cater to those who have one foot slightly bigger than the other. Thanks to this unique construction, you don't need to worry about hurting and bruising your toes when wearing safety boots. Also, the shoe model is available in wide sizes, so you don't have to go one size up to get a spacious toe box.
Among the highlights of these hiker-style steel toe boots is they are both waterproof and breathable. When I sweat, the breathable membrane makes it possible to release the vapor and repel the liquid. At the same time, the oil and slip-resistant outsoles prevent me from slipping as I wade the wet floors and mud.
Because they are lightweight, they became my go-to footwear for both indoors and outdoors. The reflective webbing is a nice touch since it makes the wearer visible in the dark. So far, the only issue that I found is the footbeds are not comfy nor supportive. The good news is that they are removable so replace them if you need to. Let me also add that the laces give me a feeling that they would snap when I adjust them.
What We Like
Provides ASTM-rated asymmetrical steel toes
Has waterproof yet breathable design
Great for indoor and outdoor work
Has superior slip-resistant outsoles
Excellent for long walks
What We Don't Like
Shoelaces need improvement
The footbeds lack comfort and support
As the saying goes, don't sweat the small stuff. With this pair of steel cap boots, this adage translates to breathable footwear so you can focus on your work. Aside from keeping your feet out of harm's way, the waterproof design effectively prevents them from getting wet.
4. Skechers 77009 Workshire Steel Toe Boot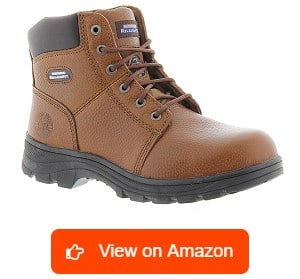 Sometimes, our need for protection and comfort is at odds with our budget. Hence, I recommend these affordable yet decent-quality steel toe boots by Skechers. Not only do the protective toe caps meet the ASTM standards, but the footwear is also rated as safe against electrical hazards. When walking on slippery surfaces, the rubber outsoles help me maintain my balance.
Like most Skechers shoes, these lightweight boots are spacious, and they fit like a glove even with my socks on. In conjunction with the memory foam, the footwear's shock-absorbing midsole makes walking feel more relaxed. On top of that, the padded collars keep my ankles from getting blisters. After a long day at work, I don't feel any soreness around my legs and knees.
As with any pair of boots, this protective footwear has some flaws. Sadly, the memory foam flattens the more I wear these boots. Also, the lace-up system does not appear to have any hooks, so I cannot tighten them well enough but that's just a personal experience. It seems like other people do not see this as a problem. Considering the price and durable construction, I think these boots are worth your money.
What We Like
Has safety features that comply with ASTM
Provides excellent traction
Allows the feet to feel more relaxed
Helps minimize soreness
Durable quality at an affordable price
What We Don't Like
The laces are difficult to tighten
The memory foam flattens over time
Setting aside its quirks, this footwear proves to be reliable in terms of safety, durability, and comfort, especially for those working in industrial settings. Best of all, you don't need to go over the budget just to buy a pair of good steel-toe work boots.
5. Caterpillar P90936 Steel Toe Work Boot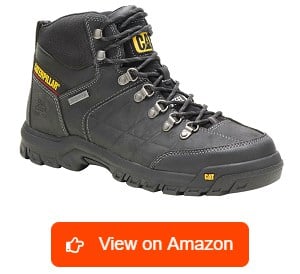 Designed by one of the top-rated steel toe work boots, this footwear offers superior protection against occupational hazards. Considering the features and craftsmanship, I know that there is nothing that they cannot handle. Unlike the pair of Second Shift boots that I reviewed earlier, this model is waterproof as it features seamed seals that effectively repel liquids. I can walk in puddles or brave the rain without getting my feet wet.
Coupled with the ASTM-rated slip-resistant outsoles, I find these work boots suitable for indoor and outdoor jobs. Boasting amazing steel toe and electrical hazard protection, I'm safeguarded against the risks that come with working in job sites. Even leather uppers shield my feet from abrasive surfaces and provide support. Because these boots are built to last long, it takes away the stress of dealing with broken footwear in the middle of work.
In various activities and conditions, these boots prove to be comfortable. Surprisingly, this pair weighs lighter than typical safety footwear. When I walk, the shock-absorbing midsoles and uppers stretch and bend, making it easier for me to go long distances. The insoles, however, are not as supportive. Also, the original shoelaces are not as durable as the boots. Thankfully, the insoles and laces are replaceable.
What We Like
Has exceptional waterproof construction
Appropriate for various activities and environments
Equipped with ASTM-compliant safety features
Comfortable for long walks
Weighs lighter than most steel toe boots
What We Don't Like
The shoelaces seem weak
The insoles lack support
Besides being the most protective, many workers also consider this pair the most comfortable steel toe work boots. Sealed at the seams, this footwear's design is perfect for those who frequently work in wet environments.
6. LARNMERN Steel Toe Boots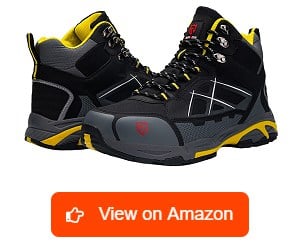 Taking into account its affordable price and the ASTM-rated safety features it offers, this pair of work boots is an awesome bargain. My feet are protected on every side against sharp objects thanks to the puncture-proof midsoles and steel toe caps. On top of the static dissipative capabilities, the pair has reflective strips to ensure that I'm visible in the dark.
Sporting a hiking boot exterior, the uppers are stylish and they come in different color combinations. Lined with padding, the boots keep my feet nice and cozy throughout the day. Plus, the materials that make up the entire footwear do not add much to the overall weight. Besides that, the midsoles absorb the shock in every step that I take. Even though I rarely get the chance to rest and sit, I don't feel too tired because I don't have to drag my feet.
Since they are not true to size, you might encounter some issues when buying online. While the brand indicates that the boots are slip-resistant, I think the outsoles still lack traction for me to walk on greasy floors. If the floors in your workplace are not slippery, this is not going to be a problem.
What We Like
Good-quality protection at an affordable price
Available in different color combinations
Has ASTM-rated protection
Light and comfortable for long shifts
What We Don't Like
Lacks traction for slippery surfaces
The fitting is not true to size
Among all the products in the steel-toed work boots reviews, I think this pair is one of the most affordable. Featuring ASTM-rated protection and stylish design, they do not fall short in terms of quality. Thus, they are ideal for jobs in the warehouse, manufacturing, and similar industries.
7. Skechers 76561 Workshire Peril Steel Toe Boot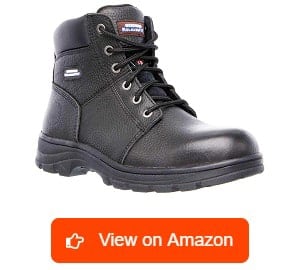 Made especially for the women in the workforce, this pair of Skechers construction work boots covers everything from safety to comfort. If you work in manufacturing, landscaping, and similar industries, you can depend on the safety provided by the steel toe caps, slip-resistant outsoles, and electrical hazard protection.
For all-day comfort, the shock-absorbent midsoles help in reducing fatigue as you perform your duty. Because they are flexible, you don't need to exert effort to make them bend. Apart from that, the boots themselves conform to the unique anatomy of the women's feet. Even if you work overtime, I assure you that your feet will benefit from the memory foam insoles.
Furthermore, the wide toe boxes and relaxed fitting will put your feet at ease as you perform your duty. Another reason why I recommend these work boots is that they are durable. For a reasonable price, you can consider them as a long-term investment.
Just like the other shoes from Skechers, it seems like the memory foam wears down over time. If you ask me, I don't think it is a deal-breaker because you can always buy a new pair of insoles. When you look at all the positive qualities these boots offer, this issue is just a minor inconvenience.
What We Like
Suitable for most industrial occupations
Offers reliable protection against work hazards
Durable yet affordable footwear
Conforms to the contours of a woman's foot
Shock-absorbent and flexible for long walks
What We Don't Like
The memory foam wears down
Ladies, you deserve this pair of comfortable steel-toe boots! Thanks to its innovative design, you can protect yourself without enduring the pain and discomfort that comes with long hours of standing. Taking into account the durability, you get so much more out of what you will pay for.
8. WOLVERINE Steel Toe Work Boot
For the stormy days ahead, these waterproof steel toe boots keep my feet dry and protected. From time to time, I would spray a waterproofing agent but it's completely optional. At any rate, I find the full-grain leather uppers so classy that I actually don't mind pairing these boots with casual outfits. Beyond the handsome aesthetic, I swear by its performance in rugged and risky environments.
In addition to the steel toe caps, the boots meet the ASTM standards in electrical safety. Another important feature is the high-traction rubber outsole, which keeps me from sliding whenever I walk on wet floors. Meanwhile, the lightweight cement construction and nylon shank make the footwear flexible, supportive and durable for long walks.
Although this pair comes with soft insoles, you can swap them for footbeds that address specific foot conditions. The fact that original inserts are removable serves as an advantage because replacing them will not drastically alter the fitting.
While these boots are available in wide options, I still think that this particular shoe model feels tight around the toe box. I suppose they are more appropriate for people with narrow feet. Moreover, they feel warm whenever I wear them during the summer. It seems like they are more suitable for cold weather.
What We Like
Has superb waterproof design
Goes well with any outfit
Provides optimal protection
Allows you to replace the insoles
Has high-traction rubber outsoles
What We Don't Like
The toe box is not wide enough
Feels warm when worn during a hot day
Whether you're working or simply meeting up with your friends, this pair of stylish yet comfortable steel-toe boots will not let you down. Built to withstand the rain, this protective footwear can keep your feet dry and prevent slipping accidents.
9. ROCKROOSTER AK050 Work Boots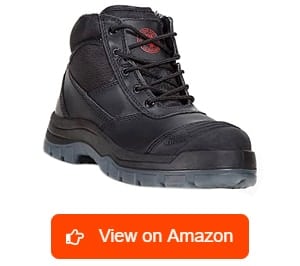 Ideal for anyone who works throughout the four seasons, this pair of steel toe cap boots can warm your feet when it's cold and cool them when it's warm. No matter how long you've been hustling and grinding, the Coolmax technology will wick away the sweat and excess moisture. At the same time, the lightweight design ensures that you don't get bogged down as you walk.
What I love the most about these boots is that they are shock-absorbent and therefore capable of minimizing foot fatigue. The wide toe box alleviates the discomfort as it lets my toes spread naturally. Along with the slip-resistant rubber outsoles, the steel toe caps conform to the ASTM standards. Thus, this pair is well-suited for manufacturing, construction, warehouse, farming, and similar industries.
I'm sure you will like the fact that this footwear is equipped with a side zipper. Of course, you can still tighten up the fitting with the shoelaces, but you don't have to redo them all the time. So far, the only issue I've had with these boots is that the brand's size chart seems off. Be sure to measure your feet properly and familiarize yourself with the return policies before buying. Other than that, I think they are awesome.
What We Like
Can be worn in any season
Has moisture-wicking capabilities
Has midsoles that help reduce foot fatigue
The side zipper lets you wear the boots quickly
Complies with the ASTM standards
What We Don't Like
The size chart is confusing
If you have to wear one pair of safety toe shoes all year round, this would be it! Guaranteed safe and comfortable, these lightweight steel toe boots will keep you energized throughout the shift.
10. Dr. Martens 10294 Icon 2295 Steel Toe Boots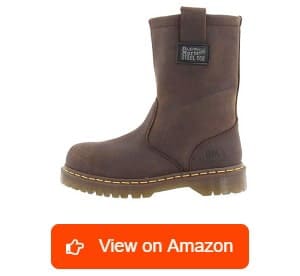 Back in the day, Dr. Martens' shoes appealed to the working class before the iconic boots became a staple for diverse individuals ranging from music to arts. Available in three color options, the Icon 2295 steel toe boots clearly demonstrate that functionality and style can go hand-in-hand. Whether you're making a fashion statement or simply needing high-quality protection for work, this pair is for you.
Both the steel toes and electrical safety pass the ASTM standards. Moreover, the brand's trademark air-cushioned soles also provide superior traction and stability. These boots let me walk, squat, or kneel without feeling any stiffness or pain.
On that note, let me just add that the leather uppers are water-resistant and breathable. That's why I like wearing these boots during the winter or rainy season. With a sterling reputation for durability, it will take years for this pair to wear down.
If you ever get the chance to try these top-rated steel toe boots in person, just go for it. Looking at the size charts online will not give you a complete picture of the footwear. The length and width of your feet may fit well but you might find the shaft a little tight. Note that I'm giving you advice based on personal experience.
What We Like
Functional yet fashionable
Has ASTM-rated protective features
Comfortable for any type of activity
Has water-resistant and breathable leather uppers
Highly durable construction
What We Don't Like
Choosing the right size can be difficult
Now that I have enumerated all the good qualities of this footwear, perhaps we can all agree that these are the right steel-toe boots for men. You don't have to choose between style and protection. With this pair, you can have both!
11. NORTIV 8 Men's Steel Toe Work Boots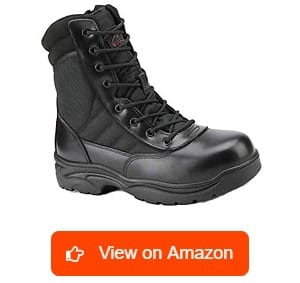 If you are a first responder or law enforcer, you need to be quick on your feet, but you also need protection. That said, let me introduce you to these tactical boots. Their lightweight design is comparable to a pair of sneakers. Wearing these boots never slowed me down because of the side zippers. Due to the flexible uppers and rubber outsoles, I can walk, skip, and run freely and quickly.
Wherever I go and whatever I do, this inexpensive footwear holds up well. Given that the uppers are waterproof, I managed to keep my feet dry as I waded puddles, mud, and snow. During a hot day, the breathable mesh fabric maintains the ventilation at an optimal level. Since they are shock-absorbing, I think these are excellent steel-toe boots for standing all day.
Like any good steel toe boots, this inexpensive pair is also suitable for light construction, warehouse, and other industrial work. Apart from the durable safety toe, the midsole is puncture-resistant. The only problem I've had with these boots is that they are not quite as slip-resistant as advertised. Also, I had to replace the footbeds because I find the original insoles too thin.
What We Like
Ideal for first-responders and law enforcers
Light and comfy for running and standing
Can keep the feet dry and fresh
Lets you wear and remove the footwear fast
Has steel toe and puncture-proof midsole
What We Don't Like
Lacks slip-resistance
The original footbeds are thin
With this pair of tactical boots, you can go above and beyond the call of duty. Aside from its lightweight design, the steel toe and puncture-proof soles will keep your feet safe. Equipped with side-zippers, you can put on these boots quickly and avoid delays.
12. Irish Setter 83912 Toe Work Boot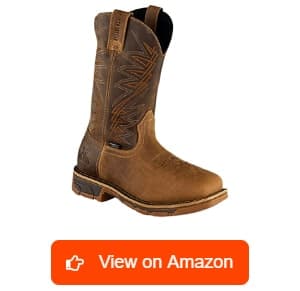 Last but certainly not least is this pair of aesthetically pleasing work boots that will make you want to work and flaunt your style. The Irish Setter's brand is synonymous with fine craftsmanship. In other words, you can bank on the footwear's durability. These boots feature Goodyear Welt Construction and a tall shaft made of premium leather for optimal stability and support.
Impressively, this safety footwear held up well in various weather conditions and kept my feet dry when it rained. Because of the tall shaft, I can wade through deep mud. Plus, the leather is quite flexible, so I hardly struggle while walking and kneeling. Furthermore, putting them on is fairly easy.
Equipped with soles that are made of composite materials, the heat-resistant boots turned out to be a lot lighter and comfier than they appear. Let me also highlight the fact that these stylish boots come with steel toes and electrical hazard protection that meet the ASTM standards.
Besides the hefty price tag, I just find it difficult to choose the right shoe size when buying online. On the bright side, the footbeds are removable. Once I figured out the correct size, I replaced the insoles with my preferred brand and this did not change the way the boots fit. Considering the quality, however, this pair is definitely worth the money.
What We Like
Has an eye-catching design
Provides excellent stability and support
Impressive waterproof capability
Ideal for outdoors regardless of the weather
Has ASTM-compliant safety features
What We Don't Like
The boots are not true to size
More expensive than the other work boots
You can conquer the great outdoors safely with these top steel toe boots. Featuring the well-crafted leather uppers and tall shaft, you wear these boots to work or parties.
What is a Pair of Steel Toe Work Boots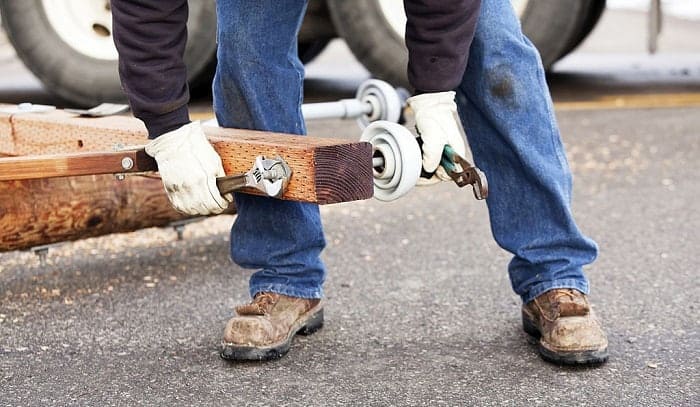 Essentially, the term "steel toe work boots" refers to the footwear worn by workers in construction, manufacturing, repairs, farming, landscaping, and other fields where safety protocols are necessary. The work boots are fitted with steel toe caps that act as shields against objects that puncture, cut, fall, or roll toward your feet.
How Do Steel Toe Boots Work
Although the materials and construction may vary, steel toe boots' main function is to protect your feet against various occupational hazards. Besides the steel toe caps, the work boots are also equipped with slip-resistant outsoles to minimize the risk of sliding as you can walk on slippery surfaces. Many safety boots also provide electrical hazard protection to prevent electrocution.
Types of Steel Toe Work Boots
As you can see, the retail and e-commerce stores are saturated with a wide variety of steel-toe boots. Beyond the aesthetics, these protective boots are designed to meet the needs of every worker in specific industries. Here are the different types of steel toe work boots:
Hiker-style steel toe boots
Moc-toe steel toe boots
Plain steel-toe boots
Logger steel-toe boots
Tactical steel-toe boots
Wellington work-boots
Why Do You Need Steel Toe Work Boots
Some jobs are simply more accident-prone than others. The best course of action is to armor yourself with personal protective equipment that is recommended by your employer. Along with the hard hats and gloves, steel toe work boots can keep you safe throughout the day. Furthermore, they can provide comfort so you can walk and stand for extended periods.
Let me emphasize that steel toe boots should be your last line of defense. Other safety precautions need to be observed at work. Aside from wearing protective gear, it would help if you accustom yourself to your employer's protocols.
Buying Guide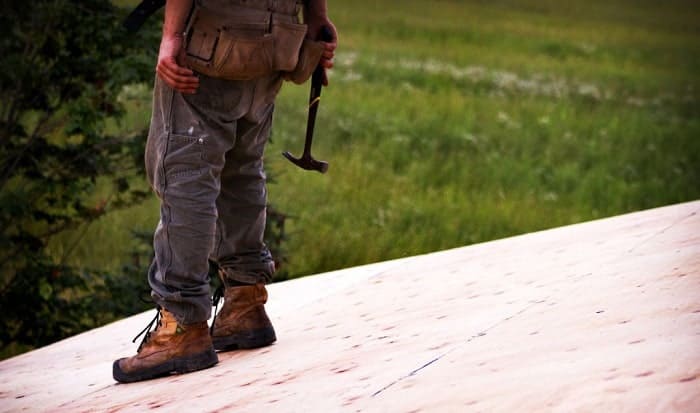 Though I discussed the benefits of each product in the review, I know you still have some burning questions in mind. It is not enough to have steel toes that comply with ASTM standards. You also need to think about design, fitting, and other qualities so you can perform your tasks without constantly dealing with pain and discomfort.
Breathability
Each brand of work boots has developed technologies to ensure breathability. This means for workers like you and me that footwear can keep our feet fresh and odor-free. Still, some materials and designs are naturally more "breathable." Boots with higher shafts are often warmer because the air has to travel longer. Since your feet are confined to the same hot air for lengthier periods, they will naturally sweat. To ensure that your feet stay fresh, choose steel toe boots that are made of breathable materials and capable of wicking away moisture.
Insulation
In cool places, steel toe caps can conduct the cold and make your feet feel chilly even if you wear thermal socks. Nowadays, manufacturers have come up with designs to make sure that the footwear meets the criteria in safety while simultaneously keeping your feet warm. Some boots are equipped with padding around the toe caps, while others are insulated.
Waterproof
In wet environments like auto shops or landscaping, wearing waterproof steel toe boots will keep your feet dry. Most leather boots are treated with a waterproofing agent but this will wear out over time. After a few months or a year, you will notice that your footwear no longer repels liquid like it used to. To resolve this problem, you can purchase a waterproof spray and apply it regularly on your safety toe boots.
Design
Work boots come in a variety of materials and designs to serve specific purposes, which you can see under the "Types of steel toe work boots" section of this article. Hiker-style are best for physically demanding jobs or outdoor activities. Often, they are more breathable because of the materials and low-cut design. Meanwhile, wellington, logger, and some tactical boots have high shafts for better ankle support.
On the other hand, moc toe boots are known for the raised seam that runs through the toe area. As such, they are more flexible, making them perfect for workers who are always on their feet. In the context of work, it is best to choose based on function rather than looks.
Comfort
You don't have to endure the pain and discomfort that comes with safety toe boots. It can be impossible to focus on your work if your footwear is rubbing on your skin or lacking the support that your feet need. Besides, comfortable boots can ease fatigue and manage certain common foot problems.
Many factors contribute to a boot's comfort, including fitting, insoles, as well as padding around the collars and tongue. Of course, you will have to factor in the shape of your feet and the foot conditions that you want to address.
Care and Maintenance
Proper cleaning and maintenance will ensure that the quality of your safety footwear lasts longer. As a rule of thumb, never leave your boots covered in soil or debris for this will damage the material. Regardless of the brand or material, storing your steel toe shoes away from the elements like sunlight or rain will prevent deterioration.
Shoe manufacturers also sell specialized cleaning kits. Although buying these products is optional, I recommend checking them out since they are formulated for specific types of leather, rubber, and other materials that the manufacturers used to make the steel toe work boots.
Frequently Asked Questions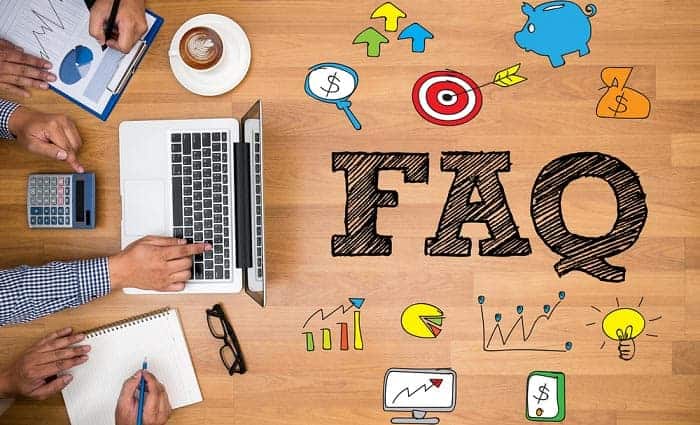 What are the most trusted brands of steel toe work boots?
Every pair of steel-toed boots featured in this article has been tested and worn not just by me, but also by other workers in different industries. Besides, I know many of you have heard of Caterpillar, Timberland, KEEN, Skechers, LARNMERN, Wolverine, ROCKROOSTER, Dr. Martens, NORTIV 8, and Irish Setter. They are popular for all the right reasons! Of course, you can try out other brands like Red Wing steel toe boots.
How to clean steel toe work boots?
If your boots are covered in mud, my advice is to wash off the dirt as soon as you get home. Start by removing the insoles and laces, then remove as much grime and mud as you can with water. You can also scrub off the dirt with an old toothbrush.
Clean the leather uppers using saddle soap. For other materials, use any mild shampoo. Be sure to rinse the shampoo or saddle soap thoroughly. With the help of a brush or damp clean cloth, work it up in a circular motion. Then wipe the residue away or rinse them with water. Let them dry completely.
As for the insoles, you can toss them in the washing machine or hand wash them with mild shampoo and water.
To clean the boots' interior, use a damp cloth to work the shampoo up throughout the surface. Then use a cloth dampened with water only to wash away the remnants of the shampoo. With a dry cloth, wipe as much moisture as possible then hang your boots upside down to dry.
Do steel toe work boots provide electrical protection?
When you check the packaging or manufacturer's website, you will most likely see abbreviations like CD, EH, or SD.
Conductive, commonly referred to as CD, is meant to protect the worker against static electricity buildup and minimize the risk of igniting volatile chemicals. Meanwhile, electrical hazard (EH) footwear has soles and heels that are both non-conductive and resistant to electric shock. It can withstand up to 18,000 volts under dry conditions. Static dissipative (SD), on the other hand, has properties that reduce the buildup of excess static electricity.
Some steel toe work boots feature ASTM-rated electrical hazard protection while others don't. When buying safety footwear, always assess the risks and consult with your employer regarding the type of electrical safety feature that you will need for your work. If your job does not expose you to electrical hazards, then you can buy a pair of steel-toe boots that is most appropriate for your job.
Are steel toe work boots warm when you work in a cold cement warehouse all day?
The answer depends on the materials that make up the entire boot and the temperature inside the warehouse. Some manufacturers developed materials that can control the temperature inside the footwear. This means that the material can help your feet stay fresh in hot conditions and warm them when it is cold.
On the flip side, extreme temperatures are a different story. Some boots are well-insulated so your feet can stay warm. Winter boots, for instance, come in different insulation weights. 200-gram insulation is more suitable for cooler temperatures. Conversely speaking, insulation that weighs more than 1000-gram is meant for extremely cold temperatures.
Conclusion
As you search for the best steel toe work boots, remember to look beyond the brand and aesthetics. Of course, it can put our minds at ease knowing that a well-established shoe company designed the boots we are wearing. Stylish boots can make us feel confident. However, never lose sight of your main goal, which is to find a pair that can effectively protect your feet against work-related hazards.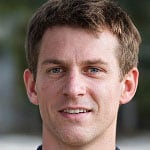 Having worked in the field of personal protective equipment for over two decades, Andrew Carnegie is a specialist in the field.
At EDC, he strives to improve performance efficiency and promote workplace safety for EDC's readers and customers. He also researches the most up-to-date equipment that has earned relevant accreditation for use in a wide range of industries and specialties.