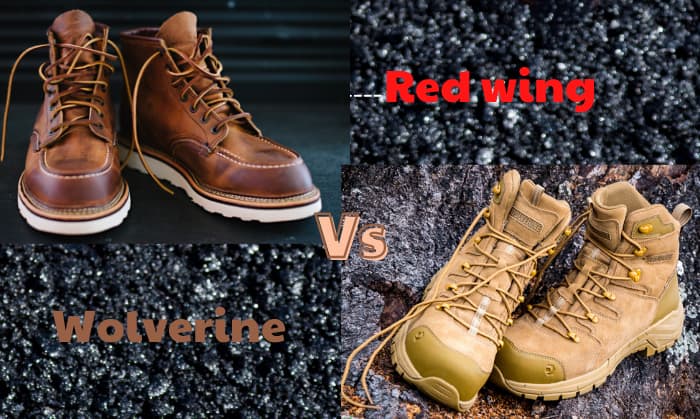 Though there are a huge number of safety footwear brands nowadays, Red Wing and Wolverine are popular boots, stay most reliable and recommended. From our experience, most of their products are highly durable with friendly prices. As these two boots look quite similar and are sold at the same price range, many people are confused between the two.
In this article, we will compare Red Wing vs Wolverine work boots. Also, we will weigh up their iconic products Red Wing Iron Ranger vs Wolverine 1000 Mile in terms of appearances, fitting, boot soles, materials, and most importantly, safety features. Let's explore further.
Wolverine Vs Red Wing: An Overview
Both Wolverine and Red Wing strive to offer buyers excellent footwear for multiple working conditions. You can find functions like waterproof, insulation, electric hazard protection, safety toe, or shank in both brands. The styles vary from high neck, low neck, to vintage or more modern. However, their materials and technologies differ slightly.
Wolverine is an iconic brand that was established in 1883 in Michigan. It stands for the commitment to affordable, comfortable, and durable work boots. The brand also emphasizes the importance of purpose-built shoes. Each of their products is designed for specific jobs. Though that sounds fascinating, you will find numerous products on their website to the point that it causes confusion. Nowadays, they lead the industry with practical and innovative footwear technologies.
Some of the brand's popular technologies include Flexible Wolverine ContourWelt® and Wolverine MultiShox® system. You can find these supportive features in the original Wolverine Buccaneer. They help to enhance comfort and provide energy boost in every step.
Red Wing was established in 1905, the same period as Wolverine. The brand stated its mission is to make a lasting difference in people's lives. Red wing work boots are to withstand the harshest working conditions. Besides safety footwear, Red Wing Heritage lifestyle collection is well-known for the practical products in everyday life. Some other branches of Red Wing include Irish Setter, Vasque, Worx, and S.B. Foot Tanning Co.
Wolverine 1000 Mile vs Red Wing Iron Ranger: First impression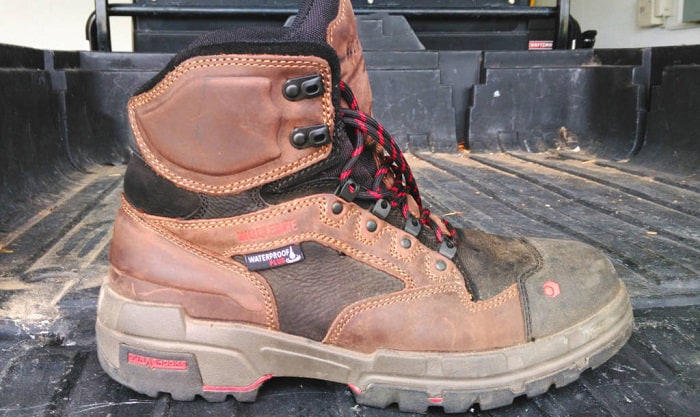 Outlook
The original 1000 Mile boots are the soul of Wolverine. They were first introduced in the 1910s and have developed into multiple versions. According to the brand, the name 1000 Mile means that the boots can offer 1000 miles of wear. That can sound like an overstatement. But when holding the boots and trying them on, you'll see the exceptional quality of these guys. The Iron Ranger boots have a long history as well. They were first built for iron miners in the 1930s.
On the Wolverine website, you will find two versions of the Men's 1000 Mile: Original and Classic. Both come with multiple options in colors, stitching styles, and boot soles (wedge or heel soles). With such varieties, Wolverine can satisfy a wider range of customers. In this article, we are going to compare Iron Ranger vs 1000 Mile Plain-toe Original.
At first glance, the boots don't look distinctive. They are both lace-ups with a dark brown color, white stitches, and white welt. The soles and eyelet designs are identical too. The most significant difference is that the Chromexcel leather of 1000 Mile is shiny and polished, giving a more professional look. They are a nice pair of dress boots. On the other hand, Iron Ranger has double stitches across the toe box while 1000 Mile doesn't. This small detail makes the model more edgy and modern.
Fitting
The Wolverine boots fit snugly and stay true to their sizes. Meanwhile, the Red Wing ones run one size larger for us. We have to return once to get a better fit. But the customer service of Red Wing is amazing, and like other brands, the return is free. We recommend sizing down from ½ to 1 full size when purchasing Red Wing boots. The best is to measure your feet carefully and follow the size chart on the website.
Once we get the right sizes, the fittings of both boot styles are amazing. The width and length fit well and feel comfortable. When carrying heavy loads, the shoes' sides don't put pressure on the feet. The heels are firm and have sturdy construction. The shoe necks hug the ankles snugly. The steel toe cap of Iron Ranger doesn't feel heavy or tight in the toe box.
Both brands offer their sizes in regular or wide width. Generally speaking, the regular size is smaller than the wide one about ⅛ inch widthwise. That is a relatively small amount, but don't underestimate the difference it can make. If you have wide feet, this ⅛ inch can be a lifesaver. It will prevent ingrown toenails, blisters, and chafing, especially when you have to wear the boots all day long.
Wolverine 1000 Mile vs Red Wing Iron Ranger: Features Comparison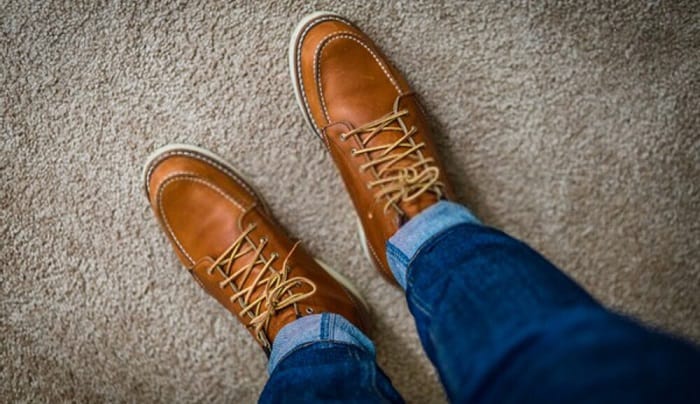 Upper materials
Wolverine 1000 Mile: The uppers are made from premium leather. They say that the leather went through a long process of being stuffed with oils and waxes for the best color and quality. Though the leather feels nice, thick, and sturdy, the shiny look makes it vulnerable to scratches and dirt. During the break-in period, the boots started to gain tiny folds and creases here and there. But after a period of use, the leather doesn't crack.
Red Wing Iron Ranger: These are made from full-grain leather. It means the leather doesn't undergo any buffing or sanding process to maintain its full thickness. This upper material doesn't feel thicker than that of 1000 Mile. But it is much softer and more flexible.
In terms of leather, we prefer the Red Wings. However, if you like the look of Wolverine 1000 Mile, rest assured that the leather fulfills its purpose of protecting your feet. They just might not be as long-lasting and well-aged as the other.
Boot soles
As said, the two leather soles look almost identical. In fact, they are made with similar materials and technologies.
The 1000 Mile boot has a leather sole and Vibram heel. This leather sole is highly durable.
The Iron Ranger boot features a Vibram sole, leather insole, and cork midsole.
The boot soles do a good job in absorbing shock and gripping to the ground. Both are built with Goodyear™ welt construction. This construction allows the boots to be resoleable.
Safety features
The safety properties are what differ the two. While Iron Ranger features steel shanks and steel toe caps, 1000 Mile Original doesn't. If your job involves working with heavy objects, the Red Wing ones are a better choice. Plus, the shank will prevent injuries from pointy stuff lying around. On the Wolverine website, you will find 1000 Mile cap-toe classic boots, don't mistake those for steel-capped boots. They are regular 1000 Mile with a double-needle stitched design in the toe box area to enhance the classic style. The 1000 Mile cap-toe version doesn't come with a steel toe.
Be aware that the OSHA (Occupational Safety and Health Administration) makes it mandatory for workers to wear steel-capped boots at hazardous workplaces. Before purchasing, learn about the safety footwear your job requires. If it is compulsory to wear steel toe boots at your job, Red Wing Iron Ranger is the only option.
On the flip side, shanks are optional. They are not required by law. But don't underestimate what they can do. Besides providing foot protection, shanks offer foot support and comfort by diminishing tension on the arches, knees, and calves, giving you more balanced steps. Also, they help maintain the top shape of a work boot. Therefore, in terms of aging, it's definitely a win for the Red Wings.
Conclusion
After going through each brand and comparing their iconic products, there's no clear win. The two brands own similar innovative boot technologies, most of their products are handcrafted in the USA, staying on top of quality. Though you can have more safety features in the Iron Ranger, Wolverine 1000 Mile offers a wider range of colors, stitching styles, and boot soles. It's easier to find the perfect 1000 Mile boots that suit your lifestyle.
We hope you've gathered enough information on red wing vs wolverine work boots to make the smartest choice in the big world of footwear. Whatever boots suit you, always remember to put your own safety first.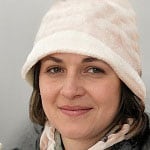 Veronica is our content editor. She is a talent in delivery. Her main work is editing and writing articles that are both informative and simple to follow. She is in charge of synthesizing our understanding of what personal protection equipment (PPE) is needed in each job, how to best apply it, and how to visualize that equipment.