There probably is nothing quite as beautiful as a perfectly organized and neat workshop/garage, and it all starts when your tools have their proper places. In that case, having the best tool organizer for all your different pieces of equipment is essential.
A toolbox organizer can be anything from a pegboard, a set of shelves, and a few toolboxes, among many others. The only requirement for one to consider it as an organizer is being the storage of tools and a huge help in keeping your things in order.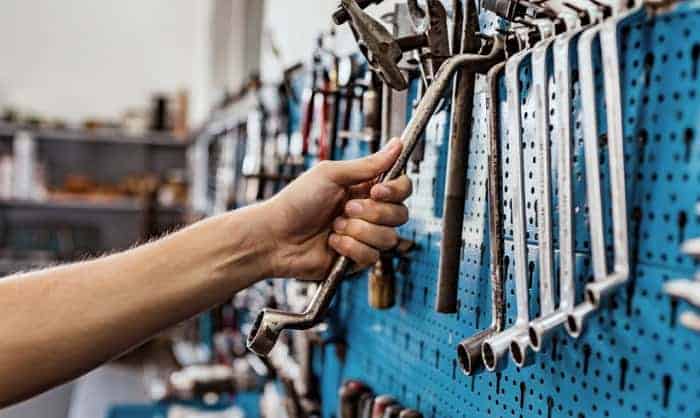 Aside from helping your job site look completely neat and organized, it will also inspire you to make something. Once you decide to start on a new project, you will be surprised to see just how efficient you are. It is especially true if you no longer have to waste time and energy looking for that one specific tool you need.
If you are sick and tired of not knowing where you last placed your 8mm wrench and other tool kits that "magically" disappeared, it is time to consider getting a couple of tool organizers. These items can bring even a bit of order in the chaos that is your workshop or garage.
12 Top-rated Tool Organizer Reviews of 2023
1. Made Smart 8-Piece Interlocking Bin Pack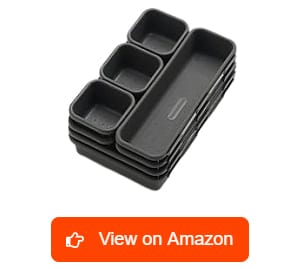 Even if the drawers are shallow, sometimes I struggle to find some items because they all get mixed up. Thus, I use these interlocking organizers for organizing hand tools according to size and function.
Because this item from Madesmart is affordable, I bought multiple sets for my tool chests, and toolboxes, as well as office, bathroom, bedroom, and kitchen drawers.
In one 8-piece set, I get three small square bins for storing fasteners like pins, needles, staple wires, screws, nuts, and bolts. Meanwhile, the three narrow bins are useful for hand tools, carving tools, pens, and pencils.
On the other hand, the two bigger ones are great for an assortment of items like tape measures, paper pads, scissors, pliers, and whatnot.
Made of durable plastics, these bins are sturdy and long-lasting. What's more, I can mix and match the bins from different sets and attach them with no problems! For instance, I often put 9 little square bins from 3 sets together in one drawer that I assigned for fasteners.
However, the locking mechanism is for attaching the bins, keeping them from shifting inside the drawers. But since they are loose, they slide away from each other. I think the best workaround is to fill the entire drawer to keep them from moving at all.
What We Like
Good for tool chests, toolboxes, office, bathroom, bedroom, and kitchen drawers
Provides three small square bins for fasteners
Includes three narrow bins for hand tools, carving tools, pens, and pencils
Has two large bins for an assortment of items
Lets users mix and match the bins from different set
What We Don't Like
The locking mechanism is not secure
For me, the locking issue is not a big deal since the bins serve their purpose, which is ensuring that all of my tools don't get mixed up.
2. Akro-Mils 10144 D Hardware and Craft Cabinet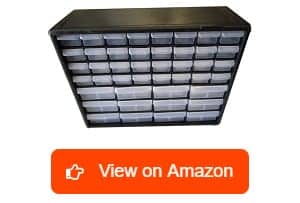 This item is the ideal tool case organizer for professionals who use a lot of small parts and materials, like electricians and electronics repairmen. It also helps those who have hobbies that use a lot of tiny parts and materials, like scale model building, sewing, fishing, and others.
I am happy that this plastic tool organizer has a lot of different sized drawers for all the various components that I use for my scale model building hobby. I carry a lot of spare parts that I use for my hobby, so having many different drawer boxes so I can keep them separate and organized is a significant advantage.
Another neat little feature of this small tool drawer organizer is that it has clear drawers themselves. The clear plastic drawers make it easy to identify the contents inside even when I do not place a label on them.
I also like that I can mount the entire thing on the wall. With that, I can save on workbench space while allowing another cabinet to be stacked on top for even more storage. I am also delighted to know that users can easily divide the drawers into two just by inserting a plastic divider into slots built into the drawers.
It is excellent for my needs because I do not usually stock a lot of small materials, at least the non-essential ones, so getting more use out of a drawer is a nice touch. The thing that I did not like about this plastic tool drawer organizer, though, is the lack of reinforcement against deflection from heavy loads.
In other words, you should not load the drawers with too much heavy stuff, as it might cause the cabinet to bend downward. The problem is that such a scenario might cause the other drawers to bind.
What We Like
Lots of drawers for different kinds of small tools and materials
Allows you to split the drawers into two using plastic dividers
Clear drawers for easier identification of contents
Can be wall-mounted or stacked one on top of another
Can be scalable according to your particular needs
What We Don't Like
Weak construction, likely to bend when loaded with too many heavy items
Regarding the issue of bending, it will only happen when you overload the drawers. However, if you will only be putting in mostly lightweight things, and not too many heavy nuts and bolts (if you must place them at the bottom drawers), then this is the perfect organizer for your workshop.
3. Ernst 5060 16-Tool Standard Wrench Organizer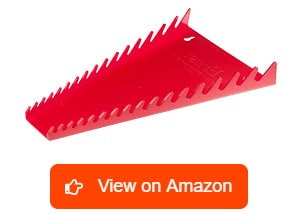 I prefer wrench trays over storage bags mainly because the fabric and stitchings wear out quickly due to the wrenches' weight. That said, my recommended organizer is this one from Ernst!
Composed of solid plastic, it features multiple slots in different sizes to fit all the wrenches I have. Even with heftier tools, the dividers will not bend!
Based on experience, the design allows me to retrieve the wrenches quickly and put them back without looking. Plus, I can store it on my work table or in a drawer! Moreover, the organizer has some holes where I can hang them on the wall.
Note that the slots are slanted, so the tools don't fall off easily when mounted vertically. Also, this angle lets me see the size of the wrench at a glance. Even better, the organizer helps me detect a missing wrench quicker than if I store my tools in a bin or drawer, where they tend to pile up as I accumulate more items.
However, I don't think this type of organizer will work with toolboxes or tool bags that are meant for traveling. For instance, carrying in a rolling tool bag will cause the wrenches to slip out from the dividers. Thus, this one stays in my workshop.
What We Like
Features multiple slots in different sizes to fit all the wrenches
Composed of solid plastic
Allows the user to retrieve the wrenches quickly
Can be stored on a work table or inside a drawer
Doesn't fall off easily when mounted vertically
Helps the user detect a missing wrench quicker
What We Don't Like
Doesn't work with toolboxes or tool bags that are meant for traveling
This wrench organizer boosts my productivity as I never had to spend another 20 minutes looking for a specific wrench! Whether I hang it on a peg board or place it in a drawer, the design allows me to find and grab my tools instantly!
4. Wall Control Pegboard Organizer Metal Tool Storage Kit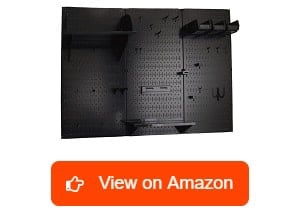 The thing I liked the most about this hand tool organizer is the amount of customization that you can do on it. It can use the traditional peg hooks for hanging hand and power tools. Aside from that, it can also use shelves, racks, storage boxes, and many other accessories.
I am also glad that the board itself is magnetic. This feature allows me to post drawings, plans, sketches, and other essential pieces of paper on the board, letting me see them correctly. I can just use any regular magnet to post anything onto the board.
Installation is also a breeze. Unlike other kinds of pegboards, I did not need to install a frame on the wall to attach the board. It allows you to screw the perforated back panels directly onto the wall studs or into the concrete. With that, you can easily remove and relocate the back panels.
The fact that you can choose the colors of the back panels is also a big plus for me. I can also pick from several colors of back panels available. It also lets you choose from different colors for the accessories you will be using. For most people, using a solid black color is enough.
However, I like to give my shop a bit of color, so I got back panels that are the same colors as my favorite basketball team. The only complaint that I have about this wall tool organizer is that the company's quality control is a bit lax.
When the back panels got delivered to my house, I discovered some bent edges. Fortunately, I was able to bend them back to the correct shape without causing any significant damage.
What We Like
Easy to install
Can carry a considerable amount of weight
Comes with a lot of different accessories
Features different color combinations
The back panel is magnetic.
What We Don't Like
The company's quality control needs improvement
It was fortunate that the bent panels are easy to fix because this product is one great choice for the best tool organizer system. It makes for an excellent addition to any workshop or garage. I can prove that it is scalable, comes with lots of accessories, and is easy to use.
5. Sunix Power Tool Organizer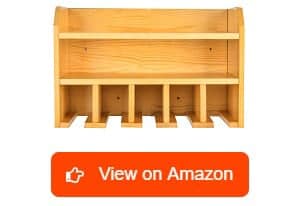 If you use a lot of power tools, hand drills in particular, then it is necessary to own this small tool organizer to keep all of your devices and tools in order. This wall-mounted tool organization system has slots at the bottom where you can hang up to five drills or other similar-sized power tools.
Because of the way it is designed, you can quickly grab and put back your tools, making you want to keep your work area organized. Aside from the tool slots, you can also use the two shelves to store even more of your tools. For instance, you can store the drill bit containers, battery packs, and others.
This tool storage organizer is also easy to customize. For instance, you can install a power strip on top so that you can charge the battery packs of your cordless power tools while storing them away neatly.
I am also happy that this organizer is easy to mount on the wall. I did not need to install a bracket. I just mounted the organizer directly on my concrete wall. You can also install this directly on the wall studs.
However, one concern I have in this large tool organizer is that it is made out of HDF (high-density fiberboard). I do not doubt that this will start to disintegrate after a year or so because of this.
What We Like
Has lots of storage space for power tools
Easy to assemble, no drilling required
Easy to install, no brackets needed
Has additional shelves for other tools
Customizable
What We Don't Like
Made of MDF, so it might not be as long-lasting as other materials
Although this is made of MDF and will not last long, this is an affordable way to get your tool organization goals started.
6. DEWALT DWST08202 Tough System Tool Storage Organizer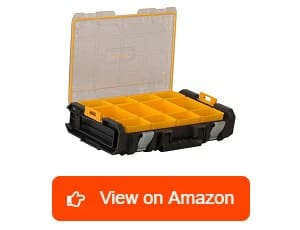 This tool organizer box is part of the DeWalt Tough tool storage system. You can expect it to work in conjunction with other storage components. It is a fantastic selection for those searching for the best toolbox organization system. You do not have to get the entire system. You can just use this organizer even on its own.
However, you might still want to get them once you see just how handy they are. This small toolbox organizer has a clear polycarbonate lid so that you can see the contents even without opening the lid. I find this feature useful as I own several of these cases.
The fact that I do not need to open them up one by one to find a particular item makes my work a lot easier. There are lots of removable storage cups in every toolbox organizer. There are four large and eight small storage cups that you can use to hold various items. You can easily pull them out to make dispensing easier and mess-free.
Another thing I love about this tool kit organizer is that it is IP65 rated. It means it has significant water and dust-proofing. With that feature, you can leave the case out in the rain while having an assurance that the contents will remain bone-dry.
The only issue I have with this organizer is that it is heavy even when not loaded. I think that this downside makes it a bit hard to transport the item without the Tough System dolly. It is even harder to do so when loaded with heavy screws, bolts, nuts, and other things of that nature.
What We Like
Comes as a part of a modular storage system
Waterproof and dustproof
Comes with a clear plastic cover
Has removable storage cups for easy dispensing
Durable and tough
What We Don't Like
Quite heavy even when empty
The weight is but a minor compromise compared to what you will be getting in return. If you need something that is durable and can carry and protect its contents, then this product is the right choice.
7. Bucket Boss The Bucketeer Tool Organizer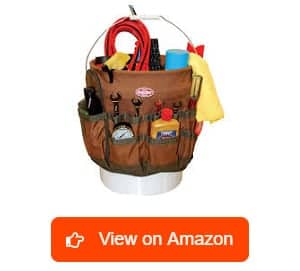 This tool organizer offers an incredible solution to organize your tools while promoting portability. This portable tool organizer can fit into any plastic bucket and will instantly turn it into a mobile tool holder. If you do not have a budget big enough for the fancy toolboxes but still need space for a lot of tools, then this is your best choice.
One fact about this product is that it used highly durable materials for its structure. The entire nail tool organizer is made of 600D poly fabric, which is resistant to tearing, puncturing, and abrasion. It also has double-stitched seams using durable nylon thread while having enough reinforcements at the stress points.
It can fit into any bucket up to five gallons in capacity. I am also happy that this product has enough pockets and loops for all smaller tools. The part placed inside the bucket will be big enough for your larger tools, like saws, hammers, wrenches, and crowbars, among many others.
The neat thing about this tool organizer is that everything is already out in the open. You can see all of the contents, so it is unnecessary to rummage through the tools. Just a quick glance, and you can grab that tool that you need.
The only problem that I had with this product is that it can only fit on buckets with an opening no bigger than 30cm. Also, the buckets sold in conjunction with this product are too big. Fortunately, I have a couple of buckets at home that fit this product correctly.
What We Like
Can turn any bucket into tool storage with ample capacity
Features a lot of pockets for small hand tools
The inside of the bucket can hold larger tools.
Made of very durable materials
Constructed with longevity in mind
What We Don't Like
Can only fit buckets with openings up to 30cm
This product is a neat tool organizer that you can use as a portable tool storage. It is recommended to get several of this item as it has lots of uses, not just for the workshop.
8. NZACE Adjustable Storage System

This adjustable storage system from NZACE is an excellent solution for keeping your garden tools, mechanic tools, or any other implements that you need to get organized. This system is 48 inches long and can hold 12 long-handled tools and 12 smaller ones. The anti-slip hooks can hold any long-handle tools up to 5kg in weight each.
The only requirement is that their handles can fit into them. This tool organizer also comes with 12 plastic pegs that you can use to hang smaller tools as long as they have a lanyard loop, or if they have holes big enough to fit the plastic pegs.
You can set up the rails where the hooks and pegs are installed without too much trouble. The rails consist of three pieces that interlock. You just need to mount them onto your walls like you usually would. There is no need to install a bracket on the wall.
The neat thing about this tool organizing system is that it has everything that you will need (aside from the drill), including the mounting screws and wall dowels. All it takes is mounting the rail directly on the wall studs, or anywhere else on a concrete wall. Just be extra careful not to drill into any electrical conduits.
The only thing that I did not like about this tool organizer is that when you install the pegs, they will be permanent. If you try to remove them, it is either the bracket will get damaged or the plastic rail will fall off.
What We Like
Can provide a total of 24 different tools
Has 12 anti-slip S-hooks for long-handled tools
Easy to install
Ideal for use in three sixteen panels or just one 48-inch long continuous strip
Comes with all the pieces that you need to mount the item
What We Don't Like
The pegs are pretty much permanent once installed.
The design of this product, especially the anti-slip hook, is very ingenious. If you want to keep your long-handled tools off the floor and ready for action any time, then get this tool organizer post haste.
9. DEWALT (DWST17806) Tstak Toolbox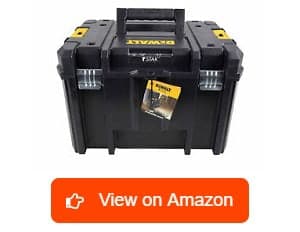 This toolbox is a part of DeWalt's Tstak modular tool organizing system. What it means is that if you want to increase the amount of storage space, you can get another one of this kind of toolbox or any other in the system. You can then expect the items to stack neatly on top of each other, thus saving space.
This product is a fantastic choice for the best toolbox organizer today because it is deep enough to carry a couple of small power tools, like a hand drill and an angle grinder. However, if you will not be carrying that many large tools, you can use the included removable tray for organizing your smaller tools and other items.
Another thing that I liked about this toolbox is that you can also use it as a foam tool organizer for any valuable and fragile items that you have. Just place foam inserts (sold separately) inside the toolbox, and it will be ready to go.
I am also glad about how durable this toolbox is. The main body is made out of sturdy polypropylene resin plastic, which is a lightweight yet tough polymer. The hinges and latches are stainless steel, a material guaranteed to last for years.
The only problem that I have about this toolbox is that it is not wide enough for anything bigger than a hammer drill. Even a cordless drill might not fit unless you take off the battery pack.
What We Like
Made of sturdy and durable materials
Comes with an interior tray for carrying smaller tools and items
Can fit several power tools inside
Useful as a protective carrier
The robust steel latches hold the lid securely in place.
What We Don't Like
Not wide enough for other power tools bigger than hand drills
If you are looking for your first toolbox and you are thinking of getting even more tools in the future, get this one then invest in other components of the Tstak toolbox organizers system later. Doing such can make your tool collection look more streamlined.
10. Tactix 320020 Hardware & Parts Organizers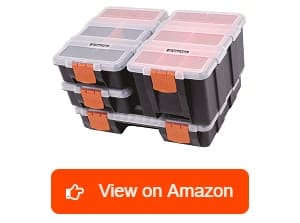 This item is a package of four different-sized containers. It does not matter what kinds of things you will be keeping inside. This closet tool organizer will surely perform well. It is especially handy for keeping small tools and other items.
One thing I love about these containers is I can easily stack them on top of each other. The grooves on the lids are made precisely for the feet of the containers. When stacked on top of the other, they will not slide off, nor will they tip over easily.
The lids are translucent so you can tell the contents of each container quickly. I like this feature since it means that I do not have to open each box when I am looking for something specific. A beefy plastic latch that hooks onto the base securely keeps the lids closed.
Each container comes with removable plastic trays that have separate smaller compartments. These compartments are colored high-vis orange, so it contrasts effortlessly with the contents, making it easy to identify whatever you place inside through the lid.
The thing that I did not like about it is that there is no space for labels. The only available place where you can stick labels onto are the lids, and they tend to get covered when the containers are stacked.
What We Like
Available as a four-in-one package, meaning you will get four spacious containers in the set
The containers are easy to stack on top of each other.
Made of durable hard plastic material
The translucent lids make identifying the contents easier
Comes with removable insert trays for additional organization options
What We Don't Like
No feasible place for sticker labels
For a low price, you will be getting four spacious and stackable containers with enough space for all of the small items that you want to keep and organize. However, you do not have to compromise with durability, making this product a bargain.
11. OEMTOOLS 22233 6-piece Socket Tray Set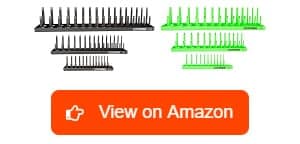 This tool organizers for toolbox is explicitly made for keeping your collection of socket wrenches well-organized. Every peg has a label for the specific size of a socket wrench to avoid confusion as to which socket goes where.
The labels on the pegs on this socket organizer are bold and bright, so you can quickly tell what size the socket is placed on them. I like this because it takes all of the work out of looking for the right socket wrench. I need to be lucky if I were to pick up the correct size of socket wrench the first time.
Each of the pegs has extended bases to keep the socket wrenches securely in place. With that design, it can prevent the socket tray from tipping over easily. Also, the sockets will not dislodge if it does so anyway.
My favorite feature of this organizer is that it can carry both Metric and Standard American measurements of stock. You do not need to worry about anything if you only have wrenches sized using the metric system.
There is one problem that I encountered when using them, though, and that is some of my sockets will not fit appropriately in their respective pegs, specifically if you use a different brand. I use Craftsman sockets, and almost half of them do not fit properly.
What We Like
Provides a proper place or location for each socket
Clearly labeled for easier identification
Fits neatly in most tool boxes
Supports both Standard American Imperial sizes and Metric
Color-coded to separate the Imperial from the Metric sockets
What We Don't Like
May have some fitment issues with other brands of socket wrenches
I contacted OEM Tools about the problems I have with their socket organizers, and they said that I got one from a defective batch. The replacement I have now has no fitment issues whatsoever. If you are thinking of getting this, which I recommend that you do, just ensure that you get stock from the newer manufacturing batches.
12. Vanitek 4 Heavy-Duty 12-inch Magnetic Tool Holder Rack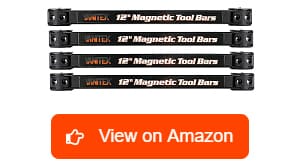 This tool holder rack is a nifty and convenient way of keeping your tools organized and out of your way when you do not need them. These are strong magnetic strips that you can mount on the wall or edge of your workbench. To use them, just stick the metal part of the tool onto the magnet, and that's it.
If you need a tool, just pull it off the magnet. Once done, just stick it back on. I am fond of the fact that this tool organizer easy to install. Because the package came with four individual magnetic bars, I wanted to use them separately, so I flush mounted mine directly on the wall.
Now, if you want to mount the strips side-by-side, you can install the included brackets first then mount the magnetic strips on them. The magnets are so strong that they could pull the tools out of your hand when they get too close.
The magnets are so strong that they can comfortably hold screwdrivers and wrenches and even heavier tools like hammers. This tool organizer is very versatile, too. You can mount it on the wall or the side of your workbench. This versatility ensures that your things are always within reach.
You can also mount it directly on top of your workbench to use as a holder for keeping screws and nuts. What I did not like are the tacky stickers that Vanitek placed directly on top of the product.
Not to be mean to the company, but I want my tool organizers to look simple, and a huge, thin paper sticker just looks horrible. Taking the stickers off was a pain because they are so thin that they quickly got ripped.
What We Like
Makes it easy to store and display your tools
The package comes with four magnetic strips
Strips can be mounted flush or by using brackets.
Allows you to mount it anywhere, assuring users of its versatility
Super strong magnets will not have any problem holding hammers and screwdrivers.
What We Don't Like
There is a huge paper sticker on top of the magnetic strips that are a pain to get off.
Despite the horrid sticker, this tool organizer is a pretty neat idea. You do not have to hook your tools onto anything. They are also easy to take off and put back on later.
What is a Tool Organizer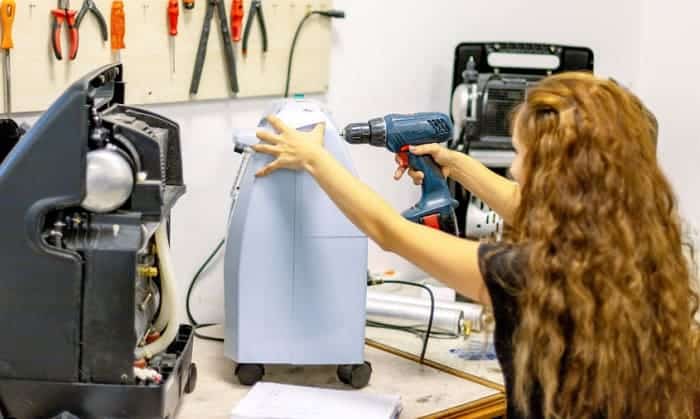 As the name suggests, a tool organizer refers to a piece of furniture or hardware that helps one to keep his collection of tools neat and organized. There are many different kinds of tool organizers, with each one having its distinct form.
Some even say that a tool organizer is just a blanket term of anything that helps keep tools neatly stacked and easier to access. If your garage or workshop is always a mess and you are running out of flat surfaces where you can place most of your other tools, then using this item can help you.
The organizer can be in the form of pegboards, stackable boxes, drawers, and others. As long as you can use it to keep your tools organized, then it is a tool organizer.
How Does the Tool Organizer Work
Tool organizers have the same end goals, and that is keeping tools organized and within easy reach. A good tool organizer keeps the tools safe, visible, and easy to get whenever needed.
For instance, a pegboard can be made of wood or a large piece of perforated sheet metal. Pegboards made of wood have long nails hammered at least two inches apart. You can then hang your tools in between nails, like placing them in a grid. It is a great way to keep your most commonly used tools in plain sight in case you need them.
Perforated sheet metal pegboards work similarly. However, the difference is that you can install and remove as many peg hooks as you want to hold your tools. You can also access other types of tool organizers, but pegboards are always among them.
If your garage or workshop is in complete chaos with tools and other miscellaneous items all around, then it is advisable to get a couple of tool organizers immediately.
Types of Tool Organizers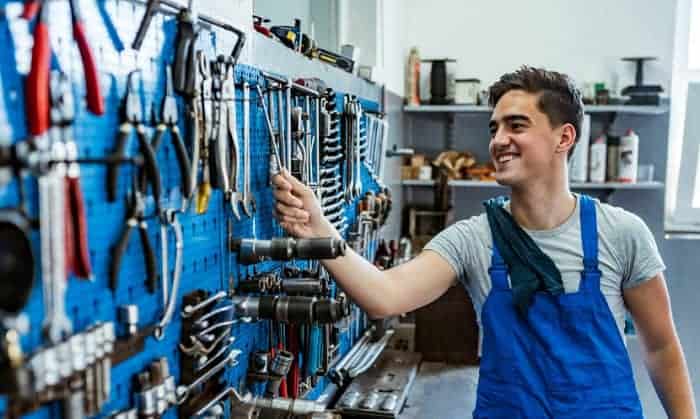 The term tool organizer has such a broad scope. It means anything that can hold and organize your tools and other items you use in your workshop or garage. As such, there are many different types, so many that grouping them into categories can be downright tricky.
However, to give you an idea of the things that you can use in your garage to keep your tools organized, here are some of the things that I use:
Tool drawers – These tool drawers are unlike the chest of drawers that you use inside the bedroom. You can see these being made of heavy-duty steel. The drawers are also shallow, so you can easily pick up the tools stored inside.
Because the contents of the drawers are so heavy, they implement ball bearing sliders to help them slide in and out smoothly while supporting the weight of the drawer and the tools inside.
Pegboards – These pegboards are usually planks of wood with a grid drawn on them. At each line intersection, a long nail is hammered in but not all the way. With that, the user can hang up his tools on the nails so you can easily take him later.
Modern pegboards nowadays are made of perforated sheet metal mounted on the wall. This kind of pegboard comes with various accessories that you can hang on the holes on the perforated back panels, like hooks, pegs, shelves, cups, and many more.
Clear top organizers – These organizers look like any other tool carriers, but the difference is you can see many different segregated containers inside. These small storage cups can be used for holding small items like screws, nuts and bolts, beads, and other small items.
These containers have transparent covers so that you can see the contents without having to open the lid. It is very convenient, especially if you have several cases like this.
Toolboxes – If you need something to keep your tools in – one that is portable, then getting a toolbox is your best option. A tool organizer box can come in different designs and configurations. These containers are usually large plastic containers with a deep main storage space at the bottom for large tools.
They also have trays or pockets for smaller tools. The neat thing about tool boxes is that they do not only make your tools organized but portable.
Tool chests – If you have too many tools for just a simple toolbox and you usually just work in your garage or workshop, then a heavy-duty rolling tool chest is the best choice for you. These tool chests are like a combination of toolboxes and tool drawers.
You can find multiple drawers for your hand tools as well as deeper containers for your power tools and other larger hand tools. This type of tool organizer can hold so many tools, so much so that many people are convinced that this is the only type they need.
These are just some of the many different kinds and ways that you can keep your chaotic collection of tools under control. You will realize that when all of your tools have their rightful place, you will feel less stressed and more efficient at your work.
Why Do You Need a Tool Organizer
If you are still undecided whether or not you need to get some tool organizers, here are some of the biggest reasons why you should:
You'll know where everything is – When your worksite is unorganized, you will never know where more than half of your tools are. For instance, if you have to use a wrench size that you have not used in a long time, chances are that you have already forgotten where you last put it.
You will be wasting a lot of your time backtracking and trying to remember where you might have placed that particular tool but not recalling anything at all in the end. If you have a couple of toolbox organizers, not only will you know where to look when you need a particular tool, you will also find it immediately because it will be highly visible.
After some time, you will not even need to look once you have the tool. Your hand will automatically hover over where it is.
To protect your tools against damage – If you have a habit of just throwing your tools into any old drawer in your workbench or an old toolbox, you are causing a lot of damage to your tools. Every time you open the drawer or pick up your old toolbox, the tools are banging against each other, causing nicks and dings on the metal.
The chinks in the surface caused by such are where most corrosion will start. If you have a place for each piece of hardware that you own, they will not even be in contact with each other. With that, you can minimize the amount of damage that they will be getting, which will mostly be coming from use and not from storage.
Helps avoid buying duplicates of the same tool – How many times have you been convinced that you have lost a particular tool that you purchased a new one to replace it, only to find it the moment you get home from the hardware store? Now, you have two of the same tool, and you just need one.
Stop wasting your money and just get a good tool organizer for your workshop. When you keep your tools organized, you will no longer get confused if you have lost a device or not.
Allows you to work more efficiently – If you have well-organized tools, you can work non-stop. There is no more pausing to rummage through an unorganized pile of miscellaneous tools. By organizing your tools properly, you will always know where to look when you need something.
If you keep this up, the time will come that you do not even need to look. You just automatically grab the right tool. Not having to stop means you can work continuously and finish your tasks faster. It also means you can concentrate on your work much better so you can improve the final quality
Lessens stress – It can get pretty frustrating real quick when you are looking for a particular tool, but after wasting a lot of time searching in vain, you have already accumulated a lot of stress, causing you to rage quit in the middle of a task.
If your tools and entire workshop are organized, you will know where you can find every piece. In other words, there will be no more futile searches. It will only take you a couple of seconds to find that one tool that you need. It can lead to less stress and more enjoyment out of your task.
Improves the quality of your work – When you are relaxed and focused on your job, the quality of your output will increase. It is a well-known fact that people tend to work better when their surroundings are clean, and their tools are all in order. When a person is relaxed when he is working, he tends to produce high-quality work in return.
If you feel like the quality of your output seems lacking, try getting your workshop organized and see how well it helps you.
Your workplace will be much safer – Giving all of your tools their proper places can keep you safe. Imagine you are rummaging through a pile of tools, but then your hand glides over a sharp object, and you get a deep cut. Because of your injury, you are sidelined from working for a while.
Prevent accidents like this from happening by organizing your tools. When you organize your tools, you can find anything you need with just one glance. Since you also know where your bladed tools are, you will be much more careful when reaching them.
Buying Guide
Because there are so many different brands and models of tool organizers that are in the market these days, choosing the ones that you should purchase can be difficult. To help you make the right selections, here are some of the characteristics that you need to keep an eye out for once you begin browsing through the thousands of different options.
Ease of Use – Pick the best tool organizer that is very easy to use. Keeping your tools organized and always at their proper place will take a lot of discipline and willpower on your part. Why would you make things harder on yourself by getting a tool organizing system that is difficult to use?
A useful tool organizer is one that is so easy to use. It should not cause you to force yourself to use it. For instance, pegboards and magnetic strips are easy to use. All it takes is placing the tool on the wall, and they will stay put.
Storage Capacity – If you have plenty of tools to organize, then the storage system that you get should have more than enough storage to accommodate all of them. For instance, if you have a lot of hand tools, do not get multiple toolboxes or drawers. Just get one large tool chest that can hold them all.
Materials Used – Ideally, your tool organizer of choice should be made of very durable materials. For one thing, it will ensure that the tools you put inside will be well-protected. Furthermore, making sure that you get a quality tool organizer means you can use it for many years.
For instance, if you are looking for a useful tool chest, it should be made out of thick-gauge sheet metal. Also, the finish should be powder-coated and not just painted.
Build quality – It does not matter if the tool organizer is made of high-quality materials. If it is not constructed with quality in mind, then it is not worth your money. Let us take tool chests again as an example. When buying tool chests, examine the seams. Are they just loosely riveted together, or worse, are they spot welded?
If so, then you can be sure that they will not last more than a couple of months. The seams should be MIG or TIG welded (the beads of the welds should look like small coins stacked on top of each other). If possible, it should use a lot of heavy-duty rivets to keep the seams nice and tight.
One more thing that you need to keep in mind is to get tool organizers that can fit your tools. For instance, avoid getting a socket wrench peg organizer if you do not even own a socket wrench set.
Care and Maintenance
There are no set guidelines on how to care and maintain tool organizers. It is mainly because they are very different from each other, so just take care of them the way that you would on your tools made of the same material.
For instance, if you have toolboxes or chests, wipe the surface down with a damp rag now and then to take care of the dust and dirt. Toolboxes and chests need not be washed with soap and water.
However, every couple of months or so, it is a good idea to remove all the contents and then thoroughly vacuum and clean the drawers and tool pouches. If you use organizers made of, then you can also apply wood conditioner to keep it hydrated.
Do that after wiping down and taking the dust and dirt off the surface. If the wood gets too dry, it will weaken considerably.
Frequently Asked Questions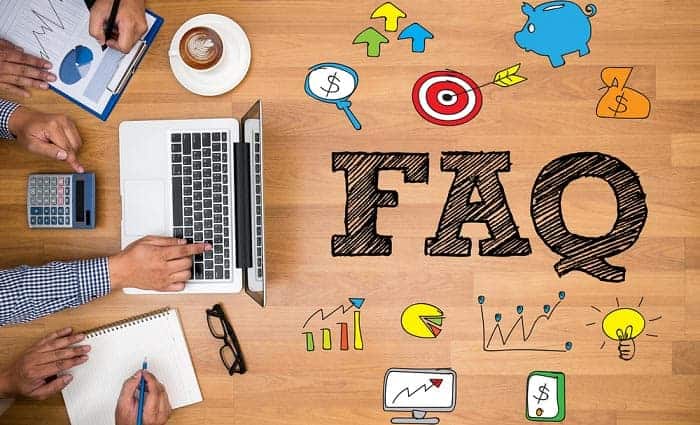 What are the most popular tool organizer brands?
There are so many different tool organizers out there that finding the ones that are worth your time and money can be difficult. However, in all of my years testing and reviewing many different organizers, I discovered that brands, like Wall Control, Akro-Mils, Sunix, Bucket Boss, NZACE, DEWALT, Tactix, OEMTOOLS, and Vanitek, are among the most reliable.
You simply cannot go wrong when you go with these brands. If you find tool organizers that come from these brands, then you can be sure that they are top-quality and very usable.
How to use a tool organizer?
There are different types of tool organizers, so it would be hard to find technical instructions on how to use them. To be sure of how to use your particular tool organizer, read the included owner's manual thoroughly. You might be using your tool organizer the wrong way.
How to build a tool organizer?
If you want to go the route of making your tool organizer from scratch, then the first you need to do is come up with a design and concept. You can just browse the internet for projects that you can do. Download the instructions/blueprints, so you will have a guide that you can refer.
Online projects usually also come with a list of the materials that you will need to buy before you can start working. Just follow the instructions to a tee, and you will get a beautiful tool organizer that you made on your own.
Are there alternatives to tool organizers?
Absolutely! Despite thousands of well-designed pre-made tool storage & organization systems sold in the market, many woodworkers, fabricators, and DIYers prefer making their toolboxes, tool chests, and tool organizer drawers.
Making a DIY toolbox organizer is not always the cheaper option. For starters, you need specific tools and materials to build your homemade storage for tools. If you don't have these, procuring them may cost more money than buying a ready-made one. Besides, it's hard to set aside time for it.
Still, creating organizers with your own hands will allow you to think of different ways to improve your workflow or maximize your workspace. It gives you control over the size, features, colors, and quality since you get to pick the materials, paints, and finishes.
If you have some scrap wood, extra mason jars, or unused bins laying around in your house, you can upcycle them!
How much are tool organizers?
Material, functionality, design, and quality are some of the factors that influence a tool organization system's price, which can go anywhere from $15 to a couple of hundred dollars!
It is also worth noting that you can buy a tool organizer bag, tool bucket organizer,
plastic container, or sets of bins and hooks for under $10! In contrast, putting together plenty of low-cost bins, hooks, shelves, and tables can also cost you over $200.
Can I store my power tools in a tool organizer?
Apart from a tool chest organizer, you can also opt for a wall tool organizer like peg boards if the power tools can fit. In any case, placing your power tools away from heat sources and sunlight is important. As much as possible, steer clear from places with high humidity, like the kitchen.
In a workshop, keep your power tools in low-traffic areas to prevent getting toppled over by workers, or injuring a person.
How do you organize tools in a small garage?
It can be hard to see how big or small a garage space is when the homeowner dumps way too much stuff in it.
Start by decluttering your garage. Take stock of your inventory and decide which ones to keep, throw away, or give away. Perhaps, your partner gifted you with a set of tool organizer drawers and cabinets, and you didn't get rid of your old ones. Also, you probably have some expired products sitting on your shelves.
Next, group your tools according to function or activity and create a "zoning" system based on this. For instance, you have gardening, cleaning, DIY, handyman, recreational, and sports supplies.
Just like arranging stuff in your tool shelf organizer, place the most used items in areas that are easily accessible. Meanwhile, seasonal items like Christmas decorations can go on the top shelves or at the back portion of the cabinet.
Avoid or reduce bulky cabinets or chests whenever possible. Opt for shelves and pegboards as these storage systems are mounted on the wall, leaving more space on the floor.
What is the warranty?
Most tool organizers only come with a traditional 30-day warranty against factory defects, which means you need to use and put the things through their paces to immediately find if there are any flaws so that you can still return the object for a refund or replacement.
However, some manufacturers provide an impressive lifetime satisfaction warranty. This means, regardless of how long you have been using the item, you can have it returned and get a full refund on your purchase if for any reason you are no longer satisfied with the item.
Usually, though, when a product comes with this kind of warranty, it is quite useful and high-quality that you will not want to send it back anyway.
Where to buy the top-rated tool organizer?
There are many different tool organizers in many brick-and-mortar retail establishments like Walmart, Lowes, and Home Depot. You can usually find dozens of tool organizers there from familiar brands, and you might even find all of the things that you need to keep your garage or workshop in order.
However, if you want even more choices of products and much better deals on tool organizers, online shopping through websites like Amazon will be your best bet. Online shopping allows you to quickly compare prices from different sellers and get better deals on the same product. The only downside is that you may need to wait a couple of days or weeks for your orders to get delivered.
Conclusion
If you want to regain control over the stacks of miscellaneous tools that you have in your garage, then you need to get the best tool organizer as soon as you can. However, finding them is not that easy.
Fortunately, with the help of this buying guide, you will realize what makes for a good tool organizer. Soon, you will have an orderly and neat-looking workplace.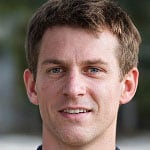 Having worked in the field of personal protective equipment for over two decades, Andrew Carnegie is a specialist in the field.
At EDC, he strives to improve performance efficiency and promote workplace safety for EDC's readers and customers. He also researches the most up-to-date equipment that has earned relevant accreditation for use in a wide range of industries and specialties.