As a worker, especially if you are an electrician or part of the construction industry, each moment in a typical workday matters a lot. With that in mind, the last thing you wish to think about is struggling to spot the tools and things required for your work. In this case, you might want to check the best tool pouch for you to make your job easier.
Workers who are into tough jobs, like electricians, need to prioritize not only their safety but also their speed and efficiency. They need to find the correct tools at the perfect moment. In some cases, having a toolbox is already helpful in gaining quick access to their tools.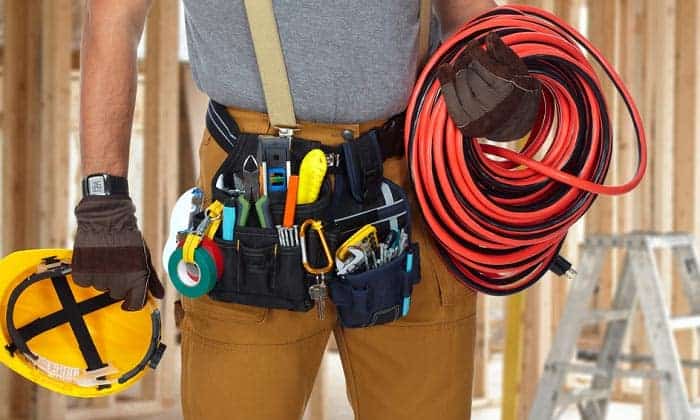 However, there are instances when the best electrician tool pouch or a high-quality work pouch is necessary to further simplify your job. Note that there are instances when your present job will not allow you to bring your toolbox with you, such as when you are fixing something on the ceiling.
In such a case, you will not be able to bring your toolbox since it would interfere with the things you need. Also, it would be such an inconvenience if you constantly climb up and down the stairs each time you need to use a new tool. A helpful item in that scenario is a lightweight and compact tool pouch.
With this pouch, you can store all the tools and equipment that you need to accomplish a particular job. If you are starting to get how important a high-quality tool pouch is, it would be extremely helpful to begin your search for the one you specifically need through the following short product reviews.
Best Tool Pouch Reviews 2020
1. Klein Tools Tradesman Pro Maintenance Tool Pouch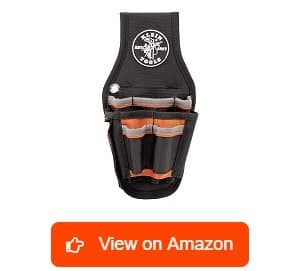 As one of the most popular and renowned creators and manufacturers of hand tools at present, Klein Tools will be on its way towards satisfying more and more customers with its Tradesman Pro Maintenance Tool Pouch. I got so amazed with this tool pouch because of how functional and high quality it is.
I find it extremely valuable if you want to keep your tools organized so it can perfectly match with the specific demands and requirements in your job site. I think it is a great pouch in case you need to complete quick maintenance jobs that require the most essential tools.
It has just the right amount of pockets to store all the essentials. Another positive thing about this tool pouch is that it comes equipped with a separate compartment, which you can use in storing tape and other vital articles and accessories. I love the basic styling applied to this tool pouch because I noticed that it is compatible with various outfits.
I am so impressed with how durable its overall construction is, too. The styling applies the easy grab-and-go concept, which ensures that all your tools will be easily accessible. It is compact and lightweight, which makes it even more rewarding and valuable to carry with you. The pouch is also available in a number of sizes so finding one that accommodates your requirements is easy. If you have a tool belt then you will be pleased to know that this pouch is easy to fasten into it.
However, some hoped that it lacks stretchiness, which is helpful in storing even more items, especially large ones.
What We Like
Compact and lightweight, promoting ease in using and carrying it around
Easy to fasten into tool belts
Available in a wide range of sizes
Comes with enough pockets to organize and store essential work tools
Versatile style, making it compatible with various outfits
What We Don't Like
Not as stretchy as other tool pouches today
With the ability of this tool pouch from Klein Tools to keep all your work tools organized and ensure that they are within easy reach, it will surely have a huge impact on your productivity.
2. Bucket Boss Tool Pouch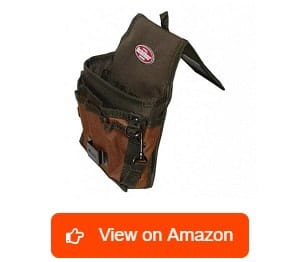 Another impressive tool pouch that is worthy of anyone's attention is the one offered by Bucket Boss. One thing that drives me to check out this product and use it is its durable and sturdy construction. It makes use of fine and high-quality imported fabrics that are strong enough in the sense that it can withstand a number of harsh conditions.
It makes use of the innovative poly rip-stop material for its construction, allowing it to show the least number of wear and tear signs. This fabric is tough and strong enough that it can withstand regular use and abuse around the garage, shop, or any other type of job site. I am also amazed by how extensive its overall capacity is.
It can carry plenty of tools with its nine pockets and eight tool loops. This promotes utmost convenience when it comes to organizing your valuable tools. Add the web loop designed for tape rolls as well as the tape measure clip and you will surely have plenty of spaces to keep everything in place.
The fact that this is a handy and lightweight tool pouch also means that you will not encounter issues carrying it around and keeping your tools organized in there. It promotes ease in accessing all the things that you need at work without interrupting your movements.
I find this tool pouch's distinctive flap-fit design convenient, too because it promotes ease in wearing it and taking it off. All it takes is to slide it over the belt. The semi-detachable flap can also be used in promoting more customized storage of tools by tucking it into your pocket.
However, it tends to rip faster than usual when used heavily, especially for heavy items and in extreme conditions.
What We Like
Easy to wear, take off, and attach to your pants or belt
Features a semi-detachable flap, which aids in customizing tool organization
Comes with plenty of pockets
Lightweight and compact
Promotes ease of access to your tools without interrupting your job
What We Don't Like
Prone to ripping with extreme uses
To conclude, the Bucket Boss Tool Pouch has a lot of amazing features that turn it into an incredible companion especially if you are someone with plenty of tools that you need to bring at work all the time.
3. Dickies 57026 5-Pocket Single-side Apron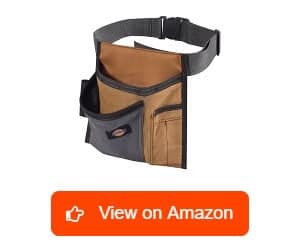 If you prefer to use an apron-style tool pouch then this single side apron with five pockets from Dickies is probably the perfect one for your needs. What I find so impressive in this single-side apron is its versatility as it suits the requirements of most workers, including DIY enthusiasts and master craftsmen.
With its heavy-duty and durable canvas construction, I can completely depend or rely on this for the proper organization of my tools. It appears in a single pouch featuring two huge slip pockets that I am sure you will find valuable in holding and organizing your tools and keeping them within easy reach.
It has a good storage capacity considering the fact that it also features a plier-type pocket, tool loop webbing, and a couple more slots designed to hold small hand tools. It also has a sturdy webbing belt paired with a high-impact and strong buckle made of plastic.
What is good about it is that its length is adjustable from 32 to 52 inches. In other words, you can conveniently make adjustments to it so it can fit you well. It is built to last as it also comes with reinforced loops and pockets that further improve the strength of this utility tool pouch in apron design.
However, some complained that the built-in webbed loop is quite small to hold tools, especially heavy ones.
What We Like
Versatile as it adheres to the requirements of most users
Good storage capacity, providing just enough space for your tools
Comes with a sturdy belt with a strong buckle
Adjustable length of the belt, allowing it to fit various fit sizes
Built to last as it is sturdy and well-reinforced
What We Don't Like
The webbed loop is smaller than what some users prefer
If you consider the versatility of this tool pouch paired with its durability and its huge storage capacity, it is safe to come to a conclusion that it can indeed help boost your productivity whether you are a builder, carpenter, painter, DIY enthusiast, or any other worker who needs something to organize tools and make them easily accessible.
4. McGuire-Nicholas 804 Mini Work Organizer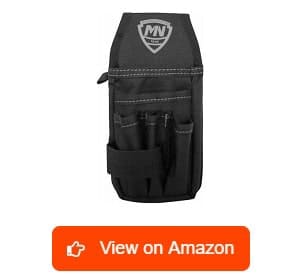 Another excellent choice for the best small tool pouch is the McGuire-Nicholas 804 Mini Work Organizer. I am pleased to announce that this multi-pocket holder for tools is versatile and flexible enough that it works well for small jobs and projects as well as for DIY tasks.
Built using sturdy polyester material, I noticed its usefulness in accommodating several tools and items for work, including keys, knives, wrenches, screwdrivers, and hammer, among many others. I am also pleased to say that it is built in a way that you can use it with either a belt loop or an integrated metal belt clip.
The fact that it has multiple pockets is a strong advantage as it means that it will have plenty of room to organize or secure all your tools and belongings. I am also very happy with the webbed front loop included in this utility tool pouch as it helps to secure tape measure as well as other longer tools, such as a hammer.
I also noticed that its weight, even with the contents, is bearable for a few hours of work every day. It is because of its completely lightweight construction and easy to manage features. It is offered at a decent price plus most users agree that the pouch just comes at a size that fits their preferences.
It is also easy to clip into your belt, making it possible to utilize it without dealing with the hassle of using a loop to remove and lace a belt.
What We Like
Provides enough room to organize all your tools and belongings
Can hold different kinds of tools that you can use at work
Lightweight, making it easy to wear for a few hours daily
Easy to clip into a belt
Holds your stuff securely, thanks to the webbed front loop
Still, most of those who were able to use this pouch agree that it acts as an incredible solution to organizing work tools and making them as easy to access as possible.
5. CLC Custom Leathercraft 1524 Zip-top Tool Pouch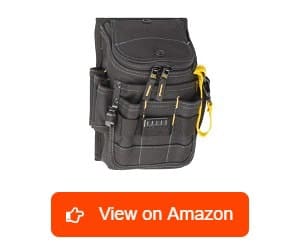 If you are looking for a tool or utility pouch designed to accommodate a higher number of tools and accessories that you need to bring at work then the 1524 Zip-top Tool Pouch from CLC Custom Leathercraft could be the answer. It has plenty of spacious compartments while still remaining lightweight and compact.
It has multiple pockets that are large enough that it can store a wide range of contractor, technician, or electrician accessories and tools. It even comes with one more front panel pocket, which I am so delighted to see because it is large enough to hold a number of tools.
You can also see a few straps, sleeves, and slots integrated into this pouch to handle various hand tools. I super love the double-pull zipper cover built into this product, too, because I instantly sensed its effectiveness in securing tools and parts while still raising its ability to handle longer items.
Securing the pouch is also very easy as you can do it through a belt clip or loop. You will also find it convenient and easy to securely clip to your belt or pair of pants. Just like me, you will also enjoy the heavy-duty and sturdy clip built at the back as you can use it in case you are not wearing a belt.
Another nice feature is the tape spool. You will also love the quick clip where you can hang extra tools and accessories. In addition, there is a snapback lid, which promotes ease in accessing the contents of the pouch with just one hand.
It is convenient as you no longer need to hold the lid back when you are doing so.
However, just like the previous product, the stitching here is subpar.
What We Like
Comes with plenty of spacious compartments without losing its lightness
Compact construction, promoting ease in using it
Easy to secure with the help of a belt clip or loop
Can hold even those longer items
Ensures that you can easily access its contents singlehandedly
To conclude, I think this one is an awesome pouch, which can deliver and fulfill its promises, especially in terms of convenience, tool organization, and storage capacity.
6. DEWALT DG5103 Maintenance and Electrician's Pouch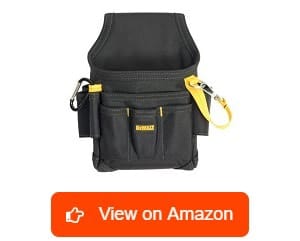 If you are interested in pocket tool pouches then the DG5103 Maintenance and Electrician's Pouch from DEWALT might grab your attention. I am happy to say that this pouch serves as the ideal holder for the tools used often by contractors. This is a big help to contractors and electricians who have to make sure that the tools they need to complete their jobs are just close to them.
I noticed that it comes in the form of a hands-free tool bag/pouch, which makes it very convenient to use. The main pocket is large enough to hold numerous items. It also comes with a sleeve pocket and some loops to accommodate other supplies and tools, organizing them properly and securely so you can do a quick and efficient job.
What I am fond of about this pouch is that it is durably designed, thanks to the sturdy ballistic poly material utilized in it upon construction. It also has a rear clip. It is convenient to use as you also have the option to attach it into a tool belt, which is up to 2 to 4 inches wide.
With its hands-free design, I still find it convenient to get and access my tools using both hands even when I am climbing or inside a crawl space. I also noticed that its size is just right for busy and active professionals and contractors like me. It is not burdensome to carry because it is compact enough but still have a huge space to hold and organize the tools that you usually used.
I am also impressed with the sleeve pockets and web loops added into the pouch as it offers multiple storage choices.
However, the clip at the back is not that useful as it putting something on it might only put strain and pressure on the user's back.
What We Like
Hands-free design, making it easier to access tools
Compact while still providing adequate space for your items
Equipped with sleeve pockets and web loops for additional storage
Durable and sturdy construction
Versatile as it fits the preferences and needs of the majority of workers
What We Don't Like
Unnecessary clip at the back
With the help of this maintenance and electrician's pouch, you can boost your confidence and productivity even in the toughest work environment since you know that you will not deal with too much hassle accessing all the things you need to complete a project.
7. Southwire Tools & Equipment POUCH4 Tool Pouch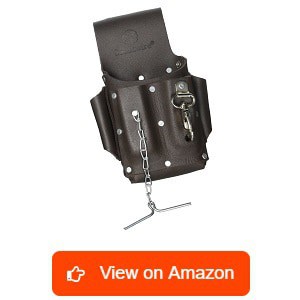 You might also be interested to check the Southwire Tools & Equipment POUCH4 Tool Pouch as it also has valuable features that adhere to the preferences and requirements of a lot of potential users, including workers. Built using leather material, I can confirm its sturdiness and strength and ability to withstand even the harshest use and abuse.
Such construction can deal with harsh and difficult work conditions you are dealing with on a daily basis. I like its ability to retain its good condition for quite a long time, too, considering the fact that it is built to be resistant to stains and fading. It is equipped with tapered pockets that I discovered are effective in storing your tools snugly.
It also features a couple of compartments with open bottoms, capable of fitting long screwdrivers. Actually, it is a 5-pocket tool pouch composed of four small pockets that are surrounding a huge main pouch. This gives it more than enough space for a number of things, like your screwdrivers and cutters.
I like the tape chain built into this tool pouch because I noticed that it is a big help in making it easier to reach for electrical tape. Another nice feature in this tool pouch is the metal clip, which is extremely useful in securely holding keys and other small work tools.
I would also like to recognize the presence of the wide belt loop because I find it capable of accommodating belts that have a width of up to three inches. The washer-rivets used in the pockets also add more strength to the pouch, providing a dependable and sturdy storage solution for all your work tools.
However, since it is built using leather material, it might be necessary to break it in at first before you can fully enjoy it.
What We Like
Decent storage space, capable of storing plenty of tools
Built to be durable and strong, allowing it to deal with harsh conditions
Stain- and fade-resistant
Promotes a snug fitting of your tools, thanks to its tapered pockets
Can securely store and hold keys and other small tools with its metal clip
With all the carefully thought-out features added into this tool pouch from Southwire, it is surely the ideal choice if you are looking for a pouch that promotes ease of storage and access to your tools.
8. McGuire-Nicholas 526-CC Professional Electrician's Pouch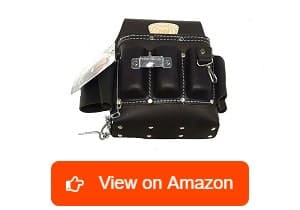 Constructed out of faux leather material, I find the McGuire-Nicholas 526-CC Professional Electrician's Pouch a wise choice for any worker who needs the best solution for the proper organization and storage of their tools. While the quality is not as good as the other brands, it is still praiseworthy because of its strength and durability.
Such strength is noticeable not only because this pouch is constructed from leather but also because of its strong rivet reinforcements. I like the distinctive holders integrated into this pouch mainly designed for keys, tape measure, flashlight, hammer, and electrician's tape among many other things.
The pouch is also made in a way that it guarantees ease of access to all your work tools while also promoting convenient vertical storage. It boasts of its T-chain tape clip. It also serves as a convenient carry tool pouch. The pouch is also lightweight, making it much easier to bring it in your workplace.
I also noticed that this is a nice pouch with a great and rugged look. With its huge amount of space, I think that carrying a lot of tools is a piece of cake for this item. I also think that its size is just enough to store work essentials and ensure that they are well-organized and easy to access.
One issue I have with this professional electrician's pouch, though, is its stiffness. It is quite stiff, especially when using it for the first time, but you can soften it with the help of a leather conditioner/softener or baby oil.
What We Like
Strong and durable faux leather material used
Comes with rivet reinforcements, making it even stronger
Equipped with distinctive holders for proper storage of your items
Ensures the convenient vertical storage and ease of access to your tools
Boasts of its lightweight nature and rugged look
Once you successfully softened this leather pouch a bit, I am sure that you will begin taking advantage of everything that it can do for you, especially as far as storing and organizing your most frequently used tools is concerned.
9. NoCry Heavy-duty Canvas Tool Pouch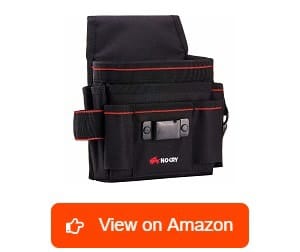 This heavy-duty canvas tool pouch from NoCry is also a fantastic option for your specific tool organization needs. It is the perfect solution if you want to ensure that your essential work tools are easy to access and close at hand. It has the right amount of length, making it convenient and compact enough to carry on your job site.
With the help of this tool pouch, I can assure you that you no longer need to climb up and down or crawl in and out of tight and small spaces to access the tools you need. I am pleased to say that this tool pouch is constructed from sturdy and heavy-duty 600D black canvas, which is strong and stable enough to handle your daily tools.
I noticed that this material is long-lasting as it lets you use it heavily while still retaining its abrasion-, tear- and cut-resistant properties. It also comes at just the right size with loops and pockets designed to store a lot of tools and equipment and keep them as organized as possible, including tapes, tape measures, screwdrivers, wrenches, pliers, and hammers.
The versatility of this tool pouch is also unquestionable. It works perfectly for a wide range of workers, including drywall workers, plumbers, HVAC technicians, craftsmen, gardeners, carpenters, and electricians. I am impressed with the strong and durable hook-and-loop fastener, which promotes ease in hanging the bag either around your waist or from your belt.
The fit is also customizable because it has an adjustable nylon belt, which can be extended to meet various waist sizes, specifically 28 to 52 inches. You can also expect the built-in belt flap to fit over the majority of belts.
I just hoped that the canvas used here is thick enough to prevent punctures caused by sharp items.
What We Like
Versatile as it is compatible with the needs of several workers
Features plenty of loops and pockets to store your tools and equipment
Customizable fit, thanks to its adjustable nylon belt
Ensures that you can easily access your daily tools
Comfortable enough that you can wear it for a long period
What We Don't Like
The canvas material is not that thick
All in all, this versatile and compact pouch is probably what you need to ensure that all your tools and equipment are kept properly organized while ensuring that you remain comfortable when wearing it even for an extended period of time.
10. Occidental Leather 5500 Tool Pouch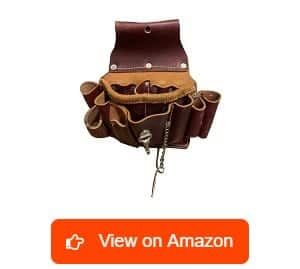 If you are looking for a dependable tool pouch from a reputable brand then the Occidental Leather 5500 Tool Pouch is a fantastic option for you. I am in favor of this tool pouch as it is offered by Occidental Leather, which already established a great reputation in this field for a few decades.
I can say that the majority of the features added into this tool pouch are what electricians and other workers need to get their job done in a more convenient and productive manner. Made entirely of leather, I am one hundred percent sure that this is a heavy-duty and sturdy piece of pouch.
It is equipped with a few pockets and tool holders designed to store and organize your work essentials. I am also amazed at the loop built into the pouch, which you can use to store a flashlight so you can easily peer into dark crevices in the attic or beneath the floor.
Another distinctive feature present in this tool pouch from Occidental leather is a chain designed to store your electrical tape. I am also glad that this tool pouch is lightweight as it means I will not experience problem moving around even with all the stored tools inside of it.
This product is solid and durable plus it assures users of a comfortable fit designed to make the process of fulfilling your job even easier.
A downside to this leather tool pouch, though, is its somewhat lofty price.
What We Like
Spacious and roomy enough with all the pockets and tool holders stored in it
Features a loop that can hold a flashlight
Comes with a chain so you can easily put your electrical tape there
Lightweight and compact so it will not interfere with your movements
Comfortable fit guaranteed
While the price of this tool pouch is higher compared to the others, I am still confident to say that it is worth each penny because it acts as a fantastic companion that can help make your tasks a lot easier to fulfill.
11. Veto TP4-B Tool Pouch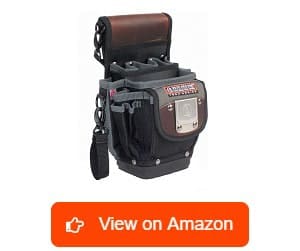 I am also quite sure that the Veto TP4-B Tool Pouch is a tool organizer, which will never cause any disappointment to anyone who is fortunate enough to use it. This tool pouch is designed in a way that you can organize your tools in a secure and vertical manner. With its vertical organization of your tools, accessing them will be much easier.
Since this tool pouch is lightweight and compact, carrying it around even with the tools stored in it will be much more convenient. It comes with a hard bottom, which protects that area, allowing you to carry your stuff without worrying about potentially damaging the bottom of the pouch nor making you feel uncomfortable.
It features tool pockets that are deep enough to hold your small and large items. The large space and room provided by this tool pouch are also impressive. In fact, you get to enjoy twenty interior and exterior vertical pockets of different sizes, ensuring that you will not experience any problem finding the right amount of storage space for your tools.
I find this tool pouch sturdy, too, as it is constructed in a way that it can last for quite an extremely long time. It is capable of holding up even on harsh and difficult work environments.
I like the fact that this tool pouch has the ability to evenly distribute the weight of the tools inside so users will not experience too much pressure and discomfort from it.
The only problem in this tool pouch is its price because it is actually expensive.
What We Like
Features pockets that are deep and wide enough
Various sizes of interior and exterior vertical pockets included
Sturdy and long-lasting
Capable of distributing the weight of tools evenly
Organizes and stores your tools vertically and securely
Yes, it is pricey but you will immediately get your desired return from the money you spent once you begin experiencing its major contributions on your productivity.
12. ToughBuilt Electrician ClipTech Pouch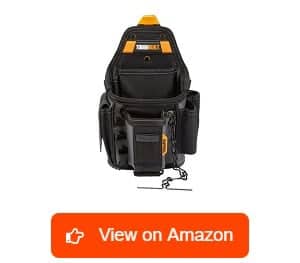 Lastly, there is the Electrician ClipTech Pouch from ToughBuilt, which is known to improve the way electricians and other professional workers carry and bring their tools in the workplace. It is because while this pouch is sized small, its interiors are roomy and spacious, helping you store and organize a lot of stuff without any problem.
One unique feature I would like anyone to take advantage of in this pouch is the ClipTech Hub. It is a unique and patented feature, which makes it possible for you to clip your pouch on and off various types of belt. I like the integrated kickstand in this pouch because I discovered its ability to ensure that it stands upright when on the ground while ensuring that it is close to you so you can easily access what is inside.
The flexibility and adaptability of this pouch from ToughBuilt are also unmatched. I can say that it is versatile because it serves as a compact and convenient storage solution for universal uses and applications. It is heavy-duty and convenient despite its small size plus it has up to thirteen pockets plus tool belt loops.
It can also adapt to the requirements of different works, not just electricians, like carpenters, handyman, contractors, plumbers, and framers. I would also like to highlight how sturdy and durable this tool pouch is. It has a sturdy 6-layer construction paired with its strong and heavy-duty rivet reinforcements.
With such solid construction, I find this pouch truly reliable and capable of withstanding even the most challenging work conditions. I am also impressed with the pouch's quick-release feature.
However, I noticed that the tape chain is longer than necessary, making it prone to slinging up to the tool pouch.
What We Like
Solid construction as it can withstand tough work conditions
Can adapt to the needs and requirements of different workers
Roomy and spacious with its multiple pockets and loops
Compact and convenient to use
Features strong and heavy-duty rivet reinforcements
What We Don't Like
Longer than necessary tape chain
So far, I am greatly satisfied with this tool pouch from ToughBuilt because it paved the way for improved productivity and work efficiency.
What is a Tool Pouch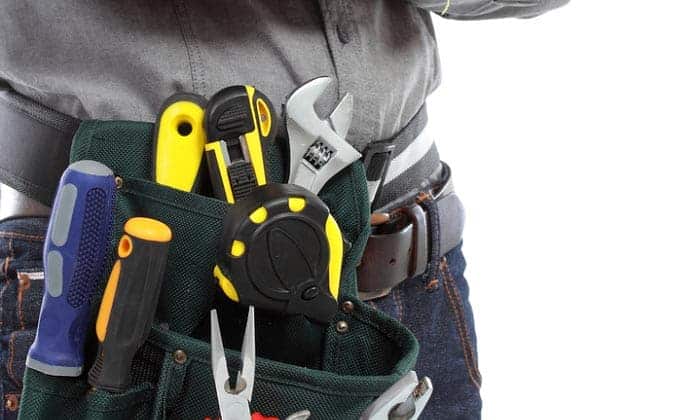 When you are working on a project, it is best to have your tools where you can reach them. The problem is you cannot bring your toolbox everywhere. The simplest and best solution for this problem is to use a tool pouch. This refers to a handy container, which can help ensure that you will always have the right tool for the job wherever you are.
It can be tiring to constantly walk back and forth between where you are working and your toolbox. This becomes even more tiring and even dangerous when you need to walk up and down a ladder. This is why you will always see professional contractors wearing tool pouches that contain all of their most used tools.
Tool pouches are kind of like a belt bag but made of much tougher materials. They usually come with open pockets for easy access. In addition, they are often big enough to accommodate large tools like hammers, cordless drills and the like. There are tool pouches that can hold a myriad of tools.
Others, on the other hand, are more compact and hold fewer tools but allow for more freedom of movement. Having a tool pouch will mean you can work more efficiently and actually finish your job quicker and with fewer hassles.
How Does It Work
Tool pouches are pretty straightforward when it comes to their use. You put in the tools that you usually use and then strap the whole thing around your waist. However, if you are a professional or if you are just really into DIY home repairs, then you will find that there are many other benefits that come with using tool pouches.
First of all, tool pouches allow you to carry your tools around with you, just like your trusty toolbox but without the bulkiness. However, you need to know that tool pouches do not have the same capacities as toolboxes but they really do not need to. Second, tool pouches allow for ease in mobility. Do you usually use all of the tools in your toolbox?
Oftentimes, you only use a handful of tools or less for each project you undertake. This is why most tool pouches only have room for the basics – a couple of screwdrivers, a hammer, some pockets for small items and maybe a hanging hook for a hand saw.
The important part here is that the tool pouch still allows the user to move freely and still have easy access to his/her tools.
Types of Tool Pouches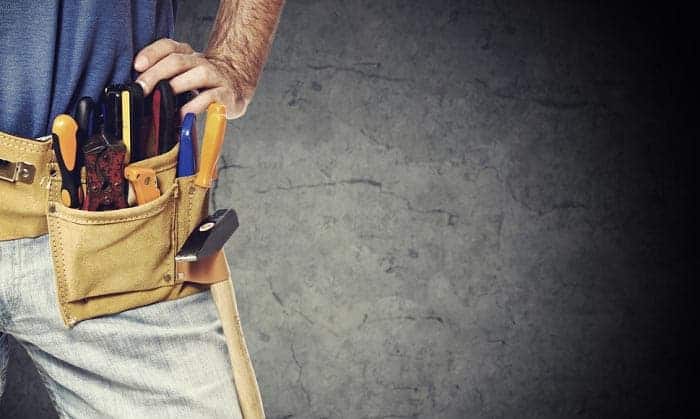 There are different kinds of tool pouches for different types of jobs. Here are just four of those that a lot of professionals use:
Suspenders – These tool pouches have straps that attach to the waistband of the tool pouches then go over the shoulders of the user. This is the best choice in case you need to carry a lot of heavy tools.
It is because all that weight will be distributed equally among the hips and the shoulders. It also works best when you are working at a remote location, like on your roof, and you do not like to needlessly climb up and down ladders.
Waist – This is the quintessential tool pouch design. When people hear the words "tool pouch", the item that immediately comes to mind is the waist tool pouch. As the name suggests, this tool pouch consists of a wide belt with different-sized pouches for different kinds of tools. It might not have the same capacity as the suspender-type tool belt but it does have enough storage space for most uses.
Hip – If you need more mobility and you do not use that many tools at all, maybe four or six pieces max, you will find the hip-type tool pouch to be just the right size. This is ideal for those who just like to do DIY home repairs, including projects that just require screwdrivers, pliers, and a hammer.
The hip tool pouch is so discreet that you might even forget that you are wearing it. This is also convenient as you just need to drop your dominant hand to your side to get the tools that you need.
Apron – Just like the suspenders tool pouch, the apron-type can hold quite a large number of tools. The only difference is that it has the added benefit of protecting your clothes from dirt and grease.
It is more suitable for mechanical garages where you have to really get down and dirty inside the engine compartment of vehicles to find and repair the problems. It is appropriate for woodworkers, welders, and other artisans as its tough canvas material provides a layer of protection against shards, sparks, and other causes of injury.
Additional Pouches – If you are not satisfied with the number of storage pouches that your suspender and waist-type tool pouches have, you can buy additional extension pouches to add more storage to the existing ones. Additionally, you can use these extension pouches on your regular belt to make your own makeshift tool belt.
These are some of the most popular types of tool pouches that are available in the market today. Choose the right tool belt that fits your needs. If you do not do labor-intensive projects anyway, then you have no need for a large suspender-type tool pouch or an apron-type.
A hip tool pouch will be more to your liking in such a case. So before you go out shopping for a new tool pouch, take into consideration what kinds of projects you usually do.
Why Do You Need to Wear Tool Pouches
Tool pouches are invaluable implements for tradespeople for decades, and there are no signs of them ever going out of style. If you are new to the DIY home repair or carpentry scene and you are still on the fence about using a tool belt/pouch, since you think your toolbox will be enough for your needs, then you better think again.
To convince you to get a tool pouch, here are some of the benefits and reasons why you need them:
Helps organize your tools – The different compartments in tool pouches can keep your tools and materials separated so you can find them easily. Just imagine how much time you can save when you know which pouch you stored your finishing nails instead of rummaging through your trouser pockets containing different items.
Improves your work efficiency – There are times when you are so engrossed in your work that even the slightest lag, like walking away from your work area to get tools, will take you off your rhythm. With a tool pouch, all needed tools and materials are literally within your reach. You will never miss a beat anymore when you are working.
Keeps you and your workplace safe – If you are working form a height, like let's say you are pruning your trees, then there is a great possibility for you to drop one of your tools and hit someone without the tool pouch around. With the aid of this item, you can hold your tools and materials securely.
This can help ensure that they will never accidentally fall. Having your tools within your reach also prevents you from having to go up and down ladders whenever you need a particular tool.
Buying Guide
Now that you have decided to get your very first tool pouch, you need to know what to look for so you will get your money's worth, and probably even more. To ensure that you will be getting the right pouch, ask yourself the following questions:
What kinds of projects do you usually do? – Will you be using the tool pouch for work or around the house? If you will be doing medium-scale projects like replacing the broken tiles on your roof, repairing the fence, or installing new light fixtures in the living room and dining area, then a medium-sized waist tool pouch or a hip tool pouch is ideal for you.
If you will be doing large projects like building a garden shed, re-boring your car's engine block or other similarly large jobs, then you need most of your tools on hand. This means you will need the suspender-type or apron-type tool pouch so that your clothes will not get dirty.
What tools do you usually use? – Assess the kinds of tools you usually use for your projects. If you are a typical carpenter then you probably use your hammer, chisels, rasps, screwdrivers, and others. Such large tools need equally large pouches to carry them.
Now, if you are into woodworking, and you have to work with lots of sharp tools like chisels, drills, and rasps, then go for a tool pouch made of materials that are tough and rugged enough to prevent the tools from puncturing through. Something made of thick, tough canvas material would be your best choice.
How many tools do you usually use for a single project? – Does your project require you to use six to a dozen different tools at a time? Then a large suspender tool pouch will be your best bet. If mobility is not really an issue then you can also get an apron-type tool pouch.
On the other hand, if you usually use just two or three tools, like maybe a pair of pliers and screwdrivers, a hip tool pouch is the one that you need. Of course, you can buy whatever tool pouch that you want but would it not be overkill to wear a huge tool belt, only to use three of the tools attached to it?
If you think that you will be using it a lot in the future, like when you are starting your own contractor business, then get a large capacity tool belt. However, if you are set on just doing DIY home repairs, just get the smaller ones.
Aside from finding answers to the questions above, it also helps to consider these factors:
Materials used – Tool pouches are made of different materials – from thin vinyl to robust tanned leather. Of course, the more durable the material used, the more expensive the end product will be.
Construction quality – When shopping for tool pouches, you need to purchase the one that has superior construction. For instance, you should check the stitching of the seams. Make sure they are double-stitched using heavy-duty thread so that they would not pop out when you place heavy tools in them.
Care and Maintenance
As tough as tool pouches are, you still need to take care of them if you want them to last for many years. Caring for your tool pouch may vary depending on the main material used in it. If your tool pouch is primarily made of canvas, then avoid using soapy water when cleaning it.
You should never use any kind of detergent or soap on canvas since this will damage its waterproofing properties and make it weaker. To remove dirt, you just need to brush it off using a soft-bristled brush, like a used toothbrush. You can also submerge the tool pouch in water and give it a good shaking to dislodge the dirt. Avoid scrubbing it.
To remove stains, dilute some laundry bleach in water and directly apply it on the stained area, allow the bleach to penetrate into the canvas then rinse the whole tool belt in a container containing clean water. Again, do not scrub the canvas.
If your tool pouch is made of polyester then machine-wash and dry it. The great thing about polyester is that you can wash it just like any other garment. Just be extra careful when drying it as it tends to shrink. Just machine-wash it as usual then use medium heat when drying.
Use a bit of fabric conditioner at the rinse cycle to prevent the polyester from stiffening. Adding fabric conditioner also prevents the polyester from storing static electricity, which is recommended if you will be working on your car because the static might ignite gas fumes.
Frequently Asked Questions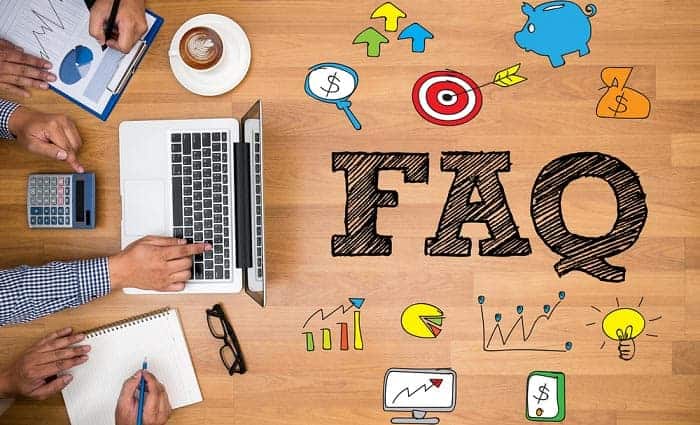 What are the most popular tool pouch brands?
There are many different brands of tool pouches in the market nowadays. However, there are only a few that are quite notable for their durability and other features. If you are looking for tool belts that are worth the price, or maybe even more, you should check out trusted brands, like DeWalt, Dickies, McGuire, BucketBoss, and Klein.
All these brands are popular for their well-designed tool pouches. You can also choose from their wide range of colors and designs. What is good about these trusted brands is that their pouches are known to have high storage capacity and for being robust.
Who needs to wear tool pouches?
Everyone who works with hand tools a lot will find tool pouches to be a worthwhile investment. Take the following potential users for instance:
Mechanics – When working on large vehicles like trucks and tractors, mechanics often need to climb onto, and sometimes inside the engine bay. While being there, they have no access to their toolbox.
Even when working on regular-sized cars and trucks, having a tool pouch with all of the tools that they usually use right at their fingertips can help them work faster and more efficiently.
Carpenters – The first ones who actually started using tool belts and pouches were carpenters and for good reason. Oftentimes, carpenters cannot move from their position so that they can get something from their tool chests.
For instance, if you are working on the second-floor window from a scaffolding, having tools within your reach will be a whole lot safer than having to go up and down the scaffolding, or carrying a heavy, unsecured tool box up the frame, which is actually quite dangerous.
Electricians – Most electricians need to use different kinds of pliers, screwdrivers, and other tools in their jobs. Most of the time, they work on top of ladders where they could not bring their tool chests with them. Tool belts are handy for their profession because they can bring all of their usual tools without making them encumbered.
Anyone who does DIY repairs – If you like to work on small home repairs on your own, having a basic tool pouch is actually somewhat of a requirement. For instance, if you are working on one of the light fixtures in your house, you do not have to go up and down the ladder when you need to switch from using a screwdriver to a pair of pliers.
All you need is a tool pouch, which allows you to reach the appropriate tool with ease.
What tool belt accessories can be detachable?
When your tool belt does not have all of the functionalities that you hoped it would have, it does not mean that you need to buy a new one. Thankfully, there are many detachable tool belt accessories that you can purchase to make yours fit your needs. Here are some examples of their add-ons:
Holster for cordless drills – Most tool belts only provide a hook for power tools to hang from. However, if you want to provide your tools with more security then get a drill holster. This holster also has compartments for drill bits and an extra battery pack.
Additional pouches – Sometimes, the number of compartments on a tool belt is simply not enough. Thankfully you can easily add more just by strapping on additional pouches. These pouches are great for storing nails of different sizes, screws, nuts and bolts, and other small items that you will need for your project.
Loops for suspenders – If your tool belt is starting to feel too heavy for your waist, you do not have to buy a suspender-type tool belt, at least not yet. You can just get suspender loops for the belt. This way, you can still keep your old tool belt and carry more tools than before.
How to wear a tool pouch properly?
If you are using a basic tool pouch, you need to tighten the strap just enough that it will not go sliding down your legs. Make sure, however, that it is not too tight that it makes it hard to breathe properly. It should fit you comfortably and should not impede your movement in any way.
When placing tools into the pouches, you do not do it randomly. You have to organize them. For instance, you need to place the tools that you usually use near your dominant hand, like your hammer, screwdrivers, utility knife, and others.
On the side of your non-dominant hand, you can place the tools that you only use occasionally, like your roll of electrical tape, duct tape, measuring tape, marking pencil, and the like.
How to clean?
Tool pouches are made using different materials, so there is no one way to clean them properly. It is advisable to consult the tags attached on your tool pouch for proper cleaning instructions.
Usually, you just have to brush off any caked-on dirt and grime from the surface of your tool pouch using a soft-bristled brush. For tougher cases, some of them can be left to soak in water overnight then left to air dry.
Where to buy?
You can find tool belts and pouches in your local hardware store. However, if the hardware store in your town is not that large, the number of choices that you will have will be quite limited to just a handful of brands.
The best places to shop for tool pouches, as far as the number of choices goes, are in online sites like Amazon and eBay. There, you can find almost all of the brands that make tool belts, as well as the accessories that you can use to add more functionality to them. Another neat thing about shopping online is that you can compare prices so you can pick the seller that provides more value for your money.
Conclusion
Wearing the best tool pouch at work can indeed contribute to having a more pleasurable experience at work. No matter how tough each workday is, the presence of the tool pouch can simplify it and even make you a more productive and efficient worker since you no longer have to waste time looking for and accessing your tools.