Whether a hobby or an actual profession, woodworking is truly rewarding since it lets you produce fantastic and beautiful pieces out of scratch. However, this type of job also involves being exposed to plenty of by-products and wastes.
You will be dealing with these toxic items every day, which is why you need the best dust mask for woodworking as well as other useful personal protective equipment (PPE). High-quality wood dust masks can help keep you safe from anything harmful that you might breathe in.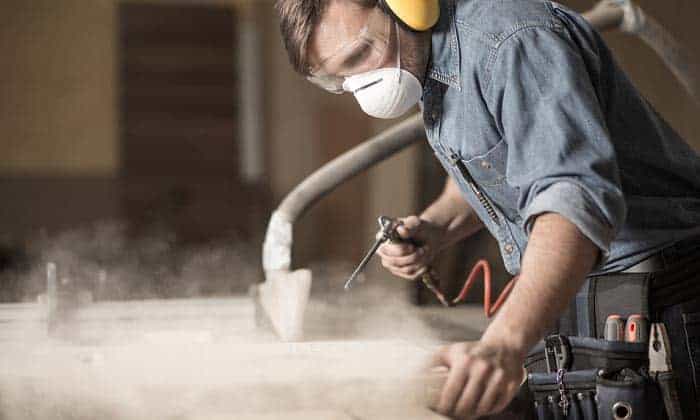 Note that woodworking is quite a messy task. As much as possible, you have to try avoiding the mistake of some woodworkers, which involves ignoring all the harmful particulates and substances they are kicking up and are breathing in. Reducing the amount of wood dust you take in via breathing is a huge help in retaining good health.
It also helps you breathe more easily. With that in mind, it is indeed worth the expense to invest in the best respirator for woodworking. The problem is that when you are shopping, it may be unclear which ones are effective and which ones do not deserve spending your money on.
Fortunately, this informative article about dust masks or respirators designed for woodworking is now around to let you know which one to choose. Let us begin with short reviews of our top 10 dust masks or respirators.
Best Dust Masks for Woodworking (Respirators) 2020
1. 3M Rugged Quick Latch Half-face Respirator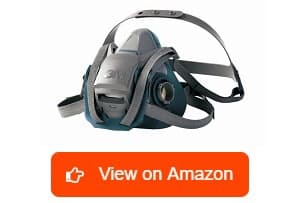 A good 3M respirator that you can use as a way to protect yourself from breathing in unwanted and harmful dust is the 3M Rugged Quick Latch Half-face Reusable Respirator. One thing that makes me so happy about this reusable dust mask or respirator is its quick latch mechanism.
I find this mechanism helpful because it promotes utmost convenience each time I need to drop it down from my face. It is because the quick latch prevents the need to take off the head straps to do so. I am also very satisfied with its low-profile and half-face design because it widens your field of view.
In addition, this design makes the respirator more compatible with a lot of grinding, welding, and woodworking shields. I am happy with its ability to offer respiratory protection from dirty and harsh surroundings.
With this, I am sure that you will be completely protected from airborne contaminants, especially if you use it with highly approved filters and cartridges from 3M. It is a lightweight respirator constructed out of the lightest silicone material.
Despite being light, though, it still showcases its ruggedness, allowing it to withstand even extreme situations and prolonged work hours. It also boasts of its resilient silicone face seal, which provides extended life. It can even retain its natural shape even when constantly used in high-heat environments.
Another thing that makes me so pleased about this dust mask is the inclusion of the brand's proprietary cool flow valve since it helps reduce heat and moisture to promote ease and convenience when breathing.
The only flaw I can think of is that it has a strong chemical smell during the initial uses.
What We Like
Wide field of view, thanks to its low-profile and half-face design
Offers full protection from airborne contaminants
Lightweight while still showcasing its rugged construction
Promotes ease of breathing with its cool flow valve
Boasts of its quick latch mechanism
What We Don't Like
Strong chemical smell at first
As a reusable respirator, this product from 3M delivers a decent performance through its many good attributes including its durability, stability, strong body construction, and comfort.
2. Fightech Dust Mask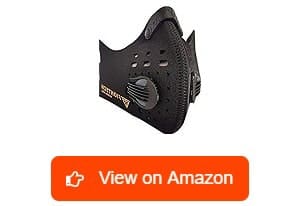 Another fantastic choice for the best mask for woodworking is the Fightech Dust Mask. There are so many things that I am sure all woodworkers, like me, will greatly love about this mask. One of these is the dust mask's known universal usage. This means that its purpose is not just limited as a woodworking mask.
It is also ideal for mowing, cleaning, painting, and any other home improvement tasks or projects. Some even find it useful as an allergy or dust mask with a filter as it works in filtering allergenic pollens. It also works effectively as a flu mask. This mask is also designed while prioritizing the comfort of prospective users.
It is comfortable because it utilizes an elastic material for its overall construction. You will also find utmost comfort from it because you can make adjustments on it in order for it to fit the type and size of your head. I am also glad that it allows me to make use of completely reusable and interchangeable exhaust valves and N99 filters.
With this, I am pretty sure that this dust mask will last longer compared to your average respirators or dust masks. I also find the ear loop design integrated into this mask amazing because it ensures that the mask does not slip off that easily. It also features valves designed to lessen the buildup of heat within the mask.
It also protects you from numerous things, including pollen, dust, fumes, non-oil based particles, airborne irritants, and mold. In addition, I am glad that it is highly permeable and perforated as it makes it possible for its ventilation system to improve the air flow.
One flaw I noticed, though, is that it tends to fog up my glasses.
What We Like
Can be used universally
Compatible with completely reusable and interchangeable exhaust valves and N99 filters
Lowers the risk of slipping off, thanks to its ear loop design
Prevents the buildup of heat
Enhances airflow through its permeable and perforated ventilation system
What We Don't Like
Causes your glasses to fog up a bit
Still, the Fightech Dust Mask is built to satisfy users with its effectiveness in promoting healthy breathing regardless of the elements you are exposed to when woodworking.
3. 3M Half Facepiece Respirator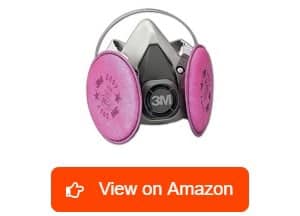 Another amazing respirator from 3M I wish to recommend is the 3M (TM) Half Facepiece Respirator. Some say that it is the most comfortable woodworking dust mask they ever got the chance to access in the market. This is probably true because I experienced firsthand how this product offers the utmost comfort and convenience when worn.
I truly appreciate the suitability of this respirator in environments and surroundings with non-oil and oil-based particles. Provided it fits you properly, it is possible for this respirator to deliver incredible performance when it comes to protecting you from various applications, like torch cutting, brazing, soldering, metal pouring, and welding.
It can even give you protection each time you get exposed to harmful cadmium, lead asbestos, and arsenic. Comfort is also one thing that this 3M respirator prioritizes. You will instantly notice how amazingly comfortable it is once you get in touch with its lightweight and soft construction.
It is even equipped with head straps that you can conveniently and quickly adjust to promote a more customized and proper fit. It also utilizes cartridges that have swept-back designs, thereby promoting improved visibility and balance.
Another prominent benefit I discovered is that it has a built-in bayonet filter fixing system, which makes it possible for you to use various 3M filters. Furthermore, I am glad of the flexibility of this dust mask, allowing it to suit numerous situations and offering filtering protection from a wide range of harmful particulates.
The only issue I would like to point out is that this dust mask comes with a slight rubber smell at first. This unwanted smell will disappear after several uses, though, so it is easy to ignore.
What We Like
Suits environments filled with non-oil and oil-based particles
Compatible with various 3M filters, thanks to its bayonet filter fixing system
Highly flexible as it is useful in a wide range of situations
Completely comfortable with its lightweight and soft construction
Equipped with adjustable head straps for a great fit
With the comfortable and protective nature of this 3M respirator, it is no longer surprising why it always forms part of the best woodworking respirator reviews.
4. GVS SPR457 Elipse P100 Respirator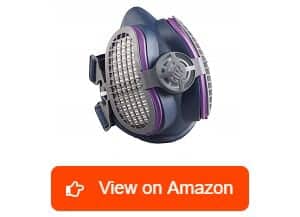 Manufactured in such a way that it offers utmost protection while fitting the natural shape and contours of a user's face, I can say that the GVS SPR457 Elipse P100 Respirator is an incredible choice for anyone searching for a good and reliable dust mask or respirator for their woodworking projects.
I am so satisfied with the low-profile design used by this respirator as it actually helps in widening the field of view. This means that it will not hinder other personal protective equipment that you wear, including sanding shields, safety glasses, and welding hoods.
The respirator's wide field of view also lowers the risk of your filters snagging or bumping when you are doing some overhead tasks. It works as a reusable half mask, which also boasts of its intuitive design, making it possible for filters to be conveniently interchanged.
This respirator does a pretty decent job when it comes to protecting you from dust that might cause lung problems. It even features a huge central non-return valve, which, I find truly useful when it comes to minimizing your breathing resistance. Furthermore, it has the ability to lessen the possible buildup of moisture inside the mask.
I am also very satisfied with the lightweight, versatile, and compact construction showcased by this mask that works perfectly for woodworking. Aside from that, it comes with a non-slip and adjustable strap, which you can conveniently adjust in up to four positions.
This adjustability improves comfort while also guaranteeing safe and convenient use, especially when you are exposed to wet or highly humid areas.
However, it tends to get a bit warm inside, especially when used for prolonged periods during extremely hot weather.
What We Like
Lightweight and versatile
Compact and rugged construction
Lessens breathing resistance and the buildup of moisture
Features an intuitive design, which makes it convenient to interchange filters
Offers complete protection from a wide range of airborne particles and contaminants
What We Don't Like
Tends to get slightly warm during extremely hot weather
Still, this dust mask or respirator does not cause disappointments as far as its overall performance is concerned, especially if you think about how protective and comfortable it is.
5. MoHo Dust Mask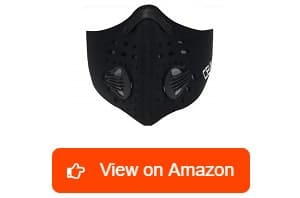 The MoHo Dust Mask is also another popular product in the dust mask for the woodworking category. One thing that makes it a true bestseller is the way it is constructed. Constructed using premium and lightweight materials, namely the nylon and spandex, I am sure that users will be glad about the kind of comfort it offers.
The texture of the materials used is soft plus it is quick-drying and breathable, truly offering the kind of comfort and convenience most users are hoping for. This dust mask is also known for being completely functional. It functions in a way that it protects wearers each time they are exposed to harmful substances, like microbial granules, fumes, chemicals, and dust.
It also works in isolating huge amounts of dust and lowering your risk of suffering from respiratory diseases. Another thing that I greatly appreciate from the MoHo Dust Mask is its perfect design. It is designed perfectly with the help of its hanging ear style and adjustable nose clip – both of which prevents the mask from falling off.
I am also pleased to say that it is built with unique ventilation, ensuring smooth and easy breathing regardless of your surroundings. It even features an opening valve, which prevents resistance each time you exhale. I am also happy that this dust mask can be worn in all seasons, including the winter, autumn, summer, and spring.
I love the adjustable and stretchy feature showcased by this mask, too, as it makes it suit the requirements of most people. It is even possible to adjust its size to adhere to the majority of head types.
However, I noticed that it is less durable compared to the others because of the soft foam materials used in constructing it.
What We Like
Lightweight and premium nylon and spandex material used in its construction
Protects you from harmful dust and other particles that cause respiratory diseases
Prevents the mask from falling off, thanks to its perfect design
Well-ventilated, promoting ease of breathing
Can be used regardless of the weather or season
What We Don't Like
Less durable compared to other respirators
The MoHo Dust Mask is still an incredible product designed to help most woodworkers who want to prioritize their safety on the job.
6. 3M 62023HA1-C Respirator
3M also continuously impresses its wide range of loyal customers with its 62023HA1-C Multi-Purpose Respirator. It is mainly designed for occupational and workplace applications. This means that the majority of professionals needing a high-quality respirator or dust mask can greatly benefit from it.
I am pleased to tell woodworkers and other potential users that this multi-purpose respirator is constructed with the right balance between comfort and performance. It comes with a well-balanced design, making it comfortable to wear. It also makes use of sweptback cartridges that I find effective in boosting visibility.
Also, it is both lightweight and easy to use while still offering the ultimate respiratory protection designed for professionals. I can also prove its ability to offer at least 99 percent efficiency in terms of filtering liquid and solid aerosols, particularly oils. I think that the drop-down feature integrated into this respirator contributes a lot to boost its versatility.
Users will also find the built-in exhalation valve cover helpful because it significantly lessens fogging, thereby keeping your eyes fully protected. It works effectively in keeping your lungs fully protected against harmful particles, especially those linked to mold, solvents, sulfur dioxide, hydrogen chloride, lead, and chlorine.
However, I discovered that it is quite difficult to determine whether the filters are still working, so it would have been helpful if this respirator is equipped with a color indicator to indicate the perfect time for a replacement.
What We Like
Effective for professional workers
Lightweight and well-balanced construction
Features a drop-down design for versatility
Lower risk of fogging, thanks to its exhalation valve cover
Offers complete protection coverage
What We Don't Like
A bit difficult to identify whether the filters are still functioning
With the plenty of good things that this multi-purpose respirator from 3M can provide, I can say that it serves as a lifesaver for any woodworker or anyone who needs to work around hazardous materials that are not completely safe to breathe in.
7. RZ Dust Pollution Mask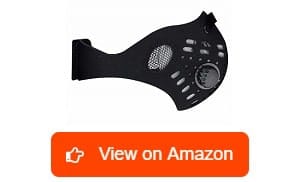 Another dust mask for woodworking that caught my interest is the RZ Dust/Pollution Mask. What I am so pleased about in this specific mask is that it has extended coverage as far as protection is concerned. In fact, it offers protection for more than a hundred chemicals and toxins exposed to you daily, thereby reducing their negative effects to your lungs.
I like the neoprene construction used in this mask as this material is not only comfortable but also features a low-profile and convenient design. The fabric used in this mask is also abrasion-resistant. Combine that with its guaranteed durability and quality and you will surely be able to enjoy the long life of the mask.
I would also like to highlight the presence of the closed cell waterproofing feature in this mask. This is one of the mask's strengths considering the fact that it works in blocking moisture while retaining the optimum temperature of your body. I am also satisfied with the dual-valve technology used by this dust mask.
This technology works with the help of a one-way airflow vent, which is effective in expelling condensation. This results in the continuous dryness of the mask's interiors. The valve can also be expected to promote ease of breathing by helping in optimizing airflow.
It also features a seal, which you can easily twist and use to lock the interior filter in place. This works in blocking any unfiltered air carbon. It is also designed to prevent fogging.
However, one downside I detected upon regular use is that its filters are quite difficult to replace.
What We Like
Full and extended coverage guaranteed
Comes with a comfortable, convenient, and low-profile neoprene construction
Optimizes airflow and expels condensation, allowing you to breathe with ease
Blocks unfiltered carbon
The abrasion-resistant and highly durable fabric used
What We Don't Like
The filters are quite difficult to replace
The RZ Dust/Pollution Mask is still one of the most recommended woodworking dust masks as it carries all the protective power you think you need when doing your job.
8. Novemkada Dustproof Mask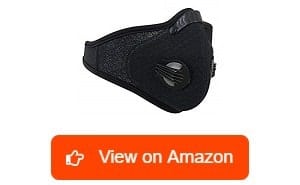 If you are looking for a woodworking mask designed to promote healthy breathing and extended protection then I am pretty sure that the Novemkada Dustproof Mask will be your ideal choice. I am also greatly impressed with its overall versatility and flexibility.
In fact, it serves a number of purposes, including being an anti-dust, anti-pollen allergy, and anti-vehicle exhaust mask. Aside from being a great protective companion for woodworkers, I find it appropriate for running, hiking, skiing, cycling, and any other popular outdoor activities.
It makes use of active carbon filters that are effective in separating up to 98 percent of fumes, smoke, pollen, gas, particulates, chemicals, dust, and other harmful elements. This showcases the incredible and powerful protection delivered by this mask. I am glad that this mask is designed perfectly, too.
It has an adjustable nose clip, which is combined with distinctive ventilation design, promoting smooth and easy breathing. It is breathable and seems to work perfectly for all seasons, like the winter, summer, spring, and autumn. Premium and high-quality materials are also utilized in constructing this mask.
It even comes with a well-built mesh cover combined with high-quality and premium nylon, which offers incredible permeability. This combination of materials makes the mask comfortable and convenient to wear because it is breathable, quick drying, and boasts of its soft texture.
The only thing that I dislike about the Novemkada Dustproof Mask is the somewhat annoying fabric smell at first use.
What We Like
Highly versatile and flexible, allowing it to serve multiple purposes
Uses active carbon filters
Promotes smooth and easy breathing through its distinctive ventilation design
Premium mesh and nylon material used in its construction
Quick-drying, soft, and breathable
What We Don't Like
Some annoying fabric smell during first use
Based on the things it can do, the Novemkada Dustproof Mask serves as a wise investment because it works as a perfect fit for all the dust exposed to you while doing your woodworking projects.
9. 3M 8511HB1-C-PS Valved Respirator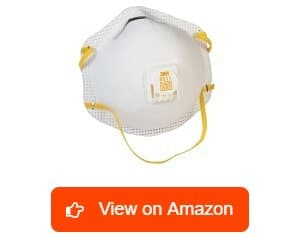 Another entry in this list of the best dust mask for woodworking is the 3M 8511HB1-C-PS Valved Respirator. I am impressed by this respirator mainly because its design and quality are well-thought out. I immediately noticed how it prioritizes the safety of most, if not all, of its potential users.
One thing I admire the most about this valved respirator from the ever-reliable 3M brand is the advanced filter media, which ensures that users will be able to breathe easily and conveniently. I also find it effective and safe to use for all dust that might cause harm to you in case you breathe them in.
These include specks of dust that come from grinding, insulating, sawing, and sanding particles. 3M also makes use of its unique and patented cool flow valve technology, which is beneficial as it promotes ease of exhalation. Furthermore, this technology works in significantly reducing heat, resulting in dry and cool comfort.
Another thing that makes this respirator a hit is that it offers a minimum of 95% filtration efficiency when dealing with liquid and solid aerosols without oil. I am also in favor of the built-in M-nose clip as it plays a major role in improving comfort while lessening pressure points.
It works as an N95 mask, which gained the approval of the bodies and organizations governing PPE.
The only complaint I can think of is that its price range is higher when compared to other dust masks.
What We Like
Prioritizes safety and protection of users
Equipped with an advanced filter media for easy and convenient breathing
Prevents users from breathing in harmful specks of dust
Boasts of its up to 95% filtration efficiency
Comfortable while having fewer pressure points, thanks to its M-nose clip
This respirator is worth its high price tag, though, considering how advanced and high quality it is.
10. Protect Life Disposable Dust Mask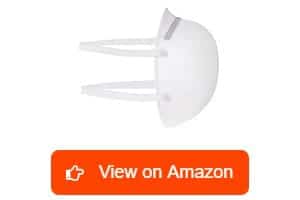 I am also very proud to include this last product, the Protect Life Disposable Dust Mask, in this article. I super love this dust mask because it delivers an incredible performance whether you decide to use it solely for woodworking or for other tasks and applications, like construction and cleaning.
The versatility of this dust mask is instantly noticeable as it suits both professional and household uses. You can also use it for outdoor or indoor activities. Being NIOSH approved, I am pretty sure that it works efficiently in filtering airborne particles that are devoid of oil.
This is one of the most reliable defense against the harm brought on by dust and other airborne particles and contaminants. I am also impressed with its high comfort level and its ability to adapt to your face regardless of its shape. This is made possible with the mask's adjustable fastening and noseband straps.
The good news is that it can continue to deliver such comfort and adaptability even if you use it together with other PPE, like safety glasses, goggles, ear muffs, hard hats, and helmets.
It is designed in such a way that it can provide a close facial fit, giving your airways the protection they need to lessen your chances of suffering from respiratory issues.
However, this respirator or dust mask is a bit bulky.
What We Like
Useful not only for woodworking but also in other tasks and applications
Can be used together with other types of PPE
Offers the most reliable defense from dust and other harmful airborne particles
Highly adaptable and comfortable
Can guarantee a close facial fit
The added bulk, however, does not have a negative impact on the mask's overall performance. In fact, it still works efficiently in giving you the ultimate protection from dust and other respiratory issues that you are hoping for.
What is a Dust Mask for Woodworking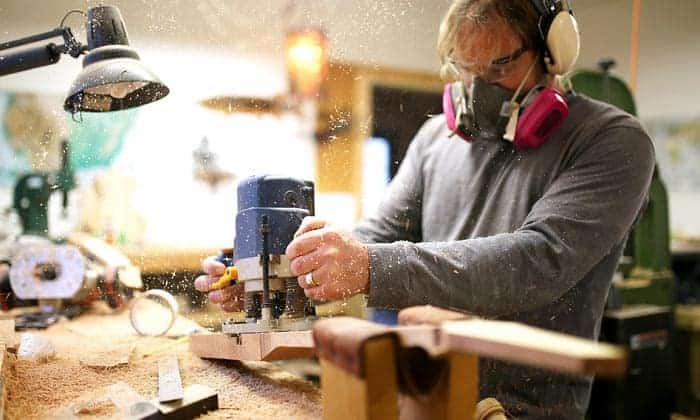 Based on the actual name of the product, a dust mask for woodworking refers to a piece of personal protective equipment, which you can use to protect yourself from dust and other airborne particles when doing some woodworking projects. Whether woodworking is a profession or just a hobby, having this dust mask can make you safer.
Note that airborne particulates refer to liquids or solids suspended into the air that we breathe. These may come in the form of fume, mists, or dust. Breathing in or inhaling them might have an adverse effect on your health. Depending on the specific particle that you inhaled, such effect to your health may be irreversible.
The dust mask can help avoid such an issue. It helps offer respiratory protection from a wide range of vapors, particulate hazards, and gases. It can also keep your respiratory system fully protected from airborne contaminants and particles in case you need to work in a harsh or dirty environment.
In most cases, you will need to use this mask with filter and cartridges to promote ease or breathing. This is made possible through the significant reduction of moisture and heat. This mask comes in the form of a highly versatile pad, which you can put over your mouth and nose using rubber or elastic straps.
Once worn, you can begin protecting yourself from all the dust that you might encounter when doing your woodworking activities or any other tasks like those related to cleaning and construction.
How Does It Work
Basically, the dust mask, which is suitable for woodworking, functions by filtering the particles, dust, and other airborne allergens and contaminants that may come in contact with you. It makes use of a few layers of filter material to perform such purposes. Each layer serves a different purpose or function.
Some of the functions that the multiple layers perform are providing a great feel and look, resisting tear, suitability to the task at hand, and ease of breathing. In most cases, it also makes use of an exhalation valve to function even more effectively. Also, a good mask solves the issue linked to breathing resistance when inhaling and exhaling.
To lessen breathing resistance, most filter dust masks are built to be permeable to air. They are also designed in a way that they can prevent the pervasion of particles. This is the main reason why the mask often comes with a filter material, which boasts of an electrostatic charge.
With this, it is greatly possible for tiny particles that can permeate the filter material physically to adhere to or abide with such material. Your dust mask also works by preventing you from breathing in any harsh particles that might damage your respiratory system when you are at work.
This means that it serves as some sort of filtering equipment capable of preventing users from inhaling any airborne contaminants and pollutants. The mask also belongs to the air purifying respirator category since it works as a filter, which cleans the air you are breathing and blocks particles from penetrating its cloth-like material.
With that, you can breathe smoothly and safely in the specific area where you do some woodworking tasks. The mask's flexible pad usually has a curved shape, which aims to cover the area surrounding the nose and mouth of the wearer. It covers at least one-half of your face where you might ingest or inhale tiny particles unconsciously.
Types of Dust Masks for Woodworking
A dust mask designed for woodworking is definitely a valuable tool and investment considering its effectiveness in protecting you against the development of ailments caused by dust and other airborne contaminants. Just make sure to pick the most appropriate kind of dust mask based on your task and the threats around.
The most common types of woodworking dust mask or respirator are:
FFP1 Dust Mask – This specific type offers the least amount of protection from non-toxic particles. Despite that, it is still perfectly suitable based on the airborne and safety hazard you are dealing with.
It consists of the most minimal amount of filter material, which is why it also offers the least resistance to breathing. Also, in most cases, it does not require the use of an exhalation valve. Among the things it can protect you from are coal dust, limestone, sugar, pollen, gypsum, cement, brick dust, and cellulose.
FFP2 Dust Mask – This type provides a moderate amount of protection from anything that might threaten your safety through the air that you breathe, including hazardous fume, mists, and particulates. It often requires the use of an exhalation valve. In addition, it has high breathing resistance.
Some dust masks under this type feature an activated charcoal layer, which is helpful in giving you protection against ozone. In most cases, this is also referred to as a welding dust mask. Some of the things that this dust mask can defend you from are granite, cotton, and brake dust, softwood dust, lead dust, fume, and hay.
FFP3 Dust Mask – This is the most suitable choice for you if you are looking for a mask, which offers the highest amount of protection. Provided your chosen FFP3 dust mask fits you well, you can expect it to work effectively in protecting you from fine toxic particles, like viruses, bacteria, radioactive particles, and asbestos.
The filter material used for this is quite thick, which is also the reason why you need to fit an exhalation valve into it all the time.
The dust mask that works ideally for woodworking can also be categorized into the following:
Disposable dust mask – What is great about the disposable dust mask is that it is affordable. In fact, you can purchase a box containing 50 pieces of it for just $15 or lower. However, you can't expect them to catch the tiniest particles. Sometimes, the disposable dust mask also causes discomfort when worn for an extremely long period.
This is the main reason why you have to check the rating of the disposable dust mask prior to buying. Check the rating indicating the specific amount or percentage of particles it is capable of blocking. If possible, pick a disposable mask with a minimum of N95 rating, which indicates its ability to block up to 95 percent of particles.
Ensure that the mask features a metal nose clip, too, as you can use this feature in bending it to fit your nose's natural shape. It should also have a non-return valve, which promotes ease of exhalation.
What is great about having these two features in your chosen disposable dust mask is that it also ensures that your safety glasses do not fog up.
Reusable dust mask – The reusable dust mask or respirator works perfectly for workers exposed to a number of elements. It is mainly because this item is capable of protecting you from more than the specific particle you are exposed to.
It should be noted that the reusable respirator is also categorized into two. These are the half-face and the full-face. You can make your choice between the two based on your comfort level and your level of exposure to threats.
Also, take note that no matter which type of facepiece you picked, the respirator still needs to be attached with two of these: filters and pre-filters, combination cartridges, and vapor and gas cartridges. Another note to remember is that it is a must to buy a cartridge and mask from the same brand or manufacturer.
Powered respirator – You can also pick the powered respirator. Keep in minds that eventually, the filters that you use for the disposable dust mask will gather dust particles, causing a lot of difficulties when breathing. Some woodworkers, especially those with lung issues, might have a difficult time using the dust mask in this case.
The good news is that some respirators are equipped with a fan designed to help in pulling air via the filters. This promotes ease in wearing the item even for an extended period of time. This is how the powered respirator will work.
Why Do You Need to Wear a Dust Mask for Woodworking
Wearing a dust mask is really important for woodworkers, whether they are just doing it for fun or as their main profession. One reason behind the importance of a dust mask for woodworking is that it protects you from any allergic reactions that might happen due to your exposure to certain kinds of wood.
Note that there are certain types of wood that trigger allergies once you expose your air passageways to them. If the allergic reaction is severe then it is greatly possible for you to deal with an instant medical emergency. One more thing to take note of is that some wood particulates are actually categorized as a carcinogen.
This might cause long-term consequences for your health. The dust mask also serves as effective protection to your lungs from certain particulates. What is great about it is that it does not cost that much.
While some of these masks are a bit warm and uncomfortable around the face and nose, especially during extremely hot weather, it is still preferable to wear it instead of getting yourself exposed to potential health threats.
The following are just some of the reasons why you should prevent yourself from getting exposed to wood dust too frequently with the help of the dust mask:
It is an irritant – Wood dust is known to be a natural irritant. As an irritant, it might cause problems in your skin, nose, and eyes if you get exposed to it frequently. Among the most common reactions that you might encounter from continued exposure are breathing issues, rashes, itchiness, and sneezing.
It acts as a sensitizer – Another problem with wood dust is that it might cause some of those who are doing woodworking tasks to be more sensitized with their constant exposure to it. Also, take note that there are instances when physical reactions do not appear.
The absence of these physical reactions is actually a bad sign since this might lead to more severe issues. It is because this might lead to inflamed lungs, so it would be best to keep yourself protected through the dust mask.
It is toxic – Some wood species are also known to be toxic. This might lead to fatal effects on your health. By wearing a dust mask, you have a higher chance of protecting yourself from these unwanted health effects.
Buying Guide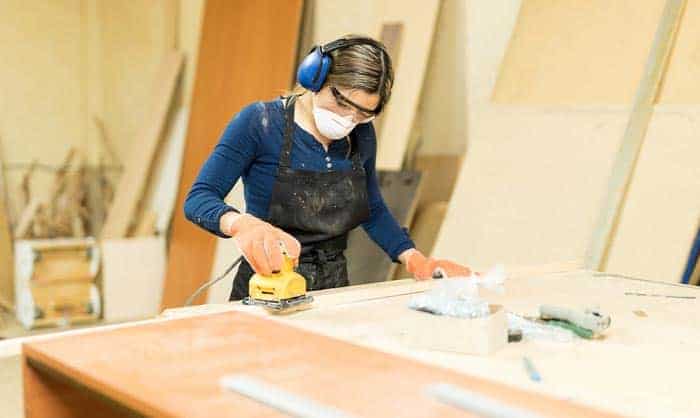 With the numerous dust mask brands and models designed for woodworking that are presently available in the market, choosing one might be a confusing task for you. Fortunately, you can now lessen the confusion by keeping in mind these significant pointers and factors:
Comfort – Your comfort should be one of your priorities when searching for a high-quality dust mask for woodworking. Keep in mind that you will need to wear this mask for a long period. That said, it is necessary to look for one, which is not only lightweight but is also comfortable enough when worn.
It should not make your face or any part of it feel uncomfortable. Make sure that the mask is not tight. It should not also pinch you in any way. Your goal is to find a comfortable dust mask, which features a good and reliable seal surrounding your nose and mouth. The mask should not also be restrictive on the face.
Breathability – Another vital consideration is the breathability of the dust mask. Check the material beforehand and rate its breathability. You will know that it is well-ventilated and breathable if it does not cause laborious breathing. You should never have a hard time breathing once you wear wearing it.
One of the most breathable materials used in the dust mask is mesh. Aside from being breathable, it also offers the security and comfort needed in ensuring that you will never have to gasp for air. It is also a popular choice because it is known for not incapacitating or limiting one's movements once worn.
Fit – You should also pick a dust mask for woodworking based on how it fits. This is the key to figuring out which one is the most appropriate solution for you. Your goal is to find a mask, which can protect your mouth and nose from all the woodworking byproducts that you are exposed to.
You are actually getting a poor fit or an incorrect size if your chosen mask is incapable of securely giving you that kind of protection. One sign that it fits you well is if it can fasten it securely around your head. It should not also develop a gap nor slip each time you move. In addition, it should not hamper your viewing capabilities.
Weight – Examine how heavy or light the dust mask is, too. Note that some masks actually have extra protective features, causing them to weigh more than what you initially expected.
Still, these extra features, like filtration, can further extend the mask's protection coverage, especially when dealing with exhaust and fumes. That said, look for a mask with the mentioned features while still being comfortable and lightweight enough so you will not be burdened when wearing it.
Certification – Another thing that you have to check is whether or not the mask gained the approval of the NIOSH or the National Institute of Occupational Safety & Health. It should be rated based on the standards set by NIOSH.
If it is not certified nor approved by the mentioned institute then you will not have a hundred percent assurance that it is indeed capable of removing particles based on a specific level. Check and assess whether the mask is certified prior to buying.
Filtration – Of course, how the mask filters airborne particles and dust should have a say on your final choice. Note that some of these masks, like the one for asbestos, feature filters that you can change and replace once they accumulate too much debris, dust, and dirt.
In most cases, the filters are equipped with carbon, which helps in minimizing the risk of particles penetrating while you are breathing through your dust mask. Filtration should, therefore, be among the first factors you have to take into complete consideration when trying to choose a reliable dust mask.
Observe closely the manner through which the mask does the filtration process as this really contributes to its overall performance.
Care and Maintenance
Properly caring for your chosen woodworking dust mask has a say on how long it will serve its intended purpose. To take good care of it, you have to learn a thing or two about how to clean it correctly. Cleaning the mask involves using a mild solution composed of water and liquid soap.
Swish your dust mask in a gentle manner around your sink. Avoid using the washing machine or doing any vigorous scrubbing when trying to clean up the mask. Once it is in the sink, use clean water to rinse it thoroughly.
Hold an end of the mask's straps. Twirl the dust mask at your side just like when you are doing it in a lasso. Make sure to perform this step outside. This is a huge help in eliminating the majority of the water through centrifugal force. Once done, your clean dust mask will be ready for you to wear again.
If you want to disinfect the mask then you can do so by rinsing it in a mild bleach water solution. You can create this solution by mixing a teaspoon of bleach for every one quart of water.
Storing the mask should also be done properly to preserve it and promote its long-lasting life. What you have to do is to hang it up when you are no longer using it. Avoid stuffing it in your shirt or in the pocket of your pants as this might cause its thread to break.
Frequently Asked Questions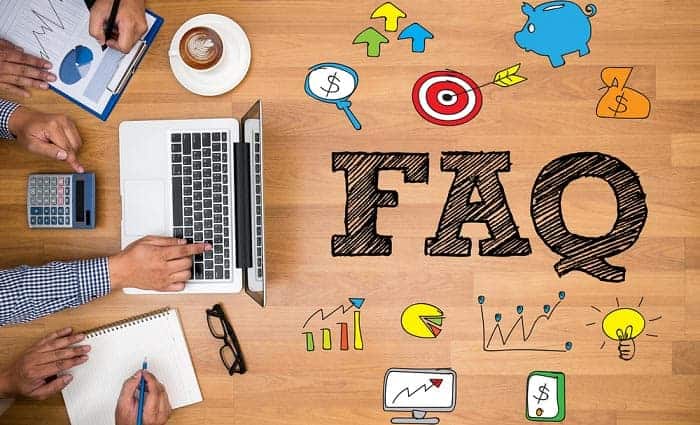 What are the most popular brands of dust mask for woodworking?
With the known importance of dust mask, especially for woodworkers who are exposed to the threats and health consequences linked to wood dust and other particulates, it is no longer surprising to see a lot of dust mask brands emerging and gaining popularity.
Among those that continue to win the attention of the public because of their trustworthiness, reliability, and the quality of their products are 3M, Fightech, and MoHo.
What are dust masks for woodworking made of?
In most cases, dust masks designed for woodworking are directly made or manufactured using a filter material, which resembles a cloth. If you are looking for gas mask respirators or chemical cartridges then you will also be amazed by the wide range of materials used in their construction.
Among the most famous materials used in creating the dust mask designed for woodworking are rubber, neoprene, and silicone.
Do dust masks for woodworking come with the filter?
Yes. In most cases, the dust mask already comes with its corresponding filter. What you have to remember is that the specific brand of the mask should be the same as the brand you will be using for the filter.
This means that if your mask is from 3M then the filter also needs to be from the same brand. Just ensure that you are aware of the exact time when you need to replace the filter so the entire mask will continue to work as expected.
Can woodworking respirator be used for sanding, sports & outdoors?
Yes, you can actually use a woodworking respirator for sanding, sports, and other outdoor activities. While you are looking for a respirator or dust mask specifically designed to handle the threats linked to woodworking, remember that its purpose is not limited to that. It is also safe to use on other activities and tasks.
Do woodworking dust masks protect against fire smoke?
It depends on the kind of dust mask you are using. If you pick the paper mask with just a single strap or the surgical mask then you can't expect it to give your lungs the protection they need from fire smoke. It would be best to choose the particulate respirator mask as it works more effectively in getting rid of tiny airborne particles.
These include those that come from fires. Also, keep in mind that you will gain additional protection from fire smoke if you utilize the mask or respirator certified by NIOSH. It should also be labeled as P100 or N95.
How to choose the right size?
Choosing the correct size of a dust mask is crucial in making you feel comfortable once you begin wearing it. To identify whether you are getting the correct size and fit, find out whether it has a tight fit on your face. If it does, then it is a sign that the one you are getting is the right size for you.
Make sure that it does not leave any gap at the sides, too, especially in the specific areas where the particulates tend to penetrate. If the manufacturer provides a sizing chart then make it a point to consult it thoroughly. Find one, which fits over your ears well instead of in your head.
How long do dust masks for woodworking last?
It is really hard to tell when a dust mask will last exactly because it will fully depend on how heavy you are using it. What you have to do, instead, is to watch out for signs that it needs to be replaced. It is the right time to toss out your dust mask and replace it with another one if it is already dirty, damaged, and makes it difficult for you to breathe.
Conclusion
Wearing the best dust mask for woodworking is the key to preventing yourself from breathing in the unwanted and unhealthy particles and contaminants in the air. It helps prevent issues affecting your respiratory system due to the dust that you breathe in. Just ensure that you spend time studying all possible choices to get the specific one that fits your preferences and requirements.