Electricians should be equipped with quality protective footwear. Many companies also encourage their staff to wear the best work boots for electricians for their safety and comfort.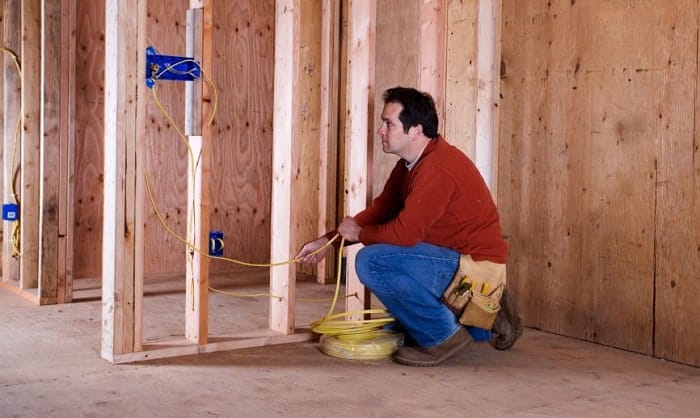 No matter what other safety precautions you take, if you don't wear the right footwear, an injury to the feet can affect your performance at work. Such injuries are preventable. As such, electrician work boots are a must.
It's easy to protect the feet at work, though – all you need is a good pair of electrician work boots. But with countless work boot brands out there, it can be a bit overwhelming to choose which one suits you best. But don't fret much. Here's a quick guide to some of the best boots for electricians that will help you perform your best at work.
Best Work Boot for Electricians Reviews of 2023
1. Irish Setter Aluminum Toe Work Boot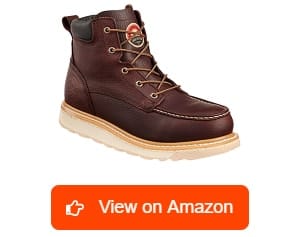 Comfort is one of the main things to look for when choosing a work boot. Irish Setter Men's Aluminum Toe Work Boot is one of the models to consider due to its classic moc-toe style that offers a secure and comfortable fit.
But this pair isn't just all about comfort. When it comes to safety, this work boot also got your back. One of the things that worries me when working is accidentally stepping on live wires. Fortunately, these work boots feature an Electrical Hazard protective sole and heel. Such details reduce hazards when the outsole gets in contact with electrically energized parts.
It also comes with outsoles that are designed and tested to perform even on high-heat surfaces. Its soles are heat resistant and can withstand a minimum of 475℉. Hence, there's no need to worry about the intense heat even when you're working on the roof.
These boots meet ASTM F2413-11, I/75C/75 standards for compression and impact. Even when you work in the electrical industry, you also need to watch out for heavy falling objects. Hence, this pair can ensure proper protection for you in hazardous circumstances.
However, Irish Setter Men's Aluminum Toe Work Boot is not that waterproof. So I suggest that you need to be more careful when there are puddles in the area you're working on as your feet could get easily soaked.
What We Like
Has moc-toe style for maximum comfort
Has electrical hazard toe and heel protection for safety
Heat resistant feature makes it wearable when working on the roof
Meets ASTM F2413-11, I/75C/75 standards for compression and impact.
What We Don't Like
Lesser water protection compared to other brands
Overall, it's still a reliable work boot to invest in, especially if you're looking for a comfortable pair. The best part of it is that it comes with extra protection when working in the electrical industry.
2. EVER BOOTS Steel Toe Work Boot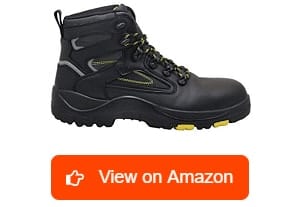 EVER BOOTS Protector Men's Steel Toe is another work boot that makes your feet comfortable throughout the day. With this pair, I feel like I am just wearing sneakers and not a steel toe work boot because of how lightweight it is.
Its multi-layered outsole offers shock-absorbing qualities. This relieves pressure on the arch of the foot. It has steel shanks that give the right break at the ball of the foot, which eases the pressure. This helps keep the feet stable even when walking on uneven surfaces. The pair also offers flexibility for the feet. This feature helps the shoe bend with you so you can move around with ease.
Aside from comfort, these boots' durability is also worth talking about. For starters, it is electrician steel toe boots. This means it can offer more protection as steel toe boots are known to handle higher impact well. So, there's no need to worry about dropping objects that could hurt your foot.
To my delight, this work shoe lasts longer than other types of electrician work boots. I often work on old houses. This means I usually have to deal with dust and debris. Such hazards often cause my footwear to break easily, but this pair of boots seems tougher than I thought.
I also like its oil and slip-resistant feature. This prevents sole deterioration and gives the shoes a good grip on slippery surfaces, keeping me safe even no matter what the weather is. It's safe and efficient for slippery ladders too.
In addition to that, this work boot is comes with an electrical hazard feature. It can withstand 18,000 volts, which reduces the risk for electricians.
The only downside is that many might find it challenging to find the right size for them as it's often a little bigger than their actual size. And if you were to buy these, I think it would be better to get a half-size smaller than your usual size, so they fit your feet well.
What We Like
Designed to feel as comfortable as sneakers when worn
Multi-layered outsole to absorb shock and relieve pressure from the arch
Steel toe gives protection from falling objects
Oil and slip-resistant for preventing accidents
Electrical hazard feature passes safety standards
What We Don't Like
Bigger sizing makes it a bit tricky to choose the right size
Once you find the perfect size for you, you'll definitely love this work boot even more for the comfort and protection that it gives. One of the biggest assets is the comfortable fit so you can wear this on a long day.
3. ROCK ROOSTER Work Boots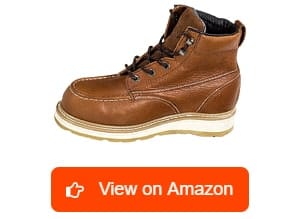 Comfort and durability are two of the things that make up good work boot for electricians. The ROCK ROOSTER Work Boots for Men also has such qualities.
For starters, it features a dual-density footbed. This can absorb shock and reduces the risk of injuries. The pair is also designed with cushioning to minimize the pressure on your feet, making it more comfortable for a long-hour work shift. It also comes with COOLMAX fiber technology. This kind of feature helps the shoes become more breathable and keeps moisture away.
In my opinion, this pair is among the most comfortable work boots for electricians. This is because it features enhanced toe support which offers a wider profile shape than other work boots to suit your foot for extra comfort.
Best of all, the design is stylish and can be used for other activities. Other than wearing it to the work site, you can go hiking and casual nights out.
What I love about this boot for electrical work is its lightness and abrasion-resistance. Thanks to its durable outsole, it is sturdy, yet flexible enough. Plus, this shoe can resist abrasion, ensuring years excellent performances.
On top of it all, you don't have to wait long for the break-in period. With ROCK ROOSTER Work Boots, you don't have to wait for weeks. For me, it only took me a few days to get that ultimate comfort.
The only con for me is its size as it is a bit bigger than my usual size. Like the others, I need to wear thick socks to for it to fit well.
What We Like
Shock-absorbing footbed and toe space makes shoes comfortable
Features COOLMAX fiber technology that makes it breathable
Lightweight and stylish design makes it wearable all-day
Comes with an abrasion-resistant feature for protection and durability
What We Don't Like
Sometimes require thick socks to fit perfectly
If you don't mind wearing thick socks, this work boot is highly recommended for its advanced features and comfort. The good news is that solving this issue is as easy as finding the pair that perfectly fits.
4. DEVENS Leather Steel Toe Work Boots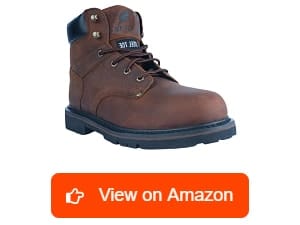 Another good safety boots for electricians is DEVENS Men's Leather Steel Toe Work Boots. First off, it has a nice appearance made out of 100% leather, making it wearable even outside work.
As for its functions, this work boot has a good rubber outsole that prevents wearers from slipping from slippery surfaces such as water and oil. Thus, even when electricians wear it to work on rainy days, there's no need to worry much.
Notably, it shields electricians from the danger of accidentally stepping on live wire or other electrically-charged pieces of equipment. In detail, the protective shoes come with electrical safety boots features. This is thanks to its electric hazard protection feature rated ASTM F2413-18. It's one of the best boots out there in terms of EH protection.
Of course, this work boots durability is also worth talking about. It has robust steel-toe cap, which gives maximum protection to the feet. The pair is also sewn with Goodyear Welt Construction, reinforcing the insole and upper for heavy use.
This work boot is perfect for prolonged working periods as it comes with a padded collar and shock-absorption footbed. This provides the utmost comfort wearing experience, making you want to wear it every day – be it at work or not.
The downside, though, is that it can be a bit hefty since it features steel toe.
What We Like
Features non-slip design for safety on wet and oily surfaces
Comes with electric hazard feature for protection from live wire
Has protective steel toe cap for added protection
Goodyear welt construction makes the sole easily replaceable
Padded collar adds, and shock absorption footbed adds comfort
What We Don't Like
Shoes are on the heavy side
This work boot may not be as lightweight as others but the comfort and protection it gives makes it worth-trying. Eventually, you'll get used to the weight so this isn't a big issue.
5. Timberland PRO Hyperion Work Boot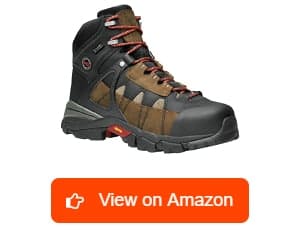 When it comes to footwear, Timberland is one of the popular choices among many consumers. It's not quite a surprise, though, as it has the kind of quality that's worth talking about. And one of the best boots for electricians from this brand is the Men's Hyperion Work Boot.
This pair's alloy toe provides lightweight protection for wearers. It also has a finely molded EVA midsole, which provides more ease for the wearer to move around. Hence, it gives a huge advantage to workers whose jobs involve a lot of walking.
Its abrasion-resistant protection makes it worth investing. This feature provides long-lasting protection from abrasion, prolonging the work boot lifespan as it prevents premature wear and tear.
Among the countless work boots I've tried, this Timberland work boot stands out with a unique Anti-Fatigue Technology system. In detail, the shock-absorbing cones add strength and stamina to the foot. It helps minimize impact for maximum support and lessens fatigue on foot. The boots come with contoured insoles too, which provide support at the foot's ball and the heel.
However, this work boots rubber toe rand isn't that tough. Mine started wearing down in just two weeks. I also had a problem with its loops for the laces as they started to get tattered in just a few months of frequent use.
What We Like
Alloy toes for lightweight protection
Molded EVA midsole for ease when walking
Abrasion-resistant protection prevents premature wear
Anti-Fatigue Technology system for optimal comfort
Contoured insoles for ball and heel support
What We Don't Like
Rubber toe rand and laces wear out in just a few weeks
Despite the minor drawback, these Timberland work boots are still worth considering for its comfort. Taking care of the work boots can help prevent the laces and toe rands from wearing out.
6. Carhartt Composite Toe Boot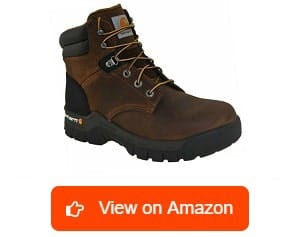 If you're on a budget, Carhartt has some work boots for you – the Men's Composite Toe Boot. It offers protection, versatility, and comfort at an affordable price.
Unlike the former steel toe electrical hazard boots, this one is a composite safety toe work boot. This means it is non-metallic, which makes it lighter than the others and is non-conductive.
Regarding comfort, this work boot will not let you down. The pair is built using Rugged Flex technology that makes it stretch with your every movement. In addition to that, the polyurethane layers under the insole can cushion your feet when you walk back and forth. Not to mention, it comes with a lining that keeps sweat at bay. Also, an EVA midsole and PU pad are designed for optimal comfort.
Meeting ASTM F2413-18 standards, this work boot can guard you against compression and impact hazards. Thus, this could be your go-to work boots for long-hour electrical work. Its rubber sole offers shock-absorbing traction too, which makes it one of the best electrician work boots.
Beyond that, this Carhartt electrical work boot is water-resistant but not waterproof. So you still need to be careful to avoid soaking your shoes in water.
What We Like
An affordable pair of electrical work boots
A non-metallic and lightweight pair
Rugged Flex technology makes the boots stretch with wearer's moves
Polyurethane layers, EVA midsole, PU strobel pad, moisture-wicking lining for all-day comfort
Guard you against compression and impact hazards
Rubber sole offers shock-absorbing traction
All in all, this Carhartt Boot is one of the best choices in terms of flexibility. It's a must for electricians frequently on the move or often going up steps.
7. Wolverine Composite Toe Work Boot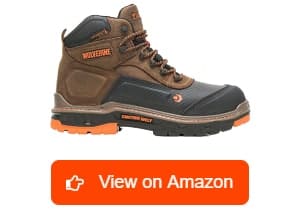 In terms of flexibility, electricians can also depend on Wolverine Men Overpass Composite Toe Work Boot. It has an athletic Contour Welt construction that lets it move with you.
This electrical work boot bends and flexes at essential points so you won't feel like you're wearing a rigid work boot that often hurts your feet after a while. This footwear also features a removable Ortholite cushioned footbed, making the feet comfortable all day.
With this model, choosing the right size is a breeze. You don't have to order a size larger or smaller than your usual because it is true to its size.
Wolverine Men's Overpass work boot has composite toes, which is very popular in the industry. Due to such a feature, it is lightweight, promising less tiresome for our legs even after a long day.
Best of all, since this beautiful shoe is constructed out of waterproof leather, it prevents moisture intrusion excellently. As a result, electricians can wear the pair to work in wet environments with confidence. Plus, the premium material featuring abrasion-resistant toes can withstand tears despite frequent abuse, preserving its sleek look.
However, these superb boots are sold at a higher price compared to other electrical work pairs.
What We Like
Athletic Contour Welt construction makes it easy to move around freely
Removable Ortholite cushioned footbed adds all-day comfort
True to its size for a breezy selection process
Composite toe feature makes it lightweight
Beautiful and resilient waterproof leather-made shoes
What We Don't Like
A higher-priced work boots for electricians
This Wolverine Men work boot is worth giving a try for the fantastic durability and flexibility. The Athletic Contour Welt of the boot makes it one of the most comfortable choices currently.
8. Timberland PRO Pit Boss Soft Toe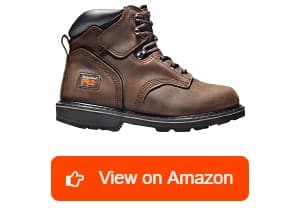 Another good work boots for electricians is also from the Timberland PRO line – the Pit Boss Soft Toe. This work boot offers both safety and comfort for wearers performing heavy duties. So it's not a surprise why the pair is popular among electricians.
For starters, this work boot will keep electricians safe from slipping on surfaces, thanks to its excellent traction-grip. In my opinion, this model is one of the best slip-resistant boots out there. It also comes with electrical hazard protection to keep electricians safe from accidentally stepping on open circuits in the workplace.
I am thrilled that wearing shoes brings me optimal comfort all day. Other than its PRO comfort suspension function, the pair also provides enough support on the arch of our feet. Even if you work on the most demanding site, you are guaranteed that your feet won't hurt. If you have lower back and leg issues, these work boots are an ideal option, as well.
However, wearing this work boot in the first couple of days is not that comfortable. I guess you'll need more patience for the break-in period.
What We Like
Traction-grip prevents slips even on slippery ladders
Electrical hazard feature protects from live wires
PRO 24/7 Comfort Suspension technology provides maximum comfort all-day
Added comfort relieves back and leg pain
What We Don't Like
There will be a break-in period
If you're looking for a pair of comfortable shoes, though, this Timberland Pro Men work boot is worth considering. It just needs extra care since it's not that durable.
9. Irish Setter Wingshooter Work Boot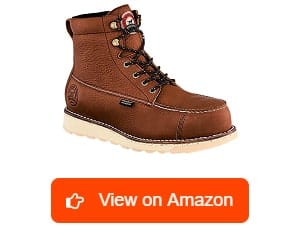 Irish Setter Men's Wingshooter Work Boot is a stylish and functional work boot that is also worth trying. Its design indeed lives up to the slogan "get to work in style".
For protection, this work boot features a non-metallic safety toe. Meeting the ASTM F2413-11, I/75C/75 standards for its impact and compression-resistance, the pair can guard the feet from falling objects at the work site.
This work boot can also be worn even in places with high temperatures, as it can withstand a minimum of 475 °F. Designed to perform well on high heat surfaces, its rubber sole meets the electrical work requirements on the roof on a hot summer day.
What makes this work boot stand out is its UltraDry construction. With its moisture management lining with waterproof feature, you can rest assured that your feet will stay dry all day. Plus, this work boot comes with footbeds made of polyurethane for pressure relief.
Notably, the Wingshooter Work Boot can provide enough support on the foot arch. This feature is especially useful for electricians who often perform on a ladder or other high platforms.
What I don't like about this safety boot, though, is the stitches. They should be reinforced to match the overall durability of the boot construction.
What We Like
Stylish leather boots for use at work
Non-metallic safety toe gives lightweight protection
The heat-resistant feature gives comfort even when working in hot areas
Irish Setter UltraDry construction keeps feet fresh and dry all-day
Polyurethane footbed cushions the feet and relieves pressure
What We Don't Like
Stitches are not that durable
Overall, I can say that these are great as electrician work shoes. Comfort and its heat-resistance are the major assets of this boot so be sure to try them out if you're working in areas with a warm climate.
10. Caterpillar Steel Toe Industrial Boot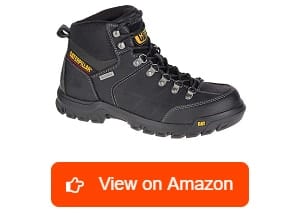 Caterpillar also has multiple well-made electrician work shoes to offer. One of them is the Men's Steel Toe Industrial Boot. It gains rave reviews from wearers claiming this full grain leather pair allows them to work all the time confidently.
This work boot is ideal for those who work in the electrical industry as it comes with an electrical hazard protection function. In truth, the pair can protect you from open circuits up to 600 volts, given that the workplace is dry. It also features a steel toe design, which gives a superior shield from falling objects.
When it comes to comfort, this work boot also has a lot to offer. It has a flexible shock-absorbing midsole, which is 30% lighter than the standard EVA. Such a feature makes it a comfortable work boot, especially if you're expecting a long day of work. Its breathable leather design also adds comfort.
For added safety, this work boot also comes with a slip-resistant feature. Even if you perform tasks in wet work environments, this pair of boots can give you enough traction. Plus, its waterproof outsole prevents moisture intrusion.
Still, this safety boot does not come with much arch support, which is a minor gripe I have with the pair.
What We Like
Well-made work shoe made of full grain leather
Protection against electrical hazards from open circuits for up to 600 volts
Steel toe design protects against impact and compression
Comes with a flexible midsole that's super lightweight
Midsole cushion absorbs shock and provides relief to feet for extra comfort
Non-slip feature makes it easy to work in wet conditions
What We Don't Like
Does not provide much arch support
Overall, it may not be perfect, but this work boot is still worth considering for the comfort and protection that it offers.
11. KEEN Utility Lansing Steel Toe Work Boot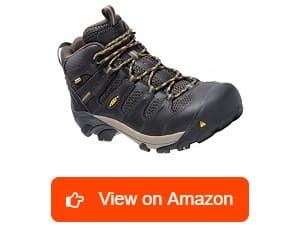 When it comes to safety, KEEN Utility Men's Lansing Steel Toe Work Boot also has something to offer that's worth the buzz.
Regarding its design, the steel toe is constructed to protect our feet from falling objects. And unlike other steel toe boots, this has an asymmetrical design and is molded to fit either left or right foot, giving unparalleled comfort.
Right out of the box, I definitely felt the comfort that this brand is talking about. There's even no break-in period, in my experience, which made me like it more.
This work boot is oil and slip-resistant. These functions offer better support and enough traction. Furthermore, it is one of the best EH-rated work boots providing a secondary protection source against electrically-charged hazards. It also features a full-length TPU shank that affords better stability for wearers.
In addition to that, this waterproof work boot features a breathable membrane liner, leading vapor out and blocking moisture from getting in. This keeps the feet fresh and dry all day from the inside out.
On top of that, the brand offers natural protection against bad odors using probiotics. Thus, you don't have to worry about how your feet would smell even when you wear work boots all day. However, it looks a bit bulky compared to other models in the market.
What We Like
Asymmetrical steel toes for superior comfort and protection
Provide slip and oil resistance, and protection against electrical hazards
Full-length stability TPU stability shank adds support
Comes with breathable membrane liner keeps feet fresh and dry all-day
Offers natural protection against bad odors
All in all, stick with this work boot for the unparalleled comfort that it gives. Wearing the boots, I never have to worry about getting my feet smelly after a day of work.
12. Dr. Martens Calamus Safety Toe Work Boot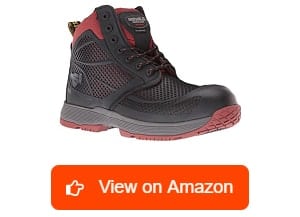 Dr. Martens is also known for making great boots. One of my favorites so far from this brand is the Calamus Safety Toe Work Boot.
This work boot comes with a non-metallic EH safety toe design. Due to its non-conductive and non-metallic outsole, the feet are protected from electrically-charged equipment. Such protecting capability makes it useful footwear for those who work in the electrical industry.
Furthermore, its safety toe cap can prevent injuries occurred to our feet due to significant impact compression force. Remarkably, this non-slip work shoe can give your feet more grip as you walk on oily or wet surfaces.
What I love about this pair is that you can wear it even in harsh weather conditions. You can even wear it on hot summer days as it offers heat resistance up to 572°F.
Of course, it will not let you down when it comes to comfort. This work boot comes with a padded collar and tongue for starters, making our ankles and the top of the feet comfortable. Plus, its highly flexible EVA midsole adds extra cushion to the feet. It comes with a removable footbed, too, making it easier to clean.
This work boot is antimicrobial treated and comes with breathable linings. These features let the feet breathe and keep the bacteria at bay. So you can wear the shoes all day without fretting too much about an unpleasant smell.
The only problem I have with this work boot is its sizing. The sizing chart runs on the big side. So I suggest that you go for a size smaller than your usual.
What We Like
EH safety feature, heat and toe protection provides needed security
Slip-resistant feature reduces risks at work and adds more traction
Padded collar and tongue offers feet comfort and enough support
Flexible EVA midsole and a removable smart-foam footbed adds extra cushion
Antimicrobial treated feature, and breathable lining makes it wearable all-day
What We Don't Like
Sizing can be bigger than usual
With the unique and high-quality features that Dr. Martens offers, it is not surprising why it is often out of stock. I'd buy a second pair right away if it gets restocked.
What is a Pair of Work Boots for Electricians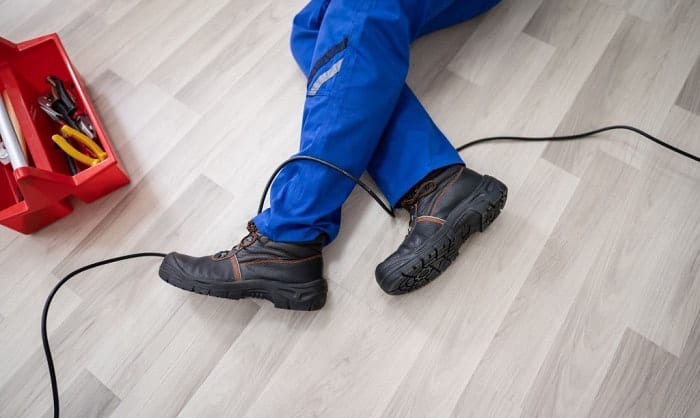 Electrician footwear is as essential as his tools. Because no matter how cautious you are at work, accidents can happen. You may accidentally step on or drop an object that could hurt your feet, which could hinder you from doing your best at work.
And since working in an industrial environment requires you to spend most of your day on your feet, you must invest in a good pair of work boots. A pair of work boots made for electricians should protect you from electrical hazards, falling objects, and, of course, bring you comfort.
How Does It Work
There are many work boots out there that offer different features. But as an electrician, one of the features that you need to check first is the electrical hazard boots ratings. Because you will be working a lot with wirings and electricity, you need some protection from live wires and other electrical hazards.
A suitable electrical work boot helps prevent electric shock if you accidentally came in contact with electrically-charged parts or equipment.
But electricity isn't the only thing you should be worried about. At work, objects could also accidentally fall on the foot, causing injuries.
Thus, aside from looking for electrical rated boots, you should also consider how it can protect you from falling objects or moving equipment. Many work boots come in different styles that provide adequate protection from these.
Of course, a pair of work boots should also be comfortable. These days, many brands offer various features and technologies that help cushion the feet and relieve them from pressure. This feature is also essential as you will always be on your feet at work.
Types of Electrician Work Boots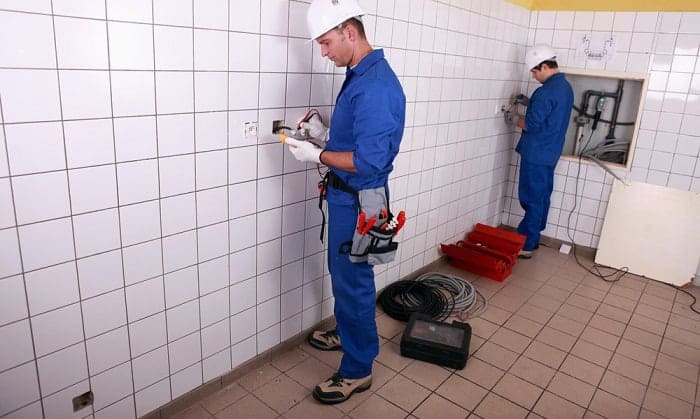 The type of work boot often goes unrealized until hazards happen. Thus, you need to determine what kind of work boot suits the industry you work in. Sometimes, companies require a specific work boot. But some companies don't.
There are many types of a work boot. But for electricians, the best type would be a composite toe. Such a pair is a combination of non-metal materials – such as Kevlar, plastic, fiberglass, and carbon fiber – and meets the same CSA safety requirements as the steel toe does. Hence, it protects the foot and is non-conductive.
Furthermore, the footwear for electricians also has electrical hazard features. It should be tested by the American Society of Testing and Materials to ensure that it can really give the wearer the right protection against electrocution. These EH-rated shoes are designed to protect you from up to 600 volts.
Some of the popular choices for work boots dedicated to electricians come with a steel toe design. This unit provides the strongest protection. This model can protect the feet even from heavy falling objects. However, this doesn't provide enough protection against electricity as it is a conductor.
Another type is the alloy toe. This is thinner than steel toes and is lighter. However, it is more expensive. It is also known as a conductor of electricity, making it not much of an ideal work boot for those in the electrical field.
Why You Need Boots for Electricians
There are many reasons why electricians need proper work boots. But one of the things that you should consider for buying one is the protection that it gives.
Working in an environment where electricity is involved is very dangerous. Thus, wearing ordinary footwear is not recommended. Proper work boots can help protect your feet not just from electrical hazards but also against cuts, burns, impact, and punctures.
With this kind of protection, you are guaranteed that you can prevent accidents that could hinder you from doing your best at work. And believe it or not, a good pair of work boots can help you perform your best at work.
This is because if you're very comfortable with your shoes, you can move around freely and feel no discomfort on your foot.
Of course, having proper work boots also helps give comfort. Many industrial tasks require a lot of walking and standing throughout the day. This could hurt the feet and make you feel more tired. But with proper footwear, your feet are cushioned. This gives relief and lessens fatigue, helping you reserve more energy for another day of work.
Buying Guide
There are many work boots in the market, promising you many things. But which of these suit your needs and work environment?
When buying a pair of work boots, there are several things to consider. First is the protection that it gives. Especially when you're working in the electrical field, the level of protection that a work boot can give should be a priority.
Make sure that it passes the EH standard, so you know you are safe even when you work with electrically-charged parts.
Another thing to consider is the comfort technology that it has. In the industrial field, standing and walking is a huge part of everyday tasks.
Thus, among the body parts, the feet often experience a lot of pressure and strain. So when buying a work boot, make sure that you also check how comfortable it is to wear. In this way, your feet won't hurt, and you can get to accomplish more tasks.
It is also a must that you check its durability. Some work environments require a lot of walking and some days; you are exposed to different weather conditions, which could wear shoes.
And you don't want to keep on replacing your work boots every month as it could hurt your budget. So always look for work boots that are also known for their durability.
If you work in a different environment, it is also advisable that you look for slip-resistance features. As you walk through different spots in your workplace, oil or water spills can sometimes happen.
Stepping on these substances could cause you to slip if you're not careful enough and if your work boot sole isn't in good condition. But with slip-resistant work boots, you can prevent such accidents from happening as this kind of footwear feature gives you more traction and support.
Sometimes, the price of safety footwear is also something to consider. Not all work boots from popular brands suit your needs. And not all affordable work boots may work for you too. But minding your budget can also help narrow down your choices in choosing your work boot.
Lastly, make sure that the work boots fit you well. Incorrect work boot size could cause blisters. Sometimes, with the wrong shoe size, it could even cause you to trip, making you prone to accidents that could compromise your work.
Care and Maintenance
Work boots don't last long if you use them heavily and just leave them as is after a long day. It also needs proper care and maintenance, no matter how durable it is. Even the most rigid work boot needs care too.
If your boots are new, it is recommended that you wear them around your house for several days before you wear them at work. This helps you break it in and lessens the chances of getting blisters. If you're lucky, though, there are work boots that you can score that doesn't even have a break-in period.
After breaking it in, you may want to waterproof it. Although some work boots are already waterproof, waterproofing it on your own makes it more water-resistant. Such a function also doubles the protection, which means it can last long and withstand harsh weather conditions such as snow and heavy rains.
Don't forget that you also have to clean the shoes after every use. For this step, it is recommended that you use a water-based cleaner and a nylon brush. You can also use a brush with horsehair bristles. This helps clean the outer part of the show without scratching it.
But the outside shouldn't be the only part that gets attention. You also need to make sure to clean the inner part of the shoe. By doing so, you can eliminate the odor and keep it fresh even after wearing it all day. To clean this part, you can use a low-PH shampoo. Make sure to rinse it thoroughly and let it dry completely before using it.
Frequent cleaning makes the work boots last longer. By doing so, you can also get to spot any wear that's starting easily. This way, you can take steps to repair it right away and prevent further damage.
If you have leather work boots, it is also advisable that you stuff it with newspaper. This ensures that it stays in shape while it is stored.
Frequently Asked Questions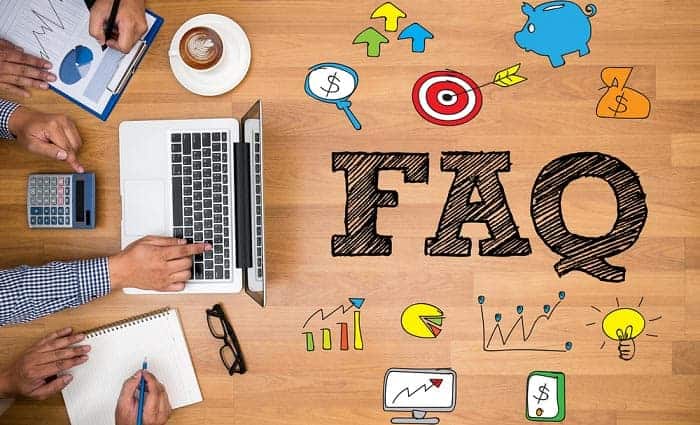 What are the most popular electrician work boots brands?
There's actually a ton of options in the market. But Caterpillar, Timberland Pro, Red Wing, Irish Setter, Keen, and Dr. Martens are some of the most popular brands. These have been in the industry for years and are known for their high-quality boots. They also have various work boots dedicated to electricians.
However, when it comes to pure popularity, it's the Keen Utility, Timberland Pro, Thorogood Men, and Irish Setter boots that are a common favorite. This is because, aside from being functional, they also offer stylish work boots that can be used outside the workplace.
These brands are also known to come with expensive price tags, though. But with the quality that they offer, investing in one of these brands is definitely worth it. They're also a perfect fit for any working environment.
Are steel boots safe for electricians?
Despite its superior impact and compression protection properties, some are still hesitant to buy steel toe boots because it is known as a conductor. Boots with rubber soles and steel toes are always the best choice. It's also good to buy waterproof work boots.
However, contrary to what some people believe, steel toe boots also make the right footwear for electricians. As per OSHA, as long as the shoe's conductive material is not in direct contact with your feet or not exposed, it is safe to wear even when you work in the electrical field.
Bear in mind, though, that steel toe boots are heavier than others. This could affect your legs if you're going to wear it all day, especially if you're not used to wearing heavy footwear.
How to care and clean?
Once you've waterproofed your work boots, make sure that you clean it after every use. Brushing it with horsehair bristles helps dislodge irritants without being too harsh on the boots.
It is also recommended that you buff it with shoe polish using a microfiber cloth. This helps the boots to regain its shine. In addition to that, this helps pick up any leftover dirt or irritants that the brush missed.
Of course, the outside part of the work boots isn't the only thing that matters. You also need to care its insides. Placing cedar boot trees inside your boots can help absorb any sweat, as well as unpleasant smell.
While some work boots come with breathable and ultra-dry technology features, cedar boot trees add more sweat absorption and restore freshness more.
Where to buy?
With the advancements in technology, it's easier to shop for work boots online. Buying boots online save you effort and time. However, the downside is that some brands have different sizing charts. So their sizes might be bigger or smaller than your usual.
However, buying from the brands' physical store makes it easier to find the right size that suits electricians best. This is because you are free to try them on. If you're lucky, you can even get great Thorogood boots for electricians.
Conclusion
When you work in the industrial field, always remember that electricians need protection from head to toe. It's not enough that you wear a comfortable pair of sneakers.
Your footwear should also give you the protection that you need based on what field you're in and must be durable so you can get your money's worth. Luckily, numerous brands offer the best work boots for electricians in the market that come with different features. Some may be pricey but are worth investing in.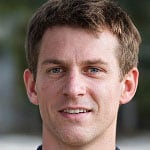 Having worked in the field of personal protective equipment for over two decades, Andrew Carnegie is a specialist in the field.
At EDC, he strives to improve performance efficiency and promote workplace safety for EDC's readers and customers. He also researches the most up-to-date equipment that has earned relevant accreditation for use in a wide range of industries and specialties.