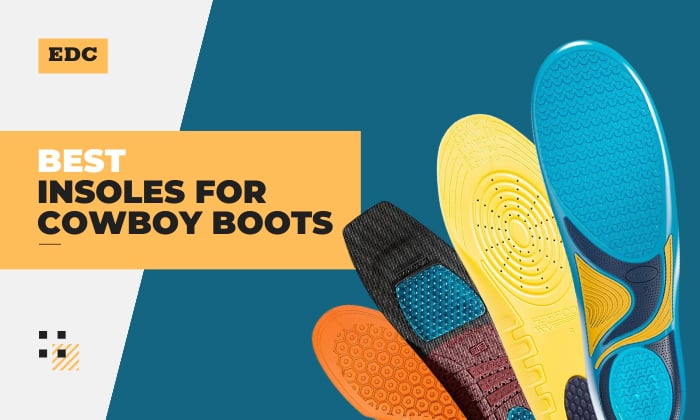 Traditional cowboy boots come in two different styles: Western and Roper. As many of you know, the former have square or pointed toes while the latter is characterized by its rounded toes. These features, along with the gorgeous tall shafts, make them distinguishable.
However, finding the best insoles for cowboy boots is can be challenging. To start, let's discuss these three important things to consider:
Type: Doctor-prescribed orthotics and over-the-counter footbeds are two types of inserts available in the market. Orthotics are custom-made for the wearer's feet to rectify how they stand or walk.
In recent years, manufacturers have improved the designs of mass-produced inserts to address specific needs. But if you have foot conditions, consult your doctor when choosing insoles.
Volume: Consider your arch profile and activities when choosing between high-, medium- and low-volume.
The thickest insoles are perfect for high arches and hiking or running. Medium volumes are suitable for most arches and are best for general athletic or casual shoes. Meanwhile, low volumes are excellent for low arches but are also recommended for cycling shoes.
Note that some materials can make insoles look slimmer without compromising cushioning and support.
Size: To find the measurements for your inserts for cowboy boots, trace your feet on a piece of paper and get the length of the tip of your heel and the tip of your toes.
You can add another half-centimeter to the measurement. For instance, if your feet measure 26 cm or US size 9, go for size 9.5, equivalent to 26.5 cm.
Once you identify the correct type, volume, and size, you can look at the other features you may need. You can find this under the "Factors to consider" section. Now, let me honestly review five cowboy boot insoles I've tried and tested.
Top 5 Insoles for Cowboy Boots
1. Timberland PRO Anti-Fatigue Technology Insoles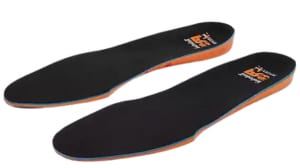 Specs
Material: Synthetic OrthoLite®, Outlast®
Shape: Round toe
Size range: 5-6 XS, 6-7 S, 8-9 M, 10-11 L, 12-13 XL, 14-15 XXL
Technologies: Anti-fatigue, Ortholite, Outlast
Timberland PRO is best known for top-tier work boots and "Anti-Fatigue Technology" insoles or the "AFT." Most of the shoes come with these footbeds already. But the brand also sells replacement inserts, so I went ahead and got another pair for my cowboy boots.
What makes the AFT extra special is that it has cone-shaped grooves, allowing the insoles to absorb the shock and return the energy to my feet. My tootsies and legs don't feel sore after a long day of work.
Moreover, they are flexible yet firm. This makes their "anatomically-contoured" design effective in providing comfort and support around the heels and arches. I think that's partly why people with plantar fasciitis recommend these.
Beyond that, the layers of Outlast and OrthoLite technologies manage moisture, regulate temperature, and keep my feet free from odor and sweat.
While these are technically work boot insoles, they are trimmable. Because of that, I can custom-fit them to suit my feet and my cowboy boots.
Granted, most footbeds are meant to be replaced after about six months or one year, but I did not expect these AFT insoles to flatten out after wearing them for a few months. Moreover, they are a bit pricy.
What We Like
Anti-Fatigue Technology" insole to absorb the shock
One-shaped grooves can support most foot shapes
anatomically-contoured design for comfort and support around the heels and arches
Helps in moisture management
Trimmable and customizable for a good fit
What We Don't Like
Might flatten out after a couple of months
A bit pricy
---
2. ARIAT A10008009 ATS Wide Square Toe Footbeds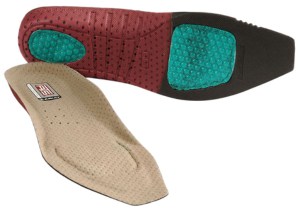 Specs
Material: Gel, heel padding, composite forked shank
Shape: Square toe
Size range: Size 7 to 15, with half sizes
Technologies: ATS
Feature: Antimicrobial
Trust me, I searched high and low for square-toe boot insoles, but I can't find any other brand that matches Ariat's ATS inserts. Of course, I don't have to figure out how to cut round insoles to fit with square toes with these designs.
More importantly, they can fit any Western-style square-toed boots from other brands. I'm giving the brand extra points for offering half-sizes to accommodate different foot shapes.
For those who don't know, ATS stands for Advanced Torque Stability, one of the brand's proprietary technologies. It utilizes gel cushions that work in conjunction with the heel stabilizers. On top of that, they built the insoles with a composite forked shank.
Together, these features absorb the impact while keeping my feet well-supported when I walk. Even better, they also enhance my body's posture and minimize foot and leg fatigue.
Like most modern-day insoles, the ATS insoles have moisture-wicking properties that deal with my sweat.
More importantly, it is antimicrobial to prevent bad smell, ensuring good hygiene and freshness for wearers.
Note that these insoles are on the thin side. Even so, they felt comfortable even though I was always on my feet at work. At the same time, they don't bulk up inside the boots. However, some folks find these footbeds lack arch support.
What We Like
Can fit any Western-style square-toed boots from other brands
Offers half-sizes to accommodate different foot shapes
Advanced Torque Stability with gel cushions and heel stabilizers.
Minimizes foot fatigue and promotes good posture
Have moisture-wicking properties
Antimicrobial to ensure hygiene and no odor
What We Don't Like
Some might find these footbeds lack arch support
---
3. Dr. Scholl's Energizing Insoles with Massaging Gel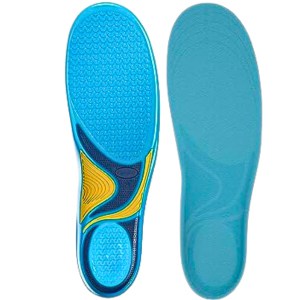 Specs
Material: Massaging gel
Shape: Round toe
Size range: Size 8 to 14
Technologies: Responsive wave cushioning
For: Flat feet and foot pain
As the product name suggests, these insoles are composed of different types of gels to boost comfort. The best part is that they wait to flatten out quickly. I've been wearing them for six months, but their quality has not changed. Hence, they became one of my favorites.
For starters, the gel is noticeably softer around the forefeet and firmer yet bouncier at the heels. Meanwhile, the arch support is reinforced with a special gel design to stay intact.
Furthermore, the arch and heel areas are slightly raised, making them excellent for flat feet.
In my case, I love these insoles because they feel like marshmallows under my tootsies. Besides absorbing the shock in each step, they also minimize fatigue and soreness around my legs and feet after a long day's work.
Fitting them into my roper cowboy boots is a breeze. I only have to follow the trim lines as I carefully cut the edges with scissors. Once I replaced and swapped my old insoles with these gel footbeds, my boots felt new again. Moreover, they don't slip and slide inside the boots when I walk. Plus, they don't bulk up inside.
The only reason why I'm not giving these insoles a perfect score is because they are not big enough to fit size 14 shoes.
What We Like
Do not flatten out quickly due to special gel and firm design
Raised heel and arch, ideal for flat feet
Minimize fatigue and soreness around the legs and feet
Fit into cowboy boots due to trimmable design
Non-slip, thus stay put inside the boots without bulking up
What We Don't Like
Not big enough to fit size 14 shoes
---
4. Copper Fit CFWKINOSM Unisex Work Gear Comfort Insoles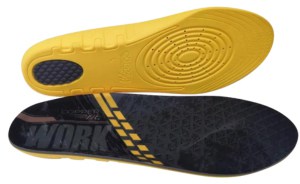 Specs
Material: Dual-density foam
Shape: Round toe
Size range: Size 8-13 for men, size 9.5-14.5 for women
Technologies: All Day Comfort and Copper Infused
Compatible with men's and women's footwear, the Copper Fit Work Gear is designed for all-day comfort to workers who are constantly on their feet. What's more, these one-size-fits-all insoles can fit wide and extra-wide work boots.
Constructed with dual-layer foam, these footbeds can absorb the impact of each step I take. On top of that, they are equipped with heel cup cushions and firm arch support.
As someone who walks on concrete floors for at least eight hours a day, the combination of these features allows me to work without having to deal with achy feet, legs, and back!
Furthermore, I prioritize good hygiene when purchasing boot inserts. Thankfully, these insoles are built with vents to allow the moisture to escape while also promoting good air circulation to keep my tootsies cool and dry. Apart from that, they are also "Copper Infused" to reduce odor.
Note that these footbeds can make certain boot styles feel tight and stuffy as they take up more space. In my opinion, this can be a good thing since some folks intentionally select thicker soles to eliminate heel slippage.
What We Like
Compatible with men's and women's boots
Can fit wide and extra-wide work boots
Dual-layer foam for shock absorption
Heel cup cushions and firm arch support to walk on concrete
Hygenic inserts with good ventilation
"Copper Infused" to reduce odor
What We Don't Like
A rather thick inserts that take up space
---
5. Nicks Leather Shoe/Boot Insoles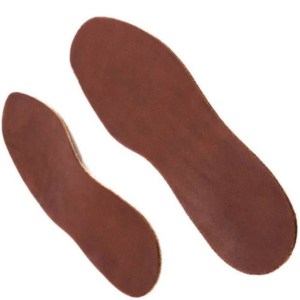 Specs
Material: Leather
Shape: Round toe
Size range: US men's size 6-7.5, 8-9.5, 10-11.5, 12-13.5, 13-15
Technologies: None
Made of US-tanned leather, Nick Boots' handcrafted insoles can mold to the wearer's foot for maximum comfort.
After wearing them for a few days, I started noticing that they were already taking the shape of my tootsies. Most users have the same positive experience, given that they garnered high ratings across online stores.
The manufacturer used 7-8oz full-grain leather to make these insoles. Thus, they can add some volume to the cowboy boots without making them feel too snug. They give me ample cushioning for prolonged walking and standing. Moreover, they are easy to trip to fit my boots perfectly.
By nature, leather is a porous material. Because of that, these insoles are breathable as the pores facilitate airflow within the footwear to minimize sweat.
These leather footbeds are available in a variety of sizes. But unfortunately, the width is a bit narrow. They may not cover the entire sole of wide-sized boots.
Another thing to note is that these are not considered arch-support insoles. In other words, those who need a firmer and higher arch support might prefer something other than these low-volume insoles. In my case, I use them with boots with built-in arch support.
What We Like
Can mold to the wearer's foot for maximum comfort
Can add some volume to the cowboy boots without making them feel too snug
Ample cushioning for prolonged walking and standing
Facilitate airflow within the footwear to minimize sweat
What We Don't Like
The width is a bit narrow
Not ideal for those who need firmer and raised arch support
Factors to Consider When Buying Insoles for Cowboy Boots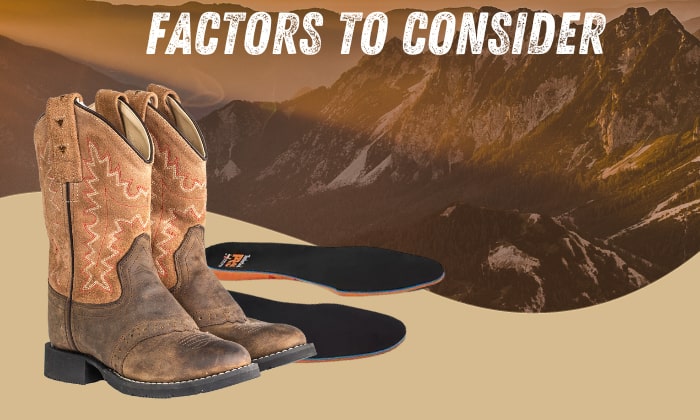 1. Material
With the right material, rigidity, and volume, you can make cowboy boots more comfortable. Here are your options:
Foam – Cheaper in cost, foams remain one of the most common materials shoemakers use to make insoles. They are both flexible and shock-absorbent. Unfortunately, they typically are not durable.
Memory foam – It can conform to the shape of your feet, thus relieving pain. But while this ability can make the insoles comfier, they are not the best option for those with foot problems since they are not supportive.
Air-cushioned – Also made of foam, the air cushion insoles are comfier than ordinary foam owing to the air bubbles added inside. However, this also makes them heavier. Plus, they are thicker than other designs, so they take up more space inside the footwear.
Gel – Many people like to wear gel insoles. They are so flexible that it almost feels as though they "move" with the feet. Moreover, they are generally lightweight. Sadly, they do not provide support for those with fallen arches.
Leather – Compared to synthetic materials, leather insoles are easy to clean and maintain. Its inherent malleability enables it to take the shape of the wearer's feet. Moreover, they are porous, which makes them breathable. That said, leather tends to be heavier than most synthetic materials.
Cork – Although cork insoles are not featured in this review, I want to add them here if you need more options. This flexible material has cushioning that makes you forget you're stepping on hard concrete. It's more durable than foam. They can be made to feature prominent arch support, but they can feel a bit heavy.
2. Rigid Vs Soft
Insoles also vary in terms of softness and rigidity depending on the material. Logically, most of us would assume that softer footbeds are better, but that's not always the case.
For example, most "soft" insoles are made of foam or gel. Workers who walk on concrete floors tend to use them as they can absorb the shock. Even those with foot deformities like bunions find them comfortable.
However, they may not help with overpronation. For this type of condition, rigid footbeds can counter irregular movements. Of course, they can feel uncomfortable.
To address this issue, semi-rigid insoles are invented. Combining the best of both worlds, they are soft enough to provide cushioning. At the same time, they are somewhat rigid so that they can control the motion of the foot.
3. Deep Heel Cups
Deep heel cups are another important feature to look for in insoles, especially when you have foot alignment issues. While heel devices are sold on the market, some footbeds integrated them into the design.
Either way, they offer plenty of benefits. For starters, they can help in correcting supination and overpronation. Because they decrease the pressure on your heel and distribute them across your foot, they can reduce foot fatigue that comes with walking and standing for extended periods.
What's more, they can ease the pain that comes with plantar fasciitis and other foot conditions.
4. Remedy for Heel Slippage
You can tell your feet fit your boots squarely and snuggly when your heels don't wiggle about. That said, some designs have rears and shafts that are that are too big.
If you notice that your heels are sliding while you walk in your cowboy boots, try to reduce the space at the back by inserting medium or high-volume insoles. Alternatively, you can also add a pair of heel inserts or grip liners.
5. Moisture-wicking and Antimicrobial Properties
As long as you're performing different activities, your feet will sweat inside your shoes—even if you're wearing socks. While humans naturally perspire, the moisture trapped within enclosed spaces can promote the growth of bacteria, leading to fungal infections and foul-smelling feet.
Thankfully, most socks and western boot designs are now made with moisture-wicking materials. Some manufacturers even run the extra mile and add antimicrobial treatment to prevent bacterial growth.
It's also a good idea to have insoles that can draw away your sweat to maintain a dry environment.
6. Shape
Considering all the different toe shapes, you can't simply put insoles in cowboy boots and call it a day. Their shape must cover the entire surface of the soles to ensure that your feet get the cushioning and support in the right places, so to speak.
Moreover, it ensures that they don't slide or bunch up while you move. Hence, most store-bought footbeds come with lines to help users cut them into the size and shape that fit their feet.
Also, manufacturers tend to create round-toed insoles to conform to the shape of most shoes. Based on my research, Ariat is only one of the few boot-making companies that manufacture inserts tailored to square-toes.
Conclusion
Good insoles can make cowboy boots more comfortable—that's a fact! At any rate, I strongly recommend seeing a podiatrist if you feel persistent foot, leg, and back pains.
It may seem contradictory to showcase five of my best insoles for cowboy boots while also telling my readers to get their doctor's recommendations. However, some foot conditions need to be diagnosed first. You can't simply check the symptoms online and conclude that you have misaligned feet or plantar fasciitis.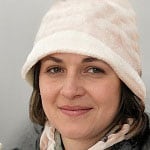 Veronica is our content editor. She is a talent in delivery. Her main work is editing and writing articles that are both informative and simple to follow. She is in charge of synthesizing our understanding of what personal protection equipment (PPE) is needed in each job, how to best apply it, and how to visualize that equipment.