Finding the best headlamp for work is a great move for a worker regardless of the industry he/she is in. If you are a construction worker, electrician, plumber, or a simple DIY enthusiast, then there is a great chance that you also own a flashlight, which allows you to do your job effortlessly by giving you a clear view of things.
The problem is that some flashlights have poor construction and are not that dependable. In most cases, flashlights do not showcase a hands-free design, too, making it a bit hard to do your tasks easily and quickly. If you experience such problems with your flashlight then maybe it is time to replace it with the most trusted work headlamp instead.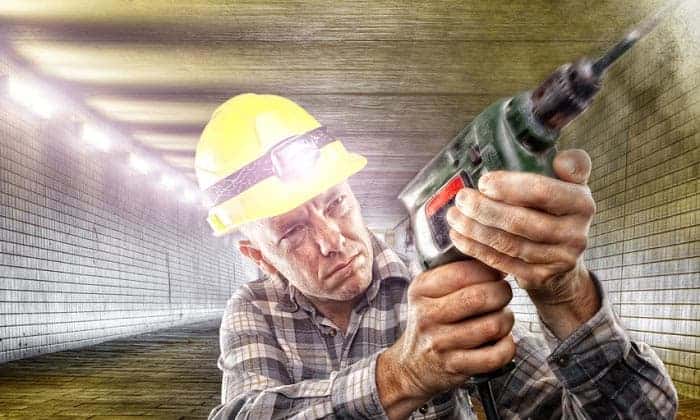 One thing that makes work and construction headlamps amazing is that they come with straps that support hands-free use and operation. It is because the straps are comfortable enough and allow you to wear the headlamp around your head. A high-quality work headlight or headlamp is also weatherproof.
With its weatherproof construction, you are allowed to wear it for outdoor activities without worrying about the weather. Other qualities that you can enjoy from a good heavy-duty headlamp are versatility, durability, and extreme brightness.
If you want to invest in the top-rated and the brightest headlamp for work then the following dozens of choices should form part of your choices as all of them hold most of the qualities required from this item.
Top-Rated Headlamp for Work Reviews 2023
1. GearLight LED HeadLamp S500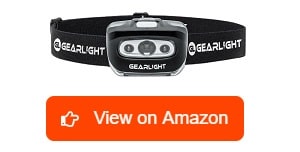 This GearLight headlamp emits 200 Lumens. Featuring a total of seven modes, the white light has three brightness modes and one strobe intensity. Meanwhile, the red one has one brightness and two strobe intensities.
With these options, these devices function well for various purposes, including walking in the park, hiking, camping, or during a power outage at home.
On a low setting, the AAA batteries can make the light run for over 10 hours. With two S500 gear light devices in one pack, this product is surely a worthy investment.
Another neat feature is that I can tilt the light at 45-degree so that I can see where to step. Aside from that, it keeps the light away directly from another person's eyes.
Suitable for general indoor and outdoor tasks, the headlamp's weatherproof design ensures that it will not malfunction when I use it in the rain or snow. Not to mention, the construction is highly durable, making it resistant to impact. I've dropped this a few times, and I'm glad it's working well.
But I see mixed reviews when it comes to the headband. For me, the strap is just fine. I managed to adjust it to a comfortable and secure fit. However, I also know the length is a bit too long for some people.
What We Like
200-lumen light with a total of seven modes
AAA batteries can run for over 10 hours on low setting
Durable casting to use in the rain, snow, and other harsh conditions
Resistant to impact, thus function good even after dropping
Allows a tilted angle of 45-degree for working in closed space
What We Don't Like
The headband is a little too long for some people
Whether I accidentally drop it or accidentally get it wet, this durable headlamp will not break easily. It's the perfect companion for work and leisure!
2. SLONIK 1000 Lumen Rechargeable CREE LED Headlamp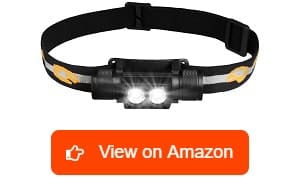 Another impressive headlamp for working at night, in tight spaces, or any other dark environment is the SLONIK 1000 Lumen Rechargeable CREE LED Headlamp. This CREE LED headlamp from SLONIK carries several positive attributes that make it on top of the industry – one of which is its lightness.
Wearing only a little over 4 ounces, this LED headlamp is lightweight enough that using it during your work hours will not be difficult for you. Combine that with its compact structure and I am certain that it can support your desire to own a headlamp, which can improve your productivity.
This headlamp also delivers an incredible performance regardless of the industry you are in. It is built to be rechargeable, which makes it more convenient and cost-effective to use. It also has a 1,000-lumen LED light capacity, which is also built to reflect a 220-yard beam.
This light does so without causing distortions to the natural colors of the objects it illuminates. The rechargeable battery has an 8-hour life when set in low. If you set it on high, expect to enjoy up to 3 and ½ hours of battery life. It is quick to recharge as this only takes around 2 hours.
Having five different modes, I can safely say that adjusting this headlamp based on the specific setting that a certain environment need is possible. It is also detachable, allowing you to fit the light conveniently in your pocket. Another strength of this headlamp for work is its ability to provide a comfortable and snug fit.
This is all thanks to its adjustable headband made of nylon. It is also waterproof and dustproof plus it boasts of its aero-grade aluminum alloy construction, which contributes to its ability to deal with extreme conditions.
One of its weaknesses, though, is the somewhat thin O-ring sealing used to make its structure water-resistant.
What We Like
Lightweight and compact for ease and convenience of use
Adjustable based on its five different modes or settings
Comes with a rechargeable battery
Assures users of a comfortable and snug fit with the aid of its adjustable nylon headband
Can withstand even extreme conditions, thanks to its aluminum alloy structure
What We Don't Like
The O-ring sealing used in making the headlamp's structure water-resistant is quite thin
Overall, this headlamp for work is well-made and durably structured while emitting a good amount of illumination and brightness, making it a truly good companion for workers.
3. Foxelli USB Rechargeable Headlamp Flashlight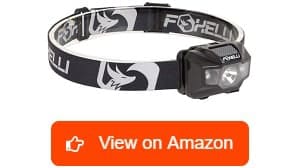 Lastly, I highly advise taking advantage of the Foxelli USB Rechargeable Headlamp Flashlight. I am sure you will love this rechargeable headlamp because of its numerous outstanding and praiseworthy qualities and features. One of these praiseworthy features is its ergonomic design, which promotes extreme comfort when worn.
It is easy to adjust so it can fit your specific demands. The elastic headband is also what you can use to make the lamp give off a comfortable fit. It is lightweight so bringing and using it in your work environment will not be a problem. I even noticed that it also works for long-distance runners and those who require a lighting solution to make them do their regular activities with ease.
I think that the superior brightness of this Foxelli rechargeable headlamp is also one of its most prominent and recognizable benefits. It takes pride in its 180-lumen LED that can also give off red and white lights. It also lets you take advantage of its wide range of lighting settings or modes.
It has a body, which you can tilt up to 45 degrees, making it not only bright but also highly versatile. Another nice trait of this work headlamp is its durability. It has a structure that can resist a few harsh and extreme conditions, including heavy rains and dropping on the ground.
It is also waterproof, which prevents possible damage from being exposed to all forms of water. This headlamp is also quick and easy to recharge. You can fully charge it in just as little as four hours.
A full charge can also give you a good supply of light for a max of forty hours.
However, some complained about it being quite bulky.
What We Like
Boasts of an ergonomic design for ease of use
Highly durable, allowing it to withstand harsh and extreme conditions
Easy and quick to recharge
Can supply bright light for several hours once fully charged
Equipped with an elastic and adjustable headband
What We Don't Like
It has a quite bulky structure according to some users
This is not that big of a deal, though, as the overall structure is still dependable and easy to handle while providing as much light as you want based on a particular situation.
4. Energizer Rechargeable PRO Series LED Headlamp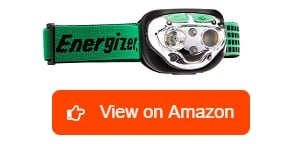 I've seen some users on Reddit suggesting this headlamp and thought of giving it a try. Based on experience, I believe comfort is its strongest suit, thus this headlamp is probably the most suitable option for long-hour work.
The soft strap is secure, yet it doesn't make my head hurt. Also, adjusting it to fit my head is a breeze! Plus, it's so lightweight, about 0.06 pounds only, that I sometimes forget I have it on.
While the design of this headlamp may look simple, I'm amazed to find out that it can function in 7 modes. From high to low, wide to broad low, and night vision options like red and green—everything I need is in here!
Not to mention, it casts light with a brightness of 400 lumens. And the HD LED light ensures sufficient lighting for versatile tasks.
The design is indoor and outdoor-friendly, considering its water-resistant construction with an IPX4 rating. Best of all, it has a robust casting body that doesn't easily break. More importantly, this rechargeable model can run for 4 hours in its high mode.
I wish that the manufacturer puts a battery charge indicator. I can't tell how much juice I have left. Anyway, it's no biggie for me since I have a habit of taking out the headlamp from the hard hat and charging it every night to prepare it for the next shift.
What We Like
Comfortable and lightweight (0.06 pounds) for extended wear
Has a secure yet soft strap
Adjustable strap to fit the user's head
HD LED light can function in 7 modes, run 4 hours in its high mode
Superbright light 400 lumens
IPX4 Water-resistant construction for outdoor wear
What We Don't Like
No battery charge indicator
It's not every day that one can find a headlamp with a comfy strap. More importantly, it provides multiple light modes to help me see in various lighting conditions!
5. Victoper Rechargeable Headlamp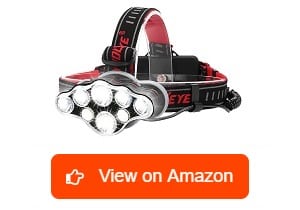 Boasting 18,000 lumens of light, this headlamp is truly powerful, and I can rely on it regardless of the activity or in places where no light is available.
This light offers eight modes of light, which I find very useful in every kind of application. Besides the red light, it has the SOS strobe and all sorts of light beams, all at a press of a button. I won't run into trouble with having too much light or lacking it!
Even better, the 90-degree adjustable head can help me aim the light at a spot that I need to be visible.
Since it's IPX5-rated waterproof, I can wear it outdoors and never have to remove it during a sudden downpour. Because I don't always get the chance to recharge it at work, I'm impressed that the battery runtime can last about 5 to 8 hours, depending on the setting I choose.
Considering all its features, don't expect it to be a lightweight headlamp. To be fair, it's not heavy when worn for short periods. However, one would start to feel the weight when wearing it for long hours.
What We Like
Super bright light of 18,000 lumens
Offers 8 modes of light, incredibly versatile
Switch different types of light beams with a quick press
IPX5-rated waterproof, suitable to wear the outdoors
Has a 90-degree adjustable head
Lasts about 5 to 8 hours, depending on the setting
What We Don't Like
Feels heavy when worn long hours of wearing
Whenever I need a brighter light at work, I would go for this headlamp! For my use, the eight light modes are convenient since I can use them as the main light source in various conditions.
6. Optimal Ventures 802100 Broadbeam LED Headlamp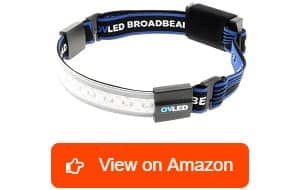 Your chances of finding the top-tier LED headlamp for work purposes are also higher once you come across the Optimal Ventures 802100 Broadbeam LED Headlamp as many consider it as a truly amazing companion for a wide range of workers. One noteworthy quality of this LED headlamp is its compact and low-profile design.
This promotes extreme comfort when wearing it. Add to that the lightweight structure of the headlamp and I am one pretty sure that you will be able to use and wear it conveniently. I am also glad that it is not as bulky as other traditional headlamps. With that, I can prove how manageable it is.
Another strength of this LED headlamp is its stretchable and sturdy headband. You can adjust this headband so that it fits any size of the head and the majority of beanies, hats, and baseball caps. This headlamp also takes pride in its simple and easy operation. It has three power settings/modes.
The good news is that it is easy to set your preferred mode with the help of just one button. I like the built-in light strip, which is powerful enough to help in illuminating all environments and surroundings. It can even light up a wide area while keeping your hands free to do other stuff.
The work headlamp is also highly versatile and flexible, making it ideal for various applications and purposes, including construction, camping, fishing, mechanics, and hiking.
It is also portable, promoting ease whenever you need to bring and use it in the workplace.
One disadvantage, though, is that the cost does not include the required batteries.
What We Like
Simple and easy operation
Comes with three power settings so you can set it based on what is needed in a particular surrounding
Applicable in various situations, proving its versatility
Portable and compact
Capable of illuminating a wide area
What We Don't Like
Required batteries not included
In terms of performance, you will not be disappointed with this headlamp from Optimal Ventures as it has most of the positive traits that prospective users of this item are hoping to see in their choice.
7. Milwaukee 2111-21 Rechargeable 475-Lumen LED Headlamp
The Milwaukee 2111-21 Rechargeable 475-Lumen LED Headlamp also makes for an incredible choice for all workers out there. Mainly built for use on hard hats that a lot of workers use for safety, this LED headlamp can offer superior brightness, giving you the specific lighting output you need for your job.
I like its secure attachment as it ensures that it will stay in place right after putting it into a hard hat. The power of this headlamp is brought on by this product's REDLITHIUM USB, providing not only superior lighting output but also 24-hour runtime. In comparison to other kinds of USB, charging it is notable for being three times faster.
It also supports more than two thousand recharges. I am also pleased with the five modes or settings provided by this work headlamp as such permits you to adjust it, so you will have full control over its beam coverage, runtime, and output. I also like the non-slip clips and strap of this headlamp as these features further support secure and easy attachment.
As for its overall structure, I can vouch for its strength and durability. It is because it is built to have a strong, sturdy, and drop-resistant body capable of withstanding dust and water, too. It also has a sturdy lens capable of withstanding even extreme and harsh conditions.
With its 31-hour operating time, I am certain that this Milwaukee headlamp can give you your money's worth.
One issue I encountered with this Milwaukee headlamp, is the slight difficulty in mounting it for the first time. I got used to it after several uses, though.
What We Like
Strong, drop-resistant, dust-resistant, and water-resistant body
Gives full control over beam coverage, runtime, and output, thanks to its multiple modes/settings
Promotes secure attachment with the help of its non-slip clips and strap
Provides superior brightness
Built to be rechargeable
What We Don't Like
Slightly difficult to mount at first
To conclude, this is a cost-effective and amazing work headlamp known for its brightness and flexibility as well as its ability to meet various lighting and brightness requirements, saving battery along the process since it supplies just the right amount of lumens.
8. LETOUR Rechargeable 8000 Lumen Headlamp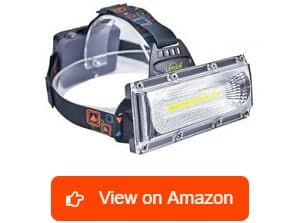 The LETOUR Rechargeable 8000 Lumen Headlamp also fits the criteria of all workers who wish to own a high-quality and reliable lighting solution to improve their work efficiency and productivity. I immediately noticed how bright this rechargeable headlamp is from the moment I first used it.
I think that its superior brightness can be attributed to the COB-integrated LED module that it uses as a stable and durable source of light. It even boasts of its lumen output, which can go up to 8000 lumens. It is versatile and takes pride in its 120-degree wide radiation angle that is perfect for outdoor work and activities, hiking, and camping.
This headlamp is a lighting solution that you can completely depend on. It can brighten your surroundings while ensuring that your hands are free to make movements. This also boasts of its multiple lighting modes/options – among which are the low and high as well as the red + blue strobe setting.
It is designed in such a way that you can zoom it in, making it perfect for nighttime activities and work, camping, fishing, and any other job and activities that require truly bright light. Another strength of this LETOUR rechargeable headlamp is that it has a long operation time.
It also boasts of its strong waterproofing and leakage-resistant features that assure users that it is indeed safe to use outdoors. Furthermore, the built-in adjustable headband also assures users that its fit is comfortable enough since it is adjustable and customizable based on what they feel is the most convenient for them.
However, some say that the included red + blue flashing mode is not that useful for them.
What We Like
Superior brightness, thanks to its 8000-lumen output
Strong waterproofing feature for safe outdoor use
Comes with an adjustable headband to assure users of a comfortable fit
Long operation time
Ideal for numerous outdoor activities
What We Don't Like
Not that useful red + blue flashing mode
To conclude, I think that this headlamp is a practical solution for workers out there who need a bright lighting solution with a truly wide range, a sturdy structure, and long operation periods.
9. DanForce Ultra Bright 1080 Lumen Rechargeable LED Headlamp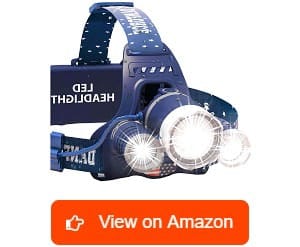 I am quite sure that the Ultra Bright 1080 Lumen Rechargeable LED Headlamp can also give you ultimate satisfaction if you are looking for an incredible source of light. I think that the brightness of this rechargeable LED headlamp from DanForce is one of its most prominent features.
With its 1080 lumen output as well as its 3 CREE LED bulbs that provide strong and bright illumination, you will be able to take full advantage of it when it comes to lighting up the dark. I am also pleased with the headlamp's ergonomic design as well as its overall construction since it is built using high-end and strong materials.
With the headlamp's strong and rigid structure, expect it to be able to handle even the most grueling conditions. This powerful lighting solution also boasts of its head that you can swivel up to 90-degrees. This allows you to alter your focus from providing broad illumination to supplying just a narrow but long-range beam.
It can, therefore, cast bright light based on your exact needs and requirements. This is also one of the sturdiest headlamps I discovered for work purposes and other outdoor activities. It is built in a way that it is fully prepared to deal with whatever weather and work conditions that are in front of it, including extreme cold and heat.
It is also strong and sturdy as it can protect itself from water, ice, and dust, thanks to its airtight rubber sealing. I like how this headlamp fits well, too, making it convenient and comfortable to wear when at work.
One thing that I would like to improve, though, is the tightness of the rubber seal used on the case for the battery. I just hoped it is a bit tighter to improve its water-resistance even further.
What We Like
Sturdy structure, allowing it to handle most weather and work conditions
Comfortable to wear because of its adjustable fit
The head can be swiveled up to 90 degrees
Offers protection against water, ice, and dust
Provides broad and bright illumination
What We Don't Like
Not that tight rubber seal designed for the battery case
Despite that flaw, I can still say that the DanForce Ultra Bright 1080 Lumen Rechargeable LED Headlamp is an incredible performer in the industry since it supplies the kind of light that most workers are hoping for.
10. Streamlight 61702 Bandit Low-Profile USB Rechargeable Headlamp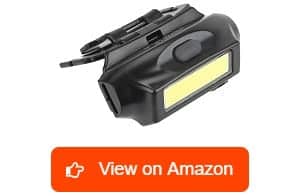 If you require a rechargeable headlamp, which you can operate while keeping your hands free to do other tasks then the Streamlight 61702 is sure to meet your requirements. It can supply the right amount of light and brightness for up-close tasks. I am glad of how easy it is to use this rechargeable headlamp, too.
I think one reason why it is so easy to use and manage is its low-profile and lightweight design. It is also convenient as it can be recharged using a USB, thanks to its lithium polymer rechargeable battery. It is also built in a way that it can supply up to 180 lumens of lighting output.
I am also satisfied with the even, bright, and diffused light that this headlamp gives out. The good thing about such light is that it has minimal shadow unlike what you usually see in spot beams. Another pleasing feature of this work headlamp is its huge button, which guarantees ease of operation.
It is weather-resistant, too, allowing you to use it for personal or work purposes and in various scenarios, circumstances, and environments without fear of it being damaged due to harsh elements.
I am also glad that this headlamp features a rubber plug designed to prevent debris and dirt from penetrating the headlamp's micro-USB charging port. You do not also have to worry about the charge port getting damaged sooner than expected because there is a tethered rubber cover designed to protect it.
I am also amazed at the convenient snap-in clip adapter included in this headlamp as I find it useful in easily attaching the headlamp into a cap's brim. You might also find it useful in obtaining extra downward adjustability each time you use the item's headband.
I am not so fond of the battery life, though, as setting it on high makes it last for only about one and a half to two hours.
What We Like
Weather-resistant, boosting its capacity to handle even the harshest circumstances
Equipped with a rubber plug, preventing the penetration of debris and dirt into the micro-USB charging port
Can be easily attached in the cap's brim
Produces even, bright, and diffused light
Works well for up-close tasks
What We Don't Like
Somewhat short battery life, especially when set on high
Still, this headlamp from Streamlight has a high chance of giving you your money's worth because most, if not all, of its benefits and features are made and provided in a way that the headlamp can further boost its overall performance.
11. Alyattes Ultra Bright 12000 Lumen CREE LED Work Headlight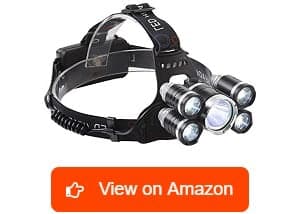 Another highly recommended headlight for work applications is the Ultra Bright 12000 Lumen CREE LED Work Headlight offered by Alyattes. It is a fantastic choice if you prefer to own a more portable and lightweight headlight. Constructed using rubber and aluminum alloy, it is lighter and more comfortable to carry compared to the others.
I also instantly sensed its versatility because I discovered that it is not only for serious workers but also for those who are interested in other stuff and activities, like cycling, jogging, and camping. It also suits those who require light to assist them when doing their nighttime activities.
I am also delighted to announce that it is safe to use outdoors due to its waterproofing structure. It comes with a waterproof switching known for making the light safe when used during the rain. The interiors of this light also come equipped with high-quality waterproof wiring that can resist leakage.
With such construction, the light can run or operate continuously even during heavy rains. It also boasts of its almost limitless uses as it features a couple of modes and settings. You can, therefore, adjusting the headlight in a way that it becomes appropriate for your lighting requirements.
I can also assure most users of extreme comfort and good fit. It is mainly because of its sweat-resistant and adjustable headband as well as its elastic fabric that promotes a perfect fit. It is also compatible with helmets and hard hats, too.
One thing I dislike about this work headlamp, though, is its slightly bulky battery pack.
What We Like
Comes with a few modes and settings so you can adjust it based on your requirements
Promotes a comfortable fit with the aid of the adjustable headband and elastic fabric
Appropriate for use with helmets and hard hats
Waterproof, giving you the chance to use it safely outdoors
Lightweight and comfortable to carry
Overall, this CREE LED Work Headlight is powerful and bright enough so there is an assurance that it can support whatever lighting demand or requirements you have.
12. Black Diamond Storm Headlamp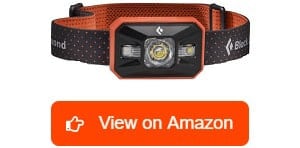 The Black Diamond Storm Headlamp is also another versatile headlamp that works not only for those night and outdoor activities but also for daytime tasks. I consider it a fantastic companion not only for work purposes but also when performing my daytime and nighttime routines, like reading, hiking, and cooking.
The headlamp also makes use of the PowerTap technology, which works in making its operations more simplified. I also noticed that such technology is capable of storing memory modes based on your preferred brightness settings. The robustness of this headlamp is also immediately noticeable.
It has a robust structure while taking pride in its waterproofing capability. Apart from being waterproof, it can also prevent dust from getting into the lamp, further showcasing its robust and durable structure. I am also glad that this headlamp contains all the essential light settings, making it suitable for all outdoor activities.
In fact, it has a total of eight different options for lighting, including the RGB night vision setting. I am also extremely satisfied with its 350-lumen power output as well as its colored night vision modes. With the different settings and modes provided by this headlamp, I am sure that you can completely customize the lighting based on your particular situation.
It also takes pride in its improved peripheral lighting, providing more than enough illumination for close-range tasks, including sorting gears and cooking. I am pleased with this headlamp's sealed housing, too, as I discovered that this can resist immersion of a max of one meter for around thirty minutes.
This headlamp is slightly bulkier compared to other work headlamps currently introduced to the public at present.
What We Like
Ideal for use in various outdoor activities
Boasts of its peripheral lighting, giving illumination when performing close-range tasks
Comes with a sealed housing capable of resisting 1-meter immersion
Supplies various lighting and brightness settings
Waterproof and dustproof, further proving its robustness
Despite the added bulk, it is not that bothersome to use at all, which is the reason why I still recommend it to those who need a headlamp for work and other outdoor activities that is convenient to use and easy to manage.
Cobiz 18650 6000 Lumen LED Work Headlight (Outdated)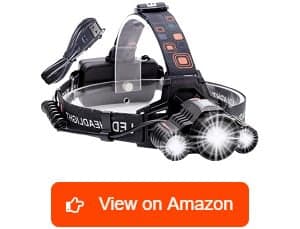 The first LED work headlight that I am going to suggest to all kinds of workers is the Cobiz 18650 6000 Lumen LED Work Headlight. This LED headlamp for work continues to impress me because of its hassle-free and hands-free design. The headlight is created in a way that you can use it while setting your hands free to do other tasks.
It is also known for being a dependable rechargeable headlamp, brightening your environment without causing you to spend money and time on buying and installing new and extra batteries. I am also pleased to say that this headlamp can be adjusted to meet a wide range of lighting requirements, thanks to its four modes/settings.
You can set it at low, medium, and high modes, as well as the emergency-ready strobe lighting setting. I also consider this headlamp as a sound and wise investment because of its versatility. It features an adjustable headband, so you can tailor its fit based on what gives you the highest level of comfort.
It also boasts of its flexible structure in the sense that it allows you to use it for both your indoor and outdoor uses. I also commend its overall structure because I noticed how durable and dependable it is. It is even waterproof so you can use it outdoors without worrying about it possible damages caused by the harsh weather.
It also takes pride in its waterproof and leakage-resistant wiring, which ensures that the light remains turned on despite being soaked by the rain. I am also delighted with the 90-degree swivel ability of its head since it lets you rotate it effortlessly so it can illuminate any direction.
However, one shortcoming I would like to point out in this headlamp is the lack of straps or clasps for the battery housing, which is supposed to help in guaranteeing an even tighter seal.
What We Like
Guarantees a hands-free design, promoting convenience when operating it
Boasts of its waterproof and leakage-resistant wiring
Equipped with an adjustable headband for a customizable fit
Rechargeable, eliminating the need for additional batteries
Comes with a rotating head so you can swivel it to the direction that requires illumination
What We Don't Like
Lacks straps or clasps for the battery housing
Still, it is undeniably a great choice for anyone searching for the
best headlamp for work
that is friendly on their pockets because of its affordable price.
Soft Digits 12,000 Headlamp (Outdated)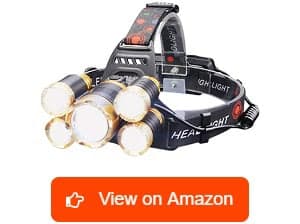 Another fantastic choice for a high-quality work headlamp is the 12,000-lumen LED headlight offered by Soft Digits. One thing that amazes me about this headlamp is its multifunctional and versatile nature. It is because it can serve several uses aside from being useful for work.
It suits running, climbing, camping, hiking, fishing, and nighttime walking, too. I find its 90-degree adjustable head beneficial as it allows you to adjust it either up and down. You are also assured of its ability to remain steady right after positioning or adjusting it. It has an adjustable headband, too, which allows it to fit around your hat, belt, bike, helmet, and head.
I can assure you of the brightness of this headlamp as it is built to produce up to 12,000 lumens of light. This assures you of an incredible performance even in far distances, up to 200 meters. It also boasts of its automatic shut-off feature once it gets fully charged. I am also sure that it is safe to use because it does not overheat even when it operates for several hours already.
Another reason why I am genuinely in awe of this headlamp is the presence of its powerful and compact USB rechargeable battery. This battery is capable of providing up to six hours of use. You will also fall in love with its four lighting modes that you can choose from depending on the environment and purpose.
It only has a single switch, which promotes ease in changing its settings. Furthermore, I am glad of this headlamp's zoom function as it gives me the chance to change its focus from broad to a narrow beam.
This allows the lamp to cast powerful and bright illumination depending on what is required on a certain situation.
However, one fault of this work headlamp is its weight since it is noticeably heavier in comparison to other options.
What We Like
Equipped with a compact USB rechargeable battery
Features four lighting modes, so you can set it based on what the environment or situation requires
Comes with a zoom function
Safe to use with its automatic shut-off function and its low risk of overheating
Bright enough, thanks to its 12,000-lumen light
What We Don't Like
Slightly heavier than other headlamps
To conclude, the Soft Digits 12,000 Headlamp makes for a genuinely sound and wise purchase especially if you think about how bright, durable, and convenient it is.
GRDE 18650 Super Bright LED Headlamp (Oudated)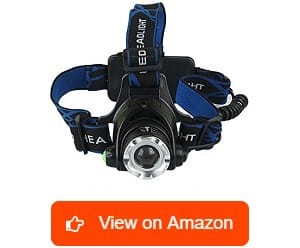 Another strong contender in the headlamp for work industry is the 18650 Super Bright LED Headlamp offered by GRDE. It is a solid choice if you are looking for a budget-friendly LED headlamp, which will not disappoint in terms of features and qualities. The 1,800-lumen output of this headlamp allows it to showcase adequate brightness.
The versatility of this LED headlamp shines as it is capable of meeting your different lighting requirements based on the outdoor environment you are in. I also like how it serves multiple purposes – among which include being a desk lamp, waist lamp, and work headlamp.
It also allows indoor and outdoor work, thanks to its low and high lighting modes. The fact that it has an IP50 waterproof rating is also a strong advantage as it allows you to enjoy a relaxing experience outdoors regardless of the condition. I also like the adjustable angle of this light, which can rotate up to 90 degrees.
Furthermore, it has a zooming function, making it possible for you to zoom it in if you intend to focus the light's beam on a tiny spot. I am also glad that it has two powerful rechargeable batteries designed to provide extreme convenience to users. One more thing promised by this headlamp is its hands-free design.
This is beneficial for your productivity as it releases or frees your hands, promoting the quick and easy completion of your tasks.
One thing I would like to complain, though, is its somewhat uncomfortable headband.
What We Like
Super bright, thanks to its 1,800-lumen output
Improves your productivity with the aid of its hands-free design
Boasts of its zooming function
Waterproof, making it useful outdoors regardless of the weather
Versatile and multifunctional
What We Don't Like
Comes with a somewhat uncomfortable headband
For its price, the GRDE 18650 Super Bright LED Headlamp can give you more than what you are hoping for, especially in the brightness and the durability departments.
What is a Headlamp for Work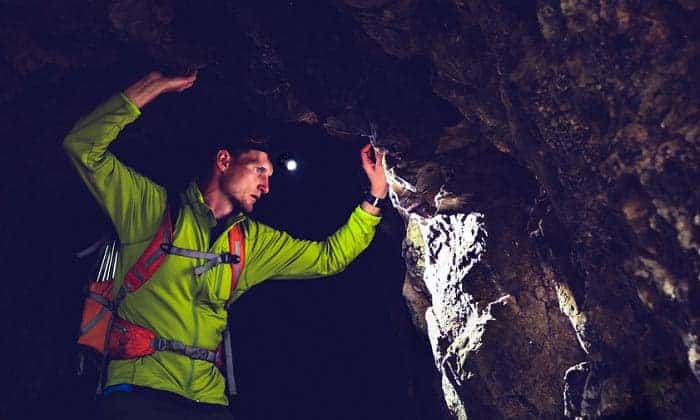 Work headlamps come in many different types. Some of them are for construction, mechanics, HVAC work, oil rigs, and miners, among many others. Everyone needs to have an ample amount of light to make their work easier and one of the best forms of illumination is a headlamp.
These are head-mounted flashlights that provide you with hands-free illumination so you can work more efficiently. Headlamps are useful because you can adjust them to whatever angle and brightness that you might need. They can also leave both of your hands free, so you can do other things.
This comes handy in workplaces where you need to use both hands and holding a small flashlight in your mouth is not an option. An example is when you are working underneath a car or if you are pushing a cart full of ore. Headlamps for work should fit the needs of the one using it.
The requirements of a contractor vary from that of an oil rig worker and someone working at the mines. If you are on the market for a good headlamp that you will be using for your work then you need to figure out first what your requirements are. Begin searching for the product that fulfills most, if not all of them.
How Does It Work
Headlamps for work are flashlights that have been deconstructed and then installed on a headband. The lamp is placed at the front, a battery pack is attached at the back of the headband, and a wire connecting the two components are threaded through the band.
Headlamps work in the same way as your regular flashlight. The switch is in front, attached on the lamp assembly. Speaking of the lamp, the light is produced by an array of bright LED lights. In the past, the bulbs used in headlamps are small incandescent bulbs that do not only use up a lot of energy but also tend to heat quite a bit after some time.
LEDs are better because they are brighter and run cooler. You can also either dim them down or brighten them. Furthermore, they use up a fraction of the power that incandescent bulbs use. Headlamps can also be tilted down or up depending on where you want the light to hit.
Also, they have different settings like a low and high beam. Some even have a strobe light function so you can use the headlamp as a sort of beacon to signal other people of your location.
These are only some of the many functions of the different kinds of headlamps for work. If you search hard enough, you can find the headlamp that has the kind of functionality that you need.
Types of Work Headlamps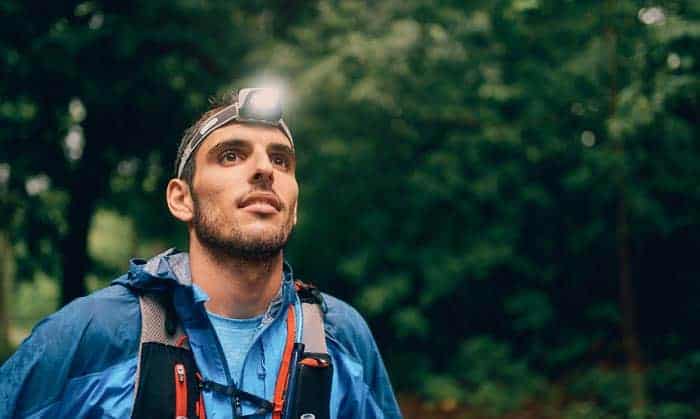 There are different types of headlamps for work. You can even find the ones that are specific for different professions. Some of them are:
Headlamps for firefighters – Headlamps that are meant for use by firefighters should be completely waterproof and shockproof. It is because the nature of their work exposes them to huge amounts of water.
Firefighters will usually be treading on dangerous, debris-filled area, too. The headlamp must also have a strap that can fit properly around the firefighter helmet.
Headlamps for contractors – The headlamps for contractors need to fit around the perimeter of a hard hat. It is mainly because contractors are not allowed inside the worksite if they are not wearing one. The lamps need not be that bright as there will surely be a couple of area lights around the worksite (around 20 to 30 lumens is enough).
The headlamp is just there for checking on little details and boosting visibility. Some contractors' headlamps also have a blinking signal light at the back so that heavy equipment operators in the area are aware of the wearer.
Headlamps for mechanics – Most mechanics need a headlamp because their garages are not that well-lit. There are also instances when using a hanging light will not be possible, like when working on the under chassis of the car. For mechanics, the top-tier headlamps are those that have a high luminous intensity.
This allows the beam of light to illuminate just a portion instead of flooding an entire area. The headlamp should also have the battery (preferably a single INR 18650) mounted along with the lamp. Having a battery pack under your head will make working while on your back uncomfortable.
Headlamps for mineworkers – The headlamps used by mineworkers (also by cavers and search & rescue responders) need to be extremely bright. They are working in pitch-black tunnels and even though they have lights along the walls, there is no telling when an accident will knock off the power.
Moreover, when they are working to extend the tunnels, they do not have the benefit of having area lights. This requires them to depend on the light produced by their headlamps.
It is also important that the headlamps used by miners do not cause static as a tiny little spark can ignite the invisible, odorless, and highly-combustible gases that are often found in the deeper tunnels.
Headlamps for oil rig workers – These people work in a highly volatile environment, literally and figuratively. This is why they need to use headlamps that will not cause a horrendous fire. Oil rig workers also need those that are similar to the ones used by miners. The only difference is that the lights do not have to be as bright.
Why Do You Need a Headlamp for Work
People do not think that they do not need a headlamp when they already have a perfectly fine flashlight. However, headlamps are considered as necessities as they do have a lot of benefits. The following reasons might just convince you to invest in one.
It is like getting an extra hand – When you have to work in the dark, it would be better if you have both your hands free, which is not possible if you have to hold a flashlight in your non-dominant hand.
You can say that you can just hold your flashlight in your mouth but what if you need to hold it for around fifteen minutes or so. Your jaw will hurt so much afterward. When you use a headlamp, you can shine a light on your workspace just by looking at it. You now have full use of both your hands, while still providing enough illumination.
It makes it easier to move around – If you work as a firefighter then you know just how hard it is to move around the wreckage of a burned-down house. There are so many debris and hazards that you need to be aware of. This gets even more challenging when you have to crawl into tight spaces.
When you are holding a flashlight and you have to get into a tight space, it will be easier if you have both hands guiding you through it. This is the reason why search and rescue professionals, cavers, and forest rangers all use headlamps whenever they are on the job.
It makes you more visible – If you work in a construction zone where numerous pieces of heavy equipment are being used then you need to be highly visible so the operators know where you are. This will prevent horrendous accidents from ever happening. Sure, you already have a safety vest and a brightly colored hard hat.
However, if you want to be even more visible, you need to use a bright light. Most headlamps these days even have a strobe function and this is even more effective at getting the attention of other people.
Buying Guide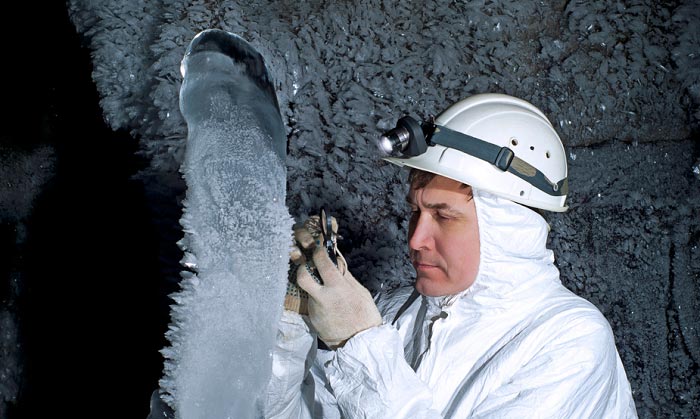 When you are out shopping for a new headlamp for work, you need to take a couple of things into consideration. This will help you find the right kind of headlamp that will fit all of your needs. Among these considerations are:
Rechargeable or replaceable batteries – There are a growing number of headlamps these days that have non-removable, rechargeable lithium-ion batteries. These headlamps can be recharged via a USB port and by using a wall charger similar to the one that you use to charge your phone.
The advantage of using a headlamp with built-in batteries is that they are less bulky and lighter. However, when their power runs out, you need to plug them in and wait for them to recharge before you can use them again.
If you choose headlamps with replaceable batteries, you can just swap out the batteries with freshly charged ones then continue working. The rechargeable ones are nice for those who do not need light for most of the time they will be working, like mechanics.
It is because they only need a headlamp when they are working on components that are deep inside the engine bay.
Battery running time – This is the length of time when the battery charge level drops from 100% to 10% with the lamp running on high. The average running time of headlamps is around three to four hours.
However, do note that this value will be dependent on the brightness and beam length of the lamp. Unless the headlamp has a bigger capacity battery, brighter lamps will consume more energy.
Weight and size – If possible, do a test fit of headlamps to find out if they have the right size and weight that are comfortable. If a particular headlamp ticks out all of your requirements but feels awkward on your head, then you just need to look a bit harder.
There are so many headlamps out there that there is surely at least one out there that is perfect for you. If you will be using your headlamp on a hard hat or helmet, then make sure that the strap is long enough to wrap around it. Just to be sure, look for a headlamp that states that it is compatible with helmets and hard hats.
Brightness and beam length – This value is measured in lumens. It is a measure of how much light a bulb can produce with the meter positioned in front of the bulb. The number of lumens that your headlamp should have will depend on the type of application you will be using it for.
For instance, if you are a mechanic, you do not need as many lumens as say, someone who explores pitch-black caves. Beam length is the distance that the light can travel before it gets reduced in brightness to the light of a full moon.
A typical headlamp has a beam length of a couple of meters. In comparison, specialized headlamps can focus and throw light to a surface that is more than a hundred meters away. If you do not need to see far away objects, you can make do with a headlamp with a beam length of five to ten meters.
However, if your line of work needs you to explore pitch-black darkness then get a specialized headlamp that has a beam distance of at least eighty meters.
Care and Maintenance
Here are some care and maintenance tips to help you ensure that your headlamp for work can last for as long as possible.
Take out the batteries when storing away your headlamp – If you will not be using your headlamp for an extended period, remove the batteries before stowing it away. Batteries, especially alkaline, tend to leak acid when left inside a battery sled. That acid can ruin the contacts in the battery compartment.
Clean the headlamp regularly – Your headlamp for work also gets as dirty as your work clothes, so you need to clean it at least once a week. Aside from making it look presentable, cleaning it regularly also allows the headlamp to function properly.
First, you need to take off the hardware from the headband and remove the batteries. Most of the time, the lamp and the battery pack are just clipped onto the band. You can then toss the band along with your laundry and wash as usual.
To clean the hardware, get a soft, clean rag, dip it in some rubbing alcohol, and clean all the surfaces that you can reach. For the hard-to-reach areas, use a cotton swab dipped in alcohol to wipe off all the dirt and grime.
Frequently Asked Questions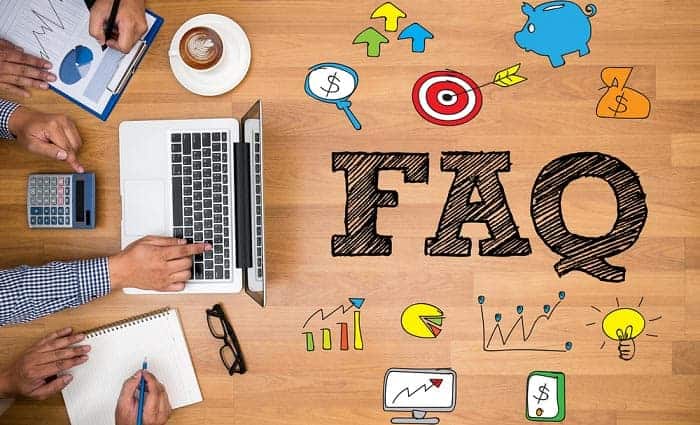 How many lumens is good for a headlamp?
It depends on the activity and the quality of light in the environment. For starters, one can work with 100 to 150 lumens. However, if you are scrambling and searching for routes outdoors in the dark of the night, you need at least 300 lumens.
You may need at least 800 lumens led headlamps in military and tactical applications. For an electrician headlamp, you may need 12000 lumens to work in pitch-black tight places. This is one of the most powerful headlamp available.
The products I reviewed above offer these options, but you can also check out the Night Buddy headlamp or Ledlenser headlamp.
Are rechargeable headlamps worth it?
Yes. Granted, the upfront cost for a headlamp on the market is generally cheaper than the rechargeable ones. However, the benefits outweigh the expensive price tag. For starters, it's more cost-effective since you will not need to buy new batteries each time you run out.
And because you don't need to throw away batteries, which often end up in the sea or landfill, it's an environmentally-friendly option.
What headlamp does the military use?
A waterproof headlamp is most suitable for military use since they work mostly outdoors, crossing swamps and braving the rain. Apart from white, tactical headlamps are equipped with day and night vision, which is usually red, blue, or green LED.
Long battery runtime is also crucial since military personnel may be working in dark places for extended periods.
Are lithium batteries better for headlamps?
Yes. Unlike alkaline, lithium batteries can provide flashlights and headlamps with a constant power flow because they have lower inner resistance. But that does not mean alkaline is inferior as it has its advantages. For instance, they are a better option for remote control as these devices need low power to operate.
What are the most popular work headlamp brands?
Several brands of work headlamps now vie for the attention of many prospective workers and prospective users. This is the main reason why you can see most of them promising a lot of nice features. If you are on a hunt for a good brand of work headlamps then note that among those famous for fulfilling what they promise are Cobiz, SLONIK, Soft Digits, Milwaukee, GRDE, and Streamlight.
Can I mount work headlamps to my hard hat?
Yes, there are many headlamps for work that you can mount onto hard hats. The issue here, though, is that you need to make sure that they can fit the perimeter of hard hats. There are some, like the ones used by long-distance runners that need to fit snugly, yet comfortably around the head of the person.
The headlamps' bands are not long enough to wrap around a typical hard hat. You need to look for headlamps that clearly state in their packaging that they are compatible for use with hard hats. Taking a chance with headlamps that have no indication whatsoever will usually result in disappointment.
How long do the batteries last?
The claimed battery runtime of flashlights and headlamps is the number of hours that the light can operate at full power or high setting (not boost/zoom). Although you might not be using the high setting the entire time that you will be working, it is a great indicator of how efficient the headlamp is in using its batteries.
When you are browsing for a headlamp, the runtime should at least be three hours, maybe even four. Now, if you find a headlamp that claims that it can operate on high for more than ten hours, you need to be skeptical. It is because there probably are a couple of drawbacks – one of which might be a heavy battery.
Battery runtime also depends on how bright the light is produced by the lamp. A longer runtime is not that impressive if the lamp is not as bright as you thought it would be. A good headlamp is one that has a decent runtime and an above-average beam length, which is roughly 100m in front.
How to use a headlamp for work?
Headlamps for work are easy to use. First, clean your helmet or hard hat so that the headlamp's straps will be able to cling onto it properly. Once the helmet or hard hat is clean, loosen the straps of the headlamp just enough that you can loosely drape it over the hard hat.
Position the lamp at the center of the hard hat using the center ridge or emblem as a guide. Once you are satisfied with the placement of the lamp, hold it in place using one hand and use the other to tighten the strap. Just tighten the strap enough that the headlamp does not wiggle and fall off even when you turn the hat upside-down.
Once the headlamp is strapped on tightly, wear the helmet or hard hat so that it will be easier for you to adjust the direction of the beam. Tilt the lamp up or down so that the light hits where you want it to. Most headlamps have a low and high setting.
Use the low setting if you will only be needing light at your workstation, like when you are reading plans or if you are tightening a couple of bolts or screws. The high setting is usually used when you have to navigate through a dark area, like when you are exploring a pitch-black cavern.
There are also some specialized headlamps for work that have an additional power setting labeled as zoom or boost. This causes the lamp to emit an intense beam of light that is concentrated on a small area. You can use this function to investigate things that are far away.
An example is when you are a forest ranger and plan to investigate a strange noise that is around 30 yards away. If you will be using the headlamp underwater (ex. if you are a plumber who works on extreme cases), make sure that it is rated for working in that environment.
Check the packaging for the headlamp's waterproof rating. If you will be using the lamp to depths of up to a meter, go with a rating of IP67. If you will be using it beyond one-meter depths (but not over 3m usually), get a headlamp with an IP68 rating.
How to care for and clean the headlamp for work?
Headlamps for work are usually low maintenance. They need to be tough if they are to survive harsh workplace environments. However, low maintenance is not the same as maintenance-free. You still need to take good care of your headlamp if you want it to take care of you.
First, take off the hardware from the strap. The strap is usually machine-wash safe so you can just toss it along with your usual laundry. Just do not use any harsh detergents or bleach and avoid too much heat when drying.
To clean the hardware, use a microfiber towel or just any clean rag that is soaked in a bit of rubbing alcohol. Rub the cloth all over the surface of the lamp and the battery pack until you take off all of the dirt and grime that you could. If your headlamp has a lot of grooves or knurling, use a cotton swab dipped in rubbing alcohol to get the dirt in those hard-to-reach areas.
How to make the lens clear again?
After a while, the lens of your headlamp will start to get blurry, usually due to accumulated small scratches. You can easily restore the clarity of your lenses using some simple tools – some of which you might have in your kitchen pantry.
If the lens is scratched up badly, just get a bit of 100-grit sandpaper, soak it in a bit of water then use it to remove the deeper scratches on the surface of the lens. Wet the sandpaper again if it gets dry. Switch to 180 or 200-grit sandpaper then wet sand the lens to get rid of the scratches left by the 100-grit sandpaper.
This should clear up the lens considerably. However, if you want to make it crystal clear again, make a thick paste from some baking soda and a bit of water. Apply the paste on the lens then rub the surface using a soft, clean rag. Repeat until you are satisfied with the result.
The neat thing about most headlamps for work is that they are low-maintenance. You do not have to do much to ensure that they are working properly. These pieces of equipment are built tough and can handle a lot of abuse, but that does not mean they will not appreciate a bit of TLC.
Where to buy a headlamp for work?
You can buy quality headlamp in almost all outdoors specialty stores as well as some stores selling construction gear. However, if you want more choices of brands and models, nothing can beat shopping for headlamps for work online.
Online shopping will provide you with hundreds of different choices. This will allow you to easily compare the different makes and models, further increasing your chance of finding the headlamp that will provide all of your needs. This is also a good way to compare prices from different vendors so you can get the best deal.
Conclusion
Headlamps for work come in many different forms. You should choose the one that will suit the requirements of your profession. Remember, a headlamp for hikers will not be enough if used by a firefighter or a rescue worker.
Regardless of your profession, if you need to wear a headlamp, there will most likely be at least one brand that is perfect for you. Choosing the best headlamp for work might be a bit difficult but it does not necessarily have to be. Using the guide above, you can find the one that will suit your needs.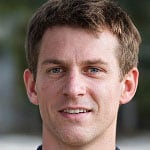 Having worked in the field of personal protective equipment for over two decades, Andrew Carnegie is a specialist in the field.
At EDC, he strives to improve performance efficiency and promote workplace safety for EDC's readers and customers. He also researches the most up-to-date equipment that has earned relevant accreditation for use in a wide range of industries and specialties.