There are many reasons why you need to use the best construction gloves even if you are not in a line of work that requires their use. You need the best work gloves in case you are working on your backyard garden, changing the oil of your car, doing light yard work, or clearing out the attic or the basement.
Regardless of your profession, you will need a pair of good quality longest-lasting work gloves. However, one does not simply pull a pair of work gloves off a rack. It is vital to choose carefully because the safety of your hands is at stake here.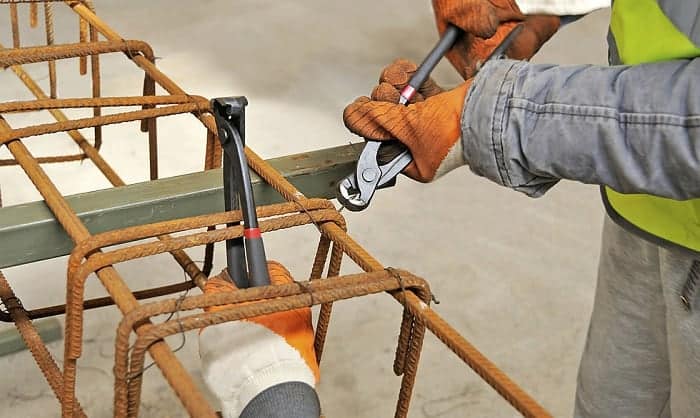 If you use the wrong kind of gloves or the one you are using is of inferior quality, the chances of your hands getting injured will increase significantly. You should not make any compromises when it comes down to your health and safety. Never settle for less than the toughest work gloves.
If you do not know how to discern the good gloves from the bad, continue reading for a quick buying guide and product reviews of some of the most popular brands to date.
Best Work Gloves Reviews of 2022
1. Ironclad Heavy Utility Work Gloves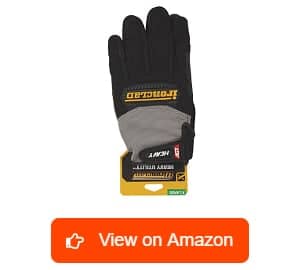 The first thing I noticed and immediately loved about these work gloves from Ironclad is how well they fit on my hands. Ironclad used cutting-edge CAD to come up with a glove design that forms around the hands of the wearer almost perfectly and prevents its material from bunching up.
Another feature I liked is the Duraclad lined palms and fingers. Compared to regular synthetic leather, Duraclad is eight times more durable and abrasion-resistant. Aside from helping in creating one of the best working gloves, Duraclad also provides extra grip even on wet or oily surfaces.
The top of the gloves is reinforced with thermoplastic rubber to protect against impact. How many times has your wrench slipped off and caused your hand to bang against the nearest hard surface violently? Have you ever accidentally hit your hand while you are hammering a part in place?
I have been wearing these gloves for a couple of weeks and they have saved my knuckles several times already. I also like the fact that these gloves are machine-washable. I find it so convenient that I do not have to hand wash my work gloves and that I can just throw them in with my other laundry with an assurance that it will still be fine.
One thing that you need to remember, though, is to not use the dryer on it. It is because the heat will cause the gloves to shrink. My only complaint is that they do not last that long when used for heavy tasks. The fingertips are the first to go, followed by the saddle.
With that said, I would recommend these gloves for light to medium tasks. However, for heavier lifting then I suggest using other much tougher work gloves.
What We Like
Ergonomically designed to form fit over the hands almost perfectly
Features reinforced palms to protect against punctures, cuts, and abrasion
Made of Duraclad, which is eight times stronger than other synthetic leather
Provides excellent grip even on slick surfaces
Completely machine-wash safe
What We Don't Like
Does not last long when subjected to heavy tasks
Even though these gloves do not last very long when subjected to extremely abusive tasks, you can still expect these items to serve you well if you will only be using them for general household purposes.
2. Custom Leathercraft 125L Flex Grip Work Gloves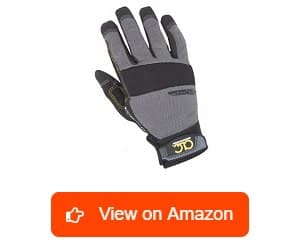 The thing that I genuinely liked about these specific Custom Leathercraft work gloves is that they are shrink-resistant. Unlike leather gloves that you cannot use in wet conditions because they would shrink and crack when they dry, these gloves are made of a type of synthetic leather that does not behave that way.
You can confidently use them in any weather condition without worrying about them shrinking later. Speaking of weather conditions, I discovered that these gloves provide enough warmth for me to keep working even on chilly days.
If it is not yet cold outside, these can provide enough insulation, preventing your fingers from getting numbed by the cold. Along the cuffs of these gloves are wide hook and loop straps (also called Velcro straps) that help keep them secure around the wrists. These straps also stay on even when the gloves are wet.
The only way that they will come off is if you peel off the strap. Another thing I find remarkable in these gloves is that they are mainly constructed using a type of spandex material. This allows them to conform to the shape of my hands nicely, allowing more freedom of movement.
This would have been a perfect work glove if only Custom Leathercraft stayed with the design of the older version of this model. The knuckle padding of this newer version of this glove is very sparse, almost to the point that it serves no purpose.
What We Like
Resistant to shrinking
Can provide enough insulation against the cold
Has reinforced palms and fingers for better protection against cuts and bruises
Made of durable yet flexible spandex material
Features a durable wrist strap that keeps the gloves securely in place
What We Don't Like
The almost non-existent knuckle padding provides very little protection against impacts
The older versions of these gloves were much better in my opinion but as it is right now, the Custom Leathercraft 125L Flex Grip Work Gloves are still a contender for being the best one in the market.
3. Mechanix Wear Original Work Gloves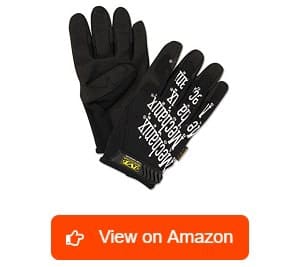 These gloves are made of synthetic leather materials, which is thin enough that I do not lose that much tactile sense from my fingers. I can grab and manipulate even the smallest tools and even pick up coins from the floor with these gloves on.
Another nice detail about this glove is the material used for its main body. Mechanix gloves use their patented TrekDry material, which is a synthetic fabric that provides breathability and comfort. This material absorbs the sweat on the surface of your skin and wicks it up top so it can dry quickly and provide another cooling layer.
The saddle between the thumb and forefinger and thumb are reinforced with another layer of synthetic leather, which is double-stitched for added strength and rigidity. This is the part of work gloves for construction that experiences the most wear and tear, so it is only natural to reinforce it.
Another thing I am so happy about with these gloves is that they are constructed using Gunn cuts. What this simply means is that there are no seams on the palms. They are at the top of the hands.
Mechanix gloves are great for those who work on their cars during the weekends. However, when it comes to jobs that require "heavy lifting", these guys will only probably last a month or two.
What We Like
Made mostly out of strong synthetic leather material
The top of the hand is made of Tech Dry, which wicks the sweat to the top of the gloves.
Reinforced palms using an additional layer of synthetic leather and double-stitched for durability
Has seamless palms for additional durability and grip
Has the Fast Fit design, making them easy to put on and pull off
What We Don't Like
Not intended for heavy-duty tasks
These gloves might not be made for assisting in labor-intensive tasks for a long time but that does not mean these are not good in general. If you are a weekend warrior or just need gloves to protect your hands while doing general tasks around the house then this will do well.
4. Carhartt Work Flex Spandex Work Glove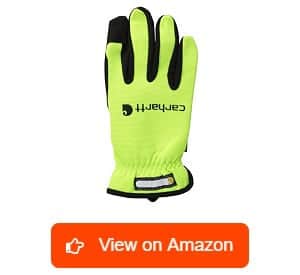 In my opinion, the best quality of this pair of outdoor work gloves from Carhartt is how comfortable it fits in my hands. The spandex material used for making these gloves is form-fitting without sacrificing any durability. Undoubtedly, these are among the most comfortable work gloves I have ever worn.
This is something that is rarely commented about with other work gloves – and that is they come in different colors. Most of the work gloves that I have used, especially the ones that are not made of leather, are mostly black. However, these Carhartt work gloves provide several different color options, which is quite rare.
Speaking of being able to work right away, you have an assurance that you just need to pull on them to put them on. The back of the wrist has a strong elastic band, which provides just enough tightness to hold the glove in place. There is also a pull tab at the cuff that ensures that you will be putting on the gloves straight.
The palms are made of strong synthetic leather with extra patches of the stuff double-stitched onto the saddle between the thumb and forefinger. This provides extra layers of protection, padding, and durability on the area that is most subjected to wear and tear.
To be fair, these are excellent work gloves. They provide ample grip, protect the hands from injuries, and last long. However, these are not waterproof and do little to protect against the cold.
What We Like
Comes in high-visibility colors, not just black
Durable and long-lasting
Provides ample grip strength and protection
Extra padding along the saddle of the thumb and forefinger for enhanced protection and durability
Form-fitting, promoting extreme comfort
What We Don't Like
Not waterproof and insulated against cold weather
The issue about the gloves not made for cold weather is not extremely serious. It is just a minor inconvenience and it does not take away a lot of the rewarding and positive benefits that these gloves provide.
5. Maxiflex 34-874 Nitrile Grip Work Gloves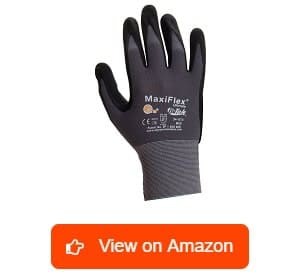 These top-rated work gloves are made for light to medium tasks, like tending to plants in the garden and moving boxes and furniture around, among many other similar tasks. The gloves have thick nitrile coating at the palms to provide enough protection and grip.
I am also pleased to announce that these gloves are very comfortable to wear. These are made of stretchable, flexible, and breathable materials, so I had no problem wearing them for an entire afternoon while I was arranging the stuff in the attic and the basement.
The wrists and cuffs are made of elastic knitwear. I also like this because the gloves tighten just enough when I wear them. These gloves are tight enough that they prevent dust and dirt from getting inside and prevent them from slipping off while lifting things.
The nitrile coating on these gloves provides a good grip even on slightly oily surfaces. I use these gloves mostly when I am working on my car during the weekends. The nitrile coating gives an adequate grip even when my tools are covered in grease.
The thing that is a bit disappointing about these gloves is that the nitrile coating wears quite fast if used in regular moderate tasks.
What We Like
Great for use in light and moderate tasks
Made of light and stretchable materials that is very breathable
Comes with stretchable knitwear cuffs for a secure yet comfortable fit
The elastic cuffs prevent debris from getting inside the gloves.
Does not hamper finger dexterity that much at all
What We Don't Like
The nitrile coating can only last two weeks or so of continuous moderate use.
Although it might seem that these gloves are not long-lasting as the nitrile coating wears down after a couple of weeks, it is still safe to say that it is the average lifespan of gloves like this. Also, there are plenty of times when these work gloves will last around two or three months with proper care and maintenance.
6. Ironclad Ranchworx RWG2 Work Gloves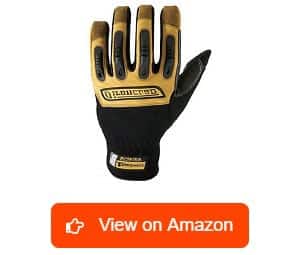 The best features that I discovered in these Ironclad work gloves are the seamless fingertips, making them into nearly indestructible work gloves. Ironclad used "Rolltop" seamless designs to provide the wearer with enough protection, thanks to the double-layer protection and lots of finger dexterity.
It also does not hamper tactile sense that much. I can tell that a lot of engineering and design went into these gloves because they fit comfortably on the hands and there does not seem to be any wasted material. These are among the most ergonomically designed work gloves that I have ever had the pleasure of using.
Although the Ironclad gloves are already made of durable materials, the palms and the most wear critical areas of them are further reinforced by Kevlar patches. These patches provide extra protection against abrasion in the areas that need it the most.
These areas include the saddle area between the thumb and forefingers and right at the base of the fingers. The top of the gloves is made of a stretchable and breathable material that keeps the hands cool and dry even during the hottest days. The material does this by wicking the sweat off of the skin at the back of the hand and pushing it outside to dry.
The only complaint about this brand of gloves is that they are not insulated for the cold weather. These gloves are great for outdoor use when it is quite balmy outside because of the breathable outer material. However, since these gloves do not have an inner liner for warmth and comfort, they fail as cold weather gloves.
What We Like
Ergonomically designed for the perfect fit
Made of tough synthetic leather material and further reinforced with Kevlar
The top part is made of breathable spandex material.
Features a terry cloth patch on the back of the thumb to help wipe away sweat from the face
Seamless fingertips for maximum dexterity without compromising strength
What We Don't Like
Not that good for working in the cold outside weather
It is a shame that these gloves are not that insulated so you cannot use them when working outside during fall or winter. However, that still does not take away the fact that these gloves are excellent, making them worth your time and investment.
7. Ergodyne ProFlex 817WP Work Gloves
If you are looking for a pair of work gloves that you can use in all weather conditions then these are the ones that you should get. I have been using these gloves for landscaping and other outdoor tasks for a couple of months now and I have yet to feel even a single drop of water on my hands.
I have also used this while doing some minor plumbing work (DIY garden sprinkler system) and they have served me well. Aside from keeping water out, these gloves are also excellent at keeping my hands warm during very cold days.
The weather-resistant ripstop outer shell and the breathable glove insert helped keep my fingers from freezing while I worked outside during the worst of the winter months. Speaking of the glove's insulation, they use 3M insulate material. There are 40 grams on the palms and 70 grams on the back where it is most needed.
This dual-zone weather protection provides excellent insulation without compromising dexterity that much. I also liked the synthetic suede leather palms and fingertip reinforcements of these gloves. These reinforcing patches provide a lot of extra grip and resistance to abrasion while still retaining the glove's flexibility.
The thing that I did not like about these gloves is the way the inner lining makes the fit of these gloves a bit off. What I mean is that it is difficult to get my fingers to the tip because the lining is preventing them from getting there, thus losing a lot of finger dexterity.
What We Like
Has excellent waterproofing
Features a comfortable inner lining that protects the hands from extreme cold
Made from extremely durable materials; can last for months of heavy workloads
Has dual zones of insulation
Reinforcing synthetic leather patches provide additional abrasion resistance
What We Don't Like
The inner lining prevents fingers from reaching the tips of the glove
The rather ill-fitting inner liner does take away a lot of finger dexterity but it is a good compromise considering that these gloves have a lot of redeeming qualities, which happen to include excellent waterproofing and weatherproofing.
8. DEX FIT FN330 Nitrile Work Gloves
These gloves are quite ergonomically designed. These are so lightweight and form perfectly around my hands that they feel like a second layer of skin almost. The material is so thin that it does not take away much of my fingers' tactile senses at all.
Because of how thin the DexFit gloves are and the nitrile coating along the palms and fingers, my hands can still perform tasks that need a delicate touch. It is almost like you were wearing just nitrile gloves but these work gloves for dexterity make you feel like your hands are still perfectly protected.
Speaking of the nitrile coating, this helped improve the grip of the gloves. I can effortlessly hold on to my ratchets and other oil-covered tools and spare parts. It is even much easier for me to pick up small objects with these gloves compared to when I am barehanded.
One thing I liked the most about these gloves is the fact that they are reusable while still being offered at affordable prices. When bought in packs of three, these will just cause a little over $3 a pair.
My only complaint about this product is that the nitrile coating will start deteriorating after a month. When it starts to crack, the rest of the gloves will also start falling apart.
What We Like
Ergonomic design, making it feel like a second skin
Has nitrile coating that enhances grip and finger dexterity
Made of flexible material, all fingers still retain their complete range of motion
Comes with nitrile coating that protects the palms against light punctures, cuts, and abrasion
Very affordable at just a little over $3 a pair, which is great for reusable gloves
What We Don't Like
The nitrile coating starts to fall apart after a month of continuous use.
The nitrile coating in similar gloves also starts to fail after around a month of use, so this is not uncommon. This means you should not let this minor inconvenience prevent you from experiencing the many benefits that these gloves bring to the table.
9. OZERO Flex Grip Work Gloves
I think the best quality of these work gloves is that they are made out of 100% grain cowhide leather. This means that this product is resistant to abrasion, which is an important quality for the best heavy-duty work gloves. This makes sure that the Flex Grip work gloves will serve you for a long time.
I also like that OZERO did not skimp on these gloves as they are made of high-quality grain leather that is between 1mm to 1.2mm thick. This kind of leather is thick enough that it can resist punctures, cuts, and tears, as well as oils and grease.
However, even though they are thick, I discovered that these gloves are still flexible and provide a wide range of movement. Even though the glove is tough enough, OZERO added even more reinforcement for the palms, which is the part that receives the most punishment.
Additional patches of leather are double-stitched into the strategic areas to help reduce wear as well as make them among the best grip work gloves. To make these gloves even more durable and last much longer, they are constructed using Gunn cuts. This means that the seams are not on the palms to protect them from abrasion.
Furthermore, this glove uses a keystone thumb. This means that it is made from a separate piece of leather and double-stitched onto the glove. This gives a better fit and more freedom for movement.
The only thing that I sort of did not like is that the gloves have to be broken in. They are a bit too stiff when new but they will loosen up a bit after a couple of uses.
What We Like
Made from 100% grain leather
Constructed using Gunn cuts for added durability
Has keystone thumb for better fit and ease of movement
The reinforced palms provide better grip
No need for inner liner as the other side of the leather is soft enough
The issue about breaking in the gloves is a good sign because that means you have a pair of genuine leather gloves, one that will last a long time.
10. G & F 3100L-DZ Knit Work Gloves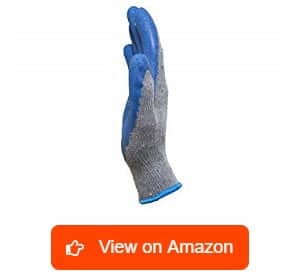 The first thing that I liked immediately after trying on these lightweight work gloves is the quality of its shell. Made of a cotton blend fabric, the glove shell has enough flexibility that it forms to the exact shape of my hands while still allowing a wide degree of movement for my wrists and fingers.
I also like the ergonomic design of the shell. The palm is designed at a 45-degree angle, following the natural angle of the wrist. This means that the cotton material will not bunch up and feel uncomfortable around the wrists.
Another feature that I liked is the double-coated latex palms and fingers. This provides more durability and strength for the gloves. The natural latex coating also effectively protected my hands from abrasions, cuts, and punctures. I have used these gloves to move around heavy wooden crates and boxes and I never got even one splinter.
The latex coating also provides an adequate grip. I have used these gloves when I worked in my garden and they helped a lot when I am using my tools. Even the wet ones were easy to hold, thanks to the latex coating.
The only problem that I think some people will have about these gloves is that it contains latex, which means anyone who has allergies to natural latex will not be able to use these.
What We Like
Made of breathable and flexible cotton blend material, making them great work gloves for summer
Has a double-coated latex palm and fingers
Provides sufficient grip
Protects against minor punctures and cuts
Ergonomically designed glove shell
What We Don't Like
Contains latex, which can cause severe allergic reactions to people with sensitivities
Although these gloves cannot be used by people who have latex allergies, people who are not allergic will find that these are some of the best and most affordable work gloves that they have ever used.
11. Tarvol Leather Work Gloves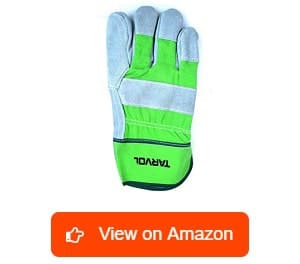 I like to work on the plants in my garden whenever I have the time and when I do, I always wear my Tarvol leather gloves because they are among the strongest work gloves. These gloves are made of tough split leather for the palms and fingers and a breathable yet thick synthetic cotton blend for the upper part.
One of the reasons why I like using the Tarvol gloves for gardening, besides them being the most durable work gloves, is that they have large, thick cuffs that also protect my wrists and forearms. This comes in handy when I need to reach inside bushes to pick fruits or prune the dead branches.
The palm of these gloves is quite impressive as well. The entire palm and fingers are made of durable cowhide and a second layer of leather is sewn across the palms and thumbs, the specific parts that receive the most punishment. These patches provide an additional layer of protection against abrasion.
The most impressive feature, or shall I say add-on of these gloves, is that they come with Tarvol's lifetime guarantee. If the gloves fail for any reason, Tarvol will replace your broken gloves with brand new ones even after a year has passed.
The only problem that I see most people will have is regarding the sizing. These are one-size-fits-most gloves, so do not expect that you will be getting one that perfectly fits your hands.
What We Like
Made of durable genuine split leather cowhide
Has additional padding across the palm and thumbs for extra grip
Made of stretchable and breathable material for the top
Has excellent puncture and cut-resistance
Comes with a lifetime guarantee
What We Don't Like
The size is a bit big even for average-sized hands
Even though these working gloves with grip might seem a bit loose for most people, note that this does not mean they are not great. One can still use these gloves fairly well even though they do not fit perfectly.
12. Vgo High Dexterity Heavy-duty Mechanic Gloves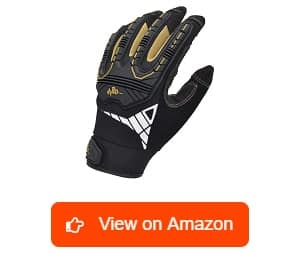 The thing I liked the most about these breathable work gloves is their price. I bought a pack of three pairs and paid less than $30 for the lot. Even though the price was so low, this is a case of the price tag not reflecting the actual quality of the item. It is because I discovered that these are pretty high-quality and durable gloves.
The palms are made of heavy-duty synthetic leather, which is tough enough by itself. They are further strengthened using PVC reinforcing patches. These pads are double-stitched into the palms to make sure that they are not going anywhere. Aside from boosting durability, these pads also add extra grip.
I also like the thermoplastic knuckle and finger guards on top of the gloves. There have been countless times that I banged my knuckles against a hard surface and split them open. Thanks to these gloves, I never have to face that kind of pain again.
Another nice touch that Vgo added to these heavy-duty work gloves is that the thumbs and forefingers are touchscreen compatible. I never have to remove my gloves while I am in the middle of the workday if I want to answer a call or send text messages from my phone.
The only thing that made me a bit disappointed is that they are not waterproof. This means you cannot use them when working with plumbing and other tasks that require working around and in water.
What We Like
Made of very durable synthetic leather and fabrics for breathability and durability
Has an excellent knuckle and finger guard
Comes with PVC reinforcing patches on the palms and fingers
Has touchscreen-compatible forefingers and thumbs
Affordable at less than $10 per pair
Although not being waterproof drastically lessened the number of tasks that these gloves can be used for, these are still among the best, if not the most cost-efficient protective gear available, in my opinion.
What is a Pair of Work Gloves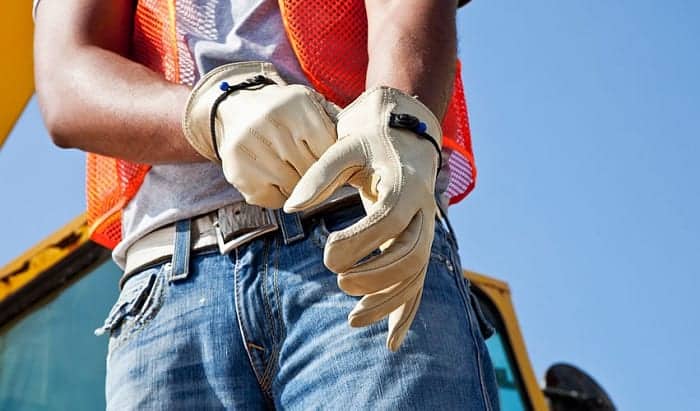 More often than not, manual labor tasks will require the use of at least a pair of work gloves to prevent untoward injuries. The hands are almost always at the forefront when it comes to manual labor (it's in the name even). This is why you need to give it the proper protection that it needs usually in the form of work gloves.
Work gloves are PPE (personal protection equipment) used to cover and provide ample protection for the hands, wrists, and sometimes the forearms, against potential dangers in the worksite. Such risks are those that can cause injuries as minor as scratches and splinters.
These might also lead to more serious injuries like skinned knuckles and palms that are slashed open by jagged objects. Aside from protecting the hands, work gloves are also used to provide cushioning and prevent general discomfort while working.
For instance, there are those with padded palms that make it more comfortable for the wearer to hold onto his/her tools. Also, the padding on the palms provides additional grip to grasp tools and other objects much better. This allows for better control and operation.
If your entire profession involves the use of your hands then you need to do your best to protect them from injuries and the only way to do so is to use the proper work gloves for your tasks.
How Do Work Gloves Work
Work gloves can help users in several ways. Let's first discuss the obvious, which is how these gloves help protect the user's hands. Most manual tasks require placing the hands in differing degrees of injury risks. Even something usually thought of as relaxing like gardening carries its own set of dangers (thorns, sharp tools, garden chemicals, etc.)
This is why work gloves should be thick and/or strong enough to resist puncturing, cuts, and abrasion. They also need to have high enough resistance against corrosive chemicals. Work gloves are also supposed to provide a bit of comfort for the user so he/she can work more efficiently.
For instance, you're tasked to tighten 500 or so nuts and bolts using just a ratchet. If you were to complete this task using just your bare hands, your palms would be raw and covered with painful blisters.
However, if you used the proper work gloves, one with thick palms and fingers and reinforced with additional padding on the critical areas, not only will your hands come out unscathed, you will also finish the task much faster because you do not have to take quite as many breaks as when your hands are covered in blisters.
Types of Work Gloves
Work gloves come in many different styles and configurations and you should pick the one that best suits the task at hand. Using the wrong kind might make the job a lot more difficult than it should be.
Ironically, this may also be the cause of accidents and injuries. To help guide you into making the right choice, here are some of the most common work gloves and what they are usually used for:
Nitrile/Latex-coated – These are cotton (or a cotton-blend) gloves with a rubber or nitrile coating over the palm and fingers. The thick coating protects against different injuries that might be caused by abrasions, punctures, cuts, and scratches.
They can also protect against certain chemicals and oil-based products. Furthermore, they can provide a high level of dexterity, excellent grip, and durability. The top is often left uncoated so that your hands can breathe.
Nitrile – These are disposable gloves composed of artificial rubber. They do not contain any natural latex, making them completely hypoallergenic. Despite that, they are still very resistant to abrasion and tearing.
Compared to traditional rubber gloves, nitrile gloves are a lot more resistant to punctures and against many kinds of corrosive chemicals. Many also consider them as the most durable type of disposable glove. They are usable by more because they contain no latex that can cause allergic reactions.
Leather – These are the quintessential work gloves – the specific type that most people first think about when they hear the word "work gloves". These are made of tough grain or split leather – both of which are equally tough but differ in texture.
The grain leather is the top layer of the cowhide and has a textured finish that provides excellent grip and flexibility. The split leather is the layer underneath the grain leather. This has a texture similar to velvet and is soft to the touch.
The great thing about leather gloves is that they are durable and last much longer than most of the other types of work gloves. With proper care and maintenance, leather work gloves can last for years.
Synthetic leather – Synthetic leather is made from plastic polymers and designed to closely mimic the texture and other qualities of real leather. Oftentimes, the synthetic leather is only present on the palms and fingers of the gloves.
The rest is made of a spandex-like fabric that is flexible and breathable. These gloves also usually have padded or thermoplastic knuckle protectors.
Why Do You Need Work Gloves
There are many reasons why people need at least one pair of all-purpose work gloves at home, even when their work does not require the use of such equipment. Certain household chores are much better to do when wearing work gloves. They are primarily there so that you will not injure your hands.
Even if you think that you are the most careful person on the planet, just one slip up can result in you accidentally slicing your hands open, pounding your thumb with a hammer, getting serious chemical burns, or busting open your knuckles. The list of potentially dangerous injuries goes on.
Getting hand injuries while doing manual labor tasks also runs a high risk of infection and/or contamination. Even something as simple as moving old pieces of furniture around in your attic can be risky.
If your hand gets punctured by a hidden rusty nail, you can suffer from tetanus, especially if you do not apply First Aid and go to the doctor immediately. Additionally, work gloves are there to make manual labor a lot easier and more pleasant. For instance, working in the garden will often entail you pulling out dozens of weeds from your plots.
Although this task is possible using only one's bare hands, wearing work gloves makes the task easier because of the additional grip they provide. Furthermore, one does not need to worry about cracked nails and touching a lot of the nasty stuff that can be found in the ground.
Wearing work gloves can also save you a lot of money. Think about it. How much money do you stand to save if you do not have to pay for expensive medical bills when you get injured while doing your job? Also, factor in the number of days that you won't be able to work because your hands are out of commission while still recovering.
How much potential income would you have lost? Don't think of work gloves as unnecessary expenses. Think of them as important tools that you will need to finish your tasks safely and efficiently.
Buying Guide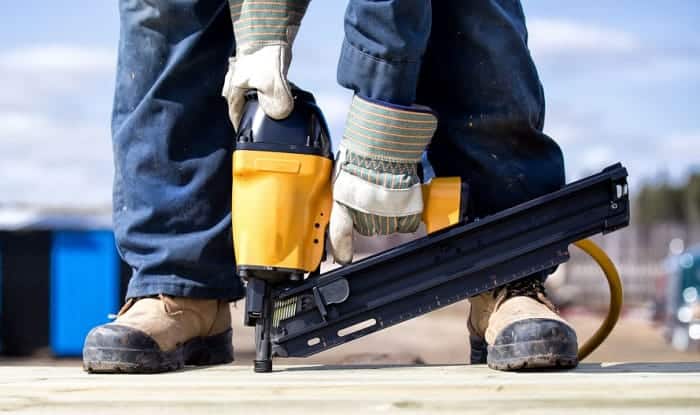 When you are out shopping for a new pair of work gloves, here are some of the qualities that you need to keep an eye out for:
Secure and comfortable fit – You do not want your work gloves to be slipping off your hands when you are in the middle of working on something. Choose gloves that fit snug around your hands but not too tight that you cannot move your fingers as much as before.
Also, look for gloves with elastic cuffs or those with Velcro straps that you can tighten to secure the gloves in place. The fit should also be comfortable so that you would not mind having to wear them for hours on end. The material should be able to take the shape of your hands so that the glove will not take away too much dexterity.
Protection – You need to choose work gloves that can protect you from the potential dangers that come with the tasks you will be using them for. For instance, if you will be lifting and moving heavy cardboard boxes and nothing more, then you can get a pair of lightweight nitrile-coated gloves.
These will provide your hands with an extra grip so you can easily carry around your load without worrying about them slipping off. On the other hand, if you will be doing some heavy yard work, like getting rid of a fallen tree on your property, something more heavy-duty like leather or synthetic leather gloves will be more adequate.
Dexterity – This again will depend on the tasks you need to do. If you need full hand dexterity, like when you need to reassemble certain parts of your car's engine then you will need nitrile gloves.
These will allow you to use your hands and fingers to their full extent while protecting you from the oils and other chemicals present in your car's engine bay. Now, if you do not need that much dexterity but require excellent hand protection, then you'll need something like a thin synthetic work glove, or a mechanic's glove.
Such will allow you to reach into tight spaces and still manipulate your tools the way that you need to.
Value for Money – If you will only be using your work gloves occasionally then it will be best if you do not buy the most expensive ones that you find. You will not get to use them that much anyway. It will be better if you get a pair that is less than $15 each. They will still protect your hands but they may not last very long when used regularly.
Still, you might luck out and get work gloves that are both economical and extremely durable. On the other hand, if you will be using the gloves for work then avoid gambling with your safety and just buy those proven to provide enough protection.
If you know that your hands will be subjected to all kinds of hazards, it is unwise to test out cheap gloves on them.
Care and Maintenance
The great thing about work gloves is that they are very low-maintenance. The reusable ones just need a good wiping down using a damp, clean piece of cloth to take away the dirt and dust collected on the surface.
The only gloves that you can probably machine-wash are the nitrile-coated ones and a couple of synthetic leather gloves. Never do this with real leather gloves. When leather gloves get wet then eventually dry, they will get hard and shrink. You will need to recondition the gloves before you can use them again and this might take a long time.
On the other hand, if you are using nitrile gloves, please dispose of them after every use. These are not meant to be reused. Once you take them off your hands, they will already have stretched out too much and will not be as flexible as before. Also, they will most likely get ripped or punched full of holes after just two or three uses.
If you're using leather work gloves, make it a point to apply oil all over the surface of the gloves to keep them moisturized and supple. You can use either mineral oil or neem oil. Even vegetable oil and olive oil will work.
Frequently Asked Questions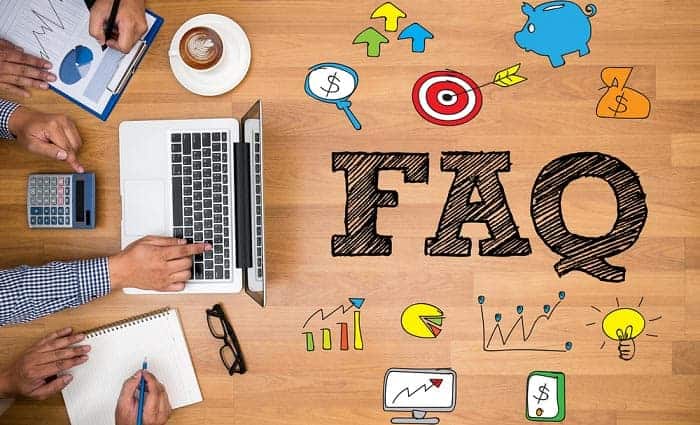 What are the most popular work glove brands?
Not all brands of work gloves can deliver on their promises. However, there are a select few that I have personally used and will not be afraid to recommend to others. These include Ironclad, Custom Leathercraft, Mechanix, Carhartt, Maxiflex, Ergodyne, DEX Fit, Ozero, G&F, Tarvol, and Vgo.
If you were to choose any one of these brands for your work gloves, you need not worry about your hands because these already have a proven track record of making good products. With that, you can rest assured that your hands are well-protected.
What are the most durable work gloves?
The durability of a pair of work gloves will depend on the specific tasks you will be using them for. However, if you are thinking about which gloves are the most durable when it comes to general use, then it will be a toss between leather and synthetic leather gloves.
In this fight, whichever glove is better constructed will be the one that is more durable as both materials are almost equal in all aspects.
What are grip work gloves?
Grip work gloves are cotton blend gloves coated with either latex rubber or nitrile. The coating is what gives the items additional grip, allowing you to hold onto even smooth surfaces. Some can even provide ample grip on oily tools.
The rubber/nitrile coating also serves as a protective barrier against punctures, cuts, and abrasions.
How long should work gloves last?
This will depend on the type of materials used in making the glove and how strenuous the tasks they are used for. For instance, coated gloves can last for around three to four days when used on heavy tasks like bricklaying, logging, and others that might wear down the coating fast.
Leather gloves, when used on the same tasks as the coated gloves, will usually last for a couple of months, maybe even longer if treated properly. Nitrile gloves have the shortest lifespan as they need to be disposed of after one use. You should not use them more than once as the material will be structurally compromised by then.
Can work gloves be recycled?
Certainly. Most work gloves are made out of recyclable materials, like plastics, fabrics, rubber, leather, and others. If you are worried that your work gloves will just end up in a landfill, there might surely be a recycling center near you who will be more than happy to take care of your used gloves for you.
How to use the work gloves?
Work gloves are worn the same way as you would regular gloves. You just pull them on, making sure that all your fingers are in the right place then you tighten the strap at the wrist to keep the glove from coming off.
Some gloves even have elasticized wrists so you do not have to tighten anything. Just pull them on and start working.
What is the warranty?
The usual warranty offered for work gloves is around 30 days. During this period, if your gloves suddenly fall apart or holes start to develop, then you are eligible for a full refund on your purchase of the gloves. Alternatively, you can get a brand new pair in exchange.
Both options are possible even when you have been using the gloves in a manner prescribed by the manufacturer. However, some manufacturers go way beyond the usual 30-day warranties. Some have so much faith in their products that they are not afraid to offer limited lifetime warranties.
If your gloves are damaged even when you are just using them as you normally would, the company will send you a brand new pair free regardless of how many months or years have passed since you purchased the item.
Where to buy work gloves?
There are plenty of choices in terms of work gloves when you shop online using sites like Amazon. Shopping online also makes it infinitely easier to compare prices from different sellers, so you can get the best deals.
However, there is an inherent benefit of buying from brick and mortar stores. It is that you can test the gloves out before you pay for them at the counter. Also, you do not have to wait for the items to get delivered to your door. You can use the gloves immediately when you get home.
If you are looking for a specific brand and model of work gloves, your best bet will be to shop online.
Conclusion
Work gloves are not just luxury. It is a requirement, especially if you will be doing extremely physical tasks that will put your hands at risk of injury. You need to get yourself a pair or two of the best work gloves that you can find so that your hands will always be safe regardless of the type of work you put them through.