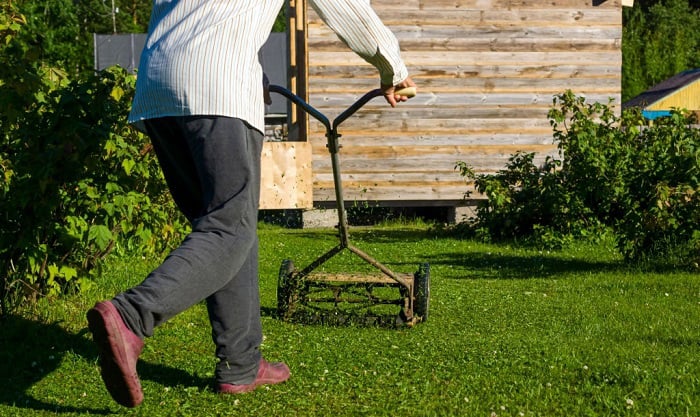 Wearing an old pair of tennis shoes is perfectly acceptable for light gardening work but there will be instances where you need work shoes. Let's face it, your good ol' sneakers cannot protect you from the impact of falling objects, bug bites, or slipping accidents. You don't have to be a professional gardener to invest in the best shoes for yard work.
Here are the three things that you need to consider when buying a pair of yard shoes:
Type of shoes: Nowadays, manufacturers have developed different types of footwear that cater to the needs of gardeners, horticulturists, landscapers, farmers, and anyone who enjoys yard work. There are really no one-size-fits-all gardening shoes. You need to take into account comfort, fitting, weather, and the kind of work that you often do. Boots offer more protection and are more suited for working with heavy equipment. Meanwhile, clogs with holes provide ventilation during a hot summer.
Materials: Gardening shoes made of resin or polyurethane are more breathable, allowing you to wear them without socks. One advantage is that you don't have to deal with the squishy feeling of wearing wet socks and footwear. Thus, they are perfect for the wet season. However, keep in mind that leather and rubber shoes have their own advantages as they are durable.
Fitting: You'll notice that some shoes are easier to break in than others, and this is usually because of the material or construction. Another challenge for us consumers is that most brands are not consistent with the standard size charts. Besides the shoe length, make it a point to also check if the manufacturer offers sizes that can accommodate narrow or wide feet.
Below are some of the finest shoes for gardening and yard work that I curated just for you. Of course, it's not enough to choose a pair of shoes based on materials, fitting, and design. If you need help in deciding which one to buy, check out the "Buying Guide" for more information.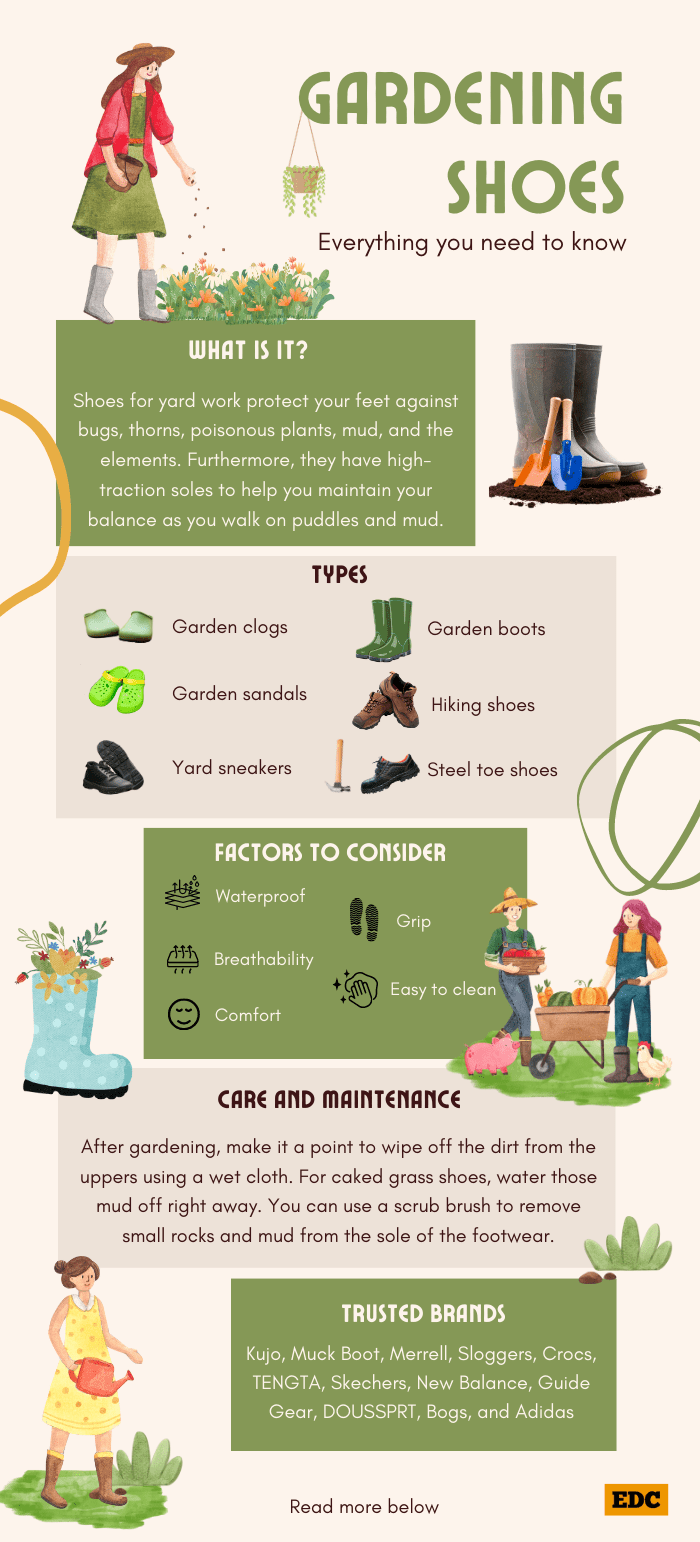 Top 12 Shoes for Yard Work Reviews
1. Muck Boot M2L-900-BRN-070 Muckster Low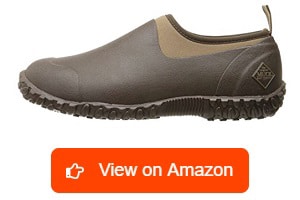 Boasting high-quality craftsmanship, these classic backyard shoes have a functional yet aesthetically pleasing minimalist design. Although this particular model is for men, the brand offers a similar design for women. In any case, let me just say that I love this footwear mainly because of its versatility. Apart from gardening, I wear this pair when I do my errands.
Whether dry or wet, warm or cold, these waterproof loafers help my feet stay fresh and sweat-free. No matter how long I work in my backyard, the well-cushioned footbed ensures that I feel no pain or discomfort. Since this pair has slip-resistant rubber outsoles, I can maintain a good balance as I walk on mud. Furthermore, footwear is very easy to clean.
The shoes can flex, which allows my feet and ankle to move freely without getting blisters. Admittedly, I worried about the shoe size because the footwear felt tight and I did not see a wide option available. The good news is that it did not take long for me to break in. Eventually, the shoes conformed to the contours of my feet. However, watch out for thorny plants because they can snag and damage the Airmesh collar.
What We Like
Great all-around gardening shoes
Appropriate any weather conditions
Has well-cushioned footbeds
Allows the feet and ankle to move freely
Provides excellent slip-resistant outsoles
Very easy to clean
What We Don't Like
The collar can be snagged by thorny plants
May feel tight at first
Highly recommended by fellow gardeners, these waterproof loafers sport a functional yet attractive design that makes them appropriate for other outfits. Providing you with optimal comfort, you can stand or walk all day in your backyard without feeling any soreness.
2. Kujo 10010165 Yard Shoe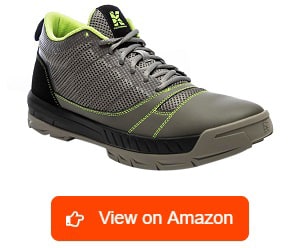 We all know what waterproof shoes are, but have you heard of grass-repellant footwear? Just type keywords like "Kujo yard wear lightweight breathable yard work shoe" on a search engine, and you'll find this footwear with that description. What this means is that this pair has a toe cap that does not make the grass stick, making it the top choice for lawn mowing.
At first glance, these shoes may look like ordinary sneakers, but they perform so much better whenever I walk on slippery, wet grass. I'm more sure footed with this pair thanks to the outsoles' flexible yet powerful lugs. But don't worry! Removing mud, pebbles, and grass from the treads is super easy.
On top of that, this pair has a transparent sonic welt for better support and durability without adding to the entire weight. Besides letting the shoes flex, the small windows right above the toe caps let the air in to keep the interiors well-ventilated. Nevertheless, the footwear is still waterproof because of the air mesh.
Aside from the hefty price tag, my issue is that the eyelets are tight. As such, adjusting the laces takes more time. Overall, these are the top-rated shoes for cutting grass that you can find in the market.
What We Like
Prevents the grass from caking on the shoe
Helps you walk safely on a wet lawn
Has excellent ventilation
Lets you remove grass, pebbles, and mud easily
Highly durable shoe construction
What We Don't Like
Pricier than most gardening shoes
Difficulty in adjusting the laces
To be fair, the quality of these grass-cutting shoes is worth the price tag. After all, their features make them suitable not just for yard work but also for casual occasions and sports. If you're thinking about buying this pair, just go for it!
3. Merrell J52927 Jungle Moc Slip-On Shoe
Designed as a pair of shoes for outdoor work, I think this pair is a fine-looking hybrid of sporty and casual in terms of style and functionality. When I'm in a rush to go out, the slip-on construction lets me wear these shoes quickly. Moreover, this model is available in different colors that go well with my outdoor wear or everyday outfit.
Known for their superb arch support, these shoes are great for anyone who stands and walks for long hours. I don't even need to buy another pair of insoles to replace the original ones. Whether I'm on the pavement or in my garden, the outsoles provide enough grip so I don't slide and fall. Since the collars are padded, I don't get any blisters when I walk.
With no break-in period, I can get to work as soon as I open the box and wear the shoes. The fitting allows my feet to feel more relaxed. Besides, this shoe model comes in regular and wide sizes.
Note that the shoes' waterproof capabilities have limits, so I had to spray them with a waterproofing agent. Hence, I prefer wearing them during summer or when I'm not watering the plants. I also noticed that these shoes loosen up after a couple of years.
What We Like
Has ample arch support
Suits outdoor and everyday attire
Has padded collars to prevent blisters
Comfortable right out of the box
Provides a good grip for any terrain
What We Don't Like
Waterproof capabilities wear down over time
The fitting loosens up after years
Equipped with good arch support, this pair of shoes provides optimal comfort and stability for long hours of standing and walking, regardless of the terrain. Meanwhile, the slip-on design lets you wear this footwear quickly and easily.
4. Sloggers 5301BK09 Rain and Garden Shoes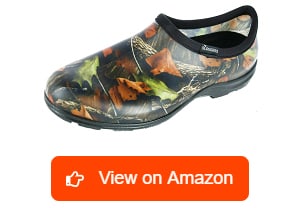 Despite their affordability, these garden shoes are packed with all the features a landscaper would need to work all day. For one, they have delightfully comfortable insoles. I can work in the yard for long hours without any complaints! For another, the durable lug treads on the outsoles are not just slip-resistant but also shock-absorbing. If you're environmentally conscious, you'll love the fact that the sole contains 50% recyclable materials.
Even more impressive, these shoes are perfectly capable of keeping my feet dry. Wading the wet grass, mud puddles, or manure will never make me worry about cleaning them up. I can simply run water or scrape off the dirt and let them dry. Because the uppers are stretchy, I just slip my feet in and out of these shoes when I need to go to my yard. They are also lightweight, which helps reduce fatigue.
In terms of fitting, these shoes are snug so they don't slide off my feet when I'm walking. Ladies, I'm happy to report that these men's shoes for yard work come in a version for women. Sadly, this model is not available in wide options. Considering its quality, however, I'm still giving these well-constructed gardening shoes my seal of approval.
What We Like
Affordable gardening shoes
Provides comfortable insoles
Has shock-absorbing and slip-resistant outsoles
Keeps the feet dry
The shoe material is easy to clean
Very easy to wear and remove
What We Don't Like
Does not offer wide sizes
Apart from the excellent waterproof design, these affordable gardening shoes are light and comfortable for long work hours in the yard. Perfect for multi-taskers, you can slip your feet in and out of the shoes if you want to visit your garden in between chores.
5. Crocs 10075 Bistro Clog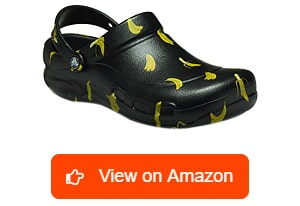 While these clogs are intended for workers in the food, hospitality, and healthcare services, the design is no different from classic Crocs® – summer gardening and yard work shoes. Instead of holes, the Bistro model features the enclosed toes to cover a chef's feet from kitchen spills. For landscaping purposes, this will protect your feet from grass, mud, and moisture.
Another reason why I love these clogs is that the contoured footbeds provide soft cushions to my feet. Even though they do not come in wide options, the shoes are quite roomy and stretchy, making them very easy to wear. In addition to the comfort, they are incredibly lightweight. I can work in the backyard and not even realize that I have been standing and walking for hours.
Truly, this pair is a nice, low-maintenance all-around footwear for any type of activity. The grippy outsoles let me walk on slick concrete floors and puddles without slipping. After wading through the mud, I just direct the hose onto these clogs and run water on every side.
Now that I've walked you through the "pros", let me share some of the "cons" with you. First, these shoes are not breathable. Second, they tend to shrink under hot conditions. If you are living in a tropical country, don't leave them outside after cleaning them. Wipe them dry and store them away from any heat source.
What We Like
Decent all-purpose clogs
Shields the feet from mud, grass, and moisture
Ideal for long hours of walking and standing
Cleans up quickly and easily
Provides grippy outsoles
What We Don't Like
Lacks breathability
Tends to shrink under hot conditions
In terms of all-day comfort, nothing beats these clogs. With soft footbeds, lightweight design, and spacious fitting, you can painlessly go about your daily hustle.
6. TENGTA Waterproof Garden Shoes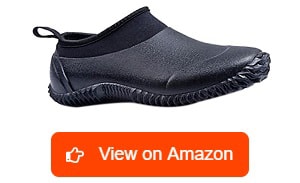 Coming in at number six is this pair of unisex loafer-style waterproof gardening shoes. Suitable for various outdoor activities, the footwear's uppers are made of vulcanized natural rubbers that effectively repel the grass, debris, and moisture out. At the same time, it comes with insulation to keep the feet warm during winters. Ergo, I can wear them at any time of the year.
Another useful feature is the slip-resistant outsoles. Aside from helping me maintain my balance as I walk on muddy terrains, their flexibility allows me to kneel without breaking them apart. Furthermore, the fitting is equally comfortable for both men's and women's feet. Cleaning these shoes can be done effortlessly since the grass, mud, and dirt slides off from the surface when I hose them off and wipe away the residue.
The only problem that I have with these affordable garden loafers is that the insoles seem to thin out easily the more I wear them. Well, I think it's not a big deal because I managed to resolve this issue by inserting a new pair of footbeds. On a positive note, the shoe design is gorgeous, which I don't usually expect from gardening shoes. Hence, I like to wear these shoes for lawn mowing, farming, as well as other activities like camping and dog-walking.
What We Like
Suitable for any weather conditions
Protects the feet from mud, grass, and liquids
Has durable yet flexible non-skid outsoles
Lets you clean off the shoes easily
Ideal for a wide range of household chores
What We Don't Like
The insoles flatten over time
There's nothing more satisfying than seeing a pair of shoes that gives you more than what you pay for. This footwear demonstrates that you don't need different shoes for gardening, errands, and leisure activities like camping.
7. Skechers 50125 Memory Fit Sneakers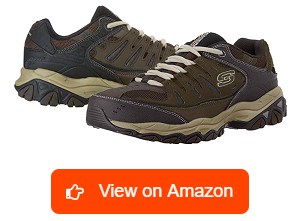 If you are looking for something more versatile, then check out these sneakers. Like most Skechers shoes, this model is true to size. Although it comes in wide options, the fitting generally provides ample room for my toes to wiggle and spread naturally. Made of breathable materials, I can wear this pair even on a hot day without sweating too much.
For me, these are the most comfortable shoes to mow in as sometimes I spend hours covering large areas. To boost comfort, the memory foam footbeds conform to the natural contours of my feet. Coupled with the shock-absorbing midsoles, they prevent my legs and knees from feeling sore.
Unlike ordinary gardening shoes, these athletic shoes can be worn for walking my dog, driving, hiking, or workout sessions. At the same time, they go well with my everyday attire. I'm impressed that they hold up nicely despite having them for years. Perhaps, this is because I clean them regularly. Even so, removing mud and sand seems pretty easy.
By default, these sneakers are not waterproof. However, the manufacturer recommends applying a silicone protectant agent if you want them to be waterproof. Another bummer is that the memory foam footbed seems to wear down easily.
What We Like
Comes in wide and regular sizes
Helps alleviate soreness
Suitable for gardening and working out
Has excellent breathability
Very easy to clean up and maintain
What We Don't Like
Lacks waterproof capabilities
The memory foam footbed wears down quickly
From workout to yard work, this pair of sneakers alleviates the soreness that comes with long hours of standing and walking. What's more, this shoe model offers regular and wide options, so you don't have to go one size up.
8. New Balance MX623AB3 Training Shoes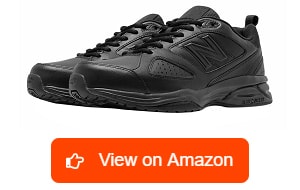 Despite searching high and low, I can't find a pair of New Balance lawn mowing shoes but this model is the closest thing we have. What's so special about these training shoes? Well, they are available in regular, wide, and extra-wide, which is rare in most gardening shoes. Moreover, the brand offers a variety of color options.
Made of breathable materials, these shoes do not feel too warm when I'm working under the extreme heat of the sun. On top of that, the water-resistant uppers ensure that my feet don't get wet when I'm watering my plants. In addition to the shock-absorbing capabilities, the midsoles give me ample support and stability. All in all, these features make this pair the ideal footwear for mowing the lawn.
What I don't like about these shoes is that the pebbles and grass tend to get stuck in between the treads of the outsoles. Also, the shoelaces are too long that they often get tugged by the plants. Hence, I would tuck them inside the shoes after tying them into a knot. Still, I think these are wonderful all-purpose shoes as I've also worn them for long walks, workouts, errands, and chores.
What We Like
Offers regular, wide, and extra-wide sizes
Has superb breathability
Equipped with water-resistant uppers
Highly versatile training shoes
Has shock-absorbing midsoles
Provides support and stability
What We Don't Like
The pebbles and grass get stuck in the outsoles
The shoelaces are too long
If you can't find gardening shoes that fit your feet like a glove, then give these sneakers a try. Featuring high-quality midsoles and breathable uppers, these training shoes perform like lawn mowing shoes as they keep your feet fresh and dry while you work in the yard.
9. Guide Gear Camo Bogger Rubber Clogs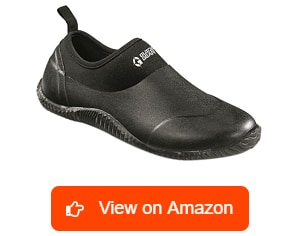 Rubber clogs like Guide Gear's are the most popular type of lawn shoes as they do not require too much effort to wear. Speaking from experience, it's super convenient if I need to go to the backyard quickly then return to my house. I don't even have to bend over to reach the pullers to open the shoes wider. The neoprene top stretches open and snaps back to make sure that I get a snug fit.
During the rainy season, these shoes keep my feet dry. I don't feel any water seeping through the neoprene top. On that note, let me add that the rubber outsoles provide strong traction to help me cross my marshy backyard. When they accumulate mud, I can just wash them with water and brush off the remnants.
One issue that I found is that these shoes seem to run small. If you are ordering online, do check the return policies to avoid trouble when you order the wrong size. Furthermore, the insoles lack padding so I don't think they are comfortable for long walks unless you add footbeds. Bearing in mind the affordability of this footwear, these design flaws are expected, but I assure you that they are workable.
What We Like
Offers affordable yet good-quality clogs
Has superb waterproof construction
Allows you to clean up the shoes easily
Putting on the clogs can be done quickly
Provides strong traction
What We Don't Like
No padding for the insoles
Runs smaller compared to other clogs
Despite its budget-friendly price, the manufacturer did not cut corners in designing these shoes for garden work. In addition to the waterproof rubber, the clogs have grippy outsoles to keep you from slipping as you brave the swampy backyard.
10. DOUSSPRT DOU091 Aqua Shoes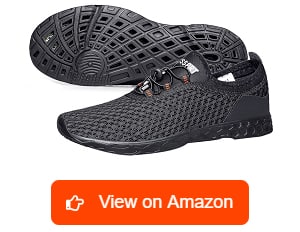 If you consider yourself an athletic person with a green thumb, then I'm sure you will love these aqua shoes. Probably the most well-ventilated footwear I reviewed in this article, the uppers are made of a durable polyester mesh that lets the air pass through. Apart from that, it allows the footwear to dry quickly when exposed to water. At the same time, it keeps the feet and shoes odor-free.
Another nifty feature is that the outsoles serve as drainage. While these are not lawn grip shoes, they effectively prevent slipping accidents. This capability makes this pair appropriate for a broad range of exciting outdoor activities, water sports, and mundane chores. Plus, the stylish design makes them easy to mix and match with any vacation, sports, or casual outfit.
Wearing these shoes can be done effortlessly thanks to the elastic rubber laces. They come with cord locks that let me adjust the fitting and securely clamp them in place. This way, the laces do not get tugged by the branches or equipment. However, one disadvantage is that the sand, small rocks, and grass tend to get stuck at the outsoles, which can be hard to remove. After all, these are aqua shoes and not lawn care shoes.
What We Like
Features superb ventilation
Can dry very quickly
Great for sports and gardening
Has a fashionable design that goes with any outfit
Equipped with easy-to-adjust elastic laces
What We Don't Like
Difficult to remove pebbles and grass
Whether you're on a summer vacation or leisurely tending your garden, you will like that these shoes are well-ventilated and capable of drying quickly. More than that, their trendy design matches well with any sporty or casual outfit.
11. BOGS 72207 Sauvie Slip-on Shoes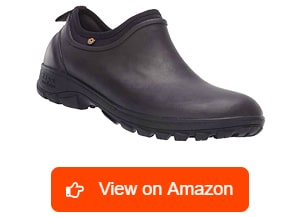 Best known for their waterproofing, these slip-on shoes thrive in wet conditions. Because my feet are practically sealed on all sides when I wear them, no amount of rain and puddles could penetrate the footwear. With the odor-fighting and moisture-wicking capabilities, my sweat does not build up inside my shoes. Aside from helping me practice good hygiene, I don't have to deal with sticky, smelly feet!
Made for gardening, these shoes have remarkable outsoles that provide optimal traction and stability. These features minimize the risk of slipping and breaking a bone or two when I traverse my swampy backyard after the storm. The so-called "Rebound Cushion" at the footbeds help me stand and walk with ease for long hours of work. Without the pain and discomfort, I can accomplish more work and chores in one day.
Like most gardening clogs and lawn care boots, this model does not come in wide options and runs small, which is a downer for those who need them. In addition, the uppers begin to show some fine cracks around the areas that flex. This happened after more than a year of wear and tear. Thankfully, it does not seem to affect the shoes' ability to repel water.
What We Like
Has superb waterproof design
Helps maintain good foot hygiene
The high traction outsoles reduce injuries
Provides excellent cushioning
Ideal for hot and rainy days
What We Don't Like
Does not offer wide options
May crack due to wear and tear
While these are not lawn grip shoes, their top-notch traction and stability will keep you from sliding as you walk on wet grass. Despite being waterproof, these loafers have moisture-wicking features so your feet can stay fresh and odor-free.
12. adidas Tech Response 4.0 Golf Shoes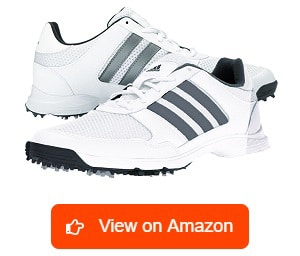 A pair of golf shoes for landscaping work? As long as it has the same features as grass-cutting shoes with spikes, then why not! With six spikes on the outsoles, they are more sturdy and grippy than hiking or other gardening shoes. When I move my body, my feet remain in place when mowing a slippery wet grass slope. In conjunction with the flexible soles, the Cloudfoam EVA sock liner makes long walking less strenuous.
Categorically speaking, these are athletic shoes so you can expect that they are comfortable. Even better, the brand has made this footwear in regular and wide sizes. Either way, the fitting is quite spacious. Just so you know, they come in different colors. The stylish blend of synthetic and lightweight mesh for the uppers makes them look and feel cool. On a warm sunny day, this breathable pair keeps my feet fresh and sweat-free.
My only gripe is that these shoes are not waterproof, which can be a hassle whether you're cutting grass or playing golf on a dewy morning. If you intend to wear them for dry weather conditions, then it will not be an issue. Anyway, the performance and durability of this footwear are outstanding as a whole.
What We Like
Provides stability and grip for slopes
Ideal for long walks in a hot weather
Spacious fitting for both regular or wide size
Available in different colors
Boasts durable construction
What We Don't Like
Not suitable for wet conditions
Even though these shoes are designed for golfers, I highly recommend them for those who need shoes to cut grass in landscapes that feature sloped terrains. When it comes to durability, breathability, and comfort, this pair of golf shoes exceeds expectations.
What Is a Pair of Shoes for Yard Work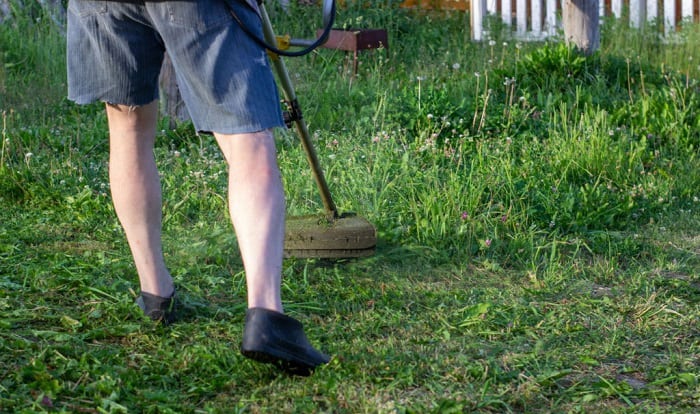 Shoes for yard work are also referred to as gardening shoes or shoes for landscaping. Regardless, their function is the same: to protect your feet against bugs, thorns, poisonous plants, mud, and the elements. Furthermore, they have high-traction soles to help you maintain your balance as you walk on puddles and mud.
How Does It Work
Since I have featured different types of gardening shoes in this article, let's tackle the functions of each footwear.
Slip-on shoes or clogs are perfect for multi-taskers. If you want to pick some produce or in between chores, you can slip your feet in and out of the clogs easily. When you're farming or going to places that expose yourself to thorny plants, wearing boots will protect not just your feet but also your ankles and legs. You can put on a pair of hiking boots or golf shoes for lawn-mowing since they have grippy outsoles that can handle sloped or rough terrains.
Types of Shoes for Yard Work
If you're wondering about what shoes to wear mowing the lawn, gardening, or landscaping, then let me share the different types of footwear for easy reference:
Garden clogs
Garden sandals
Yard sneakers
Garden boots
Hiking shoes
Why Do You Need Shoes for Yard Work
Aside from keeping your feet dry when you're watering the plants, shoes for yard work offer a plethora of benefits. Generally speaking, they are comfortable for long hours of standing and walking, which helps minimize fatigue. Meanwhile, the soles provide a stable footing as you trudge various terrains. More importantly, they serve as protection against insects, chemicals, or poisonous plants.
Buying Guide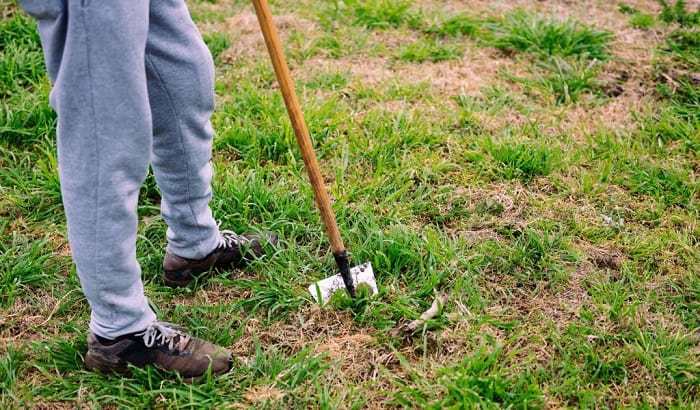 Even though I've highlighted the top features of each pair of gardening shoes in the review, I know that you still need more information to guide you in your purchase. I'm sure you have read conflicting opinions on landscaping blogs and Reddit, which made things all the more confusing. For this reason, I'm sharing some advice on what to look for when buying shoes for yard work.
Waterproof or water-resistant
A pair of waterproof gardening shoes will always be a practical choice, especially during the rainy season. We all know how annoying wet shoes, socks, and feet can be. They are anything but comfortable! That said, you need to consider the terrain or landscape. When you're in a waterlogged area, wearing a pair of wellington boots will ensure that your ankles and legs are not exposed. If you just want to walk in your backyard, you can wear waterproof clogs.
Breathability
It's nice to visit the garden when it's sunny, but this can make our feet sweaty! Unfortunately, bacteria and fungus tend to grow in warm and moist areas. This usually happens when the sweat is trapped in the shoes or socks. Whether you're just strolling in the yard or repotting some plants, wearing shoes that "breathe" will keep your feet fresh. You can choose a pair of clogs with holes or mesh linings for good ventilation in hot climates.
Comfort
Sometimes, we get too engrossed in the gardening chores. We don't realize we are already standing and walking for hours until our feet, legs, knees, and hips start to hurt. While shoes may not be the ultimate cure to common foot problems, they can certainly help ease the pain and discomfort. Keep in mind, however, that what makes a shoe comfortable varies from person to person. If you have a high arch or flat feet, you may need to find shoes with supportive insoles.
Grip
In many ways, landscape work can feel like you're hiking unchartered territory. The unpredictable weather can turn your backyard into a wetland. Thus, grippy outsoles are a must-have. This feature helps you maintain your balance as you wade through the mud and puddles. Even during a dry season, the traction makes it easier for you to stand on slopes or mounds of loose soil.
Easy to clean
When you're working in your backyard, you will most likely get your clogs or boots caked with grass, manure, and mud. If you don't clean them, the shoes will smell and deteriorate. Hence, proper cleaning and storage are crucial to prolong the lifespan of your shoes. Unlike your canvas sneakers, most landscaping or lawn-mowing shoes are made of rubber and neoprene.
This way, the dirt will simply slide off the shoes. Even if you tend to your plants every day, you will not have a hard time cleaning them off.
Care and Maintenance
After gardening, make it a point to wipe off the dirt from the uppers using a wet cloth. For caked grass shoes, water those mud off right away. You can use a scrub brush to remove small rocks and mud from the sole of the footwear.
Alternatively, you can wash your shoes thoroughly with soap and water to remove grimes, dirt, and chemicals. Let them air-dry and store them away from a heat source. To retain the footwear's shape, be sure to store them upright and use a shoe tree.
Is your footwear starting to get smelly? Blame this on the plant, manure, dirt, and chemicals. You can get rid of the stench by filling the shoes with old newspaper. Another method is to sprinkle them with baking soda or talc powder.
Note that each brand may suggest different methods of cleaning to suit specific styles and materials. The materials used to make a pair of lawngrips lawn-mowing shoes are not the same as rubber clogs. Thus, I highly recommend that you take the time to read the manufacturer's instructions.
Frequently Asked Questions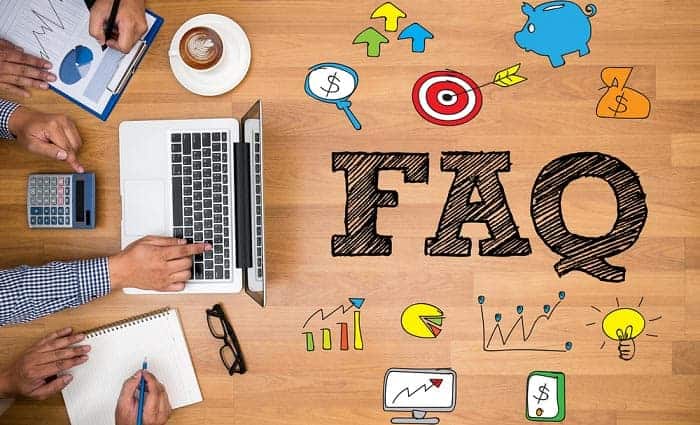 What are the most trusted brands of shoes for yard work?
All of the gardening shoes I reviewed in this article have their pros and cons, but they are generally reliable. Besides Kujo shoes, brands like Muck Boot, Merrell, Sloggers, Crocs, TENGTA, Skechers, New Balance, Guide Gear, DOUSSPRT, Bogs, and Adidas have a sterling reputation in the landscaping industry.
Should you wear shoes when mowing the lawn?
Yes. As long as you're outdoors, you are exposing your feet to the elements, be it soil or moisture, as well as insects. On top of that, you will be standing and walking for long hours. Whether you're using a push mower or driving a lawn tractor, you will still need to keep your feet protected. Hence, wearing the appropriate footwear is a must.
Is it important to use water-resistant or waterproof shoes for yard work?
Yes. When it rains, you can take shelter under the canopy but you will still have to walk on wet soil. After all, you will be watering your plants! Wearing water-resistant or waterproof shoes will not only keep your feet dry but will also ensure good hygiene.
Conclusion
By now, you probably realize that clogs and boots are not the only gardening shoes available in the market. Manufacturers have designed highly specialized footwear for farming, lawn-mowing, or gardening in general. Comfort and protection are also key factors in choosing the best shoes for yard work. Whether you are buying gardening shoes for the first time or looking for new options, I hope that you find this article helpful.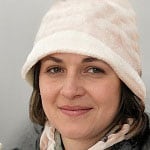 Veronica is our content editor. She is a talent in delivery. Her main work is editing and writing articles that are both informative and simple to follow. She is in charge of synthesizing our understanding of what personal protection equipment (PPE) is needed in each job, how to best apply it, and how to visualize that equipment.