Are you a roofer who wants to keep everything organized while at work? Then you might need the best roofing tool belt in your tools and gears arsenal. Roofing is a physically demanding and sometimes dangerous job.
Someone needs proper training and experience as well as a collection of the correct tools and gears to survive in the competitive roofing industry. Aside from the continuous effort and constant attention to safety, all roofers also need to carry with them a lot of tools.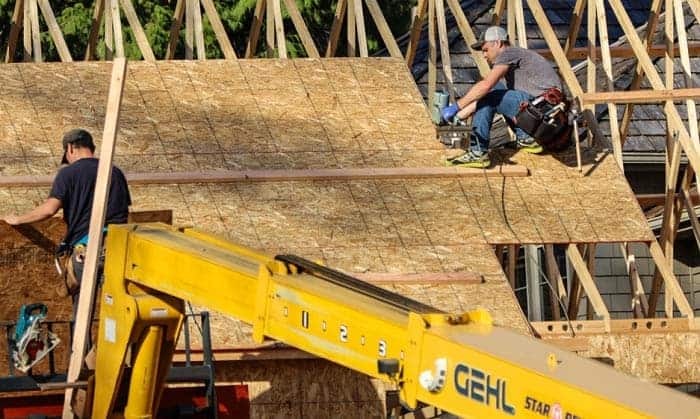 These include screws, utility knives, nail guns, steel tapes, nails, snips, seam rollers, and rippers, among many others. It would be perfect to have a roofing tool belt around so you can organize all the accessories and tools that you need at work so you can do your job in an easier and more efficient manner.
Your chosen roofing belt can hold all the roofing tools you own safely and snugly. It also makes it easier for you to access them since they are just close by. You just have to make sure that you pick a lightweight, sturdy, and comfortable tool belt, so you will not experience difficulty and discomfort in the workplace.
It is one of the best solutions for boosting your work productivity and speed. Interested to buy a high-quality one so you can start having a much better experience while roofing? Then you might want to begin with the following high-end tool belts known for their top-notch quality.
9 Best Tool Belt for Roofer Reviews of 2023
1. Dickies Work Gear Carpenter's Rig Leather Tool Belt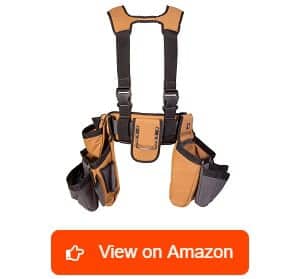 The Dickies brand is also associated with quality and excellent performance so I am quite sure that its 4-piece Carpenter's Rig Leather Tool Belt will aim to satisfy most roofers today. What I am so impressed with in this rig from Dickies is that seems to act as the ultimate solution in terms of convenience and performance.
Built using heavy-duty and sturdy canvas material, everyone can anticipate its long-lasting performance. It is even equipped with gel-core suspenders with comfortable padding that contribute a lot in carrying heavy loads while promoting the even distribution of weight.
I think this is the reason why there is less strain in my hips and lower back each time I wear it. This item comes assures you of a more customizable fit – thanks to its completely adjustable straps in front and at the back. It has six large pockets and seven smaller ones.
Combine that with two tool loops that are spread evenly between two pouches aside from the presence of the steel hammer loop and you will surely enjoy a rig capable of organizing all your roofing supplies and tools conveniently and effortlessly. You can also find a cellphone or device pocket with an elastic side in front of the suspenders.
It features a secured flap, which is a big help in guaranteeing the safety of the entire contents.
One downside I noticed, though, is the poor design of the pockets.
What We Like
Heavy-duty and sturdy canvas material
Features comfortable padding for the suspenders, promoting even distribution of weight
Promotes a more customizable fit
Serves as a convenient way of organizing your roofing supplies and tools
Guarantees the safety of the contents, thanks to the secured flap
Designed to last while also having heavy-duty webbing handles as well as well-reinforced loops and pockets, this specific roofing tool belt will surely serve as your ultimate solution if you wish to keep all your tools organized while completing your roofing project.
2. Occidental Leather 9850 Adjust-to-Fit Fatlip Tool Bag Set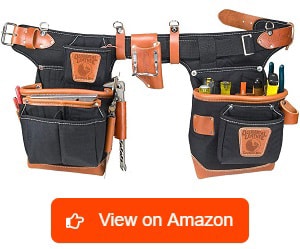 As a brand, Occidental Leather is synonymous with premium quality, and this tool belt set proves it. For me, using top grain cowhide to make this is a smart choice as it is known for its strength. Meanwhile, the copper rivets ensure the bags will not break apart when I'm carrying a heavy load.
What's more, you can choose a right-or left-handed version. Either way, you would get a fastener bag and a tool bag. Both are crafted to fit specific tools that you need to grab with your dominant hand. This well-thought-out design lets me organize the items and memorize where I store to retrieve them easily without looking.
Built with a tool belt for adjusters, this model can accommodate diverse body types ranging from 32" to 40" in waist size. Even if I gain or lose a bit of weight, I can always loosen or tighten the webbing and the belt will fit just fine. I know wearing new leather garments can be quite uncomfy in the beginning. But with this one, I'm amazed that I don't have to soften the belt.
Here's the catch: The upfront cost is pretty high. To be fair, the pricing is justified by the tool bag set's long-lasting durability. You will save money by buying a new set of tool and equipment belts to replace a broken one. Although it's not created as specialized roofing pouches and belts, the set's versatile functionality will certainly match a roofer's needs.
What We Like
Made of high-quality leather
Capable of carrying heavy tools
Offers left- and right-handed versions
The bags' layout improves work efficiency
The adjustable belt fits most sizes
Comfortable to wear
If you are looking to invest in work gear that will last a lifetime, look no further than this leather roofing tool belt. Whether you are right or left-handed, the design will let you access your tools effortlessly.
3. Bucket Boss Mullet Buster Tool Belt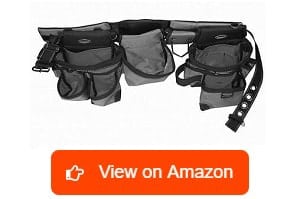 The first option for the best tool belt for roofing I intend to suggest is the Bucket Boss Mullet Buster Tool Belt. Built and provided by the trusted Bucket Boss, I am quite sure that you will immediately be amazed by how good the quality of its tool belt is.
The brand is popular for the durability of its products capable of withstanding several years of wear and tear. The Mullet Buster Tool Belt is not an exception as it is designed to withstand the test of time. The strength and durability of this tool belt can be seen with its 2-ply poly fabric construction.
I am delighted to announce that this tool belt features reinforced and barrel-bottom pouches that further increase its carrying capacity. You also get the chance to use the steel hammer holder built into the tool belt as well as the extra loop designed for hammers or any other tools with long handles.
With that many things that you can store in there, I can say that its carrying capacity is one of its strongest points. I am also pleased that this roofer's tool belt applied the LoadBear stretch suspension technology into its construction.
It is because this contributes to letting the weight of the belt move conveniently with your body as you work. The suspenders and pouches integrated into the belt are also adjustable and removable, promoting a more customized organization of all your tools. The suspender even features moisture-wicking padding, adding convenience.
Furthermore, it has a cellphone pocket, which can fit the majority of smartphones today.
One downside, though, is the absence of internal pockets designed to store small items, like pencils or pointers.
What We Like
A high-quality and durable tool built, thanks to its 2-ply poly fiber construction
Equipped with adjustable and removable suspenders and pouches
Boasts of moisture-wicking padding for the suspenders
Allows you to bring your smartphone, thanks to the cellphone pocket built into it
Huge carrying capacity
What We Don't Like
Lacks internal pockets that are supposed to be helpful for small items
Still, the Bucket Boss Mullet Buster Tool Belt already comes with a reasonable amount of storage space, making it a really great companion for all roofers out there.
4. NoCry Fast Draw Drill Holster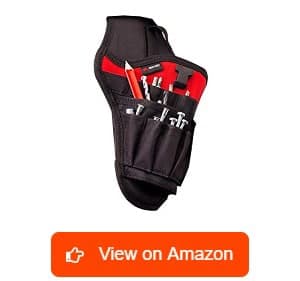 As a roofing professional, your daily tasks will be much easier to fulfill if you have a companion as good as the NoCry Fast Draw Drill Holster. Everyone knows how tough roofing is at times. It can even lead to back pains but you can lessen the risk of experiencing such aches and pains with the aid of this holster from NoCry.
It boasts of its balanced and well-fitted angled holster style, which also has an open bottom capable of holding your driver or drill in a more secure manner. This specific design is also a huge advantage as it promotes ease in accessing your tools without hassle.
I like the safety strap, which has a plastic clip buckle, integrated into the holster as I noticed that it has the ability to fit even big drills. It even comes with a Velcro backing, which is a big help in preventing the items from interfering with you when you are doing your job.
It has a big storage capacity, too. It even comes with eight closed pockets designed to hold your nails, screws, and rods, among many others. This item also features five flexible and elastic pockets with properly closed bottoms, allowing you to access your drill bits with ease.
Another reason why I truly love this product is that I noticed its durability right away. I think it will last long because of the double-stitched construction and the sturdy 600D ballistic canvas material used in creating it.
However, take note that it requires you to break it in, so expect some challenges taking out and storing items at first.
What We Like
Can help lessen the risk of back pains
Equipped with a balanced and well-fitted angled holster style
Velcro backing built in to prevent work interference
Huge storage capacity guaranteed
Durable, thanks to its reinforced and double-stitched construction
What We Don't Like
Requires you to break it in
With the ability of this holster from NoCry to accommodate all the items you need at work, especially if you are a roofer, it is surely something that is worth investing in.
5. CLC Custom Leathercraft I427X Tool Belt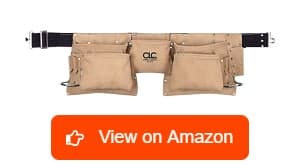 Another item that serves as one of the most efficient roofing tool bags and belts today is this contractor-grade and heavy-duty work apron based on suede leather offered by CLC Leathercraft. I never felt disappointed upon using this product because I instantly sensed how heavy-duty and durable it is, thanks to the contractor-grade and durable suede leather used in constructing it.
I am also very pleased that this work apron features double front pockets that are wide enough that they can promote ease of access each time I need to bring out any of the items I stored in there. It has a dozen pockets in total, providing more than adequate space for any small and medium-sized roofing jobs that you currently have.
I like this work apron because it is built to be lightweight, too. This promotes ease in carrying it around, preventing you from experiencing additional fatigue due to the task at hand. It is also inexpensive. Another impressive benefit of this tool belt is its wide waistline range, which increases the possibility of it being a one-size-fits-all solution.
The leather material has just the right amount of thickness for your convenience. It also has adequate space to hold your roofing materials, like a hammer and cordless drill, while lowering their risk of falling when you are climbing up a ladder. There are also additional pencil holders for your convenience.
I am also glad that it comes equipped with a poly web built around 2 inches, which also features a metal interlocking buckle.
One issue I have, though, is that its inner seams are prone to wearing out sooner than most roofers probably expected.
What We Like
Contractor-grade and heavy-duty suede leather used for its construction
Promotes ease in accessing your stored items, thanks to its wide double front pockets
Features additional pencil holders, promoting more convenience
Lightweight and easy to use
More than enough storage capacity
What We Don't Like
The interior seams are prone to wearing out sooner than usual
Despite that, this inexpensive item can exceed the expectations of many in terms of making their job easier by helping them in the efficient organization of their tools.
6. Bucket Boss 2 Bag Tool Belt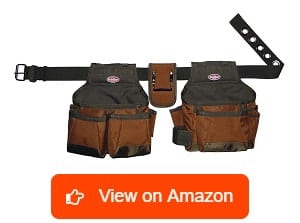 The Bucket Boss 2 Bag Tool Belt also left an incredible impression on me because I immediately figured out how it was built for serious and rigorous DIY jobs and projects. This product is remarkable as it carries the trusted brand, Bucket Boss, which is famous for holding more than a hundred products organizing and holding tools strongly and efficiently.
One thing I instantly discovered upon using this tool belt is that it is constructed out of 600 denier poly rip-stop. It is also amazing because it has an infinity belt, which you can conveniently adjust up to 52-inch waist sizes with the aid of its built-in thick steel grommets.
This tool belt is also equipped with barrel-bottom reinforced pouches that provide additional carrying capacity. What I like about the pouches is that you can detach or reposition them. In case you have hammers or other tools with long handles, you will be amazed to know that it comes with steel hammer holder and extra loop for them.
The width of the belt is also just enough to give its wearers the comfort they specifically need. As for the pouches, expect them to be large enough while promoting ease of use. You can also store plenty of things inside each pouch and pocket. It is lightweight and easy to position, too.
It has most of the things needed by a roofer for such an affordable price.
However, some complained about the lack of interior pockets in this item.
What We Like
Can hold most of your roofing tools and accessories strongly and efficiently
Constructed out of strong and durable 600 denier poly rip-stop material
Equipped with an infinity belt with a waist size that you can adjust
Features pouches that are detachable and can be repositioned
Comes with just the right amount of width and space
What We Don't Like
Some complained about the seeming lack of interior pockets
Despite such complaints, many still prove that this roofing tool belt is created with adequate space for all the tools and accessories you wish to bring at work.
7. Gatorback B145 Carpenters Triple Combo Belt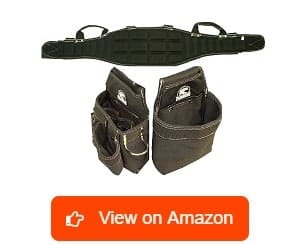 Another tool belt containing most of the features a roofing specialist like you needs is the Gatorback B145 Carpenters Triple Combo Belt. I am delighted to say that this roofing tool belt is actually built strong and tough. In fact, the roofing tool pouches and belt comes with riveted stress points.
Each stress point is also bar-tacked as a means of ensuring that the entire construction can last for a long period. It utilizes the heavy-duty DuraTek nylon material for its primary built, which proves its ruggedness and durability. What I like about the material used is that even if it is rugged, it still remains lightweight.
It has plenty of storage space, too, considering the fact that the single pouch is around eight inches deep. The left portion of the belt also boasts of a tool pouch with seven pocket fasteners. The good news is that such pockets are wide enough while also promoting quick and easy access.
Another advantage of this tool belt is that it has a high level of comfort. It is primarily because of the patented air channel style applied to it. I think this style is what makes this belt comfortable because it assures you of a sweat-free and breathable experience.
The backing applied in the belt is also constructed using a breathable material, promoting utmost comfort and coolness. In addition, the box design used in this triple combo belt offered by Gatorback is impressive. It is because of the inner plastic lining used in it to allow it to have a shape, which has a low risk of sagging.
This design also ensures that the pockets and pouches remain open and accessible while preventing the tools from forming holes at the bottom.
However, some say that the pockets are too stiff for their preference.
What We Like
Rugged and durable yet lightweight nylon material used for its construction
Spacious, thanks to the wide and easy to access pockets and tool pouch
Breathable and comfortable, promoting a sweat-free experience
Comes with a low risk of sagging, thanks to its box design
Prevents the development of holes at the bottom due to the tools placed in it
What We Don't Like
A bit stiff for the preference of some users
If you are a roofer looking for more mobility by keeping all the things you need at work properly organized then the Gatorback B145 Carpenters Triple Combo Belt will surely be of help through the numerous benefits and features that it possesses.
8. DEWALT DG5650 Pro-combo Apron Tool Belt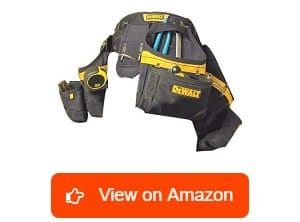 Another amazing tool belt designed for roofers, construction workers, and anyone who needs this type of belt to organize their things is the DG5650 31-Pocket Pro-combo Apron Tool Belt offered by the renowned DEWALT. I am so pleased to announce that this belt is made to fit a wide range of waist sizes – from 29 inches to 46 inches specifically.
With that in mind, expect it to be of great use to several users. This belt takes pride in its patented and unique pouch handle. I discovered that this specific handle promotes ease in making adjustments on the belt. It also assures you that you can conveniently carry the tool belt using just one hand.
The huge storage and carrying capacity of this tool belt from DEWALT are also among its strengths. It is equipped with large and spacious pockets carrying the style of a gusset, offering as much space and storage capacity as possible. I am pretty sure that you will also love the convenience brought on by the tool belt's on-hook storage.
This specific apron-style tool belt also boasts of its 31 spacious pockets. You will also enjoy the presence of small pockets, loops, and sleeves in this belt that you can use to store and organize important things and tools, like nails, pencils, and nail sets, among many others.
What I like the most about this tool belt is that it is fully secure, giving you peace of mind. It is because of its zippered pocket, which keeps all your valuables secure.
One flaw, though, is the weight since it is heavier in comparison to the other tool belts in the market today.
What We Like
Can fit various waist sizes, making it flexible
Adjustable, giving you the chance to make it fit you perfectly
Promotes utmost convenience when carrying the tool with just a single hand
Features plenty of large and spacious pockets
Secure, thanks to the zippered pockets integrated into it
What We Don't Like
Heavier than other tool belts
The added weight is not that burdensome to carry, though, which still makes this tool belt from DEWALT worthy of your investment.
9. Dickies Work Gear 57000 8-Pocket Utility Pouch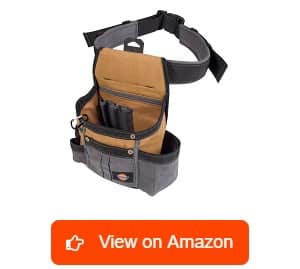 Another fantastic choice that can help you have easy access to your tools while ensuring that they stay as organized as possible is the 57000 8-pocket Utility Pouch provided by the famous Dickies brand. It has a total of eight spacious pockets capable of providing more than enough storage for your small and large tools.
I like the fact that the loops and pockets have reinforced webbing as this further enhances the durability of its tan and gray canvas construction. It has a huge pocket in the interior, which is also equipped with three more pockets and one slip pocket with a wide mouth.
With this, accessing your small tools, pencils, wrenches, among many others, will surely be easy. It has a couple of exterior pockets, too, with a zippered one designed to ensure that your valuable and small items are properly secured. The pouch features a work belt, which is around 3 inches.
I like this belt because it is not only padded but also completely adjustable. You can even make it fit various waist sizes – from 32 inches to 56 inches to be more exact. It is also secure because it has a sturdy and heavy-duty buckle made of strong plastic. The pouch and the built-in belt are also built tough, allowing them to resist the harshest conditions.
Furthermore, it comes equipped with a reinforced back liner, which is also puncture-resistant.
One issue with this utility pouch, though, is that its buckle tends to slip open occasionally during the break-in period.
What We Like
Comes with a total of eight spacious pockets, providing huge storage capacity
Highly durable canvas construction
Comes with well-reinforced webbing, making the whole construction stronger
Zippered pocket for a much better security
Features an adjustable and well-padded work belt
What We Don't Like
The buckle tends to slip open occasionally but only when you are still breaking it in
After breaking it in, you will begin enjoying all the positive things and qualities that this amazing 8-pocket utility pouch from Dickies can provide.
CustomToolbelt – CatManDo Adjuster/Estimator Tool Belt (Outdated)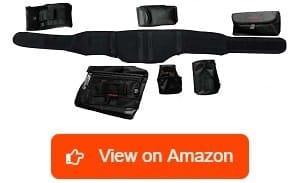 This next tool belt is not only suitable for roofers. It also works for adjusters and estimators who need a tool belt designed to keep all the items they need at work fully organized and secured. In fact, it is versatile enough that anyone who needs to use something to organize the things and tools they need at work can take advantage of it.
Restoration contractors and roofing estimators can even wear this as a means of promoting safety, efficiency, and professionalism during their damage assessment appointments and site inspections. I am glad to say that this tool belt is presently available in a wide range of sizes.
In fact, it covers standard waist sizes of 30 to 46 inches. It also provides new XL sizes for those with waist sizes that are around 46 to 54 inches. With that, I am sure that you will never have difficulty spotting the most fitting tool belt for you. Another strength of this tool belt, in my opinion, is its new and modern multi-tool pouch.
This is beneficial because it is capable of holding the full set of your most commonly used tools and equipment. Another reason why I love it is its padded pouch, which is now longer, making it possible for it to hold your water bottles in a more secure manner.
It is also designed in a way that it can lessen wear and tear because of the tool belt's strengthened and well-reinforced stress points. I also love the adjustable nature of the belt.
It even comes with spacious pockets that you can reposition or release based on your exact preference.
One flaw I observed, though, is that its price is slightly steeper in comparison to other tool belts with almost similar quality and capabilities.
What We Like
Available in a wide range of waist sizes
Features a new and modern multi-tool pouch
Securely holds your water bottles, thanks to the longer padded pouch
Comes with stronger and well-reinforced stress points
Adjustable belt and spacious pockets
It is still worth the extra investment, though, considering how huge its contribution is in making your job a lot easier to fulfill because all your tools are properly organized and within easy access.
ToughBuilt Handyman Tool Belt (Outdated)
Lastly, I am suggesting the use of the ToughBuilt Handyman Tool Belt Set. I am so glad to introduce this to roofers because it provides an efficient solution to organizing the things that you need for your roofing projects while making sure that they are within easy reach.
It is one of the most versatile tool belt sets you will ever get the chance to access. It fits the needs of not only roofers but also electricians, contractors, construction workers, plumbers, framers, and carpenters, showcasing its flexibility and versatility. I also like the fact that this set is customizable.
It lets you choose between using it together with suspenders or as a waist belt. I am also happy with the designated storage provided by this item, especially for your utility knife and phone, among a lot of other things. It has plenty of pockets, providing more than enough storage for your small and large tools.
I also like the adequate space it provides for my cordless drill. It also comes equipped with a durable buckle system to prevent your items from falling. This tool belt is also built in a lightweight manner, making it possible for you to manage it effortlessly. It is also constructed to be rugged and highly durable.
It is because of its sturdy and stable 6-layer construction and the reinforced rivet, making it one of the most dependable tool belts capable of resisting harsh working situations.
One downside I noticed, though, is its tendency to cause sweating especially when used during the summer.
What We Like
Capable of organizing your tools and things efficiently
Highly versatile as several professionals can use it, not just roofers
Customizable set
Provides plenty of pockets and storage spaces for all your items
Lightweight while remaining rugged and durable
What We Don't Like
Causes sweating when it is the summer season
Despite that, the amazing capability of this tool belt to make your job easier to fulfill is something to look forward to upon deciding to invest in it.
What is a Roofing Tool Belt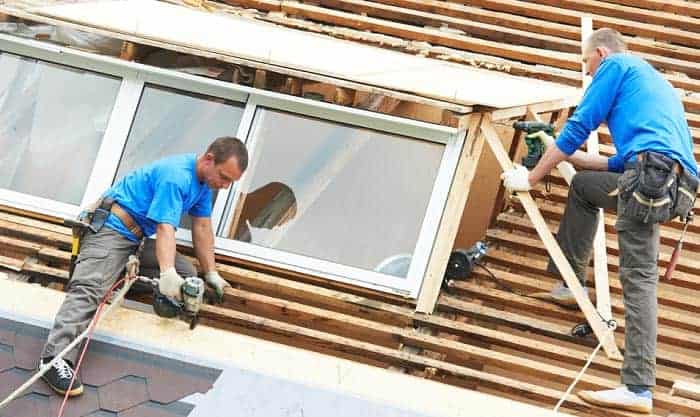 The best roofing tool belt is an important accessory for professional roofers as it helps them organize their things while they are at work. It is called a roofing tool belt because it has features specifically made for the roofing trade. It is the best solution if you want to hold your nails and tools in a safe and snug manner while making them ready for use and easily accessible.
Basically, it is specifically designed as a wearable item that you can put on your waist so you can simplify the process of carrying your valuable roofing tools and accessories, especially the ones you need urgently so you can complete your job. It comes in handy if you want to simplify the process of completing your jobs.
One thing to take note of about tool belts is that they are available in a wide range of sizes. It is a portable tool, which significantly reduces the hassle and sweat that you might experience when carrying a considerable amount of baggage for work. Since it is portable, you can also expect it to consume the least amount of space.
You can use it to carry your tools within easy reach since it is just around your waist. This does not only help in saving space but also in preventing your energy from dwindling down, which will most likely happen if you continuously hold on to your items without the belt.
How Does It Work
A good roofing tool belt works with the aid of the pockets built into it. In most cases, it contains at least two pockets containing all your vital tools and fasteners designed for your roofing project. It has features that prevent you from experiencing a lot of hassle once you start doing your job.
For instance, you can use your dominant hand to control things, like a pencil, knife, and hammer, when you are orchestrating the job. The helper hand, on the other hand, can be expected to respond by bringing the suitable accessory tool or fastener immediately to play.
Your chosen tool belt will be able to fulfill its functions through its features – some of which are the pockets and accessories that slide on it to promote optimal positioning. Some feature large boxed pockets designed to carry huge screws and bits.
There are also those with tape cradle and hammer holder as well as domed pockets to secure your tools. Also, take note that since your job requires you to go on walls and on top of roofs, it is of paramount importance to bring all your tools with you simultaneously.
With that in mind, it is crucial for your tool belt to have multiple hooks and pouches. It needs to be lightweight and flexible to work, too. In addition, some zipped pockets will allow the tool belt to function even better as such can help in carrying a few items, like nuts, screws, and nails in a more secure.
Types of Roofing Tool Belts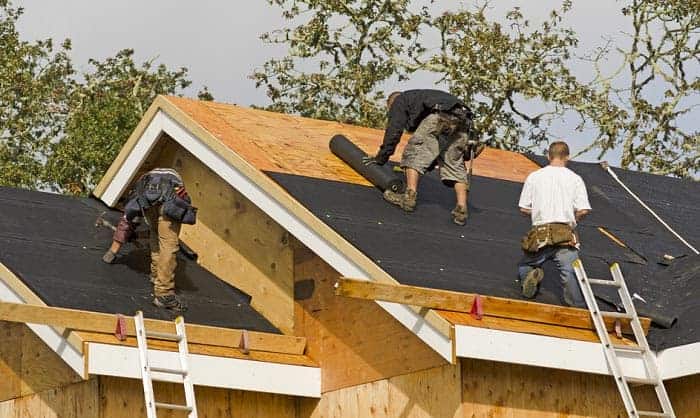 When searching for a tool belt, you have to make sure that it specifically fits your profession. For instance, since you are a roofer, it is also crucial to figure out which among the tool belts in the market can be specifically used for the tools and accessories that you need when trying to complete your roofing projects.
To help you find a good roofing tool belt, here are the most commonly used types in this category:
Suspender Tool Belt – This is perfect for a roofing professional who needs to bring plenty of heavy tools and nails. It is because this type is designed in a way that it can take out the weight from around your waist then evenly distribute it to your shoulders, allowing you to carry additional weight while having a low risk of injury.
One advantage of the suspender tool belt is that it can lessen your risk of dealing with back pain since you can prevent the heavy weight from resting directly on your body. With that, roofers, like you, can prevent sore muscles and body after a tiring workday. If you are interested in buying this type, go for one that you can adjust and tighten.
It is because your goal is to ensure that it perfectly fits your body. Note that a close, nice, and tight fit is crucial in the even distribution of weight while preventing you from experiencing accidental injuries.
Waist-fitted Tool Belt – You can also choose to invest in a tool belt, which you can fit around your waist. It is one of the most popular types of tool belt today because aside from being easy to find, it is also appropriate for the majority of jobs and conditions. One great benefit of this tool belt is that you can easily customize it.
It is also easy to look for pouches designed for your specific needs if you choose this type. You can even find those that you can integrate into this tool belt. In addition, it is easy to replace this tool belt in case it begins to show signs of wear and tear.
One downside with the waist-fitted tool belt, though, is that it tends to put undue pressure on your waist or hips because you need to hang it there. Pain and discomfort might also happen in case you wear this belt with heavy items inside for an extended period.
This is the main reason why it is advisable to go for a tool belt, which can offer more support if you intend to wear it the entire day or if you are aware that you will be putting heavy items in there.
Hip Tool Belt – This type also works well for roofers as it helps them in ensuring that their tools will be easily accessible while still ensuring that these do not get in the way or interfere when they are trying to fulfill their tasks. It is because it is designed to rest on your hip once you wear it.
With that kind of setup, it is easy to drop down your dominant hand so you can get the required tools without the inconvenience of digging around a huge pouch or pocket. One downside, though, is that you might experience difficulty getting one hand into your belt and around your body, in case the other holds onto something.
Despite that, a lot of roofers love wearing it because it promotes freedom in the hands. It is also lighter in comparison to other tool belts. It works not only for roofers but also for gardeners as it also provides just enough space to hold gardening tools and accessories.
Apron Tool Belt – This is perfect in case you wish to own a tool belt, which you can wear when doing a job while ensuring that both your body and clothing are still well-protected. Often constructed using heavy canvas, the apron type of tool belt is light enough, which gets rid of the discomfort often present in other tool belts.
It is also a great choice in case you need to use some equipment, like saws and nail guns. Just make sure that you choose to invest in an apron tool belt with front waist pockets that have a lot of space. This will prevent you from wearing another tool belt simultaneously just to obtain the specific storage space you desperately need.
What is great about the apron type of tool belt is that it also features straps surrounding your waist and install up over your shoulders that can help distribute the weight of your stored or carried items.
With that, you can prevent your body from experiencing soreness right after your job. Look for one with easy to adjust straps so you can tighten them easily to get the right fit.
Why Do You Need to Wear Tool Belts for Roofing
A tool belt serves as a vital extension of your whole workwear collection. It serves as a portable, compact, and manageable caddy to ensure that your must-have tools are close to you.
With the aid of the tool belt, you will surely be able to increase the amount of your time at work and save a significant amount of time since you no longer have to spend it on finding your things. The tool belt for roofing is constructed in such a way that it can help working in your roofing project easier while also saving your effort and time.
One great reason why you should wear a tool belt is that it is a major help in organizing all your tools. It can help keep your roofing tools in just one place and ensuring that they stay neater and more organized. It makes it hassle-free to store your items and find them right away.
Another reason why a roofing tool belt is beneficial is that it is the key to working in a more harmonious and efficient manner. It even lets you reach into the tools and things you need quickly, thereby making it possible for you to complete your tasks sooner than expected.
With the tool belt, you can work without the need to pause in between each task because you need to look for a specific tool. It brings out the dormant hand concept because it is the one you use to grab all your tools with the least effort. The helper hand, on the other hand, can be used to put such tools into action.
The presence of the tool belt is also the key to saving time. It is because you have everything within easy reach. You no longer have to waste unnecessary time going back and forth to find the things you need for your job.
Buying Guide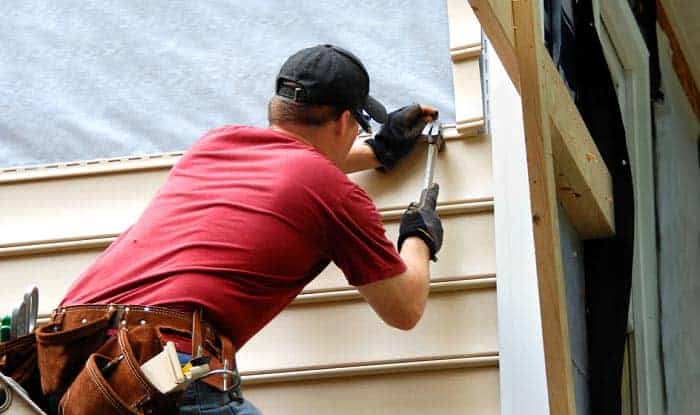 When shopping for a good roofing tool belt, there are certain features and factors that you have to scrutinize and look into carefully. By doing that, your chances of finding the best product that perfectly fits your requirements will be easier.
Material – One important consideration when searching for a high-quality roofing tool belt is the primary material used in building it. The material matters a lot when trying to make a choice because it has a say on its overall quality.
If you are trying to find a tool belt with a large compartment, which speaks of durability and strength then go for one constructed out of leather material. It is because this material is robust and long-lasting. The problem with the leather material is that it is quite heavy, which is not that suitable for workers who need mobility.
If such is the case then you can always go for a roofing tool belt made of soft leather because it is lighter. In addition, you can easily make adjustments to it just by sliding the belt. The problem is that it is not as sturdy as the genuine leather material. Aside from leather, you can also find those made of canvas, nylon, and synthetic fiber.
Fit and finish – It is also necessary to take into complete consideration the finish and the fit of the tool belt you are thinking of buying. If possible, go for one with the right amount of padding.
It is because this can prevent you from experiencing extreme discomfort within just a short period of work or after just a couple of use. Stay away from fixed bag tool belts, too, because these often come with limitations in their capacity.
Size and weight – The size and weight of the tool belt should also have a say on your final choice. As for the size, check the sizing chart provided by the manufacturer, especially the size designated for the waist. Pay close attention to the range of measurement for the waist.
Check the minimum and maximum sizes of the waist. Often measured in inches, this size can help dictate whether the roofing tool belt you intend to buy is the best one for you.
The weight should also be considered as this is going to have a direct contribution to the actual carry weight. If possible, go for lightweight ones to prevent your movements from being drastically affected in case the belt and its contents weigh too much.
Also, remember that even a little can already go a long way in terms of comfort. One thing to remember is that the leather material often weighs more compared to the nylon material. The harness-style tool belt is also heavier compared to waist-style belts.
Pockets – Of course, you need to check and assess all the pockets and compartments integrated into the belt. After all, you will be using this item in storing most, if not all, of the tools and things you will need at work. Some of the factors to consider are the depth, number, and sturdiness of the built-in pockets.
Spend time assessing the overall capacity of the roofing tool belt. Check the number of pockets and determine whether they fit the specific purpose you intend them to fulfill. Also, ensure that your chosen tool belt has an adequate number of pockets for your particular needs.
Durability – It is also advisable to make your choice when trying to find a highly reliable tool belt based on how durable it is. The durability, however, fully depends on the material used in constructing the belt.
Choose one, which is built from a material known to last a lifetime provided you give it proper maintenance. It should also be sturdy enough in the sense that it can hold even the heavy items.
Design – You should also be able to make your choice based on how the tool belt is designed. Basically, you can choose from a couple of designs – the harness and the waist. If you need to work in elevated work environments then consider going for the harness belts. The waist design, on the other hand, is more of the universal kind.
Comfort – Your comfort should also be prioritized when trying to shop for a high-quality roofing tool belt. Note that you do not have to suffer from the discomfort brought on by carrying heavy items. You can seek the aid of a tool belt designed to lessen the discomfort in the workplace.
If possible, choose a tool belt with some form of comfortable padding. The durability and thickness of the strap also plays a major role in how comfortable the tool belt will be.
In addition, you need to check the maximum weight each built-in pouch and pocket can hold. Check the various adjustment ranges, too, as this is helpful in getting a fit that is appropriate for you.
Security – Check how secure each compartment, pocket, or pouch in the tool belt is. As a roofer, you will most likely climb up or contort your body to reach into a small or awkward location. With that in mind, there is a risk for you to lose something accidentally. You can prevent that with the help of a truly secure tool belt.
One feature that enhances the security of a tool belt is a zippered pocket. At least one pocket with secure zippers is usually enough. While a zipper pocket is harder to access quickly if you are in a rush, it is still a big help in securing everything, thereby preventing you from losing a valuable while you are on the process of fulfilling your job.
Care and Maintenance
Properly caring for and applying the right maintenance techniques into your chosen tool belt is the key to ensuring that it will last for as long as you wish. Of course, the most important rule in properly caring for your tool belt is to clean it up regularly. Apart from regular cleaning, proper storage also contributes a lot in maintaining its good condition.
The best storage place for your roofing tool belt, especially if it is made of leather, is one that is dry and cool. If possible, wrap it using a clean and soft cotton cloth before storing. Alternatively, you can use a hard case, container, or box as its storage place.
In case you intend to store the belt for an extended period, make it a point to stuff it with soft items. This is crucial in retaining its natural shape and form. Do not also forget to check it from time to time to determine if it shows signs of moisture, condensation, and corrosion.
It is mainly because highly humid conditions might cause the growth of mold and mildew. Treating the tool belt well also contributes a lot in maintaining its good condition. If your tool belt is made of leather, make it a point to apply a leather conditioner on the surface as a means of retaining its softness and moisture.
It is also advisable to apply silicone spray as this serves as a great defense from condensation and moisture that might affect the belt's interiors. This also helps in reducing friction that will prevent possible damages to the interiors.
Another way to care for and maintain your tool belt is to take quick action in case it gets soaked in water or rained on. Reshape it right away and let it dry naturally at room temperature.
Frequently Asked Questions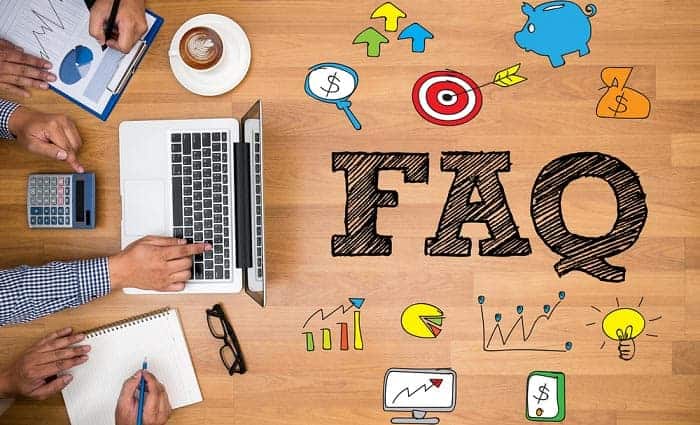 What are the most popular roofing tool belt brands?
Numerous brands of roofing tool belt continue to emerge in the market today since many have already discovered how important this item is for a lot of workers, especially roofing professionals. Some trusted brands that continue to earn great and positive reviews from a lot of users are Bucket Boss, Dickies, CLC, DEWALT, and ToughBuilt.
Who needs to wear roofing tool belts?
A roofing tool belt is designed for anyone who is part of the roofing industry. No matter what type of job you are doing as a roofer, you will find your tool belt helpful in organizing all the stuff you need to use in the workplace. Aside from roofers, other professionals who can benefit from a tool belt are painters, carpenters, glass cleaners, construction workers, plumbers, and electricians.
What kind of tools do roofers use?
Roofers need a wide range of tools and safety garments to perform their tasks. Here are some of the tools that you may need:
Hammer tacker stapler
Roofing nail guns
Air compressor
Roofing blade or utility knife
Pry bar or roofing shovel
Tarps
Chalk reel
Measuring tape
Caulking gun
Trowel
Tin snips
Reciprocating saw
Circular saw
Drill
Saw horses
If you're looking for a specific model that can fit some of these items, I recommend looking for a specialized tool belt with drill holster to carry a drill. You also look for a small tool pouch to organize your hand tools too. If you will be climbing and moving a lot, having a padded tool belt will give you comfort.
Are DeWalt tool belts good?
Yes, DeWalt is a reputable company that manufactures top-notch tools. It also offers storage-like bags and tool belts.
In this review, I discussed all the good qualities of a comfortable tool belt made by this brand. On its website and in physical stores, you can find other models that may be more suitable for your job.
How long do roofing tool belts last?
Generally, the lifespan of a tool belt varies depending on the material, construction, and the owner's effort to maintain it. Of course, some materials and construction methods are better than others.
Though it's more high-maintenance, leather can last decades if you take the time to wash and condition it. Nylon and polyester can last up to 5 years. Other fabrics like canvas can last up to two years.
How to clean?
Cleaning up your roofing tool belt does not require a complex process. In fact, you can do it by just using simple steps and tools that you can find at home. Take note, though, that the whole cleaning process might be different depending on the specific material used in creating your tool belt.
If your tool belt is constructed out of leather material then take note that it is based on sturdy and strong material. With that in mind, you should begin the cleaning process by taking out all of the tools stored in there. Inspect the present water resistance of the leather material.
Remember that the leather material is actually naturally oiled. It also comes with a waterproofing feature. What you should do to inspect how water-resistant it is at present is to splash some water on a certain area. One sign that it is still resistant to water, giving the belt the protection it needs from moisture, is when it tends to bead up.
After that, prepare a face cloth, which is a bit dap. Use it to wipe the tool holsters. Ding this will extract the sawdust, bits, and any other dirt that might have accumulated in there due to your job. The next thing to do is to air dry it by hanging it up. Alternatively, you can utilize a paper towel and use it in gently patting the area to let it dry.
Avoid using your hair dryer or other sources of heat to let it dry as it might cause severe damage to the structural makeup of the leather tool belt. It might even lead to tears, fading, and cracks. Aside from cleaning, it also helps to seal the leather tool belt and treat it twice annually.
If your tool belt is constructed out of synthetic fiber or nylon then you might need to apply a different approach in cleaning it up. The first thing that you should do is to take out all the nails, tools, and other items stored in the tool belt. Get your vacuum cleaner then utilize its narrowing tool in reaching the crevices.
No matter how clean your tool belt appears, it is still advisable to let the hose of the vacuum run over each spot. The next thing to do is to get a bristle brush. Put some cleaner at the ends but make sure that the water does not drip the base or the handle of its bristles.
Rub circles using the bristle brush into every spot of the belt in a gentle manner. One thing to remember when doing this is that nylon does not have as much breathability compared to the others. However, it is still capable of absorbing fibers and dust.
With that in mind, remember that anything that the vacuum did not extract, you can expect the bristle brush to remove. The gentle rubbing should take around 4 to 7 minutes before moving to the next step.
After rubbing the tool belt gently, hang it in a place where it can get air naturally. Let it air dry instead of using an artificial source of heat.
Where can you buy a roofing tool belt?
The roofing tool belt is currently available in a number of places – both offline and online. Some prefer to shop online, though, because of the convenience it offers. In that case, Amazon is your best friend as it has plenty of high-quality tool belts designed to meet and satisfy your preferences.
Conclusion
Having the best roofing tool belt and wearing it before you ever get to work indeed plays a major role in boosting your productivity. It is because it serves as a highly effective and efficient solution to carry all your roofing tools with you with the least amount of hassle.
Aside from that, you are sure that the tools are visible, within easy reach, and well-organized. This can give you an amazing experience each time you are doing a roofing project because it helps in simplifying the whole task.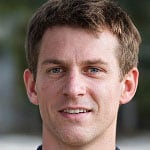 Having worked in the field of personal protective equipment for over two decades, Andrew Carnegie is a specialist in the field.
At EDC, he strives to improve performance efficiency and promote workplace safety for EDC's readers and customers. He also researches the most up-to-date equipment that has earned relevant accreditation for use in a wide range of industries and specialties.