Your protective glasses or any form of eyewear are among the most expensive investments you can make. This holds true whether your eyewear has no prescription or only comes with basic protection. With that in mind, you should aim to protect your eyewear with the best glasses case.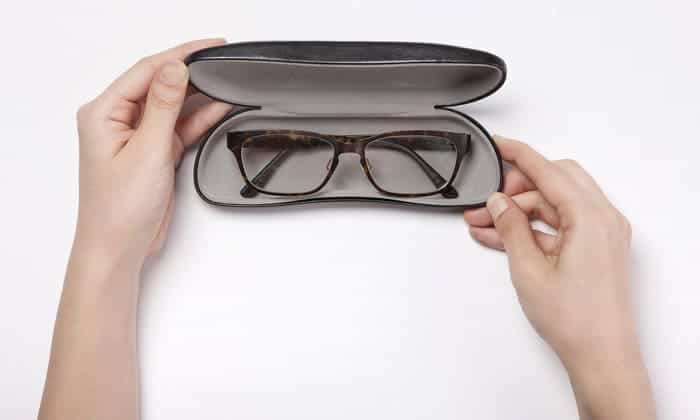 With the help of the best and the most durable glasses case, it would be easy for you to take good care of your investment. It can prevent it from getting damaged too fast due to wear and tear. It is also a big help in preventing scratches or signs of breakage in case you drop it accidentally.
Just make sure that you dedicate some of your time researching about the most indestructible glasses case – one that will not let you down in terms of protecting your eyewear. If you want to start shopping for cool eyeglass cases then you might want to include these top-rated products in your primary choices.

10 Top-rated Glasses Case Reviews of 2023
1. Vemiss Hard Shell Eyeglasses Case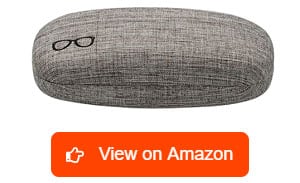 This cool glasses case is highly recommended as it offers long-lasting durable protection for your eyewear. Whether you're looking for classic black or a lovely shade of pink, you will like that it is available in a wide range of unique colors to suit different tastes.
Beyond its eye-candy aesthetics, the hard shell case is spacious enough to accommodate medium to large frames without being too bulky. Hence, I can buy a couple more of the same model to store my other spectacles and sunglasses.
Another noteworthy feature is that I don't struggle to open the casing due to the hinges and the soft padding on the shell. It's a big deal for me as it also prevents me from hurting my hands. Yet, it closes securely so that my eyeglasses do not accidentally slip out while inside my bag.
When I bought this to try out, I was surprised to discover that the casing includes a cleaning cloth and a fabric pouch. However, the fabric lining inside comes apart after a couple of months. Sadly, this is a common issue even with some branded casing. To be fair, I only need to glue the fabric back in place!
What We Like
Very easy to open
Can stay closed while inside your bag
Gives durable protection for your eyewear
Accommodates different frame sizes
Available in cool colors
Comes with a free cleaning cloth and pouc
What We Don't Like
The interior lining comes off after a while
If you are in search of a cute glasses case, you will not be disappointed by this one! Since the casing can close securely, you can be sure that your glasses will never get scratched or broken while you keep them in your bag!
2. Raylove Unisex Hard Shell Eyeglasses Cases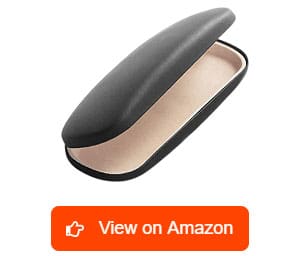 Made for small to medium frames, this pocket glasses case can also double as multi-purpose storage for small items like charging cords, earphones, or fashion accessories. For me, its main selling point is the special fabric in the interiors as it prevents lenses from getting scraped.
As for the exterior, I like that the surface feels smooth to touch yet it does not cause my hands to slip when I need to open the case. In terms of color options, I get to choose between bright hues and classic blacks and browns. Kids can also pick from a handful of cute patterns.
Plus, the size of the case does not take up too much space in my purse and fits in the pocket of my backpack. In my opinion, this is great for those who travel a lot and want to pack light. Meanwhile, the hard shell casing is quite sturdy. When I accidentally dropped it, it did not dent!
I'm not sure if it's just me but the hinge is too tight. On one end, it reassures me that the case won't open by itself. However, it makes a loud noise when I need to close it. If I'm in a library or in an office, this can distract other people.
What We Like
Designed for small to medium frames
Can fit small purses and pockets
The inner lining prevents lenses from scraping
The casing is made of tough material
Can function as storage for small items
What We Don't Like
Has a very tight hinge
Produces noise when closed
Thanks to its compact size, you can save some space in your purse for other items you want to bring on your trip! At the same time, the sturdy casing also ensures that your eyeglasses are protected.
3. ALTEC VISION Hard Shell Glasses Case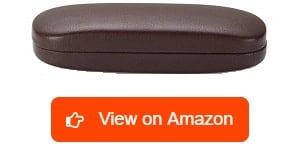 I am also honestly impressed with the Hard Shell Glasses Case offered by ALTEC VISION. It is built to be both lightweight and sturdy, which makes it genuinely amazing. It serves not only as a case to carry your glasses but also as a means of protecting their lens from scrapes and their frame from potential damages.
I find the case sturdy enough. It features an exterior with a comfortable and nice finish. The interior, on the other hand, boasts of a soft yet protective lining. I find this lining impressive as it helps ensure that the glasses do not accumulate dirt. It also prevents them from getting scratches.
It is protective and substantially tough while still remaining lightweight and less bulky so carrying it around is easy. I am also one hundred percent satisfied with the ability of this case to fit the majority of eyeglass and sunglasses sizes. It is compatible with small to medium sizes.
It has a streamlined style, making it possible for you to slip the case easily into your bag or pocket. Storing it and retrieving your glasses, therefore, is very easy. I also specifically love its spacious interiors. The fact that the interiors have enough space help ensure that it becomes a multipurpose storage tool for small items, accessories, and electronics.
It also boasts of its classic look and design, which is known to be unisex. This means that it works for kids, adults, men, and women. As for the colors, I am glad to know that finding one that meets your personal style is possible because of the numerous choices available.
One drawback I noticed, though, is that its hinge is not as durable as what others are hoping for.
What We Like
Carries your glasses while protecting them
Sturdy and durable
Boasts of an exterior with a nice and comfortable finish
Lightweight and not bulky
Features spacious interiors
What We Don't Like
Not that durable and sturdy hinge
Overall, this is a well-constructed protective glasses case capable of delivering what it promises and functions in the specific way it should.
4. OptiPlix Hard Shell Eyeglass Case

The best eyeglass case review often always includes the Hard Shell Eyeglass Case from OptiPlix for a lot of good reasons. I primarily love the simple yet highly sophisticated style of this case. Currently, you can choose from its different colors, allowing you to pick one that suits your personality while still protecting your eyewear.
I am satisfied with its flexibility, too. It is flexible and versatile enough that it suits a lot of shades and glasses of standard sizes. I am happy with its streamlined design as it also lets you slip it into your bag or pocket, keeping your eyewear fully safe and well-protected.
With the help of this case, I had an easier time maintaining the cleanliness of my eyewear. It also offers some sort of assurance that it is safe. It is because of the special lining used inside the case, which is effective in protecting the lens from getting scratched.
The arms of your eyewear will also have a lower chance of breaking and bending. In addition, this soft lining ensures that the lens will not be filled up with dirt and residue. It is designed in a way that it can help your glasses stay clean while inside. It also falls under the hard case for glasses category, making it truly amazing in terms of protection.
It is one of the most durable glasses cases you can access in the market today that are offered at a truly great price.
However, one flaw I would like to complain about is that it tends to close really tightly, making it harder than usual to open up.
What We Like
Boasts of a simple and sophisticated style
Flexible in the sense that it fits standard sizes of glasses
Comes with a special lining designed to protect your eyewear's lens from scratches
The lining is soft enough and prevents dirt and residue from penetrating.
Highly durable
What We Don't Like
Tends to close tighter than usual
Whether you are looking for a women's or a men's eyeglass case, this product from OptiPlix will most likely give you one hundred percent satisfaction because of its overall quality.
5. Fintie Plush-lined Eyeglass Holder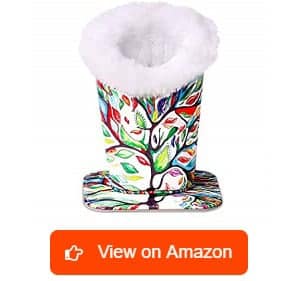 Considering the somewhat expensive cost of some eyeglasses today, it is just right to do something to protect your own eyewear and prolong its life. Fortunately, you now stand a better chance of doing that with the help of the Fintie Plush-lined Eyeglass Holder. I am happy that this eyeglass holder comes at a size that fits a lot of standard glasses.
I am specifically fond of its flat-wide base design. It is because I noticed that it promotes ease in putting the holder in almost all surfaces, including my bathroom, computer desk, kitchen counter, and office. You can put it in a spot where you can easily see so you will no longer get frustrated because you just misplaced it.
I am also pleased with the special soft furry lining used in the holder. This lining is effective in protecting the lens from residue, dirt, and scratches. Furthermore, it works excellently in protecting the arms from either breaking or bending. I am also very pleased that I have the opportunity to choose from its various fun and bright colors.
It is meant to provide as much protection as possible, especially when it comes to nicks and scratches. It has soft interiors, thereby ensuring that scratches will not stand a chance of penetrating your glasses or their lens.
Furthermore, it has a magnet at the bottom, which you can attach to the holder, thereby promoting convenience as it lets the holder stand up. It is lightweight plus you can easily and quickly set it in place on top of its magnetic base with well-coordinated colors.
However, the magnets are not as strong as some users hope for.
What We Like
Fits several standard glasses
Boasts of flat-wide base design, allowing you to put it in almost all surfaces
Protects the lens from residue, dirt, and scratches
Available in several fun and bright colors
Soft interiors while being lightweight
With the overall functionality and quality of this eyeglass holder, I can safely say that it is indeed the best solution if you want to take good care and protect your glasses.
6. Splaqua Waterproof Eyeglasses and Sunglasses Case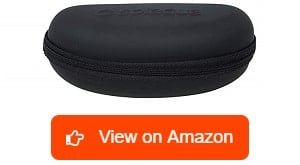 If you want to invest in an eyeglasses and sunglasses case that really does its job of protecting your eyewear while also serving as a fashion system then this waterproof case from Splaqua is worthy of your attention. I find this case truly fashionable, stylish, and protective, making it one of the best choices for anyone looking for a quality case.
It makes use of EVA material for its overall construction. This is a synthetic material, which resembles synthetic rubber a bit. This material helps in making the case as comfy for your glasses when stored inside as possible. I am glad of the bright-colored zipper used in this case because I noticed that it is easy to spot.
It has a sleek style, which makes it suitable for almost all settings, whether it is formal or casual. I am truly happy to say that this case is made to be versatile. It is because you can use it in various outdoor activities, including skiing, biking, hiking, and swimming. It can even handle daily use and commute.
The size is just right as it fits a lot of glasses – whether the size is for the eyewear frame of kids and adults. One more impressive fact about this case is that it boasts of its top-notch quality design. It comes with a durable inner lining, which can withstand the test of time. This specific case is also designed in a way that it will last for several years.
The waterproof nature of this case also makes it completely sturdy. It is waterproof enough that its hard shell can completely protect your eyewear from water, spills, rain, and snow. It is also a crush-proof glasses case.
It is because it has an anti-shock and crush-resistant design, which prevents the lens and frames from getting cracks.
However, it also has a drawback, which is the fact that it zipper takes a bit long to separate during your first uses.
What We Like
Fashionable and stylish while remaining protective
Comfortable interiors
Boasts of a sleek and versatile style
Durable inner lining used
Waterproof plus it comes with an anti-shock and crush-resistant design
What We Don't Like
Comes with a zipper, which takes a bit longer than usual to separate
With the help of this glasses case, you will always feel worry-free since you have a hundred percent guarantee that your eyewear is protected most of the time.
7. Birch 4X Microfiber Glasses Case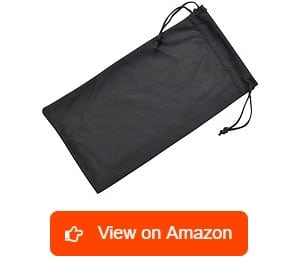 If you are searching for an easy to use sunglasses and glasses case then this Birch 4X Microfiber storage solution is definitely for you. I am completely satisfied with how it is made as I noticed that it suits not only glasses but also other items and gadgets, like watches, MP3 players, and smartphones.
One set of this product also provides four colors, which, I think, is an appealing advantage. It is well-constructed. I also like it because it is big and spacious enough that it can accommodate even those glasses that are bulky. It used the microfiber material for its construction.
You can even use this in cleaning your glasses because it is based on microfiber. It is also affordable for its flexibility and the many things that it can do. I am also pleased to say that it has a drawstring designed to help secure the glasses stored inside. It is also made in a way that you can easily see the glasses you are getting without peeking inside.
It is the perfect choice if you want to protect your glasses without the need to use bulky storage solutions.
However, some are not satisfied with the drawstrings used because they say that it is quite thin for the job.
What We Like
Easy to use
Stores not only glasses but also gadgets and other items
Well-constructed and spacious
Affordable while having enough flexibility
Secures the glasses stored inside
For its affordable price, though, you will not regret investing in this product because it is already well-made, high in quality, and totally functional and protective.
8. MyEyeglassCase Hard Sunglasses Case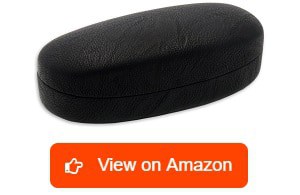 If you are interested in buying a hard sunglasses case then I am pretty sure that the MyEyeglassCase Hard Sunglasses Case is a decent choice. It is a chic and sophisticated case with a black pattern that works well for men and women. I find its measurements suitable for sunglasses that are either of medium or large sizes.
One of the many things that attracted my interest regarding this case is that it protects the eyewear. The materials used, especially in the exterior, are of top-notch quality. With such materials, you can protect the frames of your glasses from breaking and bending.
One more thing that this case has is its plush interior. I noticed that this is a remarkable advantage as it helps ensure that the lens can prevent getting scratches that easily. Another great advantage about this case is that it works in a way that it shuts and snaps close securely.
It works in fitting the sunglasses while having enough room to spare. I am also impressed with the thick-walled construction used in this eyewear case. It improves its strength in the sense that it can protect your glasses really well. It features a hard shell, which is hard and solid enough to give maximum protection to your eyewear.
However, one disadvantage I discovered upon using it is that it is slightly bulky when carrying it around.
What We Like
Chic and sophisticated design
Offers protection to the eyewear
Top-notch quality material used for its exterior
Prevents scratches, breaks, and bends on your glasses
Strong and solid hard shell used, making it genuinely protective
All in all, it is a truly functional protective case, which intends to give maximum protection to your eyewear, so buying it is a great move.
9. BLUPOND Semi Hard Glasses Case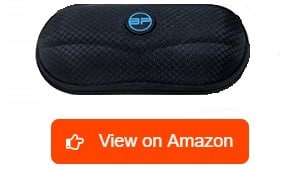 Another stylish semi-hard case that you ought to consider buying is this product offered by BLUPOND. It is one of the most stylish cases for glasses that you can access in the market today. It boasts of its sleek and sporty design, which fits almost all sizes of eyewear.
I am impressed by it because it is currently available in different color options. I am one hundred percent satisfied with its secure hinges that are easy to access. It has just the right length to store your glasses no matter how small or big these are. It can do its job of making your glasses completely protected from harm.
I find this case extremely durable, too. With such kind of durability, I am pretty sure that it can do its job of safeguarding or protecting your glasses from dings and drops. The case is also constructed out of EVA foam material. This is a soft material while still having the sturdiness often seen in sports gears.
With the use of this material and intelligent design, it works decently in giving your protective glasses the durability and strength they need. Aside from being completely functional and protective, I am also pleased to highlight the portable nature of this case. It is portable enough that you can use it every day without any problem.
It is also highly versatile that using it for all kinds of glasses is possible. One more advantage that it offers is that it offers maximum protection from harsh and harmful elements – this is all thanks to its built-in zippered enclosure.
However, I discovered that its plastic snap is a bit stiff, which is the only disadvantage I can find.
What We Like
Stylish – thanks to its sleek and sporty design
Features easy to access and secure hinges
Highly durable and strong
Portable so rest assured that you will not experience any problem carrying it around
Maximum protection guaranteed by its zippered enclosure
What We Don't Like
Slightly stiff plastic snap
This is the only issue I discovered about the case. All the others are strengths, so I can say that it is definitely a valuable glasses case to invest your money in.
10. Pelican Waterproof Case 1030 Micro Case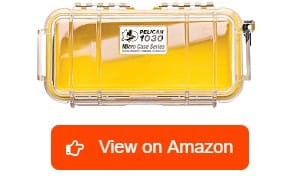 Lastly, I would like to suggest the use of the Pelican 1030 Waterproof Case as a means of protecting your eyeglasses. What I like about this Pelican eyeglass case is that it is waterproof or water-resistant. This means that you will not encounter any problems when bringing or using it in environments that have high amounts of moisture.
I am glad that I can easily find the items stored inside this case. It is because of its lid, which is made using clear polycarbonate material. The stainless steel hardware used in constructing this case is also a big advantage as this means that it is strong and durable enough to withstand all kinds of impact.
It features a rubber liner designed to provide additional protection to your glasses. In fact, it is not only water-resistant but also dustproof and crushproof. I like its latch, too, because it is designed in a specific manner that users will not have issues opening it up. It is made to be easy to open.
It can even offer maximum protection for all the items you stored in there. In fact, you can use it not only to protect and secure your glasses but also your camera, iPod, and phone, among many others. It is effective in protecting all the valuables you stored inside.
It is mainly because it has a liner, which can absorb shocks. This lining is effective in lessening the amount of damage that the contents of the case may encounter during tough situations.
The handles and hinges make use of stainless steel pins – all of which can make the overall design of the case strong and tough.
However, some users complained about this case being a bit bulkier when compared to other cases.
What We Like
Water-resistant
Offers maximum protection for all the stored valuables
Comes with a shock-absorbent lining
Stainless steel pins used in the handles and hinges for extra strength
Dustproof and crushproof
Other than that issue, I can no longer find a fault in this Pelican case, which indicates that it is truly a high-quality and one-of-a-kind investment.
OptiPlix Sunglasses Case (Outdated)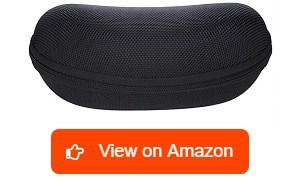 Another product from OptiPlix that everyone should check out is this Sunglass Case, which is compatible with sports eyewear, glasses, and goggles. It falls under the semi-hard case type, which is designed in a way that it can protect your eyewear's lens from getting scratched.
The case also works in preventing the arms of your glasses from breaking and bending. I like the built-in soft lining of this case as it protects the lens from both residue and dirt. It is, therefore, a big help in maintaining the cleanliness of your glasses.
What is even better about this sunglass case is that it works for both men and women as well as kids. Available in different colors, I am one hundred percent sure that you can find a color that suits any user well. It is actually a small eyeglass case but the size is just enough in fitting the majority of standard-sized sunglasses and eyewear.
I also noticed that its small size offers a big advantage for those who wish a more compact case that can save space when stored in their bags. When it comes to protection, I discovered that this OptiPlix sunglass case does not disappoint. It is truly sturdy so putting it in any bag will not be a problem at all.
You can also easily store it. The fact that it comes with a zipper enclosure also means that the case can make the glasses inside gain additional security. It is also extremely lightweight, which means that it will not make your gears feel bulky.
In addition, it works well for glasses that come with anti-reflective and polarized coatings as it helps ensure that such coatings will not get scratched nor get damaged at all.
However, the built-in zipper sometimes gets in the way when you close the case.
What We Like
Keeps your glasses clean and secure
Compatible with the needs of men, women, and kids
Small and compact enough that it saves space inside your bag
Extra security provided by its zipper enclosure
Protects the anti-reflective and polarized coatings of glasses
What We Don't Like
The built-in zipper tends to get in the way when closing the case.
Despite that issue, it is still a high-quality case with a soft interior and solid and durable exterior designed to protect your glasses from harm.
OptiPlix Extra-large Sunglasses Hard Case (Outdated)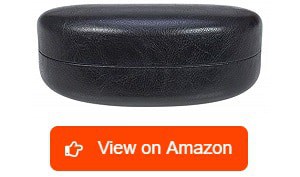 You can also invest in this Extra-large Sunglasses Hard Case offered by OptiPlix. One favorable and impressive trait of this hard case is that it is stylish. It has a unisex and versatile style, allowing it to suit the tastes of children as well as that of men and women. I love its exterior, which features a sleek black color.
The interior, on the other hand, boasts of a smooth and black lining. This type of lining works in ensuring that your lens stays safe. The lining is also soft in the sense that the lens, when stored inside, will have a lower chance of getting scratched. In fact, I can assure most users that it will stay clear and clean.
Another remarkable quality I love about this hard case is the tough built. It is built to be tough and strong, giving most users a hundred percent assurance of maximum protection. Your eyewear will definitely be protected from all kinds of harm. The exterior of this case is made of hard shell material.
This material can absorb impact, making it possible to keep your glasses safe and protected no matter where you want to go. The size of this case is extra-large, which also indicates that it can fit all pairs and sizes of glasses. I discovered that it even has more than sufficient room for big and oversized eyewear.
I am also fond of the clamshell style used in this case. It is because it guarantees ease in opening it up and closing it. The durability of this case also makes it possible for it to let you enjoy its protective benefits for several years.
One flaw, though, is that its exterior has a leather-like coating, which is prone to peeling.
What We Like
Stylish and versatile
Tough and durable construction
Comes with a soft and smooth lining inside, thereby keeping your glasses safe
Easy to open up and close
Can absorb impact
What We Don't Like
The leather-like coating used in its exterior is prone to peeling.
This is not a totally big issue for me, though, as I noticed how effective this glasses case is in delivering its intended purpose.
What is a Glasses Case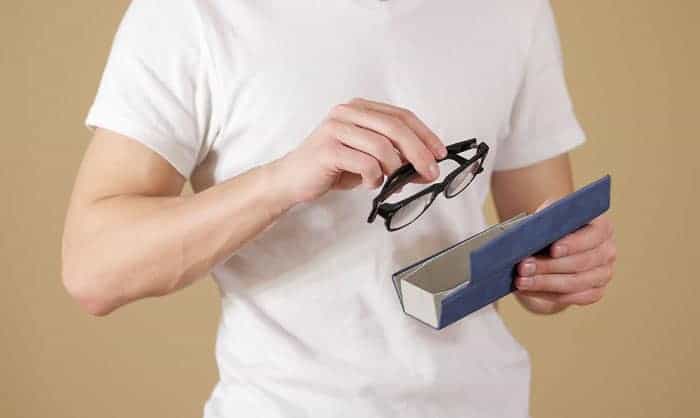 A glasses case can be considered as one of the most vital items that you need in taking care of your eyewear or eyeglasses. It acts as the cover for your eyeglasses or protective eyewear in case you are not using them. Note that without it, your glasses will be vulnerable to getting damaged because of wear and tear.
The usual case used for eyeglasses often features an internal design, which aims to hold your glasses and make them more secure. In most cases, the case features a molded interior so the lens, as well as the nose bridge of the eyewear, remain secure. Also, the case's interior is often constructed from suede or soft foam material.
Either of these two materials can provide a soft and gentle surface designed to make your eyeglasses feel safe and secure. With that, it is a big help in preventing damages or scratches in case you drop the eyewear accidentally.
It should be noted that this case features various styles just like there are plenty of styles for the frames. In most cases, once you purchase prescription eyeglasses or a pair of sunglasses, you will also receive a basic case for it. However, if you wish to use a cool, fashionable, and unique eyeglass case, then you can choose from its several kinds.
How does It Work
A good and heavy-duty glasses case works by acting as an excellent cover for your sunglasses or eyewear. It is designed in a tough manner so it can withstand the possibility of it getting trampled, kicked, thrown, or damaged, due to certain accidents or issues, like accidentally falling down.
The goal of this case is to serve as the ultimate protection or cover for your valuable optics, especially once you are not wearing or using them. To ensure that it works properly, look for a case, which perfectly fits the glasses you have. Measure the inner dimensions of the case.
It should really fit your eyewear. A lot of cases also come with zippered closures. Other models, on the other hand, come with extra compartments that work as storage areas for the lens. To work in providing additional protection, you can find cases constructed from reinforced magnesium and nylon materials.
It is also easy to find cases that offer additional protection by lining them using a high-density foam material. This makes it more functional, serving its purpose as a protective case. The manner through which the case works also depends on the type you have chosen to invest in. These types will be discussed in the next section of this article.
Types of Glasses Case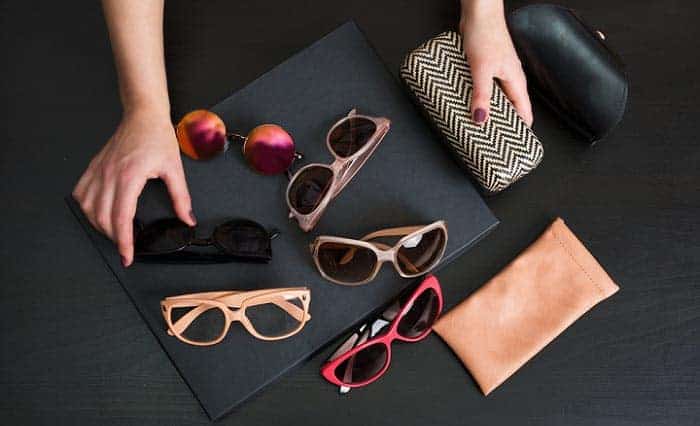 Several varieties of glasses cases are now accessible in the market. While they come in various types, take note that they often serve the same purpose and that is to store and protect your glasses and ensuring that they are away from dust and damage. To give you an idea about what case you should choose, here are its most common types:
Soft case – Soft eyeglass cases are often constructed from faux leather, soft fabric, or any other soft material. In most cases, they also feature a snap on top as a means of securing your glasses inside. This type is available in various designs depending on the brand that offers it.
Most of the time, the cases use fabrics that are not only lightweight but are also water-resistant. The lightweight nature of the soft cases is one reason why you can easily carry it around. The soft cases are also thinner when compared to the other types. You can also see them having a soft lining being sewn in its interiors.
Most of these cases also look like pouches where you can simply slide the glasses. Some feature a drawstring closure or an open-ended top. What is good about these soft cases is that you have the option to choose from print or solid fabric. You can also see them being available in leather material.
It is also possible to choose from its wide range of patterns and colors. The fact that they are made to be soft using fabric materials also make it possible for you to carry them in a compact manner inside your purse or pocket in case you did not store the glasses inside yet. This makes the design more convenient for transportation.
Semi-hard case – This is another excellent choice for eyeglass cases. It is considered as the most versatile kind. It is usually constructed from a sturdy fabric material, which features the soft inner lining used in soft cases. The only difference is that it features a hard vinyl insert, which you can find between two layers.
This design is important as it provides additional protection and security to the glasses that they are storing. What is good about the semi-hard cases is that they are also available in various colors, designs, and patterns. It is even possible for you to find a semi-hard eyeglass case with a clip or a strap designed to provide more convenience.
Hard case – The next type that you can choose is the hard glasses case. You will find this case useful not only for fashion sunglasses but also for power correction eyewear. It is the sturdiest option out of the three types of glasses case. In most cases, it is shaped like an oblong and features hinges at the back.
These hinges help open the case in a similar way as when you are opening a trunk or chest. The interiors of this hard case often have soft linings designed to prevent the lens of your eyeglass from getting scratched when you are storing them. The exteriors, on the other hand, are often based on a hard plastic shell.
This material is helpful in protecting the eyeglasses from possible damage because of dropping or sitting on it accidentally. This case is often recommended for kids. You can also find it in various colors and shapes, like rectangle or oval. Some hard cases are clam-shelled, too.
Some brands offering the hard case also offer their very own and unique designer lines. The case also features various designs or prints, thereby working as your fashion accessories. Aside from the ones designed for kids, some hard case designs are also unisex.
This means that they work for both men and women. Some of the options for the hard case for glasses feature designs or prints that focus on the preferences of kids or women. For instance, there are cases with a cartoon character or animal prints while others come with printed flowers.
Aside from the numerous options provided by the hard case, it also offers another benefit and that is the ease involved in opening it up and closing it. It is because its topmost and bottom parts are connected to a metal attachment. This connection promotes ease in the collapse of both sides.
Apart from promoting ease in closing and opening the hard case, it also offers strong and sturdy protection to your glasses. What is even better about these hard cases or covers is that they are sturdy enough that they are capable of resisting shock and water.
This makes your glasses safer when storing them in a hard case. The fact that they are not vulnerable to getting damaged that easily also gives you the chance to stuff it with other items inside your bag without having to worry about it acquiring damages or scratches.
Benefits of a Glasses Case
Investing in a glasses case can actually provide you with a lot of good. This item carries with it several benefits – one of which is giving your glasses the protection they need. Note that your glasses, because you will need to wear them every day, will be at risk of showing signs of wear and tear if you do not protect and take good care of them.
Luckily, various eyeglasses cases are now accessible in the market, thereby making it possible for you to keep your glasses protected from scratches and damage at all times. Also, remember that you will not be able to prevent accidents from happening. In some instances, the glasses will drop accidentally.
You can protect your glasses from the possible harm and damage that this accident might bring, like having scratches, with the aid of the case. It is because it acts as its cover. One more benefit of the case is that it acts as the proper storage area of your glasses.
It gives you peace of mind as you know that you are securing your valuable optics in their right storage place. In addition, some cases also act as cool fashion statements, allowing you to show your personality with the help of the items.
Glasses Case Buying Guide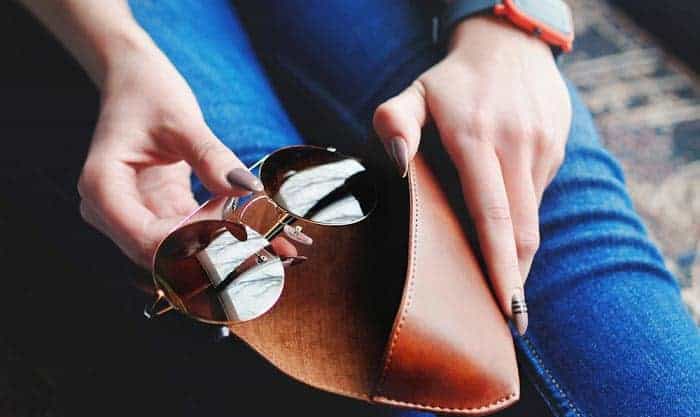 However, with the numerous choices being outlined to potential glasses case buyers, like you, which one do you think fits your needs and requirements the most? Here are some factors and tips that you should use in making your final decision:
Budget – Know your budget prior to buying the best glasses case. Ask yourself how much you are willing to spend for it. Just remember that spending less on the case does not necessarily mean that you have to sacrifice beauty and practicality.
It is because there are actually several budget cases out there that let you look good while remaining functional. Some of these budget cases actually have a subtle look, resulting in them not being too distracting and not negatively affecting the way you look. You can also save money from it.
Look and style – If you love a more fashionable case then rest assured that you there are numerous styles to choose from. You should check the look and style of the case prior to buying, especially if you want something that is attractive – one that will surely motivate you to use it frequently.
Go for a more attractive look; or else, you would not want to use it as often as possible. Pick a pattern or color, which perfectly suits your style. This will most likely encourage you to get the case then use it instead of just putting your eyewear on your head, or worse, put it down on a table where it would be at risk of incurring damages.
One choice that you have is a leatherette case, which looks classy, making it a perfect choice if you are someone who works in an office. You can also pick the tough case that you can usually get in a semi-transparent or black color. This is perfect if you have a more sporty personality who plans to get solid protection for your eyewear.
Size – You should also formulate a buying decision based on the size of the case. Try the case on. Your goal is to ensure that it has the proper size. Some neglect the actual size of the case. They think that if their eyewear fits in the case and it closes without any issue, then it is probably okay to buy. This is a wrong move, though.
You still need to try the case and find out if it is really the perfect fit for your glasses. Avoid buying one, which is too big; otherwise, your eyewear will be at risk of jostling too much when in transport. It should not also be too small in the sense that your glasses have a hard time fitting.
It is because this might put a lot of pressure on the frames once you close the case, causing the frames to bend in the long run. Find the right size, allowing your eyewear to fit securely and snugly. Your chosen case should also be easy to close. You should be able to close it without making a lot of adjustments to the glasses.
Type – It is also advisable to get more familiar with the different kinds of eyewear case. If possible, pick the hard glasses case. It is because it is sturdier and better in terms of offering protection then the soft case. The hard case is sturdy and tough enough that it can prevent the lens from scratching.
Note that a soft case, while still being a good choice, might not offer a lot of protection to your glasses in case you step or sit on them. The hard case, on the other hand, can keep them safe in the mentioned situations.
Interiors – Check the interiors of the case, too. Even if you choose to invest in a hard glasses case, it is still necessary to check the interiors and ensure that it uses a soft lining. It should have a soft and proper cushion to ensure that it will not get damaged easily in case you dropped the case.
One way to take proper care of your eyewear is to store them in a proper case, especially if it is no longer on your face. By doing that, you can minimize the risk of the frames bending. It is also the key to protecting the lenses from acquiring scratches.
Frequently Asked Questions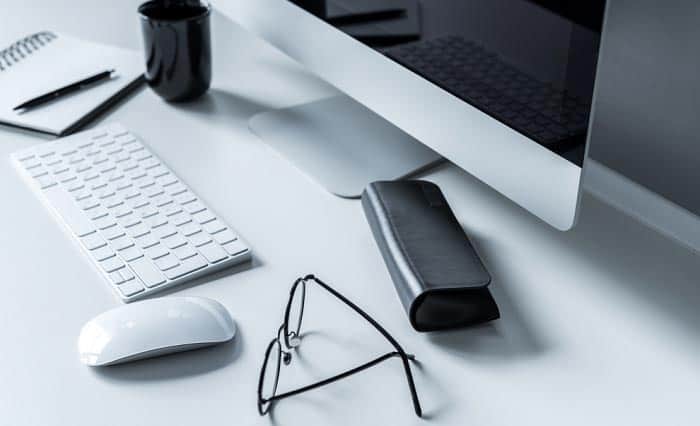 What are the top eyewear case brands?
Several top-notch brands of glasses case are now available in the market. This gives you the opportunity to pick a case that fits your standards, preferences, and personality. One brand that caught the attention of many and continues to earn positive feedback and reviews is OptiPlix.
It is an impressive brand because aside from having easy to access cases, the brand's lineup can also fit the majority of shades and glasses that are of standard sizes. ALTEC is also another highly reliable brand of eyewear cases. The brand is known for cases that are not only fashionable but are also durable and protective.
Other highly reliable and top-rated eyewear case brands that you should check out are Fintie, Splaqua, and Birch.
How much does a glasses case cost?
The cost of a glasses case can have major differences based on your chosen brand, the materials used in constructing it, the durability, and many other valuable factors that influence its overall construction. In most cases, though, the average is around $5 to $50. You can also go for premium-quality ones that cost up to $100.
How to put glasses in case?
Before putting your glasses in your selected case, make sure that the glasses are clean. Rinse it off first and remove perspiration and sweat from it right away. It is because skin oils and sweat might cause damage to the lens coatings and frame finishes. Your glasses should be placed in the case each time you do not wear it.
It should be positioned in a way that the lens is facing up. Make sure to slip it in the case slowly. It is because even the simple act of slipping it might rub on the lens, causing some scratches. Any small scratches and particles might cause difficulty in seeing through the glasses perfectly so you have to be careful.
Also, ensure that the case is the correct size for your eyewear. If possible, invest in another case, which will serve as a backup. This should give you another case that you can use just in case the other one breaks.
Can glasses cases be recycled?
Not many recycling centers accept eyeglass cases. Thankfully, there are lots of online magazines, blogs, Reddit forums, and Youtube videos that provide tips and tricks on how to upcycle your old hard shell eyeglass case.
Various DIY communities have converted their hard cases into storage containers and organizers for small items. They will come in handy, especially for those traveling a lot.
For instance, you can turn your old glass case into a sewing kit and fill it with needles, threads, and small scissors. With this, you don't need to buy a brand new kit that often includes low-quality scissors.
Apart from that, you can use hard cases to hold and organize your gadgets' charging cables and earphones for backpacking. If you need to bring some of your jewelry to your trip, this type of storage can also protect them from scratches and other forms of damage.
If you are in the mood for a DIY project, you can also make a clutch bag out of your hard glasses case. The possibilities are endless!
How to fix the glasses case hinge?
Getting a broken item fixed instead of buying a new one is a better solution. Not only will it help in reducing waste, it is great for the environment.
However, one of the biggest challenges in fixing broken protective glass cases is finding spare parts. With glasses case soft pouches or leather glasses case, you won't have to deal with this issue since you can easily sew them back if you see any tears.
Anyway, it is not the end of the world if your case's hinge is broken. You can repair it if you find the appropriate hinges. Once you managed to procure them, simply remove the old hinges from the case. You can drill out the rivets. After that, use small screws to attach the hinges to the case.
How to make a glasses/sunglass case?
A high-quality case works in keeping your glasses fully protected from all forms of damage, like scratches on the lens. However, you should know that buying a case is not the only way for you to have access to it.
If you often find that your sunglasses and glasses get scratches on their lens when placed in the purse then be aware that it is actually possible to make your own DIY case. This means that you can create your own case from scratch. One way to do it is to sew your own fabric case.
You can create this one using your favorite fabric. Use a sewing machine then add attractive buttons, and you will surely love the result. The first thing that you have to do is to cut a couple of pieces of contrasting pieces as well as another couple of pieces of thin wadding made of quilted material.
Tacking the quilt wadding to the incorrect sides of your chosen fabric should come next. Put the right sides of the fabric together then use the machine to stitch it along three edges. This should open up the short edge. Turn then sew a seam allowance of around 3 centimeters at the fabric's open end.
Snip the corners then turn the right side. Press. Add one button in front by sewing it. It should be placed around 7 centimeters starting from the top. Looping a ribbon should be the next step. You should then sew one centimeter down starting from the topmost part at the back.
You should then cut one large flower. This should be around 4 centimeters wide. This should be cut from the back part of the fabric. You should also cut a small flower in front of the fabric. Use a small amount of glue to stick it in place. Finish the process using a central button.
Where to buy a glasses case?
Shopping for a glasses case is fairly easy nowadays because you can find several shops for it. In most cases, you can get the case from your optometrist or chosen optical shop. You can also buy one from reputable brands' official websites. This makes for a hassle-free experience as you will most likely be able to order online.
Another way to get a hold of a high-quality eyewear case is to look for legitimate online suppliers and marketplaces. Among the best ones are Amazon, Target, Walmart, and eBay, among many others.
How to protect sunglasses without a case?
Aside from trying to invest in the best sunglasses case, there are also other things that you can do to protect your eyewear. One tip is to spend a few minutes every day inspecting the glasses. You have to examine them often to determine if they show any signs of wear.
In case of a loose hinge screw, consider visiting your optometrist right away. It is also advisable to check and assess whether the glasses are properly aligned by checking them in front of your mirror. Visit your optometrist and have the frame adjusted right away if you notice that the eyewear seems to be not properly aligned.
Another tip is to examine the lens often for scratches. There should be no scratches as the presence of such might only impede your vision. Protecting your sunglasses is also possible by cleaning them regularly. What you should do is to use a lens cleaner spray in spraying all sides of the lens.
Use a tissue to wipe them. Avoid using a tissue, though, in case the lens is dry as this might cause scratches on the lens. It would be best to use a microfiber cloth to clean the lens. Another way to protect your glasses case if you do not have a case is to remove them carefully using both of your hands.
In the absence of the case, it would be best to store it in a safe and flat surface. The temples should be left open while the glasses should be placed upside down. It should rest on top of its eye wire.
Make sure that the glasses are free of your sweat, too. You have to rinse it to remove perspiration right away. This is important in preventing your sweat and natural skin oils from damaging the coatings of the lens and the finishes used in the frame.
Conclusion
Investing in the best glasses case should be on top of your priorities, especially if you want to make sure that your eyewear is well-protected. With the help of the case, you can preserve the excellent shape of your eyewear for years.
If possible, invest in more than just one case so you will always have a backup that will serve as protection for your glasses.
We would like to thank you for reading this article. If you are looking for more products in safety glasses category, you may like these articles: the most trusted anti fog safety glasses, polarized safety glasses, bifocal safety glasses, prescription safety glasses, safety glasses and eyewear retainers. We do hope you like them. Happy shopping!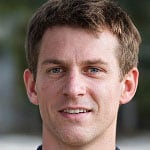 Having worked in the field of personal protective equipment for over two decades, Andrew Carnegie is a specialist in the field.
At EDC, he strives to improve performance efficiency and promote workplace safety for EDC's readers and customers. He also researches the most up-to-date equipment that has earned relevant accreditation for use in a wide range of industries and specialties.