Do you spend most of your work hours every day being exposed to the sun? If your answer to that question is a yes then I highly suggest researching the best polarized safety glasses in the market today and find out which you can use in your workplace.
Note that polarized work sunglasses or safety glasses are excellent investments for anyone needing personal protective equipment for outdoors and the glare because these make use of polarized lens designed to reduce glare significantly. This means that their function is not that similar to standard tinted glasses.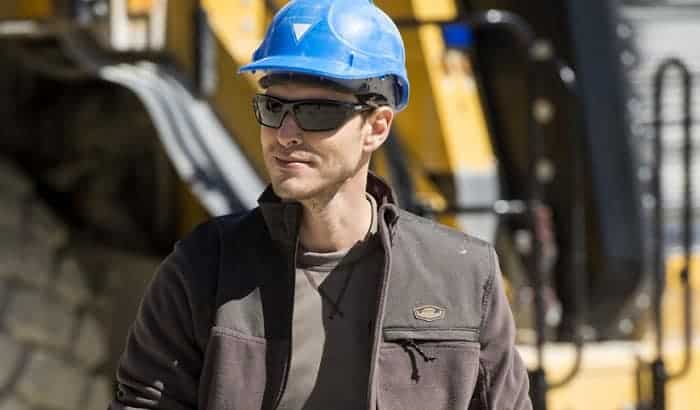 You can expect them to work just like regular or standard polarized sunglasses. The only difference is that it features additional protection that complies with the standards of the ANSI. The primary function of the polarized type of safety glasses is to block reflected lights from beneath and the glare coming from above.
It only lets direct light in, thereby ensuring that you have a maximum ability to view anything that you want while getting rid of all reflections and glare that might obscure or affect your vision. With that, you will feel fully protected all the time.
If you are strongly interested to check out polarized safety glasses, then it would be ideal to look for the best of the best. In this article, I have provided relevant information about these safety glasses so you can arm yourself with proper information to make a well-informed and smart buying decision.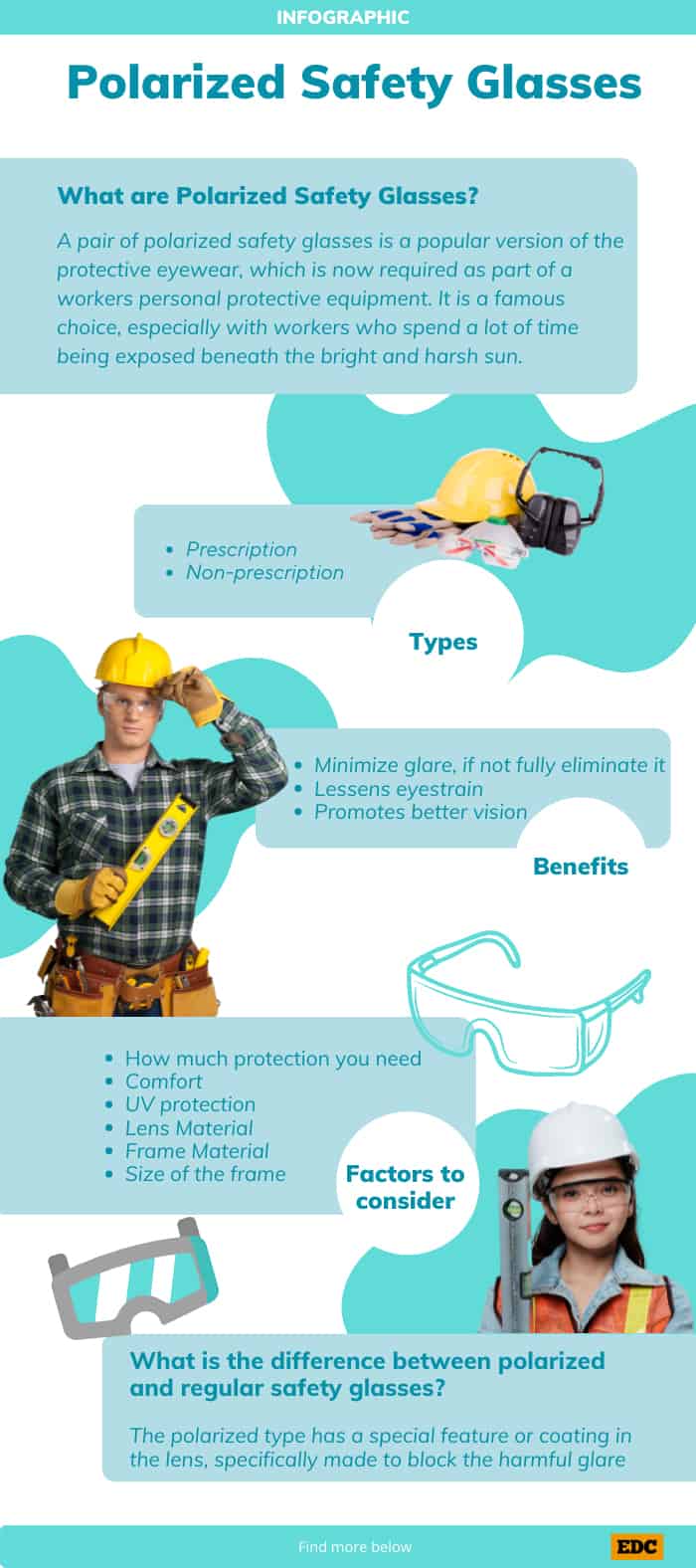 11 Top-Rated Polarized Safety Glasses Reviews of 2023
1. KLEENGUARD 28635 V30 Nemesis Polarized Safety Glasses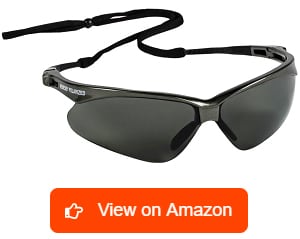 Admittedly, I was first drawn to this pair of safety glasses because of its cool sporty look. I can wear it at work or while playing sports during the weekend. However, I was even more impressed with the features when I finally got to try it on.
Generally, the glasses and frame are lightweight but durable. Though the frame wraps around my head securely and comfortably, I like that it comes with an adjustable neck cord, which I can tighten to keep the glasses from falling when I have to walk or run. Also, I can loosen it and let the glasses dangle around my neck!
Besides the UV protection and polarized lens, these glasses have excellent clarity. Plus, the lenses do not have distortion. Hence, I can work outdoors without suffering from eye strain or fatigue. Not to mention, they meet the ANSI ratings so my eyes are protected from projectiles.
Considering all the nice features, I'm happy to report that these safety glasses do not cost an arm and a leg! Perhaps the only downside to the lenses is that they are prone to get scratched. If you need to wipe off the dust, I strongly recommend only using a microfiber cloth.
What We Like
Features a stylish sporty design
Comes with an adjustable neck cord
Feels light, comfy, and secure when worn
Has clear, distortion-free polarized lenses
Shields the eyes against the impact of projectiles
Good quality at an affordable price
What We Don't Like
Lenses tend to get scratched
For its price, this pair of safety glasses gives a lot! Offering high-quality protection, you will never have to strain your eyes as your work at the brightest time of the day.
2. Edge Eyewear TSKAP218 Kazbek Polarized Safety Glasses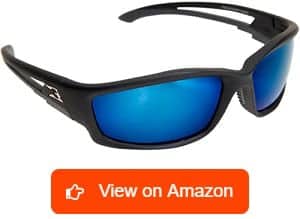 Another impressive choice in the polarized safety glasses industry is the Edge Eyewear TSKAP218. I specifically love the aqua precision blue lens used in this product as I noticed its excellent clarity and contrast, especially each time I use it on conditions and environments with bright lights.
I realized how perfect it is for outdoor activities, such as mountain biking, as these require clarity in getting a more satisfying and enjoyable experience. It can also give you the clarity necessary for spotting dangers as soon as possible when you are doing your job.
The polarized film built into this safety eyewear also works in filtering glare. It does so by keeping intense lights coming from above as well as the reflective lights coming from below blocked. With that ability, you have a hundred percent assurance that it only lets in direct light.
Aside from the polarized lenses, I am also very fond of the materials used in constructing this eyewear. It makes use of nylon for its frame, which, I think, is good because it is flexible. The polycarbonate lens is also a strength because aside from being sturdy, it can also resist scratches.
It also provides users with clear and crisp visibility.
However, some users complained that this is one of the Edge polarized safety glasses that tend to fog a little.
What We Like
Provides excellent clarity and contrast – thanks to its built-in aqua precision blue lens
Ideal for outdoor activities and work
Filters and blocks glare, proving its polarized nature
Highly flexible frame as it uses nylon
Scratch-resistant
I can also say that
this is a good pair of safety glasses
with a polarized feature in the market today because aside from it protecting your eyes from glare, it also fits well and has several features that make investing in it a wise move.
3. Ergodyne Skullerz Odin Polarized Safety Glasses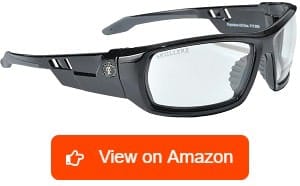 The Ergodyne Skullerz Odin can also be your ultimate answer during your search for a reliable pair of polarized safety sunglasses. I am impressed with its smoked out black frame. What is even more impressive about these safety sunglasses is that these can prevent debris or dust from can affect or distort your vision from penetrating inside.
Another positive benefit of this safety glasses is its high level of flexibility. Most of its features and materials are highly flexible and used in a way to give users the kind of comfort they are hoping for. I am also happy to say that it features adjustable nose pieces designed to secure the glasses in their places.
It is also a good choice for its ability to block more than 99 percent of all kinds of UV rays. Another thing that I am so pleased with in this safety eyewear is that it is available in various colors and styles. It can lessen eye strain and glare, making it as protective as ever.
One more impressive thing about this product is that it is lightweight, so you will not experience any trouble managing it. It takes pride in its lightweight, sturdy, and flexible full-frame construction, which assures you of a more comfortable fit. It is versatile and showcases a sporty style.
It is also ideal for yard or lawn work as well as when performing recreational activities outdoors, like shooting, running, hunting, hiking, biking, and fishing.
One issue, though, is that it is vulnerable to acquiring scratches.
What We Like
Offers several choices for color
Highly versatile and flexible
Can block or lessen eye strain and glare
Lightweight yet sturdy and comfortable
Prevents dust and debris from penetrating, ensuring that your vision won't be distorted
Despite that, it is still perfect if high-quality polarized safety eyewear with UV protection and can give you good peripheral vision is what you need.
4. Uvex by Honeywell Hypershock Safety Glasses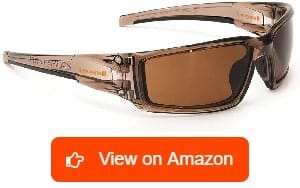 If style, protection, and performance are three of the things that you wish to see in safety eyewear then I think you can get all of them through Uvex by Honeywell. It combines performance and protection with an aggressively sporty style, making it as unique yet functional as possible.
It boasts of its full-frame, which is known for its ability to protect against high impact. There is also no need to worry about comfort because it fits conveniently and comfortably – thanks to its molded nose piece and streamlined padded temples.
I am satisfied with its dielectric design, too, as this means that you can wear it in various environments, especially in those areas where you are at risk of getting accidentally exposed to electrical charge. The tints for the lens are highly versatile, making them ideal for use on a number of tasks.
Such tints and coatings also feature glare and sun reduction. Another thing that captured my attention is the permanent lens coating used. It delivers an anti-scratch and anti-fog result that lasts long. I also noticed that the bonding is permanent, which prevents it from wearing off after cleaning it repeatedly or using it for a long time.
I am also in love with the sleek side profile of this safety glasses as I noticed it gives enough room not only for hard hats but also for other headgears. It is also possible to expect a more secure fit from the built-in hinge mechanism that boasts of a dual cam action.
However, some complained about the non-adjustable arms.
What We Like
Boasts of a unique and aggressively sporty style
Dielectric design, allowing you to wear it in a wide range in environments
Highly versatile tints
Can lessen or totally block glare
Comes with an anti-scratch and anti-fog coating
With the many positive things that the Uvex by Honeywell Hypershock can offer, it is undeniably a frontrunner in the polarized safety glasses industry.
5. Crossfire 21427 ES4 Polarized Safety Glasses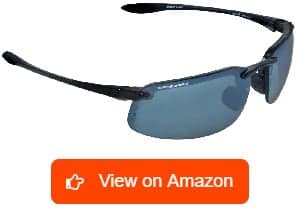 Another product that I think you should incorporate in your list of choices is the Crossfire 21427 ES4 Polarized Safety Glasses. The versatility of this eyewear is one of the things that caught my interest and attention. I noticed how versatile it is with its ability to adapt to all kinds of environments.
It comes with an adjustable nosepiece, which is beneficial if your goal is to get a more comfortable and secure feel when wearing it. It has an ultra-light frame, giving you the opportunity to wear it without hassle. The lenses are also noticeable because they are 100 percent visually accurate.
I am also glad that it offers maximum side coverage as well as a high level of peripheral vision. It is also thanks to the frames that boast of a base curve of around 8-10. This product does not also skimp on the quality of its frames and temples.
In fact, both are constructed from lightweight and flexible yet genuinely durable material that is effective in fighting and resisting impact. I can also prove that it is one of the most stable safety glasses in the market today because it truly features temple grips made of the dual mold rubber material.
One flaw of this eyewear, though, is that it does not have as much coverage in your lower eye because it is not designed in a way that it completely wraps around your eyes.
What We Like
Highly versatile, allowing it to adapt to all kinds of environments
Promotes a comfortable and secure feel with its adjustable nosepiece
Ultra-light frame
Guarantees maximum side coverage
Lightweight without losing its durability
What We Don't Like
Does not cover that much coverage in the lower eye
This drawback is easily overpowered by the many things that this polarized safety glasses can do for its users, though.
6. Edge Eyewear TSK216 Kazbek Polarized Safety Glasses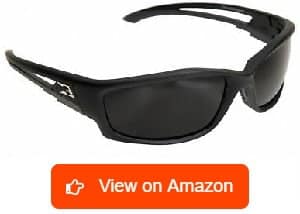 The next product that is worthwhile to review is the Edge Eyewear TSK216. I am happy to say that this polarized safety eyewear comes from a premium brand, which proves just how high in quality it is.
It boasts of a truly flexible polarized safety eyewear that can dramatically minimize or block glare. The flexibility of the eyewear does not affect its strength in any way. In fact, I can prove that it is still one of the sturdiest safety eyewear in the market today.
It features a frame made of solid yet comfortable nylon. The lenses are manufactured using polycarbonate material, which is strong and long-lasting enough. One advantage of this material is that it is scratch-resistant while having the ability to tolerate ballistic impact.
Another noticeable thing about this protective eyewear is that it is wide enough, which makes it possible for it to fit even those who have larger heads. It is affordable considering the many positive things and features it has.
It is easy to clean, too. The only minor fault that I can find in this eyewear is that it slips off your nose from time to time.
What We Like
Flexible without losing its strength and durability
Minimizes or blocks glare
Comfortable nylon used for the frame
Uses polycarbonate material for the lenses, which is scratch-resistant and sturdy
Affordable
Despite that, it still serves as the go-to protective eyewear for those who want a more durable and reliable polarized safety glasses.
7. Wiley X Men's Ops Valor Polarized Sunglasses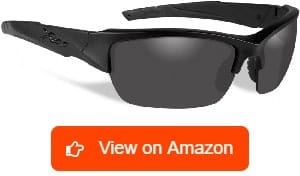 Another polarized sunglasses guaranteed to win the attention of many possible users is the Wiley X Men's Ops Valor. It is a striking pair of sunglasses, which is famous for its sturdiness and durability. It does not also seem to neglect style because it is one of the most striking designs in the industry.
Apart from being stylish, I would also like to highlight its 100 percent UVA/UVB protection. You do not have to worry too much about distortion because its clarity is distortion-free. This means that you can clearly see what is in front of you even when this is polarized eyewear.
I am also in favor of its T-shell lens coating. It is because it is scratch-resistant even when used in extreme situations and environments. The polarized lens is truly beneficial as it works in keeping the glare away from water as well as other surfaces with light colors.
With that, you do not have to worry about diminishing your vision during critical moments. It is also the protective eyewear for you if you wish to prevent eye fatigue.
As for the flaws, the only thing that I would like to complain about is the frame, which is a bit on the short or small side.
What We Like
Stylish and sleek
Gives a hundred percent UV rays protection
Distortion-free view
Scratch-resistant
Can prevent eye fatigue
What We Don't Like
A bit short or small frame
Even with that minor problem, I still fell in love with this polarized safety glasses all because it has most of the things I need, particularly style, protection, and performance.
8. Oakley Half Jacket 2.0 XL Polarized Sunglasses

I also highly suggest researching about Oakley Half Jacket 2.0 XL if you intend to invest in a polarized sunglasses that you can use everywhere. It is great-performing protective eyewear that makes you feel comfortable and protected. It is also built to be unique.
In fact, one distinguishing quality of this sunglasses is its interchangeable lens design. The fact that the lens is interchangeable means that you can easily keep up and adapt to the changing light conditions. I am also satisfied with its use of high-definition optics as it ensures that your vision will be wrapped in sharp and crisp clarity.
I am fond of its lightweight design, too, because this means enjoying utmost comfort when wearing it the entire day. It is durable and long-lasting, which can be attributed to the fact that it is built to handle punishing use and abuse. I would also like to highlight the precise alignment of the lenses.
I think it is due to the 3-point fit, which, unlike regular frames, has a lower risk of hooking your ears. The lenses are also constructed from pure Plutonite material, which is effective in filtering all UV rays. It also takes pride in its superior impact-resistance and optical clarity.
One more impressive thing about this polarized safety glasses is that it is designed in such a way that it can handle extreme circumstances, giving you the protection you need from various objects at different speeds.
However, one issue in this protective eyewear is its steep price.
What We Like
Features an interchangeable lens design
Filters UV rays effectively
Superior impact-resistance and optical clarity guaranteed
Can adapt to a number of circumstances and environments no matter how extreme it is
Lightweight and comfortable design
I still find this piece worth its price, though, because its features are top-notch and it is truly dependable eyewear that can protect you against a number of things.
9. Under Armour Igniter Polarized Multi-flection Sunglasses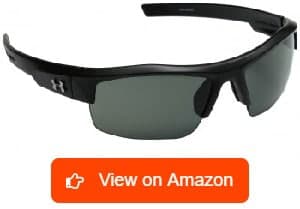 Your search for the most dependable polarized safety eyewear may also come to an end by checking out the Under Armour Igniter Polarized Multi-flection Sunglasses. With all the features and benefits present in this sunglasses, I am quite sure that you can handle almost everything.
The sunglasses' polarized lens can reduce high amounts of glare, giving you peace of mind since you will be protected from it and its negative effects. Without glare hampering your vision, you can clearly see and recognize true colors even when you are exposed to bright light conditions.
An impressive advantage of this sunglasses is that it offers twenty percent more peripheral vision, which is free of any distortion, compared to others. In comparison to lenses constructed from polycarbonate material, this one is also up to ten times stronger.
Another favorable thing I discovered in this sunglasses is it can repel water with the help of its Multi-flection coatings designed for the lenses. It is also a good choice if you do not want stains, smudges, and scratches to penetrate the lenses. It is because this sunglasses is built to resist those things.
The frames of this sunglasses are also constructed using Grilamid and titanium materials. These combined materials are good for you because this means that they have maximum resistance against impact. The 3-point nose pad, which is known to be adjustable, can be easily adjusted, giving you a more comfortable and secure fit.
One more thing I am truly satisfied with is the shock-absorbent cushion hinge. Furthermore, it can block UV rays, aside from glare.
However, the glossy lamination used around the glasses' frame is prone to peeling off after just a short period of use.
What We Like
Protects you from glare and UV rays
Allows you to see clearly during bright light conditions
Excellent peripheral vision
Can resist stains, smudges, and scratches
Comfortable and secure fit guaranteed by its 3-point nose pad
What We Don't Like
The lamination in the frame tends to peel off after just a while of use
This is just a minor flaw, though, compared to all the things that this safety sunglasses from Under Armour can do for you.
10. Edge Brazeau Torque Polarized Safety Glasses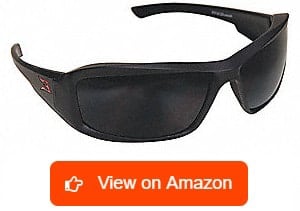 Lastly, there is the Edge Brazeau Torque Polarized Safety Glasses, which is also protective eyewear that meets the requirements and preferences of most workers. You can get the polarized version of this safety glasses if you prefer some protection against glare because you are constantly working outdoors.
What I find great about this safety glasses is its unique yet stylish frame. It is a distinctive frame design, which is part of the designer series of the brand. I am also happy that it uses a lens, which resists not only scratches but also fog. With that, I can use it almost anywhere.
Furthermore, it boasts of superior protection from various kinds of UV rays, including UVA, UVB, and UVC. It features a wraparound frame, which is beneficial because it helps in retaining superior peripheral protection and vision. The bold and contemporary style is also something to look forward to.
The frame is also both durable and flexible. What is even more amazing about this protective eyewear is that wearing it the entire day is totally comfortable. I can assure you of that because it has foam nose pads that genuinely offer comfort.
It has recessed lenses, too, that are designed to prevent airflow, minimizing the risk of dryness around your eyes. Moreover, the polarizing filter used in this eyewear can also significantly increase clarity by minimizing glare.
One possible drawback, though, is that its matte finish tends to peel off right away.
What We Like
Unique and stylish frame design
Can resist both scratches and fog
Offers maximum protection from UV rays
Durable and flexible while offering utmost comfort
Clarity of vision guaranteed by minimizing glare
What We Don't Like
The matte finish is prone to peeling off
Even with that issue, this premium safety eyewear is still what you need to adapt to various circumstances no matter how harsh the environment you are in.
11. Jackson 3011374 Nemesis Safety Glasses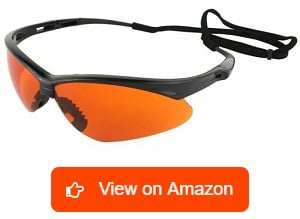 The first polarized protective equipment I would advise anyone to check out is the Jackson 3011374 Nemesis Safety Glasses. I think one thing that separates it from the rest of polarized glasses today is its sporty and flexible design. This design is good for you, especially if you are more of the sporty type.
I find the smoke or tinted lenses of this eyewear truly helpful as it also boasts of its polarized coating. With this coating and type of lens, I discovered that it performs well in providing optical clarity while lessening the glare brought on by reflected lights. This anti-glare nature is also favorable because it helps you avoid eye fatigue and stress.
It is useful when you need to perform and do tasks under the unforgiving heat of the sun. It is mainly constructed using nylon material, which is beneficial because it gives it a lightweight and flexible design. This is also the reason behind its ability to supply comfort.
I am also surprised that aside from being anti-glare, it also blocks more than 99% of the UVA or UVB rays you get yourself exposed to. It can resist both scratches and impact, showcasing its strength and sturdiness. It also has the most comfortable designs of polarized glasses in the market today.
It can fully protect your eyes without losing its comfort. It is primarily because of its single-lens wraparound style, soft-touch temples, and built-in neck cord. The design and sizes are also impressive because these tend to be appropriate for both men and women. It is ergonomic, adding to its comfort, and works in protecting your periphery vision.
However, I dislike the nosepiece a bit because it is not as strong and sturdy in comparison to the others.
What We Like
Sporty and flexible design
Comfortable and ergonomic
Can protect your periphery vision
Effective in resisting glare
Can handle scratches and impact
What We Don't Like
Not that sturdy nosepiece
You will surely not regret buying this pair because it lets you perform your tasks and activities even under the brightest sun without sacrificing your visibility.
What are Polarized Safety Glasses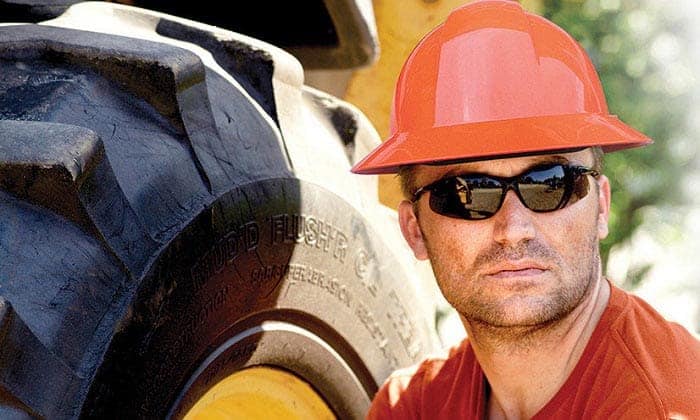 A pair of polarized safety glasses is a popular version of the protective eyewear, which is now required as part of a workers personal protective equipment. It is a famous choice, especially with workers who spend a lot of time being exposed beneath the bright and harsh sun.
You can often see it being used in fishing, construction, motorcycling, boating, running, biking, and driving, among many other popular outdoor jobs and activities. One thing that makes this protective eyewear distinctive is that it utilizes a special and unique polarized filter for its lens.
It works in minimizing glare without compromising strength, sturdiness, performance, and clarity. It makes use of the polarized filter with an aim of dramatically lowering the risk of experiencing eye fatigue, stress, and pressure because of excessive glare taken from various surfaces.
This glare usually reflects the bright sunlight in a lot of outdoor surfaces, like ice, paint from automobiles, water, and ice. With the great level of protection provided by this safety glasses, it is no longer surprising to see its previous users no longer going back to using glasses with standard lenses.
How Do Polarized Safety Glasses Work
One thing to do when searching for the high quality polarized safety glasses is to know exactly how they work. It should be noted that just like a lot of things, light tends to occupy some space in 3D. This means that it does not come as a straight line. It also means that this light, even with its strong and high speed, is still unorganized.
This is where you will find the polarized safety glasses designed for workers helpful. The polarized lens used in it can help by doing the polarization process. It means that it will organize the disorganized light. It does so by blocking any of those race that do not seem to fit through the polarized lenses.
The lens will block light waves as a means of straightening the light to minimize the risk of it scattering. This is extremely helpful if you wish to give your eyes as much protection as possible while still ensuring that you can easily see the visible spectrum. This is possible by removing any excessive glare.
You can expect the polarized lens to also perform its function with the help of its special filter designed to block the intense and disorganized reflected light, which can significantly lessen the glare. All the polarized glasses that you can see in the market today are not only ANSI certified but also offer as much as 99% UV rays protection.
Types of Polarized Safety Glasses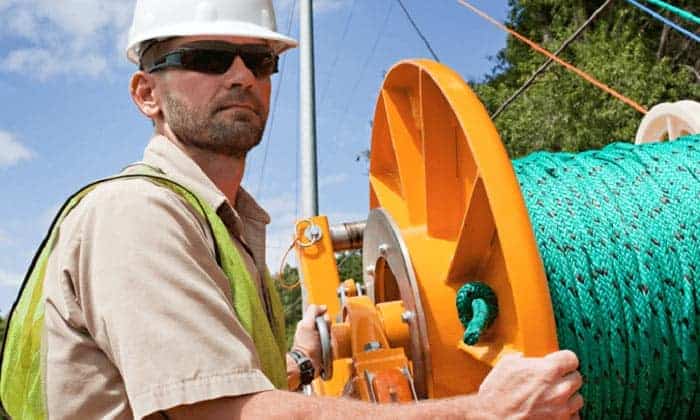 One thing that you take note of about polarized safety sunglasses is that they are capable of reducing glare substantially. This is great if you love water sports and have extreme glare sensitivity. The polarized lenses used in this product can minimize the glare reflected from surfaces.
With that function, it is possible for images to look not only clearer but also sharper. When studying the different types of polarized protective eyewear, take note that your options include prescription and non-prescription ones. You can also find those types that you can wear indoors, a huge benefit for those who are sensitive to light.
These include those who went through a post-cataract surgery as well as those who are constantly exposed to the bright sun through their windows. Several types of polarized lenses also offer UV protection, which is beneficial if you want to maintain healthy and good eyesight.
Also, when searching for a good kind of polarized safety glasses, the polarized lens can be either on a different degree or way. If you go for the inexpensive polarized sunglasses, then you will most likely notice them using a thin film placed on a single side of the lens.
Choosing higher-quality and more expensive lens might also mean that the film is laminated between a couple of layers of material for the lens. This is a huge help if you do not want your chosen polarized lens to be rubbed off or get scratched. Also, keep in mind that denser films also mean a higher level of polarization.
Another thing to take note of regarding polarized lenses is that most of them do not look different from standard or regular sunglasses. Denser films are actually darker but the lens' color does not actually define the amount of polarization it is capable of providing.
This means that an extremely dark sunglasses that features a light film does not instantly translate to it being capable of blocking a lot of glare compared to lighter glasses that use a dense film. You can also choose based on the color of the lens because it varies. However, you cannot find clear ones.
Among your choices in lens color are green, brown, and gray. You can also pick your choices based on the type of the lens, the materials used in creating it as well as its designs and coatings.
Benefits of Wearing Polarized Safety Glasses
One thing that the polarized lens in protective eyewear can do for you is to block reflections, which is the key to eliminating the negative effects of glare to your eyes and vision. This is a huge help in significantly improving your eye comfort while letting you see things without squinting.
Sources of water and roadways are among the common culprits of glare. This can put drivers and workers in danger, especially those who have problems with vision. It is possible to keep yourself safe in that case with high-quality polarized safety eyewear. The following are just some positive effects and benefits of wearing one:
Minimize glare, if not fully eliminate it – This positive benefit can have a great effect on your safety. You no longer have to worry about objects from a distance looking hazy during an extremely sunny day. You do not also have to worry about nearing vehicles that reflect light in such a way that it is almost blinding.
The polarized lens is beneficial because it gets rid of the negative effects of glare. It does so by blocking as much reflection as possible. This is a major help in making your eyes feel comfortable, too. In addition, you can view clearly without the need to squint.
This is a great benefit for you, especially if you find glare uncomfortable due to your sensitive eyes and migraine.
Lessens eyestrain – You will also notice how effective the polarized safety glasses are in minimizing eyestrain. You can even use the polarized lens to relieve the strain in your eyes. With this type of lens, you do not have to squint just to make some images clear.
This means that you will no longer stress your eyes or produce uncomfortable issues, such as fatigue, headaches, irritation, and redness. With the polarized lens, you can neutralize the problem, giving your eyes the comfort and rest they deserve.
Promotes better vision – The polarized protective eyewear is also one of the things that can improve your vision, especially at work. Wearing it can clearly reveal images and colors that you can't seem to see with clarity before.
Your vision will be clean and crisp while also being more detailed. This is a favorable advantage if you do not want your performance at work to be drastically affected by your poor vision.
The many benefits provided by polarized safety glasses make them suitable for use in outdoor jobs. Aside from giving you clarity of vision, it is also helpful in lessening eye fatigue.
You can deal with glare much better, which is often produced due to a number of factors, like the sun, cement, water, snow, and any other areas that trigger hazardous blind spots.
Polarized Safety Glasses Buying Guide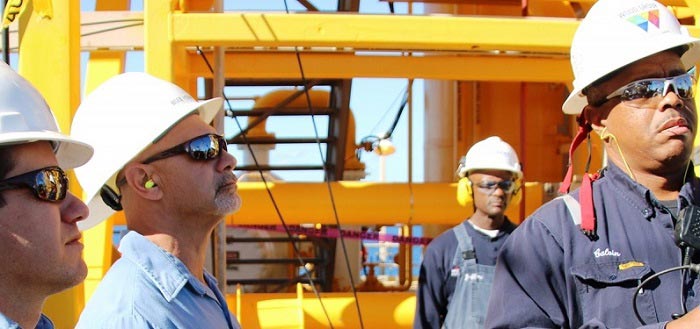 Choosing the most suitable polarized safety glasses for you should be done after carefully thinking about certain important considerations. Some key points to keep in mind when you are still on the selection stage are:
How much protection you need – One key point in selecting the most dependable safety glasses in the market is protection. You have to decide on how much protection you need so you can determine the kind of safety glasses that will fit your exact needs.
If you are a welder, for instance, then it might be crucial to look for additional protection than when you are working indoors for arts and crafts projects. The required protection can also greatly influence the kind of protective eyewear you should pick.
For example, if you are constantly exposed to flying pieces of metal and wood because you are working in a workshop or garage, then your choice should be that, which does not have any gap in between the bottom portion as well as the lenses. For outdoor use that exposes you to glare, your need for polarized eyewear is all the more important.
It would also best to pick a wraparound design, which can protect the sides of your eyes. This will eliminate your need for side shields because the sides are already secured.
Comfort – Make sure to go for the most comfortable pair of polarized safety glasses. You can't just pick a pair without identifying first if it can give you the kind of comfort you wish to attain. One important thing that can maximize the level of comfort provided by your selected pair is its fit.
You are assured of comfort and convenience if your polarized sunglasses fits you well. You may also want to contact your eye care professional and consult whether he/she can apply an anti-reflective coating on the lens' backside.
This coating is a huge help in getting rid of reflections that might distract you, especially if the sun is behind. This is also helpful in reflecting off the lens' back surface and to your eyes.
UV protection – You may also find a pair of safety glasses with UV protection a wise investment. It can be beneficial to find a pair, which can protect you from the dangerous ultraviolet light. It is also helpful in enhancing optical clarity during bright conditions and lowering the risk of causing damage to your vision and eyes.
It is vital for those who are constantly exposed to UV light, especially if your job requires you to get exposed to such. It is also a big help if you are constantly involved in activities exposing you to UV light, such as watersports, constant driving when the weather is too bright, and when doing snow sports.
In your search for good polarized safety glasses with UV protection, go for one which offers 90-100% UV protection. This will give you full protection while preventing other issues affecting your eyes, like macular degeneration and cataracts.
Lens Material – It is also a wise move to check the materials used in creating or manufacturing the protective eyewear. Some actually make use of lenses made of optical glasses. This material is known to be ground and polished, meeting precise standards to guarantee a vision free of distortion.
Aside from being distortion-free, this material is also sturdy and scratch-resistant. Another famous material used in the lens is polycarbonate. It is lightweight and can resist scratches. It also boasts of its high optical clarity. In addition, polycarbonate is so strong that it can resist fifty times more impact than the optical glasses.
It is also devoid of any distortion, thereby ensuring that your vision will be as clear as possible. Other choices for lens materials include acrylic and NXT polyurethane.
Frame Material – The material of the frame is also a vital consideration as it can give you an idea about which one fits your purpose the most. Your chosen material also contributes a lot to the overall functionality, safety, and comfort provided by your new safety glasses.
One common choice for the frame material is metal, which is beneficial because it is malleable, easy to adjust, and can resist corrosion. The fact that you can easily adjust it also promotes ease in allowing it to tailor various frame styles and facial shapes.
You can also choose frames made of nylon. This material is good, especially if you are someone who is interested in sports and other activities that require your performance. Nylon can resist fluctuations in temperature. It is also flexible while having the stiffness necessary to keep you safe.
Another common material used in the frame is polycarbonate. This refers to a tough and versatile plastic known to provide serious resistance against impact. It is highly durable and rigid, allowing it to last long.
Titanium is also another incredible choice. This is a sturdy material, which is known to resist scratches. The problem is that it is a high-end material, making it a bit costly to invest in.
Size of the frame – When looking for a new pair of polarized safety glasses, one of the most important things that you should check out is the actual size of your face. You need a frame size, which mirrors the size of your face closely. If you have a smaller face, then a smaller frame might be more suitable for you.
The size of your frame refers to the glasses' actual or exact fit. To check the size of the glasses more closely, spend time checking its dimensions. It is possible with the three consecutive numbers written down on the frame that correspond the eye, bridge, and the temple sizes.
Proper Care and Maintenance
Polarized safety glasses are designed in such a way that they can lessen glare while helping you attain a sharp vision, especially during bright conditions. To achieve such a positive effect, though, it underwent a special treatment. This makes it necessary to give it special care and attention. This can help retain its look and effectiveness.
Depending on your chosen brand or manufacturer, your chosen safety glasses need to follow specific rules for proper care and maintenance. It would be best to adhere to the cleaning recommendations and instructions of your chosen manufacturer as you can't expect polarized glasses to be universal.
Due to that, you can't also find a universal solution in keeping it clean. Various manufacturers also depend on a unique set of materials and techniques to attain polarization. This means that you need to stick to your manufacturer's instructions regarding caring for protective eyewear.
Check the website of the brand or visit a retailer in case you need specific instructions and advice in taking care of your eyewear. It also helps to have a microfiber cloth around. Avoid rubbing smudges off your glasses with a tissue, sleeve, or shirt tail. Note that the mentioned items are too rough for the glasses to handle.
They might also have debris or dust particles that might scratch the polarized lens' coating. It can be of help to have a tiny microfiber cloth on hand, so you can use this one instead.
Make sure that the microfiber cloth is clean prior to using it. You can wash it in case it is already dirty but do not use fabric softeners as this might cause the cloth to get unwanted oils and chemicals that can harm your glasses.
Also, ensure that you store your polarized protective eyewear in its designated protective case when you are no longer using it. Doing this can help prevent the buildup of dirt and dust as well as scratches. Avoid exposing it to extreme temperatures, too, as these might only deform its polarized coating.
Another thing that you should avoid doing is dry-rubbing the polarized lens using a microfiber cloth. It is because this might damage the lens when the cloth has debris and dust that cause friction. If possible, use an approved cleaner or water first as lubrication.
Frequently Asked Questions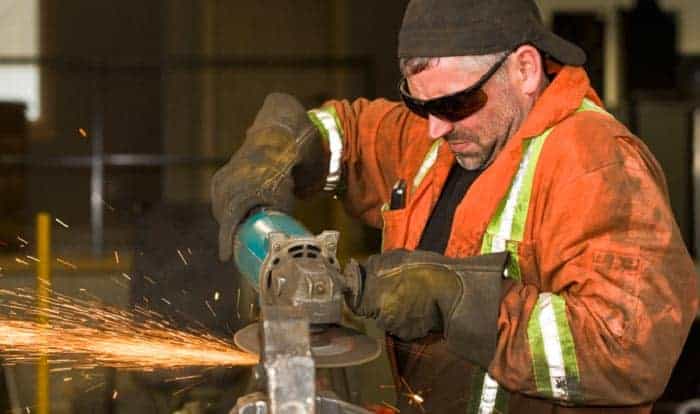 Who are the possible users of polarized safety glasses?
If you are still wondering who can use polarized safety glasses then the best answer would be those who are often outdoors due to their job or some recreational activities that cause them to be frequently exposed to glare. This is vital protective equipment for those who spend too much time in the sun and outdoors.
It also works for anyone who spends time not only in water but also on the slopes. You will find it useful if you are working with reflective surfaces, such as sand, snow, and water.
It is also perfect for outdoor applications, specifically during those instances when safety glasses are necessary, like water skiing, snow skiing, boating, and hunting or shooting. Furthermore, it can benefit those who are sensitive to light, specifically those who went through a post-cataract surgical treatment.
How do I know if the lenses are polarized?
Any well-designed tinted spectacles can appear like high-quality polarized sunglasses if you are simply looking at them from a window display in a store.
Without product descriptions, labels, or another pair of polarized safety glasses to compare with, it can be difficult to tell if the glasses are polarized or not.
One method is to tilt your head sideways as you look at a reflective light source while wearing the glasses. This could either be a polished metal or a glass.
Do you see any changes in the intensity of the light? If not, then the glasses are not polarized.
Another technique is to wear the glasses and look at an LED or LCD screen of any gadget you have. You will notice that the screen will dim. If the display turns black as you tilt your head, then you are wearing polarized lenses!
Are polarized safety glasses more protective?
It depends on the kind of protection that the safety glasses are tested for and if they are used for the tasks or jobs that they are designed for. The reality is that there is no one-size-fits-all approach when you are deciding which eye protection you need.
Polarized lenses reduce glare, prevent eye strain, and provide better clarity. The protection against UV light can help you avoid diseases like cataracts or glaucoma.
Unlike ordinary sunglasses, they are more apt for working outside, which is why skiers, bikers, and fishers like to wear them. But outside of glare reduction and UV protection there are other aspects of "safety" that workers and employers must consider.
Polarized or not, the safety glasses must be rated by the American National Standards Institute (ANSI) to ensure adequate protection for the wearer. The same can be said for polarized safety goggles.
For instance, the ANSI will award a Z87.1 rating if, after dropping a steel ball from a 50-feet distance, the pair of glasses do not break. Meanwhile, a Z87+ is given if the glasses pass the initial Z87 test, as well as an additional test that involves shooting a high-speed steel ball.
For construction work, Z87.1 is sufficient. If you're a civilian in need of ballistic-rated safety eyewear, your polarized shooting glasses must be rated with Z87+.
Do polarized safety glasses cause headaches?
Generally, polarized safety glasses do not cause headaches. However, you may experience discomfort if you wear the wrong pair of glasses.
As I said earlier, you can't expect all workers in your team to wear the same company-issued safety glasses. Each person has different physical features. If the eyewear feels tight, it will naturally give headaches.
Another common mistake is choosing the wrong tint. For instance, blue polarized safety glasses aid the wearer see contours and it is great for foggy or snowy conditions. Meanwhile, gray is more suitable for overcast or sunny days.
Given the example above, it is clear that wearing the correct tint can help you prevent eye fatigue.
Apart from that, lens scratches can be a culprit as they damage the polycarbonate and, in turn, lead to eye fatigue and strain. Poorly-made safety glasses can also give headaches as they lack clarity.
What is the difference between polarized and regular safety glasses?
One major difference of a polarized and regular protective eyewear is that the polarized type has a special feature or coating in the lens, specifically made to block the harmful glare. A lot of safety glasses today utilize a special chemical coating placed on its topmost part or in their plastic lenses as a means of polarizing them.
This coating is often a guarded secret in the protective eyewear industry, which is the main reason why it is not disclosed. Despite that, there is a higher chance that silver halides and metallic oxides are utilized in some glasses. The goal of the polarized safety glasses is not only to protect you from common hazards.
It also offers additional protection against glare. It does so by reorganizing the light and blocking any light that is horizontally propagated. This is the key to getting rid of glare and boosting visibility. The presence of such feature and ability is what makes the polarized glasses different from standard safety glasses because the latter lacks it.
One more thing that you have to remember regarding their differences is that regular safety glasses only provide basic protection from UV rays and bright lights. Only the polarized lenses are capable of truly blocking the blinding glare.
It does so while still enhancing visual comfort and acuity and color contrast. Good polarized safety eyewear can also block up to a hundred percent of harmful ultraviolet light.
Where to buy polarized safety glasses?
Shopping for polarized safety glasses is not actually a daunting process. It is primarily because there are numerous providers of it. If you want the convenience of shopping from the comforts of your home then you might also want to check out reliable suppliers, like Lowes, Amazon, Walmart, and Home Depot.
How to determine if you are getting polarized safety glasses?
Just looking at the sunglasses will not help you identify whether it is polarized. Still, you can do that in two ways. The first one is to check it out using a reflective surface. What you should do, in this case, is to look for a reflective surface then allow some light to shine on it.
You should then hold the safety glasses in a way that you can look into the surface one lens at a time. The next thing to do is to rotate the glasses upwards (this should be around 60 degrees). Check the lenses with an aim of observing whether there is a glare. It will most likely cause a darker image to appear.
Observe whether there are still details even if the image is dark. If there are then it is a sign that you have polarized glasses. You can also use your PC screen or phone in checking whether the safety glasses is polarized. What you have to do is to turn on the brightness settings of the screen to the maximum.
Create a more pronounced effect by opening up a white screen before wearing your safety eyewear. A lot of PCs already feature an anti-glare technology, though, which might cause your eyewear to cancel the left light. This will also cause the screen to look black.
Is it possible to polarize regular safety glasses myself?
The answer is no. Remember that polarized protective eyewear requires the use of a special coating on its topmost part. This is what will let the eyewear lessen glare. If you do not have this special coating or chemical then it is not advisable to polarize the glasses yourself as this might only put it at risk of getting damaged.
Are tinted sunglasses similar to polarized sunglasses?
No. Tinted sunglasses or safety glasses are effective in lessening brightness from the outdoors. However, unlike the polarized version of the protective eyewear, you cannot expect it to eliminate harsh glares. This means that you can't expect the darker tinted lens to give you the protection you aim to get from the UV rays.
It is because the darkness of the lenses does not represent its ability in blocking UV rays accurately. With that in mind, it is advisable to spend time checking the label of the lenses before buying so you can determine how much UV protection it provides.
Also, remember that dark sunglasses with zero UV protection can be more damaging to your eyes. This is the main reason why it is still best to go for the polarized one that can give your eyes great protection from the glare and ultraviolet light.
Can I use water in cleaning the glasses?
Yes. In fact, clean and warm water is known for being the safest, most inexpensive yet effective, and the easiest method of removing dirt, smudges, and dust, among many others from polarized safety eyewear. Before cleaning your eyewear, blow on it first to get rid of surface debris and dust.
If necessary, run it under warm water. In case the glasses have salt residue or other abrasive materials, use water to rinse them thoroughly prior to rubbing them. Rub the microfiber cloth on the lenses while still wet after rinsing or while below running water. Use just the right amount of pressure required in removing smudges and dirt.
Conclusion
The best polarized safety glasses are your ultimate answers in terms of giving your eyes the protection they need against glare and the sun's rays. What is good about a cost-effective and high-quality polarized eyewear is that it offers the mentioned protection while still ensuring that your vision's clarity will not be affected.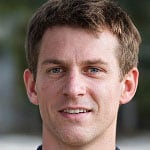 Having worked in the field of personal protective equipment for over two decades, Andrew Carnegie is a specialist in the field.
At EDC, he strives to improve performance efficiency and promote workplace safety for EDC's readers and customers. He also researches the most up-to-date equipment that has earned relevant accreditation for use in a wide range of industries and specialties.