The best landscaping gloves are worth the investment if you are interested in landscaping and gardening. The best ones are famous for their durability and their ability to withstand regular use and abuse in any lawn or garden. It is also crucial to have the best work gloves for landscaping as this provides some sort of protection.
Keep in mind that while in the US, landscaping and gardening workers only make up around one percent of the country's entire workforce, they still have huge total occupational fatalities or work injuries.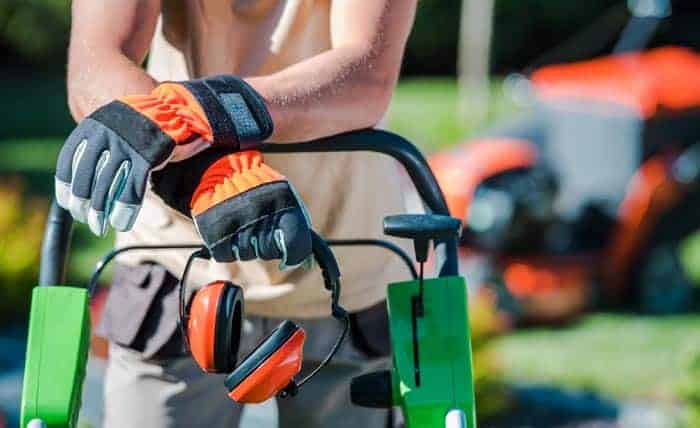 While this is kind of scary, it is reassuring to know that the kinds of injuries and fatalities in the landscaping and gardening industry can be easily prevented. One way to prevent this if you are part of the landscaping workforce is to invest in and wear proper protective work gloves.
However, selecting the right one might be confusing with the numerous price points, styles, and materials you can find in the market. Also, you have to determine what you truly need. Find out whether what you need is that which extends up to your elbows to receive complete and ultimate protection.
Also, you have to determine if the skin-tight gloves designed in a way that they can maximize your dexterity are capable of providing you with adequate protection. During your search for the perfect glove for your landscaping and gardening needs, you will definitely encounter several styles and designs.
You will also be greeted by gloves with different capabilities. With that in mind, you have to determine your own personal landscaping style and what your unique requirements are. Once you are aware of that, it would be easy to choose a high-quality pair of gloves that suit you perfectly.
You may also want to determine which one you should purchase with the help of our short reviews here and the buying guide and other relevant information that follow.

10 Best Work Gloves for Landscaping Reviews of 2023
1. DEX FIT FN330 Nitrile Gloves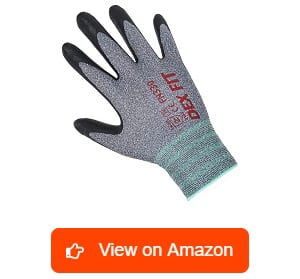 Another pair of landscaping glove that is worth mentioning in this post is the DEX FIT FN330 Nitrile Work Glove. I am so in favor of this protective glove because it has two of the most vital traits that most workers are searching for in a glove – that is comfort and protection.
Keep in mind that no matter how light your landscaping job is, it is still possible for it to cause tough abuse on your hands, especially if you are doing your job several hours a day. Fortunately, this nitrile glove from DEX FIT is now around to give you comfort and protection.
In my opinion, one thing that makes this protective glove so comfortable is its ergonomic and snug fit. This fit is something that your entire fingers will experience, making them feel like you are wearing a second skin. It is also lightweight, so you will experience less trouble when wearing it at work.
The combined use of spandex and nylon materials contribute a lot to making the protective glove completely lightweight. I am also happy with the level of dexterity fulfilled by this nitrile work glove.
It also takes pride in its convenient touchscreen capability, giving you the chance to use your smartphone and devices even after putting on the glove. Another incredible benefit of this glove is that it is non-slip.
The fact that the landscaping glove is non-slip makes it possible for you to use it in work environments with light oil as well as in underwater. It is also made in a way that it can significantly lessen fatigue and discomfort in your hands.
However, one flaw that I discovered is that it only has little water-resistance.
What We Like
Provides the right balance between comfort and protection
Lightweight
Great dexterity guaranteed
Non-slip
Boasts of an ergonomic design
What We Don't Like
Comes with minimal water-resistance only
With its excellent support, comfort, and grip, I am sure that this is one of those landscaping gloves that will continue to impress most of its users.
2. Pine Tree Tools Bamboo Work Gloves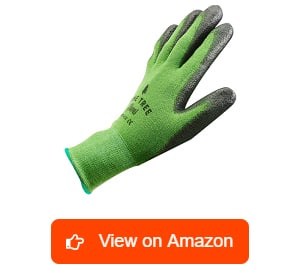 I am also pleased to highlight the next product in this article, which is this top-of-the-line bamboo working glove from Pine Tree Tools. Based on its name, I am glad to say that this working glove is made using bamboo.
What is great about bamboo is that it is breathable, so you have a hundred percent guarantee that your hands will stay cool all throughout the duration of doing your work. Apart from being naturally breathable, it also works in absorbing sweat and perspiration.
With that, your hands will definitely remain call when used during the summer season and warm when used during the winter. Another strength of this working glove is its bare-hand sensitivity. In my opinion, this great finger sensitivity is made possible because the glove is made to fit like your second skin.
I am also glad that this glove is touchscreen-friendly. Even when you are wearing it, it is still possible for you to operate your smartphone or any other gadget or device. Another strong point of this working glove made of bamboo is its durability. Rest assured that its overall durability will make it last for a very long time.
It also offers ultimate protection for your hands. It can even prevent dirt from accumulating in your nails and hands when you are doing some yard and landscaping work. You can also use it to prevent wounds in your skin.
The glove also provides sufficient comfort, thereby ensuring that it does not trigger any skin irritation at all.
One possible drawback in this landscaping glove, though, is that dirt tends to accumulate quicker than usual, so it requires more frequent cleanings.
What We Like
Breathable and absorbs sweat
Promotes bare-hand sensitivity
Touchscreen-friendly
Bamboo construction, making it durable, protective, and comfortable
Long-lasting
What We Don't Like
Tends to cause the buildup of dirt faster than usual
Even with the mentioned flaw, I still believe that this is one great choice for the landscaping and gardening glove as it carries with it plenty of functional benefits and strengths.
3. Bionic GW2M Women's Relief Grip Gardening Gloves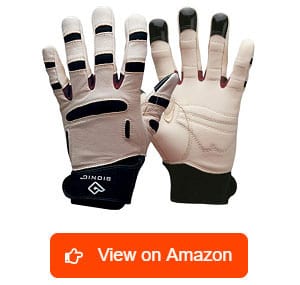 What sets these women's gardening gloves apart from the rest is that the design accounts for the needs of those with arthritic and sensitive hands. After all, gardening is for everyone, regardless of age!
Among their highlights is that the paddings are strategically placed in areas that relieve pressure while preventing thorns from poking through. At the same time, the flexible material and form-fitting construction ensure that the wearer can securely grip tools and control them properly. I assure you they are perfect for both big landscaping projects and small yard work.
On the other hand, Lycra motion zones keep the gloves breathable. Together with the Terrycloth micro-pads, the gloves feel extra cushy and breathable when you're working on a hot day. Equipped with adjustable cuffs, you can tighten them to block out insects or moisture from getting in. Since they are machine-washable, you easily clean and maintain them.
Although the construction is generally durable, I don't think these can be used as long gardening gloves. Most of the women who have tried these say that the fingertips wear out quickly after daily use. Another concern is that they seem to run small. If you're buying online, read the manufacturer's return and exchange policy so you can get another size without hassle.
What We Like
Relieves pressure from gripping tools
Blocks moisture, insects, and thorns
Great for arthritic hands
Allows you to grip your tools
Comfy and breathable for hot days
What We Don't Like
Glove sizes run small
The fingertip area wears out faster
Ladies, you no longer have to put up with unisex or men's gardening gloves! With this pair of gloves for women, you can protect your hands against moisture, dirt, insects, and thorns while you tend to your yard.
4. Ironclad HUG-05 Heavy Utility Work Gloves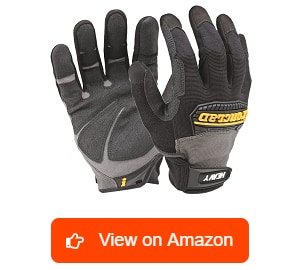 The first landscaping glove that I am interested in discussing in this article is the Ironclad HUG-05-XL Heavy Utility. It left a good impression on thousands of gardeners and landscapers as it is one of the most famous pairs of glove offered by the renowned and trusted Ironclad brand.
A remarkable trait I immediately discovered upon familiarizing myself with this glove is that it is long-wearing. In other words, it has a tough and solid construction, allowing it to turn into a protective glove designed for heavy-duty work. It also takes pride in its fantastic dexterity and tactile feel.
Another positive trait about this glove is that it utilizes Duraclad reinforcements designed to strengthen the glove's ability to protect your hands from abrasion. These reinforcements in making the primary material used in making this pair of protective glove up to eight times more durable compared to the typical synthetic leather material.
Apart from working well in both landscaping and gardening, I also noticed the versatility of this glove, making it possible to serve a wide range of other purposes, like when doing cable and wiring work, search and rescue, material handling, lumberyards, and construction and forestry projects.
The built-in thermoplastic rubber is also a big advantage as it serves the purpose of protecting your knuckles from both abrasion and impact. Furthermore, I find the really secure fit favorable as well as the quick and easy to release safety feature.
However, I also discovered that it does not have as much breathability as the other protective gloves.
What We Like
Tough and long-wearing construction
Provides protection from abrasion and impact
Serves multiple uses, not just landscaping and gardening
Assures users of a secure fit
Promotes a fantastic dexterity and tactile feel
The lack in breathability, though, can be tolerated, especially once you discover the other amazing features and capabilities possessed by this Ironclad glove.
5. G & F 15196XL Nitrile Coated Work Gloves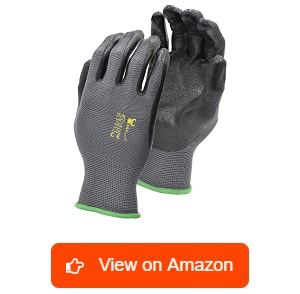 Another landscaping glove that captured my interest is G & F 15196XL, which takes pride in its nitrile coating. One incredible thing about this pair is that it is well-designed. In fact, it is one of those cute gardening gloves that you can also use for landscaping. It is cool and cute with its bright colors, making them perfect for summer general work.
I like the incredible fit and feel brought on by this protective glove, too. I think it is due to its ergonomic design, which also promotes complete comfort when worn on various tasks. Another thing that greatly impresses me is its high dexterity and great flexibility, which I can easily attribute to its seamless fit.
The flexibility is truly amazing, allowing you to use the glove both in dry and wet situations. I think its flexibility is brought on by its shell made of 100 percent nylon material. The nitrile coating integrated into this landscaping glove is also a huge advantage as it promotes excellent breathability.
Available in a 6-pair pack, you will surely get more value for the price you initially spent. Apart from giving you the highest level of comfort as it can make you feel like you are wearing a second skin, it does not also disappoint in terms of giving protection.
It is strong enough that it really works effectively in protecting your hands no matter how many hours you spend each day doing some yard, gardening, and landscaping work. Furthermore, it is solid and sturdy enough that it prevents the formation of holes and tears caused by heavy work.
One flaw, though, is that it seems to get dirty pretty fast, so it is essential to have it cleaned as regularly as possible.
What We Like
Well-designed and comes in bright colors
Ergonomic design, promoting an incredible fit
Comes in 6 pairs
Offers comfort as it naturally feels like it is your second skin
Provides full protection even from heavy work
What We Don't Like
Prone to accumulating dirt fast
This protective landscaping glove will definitely give you your money's worth with all positive qualities and things that it can specifically do for you.
6. SHOWA Atlas 300S-07 Natural Rubber Gloves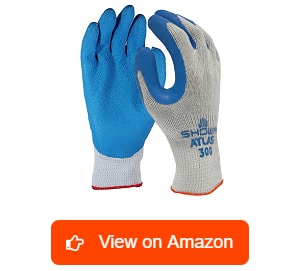 The next product that is worth discussing is the SHOWA Atlas 300S-07 Natural Rubber Glove. This multi-purpose glove from SHOWA is not only ideal for gardening and landscaping but also for other purposes, like automotive, construction, agriculture, logistics, public utilities, cementing, and mechanical applications.
It is mainly constructed from natural rubber, which offers a huge advantage because of its flexibility and elasticity. I find this material robust, too, allowing it to give a more secure grip. I can also say that this is one of the best landscaping gloves out there.
Aside from being waterproof, it provides extreme protection, especially from bending and tearing with its incredible resistance to abrasion. It also works effectively in protecting your hands from detergents, alcohols, caustics, and acids. This work glove is also built to be comfortable enough, preventing you from dealing with cuts and blisters.
It is also flexible in the sense that you can freely move your hands and fingers while you are wearing it. In addition, it is capable of offering a lot of dexterity. It provides a great grip, preventing your hands from slipping off the rake when you are holding it and ensuring that you do not drop heavy flower pots.
It is also possible for its elastic cuffs designed for the wrist to fit snugly, preventing you from losing your glove while you are in the middle of doing your wedding tasks. It is also easy to wash in your machine.
As for its weakness, the only thing I can think of is that it does not have as much padding as the others.
What We Like
Multipurpose as you can use it for various purposes and applications
Flexible and elastic
Guarantees a really secure grip
Fits snugly, thanks to its elastic cuffs
Waterproof and protective
Despite that, I can still safely assure most users that they can wear it without dealing with any form of discomfort while having peace of mind, knowing that their hands will be able to receive full protection from various safety hazards.
7. Maxiflex 34-874 Ultimate Nitrile Work Gloves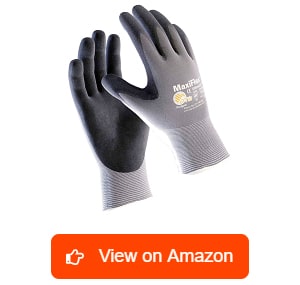 The next glove that earned a spot in my list is the Maxiflex 34-874 Ultimate Nitrile Work Glove. I find it an incredible choice considering the fact that it is highly breathable. The breathability of this glove is a benefit that you can expect to get from its micro-foam coating.
Since it is breathable, I am one hundred percent sure that it can give you the ultimate solution for dexterity and comfort regardless of the work application where you decide to use it. It is safe to use in landscaping and gardening as well as in other relevant applications, like general materials handling, stocking, assembly, and automotive.
With its incredible grip, using it in a wide range of applications will be easier. It also comes with a nitrile coating, which is appropriate for work environments with light oils. It can resist abrasion and impact plus it has the ability to prevent dirt and debris from getting inside the glove.
I am so pleased with the form-fitting nature promoted by this work glove, too. It is effective in preventing hand fatigue. The fact that it is form-fitting also makes it completely comfortable to wear regardless of what application or industry you use it.
Aside from that, I am pleased to say that you will have an easier time putting it inside your pocket. Putting it on is not that difficult, too, because of its simple and hassle-free design. It is inexpensive plus it is built in a way that it does not slip off that easily.
However, this glove is not waterproof, which is the only negative thing I can see in it.
What We Like
Completely breathable
Boasts of its incredible grip
Can resist abrasion and impact
Form-fitting and comfortable
Simple and hassle-free design, promoting ease in putting it on
Despite that, this is still a general-purpose pair of gloves that you can use for landscaping, gardening, and any other purpose while saving your hands.
8. Ironclad RWG2-04-L Ranchworx Work Gloves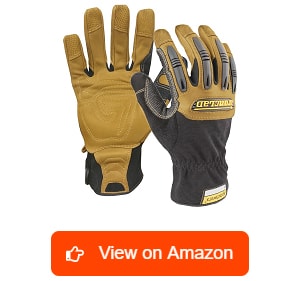 The next product in this list is the Ironclad RWG2-04-L Ranchworx Work Glove. What I love about this protective glove is that it is meant to ensure that workers will gain maximum hand protection from it.
It is also compatible with the unique requirements of various workers, including plumbers, electricians, construction workers, masonry workers, ranchers, gardeners, and landscapers. The overall construction is actually admirable as it makes use of the supplest type of leather capable of contouring your hand's natural form.
It also boasts of a palm design with stitched core pattern for promoting not only sturdiness but also great dexterity. I am also glad that this glove comes built in with a TPR cuff puller as I noticed that it helps a lot in putting it in the right position in a quicker manner.
It also promotes a secure closure, thanks to its slip-fit cuff with Velcro. Another incredible benefit of the glove is its increased longevity brought on by the reinforced Kevlar added on the glove's critical areas.
Furthermore, you will find the added terry cloth at the back part of the glove's thumb useful in wiping your sweat away without having to take off the item. I also find pleasure in the Exo-Guard protection delivered by the glove as it offers protection without restricting your dexterity.
Another thing that makes this item amazing is that it is machine-washable as it uses Bullwhip leather for its construction, which does not shrink or dry out in case it gets wet.
One potential issue, though, is that you might experience difficulty putting it on and taking it off at first, which indicates that you still need to break it in.
What We Like
Provides maximum hand protection
Secure closure and fit guaranteed
Promotes longevity with its reinforcements
Protects your hands without restricting your dexterity
Machine-washable
What We Don't Like
Slightly hard to put on and take off during first uses
Overall, this work glove is well-crafted and speaks of decent quality, making it worth investing in.
9. SHOWA Atlas 370B Nitrile Gloves
Another pair of protective gloves for landscaping that left a positive mark and reputation in the industry is the SHOW Atlas 370B Nitrile Glove. It works perfectly for general assembly and precise handling as well as for gardening and landscaping work.
Other areas where you can use this glove are in the construction, logistics, mechanical, agriculture, automotive, and electronics industry, showcasing its versatility. What I genuinely like about this nitrile glove is that it takes pride in its lightweight construction. This ensures that it can deliver its intended function without weighing you down.
It also brings comfort to your hands, apart from protection, considering the fact that it feels like it is your second skin. It gives you not only comfort but also the highest amount of grip. I also like the dexterity delivered by this pair of protective glove. Another thing that it can promise is its durability.
I also discovered how breathable the glove's back of hand is. This kind of breathability is extremely beneficial as it lessens sweat and perspiration. The glove is machine-washable plus it is designed in a way that you can easily move with it and supports continuous or long hours of wear.
I am also happy to say that this nitrile glove can give your hands adequate protection, thereby preventing some harsh elements from beating it up while you are at work.
However, one complaint I have is that its cuff seems to be a bit short for my preference, causing it to lack coverage for my wrist.
What We Like
Serves multiple purposes, proving its versatility
Lightweight construction
Offers comfort apart from protecting your hands
Good grip
Highly breathable
What We Don't Like
The built-in cuff is shorter than expected.
Even with that complaint, I can still vouch for the terrific performance of this work glove, especially if you use it for any landscaping or gardening task.
10. OZERO Flex Grip Gloves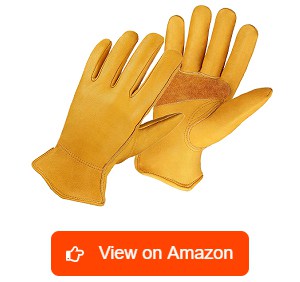 Lastly, I would like to emphasize the great performance of the OZERO Flex Grip Work Glove when used for gardening and landscaping. I am so pleased with its overall construction considering the fact that it is mainly made of one hundred percent pure grain cowhide leather material.
This material is impressive because not only does it resist abrasion and possible shrinking, it is also very flexible. The leather used here is also both durable and thick without losing its softness for comfort. It is also meant to provide you with great protection from a number of things, including tears, cuts, punctures, and oils.
The superior and amazing grip of this glove is also one impressive benefit that is worth emphasizing in this review. I think one reason behind this good grip is the built-in reinforced palm. I also enjoy the elastic wrist included in this glove as it prevents debris and dirt from reaching in its interiors.
This glove is also built in a way that there is minimal stress and pressure on its seams. It even boasts of a keystone thumb style, which gives your glove the chance to last for a long time. It even works in providing your hands with adequate dexterity while also ensuring that you can move freely.
Furthermore, it is sweat-absorbent and breathable.
However, it is important to break in this glove first as it is stiff initially.
What We Like
Made of genuine leather
Can resist abrasion and possible shrinking
Thick and durable construction without losing its soft and comfortable feel
Superior grip guaranteed
Sweat-absorbent and breathable
What We Don't Like
Break-in period necessary
Overall, you can receive genuine value when buying this product because of the quality of material used in its construction as well as its craftsmanship and durability.
Exemplary Gardens Heavy Duty Leather Gloves (Outdated)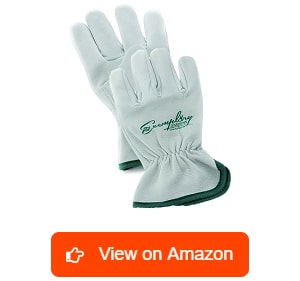 This heavy-duty glove from Exemplary Gardens, which is made using pure goatskin leather material, is also an amazing product to include in your ultimate list of choices. The genuine and premium leather used in creating it does not only promote durability but also makes it helpful in dealing with heavy-duty tasks.
Another fact about this heavy-duty glove that impresses me is its keystone thumb, which boasts of an ergonomic design. Such a design is actually good for users as it helps you grip objects with the least effort. This also guarantees your safety when carrying objects as they will not easily slip from your hands.
Another distinctive benefit provided by this leather glove is that it works perfectly for those who have sensitive skin. It is because of its soft and buttery texture brought on by the use of lanolin, which works effectively in moisturizing your hands and maintaining their suppleness when you are wearing the glove.
I also find pleasure in saying that this glove is never meant to cause any discomfort to users because it has an elasticized wrist together with a soft lining. This combination makes it comfortable to wear for a long period while promoting a nice fit.
I also consider it as one of those gloves that offer maximum protection as it has a puncture-resistant and thick leather construction, giving your hands the protection it desperately needs from a number of safety hazards, including irritants and possible causes of cuts.
However, one drawback I discovered in this leather glove is that it is prone to getting wet and dirty.
What We Like
Ideal for heavy-duty tasks
Highly durable without compromising its weight
Perfect for those who have sensitive skin, thanks to its soft and buttery texture
Comfortable enough because of its elasticized wrist
Puncture-resistant
What We Don't Like
Prone to getting wet and dirty
You can easily let go of this issue, though, especially once you discover how remarkable and amazing this landscaping glove is.
What is a Pair of Landscaping Gloves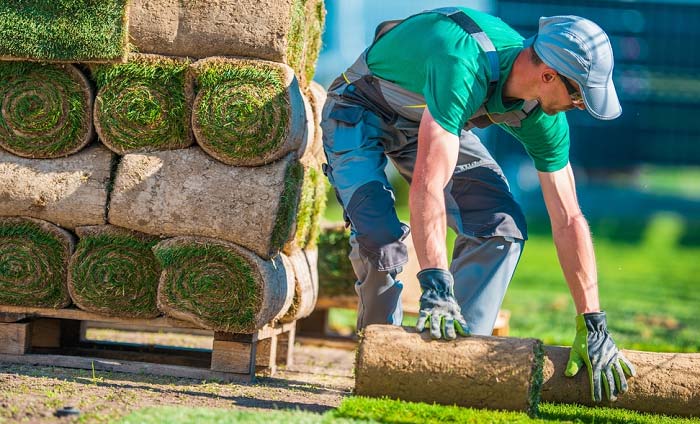 A pair of work gloves for landscaping, as its name suggests, is the perfect work glove designed to supply maximum hand protection to workers who are part of the gardening and landscaping industry. Keep in mind that both landscaping and gardening are both relaxing activities, they actually require plenty of tough tasks.
Being a landscaper or gardener might require you to pull weeds, till the earth, and dig up roots – all of which might cause you to sweat excessively not to mention injure your hands.
A great landscaper's gloves can help you in those instances as they are designed in a way that they can protect your hands from chemicals, thorns, and dirt, among many other irritants. You can expect these gloves to be available in various designs, materials, features, and capabilities, so it is necessary to find out what truly works for you.
How Does It Work
The yard work gloves designed for gardening and landscaping can be expected to work by ensuring that you will not have a hard time doing your job. The most reliable ones built with quality in mind can even serve their intended function of maximizing the level of protection they offer.
You can expect a dependable pair to protect your hands safe and secure from blisters in case you need to hold gardening and landscaping tools for a long time. It is also possible for the gloves to prevent the development of cuts caused by getting overly exposed to tree limbs and stems.
Furthermore, a good pair of work gloves for landscaping and gardening also ensures that you will not have to deal with the thorns in some plants. The specific way through which they function, though, will be dependent on your chosen style, capability, set of features, and material.
Even with the differences, all landscaping gloves can be expected to perform one vital function – and that is to keep your hands safe from harm, especially from injuries when you perform your job in any landscaping and gardening environment.
Types of Landscaping Gloves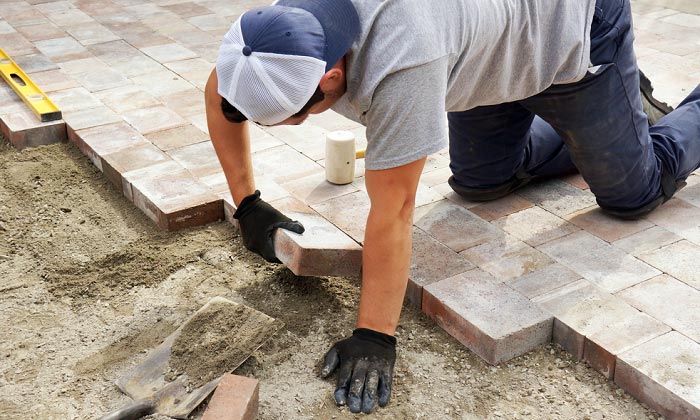 Landscaping and gardening gloves are available in different types and styles, so finding one that supports the specific tasks that you need to do on a daily basis is easy. In terms of the materials used in their construction, some great choices are the following:
Synthetic leather – Landscaping gloves primarily constructed out of synthetic leather are often combined with materials, like Spandex to achieve a better and more comfortable fit. One fascinating advantage of synthetic leather is that it provides additional thickness and comes with puncture-resistant fingertips.
With such features and capabilities, it is possible for the gloves to be comfortable and safe because these can offer protection from injuries caused by rocks, rose thorns, and any other harmful irritants and debris present in gardens and any other landscaped area.
In most cases, synthetic leather also features padded parts to promote ease when doing your gardening and landscaping task. The material is also extra tough, thereby ensuring that you can deal with all existing flowers and shrubberies in your garden.
Real leather – Some landscaping or gardening gloves are constructed from real leather material, usually cowhide. One strength of this material is that it is very long-lasting. Some leather landscaping gloves are also made with another material, like woven linen.
What is good about it is that wearing it more will also result in it becoming softer. The leather is also perfect if you want protection from stings and scratches when you are doing your landscaping and gardening tasks. Pure and genuine leather also works in repelling both soil and water.
This eliminates all of your worries of debris and water penetrating the gloves. Another strength of real leather is that it promotes a snug fit. It also works in absorbing sweat or perspiration. Eventually, gloves constructed from the mentioned material can also follow your hand's natural shape, promoting utmost comfort when wearing it.
It is easy to clean, too. Furthermore, most users of leather gloves are happy to say that these are among the most stylish work gloves they have ever seen and used.
ABS Plastic – In most cases, landscaping gloves constructed from the ABS plastic material feature claw-like designs at their fingertips. With these designs, you can easily do tasks that involve planting and digging without having to use any gardening equipment.
Wearing it also feels like it is your second skin. It is breathable, waterproof, and puncture-resistant. Moreover, it keeps your hands fully protected from possible injuries, as well as from dirt and sweat. Another strength of this material is that it is compatible with the needs of men and women due to its one-size-fits-all design.
Nylon – Nylon is a famous material for work gloves designed for gardeners and landscapers. The popularity of this material can be greatly attributed to its cost-effectiveness as well as its usefulness in helping you perform your job well. Nylon material actually carries several advantages.
These include being highly reliable, durable, comfortable, and breathable. It also offers maximum protection from chemicals and punctures. Furthermore, it is very comfortable to wear even if you need to do your landscaping and gardening tasks on extremely hot weather.
It is also inexpensive plus it comes in various colors. You can even find those with nitrile coatings, turning them into general-purpose gardening and landscaping gloves that really work for professionals in this field.
Latex – Several gardening and landscaping gloves also feature latex coatings that make them sturdier and stronger. Aside from that, this material makes it possible for you to do any gardening task that you are interested in doing. In most cases, gloves that feature latex coatings boast of a crinkle-like finish.
They are also constructed with liners build with a mixture of cotton and polyester. You can also buy this type of glove in a wide range of sizes. It is flexible and comfortable, allowing you to use it for any gardening and landscaping task.
One more thing that the latex material can do is that it helps you grip tools and seeds well. If you are interested to save money when buying these items then you can also find online stores selling latex gardening gloves bulk.
You can get them at lower prices per piece, making them great for bulk orders designed for nurseries and huge gardening centers.
Bamboo – It is also possible to invest in landscaping and gardening gloves constructed out of bamboo. What is so great about this material is that it is not only breathable but also flexible. Both these advantages are good for you, especially if you are looking for the ultimate solution for comfort.
This is the perfect material for landscapers and gardeners who need gloves that are not that tight and restrictive. It can prevent the problems linked to losing finger sensitivity when wearing other types of gloves while working in a landscaped area or garden.
It is because bamboo gloves allow you to enjoy complete dexterity without any skin irritation. You can also expect it to deliver excellent performance when used on delicate jobs. It is seamless and often features a sturdy nitrile coating on the palms to the glove will have the right level of thickness.
It also often features Spandex material. Furthermore, it works perfectly when used in general gardening tasks, like planting and weeding, as well as in any landscaping work.
Why Do You Need to Wear Landscaping Gloves
Wearing landscaping and gardening gloves can greatly benefit anyone whose job falls in this industry or just anyone who is interested in landscaping and gardening as a hobby. The following are just some viable reasons why wearing your landscaping gloves is a must:
Offers protection to your hands – Any gardening or landscaping task can expose your hands to several forms of safety hazards, including scratches and injuries. You will also be dealing with pests, spiders, and bugs.
By wearing the right pair of work gloves, you have a better chance of protecting your hands from safety hazards. In addition, it can boost the dexterity of your hands, improving your productivity while also allowing you to enjoy a fun and safe experience when gardening and landscaping.
Prevents skin dryness – Another reason for investing in the best landscaping, gardening, and raking gloves is that these can prevent the skin surrounding your hands and arms from becoming too dry.
Keep in mind that aside from injuries, skin dryness is also one of the problems you might encounter when cleaning up your spring garden or removing some fall waste. It is because these activities might cause dirt to stick into your bare fingers. The problem is that this might also lead to allergies, causing your skin to get too dry.
The soil might wick the moisture from your hands. Fortunately, if you are wearing a great pair of work gloves, you can avoid that problem. In some cases, the gloves can also make your hands feel sufficiently warm and dry while offering the right amount of UV protection.
Promotes a better grip – Most of the gloves built for landscaping and gardening are also designed in a way that they can provide a much better grip. With this benefit, it would be easy for you to do some important tasks that require a good grip, like pinching soil, using gardening or landscaping tools, or picking up twigs.
Generally, landscaping gloves are meant to promote a fun and enjoyable experience when doing your job. It is mainly because you will feel at ease when you are doing your job. It can also prevent common issues, like painful blisters, broken fingernails, wounded fingertips, and cuts when wearing it.
Buying Guide
You actually have a better chance of formulating a smart buying decision if you spend time examining all your choices along with their individual capabilities and features. It is also advisable to spend time analyzing these features and factors before you make your final decision:
Size – The size of the landscaping glove should have a say in your decision. It will help you determine if it fits you well and whether or not it is compatible with your requirements. Observe the fit well. If you think that its size fits smaller compared to the others then it would be ideal to pick the next size up.
Also, take note that in some cases, gloves designed to fit the hands of men can fit women, too, but you have to choose a lower size from what you usually wear. In determining the perfect size of work glove, you have to think about buying a shoe.
If the footwear does not properly fit then this will most likely cause problems, like blisters. The same is true when you are buying an item meant to cover your hands and protect them. This is the main reason why you really have to pick an accurate size and proper fit so the glove will function properly.
Also, ensure that your chosen size makes you feel like that the glove is your second skin. You will immediately know if it has a perfect size and fit if it does not hamper your movements, especially when grooming or grabbing an item.
Another thing to remember is that extremely small gloves can cause discomfort and blisters. The ones that are too big from you might also cause you to cut things inaccurately, like a plant, or worse, your finger. With that in mind, it is safe to say that size truly matters when searching for the right pair of gloves.
Price – In terms of landscaping or gardening gloves, it is always true that you can expect to get the price you paid for it. However, this does not also necessarily mean that you should spend too much in order to buy a truly amazing pair of work glove.
You have to look for a reasonably priced one with all the good qualities combined, including but not limited to durability, strength, and flexibility. Note that it is already possible for you to grab a comfortable and lightweight pair of gloves for just $10 or lower.
However, you may want to spend more if you intend to do more landscaping and gardening work. For around $40 to $50, you can actually get a high-quality and sturdy pair of leather gloves that already feature double-stitched seams, Velcro wrist closure, and reinforced fingertips.
You can also expect gloves in this price point to be more flexible than the rest. Find out what your needs are then spend time figuring out if the gloves that meet your unique requirements fit your budget. Your choice should be available at a decently low price without sacrificing your requirements.
Flexibility – Spend time examining how flexible the work gloves are. Note that you need landscaping gloves that flex well, especially at the joints of your fingers, as these make them truly functional. You can't expect flexibility to be an issue, though, if you choose thinner work gloves, like those constructed out of cotton or those that are knitted.
However, you might experience problems with flexibility in case you choose a thick leather material. One way to determine whether the glove is flexible enough is when its fingers bend and when it allows you to stretch your hands open. You should also find those gloves that promote ease when moving your fingers.
To check the flexibility of a specific glove, make a fist while wearing it and find out if it allows you to close your hands tightly, spread out your entire fingers, and use your forefinger and thumb when grasping things.
If you are incapable of doing such things then this signifies that the glove is not that flexible so you might want to start looking for another pair. Also, take note that it is okay if the glove feels stiff at the beginning.
However, ensure that it still has enough flexibility in the sense that you can use it for doing your landscaping tasks based on what is normal for you.
Wrist closure – Another important thing to check in a pair of landscaping glove is the wrist closure. Note that while weeding or digging, loose materials may easily fall into the openings of your glove. In case you need to perform plenty of groundwork, then investing in a pair, which features some sort of wrist closure is advisable.
Among your suitable options are adjustable Velcro straps and elastic closures at the wrist. These are great features as they can help promote a more secure and snug fit. Having any of these wrist closure features will also ensure that the debris will not penetrate the glove.
Padding and protection – Check the amount of padding and level of protection provided by a specific landscaping glove before buying. This is extremely helpful especially if you are tasked to do more than just simple jobs in a landscaping area or garden.
If that is the case, it would be best to receive more than basic security and protection from scratches and dirt. Also, remember that other tasks, like cutting, pruning, and using other tools, like lawnmowers and rakes can trigger blisters, thorns cuts, and branch punctures.
With that in mind, you truly have to get a glove with adequate protection. You have to receive appropriate protection based on how much time you need to spend in your garden and yard doing heavy tasks.
In addition to the vital factors that were already mentioned, it also helps to find a glove with some extra features and benefits. These include hooks that allow you to attach your clothes, a cloth that you can use to wipe debris, sweat, and dirt from your face, and fingertips constructed out of one piece of fabric so you can easily pick tiny things.
Furthermore, you can take advantage of gloves that feature fingertips and fingers that are filled with gel. This additional feature is a great addition, especially if you do not want blisters to form on any of your fingers.
Care and Maintenance
Caring for your landscaping gloves to increase their chances of lasting a lifetime is never a difficult process. In fact, there are simple tips designed to help you take care of each pair and maintain its brand-new look and condition. Probably, the most important thing to do to retain the glove's condition is to clean it regularly.
To clean it, you have to brush off the dirt found in every pair of work glove you have after each use. It is helpful in preventing the gloves from hardening after each usage. You also have to include hand-washing the gloves in your regular schedule and routine. This is crucial in restoring the item's softness.
Washing also aids in getting rid of dirt that regular brushing can't seem to remove. Note that you need to do this as there are landscaping gloves that might crack if you do not wash them or do not clear the dirt. Aside from washing and cleaning the work gloves regularly, proper storage is also a must.
You have to store the items fat. You should let them unfurl properly as this will let the items lay flat in their proper storage places or in the drawer. Also, make sure that to prevent crushing and pinning them together during storage. The storage area should also be far from the places inhabited by pests.
If possible, use a pin or peg to prevent spiders or any other pest from getting inside the glove once you store it. Also, it would be best to own a couple of pairs of landscaping gloves. This is to prevent you from having to use each pair excessively. The spare glove can also be used in case the other one has already accumulated dirt.
Frequently Asked Questions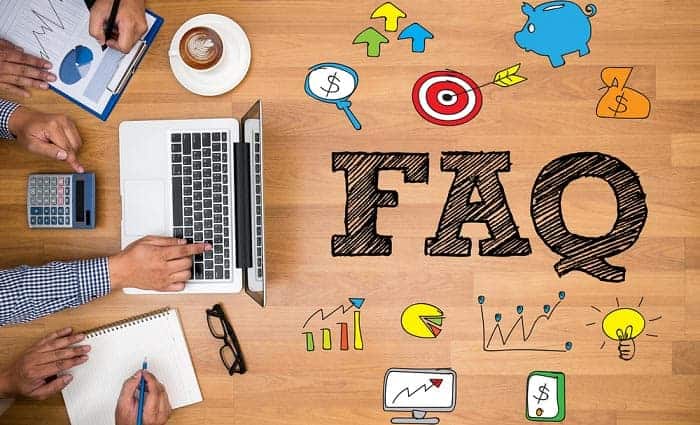 Can I use gardening gloves for landscaping?
Yes, of course. Most gardening gloves are also designed for tasks related to the landscaping industry. In fact, the materials used in gardening gloves also have the same capabilities and features required for landscaping. This means that if you are interested in both landscaping and gardening, then you can use the same pair for both activities.
How can I choose the right size of landscaping gloves?
As for finding the right size and fit, one thing to remember is that the work gloves have different sizing for men and women. You can also expect them to be shaped differently based on gender. Furthermore, know that the sizes differ significantly based on your chosen style and brand.
That said, it is advisable to wear and try to put on the landscaping glove before you actually buy. Form a fist while wearing the glove then check whether it fits correctly or if it is comfortable by determining whether it is possible for you to pick or pinch soil.
If you intend to buy online, then you can always check the sizing guide supplied by your chosen manufacturer. It is also possible for you to get the correct size by doing a DIY measurement.
Measure your size by allowing your hand to lay flat. Measure around the knuckles without including your thumb. Another thing to remind yourself of is if you have smaller hands then you should consider investing in a children's glove to increase your chances of getting the best grip and fit.
Are leather gloves good for gardening?
Absolutely! Leather is a material that makes for heavy-duty gardening gloves. In gardening and landscaping-related forums on Reddit, many users enthusiastically suggest wearing leather gloves to work on specific tasks. This includes trimming or pruning bushes or trees with thorns and pointed branches.
When it comes to pulling dewy weeds, I don't recommend leather since they can get slippery.
How do you soften leather gardening gloves?
Like anything made of animal skin, gardening gloves' leather can soften when used repeatedly.
Without proper care, this material hardens, cracks, and breaks as they are constantly exposed to the elements even if they are advertised as "waterproof gardening gloves."
Here are the top 3 methods to soften your leather gloves for yard work:
Apply mink oil or leather conditioners to keep the leather clean, well-conditioned, and more durable. Each brand of mink oil and leather conditioner comes with specific instructions. Follow them closely or you might end up over-moisturizing the leather.
Another option is to use natural oils. The best ones to use for softening the leather are almond oil, avocado oil, coconut oil, jojoba oil, and olive oil. Simply apply several layers of any of these oils and leave the gloves to dry overnight.
The combination of rubbing alcohol and Vaseline can also help you keep the leather soft and avoid cracking. Squirt some alcohol into a cotton ball, rub it on the gloves, and let the material absorb it. Next, apply some Vaseline to the leather and massage it with your fingers.
How can I wash landscaping gloves?
Washing your landscaping gloves is not too hard to do. The way you should wash or clean your gloves is actually dependent on its actual style and material, though. The best way to handle the process of washing it is to check the care instructions indicated in the pack.
Make sure to read these instructions before starting to clean the gloves. Note that while some of the gloves are safe to wash in your machine, the others are only meant for hand-washing and air-dryer. Also, take note that some gloves made of leather come with additional care instructions prior to washing. Check these to promote their safety.
What makes up most landscaping gloves?
In terms of landscaping gloves, be aware that it comes in different styles. Some of them are made using soft cotton, which you can use for minor tasks that do not seem to cause a lot of danger and harm to your hands. You can also find gloves constructed from rubber but only on the palm while the remaining parts used another type of clothing.
The best gloves ideal for landscaping are usually constructed out of sturdy and tough leather on their topmost part while the bottom part of the fingers and hands are made using rubber of top-notch quality. You can also find landscaping gloves made using latex or silicone.
Conclusion
Finding the best landscaping gloves will now get easier with our reviews and buying guide. Remember that your choice contributes a lot on how protected you are while doing your landscaping and gardening tasks.
That said, it is really necessary to spend a lot of your time figuring out which one can really give you the kind of protection you are hoping for. This is helpful in ensuring that you will have a fun and fascinating experience each time you execute your job.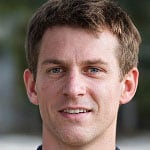 Having worked in the field of personal protective equipment for over two decades, Andrew Carnegie is a specialist in the field.
At EDC, he strives to improve performance efficiency and promote workplace safety for EDC's readers and customers. He also researches the most up-to-date equipment that has earned relevant accreditation for use in a wide range of industries and specialties.