With the numerous tools needed by an electrician when trying to fulfill his line of duty, the best electrician tool bag is definitely one of those items that he needs to have. It is essential to have the best tool bag for electricians as it ensures that all the tools and accessories you need at work are well-organized while being kept secure.
A good tool bag also assures you that all the tools needed for your job will come in handy. With this, there is a lower risk that you will fail to do your job just because you forgot to bring vital tools. With electrical tool bags, you do not also have to deal with the complications of having to go back and forth when you need something.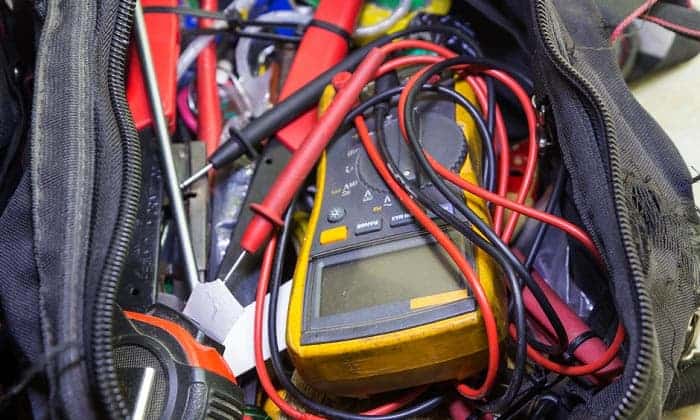 It is because all the things you need will be in just one place that you can easily access. If you are still unsure about which electrician tool bags or organizers to choose, then let us be of help. This article covers a few products designed to meet the requirements of electricians looking for a high-quality tool bag.
It will highlight the key features, advantages, and disadvantages of each product. Ultimately, it will assist you in deciding whether a particular bag is suitable for your unique demands and requirements. Let's start!
12 Top-Rated Electrician Tool Bag Reviews of 2023
1. DEWALT DG5543 33-Pocket Tool Bag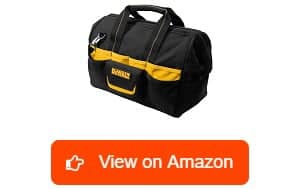 You can also choose the DG5543 16-inch tool bag offered by DEWALT. One striking benefit I enjoy in this tool bag is it ensures ease and effortless access because of its large mouth opening. The bag's pop open design contributes a lot in showcasing such easy accessibility.
I also love the large interior compartment in this DEWALT tool bag as it also prevents you from dealing with difficulties accessing tools and parts. It is constructed using the ballistic poly fabric construction, which is versatile and flexible to touch, thereby promoting utmost comfort, while also being stronger compared to any traditional fabric.
I am also pleased with its twenty exterior pockets because this offers absolutely numerous options when it comes to organization. It is even equipped with a flap-covered pocket in its exteriors, which also has a hook and loop closure for security. As for the interiors, expect to be greeted by thirteen spacious pockets.
These include the zippered interior pocket capable of securing all your valuables. I am also happy to say that this bag is proven to be long-lasting. It is strong and sturdy considering its reinforced edges and corners. It also has base pads at the bottom that further increase its wear resistance.
Such base pads are also created in a way that the bottom will be protected against dirt, water, and moisture. I am also glad of the built-in rubber feet, which is abrasion-resistant.
Another fascinating benefit is its ability to help you comfortably carry the bag with the aid of its adjustable and padded non-slip shoulder strap, as well as its slip-resistant handle.
However, the zippered compartment is quite stiff, so there is a chance that you will have a hard time zipping and unzipping it at first.
What We Like
Easy to access, thanks to its pop open design
Equipped with a comfortable and padded adjustable non-slip strap
Has better wear-resistance than the others, thanks to its base pads
Comes with numerous pockets
Sturdy ballistic poly fabric construction
What We Don't Like
Quite stiff zippered compartment
Overall, I am confident of the solid structure of this DEWALT tool bag as well as its huge storage capacity.
2. Klein Tools 55421BP-14 Backpack Electrician Tool Bag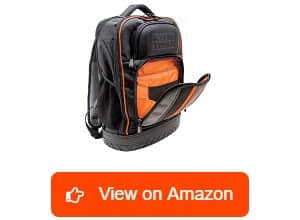 If you are interested in a Klein tool bag, then the brand's 55421BP-14 Backpack-style Electrician Tool Bag might be an ideal companion for all your projects. I am very happy that I get to know this backpack tool bag because it offers convenience for electricians and other workers like me who needs a tool carrier with plenty of storage.
It has as much as 39 pockets that are roomy enough to store your tools in a secure and well-organized manner. It even features a hard and molded front pocket, which is useful in case you need to store a pair of safety glasses inside. A pocket with a front zipper is also around, which you can use in storing loose parts.
I like the sturdy and durable molded base in this electrician's tool bag because it is made in a way that it can protect the item even from the harshest elements. I am also happy that Klein made use of bright orange color for the bag's interior because it ensures that you can quickly and easily locate your tools.
The 1680D ballistic weave material used in constructing this bag also works in enhancing the strength and durability of the item. Equipped with interior pockets and a taller bag, storing and organizing long screwdrivers will also be easy. I can also confirm the ease and convenience that anyone will experience when carrying the bag.
It is because of its easy-to-use handles as well as shoulder straps that feature additional padding.
Some users find it heavier in comparison to other tool bags for electricians, though.
What We Like
Provides ample storage space and room for all your stuff
Equipped with a hard and molded front pocket designed to secure your safety glasses
Features a sturdy and durable molded base
Promotes ease of visibility, thanks to its bright orange color
Comfortable with the aid of its shoulder straps and user-friendly handles
What We Don't Like
Heavier compared to other tool bags
Equipped with plenty of valuable and nice features, this tool bag will certainly work for any electrician or worker who wants to be more efficient and organized when performing their daily duties and responsibilities.
3. DEWALT DGL573 Lighted Tool Bag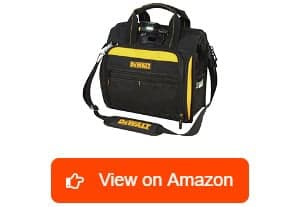 If you are seriously in search of a high-quality and durable electrical tool backpack, then the DEWALT DGL573 will most likely meet your requirements. One thing that fascinates me about this DEWALT electrician tool bag is its noticeable durability.
I think that the built-in base pad feet contribute a lot to its durability as this feature makes it possible for the bag to lessen abrasion and wear significantly. The padded feet also prevents you from scuffing the surfaces where you put the bag and protect its underside from unwanted and unnecessary damages.
I can also vouch for the versatility of this lighted tool bag. You will immediately realize how versatile it is once you realize that its multi-use pockets in the interiors and exteriors can hold a wide variety of tools, including drills, pliers, drill bits, wrench sets, testers, screwdrivers, and extension cords.
There are 41 pockets in total that can provide adequate space for better tool organization. Another reason to love this tool bag is the built-in LED light, which has three levels of brightness. You can use this LED light so you can easily find the tools you need no matter how dark it is.
It also acts as an additional source of light, especially if you are in a dark workplace. I like the vertical pocket design applied into this tool bag, too, as I noticed how helpful it is in ensuring that you can effortlessly put your tools anywhere you want them.
Furthermore, you will feel comfortable carrying it around with its shoulder strap and padded handle. What's more? It features zippered closures that are effective in keeping your tools safely positioned at the right place.
However, one flaw I discovered is that its built-in strap is not that sturdy as it is prone to breaking sooner than expected.
What We Like
Tough and durable, thanks to its padded feet
Keeps your tools and items safely organized with the aid of the zippered closures
Comfortable because of its padded handle
Easy to use even when working in a dark setting
Versatile since it can hold a wide range of items
Overall, this electrical tool backpack from DEWALT is a fantastic companion, which is capable of adhering to your needs and requirements no matter how harsh and tough the work setting is.
4. CLC Custom LeatherCraft 1539 Multi-Compartment Tool Bag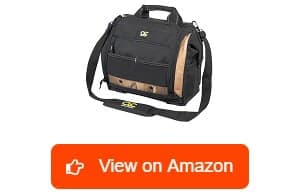 Another large and spacious carrier that will surely work well for electricians is the CLC Custom LeatherCraft 1539 Multi-compartment Tool Bag. I think it complements well with the needs of anyone who wishes to own a spacious and durable tool bag to store all the accessories and tools they need at work.
The durable tool bag features a spacious interior compartment capable of holding bigger power and hand tools. I like its two large outer compartments, too, as these come with eighteen pockets each, providing more than sufficient space for all your stuff.
I am in favor of the vertically designed tool pockets, too, as such design makes it easy for you to access your tools. The flexibility of this item is also unquestionable. Aside from its compatibility with electricians, I also find it ideal for installers and tradesmen in the carpentry, general maintenance, plumbing, networking or telecom fields.
Another remarkable benefit of this multi-compartment electrician tool bag is that it has a huge central storage space. It even comes with a metal frame, which holds the huge and spacious center compartment open, thereby promoting ease in seeing and retrieving your needed tools.
I am happy with the built-in tape clip and large carabiner as this further improves the practicality and functionality of the item. In addition, there are zippered mesh pouches, pockets, and sleeves filling the two side compartments, guaranteeing the perfect and secure organization of all your tools.
The elastic outer straps found at the back compartment are also favorable because these promote convenience when carrying your hammer or level.
However, it has an issue of becoming quite heavy if you fill it to its maximum capacity.
What We Like
Spacious and versatile, holding small and large tools securely
Equipped with elastic outer straps
Huge central storage space provided
Securely organizes your tools, thanks to the zippered compartments, pouches, and pockets
Promotes ease in retrieving your tools
What We Don't Like
Tends to get heavy when you fill it to its max capacity
Still, this issue will not be a complete deal breaker unless you plan to bring tons of extremely heavy power tools to the workplace.
5. McGuire-Nicholas 22015 Collapsible Tote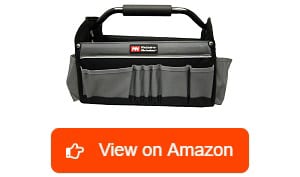 Another tool bag designed for electricians, which deserves recognition is the McGuire-Nicholas 22015 Collapsible Tote. It is a versatile and multi-use bag famous for serving as a practical and functional solution to carrying your tools at work. I can prove its ability to adhere to all your storage requirements.
It has numerous pockets of various styles so I can assure you that you will encounter minimal problems when it comes to holding your tools regardless of what size it is. The exterior of the tote bag alone has fourteen pockets in different sizes. I also love its fourteen interior webbed loops as they help accommodate a greater number of tools.
The tote bag is roomy enough while remaining compact and portable. It even boasts of its tapered pocket design, which contributes a lot in making the tote even more spacious and roomier.
Another favorable advantage I discovered in this tool bag is that it is easy to store considering its collapsible design. Combine that with its removable bottom and you will realize that it is even more effortless to store the bag.
I also super satisfied by its sturdy and tubular steel foam-padded handle. I like this specific feature because it assures you of a high level of comfort when it comes to carrying it around.
The only flaw I discovered here is that it is not rip-resistant so there is a chance for it to be ripped with extremely heavy use.
What We Like
Roomy and spacious with the numerous pockets built into it
Compact and portable design
Boasts of its collapsible design and removable bottom for ease of storage
Comfortable to carry, thanks to its sturdy and padded handle
Can accommodate numerous tools, thanks to its webbed loops
For its price, this collapsible tote bag is a real bargain since it is well-made, sturdy, spacious, and built to accommodate a wide array of tools and equipment.
6. Carhartt Legacy Tool Bag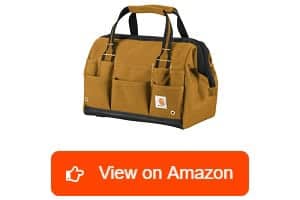 I also fell in love with the Carhartt Legacy 14-inch Tool Bag not only because of its proven durability but also because it helps you remain organized regardless of the work setting you are in. One thing that genuinely got my interest is the water-repellent nature of this bag.
It is because the sturdy synthetic fabric utilized in this tool bag is equipped with a rain defender, allowing you to stay dry and clean all the time. The fact that it is available in various sizes while containing a number of pockets is also a good thing. I think it suits well for the needs of not only electricians but other DIY enthusiasts as well as professional workers.
It is around fourteen inches with its primary zip compartment being large and spacious enough to hold a cordless drill. I also love the seventeen pockets in total designed to hold all your hand tools. I also like the abrasion-resistant base of this tool bag because this makes it even stronger and longer-lasting.
It is surely built to last considering its heavy-duty construction capable of withstanding the rain. The bag even comes with an inner metal frame to add more structure to it. The size is also not excessively large. In fact, it falls under the category of small electrician's tool bag but it still has the ability to offer ample space.
I also give it a thumb's up because of how comfortable it is. It has padded handles that contribute to user's comfort and convenience. In addition, this bag is adjustable, allowing it to meet the specific and unique requirement of any user.
What is even better about this polyester-made tool bag is that it is scratch-resistant while having the ability to deal with wear and tear. It is even possible for you to bring sharp-edged tools without having to worry about it damaging the fabric and material.
One thing I dislike about this item, though, is that it is lacking in a shoulder strap.
What We Like
Water-repellent, allowing it to withstand rain and moisture
Scratch-resistant, abrasion-resistant, and can handle wear and tear
Adjustable and comfortable to use
Can safely carry your sharp-edged tools without damaging any part of the bag
Long-lasting and heavy-duty construction
With the amount of space and room provided by this tool bag combined with its durability and ability to organize your stuff in a secure manner, it is indeed a sound investment for any serious DIY enthusiast, job-site professional, and electrician.
7. Fluke FlukePack30 Professional Tool Backpack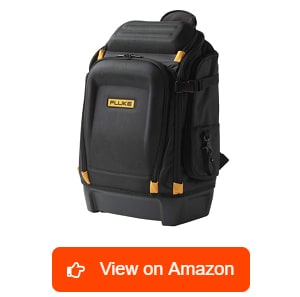 Featuring 30 durable pockets inside the six main compartments, this electrician backpack is perfect for workers who need to organize and support heavy tools.
In particular, I love that the bag has dedicated storage for my tablet, which I can also use to store some documents. On top of the compartments for hand tools, it provides ample space for my safety equipment.
Made with robust polyester with stiff EVA covers and rugged, waterproof bottom, this bag is a good investment as it can protect all the essential equipment I bring to work.
Moreover, the design enables it to stand up. I don't need to prop it up on a wall and worry that it might get knocked over while I get some work done.
Still, the backpack weighs lighter compared to similar models from other brands. This design is a huge advantage for me since I don't want the bag to add too much weight to the load I carry.
Meanwhile, the zippers and buckles are tough, saving me from having to get them repaired or replaced years later.
So far, I only have two minor issues with this bag. The first one is that the gadget compartment can only fit about a 10-inch laptop. Secondly, the adjustments for the shoulder straps tend to slide from the buckle. I constantly have to readjust them.
What We Like
Plenty of pockets designed for electrician tools
Made with durable materials to support heavy weight
The design allows the bag to stand
Has ample space for PPE and gadgets
Weighs lighter than similar models
Equipped with rugged zippers and buckles
What We Don't Like
Cannot fit bigger laptops
The shoulder straps slide out of the buckles
I would recommend this bag to anyone already eyeing this lightweight electrician backpack. With multiple pockets and compartments, we can neatly organize our tools and carry them everywhere we go.
8. VETO PRO PAC TECH-MCT Tool Bag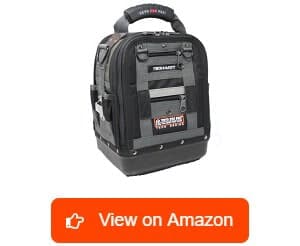 Another electrician tool bag that continued to generate favorable reviews from its users is the VETO PRO PAC TECH-MCT. I noticed it right away because it is compact but comes with a lot of features needed by anyone who is looking for a high-quality installation, repair, or service tool bag.
I can also prove its rugged structure. It is capable of holding up well to hard and extreme abuse and use. In fact, it serves as a heavy-duty solution designed for workers and tradesmen who are in search of a carrier for their tools that perfectly matches their unique requirements.
It is compact and portable but I can assure you that it contains all the pockets, compartments, zippers, and other features needed to keep your tools secure, well-organized, and easy-to-access. It is tough and durable considering the PVC-impregnated nylon used in creating its pockets and exteriors.
The bag is also popular for withstanding a number of tough and harsh elements. This is made possible with its injection-molded base, which is known to be waterproof, as well as its weatherproof rivets and zippers. In other words, you can use it in tough situations without worrying about it getting damaged or broken immediately.
I find the central panel that separates the interior and exterior pockets favorable, too since this plays a huge role in keeping your tools in their right places in case you need to travel.
Furthermore, I am sure that you will love the built-in D-rings that you can use in clipping on some accessories so you can quickly access them.
However, I am not so happy with the price of this tool bag as it seems to be higher compared to other items of almost the same quality and features.
What We Like
Compact and portable
Tough structure, thanks to its waterproof and weatherproof features
Equipped with D-rings that conveniently hold some accessories
Ensures that your tools will be positioned correctly, thanks to its central panel
Guarantees quick tool access
Overall, this tool bag from VETO is a great deal considering the fact that it is equipped with most of the things that users love about the bags offered by the brand while being available at a reduced size so you can enjoy a more focused tool organization and deployment.
9. Rugged Tools Pro Tool Backpack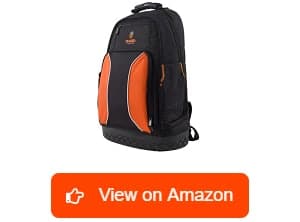 I also highly suggest using the very versatile and flexible Rugged Tools Pro Tool Backpack. I instantly sensed its versatility upon noticing that it fits the requirements of not just one particular worker. It is perfect for the needs of not only electricians but also contractors, plumbers, audiovisual and cable installers, plumbers, and HVAC repairmen.
One favorable fact about this backpack is that it is structured in a way that it can deal with the toughest work situations and environment, thanks to the rugged and sturdy 1680D polyester material utilized in manufacturing it. It can even resist tough and harsh abuse with its well-reinforced zippers and pockets.
I am so happy with the molded hard bottom built into this pocket, too. It is because it is capable of creating a flat surface where the backpack can safely stand upright regardless of the environment. It also works in elevating your tools, thereby lowering their risk of getting damaged.
I am also impressed with the way your tools can stay dry and safe when stored in the backpack considering the fact that it can withstand snow, mud, water, and any other harsh elements. With the up to forty pockets, I am certain that you will not experience problem organizing your tools and transporting them conveniently from one site to another.
The pockets are roomy, spacious, and flexible in the sense that they are capable of keeping a secure hold of any items you have on hand, including measuring tape, wrenches, screwdrivers, electrical fish tape, and drill. It is equipped with a top handle, which ensures that you can conveniently and easily carry it around and lift it.
In terms of comfort, this backpack will not disappoint as it has well-padded back lumbar support and shoulder straps.
The only thing I do not like so much about this backpack that it is slightly heavy because of the thick rubber used in its bottom.
What We Like
Suits the requirements of many workers and professionals
Padded straps for comfort
Comes with a top handle, which makes it easy to carry around and lift
Can resist tough and harsh abuse
Roomy and spacious compartments and pockets
This tool backpack is guaranteed to give users the highest level of satisfaction with its exceptional quality, rugged construction, and the roomy and spacious storage compartments and pockets built into it.
10. Klein Tools 5541610-14 Tool Bag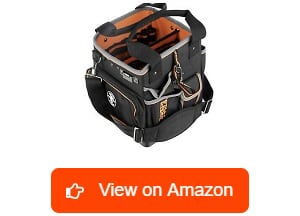 The next product that deserves positive recognition in the electrician tool bag category is the Klein Tools 5541610-14. One pleasant thing about this Klein tool bag is its numerous pockets that provide more than sufficient space for most of the tools that an electrician needs in doing his job.
This electrician tool tote bag actually boasts of up to forty pockets with a large zippered pocket designed for all your small tools and parts. With this much number of pockets, you will surely have enough for your daily use. I even like its longer pockets that are helpful if you want to store long screwdrivers.
I also find the sturdy and fully molded base or bottom highly impressive because it works in letting the bag stay upright while also protecting it from the elements and boosting its stability. I also like the orange interiors of this tool bag as it promotes complete visibility, promoting speed when it comes to finding your tools.
The 1680D ballistic weave material used in creating this bag is also beneficial because it is popular for its durability. You can easily carry it around because of its user-friendly handles as well as the comfortable shoulder strap equipped with additional padding. You can also utilize the shoulder strap in conveniently hanging the bag close to you.
Another fascinating aspect of this tool bag is its fabric-covered, hard plastic floor bottom, which actually contributes to retaining its shape. It also takes pride in its sturdy stitching, which prevents it from wearing out too soon.
However, I dislike the lack of padding for the handles as this makes the bag a bit uncomfortable to bring on long trips.
What We Like
Boasts of a sturdy and fully molded base
Promotes visibility with its bright orange interiors
Highly durable construction
Well-padded and comfortable shoulder strap
Plenty of pockets built in
Still, it is undeniable how this Klein tool bag showcases its exceptional precision, durability, and performance, making it possible for you to do your job correctly and enhance your productivity and efficiency.
11. Internet's Best Open Top Tool Bag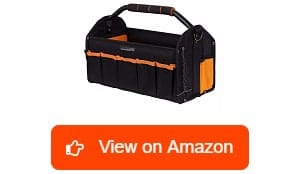 The Internet's Best Open Top Tool Bag is also another fascinating choice as it is considered to be unique. Many find it distinctive because it is not the same as the traditional tool belt for electricians. Despite its difference, it still delivers more than a decent performance when it comes to the secure storage and organization of tools.
I specifically like how this tool bag is constructed with the help of the sturdy 600d material. This fabric is positioned over semi-stiff frames as well as strong and heavy-duty handles. This specific construction works in enhancing its strength and stability while making it possible for you to fold it up each time you no longer need to use it.
I am in favor of the heavy-duty handle made of metal used in the open top of the tool bag because it is sturdy while giving you the chance to access your tools and hardware with ease.
It acts as the ideal storage carrier for all electrical tools, especially heavy-duty ones. The sixteen pockets and loops are also known to be enough in organizing and storing the handheld tools you need as well as other construction and electrical accessories.
With the built-in heavy-duty metal handle, I am certain that carrying it around or bringing it in your workplace will be much easier. Combine that with the padded shoulder strap and grip and you will surely find it capable of offering additional comfort in all occasions.
The open top caddy combined with a high-quality frame is also greatly favorable as it ensures that all your tools and equipment are quickly and easily accessible.
However, some complained about the quite subpar stitching used in the tool bag.
What We Like
Securely stores and organizes your tool
Comes with strong and heavy-duty handles
Equipped with several pockets and loops, providing enough storage capacity and space
Comfortable with its padded grip and shoulder strap
Boasts of open top design for ease of tool access
What We Don't Like
Somewhat subpar stitching
For anyone looking for a good electrician tool bag, the Internet's Best Open Top Tool Bag will certainly deliver as far as quality, performance, and storage capacity is concerned.
12. Stark Rolling Wide Mouth Tool Bag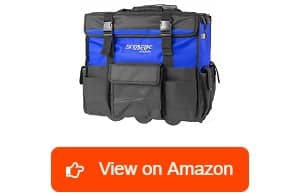 The last amazing tool bag that I would suggest to any electrician or worker is the Stark Rolling Wide Mouth Tool Bag, which is around 20 inches in size. It does a decent job in lessening your trips to and from work just to bring and return your tools because they will be in just one easy-to-access spot.
I am satisfied with the main compartments of this item because they are large enough while offering ample storage space to accommodate a wide array of tools. Even with a large amount of space provided by the bag, it still retains its compactness and portability, so I can prove how easy it is to use and carry it.
I like how adaptable it is to a number of work conditions and job sites. This proves its versatility, boosting its ability to cater to the needs and requirements of different workers. Constructed using 600-denier spun-tuff polyester, I can also prove its toughness and stability. It is even water-resistant.
This tool bag is also not hard to move from one place to another. The ease of mobility is made possible by the bag's heavy-duty and comfortable telescoping handle, which has a convenient grip so you can easily roll it behind you. With the built-in all-terrain wheels, you can also safely categorize this product as an amazing electrician rolling tool bag.
You will find the wheels useful in rolling the tool bag over soft and hard surfaces. It is also big enough while remaining lightweight.
However, the black lining makes it a bit difficult to look at the items stored inside.
What We Like
Large and spacious main compartments
Compact, portable, and lightweight
Can be easily transported, thanks to its all-terrain wheels and telescoping handle
Water-resistant and tough construction
Can cater to the needs of different workers
What We Don't Like
A bit difficult to look at the stored items inside due to the black lining
With the ample space provided by this tool bag as well as its convenient and user-friendly features, it is safe to assume that it is the perfect storage solution for your individual tools and toolsets, such as hand tools and small power tools.
CLC Custom Leathercraft 526 Tool Pouch (Outdated)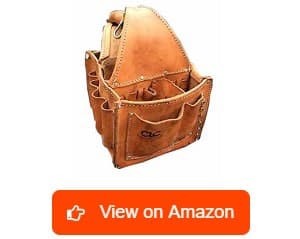 If you want to enjoy the durability brought on by a leather electrician tool bag then you might want to check the CLC Custom Leathercraft 526 Tool Pouch. It is mainly built using high-quality and top-notch leather material, top-grain leather to be very specific.
Combine that with the rugged polyester fabric and you can expect the tool pouch to be able to withstand whatever abuse and harsh elements thrown at it. This tool pouch boasts of adequate space while also working based on the separated principle compartment.
It is equipped with a leather-reinforced handle, which also takes pride in its sturdy nylon sewing or stitching. This ensures that you can easily carry it around while having much better durability. The pockets and sleeves built into the pouch are also designed in a way that they can immovably hold and handle your tools.
The stitching is heavy-duty, which further proves the pouch's durability. In addition, each stress point comes with steel riveting. The pockets are hard-molded, too, which, I think, contributes a lot in ensuring that your tools will be firmly held regardless of what job you are holding.
I like the box-shaped style applied into this tool pouch because it lowers its risk of tipping or toppling over. I am satisfied with its size, too, because I find it compact and portable enough to carry with ease even when it is filled to its capacity.
One disadvantage, though, is that it lacks a tape measure clip, which some users are hoping to see in the bag.
What We Like
Rugged leather and polyester fabric construction
Heavy-duty stitching, further reinforcing the durability of the bag
Boasts of its box-shaped style, preventing it from toppling over or tipping
Compact and portable
Equipped with a leather-reinforced handle, which is comfortable to use
What We Don't Like
Lacks a tape measure clip
Overall, it is a nicely and sturdily designed tool bag, which can certainly give you a pleasant experience at work since it makes you more efficient and productive.
What is an Electrician Tool Bag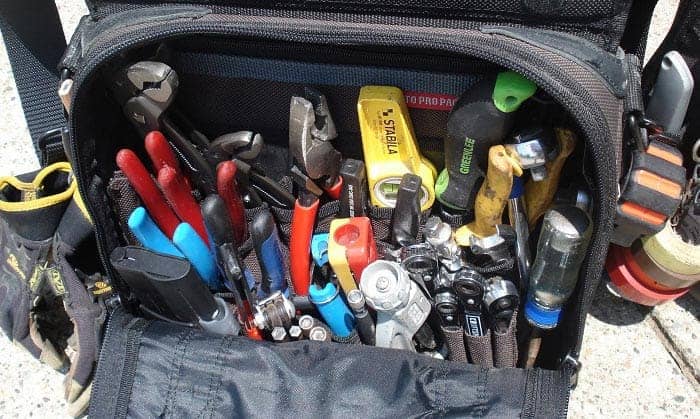 As a professional and serious electrician, your job may involve carrying a lot of accessories and tools whenever your services are needed. That said, an electrician tool bag, while it seems to be a luxury to have it, is actually an essential item for you. It is a bag specifically made to carry the necessities and tools your work requires.
With the help of a tool bag, you can bring your tools to your job site without having to spend a lot of time going to and from a specific spot just to get a certain tool. It lets you have easy and quick access to your tool. Note that carrying several tools of various shapes and sizes can be a hassle, especially if you do not put them in one spot.
Fortunately, you can now avoid the mess and hassle of having to find all your required tools just because they are not in one place. You can just invest in dedicated electrician tool bags with ample space and pockets to hold all your stuff.
How Does It Work
You can anticipate your electrician tool bag to work based on the way it is mainly designed and the specific features it carries and the benefits it promises. Basically, it functions by carrying all the stuff and accessories that you will most likely need to fulfill an electrical job.
One way it works for most electricians is based on the number of compartments and pockets it has. It is because the number of pockets and compartments, as well as the space it provides, will have a say on how spacious and roomy it will be. This is the primary reason why you have to figure out the amount of space you need before buying.
In this case, you have to find out if the space provided and the pockets and compartments are compatible with the nature and design of tools that you need to carry. Check the sizes and the specific number of tools that you will need at work, too.
This can help you find a tool bag with just the right number of pockets and compartments, allowing it to work favorably based on your requirements. The bag can also be expected to work depending on its carrying straps. It is because the straps play a crucial role in giving you a more convenient experience when lifting the bag.
You can expect the item to work even better if the straps are adjustable and padded. It is because this makes it lessen the struggle that you might experience when carrying even the heaviest stuff. For those with a backpack design, the back should also be padded for your comfort when bringing heavy tools.
Types of Electrician Tool Bags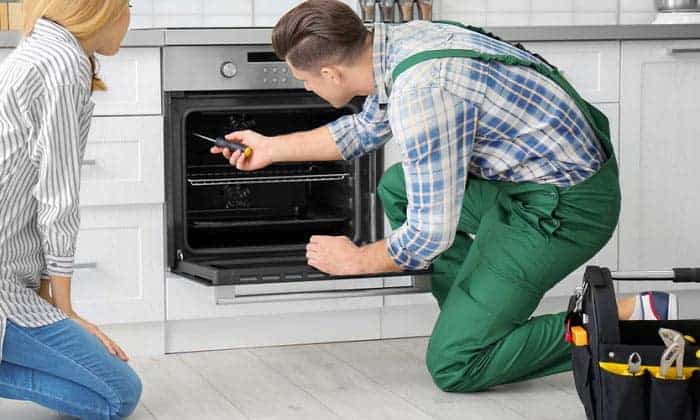 An electrician tool bag is available in different designs, construction material, and type, so you can rest assured that you will not run out of choices once you decide to shop for a good one. In terms of material, you have a few options, including those constructed out of canvas, leather, and nylon.
Canvas Tool Bag – One thing that makes canvas tool bags impressive is their durability. The material is durable considering the fact that canvas can be categorized as a plain-woven fabric, capable of offering sturdiness and strength to the item where it is used.
Another reason why canvas is a good choice is that its fibers tend to flex and adjust based on the actual size and weight of the tools and items you decided to store inside the bag. If you pick a canvas electrician tote then it is also possible for it to handle heavy tools easily compared to other materials. It also less prone to tearing.
Nylon Tool Bag – Another material used in creating a tool bag that works for electricians is nylon. Less expensive than leather, nylon is a great choice because it is also capable of taking a beating considering its durability.
It is because it is a strong and stable fabric capable of taking the wear and tear that might be caused by sharp tools. You might find a nylon bag helpful especially if you prefer a functional and durable carrier for your tools.
Leather Tool Bag – You can also choose tool bags constructed out of leather material. While it costs higher and is heavier than nylon, many still prefer it because of how heavy-duty and long-lasting it is. If you choose this type then try to go for a lighter version so you would not end up facing difficulties carrying it around.
Aside from the construction materials, you can also choose your preferred tool bag based on how it is designed. Some options, in this case, are:
Tote Bag – This type of tote bag is large enough and perfectly suits your needs in case you need to carry various stuff. It is made in a way that it has a huge opening on top. It does not come with fasteners.
What it has, instead, is a pair of handles that are parallel on both sides that you can use to hold the bag. One advantage of this style of bag is that it lets electricians organize their tools and retrieve them with ease. It is mainly because of the large opening found on top of the bag.
Tool Pouch – You can also go for a tool bag in a pouch style. It is small and comes with a drawstring that you can use to close it. Just like the tote bag, it comes with a large opening on top, promoting ease in accessing your tools.
Despite being compact, expect it to come with several pockets, so you can rest assured that you can carry your tools easily.
Tool Backpack – It is also possible to pick one in the backpack style. It is an ideal choice, especially if you want to be able to manage your tools easily while on the go. It offers an efficient solution when it comes to transporting your tools to and around your workplace while letting them stay organized, easy to access, and visible.
What is good about most backpacks today that can hold the tools of workers is that they are constructed using sturdy waterproof and water-resistant materials. They are also equipped with a good combination of interior and exterior pockets of various sizes, as well as straps and loops that can hold a number of tools, regardless of their size.
Why Do You Need to Wear an Electrician Tool Bag
As an electrician, a tool bag is a worthy companion because it can assist you in carrying all the tools that you need in a safe and secure manner. It has pockets of varying sizes, ensuring that they can hold items of different sizes and keep them as organized as possible.
With the aid of the tool bag, all your tools will remain well-organized while being easily accessible. What is even more favorable about these tool bags is that they are designed in a way that they can handle a huge amount of weight, thereby supporting the process of carrying several tools in just one area.
Most of them also feature comfortable straps, thereby preventing you from dealing with a lot of inconveniences when moving around while carrying the bag. The following are the notable benefits of an electrician tool bag that also serve as prominent reasons why these are required by electricians like you.
Portable – The portability of an electrician tool bag is one of its most endearing qualities. Because it is portable, you will surely experience extreme convenience even when you carry a lot of stuff inside.
Even if you need to do some electrical repairs of the roof, the portability of the tool bag will prevent you from experiencing struggles completing your job. You do not have to worry too much about facing discomfort when climbing a ladder while carrying heavy stuff.
With your tool bag around, it is possible to accomplish your job without having to bother yourself or anyone in case you need to lift some tools. It is so portable that walking around and using it the entire day is possible without causing you to experience pains.
Protects your tools – Another great advantage of owning a tool bag is that it ensures that all your tools, especially the expensive ones, receive a good amount of protection. While inside the bag, your tools will surely remain in great shape, making them last for as long as possible.
Just ensure that you pick a tool bag constructed from sturdy materials, particularly those that perfectly suit industrial environments. It should let you work comfortably while your hands are free.
Organizes your tools – Investing in a tool bag is also the key to improving your organization skills. One great thing about tool bags is that they are available in different sizes – with each one having different numbers of pockets. With that, you can surely pick one that can perfectly accommodate your tool collection.
It is equipped with different compartments so organizing your stuff will be effortless. Since you were able to organize your tools properly, expect to spend the least amount of time and effort accessing your tools when needed since you no longer have to rummage in your close or around a box just to look for the specific thing you need.
Aside from the mentioned advantages, you will also like the fact that most tool bags only consume the least amount of space because they are not that rigid. Compared to toolboxes, a tool bag is also lighter in weight. It is also built in a way that it can expand to provide a bigger space for your tools.
Buying Guide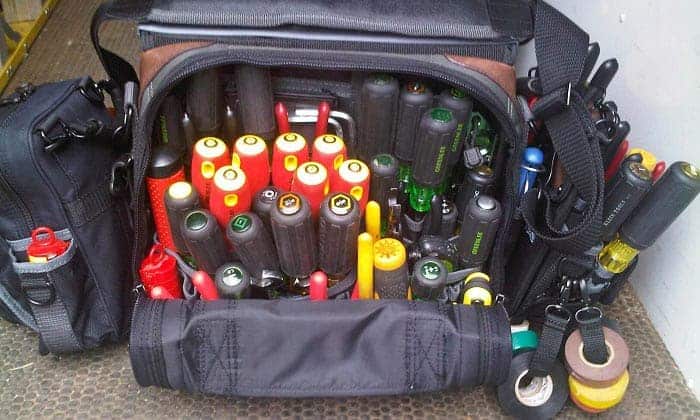 Interested in buying an electrician tool bag? Then boost your chance of getting the most appropriate choice by considering these key factors and features:
Material – One key factor to scrutinize carefully is the main material used in the overall structure of the tool bag. Nylon and canvas are two famous options but note that you can also check others, like leather. The material contributes a lot in the durability and sturdiness of the bag, so it is necessary to be extra cautious in choosing it.
Keep in mind that the tools you store in there will most likely be heavy so you have to go for a bag based on a material that can withstand the test of time. Choose a material, which will not disintegrate and get damaged even after using it for several months.
By choosing the right material, you will most likely get a durable bag, which will serve its purpose for a long time.
Pockets – Spend time studying the number of pockets and compartments in the bag as well as their individual sizes. You have to decide first on the specific number of pockets you need to avoid getting one, which is either inadequate or excessive. Note that different tool bag styles are also equipped with various sizes and numbers of pocket.
In this case, you also have to scrutinize the specific tools that you intend to store in the bag. Can they fit in the pockets comfortably and securely? If you need to bring a drill, then choose a bag with pockets large enough to store it. You can also go for those with smaller pockets if those are what you need.
Other choices include vertical and horizontal pockets. Determine what styles, shapes, sizes, and the number of pockets you need to avoid making a wrong buying decision.
Overall construction – The way the tool bag is constructed should also have a major contribution to your decision. Check how sturdy the construction is. Also, find out if it features things that can further improve its durability – one of which is a reinforced bottom panel as this prevents the area from ripping.
With this, you can avoid the risk of losing your tools just because of the rips and tears at the bottom. You can also look for those with metal-framed top flaps within the fabric. A tool bag constructed with such feature can help its lid remain up and open, thereby promoting convenience in locating and retrieving your required tools.
Check the zippers, too, and find out whether they are equally sturdy. Avoid those with cheap zippers as these are prone to breaking. Find a bag equipped with fasteners and zippers capable of withstanding the harsh test of time.
Comfort – It is also crucial to check how comfortable the tool bag is before using. Find out whether it contains features that can make your life comfortable when wearing the bag. One of these is the strap. Note that carrying a bag filled with tools will most likely cause you to feel the heavy weight on your shoulders.
That said, it is advisable to check the strap used in the bag as this has a say on how effective it is in distributing the weight evenly and effectively on your shoulders. There should also be enough padding on the straps as such can make you feel even more comfortable.
You might also want to go for one with removable and adjustable straps for further comfort and convenience. Aside from the straps, check the handles of the tool bag, too. Some of them actually feature retractable handles that are similar to the wheeled cases that you often bring when you travel.
Such offers extreme comfort, especially if you intend to wheel your tool bag rather than carrying it especially if it is heavy. You will enjoy even better convenience if the handles are adjustable.
If possible, choose a bag with wheels built at the bottom because this makes it more convenient to transport it from one place to another no matter how heavy it is. This is particularly helpful in preventing shoulder and back pain.
Carrying options – One favorable benefit of tool bags is that most of them are made without the need to be carried around using your hands the entire day. In most cases, they feature an extra shoulder strap so you can easily carry them while preventing back pain issues.
You can even find bags with a belt. Those with a belt are undoubtedly among the most reliable carrying options because such can help in removing the weight from your shoulders and back.
Care and Maintenance
One thing that you should not forget doing once you finally take hold of a high-quality tool bag is to give it proper care and attention. Note that you need to give it extra care so you can preserve its good and excellent condition for a long time.
One important part of its care and maintenance is to clean it by getting rid of all the accumulated dirt after using it for a certain period. Clean it thoroughly or in an in-depth manner aside from just dusting it. You can also preserve its condition by using it the right way.
For instance, you have to fill the bag based on its capacity. Avoid going beyond the weight it can handle to prevent it from getting damaged too soon. Do not forget to inspect it from time to time for any signs of damage so you can fix them right away.
Frequently Asked Questions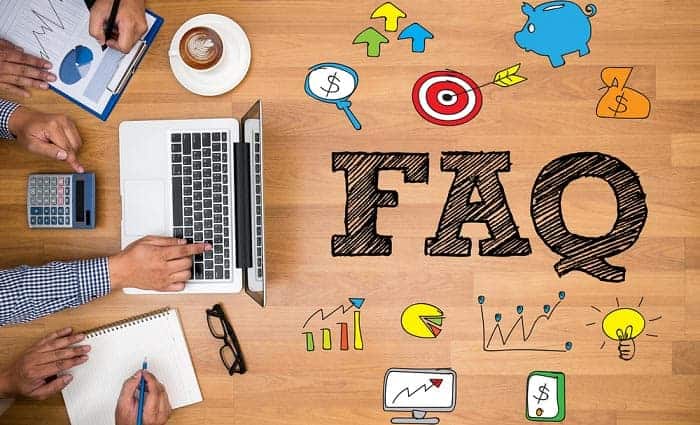 What are the most popular electrician tool bag brands?
There is a huge increase in the number of electricians who have finally discovered the importance of owning a tool bag. With such realization, it no longer comes as a surprise to see various brands of electrician tool bags emerging and claiming to be the best.
If you are confused because of the numerous brands presented to you, then it would be safe to go for those that continue to earn positive reviews and feedback from users. Some brands that deserve your attention because of their trustworthiness and the quality of their products are DEWALT, CLC, Carhartt, Klein, VETO, and Rugged Tools.
What are electrician tool bags made of?
A best electrician tool bag is made of high-quality material – among which are canvas, leather, and nylon. Aside from the primary material used in its construction, the bag is also composed of other features that make it function the way it should, including the zippers, adjustable or removable straps, pockets, handles, and feet or wheels.
How many tools does an electrician have?
In a basic electricians' tool storage, you will normally find a set of screwdrivers, voltage tester, wire strippers, levels, tape measure, electric drill, fish tape, reaming bit, conduit bit, torches, and circuit finders.
A bigger commercial electrician tool bag can have room for personal protective equipment like insulated gloves and safety glasses. Some even provide spaces for laptops and pockets for all the paperwork needed for the task.
Meanwhile, small tool bags for electricians usually contain the essentials. This type of storage may be clipped to the belt to free up the worker's hands.
How long does an electrician's tool bag last?
It all boils down to quality. This encompasses materials, construction, and design.
To give you an example, Klein and VETO are praised by most online workwear magazines and several Reddit users for their long-lasting durability. A high-end electricians bag with shoulder strap from these brands can last over a decade.
As expected, a low-cost electricians tool tote made of a canvas often shows signs of wear and tear in less than a year. On the other hand, a leather electrical tool pouch can last a lifetime if you take care of it.
What is the warranty?
Most reputable brands publish on their websites, and I highly recommend you check them out before buying an electricians tool case. Generally speaking, some manufacturers offer a 1-year warranty while others provide a lifetime repair.
Note that these warranties may only be available in certain regions. Some warranties are specific to the country where you purchased the item. To be sure, I suggest going to the brand's physical stores near you and consulting their sales representatives.
Are electrician tool bags waterproof?
This depends on the main material used in making the tool bag. In most cases, the bag is waterproof if it comes with a sturdy and rigid base with a waterproofing property applied to it.
This would be an ideal choice if you want your tools to be protected from water and moisture. With this waterproof base or bottom, you will have peace of mind when you put your bag on damp grounds since you know that it will not get damaged.
Fortunately, most of these bags are water-resistant or waterproof. However, take note that there are certain designs that are less water-resistant compared to the others, like the bucket design. With that in mind, it would be helpful to choose a design, which has plenty of nylon, poly fiber, and plastic as this offers a good degree of water-resistance.
How to choose the right size?
You can pick the right size of tool bag if you carefully consider your specific needs. When choosing the perfect size, determine the number of tools you plan to store and organize there first. Based on that, you can pick a size that will certainly fill and fit your needs.
Avoid going for a bag, which is larger than what you specifically need. It is because this might only add bulk and weight, causing discomfort when carrying the bag. It should not also be too small that you experience difficulty organizing your stuff.
How to use?
To make the most out of your tool bag, you need to be aware of how to use it appropriately. The right way to use it is to ensure that all the tools you plan to bring are well-organized. Carry only the stuff you need and put them at the right pockets or compartments.
Also, ensure that the ones you frequently need are placed in those areas that your dominant hand can easily access. Another thing to remember regarding the proper use of tool bags is to ensure that you do not let them carry stuff that overly exceeds the max weight they can handle.
How to clean?
Cleaning an electrician tool bag correctly involves the use of soap and warm water. Warm water is helpful in getting rid of soil and dirt. As for the soap, go for mild ones. Do not use bleach and detergents. Avoid washing the bag right away. What you have to do is to let it soak for a bit first to dampen the stains and dirt.
Use warm soapy water for this then rinse it for a few times using clear water. If needed, you can give the bag some little or gentle scrubbing as a means of loosening the soil and dirt from the surfaces. Avoid thorough and deep scrubbing, though, as this might only damage the bag's material.
Once you are done washing the bag using the soapy water and doing some gentle scrubbing, rinse it for a few times. Use clear water for this. Do it several times to ensure the complete removal of all the soapy remains as well as the dirt removed from scrubbing.
Conclusion
Owning the best electrician tool bag can certainly make your life easier when you are trying to fulfill an important job. With its ability to protect your tools when unused while ensuring that they are close to you and easily reachable whenever you need them, you will immediately realize its positive contribution in boosting your productivity.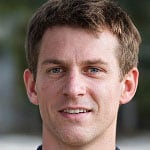 Having worked in the field of personal protective equipment for over two decades, Andrew Carnegie is a specialist in the field.
At EDC, he strives to improve performance efficiency and promote workplace safety for EDC's readers and customers. He also researches the most up-to-date equipment that has earned relevant accreditation for use in a wide range of industries and specialties.