Professional electricians need to master and improve their speed and work efficiency while ensuring that they constantly prioritize their safety. All electricians also know the significance of ensuring that they get the correct tool at the perfect timing or moment.
While they can bring a toolbox to access their tools easily, it will not be that useful in case they need to do electrical repairs that are on the ceiling or roof. It is because the toolbox might only interrupt their work. The best electrician tool belt, therefore, serves as their saving grace in those situations.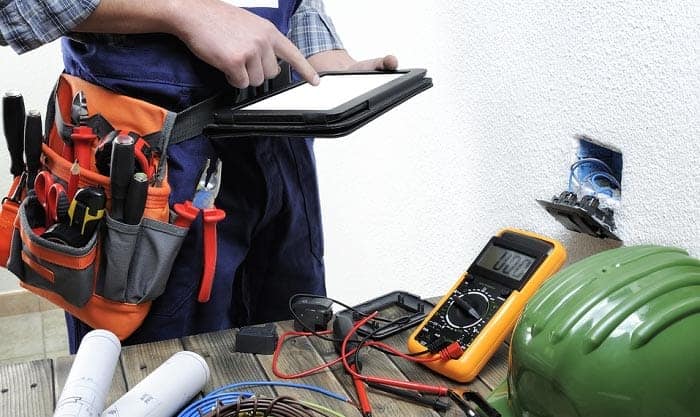 With the tool belt for electricians, completing your job will be hassle-free as you no longer have to inconvenience yourself with climbing up and down the stairs whenever you have to use a specific tool. The main role played by an electrician belt is helping you carry your work tools wherever you decide to go.
It also assures users of ease of access not provided by your typical toolbox or tool bag. However, be aware that if you are shopping for a good tool belt designed for electricians, hundreds of choices will emerge. This makes it harder to look for one that truly deserves your interest and money.
That said, identify which one among them can really help lessen the hassle that you might experience when doing electrical jobs. Look for quality, durability, and long-term comfort, too. After all, the greatest electrician tool pouch is designed in a way that it can make your life easier while boosting your work productivity and efficiency.
To guide you on your way towards choosing a good electrician tool belt, we have gathered a few products currently gaining traction and popularity in the market and included them in this article. You can also check out our handy buying guide to simplify the process of finding one that suits your specific electrical requirements.
12 Tool Belt for Electrician Reviews 2023
1. DEWALT DG5103 Electrician's Pouch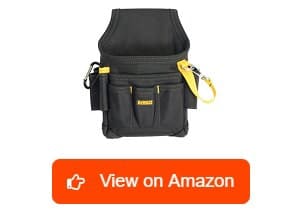 I also encourage you to check out the DEWALT electrician's tool belts and pouches as the majority of these products are created without neglecting their quality. The brand's DG5103 Maintenance and Electrician's Pouch is not an exception as it speaks of quality right at the instant you try to get to know about it.
I am pleased that it carries a hands-free design as it promotes extreme convenience when bringing at work, regardless of how demanding and tough the environment is. It is equipped with one large primary pocket, sleeve pocket, and loops that are all capable of holding and storing numerous supplies and tools.
By ensuring that your tools are within easy reach, this tool belt will have a huge contribution in your attempt to enjoy quick and efficient work. I like the size of this tool belt because I think it is just right to meet the needs of busy and active electricians and contractors.
It is compact so you can rest assured that it will not be a hassle to bring around. Despite its compactness, it is still spacious and roomy that you will not feel like it has limits in the number of tools it can hold.
The belt's large main pocket promotes ease in accessing tools and parts. It also takes pride in its trapezoid shape, which actually plays a major role in preventing the belt from moving while you are climbing ladders or walking.
The sturdiness of this tool belt is also made possible because of its ballistic poly fabric construction, which also has reinforced edges designed to handle heavy wear and extended use.
However, I also discovered that the clips added to the tool belt are not that hard-wearing.
What We Like
Boasts of its hands-free design, promoting convenience when used
Ideal for use on tough and demanding environments
Provides huge and multiple storage capacity and options
Allows you to access your stored tools with ease
Does not move that easily because of its trapezoid shape
What We Don't Like
Not that hard-wearing and sturdy clips
Overall, the DEWALT DG5103 tool belt serves as the ideal tool holder for any contractor who intends to make their work tools close at hand and easily accessible.
2. Klein Tools 5240 Tradesman Pro Tool Pouch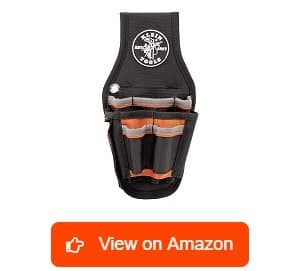 If you want a high-quality Klein tool pouch, then the brand's 5240 Tradesman Pro may be what you specifically need. There are so many things to love about this tool pouch – one of which is its being budget-friendly, making it suitable for potential buyers that are on a budget.
I find the compact design of this tool pouch favorable, too because this means that it has the least chance of interfering with your movements. I am also fond of it because despite being compact, it still features more than enough pockets to carry, organize, and store all your basic and essential work tools, making it a truly efficient tool belt for electricians.
I am also in love with its convenient and user-friendly grab-and-go design, which contributes a lot in making sure that all your basic and most frequently used tools are easy and quick to access. It is equipped with tiny pockets designed to hold small fittings as well as splitters, thereby promoting comfort.
I like the shoulder strap built into this Klein tool belt/pouch, too, because it offers more stability during those instances when you need to climb a ladder. It has belt loops and clips, making the pouch fit in any work belt. It is capable of fitting belts that are around two inches in width.
I am happy to say that it fits all sizes of the waist, so you do not have to worry about not being able to find the perfect fit for you.
However, I would like to point out one drawback of this tool pouch and that is its inability to hold heavy-duty and extremely large tools.
What We Like
Comes with small pockets to hold small fittings, splitters, and other basic and essential tools
Can fit belts that are around two inches
Fits all waist sizes
Boasts of a convenient grab-and-go design
Compact and easy to manage
What We Don't Like
Not that suitable for heavy-duty and extremely large tools
With its plenty of promising and useful features, Klein Tools 5240 Tradesman Pro Tool Pouch definitely deserves to form a huge part of your choices and is worth buying.
3. ToughBuilt Electrician ClipTech Pouch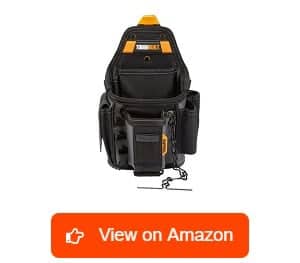 The last electrician tool belt I would recommend in this article is the ToughBuilt Electrician ClipTech Pouch. I find this pouch remarkable because I noticed that it is built to fulfill the needs and requirements of professional electricians. This is an appropriate companion if you are looking for a tool pouch or belt, which acts as a rough and tough worker.
I am primarily impressed with the convenience offered by this pouch considering the fact that it is equipped with thirteen pockets along with a loop for tool belts. It is small and compact but it carries several compartments and rooms to organize and help you carry your basic stuff and tools.
I am also enjoying the versatility of the ToughBuilt Electrician ClipTech Pouch. Ideal for universal applications, this pouch can answer the needs of not only electricians but also other professionals who are in other lines of work, including construction workers, carpenters, handyman, plumbers, framers, and contractors.
This pouch also carries plenty of unique features that make it stand out. One of these is the unique and patented ClipTech Hub, which I find useful in case you want to have an easier time clipping it on and off certain belts. It also boasts of its integrated kickstand, which allows the pouch to stand and stay upright on the ground, allowing it to stay close to you.
I also find the rugged and sturdy 6-layer construction combined with heavy-duty and reinforced rivets commendable because such further makes the pouch durable, allowing it to withstand even the most rigorous and toughest work conditions.
One thing I dislike about this pouch is that it is heavier in comparison to the others.
What We Like
Heavy-duty and durable, thanks to its 6-layer construction paired with reinforced rivets
Comes with several pockets for storing plenty of stuff inside
Easy to clip on belts, thanks to its ClipTech hub
Small and compact
Versatile as it is appropriate for the needs of many workers
This pouch offered by ToughBuilt is created in such a way that it can meet and adapt to the constantly changing requirements of professional workers and electricians, making it a truly nice addition to the things that can make your job easier to accomplish.
4. McGuire-Nicholas 526-CC Electrician's Pouch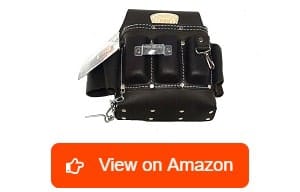 The McGuire-Nicholas 526-CC Electrician's Pouch is also an amazing investment whether you are a professional electrician or someone whose daily tasks require easy access to a wide range of tools. One remarkable benefit of this pouch is that it contains multiple loops and pockets, expanding its storage capacity.
I like its overall design because I think it assures you of easy access to all your work tools as well as vertical storage. I am fond of the metal tape clip built into this belt/pouch because I find it capable of holding different types and models of tape measures. I am super fond of its rugged and sturdy built.
Add to that the rivet reinforcements and the sturdy stitching and I am sure you will immediately recognize how durable this item is. Even if it is created to be tough, it is still surprisingly lightweight, which contributes to it being easy and comfortable enough to use. The padding added to the pouch also promotes extra comfort.
I am also happy that this tool belt is capable of fitting almost everything without adding bulk and weight to what you are carrying every day. It is well-crafted while being offered at a low and decent price.
However, one drawback I observed is its initial stiffness, which makes it necessary to break it in and polish it at first.
What We Like
Multiple pockets and loops provided, offering adequate room and space
Can fit most items without the additional bulk and weight
Tough construction with sturdy stitches and rivet reinforcements
Comfortable and easy to wear, thanks to its lightweight nature and adequate padding
Equipped with a metal tape clip
What We Don't Like
Need to break it in because of its initial stiffness
Overall, this tool belt/pouch from McGuire-Nicholas continues to receive praises and good feedback from its users because it is not only strong and comfortable but also spacious enough.
5. Milwaukee 48-22-8110 Electricians Work Belt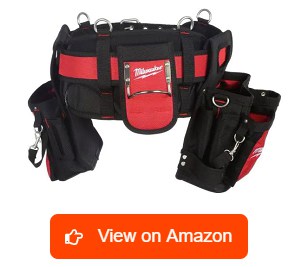 Made of durable fabric, this work belt is among the lightest I have had. Storage-wise, the electrician pouch seems more spacious than some of the ones I owned in the past. Moreover, the stitching is pretty strong, enabling the pouch to hold heavyweight items.
Besides, I like that it comes with a metal hammer holder and some loops where I can hang rolls of electrical tape. Overall, I would say that the layout of the compartments allows for quick access, especially when I am holding onto something.
Another nifty feature is the belt's width. It is broad enough to distribute the weight and relieve the pressure from my back. When I load and wear this work belt, it sits comfortably on my waist. Plus, the two-prong buckle ensures that I can fasten it securely. Unlike leather, I don't have to make the belt and the pouches softer and more pliable. It already conforms to the shape of my body.
This does not come with suspenders but features four D-rings that are compatible with other brands. The velcro attachments are strong and capable of holding the pouches to the belt with few items. But note that by nature, velcro can reduce its sticking ability over time, especially when used regularly.
What We Like
Has a thick belt to support the weight
Equipped with heavy-duty spacious pouches
The storage layout allows easy access
Helps relieve pressure on the waist
More pliable than leather
What We Don't Like
The velcro is prone to wearing down
All in all, this electricians tool bag and belt combo will not disappoint. With well-designed storage, you can bring all the necessary tools to complete your task.
6. Gatorback B240 Electrician's Combo Tool Belt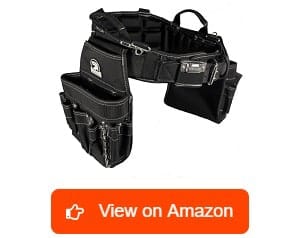 If you are an electrician who performs heavy-duty jobs and use tools often then the Gatorback B240 Electrician's Combo Tool Belt can perhaps offer a solution in terms of organizing your stuff and ensuring that you can easily reach them at the right time. What I am fond of about this electrician work belt is that it prioritizes the work of electricians.
This Gatorback tool belt actually comes in a combo featuring a supportive belt, 18 spacious pockets, and sturdy nylon construction. It actually uses the heavy-duty and sturdy 1250 DuraTek nylon, which significantly improved the ruggedness and durability of the belt while remaining lightweight enough that you will not experience problems with it weighing you down.
One notable benefit I discovered in this tool belt is that it is completely comfortable – that is all thanks to its fantastic back support system. I noticed that it further ups your comfort level by several notches with the aid of the belt's breathable and high-density memory foam padding.
I noticed that it contributes a lot in preventing your body from getting too tired and sweaty by ensuring that it stays cool. It boasts of its good air channel ventilation to minimize sweat plus it prevents too much weight from dragging you down with its contoured back support.
The reinforced box design used in this electrician tool belt setup also further improves its durability. Combine that with heavy-duty metal rivets and Bar-Tack stitching and you will surely begin enjoying the strength and stability of this tool belt.
It also comes with a handle that features an easy-to-carry design, promoting further ease and comfort when wearing and removing the belt.
However, this tool belt from Gatorback does not come with suspenders, requiring you to purchase one separately.
What We Like
Strong and heavy-duty nylon construction
Boasts of a reinforced box design with metal rivets and high-quality stitching
Highly breathable, thanks to its good air channel ventilation
Comes with an easy-to-carry handle
Provides more than enough space for carrying work tools
What We Don't Like
Requires the separate purchase of suspenders (in case you need one)
With the comfort provided by this tool belt as well as its contoured back support and spacious and roomy pockets, I feel like this deserves to be included in your top choices.
7. CLC Custom Leathercraft 1608 Electricians Tool Belt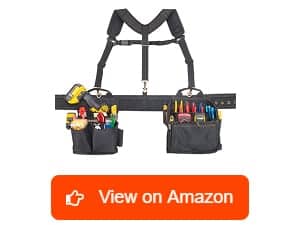 Are you interested in buying a high-quality CLC electrician tool belt? Then the CLC Custom Leathercraft 1608 Combo Tool Belt is worthy of your time and attention. I like how this belt is designed to meet the daily demands of electricians, and any other type of worker.
One thing that it does is to load and distribute weight without causing strain and pressure on your body. It comes with stitched pockets that are not only ruggedly designed but are also capable of providing users with a lot of capacity. The built-in pockets also promote easy access to each tool and item you need at work.
It is equipped with padded suspenders that, I think, make the overall design of this built more unique. This design also promotes utmost comfort in carrying it around and distributing the weight it carries, thereby ensuring that you will enjoy a light feeling on your hips and lower back.
I like the three wide-padded comfort tool belts integrated into this product, too, because it prevents you from experiencing too much strain, especially if you have a long and exhausting workday. Another fascinating fact about this tool belt is that it features as many as twenty-eight pockets.
Fitting waist sizes of 29 to 46 inches, spotting one that fits you well will be easier. This is also an electrician tool belt with suspenders that contribute in the even distribution of weight, thereby ensuring that you will not hurt your hips and back no matter how heavy it is.
Furthermore, the belt is adjustable so it will perfectly suit you. It also features zippered pouches that can prevent the tools you stored inside from falling out.
One issue, though, is that it has a touch of polyester fabric in its construction, which is not as sturdy as other materials.
What We Like
Equipped with up to 28 pockets, providing huge storage capacity
Promotes even distribution of weight, preventing you from dealing with pain and discomfort
Features zippered pouches to ensure that your tools do not fall out
Lightweight and comfortable to wear, even for long hours
Easy to carry around
What We Don't Like
Built with polyester fabric, which is less durable than other tool belt materials
As one of the inexpensive tool belts for electricians available in the market today that provide maximum comfort and huge storage space, the CLC Custom Leathercraft 1608 is surely an attractive product that deserves your attention.
8. FASITE PTN012 Electrical Tool Belt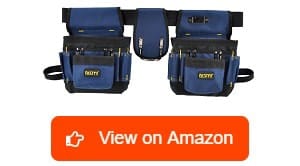 As one of the most reliable manufacturers of tool bags, pouches, and belts, I am pretty sure that FASITE will also satisfy all electricians who decided to invest in its PTN012 Electrical Maintenance Tool Belt. One thing that I encouraged me to try and use this product often is its durability.
In my opinion, this belt is sturdy because it makes use of the super thick 600D polyester fabric in its construction. In fact, the belt used triple layers of the fabric, making it more rugged and longer-lasting. Because of the three layers used in this belt, it became waterproof.
Combine this with the dual-stitches and the rivets at stress points and this tool belt becomes even stronger, boosting its ability to hold even those heavy tools. I love the large storage capacity promised by this tool belt.
With its thirty-two pockets, a couple of hammer loops and one steel hammer and steel measuring tape holder, it surely has the capacity to store different kinds of tools, not just electrical, like hardware, car, and gardening tools. This heavy-duty belt is also adjustable up to 48 inches, so you can rest assured that finding the ideal fit will never be an issue.
The special and unique design used in this tool belt also means that it can meet the demands of professional tradesmen and electricians whose jobs require them to walk long distances and work at heights every day. This belt is also ergonomically designed, lightweight, and versatile, promoting utmost comfort when wearing it.
I am also glad to say that the material of this belt is not that prone to scratches.
However, some say that the clip for the tape measure is poorly located because it tends to block access to the side compartment from time to time.
What We Like
Provides a decent amount of storage space, thanks to the up to 32 pockets and other compartments
Long-lasting and durably constructed
Equipped with adjustable straps so you can adjust it for a better fit
Scratch-resistant
Ergonomically designed and lightweight, ensuring comfort when wearing it
What We Don't Like
Poorly located tape measure clip
Considering the things that this tool belt can do, I can safely say that it is a product with a remarkable value, giving its users the functionality, quality, and durability that they are hoping for in a tool belt.
9. TradeGear Part SZA Tool Belt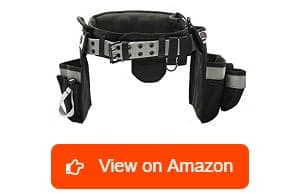 You may also be interested in this next product, which is a popular TradeGear Electrician Tool Belt that continues to earn positive reviews and feedback from the public. I am so thrilled to announce that this belt and bag combo from TradeGear is built to accommodate your most frequently used work tools.
It has plenty of compartments, providing sufficient space for all the stuff you intend to bring in your workplace. Some of these compartments are the twenty-seven spacious pockets and two heavy-duty and sturdy pouches.
Combine those with the belt's D-ring attachments and attachment loops for suspender-to-belt and you will be able to take advantage of a tool belt with the capability of holding a lot of tools, including your markers, hammers, pliers, wrenches, and grips. I am so fond of the ergonomic design used in this tool belt, too.
It is because combined with its air-mesh foam padding, such a design makes wearing the belt comfortable for you no matter how demanding your current job is. Since it is comfortable to wear, it is easy for you to use it for carrying your heavy tools during long work hours.
This TradeGear tool belt also boasts of its heavy-duty construction based on the sturdy and stable 600D nylon material. In addition, it has dual-layer metal rivet reinforcements and Bar-Tak stitching, which makes it all the more rugged. With that, it is no longer surprising why it perfectly meets the demands of the most serious workers.
The carry handles of this tool belt are also built with a user-friendly design. With such a design, you will never encounter problems wearing it or putting it on, taking it off, or moving it from one place to another no matter how much it weighs with all the stuff inside.
It also assures users of a comfortable and better fit with its adjustable design.
However, it might be necessary to buy a separate tape holder for it because this tool belt does not come with one.
What We Like
Sturdy and stable nylon material used
Reinforced with metal rivets, boosting its strength
Comes with user-friendly carry handles for ease of use
Comfortable, thanks to its air-mesh foam padding
Contains a lot of compartments and pockets
For its price, this TradeGear tool belt can offer a lot to its users, especially its ability to work as a durable and amazing companion in case you need to work on tough jobs.
10. Occidental Leather 5500 Electrician's Tool Belt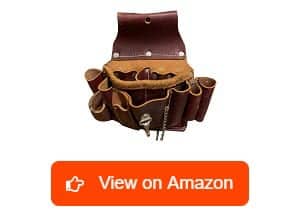 The next product I intend to recommend is the Occidental Leather 5500 Electrician's Tool Belt. I think that this is the ideal tool belt for you if you do not want to waste time when you are working as a full-time electrician or any other worker.
With this type of tool holder, it is possible to save time because it can hold and accommodate the tools that you often use. This will prevent you from having to go back and forth just to get the specific item you need to get your job done. I like the intuitive design exhibited by this tool belt.
It has the maximum storage capacity with the numerous pockets and compartments that you can access in this tool belt. It basically comes with 15 pockets going over the whole breadth and length of the belt/pouch. You can store specialized tools, like screwdrivers in these pockets, promoting utmost convenience.
I am in awe of how heavy-duty and strong the pouch is. It is strong enough through its sturdy leather construction, allowing it to handle even the heaviest and the toughest and the heaviest tools. It also has a rugged and sturdy hammer holder, which is reliable and strong enough to hold hammers easily with the right support.
I am fond of the exclusive and unique open design applied into the pockets of this belt as it assures users of good reinforcements and accessibility. This belt also has other features that make it even more functional, including the quick and easy to release tool snap, chain designed for the electrical tape, and a loop for a flashlight.
One issue I would like to point out, though, is that it is bulkier in comparison to other tool belts currently in the market.
What We Like
Rugged and sturdy leather construction
Promotes good reinforcements and easy accessibility, thanks to its unique open design
Equipped with numerous pockets, 15 to be more specific
Features a sturdy hammer holder, which can reliably support your hammers
Boasts of an intuitive design
If you are seeking for quality then the 5500 Electrician's Tool Belt offered by Occidental Leather is the ultimate solution as it can securely store and organize your stuff and ensure that you can conveniently and effortlessly access them any time you need them.
11. Gatorback Electrician's Combo Deluxe Package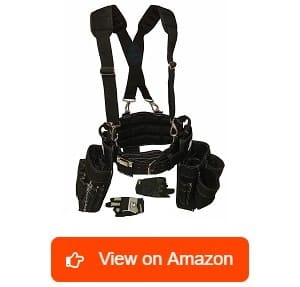 You can also take hold of an amazing and high-quality tool belt if you decide to invest in this electrician's combo deluxe package offered by Gatorback. I think one of the main selling points of the tool belt in this package is its toughness. It is tough and rugged as it is built while keeping in mind the tough jobs of professional contractors and electricians.
The ruggedness of the tool belt is made possible with its DuraTek 1250 fabric construction combined with metal rivets at all stress points and the Bar-Tack stitching. I think that it also boasts of just the right amount of space with its eighteen pockets at the right and the nine pockets on the left.
There is also a built-in tape chain for your convenience. I love how comfortable this tool belt feels when worn, too. The distinctive ventilated padding integrated into the belt contributes a lot to the high comfort level brought on by the belt because it helps assure you of minimal sweat.
I like the carry handles integrated into this tool belt because it also guarantees that you can easily transport it from one place to another. Furthermore, it is hassle-free to put on and take off. The fact that this belt is made with the aim of ensuring that it can carry all the tools needed by professional electricians also means that it is long-lasting.
I also find the contoured and comfortable back support in this tool belt completely convenient to wear. It even boasts of suspenders that help in removing a huge load from your back.
The only thing I can complain about, though, is its somewhat expensive price.
What We Like
Tough and rugged built with the aid of its DuraTek fabric construction
Easy to transport, put on, and remove
Boasts of a contoured and comfortable back support
Provides the right amount of space to hold your tools securely
Relieves the load from your back
To conclude, buying this tool belt is advantageous for any electrician or worker because of its ability to offer amazing support, ventilation, storage capacity, and comfort.
12. Occidental Leather 5590 M Electrician's Set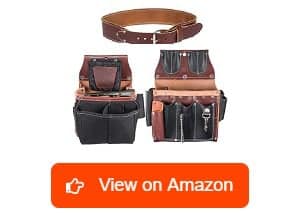 Have you heard of Occidental Leather and the remarkable quality of all the products it offers? Then I am sure you will also be delighted to know that it comes with an Occidental tool belt set with features and capabilities that will never disappoint you. As one of the most reliable makers of the belt, this brand always speaks of quality and durability through its products.
The same holds true for the Occidental Leather 5590 M Electrician's Set, which is made in a way that you will not experience too much difficulty at work. It is designed to maximize your work efficiency by providing hand-specific holders of your tools that make it more effortless and faster for them to access.
I am glad that this tool belt comes at a design, which can fit all waist sizes. Available in sizes small to extra-large, I am sure that finding one that fits you will is not that hard. It also has ample storage space, fitting all electrical tools and equipment you need to accomplish the task at hand.
This tool belt actually has a minimalist look. It is small and compact but you can rest assured that it has adequate space for holding your tools. It even comes with special compartments designed for both large and small tools. Backed by strong and thick leather, you can keep your tools protected inside.
The belt is also long-lasting as it is constructed from leather, which also naturally molds to the unique shape of each tool. I like the inclusion of buckles and clasps in this tool belt because these features make it possible for you to securely hold it to your waist. You can also comfortably wear it for an extended period.
I like the "no spill" system integrated into this belt as it helps ensure that the tools will not slip accidentally.
However, the only downside I encountered in this tool belt is the need to break it in before enjoying all its positive qualities.
What We Like
Boasts of a minimalist look while still having more than enough space for your tools
Comfortable to wear for a long period
Comes with buckles and clasps for security purposes
Strong and thick leather used, making it long-lasting
Available in various sizes
This tool belt set from Occidental Leather is definitely one of the best electrician tool belts and pouches you can find and built using high-grain leather, I am pretty sure that it will last and serve its purpose for a long time.
TradeGear Electrician's Belt and Bag Combo (Outdated)
Another amazing belt for electricians is the TradeGear Belt and Bag Combo. I instantly confirmed that it is well-constructed and heavy-duty as it is made using the strong and durable DuraTek nylon. With this construction, I can say that it has the strength to handle all sorts of conditions thrown at it.
With the Bar-Tak stitching reinforcement and the metal rivets integrated into this tool belt, I immediately sensed its ability to last for quite a long time. I am also glad to say that this belt and bag combo is built to offer optimum comfort – thanks to the high-density and highly breathable memory foam padding added to it.
Add to that the air-channel ventilation and I am sure you will not complain about this belt lacking in breathability. The contoured back support is also an impressive addition to this belt as it can help ensure that you will be able to work in comfort constantly. The amount of storage space it provides is also impressive.
In fact, it has more than twenty-seven compartments. Combine that with its two large pouches and you have a hundred percent guarantee that it indeed has more than enough space for all your tools, organizing them in a tidy manner and keeping them close to you. Since it is made of nylon, I can also say that it is lightweight, lighter than leather-based ones.
This electrician tool belt also takes pride in its easy-to-carry style, which ensures that putting it on and taking it off will be hassle-free.
One issue, though, is that the nylon material used in its construction, as well as the plastic inserts, are incapable of naturally conforming to your tools' natural shape, which is usually what happens in
leather pouches
.
What We Like
Spacious enough, thanks to its over twenty-seven compartments and two large pouches
Lightweight, preventing problems carrying it around
Features contoured back support, making it comfortable to wear
Highly breathable and well-ventilated
Sturdy and strong
What We Don't Like
Can't conform with your tools' natural shape
Still, it is one of the top-rated tool belts for electricians because most of its features meet their needs and expectations.
What is a Tool Belt for Electrician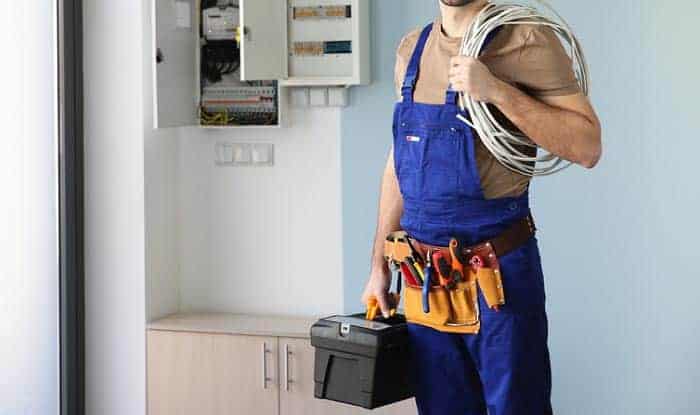 A tool belt designed for an electrician is a simple item, which is capable of holding all your most frequently used tools. It helps organize the stuff that you often bring at work so you can easily and quickly access them anytime. Most of these tool belts are also designed in a way that you can bring them in any work setting without interrupting your work.
The tool belt also acts as a handy and convenient accessory that you have to wear by putting it around your waist, similar to what you do with a standard belt. With this belt worn, you have an assurance that all your must-have tools and equipment for a certain job will be close to you.
Tool belts are available in various designs and styles with each one suiting the specific project you are presently working on. Once this is around, you no longer have to spend too much time finding a tool. It is, therefore, a vital item if you want to work more efficiently and faster while also ensuring your safety in the workplace.
How Does It Work
The tool belt actually functions and works in a simple and straightforward manner. In most cases, it will start to work once you put all the items you wish to store in there then strap it around your waist. Just like what has been discussed earlier, it works by letting you bring your most frequently used tools around.
It acts like a toolbox, which you can carry even when you are climbing on top because you are doing some repairs or task. The only difference it has with your trusted toolbox is that it is not bulky plus it is lightweight. The tool belt also functions by making you more mobile.
If you carry a lot of tools for your project then you do not have to worry because you can still move. It lets your hands be free to get and use some items because the belt is strapped around you. This means that you do not have to carry it at all. It lets you move freely while still ensuring that you can effortlessly access your tools.
Just make sure that you choose a tool belt, which can survive rigorous work settings and conditions. It should also have plenty of pouches and pockets to store a lot of stuff. In addition, it should be designed in a way that it does not fall off while you are moving around.
Types of Electrician Tool Belts
Are you curious about the different choices that you have for electrician tool belts? Then be aware that the types of tool belt often vary based on their styles/designs and the materials used in creating them. In this case, the most popular types of tool belts according to styles that are specifically designed for electricians include the following:
Standard Belt – The standard electrician tool belt is what you can commonly see being used by a lot of electricians. It also works for the majority of construction professionals. It is designed in such a manner that it sits in the area surrounding your waist while also having tool pouches that hang off of it.
If you intend to buy the standard type then consider going for a thicker one. It is because thicker standard belts are also often more comfortable. Just remember that in most cases, the belt will put most of the weight on your lower back and hips.
Harness – This style comes in the form of a belt supplemented by suspenders. Many consider the harness type as beneficial because it works in distributing the actual weight possessed by the belt across your back, hips, and shoulders.
Note that there are a couple of versions for the harness tool belt based on its straps. It could have either a single strap or dual straps. The dual-strapped harness tool belt is preferred by many because it is popular for offering more comfort while maximizing its ability to distribute weight evenly.
Aside from a couple of styles already mentioned, you can also make your choice from the different types of tool belts based on the actual material used on their construction. Note that the material utilized in constructing the belt has a final say on how durable it will be.
In such a case, your choices include the following materials:
Leather – Considered as the sturdiest material utilized in creating tool belts, choosing leather over other materials can definitely provide you with several benefits. Note that you also have a few choices as far as the leather material used in the belt is concerned. It is because the leather material could either be full-grain, genuine, or top-grain grades.
The genuine leather material is usually constructed from various pieces welded or glued together. It is considered as the lowest grade out of the three. The top-grain leather, on the other hand, is popular for its amazing pliability and durability. It is created using the topmost skin layer.
Many choose tool belts made of top-grain leather because they noticed that it is the most comfortable grade. The last is full-grain leather, which is known as the costliest grade of leather. It is because it is constructed using all skin layers. It is completely durable. The only problem is that it is also stiff and sometimes, the stiffness can go on even after using it for several years.
Polyester – It is also possible for you to pick polyester tool belts. Polyester actually refers to a synthetic fabric utilized in creating tool belts as a means of reducing its weight and cost. Keep in mind that you will be putting in a few items in your tool belt. In fact, there is a chance for it to carry more than 20 lbs. total of tools.
With such a heavy weight, it is also necessary for the tool belt itself to be lightweight so it will not add up to the load you are carrying. This is something that the polyester material can provide because it is truly lightweight. It is water-resistant, too. The only issue is that it is not as durable as other materials because it is a bit prone to ripping.
Nylon – Nylon has a few similarities to polyester material. The only difference is that it is stronger compared to polyester plus its price is lower compared to both leather and polyester. The problem, though, is that it still carries the same issues on durability shown by polyester but it takes a bit longer for such issues to take place.
Another difference is that it does not have the same water-resistance showcased by the polyester material. Still, nylon is incapable of suffering similar water damage often encountered by leather.
Why Do You Need to Wear Electrician Tool Belts
Do you still need a lot of convincing as far as wearing electrician tool belts is concerned? Then the following benefits provided by this tool belt to electricians might be enough to encourage you to begin your search for the most appropriate one for your needs:
Can keep you safe – One reason why wearing an electrician tool belt can do you a lot of good is that it can help keep you safe. It is because it allows hands-free movement. This means that it will be easy for you to climb a building for repair and maintenance or serve an AC unit with the belt worn.
With its ability to help you organize your tools and store them in the most appropriate compartments, you no longer have to waste a few seconds finding tools in risky places. It can also help you stay safe because it lets you work at a high distance with the least hassle.
Improves your productivity and efficiency – You can also enjoy the benefit of improved productivity and efficiency with the help of a tool belt for electricians. Note that the need to find some tools at a limited time might only stress you out.
By wearing the most appropriate tool belt, it is possible for you to spot the tools you need at the perfect time. It also lets you complete your job on time. With everything within easy access and reach, you can expect the belt to help you speed up and boost your productivity.
It also helps you stay more efficient in the workplace with its ability to store all the tools that you need. All it takes is to access all the tools inside, thereby boosting your work efficiency.
Promotes easy accessibility – It is not the same as traditional toolkits that might only swallow small nails and bolts. It promotes ease of access since you do not have to perform rigorous searching through each pocket during emergency repairs.
It is mainly because the belt features organized compartments, holding your small tools and stuff properly.
Comfortable to wear – Another clear reason why wearing an electrician tool belt is good for you is that it is comfortable enough. In most cases, you can take advantage of its adjustable strap, which is designed in such a way that it can fit all waistlines and waist sizes.
This makes it possible for you to find the perfect and most comfortable fit. You will also experience comfort since wearing it is easy. In addition, you will feel even more comfortable knowing that having this belt around will prevent you from wasting your time when you are at work.
Buying Guide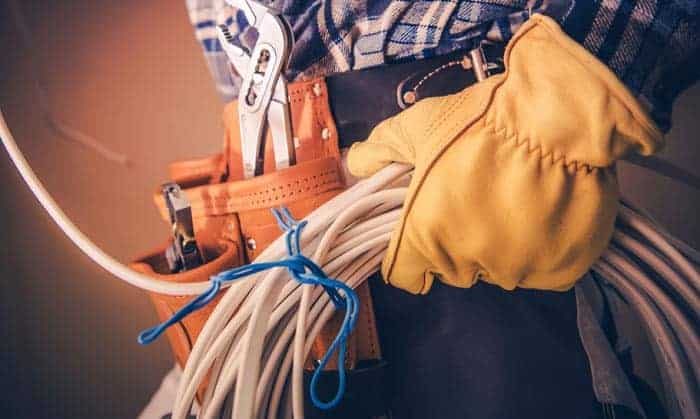 Are you now interested to shop for the best one? Then make it a point to do thorough research first and do not forget to spend time scrutinizing these factors:
Comfort and fit – Keep in mind that an electrician tool belt needs to fit you properly in order for it to make you feel comfortable. Also, remember that you will most likely wear a belt for several hours. With that in mind, it would be of help to ensure that the fit is based on what can make you feel comfortable.
It should not give you an unpleasant experience just because some pliers and screwdrivers poke your hips or back due to the improper fit. To find out which can fit you well and make you feel comfortable, look for a belt with holes as these are signs that you can easily adjust it.
You can also enjoy maximum comfort if the belt you have chosen features a good amount of padding on its interior lining. It is also advisable to pick for a belt, which accurately fits your waist size.
Material – Spend time assessing the material used in creating the tool belt first before buying. It is because the construction material has a major say on how well your chosen item will serve its purpose. Some of the most frequently used materials in the belts for electricians are leather and nylon.
Leather tool belts are popular because of their toughness and durability and their ability to age well. It is, therefore, the perfect option for you in case you want to prioritize longevity. However, you can also expect nylon to be sturdy and capable of taking a beating. Just make sure that you go for one with heavy-duty stitching.
Another advantage of nylon is that its replacement is cheaper compared to leather. In case you prefer enjoying both cost-efficiency and longevity, then you can pick a tool belt, which combines the use of nylon and leather in its construction.
Storage/carrying capacity – It can also help you a lot if you spend time checking how many compartments and pockets are integrated into the tool belt. It is because this has a say on how many tools and items it can carry. Several tool belts today are actually equipped with around ten to fifteen pockets.
The number of pockets or compartments can even reach a max of 30. Prior to buying a belt, make sure that you are aware of the number of pockets/compartments you will most likely need. It should be enough for all your tools and equipment. The best way to do that is to count how many tools you own and need to bring at work.
You should then add a minimum of five as a buffer. After that, you should start looking for a belt, which contains at least the total number you computed. While the pouches or pockets vary in size from one bag to another, the total number will serve as your rough guide and ensure that you will not end up buying a belt with insufficient storage space.
Durability – Check how durable the tool belt is prior to buying, too. Keep in mind that it will be carrying the weight of your tools all the time. With that in mind, ensure that it is constructed from rugged and sturdy material. It should not rip that easily just because of the heavy tools stored in there.
Choose durable materials, like nylon and leather. Also, check the quality of the stitching. It should be well-reinforced and sturdy, too. The overall build should be top-notch to prevent the seams and rivets from pulling apart and begin deteriorating faster than what you expected.
It should not also be prone to pokes and tears caused by sharp tools and equipment. Also, find out if it comes with a strong and sturdy metal buckle together with suspender rings as this further boosts the sturdiness of the belt.
Care and Maintenance
Proper care and maintenance for your electrician tool belt are necessary if you want it to be as long-lasting as possible. One way to care for it is to clean it on a regular basis. The best cleaning solution for it is warm soapy water. Avoid using bleach, harsh detergents, alkaline, or acids into it.
Note that most of the soiling that can be seen in a tool belt can be easily removed using warm soapy water then rinse it for a few times in clear water. Aside from cleaning, it is also advisable to do frequent visual inspections to your tool belt. Find out if it starts showing signs of weakness or damage.
Pay close attention to the webbing and threads used in the tool belt. Find out if there are any visible indications of degradation. Keep in mind that normal wear and tear tends to lessen the strength and sturdiness of the webbing strap, so you have to be able to act on it right away.
In case the webbing shows significant damages because of cuts, abrasions, or any other issues, replacing it may be necessary. Also, make sure that you do not go beyond the recommended weight limit indicated on the label of the tool belt or in its manufacturing instructions. Put tools while keeping in mind its safe working weight limit.
Frequently Asked Questions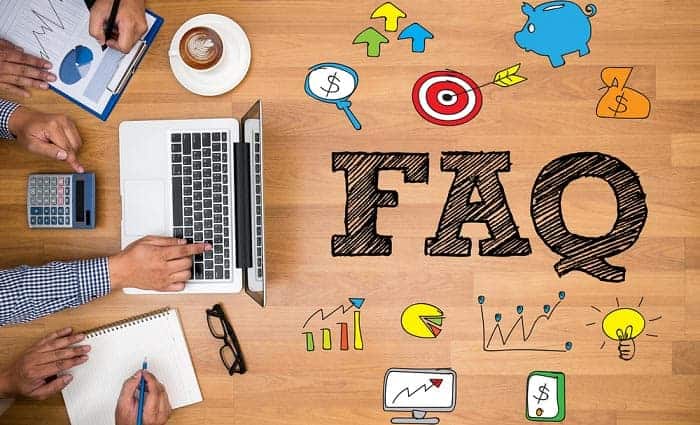 What are the most popular electrician tool belt brands?
Several brands of electrician tool belts continue to wow the public because of their high-quality and fantastic creations. Among those known for the ruggedness, huge storage capacity, high comfort level, and ease of accessibility of their manufactured tool belts are Gatorback, Occidental Leather, TradeGear, CLC, DEWALT, and ToughBuilt.
Electrician tool belts vs. pouches: which one is the best for you?
While both tool belts and pouches are capable of providing a great solution for carrying your stuff conveniently in the workplace, many still prefer tool belts over the pouch. Some electricians and carpenters who are still starting in the field usually underestimate the number of tools and supplies that they need for their daily carry.
In case the tools you often use are just a tape measure, a few nails, and a hammer, you may think that investing in a tool belt is unnecessary. However, after doing the job for a few years, you may realize that it would be more convenient for you to keep all the things that you need on hand.
With that in mind, you might be confused as to which between the tool belt and the pouch you should choose. A tool belt is considered by many as more accessible and practical than a tool pouch irrespective of the number of items you decided to carry.
A pouch or a bag might cause some gears to slide down the bottom, creating a mess and causing difficulties in finding your required tools. Choosing a tool belt over a tool pouch can, therefore, help save plenty of time eventually provided you properly organize the items inside.
What tools do professional electricians use?
A tool pouch for electricians typically contains wire strippers, insulated screwdrivers, insulated pliers, electrical tape, cable cutters, spanners, a voltage tester, a safety knife, a chisel, a claw hammer, a torch, and a set of hex keys.
That said, there is no standard list of things you must have in your tool belt. Some of you may need to bring a small electrician tool pouch or a custom electrician tool belt to carry the things you need for a small job. You don't have to carry all the 12 items I mentioned.
How much does an electrician's tool belt weigh?
I know some electricians who carry about 12 pounds of tools and their belt is stuffed with the items they need to work efficiently. Others load more items, which can total to 20 pounds.
Let's not forget that the material of the pouches and belts also add to the overall weight that one carries. Nylon, for instance, is commonly used to make a lightweight electrician's tool bag and belt. Leather is noticeably heavier.
Besides that, the buckling systems can affect the overall weight. For example, an electrician leather tool belt or a classic Occidental electrician tool belt is normally paired with metal buckles and prongs. That's because it is less flexible than nylon. Hence, you need something stronger to fasten it securely. Meanwhile, a nylon tool belt features clip buckles.
Who needs to wear electrician tool belts?
Electrician tool belts are extremely helpful for electricians who need to carry a lot of stuff, especially heavy ones at the work setting. Any electrician, whether a beginner or a professional, needs to experience utmost convenience when at work so he/she needs to use a tool belt and wear it all the time to prevent any issues from accessing their basic stuff.
How to choose the right size?
The majority of tool belt manufacturers offer their products in a wide range of sizes. Some, on the other hand, offers products that are in a one-size-fits-all variety. In case you have a waist size, which is lower than 34 inches then you should avoid buying belts that are only available in single sizes.
If possible, try it. This is a major help in figuring out whether you can wear it comfortably. Also, ensure that it has just the right number of pouches and pockets that you can comfortably carry. It should also have enough padding. If possible, go for tool belts that are adjustable, too, so you can make adjustments on the fit if necessary.
How to wear?
A tool belt is necessary if you want to have an easier time carrying your important tools and equipment effortlessly. With that in mind, you have to learn a thing or two about how to wear it correctly so you can maximize its use. Basically, it involves putting your tools first near the side of your dominant hand.
Your goal here is to ensure that your dominant hand can easily reach primary and important work tools. Those that are categorized as optional tools should be stored close to the other side. These include those tools that you rarely use. You should then strap the belt on your waist.
A wise tip in ensuring that you are wearing it comfortably is to twist and overturn it from time to time. This will help you move more comfortably. In case you have to bend or perform tasks that need a lot of movements then loosen up your tool belt slightly then twist it to the other side.
Doing this will prevent the belt from weighing you down and make you even more flexible. In case you are already working for long hours while wearing the belt then you can reverse its direction to relax for a bit.
How to clean?
Cleaning the tool belt is actually based on the specific material used in creating it. For the purpose of this article, let us say your tool belt is constructed from leather. In this case, cleaning it should not involve soaking it in water. It is because soaking the leather material in water might cause it to shrink and become brittle.
If you need to clean it, just wipe the surface with a damp rag and wipe it dry. Keep it away from direct sunlight, too as sunlight will cause the leather to dry out fast and make it brittle. Hang your leather tool belt somewhere where the sun could not get to it, like inside your tool cabinet, or just somewhere in your garage that is constantly dark.
To keep the leather soft and supple, but still quite strong, you need to apply a leather conditioner to keep it from drying out. You do not have to do this too often, though. Just once a month will do.
Conclusion
Various electrician tool belts are equipped with different sets of capabilities and features. There are tool belts with unique limitations that you should spend time assessing.
It is also advisable to determine the specific features that you would like to see when shopping for the best electrician tool belt. Keep in mind that your specific and unique needs and requirements will serve as your guide in selecting the perfect tool belt.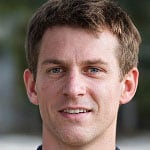 Having worked in the field of personal protective equipment for over two decades, Andrew Carnegie is a specialist in the field.
At EDC, he strives to improve performance efficiency and promote workplace safety for EDC's readers and customers. He also researches the most up-to-date equipment that has earned relevant accreditation for use in a wide range of industries and specialties.