If your job involves working at heights then investing in the best safety harness should be something that you have to prioritize. Note that this is a piece of safety equipment that functions by preventing you from falling accidentally while you are doing your job at a certain height.
You can use the best fall protection harness to keep yourself attached to something that is immovable, thereby preventing you from hitting the ground in case you fall accidentally or trip on something. Keep in mind that falling from a certain height due to a job is a cause of workplace injury.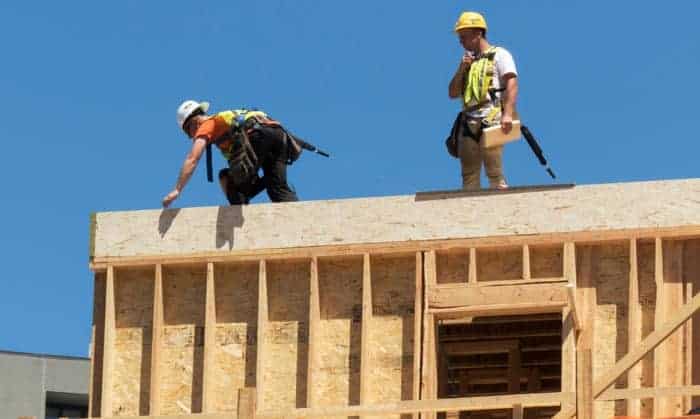 With that in mind, it is truly essential to equip yourself with the right equipment. If you are part of the construction industry, then having the best safety harness for construction is all the more important. It can assure you of the highest level of safety in case you work in hazardous conditions.
Aside from reducing your risk of suffering from an accident, the construction safety harness will also make it possible for you to use your two hands freely while doing your work. If you are still unfamiliar about this specific piece of protective equipment then you can use the information in this article to shed some light on your confusions.
Let us start with ten of the top safety harnesses I got the chance of encountering. I noticed how helpful these harnesses are in keeping you safe while working at heights. Most of these products also have plenty of essential features, like their flame-resistant properties.
Best Safety Harness Reviews of 2022
1. KwikSafety Thunder Safety Harness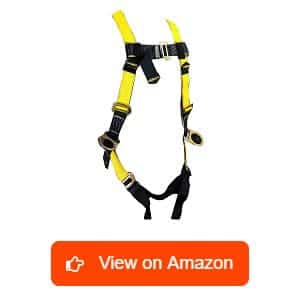 One of the most effective fall safety harnesses you can easily access in the market today is KwikSafety THUNDER. The durability of this safety harness is one of its most promising and fascinating traits. It is built using a synthetic material, which assures users of long-term use, durability, and service.
This product is approved and certified by OSHA, which somewhat proves how safe and protective it is. I find the safety harness highly flexible and versatile, too, because of its ability to adapt to and suit various work stations. Another thing that gets me interested in this safety harness is its ability to support the various weight of different wearers.
It is capable of supporting users who weigh around 59 to 140 kilograms. Wearing the harness does not also cause any discomfort. It is because it has a proper and comfortable fit designed to promote better performance. This safety harness is also equipped with a dorsal ring, which is necessary for fall arrest.
This specific feature is also a big help for rescue and restraint applications. It takes pride in its heavy-duty and durable polyester webbing that can protect you at all times. It even comes with adjustable straps equipped with pass-through buckles designed to let you enjoy a customized fit that you can easily fulfill.
This safety harness is also designed in a way that you remain visible and conspicuous while you are up there doing your job, thereby further boosting your safety.
As for the negatives, one thing I was able to discover is that the straps require constant re-tightening.
What We Like
Strong and durable, making it ideal for long-term use
Can be used for fall arrest, rescue, and restraint applications
Equipped with protective heavy-duty polyester webbing
Versatile, allowing it to adapt to various work stations
Promotes a customized fit
What We Don't Like
Straps require constant re-tightening
With this construction safety harness, you can lessen your worries at work since you are aware that you have something that can protect you at work.
2. Guardian Fall Protection 11173 Seraph Safety Harness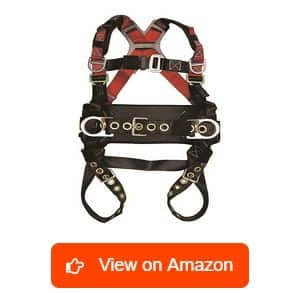 The Guardian Fall Protection 11173 Seraph Safety Harness is also another durable and strong piece of protective equipment composed of all the things that workers require to lessen their risk of falling. It is a high-quality fall restraint harness offered at an affordable price, which, I think, is the reason behind its high satisfaction rating.
I am glad that this safety harness features six points of adjustments as well as stretchable shoulder straps as this means that I can adjust this based on what can make me feel comfortable and safe in the workplace. This can guarantee a perfect fit. The stretchable straps also feature shoulder pads that further improve the user's comfort.
I am also delighted to say that this fall arrester harness from Guardian Fall Protection is equipped with a well-padded waist belt designed to give more than enough support for your back. You can also use it as a safety harness with a tool belt, which can further improve its ability to give you the support you specifically need while on top.
The added tool belt also makes it much easier for you to add tool pouches. It features side d-rings with built-in rollers to promote better mobility without interfering with the pouches. The buckle leg straps incorporated into this safety harness also work in ensuring that your legs stay in the right position, adding more protection.
Another advantage is its availability in various sizes, ranging from small to large, allowing it to fit every worker. Also, this protective equipment is light enough that you will not have problems wearing it the whole day. It will not restrict your movement at all.
The only flaw I discovered is that the built-in waist strap is a bit tight for users with larger body frames.
What We Like
Affordable without skimping on its quality
Allows your legs to stay in the correct position
Promotes better mobility – thanks to the side d-rings and rollers
Comes with a well-padded waist belt that offers adequate and comfortable back support
Lightweight and does not restrict movement
What We Don't Like
The waist strap is quite tight for those with larger body frames
With all the features and benefits taken into account, I can safely conclude that the Seraph Safety Harness from Guardian Fall Protection is a cost-effective and high-quality harness designed to prioritize your safety while you are trying to fulfill your responsibilities in the workplace.
3. 3M DBI-SALA ExoFit NEX Safety Harness
For your safety, taking advantage of the DBI-SALA ExoFit NEX Safety Harness can also do you a lot of good. It is a fully functional harness designed to give you the freedom to work with confidence no matter how dangerous and tough your job is considering how safe it is.
What I am so fond of about this safety harness is that it holds a lot of innovative and highly advanced design features that promote the highest level of protection no matter how dangerous your job is. This especially holds true if you are working in the construction industry that might put you at risk of falling since your job.
I am also amazed about this safety harness because of its built-in Duo-Lok quick-connect buckles that promote its lightweight nature. In fact, you are allowed to take advantage of the memory-fit web-lock, which promotes a single-handed use, further promoting non-slipping and quick connections.
This piece of PPE also acts as a safety harness lanyard considering the fact that it is equipped with a molded lanyard keeper capable of holstering snap hooks with ease. It is also possible for this keeper to break away, thereby preventing trip hazards. I would also like to highlight the covered pocket built into the harness.
This pocket even features elastic sides. You can use this in storing your personal items, so you do not have to leave them anywhere once it is time to work. The exclusive revolver vertical torso adjusters are also beneficial as they promote quick and easy adjustments that can get rid of loose ends.
You can even expect them to help lock the harness in place, thereby preventing slips and providing the ultimate solution in terms of safety.
This item from 3M is a bit expensive, though.
What We Like
Possesses innovative and advanced features for your protection
Ideal for those working in the construction industry
Comes with a molded lanyard keeper
Can help prevent trip hazards
Comes with pockets that you can use to store personal items
This safety harness from 3M is noticeable and remarkable because it is built mainly with the safety and protection of workers in mind, so rest assured that it contributes a lot in letting you work safely, quickly, and smartly.
4. Warthog Full Body Harness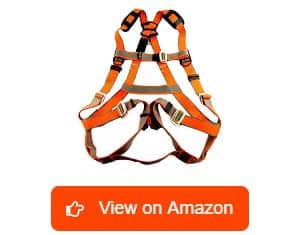 Available in different sizes, the Warthog Full Body Harness is indeed a remarkable piece of protective equipment that you can use as a safety harness for roofing or any other job, especially in the construction industry, that requires you to climb up and do the job at a certain height.
I like the built-in dual lanyard keepers in this harness as I noticed how effective these are in holding lanyards out of your way each time you are at work. This gives you the freedom to move with ease and ensure that nothing will interfere with your movements. It is versatile, suiting various weights, heights, and body types.
It even boasts of its ability to accommodate users of various weights. In fact, it is safe to use by users who weigh around 130 to 310 lbs. It is a budget-friendly safety solution, too, which is already enough to give you full body protection coverage. Another nice feature I am impressed with is the customizable patch.
This specific feature is a big advantage as it makes it possible for you to record details on the harness without compromising the integrity of the webbing. It also boasts of its leg belt type attachment, which is beneficial in case you want to do some quick changes. It has a great and comfortable fit, too.
It is even compatible with several types of tool belts.
However, the sizing used in this product is a bit misleading, so you really have to be vigilant when searching for the most accurate size for you.
What We Like
Features dual lanyard keepers
Can accommodate a wide range of weight
Budget-friendly while providing full body protection
Comfortable fit guaranteed
Promotes easy and quick changes or adjustments
What We Don't Like
A bit misleading sizing information
Taking into consideration everything about how this safety harness is constructed, it is safe to say that it is primarily constructed with efficiency, quality, and affordability in mind. It also meets the testing standards and requirements associated with safety, so it is indeed a good product designed to promote workers' safety.
5. Guardian Fall Protection 00815 BOS-T50 Safety Harness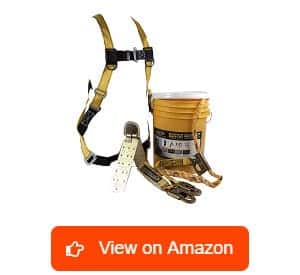 This next piece of safety equipment is the one offered by Guardian Fall Protection, which continues to generate a lot of positive reviews because of its overall functionality and its ability to give workers the kind of protection they need when they are working in the rooftop or any other high properties.
What is fascinating about this item is that it does not really disappoint in terms of protecting users, particularly workers, from the risk of rooftop falls. It is sturdy enough while complying with all the safety requirements and standards set by OSHA regarding rooftop work.
I specifically love this harness because it is adjustable. It gives you the option of adjusting it so it can fit various body types safely. I like the anti-slip back placard integrated into this harness, too, because it maximizes security and comfort. Furthermore, it possesses single and large back D-ring mates featuring a buckle leg strap, further ensuring your safety.
This safety harness also works in a way that it can deploy an impact indicator tag just in case it deals with a fall. I am also glad to say that it comes with a huge plastic bucket featuring a resealable lid, which you can use to conveniently store and organize all its components, including the lifeline, anchor, and the harness, itself.
Moreover, it is equipped with a shock-absorbing lanyard, which does a great job in softening impacts from falls. In fact, it can limit the max arresting force to just 900 lbs.
However, the instructions included in the package are poorly written and presented. Fortunately, it is not that hard to set this thing up on your own.
What We Like
Offers protection from rooftop falls
Equipped with an anti-slip back placard for maximum security and comfort
Promotes ease in storing and organizing the parts of the harness
Softens impact from falls, thanks to its shock-absorbent lanyard
Adjustable, allowing it to suit different body types
What We Don't Like
Poorly written and presented instructions on its proper use
Containing most of the features requires for rooftop safety, this safety harness from Guardian Fall Protection is definitely your ideal companion, especially when you need to bring something that can protect you from harm at your actual job site.
6. KwikSafety HURRICANE Full Body Safety Harness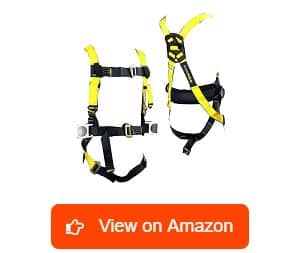 Designed for fall protection, the KwikSafety HURRICANE Full Body Safety Harness is also one of the versatile pieces of personal protective equipment that you will find useful in a number of applications and industries, including construction, roofing, and industrial settings.
I am so satisfied with this full-body safety harness because I instantly discovered that its design is meant to keep all its users truly safe. This 3D full body harness is even equipped with adequate back support. It has straps that can bear a really heavy load, thereby proving its effectiveness in prioritizing your safety.
The overall construction is based on pure and non-recycled synthetic materials that I find impressive because it makes it strong and resistant to abrasion and heat. It is also very secure considering the fact that most of its parts are stitched well and securely together.
It has a dorsal ring, too, which makes for an effective solution when used for fall arrest, rescue, and restraint situations. The built is totally secure as you can expect the load to be directed into the built-in shoulder straps as well as around the thighs in case of accidental falls.
This will let you be in an upright position with just minimal pressure, thereby keeping you safe. I am also impressed with the adequate back support and the proper and comfortable fit promised by this safety harness.
It also has a weight capacity of around 130 to 319 lbs., allowing it to be of help to users of varying weights.
However, some users complained that the leg straps' buckle is slightly shorter than what they are hoping for.
What We Like
Versatile, meeting the expectations of workers from various industries
Good weight capacity range – around 130 to 319 lbs.
Strong construction, which can also resist heat and abrasion
Provides adequate back support and a comfortable fit
The straps can handle heavy loads
What We Don't Like
The leg straps' buckle is shorter than what some users prefer
To conclude, this is a remarkable safety harness worthy of your money because aside from being well-made, it also fulfills its promise of being highly protective while remaining comfortable and easily adjustable for proper fit.
7. 3M DBI-SALA ExoFit Vest Style Safety Harness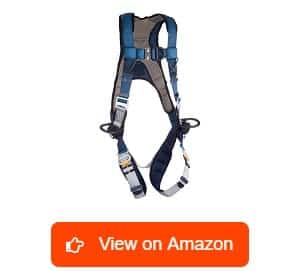 3M also continues to amaze workers in different industries through its wide collection of high-quality personal protective equipment, including the bestselling DBI-SALA ExoFit Vest Style Safety Harness. It is a comfortable safety harness built using a piece of sturdy material capable of wrapping users in an X.
I am glad that I came across this safety harness because I immediately sensed its top-notch quality and its ability to offer dependable and reliable protection to workers, like me. It is comfortable to use because aside from being lightweight, it also has breathable and moisture-wicking padding.
I think that it also answers the call of most workers for comfort because of its soft edges that can wrap around them without any discomfort. I like how strong and durable this safety harness is, too. It is abrasion-resistant, which showcases its ruggedness and strength. In fact, it has two times the endurance of typical polyester or nylon material.
This safety harness also comes equipped with a breathable lining, which contributes a lot in letting you remain dry and comfortable the entire day. The back d-ring integrated into this item also ensures that you will constantly have a safe connection point mainly designed for the fall arrest system.
This specific feature can also keep you fully protected during a fall because it lets you stay upright. I am also glad of the reflective piping built into this harness as this works in boosting visibility when used in low-light situations.
Furthermore, it is ergonomically designed, thereby maximizing the user's comfort and satisfaction.
However, it is quite costly although many are still eager to invest in it because of the high level of comfort and protection it offers.
What We Like
Lightweight and comfortable
Features a breathable lining for dry comfort the entire day
Provides a kind of protection that you can depend on
Ergonomically designed, further boosting your comfort
Equipped with reflective piping, which promotes visibility during low-light situations
Yes, it is quite expensive but with all the things that you can get from this safety harness, especially in the comfort and protection departments, I am sure that your money will never be put to waste if you decide to invest it in this one.
8. Xben 5 D-Ring Fall Protection Safety Harness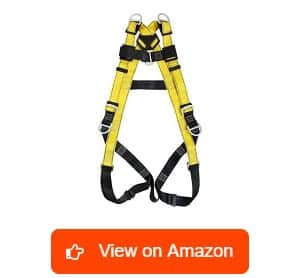 If full body protection in case of a fall is what you are after then the Xben 5 D-Ring Fall Protection Safety Harness is probably the one you desperately need. It actually has most of the qualities and features that a worker needs from a safety harness – one of which is the ultimate solution to safety.
It is built with quality in mind, which can be proven by the load-bearing straps constructed from purely synthetic materials that are strong enough. I noticed that the material used in the straps are capable of enduring tough conditions. They are even built to withstand heat and abrasion.
Another reason why I really like this safety harness is that it does not make me feel uncomfortable once I begin wearing it. I think it is mainly due to its lightness. It is lightweight enough that your movements will not be restricted, allowing you to focus on the job at hand.
It is also built with your comfort in mind so you can rest fully assured that it is a harness that you can conveniently wear the entire day. I am also amazed by how versatile this safety harness is. You will actually find it useful in various types of job and industries, including construction, camping, roofing, welding, demolition, climbing, and landscaping, among many others.
It is also capable of carrying users of various weights – from around 13o to 310 lbs. This harness is also designed in a way that you can easily put it on and take off. It even features an elastic loop, which you can use to have a much easier time adjusting the webbing.
One thing that I find off about this safety harness is the buckle that seems to slip off a bit from time to time.
What We Like
Comes with strong and load-bearing straps
Versatile considering its ability to withstand a wide range of applications
Lightweight and comfortable
Can carry users of various weights
Easy to put on, take off, and adjust
What We Don't Like
The buckle is prone to slipping off
Overall, this safety harness is well-built with most of its features designed to give dependable protection and comfort to anyone who decides to use it.
9. WELKFORDER 3D-Rings Fall Protection Harness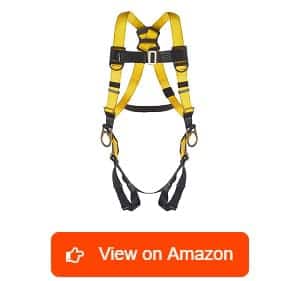 Another safety harness that continues to impress workers from various industries is the WELKFORDER 3D-Rings Fall Protection Full Body Harness. I am a great fan of the overall quality and construction of this full-body safety harness. I love it because I instantly sensed how it complies with all the safety standards and requirements strictly set by the government.
It is even made in a way that it adheres to the standards set regarding hazard control and elimination. The main goal of this full body harness is to give users a proactive solution to protect them from falls. The flexibility of this harness also makes it suitable for a number of applications and uses – some of which are fall arrest, travel restraint, rescue, suspension, and positioning applications.
In case of a fall, this harness will give you the support that you need through its dorsal attachment, which can help direct the load through the built-in shoulder straps. The straps are built using strong and sturdy synthetic materials that can resist abrasion and heat.
This material also has high tensile strength, further enhancing its durability and sturdiness. The structural stitching patterns integrated into this harness are also known for their high breaking strength, making them contribute to improving the ability of the harness to make users feel safe, well-supported, and secure.
The straps are also adjustable, making it possible for you to get a superior fit from it so you can gain premium safety and comfort. The ergonomic design of the harness also contributes to it being so comfortable to wear, too.
One issue I observed, though, is that it is slightly challenging to determine how to open up the built-in buckles.
What We Like
Constructed using sturdy and durable materials
Provides wearers with the right support in case of a fall
Superior fit guaranteed since it has adjustable straps
Boasts of its ergonomic design, which promotes extreme comfort
Ideal for use on numerous applications
What We Don't Like
A bit challenging to determine how to open up the buckles
Even with that minor flaw, this safety harness is still one of the best choices for workers considering how comfortable and protective it is while also promoting ease when it comes to adjusting and putting it on.
10. Protecta 1191209 Pro Line Safety Harness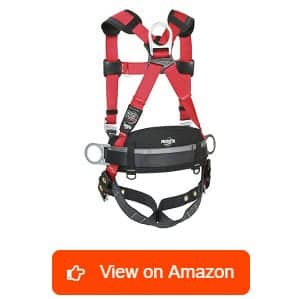 Lastly, there is the Protecta 1191209″Pro Line" Vest Style Harness, which functions as a full-body safety harness. What I like about this specific harness from Protecta is that it carries some of the features present in high-priced harnesses, including its ergonomic design and sturdy build.
I am fond of the strong and sturdy polyester web construction used in this harness. It is strong enough while remaining lightweight, which can make you feel comfortable while also giving you peace of mind knowing that you are using a highly durable and long-lasting harness.
I like the shoulder pads integrated into this harness, too, because I find these features helpful in disbursing your weight evenly. This further enhances the feeling of comfort. I am also impressed with the back d-ring present in this harness because it is designed in a way that it can give a secure connection point, making you feel even safer in case of falls.
The D-rings are also designed in such a way that you can enjoy better positioning, tool carrying choices, and additional back support. You can also quickly and easily adjust this harness for a superior fit with the help of its grommet-style leg straps.
What is even better about this harness is that it features rip-stitch impact indicators that make it possible for you to examine the item to determine if there are already damages to it prior to each use.
Moreover, it makes use of a 5-point adjustment system designed to help you attain the best fit.
However, one of its flaws is the lack of breathability in the waist pad, which tends to make you sweat when used during extremely hot weather.
What We Like
Ergonomically and sturdily designed
Superior fit guaranteed by its 5-point adjustment system and adjustable straps
Strong and sturdy polyester web construction
Features rip-stitch impact indicators
Proven to be effective in protecting you from falls
What We Don't Like
Not that breathable waist pad
Overall, this full-body safety harness in the style of a vest from Protecta can give most users satisfaction with the added safety and comfort brought on by its lightweight yet sturdy construction and better fit.
What is a Safety Harness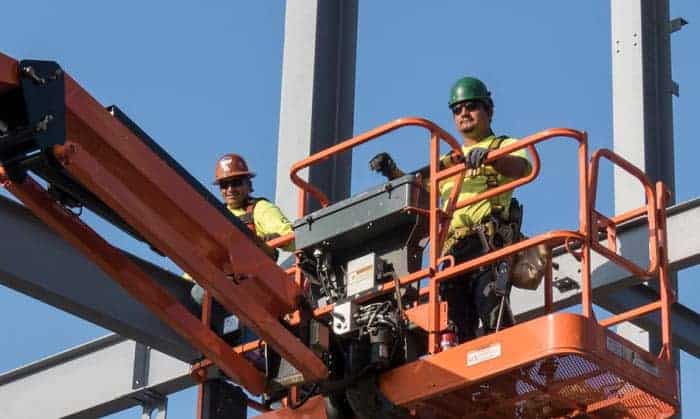 A safety harness can be defined as a vital piece of protective equipment, which has the primary goal of giving protection to a person, object, or animal from possible damage or injury. It serves as an attachment between a non-stationary and a stationary item. In most cases, a rope, locking hardware, and cable or webbing fabricates it.
For workers, it plays a vital role in their overall safety. It is even considered as a safety and health standard for engineers, technicians, and other workers whose jobs require them to stay at a significant height. Similar to safety helmets, it is now a requirement to wear a safety harness if you are a worker working on a dangerous job.
It is a requirement as it is a way to secure yourself properly, especially if your job involves being in a raised platform. It is even highly recommended to invest in the full body safety harness as it provides full protection coverage. Many consider it as a necessity for those in a work positioning, fall restraint, or fall arrest scenario.
If you work in a dangerous environment and you are involved in jobs that you can only complete if you climb at great heights then you have to use and wear the safety harness as a means of preventing falls that might injure you or worse, cause a life-threatening condition.
How Does It Work
A safety harness can be expected to work in keeping you safe at work by properly distributing force. It is crucial to note that the max arresting force that an employee should carry must be around 1,800 lbs. when he/she is wearing a body harness.
Once you wear the safety harness, it will take the mentioned force. With the help of its buckles and straps system, it will distribute such force into specific body parts that are more effective in absorbing it and supporting your weight. These body parts include your shoulders and chest, upper thigh muscles (specifically the large muscles) and your pelvis' bony mass.
This makes it possible for the harness to divert the force and pressure from your most vulnerable body parts, like the neck, groin, and stomach. However, take note that the harness is designed to give you protection in a fall. It is not similar to the harness used in mounting climbing, so it is not suitable for prolonged or extended suspension.
It is because the same system or technology utilized in distributing force and pressure all throughout your body might also trigger your circulation to be cut off, resulting in suspension trauma.
Types of Safety Harnesses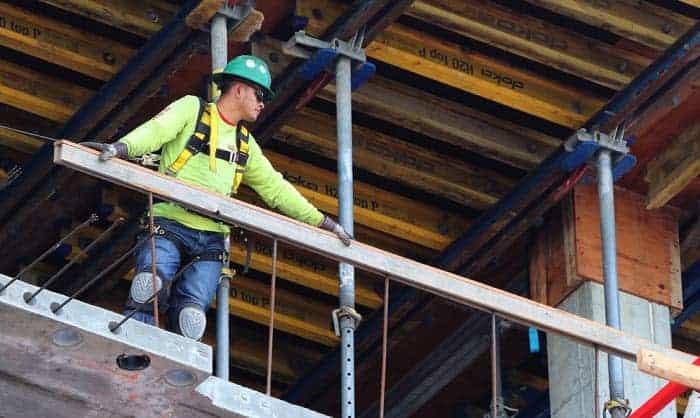 Working at a specific height makes it all the more important to include a safety harness in your safety kit as well as in your personal fall arrest system. If you think you are in need of a harness then note that there are several types that fall under the industrial safety harness category.
The specific kind of harness you need will be dependent on the kind of work you are doing, like in the construction industry, or rigging and climbing. Here are some of its common types and their individual capabilities:
2-point Full Body Safety Harness – This specific type is equipped with fall arrest attachment points found at the back or the dorsal and in front or sternal. In most cases, it is made to be adjustable as a means of fitting various sizes. You can make adjustments using the adjustment buckles integrated into the leg and shoulder loops of the harness.
4-point Full Body Safety Harness – This type also features fall arrest attachment points at the back and in front. In addition to that, you can find two work positioning points for attachment at the waist.
It is adjustable to fit various sizes and has adjustment buckles integrated with the leg, shoulder, and waist loops. You will find this type useful for work restraint, work positioning, and fall arrest.
5-point Full Body Safety Harness – This harness is much more extensive in terms of its function. It is because you can use it in a number of applications, including fall arrest, work positioning, rigging, climbing, and personal suspension. Just like the previous two types, it also has attachment points for fall arrest at the back and in front.
You can find a personal suspension or ventral point at the waist as well as a couple of work positioning attachment points. It is also adjustable with buckles for the adjustment you can find at the leg, waist, and shoulder loops.
Vest-type Harness – The next kind of harness worthwhile of investing in is the vest-type one. If you are a hunter then you will find this type as the most dependable and the safest choice. One great benefit of this harness is that you can easily use it and put it on. It just involves slipping it on, making adjustments on the straps then fastening the clips.
It is different from a simple chest or belt harness because the vest type has straps that can surround your legs, shoulders, and waist. In case of a fall, you can expect the pressure to be distributed through a large part of your body, thereby lowering the amount of time needed for recovery while also ensuring that you have less risk of injury.
Full-body or Parachute Harness – This type provides the same level of safety and protection offered by the vest type provided you use it correctly. The only difference is that the full-body harness features more buckles and straps. This makes it necessary to check the harness constantly to ensure that it is secured properly prior to using it.
You can also find harnesses that are used specifically for the construction industry. Climbers, as well as scaffolding workers, will find this construction safety harness useful, especially if they are in a seated position. It is because it is built in a way that it offers more than enough versatility for various activities.
There is also what we call as the sit-in harness, which works by protecting your thighs and legs and ensuring that they stay in an upright position ideal for seating. The sit safety harness is often ideal for workers who are involved in painting or cleaning window frames at a certain height.
Why Do You Need to Wear Safety Harnesses
Wearing a safety harness for ironworkers, construction workers, or any other employee who needs it is truly necessary for their safety. You need to wear one if you are planning to do heavy construction work because it can give workers the support that they desperately need, especially if their job involves heights.
With the help of a harness, the worker can stay upright in case he/she falls accidentally. Being in an upright position during that time can lessen his/her risk of suffering from an injury. Note that the spine is vertical all the time, lessening the possible impact and pressure in case of a fall. The harness, therefore, is the key to keeping an employee safe.
It also acts as an effective fall arrest system that a worker can use in case his job involves working at a platform, which is at least 6 feet high. If possible, use a full body harness, which features a shock-absorbing lanyard. This makes for a fall protection harness and lanyard combination.
What is good about this safety harness and lanyard combo is that it is capable of evenly distributing the force and pressure of an accidental fall all throughout your entire body. With the aid of this safety harness, you can lessen your risk of dealing with a work-related accident, or worse death, in case you have to work at a high level.
It serves as a vital tool for a lot of employees, especially those in the construction industry. You can also find other people who use this item for other dangerous activities apart from construction.
Buying Guide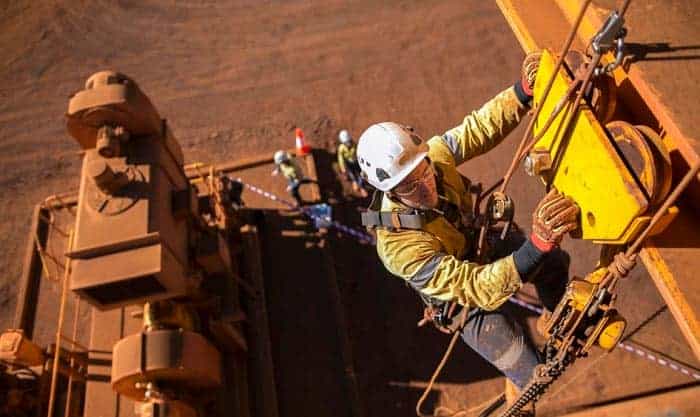 Now that we have tackled how important a safety harness is in the safety of employees, it is time to start looking into various products in this category that can truly give you the protection you need. When shopping for a safety harness, you can further increase your likelihood of getting the best one through the consideration of these key factors:
The type of your work – Remember that different types of the harness also suit different kinds of work. That said, you have to make your choice based specifically on the type of job where you intend to wear it to.
In most cases, certain factors like the materials used in construction the harness, the exact location of its connection points as well as other built-in features are created in a way that they suit the specific kind of work you will be doing.
For example, if you are involved in torch cutting, burning, welding, or any other job that requires you to deal with heat, then take note that your job might cause the production of slag that might land on the harness' strap, thereby compromising its integrity. In this case, you will be needing a Kevlar-based harness or one with flame-retardant properties.
You may also wear arc flash harnesses that are constructed using the same material. This type of harness does not feature connectors or buckles constructed out of conductive materials.
Other types of safety harness feature additional attachment points that you can use for correct positioning. The standard full-body safety harness can't also be expected to do a good job for ironworkers especially those who need to position themselves for work. It would be best to use one, which features D-rings facing the front.
It is because these features will allow ironworkers to position and connect themselves properly for them to deliver a good job. If you are a lineman, a harness with a cradle seat, which lets you be suspended for quite a long period without dealing with suspension trauma is a must.
In case you work in locations that require you to be seen readily, especially around roadways then you might want to invest in a safety harness known for its high visibility. You really have to figure out the type of job you are doing and why you will need to wear the harness so you can pick the right safety equipment.
Size – One thing you have to remember about safety harnesses is that you can't expect them to fit all sizes. While it is true that you can make adjustments to these items up to a certain extent, you can't expect the adjustment to be small or big enough to accommodate all body sizes, types, and shapes.
With that in mind, you really have to figure out first what your size is before you start shopping for a safety harness. Keep in mind that the correct size will play a huge role in how protective this item will be. Your goal is to look for a harness, which can give you a snug fit. Make sure that it is not tight, though.
The chest straps built into the harness should be capable of sitting across your chest, instead of your stomach. As for the D-rings, they need to sit conveniently in between your shoulder blades.
Another sign that you are getting the right fit is if you can slide a hand lying flat in between the harness' leg strap as well as your leg. Also, remember that if you cannot make adjustments on the harness accordingly, then it is greatly possible that what you are getting is an incorrect size.
Weight – Another crucial consideration is the weight of the harness. In this case, you have to figure out the specific type of climbing that you will be doing while you are wearing the harness. This is specifically important if you are involved in prolonged or rigorous climbing as the actual weight of the harness might compromise your comfort.
It might also affect the ability of the item to give you the protection you need. To deal with this demand, a lot of those who offer safety harnesses started to manufacture their items in a way that these contain lightweight and removable padding and seats. This is a big help for those who really need to watch out for the weight of the harness.
In addition, aluminum hardware is used to replace those parts that typically utilize heavy steel material. This dramatically reduces the harness' overall weight.
Padding – Your comfort should also be prioritized during your search of the best one for you, so you should spend time examining the padding used in the item. Note that unlike before, modern safety harnesses are no longer uncomfortable, rigid, and bothersome.
It is because a lot of manufacturers integrated some sort of padding into the harness to get rid of the discomfort that might be triggered by the web straps. With the help of the padding, you can expect your harness to become even more comfortable. Aside from providing you comfort, the padding is also beneficial because it serves as an additional layer of protection in case of a fall.
Furthermore, it can improve the ability of your chosen harness to retain its shape. This promotes ease in donning it. What is even more impressive is that you can now easily remove and wash the padding for your convenience.
Webbing – Check the webbing technology used in the safety harness, too. Keep in mind that the quality and traits of the webbing technology can contribute a lot on how the harness will perform. You can now actually find harnesses with liquid-resistant and heat-resistant webbings as well as paint-resistant coatings.
The heat-resistant ones are valuable for electricians and welders. There are also manufacturers who applied an ergonomic approach and created a stretchable webbing, boosting comfort and increasing freedom of movement. Depending on what your work setting requires, you can find a webbing, which perfectly fits your requirements.
Care and Maintenance
Proper care, inspection, and maintenance of your safety harness, which serves as an effective fall protection equipment, is vital in making sure that it continues to deliver its intended function. Keep in mind that a full body safety harness is a vital part of your fall protection equipment.
With that in mind, you have to constantly inspect or examine it for any signs of damage or wear before each use. This is the key to ensuring that it does not have any damage that might affect its ability to give you protection. Just like other pieces of safety equipment, you need to clean the harness regularly.
This is even more important if it comes in contact with any substance that might cause it to wear or affect the way it functions regularly. These substances include oils, corrosives, and abrasives. Check the FAQ section of this article for more detailed information on how you can thoroughly clean your safety harness.
During the time when you are cleaning your harness thoroughly, you should also inspect it for any damage to the hardware and webbing. When cleaning, take note of certain precautions, too – one of which is to dampen it but without necessarily soaking it. It is because soaking this item might cause its fibers to expand excessively.
This will result in compromising the effectiveness of its fabric, which might also lessen or shorten its lifespan. Avoid putting your harness near a dryer, too, as excessive heat can cause severe damages to it. In terms of storage, you have to look for a dry, cool, and clean place for it.
It should not be exposed to harsh elements, like heat, direct sunlight, freezing temperatures, and rain. It would be best to hang it to prevent it from getting torn, bent, or crushed by other items found in your storage area. Note that sharp items might cut into the material and some chemicals might trigger it to degrade.
Frequently Asked Questions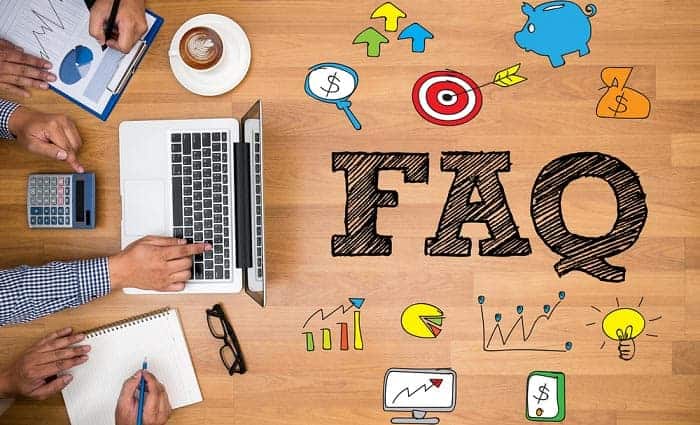 What are the most popular safety harness brands?
Several brands of safety harness continue to emerge in the market today considering how important it is in the lives of workers. Among the trusted ones that you can choose because of the quality and integrity of their products are those offered by 3M, KwikSafety, Guardian Fall Protection, and Xben.
Who needs to wear safety harnesses?
Various workers are in need of a safety harness, especially if their jobs have the tendency of causing them to deal with danger due to falls. In fact, the governing agencies require all employers to supply fall protection equipment to their construction workers, especially those whose jobs involve staying in a working or walking surface that has an unprotected edge of at least 6 feet.
Anyone who is involved in activities that require fall protection needs to wear it. It is also crucial for workers who need to get themselves protected from accidental falls into holes, like skylights. Other workers who can benefit from this are those who get exposed to formwork or reinforcing steel that is over 6 feet.
Can a safety harness expire?
The answer to this will greatly depend on how long exactly does your chosen safety harness will last. Some say that this safety equipment can last for over five years but take note that you can't expect it to be the case all the time.
It is crucial to base your decision on whether a harness can still be used on its actual condition. That said, spend time examining it prior to each use. Ensure that it is still in proper working condition to further boost your safety.
How to inspect safety harnesses?
Inspecting your safety harness should be done on a regular basis as this is the key to determining if it is still good to be used in the workplace. What you have to do is to check its individual parts. Among the parts that you should check are the buckles. You have to examine the buckles if there is unusual wear, broken stitches, or cut or frayed fibers in the buckle attachments.
It is also advisable to examine the D-rings for cracks, sharp or rough edges, breaks, and any form of distortion. You know that it is still good if it pivots freely. Inspect the pads for excessive wear, cracks, or any other signs of damage, too.
Another part of the safety harness that you should inspect regularly is the webbing. To inspect it, hold the webbing. Make sure that your hands are around 6 to 8 inches apart when doing so. The next thing to do is to bend it in an inverted U. It should result in a surface tension, which promotes ease in detecting any damaged cuts or fibers.
Do this until the whole length of the webbing is inspected. Make sure to spend time examining the two sides of every strap. What you should be looking for are broken fibers, frayed edges, burns, chemical damages, cuts, and pulled stitches.
How to choose the right size?
One vital aspect of shopping for a safety harness is the size. Note that a safety harness, which has an incorrect fit might lead to damage, or worse, death. With that in mind, make it a point to read and understand the sizing chart provided by your manufacturer or brand prior to placing your order.
Also, keep in mind that the sizing from one brand or manufacturer to another can be different. This means that even if you have worn a particular size from one provider of safety harness in the past, it does not instantly mean that the size is the same for another company.
The good news is that most safety harnesses available today are adjustable. However, you should not rely too much on that. You can try the different sizes provided by your chosen manufacturer so you can figure out which one really fits you correctly. It should snugly rest against your body but without causing discomfort due to extreme tightness.
How to wear a safety harness properly?
To ensure that your safety harness will work properly in giving you protection, you need to wear it correctly. Before putting on the harness, though, you have to examine it first to determine if there are signs of wear and tear. Ensure that the webbing and all other parts are intact without damages, cracks, or any other issues.
The next thing to do is to hold the harness through the dorsal or back D-ring, not the one at the side. Once you located the back D-ring, shake the harness vigorously until all its straps dangle below. This is crucial in detangling the harness. Unbuckle the buckles.
After that, look for the shoulder straps them put them on like when you are wearing your suspenders or jacket. Ensure that the webbing does not get twisted when doing so. Hold the leg straps next then pull each one between your legs. Connect it. Ensure that the webbing for the leg strap has no tangles.
Once the leg straps are connected, go to the chest buckle. Buckle and tighten it then hook it up. The same should be done for the waist buckle if your harness has it. Once done, start adjusting the fit. Ensure that all the straps are properly adjusted. It should result in a snug fit without causing unnecessary tightness that might restrict movements.
Can I add a tool belt to the harness?
Yes, you can. It is actually possible for you to look for a tool belt and put it in your safety harness in case yours does not have one built in. By integrating a tool belt into your safety harness, you can organize your tools, making it possible for you to work even faster while producing better results.
What safety harness accessories do I need?
The safety harness can give you ultimate protection from harm caused by accidental falls. However, if you want to further increase the level of protection provided by this item then you can choose to invest in safety harness accessories.
What is good about such accessories is that they are designed in a way that they can offer extra protection and security while you are doing your job. Among the accessories that you might need are tool belt, shock-absorbing lanyard, tongue buckles, radio and phone holsters, D-ring extenders, and strap cushion pads.
How to store safety harnesses?
Once you have picked the most suitable harness for you, the next thing you have to do is to learn how to store it properly and correctly. What you should do is to look for a storage spot, which is free from moisture.
It should also be fully protected from impact as well as other harsh and extreme temperatures. Make sure to store the harness either flat or hanging. Also, it should be folded neatly as a means of preventing unnecessary wear and stress.
How to clean?
Cleaning the safety harness involves a simple process. In fact, it depends on just a few steps. Start by putting your safety harness in a flat surface while leaving it open so it becomes visible for a thorough inspection. Wipe the harness with the help of a moist sponge as a means of getting rid of all excess dust and dirt.
To moisten the sponge, dip it in a cleaning solution containing dish soap or laundry detergent. Avoid using cleansers with abrasives, bleach, or chlorine, though. The sponge should be used in scrubbing every part of the harness thoroughly until it results in the formation of thick leather.
Dip another sponge in plain water then use it to wipe the safety harness again as a means of removing the soap residues and suds. Once done, let it air dry at room temperature. Avoid using mechanical heat. You should not also expose it directly to the sun for an extended period to dry.
If you plan to clean multiple safety harnesses, make it a point to store each one in a dry and separate compartment. You should then hang them separately and in a way that they have a lower risk of getting creased, worn out, or crushed.
Conclusion
Your safety matters a lot if you are working in the construction industry or any other work setting, which involves staying at a certain height. Keep yourself protected by investing in the best safety harness for the specific type of job that you have.