Are you in the lookout of heavy-duty storage and protection for job site equipment? If yes, then you must go for the best job site tool box. Such tool boxes help in keeping expensive equipment secure and safe.
Job site tool boxes come in different forms and shapes. These include a job site gang box, job site tool chest, clamshell box, cabinet, handheld tool box, and rolling workbench or job box with wheels. The ones available from Jobox and Knaack are probably the best!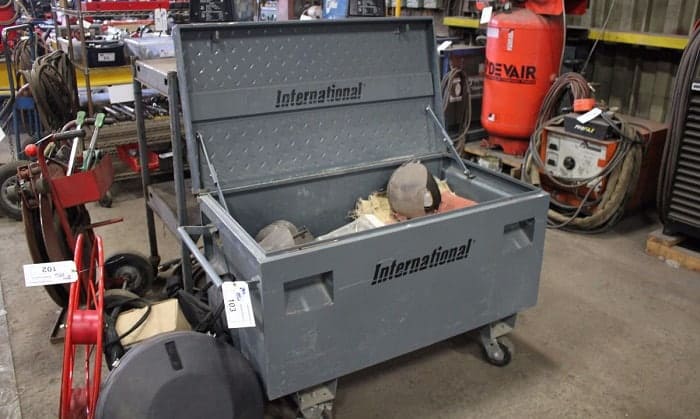 Regardless of whether you are a journeyman or a handyman, it is necessary for you to carry peripherals and tools from one job site to another. Not only this, but you also need to ensure that the tools are carried reliably and conveniently. This is perfectly done with the help of a job site tool box.
To avoid confusion and challenge when choosing these products, I have come up with my reviews of the top-rated job site tool boxes.
Best Job Site Tool Box Reviews of 2022
1. Greenlee Storage Chest
If you want on-site tool boxes with concealed and recessed lock protectors that offer maximum security, then the Greenlee storage chest is for you. It will give you complete protection against cutting and drilling locks.
The enhanced lid bolster of this chest offers added durability and support. Moreover, you can open this tool box easily as there is a finger-groove lid handle. Also, you will find a tray on its back wall for storing small things conveniently.
Moreover, the support arms of this unit are made of top quality steel to hold the lid when it is open. This is an ergonomically designed and patented unit with fold-down recessed handles for great portability.
Also, the new angled 3 to ½ inch high support skids in the chest with threaded holes making caster installation a breeze. I think this mobile storage box is perfect for all applications that need frequent transporting.
It offers storage space for both small and large tools. For me, it is more convenient as you can place the large things at the bottom, and the smaller ones in the tray. The availability of casters allows for hassle-free transportation.
Another great thing I like is its water-resistance and ability to store chop saws and small compressors.
One thing I don't like about it is that the little nooks for the locks are tucked far away and cannot be accessed easily.
What We Like
Provide optimum security
Durable storage chest with enhanced lid bolster.
Can be opened easily because of the finger-groove lid handle.
The ergonomically designed product.
Perfect portability offered by the unit.
What We Don't Like
The lock nooks cannot be accessed easily.
Overall, this product is much better than the other work site tool boxes available in the market. I think it is one of the perfect tool chests for professionals who want top-quality gang boxes.
2. Knaack Jobmaster Storage Chest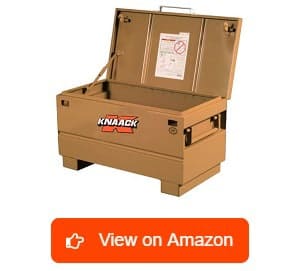 The best thing I like about this chest from Knaack is its piano hinge in full length. It is welded and staked perfectly to resist all kinds of break-in attempts.
Notably, its arc-welded seams and channels make great durability. Besides, the formed ribs featured in the unit add great strength to the front and the back. There is an overlapping cover specifically designed for providing resistance and protection to forcible entry.
This unit comes with a Watchman IV lock mechanism where there's just a single padlock blended with a steel rod in half diameter sliding on the interior of the box. This securely latches all the corners of the unit.
Also, its single lock is duly recessed to keep bolt cutters, saws and pry bars away from its lock shackle. The recessed cover handle into the box cover offers a very secure grip. Hence, you can stack and ship the box without any damage.
There are 12-gauge steel skids in the height of 3 inches raising this tool box for convenient fork lifting. These are pre-punched skids that make it easy for you to install casters. 16-gauge steel has been used for constructing this rugged unit. It also features pipe handles for easy portability.
Furthermore, the hemmed edges of this tan-colored belt offer added safety and strength while its oven-cured enamel finishing renders it an aesthetically appealing appearance.
What We Like
Offer complete security of the tools stored within.
Perfectly-sized box.
The arc-welded seams and channels boast of durability.
Formed ribs at the front and the end offer added strength.
The Watchman IV lock gives more safety.
Except for the durability thing not being in place for me, I feel that this is the perfect unit you must have to secure all your worksite tools.
3. Ironton Jobsite Box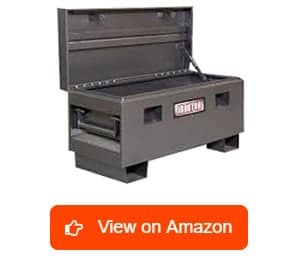 The next product that I would like to introduce you is the Ironton construction job box. It is a rugged and well-designed product made of 16-gauge durable steel. Not to forget, the powder-coated finish of the unit makes it rust-resistant.
Moreover, its lockable design makes it extra secure even if the padlocks are not included. The locking arm holds the lid in place for convenient loading and unloading.
There are forklift channels that will help you with easy maneuverability.
However, one thing I don't like is that this job site box does not come with padlocks.
What We Like
Well-designed and rugged product.
Rust-resistant with powder-coated finishing.
Recessed handles available for handy carry.
Safe and secure with lockable design.
The locking arm makes loading and unloading a breeze.
All in all, if you need a small job site box that does not cost a lot of money, this unit from Ironton can prove to be advantageous.
4. Trinity Job Site Box
This steel job site box from Trinity has made my list of the best job site tool chests as it is sufficiently rugged to be used at almost any job site or construction site.
The width option range is 36 inches and 45 inches. So, it is large enough for you to store all the tools and equipment required at a work site.
One more reason why you should choose this tool box is it is made of heavily reinforced and good quality steel; therefore, it is durable.
The powder-coated matte finish of the unit makes it resistant to rust and other damage. There are recessed handles that do not make portability an issue for me. Whether you keep it in the garage, outdoors bolted down at job sites or on truck beds, its rust-resistant finishing will ensure almost all adverse elements easily.
And yes, you can even mount the chest onto truck beds without going through any trouble. Not to forget, it is crane and forklift accessible. The box has been designed keeping versatility in mind. It offers great form and function!
To my surprise, the tamper-resistant locking mechanism along with the gas lift makes it very easy to open and close the box. You simply need to add a good quality padlock to help you in keeping your tools safe no matter where you are storing it.
Notably, there is a gas mounted lift for smooth open and close movements. Thus, your hands remain protected from uncomfortable lid closures.
One thing you should notice is it has some rust issues in the parts that might not be painted.
What We Like
A rugged tool chest.
Large job box available in width options.
Offers long years of service.
Powder coating renders rust-resistant.
The chest can easily be transported with recessed handles.
What We Don't Like
The parts which are not painted might rust very easily.
With the Trinity contractor box, you can get complete peace of mind as your precious tools are kept protected from the prying eyes of thieves and even from adverse elements.
5. Lund Steel Job Site Box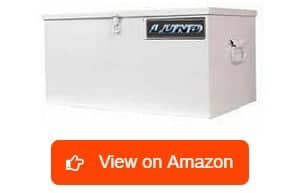 If you have been searching for a superior quality construction site tool box, then this one from Lund will be your ultimate choice. It is made using 16-gauge steel and comes in white finish. The best thing I like about this unit is that it fits on almost all kinds of trucks.
Speaking of its white finish, it can bear unimaginable beatings and adverse elements easily. Despite being used regularly, you will hardly find any scratches or dirt on the finish of the product.
Notably, the self-enclosed hinge mechanism of the unit makes it more secure when it comes to storing valuable construction site tools. Of course, the side handles and the lockable snap latch make carrying the product a breeze.
The height of this unit is 17 inches while its width is 13 inches. It is 29.75 inches in length, making it spacious enough for storing varieties of my construction tools very easily. I also love this unit as the size works perfectly fine. It leaves space for helmets and plastic containers.
They are high-performance, functional, stylish, and protective units. This is a highly versatile unit as well because it works with almost all kinds of SUVs, trucks, vans, passenger cars, and CUVs.
The only problem I have found is it is not water-resistant. Thus, you need to use clear silicone for sealing the seams and the corners.
What We Like
Versatile chest fits to varieties of trucks.
White finishing is scratch less and remains clean.
Offers complete security with the self-enclosed hinge mechanism.
Side handles and lockable design for great portability.
Highly functional, performance-based, stylish, and protective tool chest.
What We Don't Like
The unit is not waterproof.
All in all, this is one of the best tool boxes to hold light-weighted tools and equipment with good protection for your valuables.
6. Jobox 1-652990 Truck Chest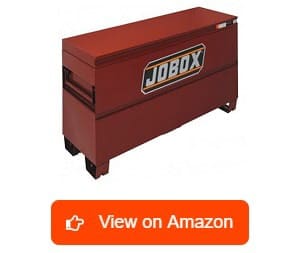 This is one of the toughest tool chests on my review list of the best job site tool cabinets. It has been specifically designed for premium access. Not to forget, its excellent security and weather-resistance features will help you with your tool storage regimen.
One of the best things that I love is its site-vault security system that offers complete protection to the valuable tools stored in. Therefore, you don't need to worry about theft and damage of tools at the worksite.
Also, the EZ-loader skid bolster and lid reinforcement bolster make it very easy for you to store your tools and have them handy when required. The welded and staked hinge further makes it convenient for me to close and open the chest as per requirement.
Moreover, the handles of this unit are recessed for the benefit of carrying the product from one place to another without going through any hassle. This sturdy and well-built metal tool box offers me so much value that I highly recommend buying it.
I see it as a secure space to keep all the stuff needed at work sites or construction sites. With this tool box coming in handy, you can have complete control over all your valuables and equipment.
Beyond that, I think it should have a padlock.
What We Like
Tough and durable job site tool box.
Offers easy access to stored tools and equipment.
Weather-resistant tool chest.
Offers complete security to the tools stored within.
Strong and well-built tool chest.
Overall, this is really a tough and durable gang chest with a perfect size. For me, it is ideal for jobs of all sizes and especially for those assignments where the professionals need to keep their tools separate from the ones being used by the others.
7. Knaack Jobsite Storage Master Chest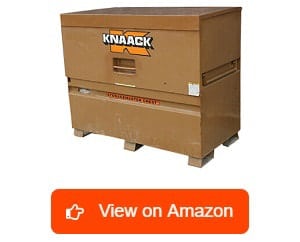 Are you looking for a superior quality Knaack job box? If yes, then this storage master chest from Knaack will serve you better than anything else on the market.
What I really love about this product is its Watchman IV locking mechanism that offers complete security and protection to the contents stored within.
Also, it is the one and the only construction site tool storage box on the market to offer the toughest deadbolt style lock system making way for ultimate security. Extra marks for the 16-gauge steel construction of the chest with completely arc welded seams offering weather protection and extra strength.
In my opinion, this is one of the most amazing job site storage solutions. Its rubber grommet that is available for the extension cord pass-through is also one of its excellent attributes.
I find it is easy to use this unit mainly because its lids can be opened and closed conveniently. It has gained huge recognition in the market for the easy maneuverability it offers. I think you will like this tool box as the make of the unit is durable while its model is stylish.
Also, it has got internal shelves to store several tools in a very organized manner. But, the problem with the shelves is that they do not fold out of the way of the users. Well, this makes it a little difficult for me to find items stored within.
What We Like
Premium quality tool storage chest
Offers increased security and protection.
Delivers extra strength and weather protection.
The excellent open and close system of the lids.
Durable make and stylish model.
What We Don't Like
The shelves do not fold out of the way of the users.
It comes in a cool design and offers excellent tool storage. Its features are what inspired me to include it in my review of the most job site tool box harbor freight solutions.
8. Urrea Jobsite Tool Storage Chest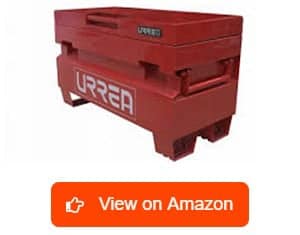 Urrea – this name is known for providing an extensive assortment of job site tool storage systems. I would recommend it as the tool organizers available from Urrea are manufactured and designed by the best hands in the industry.
This job box organizer from Urrea is made of heavy gauge and cold rolled steel to offer maximum strength and durability. It is even powder coated for added protection. The tool chest has been specifically designed to bear with the conditions of the toughest worksites.
No matter whether you are a service technician, diesel mechanic or any other kind of skilled handyman or tradesman, this unit from Urrea is the right tool box for you.
What I like most about this product is its anti-theft security mechanism. Its extremely secure design keeps the lock shackle out of sight and safe from pry bars, saws, and bolt cutters. Top-quality weather protection is also offered by this unit. It keeps my gear and tools safe from all adverse weather conditions.
The skids of this unit are pre-drilled, so they perfectly align with the security bolting applications and the caster wheels. With 17 inches deep, 21-5/16 inches high and 36 inches wide, this unit comes in the perfect size to store almost everything you require at a construction site.
But, it might be ineffective in providing complete weather resistance. That's the only thing I don't like about this product!
What We Like
Durable and tough.
Powder coated finish adds more protection.
Able to withstand all weather conditions efficiently.
Versatile enough for all duties.
Features an anti-theft security system.
What We Don't Like
Weather resistance does not work superbly well.
I chose this job site tool chest to store the different knick-knacks I have for carrying out DIY projects around my home. Well, professionals can even use it at their work sites.
9. Better Built Site Safe Tool Box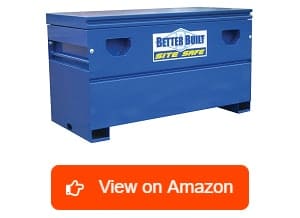 If on-site storage is your concern, I would recommend this Better Built Site Safe tool chest in 18-gauge steel construction as the best choice. This is a heavy-duty chest that comes with a reinforced lid offering great durability and security.
Moreover, its industrial-level attributes solve all tool storage requirements. It has chain openings in the mounting pads to offer abrasion resistance and lockable security.
Also, the powder-coated finish of the product renders it durable and attractive while the recessed carrying handles are easy for portability. The size range of this product is between 36 inches and 60 inches. So, I am able to hold all kinds of construction site tools and equipment.
This sturdy and durable tool box is worth the money.
Beyond that, it might get dented very easily if you do not handle it with care. The paint on this unit might come off in a few days of regular use.
What We Like
Heavy-duty tool chest for all tool storage requirements.
Offers great durability and security.
Comes with abrasion resistance and lockable security.
Portable and aesthetically appealing tool chest.
Sufficiently spacious.
What We Don't Like
Paint might come off within a few days of use
Tendency of getting dented very easily if not handled with care.
Overall, this is a sturdy construction site tool box as long as the paint holds up well. You can look forward to buying this.
10. Ridgid Job Site Storage Chest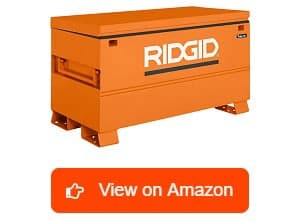 You can use the Ridgid job box to store all your incredibly important power tools. This tool chest in powder-coated finish offers maximum protection from corrosion. You can even use steel cables for securing it and carrying it almost anywhere.
Moreover, it has master locks to offer complete security to the contents stored. Even a lid of this box can be closed and opened very easily and smoothly without breaking its glass. The weight of this unit is 150 pounds making it more useful when storing heavy-duty tools and equipment.
Another great benefit of this tool chest is it fits in almost all kinds of tools. Since it is low in price, it will be hard for you to get the same efficiency from a similar model at the same price.
Surprisingly, the box is available in varied sizes. The ones that measure 48 inches and 60 inches are quite spacious. You will get a long storage tray with the 48-inch tool box. I use this tray to store small supplies and tools.
The 60-inch tool chest comes with a net door and a small tray. It even features a gas spring for lowering the door smoothly.
One thing that annoys me is installing the padlocks is quite hard.
What We Like
Lightweight, convenient tool box for storing all kinds of tools.
Powder-coated finishing for corrosion-resistant.
Lid opens and closes very smoothly.
Affordably-priced tool chest.
Tool chests in varied sizes available.
What We Don't Like
Installation of the padlocks can be a bit annoying.
If you are looking for an affordable and easy to operate chest box, I'll say don't look beyond. You can easily store every size of tool in this box.
11. Channellock Job Site Tool Box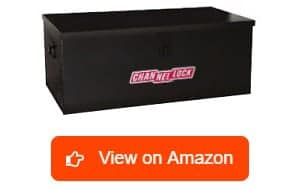 This is a husky job box that is not just secure but the ultimate gang box for construction sites and even other industrial applications. I would recommend you to buy this rugged and aesthetically appealing tool chest if you want something exclusive and affordable.
The unique features I love of this product are its fold-down side handles and its lock. Both features are duly recessed; moreover, they offer usage convenience. What I like most about this unit is it can easily be secured to different stationary objects.
Undoubtedly, it is a strong and durable tool chest made of 20-gauge steel. Its body features 20-gauge steel while its feet are made of 12-gauge steel. Not to forget, the powder-coated finishing that makes it corrosion and scratch-resistant.
For me, the weight-bearing capacity of the box is not good. When filled with weighted tools and equipment, it seems to bend or twist a bit. Also, I have found that it has this tendency of getting dented very easily.
What We Like
Aesthetically appealing and secure tool box.
A secure and portable tool box.
Can easily be secured to stationary things for added security.
Powder-coated finish for corrosion and scratch-resistant.
Strong and solid body made of 20-gauge steel.
What We Don't Like
Might get dented easily.
Does not have the ability to withstand the heavy load.
All in all, it does not seem flimsy but offers several years of service. It is a basic aluminum job box that might suffice for your requirements !
12. Knaack Jobmaster Storage Chest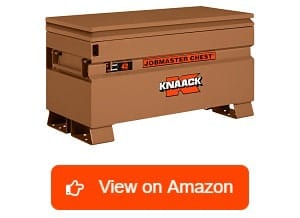 I like to include this chest in my list as the welded and perfectly stacked full-length piano hinge of Knaack Jobmaster storage chest is excellent for resisting break-in efforts. It is available in the perfect size to be used as a job site chest or a personal cabinet that offers added security.
Also, the arc-welded seams and channels add to its strength while the formed ribs at the front and the end make great durability. This durable product comes with an overlapping cover that offers theft-resistance and weather protection.
Moreover, its Watchman IV lock mechanism has one padlock with a steel rod of ½ diameter. This steel rod slides within the chest to latch the corners securely.
There is a single recessed lock to keep bolt cutters, saws and pry bars at bay from its lock shackle. Also, there is a cover handle which is recessed to offer a secure grip. And yes, it does not protrude from the chest, so it will get very easy for you to stack and ship the unit.
Also, the skids on this product are made of 12-gauge steel and they are 3 inches high for convenient fork lifting. They have been pre-punched making it easier to install the casters. 16-gauge good quality steel has been used for constructing the box body.
There are ¾ inches recessed pipe handles that fold out of way to offer users the convenience of getting the tools they require while working on job sites. And yes, the hemmed edges offer extra safety and strength.
What I don't like about this product is that it is a thick tool chest, which makes it difficult to store heavy and wide tools. Also, it does not come with a padlock. Apart from that, you won't find any issue in this product.
What We Like
Perfectly welded and staked piano hinge for top-level security.
Perfectly-sized tool chest to be used at different job sites.
The arc-welded seams and channels add to its strength.
A durable product with longer lifetimes.
Weather-resistant tool box.
What We Don't Like
Not suitable for wide and large tools.
Padlocks: not included.
All in all, I think this is a great tool chest that is not just versatile but also useful. Since it comes from the house of Knaack, its security and construction are superior.
What is a Job Site Tool Box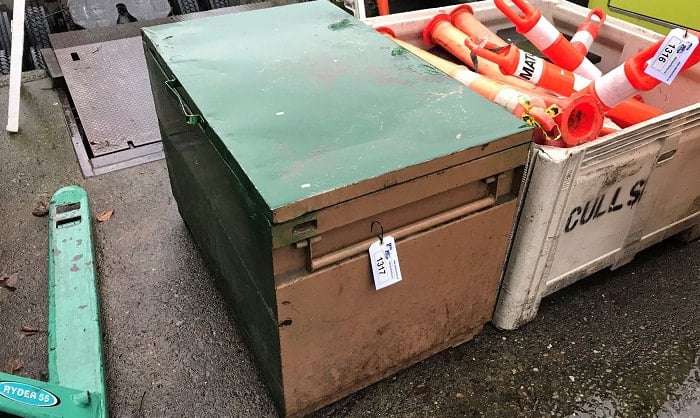 A job site tool box is also known as a workbox, a tool chest, or a toolkit. It is a box used for organizing, carrying, and protecting the tools required at different construction and job sites. These tool boxes can even be used for DIY, hobby, or trader. Their contents can greatly vary according to the craft pursued by the owner.
The ones who are working in fields where they need to use different tools or DIY enthusiasts should always make it a point to go for a good quality tool chest. The right job site tool box will help you keep all your essentials in one place.
These tool boxes are used by all kinds of hobbyists and tradesmen. From the small storage units for storing lightweight and minuscule tools to the ones that can be used at deluxe sites and garages, there are a lot of tool boxes that you can choose.
How Does It Work
A lockable job site storage box ensures all the required tools at the job site. The best job site box helps in protecting all the tools when they are not being used. These boxes even come with side handles so that the users can carry them easily.
Some jobsite tool storage boxes feature space right at the bottom for forklift access. There are piano boxes that open from the front and offer several layers of protection and storage. Rolling workbenches offer cabinet and drawer storage space. They also feature work surface on the top side and can easily be wheeled out of way.
The welded, single lock small tool chests can be used for housing the tools required for minuscule professional tasks. These are small enough to be transported in a truck or a car. They can even be kept in basements or garages.
These are made of baked enamel that is quite durable. They are also resistant to wear and tear along with moisture. These even come with in-built skids with holes for mounting casters if they are needed for easy transportation.
The flat-top tool chests are one of the best options for professionals looking for both tool storage and workspace. The top sections of these units are flat allowing users to place things for keeping them handy and to review different plans at construction sites.
These are generally made of steel and feature oversized storage space at the bottom for storing bulky and huge items. Then these utility cabinets offer tool storage with different configurations.
They can easily be carried to job sites. Moreover, these are weather-resistant and theft-proof so that tools you store within are safe.
The large field office tool boxes are best suited for bigger and more serious jobs. They serve as complete workspaces. You can easily set them up at construction sites and get going with your job. They come with heavy-duty weather stripping for protecting the tools from temperatures, debris, and water.
They do not just help in keeping tools safe but even make way for great portability. The most significant features of these heavy-duty chests are spring mechanism, fold-down handles, and grooved doors.
Types of Job Site Tool Boxes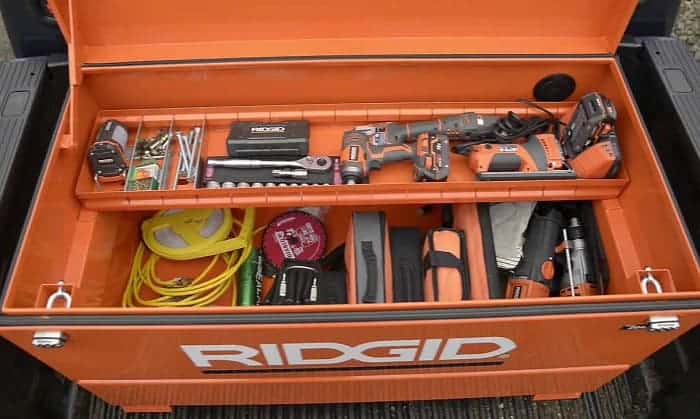 I would like you to know about the two broad categories of job site tool boxes. They are:
Hand-Carry Tool Boxes
These are highly portable tool chests that can easily be carried to job sites. They come in the classic rectangular shape and feature handles on both sides. They are generally made of plastic and are thus, cheaper and lighter than the ones made of steel, aluminum, and other metals.
Typically, the hand-carry tool boxes have trays or shelves inside for holding peripherals. You can easily remove them for storing large power equipment.
Rolling Tool Boxes
The rolling tool boxes of the present times come in varied sizes and configurations. They are generally horizontal with wheels at the bottom. You can even find huge upright chests that also feature wheels. You can easily transportat them from one place to another.
These tool chests commonly have 4 wheels and several shelves for holding washers, screws, bolts, nuts, and other peripherals. They even feature large compartments to store power cords and tools.
Why Do You Need a Job Site Tool Box
Well, the answer to this question is simple. You need a job site tool box mainly because you cannot do things without it. Whether you are an electrician, house painter, plumber, carpenter, or an enthusiastic DIYer, you will surely have a good set of tools for carrying out different jobs.
Just as briefcases work for investment bankers and attorneys, tool boxes are for the tradesmen and the handymen. They facilitate the easy transportation of tools. So, you are more efficient at what you do!
Buying Guide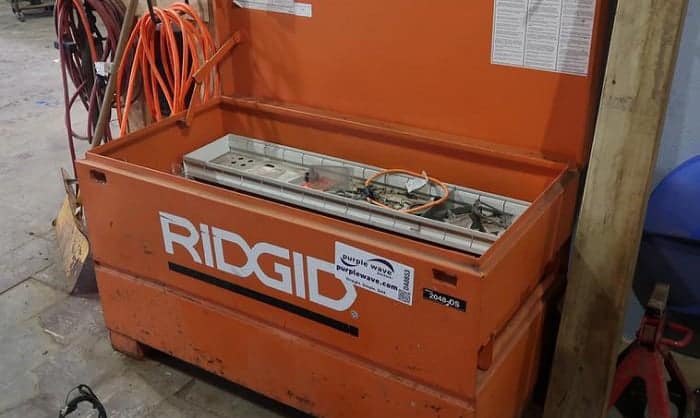 I chose the job site tool chests for my review list by analyzing the physical features of each chest – its materials and durability. I then blended my findings with detailed gathered from actual users of these products.
The information gathered falls into eight main categories. They are:
Are the tool chests able to hold up when put under pressure? Is it comfortable enough to carry the units? Are they fragile? These are some important questions you need to get an answer to if you want the overall quality of your chosen tool chest to be good enough.
It is necessary for you to get hold of a brand and stick to it if you find it working for you. I would highly recommend you to buy the tool chests of companies known for producing the best products that speak of durability and quality.
The price of the tool chest that you are choosing plays an important role in making the right decision. After all, you do not want to end up spending your money on something that is not worthy of the expenditure.
The size of the job site tool set is also one of the most crucial features to look out when choosing a tool chest. For this, you will have to consider the number of tools you possess. If there are many tools you need to accommodate in a tool chest, then it would be feasible to go for a large chest.
Unless you have a compelling reason to move to a larger tool box, make sure you stick with the smaller one.
Weight or Storage Capacity
The weight or storage capacity required depends on the number of tools you have.
It is always a good deal to go for the rolling tool boxes, especially if the portability of the unit is a greater concern for you. These boxes can easily be moved from place to place. Thus, they will not be an issue for you even if you have several tools to be transported from one location to another.
Material generally used for making a tool chest is steel or aluminum. If you do not have any major material requirements, these would be perfect. Nevertheless, some tradesmen prefer going for tool chests made of wood.
For some individuals, durability means the potential of resisting break-ins and withstanding shocks. Hence, tool chests made of steel are a good option. However, for others, durability is about potential longevity. So, the ones made of plastic are the right choice.
Weatherproofness, locking mechanism, construction, and design are some other important factors to consider. Factoring in these features will genuinely help you make the right choice.
Do not forget to go through reviews of some of the right job site tool boxes if you want to make an informed buying decision.
Care and Maintenance
If you want to maintain your job site tool box, you need to keep it dry and clean. Also, it is necessary for you to ensure not to fill in the box with several heavy tools. And, avoid using it as a chair or a table because it can damage the unit and hamper its durability.
To keep your tool box in prime condition, the best thing that you can do is wax and polish its cover at least once a month. Lubricating the rollers with silicone spray. This ensures smooth operation.
Dust the entire unit frequently. Also, avoid using the chest as a ladder. Cleaning every part of the unit efficiently can increase the durability of the product. Additionally, the caster wheels should be greased to roll in a smooth way.
Frequently Asked Questions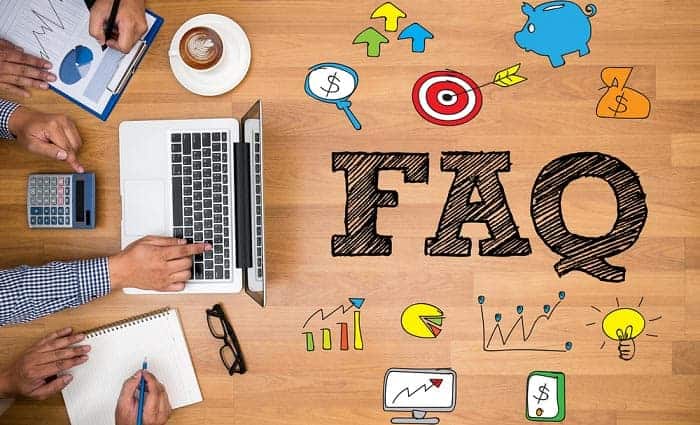 What are the most trusted job site tool box brands?
Speaking of the most trusted job site tool box brands, Greenlee is the name that you can trust. It produces job site tool chests in varied configurations to suit almost any application.
Not just Greenlee tool chests but even the ones from Knaack come equipped with non-removable and heavy-duty hinges. The cabinets also feature concealed and recessed lock systems for added security.
The tool boxes coming from the house of Trinity and Lund might be obvious choices for the features they come loaded with. These tool chest brands are known for producing weather-resistant, durable, stylish, and functional products that keep your tools protected from all adverse conditions.
The ones from Ridgid and Channellock feature reinforced and duly welded seams that offer added strength and durability. They even have grooved doors in the front to make it easy to open the cabinets.
Are job site tool boxes waterproof?
Job site tool boxes are water-resistant. But if there's a strong wind or heavy downpour, water can get inside these chests. They also rust, but this will take time.
Painting them every now and then can prevent the units from getting damaged quickly. Also, this helps them look neat and tidy.
How to set up and use?
There's no difficulty in setting up and using the job site tool boxes. They are assembled; therefore, you only need to organize all your tools.
Get all your tools in one place by housing all of them in the chest that you have got for yourself. Hence, if you do not want to lose your tools, you must invest in a larger chest for accommodating all your tools in one place and clear all the mess.
Where to buy?
Though there are physical stores to buy the required tool boxes, it would be a better idea to choose the online stores for your purchase. A few sources that can help you make the right choice include Walmart, Amazon, Home Depot, and Lowes.
There are several advantages of buying tool chests online. First of all, you get to choose from a plethora of items to pick the one that best suits your requirements. Next, you can easily compare the prices of the same products and get the item you want from a source where it is at an affordable price.
It does not degrade the quality of the tool chest because you get it within an affordable range.
Conclusion
My reviews above might get you into thinking which tool chest would be the right choice for you. There is no need to get confused. Go for any job site tool boxes detailed above, you will reap the best benefits.
Remember, the best job site tool box not only suits your budget but even offers you the service you desire. Choosing only top branded tool chests will not work if the unit does not serve your requirements.
So, you must get the one that is not just quality and performance-based but also value for the money spent.