Owning the best tool box for Tacoma makes life better and easier as it keeps your gear secure, organized, and easily accessible whenever you need them. You should not have Tacoma without a tool box since it is easy to install and offers great security to your tools and accessories.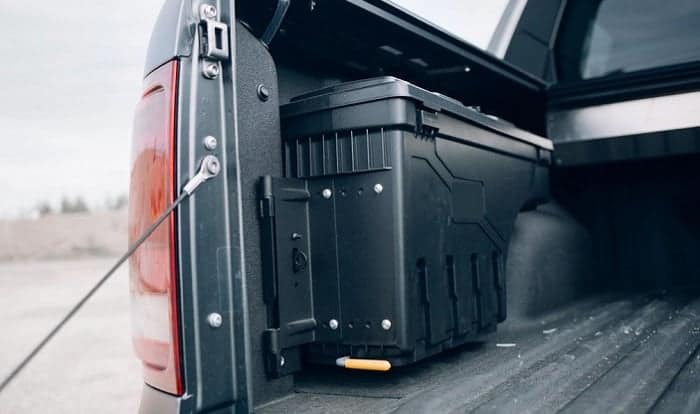 Another great benefit of having a tool box is that you can also put fishing equipment, camping gear, golf clubs, and other big stuff. All you have to do is install a sturdy, weather-proof, and lockable tool box to your Tacoma's bed.
Remember not all truck tool boxes are the same and you wouldn't want your tool box to end up being a big junk drawer for trucks, so scroll down to know about the best Tacoma tool boxes available.
List of Top-Rated Tool Box for Tacoma Reviews
1. Undercover SwingCase SC401D Truck Bed Storage Box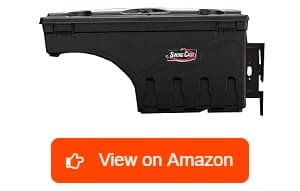 If you are looking for a Tacoma wheel well tool box that fits all 2nd and 3rd gen Toyota Tacoma model side beds, there's no better choice than Undercover Swingcase.
I like this compact and ultra-lightweight storage box because it's 100% weather-tight and secure. Installation was super easy and quick in just 10-15 minutes using one tool.
As the name suggests, the SwingCase swings out at 180 degrees that makes it easily accessible from any side of the truck and then stores out of the way in the unused area of the bed. It did well when I tried to load it up to 75 lbs.
The unique thing about this tool box is that you don't have to sacrifice your Tacoma's tonneau for a tool box. The redesigned latch system makes it much easier to swing open and unlock.
I had no issue with the locking system; it's a secure tool box that comes with its own key lock on the top lid. The lid closes tight with foam seal around and allows easy operation. But I wish the ABS plastic used for construction was more durable and sustainable.
What We Like
Secure storage solution
Easy to mount
Truck bed cover compatible
Weather-proof
The Undercover Swingcase is the most convenient storage tool box for those who don't want to install large size storage boxes for keeping tools. An additional bonus is that it's safe and weather-proof.
2. Dee Zee DZ8537B 37″ Red Label Utility Chest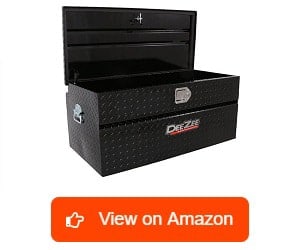 What's best about this Dee Zee DZ8537B is that it will fit whichever Tacoma model you have.
Another appealing thing about this chest is its aluminum lightweight construction with its black powder coat finish. The glossy black tool box didn't rust with timeas tested under rain, humidity, and moisture. Therefore, I suggest this to all those who usually travel during the rainy season.
I had no issue lifting my tool box as it weighs around 37 lbs, thanks to the handles on each side. I'm glad it came with all the hardware, including self-tapping screws, to permanently mount it up against the truck's bed. A plastic sliding tray inside that slides back and forth also comes in handy to store smaller items.
On the other hand, this isn't a heavy-duty tool box and might dent easily. Plus, it was difficult opening the box from the sides of the truck as the single latch handle is in the middle. Most of the people prefer latch handles on both sides for ease of opening.
What We Like
Durable rust-free aluminum construction
4 cubic feet spacious interior
Easy installation with all hardware included
Although not heavy-duty, this is still a
spacious chest tool box
with reasonable price and easy installation. The paddle handle with lock works quite well.
3. UWS TBS-63-A-LP-BLK Tool box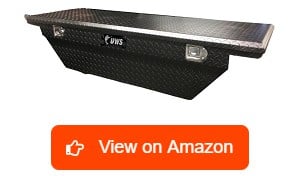 The UWS tool box with angled sides is the most secure box that I've used for my Tacoma truck.
The 2 lockable latch handles on front sides connect to the interior with 2 connecting rods. This provided the ultimate security and ease of operation for me. I find it very durable as it's constructed from extra-thick aluminum with a patented foam-filled lid.
Thanks to its solid structure, the chest can handle heavy loads without showing any sign of warping or bending. As mentioned in the manual, the lid easily opens at 90 degrees which makes loading and unloading a breeze. The lid self-closes for an easy single-hand operation that is great for many truck owners. Moreover, the lid is filled with RigidCore foam.
Regarding the storage capacity, there are integrated screwdriver holders and 2 sliding trays that can host wrenches, pliers, and bolts.
Another great thing is that it protects all your items in the box and the removable carpeted lining, which also minimizes dust. Plus, its low-profile top makes it easy for me to see from the truck's rear window.
One major downside I faced was poor shipping; the box arrived late with little dents.
What We Like
Thick aluminum solid construction
Secure latch handles
Lid filled with RigidCore foam
Weather-resistant
Although shipping takes more than a week, the UWS tool box is a tough, well-built, safe, and reliable choice for your 2003, 2006, 2008, and 2010 Tacoma models.
4. Dee Zee 6535P Utility Chest Tool Box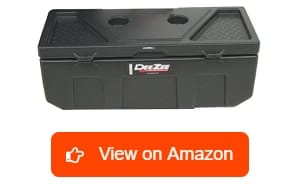 One of the most lightweight truck tool boxes you'll find in the market is the Dee Zee's 6535P.
What I liked about this simple tool box is that despite having lightweight poly plastic construction, it is durable and strong with a rigid frame. Warping is prevented by a double-walled lid and the integrated center support.
Besides, there were no signs of sagging even after months of use, all credits to the rear meat support bracket.
When it comes to internal storage, the box chest can accommodate up to 40 liters with ease. It can handle all your tools, supplies, groceries, and much more.
Best of all, I've used this chest box for versatile uses; at the job site, for storing drinks, tailgating, and other storage purposes in the boat, garage, room, and RV.
The things which set this tool box apart are its lid with 2 mounted cup holders and built-in 2 tabs for the pad locking system.
I really liked the overlapping lid and foam gasket but the part is made non-weather resistant. I would love to have a tool box with a tightly sealed lid so my tools remain dry even during rain. So, it's not a good choice for those who mostly drive on the wet rainy trails.
What We Like
Rigid structure
Lockable tabs
Portable
Versatile usage
What We Don't Like
Not completely watertight
The plastic construction is not as strong as steel and aluminum-made boxes, but it's a great option for people who want a very lightweight and simple yet sturdy Tacoma tool box.
5. Cam-Locker King Size Crossover Tool Box
I had great expectations when I bought the Cam-locker tool box for my large-sized pickup truck. Now, I have to say I'm very much impressed.
This Cam locker tool box for Tacoma is very low-profile covering only 3.5'' above body so you have a clear rear-window view. I wanted a large storage box and this has plenty of interior space for keeping all your tools and valuable essentials safe; thanks to the 17'' deep tub.
Telling the truth, the construction quality is amazing. The tool box is built with heavy-duty aluminum with powder-coated chrome finish on the exterior. This is why I didn't see any scratches, warping, or bending for about 6 months of use. Another thing that is up to the mark of its weather-proof ability, the lid is fully insulated.
The cam-lock mechanism is no less, my tools and accessories are 100% safe when locked properly with keys. I had no issue with opening and closing the lid because of full stainless-steel hinges and gas-lift shocks. They work perfectly whenever I open from either side of my Tacoma.
One thing which I find useless is its sliding tray made of flimsy plastic, however, it is removable.
What We Like
Carbon-steel durable Cam locks
Strong aluminum construction
Hand-crafted
Lifetime warranty
Though lifetime warranty doesn't have all the tool box parts, it is still a large-size, spacious, and durable storage tool box for your Tacoma that keeps all things safe, neat and organized in one place.
6. Better Built 73210285 Truck Tool Box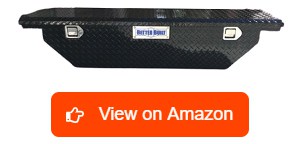 The Better Built 73210285 made a perfect 2003 Toyota Tacoma tool box for me. Remarkably, its low-profile crossover classic design that goes well with almost all 2 gen Tacoma models. Due to the slim design, the tool box took only 12'' of cargo space.
The 2 front-facing handles featuring quick pull-style latch make this box a pleasure to open while providing a more secure locking system. Another thing I liked about the box is the ease of closing with just a click. Unlike other tool boxes on the market where you have to slam their lids for tight shut, this one is different.
Furthermore, it holds all my truck tools, sporting gears, fishing rods, and still has plenty of storage space left for other items.
However, I didn't like the fact that the box doesn't have any internal LED light for content illumination since I often go for night drives.
What We Like
Rust-resistant aluminum tub and lid
Narrow slim design
Easy Installation without drilling
Spacious
It is not made from professional-grade steel but the box is great value for the money. The tool box looks great with your Tacoma and allows you to keep lots of tools and stuff.
7. Weather Guard 131501 Saddle box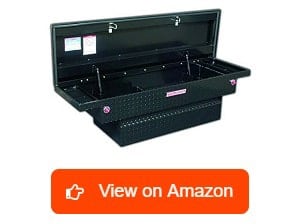 It's 100% guaranteed that you won't regret buying Weather Guard 131501, it perfectly fits on my 2008 as well as 2012 Toyota Tacoma. The high-quality box features no crimp installation hardware, therefore protecting the truck bed while securing the box to the truck.
This low profile truck tool box gives me peace of mind from a security standpoint. It comes with a dual automotive grade-type latching system (loop strikers) with the overlapping cover. Such a feature can prevent people from force opening with a crowbar or other tools.
Furthermore, two security locks on the front will retract when locked for added tamper resistance. Another great security feature s is the special torque ring. When tested, this eliminated many common keyhole break-ins. When unlocked, the ergonomic design opens the box effortlessly even with one hand.
I highly recommend this aluminum saddle box for professional tradesmen and contractors due to excellent security and convenience. It's designed to keep your tools and other equipment safe and secure; Also, it features diamond plate tough aluminum and welded channel construction which promotes excellent durability.
I may sound biased but I didn't see any flaw in the Weather Guard Aluminum storage box at ll.
What We Like
Full weather seal
Generous storage depth
Powder coat finish
100% secure locking system
What We Don't Like
Some people might find it large
All Tacoma owners will benefit from the durability, security, and high performance of aluminum saddle box from Weather Guard at an exceptional value. It is the industry's most secure truck storage system.
8. Montezuma ME300B TRIANGLE Tool box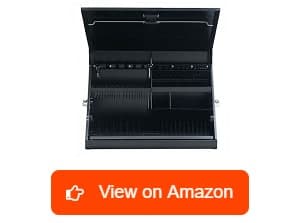 The Montezuma ME300B TRIANGLE Tool box is our next excellent option for well-made Tacoma chest.
What I like most about the ME300B tool box are its reliability and durability. I've installed it in the back of my Tacoma and drive it around the whole day. No matter how shaky the ride is, all your tools will stay in place and well-organized.
The multi-tier design allows me to see all my tools that include screwdrivers, hacksaws, hammers, wrenches, pliers, nut drivers, and tape measure, at a glance.I also like that there's more space under the tray where I fit my larger tools. Hence, Both your metric and SAE tools will be well-organized.
Apart from that, the lid has a weather-proof seal that protects all my precious tools from moisture and dust when I park outside. Another great thing is that the tool box also has a dual pin lock system so I know my tools are always safe.
However, remember that it's a storage box for tools only. This can be a big downside to people who want extra storage space for their sports or fishing gear.
What We Like
Heavy-duty steel construction
Holds S.A.E and metric tools
Weather-stripping; tight seal
Powder-coated for UV resistance and durability
Dual-lock triangular lid
A convenient solution that ensures all your valuable tools stay organized when you need at work or home. Besides, it doesn't take up much space on your truck bed.
9. Delta 1-351002 Crossover Truck Box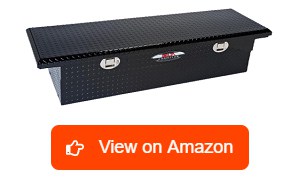 The low-profile Delta 1-351002 Crossover Truck Box will allow you to easily transport all your gears and tools to your jobsite
It's strongly built with 14.75" deep aluminum tub that includes patented integral ends for extra strength. I liked the smooth opening lid with the auto-lift shocks.
Also, another notable feature that impressed me was that the lid closes tightly with the self-adjusting hoop strikers. All your inside contents are protected from water or moisture with the weather-resistant seal. Such a well-guarded product is a perfect use on rainy and muddy trails; all my tools were dry.
Stashing small parts in the lid storage area and the 5-pocket tray keeps me well-organized. Safety, security, and organization go side by side. The gear-lock paddle handles with tough zinc-chrome plating keeps tools locked and secure.
Also, corrosion wasn't an issue using this sturdy tool box for months since it has RSL lamination. The majority of users appreciated the powder-coated smooth exterior finish that offers the box a fantastic look.
A big snag of this tool box is flimsy poor packaging during shipping. Mine came with scratches and tiny dents due to inappropriate packaging.
What We Like
Gear-lock system
High-strength construction
weather-proof with a tight seal
spacious interior
A truck tool box that safely transports all your stuff under every weather condition!
Types of Tool Boxes for Tacoma
Although all tool boxes for Tacoma may look similar, different types are depending on their mounting style. This refers to the installation of a tool box to the truck's bed. Each type has its advantage depending on how much storage you need and what kind of work you do.
Crossover Tacoma tool chest is mounted behind the cab, and side panels of the truck support it. It sits on the truck's floor which, means the crossover tool box will float above the floor. It also allows more space underneath. The saddle box or crossover features a rectangular shape. It is ideal for carrying large-sized gear in addition to your tools as it has ample storage space. You can access the crossover tool box from outside the truck.
If you have a big cover on your Tacoma, the chest tool box works excellent for that. The chest tool box is a necessary accessory for your truck and trailer to keep your gear and equipment safe. Workers can install it to the bulkhead of the cab without interfering with the rear-window view as it sits on the truck floor. They are low-profile and offer plenty of storage space for tools and other essential items. However, it does floor space.
Anyone who works in and out of their truck needs a side-mount tool box to get fast access to tools. These tool boxes are often mounted on the right and left truck bed rails sides in the cargo area. They run along the bed length without touching the bed floor. The entire center area is free. Farmers, contractors, and road mechanisms prefer side-mounted tool boxes as they are most comfortable to access.
The wheel well is a driver's side tool box that features a wheel well style with tall narrow design. Also known as a pork chop box, it's one side fits the wheel well while the other side fits behind the wheel well. This type helps maximize storage space and keeps most of your truck bed free for any larger cargo you need to carry.
No matter what types of tool box you need for your Tacoma, it's always better to have a tool box for your truck. Another cool thing about truck tool boxes is that you can paint them to match your Tacoma color. Customize it the way you want! The key features to look at when buying a Tacoma tool box are fewer welds, one-piece metal, good weather-stripping, good-quality manufacturer, latching, and locking mechanisms.
Why You Need a Tool Box for Tacoma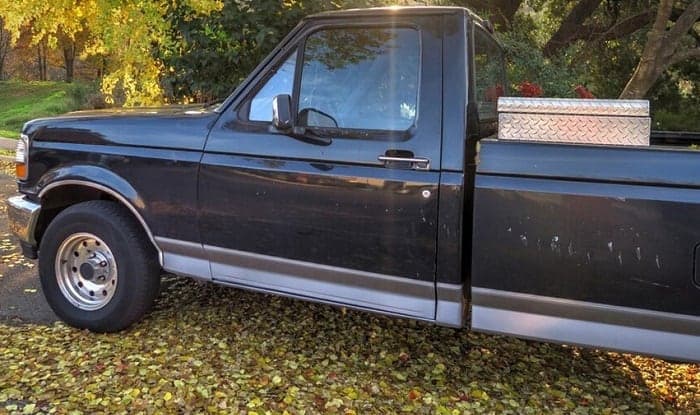 A useful tool box for trucks is not an expense. Think of this spending as an investment because getting a chest can make your life easier. There are a few reasons why someone would need a tool box for their Tacoma truck. And some of them are the following.
Extra Storage & Organized Tools
A tool box offers extra storage, which means you can carry more tools without worrying about the shortage of space. But on top of that, a tool box allows you to have an organized space for the essentials. Many tool boxes come with internal dividers, which makes it easier to store tools separately. And you can add more dividers to create extra compartments. It means no more unzipping multiple bags to find one screwdriver.
One of the main reasons experts do not recommend leaving tools on the truck bed is weather damage. You invested hundreds of dollars in getting the top-notch professional tools. Cleaning and lubricating these tools got hours of your time. And now you will leave them openly on the truck bed? Doing this once or twice is not that damaging to the tools. But leaving the tools out in the open always can lead up to corrosion. A good tool box is waterproof and does not let any moisture sweep in. So, it will protect your tools. On top of that, you can store other stuff that is easy to get damaged by water. Like, user manuals, books, even phones.
Tools getting damaged due to rain or weather is indeed horrible. But there is nothing more damaging for your wallet than the tools getting stolen. A tool box is an answer if you do want to prevent such scenarios. Just put your tools in the box and lock it. Many drivers even put their other valuables in the tool box, such as money.
As mentioned above, a tool box makes it easier to organize the tools. All the nuts and bolts are in one place and the drivers on the other corner. This organized storage makes it easier for you to find the stuff when needed. But this can be achieved via a small tool box too, right? Well, a truck tool box is more user friendly. Because with these particular types of boxes you do not have to hold the lid open.
Without a tool box, where would you store the tool? In bags, right? And then leave the bags on the truck bed? Well, you are buying the space for gear with a tool box. Which means the truck bed would be free. So, you can store more pick up stuff on the truck.
Sure, you love your truck, but when the time comes, everyone upgrades their vehicle. It has been seen that trucks with pre-installed toolb oxes have a higher value. All of the installation time is worth it if you want to sell the truck in the near future.
Buying Guide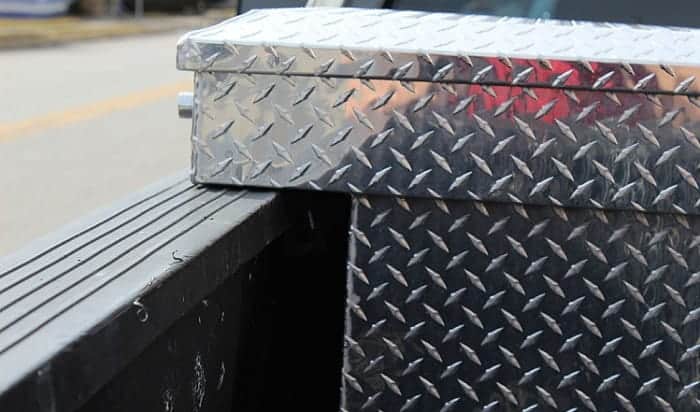 While truck beds are very protean when it comes to schlepping things around, it is always good to have things organized. Having a tool box can help you preserve your sanity. But don't just go out and buy the first product you see. There are things to consider before making a choice. Following this buying guide will help you choose the best tool box for tacoma. And you might end up saving money on the specs you do not prioritize. Let's take a look at some of them
Toyota Tacoma Tool box Size & Style
Tool boxes come in three main styles: saddle box, chest, and side mount. Saddle box, also known as a crossover box, is your convenient tool box. It bestrides on the truck bed bridging from one side to the other. It is the most convenient one of the bunch since you can access it from the side and preserve long items underneath it.
Chest boxes are low profile and sit on the floor of the truck bed. They're easier to install and have a simple one lid design. Chest style boxes will allow you to store garage tools at the expense of the space on your truck bed. These boxes are also considered the best for tonneau cover trucks since they can fit under it.
The last ones are side-mounted, which occupy the sides of the truck bed while saving up space in the center. Most side mounted boxes have two parts, one on each side of the bed. They're also ideal for camper shells and tonneau covers.
Now that you've decided what style suits your truck, now determine the right size. Make sure the box you choose is perfectly sized to fit inside the bed itself. Manufacturers make them based on the width between the side rails of different truck make and models. So, a 2002 Toyota Tacoma tool box would not be the same as the 2006 Toyota Tacoma tool box. If you can't find a tool box for your truck, then you can measure the dimensions and look for that size.
How to choose the right size tool box for Tacoma?
In order to know what tool box size to get, grab measuring tape, and measure the inside and outside width of your Tacoma's bed as it has various models and trims levels. Always look for tool box dimensions in the catalog or make measurements yourself. Make sure that the tool box width should be smaller than the inside width of the truck bed.
The overall width of the crossover portion of the tool box is within a few inches of the outside diameter of your truck bed. You must consider universal, wedge, or narrow boxes when you consider your Tacoma's wheel wells. Keep this in mind when you're measuring truck bed drawer box, tank, wheel well box, side, or top mounts.
Secondly, you must consider precisely how much room you would need. If you are a professional construction worker and need to carry around extensive tools to the field site, you will need a bigger tool box. Some boxes come with drawers and compartments to store longer and bigger equipment. On the contrary, if you just require instant access to handy tools on the go, then a small side-mounted box would be perfect. Some boxes come with built-in components that add to tool organization.
Material built & Tacoma Tool box Weight
Tool boxes come in a variety of builds like aluminum, stainless steel, and plastic. The choice depends on various factors. If you are to store your valuable tools in the box, you will require a sturdy build with robust latches and rigid lid.
A steel box is the most durable build, but do beat in mind that if the paint scratches, you will need to deal with the nerve-wracking problem of rust. So if you live in a coastal area, your best choice can be an aluminum tool box since it's resistant to rust. Aluminum boxes are also lightweight, thus easier to remove when full bed space is needed.
On the other hand, if you don't want something expensive and just need to save jumper cables and wires, you'd be better off with a plastic tool box.
The material quality affects the weight of the tool box. So, make sure you know how much the tool box weighs beforehand. Because a more massive tool box is harder to steal, but it will put extra load on the truck. And this can slow down the vehicle if you do pick up jobs.
Any tool box will be able to hold your tools together. But does it provide the experience of a seamless opening or closing of it? It offers an effortless opening, closing. Furthermore, the locking mechanism of the tool box and be a huge deal for some people. The box shouldn't have a lock that requires an insane amount of force to operate. Make sure the box comes with gas lids for an effortless opening and doesn't need force to latch the cover.
When the topic is tool boxes everyone talks about how it prevents theft. But how will a tool box save your tools and be valuable if it does not have a lock? Try to get a tool box that comes with a built-in lock, so your tools are safe. You can also get a cam locker tool box for Tacoma as it is more secure.
Waterproof and Weather Resistant
One of the main reasons you would want to use a tool box instead of throwing tools on the flood of truck beds is protection. Aside from theft protection, you will require protection from the weather. Most of the tool boxes are good at locking out water.
Good quality exterior build and interior sealing can ensure waterproofing. It will give you peace of mind knowing that your tools are protected from rain or hails and potential rusting.
Although rain is not the only concern where most tool boxes can provide water-resistance, you will still need a higher quality material for complete protection. Better quality hinges and weather-stripping are necessary to block out sand and snow.
People say Tacoma tool boxes are invested for a reason. So, do not buy a cheap product. It might save you money now, but the product will be out of order before you even notice. Usually, the tool boxes are under $150 basic ones with fewer features. You can get them if you are not a professional. The products above $150 to $500 are the one professionals get. These boxes come with more features and are user friendly. Tool boxes above 500 bucks are indeed the best, but get it only if you need the extra convenience.
Care and Maintenance
Cleaning the Tool box
The first maintenance and care rule for tool boxes is to keep them as clean as possible. You do not have to clean the box every day, but dusting is needed once every week. And give the tool chest a thorough cleaning every month or whenever needed. So, how do you clean it? Start by cleaning the instruments one by one, use a cloth to get rid of the oil. Now, you can use either a concentrated soap for industrial cleaning or a wax-based cleaner. Both of these cleaners have their separate benefits.
An industrial soap concentrate is more natural to find and costs nothing more than 20 bucks. It gives the box a matt finish and gets rid of the oil. A wax-based cleaner, as the name suggests, provides the tool box with a waxy layer. It does not mean that the device will feel oily. The benefit of this cleaner is that it prevents the dust from sticking to the box. But this sort of cleaners cost a little bit more. But no matter which detergent you use, do not spray it directly on the chest. Dampen a rag with the soap and then use that to wipe out the dirt, dust, and oil.
Lubricate the Tool box
Yes, we just said to get rid of the oil and now recommend using lubricates? You do not have to put oil on the surface of the freshly cleaned tool box. Get an all-purpose lubricate and put it on the drawer slider and the lid. This step can be done once every two months. How to apply your tool box lubricate on the lid? Most of these lubricate come in a spray bottle. Just do a few spirits and spread it with a clean cloth. But make sure to get a lubricate that is easy to clean. So even if you accidentally dropped more lubricate, it is easier to clean. On that note, never lubricate the sliders after cleaning; this can save you time on cleaning.
Frequently Asked Questions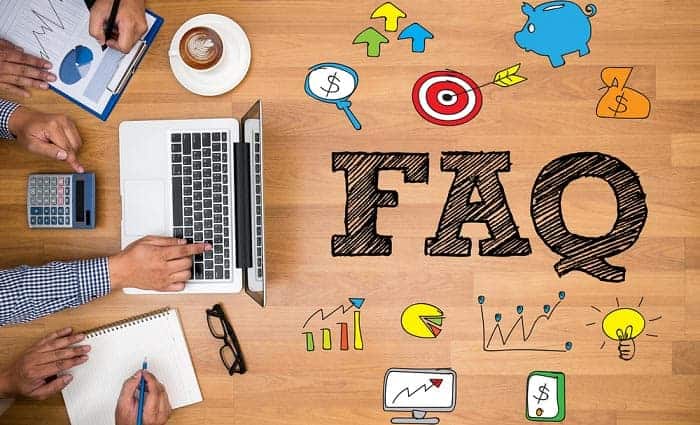 What are the most trusted Tacoma tool box brands?
Several Tacoma tool box brands in the market can offer amazing products. But it is not safe to invest in a new brand unless the customer reviews are 4 to 5 stars. So, in the Tacoma tool box industry, which brands are the most trustworthy? There are a few companies that customers have always loved because of manufacturing quality.
Weather Guard is an established brand in the truck accessory industry. in detail, it was founded in the 1960s and is now owned by Werner Co. Notably, the brand offers a variety of tools for professionals. For instance, Dee Zee has been producing truck tool boxes and other various accessories since 1977. The company focuses on truck tools as accessories for professional use. Undercover is not as old as the other two brands; it first started in 1999. But it has expanded the line throughout these years. And nowadays you can find any and every truck essential from Undercover.
There are some other popular brands as well. Like Dewalt, Deflecta-shield, and UWS tool boxes. These companies not only offer top-notch products, but customer service is also excellent. But this does not mean you cannot buy tool box from other brands. No matter if it is a trusted brand or not, always check the customer reviews on different forums.
What size tool box fits a Tacoma?
Toyota Tacoma is not just one truck but a series of excellent vehicles, which makes it challenging to come up with one measurement. Truck tool boxes are not one size fits all type of products, which is why it is essential to note the dimensions of your specific Tacoma model. After that, use the measurement during shopping for Tacoma tool boxes. Many tool box brands mention the compatibility under the listing to find the perfect match.
How to install the tool box in a Tacoma truck without drilling?
Many people lose their hope when it comes to the installation process. But this method is easier than you expected. And by following this technique, anyone can install their Tacoma truck tool box in a few minutes.
Now you can easily buy a truck tool box installation kit for around $20. But most of these kits contain plastic pieces. Experts recommend building up your installation kit yourself. What you need is a 4 x J screw, 4 x finger washer, and 4 x nut for either side of the tool box. Usually, the tool boxes come with foam strips, but you can use leather strips if yours did not. Turn around the tool box and adhere to these leather/foam strips on the contact area. This will prevent the tool box from making squeaking noises and scratches.
Place the tool box where you need to install it. Put the J screw from underneath the predrilled holes of the tool box. Then add a washer on top and screw it with the help of the truck owner. There are two holes at each side so, focus on one side of the tool box first. Then go to the other side and repeat the same process.
How to set up and use?
A tool box cannot make your life easy if you do not organize it first. To get the most of your tool chest, it is better to store the tools in categories. But first, add a tool box organizer in the tool box. Then sort out all of the tools one by one. Put them in there respective sections or drawers. You can then put a sticker mentioning the content of the door for easy access.
Some people also make a list of all of the tools and carry them with them. And check the list before closing the tool box. This can prevent you from losing the machines and keep a record of what you need to buy.
Advantages and disadvantages
Installing toolboxes or truck boxes for Toyota Tacoma gives you plenty of advantages.
To begin with, you can use the truck bed's space more efficiently since they add storage and organizers for the tools that can easily get lost in deep compartments. You can find what you need in an instant!
Moreover, a Tacoma bed toolbox protects your prized tools against the elements and the prying eye of thieves. Since it increases the resale value of the vehicle, I don't see any reason why one should think twice about getting one.
Besides, a toolbox fits a Toyota Tacoma perfectly in the truck bed. Manufacturers have already created containers for different needs.
For instance, you can get a readymade 3rd Gen Tacoma toolbox or storage more appropriate for earlier versions of the pickup truck. Likewise, you can opt for a Tacoma slim tool box or a larger one.
However, you can only experience these benefits if you choose high-quality storage systems. Faulty truck tool boxes for Tacoma are not only a waste of money but also incapable of preventing damage to your tools. If the material is flimsy, it can easily crack and create an opening for water to get inside.
How long does a Tacoma toolbox last?
Brands like RC Industries promise to create toolboxes that can last a lifetime for as long as the users do their part in maintaining them. Better built tool box Tacoma aluminum products can last over a decade according to user reviews.
When it comes to plastics, it usually depends on the construction. A well-made sturdy plastic toolbox can also last decades like its aluminum counterparts but the cheaper ones will likely break in a few years.
What is the warranty?
While high-end toolboxes can last forever, it's still important for consumers to familiarize themselves with the warranty that manufacturers offer.
From one-year to lifetime warranties, brands detail their terms on their website. For instance, Truck Tool Box provides a ten-year warranty for any storage box while the materials like locks and latches, roller systems, and Teflon slides are given a 5-year warranty.
Meanwhile, Dee Zee outlines different terms, which give the customer a limited lifetime warranty for materials and craftsmanship and a three-year warranty for powder-coated or e-coated steel.
Note that each product may also have different warranties even if they come from the same brand. Case in point, a Tacoma low-profile tool box will probably have different finishing than a truck chest, which calls for different terms.
Another thing to remember is that warranties aren't often transferable. Hence, if someone bought your truck along with the toolbox, the buyer will not be able to use the warranty that you have.
My advice is to take the time to understand the terms and conditions before buying. This will save you a lot of headaches!
Where to buy the tool box from?
Truck tool boxes are easy to find at the home depot and other local hardware stores. These places stock the bestselling tool boxes. But most of the time, the store might not have the specific model that you need. So, it is best to inquire about the local stores first about the options. And if they do not have the tool box in stock, then get it from the brand's website. Amazon has a massive range of tool boxes available as well. And you can just type the 2008 Toyota Tacoma tool box, and it will show the results.
Conclusion
Truck tool box makes your life organized and comfortable while driving. It gives you complete peace of mind that all your evaluable gear and tools are safely secured, well-organized, and protected from water and thievery. Get your hands on the best tool box for Tacoma and stay organized.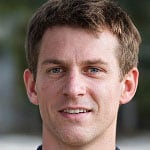 Having worked in the field of personal protective equipment for over two decades, Andrew Carnegie is a specialist in the field.
At EDC, he strives to improve performance efficiency and promote workplace safety for EDC's readers and customers. He also researches the most up-to-date equipment that has earned relevant accreditation for use in a wide range of industries and specialties.