As a roofer, you are already aware of how arduous your job is. It requires you to deal with heavy lifting, climbing, bending and kneeling. It is because your job entails replacing, installing, and repairing the roofs of households and buildings using different materials, like metal, bitumen, and shingles.
Due to this tiring and somewhat risky job, it is necessary to give all parts of your body adequate protection. Among the parts of your body that should be well-protected are the knees, making the best knee pads for roofing a necessity. Keep in mind that your job entails a lot of kneeling, especially if you are dealing with flat roofing.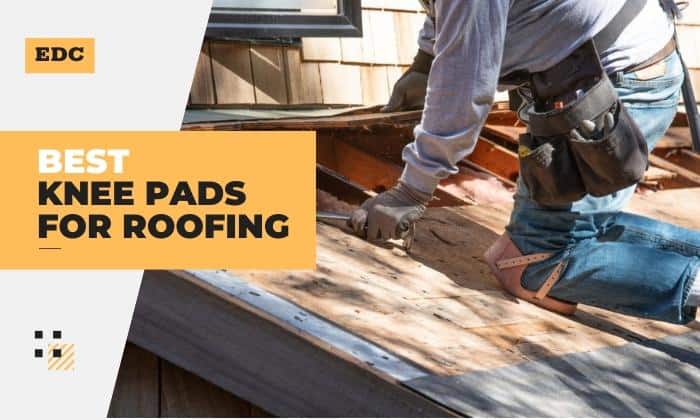 You will also most likely deal with extremely hot materials, like bitumen, every day. With that in mind, it is crucial to invest in roofing knee pads that are safe, reliable, and strong enough that they can withstand the heat while preventing your knees from getting harmed or injured.
With a good pair of knee pads around, you no longer have to worry about developing chronic and acute knee pains due to spending several a lot of time every day kneeling on hard surfaces. This safety gear can provide sufficient protection, which can also prevent the development of osteoarthritis and bursitis affecting the knees.
Furthermore, it can prevent other conditions that cause limitations in your performance and hamper the quality of your life. To help you choose, I have compiled ten amazing roofing pads designed specifically for your knees. With these choices, you will be on your way towards providing your knees with sufficient protection.
Top 8 Knee Pads for Roofing Reviews 2023
1. Sellstrom S96110 KneePro Knee Pad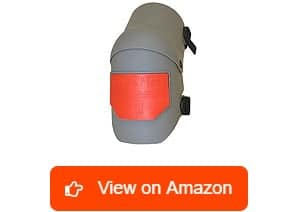 Many professional roofers also swore to the reliability and functionality of the Sellstrom S96110 KneePro Knee Pad. I even consider it as the ultimate solution for knee protection that does not cause users to sacrifice durability and comfort. It has been the standard in the industry for over thirty years, proof that it is indeed a good product.
One fantastic benefit provided by this knee pad is that it assures users of correct placement and positioning the entire day. It is due to its articulating hinged design. It also has straps that tend to remain in line with your legs regardless of your position when at work. This lowers the chance of the straps binding behind your knee.
Versatility is also a prominent benefit offered by this knee pad. It is versatile as it fits a wide range of applications – among which are roofing, gardening, floor installation, metal fabrication, manufacturing, landscaping, and construction. It is also easy and quick to take off, thanks to its extra-wide, soft, and elastic woven straps.
These straps are adjustable with the aid of its quick-snap clips. I am also greatly satisfied with how long this pair of knee pads last. One reason behind its long-lasting nature is that most of its parts are easy to replace, allowing them to play a huge role in extending the item's life.
I am also delighted with the presence of closed-cell foam. It is because it has an impact on the soft cushioning feel the knee pad provides. It also protects your kneecap and upper patella while preventing dirt and contaminants from coming inside.
However, some users still find the padding insufficient.
What We Like
Ensures correct placement and positioning the whole day
Versatile as it works perfectly in numerous applications
Easy and quick to take off
Long-lasting, thanks to its easily replaceable parts
Offers a high level of protection to the knee cap and upper patella
What We Don't Like
Not that sufficient padding
If you are looking for a way to keep your knees fully protected from injuries when doing a job as arduous as roofing then buying the Sellstrom S96110 KneePro Knee Pad will surely give you an advantage.
2. REXBETI Knee Pads for Work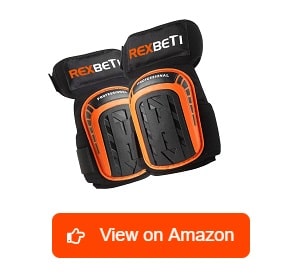 I love the REXBETI high-quality knee pads because their cushion, made from thick foam and gel, has saved me from a lot of pain and discomfort. With their ergonomic thigh-support design, these work knee pads ensure that my knees can always stay in the center when kneeling on various surfaces.
Equipped with heavy-duty PVC shells, these protective pads give me peace of mind that sharp rocks, glass shards, and other dangerous objects can't pierce my knees. As the PVC is incredibly heavy-duty, I don't have to worry about getting a replacement anytime soon, despite frequently working on abrasive surfaces.
Admittedly, I was initially worried about the size, thinking that these foam pads for roofers might not fit my knees if I wore thick denim pants. Thankfully, their box includes four 7-inch extension straps, allowing me to wound the pad securely around my legs. No matter how much I move throughout the day, the pads stay firmly in place.
My only gripe about this roof kneeling pad is that the Velcro will lose its adhesive properties after a while. However, this issue can be circumvented by cleaning the Velcro—picking out the small debris with a tweezer usually does the trick for me. The process is slightly time-consuming, but it'll give me a good pair of knee pads again.
What We Like
Has thick gel and foam for maximum comfort while kneeling
Ergonomic thigh-support design to keep knees centered
PVC shells for protection against sharp objects
Heavy-duty materials for improved durability
Includes four 7-inch straps, allowing users to fit the pad snugly around knees
What We Don't Like
Velcro may stop sticking after a few months of use
Based on experience, I can confidently say that these are the perfect roofing work pads for installing shingles. The soft gel and 3-layred foam cushions are extremely comfortable to kneel on, allowing me to work for long hours pain-free!
3. NoCry Flooring & Roofing Knee Pad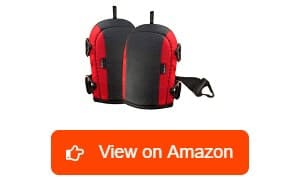 The next product worthy of recommendation is the NoCry Flooring & Roofing Knee Pad. One thing that I can guarantee users that this knee pad can offer is the extreme comfort. I immediately sensed how comfortable it is with the ergonomic design it sports as well as its soft foam padding.
The overall design is also lightweight, providing support and protection to the knees without compromising your comfort. Wearing this knee pad will let you kneel on slippery and hard surfaces without any hassle. Another incredible advantage assured by this knee pad is its ability to fit the majority of knee sizes with ease.
It is because of the two thick straps built into the item. These are effective in providing optimal knee support. It also features two neoprene adjustable straps that you can use to hold each knee pad securely and firmly, even if you are moving around. I can prove the versatility of this safety gear, too.
It is compatible with tiling, and flooring works as well as handling roofing materials and performing other projects in construction sites, garages, kitchens, and gardens. The knee pad is also long-lasting, thanks to its sturdy 600d polyester fabric material.
It can also withstand heavy use and abuse with its dependable slip buckles as well as the anti-skid leather material that forms part of it. This roofing pad for the knees also seems to work compatibly for both men and women while also boasting of its comfortable fit.
One problem I have with this knee pad, though, is that its padding seems to thin out after using it for a long time.
What We Like
Made of sturdy 600d polyester fabric
Works for both men and women and has numerous applications, not just roofing
Provides optimal knee support thanks to its adjustable strap
Promotes ease in kneeling on slippery and hard surfaces
Features an anti-skid leather material
What We Don't Like
The padding is prone to thinning out over time
Even with that problem, I am still happy with this pad because aside from its decent price point, it has most of the traits that roofers require from a knee pad, including secure straps, sturdy construction, and large and rugged shield.
4. COGURD Professional Gel Knee Pads
With many of my friends gushing about this roofer foam pad, I did not think twice about getting one to test out. Right off the bat, I'm impressed with the 3-layer design and soft gel cushion—these will certainly protect me against knee injuries. Beyond that, this feature gives me much-needed comfort as I spend hours kneeling.
As I often work outside, I truly appreciate the waterproof neoprene shields. Now, I no longer have to worry about walking around with water-laden knee pads. The waterproof foam pad for roofing also makes sure that moisture can't seep in and trigger skin irritation.
The knee pads also boast excellent anti-slip properties, which keep me stable in sloping or slippery areas. Not to mention, the anti-scratch and non-marking design ensure that I don't leave scuff marks on delicate surfaces.
I love how effortless it is to put on the knee pads. All I have to do is looping and hook the protectors around my knees. The Velcro straps allow me to adjust the pads for a secure fit easily. Unlike the REXBETI, these pads' Velcros hold up quite well despite the fact I've fastened and removed them several times.
My sole complaint about these protective pads is that they're not for people with bigger statures. I have a friend who has thick legs, and these knee protectors sadly don't fit him.
What We Like
3-layered padding, accompanied by soft gel
Features waterproof neoprene shields
Slip-resistant design to keep users stable in sloping areas
Quick and easy to put on thanks to adjustable Velcro straps
Velcros hold up well
What We Don't Like
May not fit bigger-sized people
No doubt, these knee pads are supportive and protective, especially when I'm kneeling on gravel, slippery surfaces, or a sloping roof. Even better, they are suitable for both indoor and outdoor applications thanks to their waterproof and breathable design.
5. Troxell Supersoft Leatherhead Knee Pad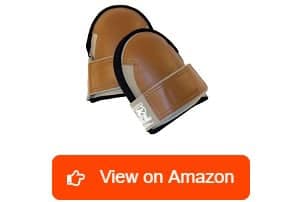 I also highly suggest using Troxell USA Supersoft Leatherhead Knee Pad. I am pleased with this knee pad because aside from protecting your knees and joints from pain and injuries when you are hard at work, it is also made in a way that it will not damage sensitive surfaces, especially the spots where you do your roofing tasks.
It takes pride in its wideband single-strap design, which is constructed out of neoprene material. It tends to sit below your knee, so it can leave a clear zone designed to prevent pinching and bunching. The front part features a hook & loop closure, which prevents you from fumbling with clasps and buckles, resulting in easy and quick adjustments.
I like the comfortable and soft interior padding showcased by this knee pad, too. This assures you of even weight distribution while keeping the knee pad lightweight. With that, wearing and using it for long hours will not be a problem. I am also glad that this product uses heavy-duty and sturdy closed-cell foam cushioning.
It is because unlike gel pads, it has zero risks of puncturing and leaking. It also boasts of its thick leather exterior, which is sturdy and dense enough that it can keep your knees protected from rough and hard surfaces. The pad has just the correct density and amount of padding, which does not seem to lose its elasticity too soon.
Moreover, I noticed that its attachment system is so comfortable in the sense that putting it on and taking it off becomes a quick and easy process.
One complaint I have, though, is the price as it seems to be costlier than other knee pads with similar benefits and features.
What We Like
Can protect your knees and joints from pain and injuries
Low to zero risks of puncturing and leaking since it uses closed-cell foam cushioning
Comfortable attachment system integrated into the structure
Comfortable and soft interiors
Lightweight, so wearing it for hours is hassle-free
Despite its higher price point, Troxell USA Supersoft Leatherhead Knee Pad still deserves the investment because it has a unique shape that plays a huge role in its incredible adjustability, comfort, and strength are concerned.
6. Prolock Impact-Absorbent Gel Knee Pad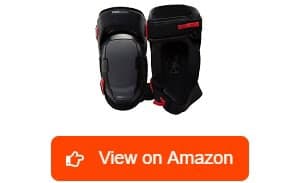 Another amazing product that deserves a professional roofer's attention is the Prolock Impact-Absorbent Gel Knee Pad. I am in love with so many things about this knee pad – one of which is its supportive and durable construction.
One thing that plays a crucial role in its durability is the polyethylene exterior shell combined with a polyester interior lining. I am also fond of how supportive this gel knee pad from Prolock is. It can give you more than enough adequate thigh support through its hinge design.
This design makes it possible for the pad to manage pressure even more effectively while offering all-day support and comfort. The convenience it promises is also undeniable. It has elastic neoprene straps that help in comfortably holding the knee pad without causing the cut-off of circulation.
I like how you can fully adjust the straps. This means that you will be able to enjoy an adjustable fit from this knee pad. With that, I am sure that it will fit all possible leg sizes. As its name suggests, this knee pad is also built to be impact-absorbent. One factor behind this benefit is the inclusion of the TPE compression gel in its structure.
This lightweight feature works efficiently in absorbing a strong and huge impact while also improving the stability of the pad. This knee pad also has an EVA foam core, which aids in dispersing body weight to give even more comfort.
Moreover, it has a stabilization feature, which lets it withstand various surfaces, including construction sites and roofing materials and structures.
However, it seems to sit slightly higher than what I expected, although this does not affect comfort at all.
What We Like
Features a TPE compression gel, which absorbs impact
Comfortable, thanks to its EVA foam core
Can withstand multiple surfaces
Supportive and durable, thanks to its sturdy exterior shell and interior lining
Boasts of fully adjustable straps
What We Don't Like
Sits slightly higher than expected
If you are searching for the
best knee pads for roofing
that efficiently support your knees, then the Prolock Impact-Absorbent Gel Knee Pad will not disappoint because it is manufactured in a way that lets users work hard without pain and discomfort.
7. CLC Custom Leathercraft 318 Kneepads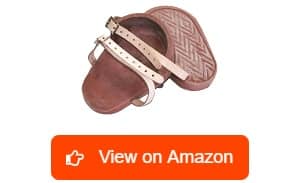 Are you in search of a heavy-duty pair of professional roofers' knee pads? Then I'm sure that you will never go wrong by picking the CLC Custom Leathercraft 318 Molded Rubber Knee Pads. It is designed in a way that meets the demands and requirements of busy roofers and contractors.
One thing that grabbed my attention about these roofing knee pads foam rubber is how supportive it is. I noticed the high level of support that is provided by its deep cups and flat-bottom design. I like how quickly and securely it fits users, too. I think one major factor behind this good fit is the built-in double adjustable strap made of leather.
Pair that strap with steel-based buckles and it provides a secure and strong fit. It also boasts of its impressive stability brought on by its huge flat-faced cap. In terms of comfort, this knee pad is not a disappointment. One thing that makes this knee pad truly comfortable is its sculpted knee cup, which is large enough for your needs.
It is also designed with a thick cushioned rubber material, which is famous for withstanding heavy and industrial use. The padding is thick enough at the base and the pad in its entirety. This also further improves its ability to handle even extreme and adverse conditions.
Each strap also has buckles with rollers that offer comfort. It is because these things make it possible for the straps to move along with you without causing fatigue or ending up being bound.
One flaw I found out, though, is that it tends to disintegrate sooner than expected if it gets wet often.
What We Like
Offers adequate support with the help of its flat-bottom design
Can withstand heavy industrial use and adverse conditions
Secure fit guaranteed
Comes with the right amount of padding, making it comfortable without losing its stability and strength
Features an adjustable strap
What We Don't Like
Does not last that long if it gets constantly exposed to water and moisture
Overall, this is a highly recommended knee pad not only for roofers but also for those who are part of the construction industry and want to be more flexible and mobile while receiving adequate protection, especially on their knees.
8. McGuire-Nicholas 22382 Knee Pad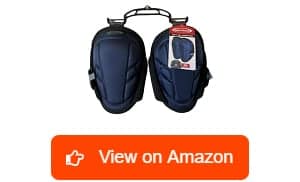 Lastly, choose to invest in the McGuire-Nicholas 22382 Gel Lite Pro Knee Pad, which satisfies and impresses the majority of its users, particularly those who are part of the roofing and flooring industry. I am in love with the low-profile design of this famous knee pad, which makes it suitable for both roofing and flooring applications.
It has a lightweight structure, too, which, I think, is the reason behind the ease and convenience in wearing and using it. It is so lightweight that you can still move around easily when at work even when you are wearing this safety item. Another thing that makes this knee pad deserving of your attention is its sturdy nylon shell design.
I am very impressed by its foam collar, as well. It is because the presence of this specific feature plays a crucial role in preventing your knees from slipping out. The knee pad is strong and sturdy while still retaining its ease of use. Another thing that truly draws me closer to this knee pad is its molded cube riser.
I discovered that this built-in feature makes the knee pad more flexible because it allows side-to-side movements with moderate to a high levels of stability. It has soft and sufficient padding plus boasts of a single strap with an easy on-off structure.
However, I noticed that the straps are shorter than normal. I wish those are longer as this can further contribute to the knee pad's comfort.
What We Like
Low-profile design that works for both roofing and flooring
Lightweight structure, making it easy to move even if you wear this
Features a sturdy nylon shell design
Promotes a high level of stability and flexibility
The built-in padding is soft and sufficient
What We Don't Like
Shorter than normal straps
For such a reasonable price, you will get a lot of perks from the McGuire-Nicholas 22382 Gel Lite Pro Knee Pad – among which are its good and low-profile design, long-lasting structure, comfortable padding and interiors, high level of protection, and multifunctional performance.
K-P Industries KneePro Ultra Flex III Knee Pad (Outdated)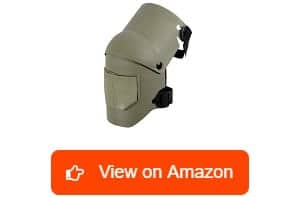 Another impressive safety gear that a professional roofer should wear every time he is at work is the K-P Industries KneePro Ultra Flex III Knee Pad. I am so satisfied with this knee pad because the way it is engineered makes me think that it considers what its user needs.
It is almost indestructible, too, with the way it is robustly and rigidly constructed. I also discovered the multifunctional nature of this knee pad. It is because I found out that it does not solely work for roofers. It is also compatible with other functions and applications – among which are construction, flooring, construction, mining, and gardening.
This knee pad takes pride in its highly flexible plastic-based exterior shell, which is noticeable for its strength. It also extends lower, providing not only a higher level of protection but also more comfort. It is safe to use regardless of the surface where you are using it to, thanks to its non-marking grip strip.
I also noticed how manufacturers pay close attention to the comfort of users. It is because of the half-inch inner foam padding that forms part of this safety gear that truly contributes to the comfortable experience to all those who decide to use and wear it at work.
I am also satisfied with the speed clips that this knee pad has. These clips tend to snap with ease into place. With that, it is quick and convenient to put it on and take off. A metal rivet is also around to hinge the knee pad, thereby ensuring that you can move with ease whether you are walking or kneeling.
One downside, though, is the somewhat cheap and flimsy-looking elastic straps that this roofing knee pad features.
What We Like
Robust and rigid construction
Boasts of its non-marking grip strip
Makes users feel truly comfortable
Quick and convenient to put on and take off
Works not only for roofers but also for other workers who need knee protection
What We Don't Like
The somewhat flimsy-looking elastic straps
This downside is easy to tolerate, though, and does not cause the K-P Industries KneePro Ultra Flex III Knee Pad to lose a lot of value to its users considering how multifunctional, protective, and comfortable it is.
McGuire-Nicholas Premium Stabilizer Knee Pad (Outdated)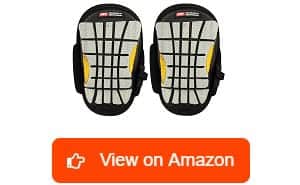 The Premium Stabilizer Knee Pad offered by McGuire-Nicholas is also created in a way that it will not disappoint its users. I am so glad and satisfied with the many benefits and incredible features that this knee pad continues to provide to its users. One of these is the gel padding that seems to maximize the user's comfort.
This also further enhances the ability of this safety gear to absorb impact. What is even better about this specific feature is that it does not seem to break down nor compress even with prolonged wear. You will also feel even more comfortable with its strap that has a hook and loop closure.
This contributes a lot in making the strap easy to adjust while also lowering the risk of bunching. I think another great reason why many roofers and workers love this knee pad is its ability to handle multiple surfaces. It is due to its non-skid material and its stabilizer designed to absorb as much shock as possible.
With the presence of its stabilizer cap, I am sure that it can withstand even those heavy-duty projects and jobs. This feature also gives you a chance to wear it the entire day without worrying about discomfort. Furthermore, I am so delighted with the convenient split strap design sported by this knee pad.
It is because this also plays a vital role in offering comfort even when you are standing.
The drawback linked to wearing this safety gear, though, is that it seems to be prone to sliding down with prolonged wearing or excessive movements.
What We Like
Features a gel padding that gives users a much more comfortable experience
Boasts of non-skid material to make it work for various surfaces
Absorbs shock and impact with its stabilizer cap
Can handle even heavy-duty jobs
Features an adjustable strap for comfort
What We Don't Like
Prone to sliding down after a while
To conclude, this is the ultimate answer for those searching for a reliable knee pad for professional roofers because of the incredible support, stability, and comfort it promises.
BESKAR Pro Flooring Knee Pad (Outdated)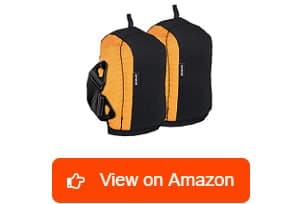 You will not also regret familiarizing yourself with the BESKAR Pro Flooring Knee Pad and deciding to invest in it as it carries most of the qualities and things you are hoping to get from this specific safety gear. One of the numerous things that leave a positive impression to users about this product is its soft gel cushion.
Combine that with its high-density foam padding, maximizing the ergonomic support and comfort that this BESKAR knee pad promises. Despite its name, take note that it is not only compatible with flooring projects. You can also use it for other types of work requiring maximum knee protection, including roofing.
Another striking feature I notice here is its polyester mesh webbing, which makes it as breathable as possible. This can, therefore, help you stay comfortable and cool the entire day. It also uses an anti-skid leather material guaranteed to provide genuine knee protection and support.
With that, you can kneel on slippery and hard surfaces without worrying about getting injured. I am also glad of the non-slip fit promised by this knee pad. This specific quality prevents it from damaging, marking, or slipping surfaces, especially if you work on hardwood floors, rooftops, and slick surfaces.
The size of this knee pad also provides a good fit for a wide range of users. It is mainly due to the enhanced dual neoprene straps it has. The fit is secure with its hook and loop attachments, too.
It even allows ease of adjustment for various sizes, even if you have your gloves on.
One thing I dislike about this knee pad, though, is its inability to keep up with other similar products in terms of withstanding rigorous and heavy-duty jobs.
What We Like
Highly comfortable, thanks to its soft gel cushion
Provides ergonomic support
Features hook and loop attachments to assure users of a more secure fit
Allows you to kneel on multiple surfaces, even slippery and hard ones
Easy to adjust, allowing it to fit numerous users of different sizes
What We Don't Like
Can't withstand rigorous and heavy-duty jobs that much
Still, the BESKAR Pro Flooring Knee Pad does a pretty good job in almost all functions and applications where you intend to use it to.
RNF Supply Work Knee Pad (Outdated)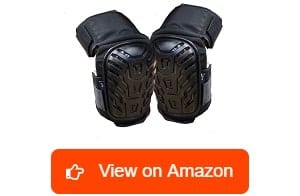 You can also do yourself a favor by incorporating the RNF Supply Work Knee Pad into your list of options. One thing that pushed me to give this knee pad a try is its proven ability to let you work hard while receiving hassle-free and adequate protection and support for your knees.
Wearing it offers an advantage to roofers as it gives you peace of mind, knowing that it can help you fulfill your job with minimal pain and discomfort and a lower risk of injury. This knee pad features gel comfort pads and high-density foam – both of which significantly improve your level of comfort.
This also left a good impression on several users because of its puncture-resistant shell and strong Velcro that has a low risk of ripping. With such features, you can fulfill tough and demanding jobs without worrying about the knee pad giving up on you. It will continue to protect your knees and joints from pain and discomfort.
I also found out that this RNF Supply Work Knee Pad is designed in a way that you can conveniently move without worrying about it losing its position. It will not cut off circulation nor dig into your skin too. I like how scuff-resistant and slip-resistant this knee pad is, too.
This allows it to protect you from punctures and sharp objects. The Velcro straps are also adjustable, allowing you to adjust them based on what can make you feel comfortable. It supports correct alignment while being easy and quick to wash and clean.
However, I was hoping for this knee pad to have much thicker padding, which is supposed to help boost its stability.
What We Like
Puncture-resistant, scuff-resistant, and slip-resistant, allowing it to withstand tough jobs
Adjustable Velcro straps, offering as much comfort as you want
Assures users of correct alignment
Supports your movements without losing its position
Easy and quick to wash and clean
What We Don't Like
Seems to be lacking in padding thickness
Despite that issue, I can still prove that the RNF Supply Work Knee Pad is a strong contender in the industry because it focuses on giving comfort and knee protection to all possible users.
What is a Knee Pad for Roofing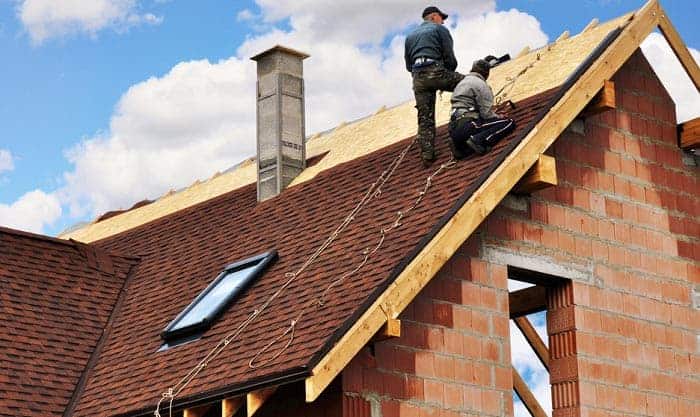 As its name suggests, knee pads offer protection for the knees. These are especially recommended for contractors who usually work on their knees, like roofers. Roofers need knee protection the most as they do not only work on their knees but also have to maintain their grip on sloping roofs.
Furthermore, they require protection from the heat of the sun bouncing off the roofing material. A knee pad for roofing is different from those used in sports. For one thing, it is usually thicker as you need to protect your knees from the potential damage caused by working on your knees on hard surfaces for hours on end.
Not only that, you will be on your knees on hard and abrasive surfaces, causing serious injuries. Knee pads are safety gears that are in the same league as helmets when it comes to providing protection and keeping the user away from injuries.
Work knee pads also prevent painful joint conditions like bursitis and osteoarthritis. They protect from burns caused by hot shingles and lacerations caused by sharp broken tiles, exposed nails, and others.
How Does It Work
As mentioned earlier, the main function of knee pads is to provide this joint with protection against various types of knee injuries that are commonly caused by strong blows, attrition, pressure, and other kinds of impacts during physical activities. However, they do not only provide protection but also offer proper cushioning and support.
Imagine working for hours on your knees, kneeling on hard shingles. That would be quite unbearably uncomfortable. A good pair of knee pads should be able to provide you with enough cushioning so that even when you are working for hours on your knees, it would not feel half as bad as it would in case you work on bare knees.
Another good characteristic of knee pads for roofing is that they provide enough grip. You will be working high up on slanted roofs. It will be very unfortunate, maybe even fatal, if you were to slip and fall off the edge. OSHA requires that roofers use work knee pads as deterrents to workplace accidents in addition to other gears.
Types of Knee Pads for Roofing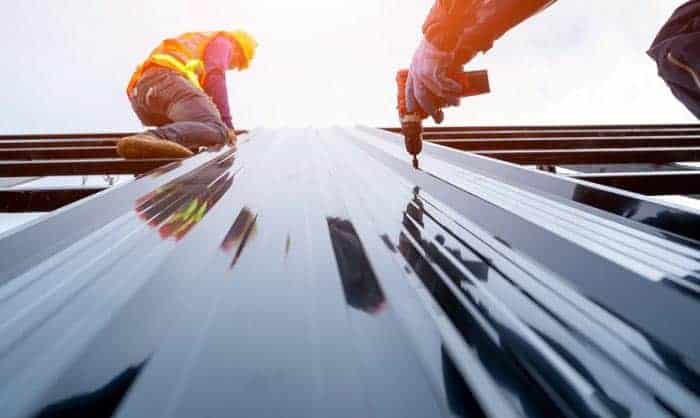 Although work knee pads might not have the same flexibility as the ones used for sports, they are still more durable and a whole lot more comfortable. It is mostly because working on flooring, gardening, and roofing will require you to work hours on end so having enough padding will surely be a welcome quality.
The knee pads should have enough padding so that they can reduce the amount of pressure applied on the knees and lessen knee pain and fatigue. Fortunately, you can find various kinds of work knee pads with each one having different functions. The three main kinds that you can see being sold in stores and work suitably for roofers are:
Shell Caps – These types of knee caps are usually constructed using high-density materials to reduce the force of impacts. You will usually find shell caps containing plastics, rubber, or even carbon fiber outer shell.
Inside the shell, you will find elastic materials to ensure that they fit perfectly over the knee. Aside from making the pad more comfortable, these materials also help absorb most of the force of impacts before they reach the knee joint.
Padding Caps – These are the most basic and simplest knee pads, both in design and function. The thick padding is usually made of soft yet durable plastic foam to provide comfort and protection for the knees.
The foam used for these knee pads can range from polyurethane (PU), ethylene-vinyl acetate (EVA), nylon, neoprene and other synthetic materials. These pads are usually very thick to provide enough cushioning and comfort for working hours straight on hot roofs.
Hex Pads – If you are looking for maximum comfort and support, as well as a design that conforms to the contours of the legs and knees, then you need to check out hex pads. Unlike the first two kinds of knee pads, hex pads provide more flexibility. These knee pads are also usually made from an impact-absorbing foam material.
Why Do You Need a Roofing Knee Pad
A roofing knee pad is an important safety gear for professional roofers, like you, because of the high level of protection it provides. Here are just some of the positive rewards that this item can provide you:
Keeps your knees healthy – If your work requires you to be on your knees for the better part of the day, like if you are a roofer, then you will need something to protect your knees from getting severely damaged. As a roofer, it is vital to wear proper knee protection regardless if you are working on a flat or sloping roof.
You might not feel them right now, but you are doing a considerable amount of damage to the largest joints in your body. Give it a couple of years of roofing work and you will experience excruciating knee pain and other conditions. Here are some of the most common ailments that roofers often suffer from:
Swelling of the knee joint and/or stiffness when trying to walk normally
Red skin that is warm to the touch
Weak knees or not being able to stand upright for too long
Not being able to extend the knee fully
Popping or crunching sounds whenever you walk or crouch
If you even start to take notice of these signs, you must consult an orthopedic doctor to find out if the damage is severe enough that it already requires surgery.
Makes the work seem lighter – Working on the roof is hard enough because you have to deal with the sweltering heat of the sun. However, it tends to get worse when you have to support the weight of your entire body on your knees. Roofs are not the most comfortable places to kneel on.
Even if you are wearing thick work pants, kneeling on hard shingles or roof tiles will always be a painful affair. If you want your workday to crack on without any problem, then you should alleviate yourself from the pain of kneeling directly on the roof by using a good pair of knee pads.
Knee pads provide you with enough cushioning so that you do not have to worry about the pain on your knees anymore. If you managed to get hold of a pair of knee pads that provide enough cushioning that it feels comfortable to work on your knees, then you should get several pairs so you can switch between them during the workweek.
Buying Guide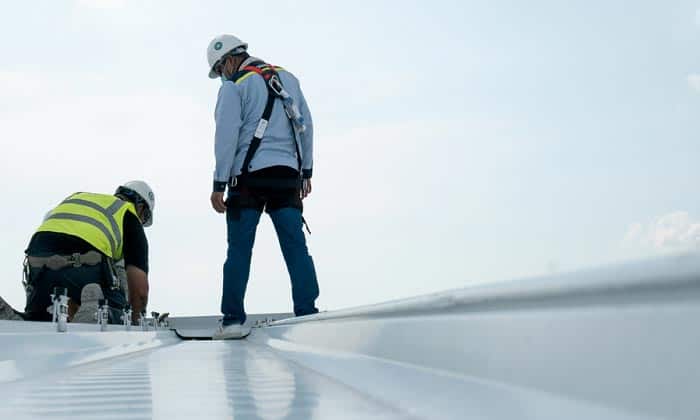 When shopping for your new work knee pads, you need to be mindful of the important features and characteristics that they need to have so that you will not be wasting your money on a pair that does not even come close to meeting your expectations. Ideally, the knee pads that you buy:
Should stay in place – You will be working with both your hands when you are roofing, so you do not have the luxury of pulling up your knee pads whenever they start slipping off. Get knee pads guaranteed to be secure once you put them on. To prevent the knee pads from slipping off, they need to fit perfectly over your leg and knees.
Knee pads usually come in several different sizes. You should take the time to measure the circumference of your leg (around your knees) and then compare that with the sizing guide of the knee pads. Choose the size that is nearest to your measurement. Don't worry about it being too loose or tight. You can adjust it to fit just right.
Should be properly cushioned and comfortable – The biggest function of knee pads is to provide cushioning and protection to your knees. Note that you will be spending most of your working day on your knees on hard shingles.
With that in mind, you will need cushioning that can provide longer and more consistent pressure on a larger area than just a single point like when you are not using knee pads. The thicker the cushioning material, the more comfortable it is to use the knee pad.
The drawback here is that the thicker the cushioning material, the heavier the knee pads get. You need to find a happy medium between the two and go with it.
Should provide enough protection – This is in conjunction with the amount of padding that the knee pads should have. Some knee pads have thick padding but they are too dense and hard that lighter people will not even feel the cushioning effect.
The padding material should be quite soft to make them comfortable, but not so much that you can feel the roof surface through the padding. The material should have enough softness so that your body weight is evenly distributed over both your knees.
Should not scratch nor damage the roof surface – You would not be much of a roofer if you do more damage than repairs whenever you go up to the roof of your client. The knee pads that you need to get must not only protect your knees.
It should also have an outside that is soft enough in the sense that it will not crack or scratch the roof surface. Many knee pads out there come with a tire tread pattern, making them as soft as possible.
Should have more than enough grip – The last thing that you want to happen while you are working up high on the roof of your client is slipping then sliding off the edge. Aside from causing you to incur significant injuries resulting from the floor, it can also potentially cause thousands of dollars' worth of damage to your client's property.
You should get knee pads that have treads on them to provide traction when you are working on the roof. This will allow you to shift your body around the roof surface and still have enough grip to avoid slipping. This gives you a lot of peace of mind, allowing you to work on the roof freely.
Should be easy to put on and take off – Safety equipment should not be a chore to put on or else you will not feel inclined to wear them at all. A good pair of safety knee pads must not take more than a couple of seconds to wear and adjust.
This way, you will not feel like you are obligated to wear them. They should also be easy to remove. Keep in mind that you will be dead tired by the end of the day. This will cause you to lessen the dexterity in your fingers, which is supposed to help in fiddling with numerous buckles and straps.
Should be easy to adjust – It is almost impossible to find knee pads that fit perfectly around your legs. Thankfully, they all have straps for adjusting the tightness of the knee pad.
Again, adjusting the fit of the knee pads should not take more than a couple of seconds so it would not seem like a bother to do. Remember, if your knee pads are not fitted correctly, it can slide off while you are in the middle of work, which will put you at risk.
Should not cut off the circulation in your legs – Again, the knee pads should fit perfectly around your legs. However, this does not mean that it should be so tight that the straps put your legs to sleep after half an hour or so of working on your knees.
Before purchasing a knee pad, make sure that you give it a test fit. If the knee pads cut off the circulation in your legs when you kneel, then you should try another pair.
Should be durable – You will be using these knee pads for work every day, so you should get the ones that you know will last for more than a week of strenuous work. It can be challenging to find a pair of knee pads that are not just comfortable but also tough and durable.
However, you should still take the time to look through a couple of different models and brands just to make sure that you get the most suitable one. Once you find a pair of knee pads that are quite durable, get more than just one pair so you can switch them during the week. This way, you can extend the life of the knee pads considerably.
Should be lightweight – The knee pads that you get should be light enough that you can move around with them on. They should not feel cumbersome. However, they should not be so light that they have to sacrifice padding for weight reduction.
On the other hand, modern foam padding is so lightweight that even thick knee pads do not weigh much at all.
These are just some of the factors that you need to take into consideration when you are thinking of getting a new pair of work knee pads. If you find a pair that somehow comes with all these things that you are looking for, then you can confidently buy it knowing that you will be happily using it for many years without any problems.
Care and Maintenance
It is very easy to take care of work knee pads, especially the ones used for roofing. These pieces of equipment are made to last, so you will only need to do very minor maintenance work. First, you need to wash them at least once a week. Using a mild detergent and a soft-bristled brush, scrub away all of the dirt and grime that stuck onto the knee pads.
Do not throw it into the washing machine with your laundry unless it is expressed on the washing instructions of the knee pads that it is safe to do so. Also, do not throw the knee pads into the dryer. Just hang them outside to dry.
You do not have to wash the knee pads every day, but it would be great if you were to wipe them down using a clean, damp cloth after a hard day's work.
Frequently Asked Questions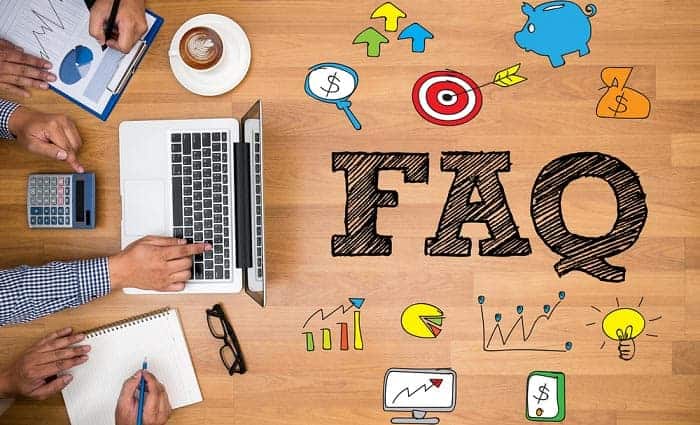 Do you wear knee pads over or under the pants?
There are no hard and fast rules for this one, as it depends on the type of knee pads, your job, and workwear!
For instance, lightweight commercial knee pads made of neoprene can be worn inside the pants. No one will know that you're wearing them! But if you need the knee protector's grippy hard shell to prevent you from slipping, it makes sense to wear them over the pants.
In short, you can opt to wear the knee pads however you want as long as it makes the job easier, allowing you to kneel for long hours and work more productively.
Do knee pads stretch out?
Yes, knee pads will loosen up the more you wear them. When buying knee pads, a good rule of thumb is to get a pair that is slightly tighter than your current size. This way, they will fit your legs and thighs better when the straps start to relax.
How long do knee pads for roofing last?
The lifespan of good quality knee protectors for roofers typically ranges from 12 to 18 months on average.
What knee protectors are made of and how often you use them will also affect their longevity. By way of example, the ones made of hard plastics can last a couple of years, while the soft ones will wear down within months. Moreover, if you only wear them occasionally to perform lighter tasks, you can expect the pads to last longer!
What are the most popular knee pads for roofing brands?
When trying to shop for a good pair of roofing knee pads, expect several brands to promise most of the features that you are hoping to see in this product. Fortunately, it is no longer that hard to sort out which of these promises are true because you can now access and read online reviews about different brands.
Among the well-praised brands offering knee pads for roofers, and for other types of work, for that matter, are CLC, NoCry, Sellstrom, K-P Industries, McGuire-Nicholas, BESKAR, Prolock, and Troxell.
Do knee pads help?
Your knees are the largest joints in your whole body, which is why they need proper protection. Unless your knees are in perfect condition, even regular everyday activities like walking, running, and climbing up and down the stairs, can be quite difficult. This is why they need the utmost protection.
Ask roofers who have more than ten years of experience on the job, and they will tell you that they regret not using knee pads back when they were younger. They used to think that knee pads were for sissies and they could not hope to be a true roofer if they had to rely on such things.
Those same roofers are now regretting their machismo because their knees are all shot. Even squatting on their haunches can be quite uncomfortable. While your knees are still healthy, you should keep them that way.
Use knee pads while you are working on roofs. You will thank yourself later, after a couple of years, when you can still run and jump and not feel a sharp pain course through your knees.
Are they comfortable?
They should be. When you are out buying knee pads, you need to find the ones that are truly comfortable to wear. Keep in mind that you will be working on your knees for most of the day, so the knee pads should at least offer comfort once worn.
They should provide enough cushioning in the sense that you can kneel for hours without feeling any discomfort. They should also breathe so that they will not cause your legs to sweat profusely.
Can you wash knee pads?
Yes, you can and you have to do so regularly. You can throw them into the washer with the rest of your laundry (only use a mild detergent and no bleach), but you need to remember not to throw it into the dryer.
The harsh heat and tumbling motion might damage and crush the padding of the knee pads. What you should do, instead, is just hang them out to dry.
How tight should knee pads be?
Your knee pads should only fit snug around your leg, but it should not be so tough that it inhibits your movements. They should also not be so tight that they become uncomfortable to wear. If your knee pads cut off circulation to your lower legs, then they are too tight.
On the other hand, they should also not be too loose that they slip off every time you move. You have to use both hands most of the time when you are working on the roof, so you do not have the time to keep pulling up your knee pads every time they fall off.
The knee pads should just be perfectly snug. They should be tight enough that they will not move by themselves but also loose enough that you can still move around comfortably. This might take a couple of trials to figure out the right tightness. However, you will eventually get it after a couple of tries.
Do knee pads help alleviate knee pain?
Unfortunately, there is no medical research that conclusively says that knee pads can help relieve knee pain. However, using them early on prevents the onset of extensive damage on the knees. There are lots of experienced roofers who now wish they used roofing knee pads early in their careers because now, they are suffering from shot knees.
They no longer have the same functionality as before and they cannot work on their knees for more than several hours at a time. If you are suffering from knee pain, knee pads are not what you need.
You may need an orthopedic knee brace in such a case, and the only place you can get one of those is from an orthopedic doctor. Knee pads only provide padding for your knees when you kneel.
What kind of materials are used in the padding?
The most common padding materials used in knee pads are polyurethane (PU) and ethylene-vinyl acetate. These plastics, when turned into foam, become very dense while still having enough give to provide more than enough cushioning and support for your knees. Furthermore, due to the porousness of these foam materials, they allow your skin to breathe.
How long will it take before I get used to wearing knee pads?
It might feel awkward when you wear your knee pads for the first time. However, since you need to wear knee pads for work, you NEED to get used to them somehow. You do not have to worry too much. After a couple of days, you will get used to the feeling of having knee pads.
One way to ensure that you WILL get used to using knee pads is to get the ones that are easy to wear and take off. If it does not feel like a chore to wear knee pads, then you will not have any problems wearing them. Also, if you wear them long enough, there will come a time when you could not even imagine working on the roof without them.
How to use the knee pads for roofing?
Depending on the brand and model of your knee pads, they will be quite straightforward to use. Most knee pads only require wrapping the straps around your legs then pulling them up tightly, although not too much.
Secure them using the hook-and-loop strip. Tighten the straps just enough so that the knee pads are snug around your leg, but not so tight that it is constricting.
How to care & wash?
You should wash your knee pads after every use, just to make sure that you do not give the dirt and grime time to latch onto the knee pads. However, if you do not have time for daily washing or only have one pair of knee pads (ideally, you should have several pairs), just wash them during the weekend and your downtime.
Most work knee pads, due to them containing dense foam materials, should not be machine-washed. However, it is best to check the tags for detailed laundering instructions. Usually, you just need to hand wash it in a basin of soapy water (use a mild detergent) and scrub it with a soft-bristled brush.
Scrub the entire surface gently to remove any dirt and grime. Rinse with clean tap water (lukewarm if possible) then hang up to dry. If you are storing the knee pads for an extended period, wrap them up in a dark plastic bag. Store in a cool, dry place and away from direct sunlight.
What is the warranty?
Work knee pads usually have a one-year warranty that typically only covers factory defects. Like, if a knee pad's seams pop out during the first week of use, then you are entitled to a replacement unit.
Where to buy?
You can usually find several brands of work knee pads in your local hardware and construction supply stores. However, since they only carry a handful of choices, it is unlikely that you will find the one that fits all of your needs in the stores within your town.
A better option is to go online shopping for your new work knee pads. The great thing about online shopping is that aside from the sheer number of choices that you have at your fingertips, you also have access to consumer reviews.
You can, therefore, gain insights into the opinions of other people about the product. If your chosen product has a lot of positive customer reviews, then you can be more confident about your purchase.
Conclusion
The best knee pads for roofing can indeed make a lot of difference in your level of safety each time you are trying to complete a roofing project. With that in mind, you truly have to be wise in picking the top-tier pad for your knees out there. Aside from considering your budget, find out which one can supply you with adequate protection.
Consider the fit, durability, material, and look of the knee pads, too. That way, you will be able to wear a functional, long-lasting and protective one that makes you feel good when doing your job because of the high level of comfort it offers.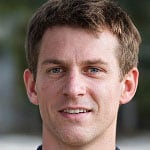 Having worked in the field of personal protective equipment for over two decades, Andrew Carnegie is a specialist in the field.
At EDC, he strives to improve performance efficiency and promote workplace safety for EDC's readers and customers. He also researches the most up-to-date equipment that has earned relevant accreditation for use in a wide range of industries and specialties.