If you are a tradesman regardless of your actual profession, you will most likely be bringing quite a lot of tools when you are working. If that's the case then you will need something sturdy to carry them in – that is where the best tool bags come into the picture.
Note that these are not your ordinary bags. As you will learn later, heavy-duty tool bags will allow you to carry dozens of pieces of tools with relative ease. Can you not use any old bag as your tool bag? Technically, you can use any bag to carry your tools but the result will not be the same.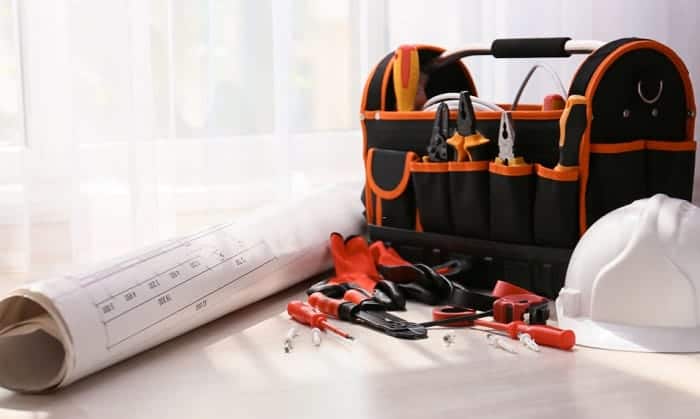 First of all, your tools and equipment will all be disorganized, making it difficult for you to find one particular item you have to use at a certain moment. Also, they will all be rubbing against each other, causing irreparable damage in the long run. Finally, the bag will most likely deteriorate, tear, or get punched full of holes in just a couple of days.
If you are a professional tradesman then you need to treat your tools with care and carrying them in an old gym bag is not the way to go about it. You need a good tool bag that will keep your tools organized and undamaged so you can use them at your work site all the time.
If this is your first time buying a proper one with tool carriers, there are some things that you need to know. By understanding such things, you can buy the right kind for your particular needs, especially since there are many different tool bags on the market these days, including the ones reviewed here.
Best Tool Bag Reviews of 2022
1. DEWALT DG5543 16-inch 33-pocket Tool Bag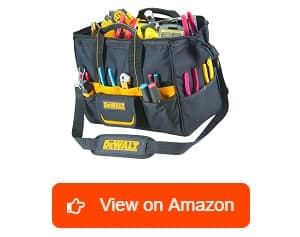 My most favorite feature about this choice for top-rated tool bags is the huge number of different-sized pockets. There is a total of 33 storage pockets in this compact item that help support a multitude of organizing combinations. There is also a pocket with a flap and Velcro closure for keeping small items.
Another neat feature is the wide and open design of the top. It is a central open top bag that pops open to completely expose the interior. The bag has a wide mouth opening that makes it easy to place larger tools inside, including small power tools and accessories like hand drills and grinders.
All these storage options will be useless if this bag is so weak that it will deteriorate within a few weeks but this is not the case. This bag is made of very tough and durable ballistic poly fabric. This feels and looks like denim but it is exponentially more durable.
The DEWALT Tradesman has a ton of other features that adds to its toughness and durability, like reinforced corners and edges. The bottom of the bag also features hardened rubber pads so you can place it down on any surface without worrying about potential damage on the bottom. This also gives it a good footing so it will not slip.
There is nothing much to complain about this tool bag for a maintenance man and other professionals. However, if I were to create a tool bag review, I would like it more if the tool pockets are a bit deeper. In my opinion, the interior mesh pockets, are too shallow that longer wrenches might fall out of them.
What We Like
Has an extra-wide opening
Features a deep internal compartment that can fit power tools
Comes with 33 pockets
Boasts of a durable ballistic poly fabric body
Equipped with numerous reinforcements for a more durable build quality
What We Don't Like
The interior pockets could have been deeper.
This product is as good as it gets in terms of tool bags. The issue cited earlier is nothing more than a minor inconvenience, especially when you consider all of the benefits that you can receive from this travel tool bag.
2. Custom LeatherCraft 1539 Multi-Compartment Tool Bag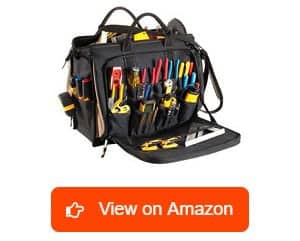 The best thing about this soft side tool bag is the sheer number of pockets. In total, there are fifty different-sized pockets that you can use to keep all of your tools and essentials organized. Even if you are an experienced tradesman, you will find that there are more than enough compartments here for all your needs.
I also love the large center compartment that this tool's bag has. It is deep and big enough that you can carry a couple of power tools, like a hand drill and an angle grinder, along with their accessories. This makes it perfect as a contractor tool bag.
The side panels of the bag also zip up to protect and prevent the tools from spilling out in case it topples over while in transit or storage. In addition, there are several pockets outside the panels for high-quality tool bags like pens and notebooks.
The vertical pockets inside the soft-sided tool bag from CLC help a lot by keeping the tools stored inside visible. With that, I am no longer surprised why many consider this as one of the top tool bags currently available. I do not have to dig inside this tool bag with compartments when I am looking for a particular tool.
The only thing that I did not like about this product is that it is quite heavy even when empty. This can be an issue when the user needs to travel a lot for work.
What We Like
Comes with several pockets, 50 to be exact
Has massive central storage capacity that can accommodate several power tools
Features vertical inner pockets to keep all tools visible and accessible
The side panels completely zip up, thereby preventing tools from spilling out
Made of durable materials and constructed with longevity in mind
Although the bag is a bit hefty, the number of pockets and the large central storage compartment make up for the extra weight. Besides, the padded shoulder strap and padded handles make carrying the bag very convenient.
3. Klein Tools 55421BP-14 Tool Bag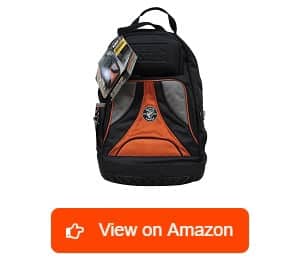 This tool backpack might look like the ones used for school but it will transform into a full-blown tradesman's tool bag once the main zipper is opened. You will discover that there are lots of pockets for all of the tools that you might need for your job – 39 storage compartments to be exact. This easily turns it into one of those cool tool bags today.
Outside the bag, you will find that there is a molded zippered pocket made of hard plastic designed for carrying safety glasses. It is large enough for all brands of safety glasses that you might have.
It is one of those lockable tool bags that are quite tall. This allows for deeper slots that are useful for carrying longer screwdrivers and other long-handled tools. Speaking of the interior mesh pockets, they keep all the tools vertically positioned, making them visible all the time.
I also like the molded hard, water-repellent rubber foam bottom of the waterproof tool bag. It is wide and rigid so that the backpack tool bag can stand on its own when you lay it on the floor. Many also consider it as one of the most comfortable tool bags for electricians.
The only issue I have here is the zipper closure used. It would have been the best portable tool bag if Klein Tools used beefier and stronger zippers on this bag.
What We Like
Has wide and thick-padded adjustable shoulder straps for extreme comfort
Comes equipped with a total of 39 pockets for different kinds of tools
Can be used by all tradesmen regardless of the industry
The vertical interior pockets and a high-contrast orange inner liner makes all the tools highly visible.
Features a molded hard rubber base that is durable and waterproof
What We Don't Like
The zipper could have been bigger and beefier.
Despite the somewhat small zippers used on this bag, this is still pretty solid. It is easy to carry, has plenty of pockets and made of very durable materials. There is no reason why you should not consider using this product from the famous brand, Klein Tools
4. McGuire-Nicholas 22015 Collapsible Tote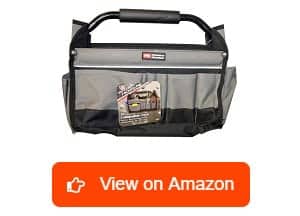 I like how this best tool tote looks like an upgraded version of the old wooden tool buckets that tradesmen from decades ago used to use. It has an open design that also has a huge central storage space, accommodating a lot of large tools. It can even hold a couple of power tools.
Besides the large central storage, there are fourteen external webbed pockets for small tools and other items. There are smaller slots for small screwdrivers, pens, and similarly-sized items. I like these pockets because I can easily see where my smaller tools are.
The handle on this tool bag, which I genuinely like, is nice and comfortable to hold. It is made of a steel tube with foam padding in the center. The diameter of the handle is just right and fits perfectly inside the hand, making it easy to carry around.
Another great thing about it is that it is ridiculously cheap. For such an affordable price, you will be getting a sturdy yet lightweight tool storage bag that anyone, regardless of profession, can use.
There is one thing that would have made it a whole lot better, though, and that is having an adjustable strap. Carrying a heavy tool bag by hand can be tiring. Having a tool bag with a shoulder strap will make it easier to carry heavy loads.
What We Like
Very lightweight tool bag; the only metal part is the handle
Made of durable poly material
Has large central storage for carrying large tools or containers of chemicals
Comes with 14 external webbed pockets for the smaller tools and other items that you need
Extremely affordable
What We Don't Like
Does not have a shoulder strap
Although this choice for high-quality tool bags does not come with a shoulder strap, there is nothing much to complain about it. It has plenty of pockets for effective tool organization. It can carry several power tools and is incredibly cheap.
5. Veto Pro Pac TECH PAC Tool Bag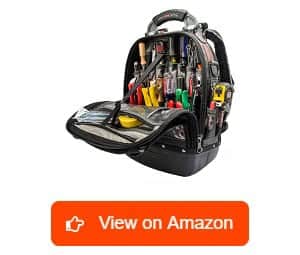 The thing that I truly enjoy about this Veto Pro Pac tool bag with a backpack style is the huge number of compartments. There are 56 interior and exterior pockets and slots for different-sized tools and items necessary for your job. Even if you do not fill up all these pockets, it is always nice to have vacant compartments in case you need them.
Probably my favorite feature of this tool bag for plumbers is the non-tip injection-molded polypropylene base. This plastic base is 3mm thick and completely waterproof, so you do not need to worry about water seeping from the bottom. The bottom is also wide enough that it helps keep the backpack stand up when setting it on the ground.
I also like that even if you can manage to fill up all 56 pockets with tools, it will still be comfortable to carry on your back, thanks to the straps and padded back. The handle straps are nice and wide, spreading out the weight more evenly. It is also padded so it will not dig into your skin.
The back is also ergonomically-padded with dense EVA foam. Moreover, it has air channels to help your back breathe. Another great thing about this backpack is not a feature but the warranty that Veto provides. If you buy this tool bag with a backpack design, it will be covered by an amazing 5-year warranty on factory defects.
The only thing that I do not like about this backpack is how heavy it is. You will not feel it too much when it is not that full but when you load it up, you will sense just how heavy it is.
What We Like
Plenty of different-sized pockets
Comes equipped with a tough and waterproof polypropylene base
Made with durable materials and constructed to last
The back and straps are comfortably padded.
The base does not let the bag tip over when it is on the ground.
The weight of the bag is not much of an issue when you think about all the great benefits that you can get from it. From the number of pockets to the high-quality overall, there is nothing that should discourage you from getting it.
6. WORKPRO 16-inch Tool Bag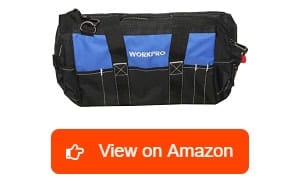 What I liked the most out of this bag is the way it is constructed. First of all, the main body is made of heavy-duty 600D poly fabric. This material feels and looks like denim but it is much more durable and has a waterproof coating.
The base of the bag is made of very durable and thick injected polypropylene rubberized plastic. This provides a strong and durable base, thereby protecting the tools from getting wet because it is completely waterproof.
This bag also has a wide opening top for easy access to tools. It has a metal frame to retain its rigidity. The interior storage is large enough for several power tools and large hand tools. You can also access thirteen vertical interior pockets for additional storage space. These are useful for smaller tools like screwdrivers and pliers.
You can also use the additional 8 exterior pockets of different sizes. Some are large and deep enough for the tools that are commonly used, like screwdrivers and pliers. There are also smaller pockets for pens and notebooks.
The only complaint that I can come up with is the interior pockets could be a bit deeper. They can still hold screwdrivers but there are times when they fall out due to the pockets being a bit too shallow and floppy.
What We Like
Made of durable materials and constructed with the intent to last for years
Comes with a tough, abrasion-resistant, shock-absorbing and completely waterproof base
Has a wide opening and deep interior storage
Features plenty of interior and exterior pockets
Can carry a lot of weight without a problem
What We Don't Like
The interior pockets could have been deeper.
The problem with the interior pockets is not that serious and easy to remedy. Overall, it is a tool bag sturdy and durable enough that anyone, regardless of their trade, can use it. Moreover, it is very affordable so there is no reason why you should not give it a shot.
7. Carhartt Legacy 14-inch Tool Bag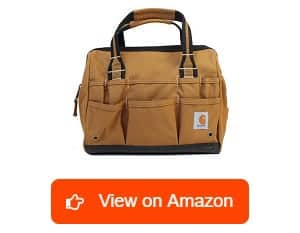 Aside from the bag looking classy, it is also made of heavy-duty polyester blend. This fabric material is lightweight but it is highly resistant to abrasion and tearing. Also, polyester material is very water-resistant, so the tools kept inside the bag will be completely protected from rain or snow.
The overall construction is also quite impressive. All the seams are triple-stitched using tough nylon thread. The zippers are also heavy-duty and there is a metal frame that lets the bag keep its shape.
I am greatly satisfied with the actual number of different-sized pockets integrated into this bag. It consists of 17 exterior pockets and an additional 10 for the external. The interior pockets are vertically oriented so you can easily see what tools are inside.
The top opens up to 14 inches wide so you can easily fit large hand tools and even a couple of power tools. The interior storage space is large enough that you can carry an electric drill and an angle grinder along with a couple of wrenches. You can still properly close the top of the bag even if you put several tools inside.
However, although this bag is quite nice, it is not perfect. For instance, this would have been much better if it came with a shoulder strap to make it easier to carry about.
What We Like
Made of premium-quality, durable and lightweight materials
Boasts of superior craftsmanship
Has a wide opening interior storage space
Can fit electric power tools and a couple of other larger hand tools
Has plenty of interior and exterior pockets
What We Don't Like
Does not have a shoulder strap
Despite not having a shoulder strap, which is a minor inconvenience, this tool bag has a lot of benefits that can make you forget about that little problem. If you are looking for a very useful and long-lasting tool bag then this is it.
8. G & F Products Government Issued Mechanics Heavy-duty Tool Bag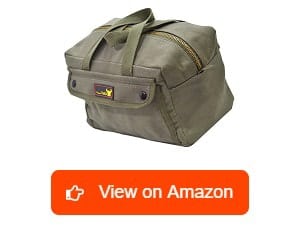 One thing to keep in mind about this product is that it is a tool bag for mechanics. This means you only use this for carrying the basic tools that mechanics will need for the job. This is ideal for working on relatively small automotive issues, like replacing fuel filters, batteries, and such.
I am glad that this auto mechanic tool bag is made of old school cotton canvas material. This fabric is very thick and durable yet still soft enough that it can cradle the tools with care. The bag is also constructed with longevity in mind. All the seams are double-stitched and reinforced by web poly material so they will not pop or fray.
Even the hardware used for this bag is heavy-duty. The zippers used to close the central storage pouch are made of tough brass, which will take a lot of strength to force open. This is ideal when you are taking a lot of large tools with you. You can be sure that the zipper will not accidentally pop open.
Aside from the central internal storage, there are four additional pouches outside the bag for holding even more tools. The pockets are great for keeping smaller tools. They also have a flap to keep the contents from spilling out.
There is one thing that could have made it the best mechanic tool bag and that is having a shoulder strap so that carrying it even when fully loaded is much easier. However, the bag does have tough and comfortable carry handles. It can get tiring after a while of walking.
What We Like
Made of light and durable cotton canvas material
Has double-stitched seams and reinforced stress points
Uses high-quality brass hardware
Boasts of a large load capacity
Can carry a large number of tools despite its size
What We Don't Like
Does not have a shoulder strap
Although this bag would have been loads better with a shoulder strap, it is still a great product that mechanics can use when they need to make house calls. Also, despite being quite small, there is enough storage within it.
9. AIRAJ 18-inch Waterproof Tool Bag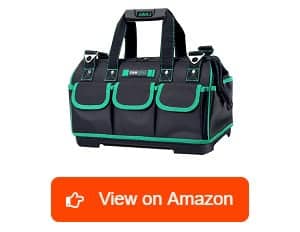 What impressed me the most about this AIRAJ tool bag is that it is made of very dense and durable 1680D poly fabric. This is even stronger and more durable than canvas fabric, not to mention more reliable. The seams are also heavily reinforced to make sure that the bag can carry a lot of tools without the connecting stitching ripping apart.
Other tool bags just have flimsy plastic feet that keep the bag raised a couple of millimeters above the ground but the AIRAJ tool bag has an entire bottom made entirely of hardened rubberized foam plastic. This material is highly resistant to abrasion and puncture and completely waterproof.
You can place it down anywhere and you can be sure that the contents are perfectly safe. This tool bag is a good choice for electricians mostly because it is completely waterproof. The base is made from hardened plastic while the main body has a waterproofing coating.
It is also lined with polyethylene plastic to prevent even one drop of water from getting inside. There is also an impressive amount of storage in this tool bag. The large interior compartment opens widely so that you can place large tools inside of it. You can place several power tools in there without a problem.
This is a great bag. There is nothing major to complain about as far as I can find. However, it would have been nicer if there were dividers in the main compartment so that my tools will not be sliding all over the place.
What We Like
Durable and waterproof 1680D poly fabric construction
Assembled with top-notch craftsmanship
Has an injection-molded plastic base
Features a large interior compartment
Comes with 16 smaller pockets for tool organization
What We Don't Like
There is no divider in the interior compartment.
The issue is not all that serious. It is even easy to fix, so there is no reason why you should not give this sturdy and very affordable tool bag a try.
10. BLACK+DECKER Tool Tote Bag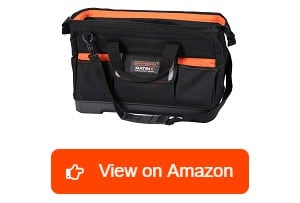 First of all, you need to know that this power tool bag is made specifically for carrying the BLACK+DECKER Matrix system of power tools. However, even if you do not own any of the Matrix power tools, this is still a pretty good compartmentalized tool bag. You just need to use a bit of creativity when putting your tools inside.
The nice thing about this bag is that it is made of 600D poly fabric and coated with waterproofing in order to protect the precious cargo inside. Another thing is that the base of the bag is made of tough and durable injection-molded plastic.
Aside from preventing water from seeping to the bottom, the rubberized base also protects the contents from accidental drops. There are three smaller pockets outside that are suitable for carrying smaller tools like screwdrivers and hex keys. The pockets are also tight enough that you can also use them to carry longer nails or drill bits.
For smaller nails and other fasteners, the pocket in the center with the flap is ideal. Inside the bag, there is a wide storage space that can be compartmentalized using the included rigid dividers. This allows you to bring different power tools and they will not bang against each other.
The divider can be removed if you will be carrying mostly large hand tools. The problem with this bag is that it is specifically made for the Matrix power tools system, so using this as a regular tool bag will be a challenge. If you own the Matrix system then you should get this bag. However, if you don't then it is better to get another brand.
What We Like
Has more than enough storage space for all the Matrix power tool system
There are open slots inside the bag for all the accessories.
Comes with three pockets outside the bag for holding smaller items or tools
Features rigid dividers that slip into the central storage to keep the power tools separated
Made using durable and waterproof materials
What We Don't Like
Made only for the Matrix system
Although the bag is made to hold the Black and Decker Matrix power tools system, you can still make it work as a proper regular toolbox with a bit of imagination and creativity. This makes you own a dual-use bag that is worth checking out at least.
11. Milwaukee 23x12x12nch Heavy-duty Tool Bag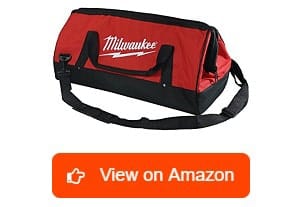 The craftsmanship on this Milwaukee bag is top-notch. I especially like how the side handles are not just double-stitched almost halfway down the width but also secured in place using metal fasteners. I can load the bag with more than a hundred pounds of tools and still the handles will not give up.
The bottom of the tool bag for HVAC is also reinforced so that you can load it with a lot of tools without worrying about it fraying or ripping open. Because the bag is made of abrasion-resistant material, I am confident that wherever I choose to place it, it will not get holes punched on it.
The bag features a wide and padded shoulder strap to make it easier to carry even when it is loaded with heavy tools. The strap is wide enough to distribute the weight of the load evenly and without discomfort. It is also detachable in case you will be working at a place where it can get tangled easily.
There are also six pockets inside the bag to keep your tools organized and prevent them from banging against each other with every step that you take. They are deep and wide enough to carry several pieces in one pocket.
The only problem that I have is that the sling for the shoulder strap is not sewed on quite as durably as I would have liked. The seams started to get undone when I tried to carry the bag. When it is loaded with tools, I had to remove a significant amount of tools just so I can use the shoulder strap.
What We Like
The side handles are installed securely.
Has a wide, zippered opening
Comes with six pockets inside the bag
Features a reinforced, abrasive-resistant bottom
Has a wide shoulder strap that makes carrying the bag easy
What We Don't Like
The sling for the shoulder strap is quite weak.
Despite the problem with the shoulder strap sling, this bag rates above average when it comes to performance, so you might want to check it out.
12. XtremepowerUS Rolling Tool Bag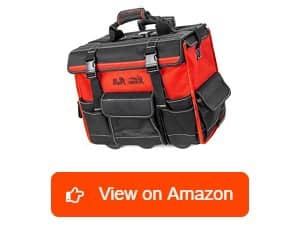 This is the tool bag that you will need if you need to carry a lot of hand and power tools with you whenever you go out to any of your job sites. This is big enough and has lots of pockets and compartments, so you will always have room for whatever tools you would like to bring with you.
It looks like it can take a lot of abuse and I am happy to report that it can. The bag is mainly made of ballistic poly material fabric, which is highly resistant to abrasion, cuts, and punctures. This means that you can place all kinds of tools into the pockets and they will not cause that much damage.
There is a massive internal central storage that will allow you to carry a lot of power tools and their accessories without a problem. You can also install dividers in the cavernous central pocket to prevent your power tools from hitting each other while you are transporting them.
You will also enjoy the 10 internal, 9 external pockets and two tape measure clips for easier tool organization options. The best thing about this tool bag is that it has built-in all-terrain caster wheels. It also features a telescoping handle that tucks into the bag when not in use.
Regardless of how many tools you pack into the bag or how heavy its load is, you will realize that you can still easily pull the bag behind you as you walk. The only thing that I did not like about this rolling tool bag is the rather flimsy handle.
Aside from being made of rather thin metal, it is also attached to the main body using small rivets that might pop out.
What We Like
Has a cavernous central storage
Comes with 19 pockets in total for smaller tools
Made of ballistic poly material that is highly resistant to abrasion and waterproof
Comes equipped with telescoping handle and all-terrain caster wheels
Has more than enough room for carrying several kinds of power tools
What We Don't Like
The telescoping handle could have been made with beefier materials and installed more securely.
The problem with the handlebar is not that huge if you will not overload the bag. If you want a big bag that lets you carry around a lot of tools with relative ease then this is it.
What is a Tool Bag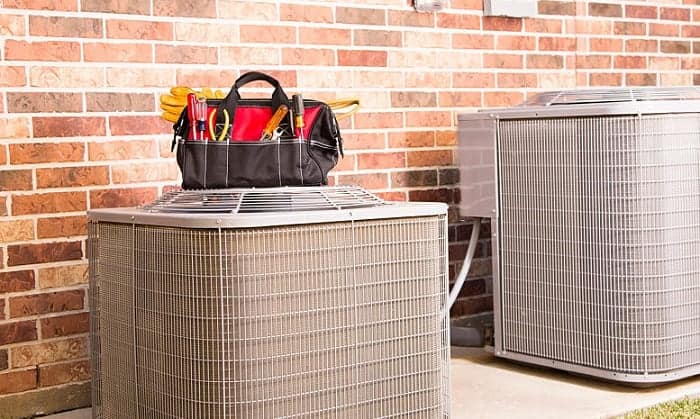 As its name suggests, a tool bag is a tough and durable bag that you use to carry around your tools when you have to work on-site. This offers convenience when you need to bring a lot of tools, or at least more than what would fit properly in a tool belt.
Tool bags are different from your regular bags. First of all, they are made of tough materials. They need to be tough because they will be carrying sharp and pointy tools. The material should at least be able to resist getting punctured or slashed by its contents.
Another thing that makes tool bags different is that they have a lot of different pockets. To be able to work efficiently, one needs to keep his tools organized neatly so he can find the right tools almost immediately, instead of spending a couple of minutes rummaging through a huge pile of various tools.
With a tool bag, you will always see and know where all your tools are located. If you are a professional tradesman, do not sell yourself short by using the old school bag of your kids to carry your tools. Keep your precious tools inside the proper tool bag to ensure that they stay safe and secure.
How Does a Tool Bag Work
Tool bags work by allowing the user to organize his/her tools. These items do so by providing numerous pockets for storing different tools and materials. For example, a good tool bag has several loops beside one another. These are for holding your screwdrivers.
If the bag is meant for an electrician, there would be more than just three screwdriver loops inside. A good tool bag should also have a huge central storage compartment. This should be large enough that you can place a couple of power tools inside with relative ease.
If the bag is large enough, the central storage should come with removable dividers to keep the power tools from hitting each other during transit. Lastly, the tool bag should be able to protect your tools from the environment.
It should be at least abrasion-resistant so that it can be plopped onto the ground every day without tearing nor fraying. Also, the bag has to be waterproof so that in case you get caught in the rain, your tools will still stay high and dry.
Types of Tool Bags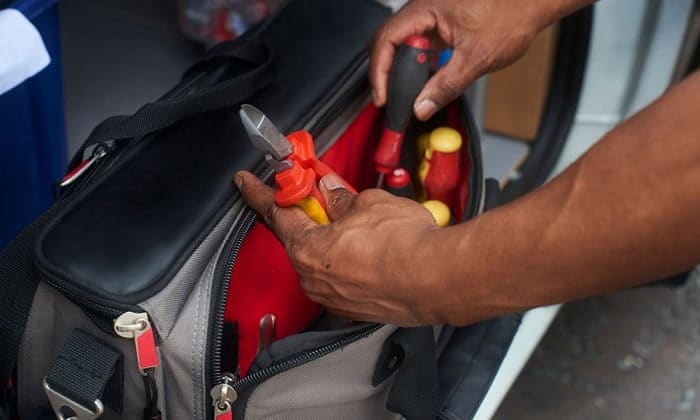 Generally, there are three different kinds of tool bags depending on their appearance and how you carry them. These are:
Standard Bags – This is the most common design of the tool bag that you will come across. This looks just like a normal shoulder bag, albeit much larger and has more pockets. You can carry this using any of your hands or sling it across the shoulder using the included shoulder strap.
Backpacks – These look just like the ones that students use for carrying their books and other stuff to school but the difference is that the ones used for carrying tools are more robust and a lot bigger.
These bags can often carry the same amount of tools that standard bags could. The only difference is that they are easier to carry around, thanks to the shoulder straps. This is the ideal bag for tradesmen who need to commute long distances on their way to perform their jobs.
Rolling Cases – These tool bags look like luggage cases. They are large and could carry a lot of tools, including power tools and their accessories. These bags have built-in heavy-duty caster wheels and telescoping handles to make them easy to roll about in the workplace.
In some models, you can load upwards of a hundred pounds of tools and still roll them around easily.
Why Do You Need a Tool Bag
If you are on the fence about whether or not you need to get a tool bag, here are some of the biggest reasons why you should invest in one.
First of all, they help you carry your tools easier. Toolboxes may do the same thing as tool bags but they are not as easy to carry around. They usually only have handles so if you will be commuting or walking a long distance to your job site, this will be tough. You can create a makeshift shoulder strap for it but it will dig into your side.
Tool bags are designed to be carried around, making them superior to toolboxes in this sense at least. Another reason is that they keep your tools organized. Tool bags often come with more than a dozen different-sized pockets and hoops for your tools.
You can organize it whichever way you like putting similar tools together or grouping the ones you usually use. With a well-organized tool bag, you will not be wasting any time looking for a particular tool in a pile of miscellaneous items. You will know exactly where everything is.
Tool bags also protect your tools from getting damaged. Most of them are made of durable materials, so they will not get punctured or slashed by their contents. This means that it is very unlikely that your tools will come pouring out of a hole in the bag.
They also help keep the tools separated so they will not hit and dent each other while you are transporting them. Furthermore, most tool bags are waterproof so even if you are caught by surprise by a sudden downpour while you are in the middle of a job, your tools will still be dry and rust-free.
Buying Guide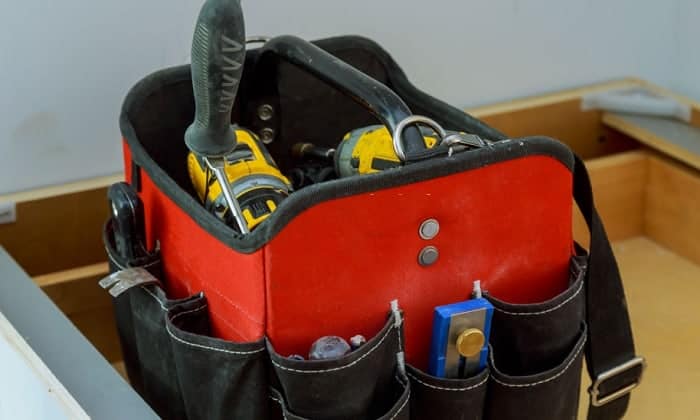 Because there are many different brands of tool bags being sold these days, finding the right one can be a tricky task. However, it can be made easier when you consider these key factors:
The number of pockets – If your trade requires you to carry a lot of tools with you on every project, like a master electrician or a framer, then you need a tool bag with a lot of different-sized pockets. There should at least be enough pockets to help you organize your tools efficiently.
For instance, if you are an electrician then you will most likely have several screwdrivers. With that in mind, the bag you need should have enough hoops to carry all of them. The number of pockets is not the only quality you need to keep an eye out for.
It is also important to check how deep they are. They should not be too deep that you need to reach inside to get your tools. However, they should not be too shallow that your tools might fall out.
Materials used and build quality – A tool bag should be built tough. You will be placing a lot of sharp objects inside so you need to ensure that it can handle all that abuse. The most common material being used today for making tool bags are ripstop polyester fabrics.
These look and feel like denim or canvas but they are a lot tougher and more resilient against damage. Aside from the material used for making the tool bag, you should also inspect the craftsmanship that went into making it.
The seams should at least be double-stitched using very strong thread and reinforced at the stress points. This will prevent the seams from popping when you load the bag to capacity.
Tool bags made from top quality materials and expertly built are often pretty expensive. However, when you consider how many years you will be using them, you will find that they are worth the investment.
Size of central storage – Another important factor to consider while shopping for a work tool bag is the size of the central storage. If you will be bringing with you rather large tools, like torque wrenches, pipe wrenches, saws, or carrying power tools, the central storage should be big enough to accommodate the tools.
Aside from the volume of the internal compartment, check how wide the bag opens up, too. Ideally, the bag should open up to the full width. Alternatively, it should at least be big enough that you can put your tools through it.
Care and Maintenance
The neat thing about tool bags is that they are heavy-duty and do not require that much care and maintenance. However, that does not mean that they do not need it.
To make sure that your tool bag will last for many years to come, make sure to empty it after every workweek. Make sure to shake off all the dirt and dust that has accumulated on it. This will also release the stress placed on the seams of the bag by the weight of the tools.
Grab a damp, not dripping wet, piece of fabric and proceed to wipe over the entire surface. This will get rid of most of the dust and dirt stuck onto the surface of the fabric. You should never machine wash your tool bag (unless it is specified in the care instructions) as it will strip away the waterproofing properties.
Frequently Asked Questions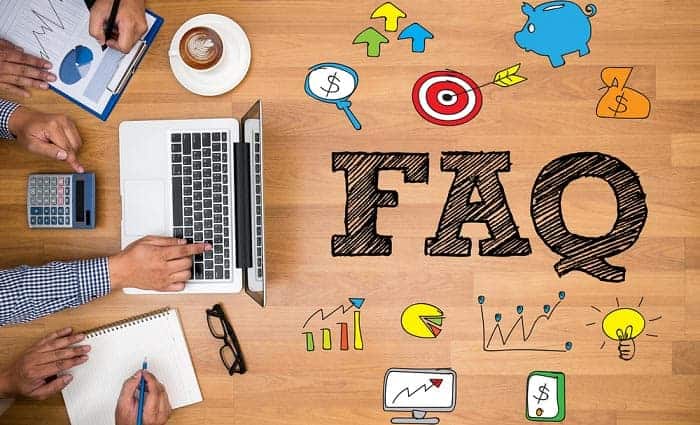 What are the most popular tool bag brands?
You can't expect all brands of tool bags to be that reliable when it comes to delivering on their promises. However, in my years of testing tool bags, I find some brands that stood out as being the best in their field.
These are DEWALT, Custom LeatherCraft, Klein Tools, McGuire-Nicholas, Veto, WORKPRO, Carhartt, G & F Products, AIRAJ, BLACK+DECKER, Milwaukee Tools, and XtremepowerUS. These brands of tool bags best describe the most reliable ones that are in today's market.
What do you put in a tool bag?
As the name suggests, you can put your tools inside a tool bag. However, this does not just mean hand tools like screwdrivers and pliers. A good tool bag will have space for power tools as well.
Additionally, a tool bag will allow you to carry a lot of tools with relative ease, as compared to carrying a clunky toolbox.
How do you organize tool bags?
There is no set way for organizing the tools in a tool bag. You can do whatever you want with it as long as it makes your work easier. Some people like their tool bags to look like shelves in a hardware store, that is that all the similar tools are together. For instance, screwdrivers are beside each other, hammers are in one group, and so on.
However, some people use unorthodox methods, like grouping tools according to the tasks they are used for or placing the ones they use more often at the most accessible part. There is no wrong way when it comes to organizing a tool bag, so do it according to what you prefer.
What is the warranty?
Tool bags usually come with a one-year warranty on defects and unintentional damage. However, some brands that extend this warranty for up to five years. This means that if your tool bag were to show signs of wear and tear within five years, you are entitled to a brand new replacement bag for free.
Where to buy?
You can find a huge variety of tools bags in brick and mortar hardware stores like Home Depot and there is a distinct advantage of being able to personally inspect the product before heading to the checkout lane. However, when you choose to shop online using sites like Amazon.com, then you will be treated to hundreds of different options.
Also, you will discover that online prices are much lower than at brick and mortar stores because they do not have high overhead costs to recuperate.
Conclusion
If you are a serious craftsman then you need to treat your tools with the care and respect that they deserve. Do not just throw them altogether inside an old school bag. Not only will they destroy the fragile nylon fabric but they will also damage each other.
It is advisable to find the best tool bags that your money can buy. This will be much cheaper than replacing broken tools every month or so.