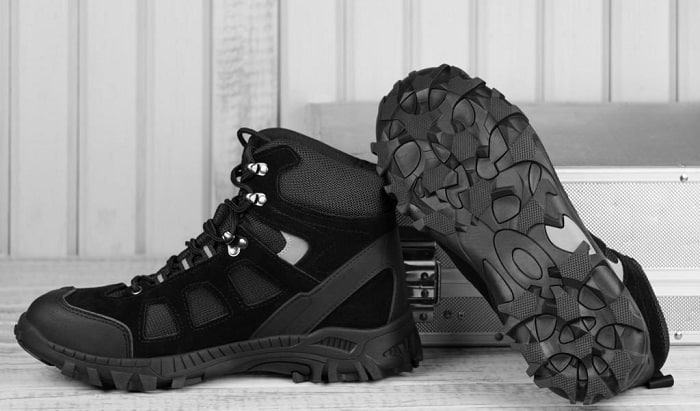 If you work at a fast-paced restaurant or healthcare facility, you might have heard of the term "anti-slip." What does it mean? What are non-slip shoes?
Non-slip, anti-slip, or slip-resistant shoes all refer to a type of footwear that can reduce slips, trips, and falls. They are not only for workers but also skateboarders and runners.
Many brands claim that their shoes are non-slip, but a pair must undergo rigorous testing procedures of the ASTM (American Society for Testing and Materials) to get the official mark.
You don't want to purchase false-advertising shoes, especially when it comes to non slip shoes for work. So, read further to learn more about this type of PPE.
What Are Slip Resistant Shoes?
Slip proof shoes are a type of safety footwear. As the name implies, they help prevent slips, trips, and falls on wet floors due to the unique design and pattern of the sole.
OSHA (Occupational Safety and Health Administration) requires workers in multiple fields towear non-slip shoes, such as restaurant servers, kitchen workers, roofers, warehouse employees, and cleaners. However, the specific rules and requirements depend on each employer.
Note that a shoe having a good grip doesn't mean it is non-slip. It must pass ASTM standards to be marked as slip-resistant.
In July 2021, ASTM's F3445 standard was introduced. Under this new regulation, manufacturers must ensure their non-slip products reach a minimum coefficient of friction of 0.40 on dry and wet surfaces. Otherwise, they are unqualified to be marked as slip-resistant.
The testing for this standard is carried out using a tribometer, which measures the coefficient of friction, friction force, and wear volume between the shoe sole and a surface.
It will test the friction on multiple angles. The qualified products must have both forward heel slip and backward forepart slip measurements meeting the requirements.
How to Recognize Slip-Resistant Shoes?
How to tell if shoes are nonslip? The best way is to read the pair's label and check for an official slip-resistant certification. But what if you can't find the care label? What do non slip shoes look like? You can expect the following characteristics.
You will find unique materials on non slip shoe bottoms. The outsole is often rough to the touch. When you drop oil or water on it, it doesn't become slick and slippery.
A popular material for creating slip resistant sneakers outsoles is EVA rubber, which is synthetic and foam-like. Always run your hands over the outsoles before you purchase a pair of work shoes, and remember that EVA tends to be more flexible and lighter than common rubber.
Also, the uppers of anti-slip footwear use materials which are waterproof and supportive. This improves running shoes non slip level and the wearer's comfort.
Slip-resistant work shoes have features that provide comfort. They often have thick padded collars to support the arch and roomy toe boxes to enhance balance. Their soles are often rounded on the edges.
Wet floors might feel more slippery when you wear a shoe with flat bottoms. It is because this design traps moisture under the sole, creating a water barrier between your shoe and the surface beneath.
So, what makes a shoe non slip? It's the sole's interlocked tread pattern. The grooves allow water and oil to channel away instead of gathering underneath. The design also provides more surface contact, making the shoes grip better to the floor.
How Do Non-Slip Shoes Work?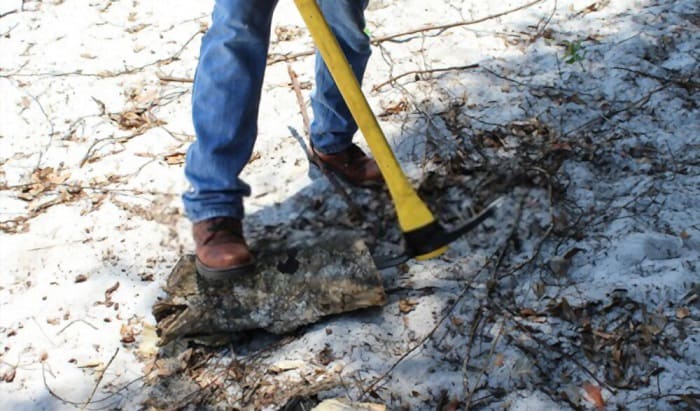 How do non slip shoes work? How do they provide just enough friction to prevent slips and falls?
The answer lies in the tread pattern which we briefly mentioned earlier. It can be circles, hexagons, crossed lines, or dots distributed evenly on the shoe's outsole. The deeper the tread grooves, the higher the friction they produce.
In addition, the uppers hug the wearer's feet tightly to prevent heel slippage. If you work for restaurants and stay on your feet all day, you will notice a difference when you wear slip-resistant work shoes compared to regular sneakers. They will feel much more supportive and comfortable.
Related: Detailed guide to make shoes non-slip for restaurant
What Makes an Ideal Slip-Resistant Shoe?
Every slip-resistant shoe is uniquely designed. Some come with heavy leather uppers to support firm and balanced steps, while others feature lightweight materials to offer mobility in fast-paced work environments.
In any case, a shoe should have the following characteristics to perform at its best:
Wide toe box
Soft and cushioning midsole
EVA rubber outsole with hexagonal tread patterns
Firm footbed with arch support
Padded collar that fits snugly
Waterproof body
A perfect anti-slip shoe does not only prevent injuries but also cushions your foot, heel, and ankle. You won't feel fatigued when standing or walking for extended periods.
The shoe also reduces health risks from being on your feet all day, such as varicose veins and foot swelling.
Frequently Asked Questions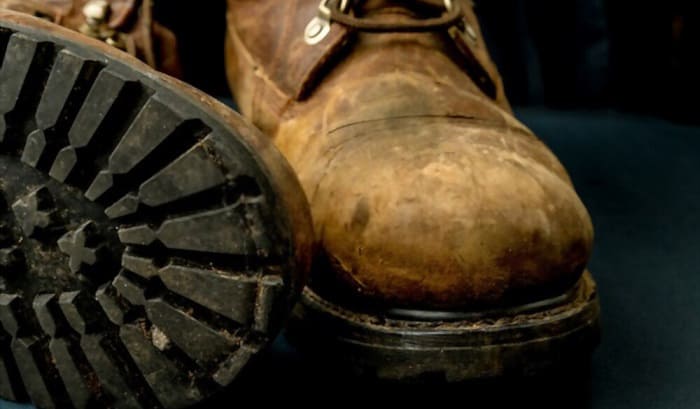 What shoes are classified as non-slip?
A pair of shoes must pass ASTM's International F3445 standard to be classified as non-slip. This means that the shoe's sole has undergone rigorous tests on wet, oily, and dry surfaces. So, the best way to spot a pair of non-slip shoes is to check its label.
Many non slip shoes men and women like have tread-patterned outsoles and resist falls well, such as Adidas non slip running sneakers or Converse non slip shoes. But they are not classified as non-slip unless the care label says so.
Are Vans considered non-slip?
Many Vans feature a diamond and rhomboid pattern design on their rubber outsoles, which makes them slip-resistant. These include Slip-On Vans, Old Skools, Sk8-His, Authentic Vans, and Eras. Vans non slip shoes are favorites of skateboarders and restaurant workers.
However, you should note that Vans is a fashion brand. It does not specialize in making PPE footwear. The brand doesn't mention ASTM or ANSI standards on its website. If your job involves serious slip hazards, you should opt for officially-marked slip-resistant shoes.
Can slip-resistant shoes be fashionable?
Slip-resistant shoes can be expensive, bulky, and unfashionable. That said, it's not impossible to find high-quality options with sleek designs.
For example, men who are looking for non slip black shoes may appreciate Steel Edge's Steel Toe Boots or Safetoe's Non-slip Sneakers.
On the other hand, some non slip shoes women might like are New Balance's 626V2 and Aviva Focus Slip-on Shoes.
All of these products have been tested according to ASTM standards.
Why are non-slip shoes vital for workers?
According to the CDC, in 2020, 18% of nonfatal work injuries were from trips, slips, and falls. These are one of the three leading causes that send workers to the ER.
The repercussions can range from ankle or wrist fractures and dislocated joints to traumatic brain injuries and spinal cord damage. But workers can avoid all of that simply by wearing slip-resistant shoes.
Proper non-slip footwear helps employees maintain balance and traction on slippery floors, icy surfaces, and wet roads. This PPE is vital for construction workers, snow shovelers, and cleaning professionals.
What factors influence slip risk?
Wearing protective PPE is the first step to ensuring safety. However, many other factors influence the slip risk at your workplace, including:
Human factors: Age, mobility, vision, reaction time, and distraction can all affect the slip risk. Old people with poor eyesight tend to trip more easily than younger ones. Getting distracted when walking can also cause you to slip.
Work conditions: Lighting, obstacles, stairs, ladders, and uneven surfaces contribute to the risk of tripping and falling. You should stay extra cautious when climbing ladders or carrying heavy loads on uneven terrain.
Floor conditions: The floor type, roughness, material, polish, and wear affect the balance and firmness of your steps. According to OSHA, employers must provide non-slip footwear at no cost to the employees if the floor poses a risk of tripping.
Non-slip vs slip-resistant shoes: What is the difference?
The two terms non-slip and slip-resistant are similar and can be used interchangeably. They both imply a type of footwear that can protect the wearers from injuries when walking on slippery surfaces.
But be aware that there are no shoes that can completely prevent slips and trips. To ensure your safety at work, make sure to consider other factors (e.g., your vision, your mobility, the site's floor condition) and discuss with your manager to come up with the most suitable PPE.
To learn more about other different factors between both shoes, please click here!
Conclusion
To sum up, non-slip shoes are protective footwear that is designed to prevent or minimize the risk of falling, tripping, or slipping. Their applications aren't limited to only workers; skateboarders, runners, and athletes can also benefit from them.
We hope our article helped you answer the question "What are non-slip shoes?" thoroughly. If you're planning to grab your first pair of slip-resistant shoes, don't forget to browse our website for the best reviews and recommendations. Thank you for reading!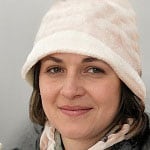 Veronica is our content editor. She is a talent in delivery. Her main work is editing and writing articles that are both informative and simple to follow. She is in charge of synthesizing our understanding of what personal protection equipment (PPE) is needed in each job, how to best apply it, and how to visualize that equipment.