The first-ever steel toe boot was made by Red Wing. This invention was considered revolutionary, but workers soon discovered its unintended consequences. Besides foot fatigue, the steel toe caps gave them blisters and calluses.
Thankfully, the shoe manufacturers of our generation are more attuned to their customer's needs as they compete to create the best lightweight work boots.
Now, the challenge is choosing what's best for us. If you don't know where to start, I strongly suggest checking these three features:
Upper materials: Today, Footwear design engineers find new ways to create lightweight boots using lighter materials without durability and protection.
Leather has become a favorite because it can last longer but does not bulk up. Synthetic materials are also becoming popular due to their flexibility and, in some cases, weatherproof qualities.
Toe Protection: Safety toe caps like steel, aluminum, and composite can add to the overall weight, but many jobs require them. Steel toe is the heaviest among the three, but it also offers the highest level of protection.
Meanwhile, a composite safety toe is lightweight, but it may weaken when a heavy object falls on it. However, it is made of non-conductive materials, which is why it is the top choice for technicians and electricians.
Soles: Most boots have rubber soles with aggressive lugs to mainly prevent slipping accidents, but others are designed also to protect the feet from the high heat. Even so, it is not enough to focus on protection.
Workers develop sore feet after spending the entire day walking and standing on different terrains.
Choosing work boots with shock-absorbing soles and supportive insoles is the best defense against fatigue and foot conditions like plantar fasciitis.
Brands would claim that they are selling lightweight work boots, but people can't confirm that unless they wear and walk in them for hours.
Well, you don't have to go through the trouble as I've tested and reviewed 7 of the lightest work boots and created a Buying Guide.
Top 7 Lightweight Work Boots
1. FREE SOLDIER Waterproof Hiking Work Boot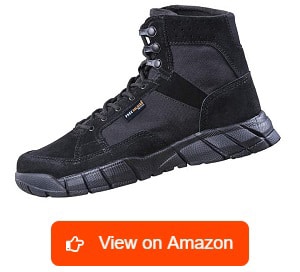 Seeing how cheap these men's lightweight work boots were, I decided to give them a try, and honestly, I was impressed!
Made of suede and 1000D Cordura fabric, the upper is durable, flexible, and scratch resistant. Likewise, the cushy EVA midsole is pliable. As a result, I did not need to break them in and went ahead to run. I can't do that with leather work boots!
All the work boots' materials are lightweight and breathable, which makes them suitable for summer. Although they are not equipped with safety toe caps, I think their reinforced toes and heels are enough to protect my feet for work outdoors or a motorbike ride.
On the other hand, the gusseted tongue blocks out the dirt and debris well.
When trekking on uneven terrains or walking on slippery surfaces, the outsoles provide good traction to prevent slipping accidents. Plus, they are quite shock-absorbent.
So far, these boots work great for standing all day, too. Speaking from experience, my feet do not feel too sore after the end of my shift. Let me add that the padded collar is also well-designed, as it supports my ankle without rubbing my skin.
Contrary to the product name, however, this is not an
entirely waterproof boot
, although it can block moisture to some extent. Therefore, this pair might not be the best choice for rainy days.
What We Like
The upper is durable, flexible, and scratch resistant
Soft leather, no need to break in
Made of lightweight and breathable materials
Has reinforced toes and heels to protect the feet
Provide good traction to prevent slipping accidents
Supports my ankle without rubbing my skin
What We Don't Like
Not entirely a waterproof boot
Because they are comfy, flexible, and light, I never have to suffer from extreme fatigue and blisters.
2. Columbia Men's Newton Ridge Plus II Waterproof Hiking Boot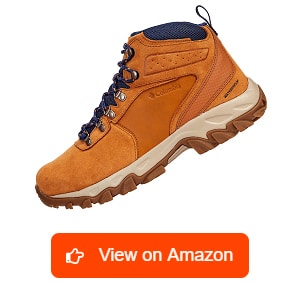 This particular model is one of the lighter-weight boots Columbia has designed for hikers. But for work, I take advantage of its Omni-Grip non-marking traction rubber soles when I have to walk on rough terrains.
This pair of lightweight boots are apt for scientists who work in the wilderness, landscapers, and gardeners, especially if their tasks do not require toe protection.
With waterproof suede and synthetics for the upper material, I believe it is a smart design choice as it keeps the work boot light yet extremely durable. On top of that, I like that the manufacturer offers several color options.
The multi-layered seam-sealed construction repels the water. Therefore, this pair is versatile enough to withstand different terrains and weather conditions.
Notably, the brand created a special type of midsole called "Techlite," a lightweight and shock-absorbent material. At first, I doubted this could hold up to my daily grind, but I was proven wrong. This technology promotes high energy return, preventing soreness and fatigue. In other words, no more foot and joint aches for me!
It helps that the boot flexes well. I don't have to exert too much effort or suffer from blisters or calluses to soften it up. Also, the shoelaces and metal eyelets enable me to adjust the fitting easily.
Sadly, I think the soles are wearing down after a year, and it starts to feel a little slippy.
What We Like
Apt for tasks do not require toe protection
Offers several stylish and vintage color options
Made of waterproof suede and synthetic
Lightweight and shock-absorbing midsole
Shoelaces and metal eyelets enable the wearer to adjust the fitting easily
What We Don't Like
Requires changing the soles after a year or so
This pair of lightweight hiker boots is the easiest to put on among all the lace-up work boots I've tried. Since they do not have safety toe caps, I can wear them on duty, running errands, or camping with my friends.
3. WOLVERINE Men's Overpass 6″ Composite-Toe Work Boot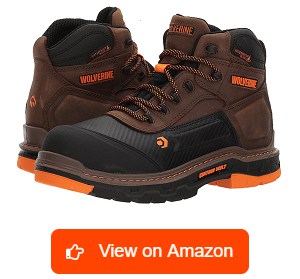 WOLVERINE's Overpass comes to mind whenever someone solicits my recommendations for lightweight waterproof work boots for men. It would be fitting to start this review by highlighting its best feature: The cushioned footbed. It is rare for work boots to include such comfy insoles.
Together with the PU midsole, the boot cradles my feet and absorbs the shock. With the nylon shank, the pressure is distributed more evenly while maintaining the structure of the work boots.
Hence, I find them perfect for standing all day and arduous work activities. From hard surfaces or rugged terrains, the grippy outsoles keep me surefooted.
No doubt, these boots provide me with maximum protection. The ASTM-compliant composite safety toe caps can withstand the impact of falling objects. Therefore, this pair can be used on construction sites for protection.
At the same time, the work boots can serve as a shield against electrical hazards, making them the ideal choice for electricians. Furthermore, the waterproof leather and mesh lining to ensure my feet are dry in harsh weather conditions.
Even with all these nifty features, I'm surprised these work boots are light. According to some of my co-workers, the sizes seem to run narrow, although they already chose the wide size.
What We Like
Cradles my feet and absorbs the shock
Has grippy outsoles to keep the wearer surefooted
Has ASTM-compliant composite safety toe caps
Ensures that the feet are dry
Lightweight work boots for standing long hours
Suitable for construction workers, electricians, and more
What We Don't Like
The sizes seem to run narrow
I am delighted that such lightweight work boots can provide good protection during my long-hour workt! For me, they are reliable in the harshest conditions.
4. Reebok Work RB8678 Men's Rapid Response Safety Boot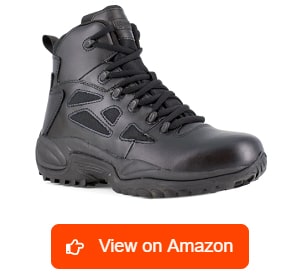 My search for the most comfortable ultra-lightweight work boots has led me to Reebok's Rapid Response. Developed for first responders, law enforcers, and military professionals, it features side zippers for quick donning and doffing. I can tighten and tie the shoelaces without having to undo them later on.
These work boots sport a handsome combination of smooth leather and ballistic nylon on the outside. Based on my experience, these boots almost feel like sneakers.
Even though the uppers are tough, they flex and move with my feet. Inside, it features a moisture-wicking nylon mesh lining, which removes the sweat to keep my tootsies fresh and dry.
The EVA midsoles are just as pliable and super comfy thanks to the embedded Shock Eliminator heel cushion. They work together with the F2A footbeds to cushion my feet and absorb the impact whenever I walk and run on hard surfaces.
Not to mention, the aggressive Mountain Trail rubber bottom helps me walk safely on wet floors or muddy terrains.
As for safety features, these work boots have electrical hazard protection. While they don't have steel or composite toe caps, I would say that they are incredibly light. However, the first five days of breaking them in can be unforgiving.
What We Like
Designed for first responders, law enforcers, and military professionals
Has side zippers for quick donning and doffing
Flexes and moves with the feet
Keeps the tootsies fresh and dry
Absorbs the impact when walking and running on hard surfaces
Helps the wearer walk safely on wet floors or muddy terrains
What We Don't Like
Breaking them in can be unforgiving
A true crowd favorite, the Rapid Response is not only for first responders, soldiers, or police. Anyone who prefers work boots that feel like athletic shoes can benefit greatly from its lightweight and easy-to-wear design.
5. KEEN Utility Men's Pittsburgh 6″ Waterproof Work Boot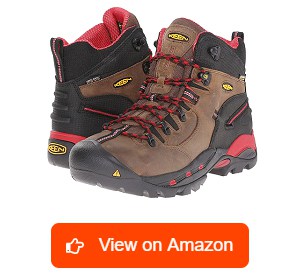 Not everyone has symmetrical feet to feel comfortable in most boots, and KEEN Utility addresses this by designing work boots for diverse foot shapes.
I'm also impressed that the brand releases this pair of comfy ASTM-approved lightweight steel-toe boots. Besides the asymmetrical steel toe caps, it also offers electrical hazard protection and oil- and slip-resistant outsole.
Despite wearing these work boots during winter, I'm amazed that the steel toe caps never caused my feet to freeze. To be clear, these are not insulated but the high-quality leather and the waterproof membrane provide warmth. Of course, they also shield my feet against the rain and snow. Yet, I don't feel any sweat around my tootsies!
These KEEN Utility boots have midsoles that ensure that my heels are stable. Simultaneously, they provide medial and lateral support and help prevent stone bruising.
Their factory insoles come with superb arch support that conforms to my feet. In terms of usage, I think these are apt for roofers, carpenters, framers, and construction workers.
I know my review sounds too good to be true so let me share what I hate. Despite wearing these for years, they're holding up well—except for the rubber toe guards that peeled off after a year under heavy use. Thankfully, it didn't affect the overall performance and I glued them back.
What We Like
Work boots for diverse foot shapes
ASTM-approved lightweight steel toe work boots
Offers electrical hazard protection and slip and oil-resistant outsole
Shields the feet against the rain and snow
Has midsoles that ensure that the heels are stable
Provides insoles that come with superb arch support
What We Don't Like
The rubber toe guards peeled off after a year or so
KEEN Utility never disappoints! Despite having steel toe caps and a slew of other protective materials, these construction boots never weigh me down.
6. Irish Setter 83605 Men's 6″ Work Boot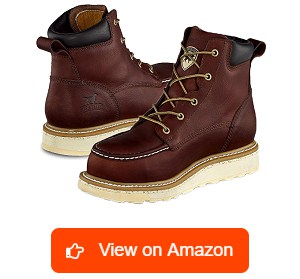 By design, moc toe boots are comfier for those who have flat feet or workers who stand all day. On top of that, the toe area is roomier. As a result, my feet can take their natural form.
The soft cushy midsoles also minimize the stress on my heels, ankles, knees, and even joints when I walk. But while the soles look chunky, I'm impressed by how light they are.
That said, let me clarify that these are soft-toe boots. Still, they offer ASTM-rated electrical hazard protection and slip-resistant rubber outsoles that do not melt in high-heat conditions. Hence, the manufacturer recommends them for roofers and pavers!
But what attracted me to these boots besides their stylish moc toe design is the full-grain leather uppers. This type of leather is top-tier in terms of durability but the boots are further reinforced by the Goodyear welt construction. When the outsoles start to lose their heat, oil, and slip-resistant qualities, all I have to do is get them resoled.
If there are two things I loathe about these work boots, it's their shoelaces and their insoles. The shoelaces could not seem to hold decent knots while the insoles feel flat. Since they are both replaceable, I took the opportunity to swap them with my favorite footbed and shoelace brands.
What We Like
Comfy for those who have flat feet or workers who stand all day
Has a roomy toe area that allows the feet to take their natural form
Offers ASTM-rated electrical hazard protection
Has slip-resistant outsoles that do not melt in high-heat conditions
Made of full grain leather
Lets the wearer resole the work bots
What We Don't Like
The shoelaces could not seem to hold decent knots
The insoles feel flat
I think that these are the most suitable lightweight work boots for those who are looking for moc toe-style footwear. Their heat and slip-resistant outsoles provide the ultimate protection for those who walk in hot conditions and on sloping slippery surfaces.
7. Skechers Men's Burgin-Tarlac Industrial Boot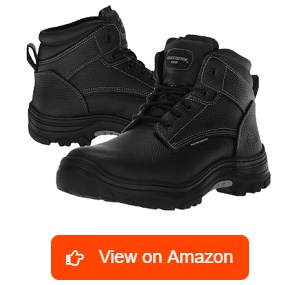 I know several people who go for Skchers' Burgin-Tarlac for their hard-wearing ASTM-certified steel toes and reliable electrical hazard protection. But they have a lot more to offer other than spacious safety toe caps. One of the key features worth noting includes the puncture-resistant soles, which are for walking on debris.
Even though these work boots are not made of full-grain leather, I think the leather that the manufacturers used is just as tough. Yet, the material is light, which helps keep the overall weight at a minimum.
Furthermore, the padded shafts function to cover and support my ankles at the same time. Thankfully, they don't rub my skin even when I wear thin socks.
Considering the price tag of these work boots, I think that the quality is pretty decent, especially for workers who are on a tight budget. They are perfect for construction and demolition workers.
However, there are some flaws. When I first got these boots, I was delighted by how the memory foam insoles cradled my feet. Sadly, it only took a few months of walking to flatten them. Also, I would not consider these slip- and oil-resistant. However, I use them often on floors and surfaces that are not slippery.
What We Like
ASTM-certified steel safety toe caps
Has puncture-resistant soles for walking on debris
Has padded shafts that cover and support my ankles
Great for workers who are on a tight budget
Made of tough yet light leather
What We Don't Like
It only takes a few months of walking to flatten the insoles
Not oil and slip resistant
In the affordable category, these are definitely the best lightweight steel-toe work boots. Instead of the expensive full-grain leather upper, they utilize equally strong yet lightweight alternative material so that my feet don't get tired quickly of walking.
What Are Lightweight Work Boots?
A lightweight work boot, in the simplest terms, refers to a work boot that weighs lighter than the traditional steel-toe work boots. But, it is important to remember that not all lightweight boots are work boots! Here's the distinction:
A soft toe or steel toe work boot should have markings or tags that indicate the ASTM ratings. For those who don't know, the American Society for Testing and Materials (ASTM) is responsible for testing materials to ensure that they can keep their feet protected against various workplace hazards.
Meanwhile, safety regulatory agencies like the Occupational Safety and Health Administration (OSHA) set guidelines that employees and workers follow regarding personal protective equipment (PPE), which also covers foot protection.
You'll likely find a lightweight pair of boots in a fashion boutique. After all, jeans and boots were once made solely for workers before they became mainstream. While these fashion boots may feel light, they may not necessarily be able to protect you, especially when they are not tested.
Types of Lightweight Work Boots
Considering the recent advancements in technology, even heavy-duty work boots can be lightweight. If you're looking for ideas, I highly recommend these styles:
Safety toe boots with composite, alloy, or steel toe caps
Soft toe boots
Hiker's boots
Military/tactical boots
Moc toe boots
Why You Need Lightweight Work Boots
Logically, the more materials that go into the work boot, the heavier it becomes. Hence, manufacturers often explored alternatives to make lightweight safety boot designs.
Blisters are probably the least dangerous of all the consequences, albeit painful and uncomfortable—but they heal. Like athletes, workers who spend the entire day on their feet develop plantar fasciitis and the stabbing pain can be felt daily.
Moreover, it's not just workers' feet that will suffer. Keep in mind that every part of our body is connected. Clunky, ill-fitting, and poorly designed footwear, especially when can lead to Repetitive Strain Injuries. At this point, the issues can progress to your spine, hip, or neck.
A lightweight work boot can mitigate, if not completely save you from these health problems.
Buying Guide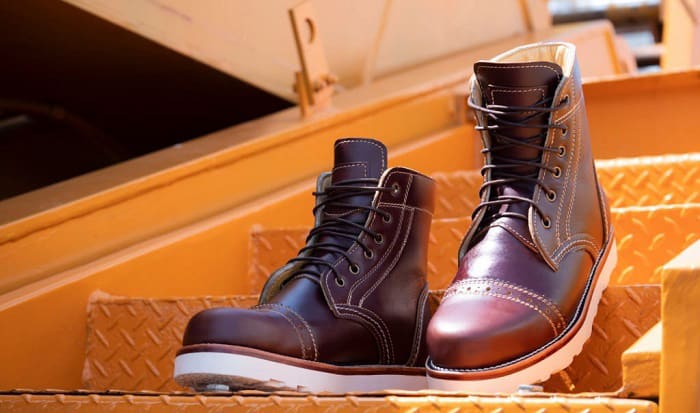 It's common for people to assume that a lightweight boot cannot protect our feet or withstand harsh conditions. Besides, we know for a fact that steel toe is stronger than composite safety toe, or that full-grain leather upper is tougher than the fabrics typically used for sneakers.
Indeed, some materials are better than others, but things are not black and white. Let's tackle them one by one here:
OSHA's guidelines stipulate that employers are responsible for providing a safe and healthy work environment. Therefore, employers are responsible for providing workers with an understanding of the kinds of risks that they face at work daily.
While you may need to opt for boots with the best lightweight materials, certain jobs will not allow soft toe or composite safety toe caps. If your work involves walking on debris or puts your feet at risk of getting smashed by falling objects, steel-toe caps are a must.
If you work in an oil rig as a technician, you need to wear boots that have oil and slip-resistant outsoles. When checking out a specific work boot brand or design, be sure that you factor in all these risks or consult your employer.
Lightweight work shoes can be durable. But, of course, this will all depend on how they are made.
Goodyear welt construction is widely recognized as a method that allows footwear to last longer. Aside from making the boots stronger, it allows you to get them resoled once the outsoles start to wear down.
As mentioned in the introduction, materials can also vary in terms of durability. But whether you choose leather, synthetics, or a blend of these two, it is also crucial to take the steps to clean and maintain them as this will prolong their lifespan.
Full-grain leather, for instance, can harden and crack if you don't condition them.
When it comes to comfort, the goal is not only to ease the pressure on the feet but also to protect them against the elements. Shoe designers use materials like foam, padding, waterproof membrane, or insulating materials to create comfortable work boots.
Gender can also be a factor since a man's and a woman's bodies are anatomically different. That's why lightweight women's work boots are built slightly differently.
However, some manufacturers would cut back on paddings to make lighter boots. It can be difficult to see this just by looking at the shoe. Often, these key features are tucked underneath the insole or inside the uppers. Before you buy, take the time to read the work boot's product description and reviews from different users.
Each brand utilizes special materials and shoemaking techniques to create lightweight boots for work so expect that shoe sizes will not be consistent across the board. For instance, King Toe and Thorogood's Crazy Horse from the V series may look the same but many would say that King Toe has wider toe room.
However, this does not mean one is better than the other. Our feet are unique, and unless we paid for custom-made shoes, we can't expect every brand to have shoes that fit the same. You probably see many user reviews that suggest going a half size up or down. Normally, this piece of advice will not apply to all.
Steel toe shoes are notorious for causing footwear-related injuries. If you're looking for lightweight work boots, you're likely asked by your podiatrist to change footwear.
If you need an orthotic, sock liner, or thicker hosiery, you will need to account for them in choosing a shoe size.
Other foot conditions can also be addressed by choosing the right boot design.
Wedge sole is highly recommended for people with flat feet since the entire length of the sole touches the ground, which provides better support.
Meanwhile, those with asymmetrical foot shapes can opt for asymmetrical safety toe caps. If you're looking for one, I strongly suggest checking out KEEN Utility, the go-to boot brand for asymmetrical toes!
Back in the day, work boots were only worn at work. Today, more and more workers look for footwear that they can wear everywhere.
Today, job descriptions blur the lines and we often have to face clients and do the "dirty work" simultaneously. Meanwhile, restaurant workers need to dress well and keep their feet safe while on duty. Hence, manufacturers create lightweight work boots not just protective and comfy but stylish too.
Care and Maintenance
Most shoe brands offer cleaning kits for their footwear. They may cost a little bit more than other saddle soap or leather conditioner brands. But since they are formulated to wash special fabrics or moisturize the leather, these products are definitely worth trying.
Otherwise, you can use store-bought leather care products for leather uppers. Check the label if the product is intended for full-grain, nubuck, or suede, and follow the instructions.
While they may all come from the same animal skin, each requires a specific cleaning method to keep them well-maintained.
To wash boots made of synthetic fabrics, you can use a mild detergent and let them air-dry. As for shoelaces and insoles, you can clean them using your washing machine.
Generally speaking, the boots must be stored away from any heat source and moisture to avoid cracking and mold.
Frequently Asked Questions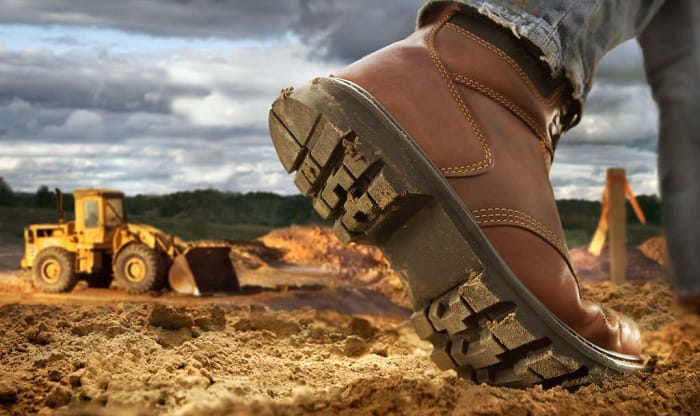 What are the benefits of wearing lightweight work boots?
I'm sure everyone will agree that lightweight work boots are comfier. They reduce the pressure on the feet and, in turn, minimize the strain on ankles, knees, and lower back.
Plus, they allow workers to focus their attention more on their surroundings rather than just the pain, which makes them better at practicing safety protocols.
Can lightweight work boots improve performance?
Yes. Safety should be viewed from a holistic perspective. Besides protection against workplace hazards, comfort and fit should also be part of the equation. Research shows that uncomfy boots increase the chances of injury. Furthermore, they can also be the very reason for the injury itself!
With comfy lightweight work boots, workers don't have to put up with the pain and discomfort. They can concentrate on their tasks and work more productively and efficiently. It doesn't only benefit the worker but the bosses, too.
What is the lightest safety toe cap?
The carbon safety toe cap is considered the lightest among all as it only weighs between 0.22 to 0.5o lbs. However, this material is not widely available so many workers still opt for non-metallic toe caps, which weigh between .30 to .80 lbs.
Are composite toe work boots lighter than the rest?
Generally, composite toe work boots are lighter than other boots with alloy or steel toe caps. But there's a catch: it is nearly impossible to find composite toe shoes with slimmer profiles.
Steel toes do not need to be bulky since they are naturally stronger. With composite materials, manufacturers need to make them thicker to reinforce the toe caps and meet the ASTM standards.
Are lightweight work boots safe enough?
It depends on your job and the risks you have to face. In job sites where you put your feet at risk of getting stabbed by sharp debris or smashed by falling heavy objects, wearing steel toe work boots is non-negotiable.
Composite toes, however light, are best worn in places where the risks of hurting your feet are much lower. They are also suitable for those who work with electricity since the material is non-conductive.
Likewise, composite materials do not conduct heat well, which is why these boots are preferable in harsh weather conditions. Plus, other components also make the work boots safe to use, which include oil and slip-resistant soles.
Conclusion
As a lurker in many footwear forums on Reddit, I notice people choose their boots based on where they were made. Many believe that boots made in Asian countries aren't durable but that's not true.
Even if you bought ultra lightweight safety boots UK or US-made collections, they will break when you neglect them.
Besides not all of the seven best lightweight work boots in this article are made in the US but they get good reviews from other users. That said, feel free to check out other brands like Timberland and CAT as they offer plenty of options.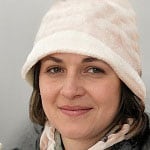 Veronica is our content editor. She is a talent in delivery. Her main work is editing and writing articles that are both informative and simple to follow. She is in charge of synthesizing our understanding of what personal protection equipment (PPE) is needed in each job, how to best apply it, and how to visualize that equipment.