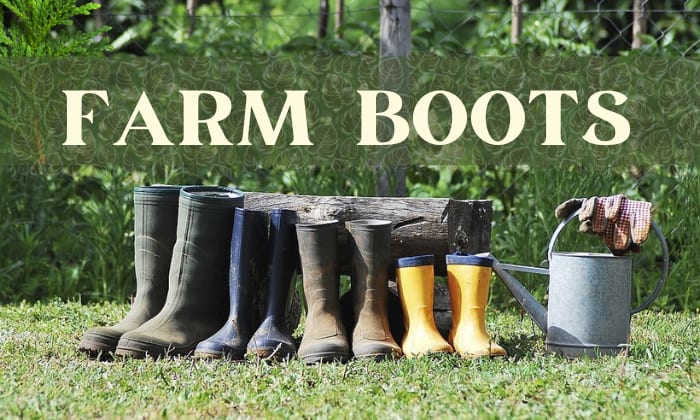 Working on the farm involves spending long hours on our feet, exposed to mud, rain, sun, insects, chemicals, and all sorts of hazards. Therefore, the best farm boots should have comfort, supportive, and protective features to help us perform our tasks more efficiently.
Finding the perfect boots for farming is not easy, but you can increase your chances if you know what to look for. My advice is to start with these top three features:
Waterproof upper material: Typically, rubber, neoprene, and leather boots are the top choices for farm and ranch work. That's because these materials are not only durable but also waterproof.
Some models use a combination of rubber and neoprene, while others utilize synthetics that either act as insulated lining or waterproofing. Either way, the goal is to protect the feet against the elements.
Soles: One day you're wading on marshy farmland, the next day you're marching on dry, uneven soil. Whatever the case may be, your boots need to have high-traction treads to prevent you from falling and breaking a bone.
However, keep in mind that you are on your feet all day, so you will also need something lightweight, flexible, and supportive. Comfier soles can make a huge difference at work as they reduce foot fatigue.
Durable construction: There's nothing worse than breaking your boots in the middle of the job. Not only that this interrupts your work but it also creates an opening for moisture, sharp objects, and insects to get inside.
Full-grain leather is the most durable material for cowboy boots while chore boots are reinforced with multiple layers of rubber to allow them to last longer.
With that, I'd like to invite you to read my review of the seven boots for farm work. Besides discussing all the features, I have also weighed each pair's pros and cons. If you still could not decide which one to get, feel free to read my Buying Guide.
Top 7 Farm Boots Reviews
1. Sloggers Women's Rain and Garden Boot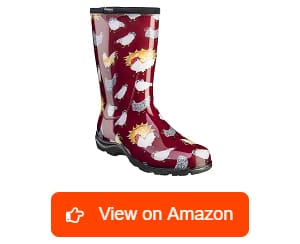 Sloggers' women's farm boots receive a close-to-perfect rating on e-commerce sites. Many loyal users swear by these boots because of their heavy-duty construction. They provide superior traction and an impervious barrier against moisture that can last for years.
But water is not the only thing the "Rain and Garden Boot" can block out. When walking on the farm, the rubber uppers shield the legs from deep mud and insect bites. Yet, getting them soiled is not a problem. The gunk slides off the slick upper material once I hose them off.
Like the other boots from this brand, this one is wide enough around the shaft for easy on and off. It's a feature I love since it allows workers to switch footwear with no fuss. Plus, it leaves some room to tuck in the pants!
Note that, for this particular model, women have plenty of options for designs to choose from besides the cute chickens.
However, I'm not a fan of the brand's "All Day Comfort" insoles, its standard footbeds for all the rain boot collections for men and women. To me, they do not come with the best comfortable cushion, as the footbed should be a little softer.
What We Like
Provides superior traction on various terrains
Impervious barrier against moisture
Shields the legs from deep mud and insect bites
Wide shaft for easy on and off
Leaves some room to tuck in the pants
Available in various designs and colors, with colorful patterns
What We Don't Like
"All Day Comfort" insoles is not cushioned enough for some
Due to their extremely durable construction, these women's farmer boots are reliable for day-to-day work on the farm and ranch. Moreover, their wide shafts allow the wearer to tuck their pants and shield their legs from bug bites!
2. Muck Boot Men's Wetland Boot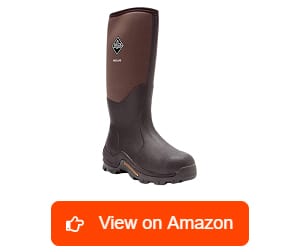 Standing tall against their competitors, these Muck Boots are around 17.3″ high, which goes above my calves.
As the product name implies, these outdoor boots are designed for braving the abundant mud and cold weather. This function is possible owing to the combination of high-quality materials like the neoprene shaft and rubber.
With the form-fitting CR Flex-Foam neoprene liner, the Muck Boots' upper part of the shaft has heat retention properties to provide much-needed warmth. Plus, its flexibility promotes better mobility. Meanwhile, the rubber exterior extends up to the calf, acting as a barrier against abrasive surfaces like rocks or thorns.
Thanks to the MS-1 molded outsole, I can walk on any wet or snowy terrain safely. Not to mention, the construction ensures these men's farm boots are completely waterproof.
On the other hand, the mesh lining makes sure that my feet are sweat-free. I don't have to be literally on the wetlands to wear them—they are great for farm work, hunting, or general chores at home!
The only issue I've had is that the neoprene irritates my calves due to the constant rubbing. Fortunately, the neoprene can be rolled down. But for muscular legs like mine, they can feel tight.
What We Like
Designed for braving the mud and cold weather
Provides much-needed warmth with 17.3″ shaft
MS-1 molded outsole to walk on mud and slippery terrains
Form-fitting CR Flex-Foam neoprene liner allows for folding
Mesh lining for sweat-free wear
Blocks water and sharp objects with durable construction
What We Don't Like
Feels constricting for muscular legs
These Muck Boots let me move with so much ease. When I'm trudging marshy terrains, they protect my feet against moisture, rocks, and poking sticks!
3. HISEA Rain Boots for Women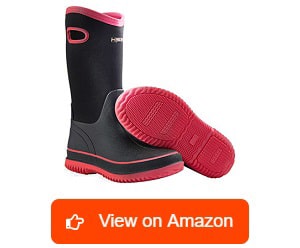 HISEA's affordable farm boots for women are best known for comfort, which is advantageous to those who walk over 10,000 steps a day!
I think they are excellent all-around footwear for ranch work, farming, or other leisurely tasks like camping and walking the dog in the snow.
Most women tell me that the rubber outsole is another reason to get these and wear them as work boots. First, it is slip-resistant, enabling the wearer to conquer any terrain. Secondly, it is also self-cleaning. In each step on the mud, the gunk will fall off on its own.
While these are not steel-toe boots, the brand designs the rubber shell to cover the foot and ankle for added protection against abrasive surfaces, thorns, and other dangers. Just like many modern-day agriculture boots, the neoprene shaft is stretchy. Moreover, it can retain heat during winter and block out moisture to keep the feet dry.
Since this tall boot covers the mid-calf, it can serve as a leg warmer. For hot weather, I like that the fabric can be rolled down. Compared to other brands, however, the material feels rather thin. I tried pulling it up just to test but hesitated to use force as I was afraid it might rip.
What We Like
Affordable farm boots for women
Enables the wearer to conquer any terrain
Has a rubber shell to cover the foot and ankle for added protection
The neoprene shaft is stretchy
Can retain heat during winter and block out moisture for all-year use
What We Don't Like
The neoprene feels rather thin
Despite their budget-friendly price, these farm work boots give the worker everything she needs on the farm. Beyond waterproof protection, they can also keep the feet warm on a snowy day and shield them against hazards.
4. Tingley 31251.08 Pilot 15-in Cleated Steel Toe Knee Boot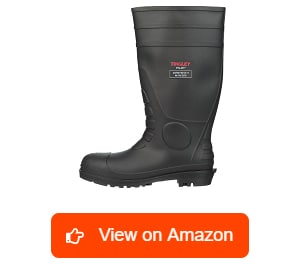 Tingley's Wellington boots may look like ordinary rubber boots, but they are my go-to cheap protective footwear. Their steel toe caps meet the ASTM standards, which helps a lot when I'm doing some construction on the farm or tending the livestock.
For the record, the shaft is 15 inches high, and its width fits my calves with space to tuck my pants.
The work boot is made of Polyvinyl Chloride, or what is commonly known as PVC. Per the manufacturer's description, this material is resistant to fats, hydrocarbons, caustics, certain acids, and other chemicals.
In my case, I use them when I need to spray pesticides. Of course, it also keeps my feet dry when working in wet environments.
Initially, I got the impression that the upper material would be stiff, but I was pleasantly surprised to find out that it's comfy. More importantly, it bends well. On top of that, its slip-resistant outsole is dependable in muddy conditions. As for the fitting, I think this work boot is spacious enough to accommodate any foot shape.
Granted, these boots have most of the features I need to work safely but they are on the hefty side!
What We Like
Affordable footwear with a 15-inch protective shaft
Their steel toe caps meet the ASTM standards
Apt for construction on the farm or tending the livestock
Resistant to fats, hydrocarbons, caustics, certain acids, and other chemicals
Accommodates any foot shapes
Slip-resistant outsole, dependable in muddy conditions
Considering the price, I benefitted more from these farm work boots so I'm happy to overlook the two minor issues I mentioned. Besides keeping my feet perfectly dry, they also shield them against harsh chemicals and heavy falling objects.
5. WOLVERINE Men's Floorhand 10″ Waterproof Wellington Boot
These farmwork boots boast a simple yet elegant design that will never go out of style.
But, of course, fashionability is the least of my concerns. I got them because of their waterproof full-grain leather uppers. I never got my feet wet during the rain or while working on the farm and ranch.
Even better, the moisture-wicking lining prevents excessive sweating on a hot day. Surprisingly, despite having steel toe caps, they weigh light. Therefore, I do not always have to change footwear when I need to run errands after spending some time on the farm.
Another great feature of this farm boot is that both the midsole and outsole are flexible. Since I spend most of my work hours standing and walking, this quality minimizes the strain on my feet.
Apart from its true-to-size fitting, I like that the upper only needed about 2 to 3 days of break-in period. I'm also delighted that the price is much lower than name brands.
Yet, their functionality can match Georgia Boots or Justin Work Boots. But I think, in terms of comfort, the J-flex comfort system fares better than Wolverine's full-cushion footbeds.
Also, they're not made with Goodyear welt construction, unlike the work boot designs from Irish Setter or Danner Boots. This means I cannot resole them when the lugs wear down.
What We Like
Elegant design that will never go out of style
Has waterproof full-grain leather uppers
The moisture-wicking lining prevents excessive sweating on a hot day
The midsole and outsole are flexible
True-to-size fitting, thus minimizing strain
Only needed about 2 to 3 days of the break-in period
What We Don't Like
Cannot resole them when the lugs wear down
THe footbeds should be a bit thicker
Among the brand's top-rated farm boots waterproof collection, Floorhand is my favorite for obvious reasons. Besides their gorgeous leather uppers, they also offer steel safety toe caps to protect my feet against the hazards that come with working on the farm.
6. Dunlop Protective Footwear DuraPro Steel Toe Boots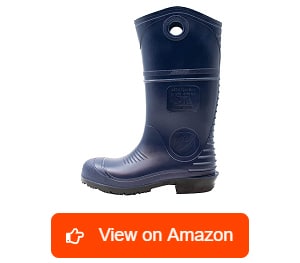 Designed for harsh conditions, these USA-made Dunlop wellies are equipped with ASMT-compliant steel toe caps, electrical hazard protection, and safe-loc treads for maximum traction.
While they are marketed as food processing, industrial, and construction footwear, I think the design and functionality are appropriate for farming and agriculture.
Considering the heavy equipment I work with and the wet floors and mud, these boots are quite dependable and meet the job requirements. Besides, I never slipped while walking. Furthermore, the thick PVC uppers are chemical-resistant, allowing me to handle chemicals without harming my feet.
The boots cover my calves, and they offer ample room for me to tuck my pants. Plus, it's easy to slip on and off whenever I need to change footwear. As such, they keep my feet dry when I wade swampy terrains.
Furthermore, walking in them does not feel awkward since the uppers and soles are bendy. With that, workers can be comfortable in these boots for hours with minimal strain.
That said, I find them heavier than traditional work boots, but I got used to them after weeks of using them. However, it's somewhat expected since it's a durable pair of workboots for heavy duties.
What We Like
Equipped with ASMT-compliant steel toes
Features electrical hazard protection, appropriate for construction
Appropriate for food processing, industrial, farming, and agriculture
Has thick PVC uppers that are chemical-resistant
Easy to slip on and off when changing footwear
Bendy and flexible uppers and soles
Keeps the feet dry when wading swampy terrains
What We Don't Like
Heavier than traditional work boots
These wellies perform quite well in harsh conditions. Thanks to their protective features, my feet are shielded against chemicals, water, and other workplace hazards.
7. XTRATUF Men's 6 Inch Ankle Deck Boot
Not many people know that this fishing boot can function as a farm boot, mainly due to its waterproof material and construction.
For me, these are my go-to heavy-duty pair of slip-on farm shoes whenever I need to work in areas that do not require safety toe protection. But thanks to the slip-resistant wedge sole, I can walk on wet surfaces without losing my balance.
Putting these work boots on is extremely easy as they feature pull tabs. Meanwhile, the ankle-high shaft stretches wide open, so my foot can enter easily. Furthermore, the upper rubber material bends well as I move, making walking less painful.
Although this deck work boot is available in wide sizes, it has a medium round soft toe that can expand with constant wear. Initially, I thought it felt tight, but somehow, the material stretched and got comfier.
That said, I'm impressed that it is available in several fun color options to choose from. At least I don't always have to use black and brown work boots!
After a year of wearing them, I finally saw their weaknesses. The insoles started to thin out in a year or so, prompting me to replace them.
What We Like
Heavy-duty fishing and farming boots
Slip-resistant wedge sole to walk on wet surfaces
The ankle-high shaft stretches wide open
The upper rubber material bends well
The medium-round soft toe can expand with constant wear
Several fun color options to choose from
What We Don't Like
The insoles started to thin out in a year
All in all, these fishing boots prove that I don't always have to wear traditional farming shoes. After all, they are built with waterproof construction and slip-resistant outsoles!
What Are Farm Boots
While farming is technically a job that requires protection, most work boots on the market are not suitable for the tasks done on the farm or ranch. Farm boots are designed to protect the worker's feet against moisture, mud, chemicals, and in some cases, farm animals.
Wellingtons and cowboy boots are traditionally what farmers would wear since they are waterproof, easy to wear, quick to clean, and slip-resistant.
On top of that, the wide shaft allows them to tuck their pants to keep the insects from getting in.
Types of Farm Boots
On the farm and ranch, these are the kind of boots that workers typically wear:
Cowboy boots
Chelsea boots or pull
Steel toe boots
Why You Need Farm Boots
Work boots for farmers are just like farming tools—you simply cannot work without them. Just imagine digging or walking on wet soil in your athletic shoes. Your feet will get drenched and your muddy sneakers will be impossible to clean.
Farming and ranching boots, first and foremost, offer protection against different hazards like splashes of harmful chemicals, punctures of thorns, or getting stepped on by an animal, a good pair of farming boots will keep your feet safe.
Because of their anti-slip outsoles, you will not lose your footing on uneven or wet terrains.
A farm boot is also designed to repel liquids like water and chemicals. Typically, the upper and outsole are made of waterproof materials like rubber, leather, or neoprene. In particular, the rubber farm boots clean up with a flush of water from your hose.
Considering that you will be walking for most of the day, your farm work boots should also be comfortable to prevent foot pains.
Buying Guide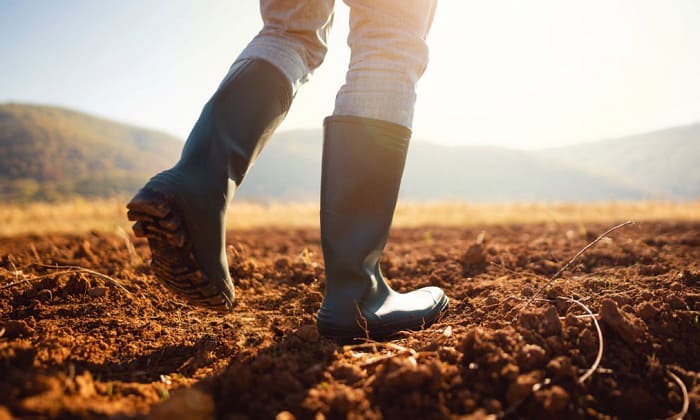 Based on my own experience and all the pieces of advice I got from various users on Reddit and Quora, I put together this guide to help you find the right farm boots.
I highly recommend that you take a moment and read the factors to consider below before going to a Boot Barn store or checking online catalogs.
Safety toe vs. Soft toe
Safety toe work boots are recommended for those working around large farm animals like horses and cows. These also offer excellent foot protection for those who operate moving heavy equipment, like heavy carts and forklifts.
Some boots for working on a farm are designed with steel, alloy, or composite toe caps. Steel toes, of course, are the strongest of the three and, therefore, more reliable in most hazardous environments. Unfortunately, it is also the heaviest.
On the flip side, the composite toe is much lighter. Since it is composed of non-metallic materials, it is also non-conductive, which is great for working under freezing temperatures. However, it is not as hard-wearing as steel. Thus, it is not advisable in riskier environments.
If you're working on tasks that do not expose you to falling objects, you can nix the protective toe caps and opt for a pair of boots with soft toes.
Leather vs. Rubber Uppers
We've tackled the upper materials briefly in the introduction but let me expound a bit more on them here. While leather, PVC, and rubber work boots are great for walking on wet grass or mud, not all of them are chemical-resistant.
Leather, for instance, absorbs chemicals, and workers may be instructed to discard their leather boots when they absorb hazardous substances. This would be a waste if you spend hundreds of dollars for an Irish Setter.
On the other hand, PVC and rubber can be resistant to certain chemicals. However, do not assume that all rubber rain boot designs and neoprene styles like Muck Boot can protect against harmful substances.
Be sure to read the label of the footwear to see if it can protect you against the chemicals or pesticides you normally have to work with.
Comfort
While you may be used to all the physical work, it's not necessarily good for your feet as they are constantly at the receiving end of the impact. Hence, the best boots should not only protect our feet but also provide comfort. It's another way of minimizing injuries!
Long periods of standing and uncomfortable work boots are among the many reasons why workers suffer from foot pains, fallen arches, and sprains.
Features like midsole or polyurethane outsole can provide shock absorption to help minimize fatigue and pressure on the feet.
Some work boots also feature a steel shank, which aids in distributing the weight and impact more evenly across the foot.
Moreover, the steel shank has other functions like retaining the structure of the boot or preventing sharp debris from piercing through the polyurethane outsole.
Fit
Another metric that makes for comfortable boots is the fit. A tight-fitting farm boot will clump your toes and prevent your foot from taking its natural shape. If you keep using it, it can lead to developing bunions or arthritis. On the other hand, a loose farm boot can cause heel slip, which is just as dangerous.
Ideally, work boots should feel snug with ample wiggle room for your toes. This is especially important if your boots have steel toe caps. The challenge in buying pull-on boots is that, often, these are wider by design so that the wearer can easily slip their feet inside.
To get more accurate-fitting work boots, measure both the length and width of your left and right foot. Do this once in the morning and the afternoon since the shape of our feet naturally changes throughout the day. This way, you can get an idea of the size of your tootsies when they're at their biggest.
Weatherproof
You're probably used to working in wet conditions but I'm sure that moisture is not the only thing you have to deal with. Thus, wearing waterproof boots is sometimes not enough.
To find the right pair of farm boots, consider your location and the local temperature. If you have to work during winter, look for insulated farm boots.
During summer, opt for work boots with breathable waterproof membranes or moisture-wicking mesh lining. This material can keep your feet sweat-free by allowing them to escape. Simultaneously, it also repels water.
Care and Maintenance
Removing dirt from your waterproof farm boots is easy. After working on the farm, all you have to do is hose the dirt off. Some outsoles are self-cleaning, meaning the mud will fall on its own.
Brands like Muck Boots recommend conditioning the rubber with Armor All liquid detergent to keep the material supple.
To clean leather ranch boots, you need to take out the dirt using an old toothbrush or shoe brush after each shift.
If the boots are muddy, you can wash them off with saddle soap and a damp cloth.
Once air-dried, apply the leather conditioner per the manufacturer's instructions.
Note that you may also need to spray some waterproofing agent since the leather's waterproof treatment may have worn off.
Of course, don't forget the insides! Remove your insoles and hand wash them with mild shampoo and water. Make sure that they are completely dry before putting them back.
Whether it's rubber or leather farm boots, avoid placing them near a heat source like the radiator. This can cause the rubber or leather to dry up and crack.
Frequently Asked Questions
How high should farm boots be?
It depends on the task. If you're gardening, a pair of clogs or low-profile slip-on farming shoes would suffice.
When wading through deep areas of the soil, a tall boot that extends up to the leg is recommended. Shafts between 10 to 16 inches can effectively prevent water, rocks, thorns, and insects from entering the footwear.
In some cases, an ankle-high lace-up steel toe work boot can be a practical choice for tasks that may put your feet at risk of getting smashed by heavy objects. Apart from that, this type of footwear provides better ankle support on rough terrains.
Unlike a pull-on boot, a lace-up system enables the wearer to tighten the shaft to stabilize the ankle and foot.
What kind of farm boots lasts the longest?
A cowhide or waterproof full-grain leather work boot is generally the most hard-wearing, which enables it to last longer. Goodyear welted boots are especially more resilient because the construction method involves adding an interlocking welt between the sole and the upper. Plus, it allows the user to resole the boots when the outsole treads wear down.
Other farm workers buy boots made of rubber or PVC. Like leather, these materials vary in terms of quality. Some synthetic rubbers start to break down when the temperature changes from hot to cold.
What color work boots are meant for farming?
There are no prescribed colors. You may even notice that some of the boots I featured are available in colorful patterns. If you're worried about getting run over by a bull because you're wearing something in red, relax! It's the movement that excites them, not the color.
Are hiking boots good for farming?
It depends on the task. Generally, they are great for long hours of walking on uneven terrain since they are supportive and flexible.
However, they may not be chemical-resistant. As discussed earlier, leather absorbs chemicals. So, if you have to mix or handle chemicals, it is still best to wear chemical-proof rubber wellies.
Conclusion
Waterproof uppers, high traction outsoles, and durable construction are three features that make up the best farm boots. Rest assured, all the seven farm boots I reviewed possess them.
Depending on your task or the weather, you may need additional features like steel toe caps, thermal insulation, or removable insoles that you can take out and replace with your orthotics. At any rate, you are free to check out other brands with the help of the buying guide that I put together.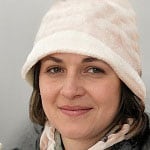 Veronica is our content editor. She is a talent in delivery. Her main work is editing and writing articles that are both informative and simple to follow. She is in charge of synthesizing our understanding of what personal protection equipment (PPE) is needed in each job, how to best apply it, and how to visualize that equipment.